Easy, DIY Pantry Sign Tutorial (Chalk Paint & Graphics)
This post may contain affiliate links. Please see disclosures here.
Who's pantry is not open 24-7?! This simple"Open 24-7″ pantry sign perfect for any busy household!
Is the pantry in your home open 24-7? With a teenage boy in my home, mine sure is!
Or he thinks it is. ;)
So I decided to make a pantry sign that says so out of this thrifted find…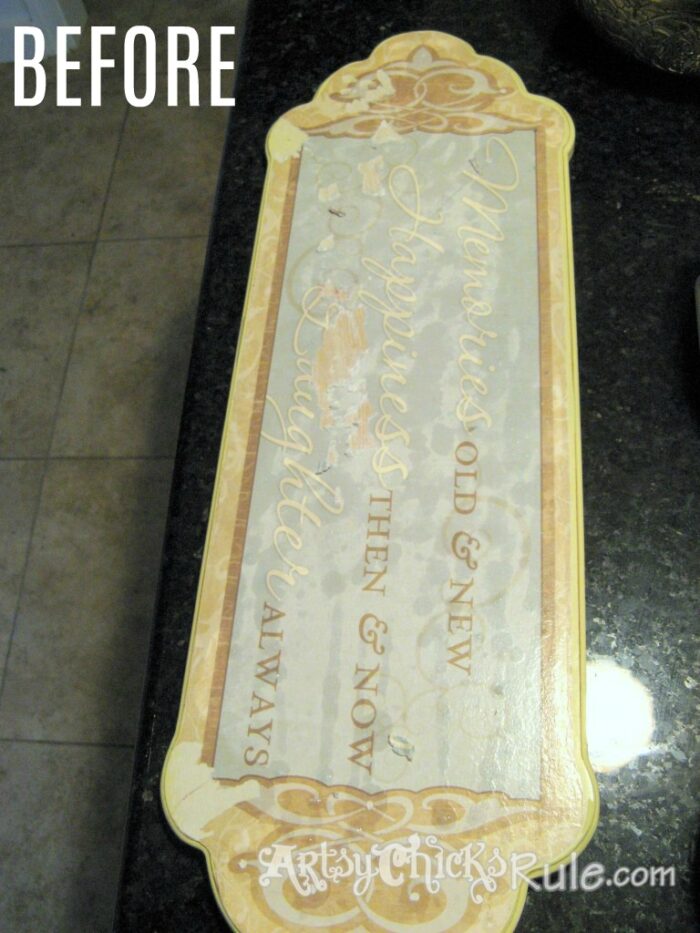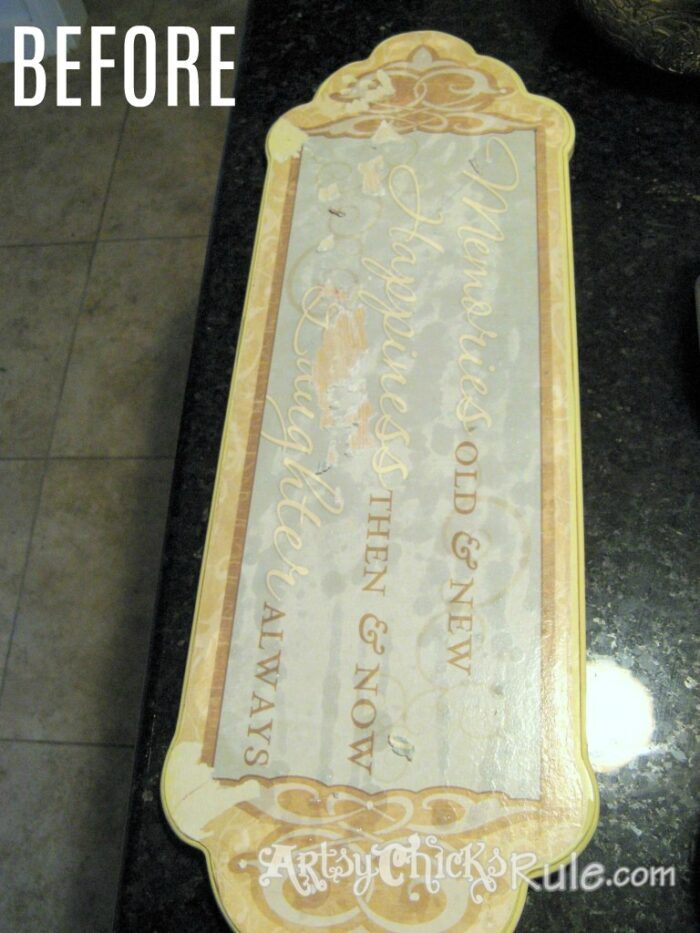 Yea, that would be what it looked like "before".
It was a recent thrift store find…and cheap.
I loved the shape and knew it would become some sort of sign.
I'm always on the lookout for flat pieces of wood like this…especially the ones with cool shapes.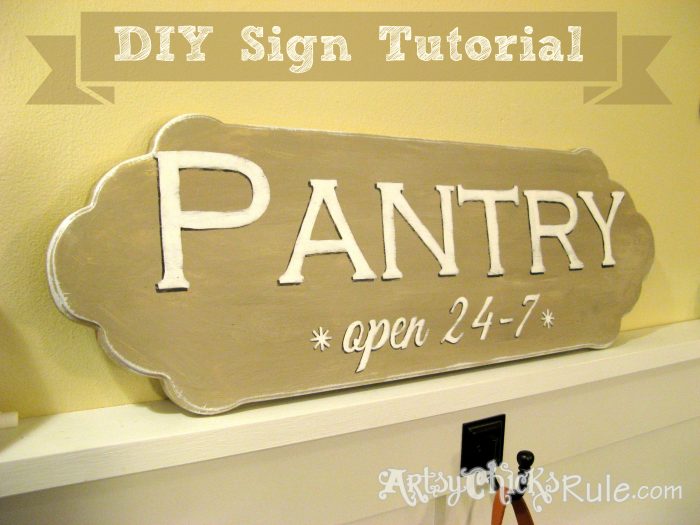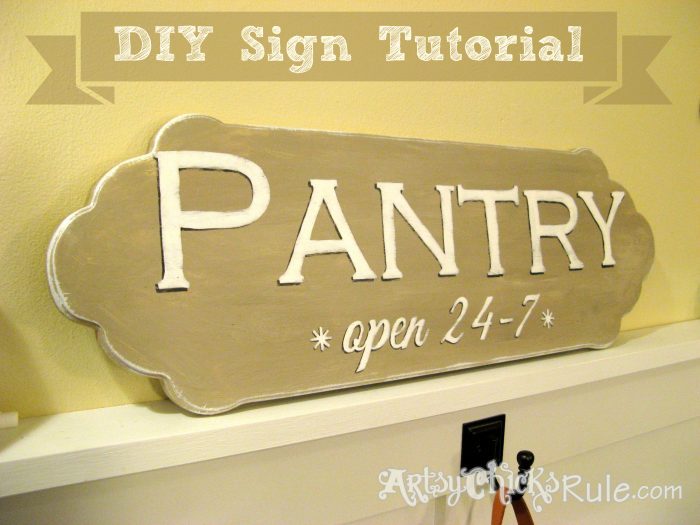 This was super fun to make and if you haven't figured it out by now, yes, I'm a graphics freak.
I love them…all types.
My husband said to me the other day…."I don't think we need any more signs in our home".
No? Really? Nahhh, I think there's room. (and I have plans for a few more ;) )
Not only am I a sign freak but I am also Queen Thrifty around here and will redo, reuse, repurpose anything I can.
Now for the pantry sign tutorial:
I decided to paint it with Coco and Old Ochre Chalk Paint mixed (after I removed the sticker paper).
Well, not completely mixed as you can see below.
I wanted a varied look to the paint so did it like shown:
Not quite "mixed". It's wet here, so it's sort of hard to tell there is a variation.
You can tell much better in this photo…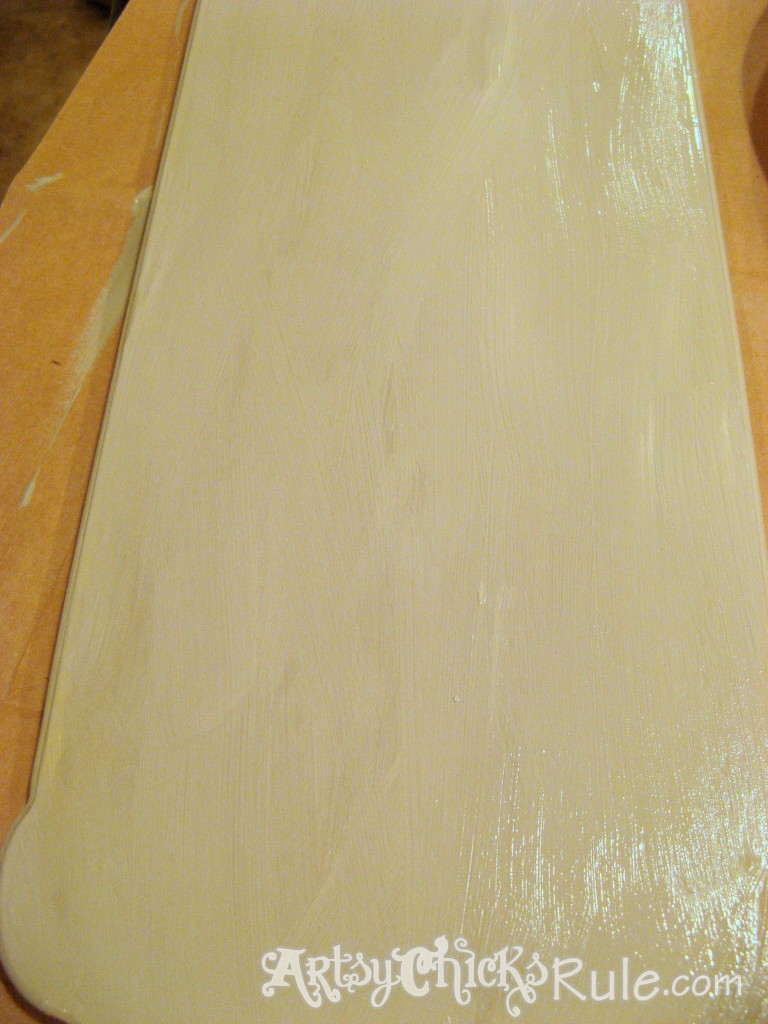 I designed my graphic on my computer and printed them out to the correct size.
I lined them up and taped them to the board.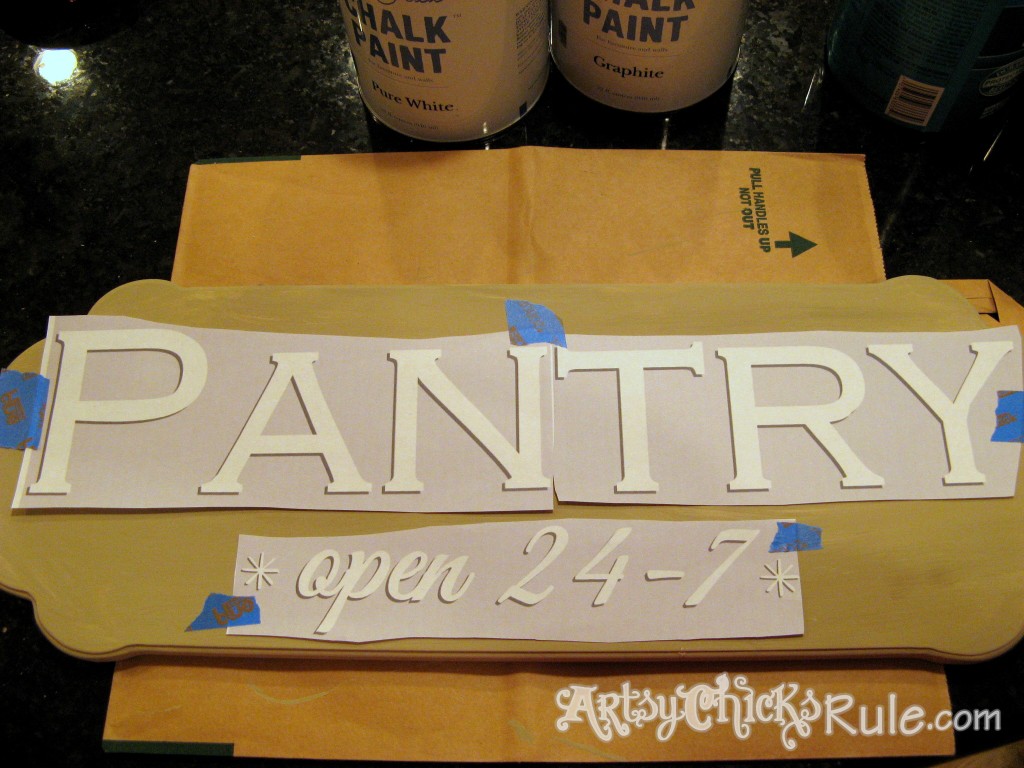 I shaded the back of the paper where the letters are with a pencil. I then traced over each letter from the front.
The pressure transferred the lead from the back onto the board.
Just one of many ways to transfer.
I wrote a post with all my favorite ways to transfer graphics. (yes, there are many more than one!)
Click, here, to read all about them.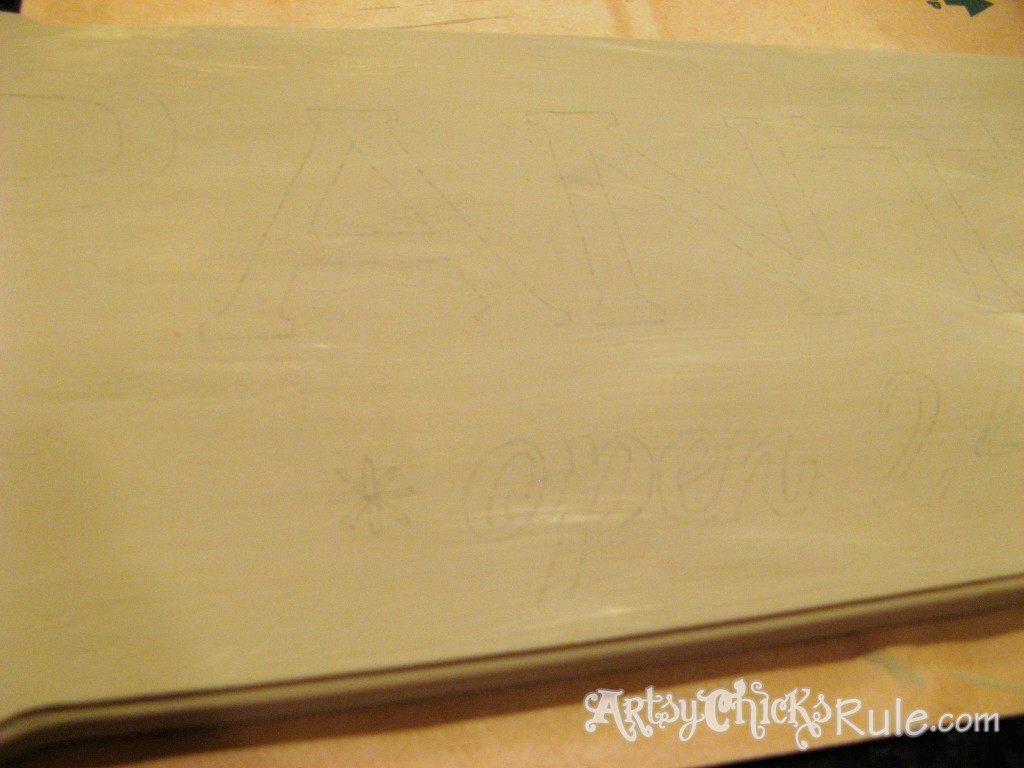 Then just paint in the letters with Pure White Chalk Paint.
You could use any type of paint here and probably even one of those little chalk pens.
I have one and have only used it on the chalkboards I make when I want a "permanent" chalk writing.
BUT, I'd bet they'd work on this too.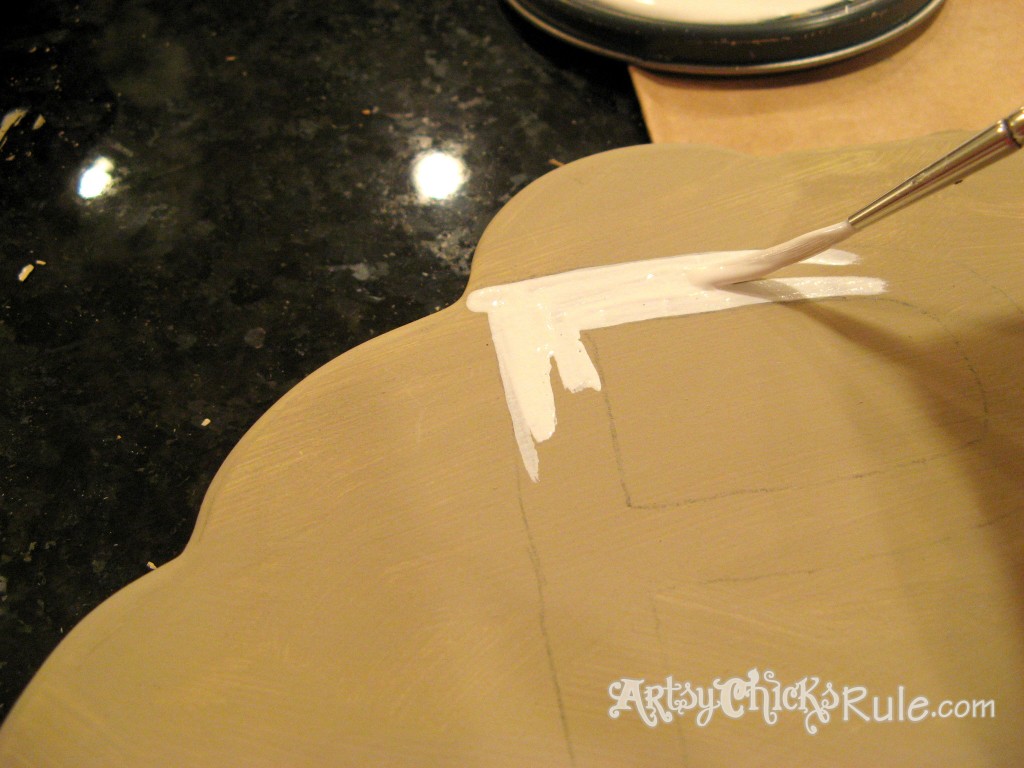 Simple, really.
And here it is after "painting in the lines" :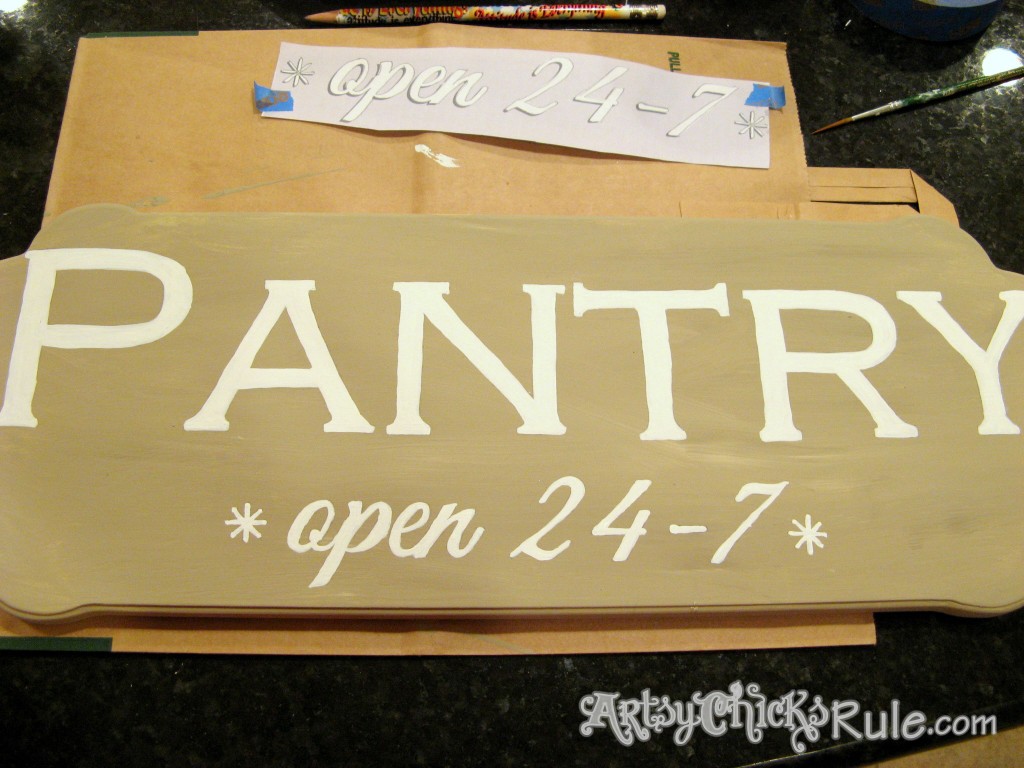 Now to add some shadowing.
I love to add shadowing to my letters because otherwise, they are a bit flat.
Sometimes that look is nice too although I do love the dimension the shadowing gives the letters.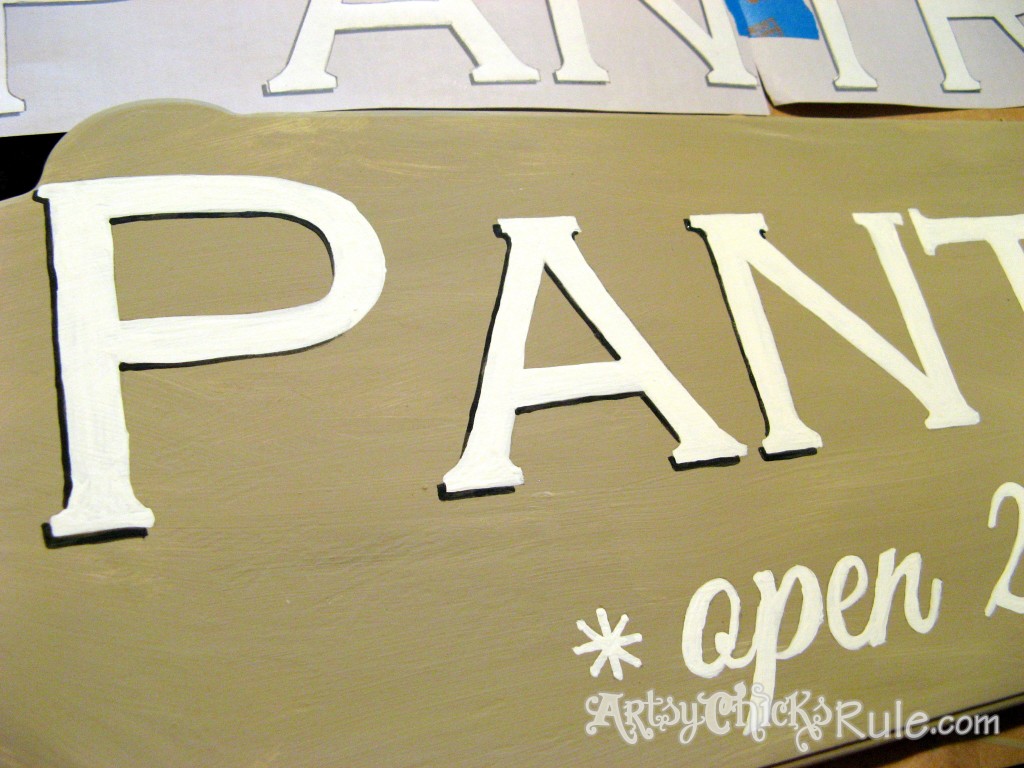 Finished with the shadowing…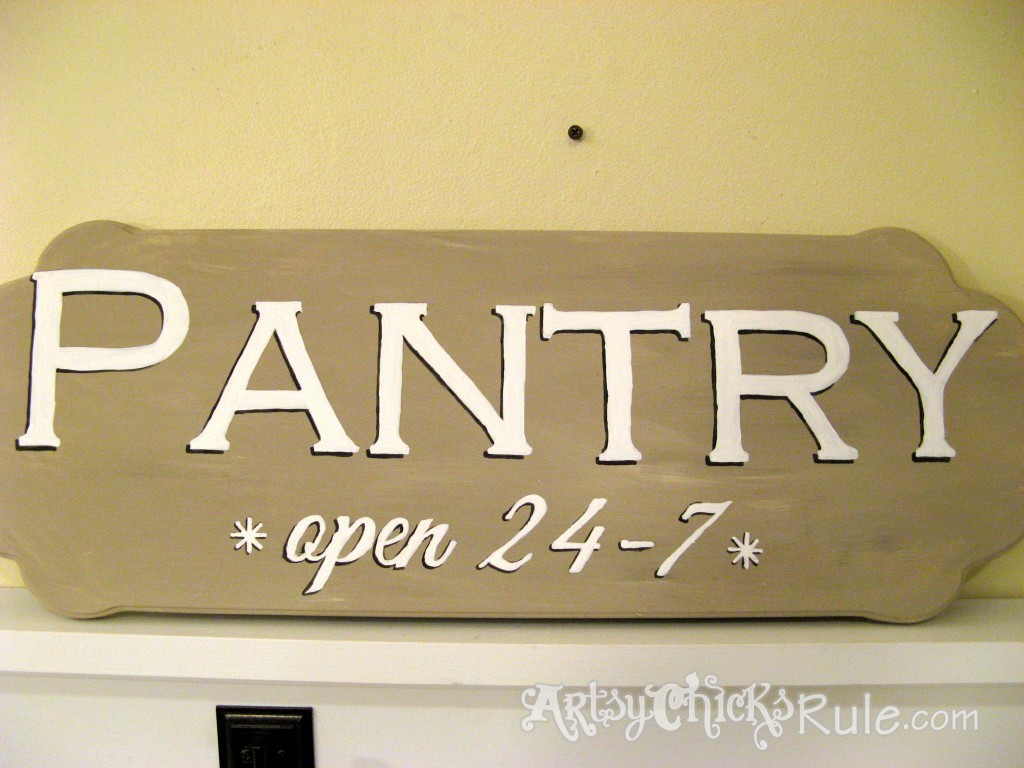 See how those letters pop now? Love that.
And then a little distressing…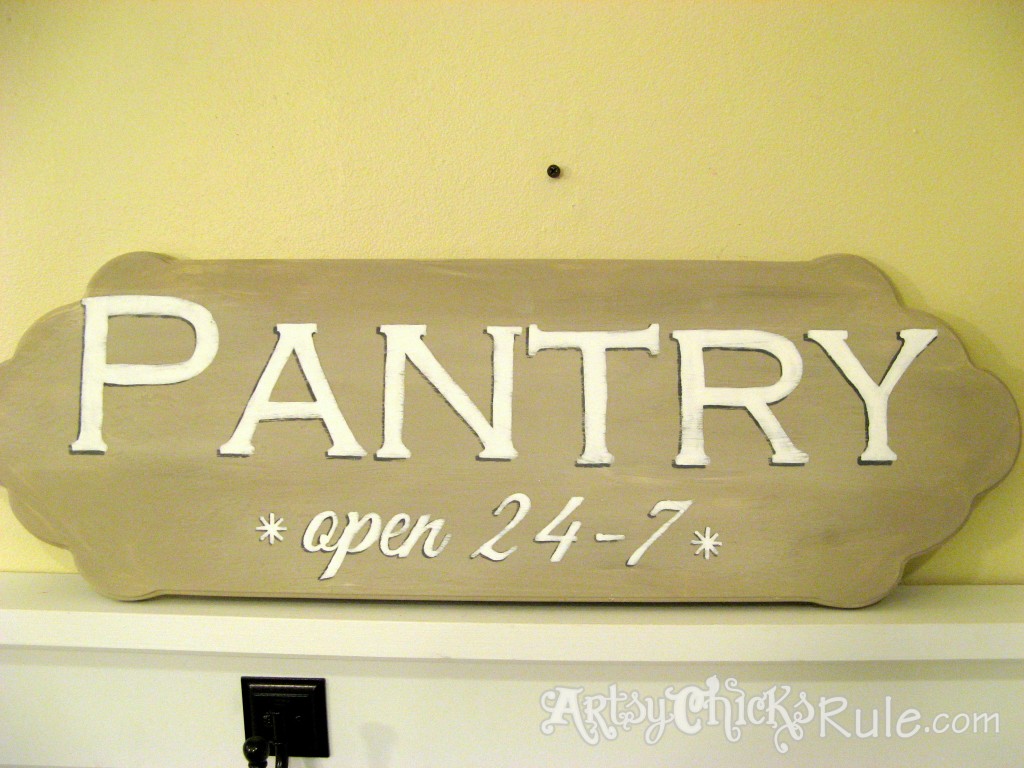 Added a bit of dry brushing around the edges with Pure White Chalk Paint: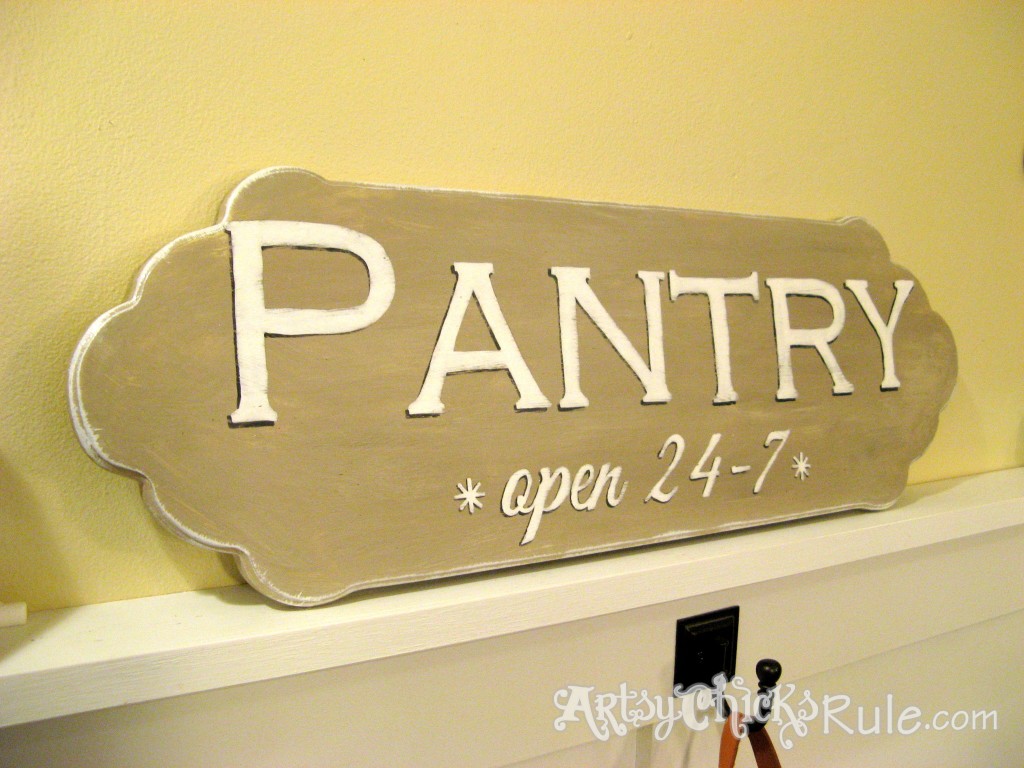 Want to know what I mean by "dry brushing? I created a video showing exactly how to do it, here.
Pantry sign finished and in place…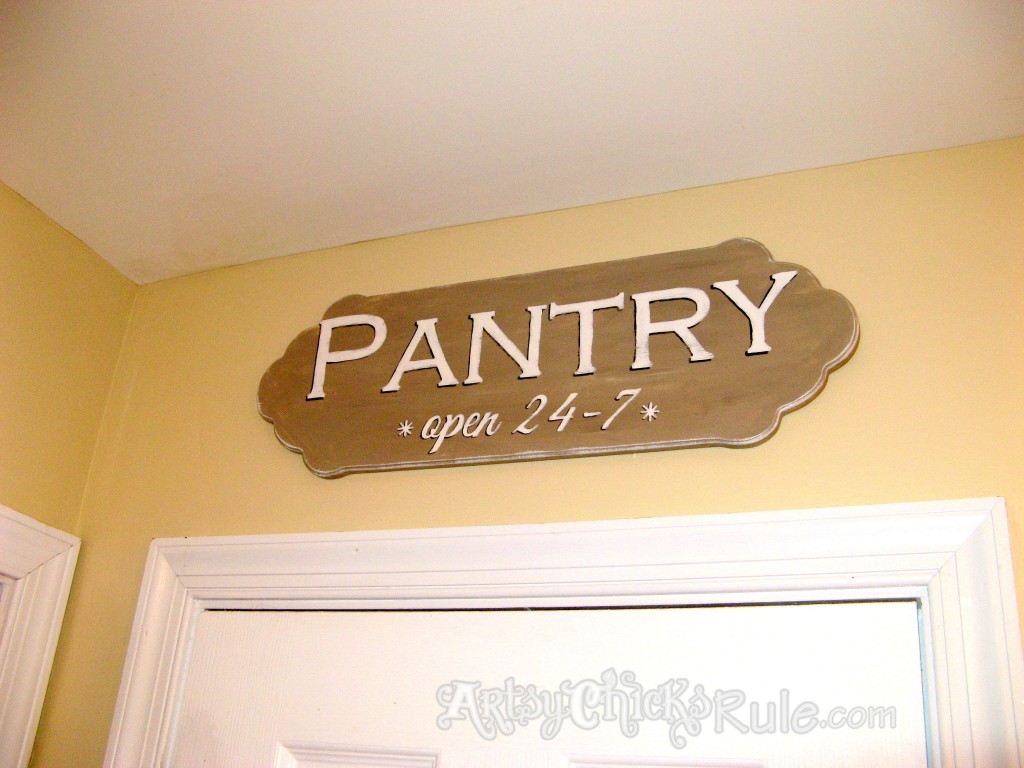 So in case our kids ever get confused about our pantry's "operating hours" here in this house (trust me, they won't) there is a sign in place to let them know.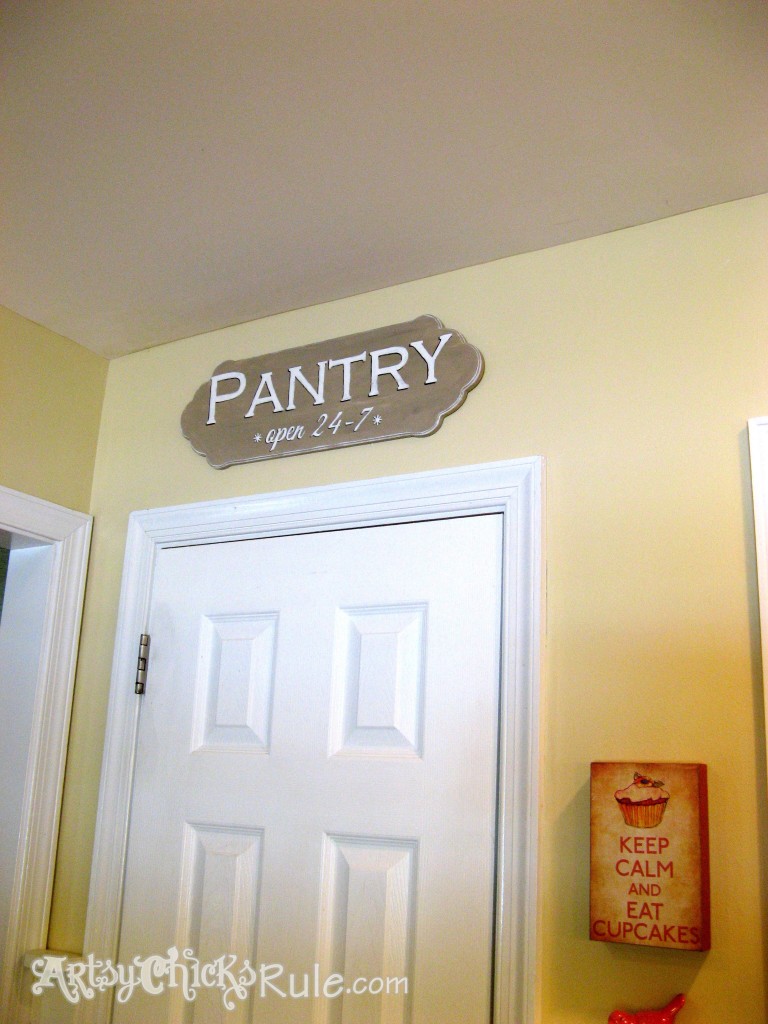 Want to see even more ideas on simple updates with Chalk Paint (that aren't furniture??)
Check out this post, here!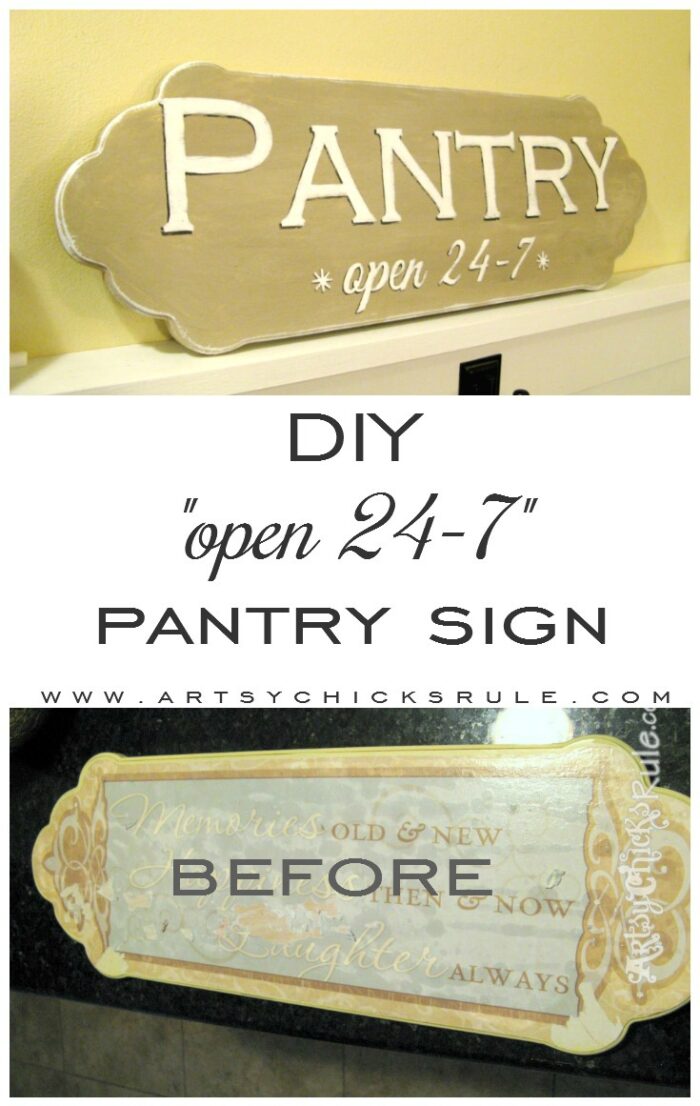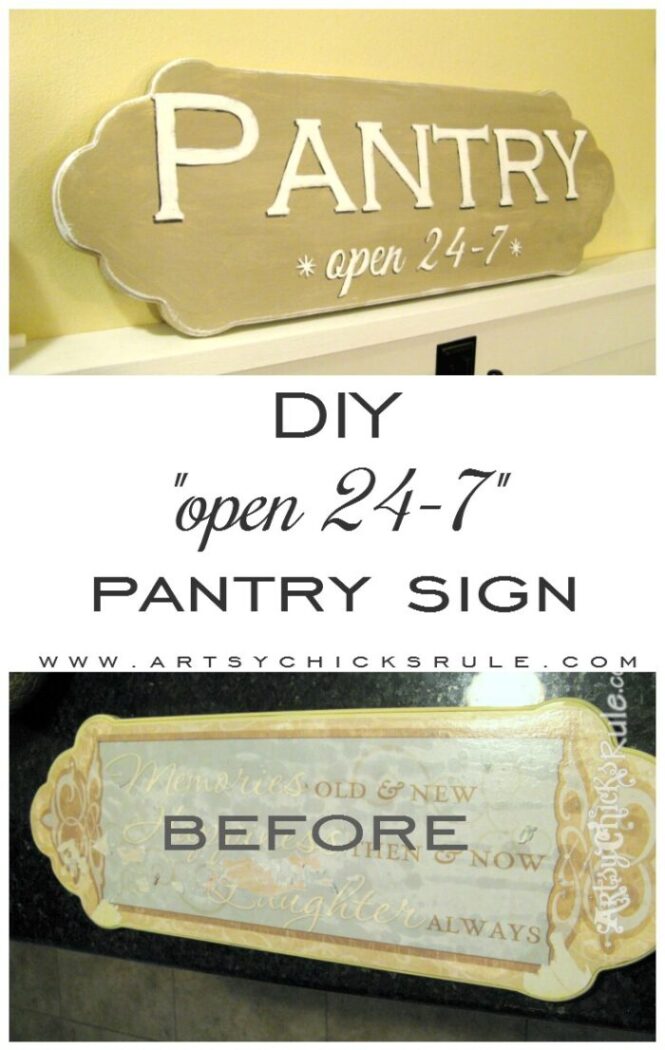 Easy & fun…and cheaply done by repurposing an old thrift store find.
Have you repurposed anything lately? Made something new out of something old?
Want to see even MORE signs? Click here for more.
And be sure to check back when I turn this in a sign…yep!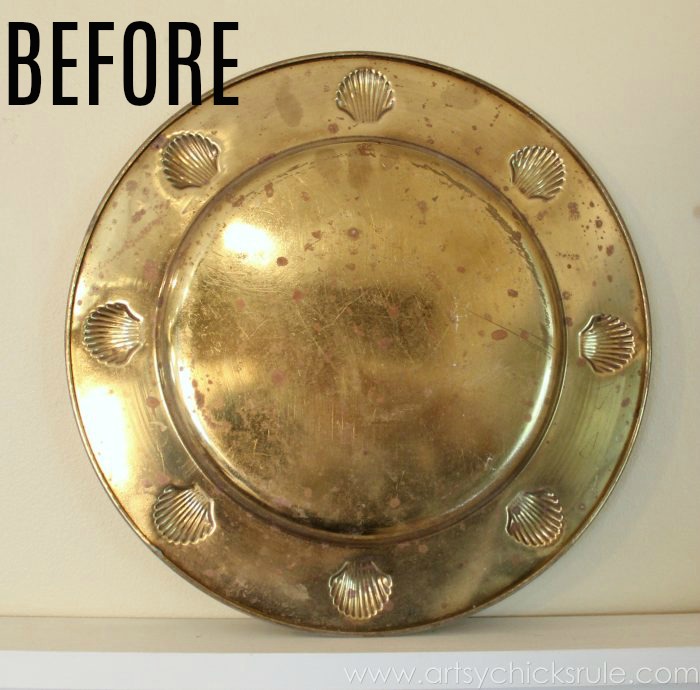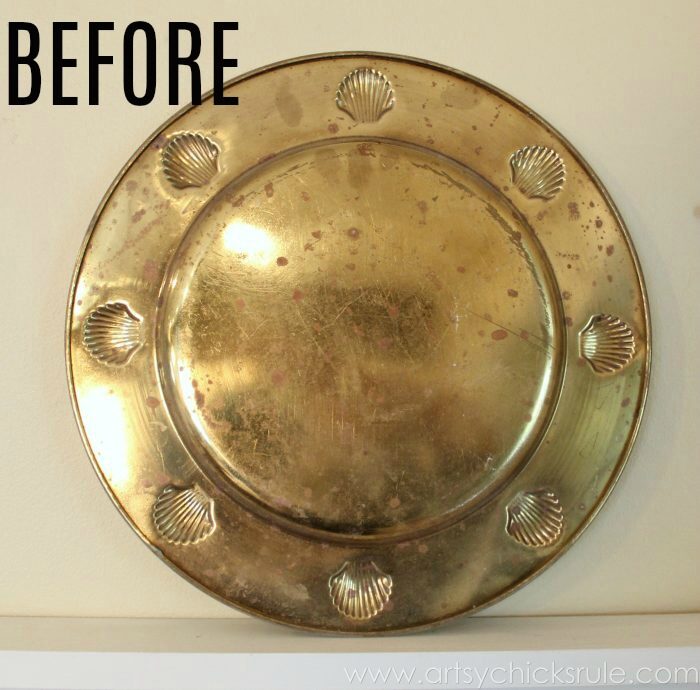 UPDATE!! See it now, here!