Estate Sale Sideboard with Chalk Paint Graphics (2nd Time's the Charm)
This post may contain affiliate links. Please see disclosures here.
Estate sale sideboard with chalk paint was a definite win for $20! It went through 2 makeovers but 3rd times the charm!
(EDIT: This post was originally published in 2013, updated in 2021. Things have changed around our home since this post. You can see our home tour now, here)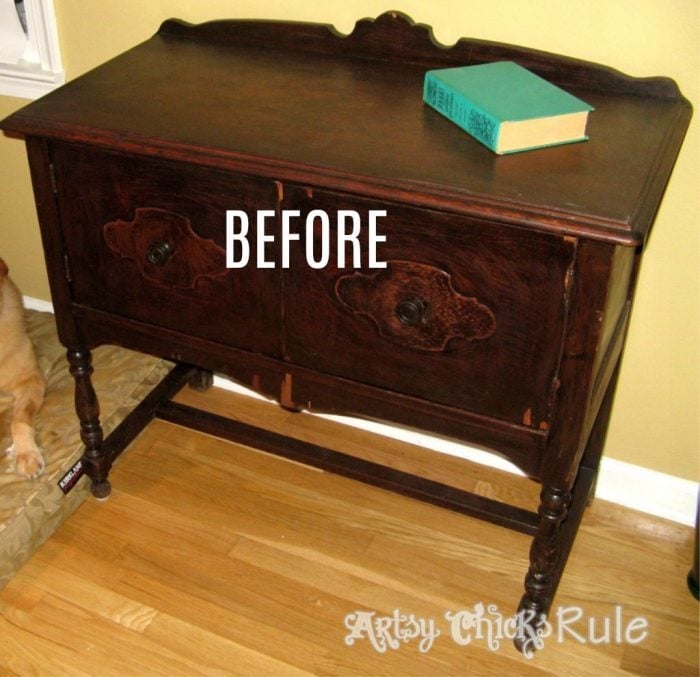 …and now…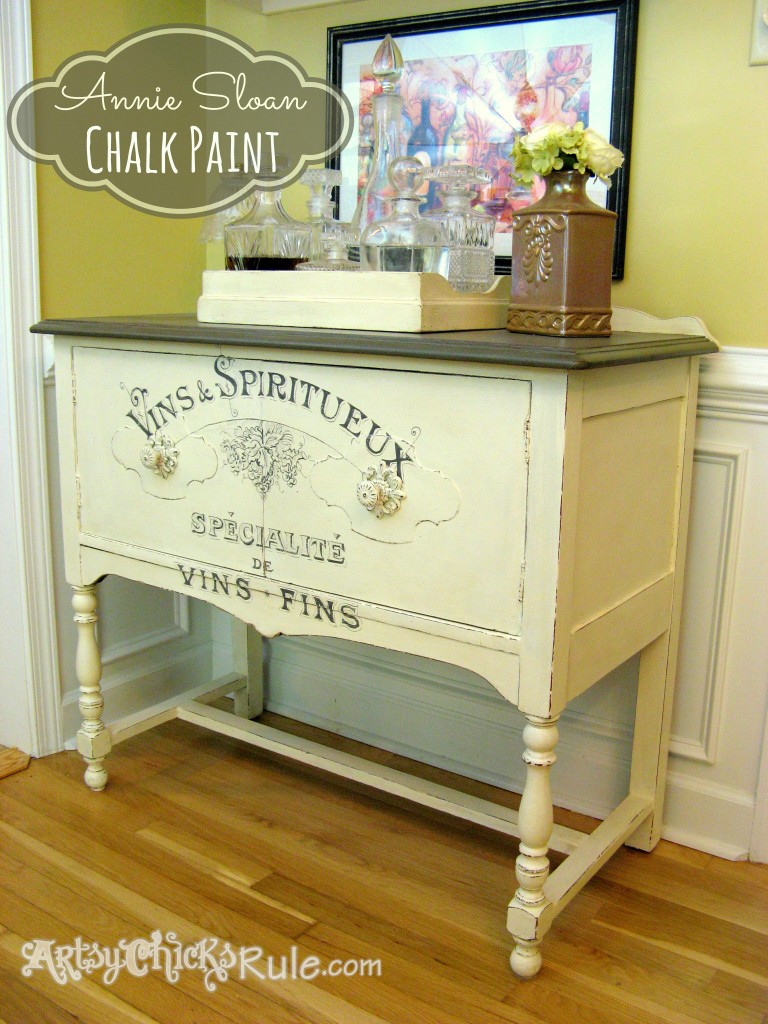 This estate sale sideboard with chalk paint got a brand new life…twice!
This poor little sideboard has gone through a couple of transformations.
One not so good…and one SO good.
Typically I will sit with a piece until it "talks" to me. I suppose this one spoke a foreign language the first go-'round.
Because clearly, I was misunderstanding what it was trying to tell me!
(Be sure to follow me on Instagram… I post most projects there long before I get to writing the posts about them. Plus a bit of randomness thrown in for a little fun & whimsy! )
My husband and I were out one Saturday morning hitting garage sales as we often do. We came across an estate sale and I found this sideboard…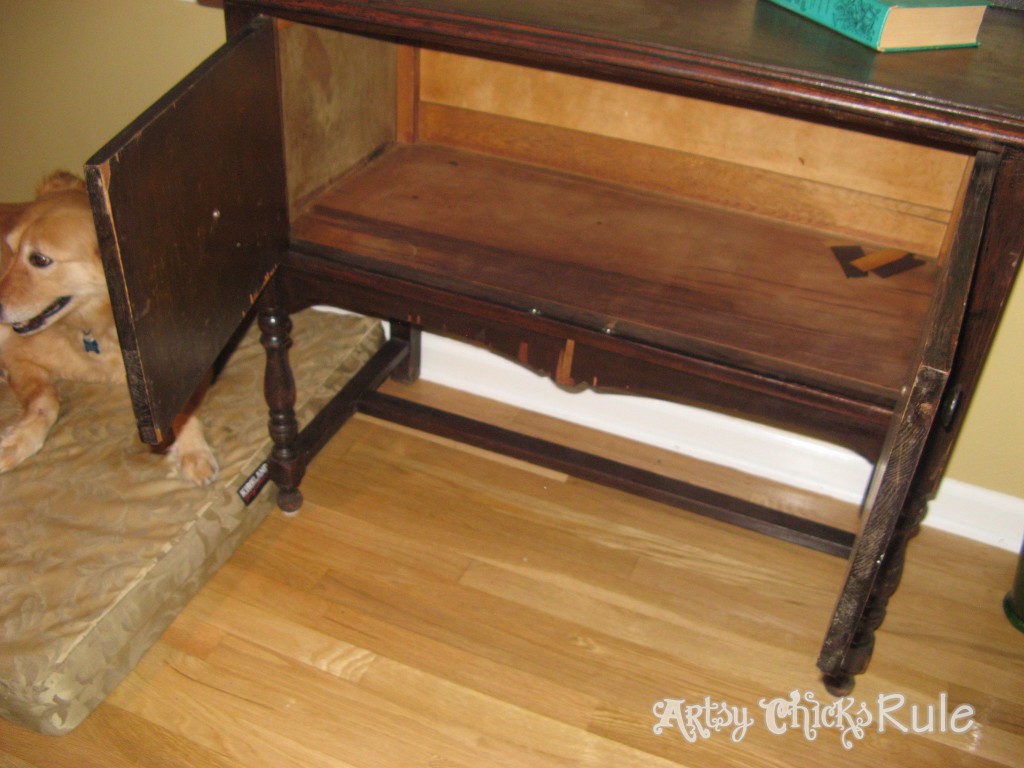 ……for $20.
It was a little "rustic" to say the least. It needed something. And I really wanted to do something fun and funky with it!
Or so I thought.
So yes, it sat for a bit…but clearly not long enough.
Because this is what I came up with for the first go-'round… (this is Primer Red & Old White Chalk Paint )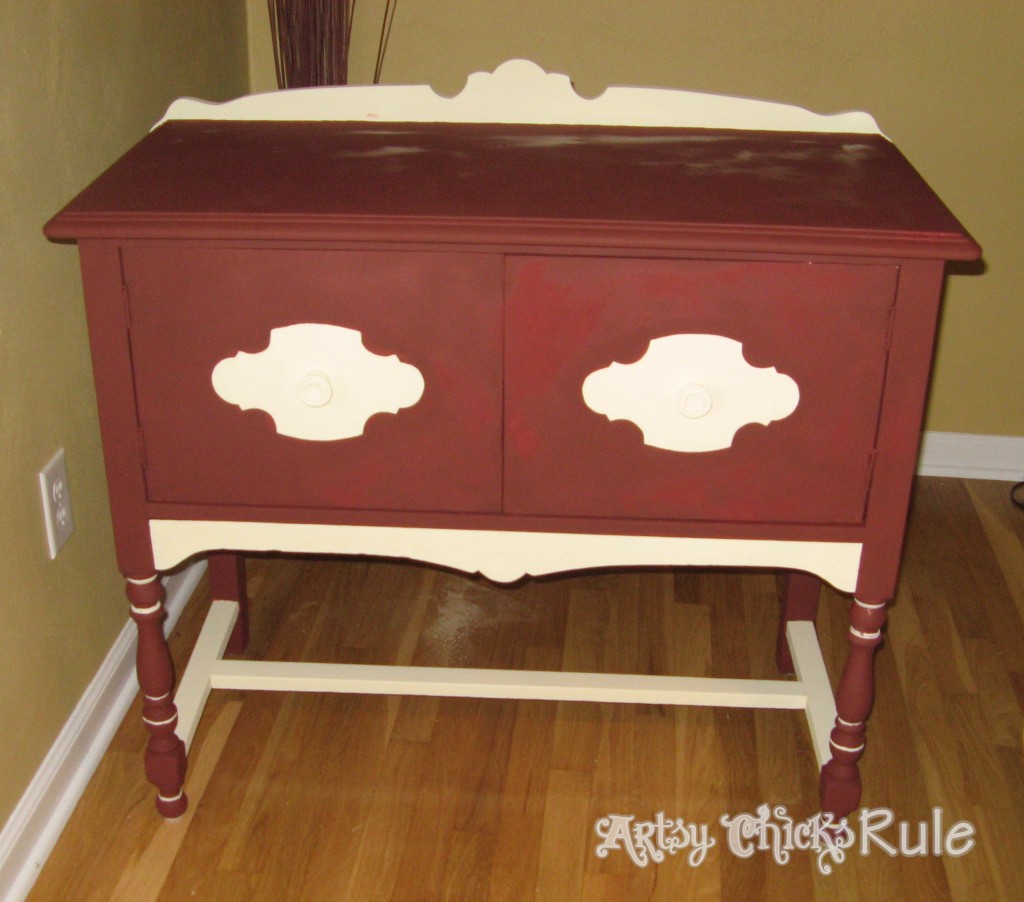 "Fun & Funky" is one way to describe it. But I knew almost immediately I didn't like it.
It was just ….too much. But I went ahead and finished it anyway.
I was unsure of what I wanted to do with it so it stayed this way for about 6 months.
Part of the problem was it was in the wrong room. Once I decided where it needed to go all was clear!
It needed to be a different color and some pretty graphics.
And so I turned it into this…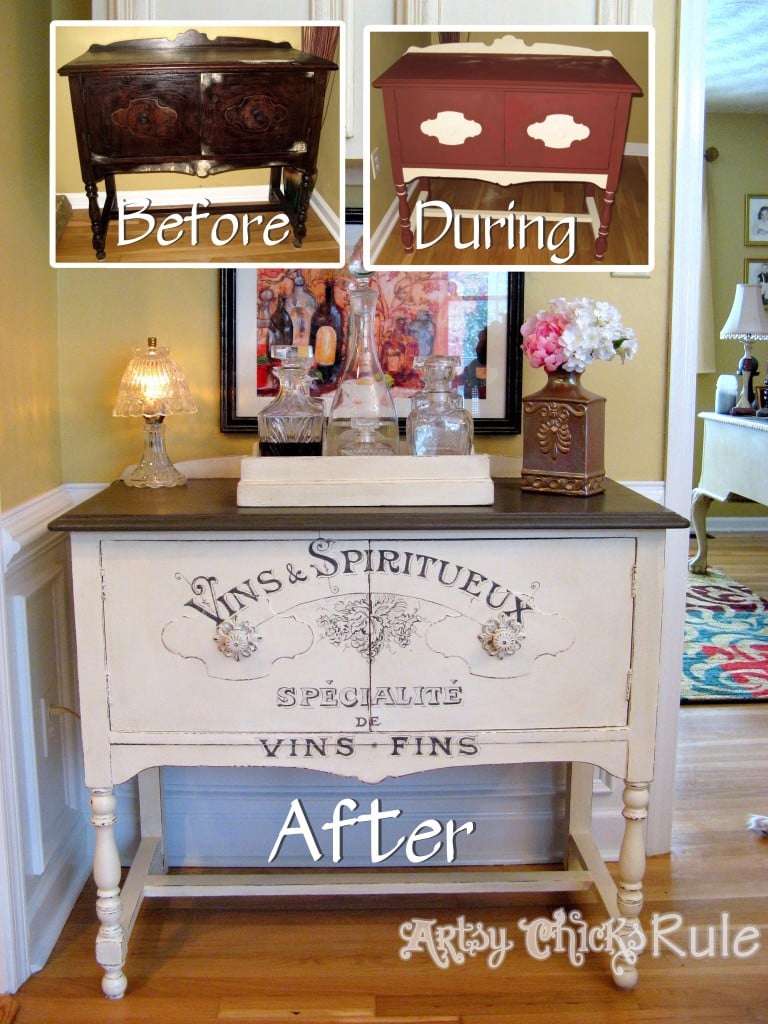 YES. I hear you agreeing with me! Right?? Yes.
Much better. So much better. It finally spoke to me in English!
Which is funny, I know, since there is now French writing on the front of it. Haha
Want to know about 26 other chalk-style paints?
I've got the low down for you right here! >>> 26 Types of Chalk Style Paint For Furniture
And just for fun, here's what used to be in this spot…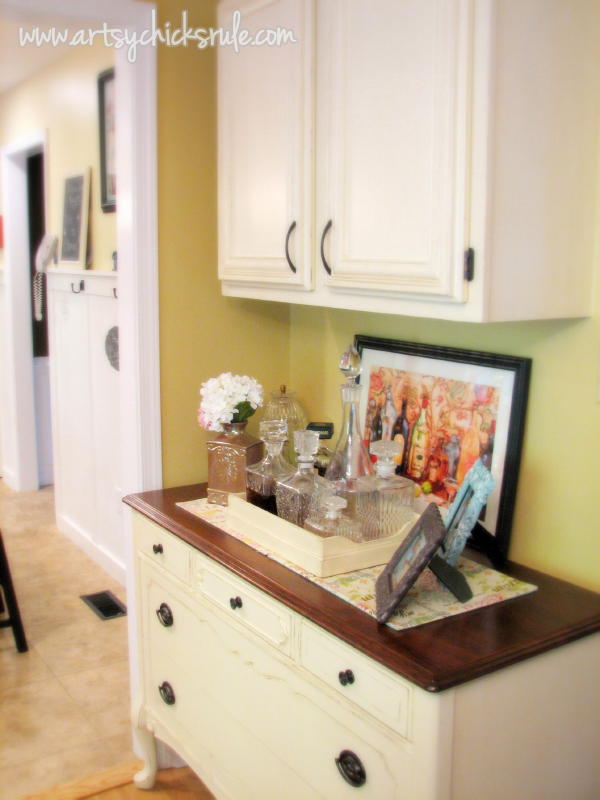 This is a dresser I've had for 10 years (refinished twice by me…I painted over the "pretty, blue metallic" paint someone had chosen to paint it with an off-white. Last year I decided to strip all 3 paint layers down to the wood and start over — there were two different yellows under that metallic blue and my off-white topcoat, oh my!).
It was really a little too large for this space so this worked out well. It is now in my family room. And I love it there…funny how things work out.
*You can see more about it in this post here.
$20 Estate Sale Sideboard with Chalk Paint Makeover
Now let's take a look at the process…
One of the great things about Annie Sloan Chalk Paint is you can paint right over the wax of a finished piece!
Love that.
I mean I really love that because my creative moods change with the wind!
I mixed up some Graphite & Coco Chalk Paint and came up with a really great color for the top. (if you didn't already figure it out, I am a mixer)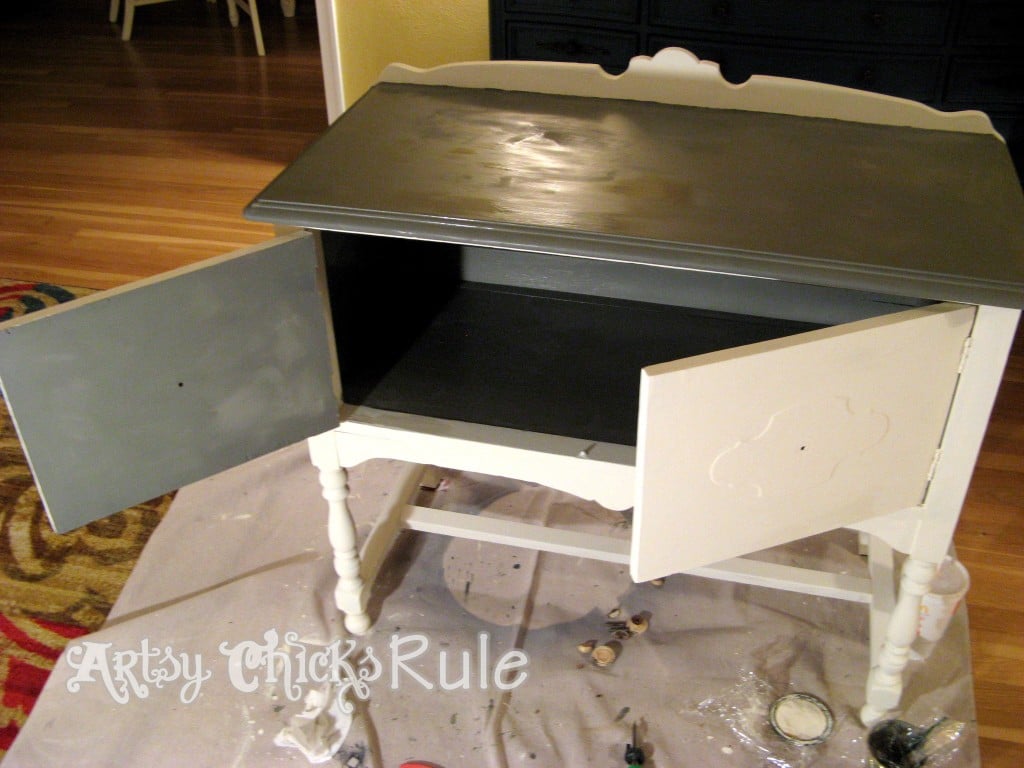 I also painted the inside this color.
I painted everything else "Old White".
Much better with these new colors already, right?
Then I pulled out my handy little projector and got to work.
I used this graphic from The Graphic's Fairy.
She has a plethora of graphics that she so graciously offers for free!
Please go visit her site and take a look at them…there are so many!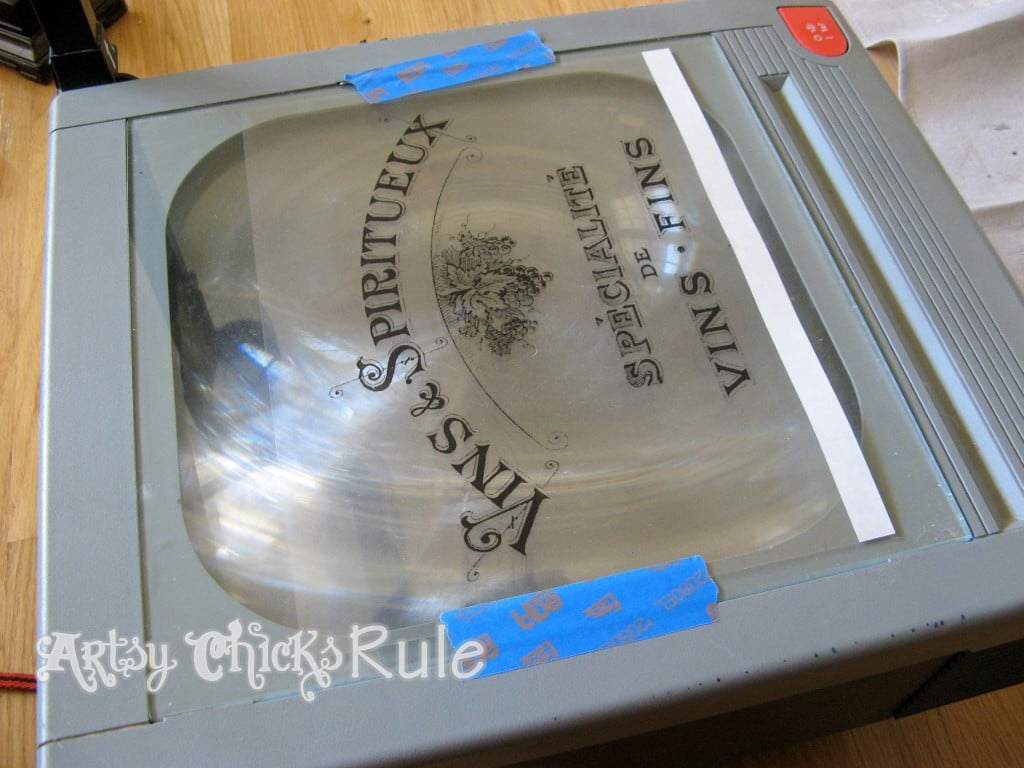 I was going to use this little sideboard cabinet as a "bar cabinet" so chose
this graphic…which means: "Wine & Liquor"
Perfect, right?
I moved the projector around until I got the graphic where I wanted it
positioned onto the cabinet.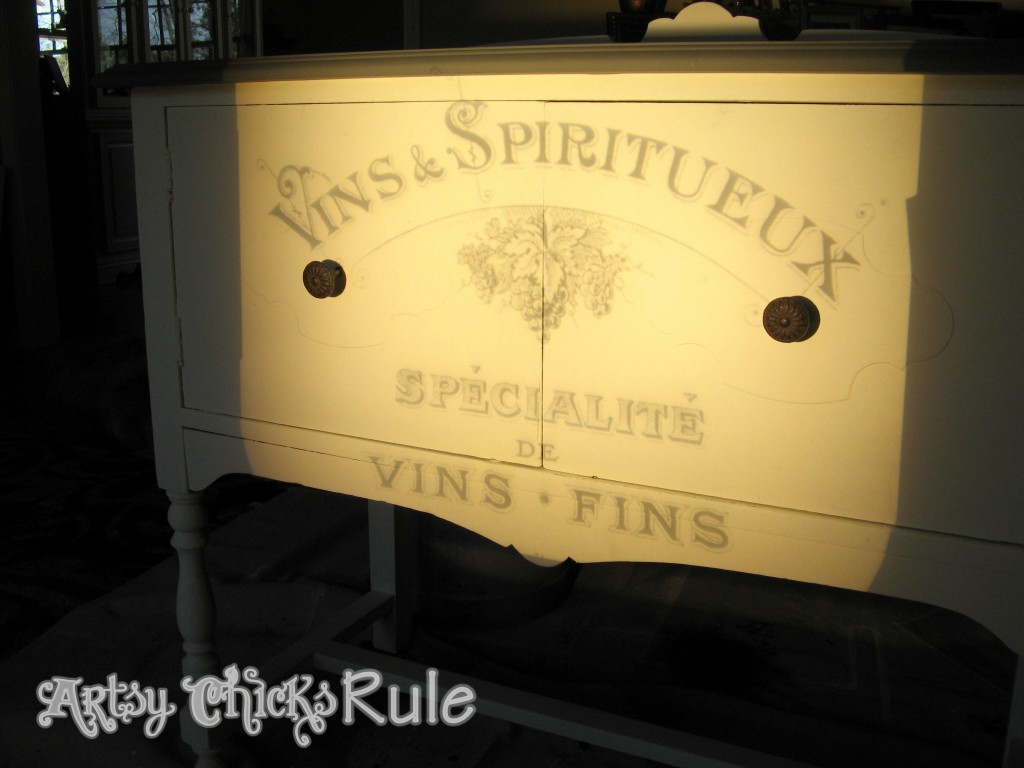 And then I started working…..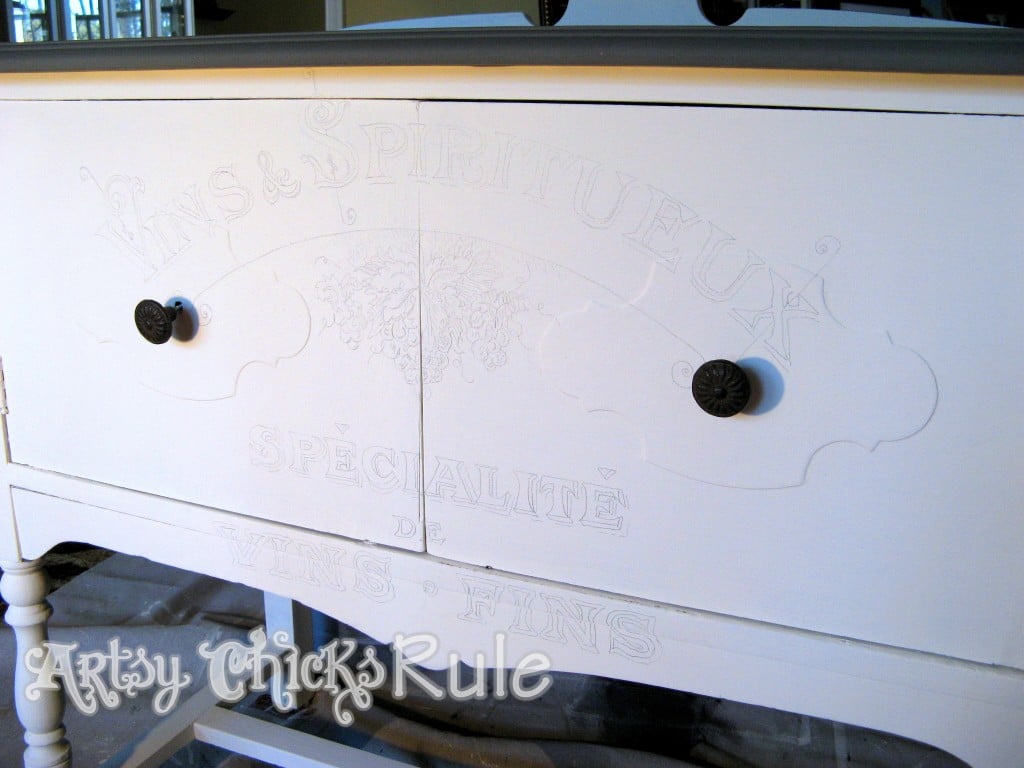 Next, it's just as simple as "painting in the lines"…..the grapes and leaves in the middle were
a little bit of a booger.
I had to actually paint some of that part freehand as I thought they should look because it had gotten a bit muddled up.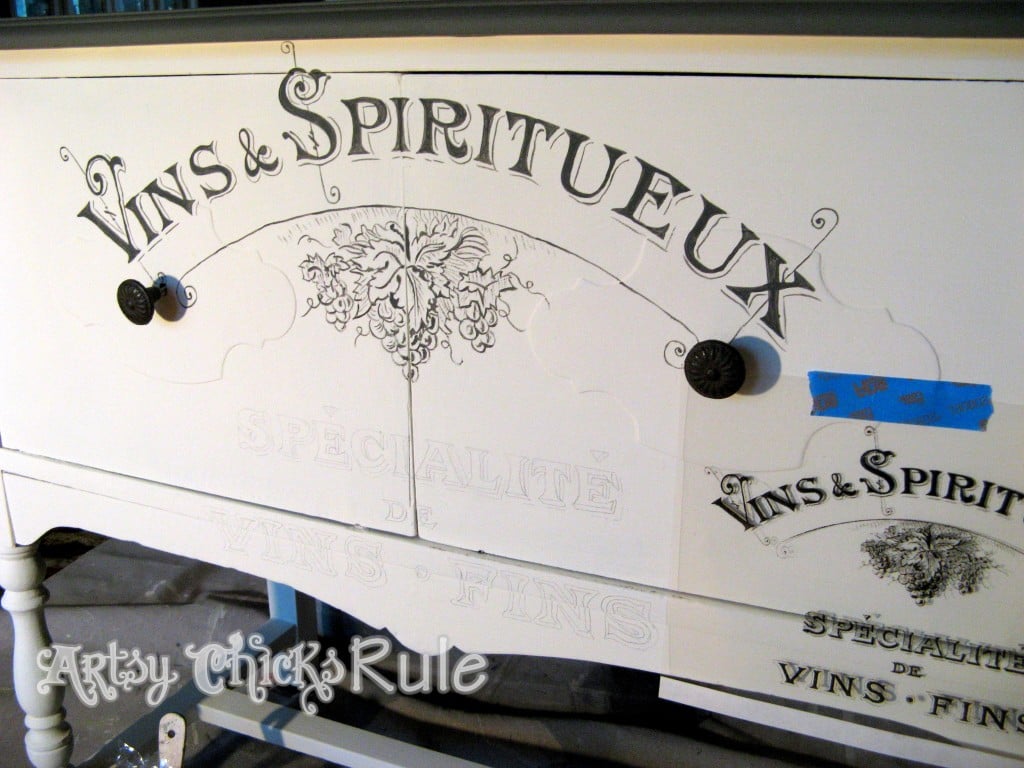 Sort of therapeutic, quiet minded work. Many would think this is tedious.
And it is but I like it!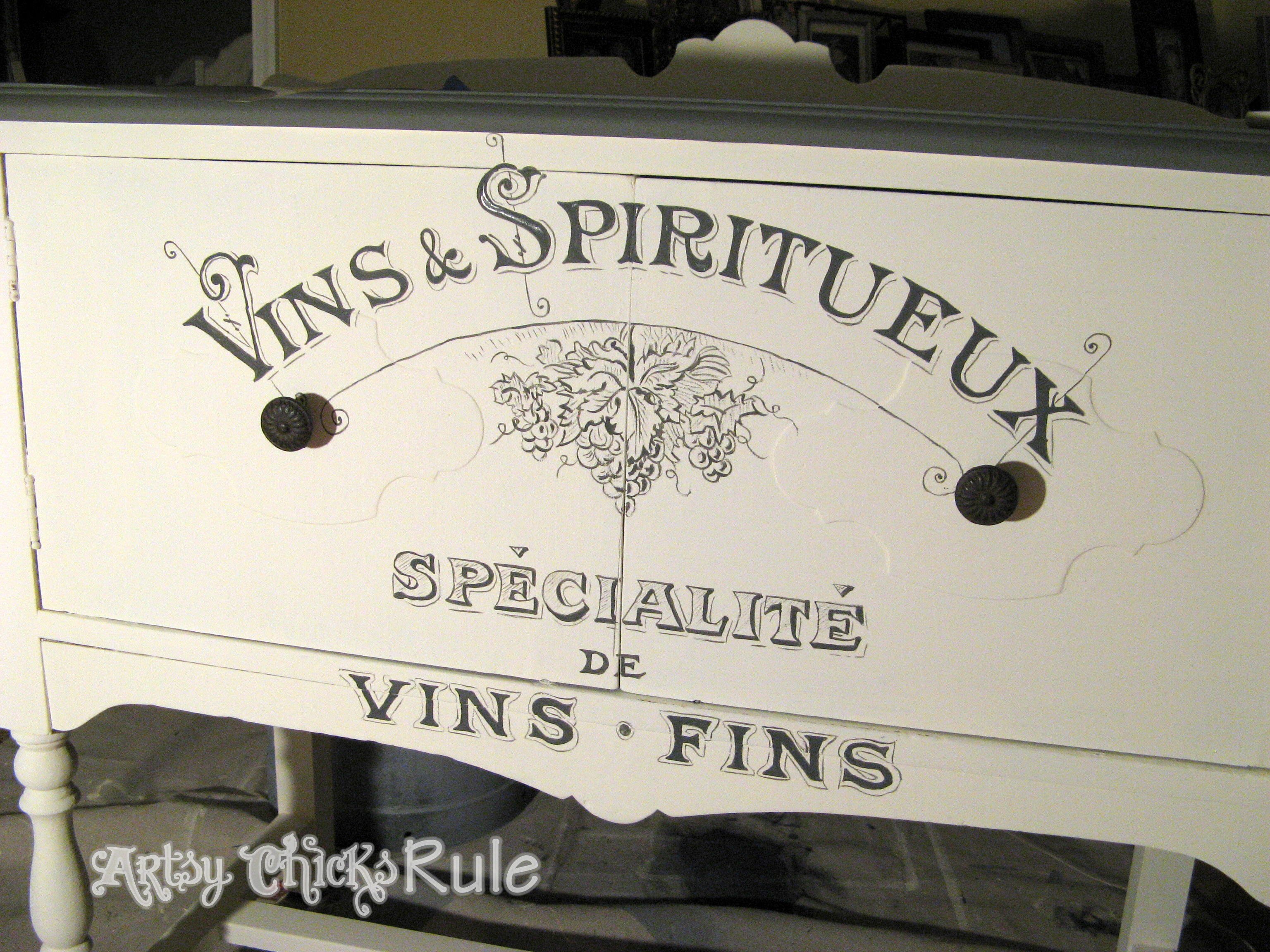 The knobs were only on so I could open and close the doors as I was working. (they are not staying that color)
A touch of distressing with sandpaper…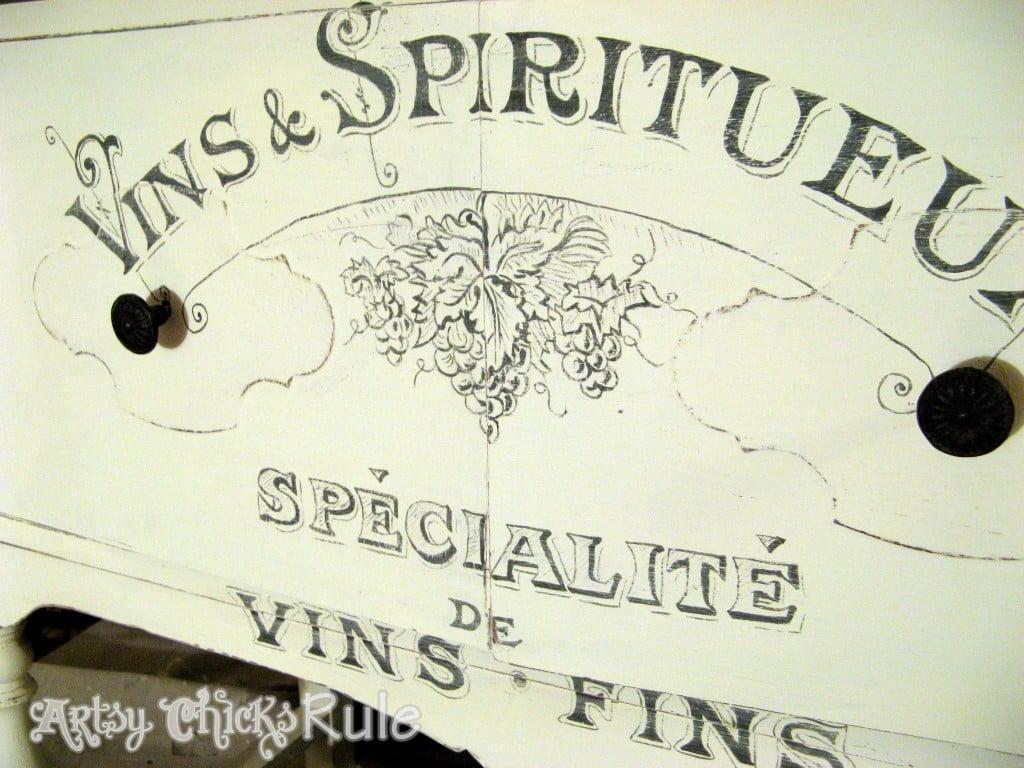 The hardware I chose was a perfect heavy rustic metal. But I chose to paint it to match the cabinet.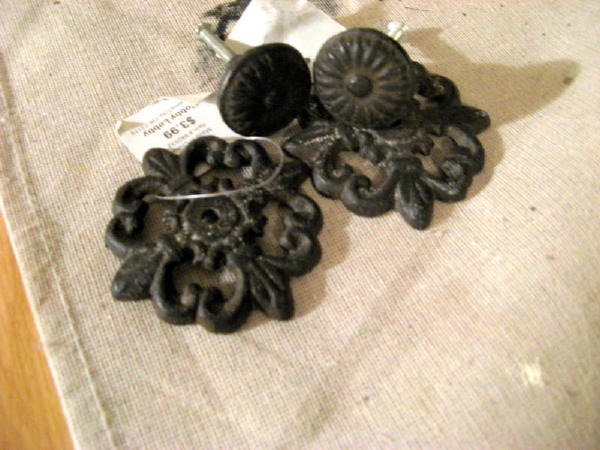 Painting…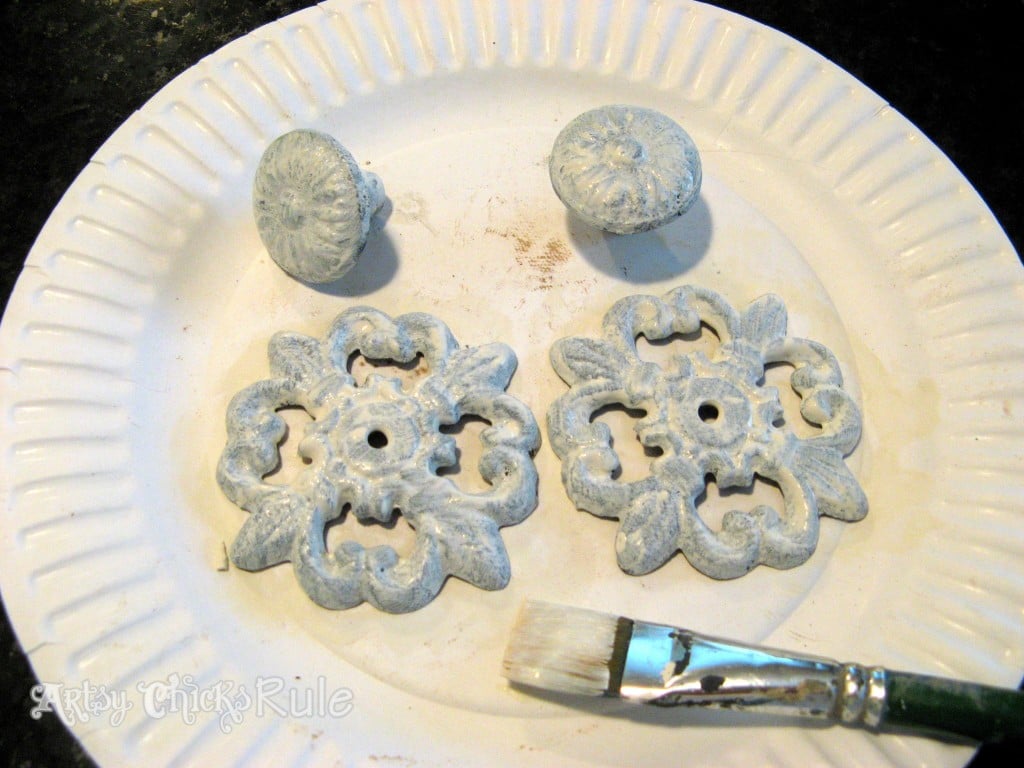 Distressed and waxed….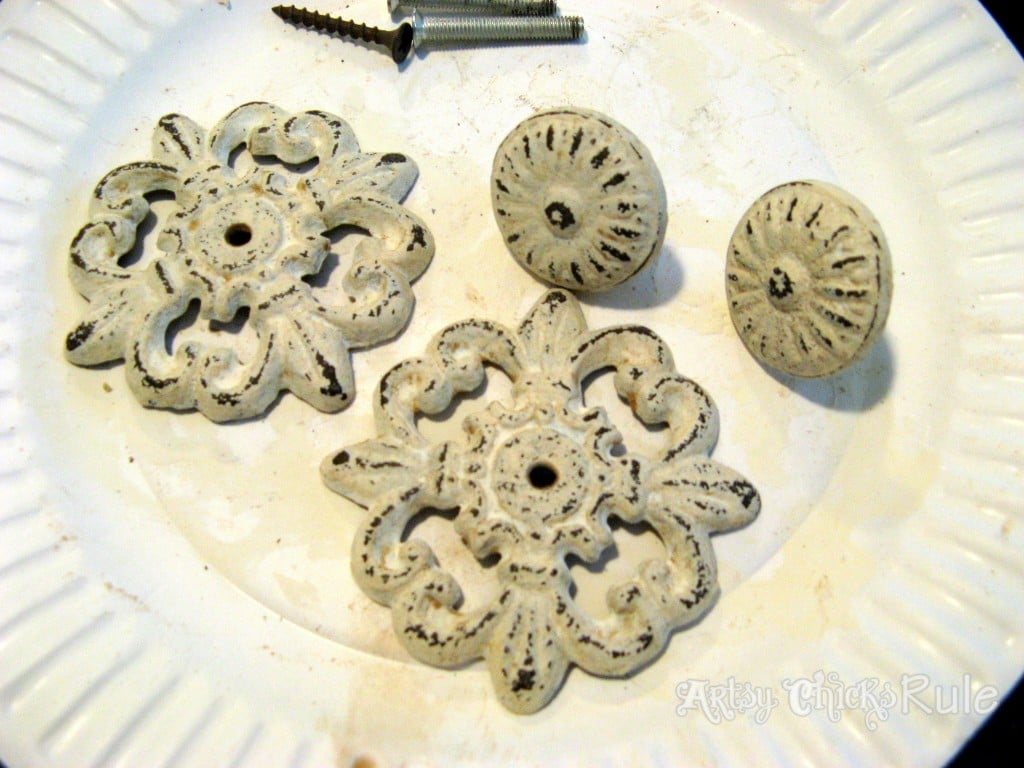 Aren't they lovely like this?? I love painted hardware…on the right piece, of course.
I used a good amount of dark wax on the top. I wanted that varied look as you see here.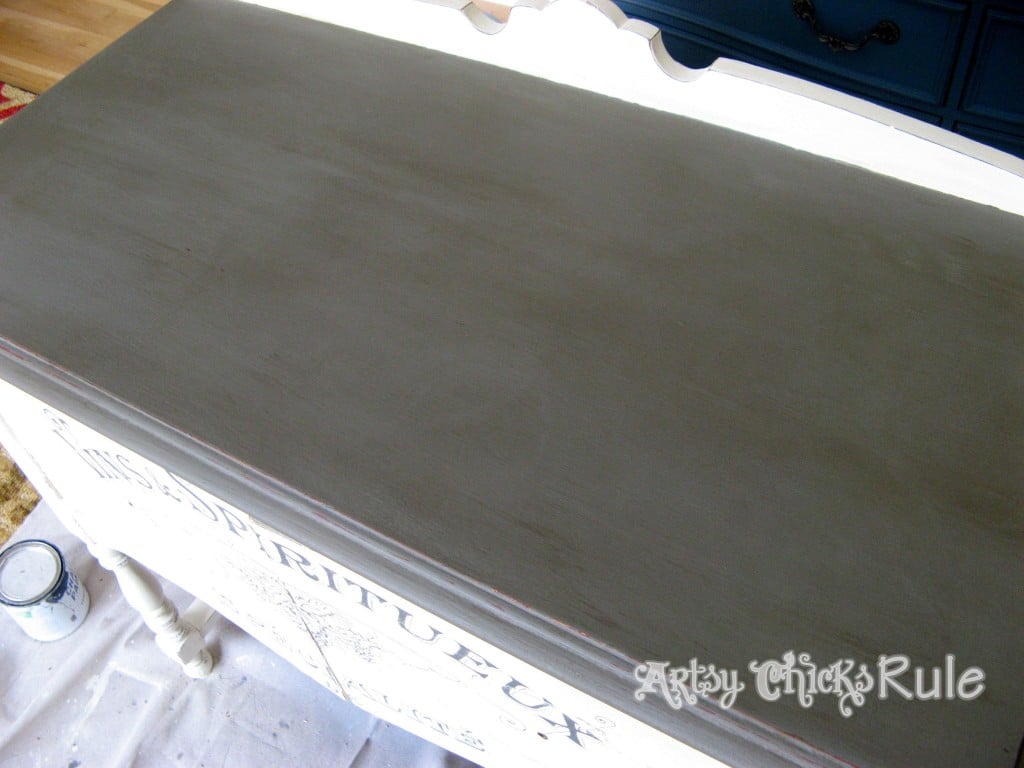 And mostly clear wax with only a touch of dark on the rest.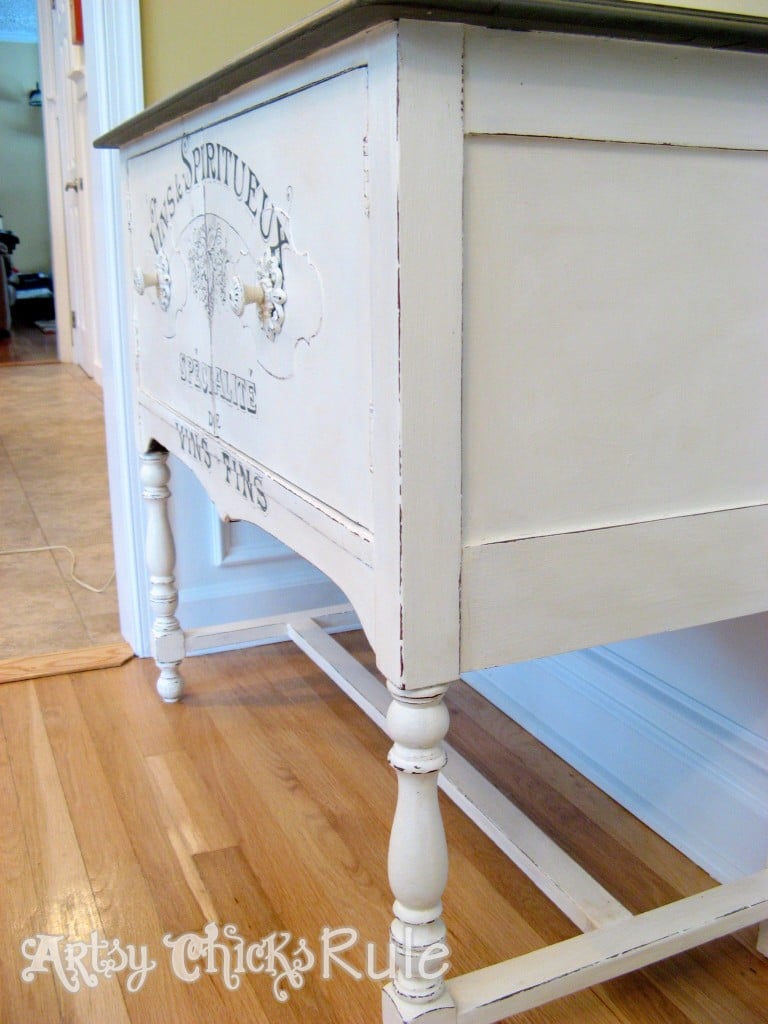 Close up of the knobs on…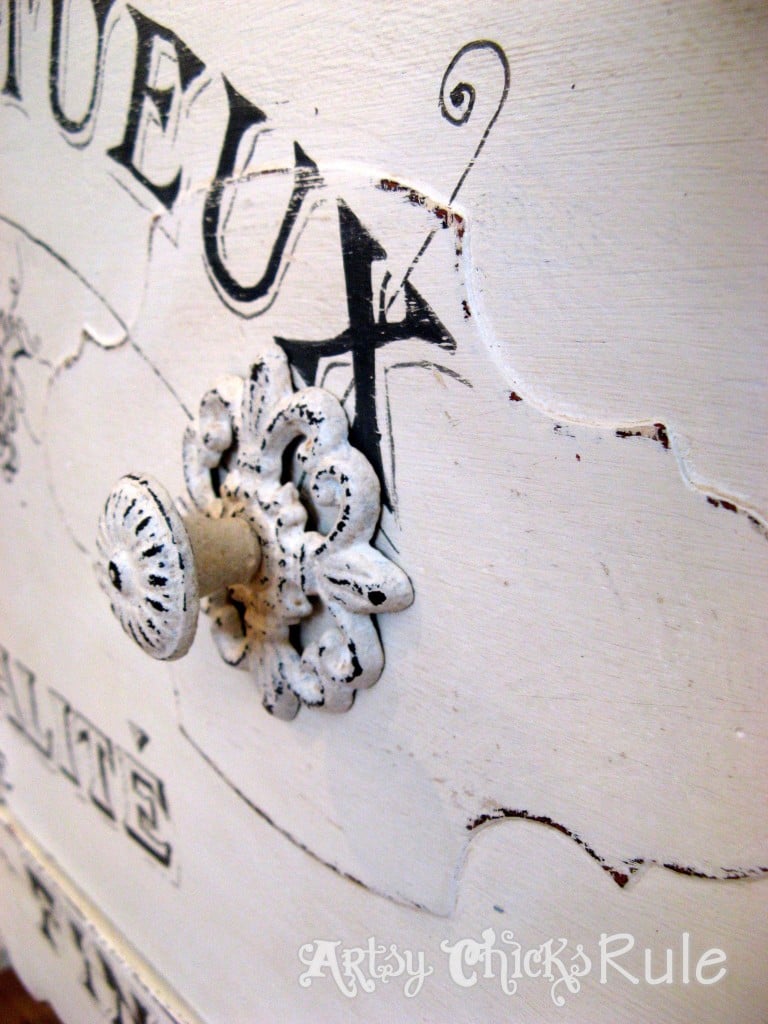 Sigh, I'm loving it so much better now…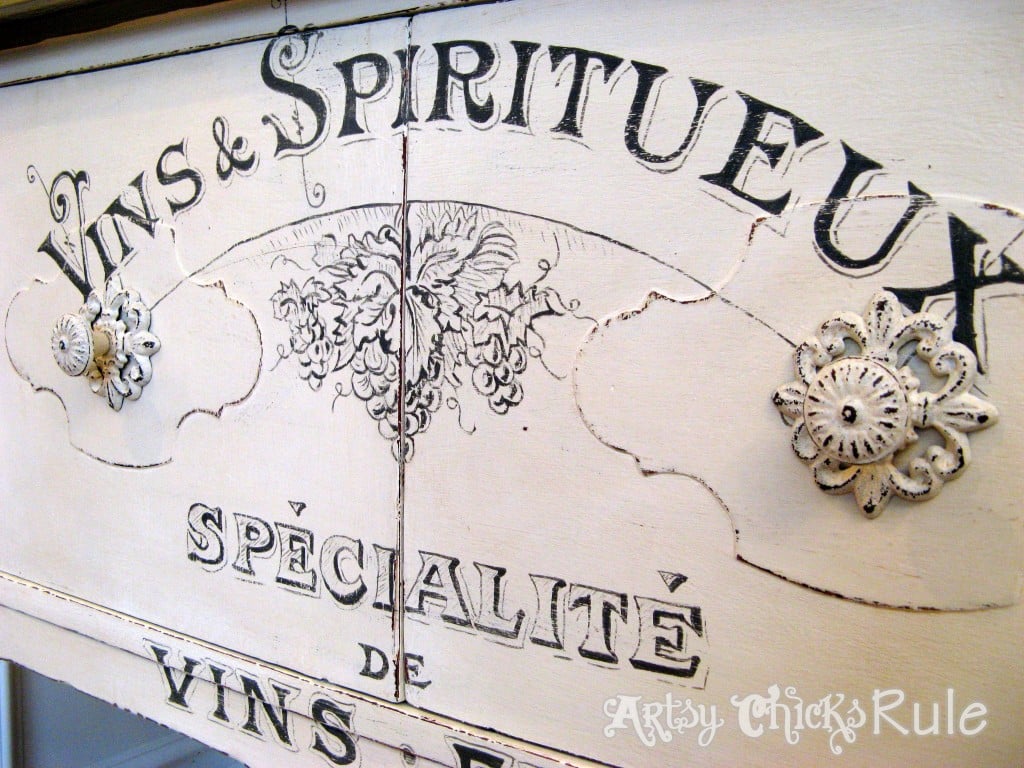 The legs…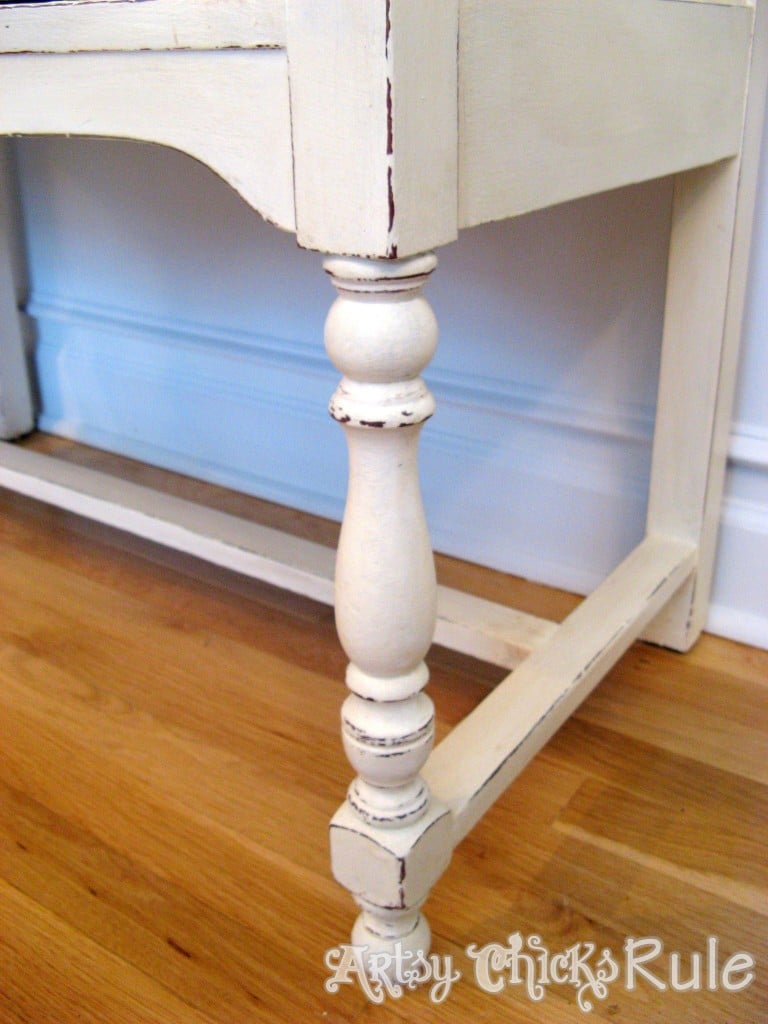 I really think this is the ONE.
….and it is finally finished being transformed.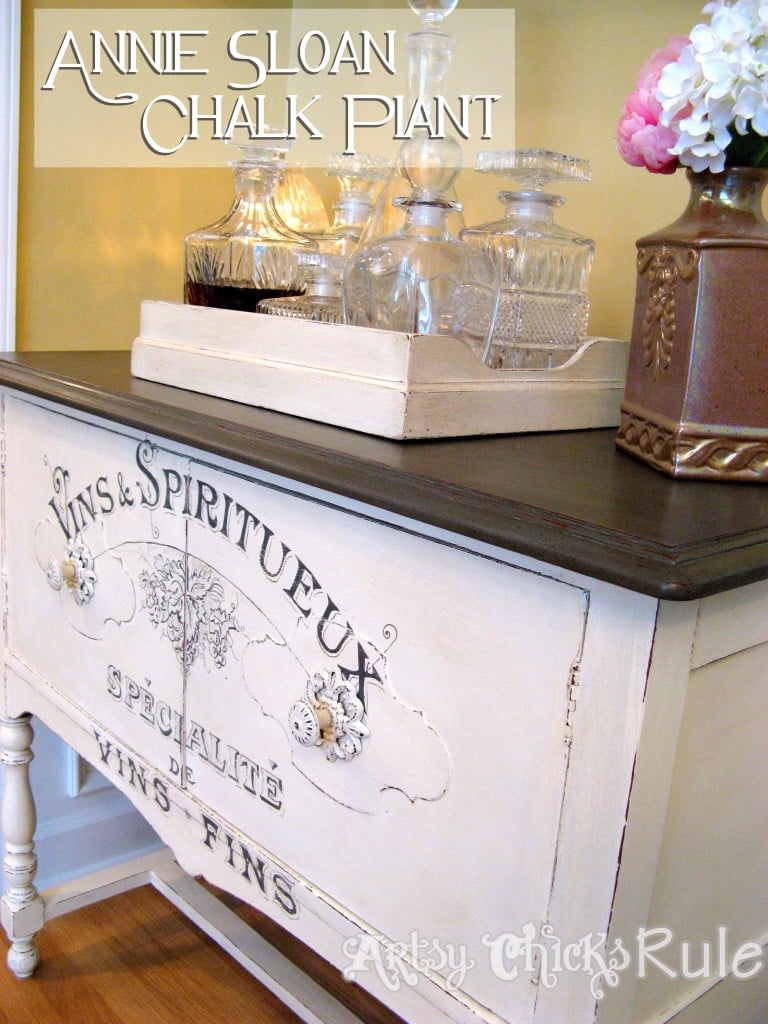 And will stay this way forever…I think anyway!
You never really know with me but I do love this piece quite a lot.
I have to say this was a fun one to watch transform in front of me.
And it makes me smile every time I see it.
That's how I know I got it right this time.
PIN it to save it!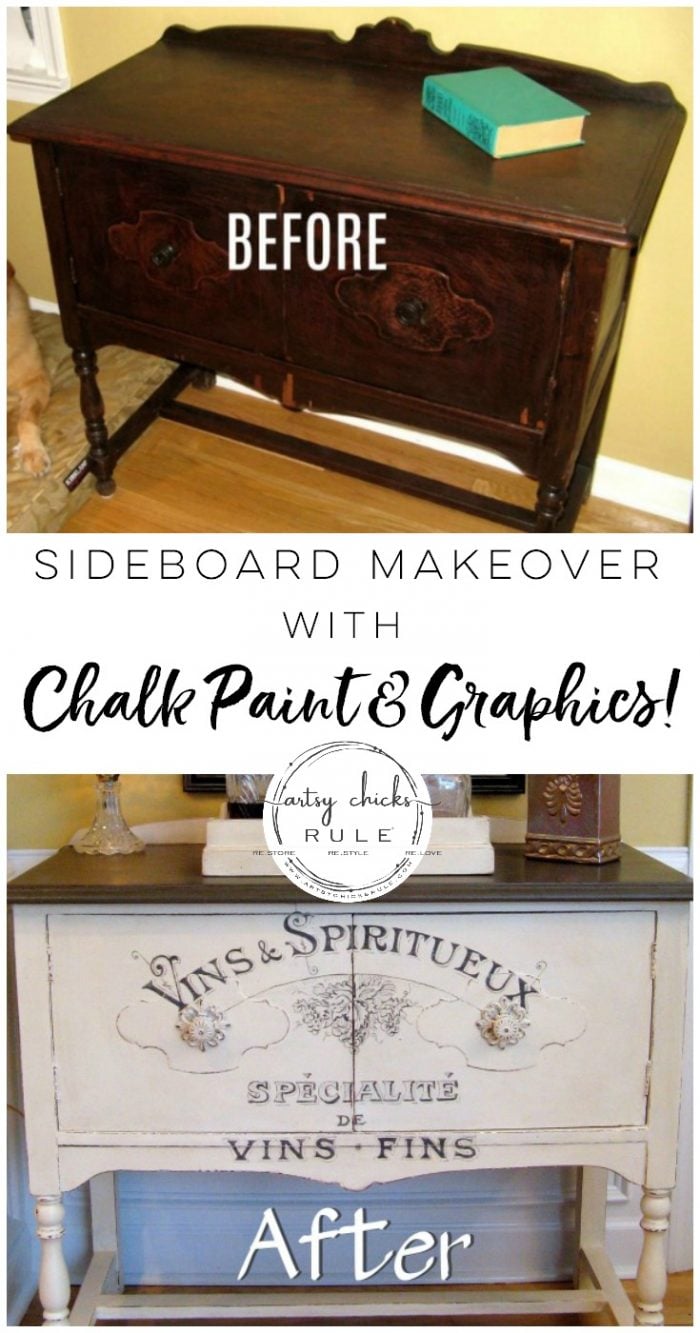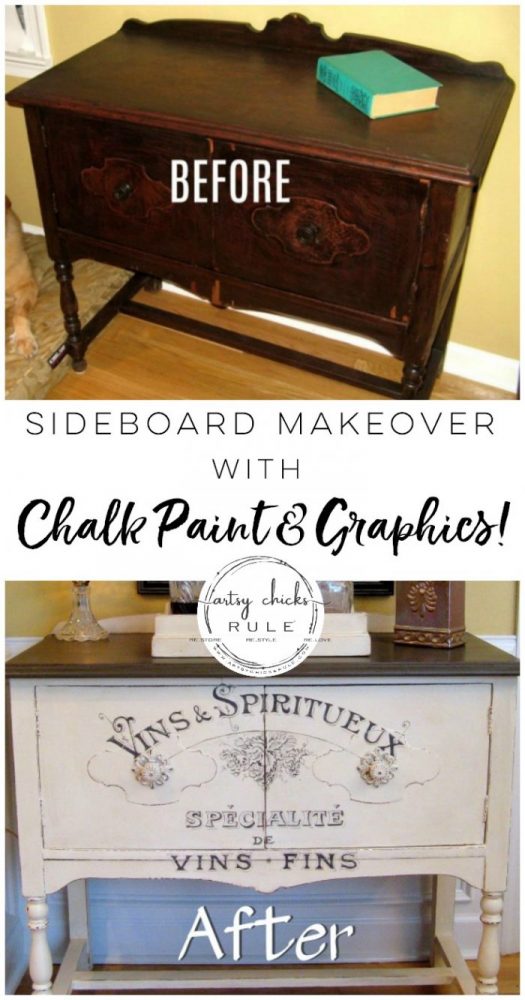 Are you a (re) painter like me? Painting things several
times until you get it right?
You might also like makeover: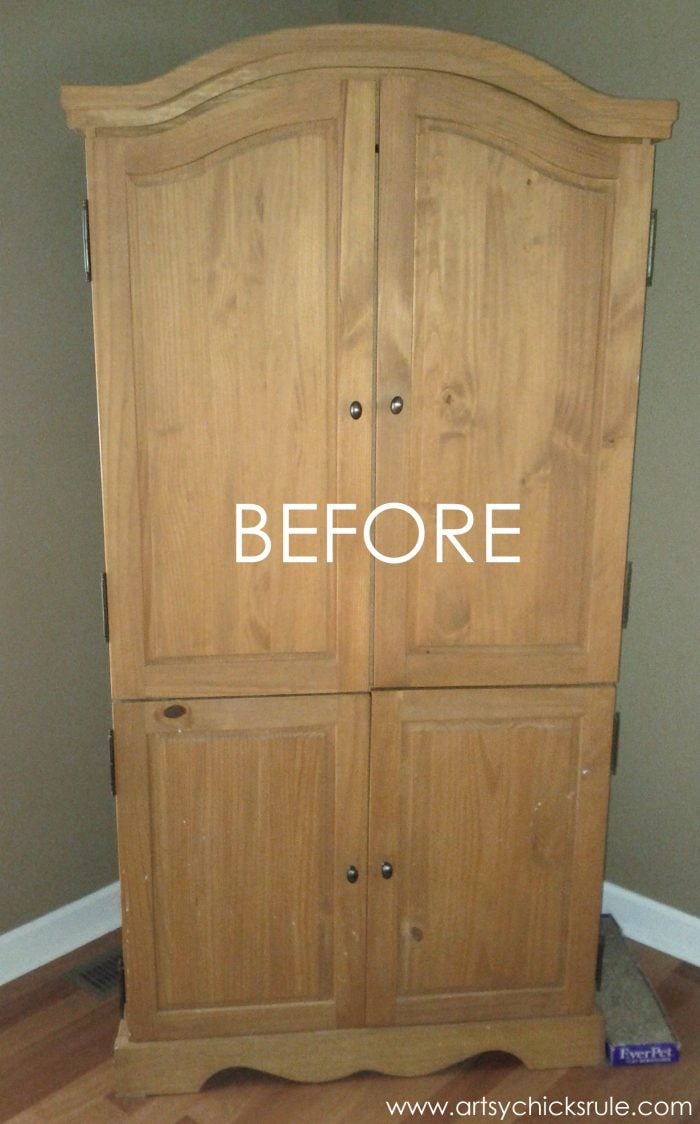 UPDATE!!! See it now, here!!
Want to see even more "before & after" furniture makeovers? Click here.
xo