Armoire Transformed Twice…Finishing Up with Chalk Paint
This post may contain affiliate links. Please see disclosures here.
This thrifty armoire transformed into a beautiful, blue, "aged" piece makes for a lovely storage AND statement piece.
But it looked like this when I found it….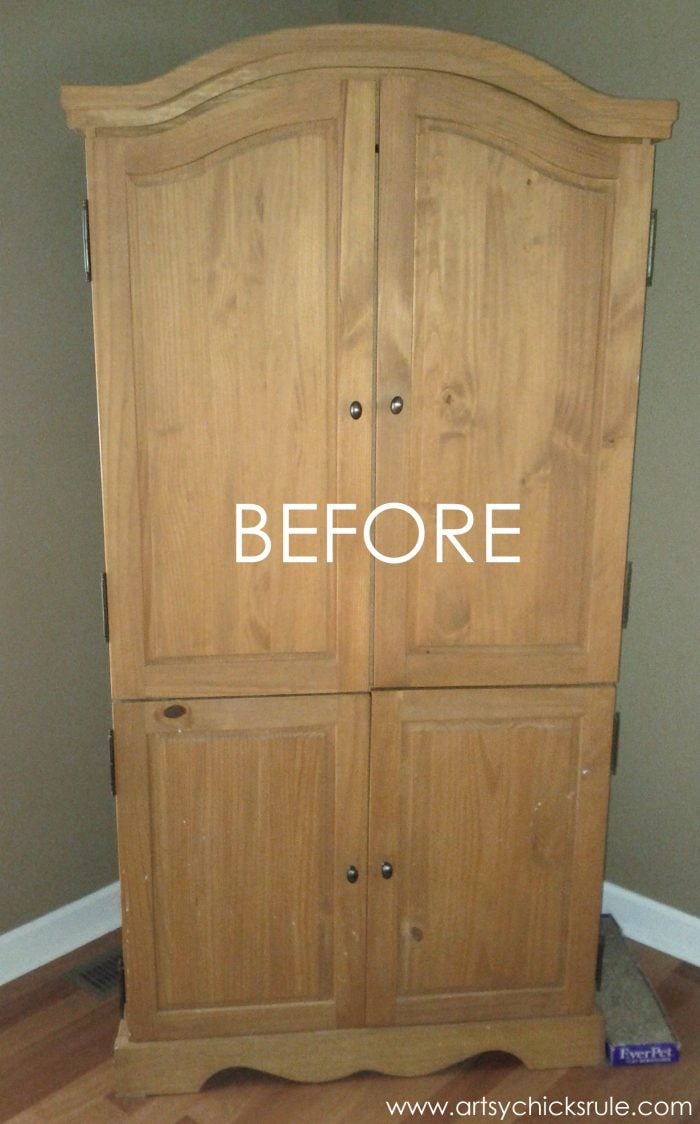 I'm sharing how an old armoire transformed can not only be a beautiful statement piece but can also provide much needed storage, too!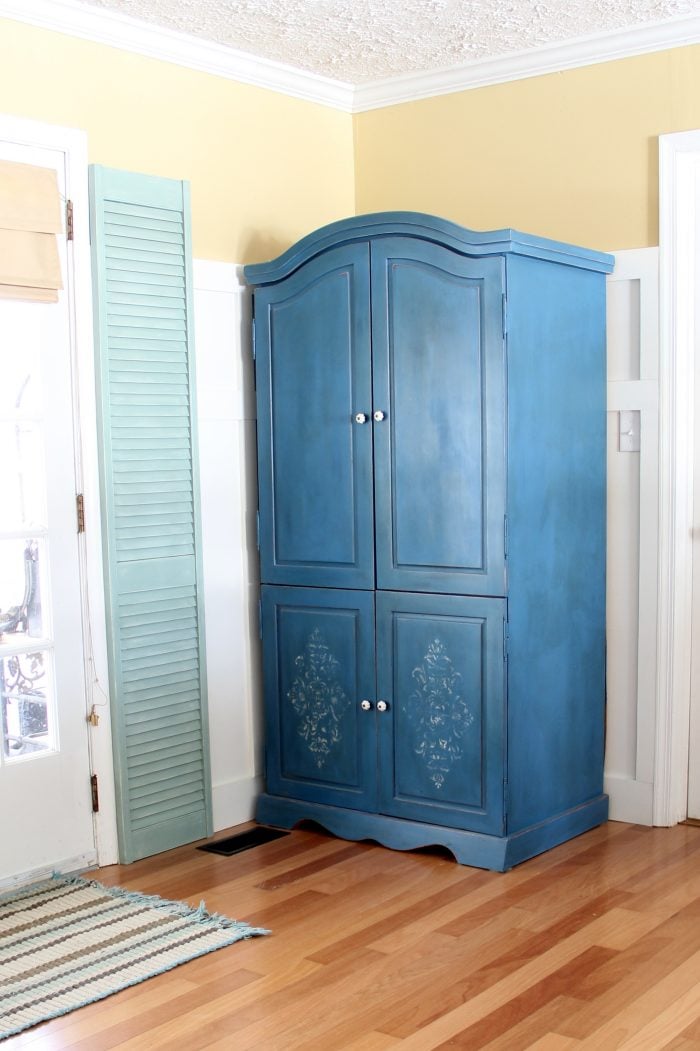 I bought this armoire about 6 years ago at a consignment shop.
But it didn't look like this when I bought it. Yeah…no.
And it didn't look this way after I painted it…the first time.
Yes, I painted it twice. This armoire transformed…2 times. ;) 
If you read my blog regularly you aren't surprised, are you? (If you follow me on Instagram then you've already seen a snippet or two of this since I always post about things there long before they end up making it to the blog. ;) )
Here is the before, first color and the "now"…forever paint.
Ha right. More like "for -now" paint.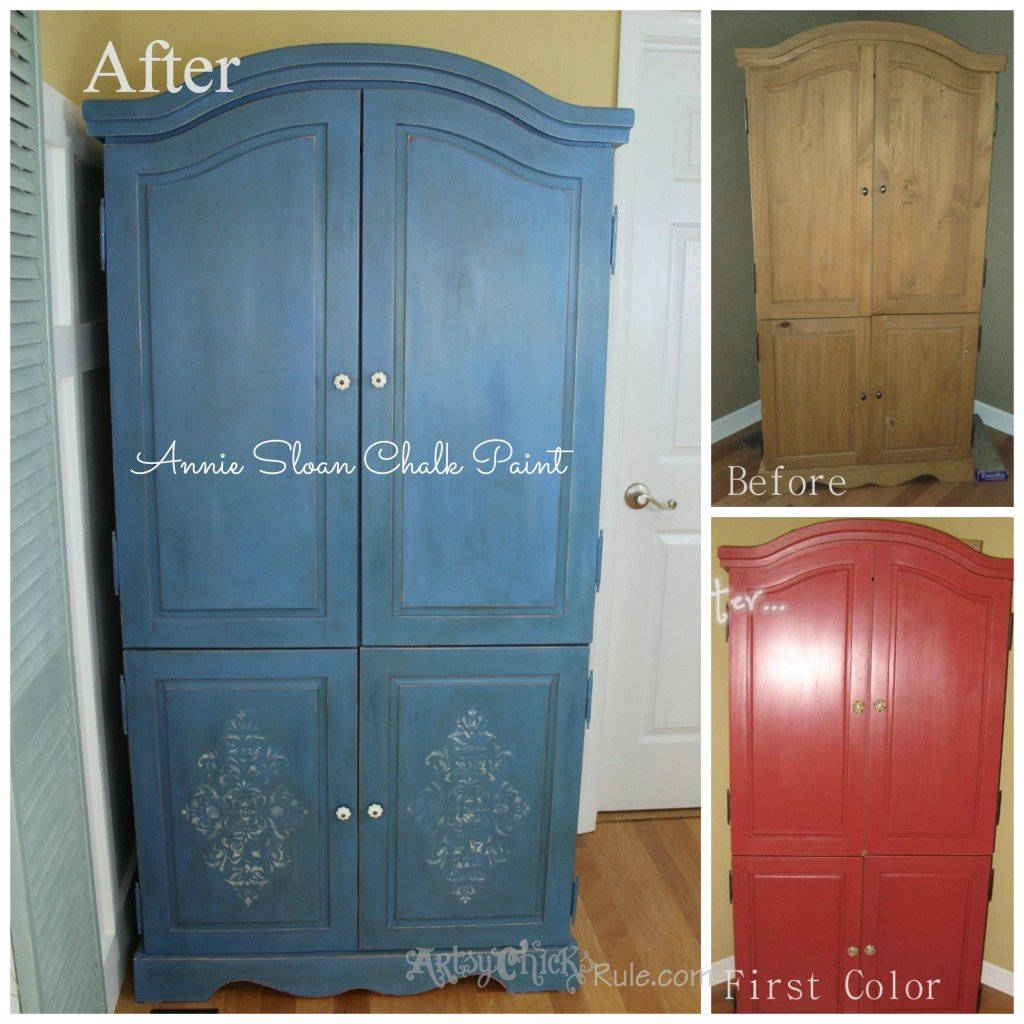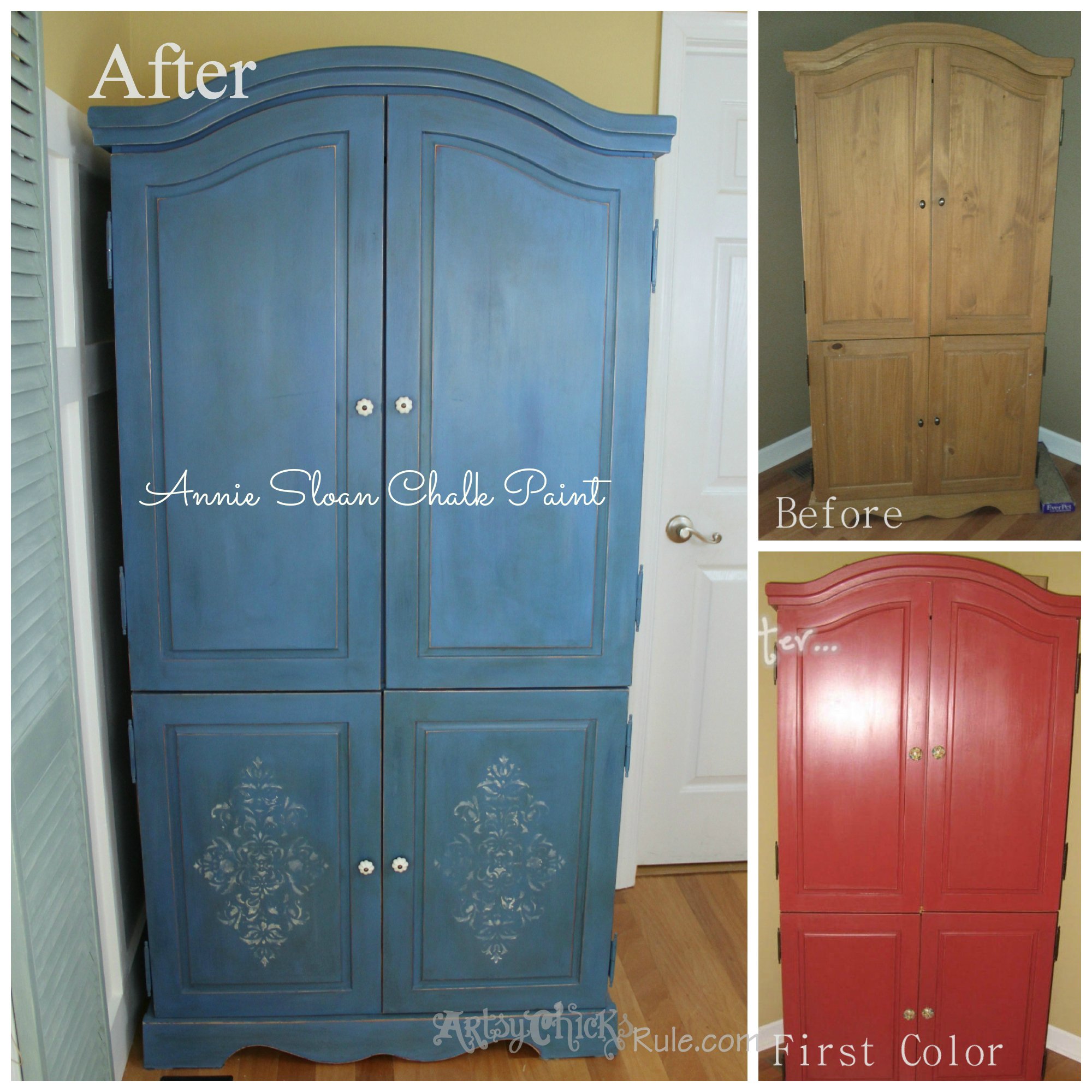 It had a natural looking wood finish that didn't seem to have any type of poly on it when I purchased it.
I left it that way until last year when I decided I needed a statement piece in the room. And I suppose red really does make a statement.
So that's what it got.
Except red was not the right color….as I found out after I painted it.
Figures….
Kind of like the laundry room cabinets I also painted red. Then as I was putting the doors back on realized ….really quickly…..that it was awful!
That was a fun week. ;)
Back down they came and I immediately repainted them. (this was last year, mind you…and I'm already planning a redo and repaint in that room as well. It's gonna be great ;) )
The armoire did stay red for almost a year until I decided what it needed.
Blue.
My favorite color.
A color that I used to not really like at all in home decorating, however.
My home has gone from reds, maroons, golds and very warm colors to a fun, bright, cheerful eclectic coastal feel with blues, teals, corals, whites and yellows.
I'm SO loving it and can't wait to share my finished rooms with you all! (if you pay a bit of attention to the photos you'll see some snippets of the changes we've made to this room…hint: the armoire is in the same location in all photos)
(edited: you can see "my rooms" now)
But first….this armoire's story…..
I painted it with regular latex first go-round. Distressed slightly, added some fun new funky knobs and was done.
Second go-round got Annie Sloan Chalk Paint. It looks sorta like Aubusson Blue, doesn't it?
But it's not.
I mixed this color from 3 other colors trying to get something like this….my inspiration here:
(by the way, this is not a sponsored post… I just love Annie Sloan Chalk Paint)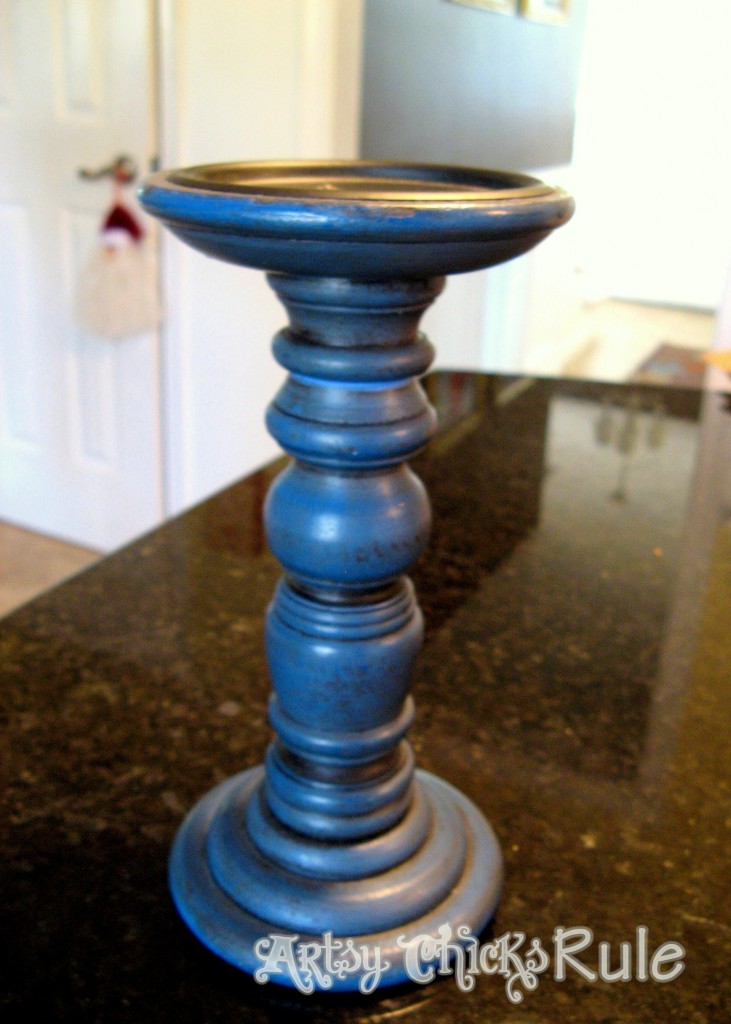 With these 3 colors: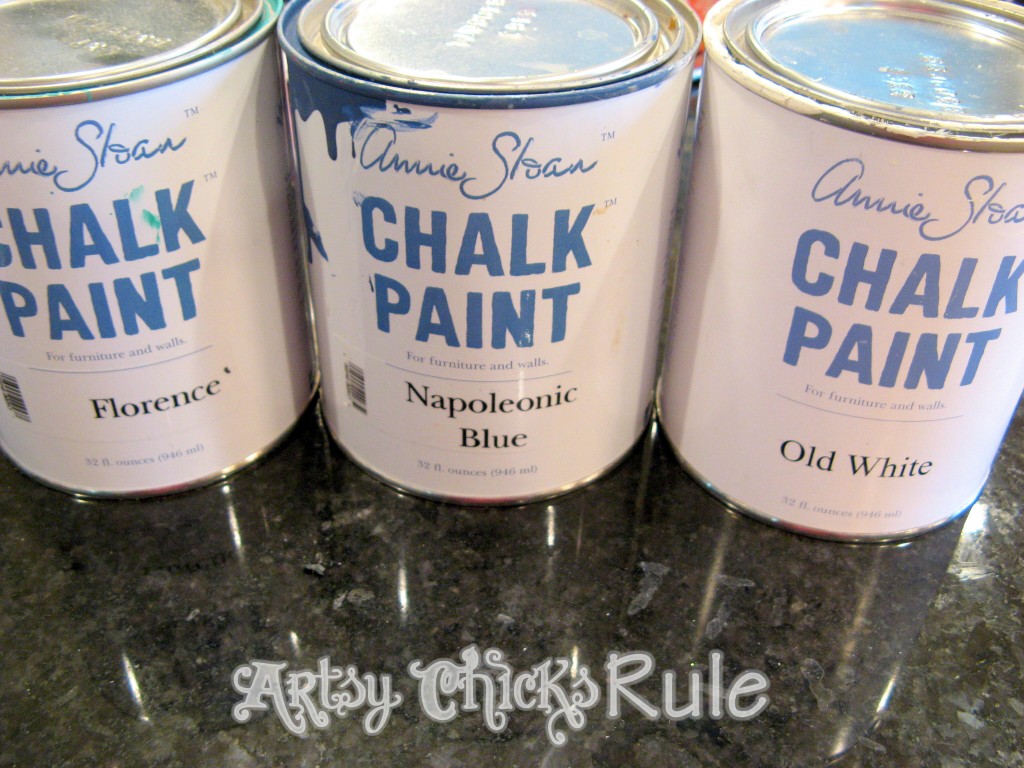 All fabulous colors. All of the Annie Sloan line is really.
And yes, I have quite a lot of them.  I love to mix and they really do mix well into various shades of beautiful color.
NOTE: All "before" photos were taken with my old camera…." after" photos are taken with my new "big girl" camera (that I'm still learning how to use) and are more realistic color-wise. Also, this one was hard to photograph as the details (wax, color shading, etc) really pop out more in the photos than they do in real life. I painted this one before Christmas but had such a time photographing it that I waited until I purchased the new camera to post about it.

So here was the first "rendition"….of what I thought I wanted…
But, um, NO.
Sometimes the creative process really is just that….a creative process.
The white top had to go.
Plus I thought the paint looked a little "flat" for the look I was after.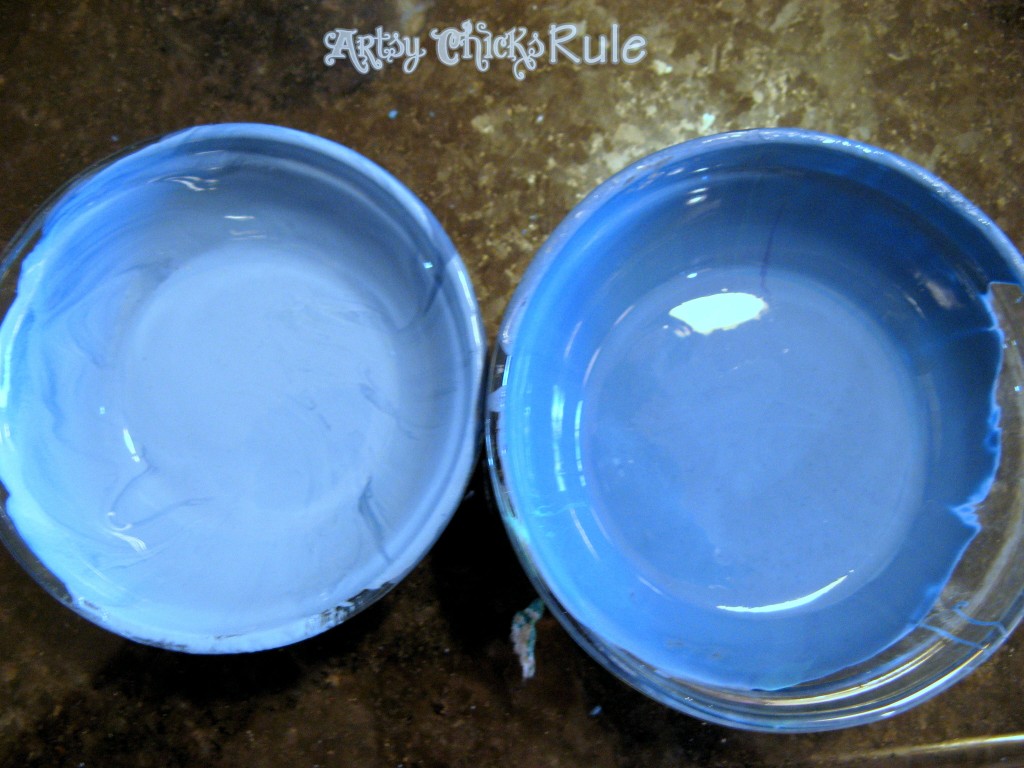 And even though the Dark wax I was planning to add would create some dimension, I decided it needed more color-wise.
So I mixed up a lighter and darker shade of the paint I had mixed to paint the base.
I then took 2 dry brushes and lightly dry brushed the 2 colors over the piece to give it some of that needed depth.
Want to see a VIDEO on exactly how to dry brush? All the ins and outs, here >>> "How To Dry Brush – Video"
Yes….better.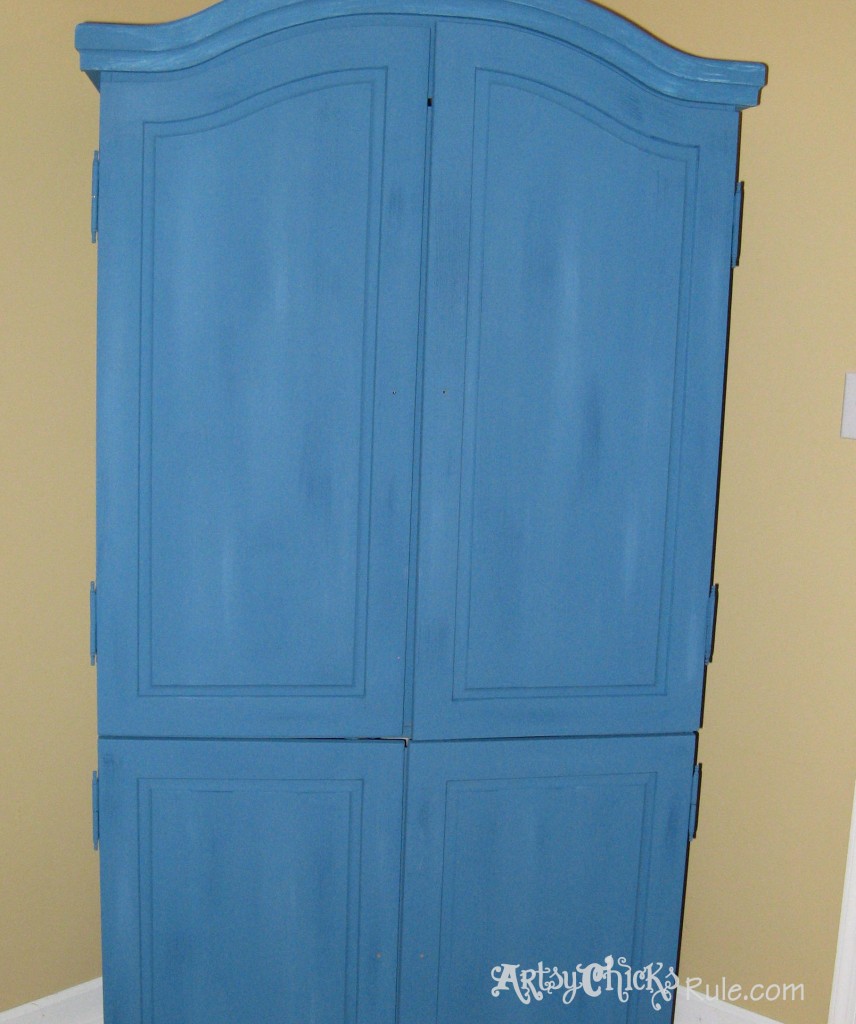 A little distressing…even better still.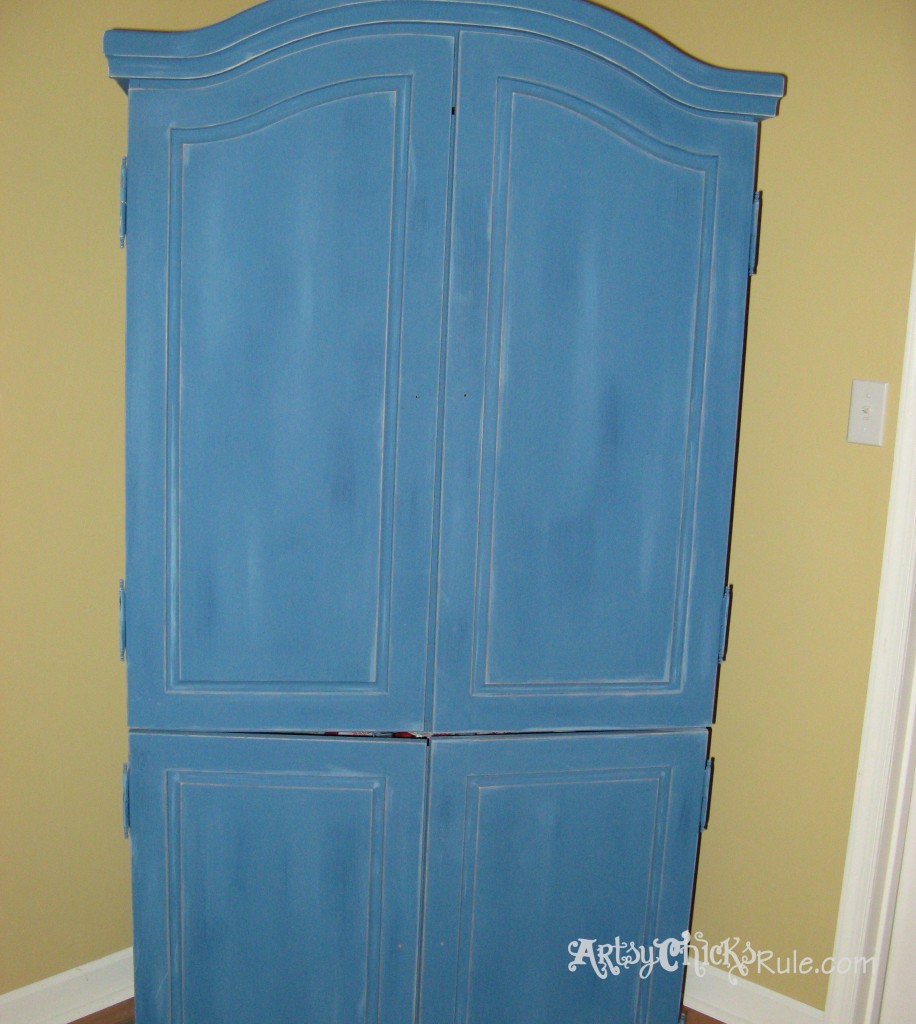 Top and bottom ….with a clear coat of wax applied.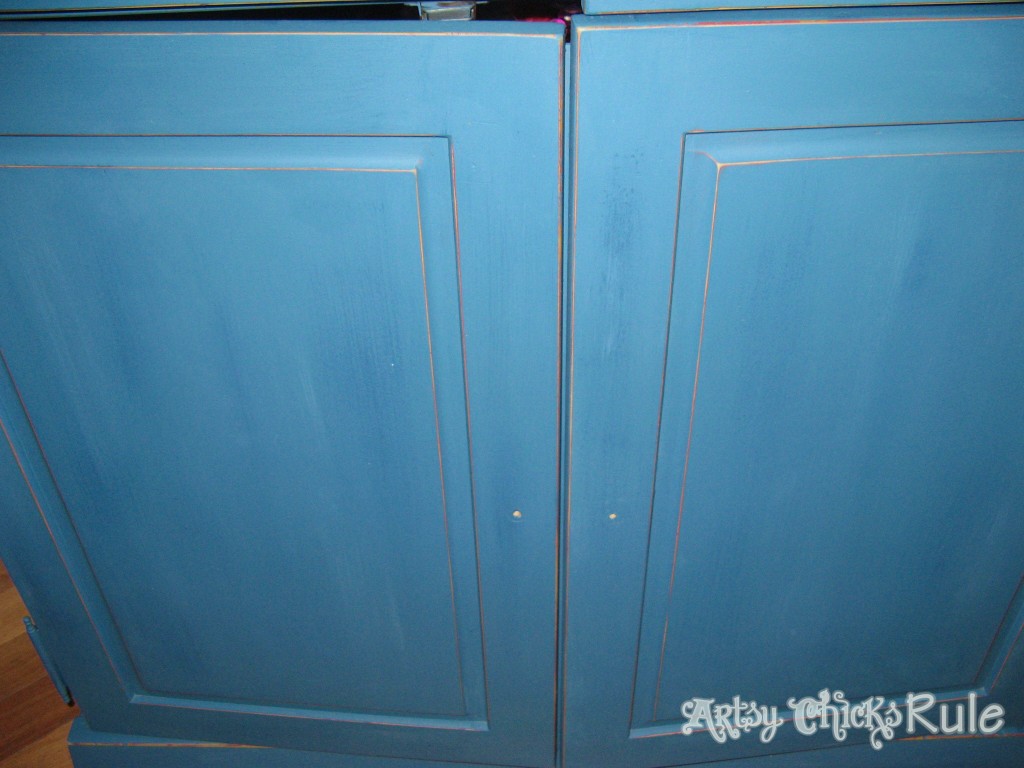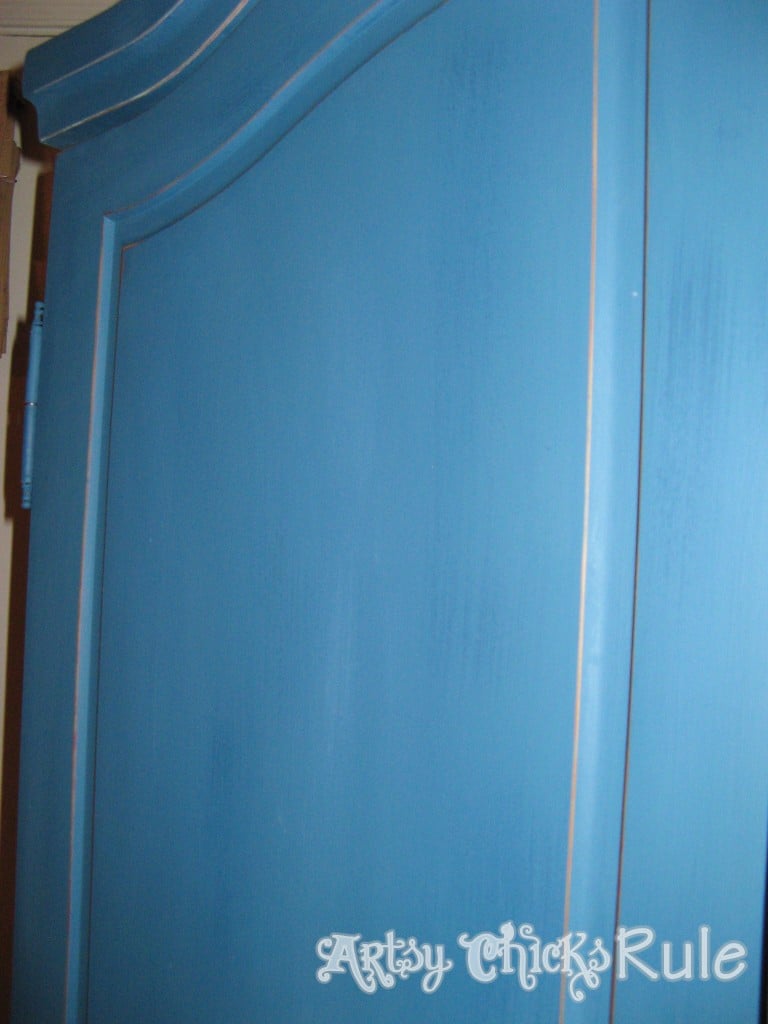 Curious about chalk paint?? I wrote an entire post devoted to all the pros and cons of using it, here >>> "Pros and Cons of Chalk Paint For Furniture"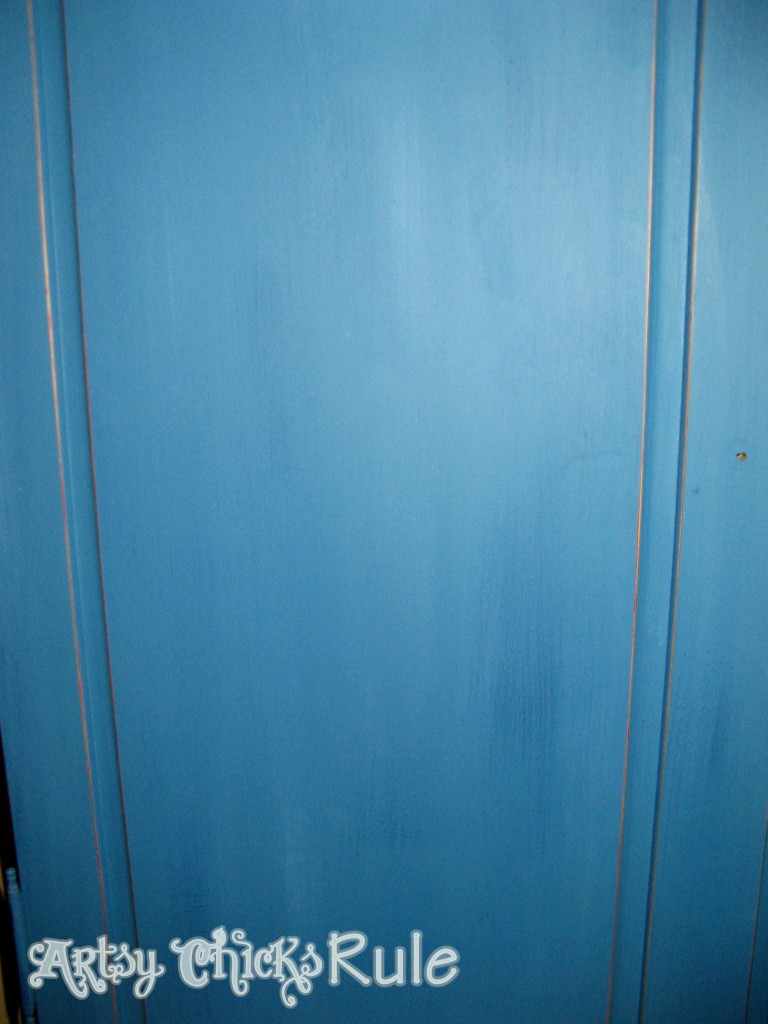 Finished up with some Clear Wax and Dark Wax combined.
I mixed a large amount of the Dark into some of the Clear.
I didn't want a "perfect" looking finish. I wanted lots of dark, dimension & depth.
I wanted this armoire transformed and for it to look aged.
There are times I have used Dark all by itself but not often.
It is powerful by itself and usually only a little is needed.
I did use the Dark by itself on the top of my Estate Sale Sideboard in this post here.
I also added the stencil to the bottom section. I had originally planned to do it on the top too but just wasn't feeling that.
Want to know about 26 other chalk style paints?
I've got the low down for you right here! >>> 26 Types of Chalk Style Paint For Furniture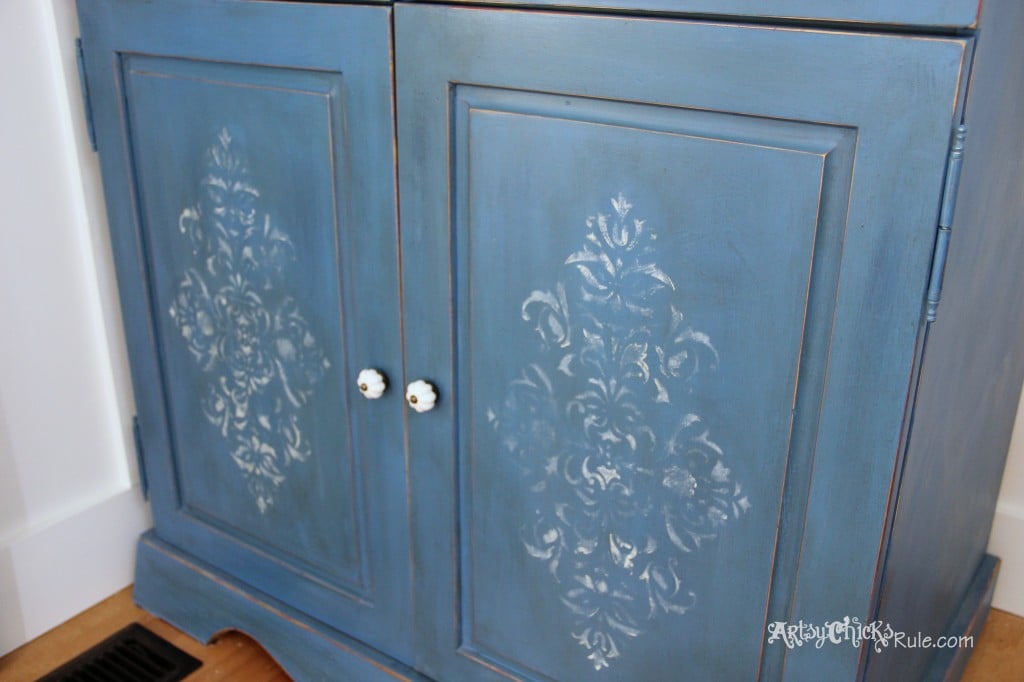 Some close-ups…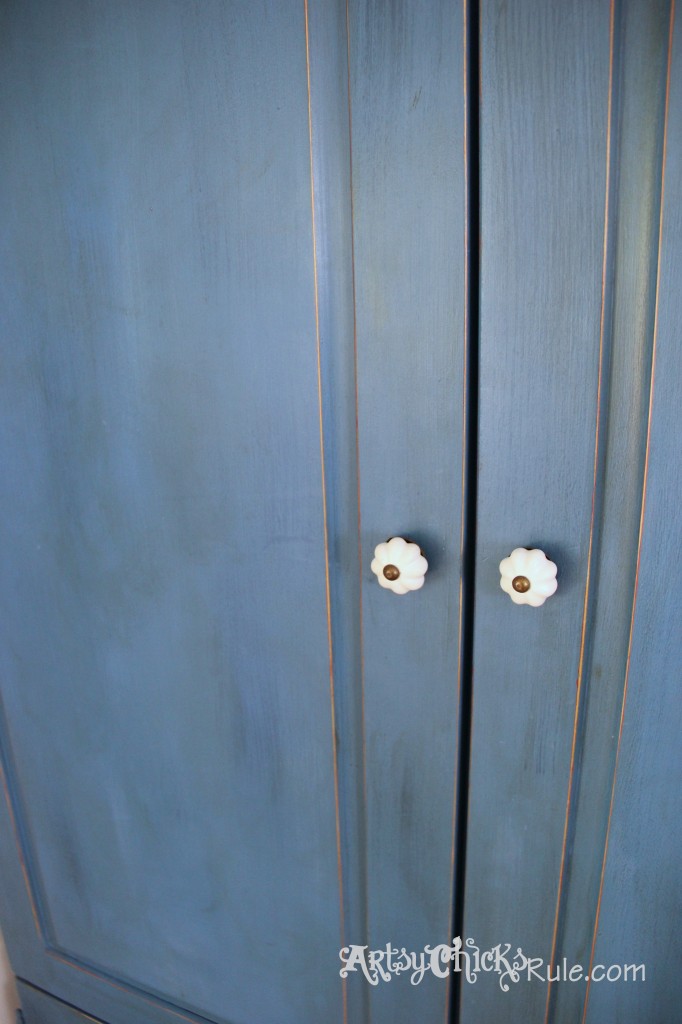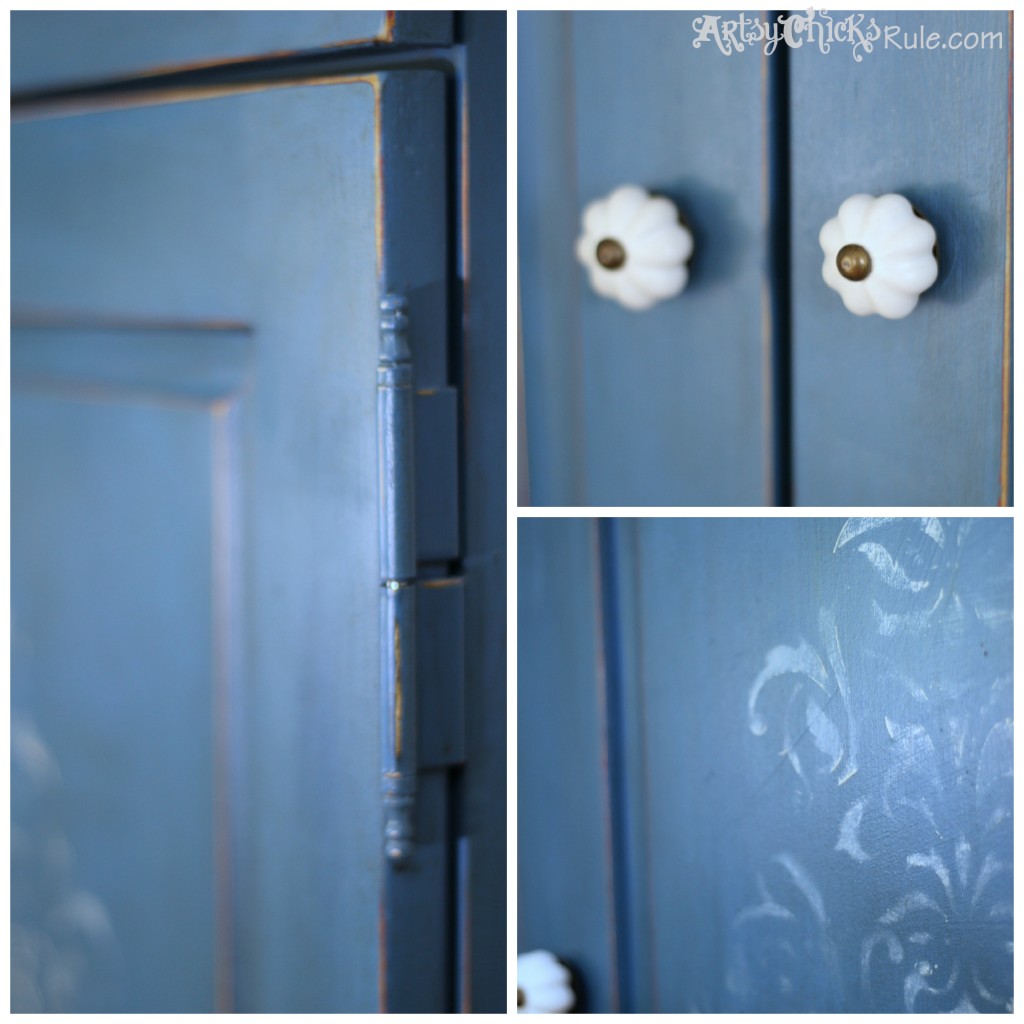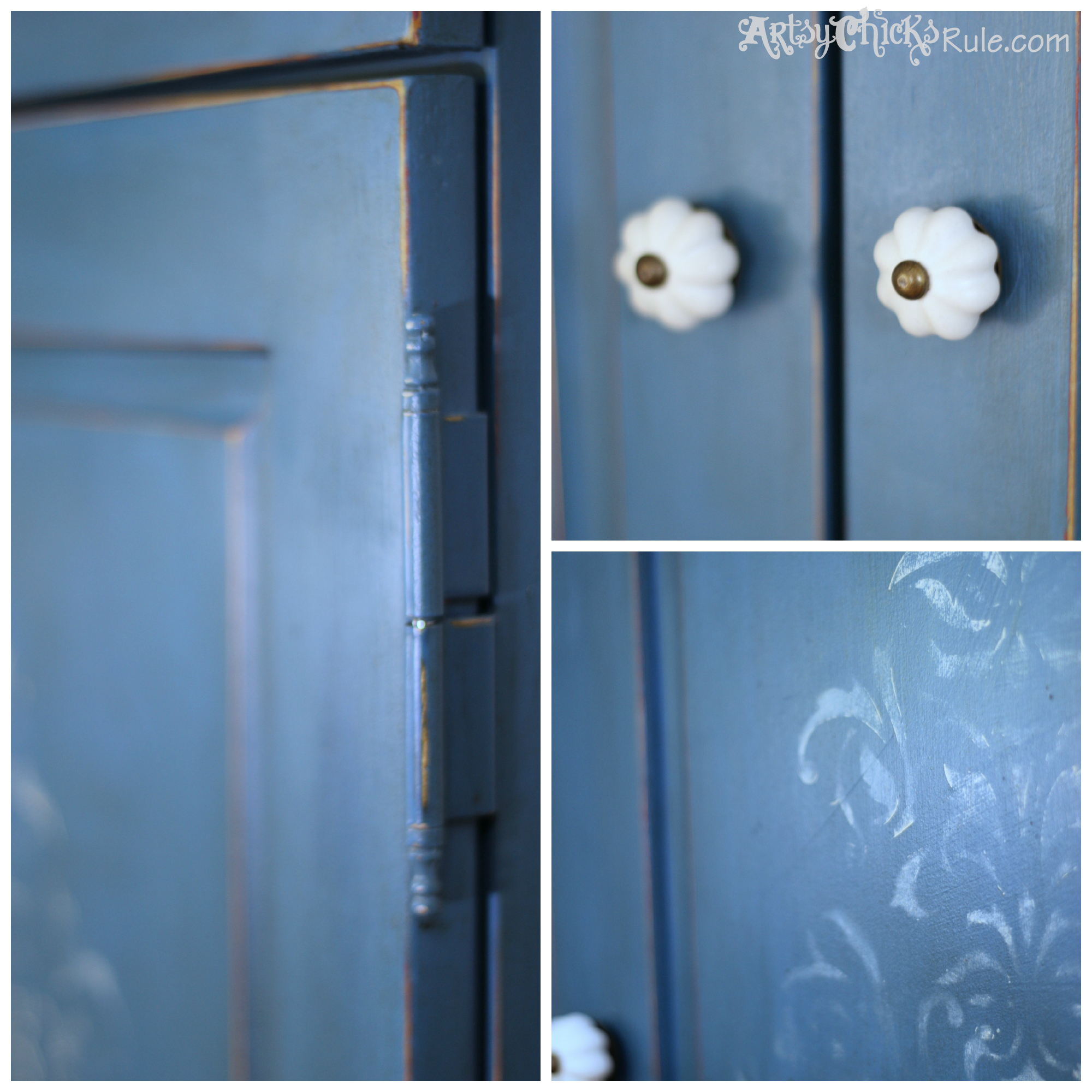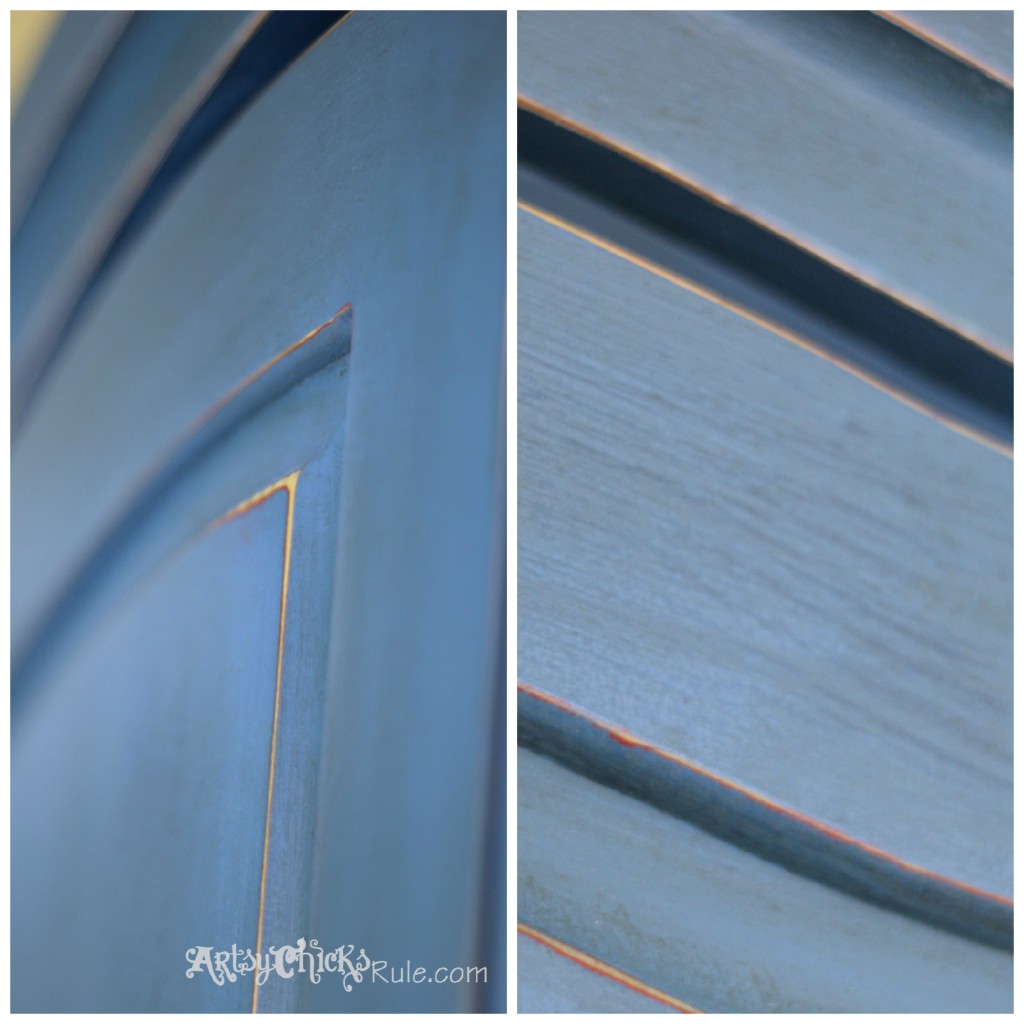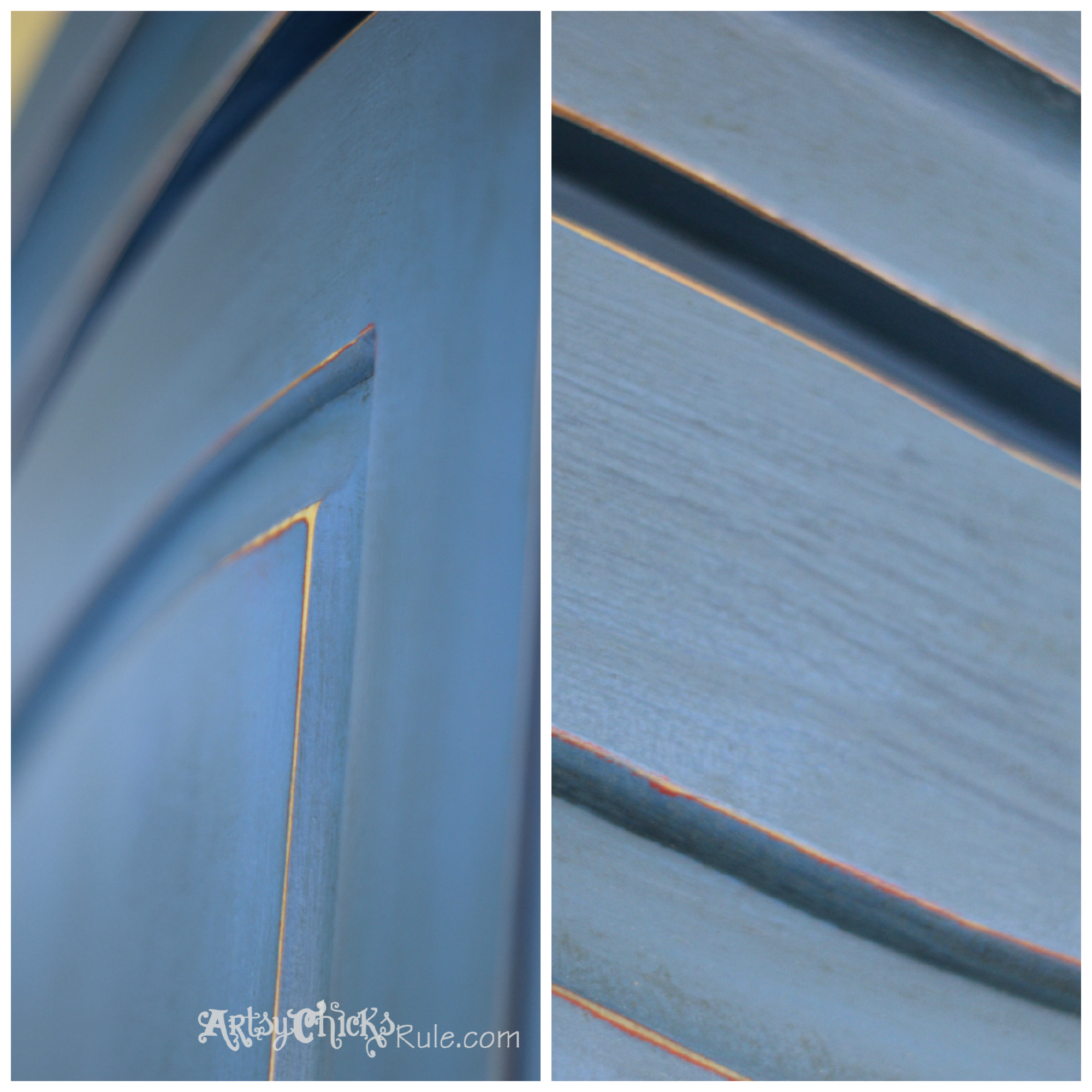 An armoire transformed, for sure. :)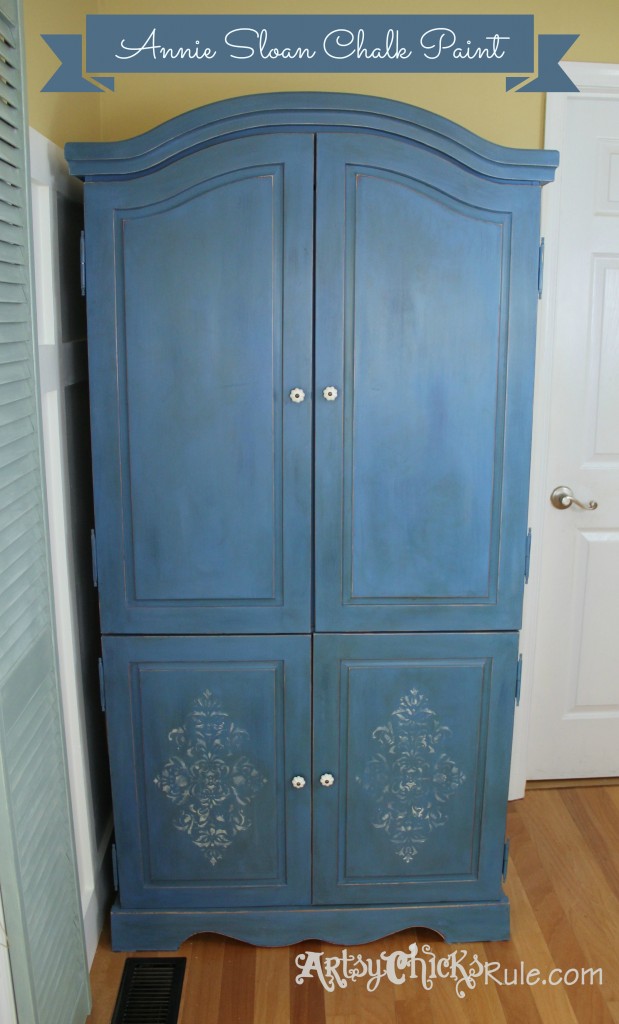 Lots of dimensions….with that wonderful aged appearance I love. Much better.
The red was nice but it was just so bold. Not that this piece is not…it's just bold in a different way.
PIN it to save it!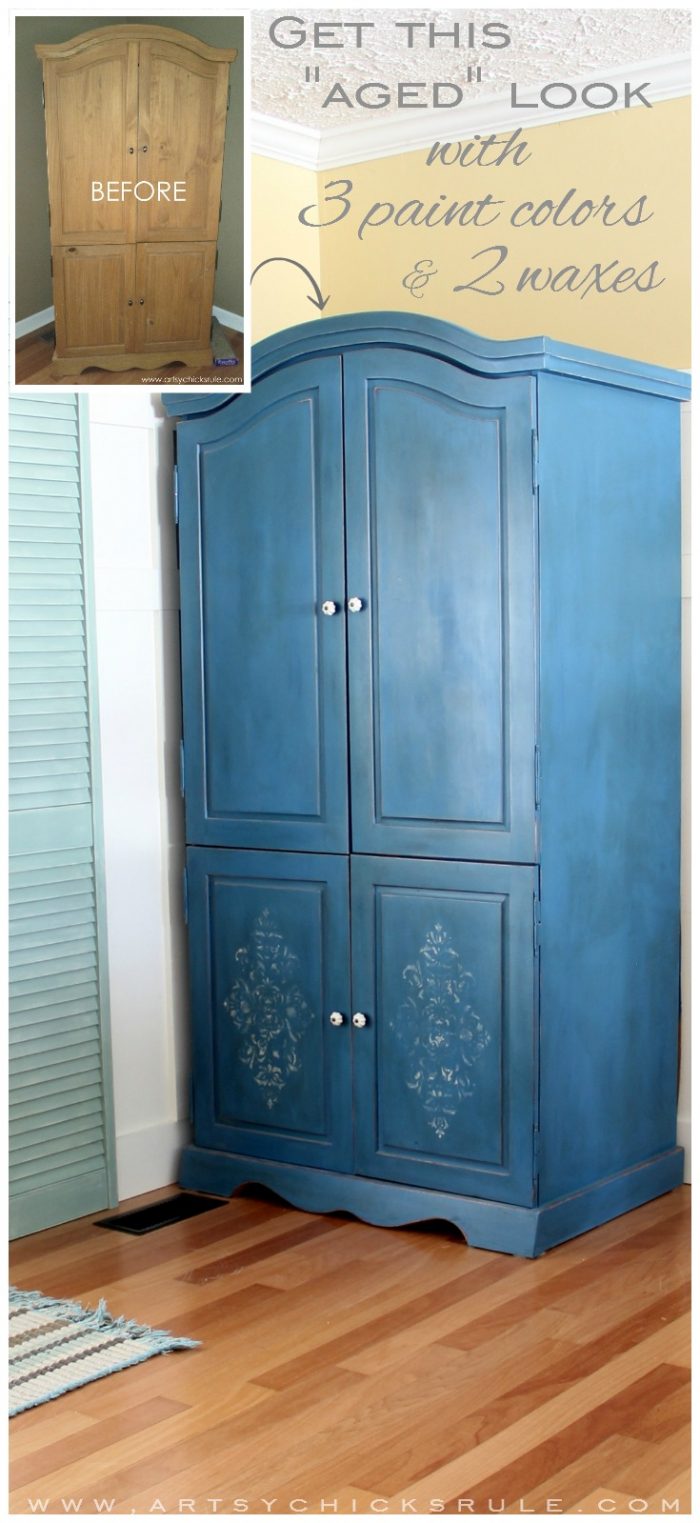 So red, blue? What do you think? First better or last? Is anyone else as wishy-washy as me? ;)
Nah, I love paint and to paint…and I love change, so this was not a chore to me. :)
Good thing, right?
Come back by next week to see these "shutters"….aka bi-fold doors! ;) And what I did with them.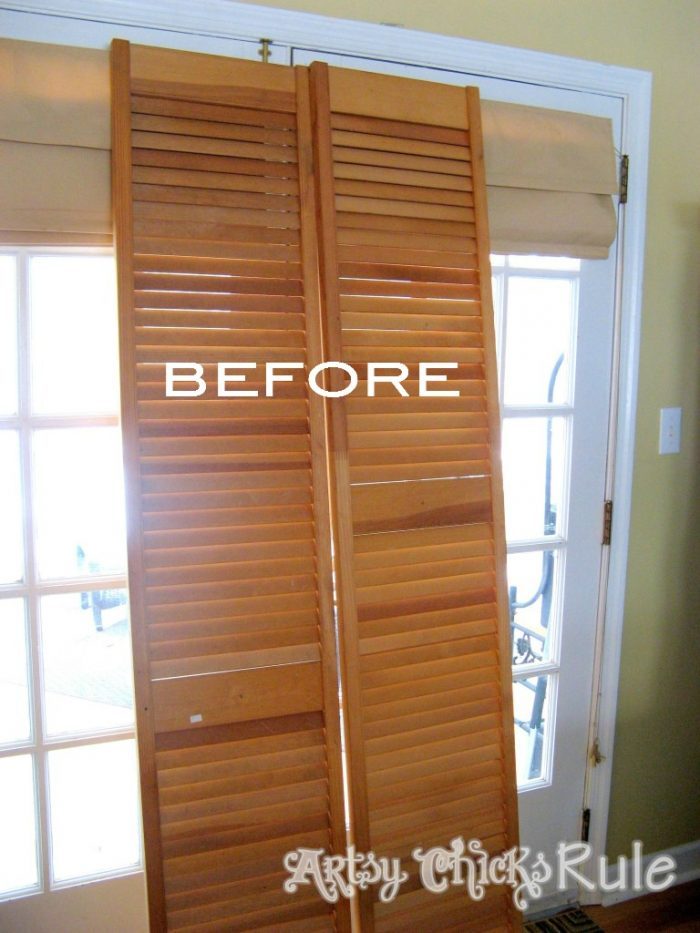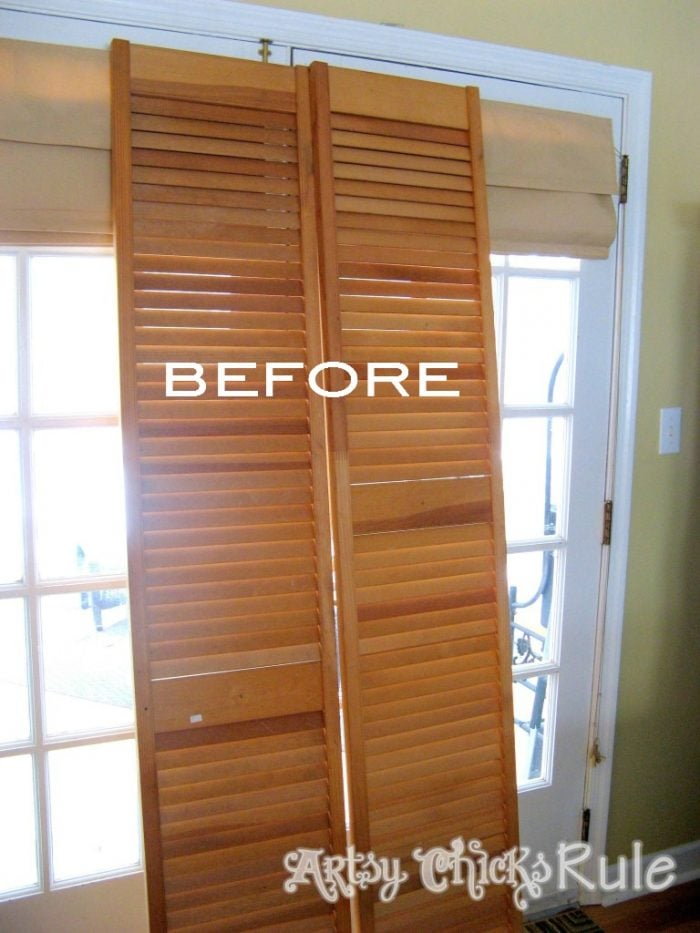 UPDATE!!! See them now, here!!
Want to see even more "before & after" makeover? Click HERE for more.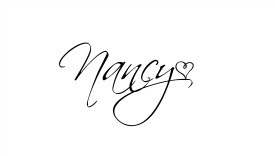 Follow Along Here!