Repurposed Bi-Fold Doors (Duck Egg Blue Chalk Paint)
This post may contain affiliate links. Please see disclosures here.
Bi-fold doors or really big shutters? How about repurposed bi-fold doors?!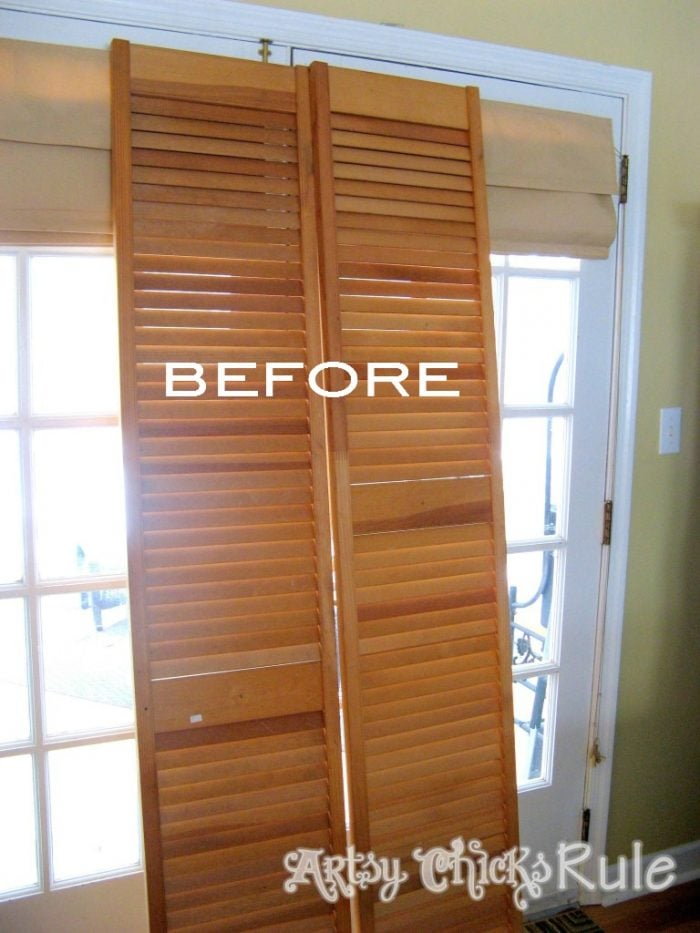 Yep, repurposed bi-fold doors…into shutters!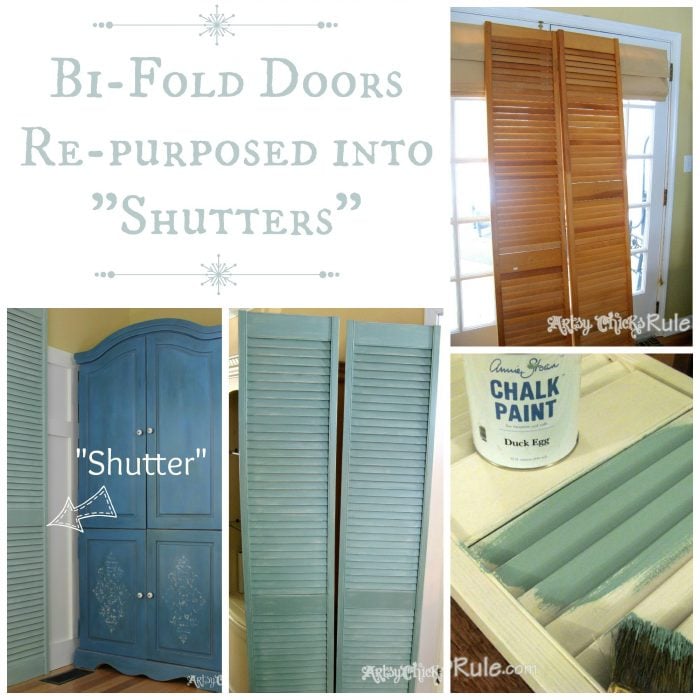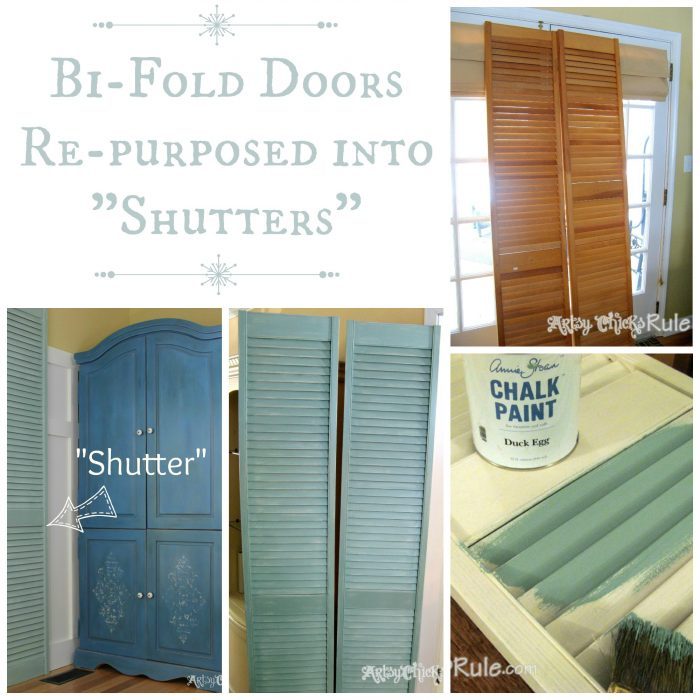 So fun.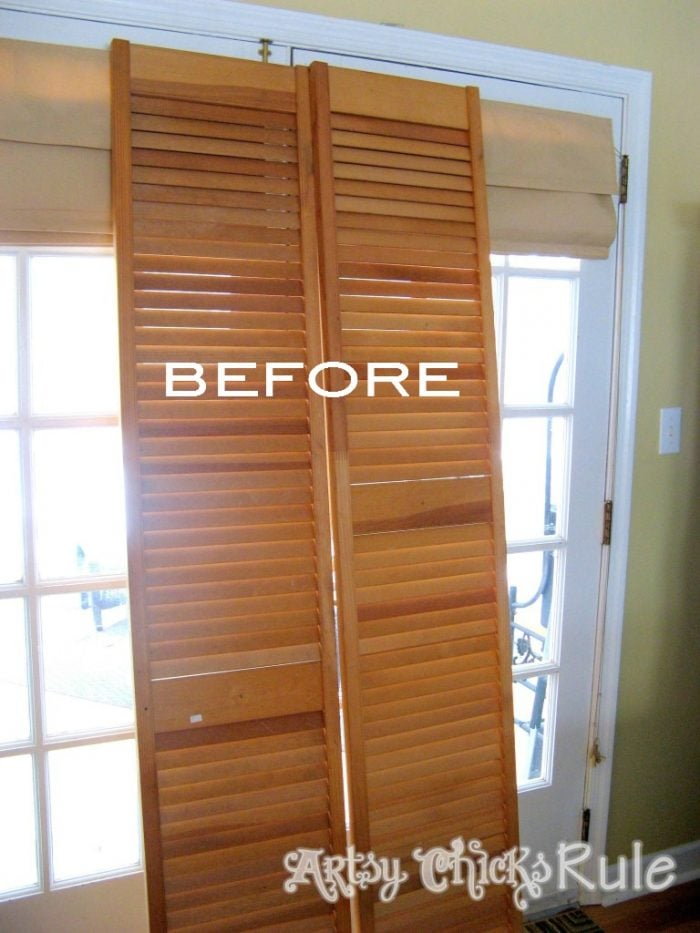 See? Bi-fold doors. One of my thrift store finds at $5 each. (a little peek of the wall before 'faux' Board & Batten we put up recently) I had originally planned to use them in my shop as a decorative partition between mine and the other space beside me.
That didn't work out so I put them out onto my screened porch for the time being….on each side of the french doors.
I thought, hmmm, they look good there.
I had planned to use them in that "room" but decided to bring them in and use them in the family room on either side of the french doors instead.
I LOVE how they look there.
I wanted them to have a "weathered" look so decided to paint them with spray paint underneath…off white. I planned to use Duck Egg Blue over that.
I would then take a wet rag and wipe away the Duck Egg for a worn, weathered look.
That was the plan anyway. ;)
Here is my attempt at spray painting them with off white spray paint: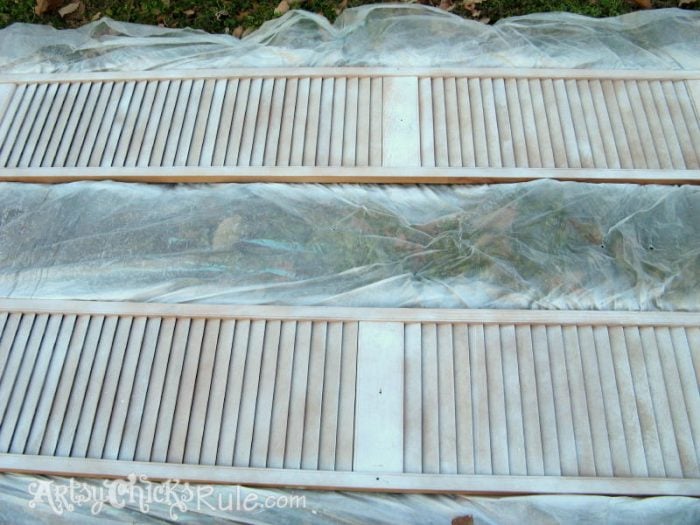 Yea, no…that didn't work out like I imagined so…..and I really don't love spray paint fumes and it was taking a ridiculous amount of product (and time) to get these covered well.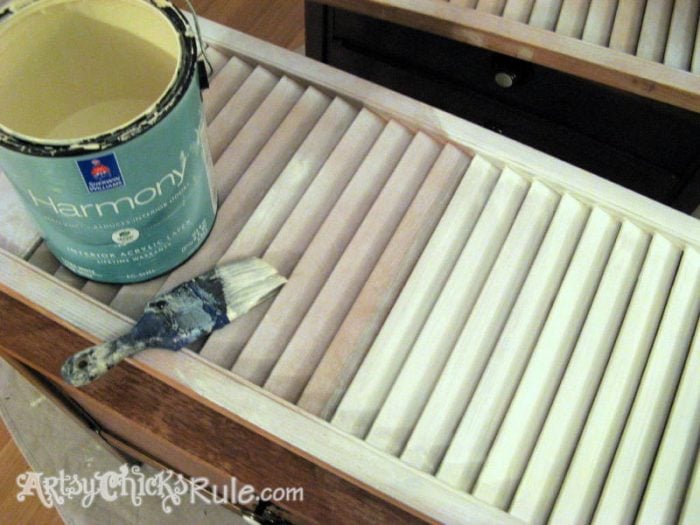 So I used some Sherwin Williams paint (it's not yellow…it just looks yellow in the can in this photo) I had on hand to get a better coverage (and quicker!) than I was with the spray paint.
Next came the Duck Egg Chalk Paint.
Annie Sloan Chalk Paints have mostly great coverage but I'm telling ya, some just have AWESOME coverage.
Duck Egg Blue is one of them.
And it's one of my favorite colors.
I just LOVE it!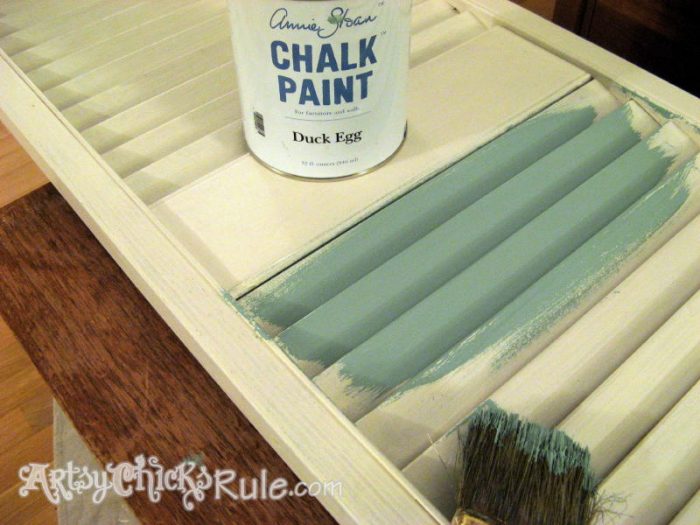 Painted ….and wiping away with a wet cloth.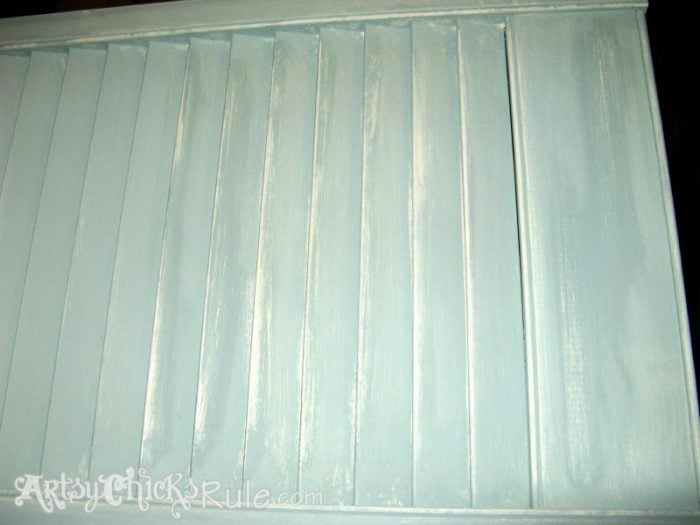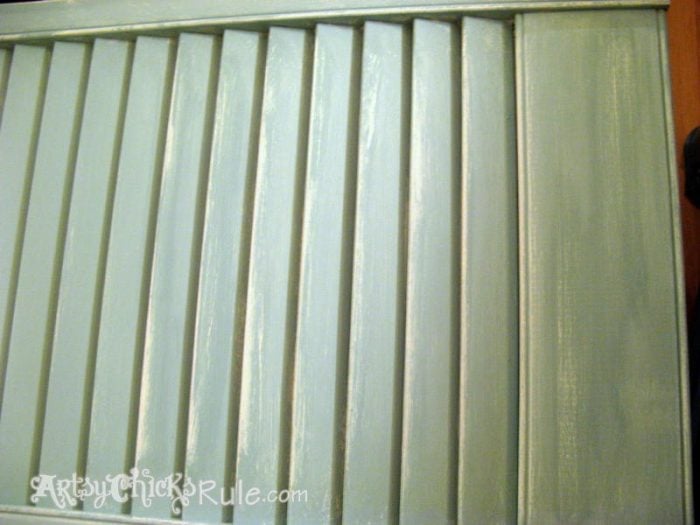 This method works really well because the latex underneath stays put and the wet cloth gives a different look than the typical distressing with sandpaper or sand block.
Same method I used on my Milk Can in this post here.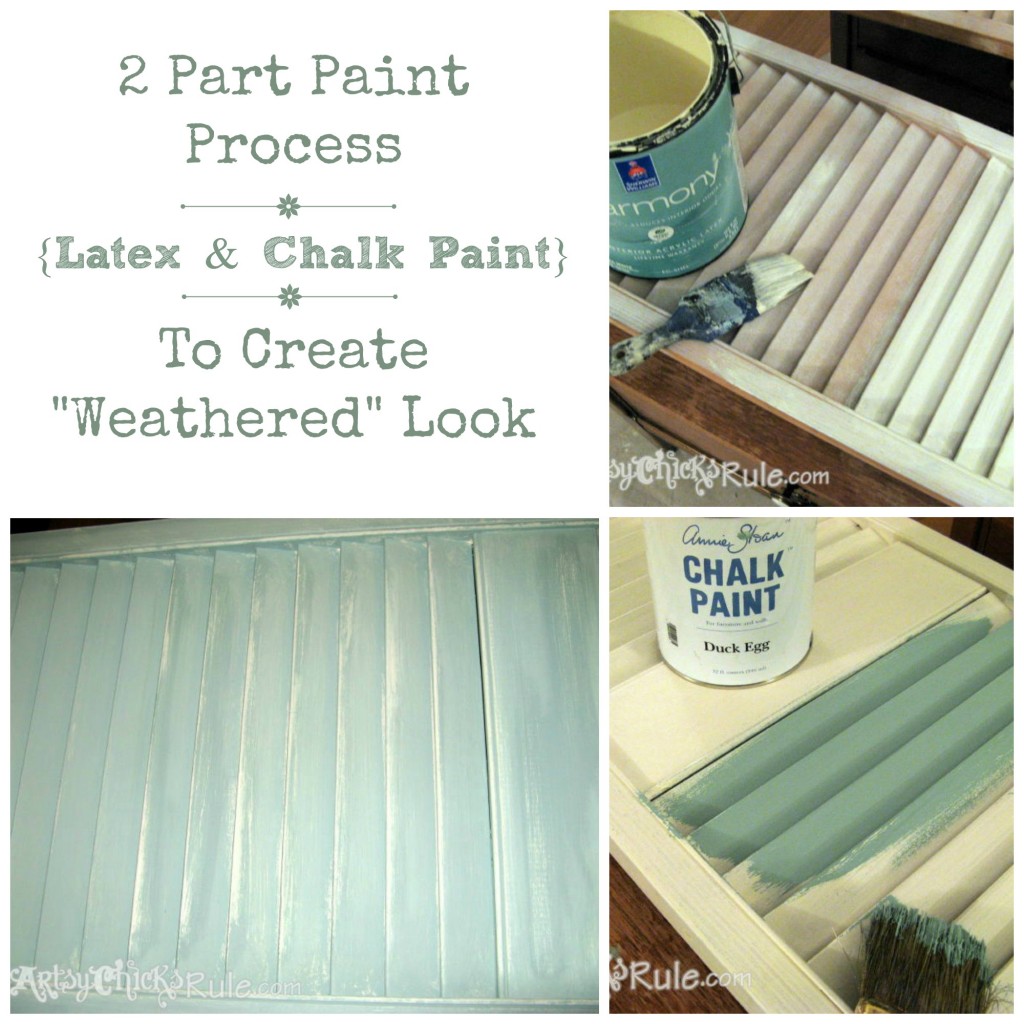 Sorry for the color variation. Some of these pictures were taken with a different camera.
Want to know about 26 other chalk style paints?
I've got the low down for you right here! >>> 26 Types of Chalk Style Paint For Furniture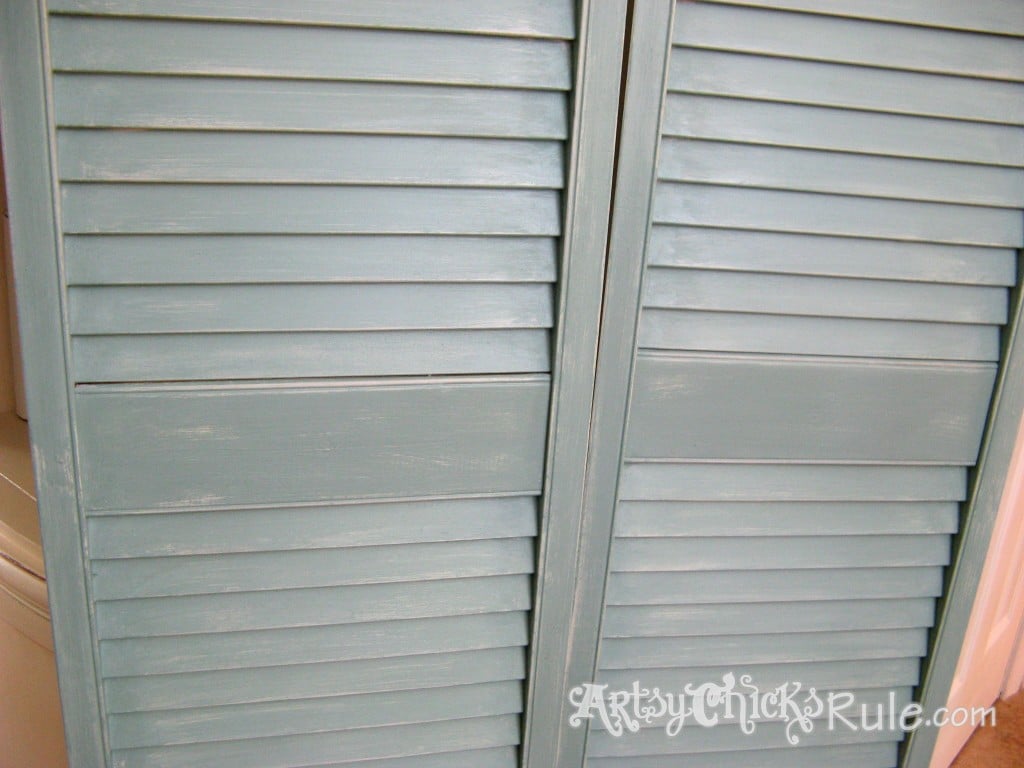 I sealed these with polycrylic. No way I was waxing all of those louvers. ;)
I really didn't want to seal them at all. I was really liking the "chalky" weathered look they had but in the end I was worried they'd get marked up with kids going in and out those french doors.
And my repurposed bi-fold doors complete. (but not in place)
Here is a shot with them in place….more to come when I do my Family Room reveal. ;)
*You can read about the triple paint technique I used on this Chalk Painted blue armoire here.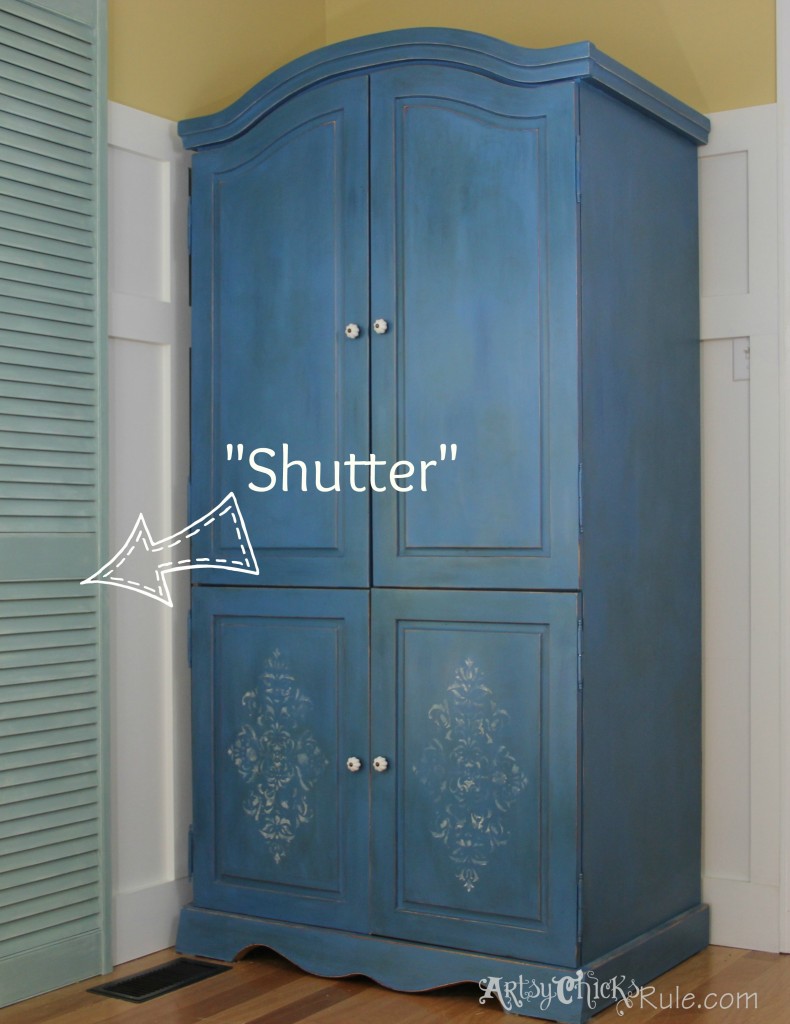 I used and LOVE 3m Strips to adhere them to the wall so they'd stay in place.
You can find them here>>> 3m Adhesive Velcro Strips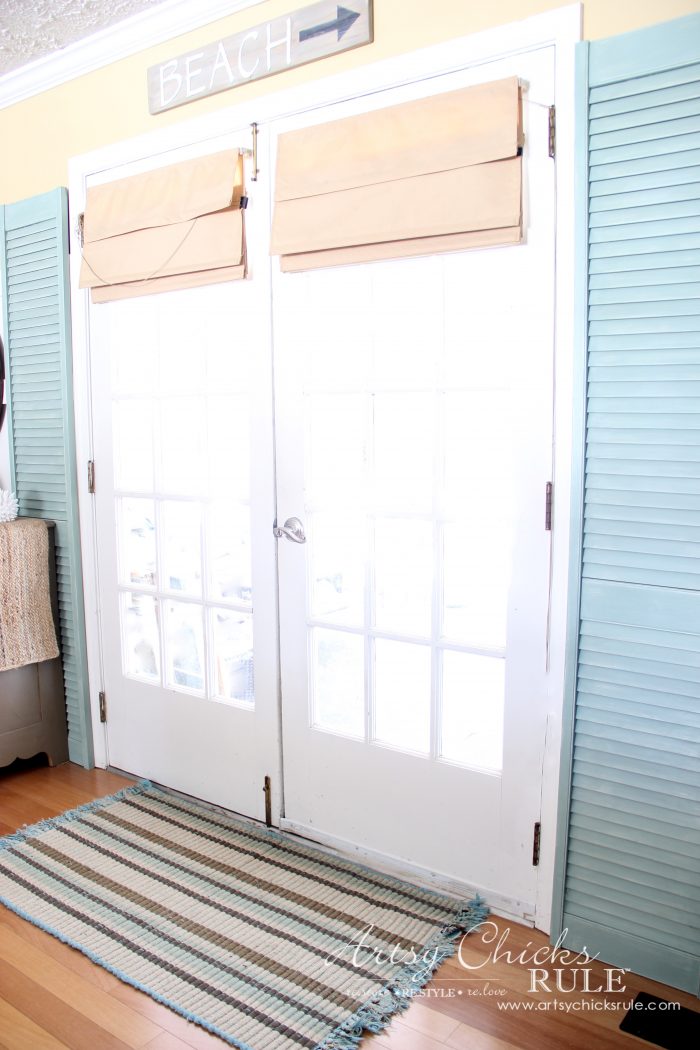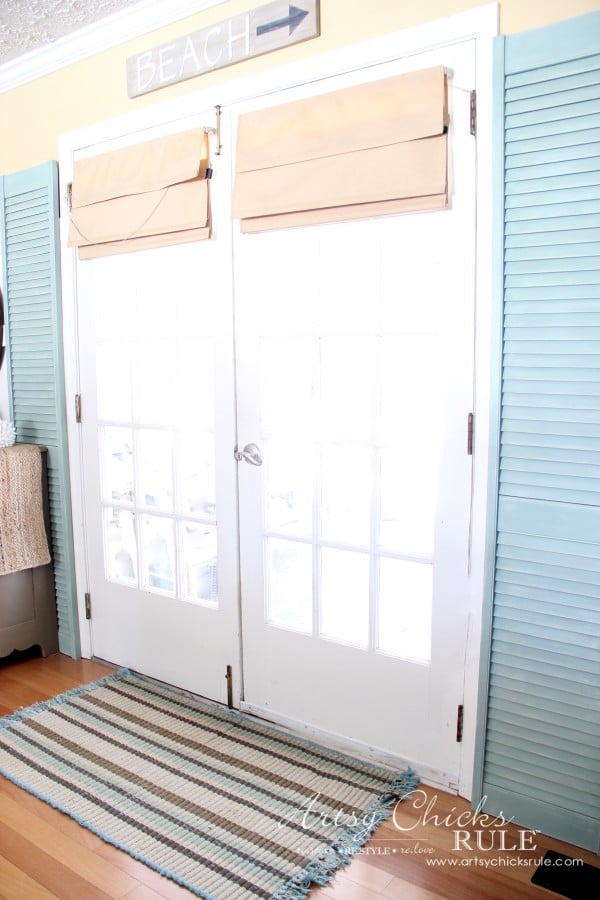 Loving my "new" repurposed bi-fold doors here.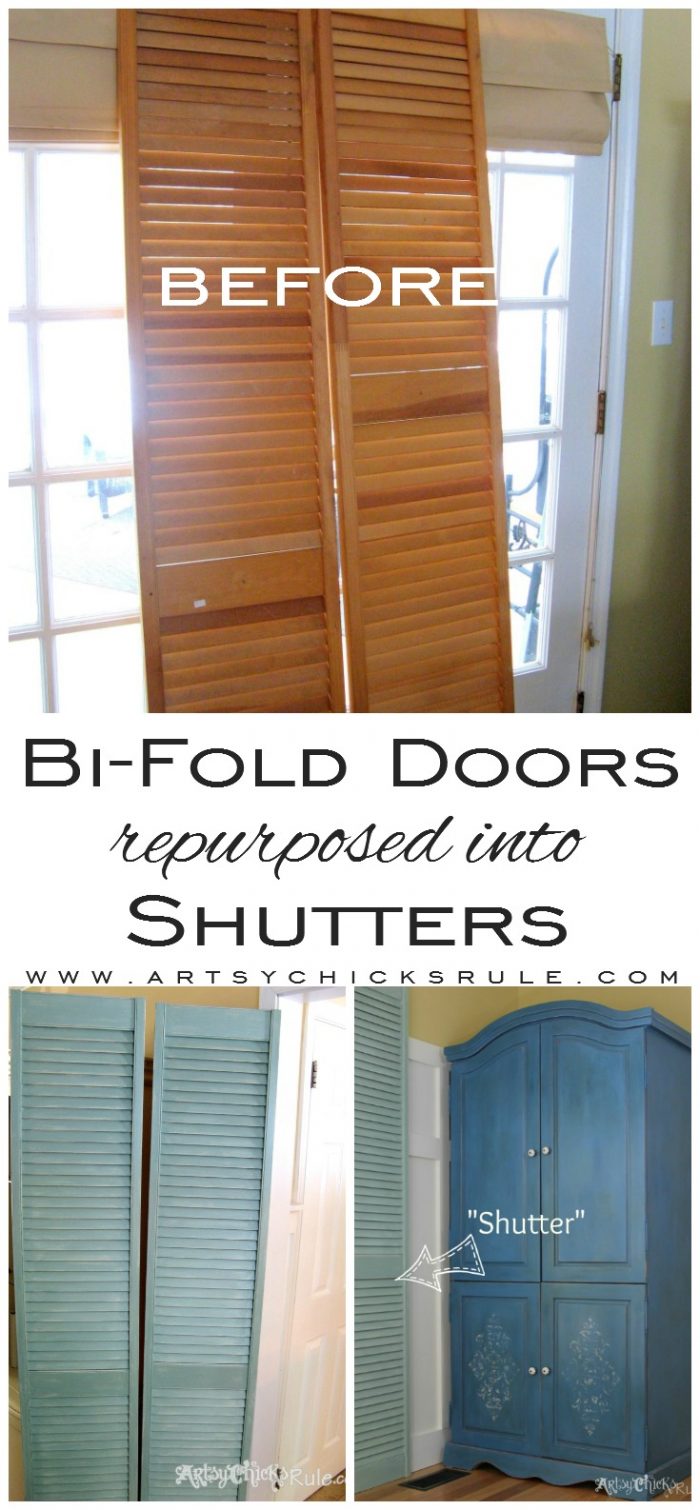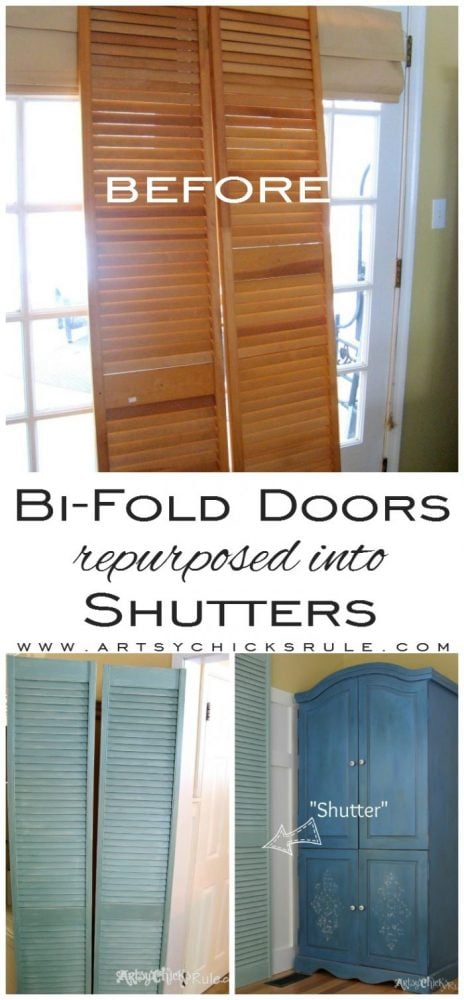 Want to see even more ideas on simple updates with Chalk Paint (that aren't furniture??)
Check out this post, here!
Aren't they just great?
I love them so much that when I came across these (there's 2) recently I snatched them up…..$3 from the ReStore.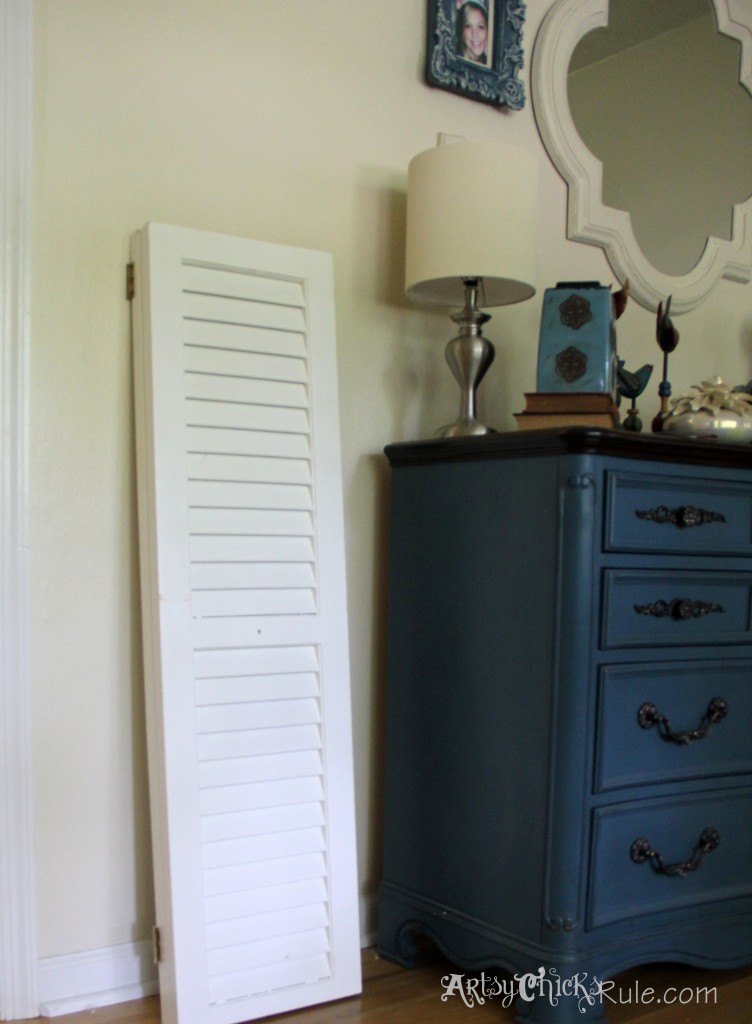 I wasn't sure what I'd do with them but I know now. ;) They are going to go on either side of the above wall gallery. (this is another room, my Study)
I'm unsure on what color I'll paint them yet but I do have a few ideas rolling around my head.
And yes, if you read my blog, that is a new paint color on the wall behind my Aubusson Blue Dresser, as well as some new styling on the wall above and on top of the dresser.
That would be my Chalk Painted lamp shade and mirror/frames in the photo above.
AND…..here is a sneak peek of some other things I've been working on.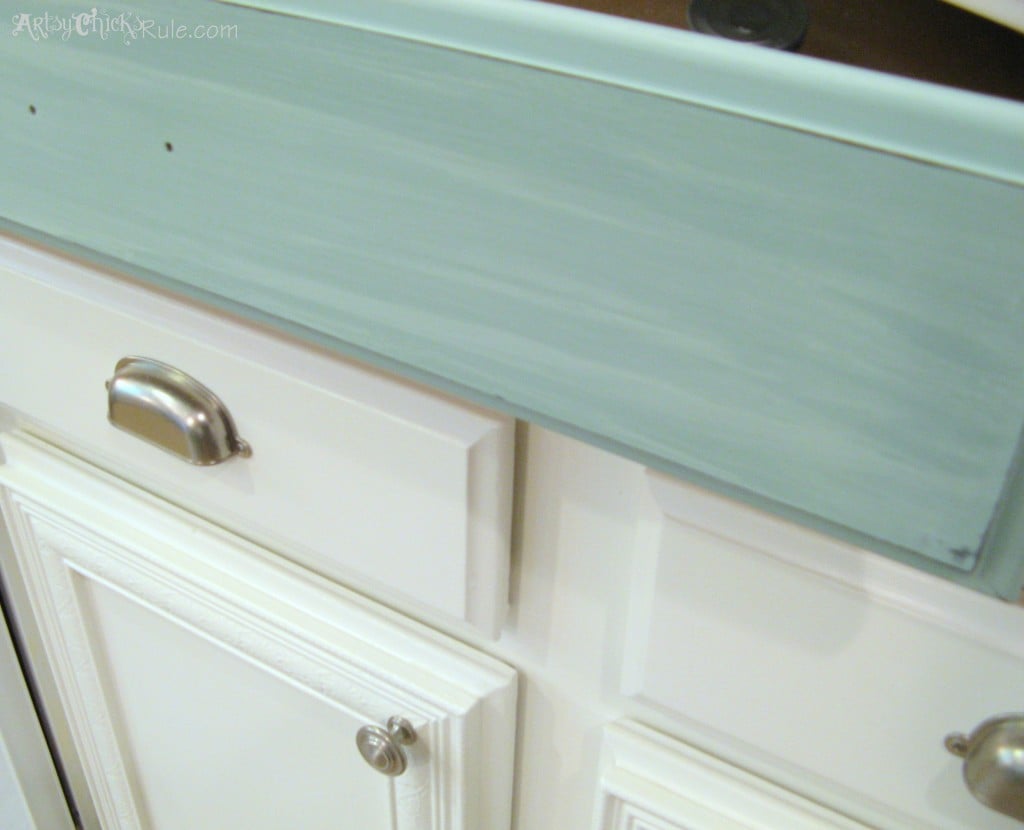 The drawer sitting on the counter is from my island and is painted in Duck Egg Blue Chalk Paint. And I LOVE, LOVE, LOVE it!
Check out the paint effect…washed look. Wait til I tell you how I did that. (super crazy simple, and one of those "happy surprises" that just happen sometimes)
*You can read about the Duck Egg Blue island here.
And the cabinets on the bottom are painted in a blend of Old White & Pure White Chalk Paint.
And I painted them twice in ONE week.
Yes, yes I did. The first blend had too much Old White (too yellow). So I re-blended and went at it again!
*You can read about the kitchen cabinet makeover here.
Much better.
These are the original cabinets (circa 1978) in the kitchen and were flat fronted dark walnut when we moved in. Instead of ripping them out we added decorative trim to the door fronts to dress them up and I painted them a color called "Milk Paint" and added Ralph Lauren glaze in Tea Stain 9 years ago. They were great and looked fabulous with my "Darkish, Tuscan, Italian" theme I had for years. But after awhile they just started looking "dirty" to me so I decided to forgo any glaze/aging on these for a crisp, clean look. Loving it!
The island we actually built from 3 ready made cabinets from Lowe's…retrofitting (removing doors, moving drawer to the bottom and adding a second drawer) the middle one for the microwave when we removed walls and remodeled the kitchen again a few years ago.
We are working on replacing the counter top in here (second time) to wood. (and sink…my IKEA Farmhouse sink awaits it's lovely spot)
Still working out the details as the gorgeous Walnut butcher block is unfortunately out of the budget with everything else we have going on.
So be sure to stay around and see what very cost effective alternative we come up with! ;)
So yes, lots going on around here!
Many, many projects. (too many? yes but always the case)
How about you? Do you have any fun projects going on right now?
I talked about how furniture is not the only thing you can paint with Chalk Paint in this post, here.
Be sure to check in next week to see how I CHALK PAINTED these porch pillows! (yep, I did!)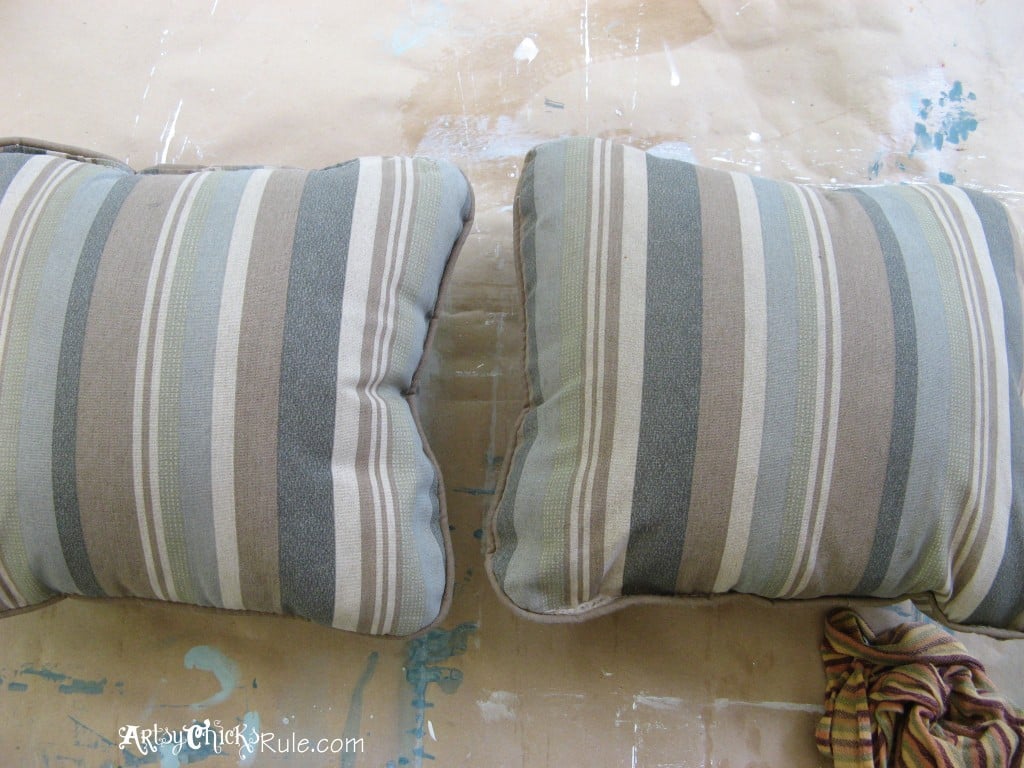 UPDATE!!! See them now, here!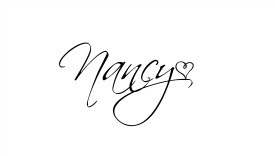 Other projects mentioned in this post: