Family Room Makeover (Before & After)
This post may contain affiliate links. Please see disclosures here.
This Family Room has been ten long years in the making. Almost eleven, actually.
And I'm still not finished. ;)
Am I ever? No.
But that's okay. I enjoy change and I'm a thrifty decorator so it's all good!
I've been telling y'all about this "doozy" of a room for a long time now.
You know, "the cave".
Promising to share for many months…and now I finally am.
The CAVE….that is was.
Wait til you see….just wait. Doozy is an understatement as you'll soon find out.
By now you've seen plenty of "after" shots. Now it's time for some "befores".
These are our french doors looking back towards the screened porch.
See the very green trim on the door outside? We changed all of that to white.
But that's for another post.
Look how dark and dated it was…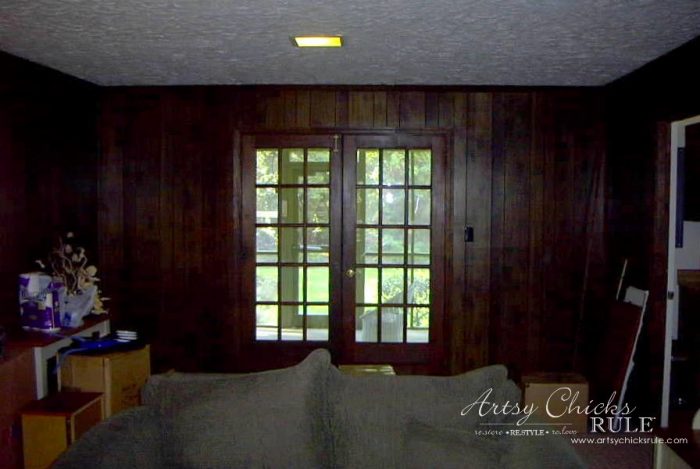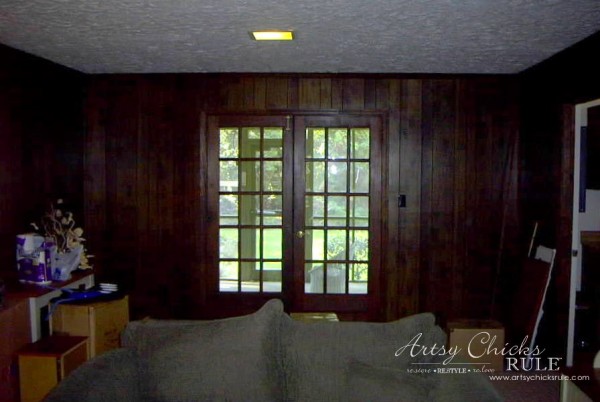 And now.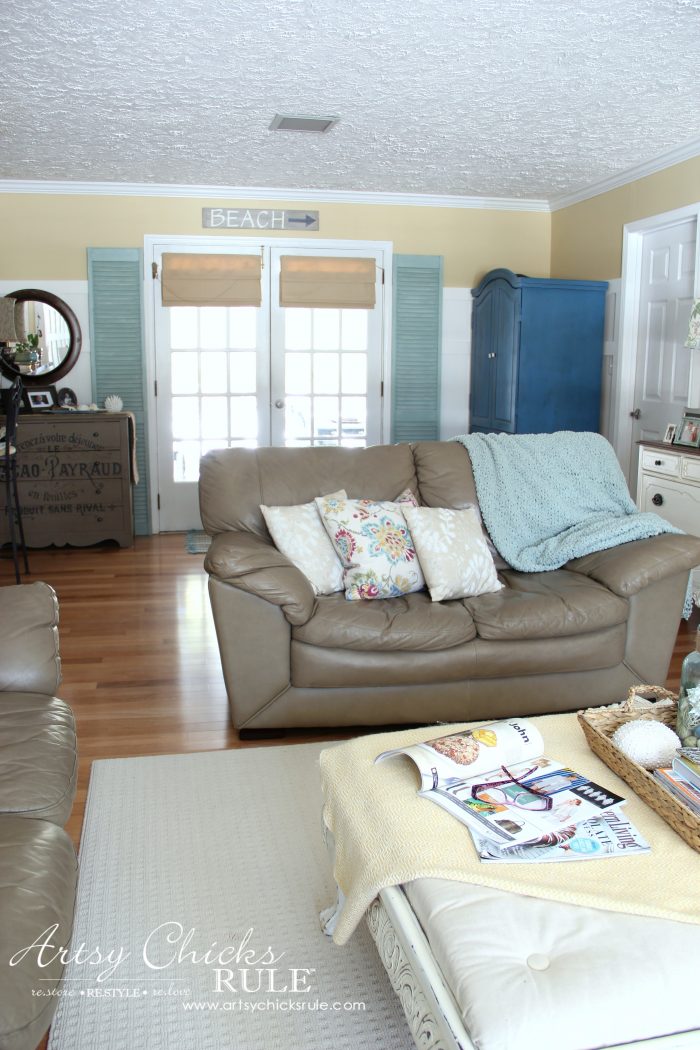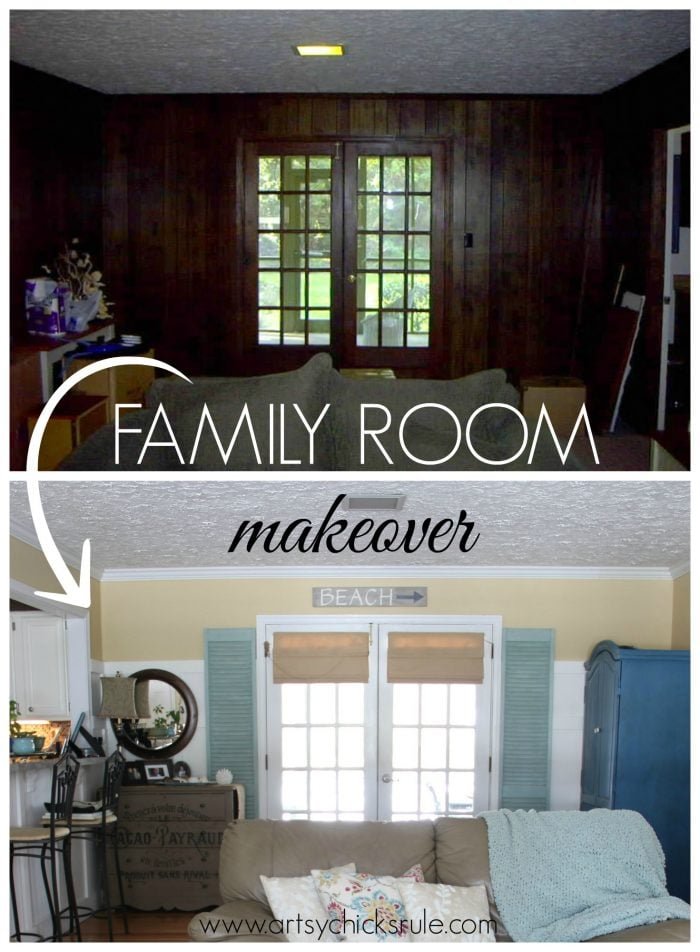 Looking towards the front windows (I had to crop out my hubby ;) I don't think he'd have been pleased if I left him in this photo)
But you get the idea.
DARK cave.
And what's with that door being pale, oak-y stained with those other walls stained dark?
Just no.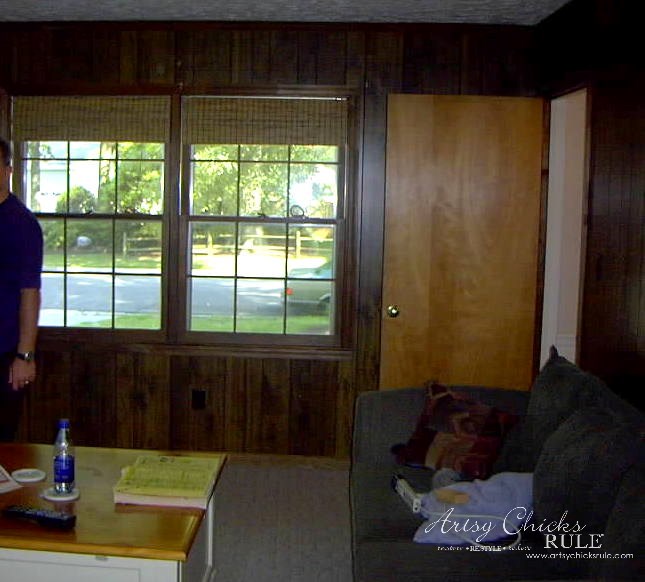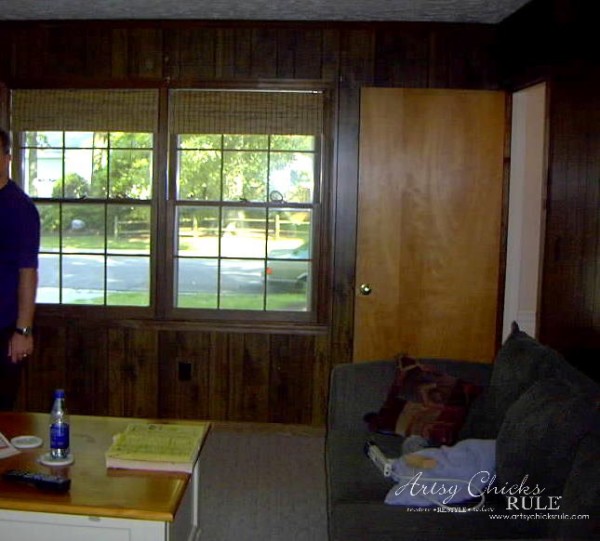 And now.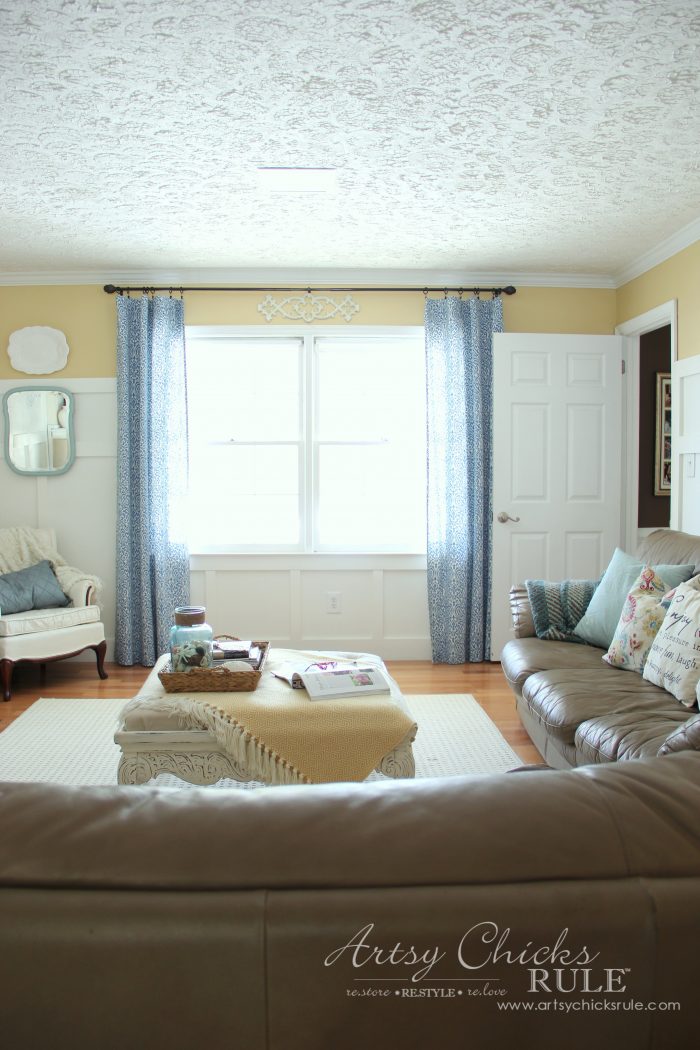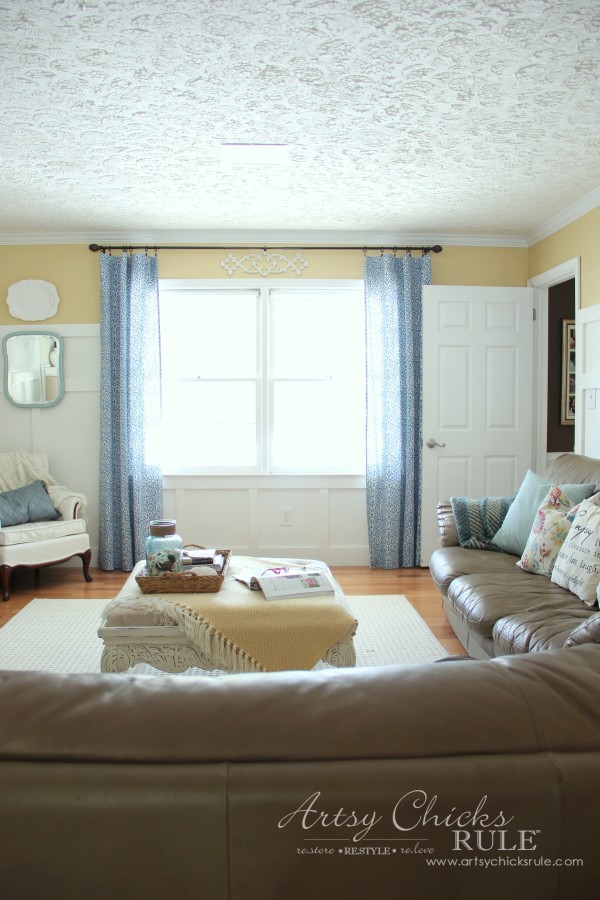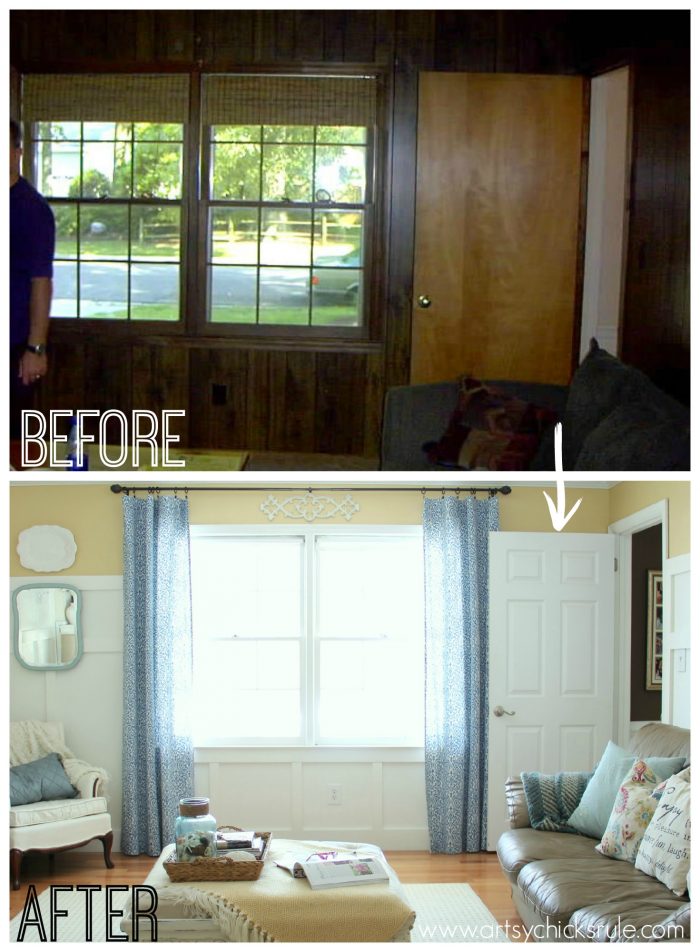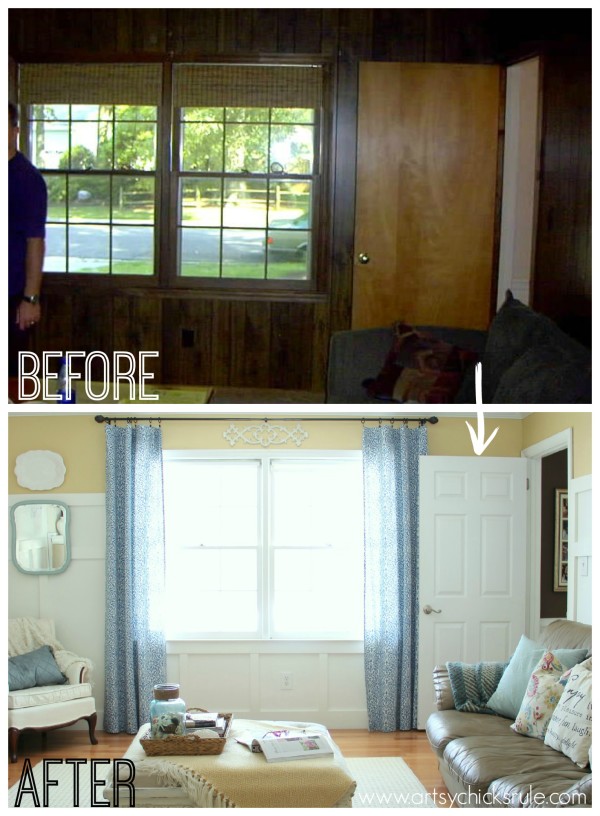 Told ya it was a doozy!
We've changed all the doors, all the hardware and well, basically everything else!
How about this gem?
I probably should have prefaced this to say…. we had just moved in, literally, when I snapped these photos.
So excuse the mess everywhere! ;) Plus, I had no plans to start a blog almost eleven years ago or I'd have taken better photos. ;)
After, with part of that wall removed.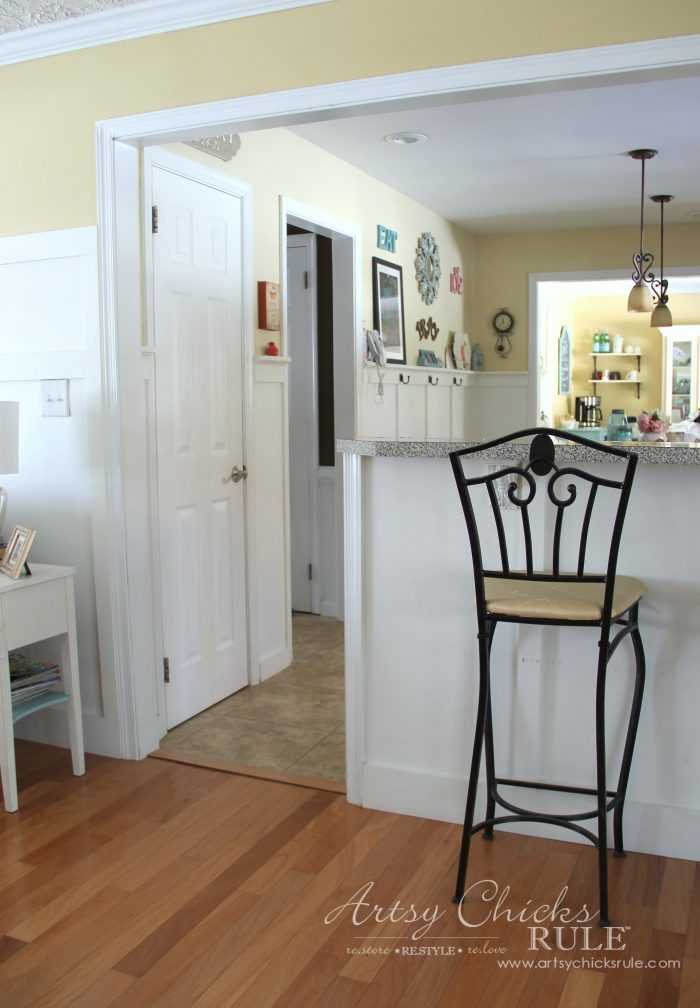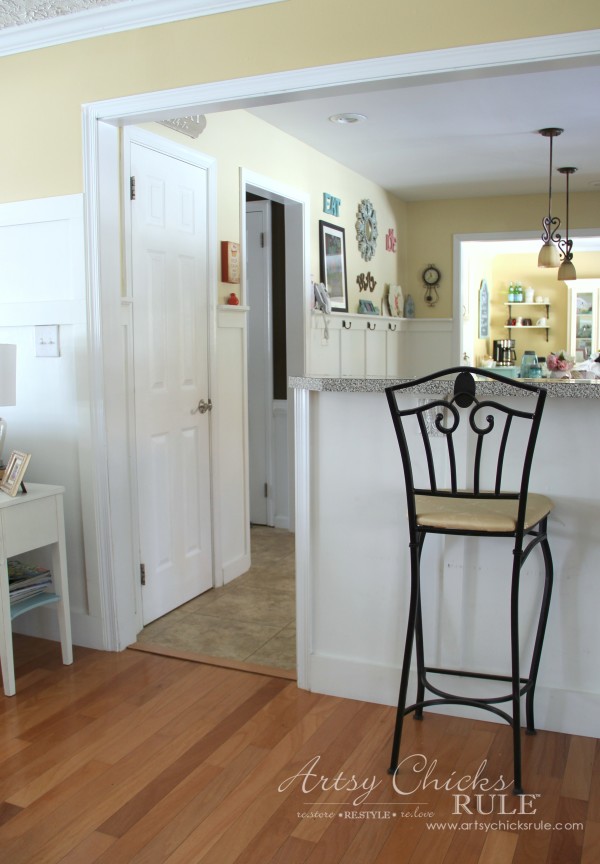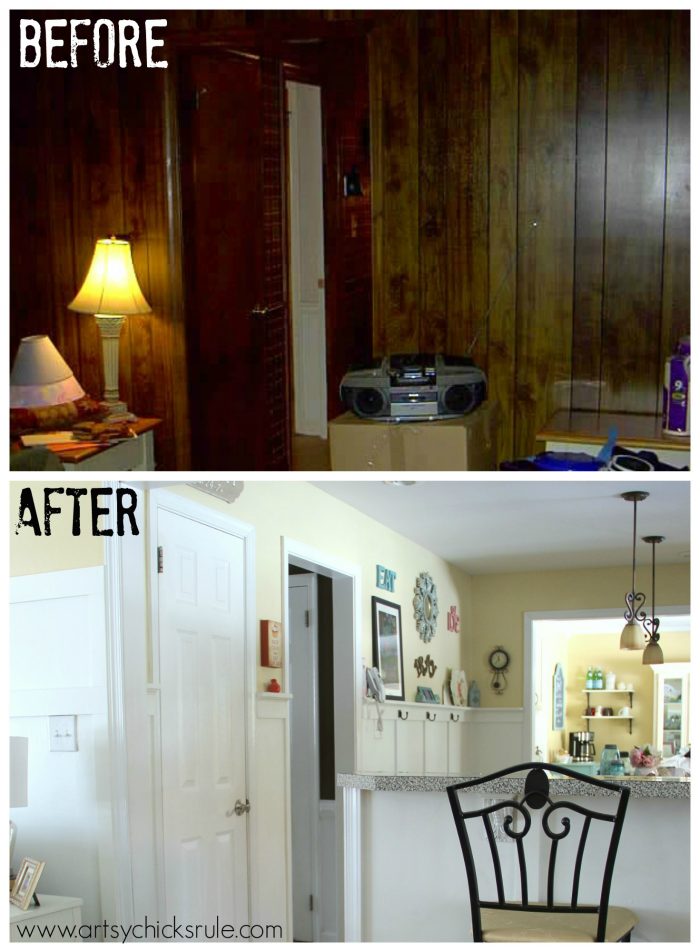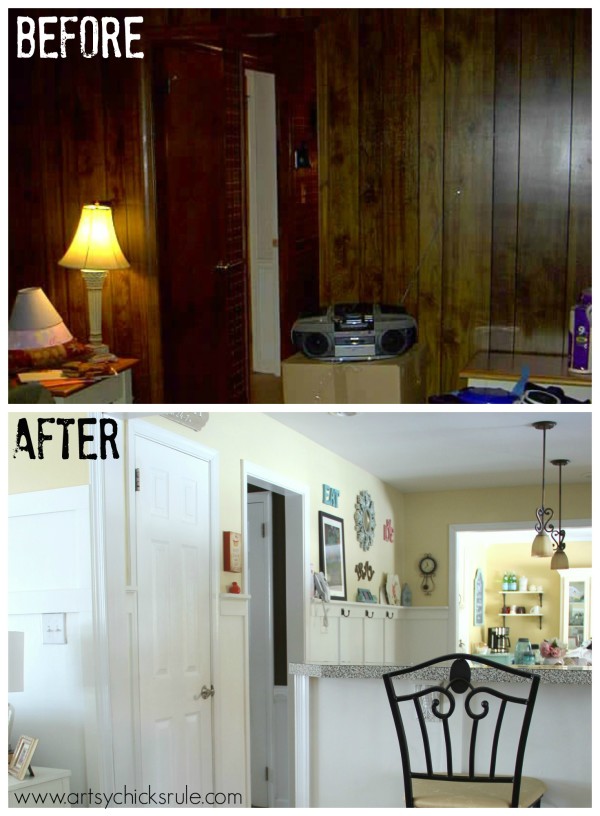 NIGHT and DAY. Right?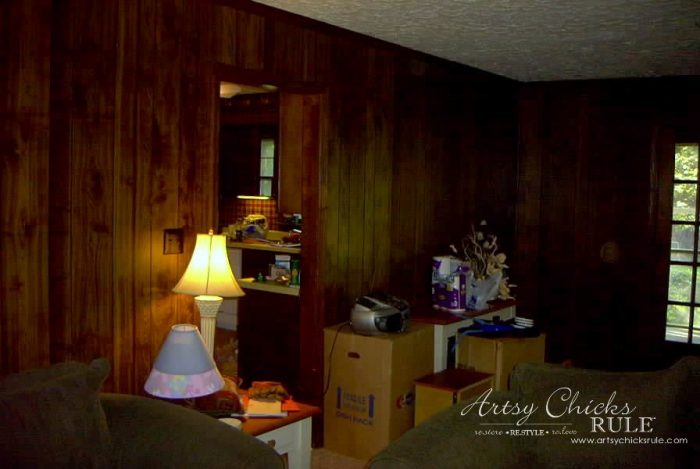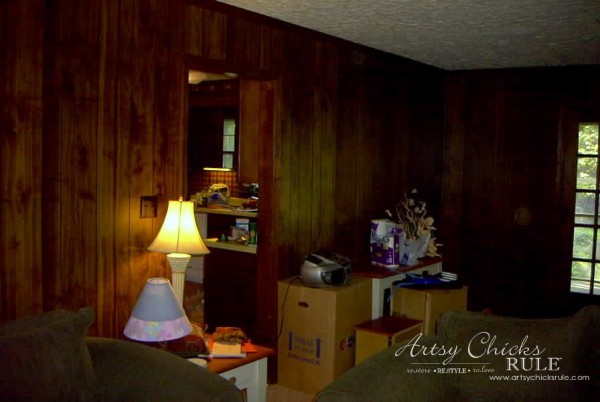 We removed that dark paneling and happily found drywall behind it!
(see our new doors over there in the corner?)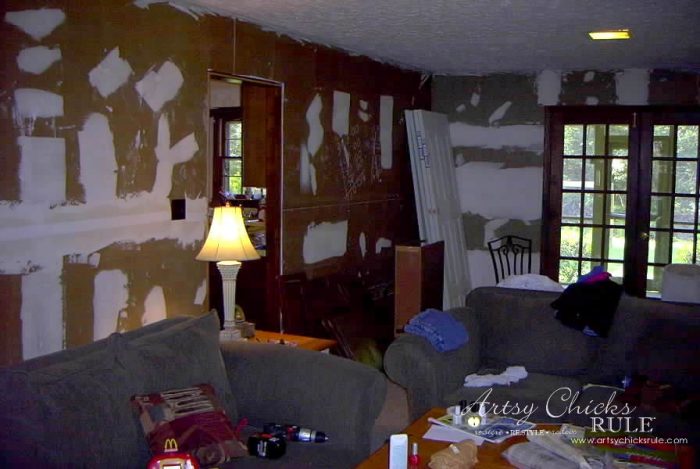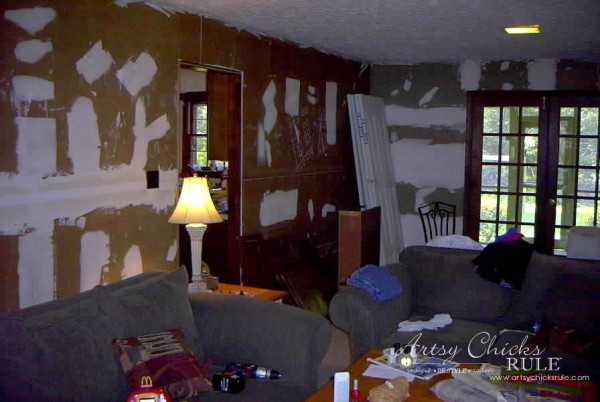 Same far back corner now….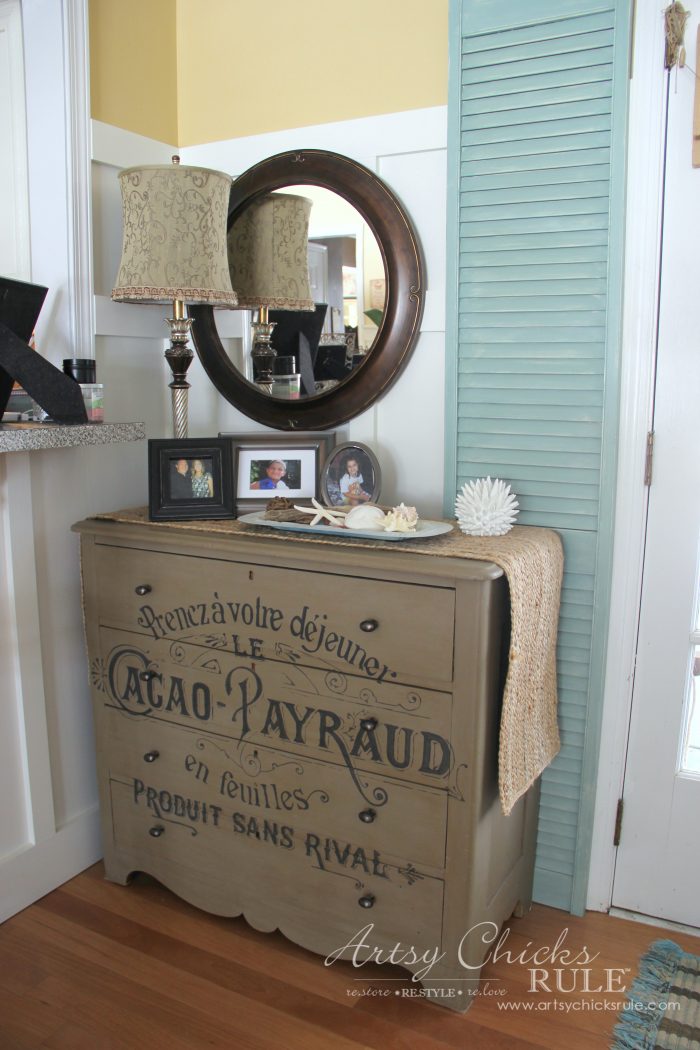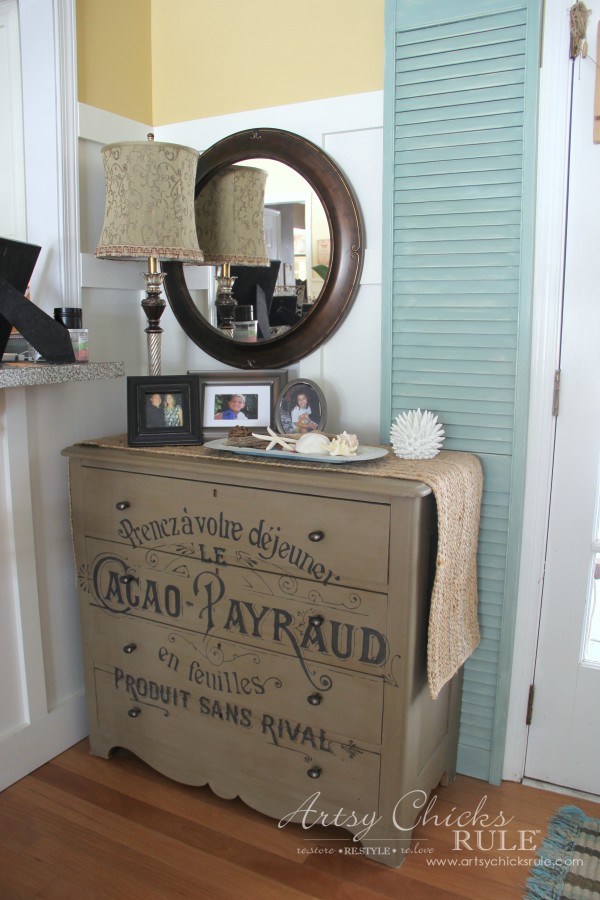 Patching the walls, getting them ready for paint.
See that cord plugged into the wall up by the fireplace?
Those were the odd outlets on each side of the fireplace I've mentioned before.
My husband wired lights there soon after this. (the ones that started out brushed nickel but I later painted with Oil Rubbed Bronze in this post here –> "Many Uses of Oil Rubbed Bronze".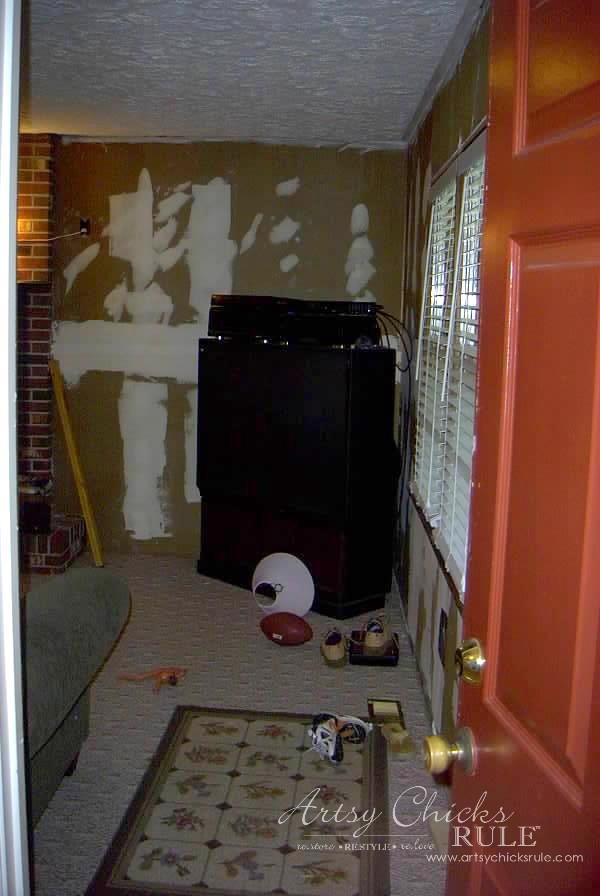 Aw, GI Joe…naked. lol
What a mess. Just look at the wall. ;)
And same corner now.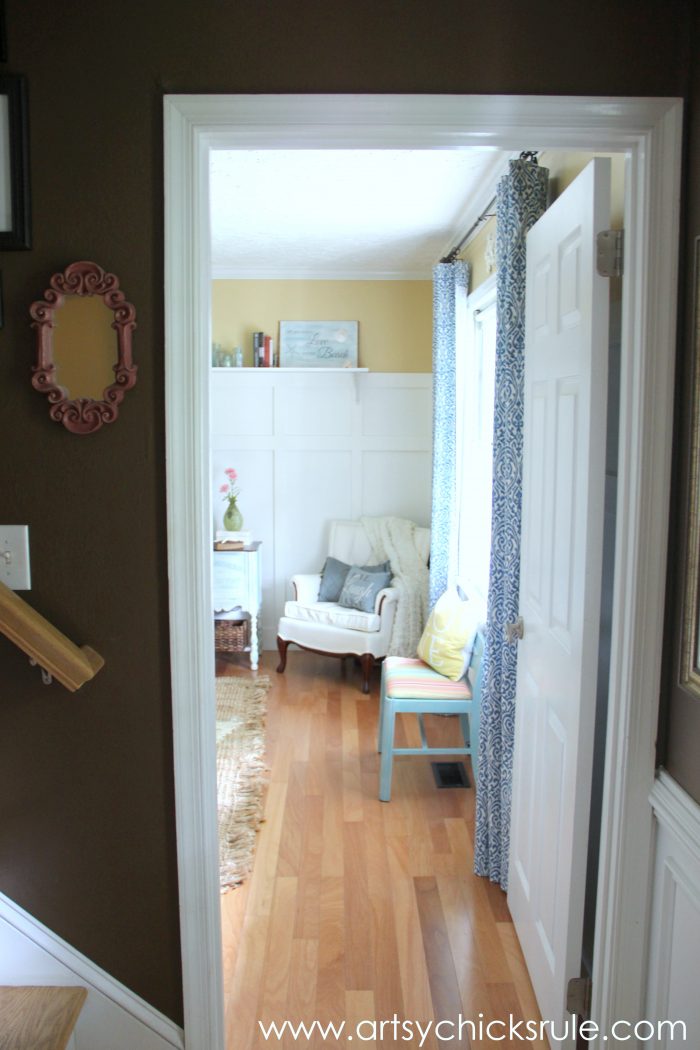 Looking into the Laundry Room (remember, we just moved in)
Isn't that vinyl floor fabulous?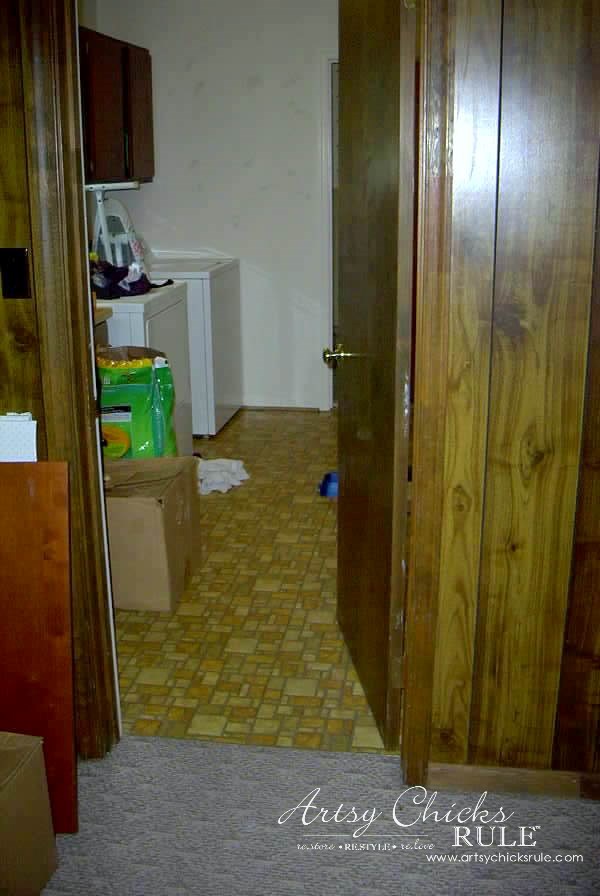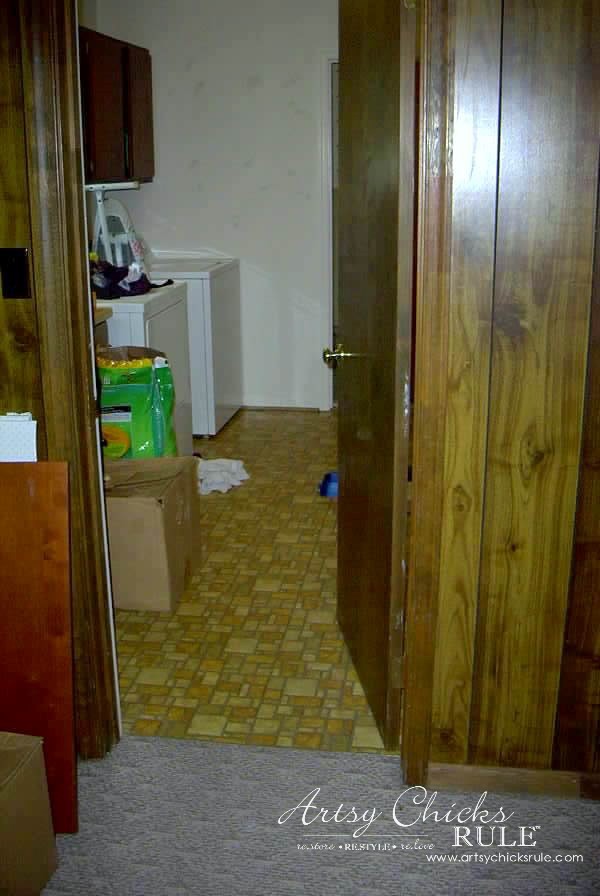 I am in the process of making some (more) changes in the laundry room so I'll be sharing that room again soon.
UPDATE: See our brand new laundry room, here, Coastal Farmhouse Laundry Reveal!
First change up. New paint and carpet….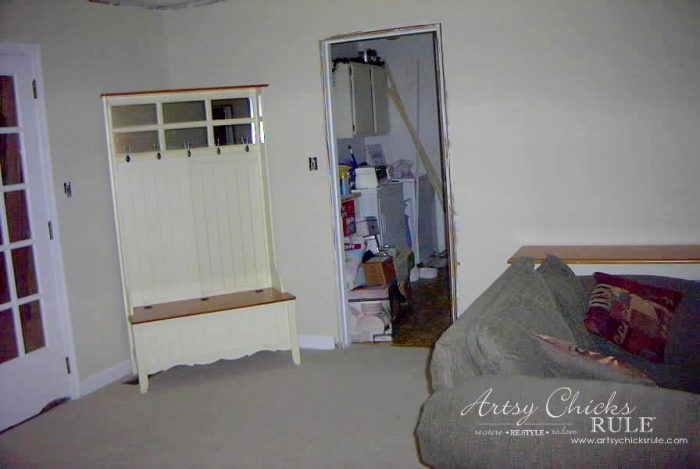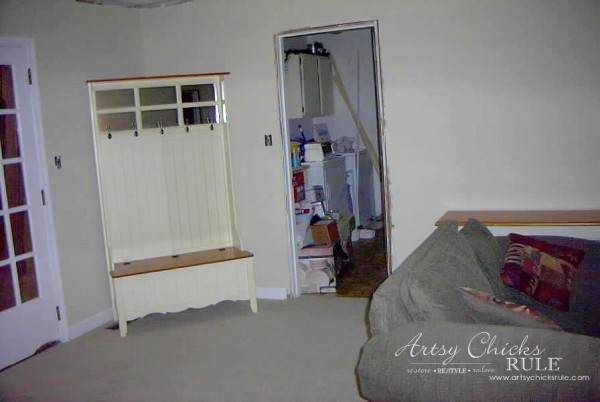 Much better.
And same corner now…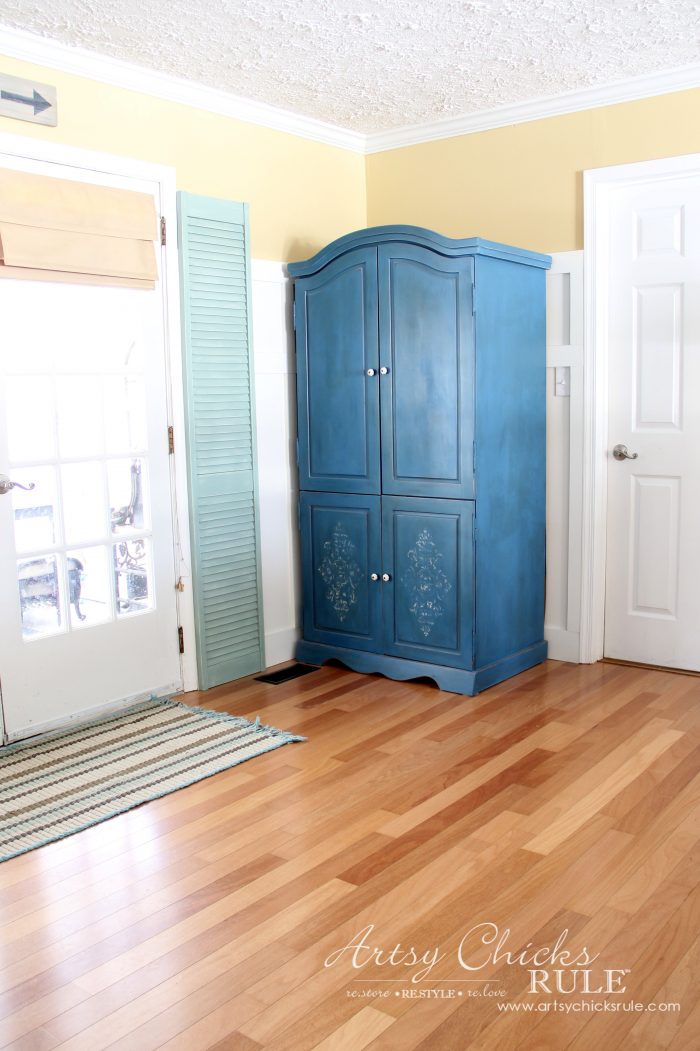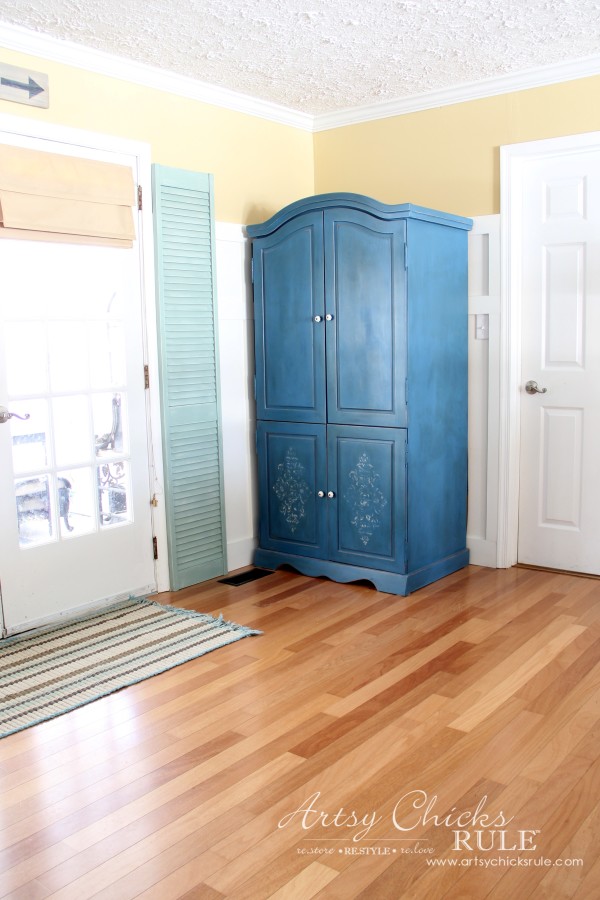 We ripped up that carpet a couple years later and added this hardwood.
That was our first time laying wood flooring. (I keep saying WE but it was really my husband who did it…I was his "go-for" on that job :) )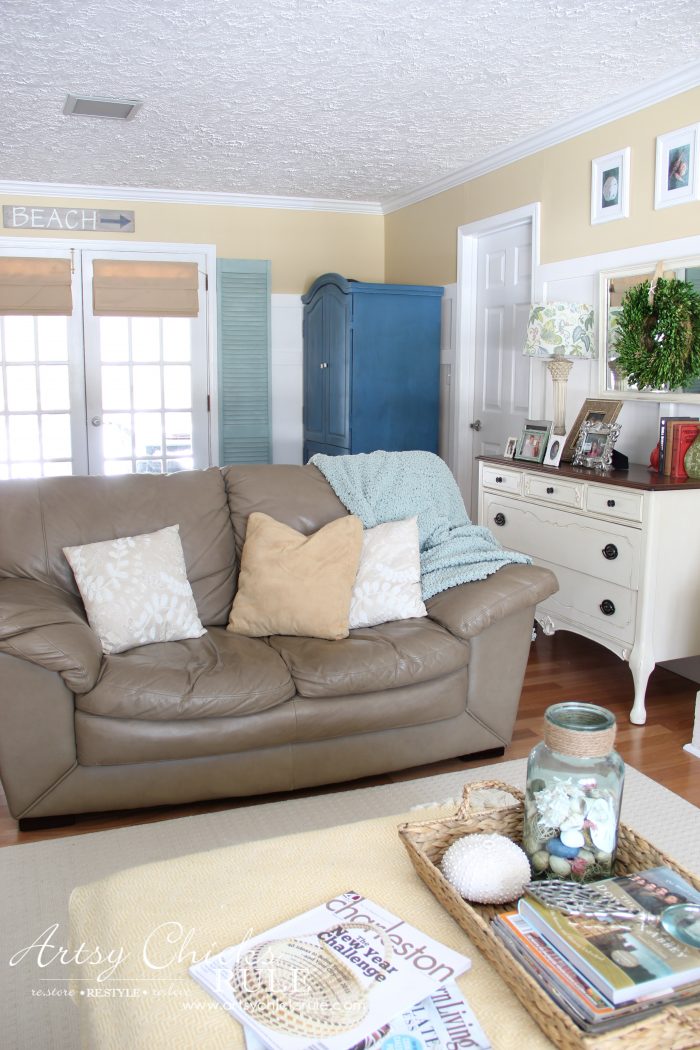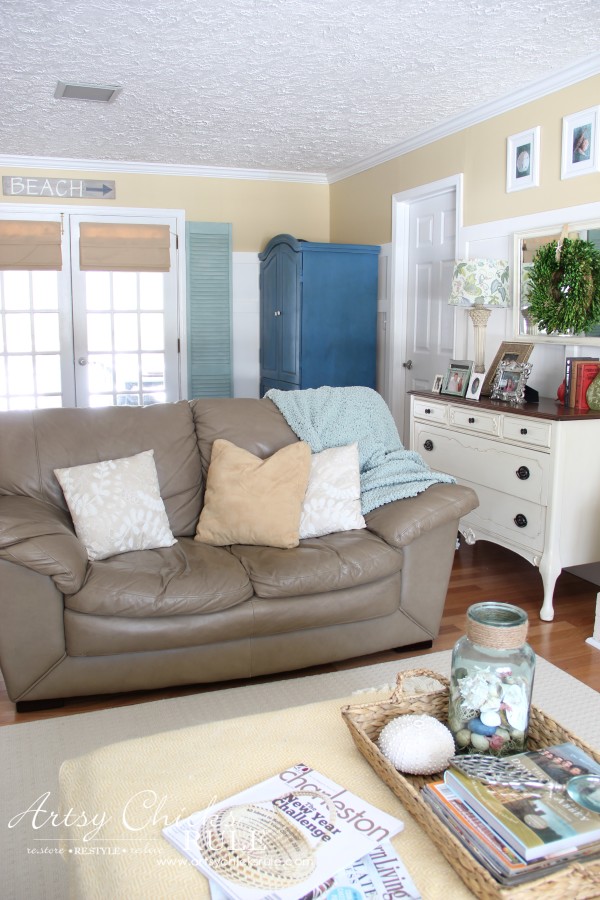 That beach sign was originally in my guest bath…and not pointing towards the beach.
I'm happy to report it's now finally pointing in the direction of the beach in it's new location.
I've shared the photo below before (and how we attached our TV) in this post here –> "Black Friday, Not This Time (A Family Room Makeover)"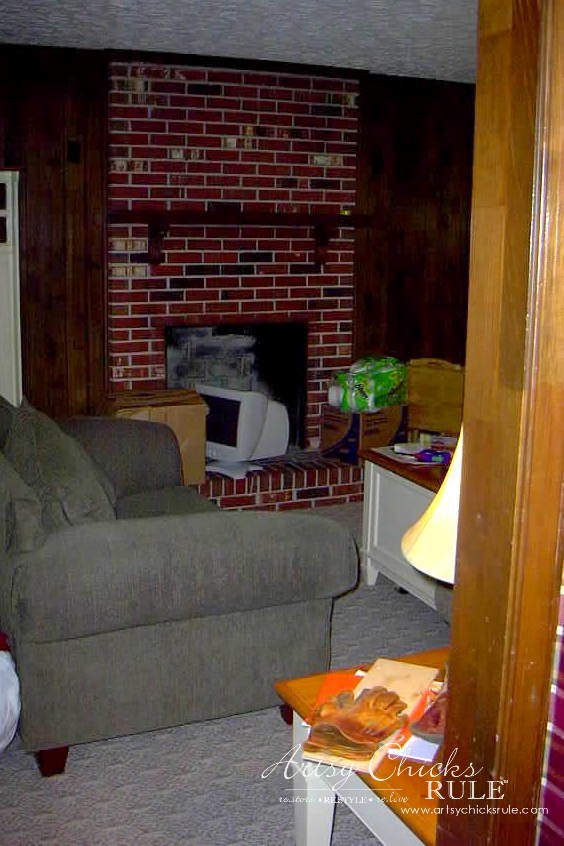 And now…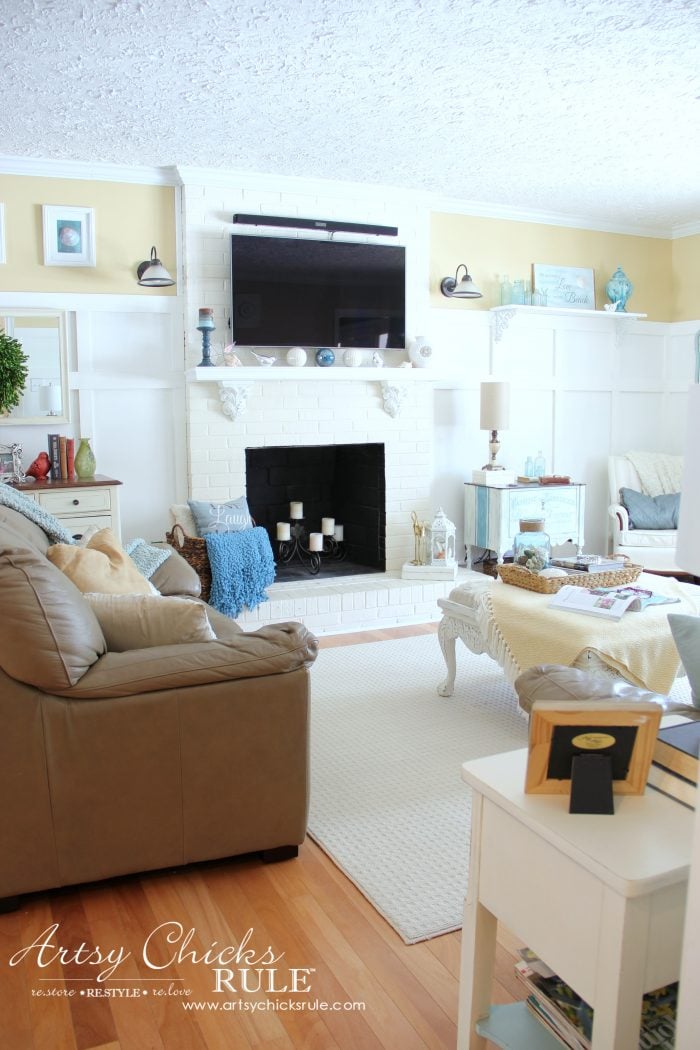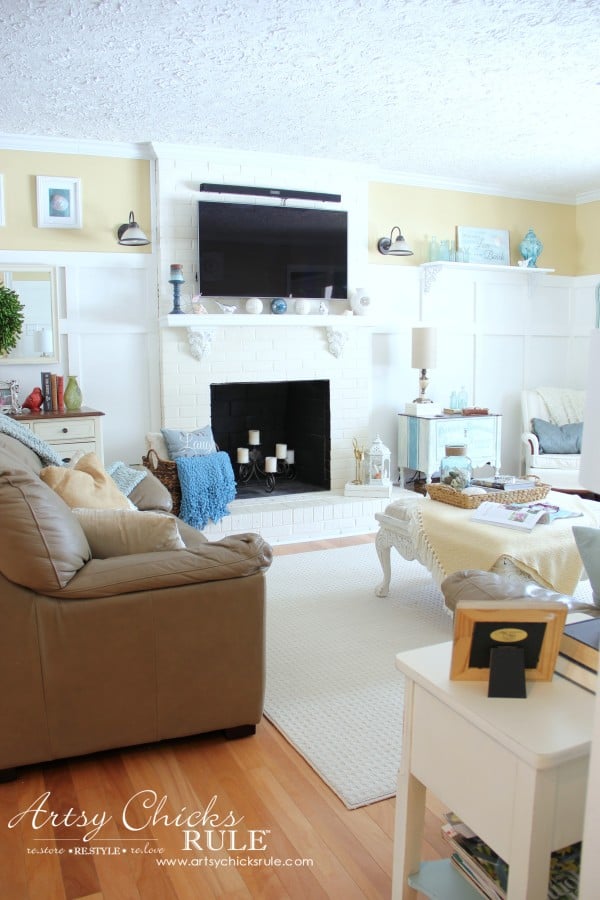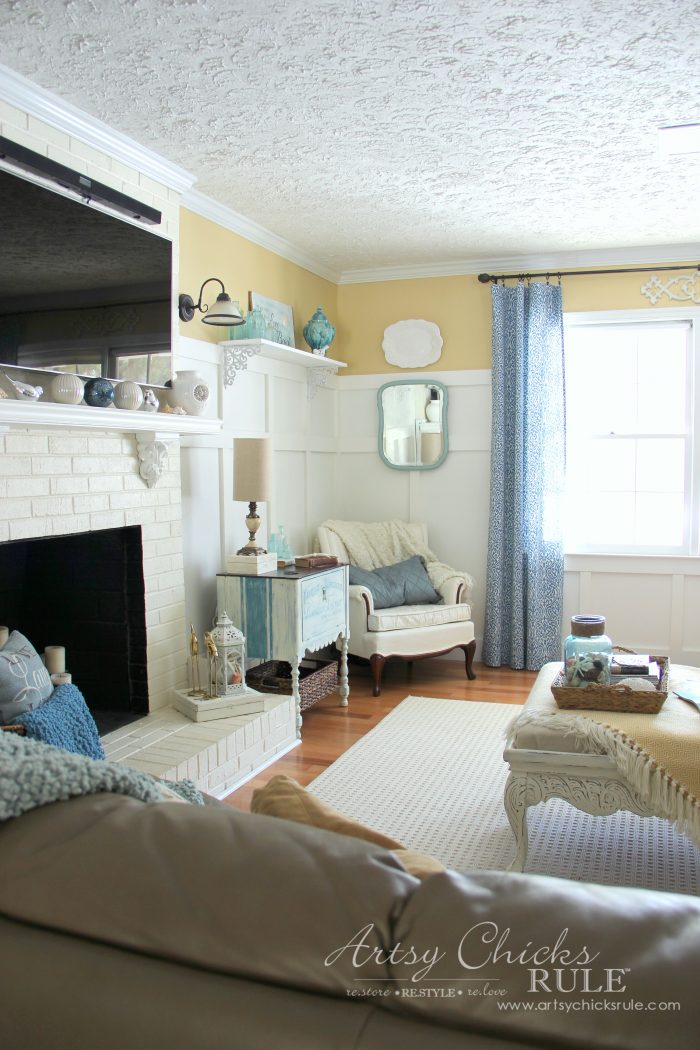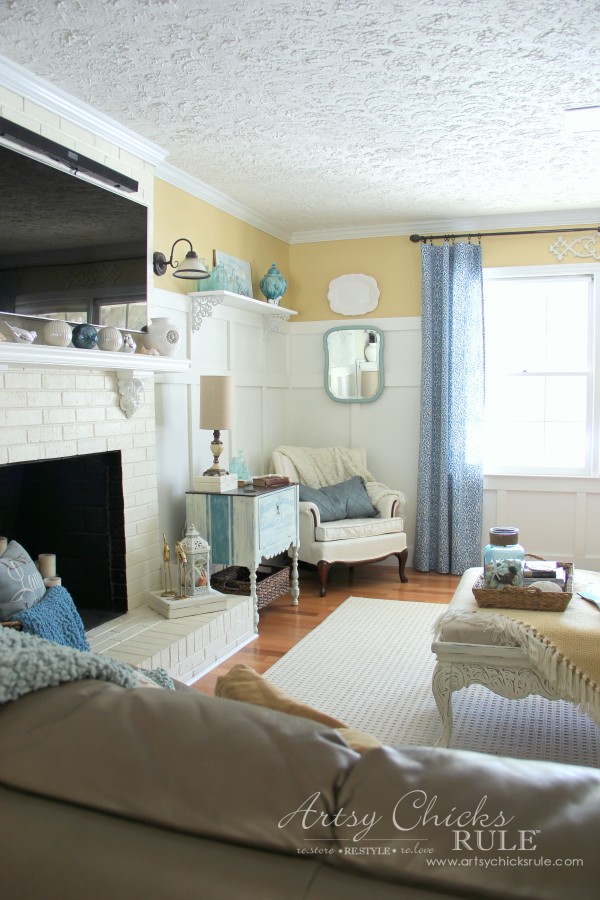 And just for fun…how it looked before I changed my decor this last time. (one of many times! ;) )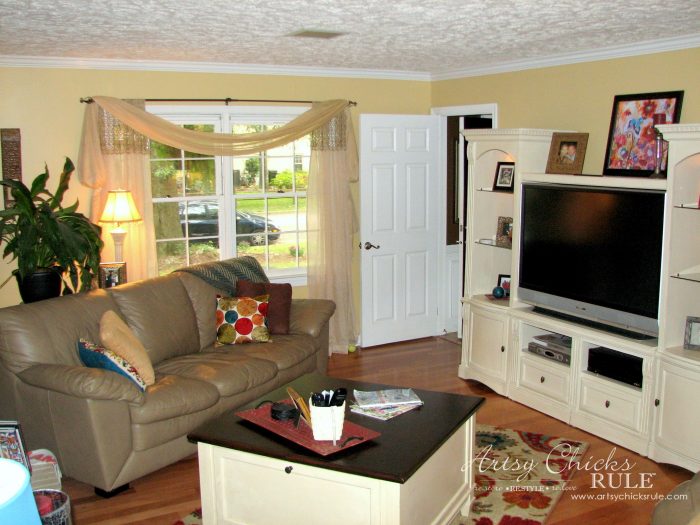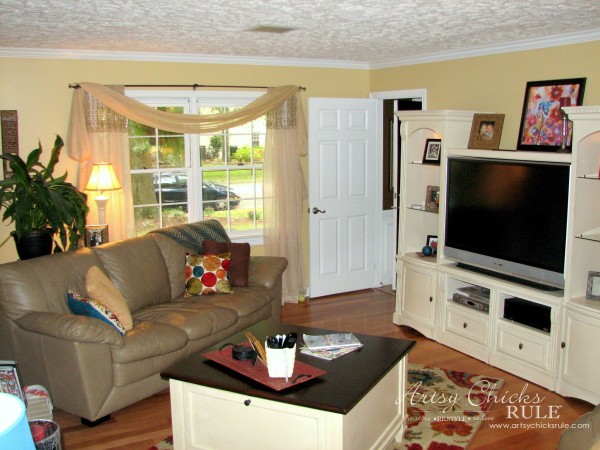 See why we needed to get rid of the large entertainment center? Too big for this room and it always felt cramped.
I had a terrible time with furniture placement.
So, so, so much better now that we've mounted the TV over the fireplace.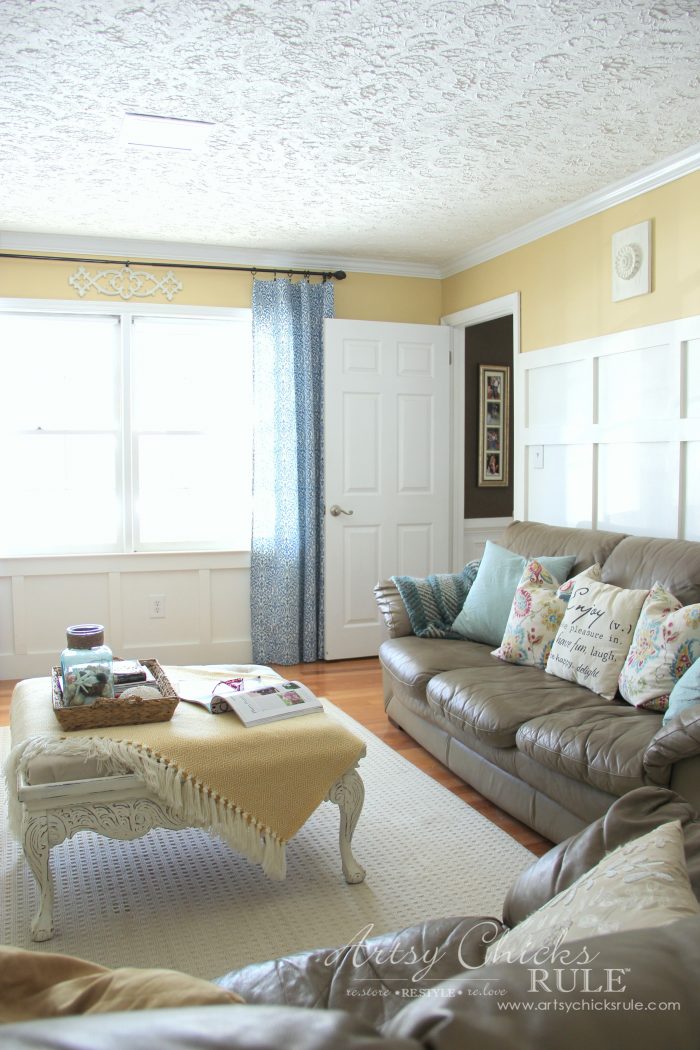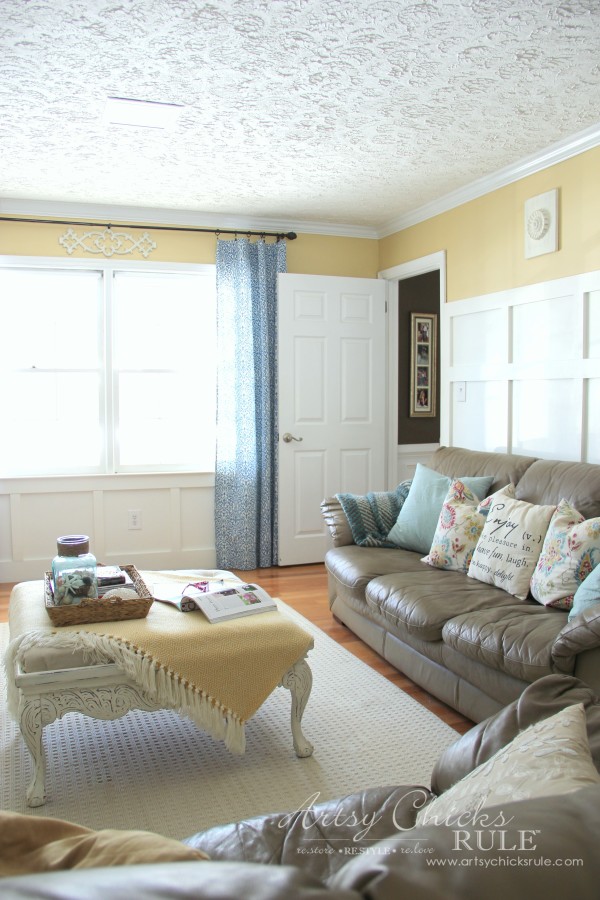 There's one of the light fixtures beside the fireplace…that used to be an outlet. Much better with a light than an outlet!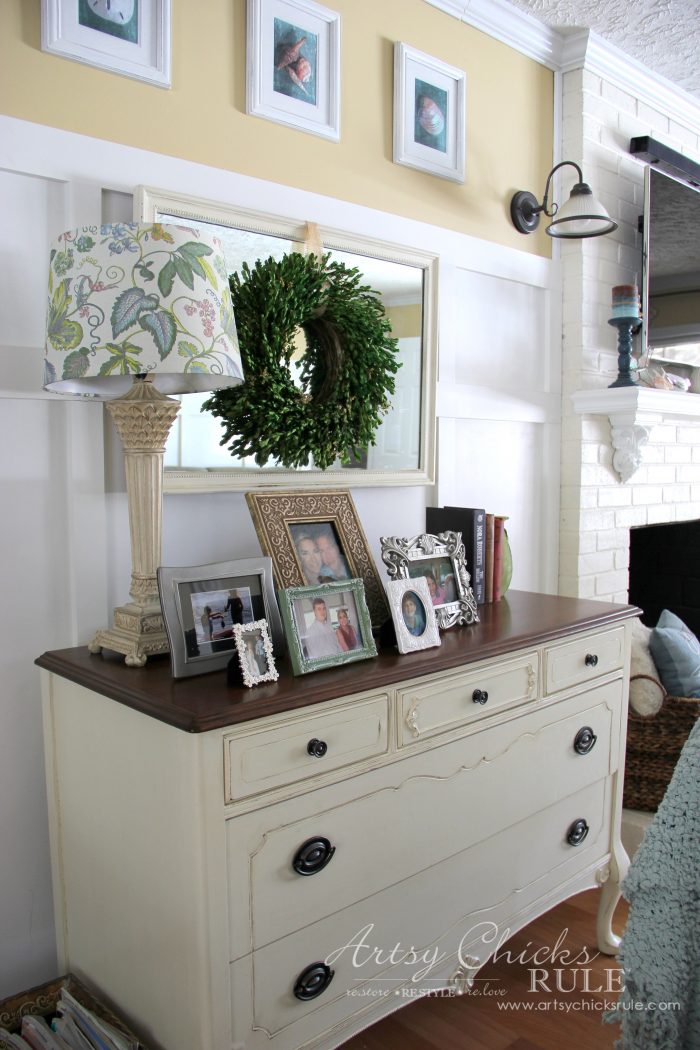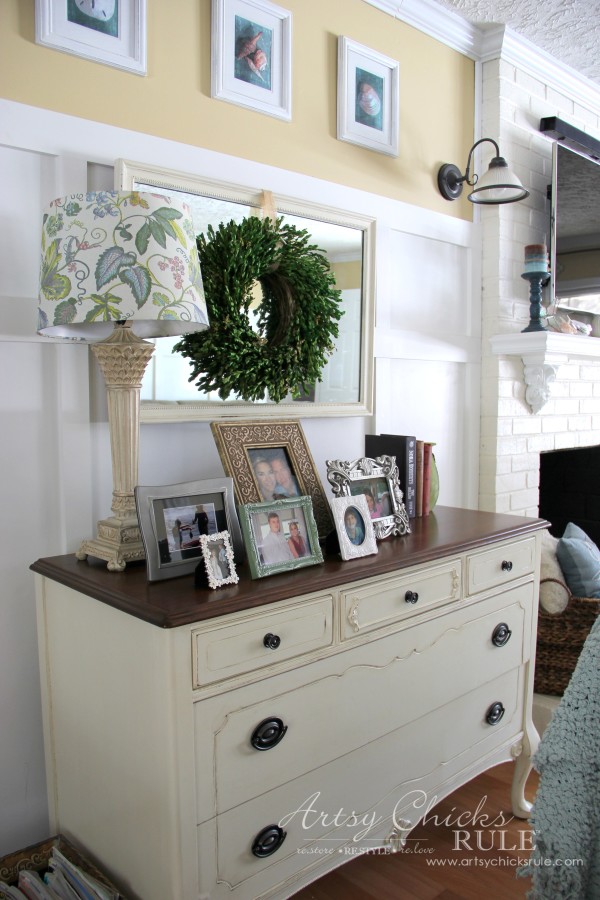 My pretty antique dresser and mirror that came to me painted metallic blue.
I stripped it, repainted it, sanded and refinished the top and added new hardware. (that looked more original than what it came to me with)
So….I can very happily say the Family Room is no longer "the cave".
It's a place that we very much enjoy spending time in.
And since we've added the faux board and batten, it's even brighter than before.
See you later this week with the "how to" on the board and batten we did in this room!
(Edit-see the board and batten tutorial –>> "Faux Board & Batten Tutorial")