Sideboard Makeover w/Java Gel & Chalk Paint (Themed Furniture)
This post may contain affiliate links. Please see disclosures here.
I love these old sideboards and come across them from time to time. This sideboard makeover is classic and perfect for any style.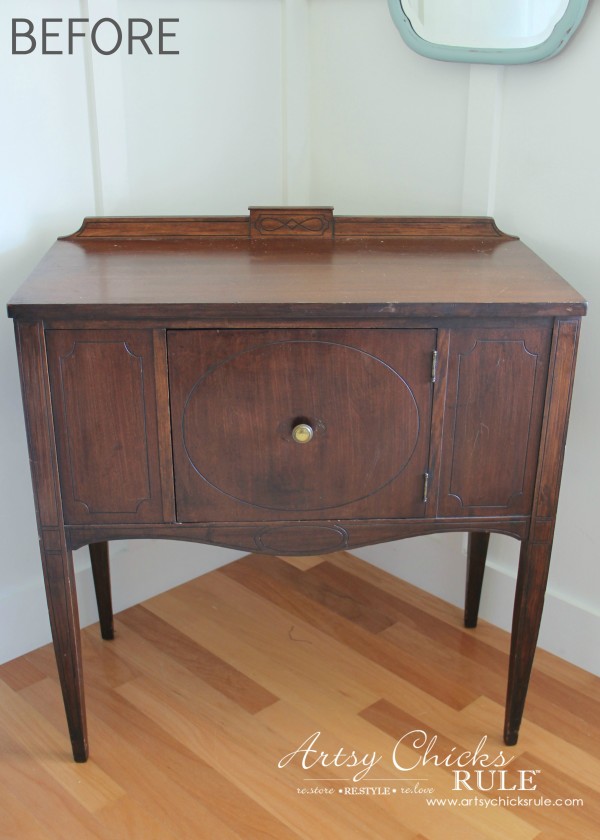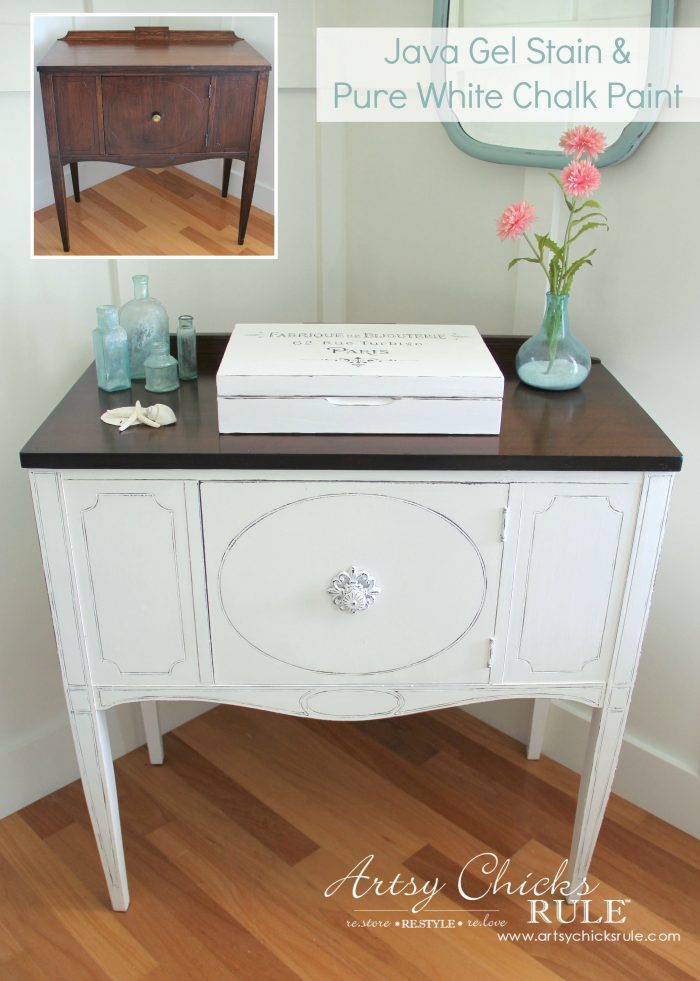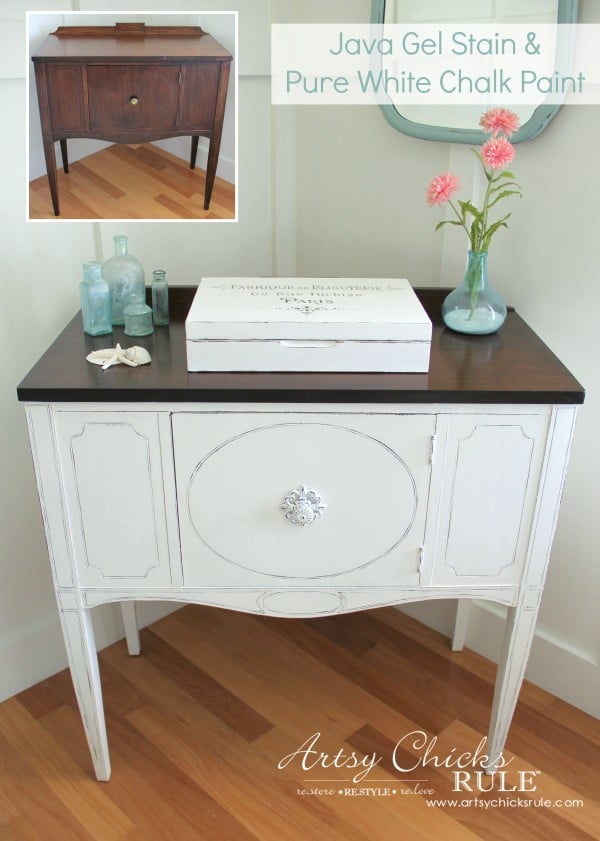 Today I'm sharing this sideboard makeover, inside and out!
I found this old sideboard at the thrift store back in September.
It sat…and sat some more before I finally decided how I wanted to paint it.
I had plans to do a sideboard makeover and add some sort of embellishments to the door fronts but changed my mind for a more simple makeover instead.
Our theme for this month's "Themed Furniture Makeover" is "distressed".
I had planned to distress this piece very slightly anyway so decided to share it today for the tour.
For those of you that may not know, some of my blogger friends and I get together every month and create a furniture makeover surrounded by a theme.
You can see all of the months we've done so far here —> "Themed Furniture Tour".
It's great because it really gets the creativity going!
"Distressed" is a pretty easy one though. ;)
I distress quite a bit of the furniture I paint, not all, but a lot.
Here is what I distressed….
If you follow my Artsy Chicks Rule Facebook page or Instagram, then you've already seen a bit of this piece already.
I always share things over there while I'm working on things. Sometimes I even ask for advice!
Like on this one.
I asked whether I should paint that raised back wood piece on the top.
Obviously I didn't and went with stain! I had originally thought I'd paint it but then I was really liking the way it looked stained.
So I wasn't sure which to do.
Thank you guys for helping me figure that one out! :)
I'll include affiliate links below when possible. You can see my disclosure, here.
The finish was pretty awful on this one so it didn't really hurt my feelings to paint it.
But I knew I wanted to keep the top stained…a nice, dark shade.
This sideboard makeover was a pretty simple makeover really.
I used "Pure White" in Annie Sloan Chalk Paint for the base.
(See how the design detail on the doors/legs is lost in the paint? It's begging for distressing)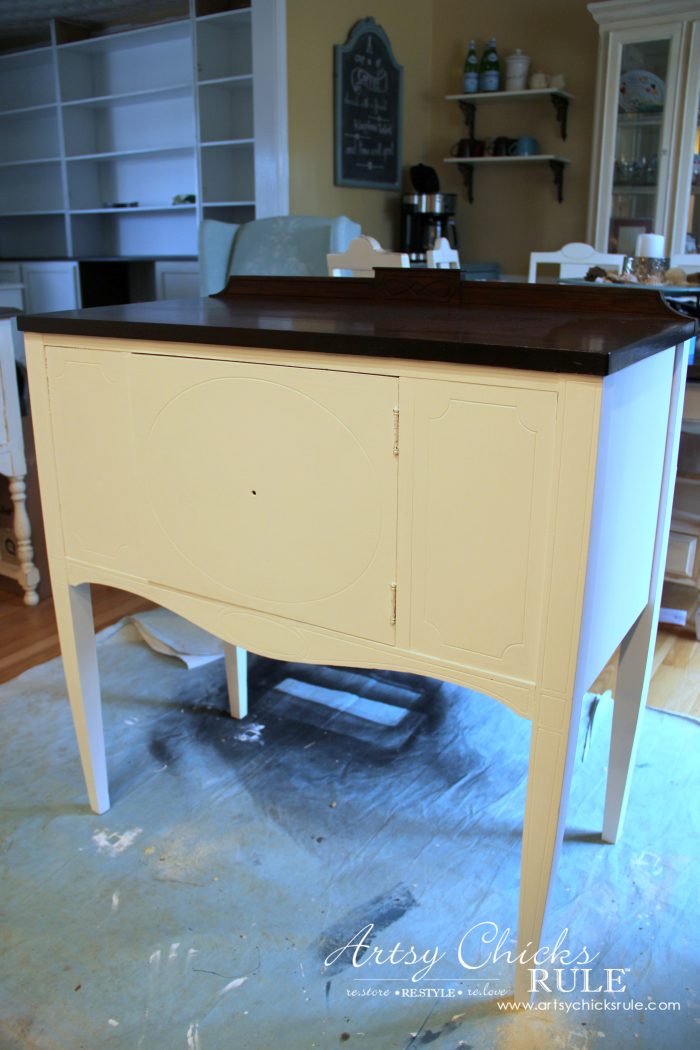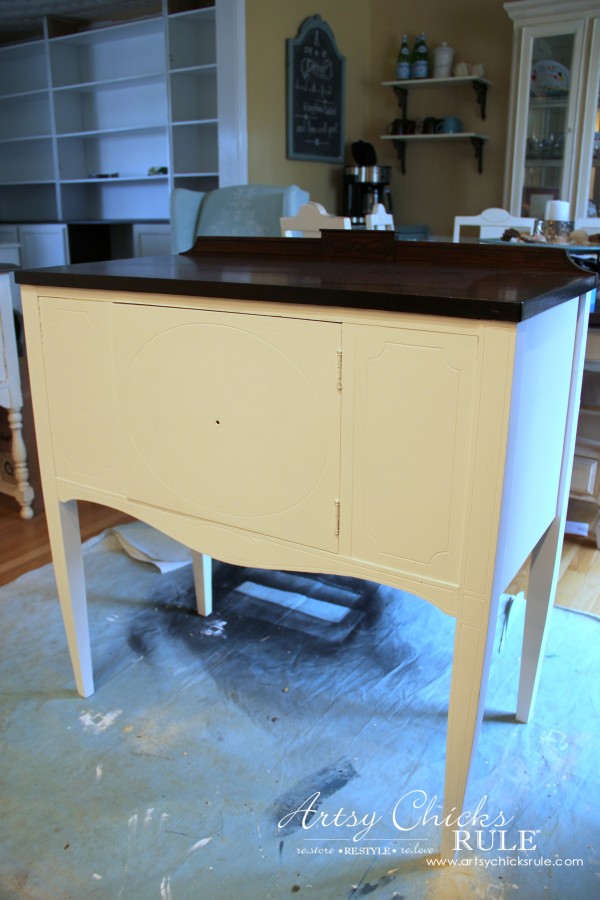 Oh look! A sneaky peek of the bookcase/built in over there in the Study that has been "in the works" for …. um, forever. ;)
But we are in the home stretch now! Woohoo!!
A little Aubusson Blue Chalk Paint when you open the door.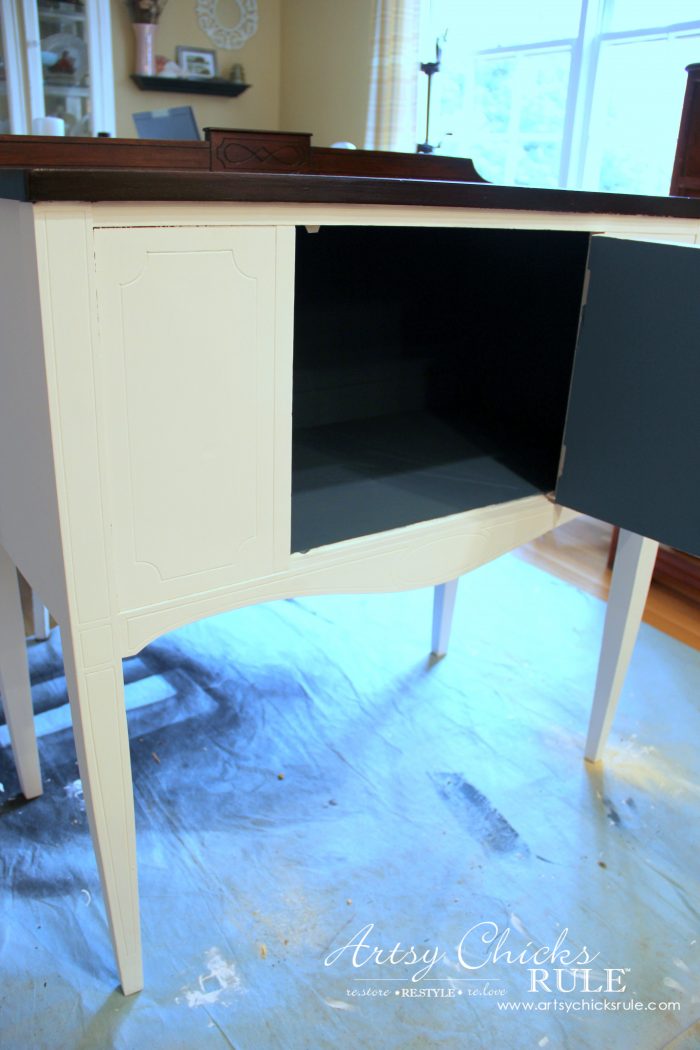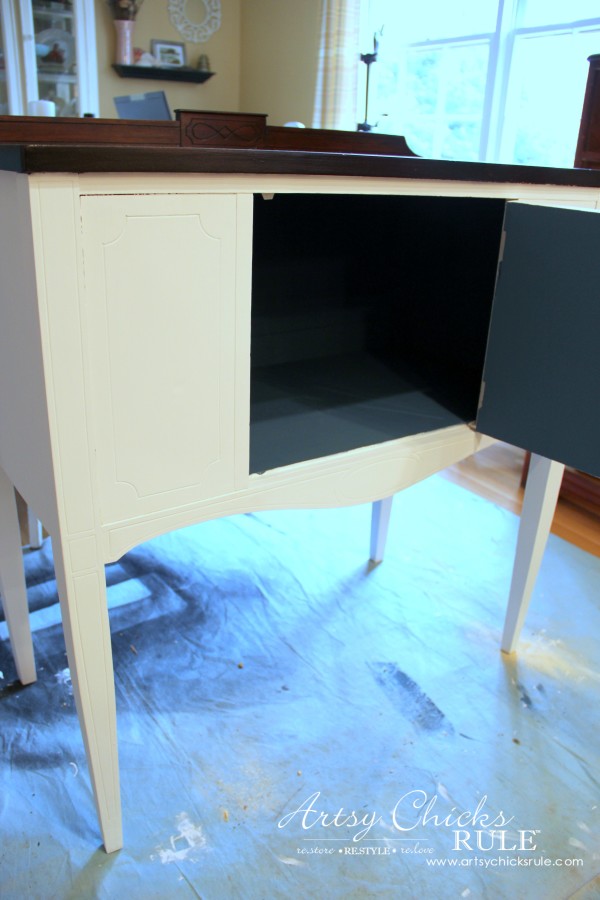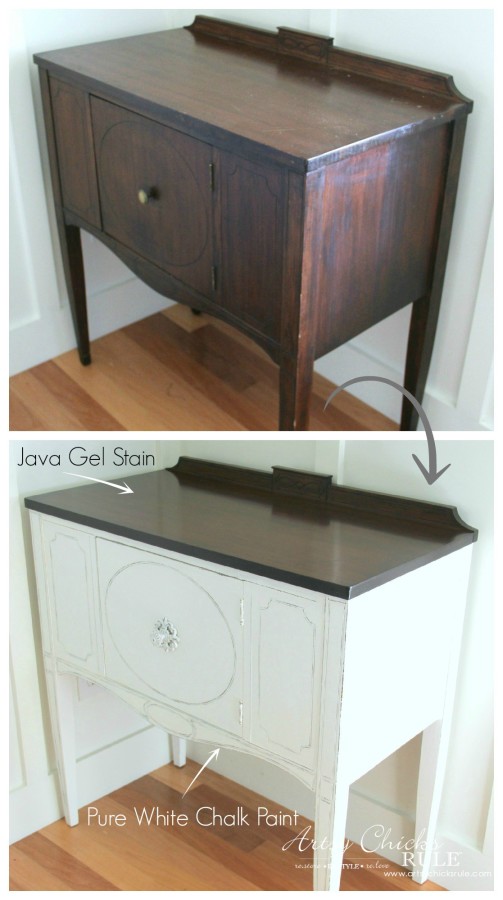 Java Gel Stain by General Finishes
for the Top.
Lightly sand, just enough to rough it up. No need to remove the entire finish.
Clean well and apply the Java Gel. Wipe away the excess and let it dry for about 24 hours.
Then either apply a second coat if you want it darker or apply your top coat.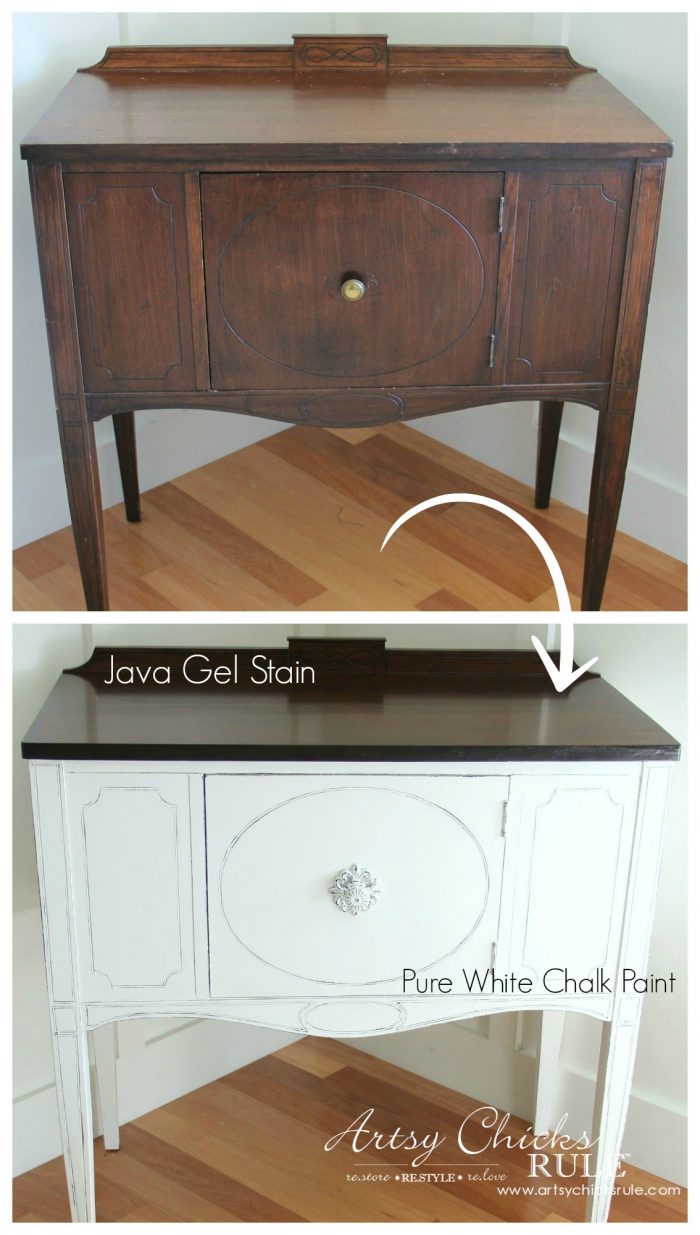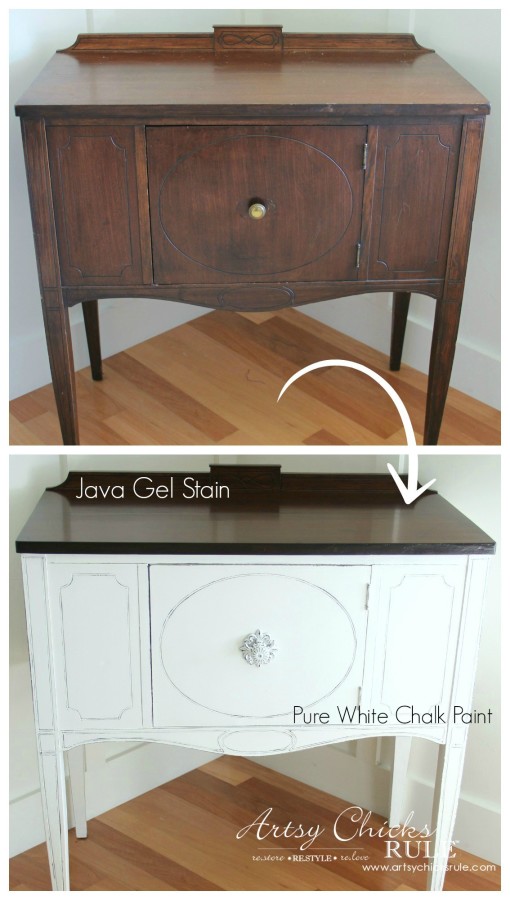 And that oh so lovely Aubusson Blue for the interior for a fun surprise of color….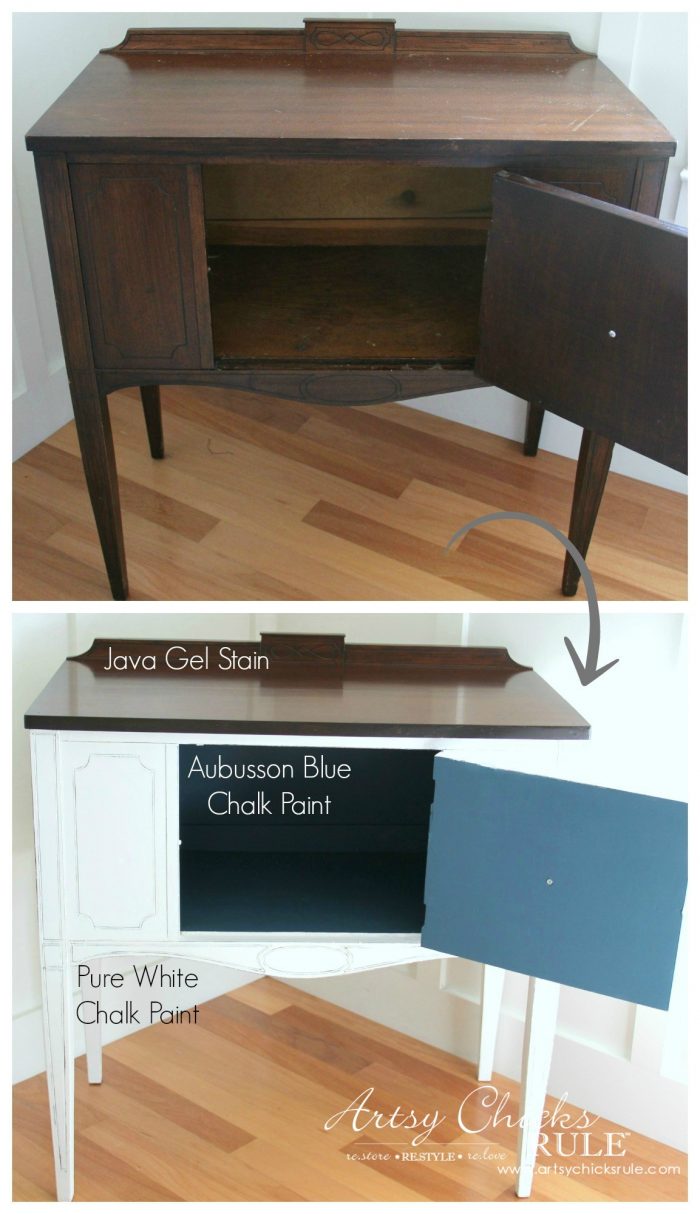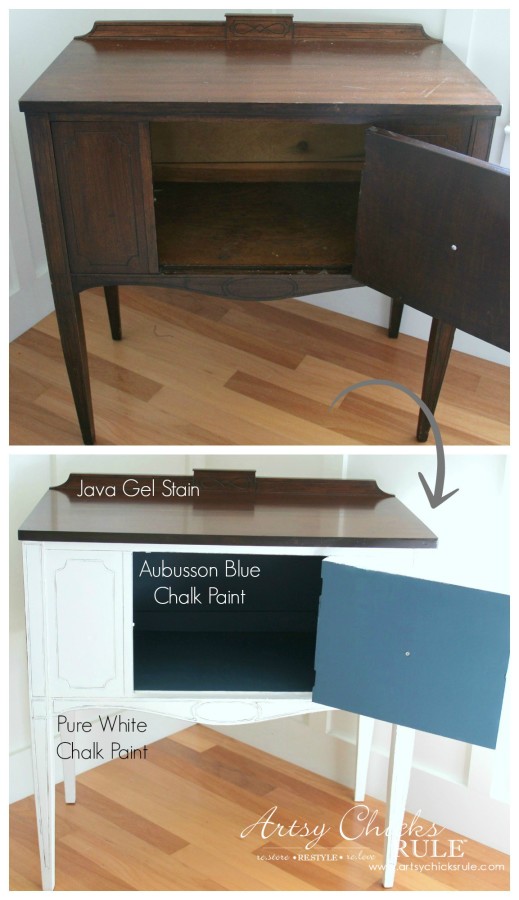 I adore this color. I used it on my "forever favorite piece" here –> "Aubusson Blue Dresser Re-do"
Want to know about 26 other chalk style paints?
I've got the low down for you right here! >>> 26 Types of Chalk Style Paint For Furniture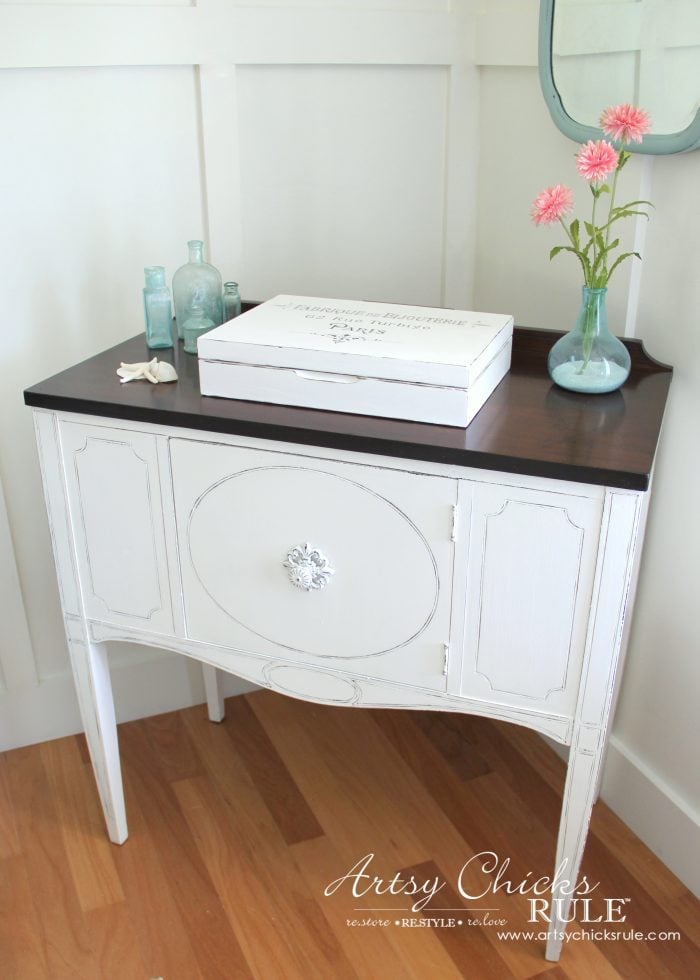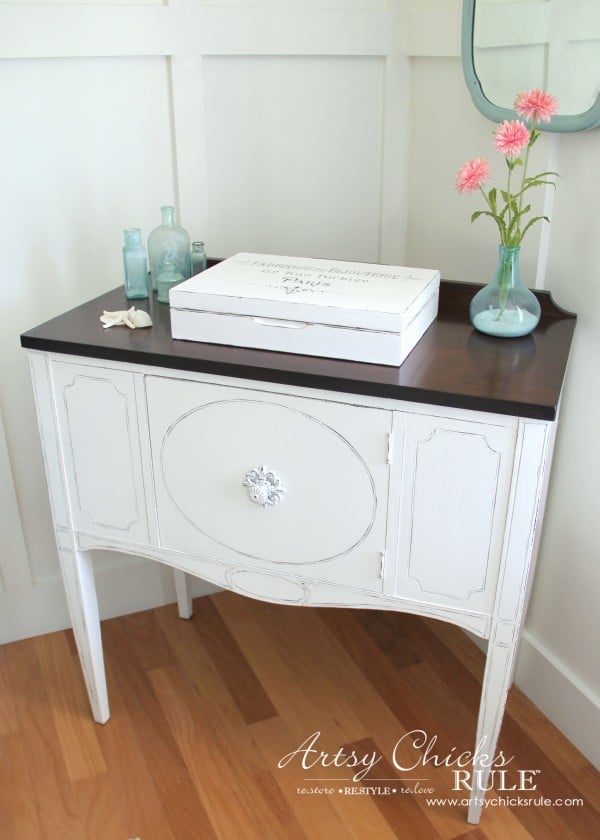 And just look at how the Java Gel made this top look.
From this…..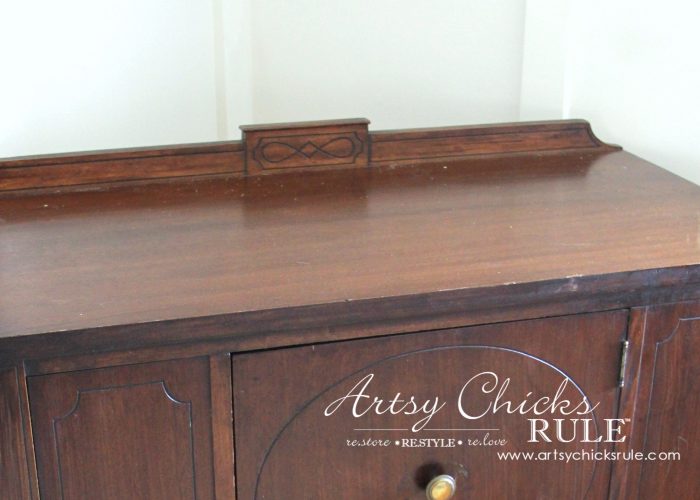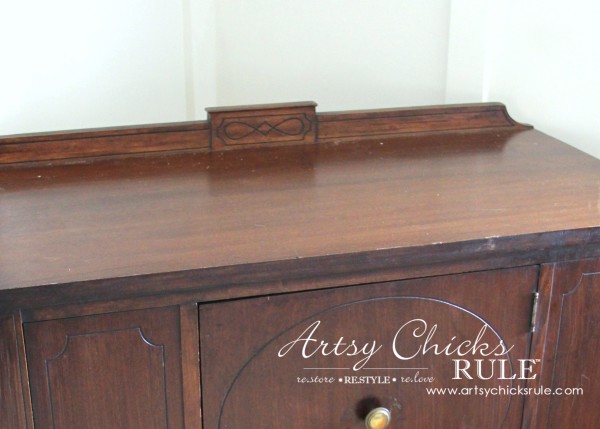 To this….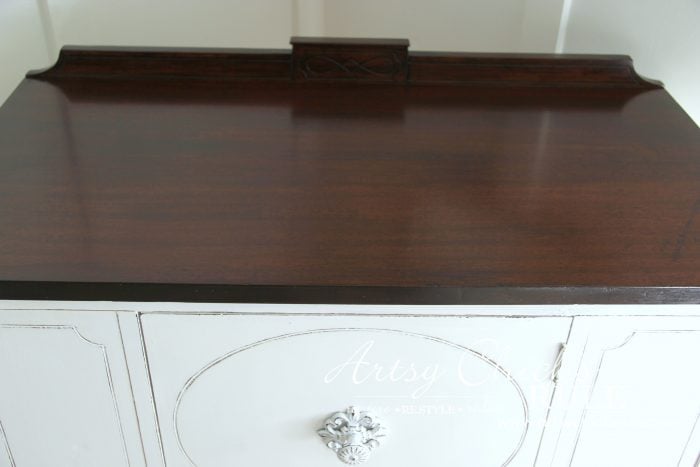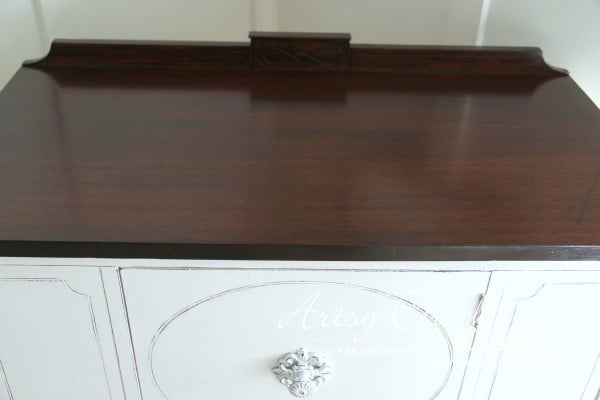 I used one coat and let that dry for 24 hours before applying a top coat of High Performance Top Coat.
I used two coats of the top coat.
I sealed the Pure White with Annie Sloan Clear Wax. (one coat)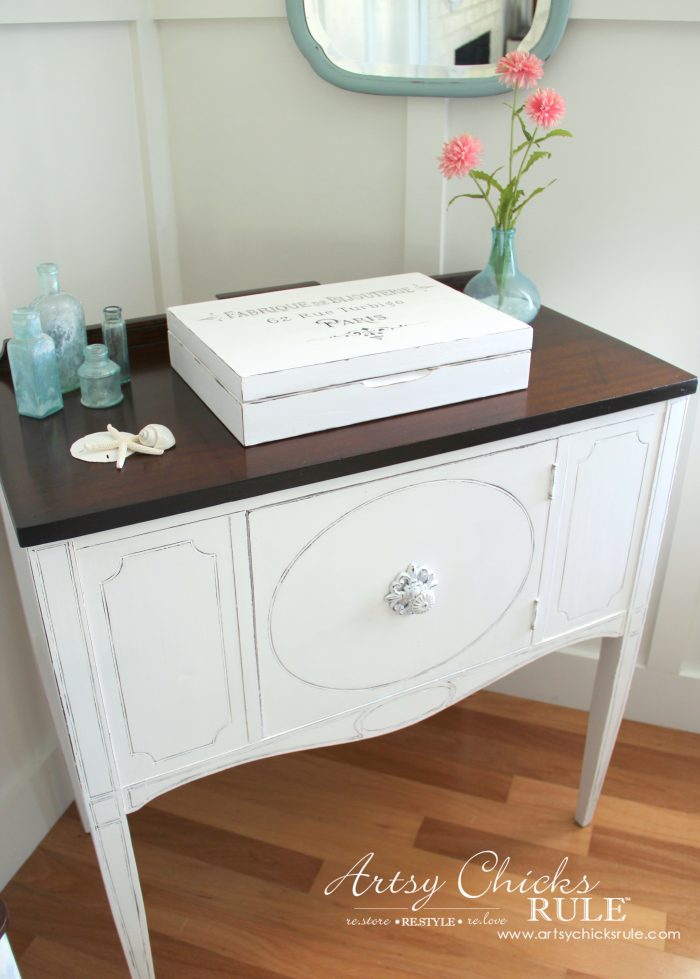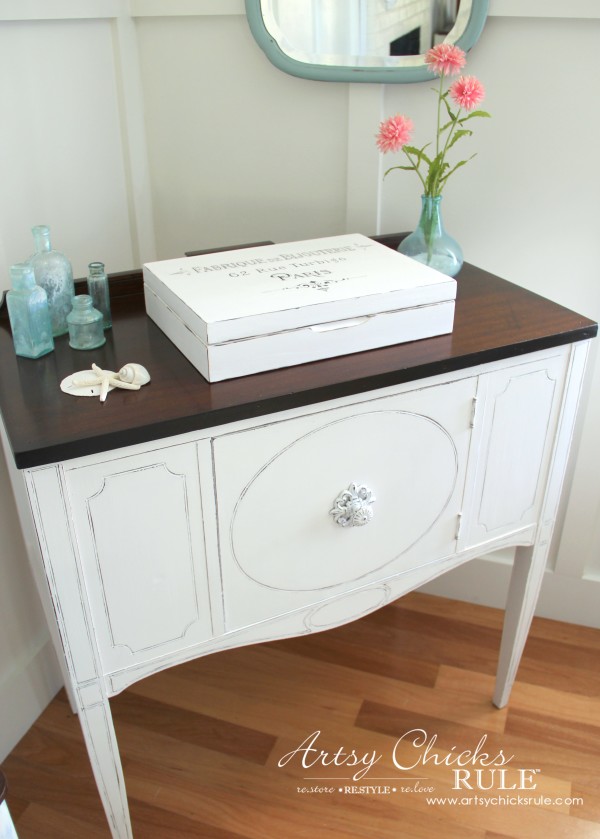 I distressed only very lightly. I went around all of the edges of the detail on those doors and legs to bring it out.
(fold a piece of fine sandpaper in half and rub the edge inside the grooves to distress)
Much better than the photo above where it was lost in the paint (and the stain too).
Now you can actually see it.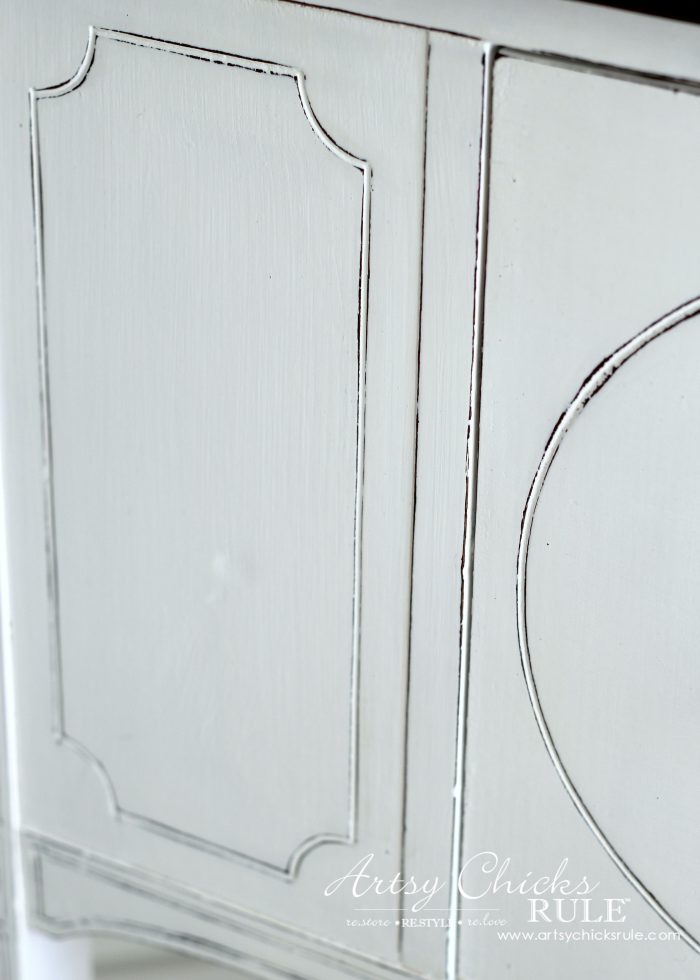 The sideboard did not come with it's original hardware.
You could tell it was an oval piece and probably looked like this hardware I used on this old dresser.
But someone changed it along the way just like they had on the dresser I linked above.
So I painted, distressed and put this pretty on.
It's the same one I used on my "French" styled estate sale sideboard.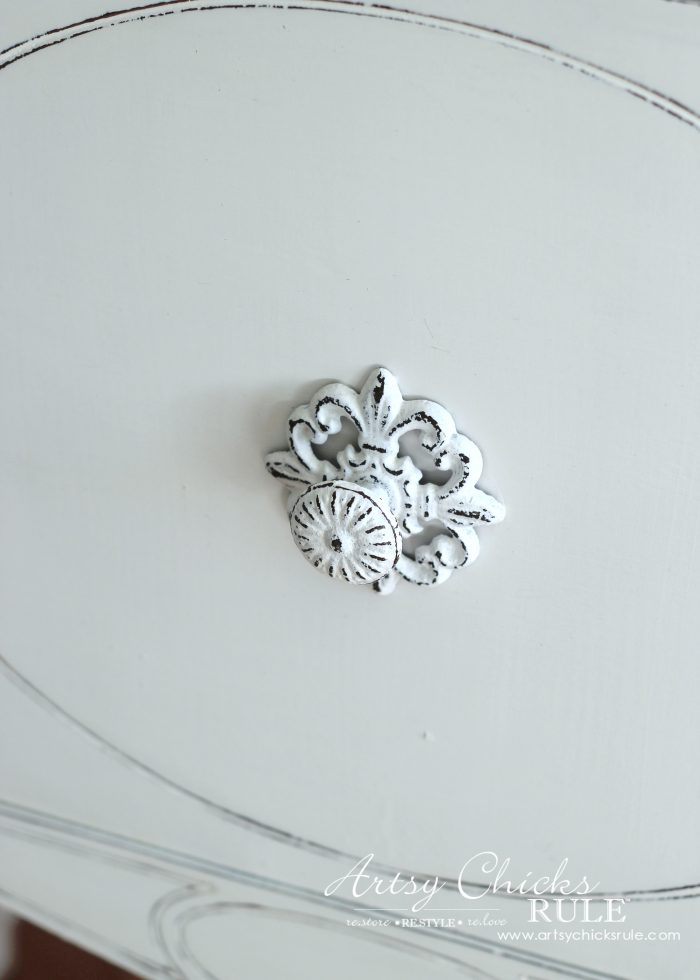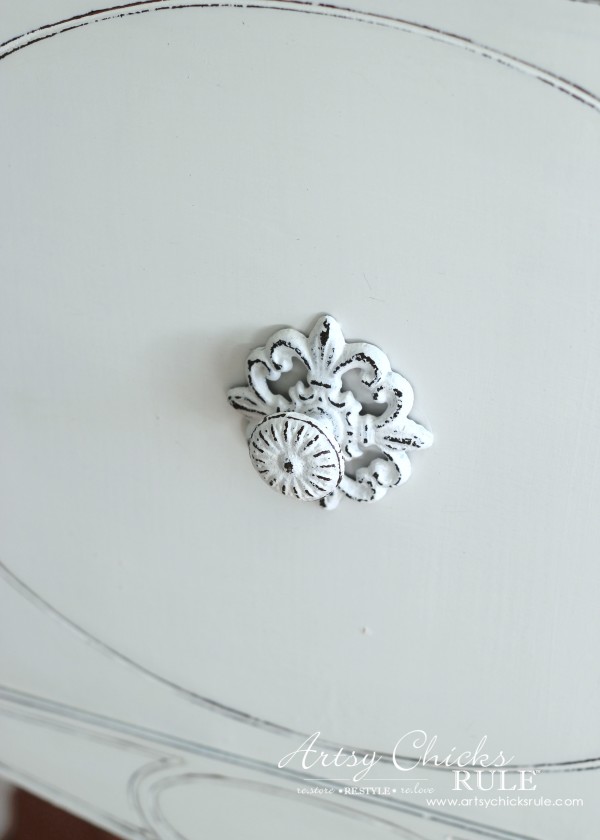 As a matter of fact, I'm loving this new sideboard so much, I'm considering replacing that one (I just linked above)…with this one.
We'll see.
I just adore that dark wood Java Gel top & clean white Chalk Paint base.
Contrast…love it!
I'm wanting to repaint the "yellow-y" looking furniture I have to make it more of a "white, off white" instead.
Crazy, I know, but what can I say?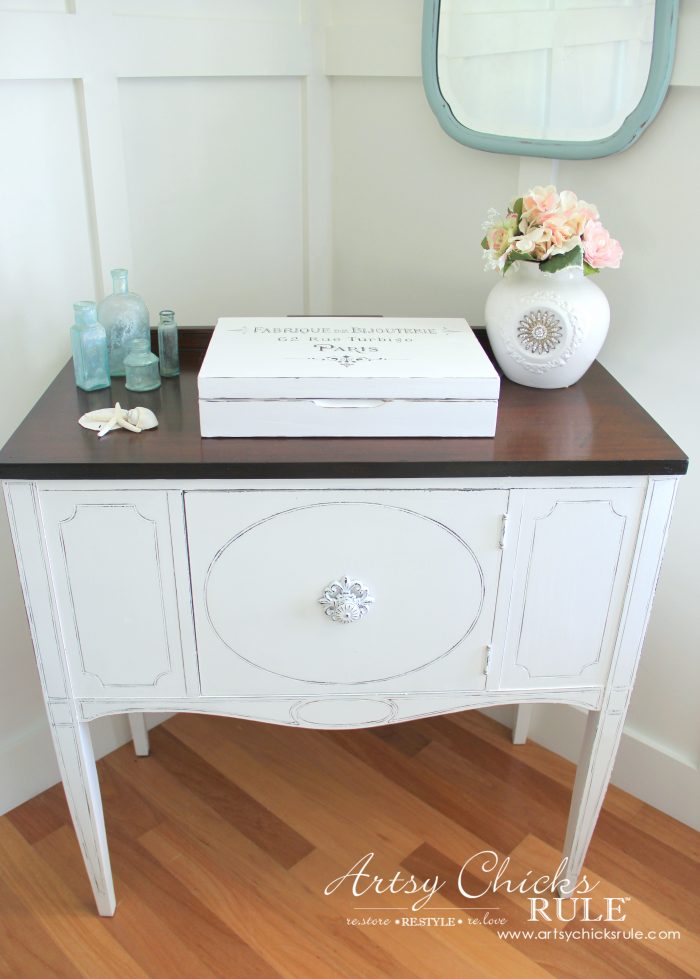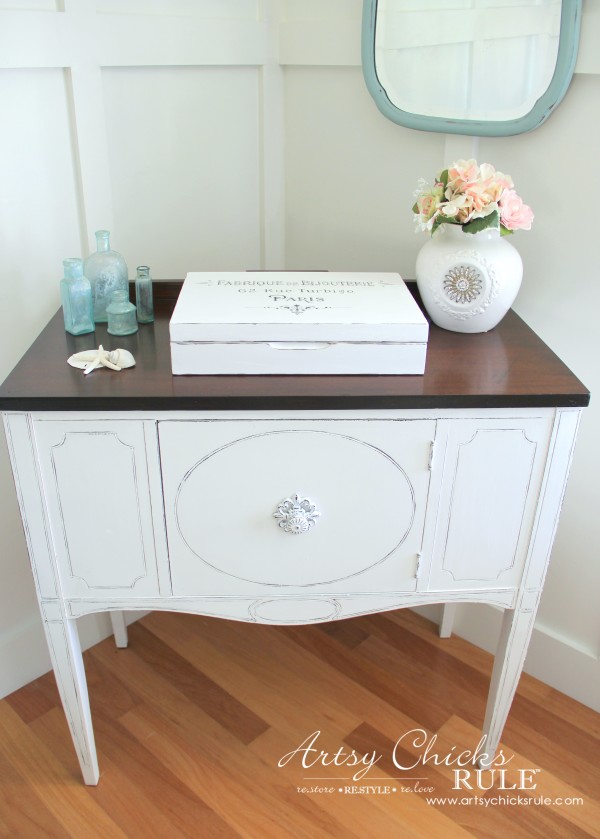 See the little French box there on top? I have a post coming up on that tomorrow so be sure to check back for that.
(and 24 other bloggers sharing their DIY makeovers too)
Edited to add this post I wrote about the Pros & Cons of using Chalk Paint for Furniture, see it >>> here.
I just love the mix of French Country infused with a bit of coastal, cottage-y style.
Teals, blues, whites, woods and a touch of pink.
It's my fave.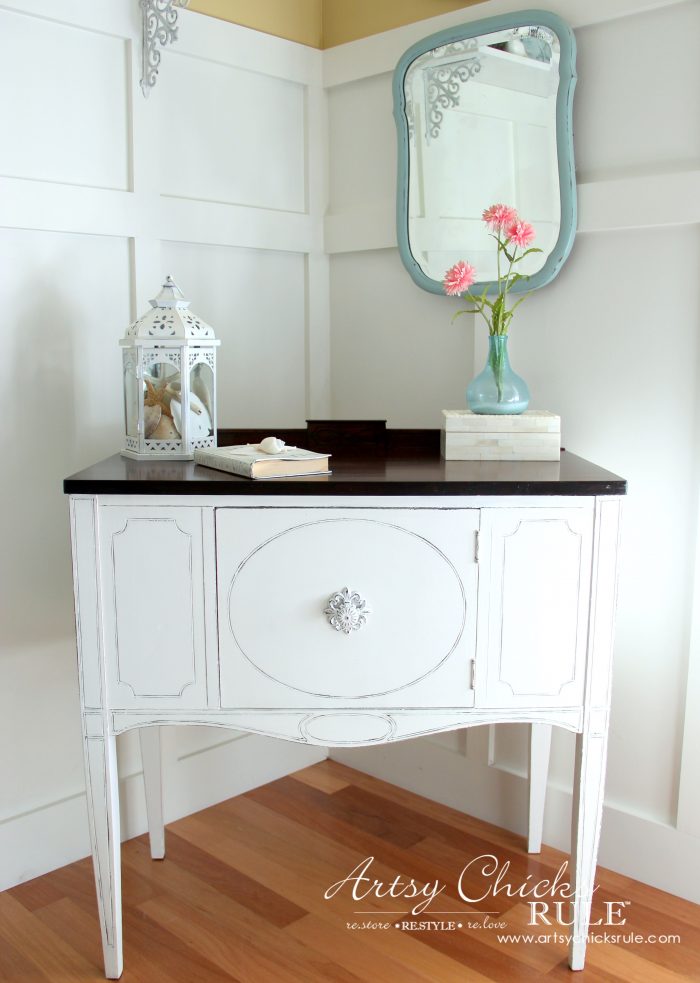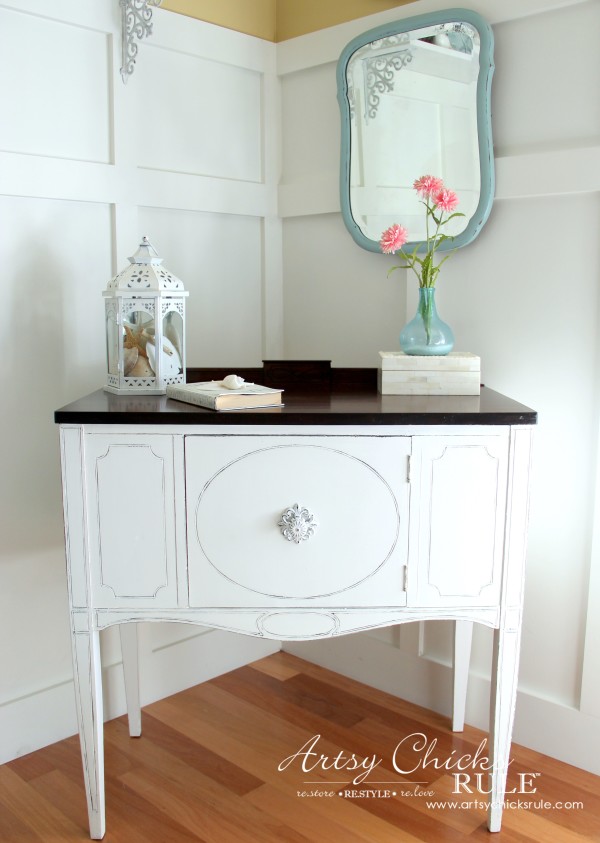 What's your fave?
PIN this sideboard makeover to save it for later!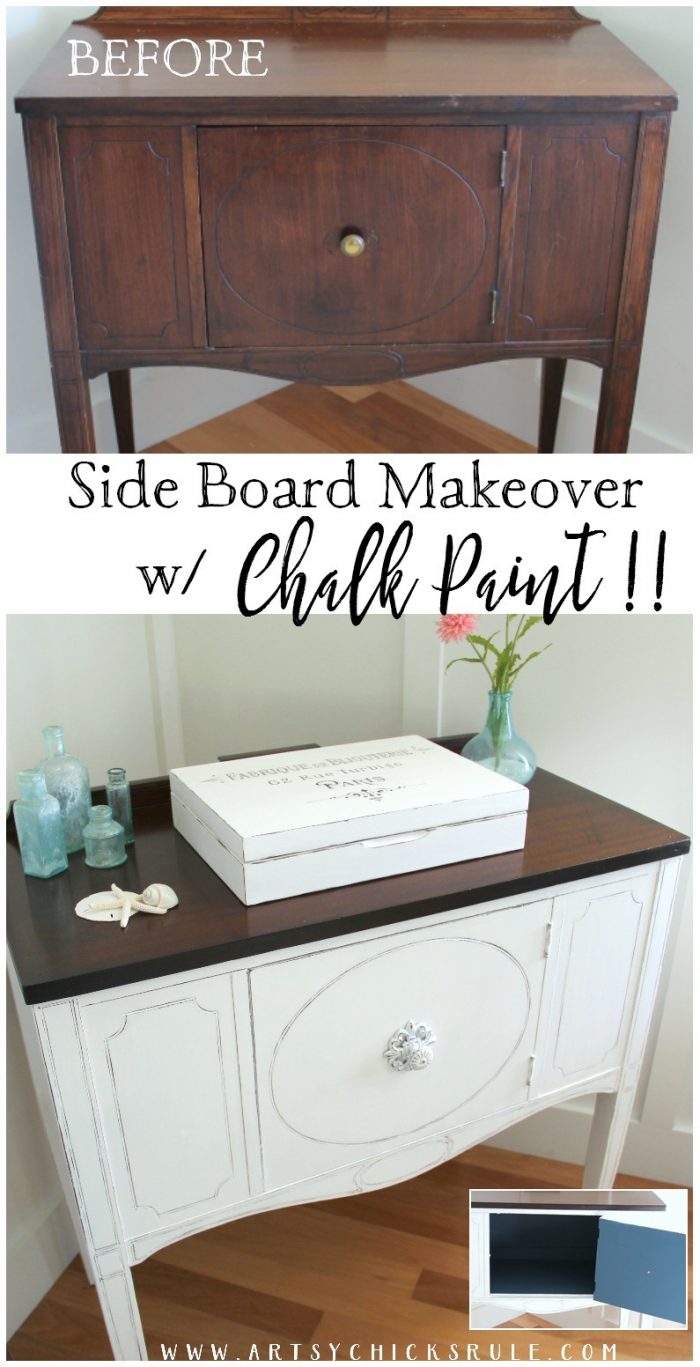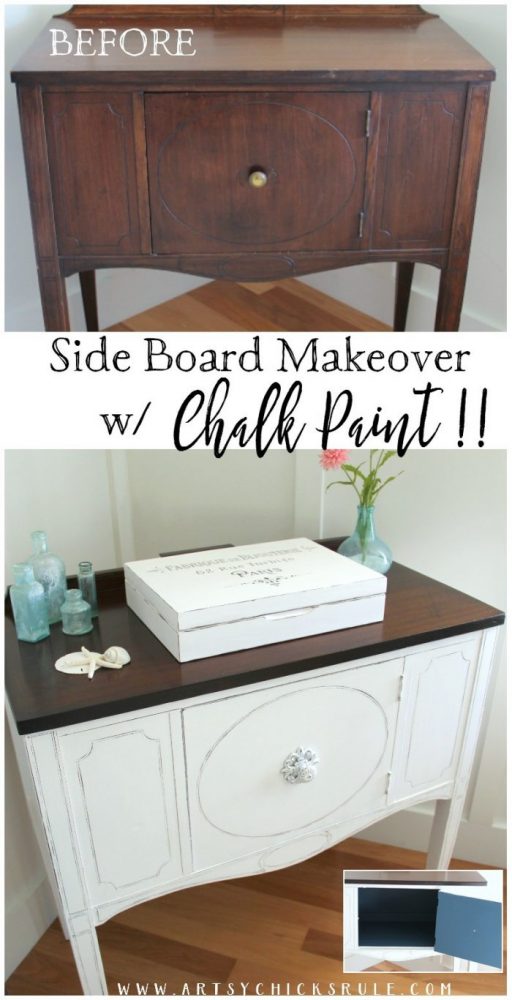 Alright, now it's time to take a look and see what my friends "distressed" this month (they are below)!
Check back in later this week for this fun makeover! (hint…paint AND added embellishments!)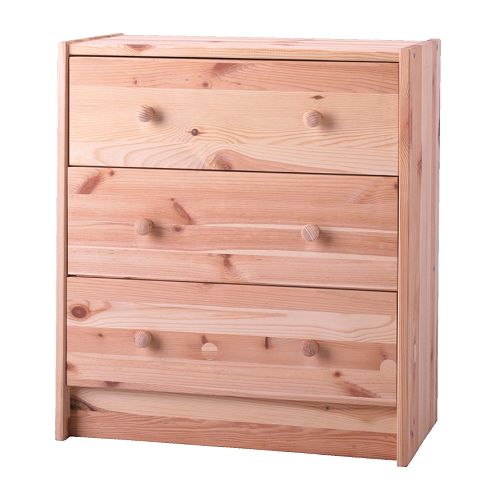 UPDATE!!! See it now, here!!
Enjoy…and I'll see you tomorrow!