Pros and Cons of Chalk Paint For Furniture (and some of my favorite makeovers!)
This post may contain affiliate links. Please see disclosures here.
Ever wondered about chalk paint?? Here you'll find the pros and cons of chalk paint for furniture so you can make an informed choice for your next makeover!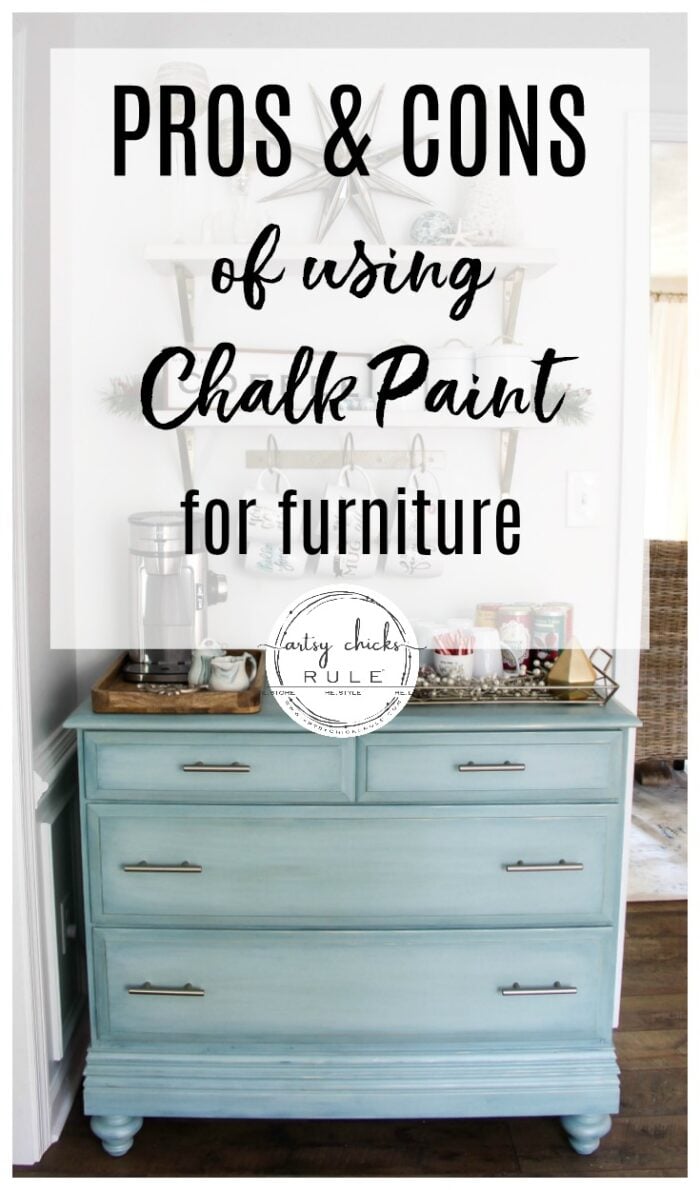 Hey friends!
Since I use a lot of chalk style paints (mostly Annie Sloan, which I love), I thought I'd write a post detailing the pros and cons of chalk paint for furniture.
Yes, there are pros AND cons to it. Well, there's pretty much pros and cons to everything, right?
It's always good to know what they are before you begin a project so I hope this post is helpful to you.
Not only that, I thought I'd share some of my favorite chalk painted furniture makeovers while I'm at it.
You guys know I'm a chalk paint and chalk-style paint fan. But I'd even have to agree, there are cons to using it.
Even so, I've created, and continue to create, some really great furniture makeovers using it.
Pros and Cons of Chalk Paint For Furniture
But first, let's take a look at one of my favorites…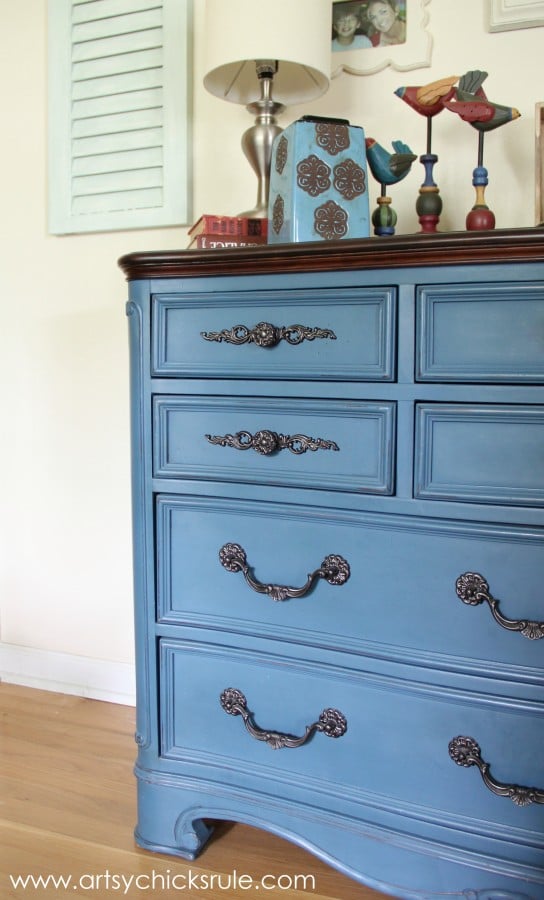 Surprise, surprise! My Aubusson Blue dresser.
It's the first chalk painted piece I shared here on the blog, oh, about 7 or so years ago.
To this day, it is still at the top of the list for me.
You can read all about it here >>> Aubusson Blue Dresser Re-Do
Okay, let's get to the nitty-gritty of the pros and cons of chalk paint, or any chalk style paint.
PROS of Chalk Paint (and chalk style paints)
No prep needed….most of the time.

No primer needed….most of the time.

No sanding needed….most of the time.

Dries quickly.

Typically goes further. (1 can will paint multiple things)

Can be thinned and used in a sprayer.

Blends easier, and nicer, for artistic painting techniques and applications.

Distresses easily.

Easy cleanup.
Now let's talk about those for a minute.
Prep and primer.
Yes, no primer is typically needed with chalk paint. But you really can't say that across the board.
There are just going to be those times when a primer is necessary for any type of paint.
It's not magic.
One of those times and one that comes up often around here is when you are painting a reddish type of wood/stain.
That absolutely takes "prep" in the form of applying some sort of primer/sealer to seal in that red so it won't bleed into your paint.
You may come across other times when something that has soaked into the wood continues to rise to the surface through the chalk paint.
It too would need some sort of primer to seal it up.
Sanding.
How about wood that has a rough, chipped or my favorite (not!) a really slick finish on it?
Do you really think it won't need some prep work? I know some people out there would say no, but I don't usually chance that.
If you have a really slick finish, you need to prep before using chalk paint.
If you have a rough or chipped finish, you need to prep.
But overall, yes, in most cases, chalk paint is pretty user-friendly in that it really does require little prep.
It will stick really well to your stuff. ;) But use some common sense along with it.
Time for a pretty furniture makeover break.
Another of my favorite chalk painted pieces….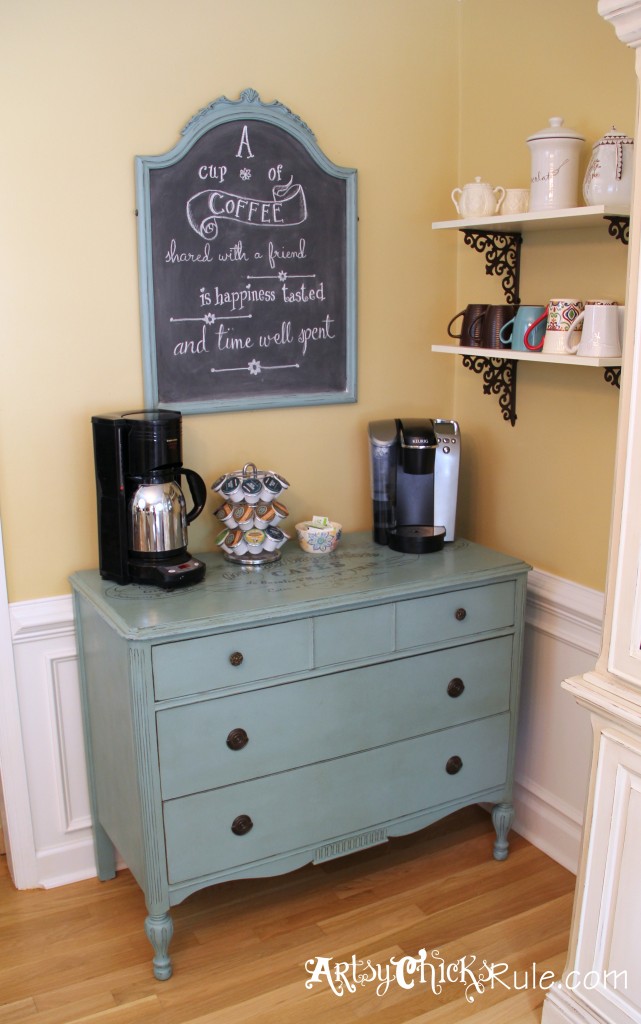 This old coffee bar dresser I painted years ago. It was the coffee bar before I created the newest one I have now.
This dresser and "mirror"/ chalkboard now lives in someone else's home.
You can read more about it and the graphic I used on top, here >>> Coffee Bar Server
Okay, back to the PROS of chalk paint.
Drying time.
Yes, it really does dry pretty quickly.
Which I love.
Because I'm an impatient painter. lol
It goes further.
Well, hmm, I do think it can.
But that all depends on the color and the coverage you are getting.
Which I will say, is usually pretty good with chalk paint.
Using it in a paint sprayer.
I absolutely love that it can also be used in a paint sprayer.
That is a game-changer when it comes to painting.
Because, if you have used chalk paint or any chalk style paint, you know it can leave brush marks.
There are several ways to combat that….thinning it out with water, sanding it between coats, using a roller to apply or using a paint sprayer. (>>>this one is my favorite!)
So even though, as you'll see below, brush marks are listed as a "con", I don't really consider it one.
There are many ways around it.
You will hear people complain about this being an issue with any type of chalk paint, but it really is a non-issue.
Blends easier.
No, I'm not talking about blending together two paint colors to come up with a different color.
I'm talking about artsy techniques. Blending 2 or more shades together to create variations, ombre or other designs.
Chalk paint and chalk style paint for the win here, for sure.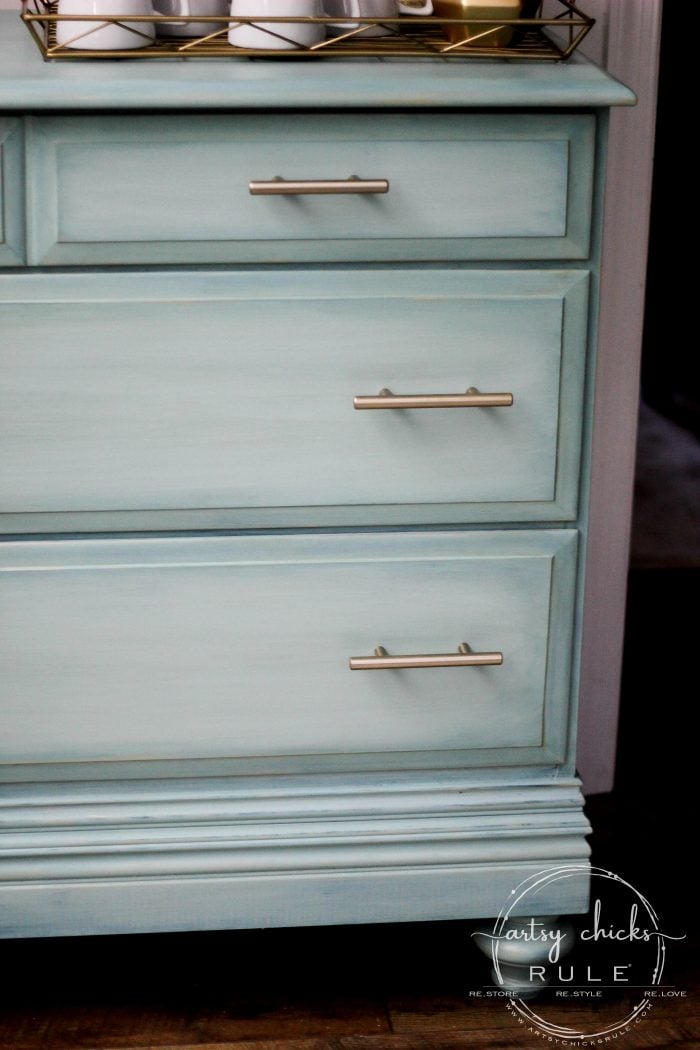 Speaking of blending colors. Here's a perfect example of that.
This would've been much more difficult to achieve with latex or other style paints.
The chalk style paints just do this so effortlessly.
This is our NEW coffee bar dresser, you can read all about it, here >>> Aqua Dresser Coffee Bar
More pros of chalk paint…
Distressing.
It distresses really well as if time had worn it down. Exactly the look you are going for.
You can distress it before you seal or after.
And you can even distress with a wet rag or paper towel. That's not something you can do with something like latex.
I love the options!
Have you ever tried "distressing" latex paint? Sure, it works sometimes. But most times it sort of rolls off, or peels off, instead of looking like it was smoothly sanded off or worn away naturally.
Easy cleanup.
For sure.
Look, I've painted with just about anything and everything you can imagine and I can tell you, chalk paint and chalk style paints clean up easier!
They just do. It's just how it is.
I can let chalk paint dry on a brush and soak it, and voila, good as new.
Spill it on something, it will come off. (as long as you haven't sealed it yet. ;) )
A definite pro here.
Let me share another one of my favorite chalk painted furniture pieces before we continue.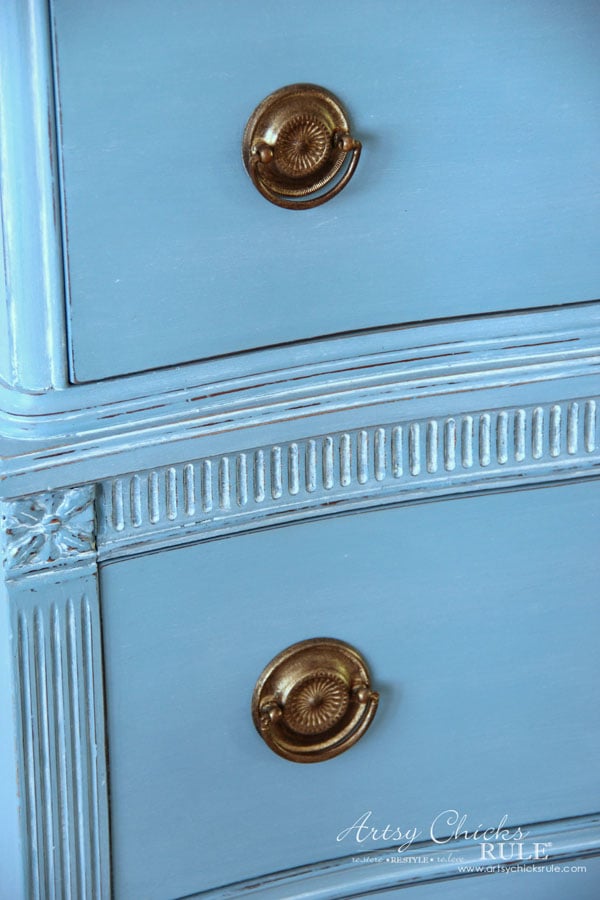 This tall antique dresser is one of my favorites (and one of Pinterest's favorites too! ;) )
I still have this one and use it in my bedroom. It's a beauty.
You can read all about it here >>> Giverny Chalk Paint Makeover with White Wax
CONS of Chalk Paint (and chalk style paints)
Isn't always "no-prep" and "no primer".

Can leave brush marks.

Stains will bleed through this paint more than latex and other types of paint.

Needs to be sealed.

Can

be pr

icey.

Can be hard to find/purchase.

If using wax to seal, it can be labor intensive.

Waxing needs to be repeated at a later date to continue to protect the piece.
Prep.
As I already mentioned above, no, chalk paint is not always no prep. I don't really consider this a con.
As I said, it is not magic, so I wouldn't expect it to be perfect in all situations.
And not all situations (furniture) are the same. Some are rougher than others.
Some have issues, some need prep. :)
Brush marks.
Yes, you are more likely to get brush marks with this kind of paint but you don't have to. ;)
Not unless you want to or are going for that look.
As I already mentioned above in the "pros" section, there are many ways to combat that.
Stains and bleed through.
Some stains will bleed through the paint. Not only that reddish wood but just your everyday stains and such.
That's just the nature of this paint. It is more porous so it will allow things to "soak through" at times.
This is when you'll need to use that primer that folks say you don't need with chalk paint. ;)
No biggie though, it's easily remedied.
Sealing.
It does however always need to be sealed.
Well, unless you are using it outside, then you can leave it unsealed.
Typically though, it needs sealing.
It can be costly.
Yes, chalk paint is pricey. It's more of a boutique brand and the price reflects that.
Most chalk style paints are as such.
One that I love and use quite a lot these days is Rustoleum's chalk style paint.
They have about 10-12 colors now and it is much more reasonably priced. (highly recommend)
I've been very happy with them. I do wish they had more colors though.
You can find all the colors here >>> Rustoleum Chalk Style Paint
Another fun chalk painted furniture makeover…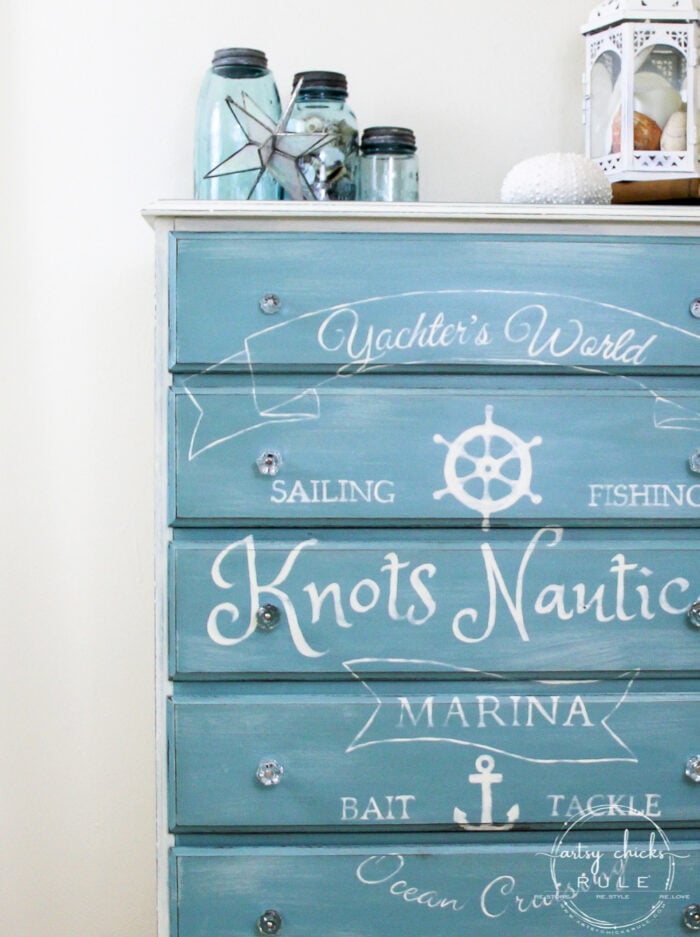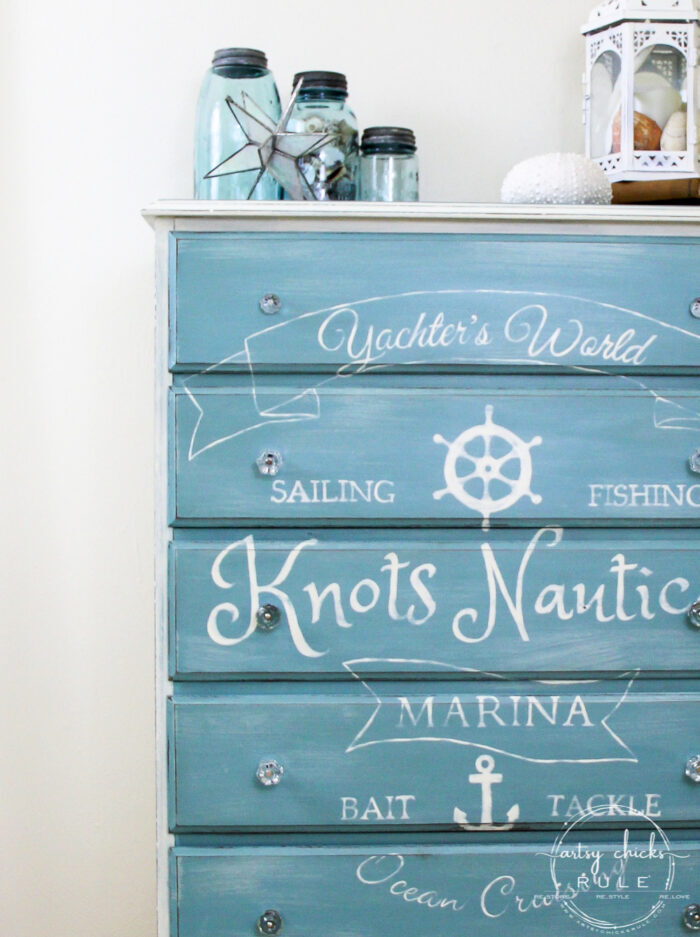 This is another oldie and one I still have in my home.
I created this fun graphic to paint onto the front. I used my $35 Craigslist projector on this one!
See all the details on this makeover, here >>> Coastal Themed Chalk Painted Chest
Where to buy?
Chalk paint can be tough to find to purchase. Since it is a "boutique brand", you will have to hope it is sold in one near you.
If not, you can find it online but then hefty shipping is usually involved.
I'd say this is a definite con.
Rustoleum Chalked Style Paint is much more available. (I linked it just above)
Waxing.
I hardly ever use wax anymore. (and I have about 5 cans of various colors out in the garage! ha, oh well.)
I do love how a wax finish looks (and feels) but I don't love applying it. I just really do not.
It is somewhat labor intensive and who has time for that?
Not only that, but you will need to reapply it over time. No thanks.
Now, that doesn't mean you won't come across a new post here with a chalk painted dresser that's waxed, because you probably will. ;)
It just means it is by no means my go-to.
I could do a whole post on the pros and cons of waxing and this post is long enough already, so I'll just leave it at that.
I've used many topcoats and a few new ones (to me) recently, and I still always go back to my old favorite.
It just stands the test of time for me. It's solid and made by General Finishes.
You can find it here >>> Top Coat
I also love this one for a different look/feel >>> Flat Coat (no shine)
Let's leave you with another of my favorite furniture makeovers.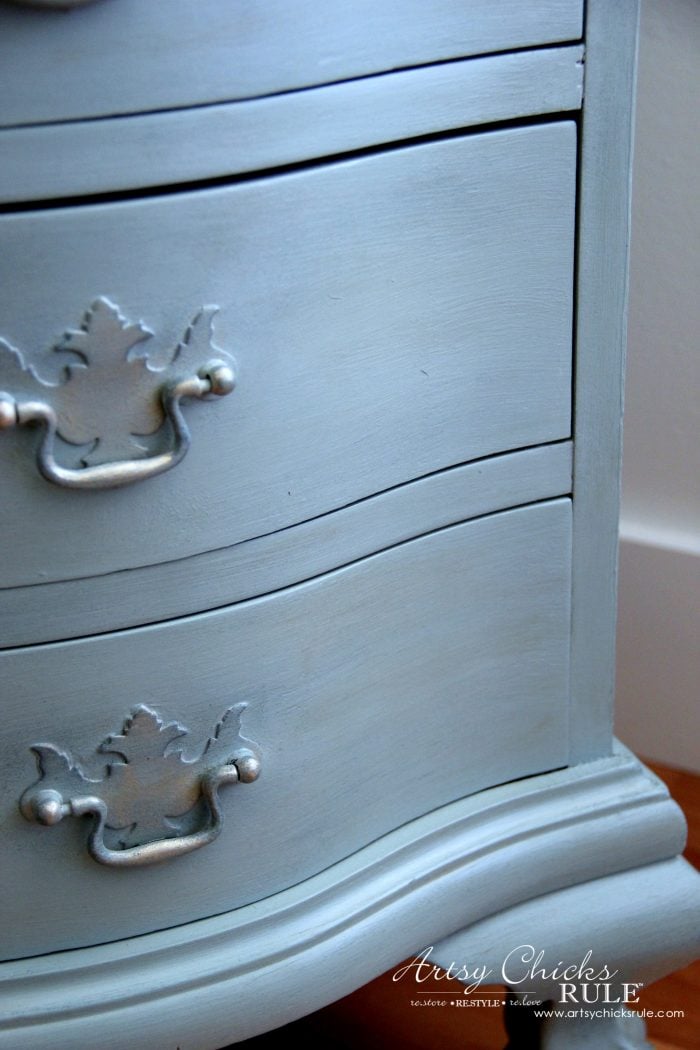 My beloved secretary's desk.
It is one of those that I did indeed use wax on.
And not only that, I used several colors of wax on it. (that I blended specifically for this piece)
So there is a beauty in that. The wax really did create a lovely finish.
That is when I would use wax. When you want a specialty finish that poly just won't give you.
You can read all about that and this desk, here >>> Secretary Desk Makeover With Chalk Paint
I hope you enjoyed this post today.
If you have considered using any of the chalk style paints, I hope this has helped you with your decision.
There are quite a few pros and cons of chalk paint, but the cons are really not ones that can't be overcome.
And remember, there are cons with any product you may decide to use.
Understanding what they are is the most important step to deciding which one will be your choice.
PIN it to save it!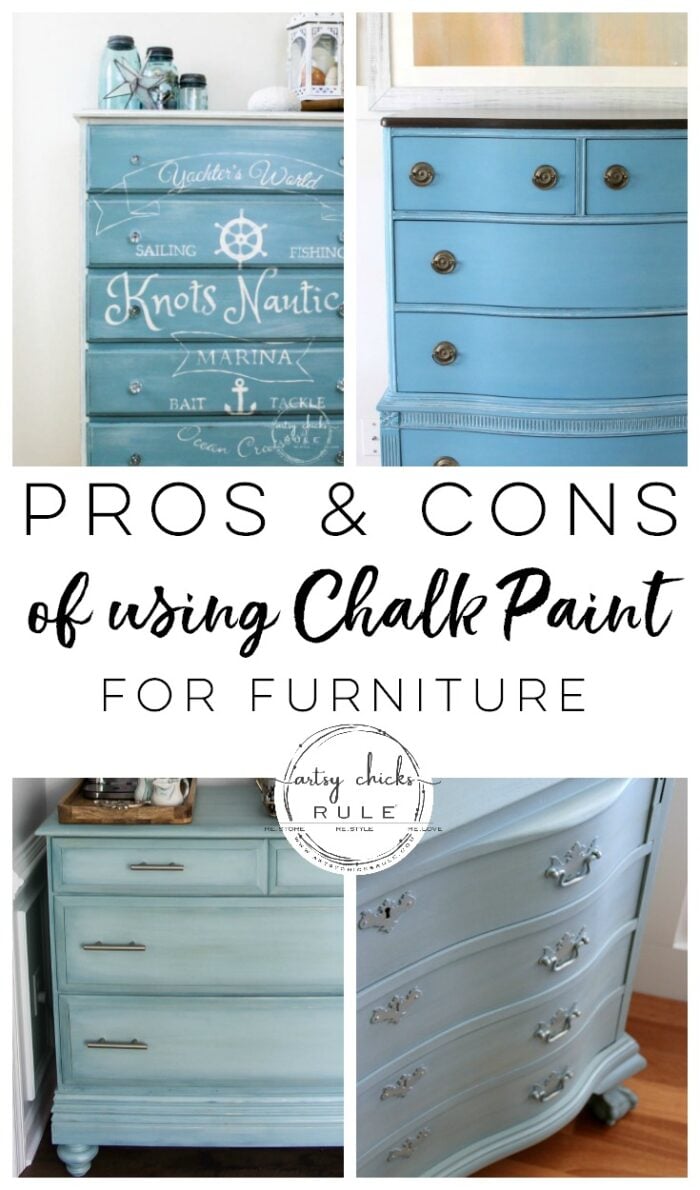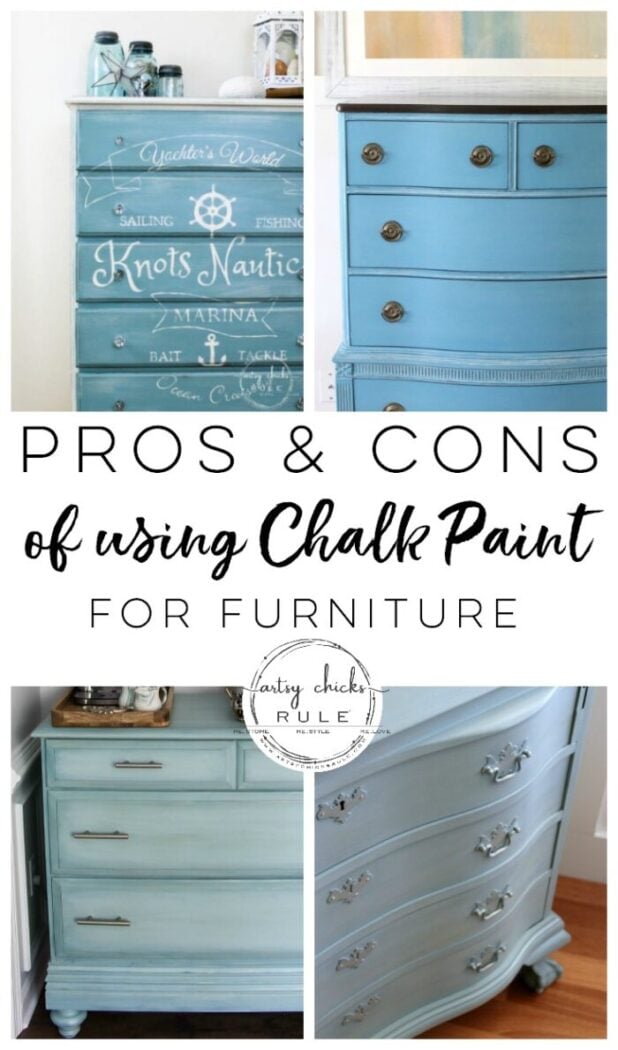 More posts in the "back to basics" series:
I hope you have a wonderful weekend!
xoxo