I'm sharing how to restain wood without stripping today! I use a simple product, and a simple process, to do this. Read on!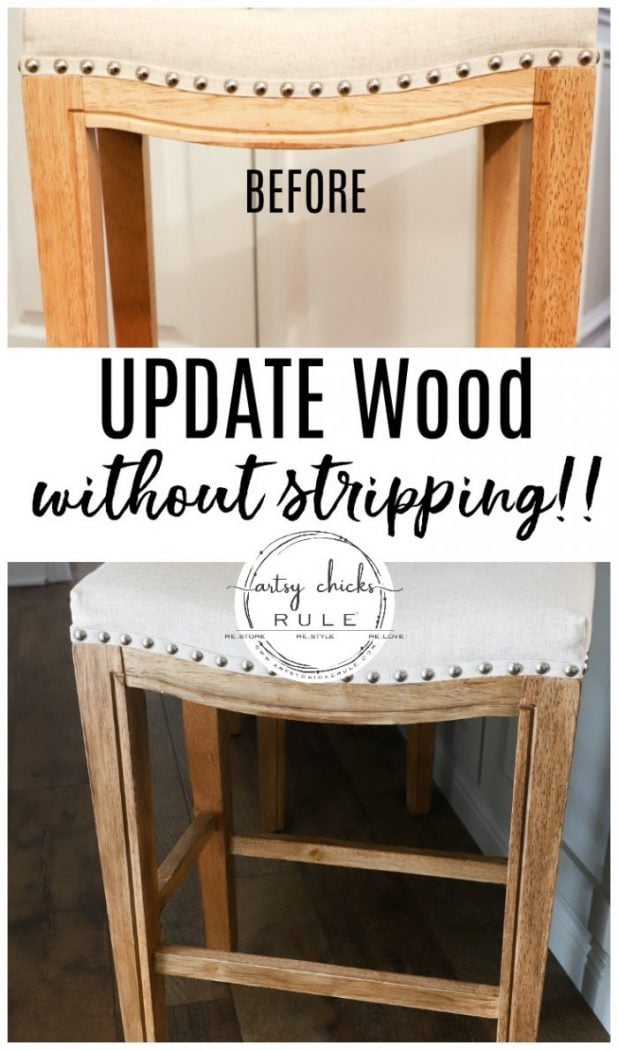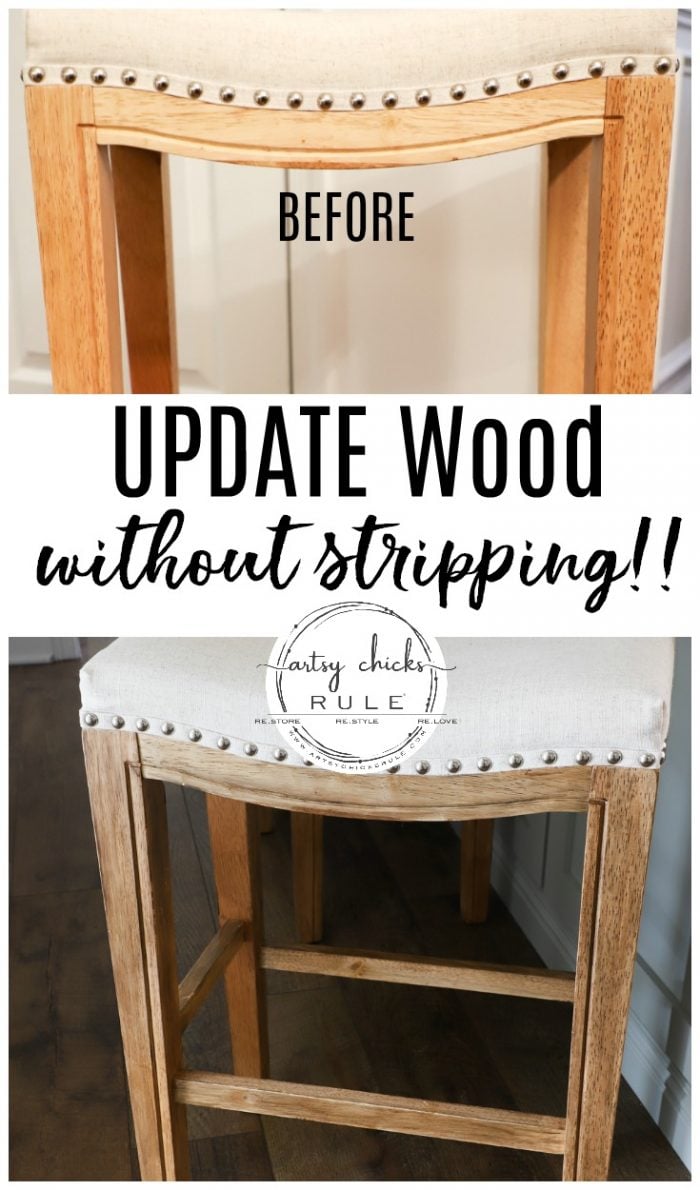 Hey, hey beautiful friends!
I've got a super simple little DIY for you guys today. I had planned to share a brand new (old) piece of furniture that I am giving a makeover to, today.
But sadly, did not get it finished. (I didn't want to rush it just to post it today) I will be posting it next week, so stay tuned.
Here it is…just to tease you guys a little! ;)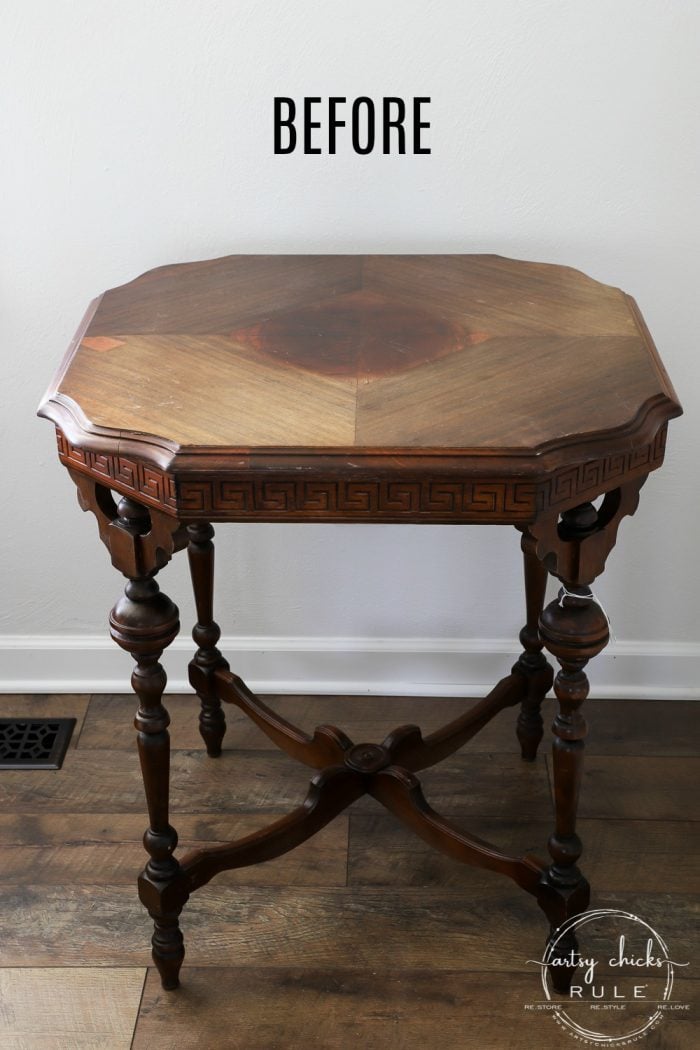 Isn't it a beauty??
If you follow along with me on Instagram, you probably saw me post about it in my "stories".
I showed it to y'all and asked what you thought I should do about that top (see that odd piece of wood?). Well, a lovely follower over there gave me a great idea!
And I did it! :) I just love you guys. I hope to inspire you with my posts, makeovers, thrifty decor and tutorials, etc, but guess what….. YOU inspire me too!
It's such a giving community, and I just love it.
Okay, so let's talk about how to restain wood without stripping.
It's one of my favorite things to do.
Because I'm a lazy crafter. lol
Well, because I hate sanding and prepping. Oh, that might still fall under "lazy". hee hee
But it's true. 
I just want to get the fun part….painting, making beautiful, etc! And the sanding and stripping is just not fun for me.
Although….I do love to see that gorgeous bare wood that's revealed after stripping and sanding.
But we aren't talking about that today! ;)
We are talking about how to restain without stripping.
When I shared our recent kitchen reveal you probably saw these bar stools we picked up for the island.
You can see it here >>> Coastal Kitchen Remodel Reveal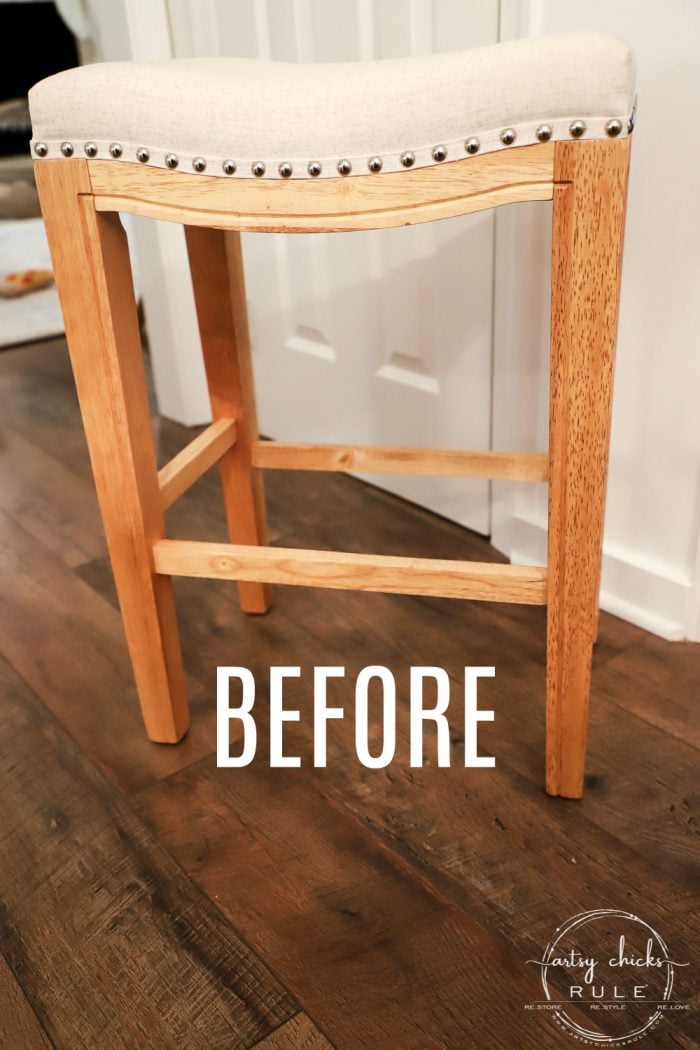 Except they didn't look like that in those photos. ;)
I'm using them with our newly renovated kitchen island. (that we made with big box store cabinets)
You can see that here >>> DIY Kitchen Island 
OH!! And pop back over there because I found 2 photos on my phone that show how we did the back side of the island.
Duh, I thought I had taken photos of that but since I did it on my phone, instead of my camera, I missed them!
Anyway, go check it out. :)
See how orange-y they are???
Not exactly the look I was going for and they don't look that great with our new flooring either.
BUT the style…. perfect. 
I had searched (and searched) for bar stools I liked but couldn't find any anywhere.
I absolutely loved the style of these, the ivory upholstered top, nail head trim…all exactly what I was looking for.
So what's a girl to do??
Well, this girl buys them anyway knowing she will have to give them a quick update once they get here! ;)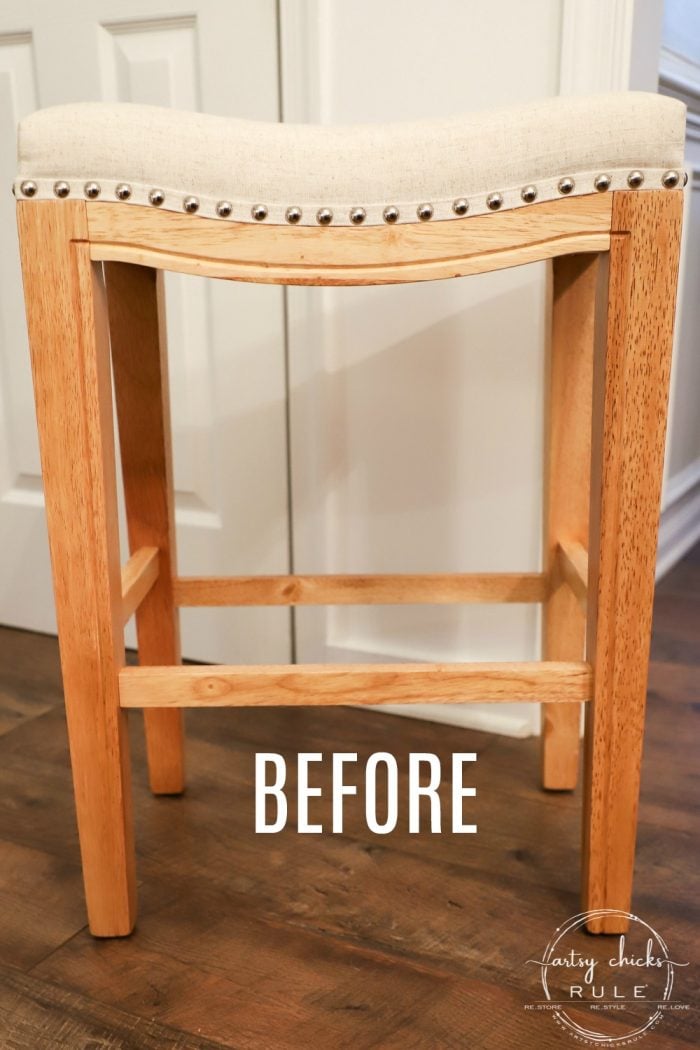 That color will just not do. And giving things makeovers is what I do, so…..
But before we get too far ahead….let me tell you where I got them >>> here.
So when they came in, I pulled out my trusty PolyShades and got to work. (I have no photos of this as it was during my rush to finish in time for Christmas…along with everything else we were rushing to finish around here…sorry!)
But, it's simply applying with a brush. (or foam brush works good too)
(Want to see even more of my favorite furniture makeover supplies??? Take a look in my very own curated shop, here!)
TIP – Use a good brush or foam brush, a light hand with enough product that it doesn't "pull" and "drag".  It will settle nicely as long as you've used enough product.
Too little and it can look splotchy. However, too much and it can look heavy, thick and cover up any graining you have. It's best to practice on a scrap piece of wood so you can get a feel for the product first.
Here is >>> the color I used for this project.
And as you know, this is how they turned out.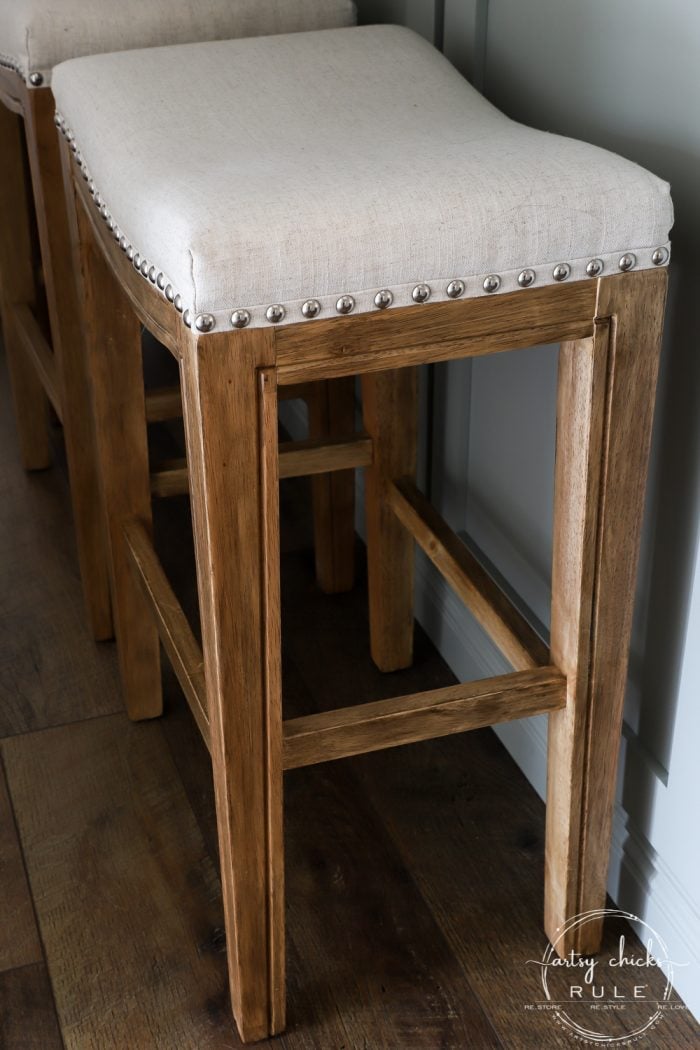 SO much better!
And they look much nicer with the flooring without clashing with it.
This product is perfect for this type of situation.
I don't recommend this product for every makeover project, but when you have something small like this that needs a quick little update, this is perfect.
I actually very lightly sanded 1 of them…and then forgot to sand the other 2 (remember…I was frantically trying to finish up things before the holidays, lol) I just got on a roll!
But they are honestly are all good to go. All 3 are hard and have not scratched easily. (I tested because I realized…oops…didn't do the light sand on those)
Now, here's the thing, you don't always have to sand.
It really depends on the finish you start with. This finish actually happened to be less "shiny" and more matte.
I think that is why I had no issues.
Overall I would recommend doing a very light sand (and I do mean light with a very fine sandpaper).
Be sure to wipe away all of the dust before you begin. And always clean well. That goes without saying.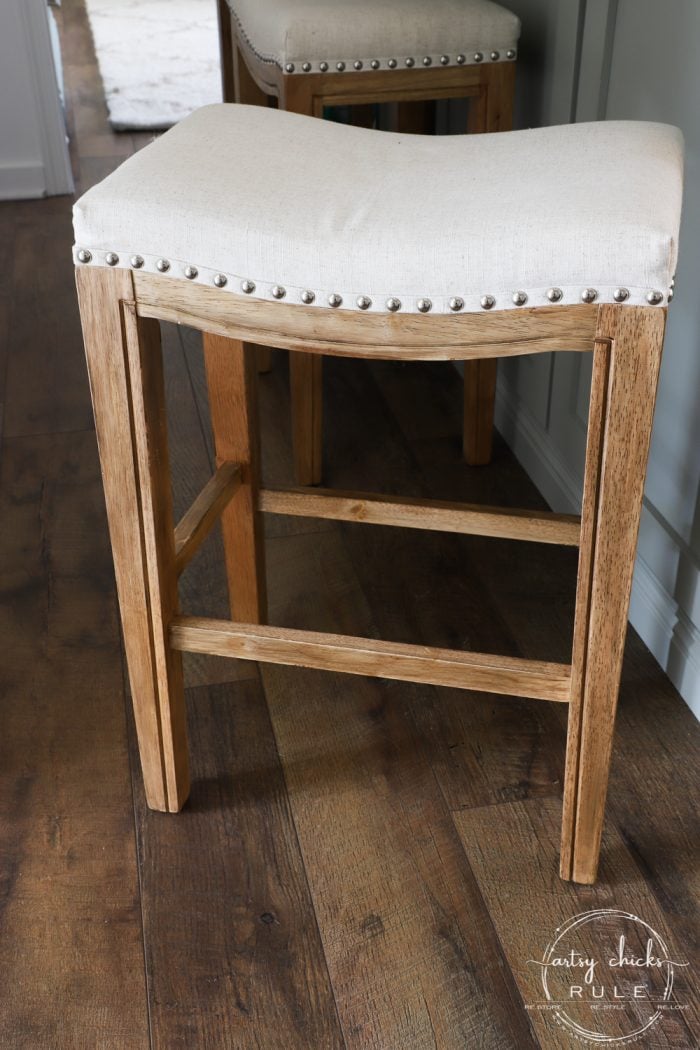 I think they look so much better and it truly was an easy update.
I'm so happy with them.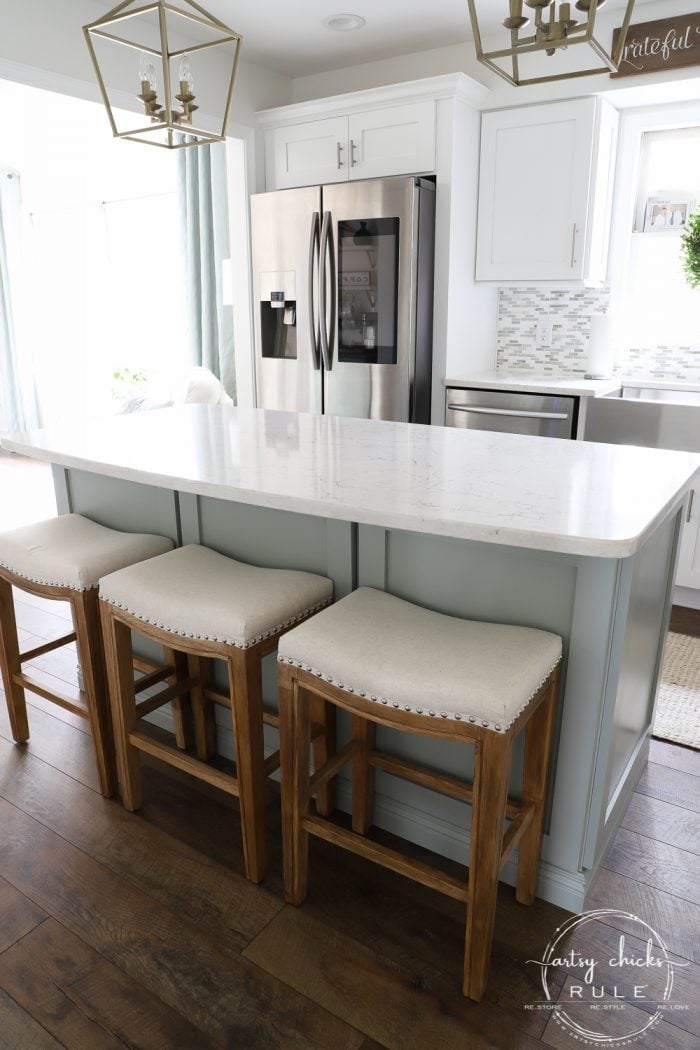 And like I've said many times before, if you find something you love and it's just not right, or the right color, etc, bring it home anyway.
Then give it a little mini makeover..and voila!, your perfect, loved piece.
I did that same exact thing with our coffee table in our morning room….and our table in the foyer.
Here are a few other projects I've used this product with: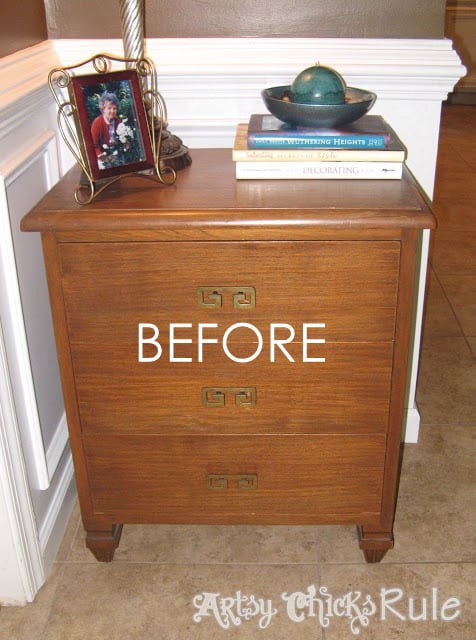 Some of my first projects with this product in this post.
See them all >>>  here.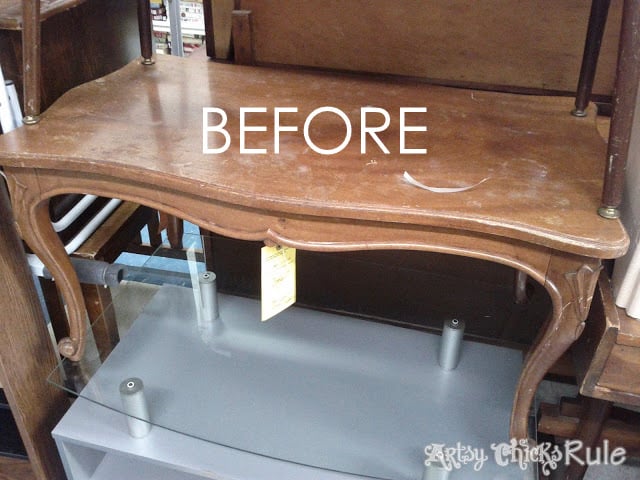 Another favorite and early one on this $5 thrift store coffee table!
Details >>> here.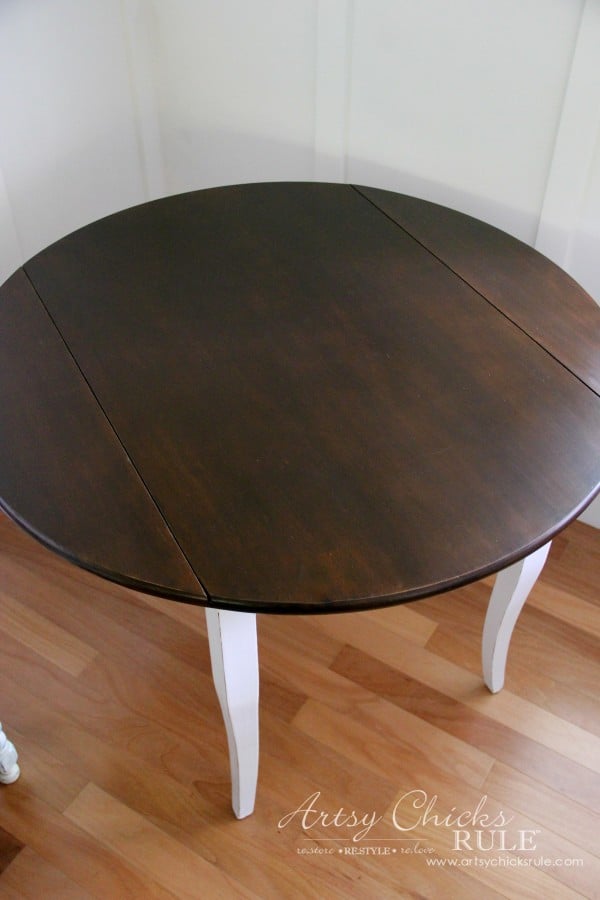 This old table got a brand new look…with paint and PolyShades.
See what it looked like "before">>> here.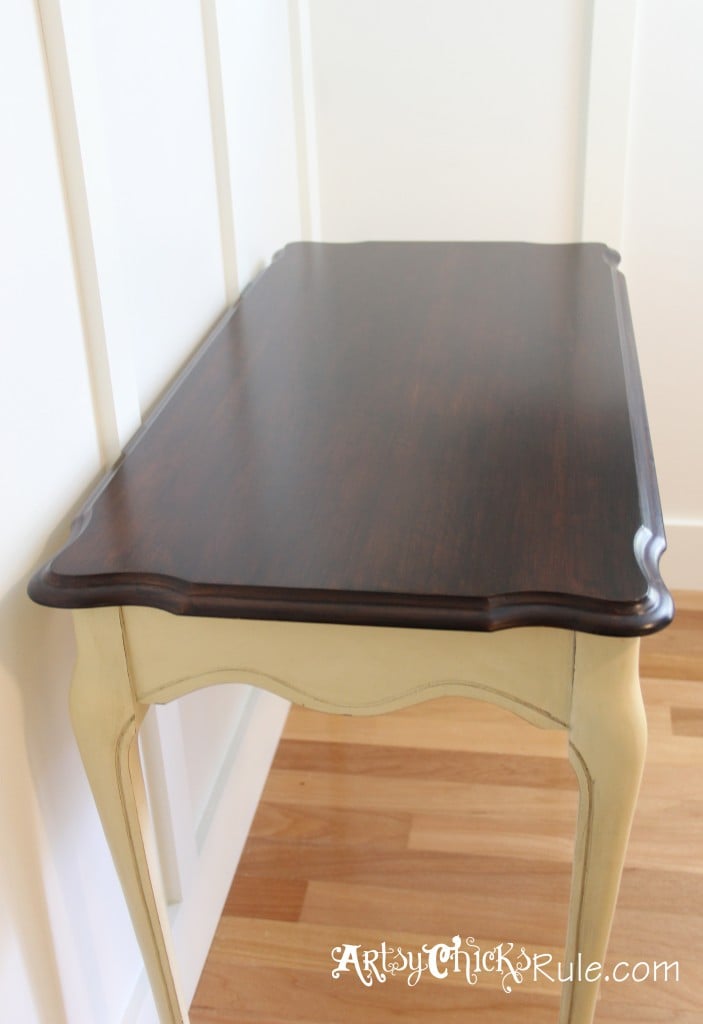 Check out what this one looked like "before">>> here!
Totally different!
……………………………………………………………………………………
So, as you can see, this is a nice work around from sanding and stripping.
Less work with optimal results is always a good thing, right?
Like I mentioned, I don't recommend this for every project but it is a great one for many!
I do have some other products that are equally simple to update old stain with…just differently.
I'll be sharing more on that in another post soon. :)
It's good to have lots of makeover options in your arsenal. Options are good….and fun.
Hope you enjoyed learning more about how to restain wood without stripping!
PIN it to save it!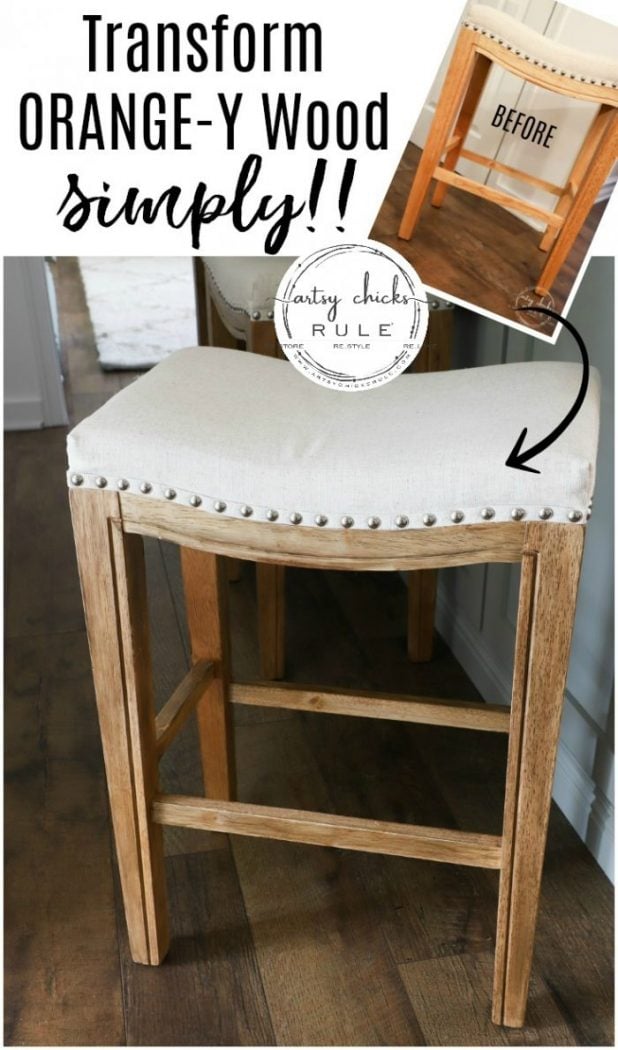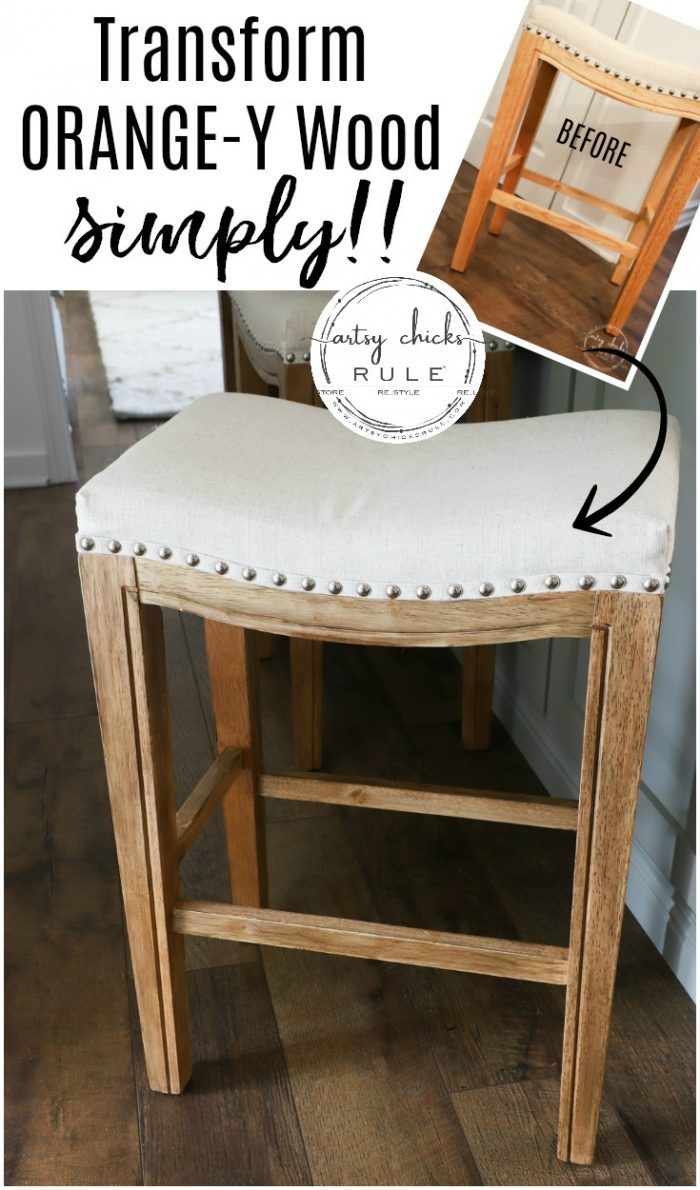 I'll see you back here on Thursday with all the info on how we built out our deep, custom look crown molding in the foyer.
More posts in this "back to basics" series:
I'm also sharing this brand new makeover! Be sure to stop back by to see it! :)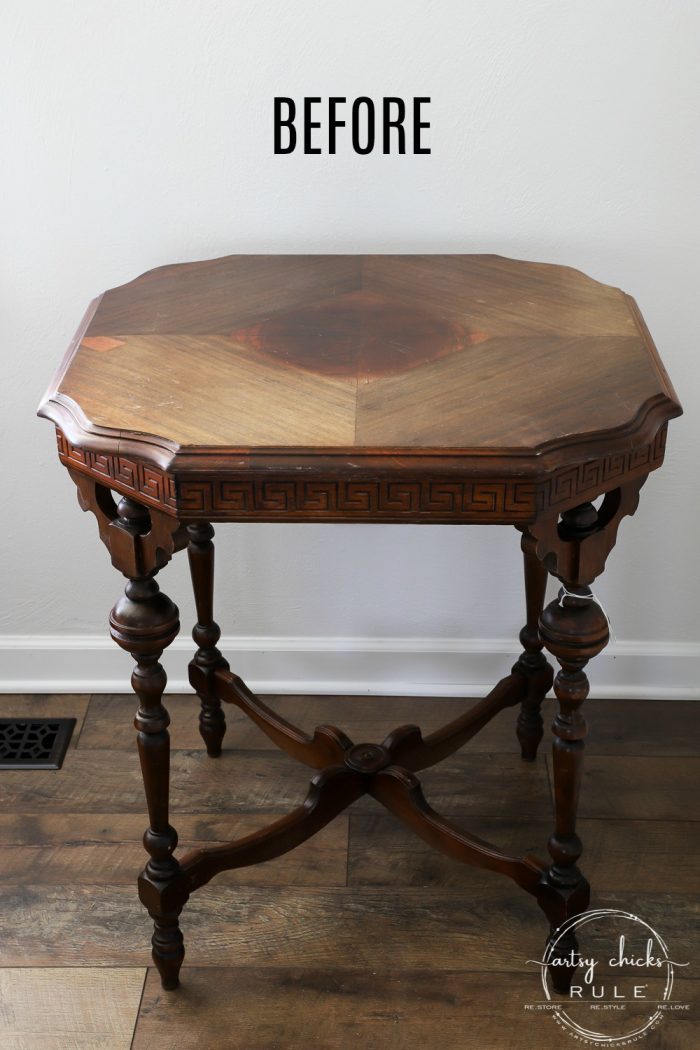 UPDATE!! See it now, here!!
See you then!
xoxo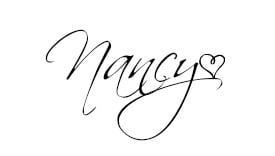 Follow Along Here!