Update Wood Furniture with PolyShades & Chalk Paint
This post may contain affiliate links. Please see disclosures here.
It's easy to update wood furniture if you have the right products and a little know how!
This table I picked up at one of my favorite thrift stores.
I think I paid $15 for her.
Here's what she looked like BEFORE: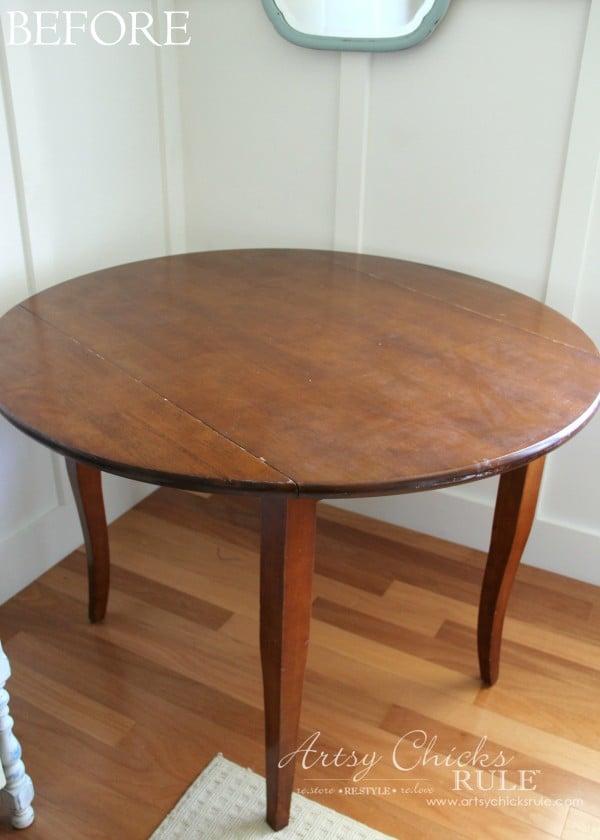 Hi Friends!
I've got a super easy way to update wood furniture for y'all today.
But that doesn't mean it looks it.
It looks like a million bucks…or well, a whole lot better anyway! ;)
And I only used two products to do it.
The same two I've used so many times before.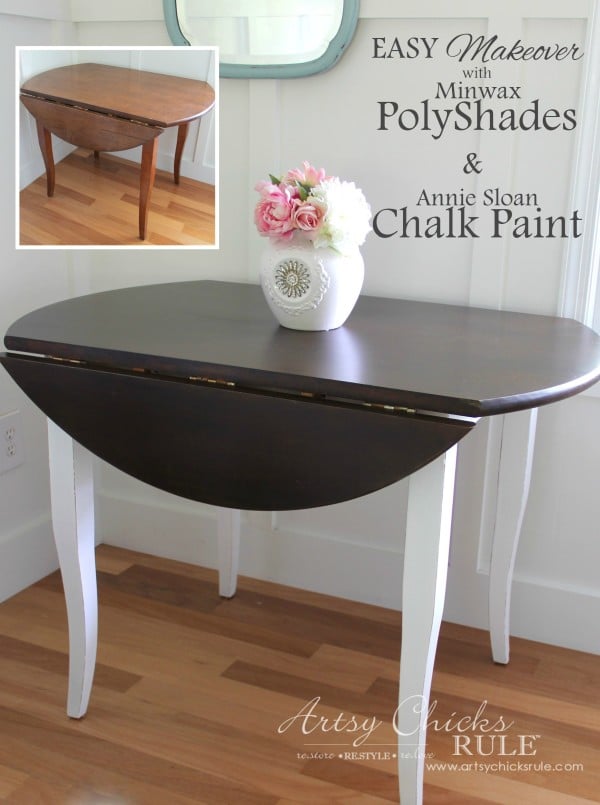 Minwax PolyShades and Annie Sloan Chalk Paint.
Both products great for the home DIYer.
And again what it looks like now….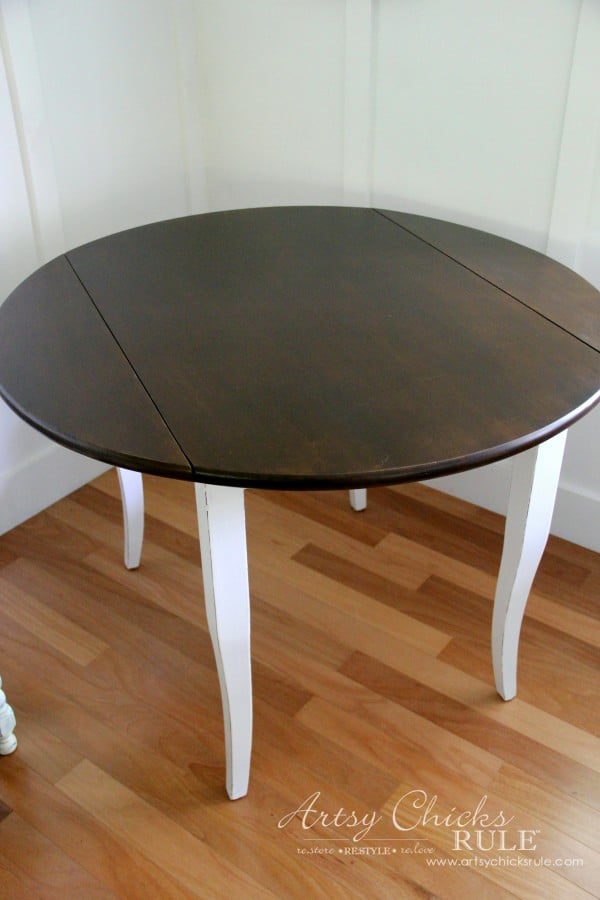 Quite the difference, right?
Yep.
Blah….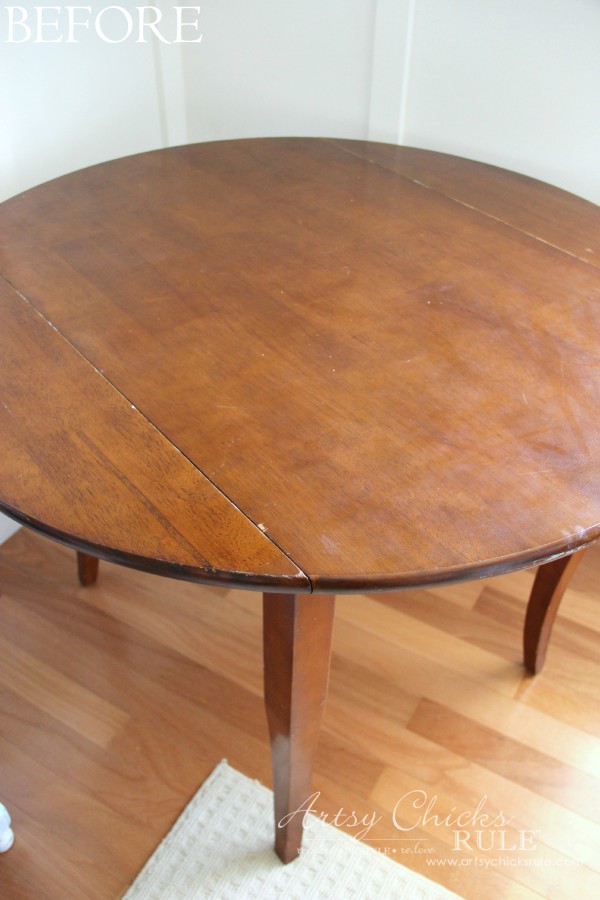 Not blah ;)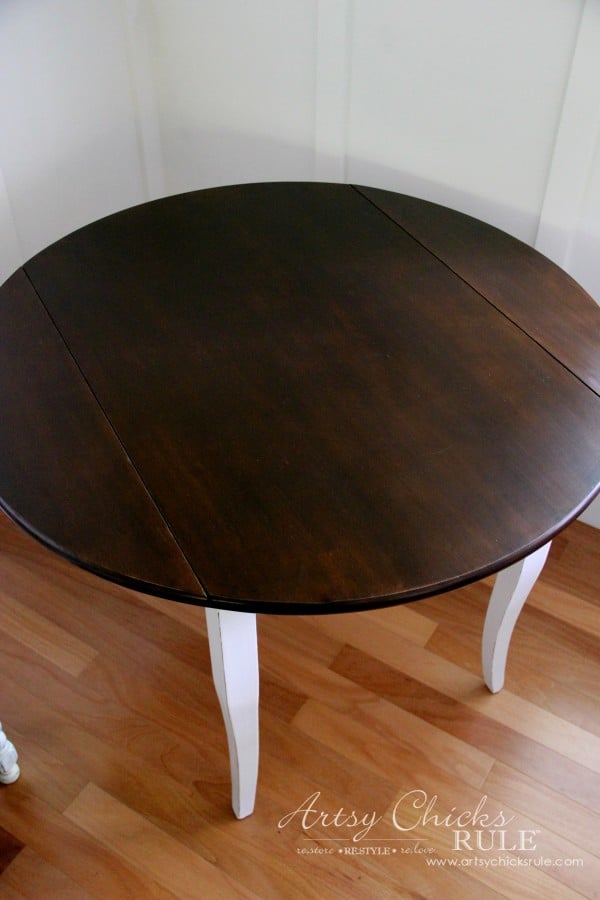 I love this color combo.
I used PolyShades in the color Tudor (because I can't find the Espresso locally anymore…bummer).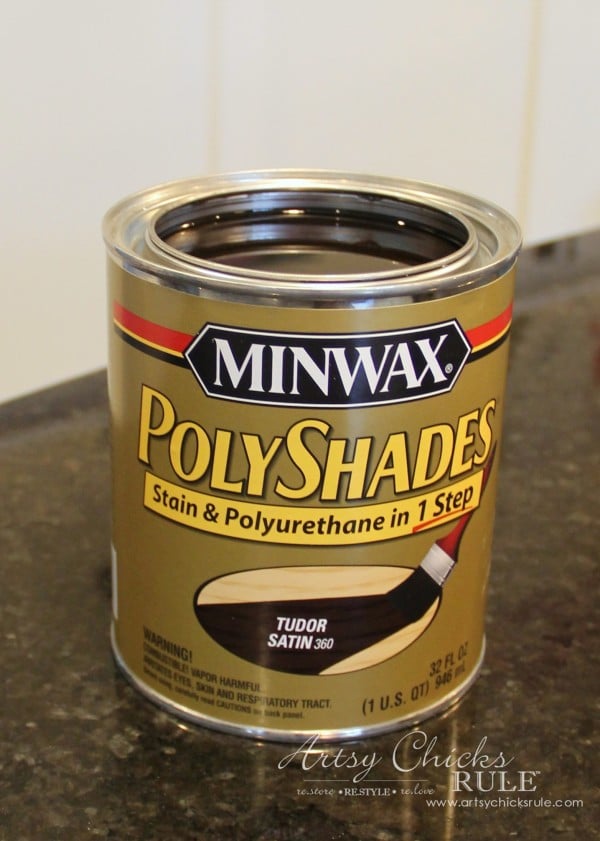 Be sure to give a light sand before starting.
You want to remove the slick finish and give it some "tooth" for the poly to adhere to.
Clean it very well before applying the PolyShades.
Here is the first coat going on….
(okay veering off topic…but aren't my Aubusson Blue painted pretties so luscious back there?)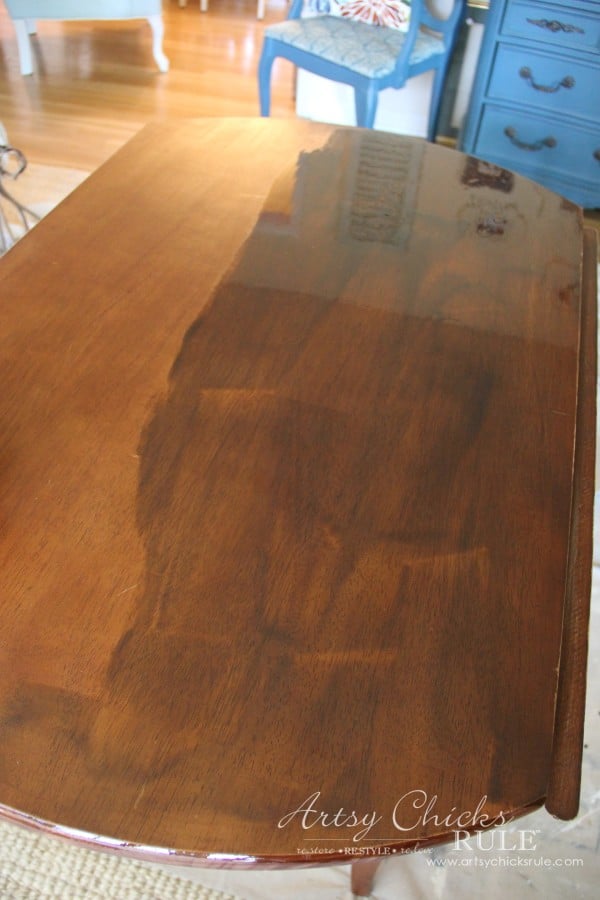 I thought I'd share this photo because I know many of you might try this and wonder "what the heck" as you're applying that first coat! ;)
I worked quickly on the top, larger area, to apply the product.
That's what you see happening there.
I then went back quickly, with long even strokes from end to end, and smoothed it out with the brush.
I let it dry for about 6 hours, lightly sanded, cleaned well and applied 2 subsequent coats to get the darkness I desired.
(a little bit harder with the Tudor shade)
….and for the base, Pure White Chalk Paint.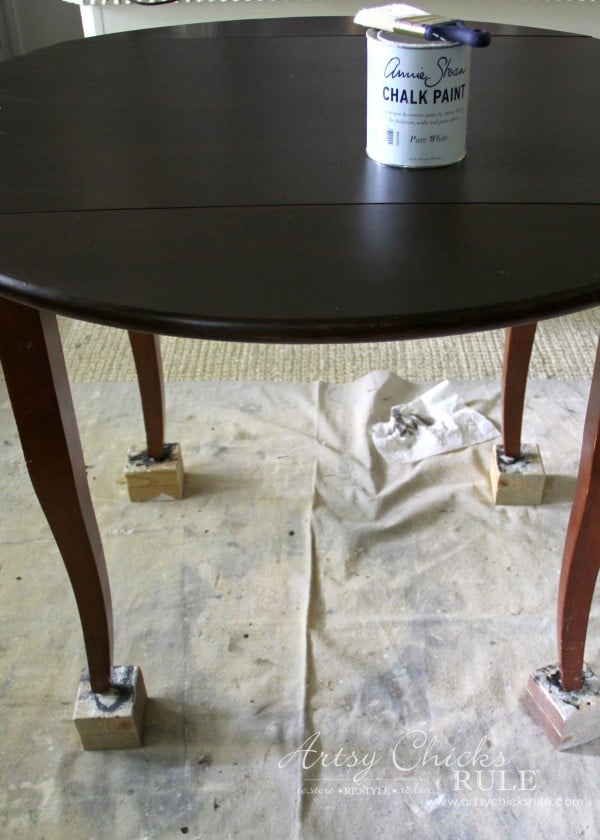 You can see the pretty new dark top…and the honey legs.
I love contrast…so I just adore the contrast I now have with this table.
I applied two coats of the white, let dry, distressed, waxed and buffed.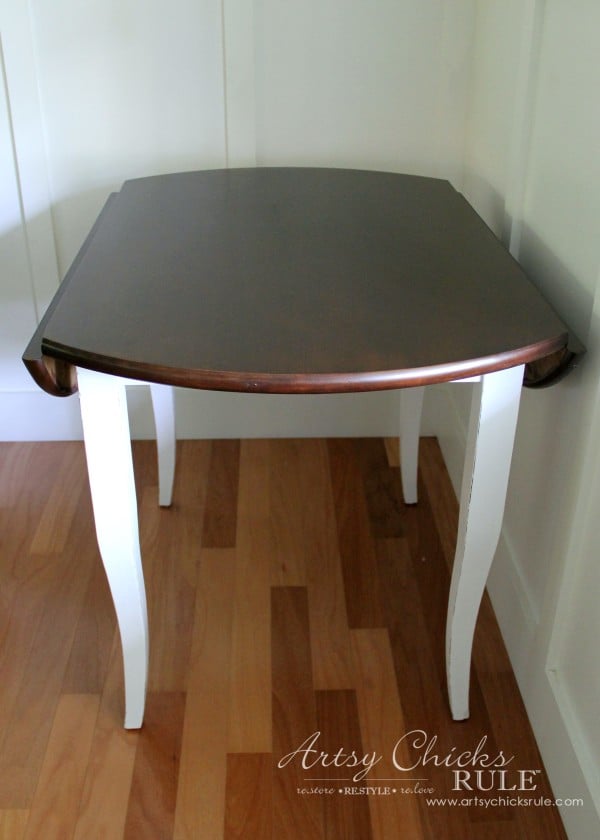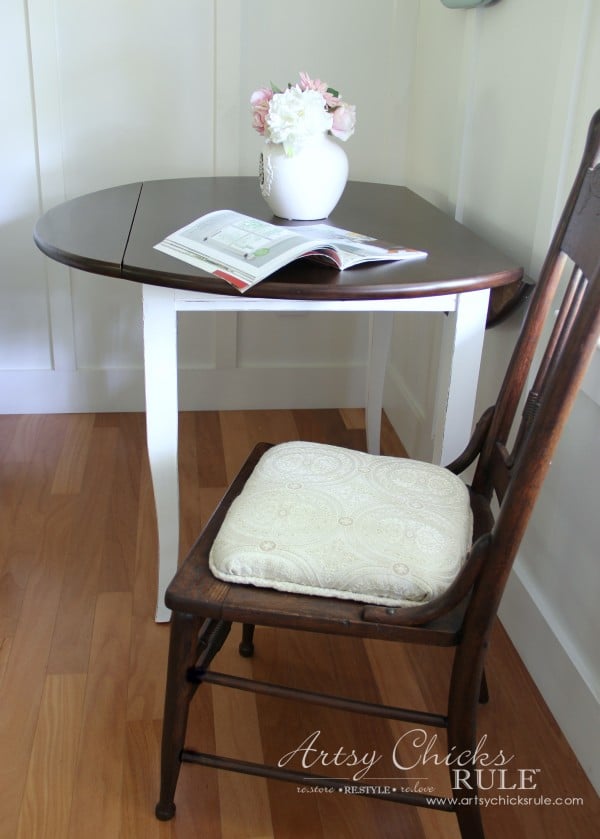 That's my pretty press back chair I redid awhile back.
You can read about it (and see what it looked like before) here–> Antique Press Back Chair Makeover
An up close of the tiny bit of distressing I did on the legs.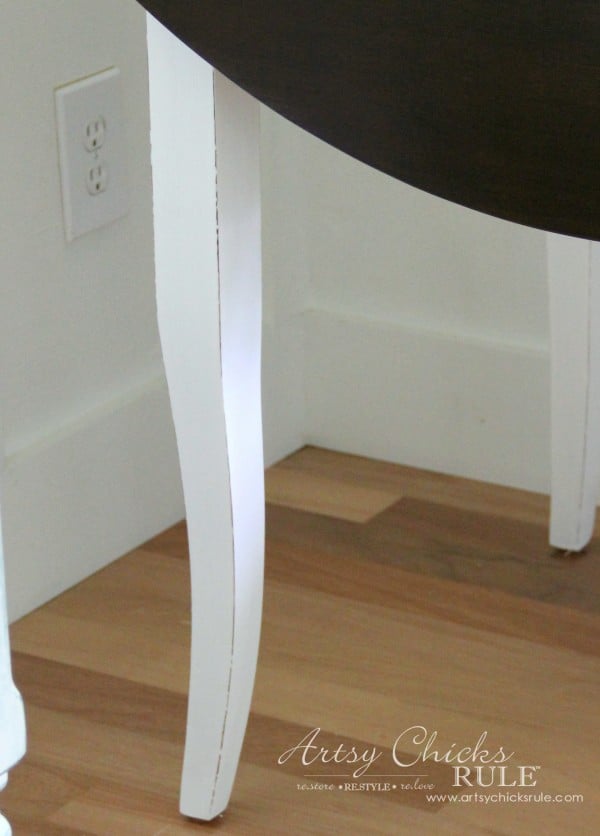 What a world of difference these two products make.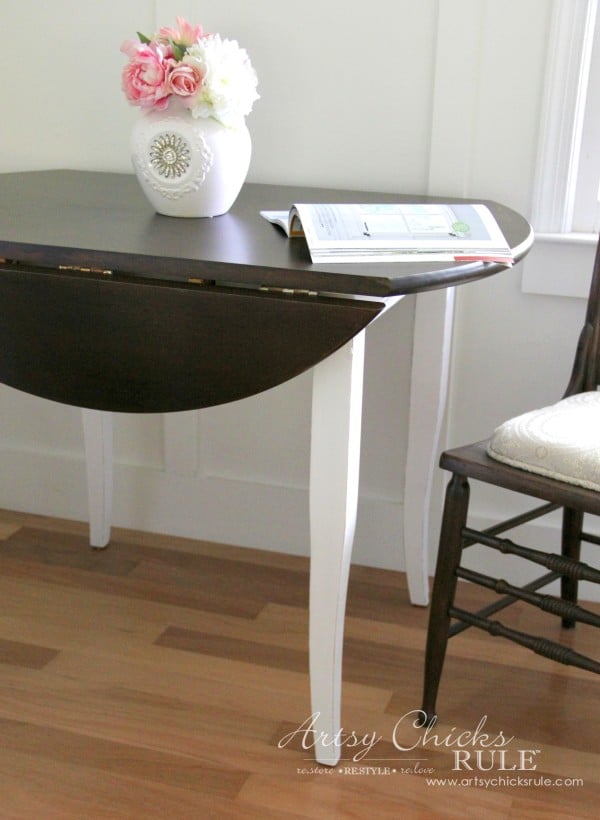 Gives a completely fresh and updated look to any piece of furniture!
And you can use any color stain. I could have stopped at one coat and it would have just freshened up the color there.
You can also use any color for the base. Duck Egg Blue, for example.
Or even a pretty Yellow or Turquoise.
Want to know about 26 other chalk style paints?
I've got the low down for you right here! >>> 26 Types of Chalk Style Paint For Furniture
I really love the classic look of dark wood and white. :)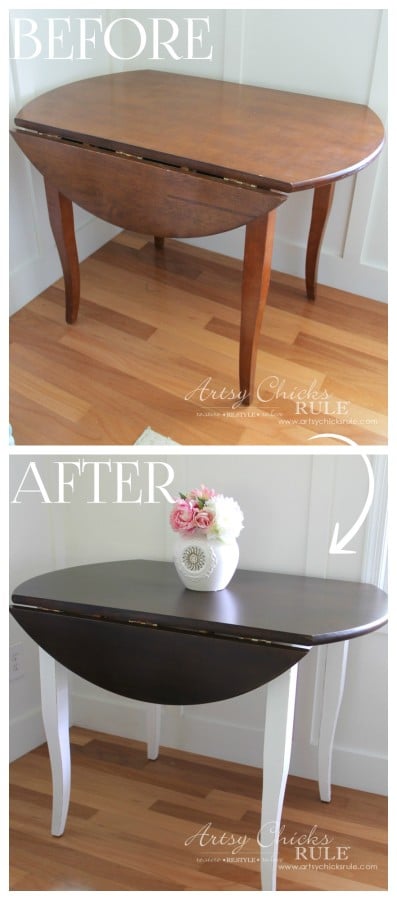 Much better.
If you click those other posts (other project photos above) you will see more tutorials on how to do this.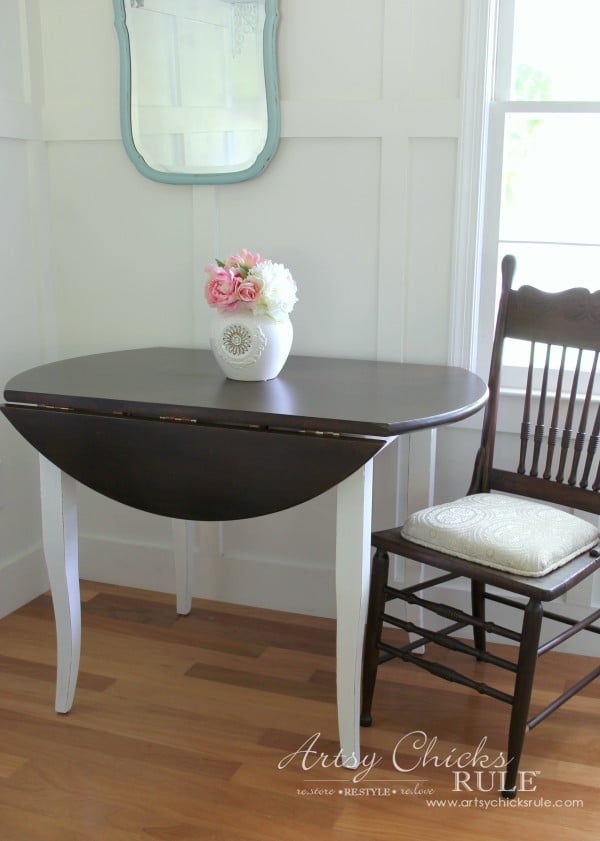 It's so nice to have products that make it fairly easy to change and update our furniture ourselves.
That's the way this thrifty girl likes to update wood furniture.
And if you do too…then give this a whirl!
Check back later this week to see this one! (and fun surprise, that top was on upside down!)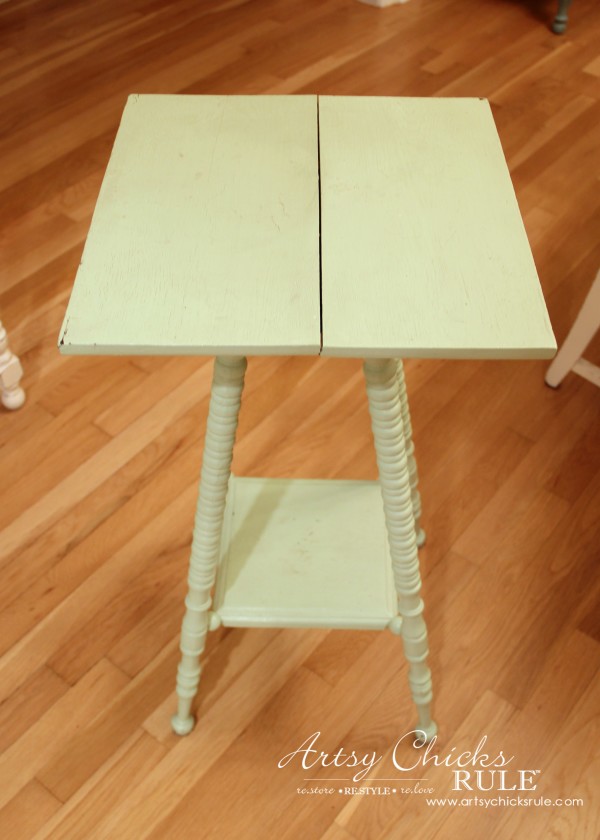 UPDATE!!! See it now, here!!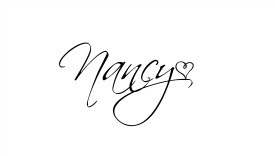 You might like these similar makeovers: