Simple Table Update With Chalk Paint
This post may contain affiliate links. Please see disclosures here.
Don't love it? Paint it! A simple table update with chalk paint transforms this piece!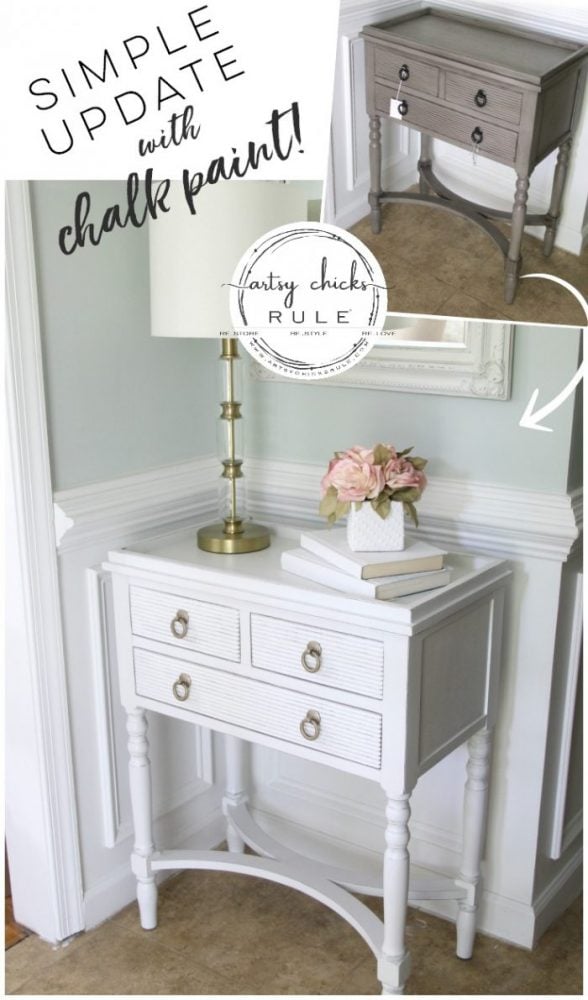 As you know, we have been in the middle of a major overhaul at our house lately.
New flooring, new kitchen, new paint on the walls, etc. So along with those changes come a few decor changes too.
I've been trying to find a little table for this spot in the foyer for several months.
I searched thrift stores, ReStore, and garage sales. Nothing.
It's such an odd size (…not big enough!) and I needed to find something under 27 inches.
Can you even guess all that I found? 28 inches or larger!
Or too tiny, found those too.
And then the other day I decided to stop in at TJ Maxx and check to see what they had … again.
I tried there a few times, previously. They have such great pieces from time to time but it's hit or miss.
I love TJ Maxx because they usually don't break the bank.
Well, they had this little table for $99….and it's 24 inches wide! Yippee!!
But the color. 
Well, it's not bad, it just wouldn't go with everything else I have going on.
Or what I really had in mind.
I originally thought I'd put something there with some sort of light-colored wood stain.
But sometimes you just have to roll with what you find that finally works (and fits!).
So I snatched it up and brought it home knowing I'd do something with it.
I loved the style of it and thought it sort of had a little coastal flare, which worked out perfectly for my home.
Here is how this (soon-to-be) table update with chalk paint looked when I brought it home…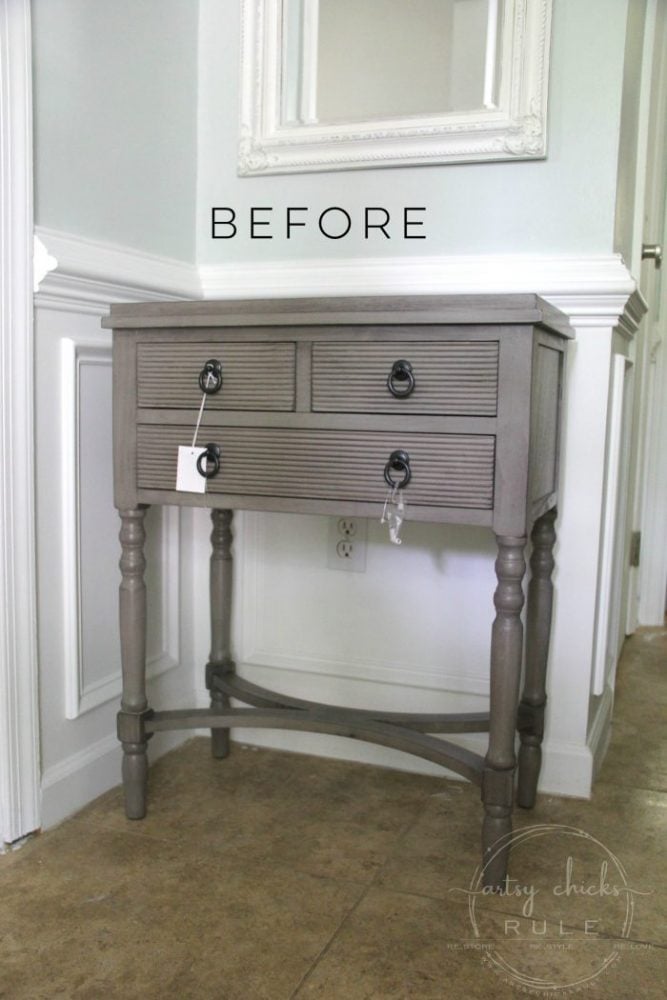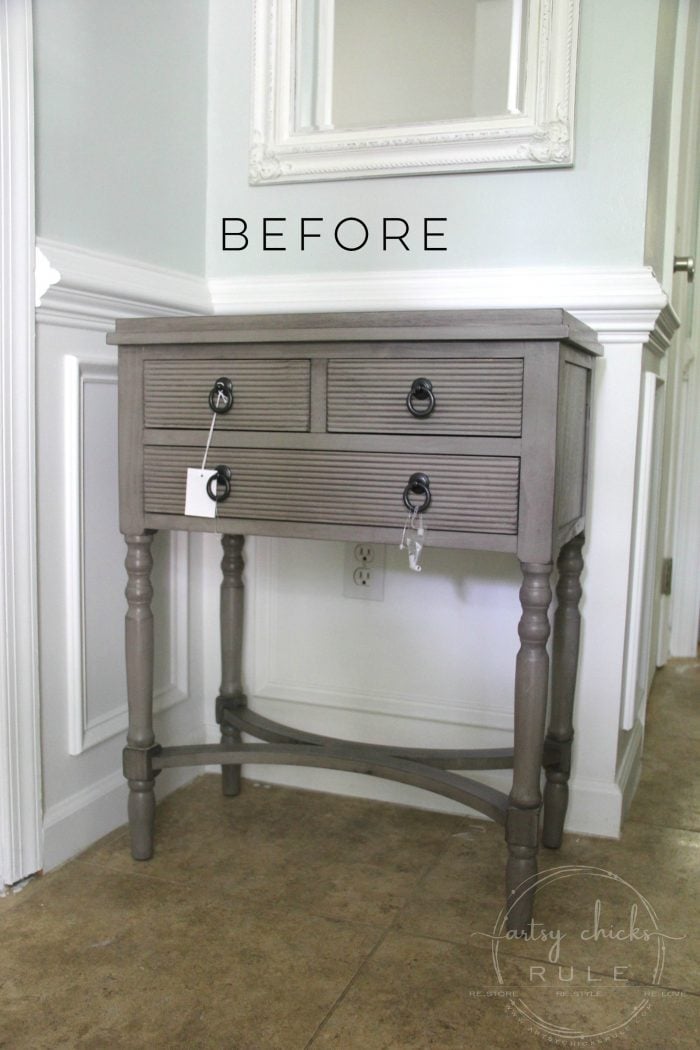 (please don't mind any of the flooring in these photos, all to be covered soon)
Kind of an odd color, not really gray but not really brown either.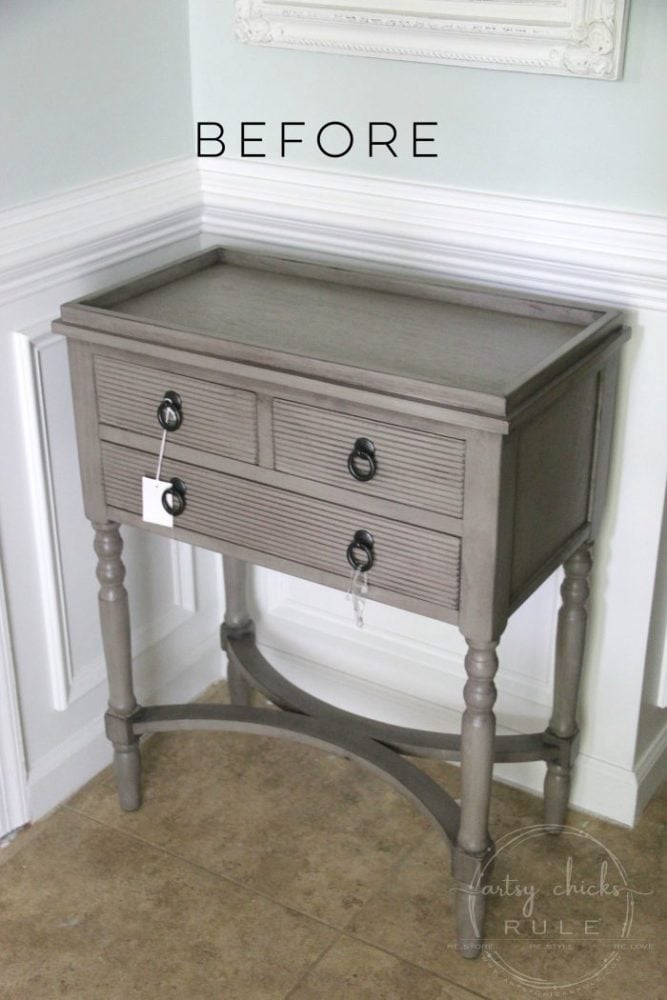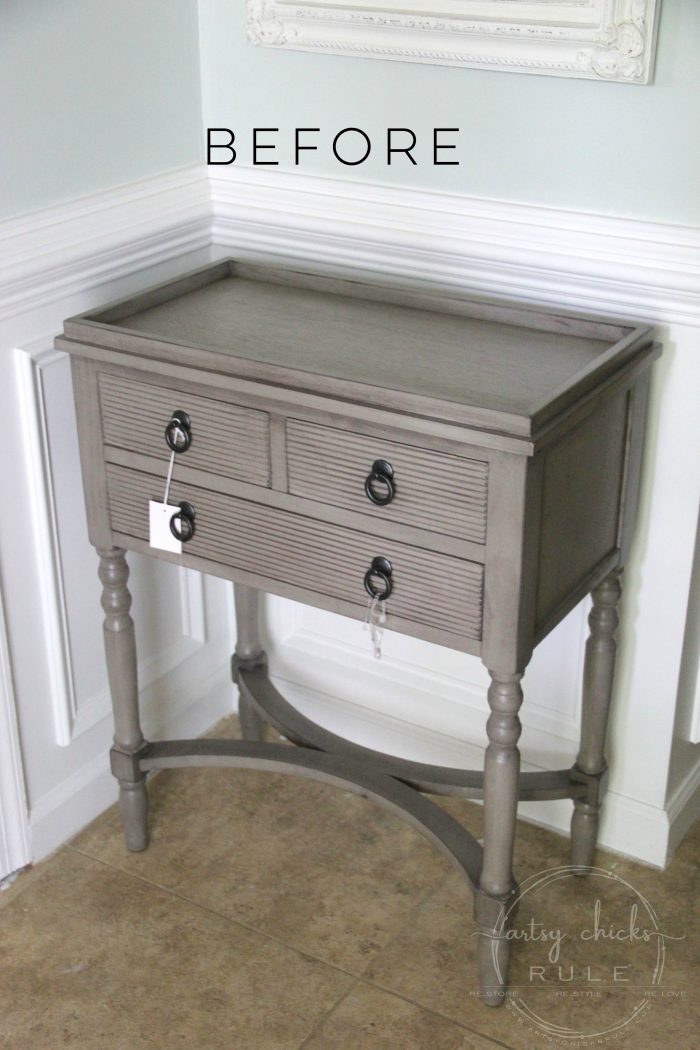 Well, a little chalk paint (or any paint, really) can fix this kind of thing right up!
I considered just giving it a dry brush with white chalk paint.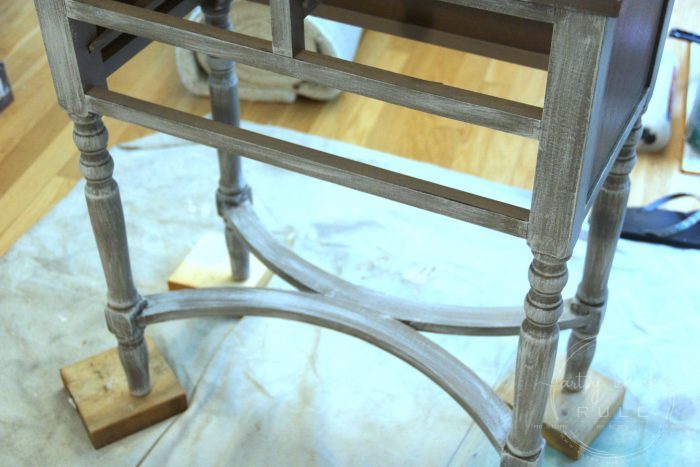 But I wasn't loving that.
(you can learn all about "dry brushing" here >>> "How To Dry Brush – Video Series")
I did like the look and effect dry brushing was giving the little table but it just wasn't right for where I wanted to use it.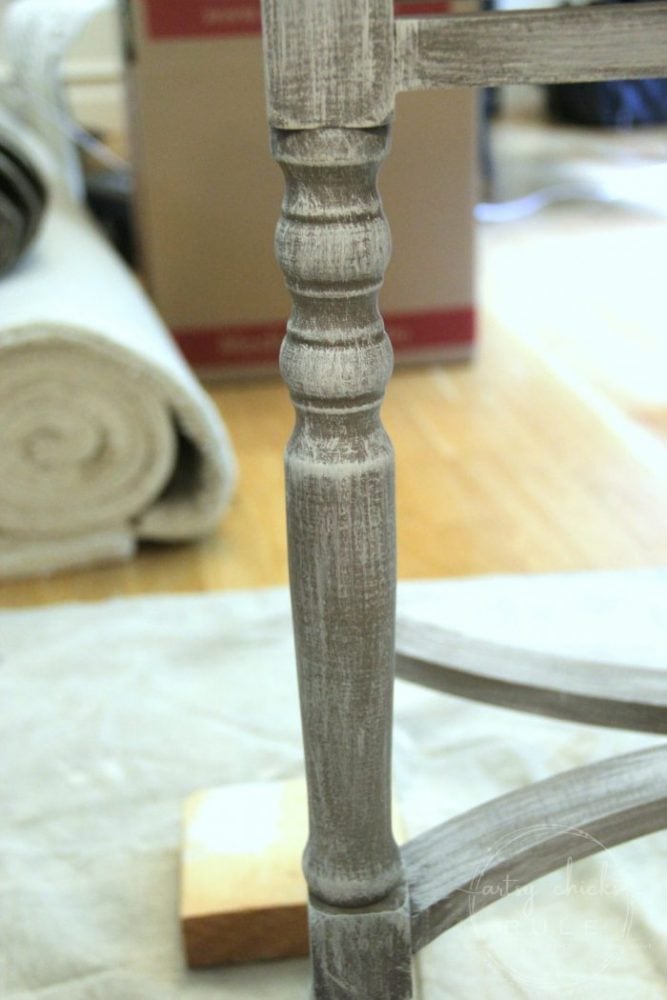 So I just gave in and painted the whole thing white.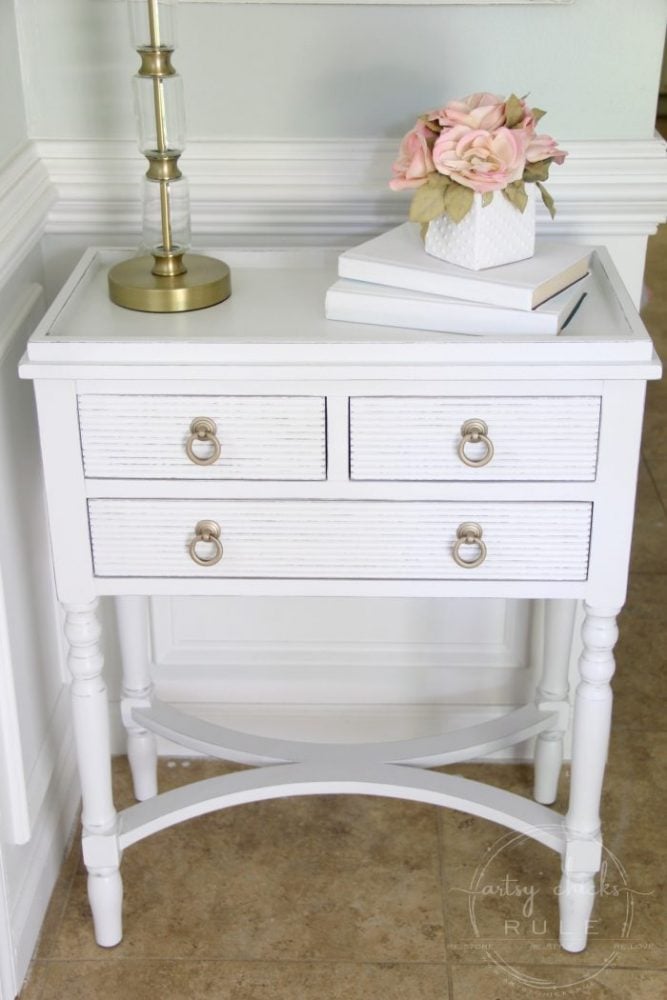 Much better!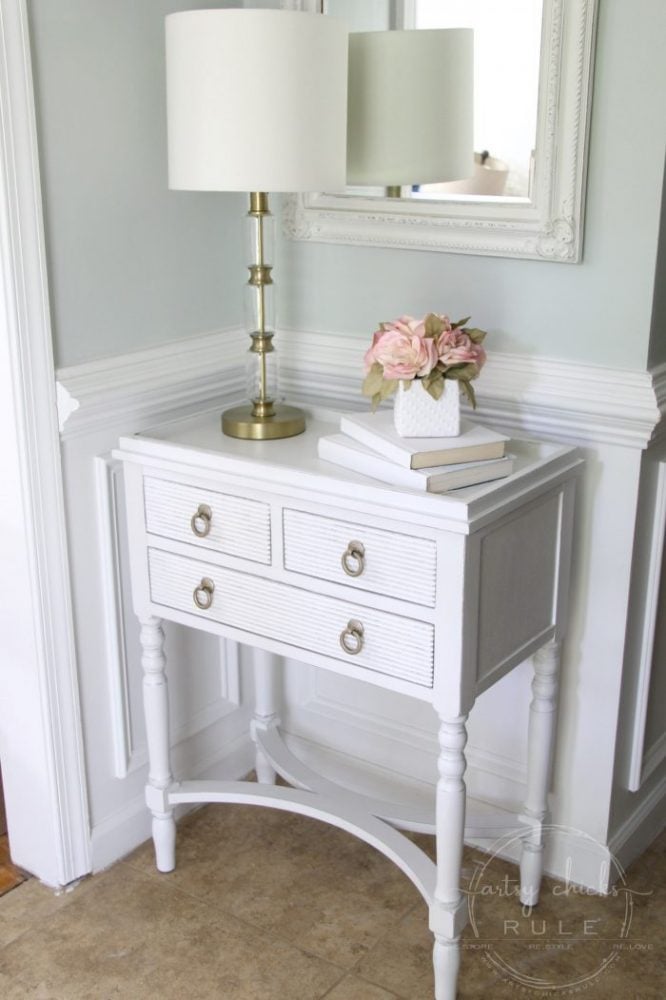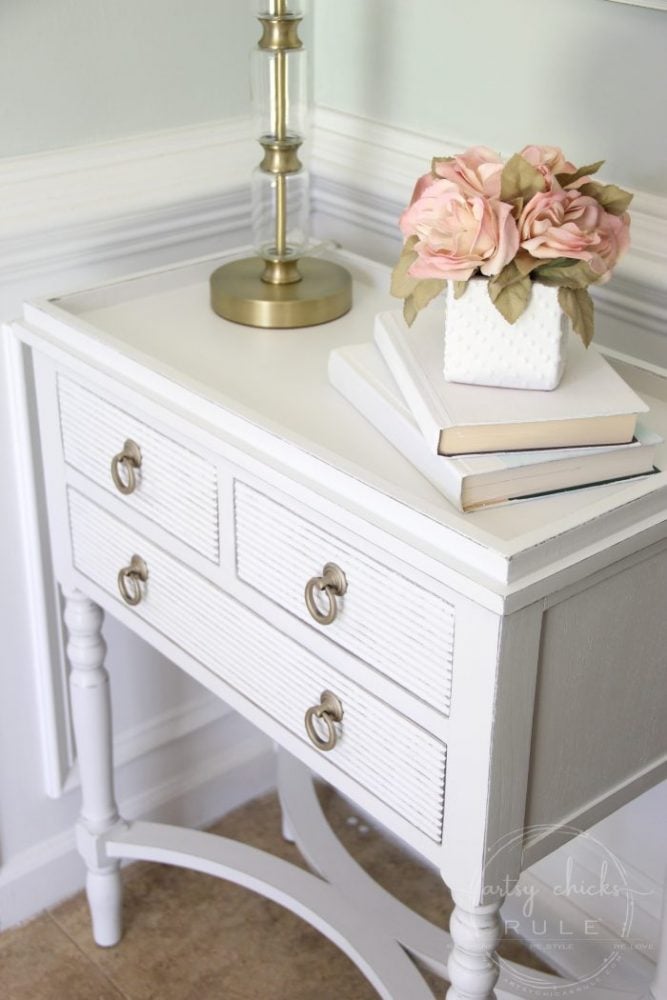 Looks totally different.
And it was a pretty simple update.
I gave it 2 coats of this chalk style paint and finished it off with this sealer.
Want to know about 26 other chalk style paints?
I've got the low down for you right here! >>> 26 Types of Chalk Style Paint For Furniture
And since I wanted it a little bit rustic (coastal beachy rustic), I sanded the raised edges to bring the dark color through. (before the sealer was applied)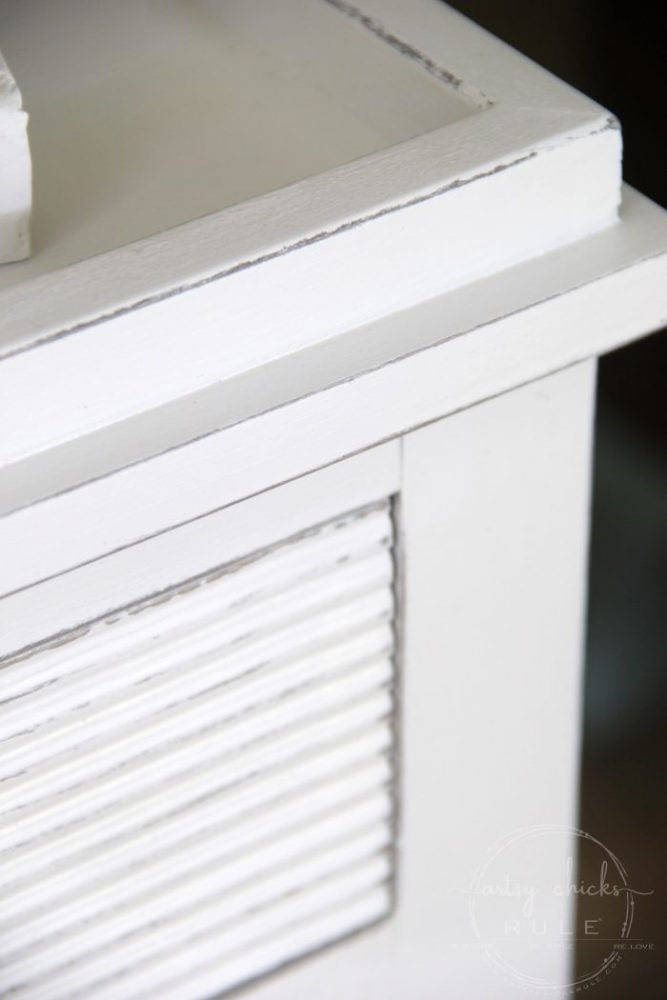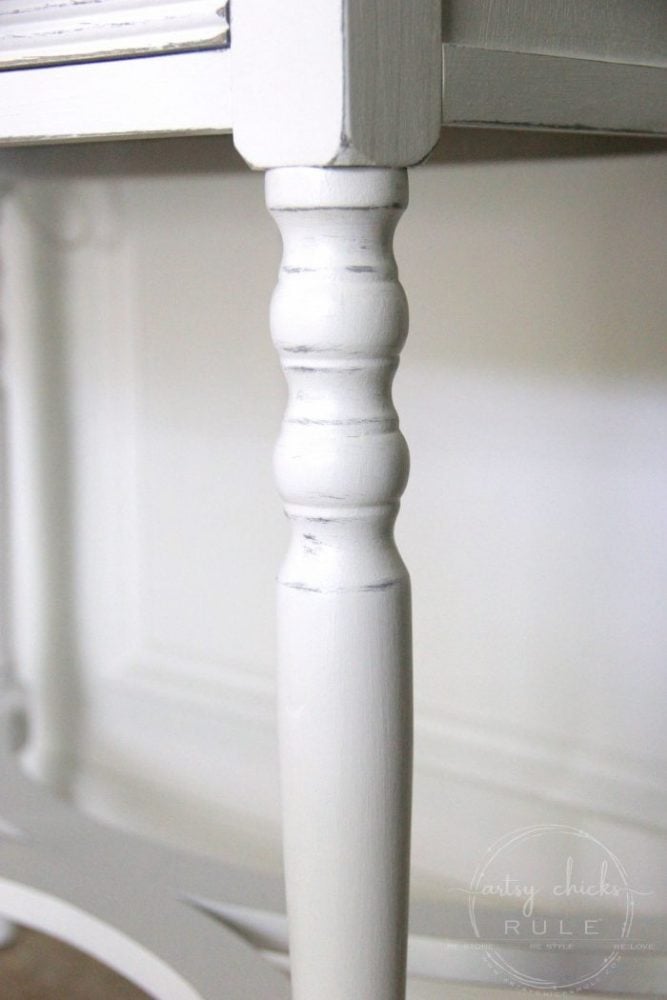 Edited to add this post I wrote about the Pros & Cons of using Chalk Paint for Furniture, see it >>> here.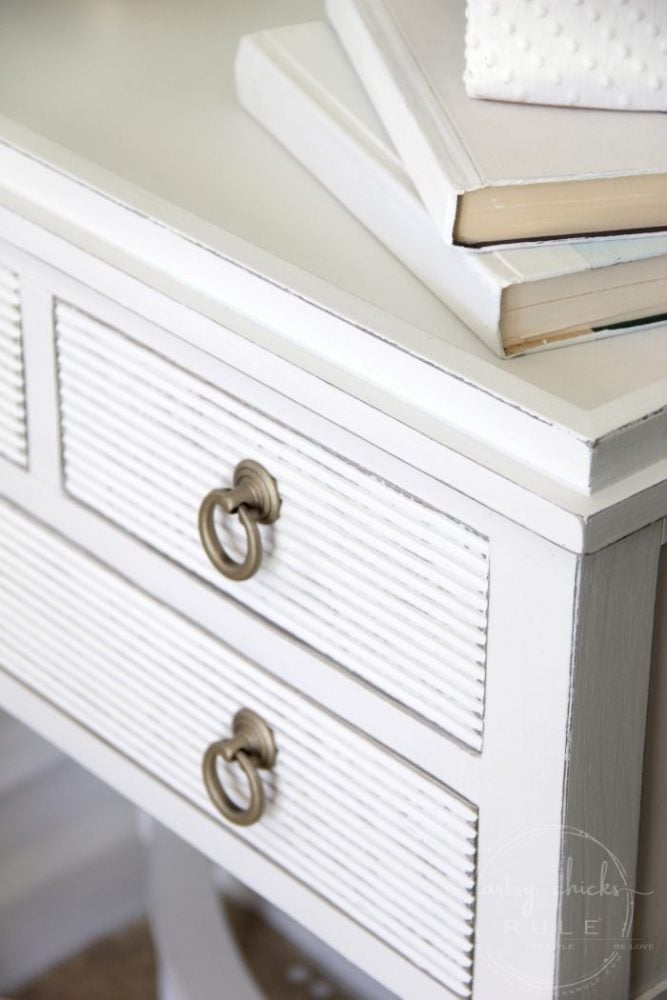 And you might have noticed I spray-painted the hang knobs too.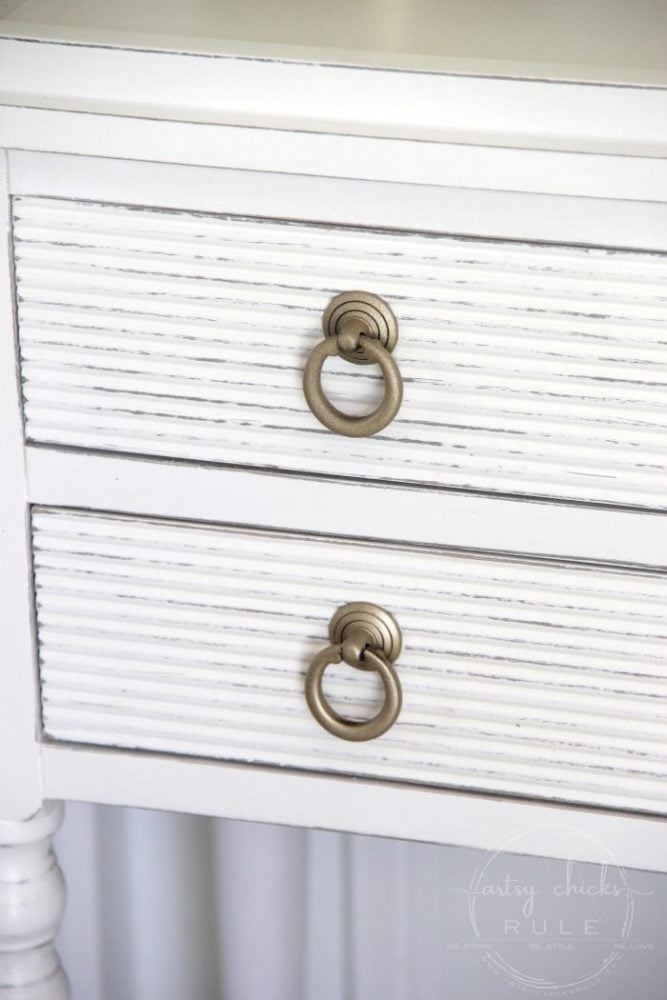 The black was a little too harsh and I wanted to glam it up a bit.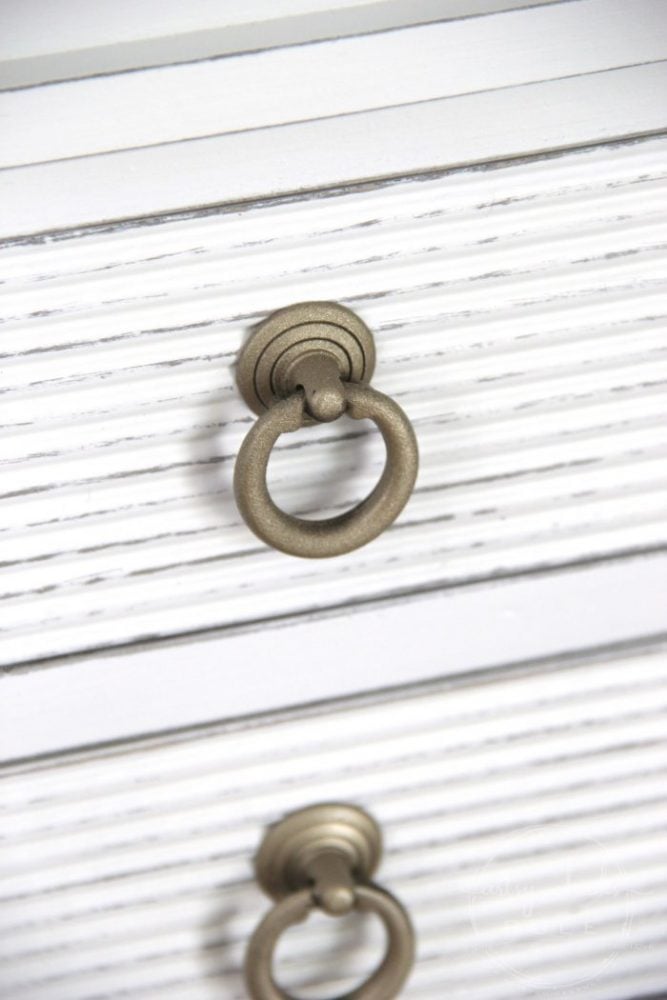 Rustic glam, right??
I'm not 100% sure I'm loving that gold color.
I do like that it's not bright and shiny and "in your face" gold though.
It's a bit more subtle, which is nice.
I used Krylon, Fusion, All In One in Metallic Gold.
And you are also getting a little sneak peek of the new wall color (SW Sea Salt) in here…finally!
I'm loving it so much more than the dark brown I had in here for years.
It's so bright and inviting.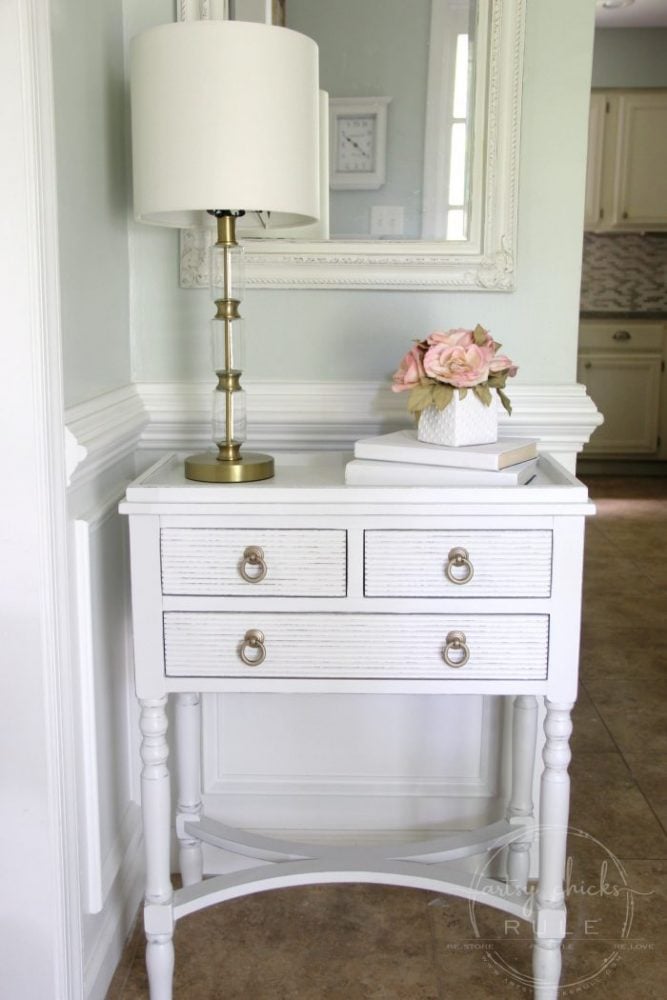 You can also see the kitchen back there…which is getting a full-blown makeover in just a couple of weeks now!
Waiting on the cabinets to arrive.
Demolition day is nearing!
The flooring is also…soon to be very different. (already started on that)
Updates on all, soon!
Be sure to follow along on Instagram, because I usually post in the "stories" over there as we go.
I shared a little peek at the new flooring the other day, you can find it now in my "DIY Home" tab on Instagram.
So, this simple table update with chalk paint is just another reminder to you when out shopping…..don't pay too much attention to what it looks like now, imagine what it could look like!
Typically I say that about all the outdated things you find at the thrift store, but it really goes for anything.
I am sure you know how hard it is to find "just the right piece", etc., at times.
You've been there, right?
So when you find something almost perfect, (maybe it's the wrong color, ugly hardware, etc.) don't pass it by! (if the price is right, of course!)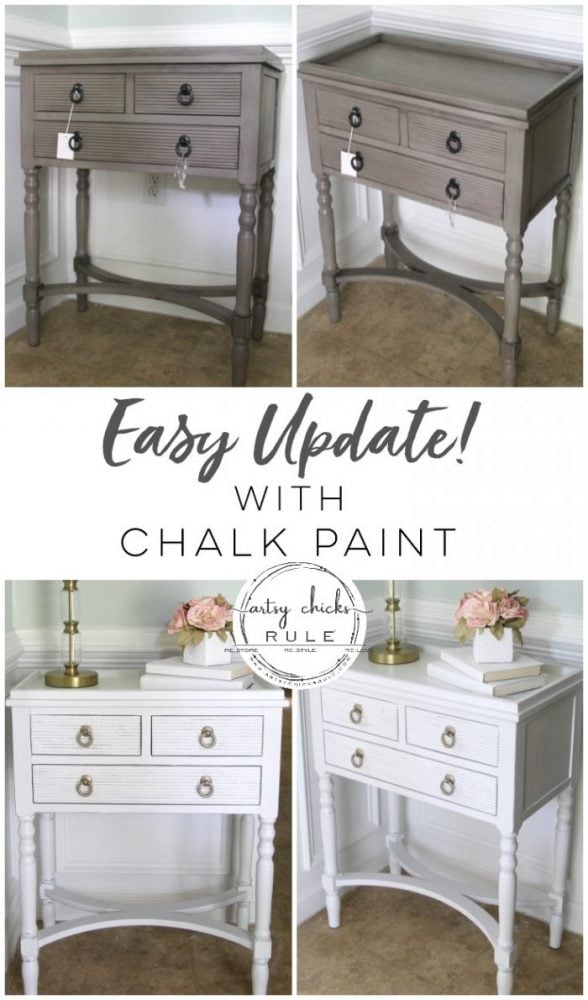 Happy painting!
Hope you have a wonderful weekend!
I'll be back next week time with this one!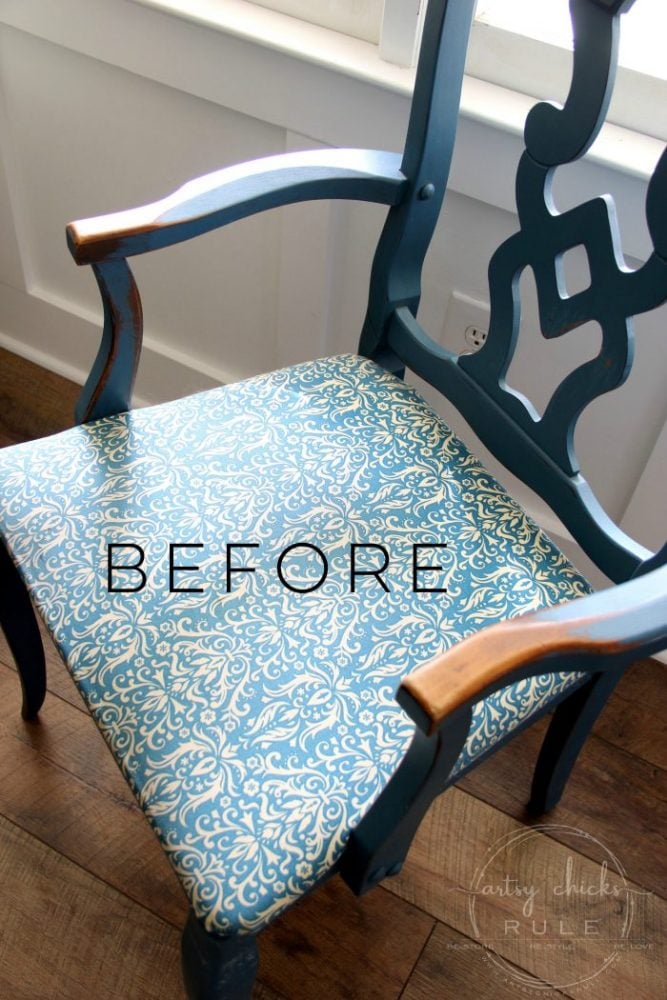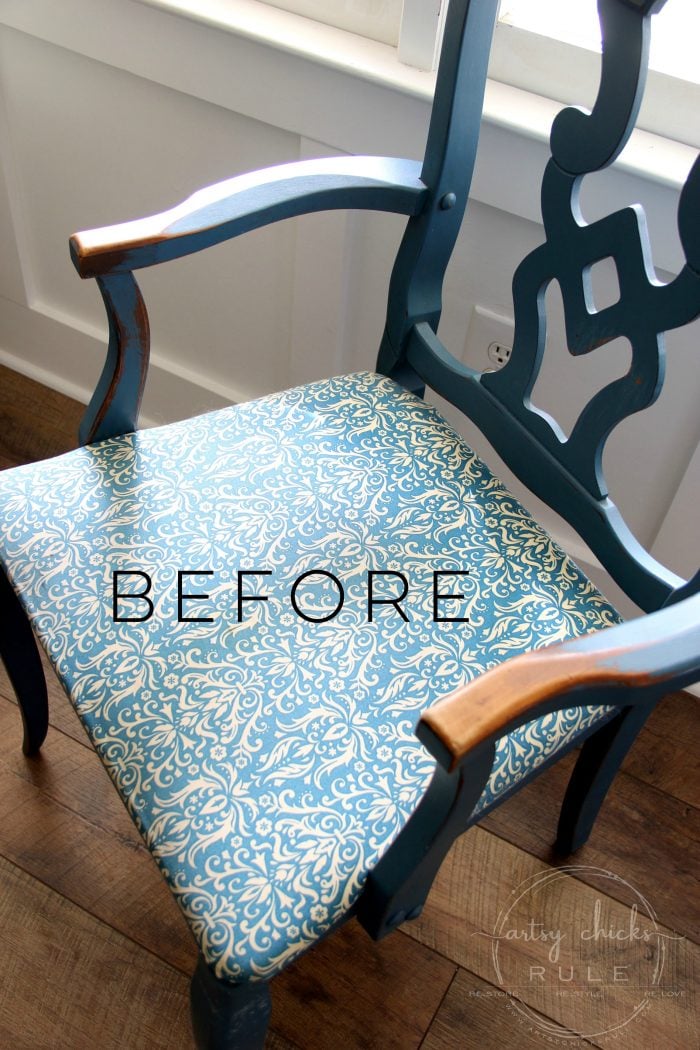 UPDATE!! See it now, here!
xoxo