Update Stairs with Gel Stain (so simple!!)
This post may contain affiliate links. Please see disclosures here.
Update stairs with gel stain….it's a no brainer really! So simple, so quick and not much prep to speak of.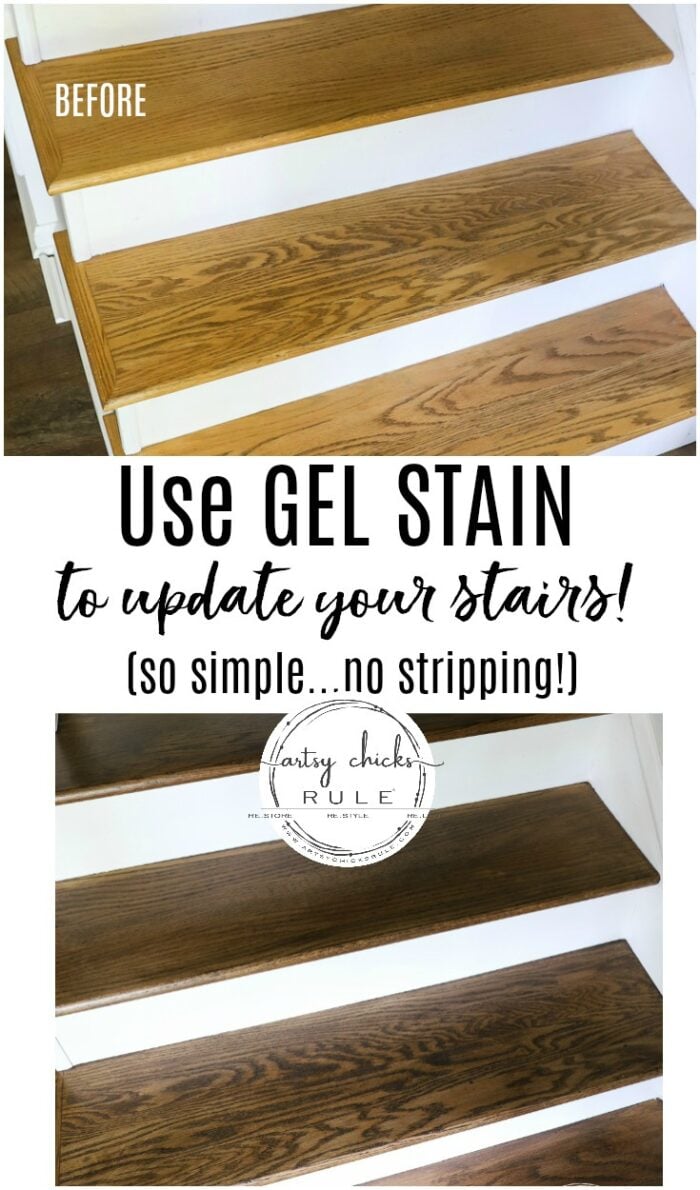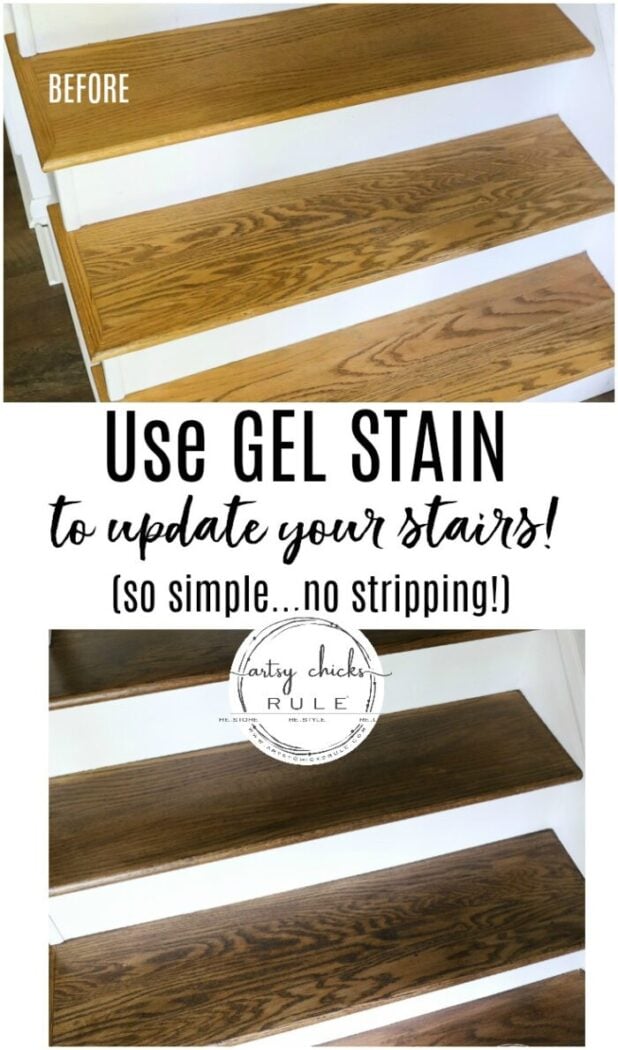 As you know, we recently updated the flooring in our entire first floor living area.
If you missed that post, you can see all about our new floor here >>> Affordable Rustic Laminate Flooring
Our floors had previously been natural, unstained oak (in areas) so the stair treads went perfectly with it!
But not so much with our new flooring.
I knew I'd have to tackle them soon but managed to put it off for a little while. ;)
I thought maybe I'd paint them white and add a runner down the middle, either paint with a design or with carpet.
Mainly because I thought it'd be tough to match up real wood, oak treads with the rustic coloring of the laminate flooring we installed.
I started out by trying my tried and true favorites….General Finishes Gel Stains.
I adore this brand. It has never failed me.
But sadly I could not find a color that would work. Bummer.
I had conceded I may just go ahead and paint…but I figured I'd give Minwax Gel Stains a shot.
SO very glad I did! I tried a couple colors and found a true winner. Coffee.
Perfect…mostly.
I mean you are dealing with real wood and laminate so it's not going to be an absolute perfect match.
But it doesn't really have to be. Have you seen the flooring? It's all kinds of browns so something in the mix there will work.
Update Stairs with Gel Stain
Okay, let's recap where we started…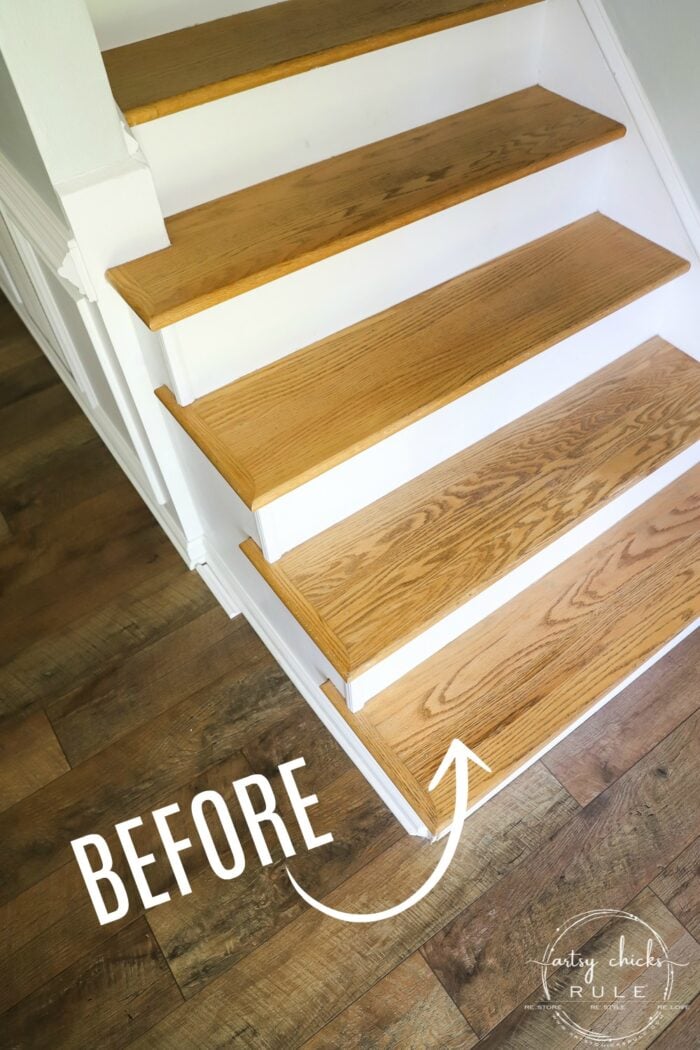 Very orangey oak wood treads…and handrail.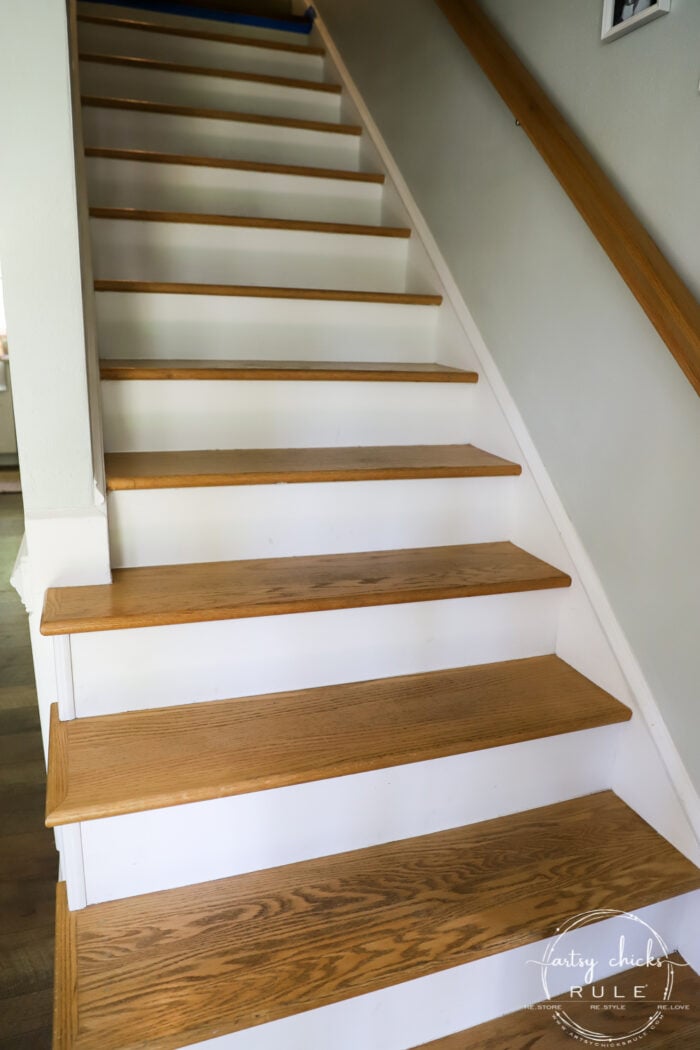 I began by cleaning and wiping down all the steps.
Next, I gave them all a very light sanding by hand with a fine grit sandpaper.
That's it. That went very quickly because it was only meant to take a touch of shine off.
Then I taped everything up. (with blue tape because I was out of my favorite FrogTape…and that was a mistake!!!)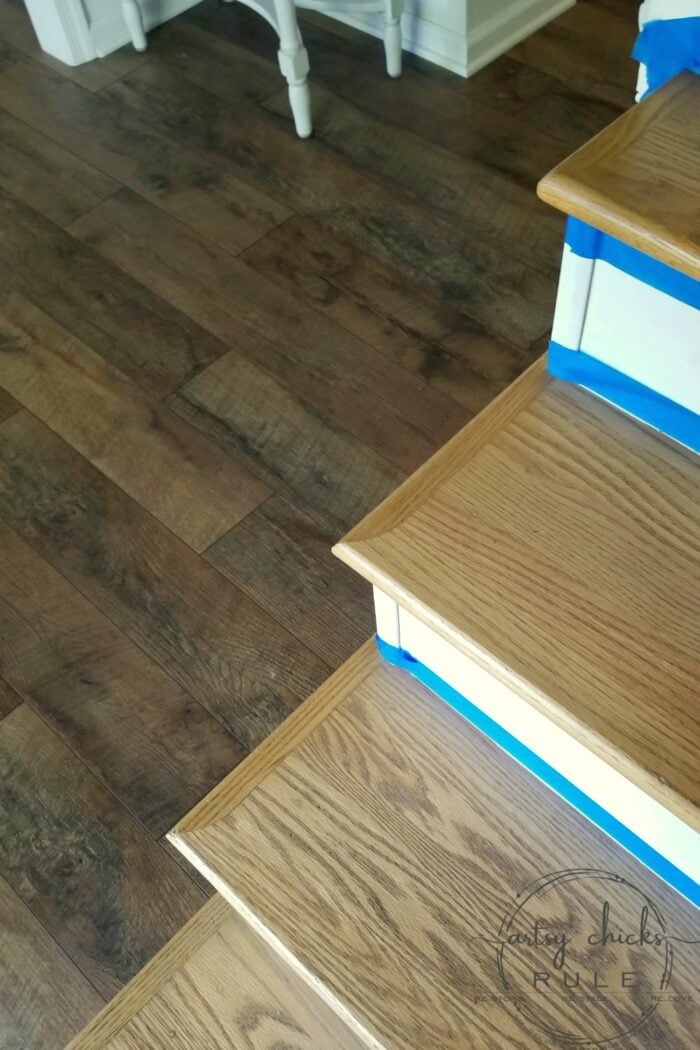 Use green FrogTape…listen to my advice here. :)
I shared this project as I was doing it on Instagram Stories. Want to see some of these projects in "live" time? Hop on over and follow along with me on INSTAGRAM. I'm always sharing in my stories as I'm doing projects, finding new furniture, fun finds….just all the day to day behind the scenes.
MATERIALS LIST
Lint Free Rags (like t-shirt material)

Fine Grit Sandpaper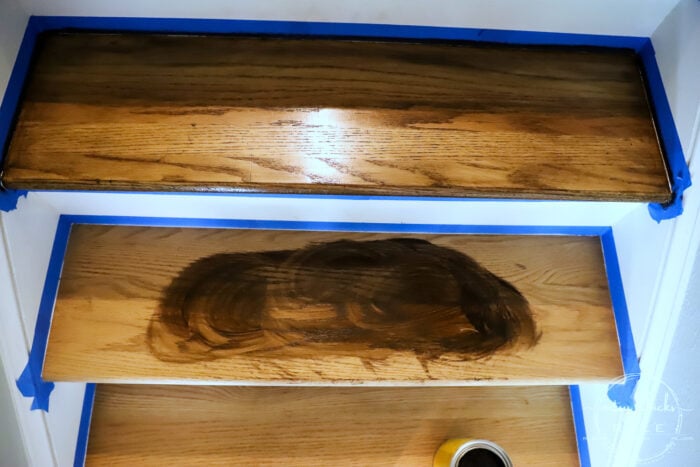 This was so easy, y'all. I'm not even exaggerating.
Just dip the rag in the gel stain and wipe onto the stair treads.
Then literally just work in into and onto the wood. (the color is off in these photos because I had the hall and stairway light on)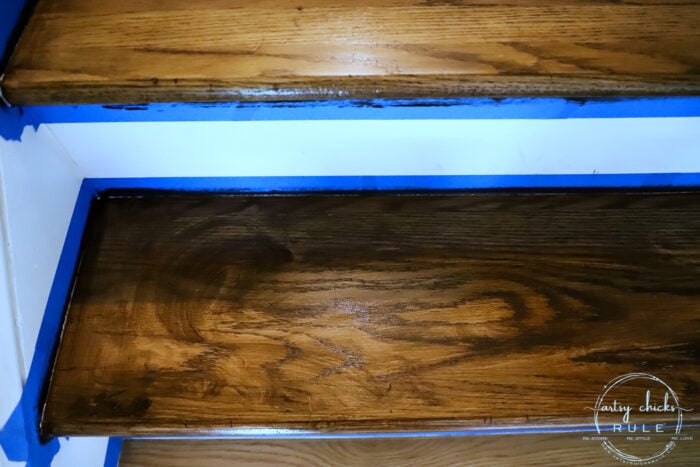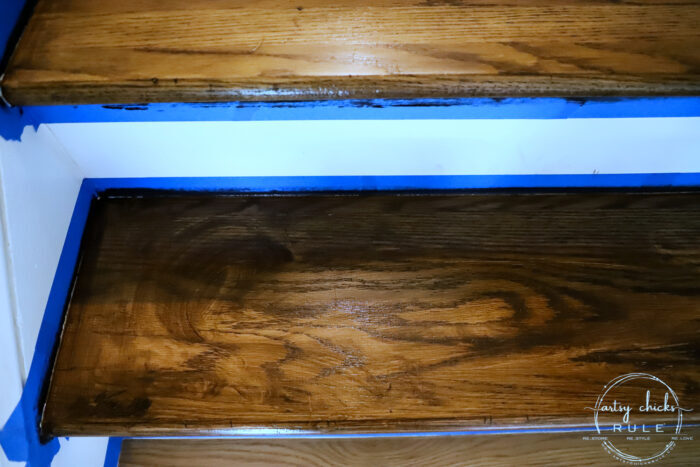 You don't even really have to worry about swirl marks, applications marks, etc, as you are applying it.
Just get it all covered.
Then come back with a clean lint free rag and wipe away the excess in nice even strokes in the direction of the grain.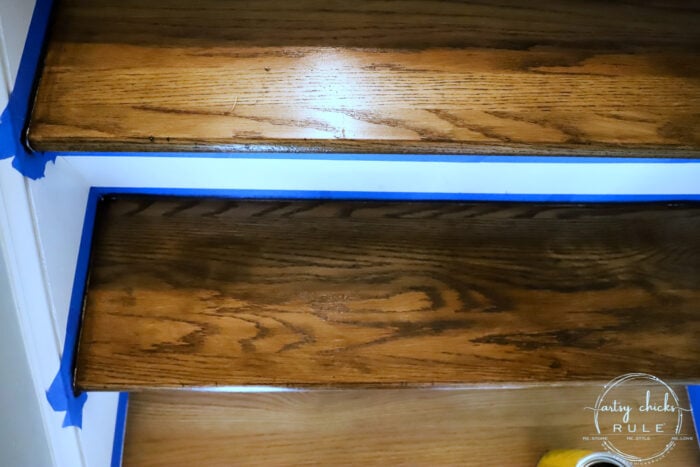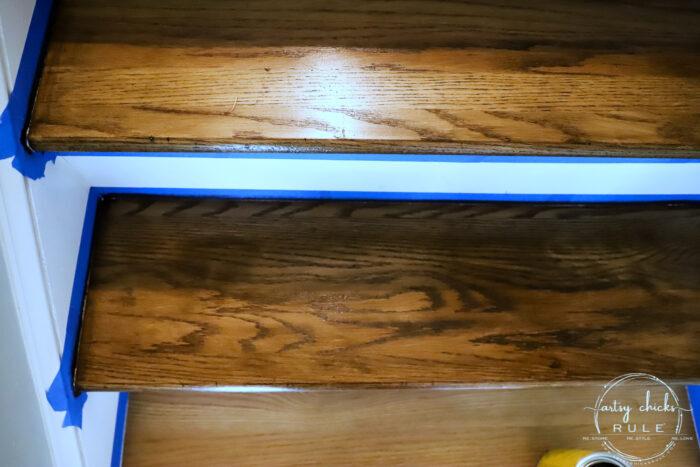 You don't want to leave excess because it will be gummy and sticky.
If you want it darker, just come back after 8-10 hours and apply a second coat.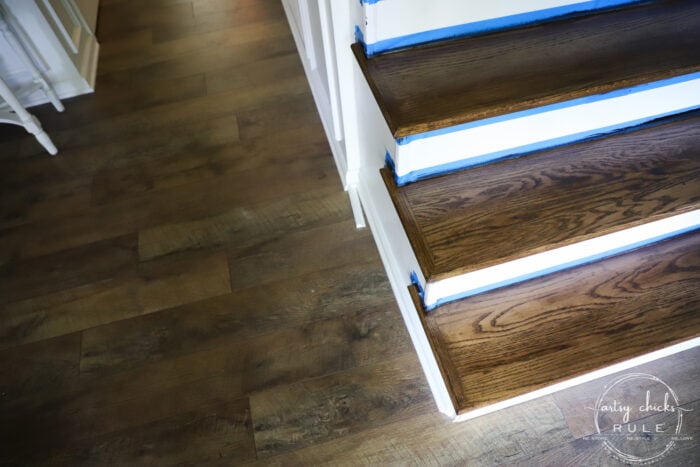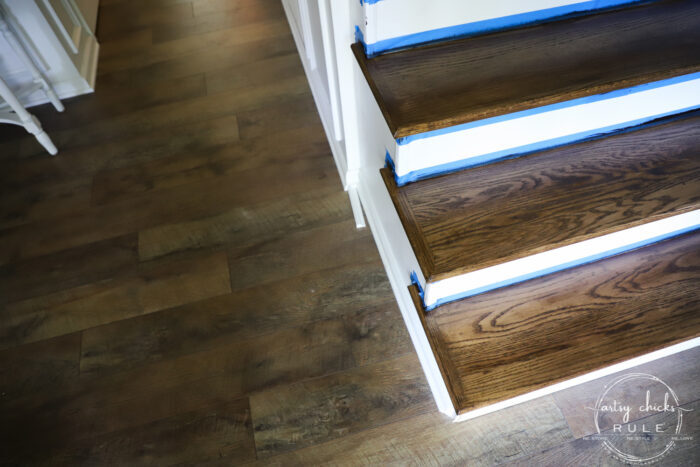 I did only one coat because I was happy with the color and then waited 24 hours to apply the top coat.
That was fun since all of our bedrooms are up. ;)
After the gel stain was somewhat dry…a few hours…I laid one sheet of printer paper on each step so we could go up and down.
Innovative, huh?? Haha…it worked well!
I used a Satin finish for the poly but was worried it was going to be too shiny when I applied it.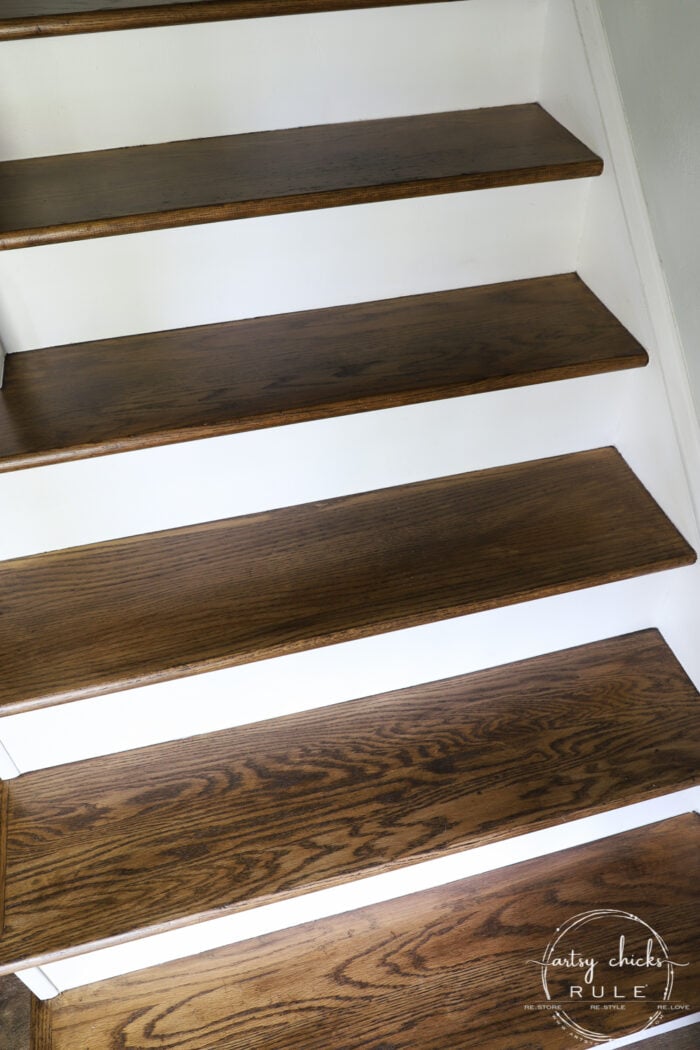 It wasn't!
It came out a nice matte-ish look that goes perfectly with the rustic feel of the surrounding flooring.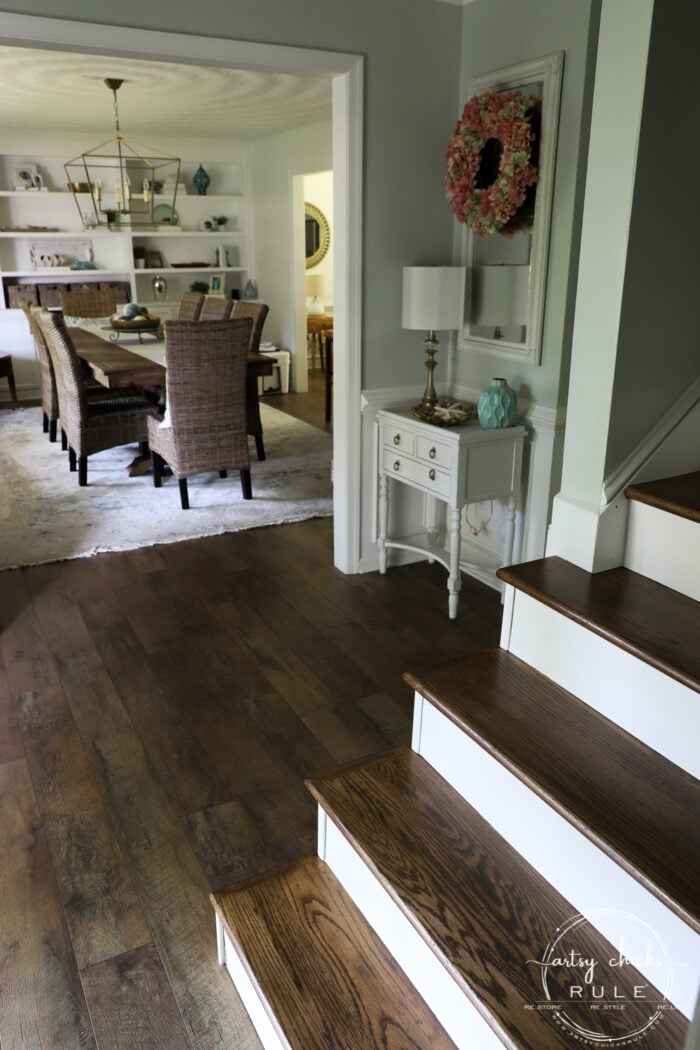 I actually only did one coat of poly too for several reasons.
Less oil based poly coats, and hopefully, less yellowing. Plus I actually won't mind if they get a little more "rustic" looking.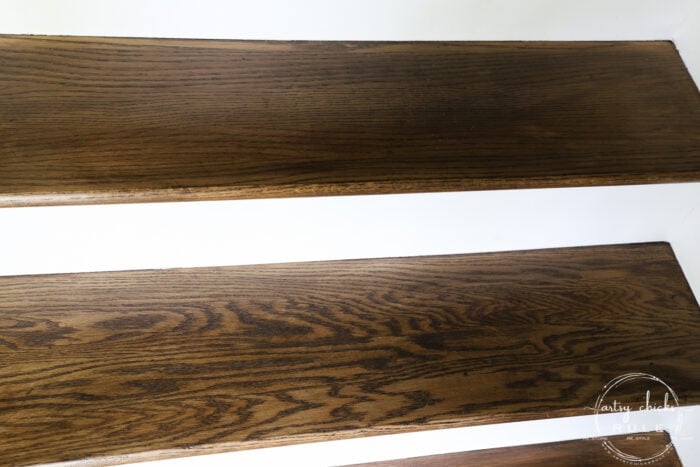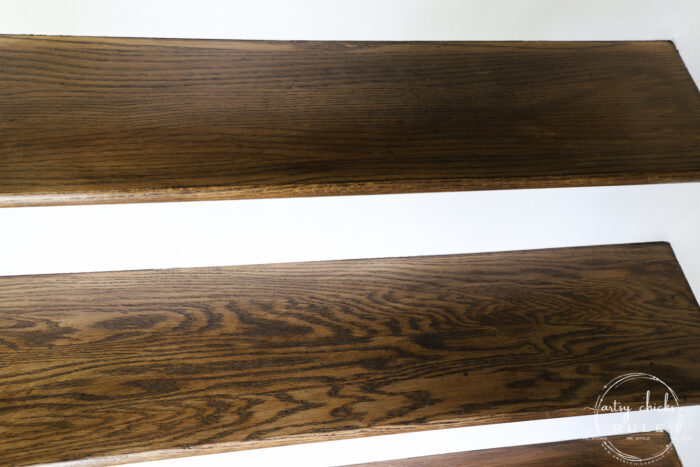 See those nice straight lines?? Um yea, I had to go back and repaint some of the white because of the blue tape. Boo.
I also gel stained the orangey handrail.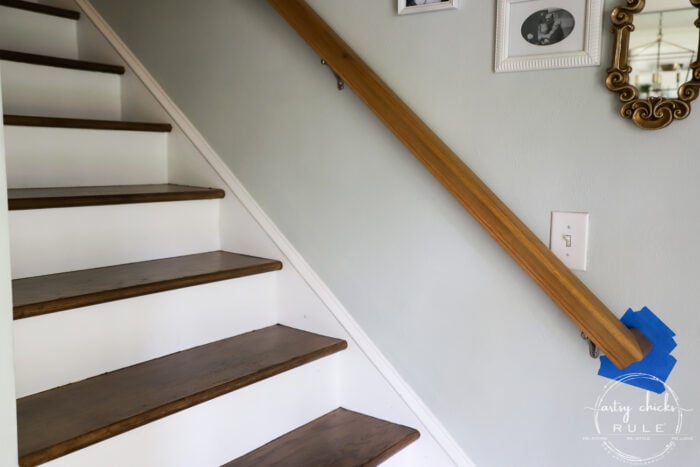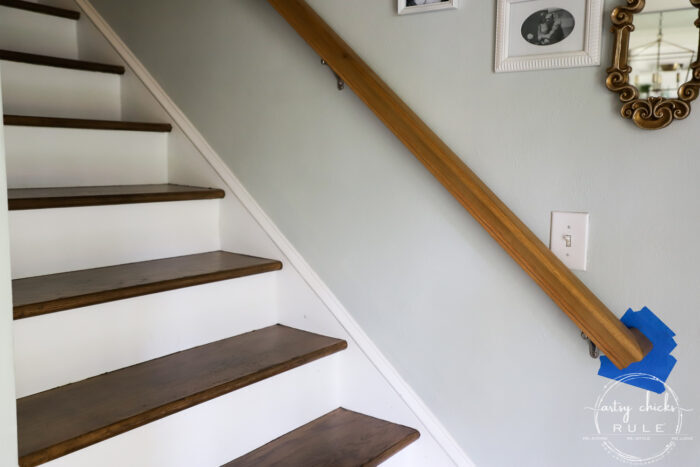 As simple as wiping it on…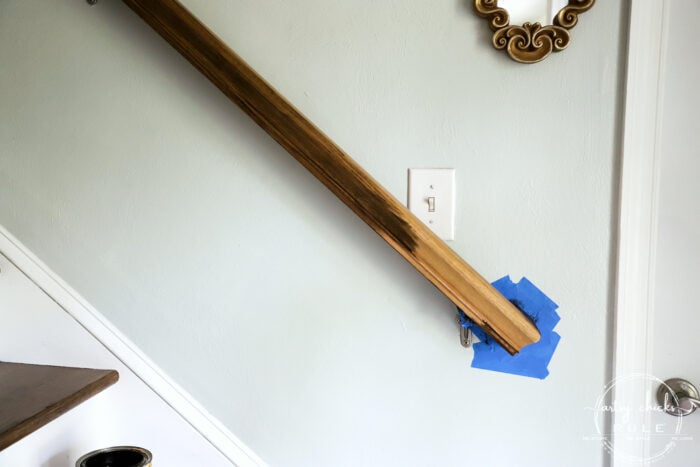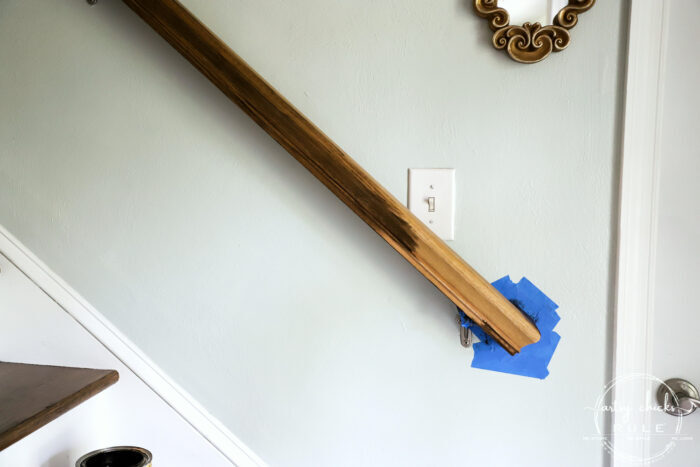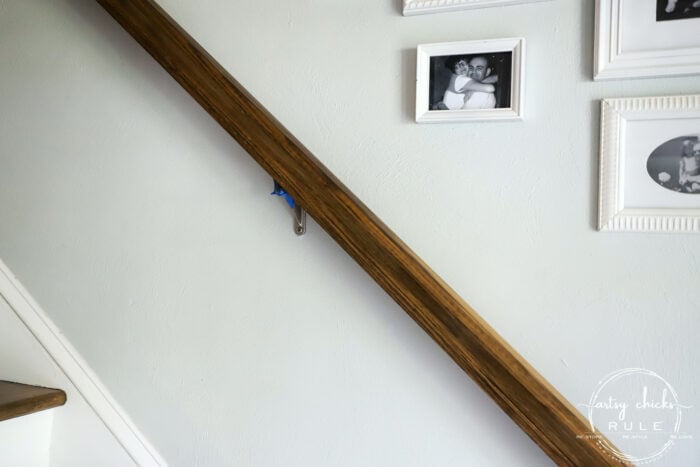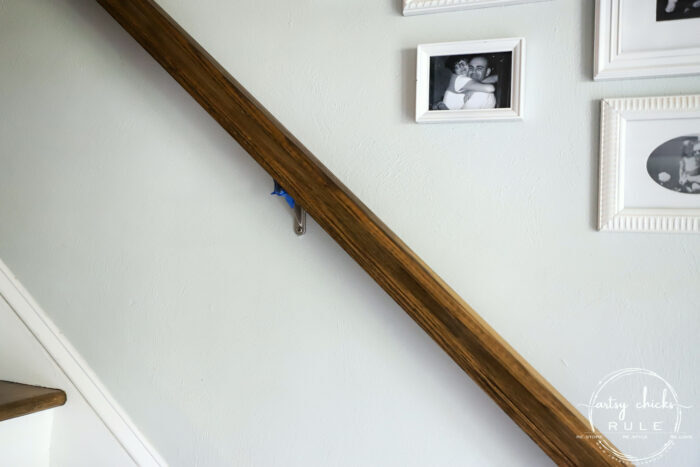 Love this stuff! Makes these kinds of jobs so easy for the average homeowner.
This is definitely something anyone can do.
Perfect to update stairs or any wood in your home, like kitchen cabinets. etc.
Yippee!! No more orange, mismatched stairs.
Happy girl here. :)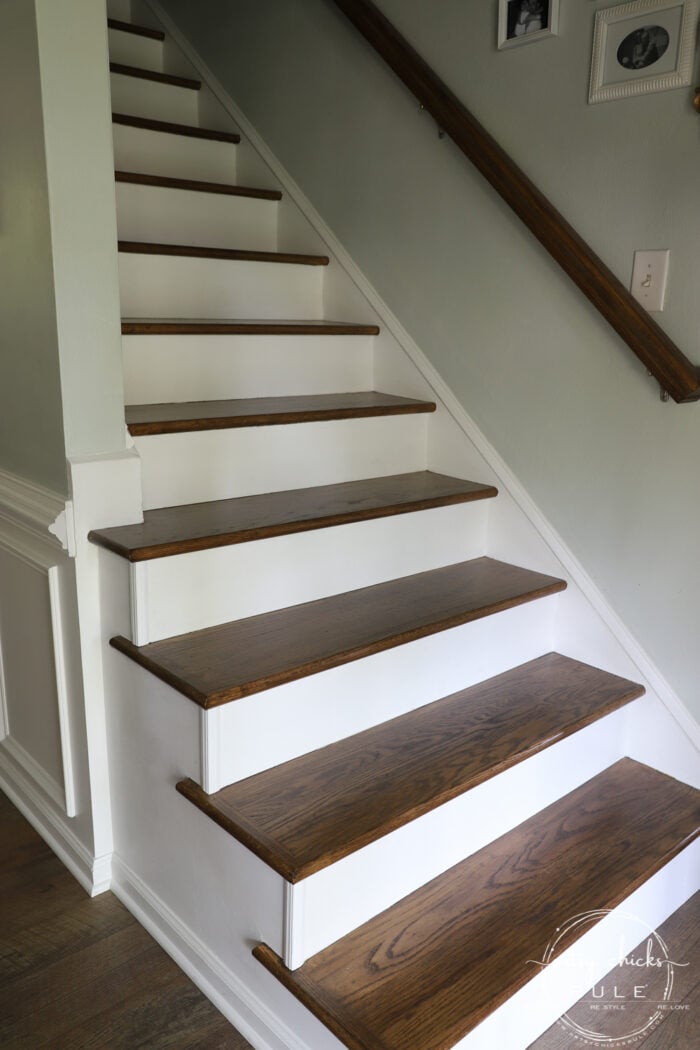 And I didn't have to end up painting that pretty wood grain with white paint.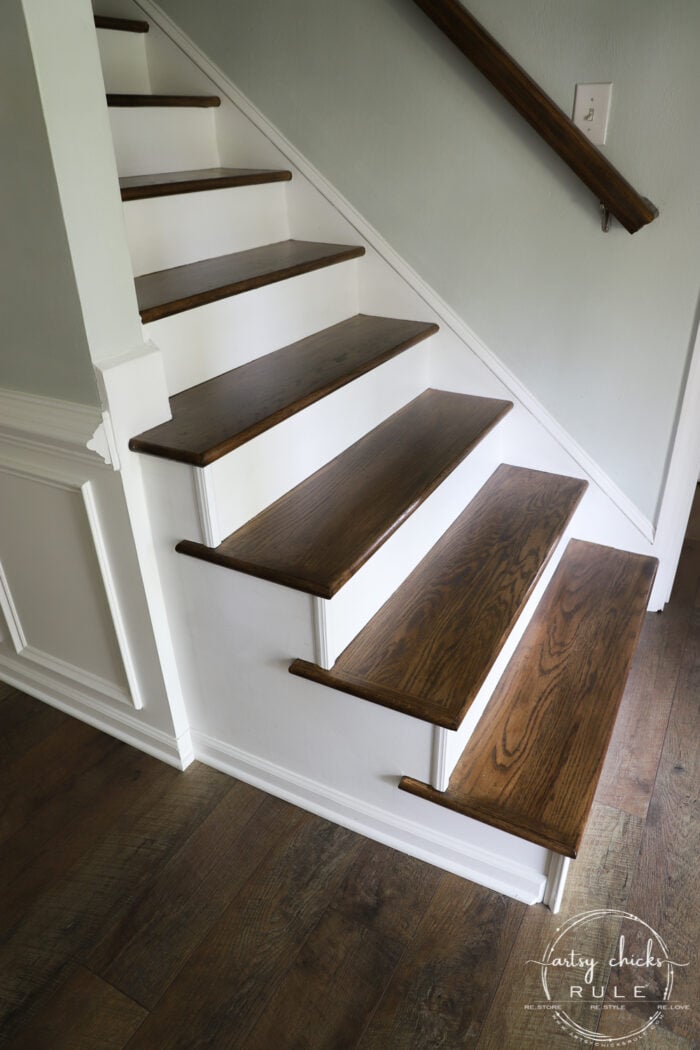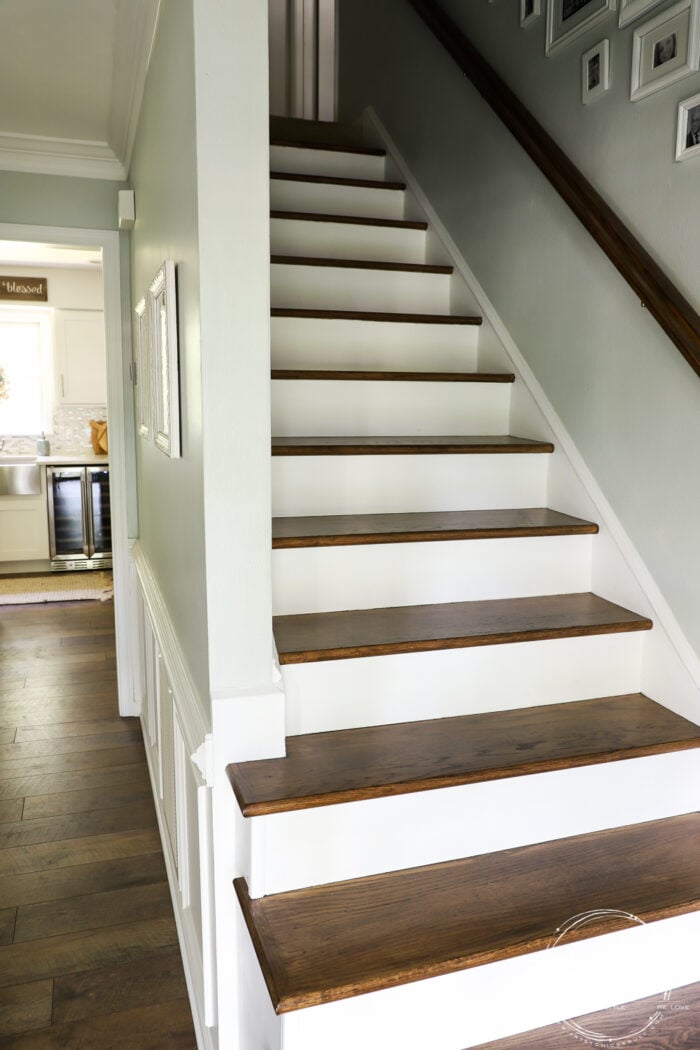 Full view shot…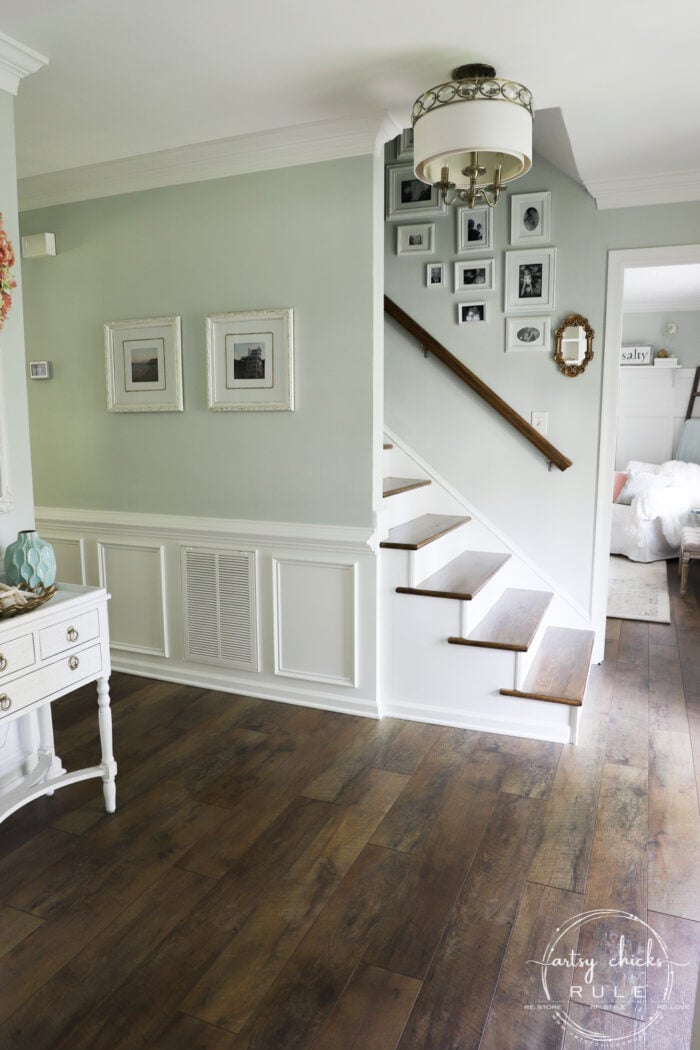 That ceiling light shade used to be darker, goldish/tan. I painted it and gave it a brand new look!
Get the details on how I did that, here>>> How To Paint Light Fixtures
So much better.
Details on the DIY deep look crown molding is here>>> DIY Crown Molding
I'm so happy with how I was so simply able to transform and update stairs with gel stain.
SO much easier than stripping them down and using regular stain.
That's for sure.
I honestly think it was easier and quicker than painting them white would have been.
Now that is saying something.
PIN it to save it!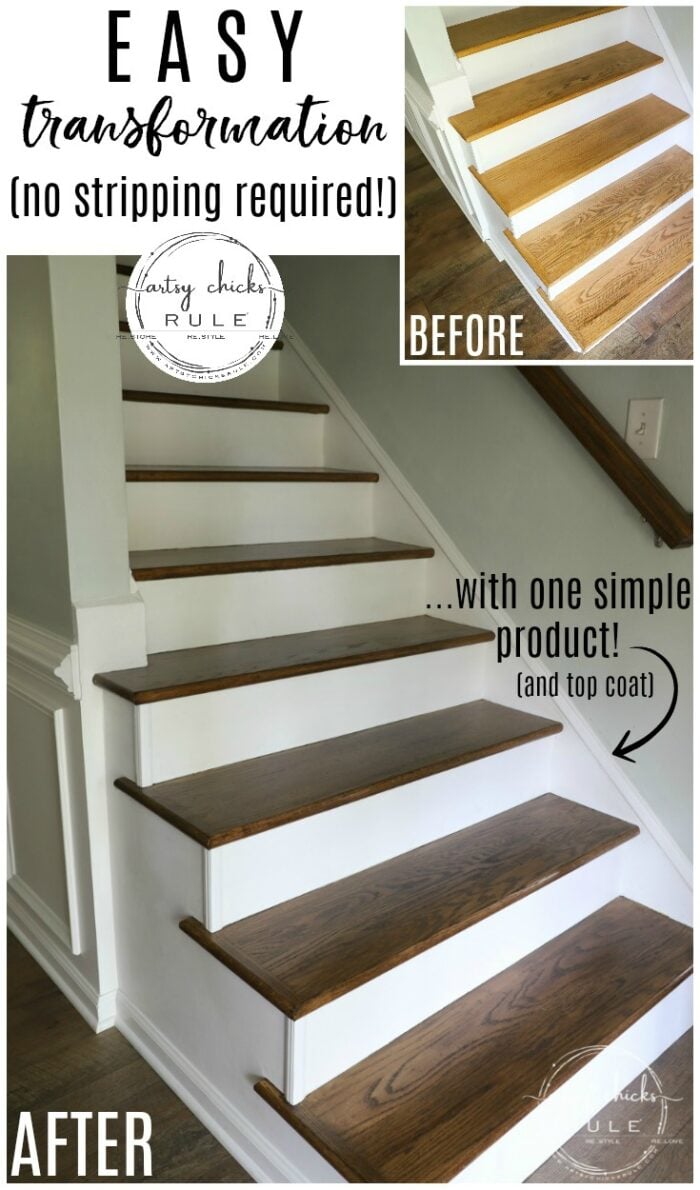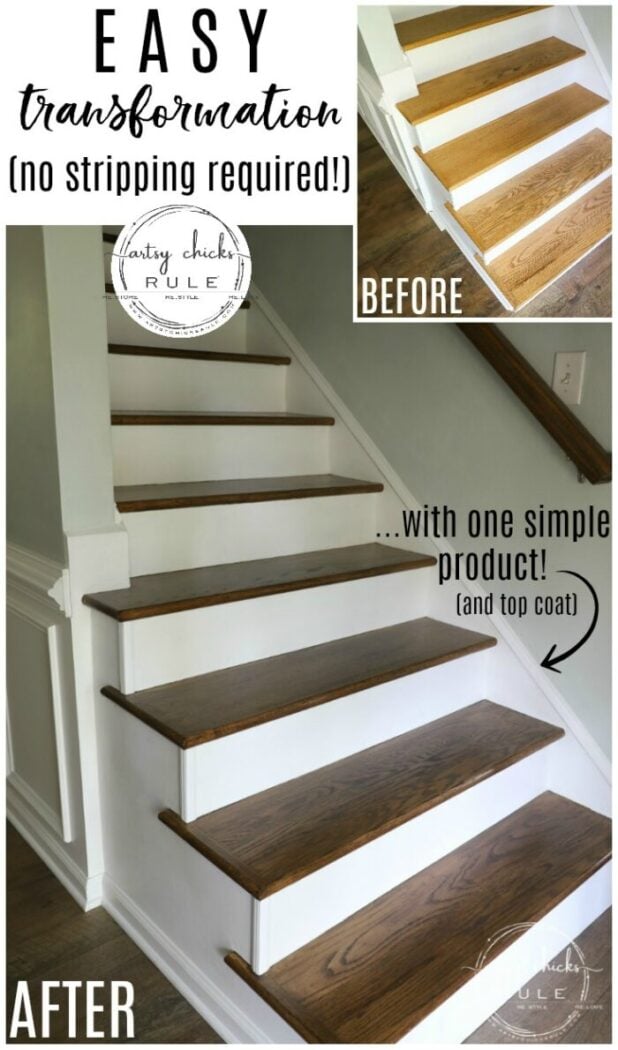 More home DIY tutorials we have shared here:
I hope you all have a beautiful weekend!
xoxo