DIY Wood Mantel (simple to make!)
This post may contain affiliate links. Please see disclosures here.
Learn how to make your very own DIY wood mantel!! It's easier than you think!!
Hello, my wonderful friends!
I'm coming to you midday on a Friday, what?! It's been a crazy week so I didn't get this post finished until just now so I thought why wait, I'll just send it on out today.
I'm sharing our brand new DIY wood mantel with you today. It's been a long time coming as I've wanted to change out the mantel for years. AND get around to painting the brick again.
We finally tackled both…right during the month of Christmas because why not?! haha
I'm SO thrilled because it's just one of those things that you don't love but live with. You know, thinking you'll get to it eventually but never do.
Well, we finally did and I'm so thrilled!
It was super simple to make and I'm not sure why we waited so long. Hopefully, this will help you if you ever thought of making your own too.
DIY Wood Mantel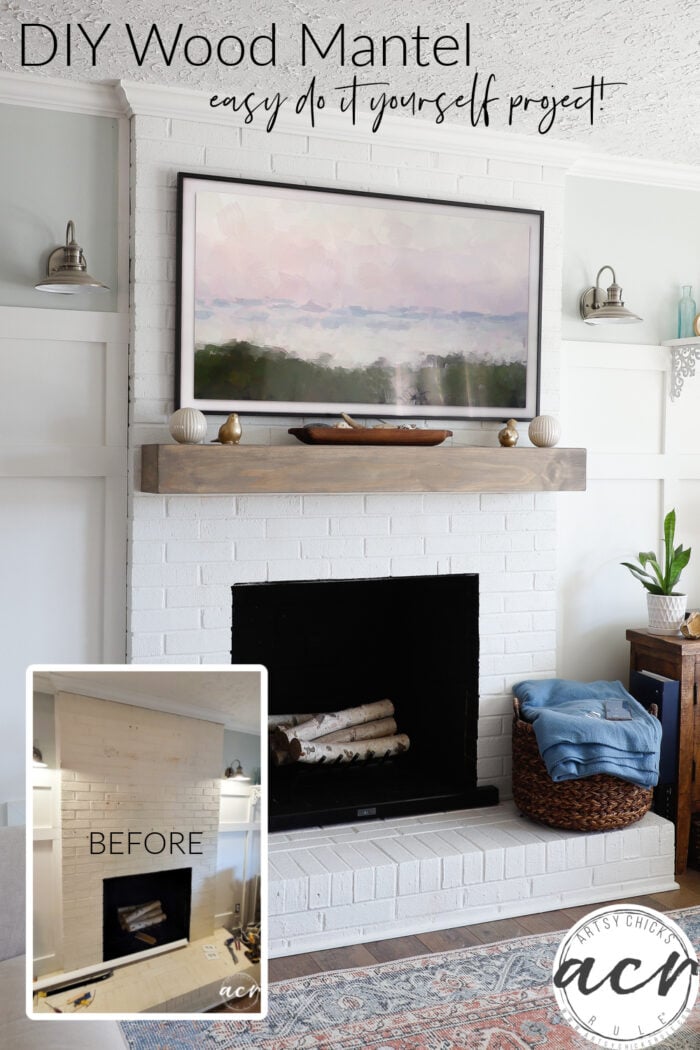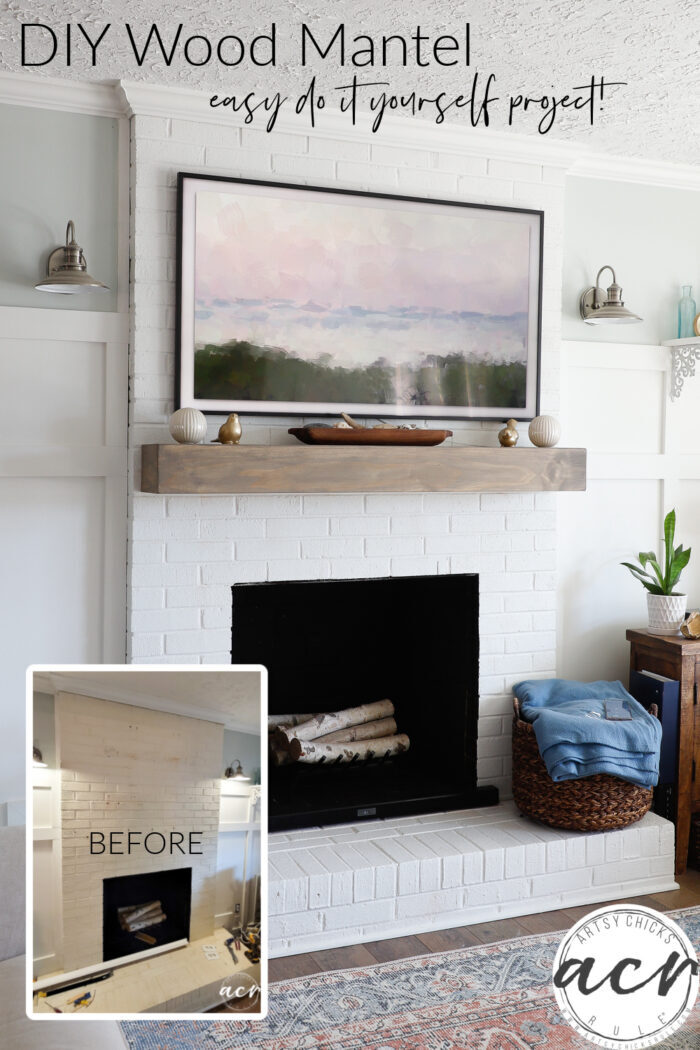 Here's a refresher of what it looked like when we moved in…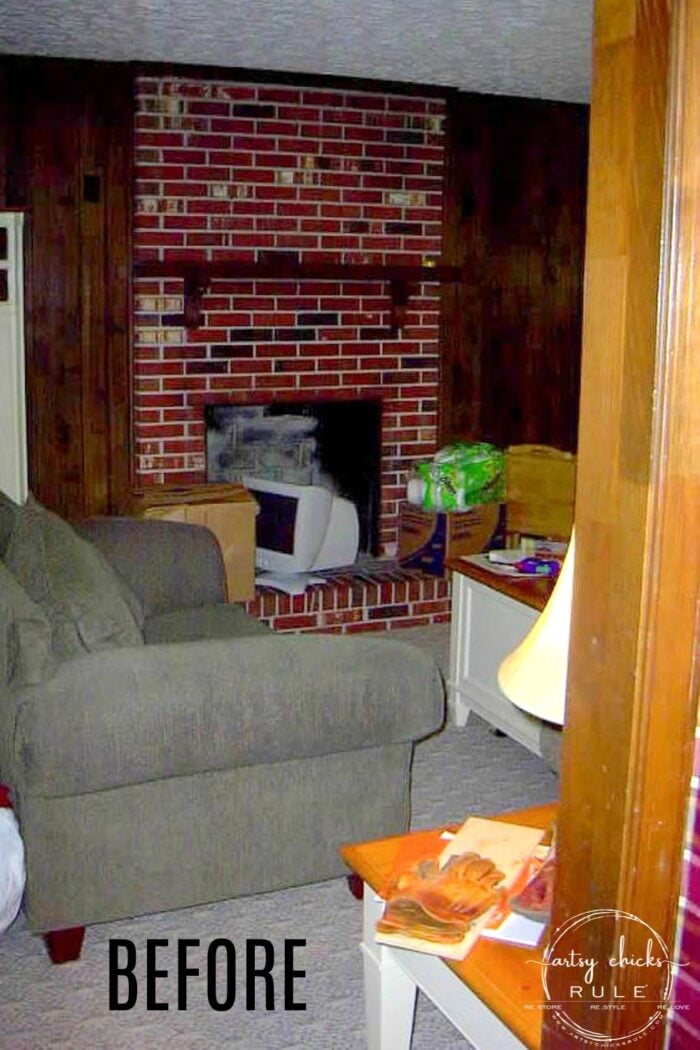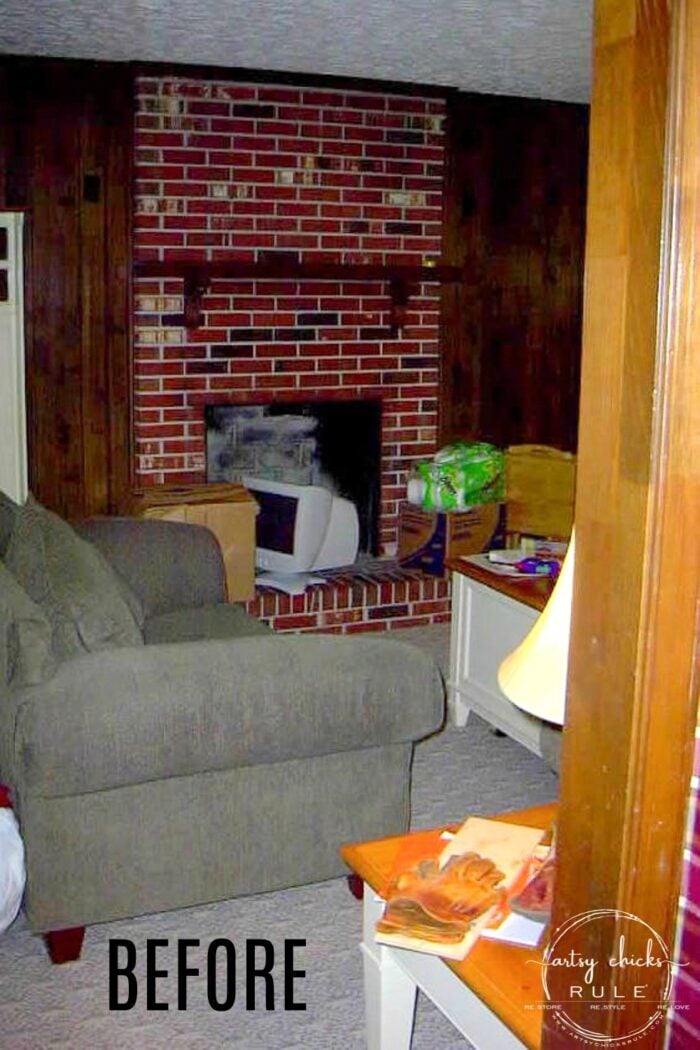 This was literally the week we moved in. (hence all the disarray)
Quite the difference huh? I thought it'd be fun to go all the way back!
Then over the years, I painted the brick and we updated the mantel a bit with new corbels.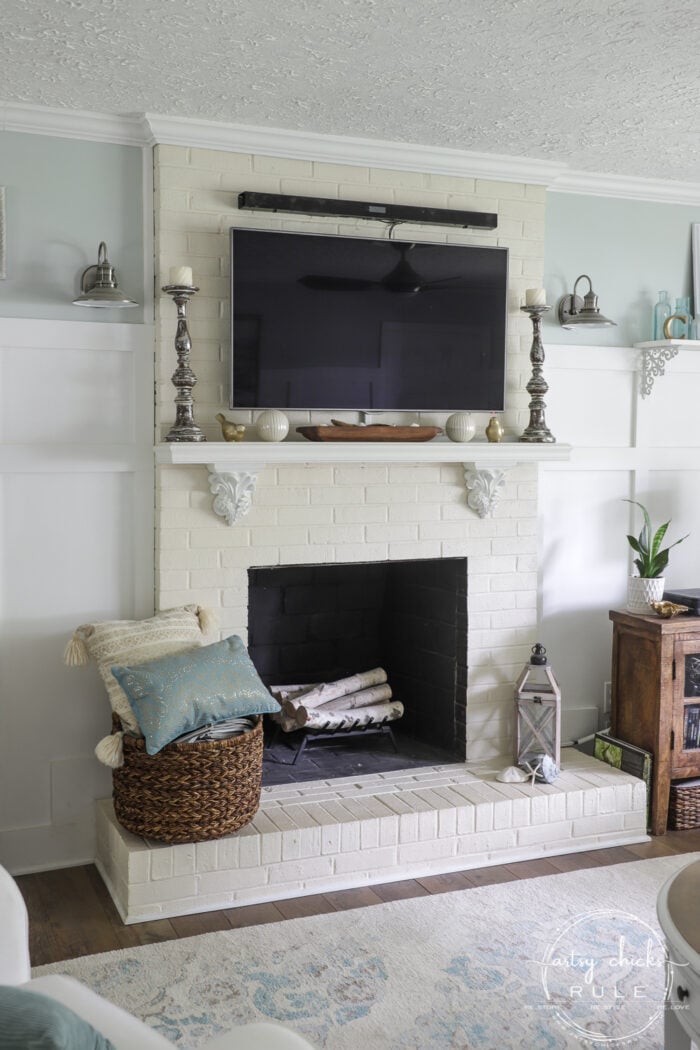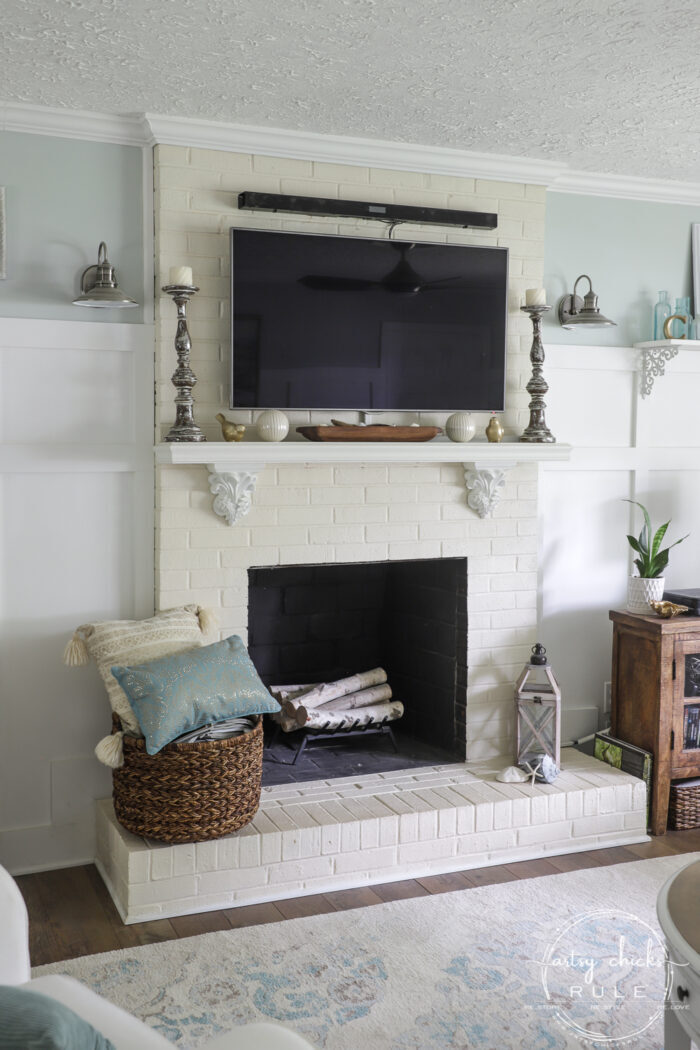 Among another million things we updated in here.
I had wanted to replace the mantel for some time as it no longer really matched the relaxed, coastal feel of our home.
But as things go, it gets pushed to the end of the list because the list is so large!
I had also wanted to paint the brick white since it was still a creamy, pale yellowish color from when our walls were painted in Blonde by Sherwin Williams.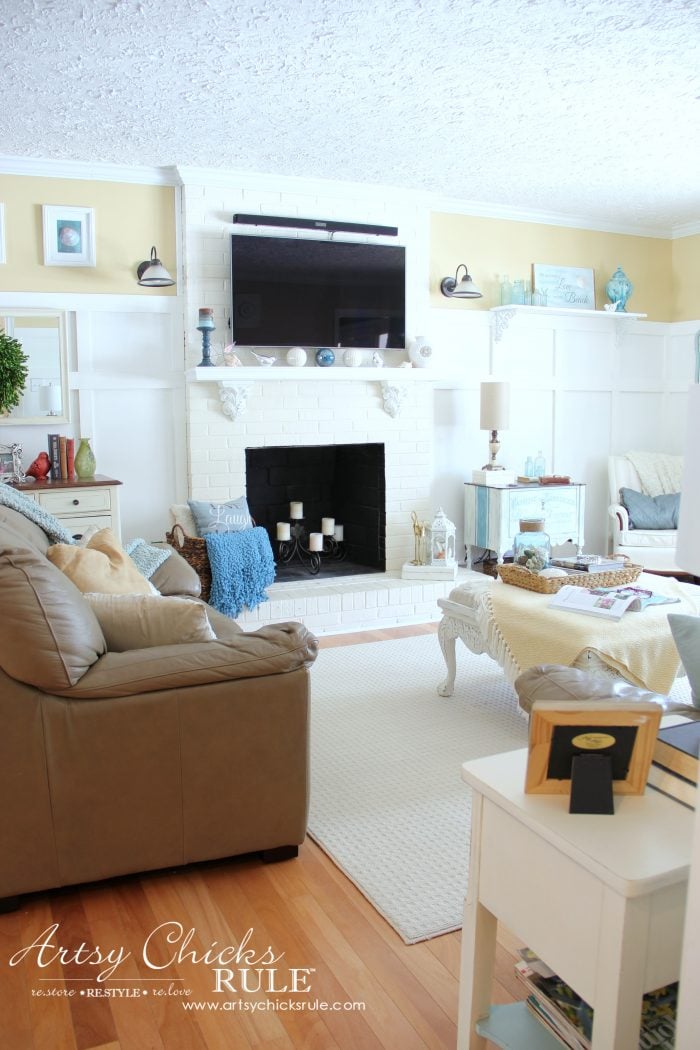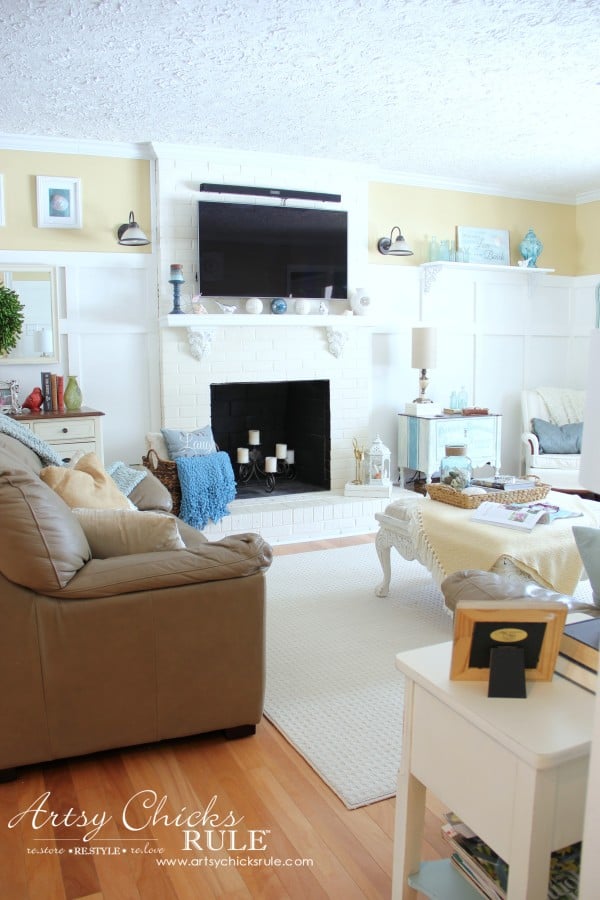 Things have certainly changed over the years around here, huh?
So with new paint and with the brand new DIY wood mantel, here is what it's looking like now!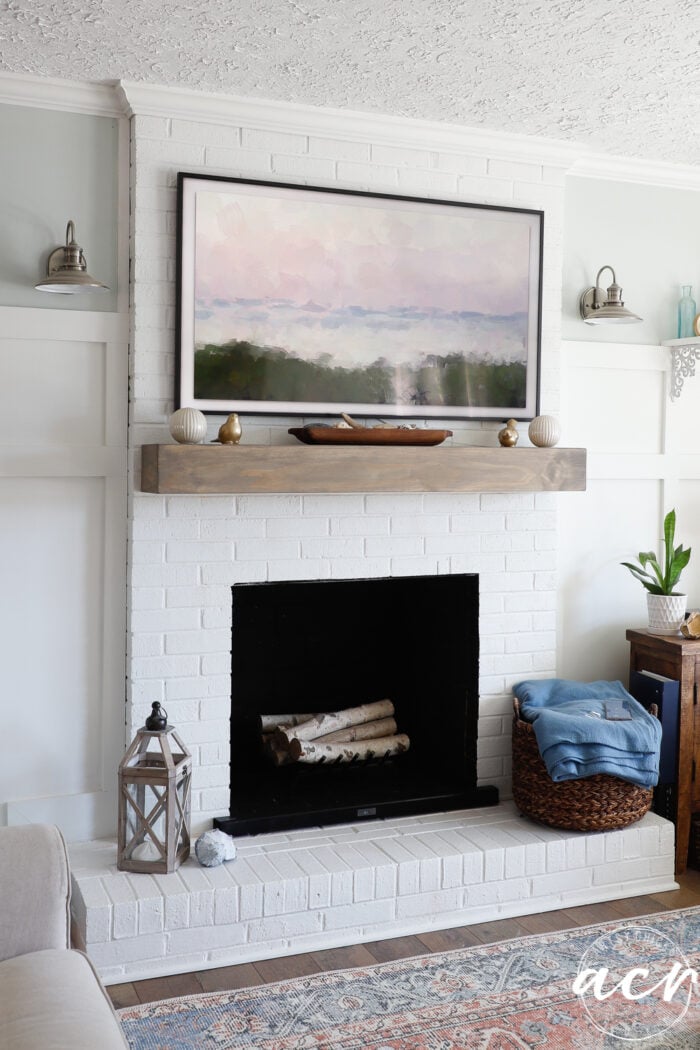 So fresh! I love it! So glad to have the brick repainted. It looks so clean and bright.
Now, if I had it to do over, I would probably do some sort of wash on the brick instead.
But I didn't do that all those years ago when I first painted it so here we are.
MATERIALS LIST FOR DIY WOOD MANTEL
Wood – 2 – 1 x 8 select board for the top and bottom
Wood – 1 – 5/4 x 6 select pine board
FIN/Trim Head Screws 8 x 3-1/8″
Wood Filler (stainable)
First, we took down our old TV and old mantel.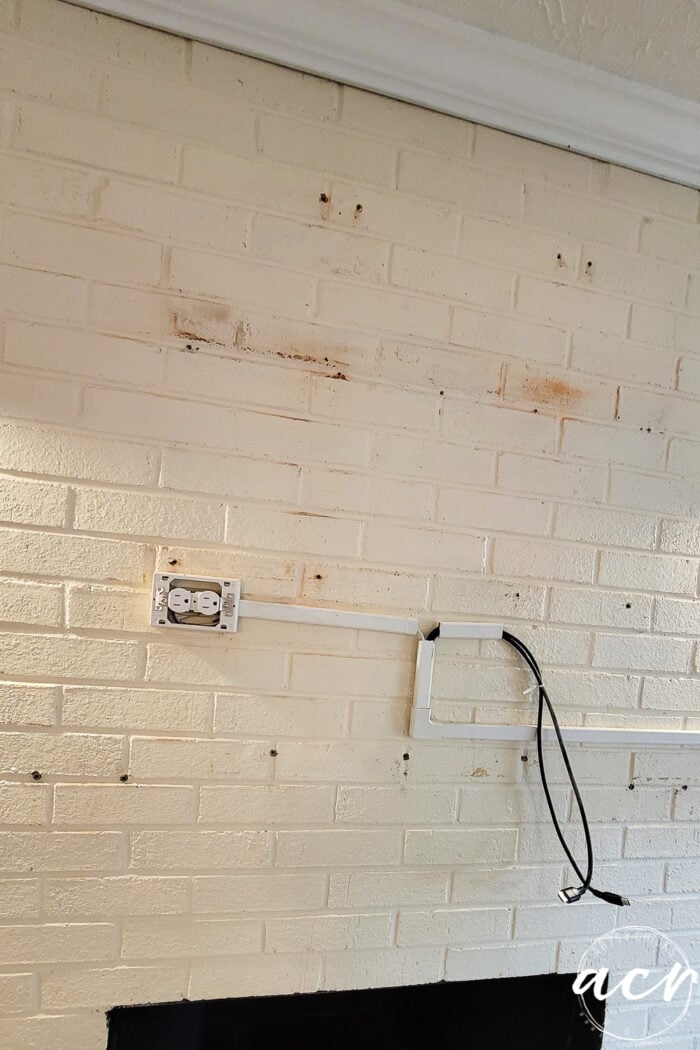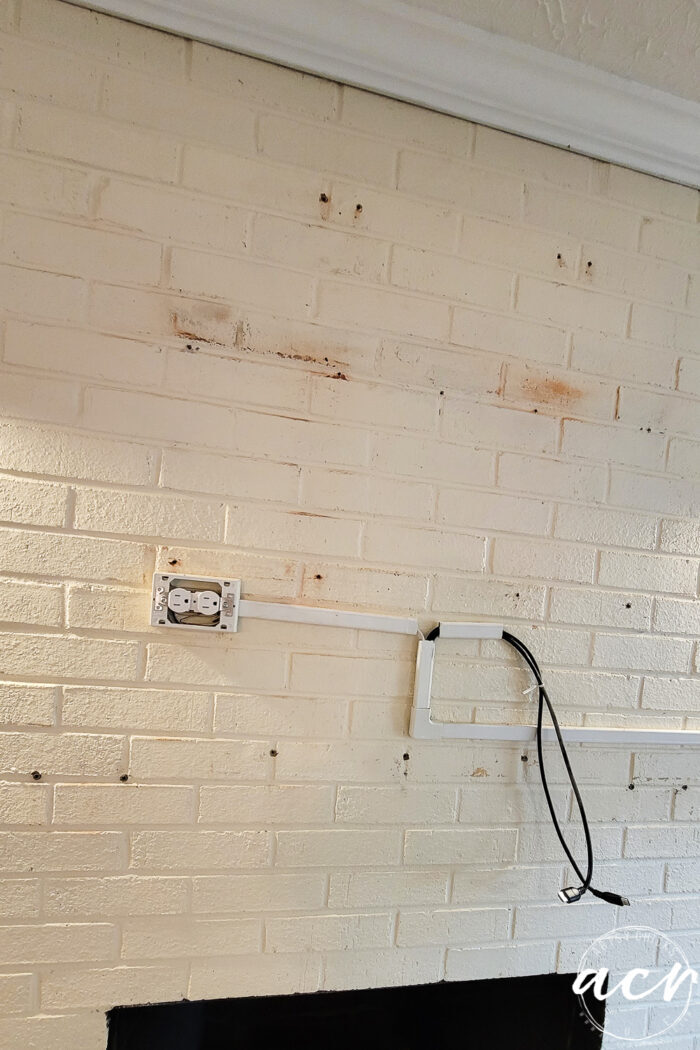 Kind of bummer we installed this electrical for our TV and now had to remove it. (the Frame TV doesn't plug in the same way)
Oh well! I love the way the Frame TV is flat against the brick and only has one tiny cord leading from it to its control box which we keep in the cabinet beside the fireplace.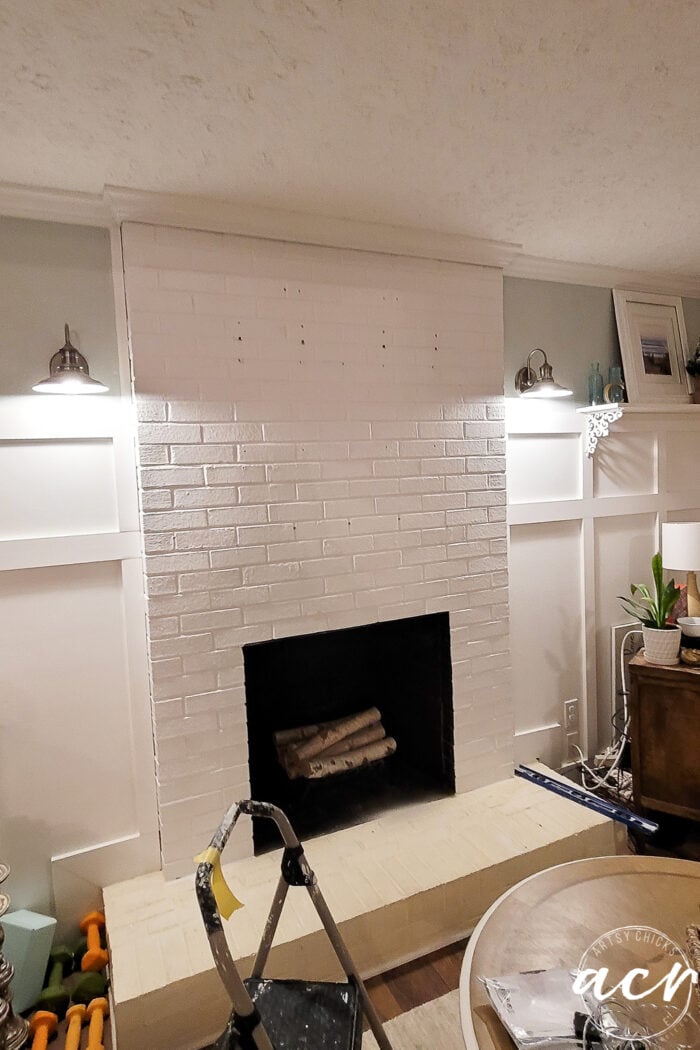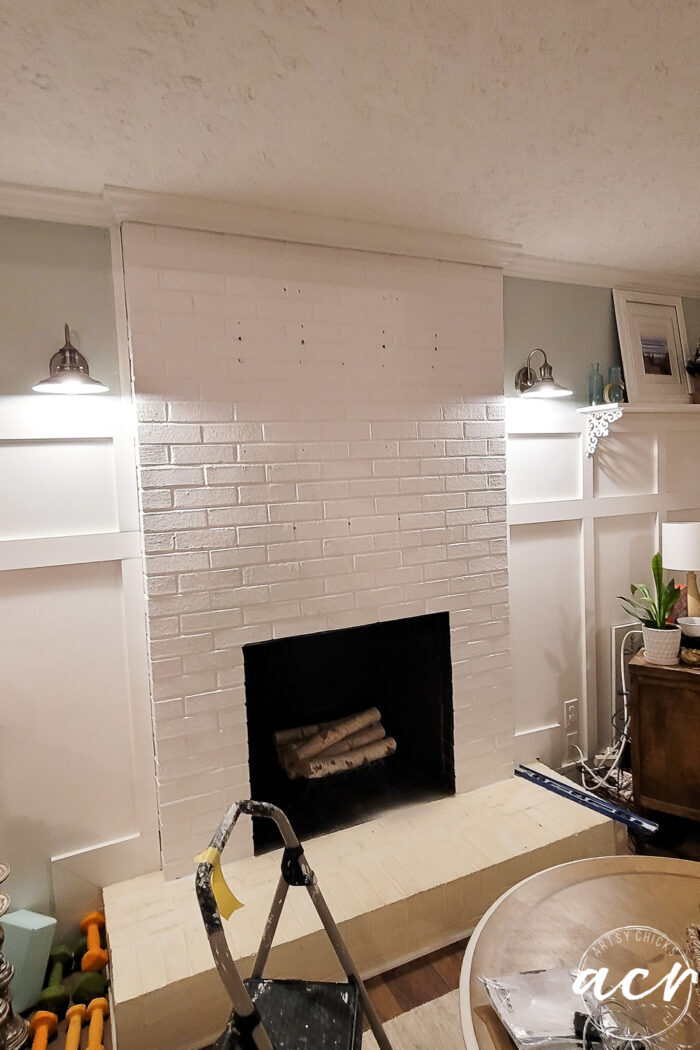 I painted the brick in Pure White (by Benjamin Moore, color matched by Sherwin Williams in eggshell finish)
New TV goes up…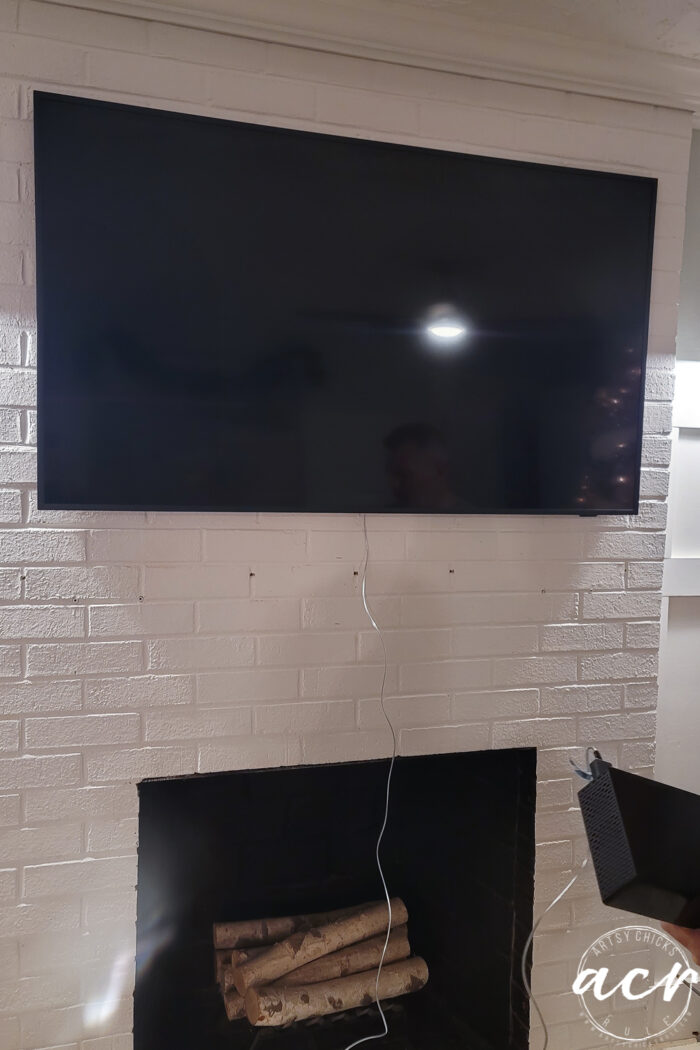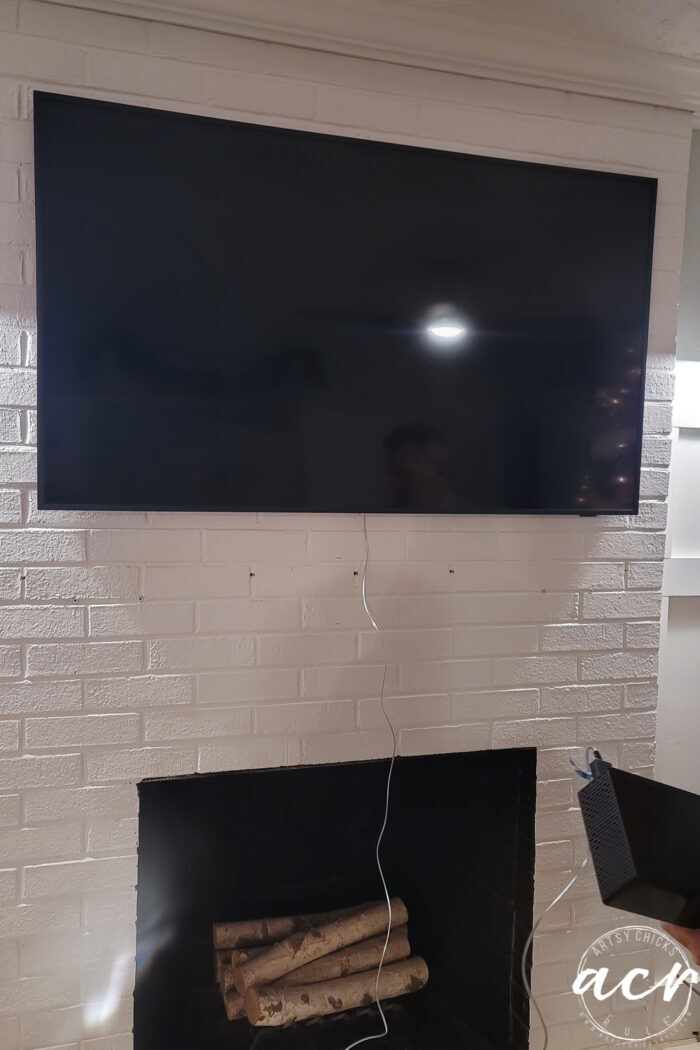 And next, we start the mantel. (you can see the thin cord from the TV attached to the control box in this photo)
We started out with 2 – 1 x 8 pine boards. (you can use any wood you like and the length bought would depend on how big you are making it)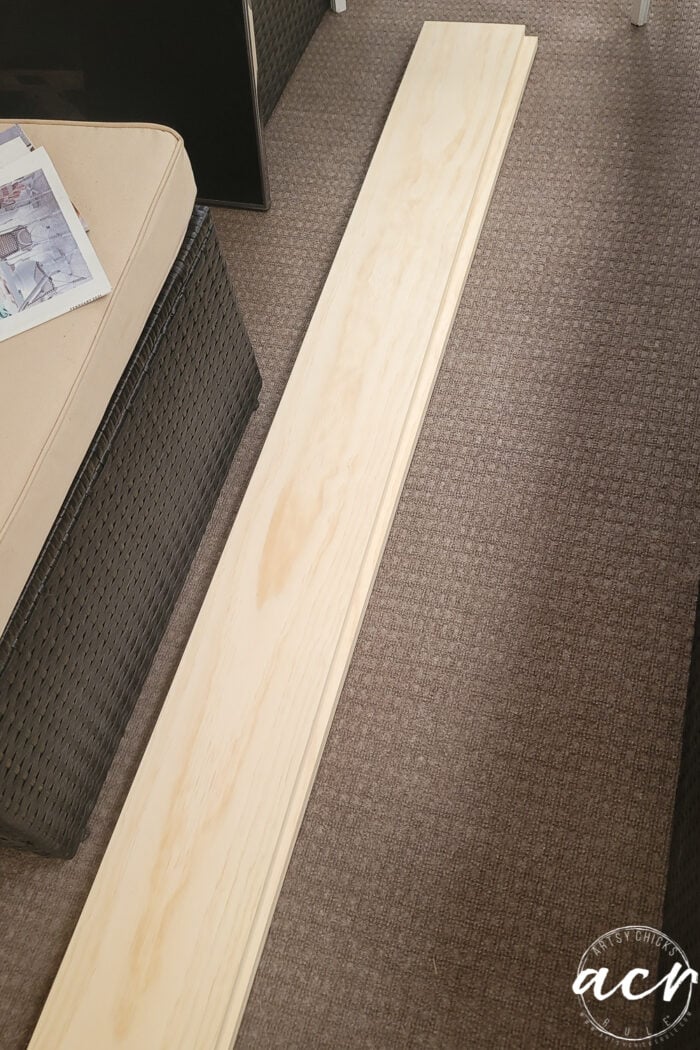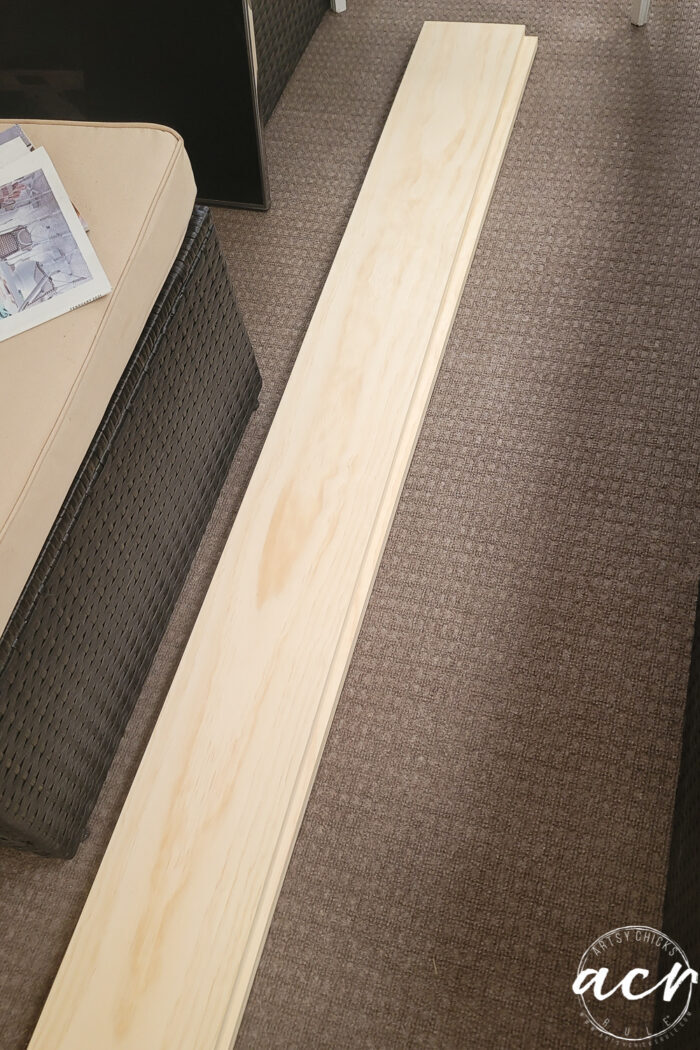 We cut 5/4 board down to the size we needed and then cut the two front edges and side pieces in a 45.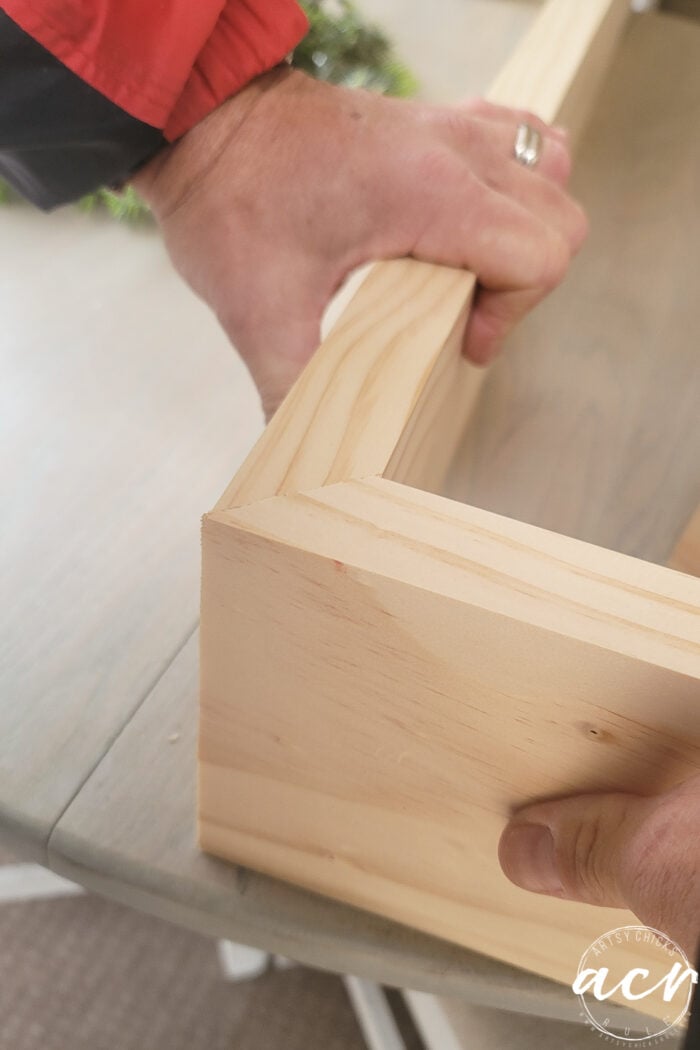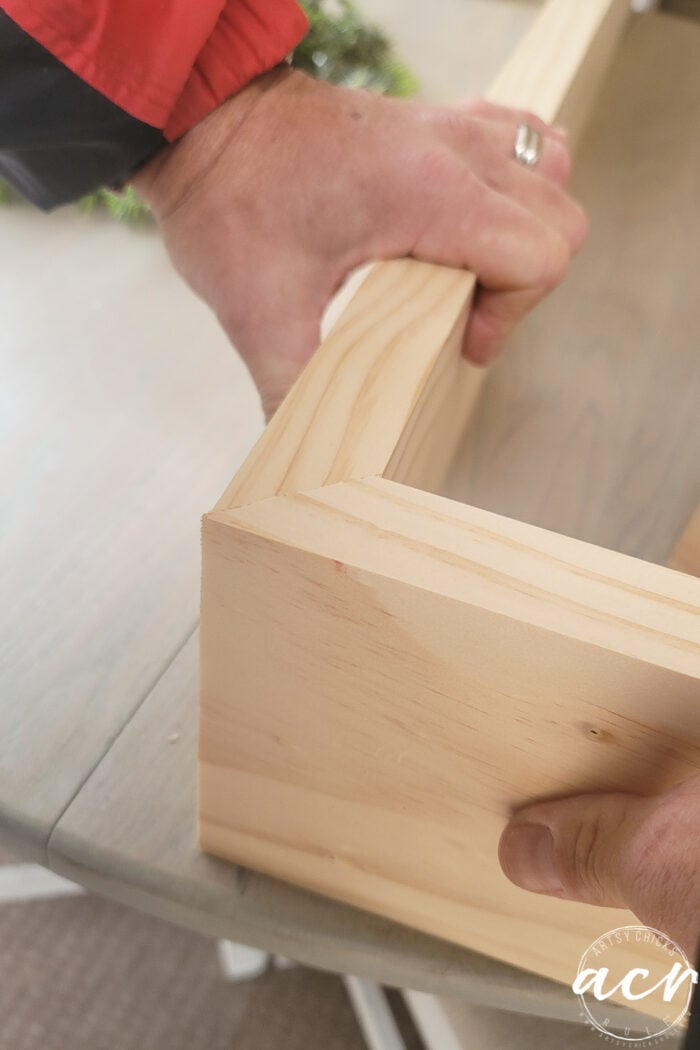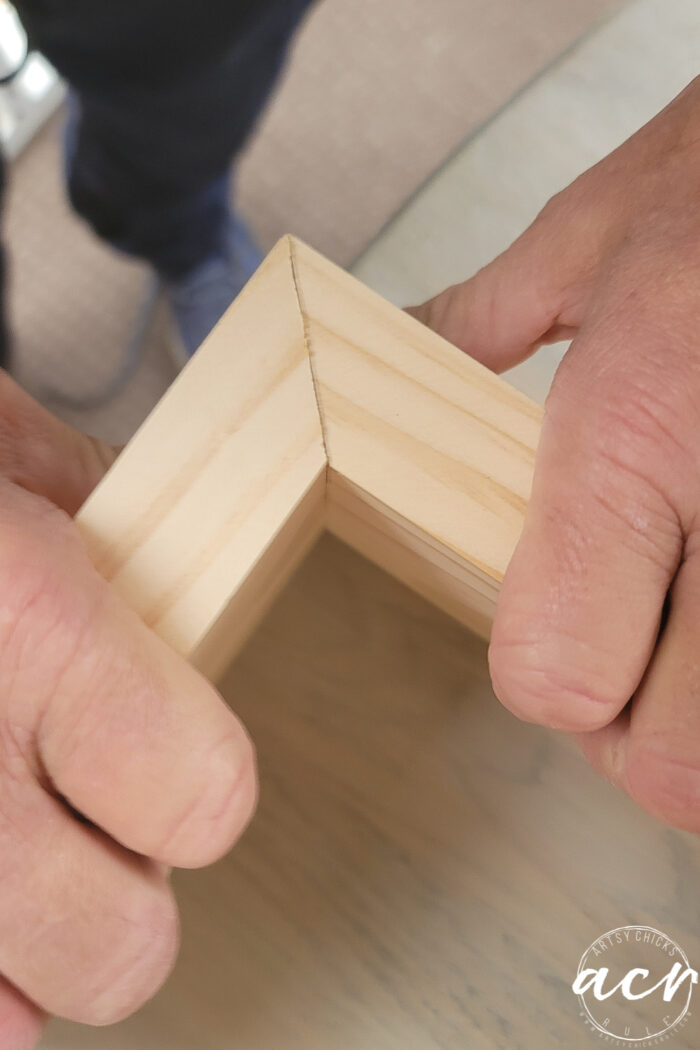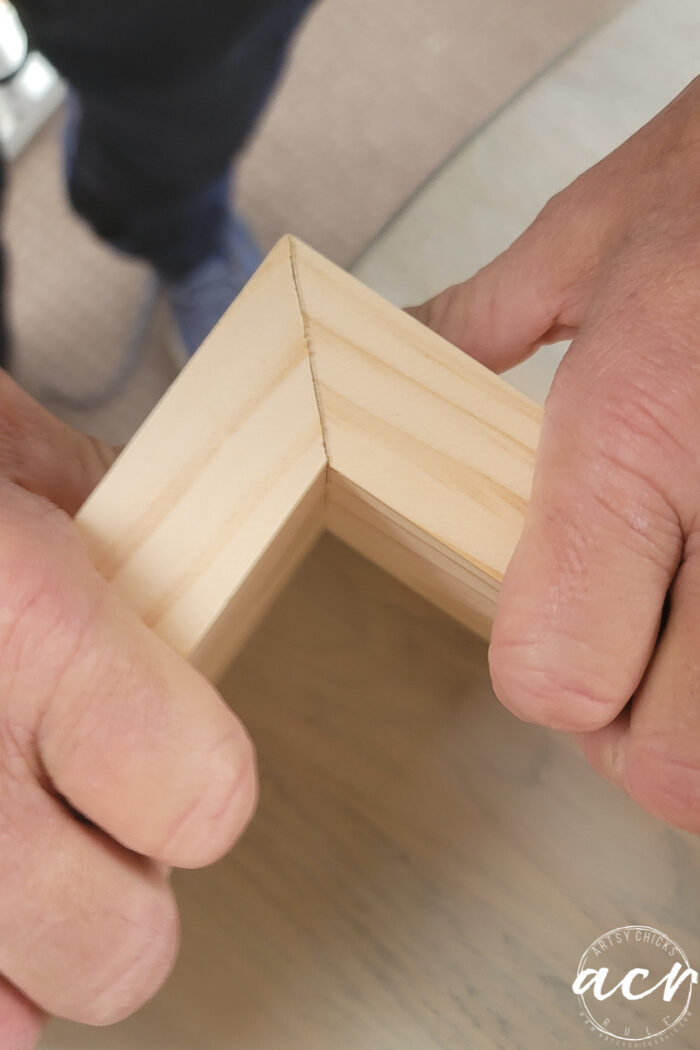 This would become the "box" that is the mantel.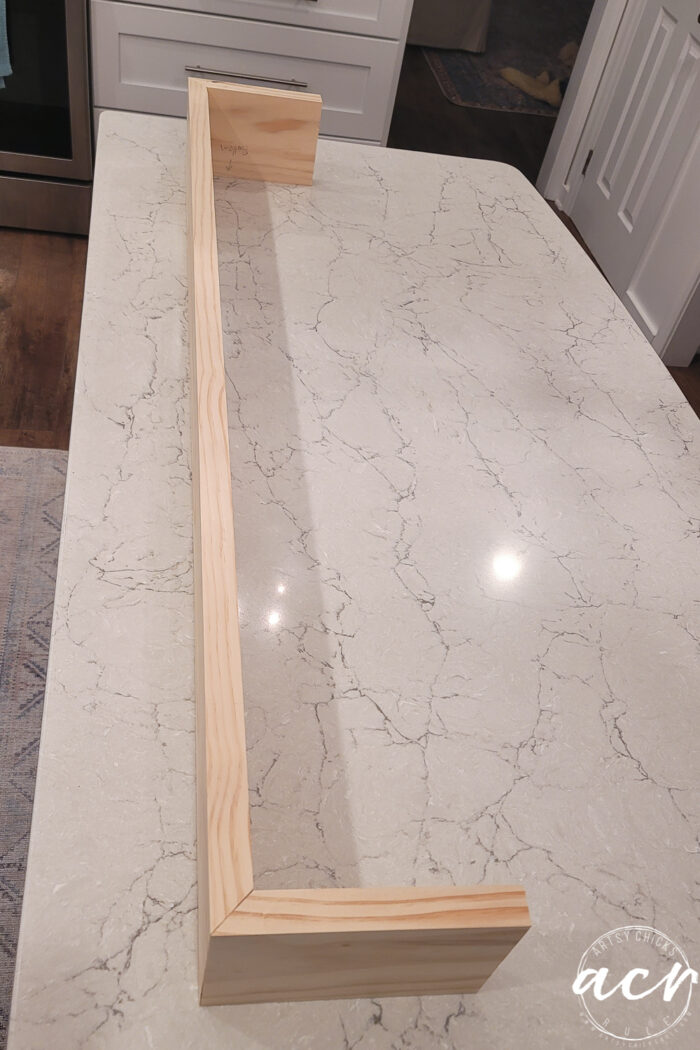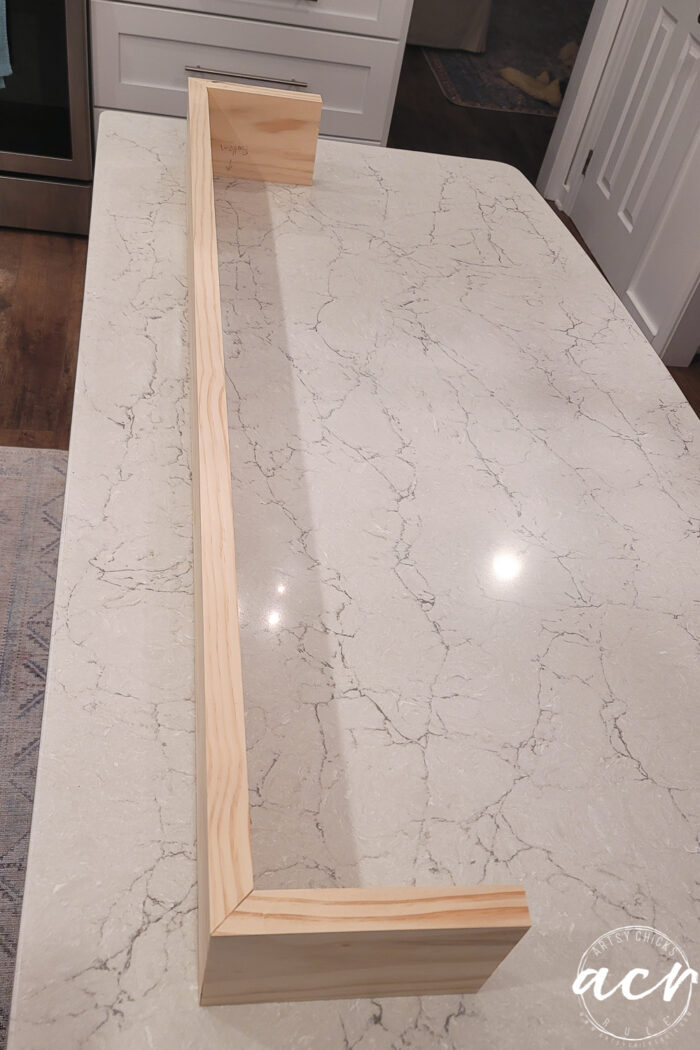 Once that was done, we cut the 1×8 for the top and bottom to fit perfectly inside the box.
You can rout this or simply screw/nail it in.
We screwed it in using the screws noted above in the "materials" box.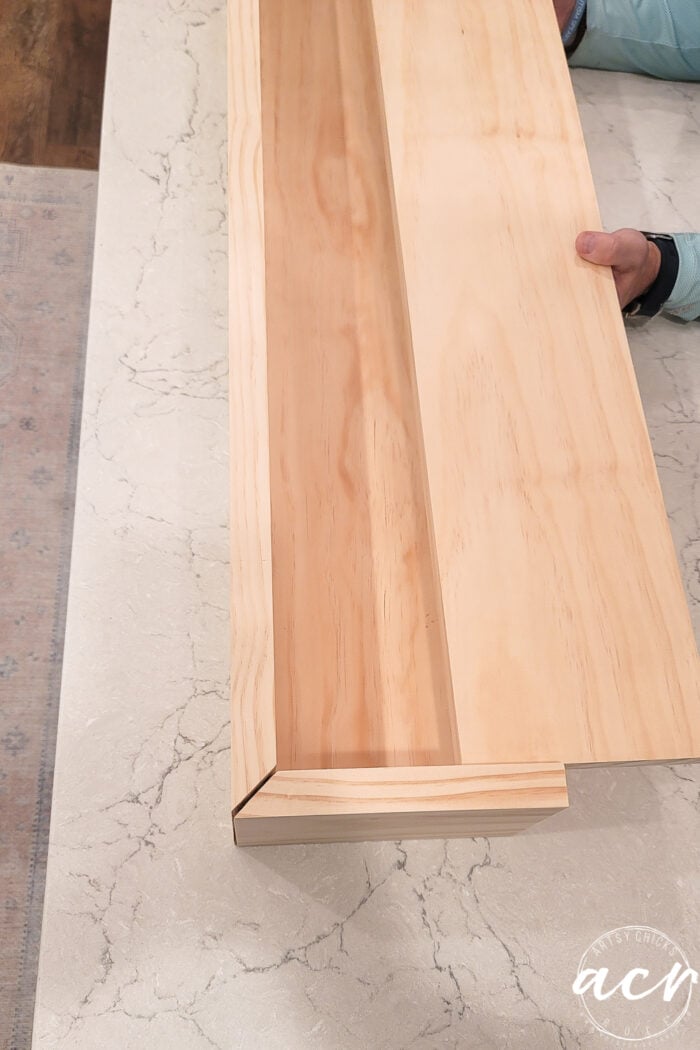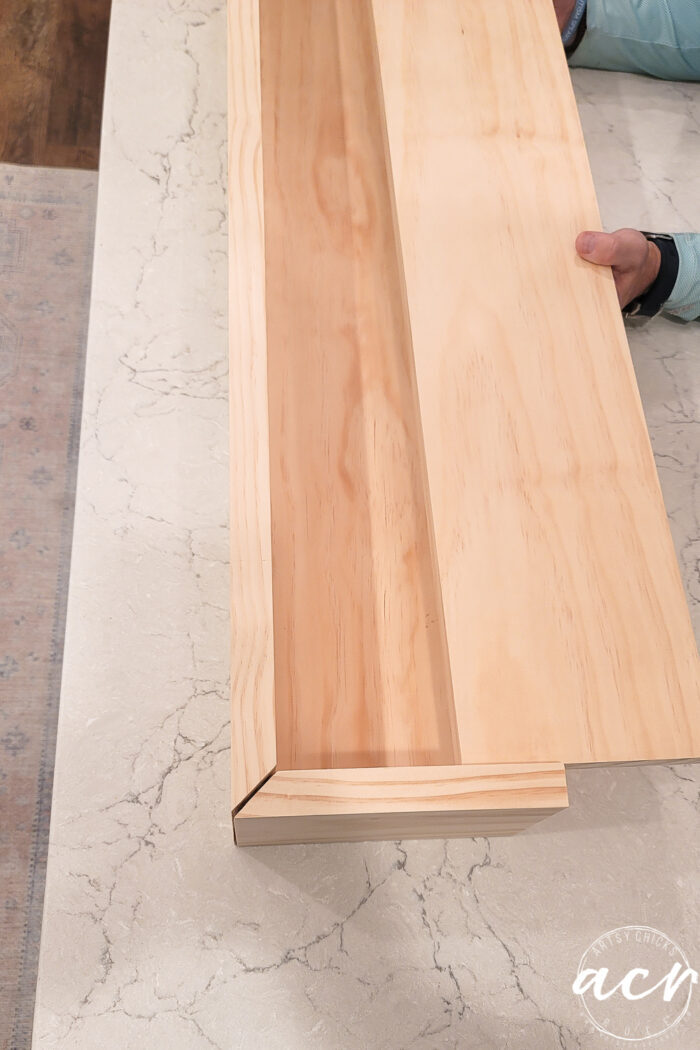 We attached wood bracing on the inside to screw into the sides, top, and bottom.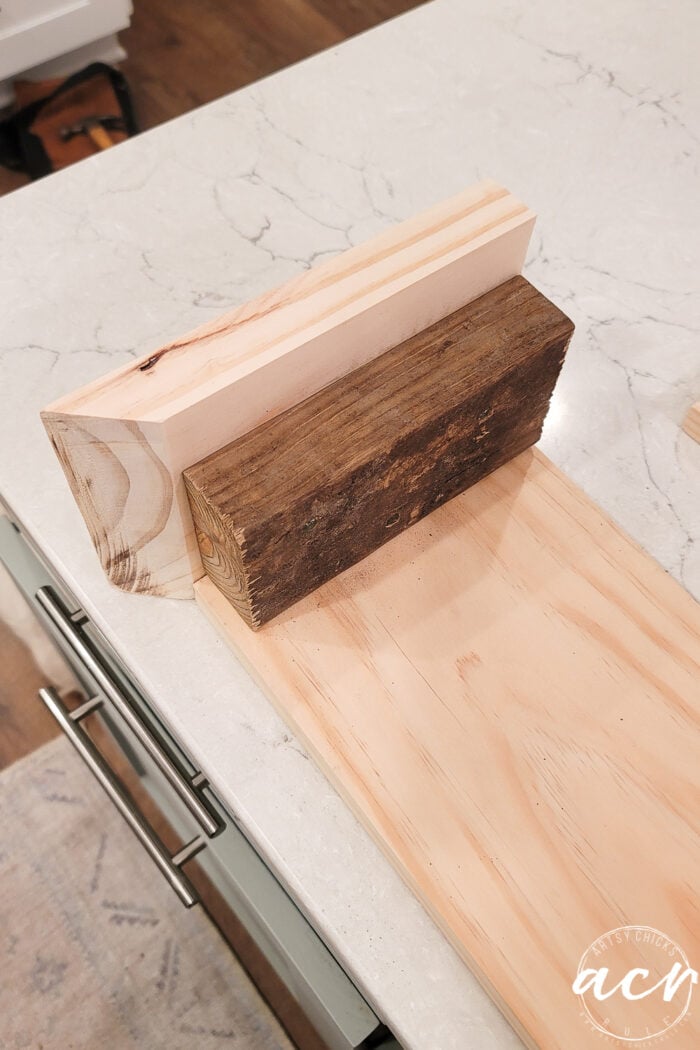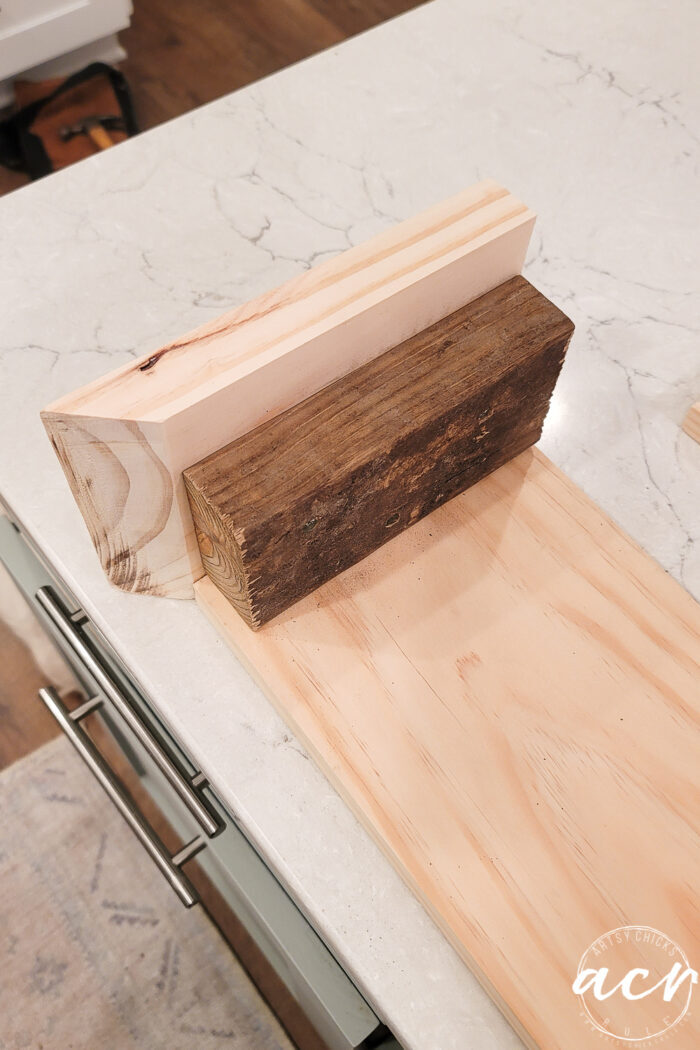 And this piece was done so there would be no screw holes on the front…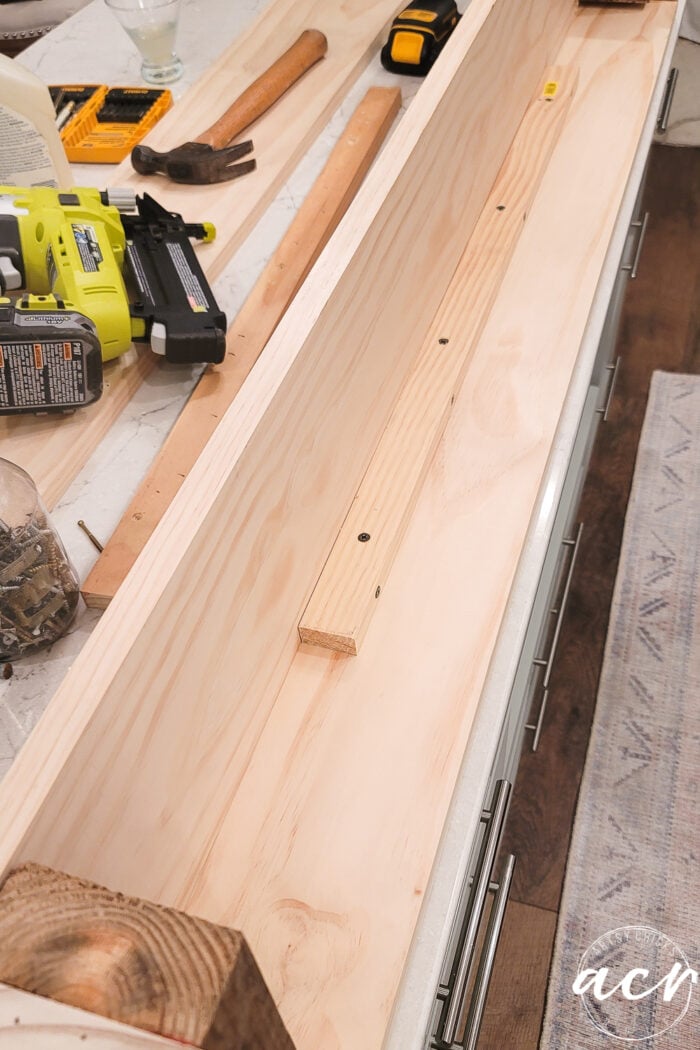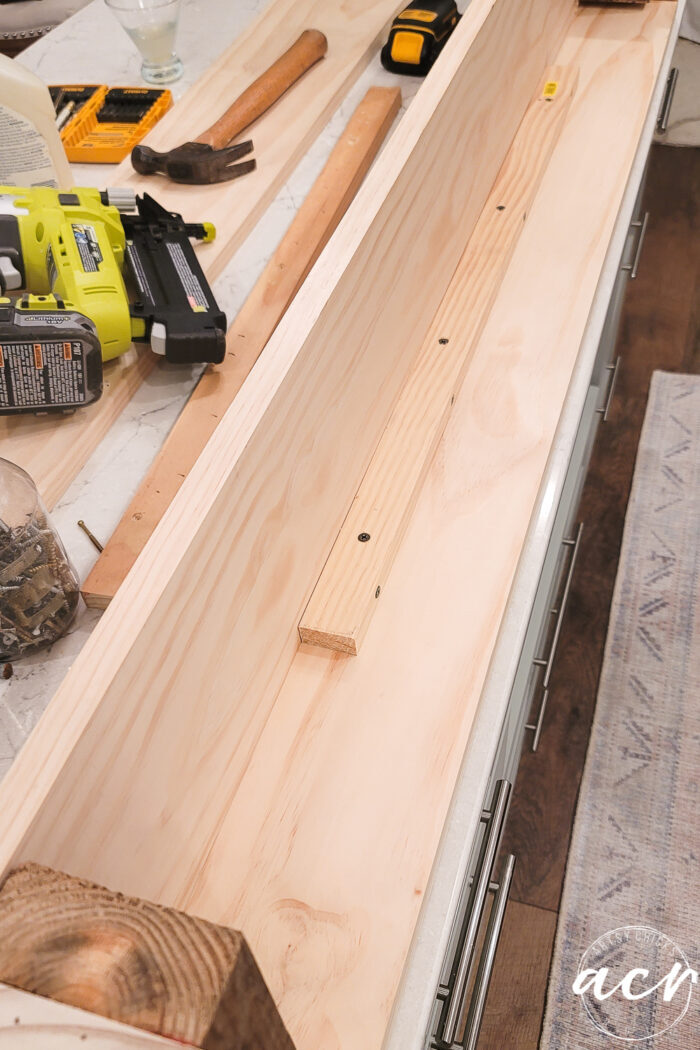 My husband attached this board to the brick to screw the mantel to.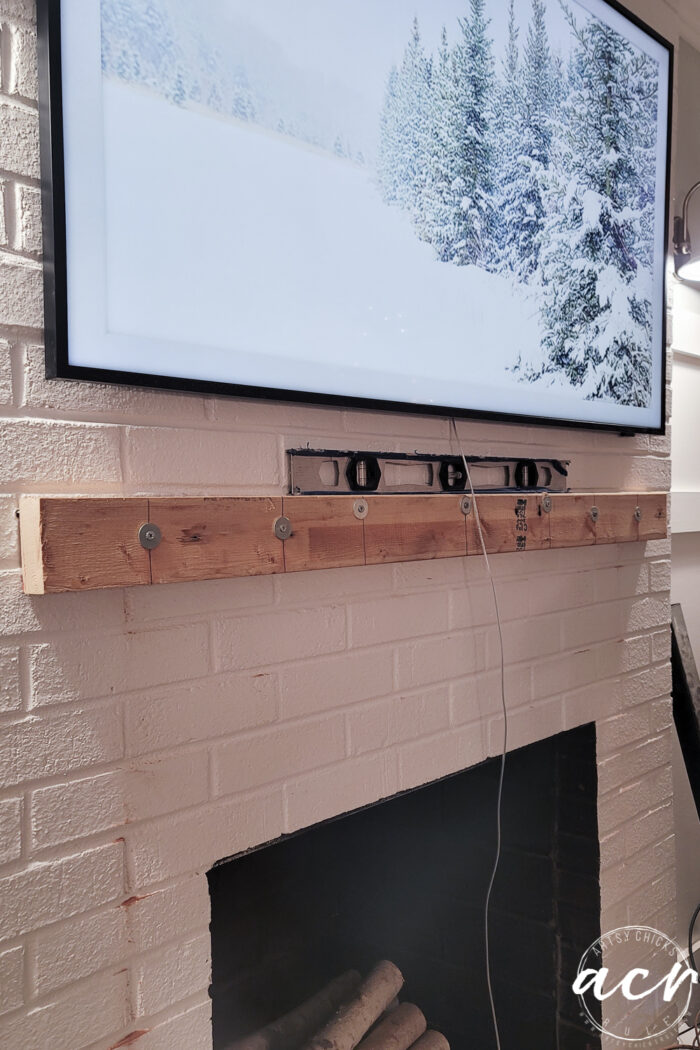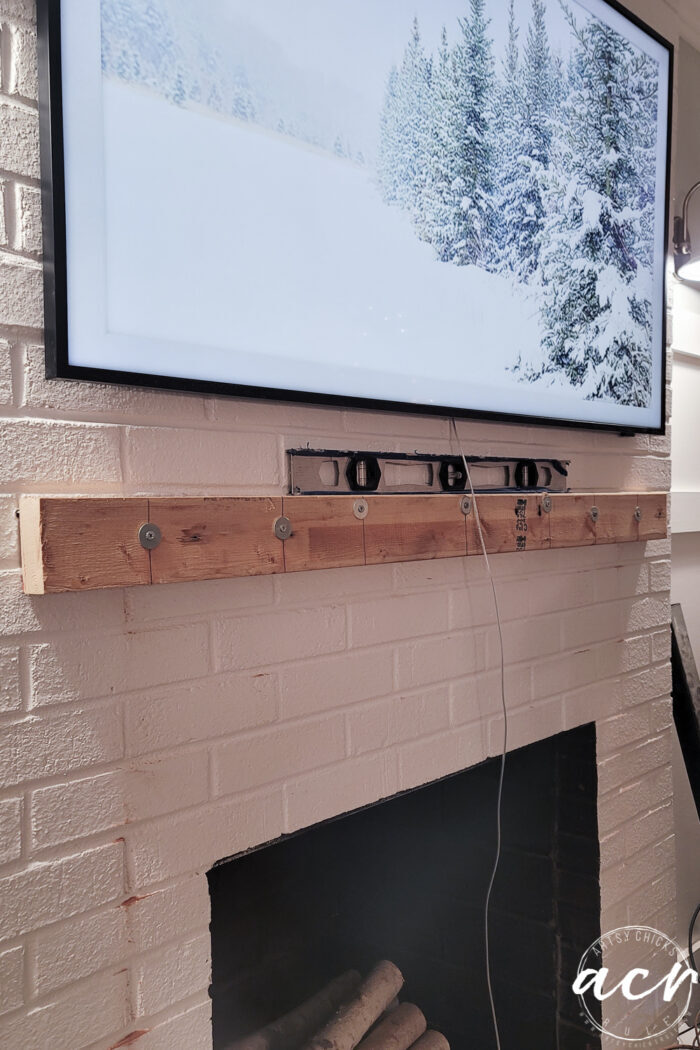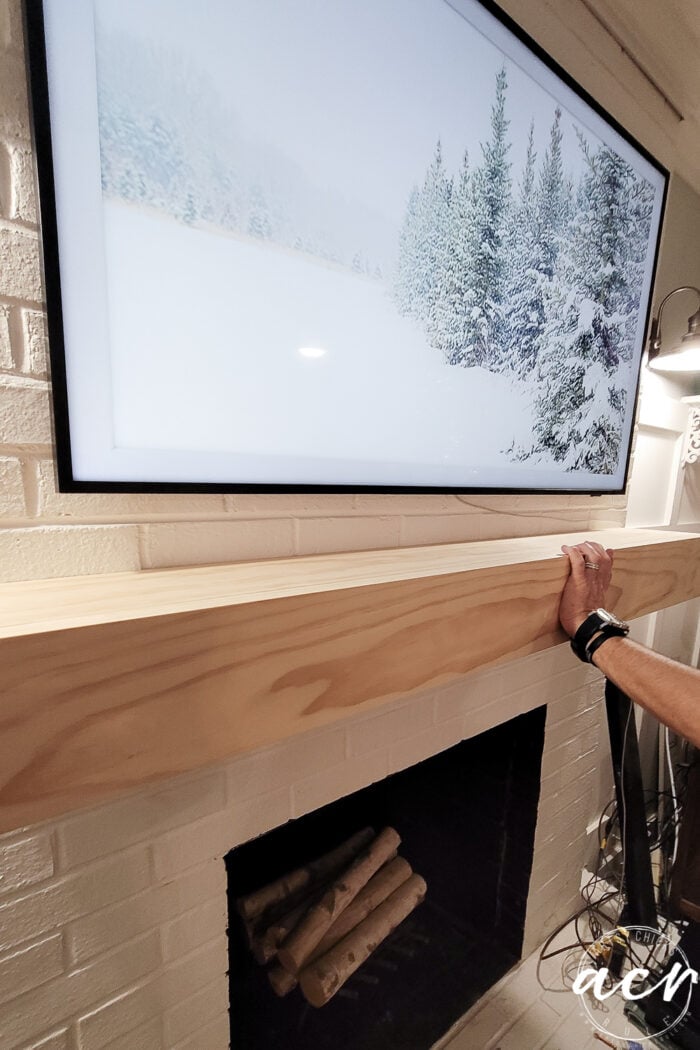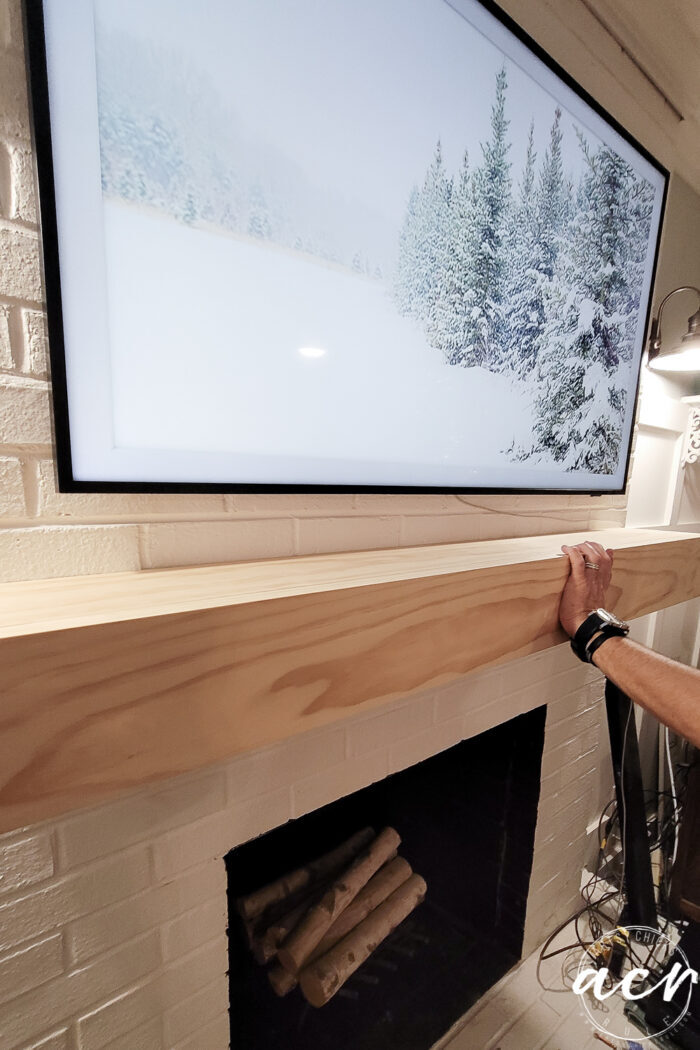 And done!! Now to stain.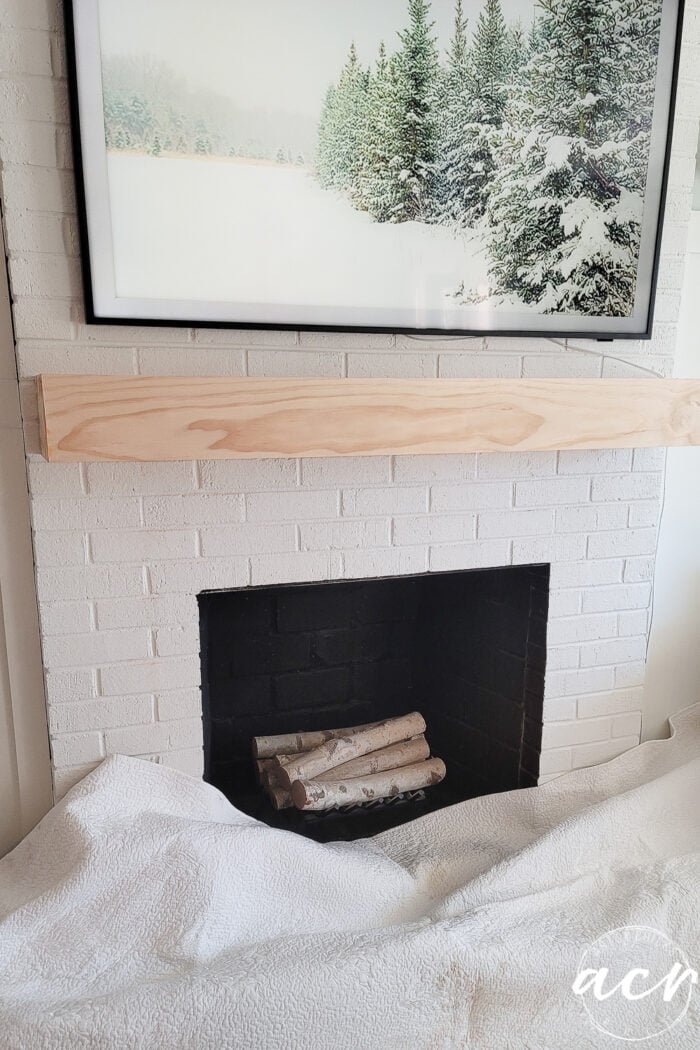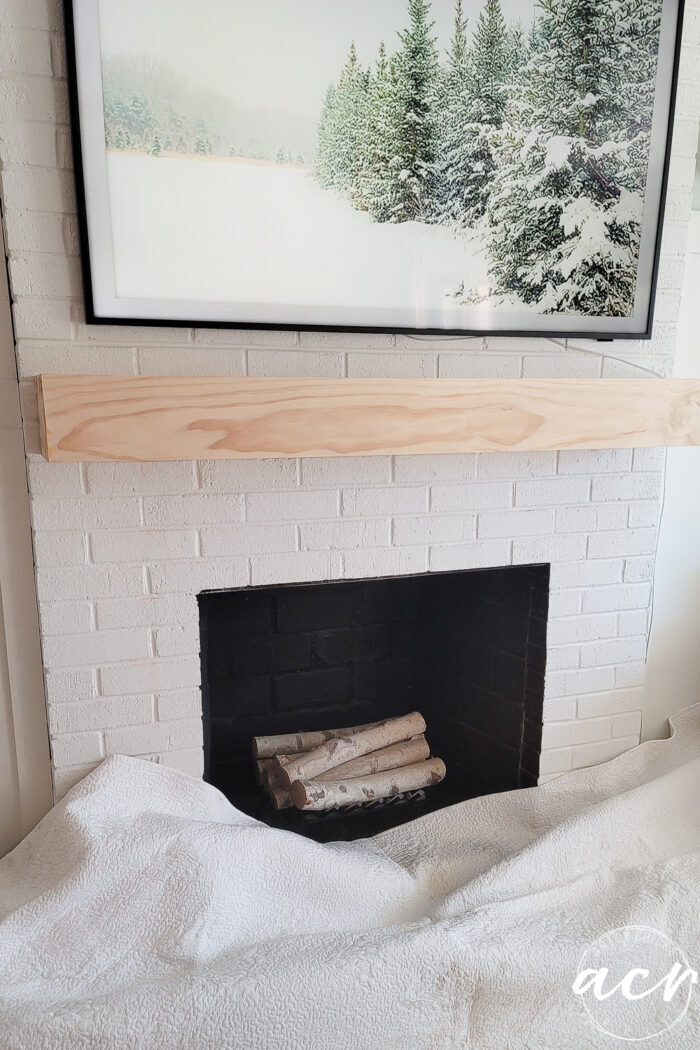 I was undecided on the stain color. So I did two samples to try to figure it out.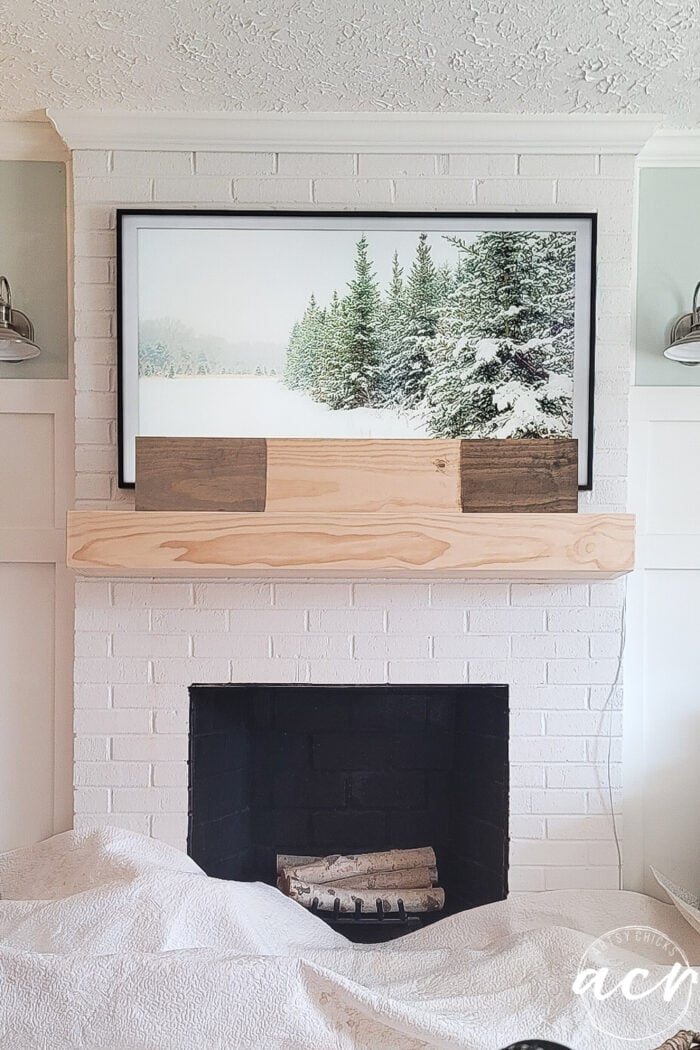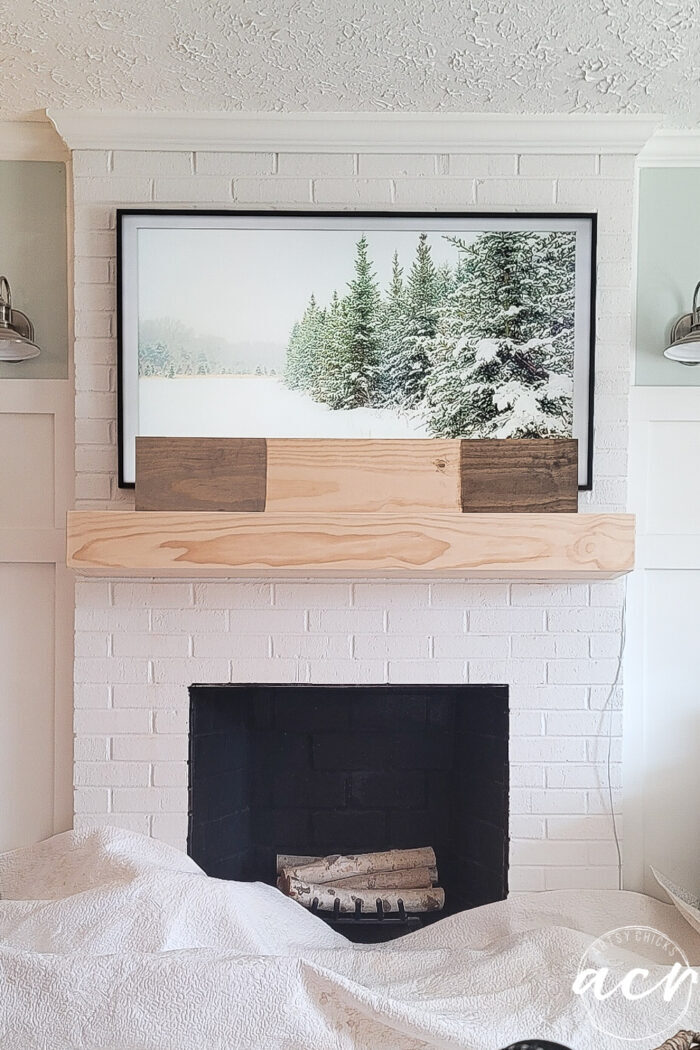 Did I want to be matchy-matchy with our floors and do the color on the right, Cappucino?
Or did I want to go along with our coastal vibe and do the Driftwood color.
I got a little help with this over on Facebook too, thanks for chiming in!
Driftwood won!! But I also figured that if I didn't love the Driftwood after a while, it would be easier to go over with the darker color.
I filled all the holes with the stainable wood filler…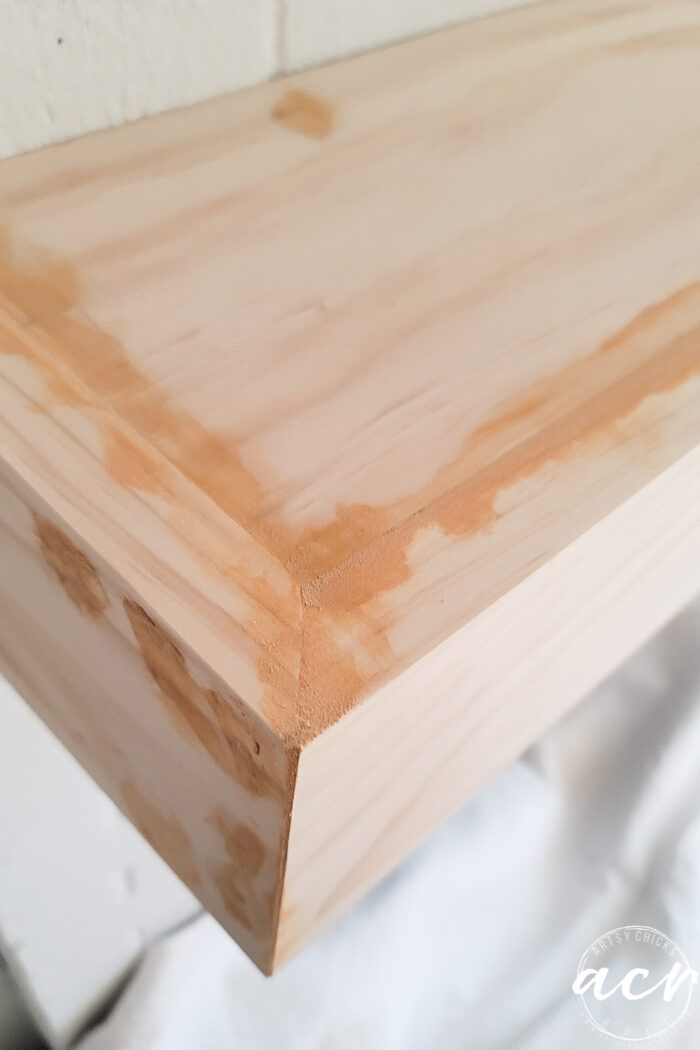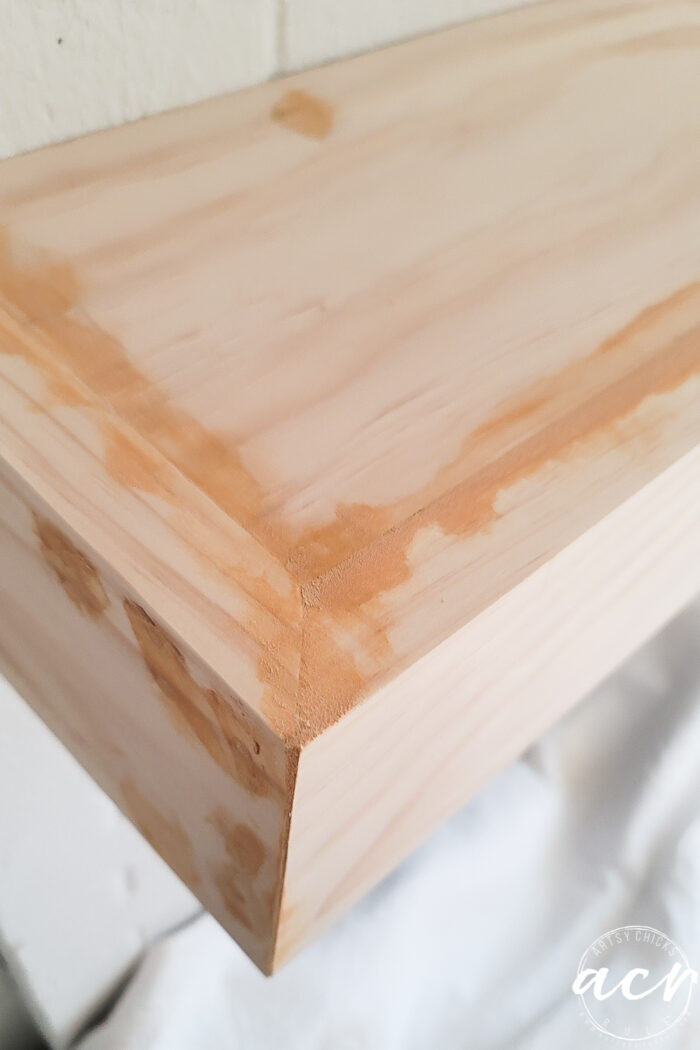 Then sanded and taped it up to apply the Driftwood stain.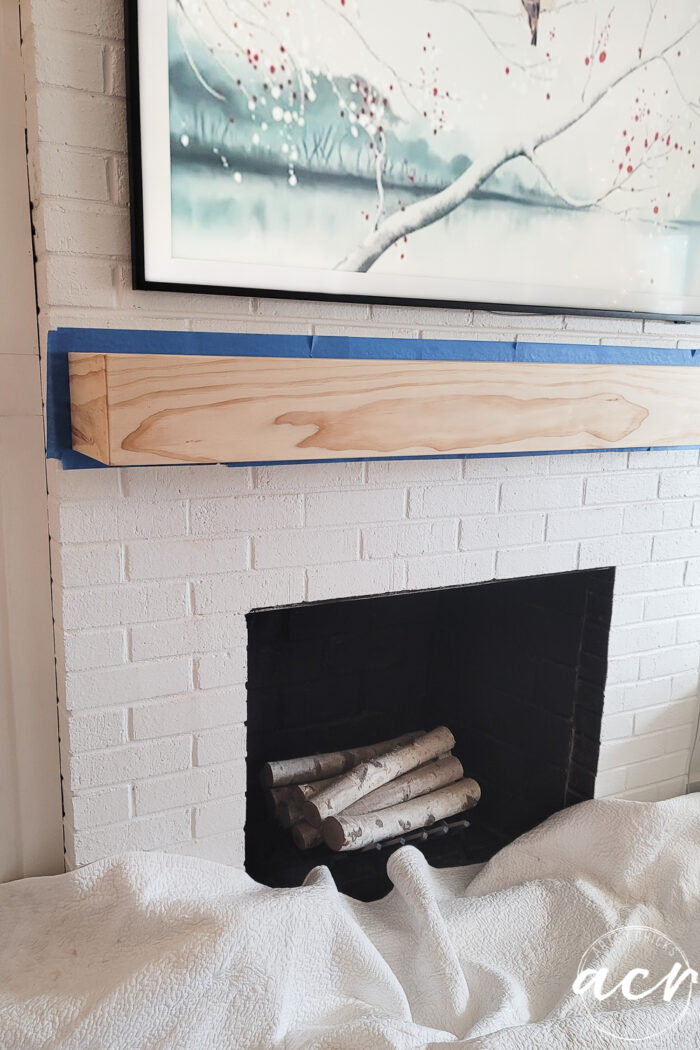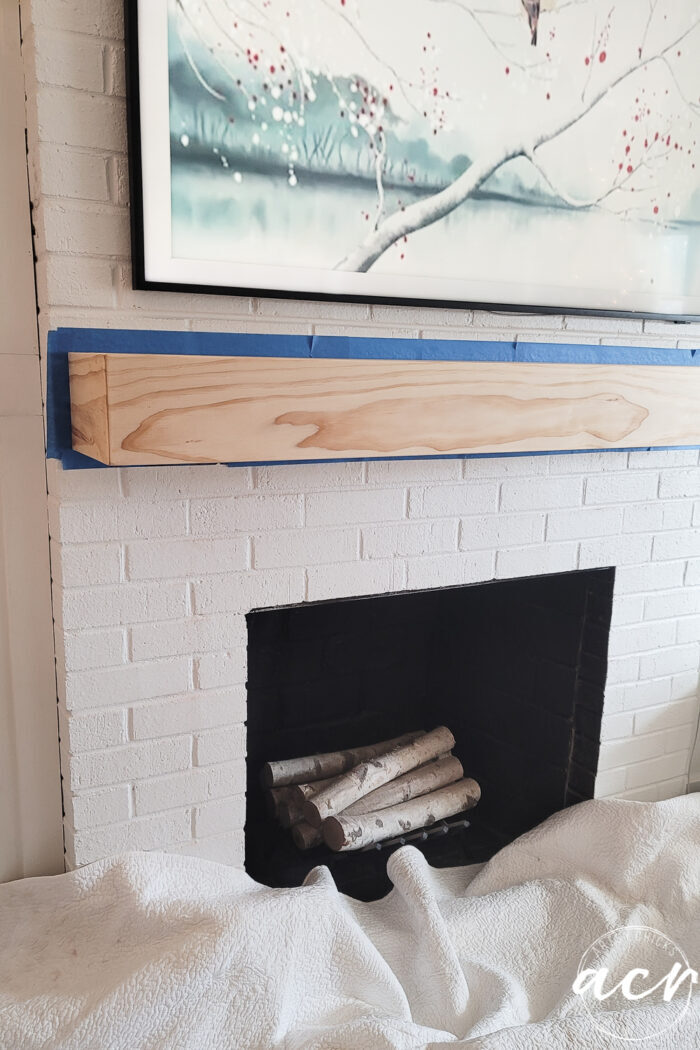 One coat was all it needed. And since it is a "stain and finishing oil" all in one, I didn't need to do anything else. Love that!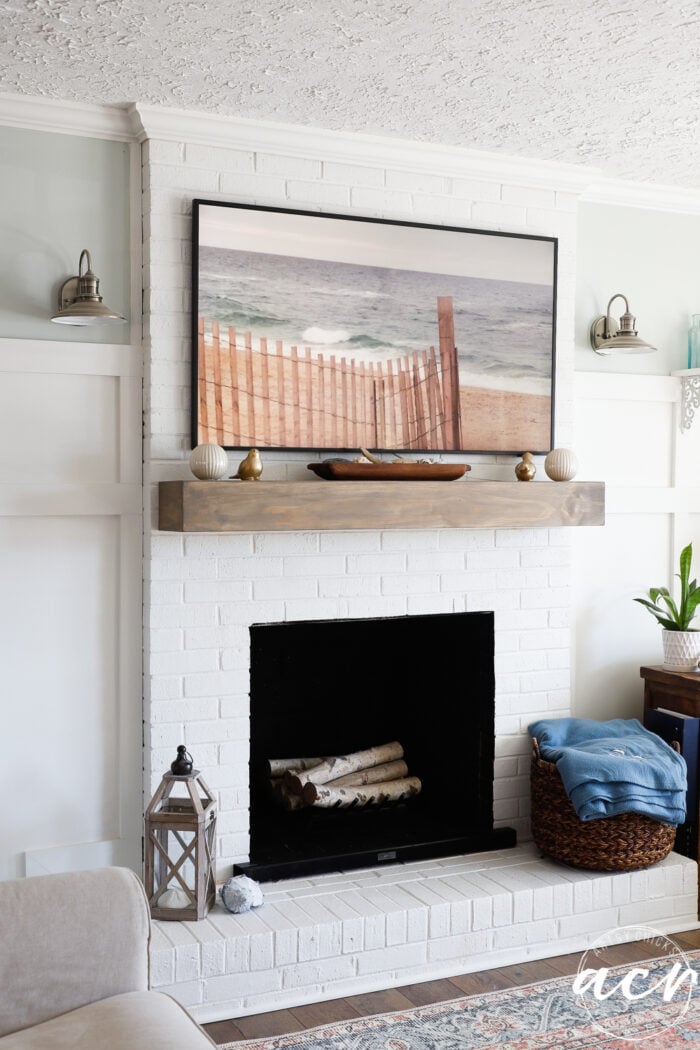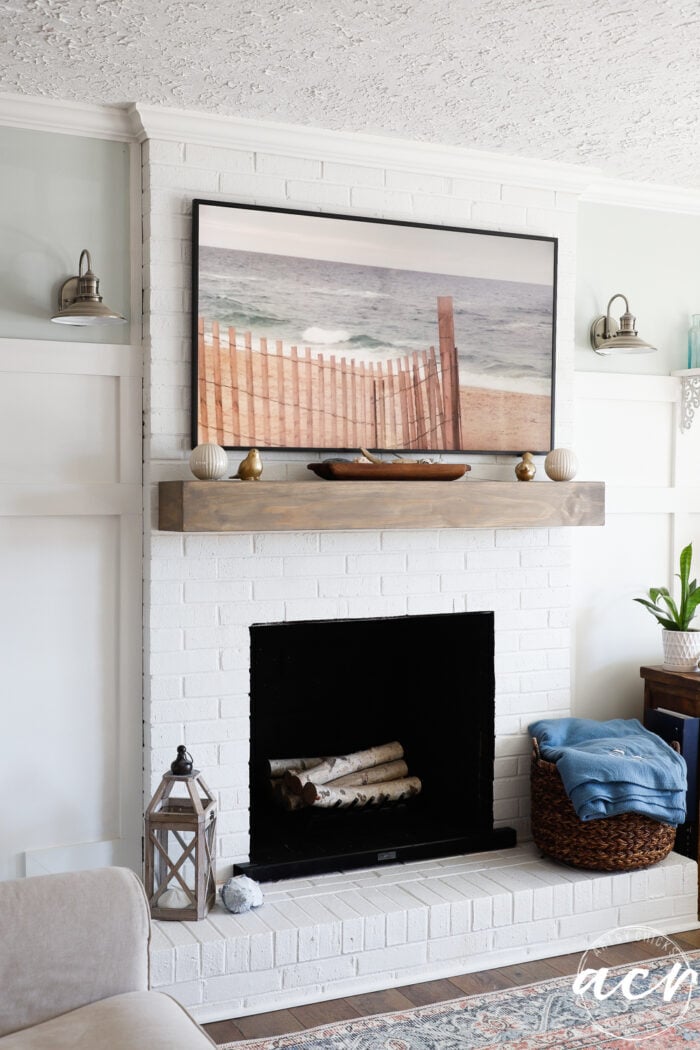 I like that it is not matchy-matchy with the floor and it stands on its own.
But you never know, I may change it down the road…if we don't move first! lol
Yes, we are still looking to move but have found nothing that we love enough to move for yet.
In the meantime, we are giving the downstairs half bath a little refresher. If you follow along on Instagram you may have seen some of that.
Keep an eye out there for a few more snippets before I share on the blog…hopefully next week.
We are also working on our upstairs bath too. A little slow on that one but it's finally coming along.
Here is the post about the plans for that one >>> Hall Bathroom Mood Board & Plans
I'm really happy to have this all done finally.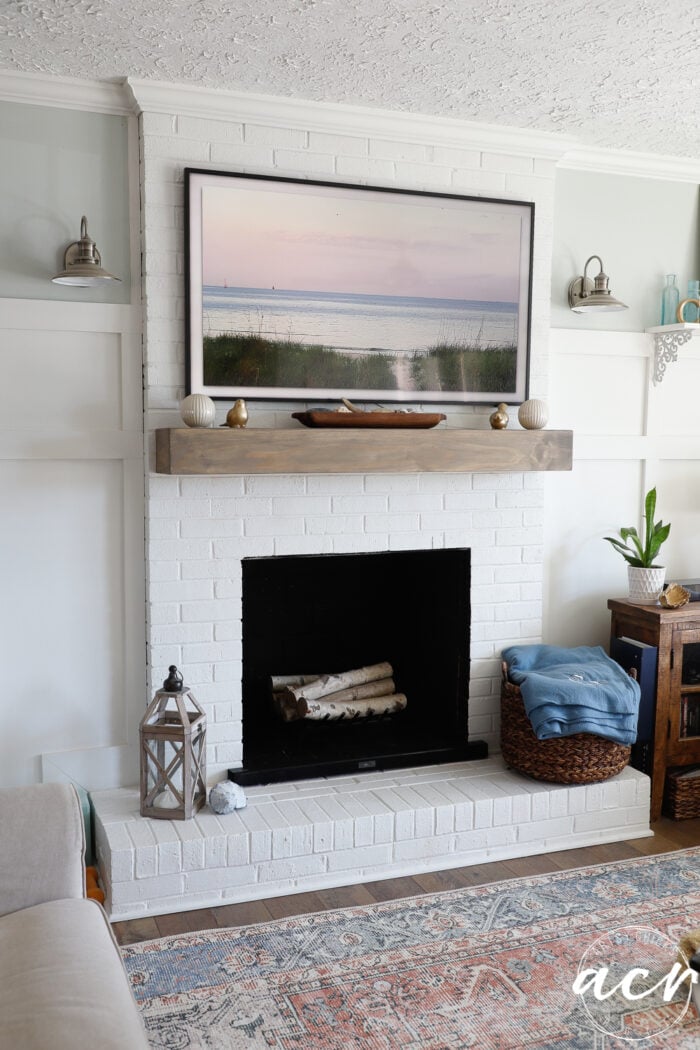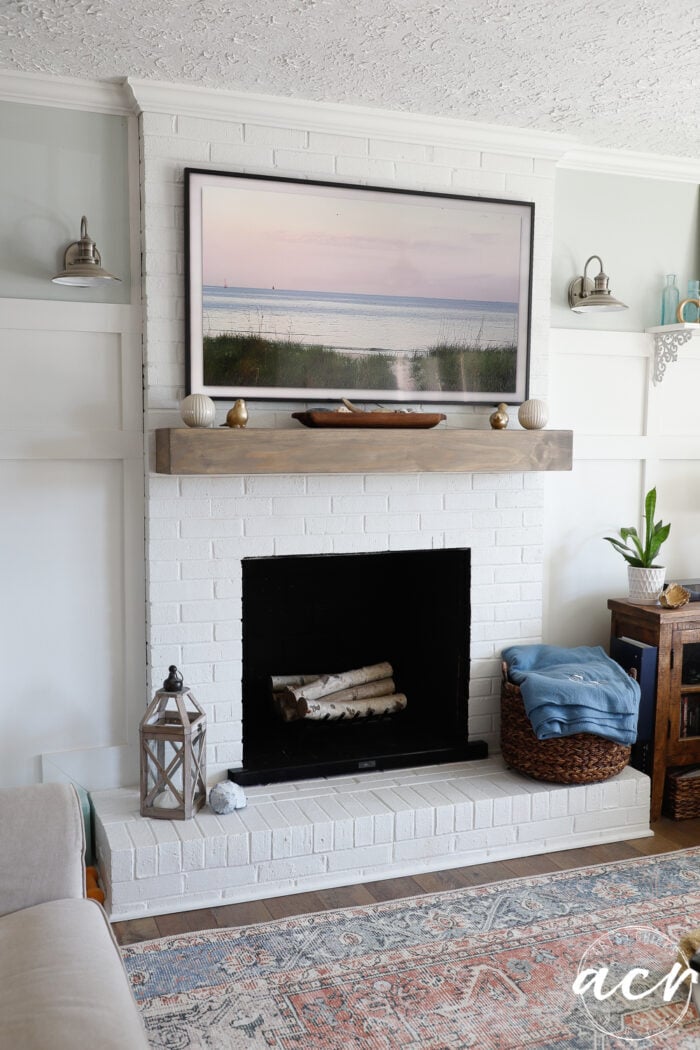 And I'm loving our new rug in here too! It brought in some fun color to the room.
You can find it, here.
If you like any of the "artwork" on our new Frame TV, you can find them in my shop, here.
I still need to find or make, a new frame for the TV. I want to do light-colored wood but the only ones I've found so far are very expensive.
So we may be DIYing that too!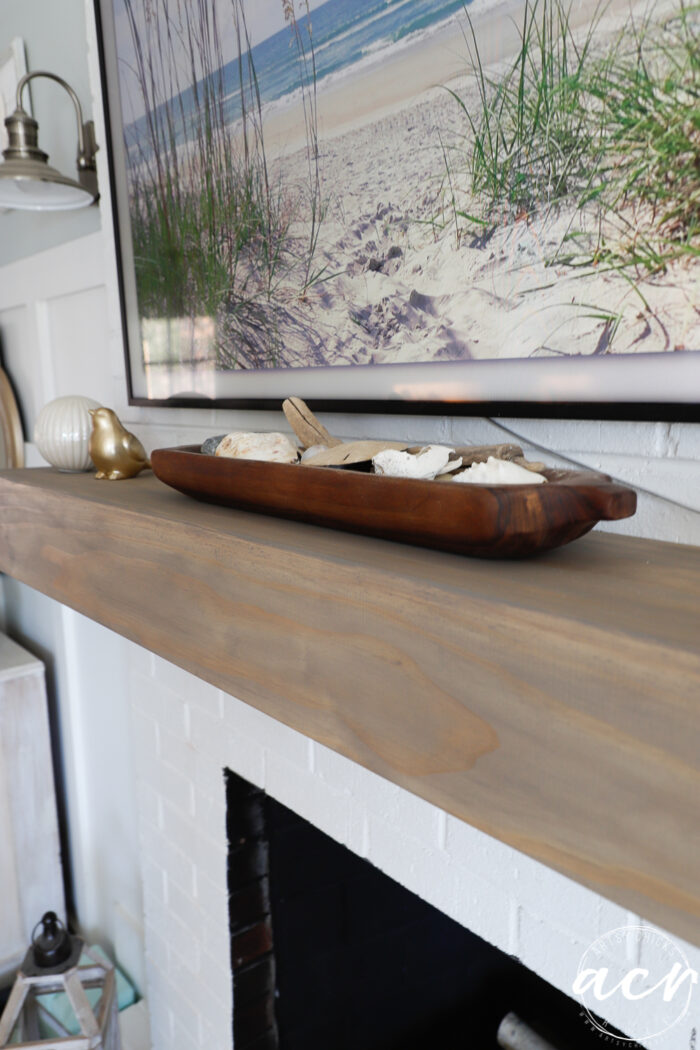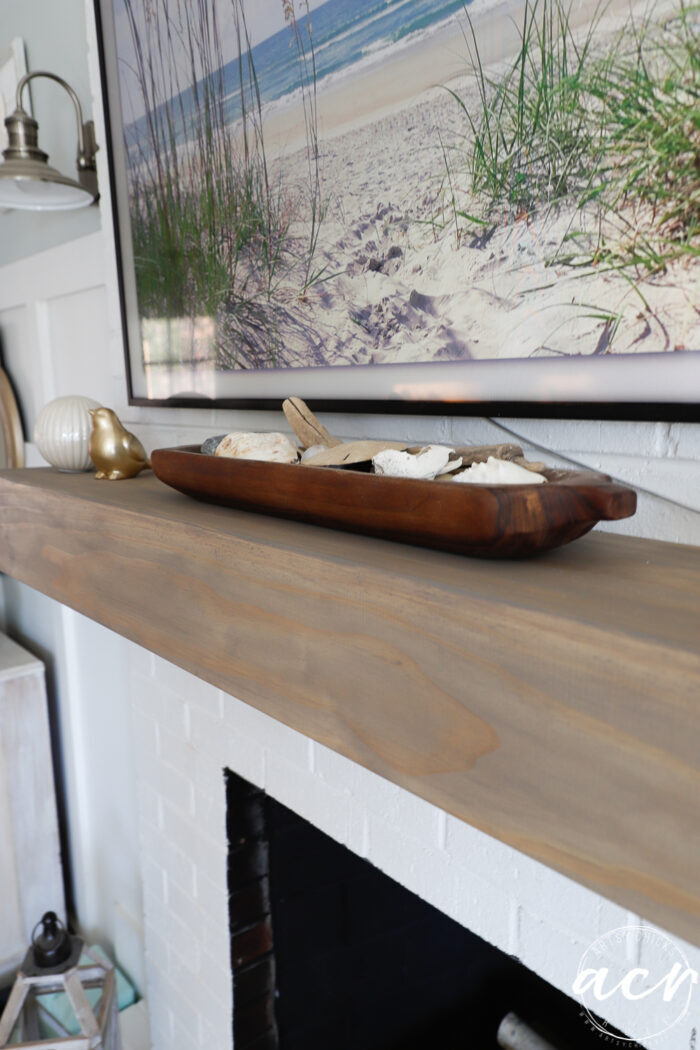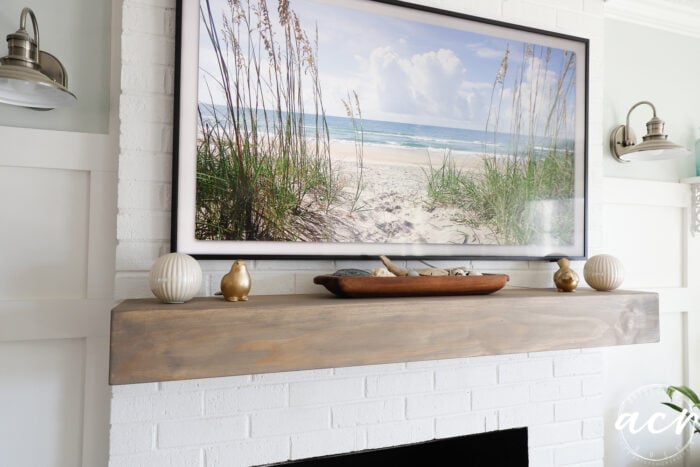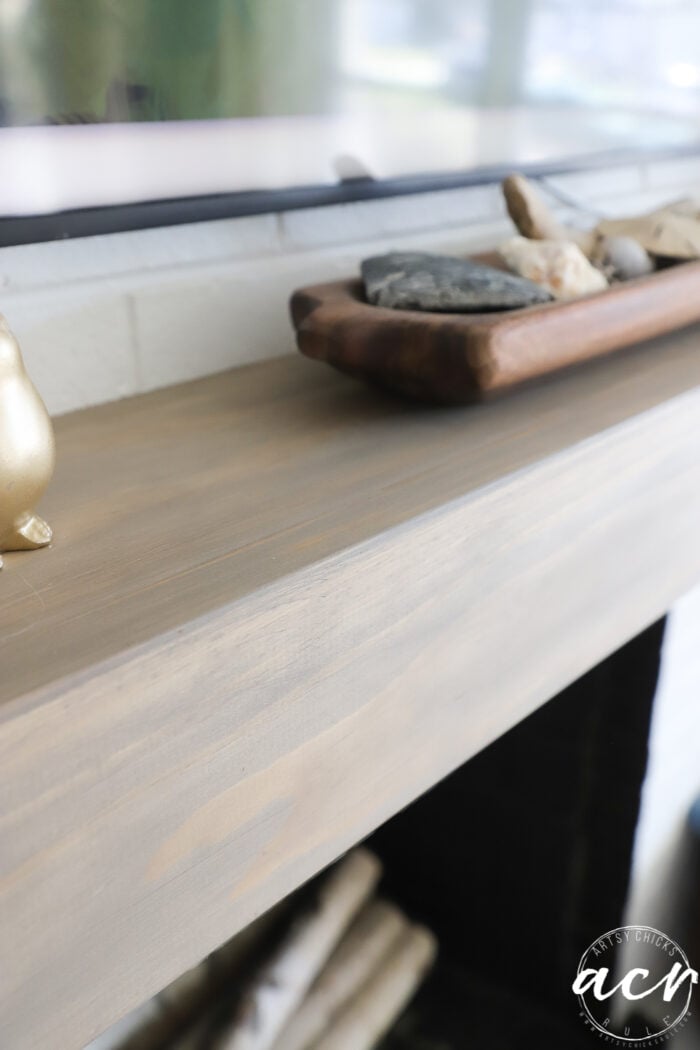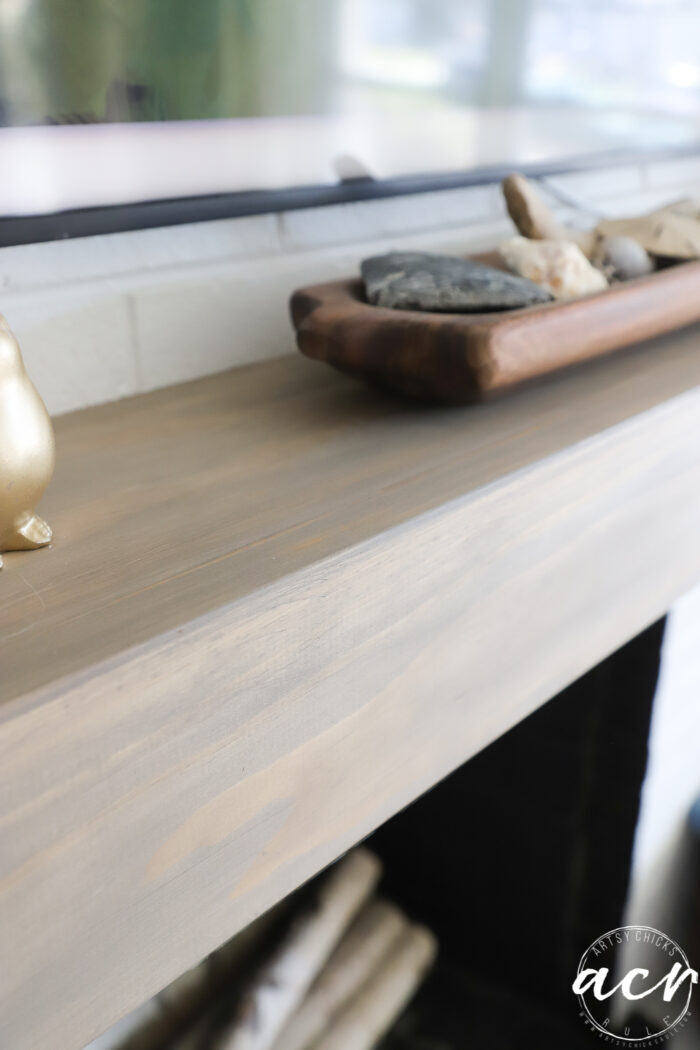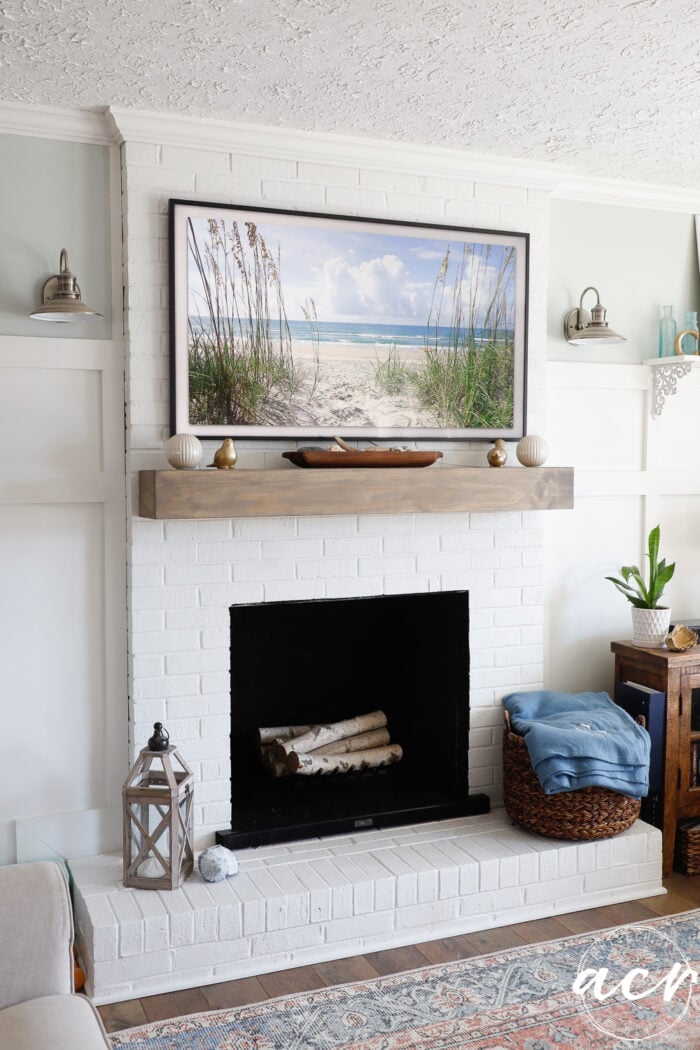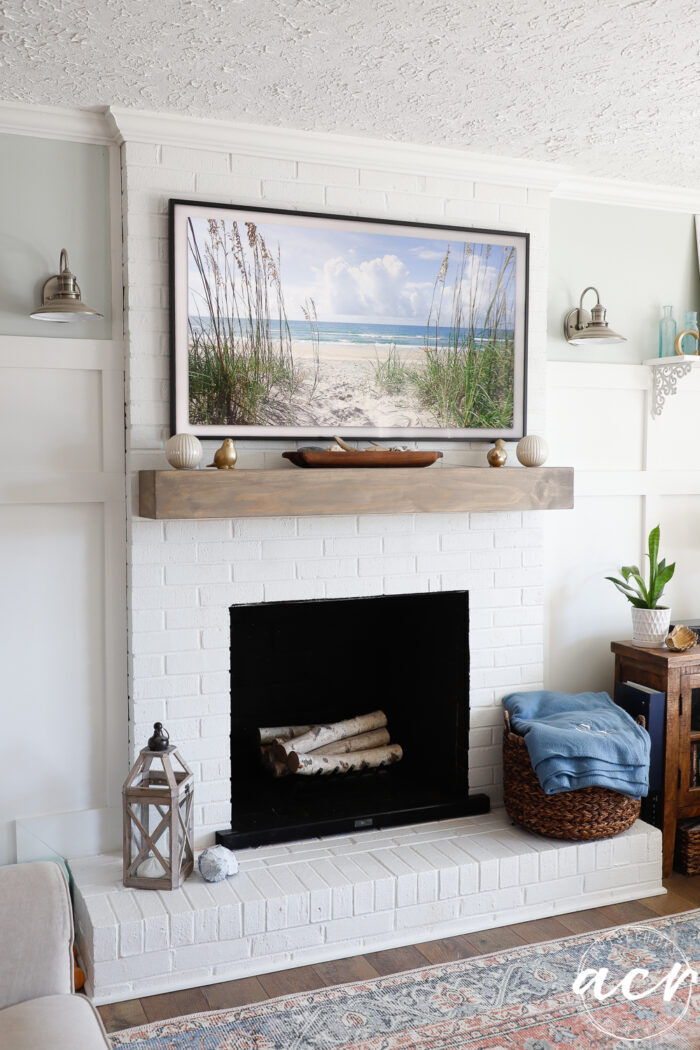 So fun having a TV over the fireplace that looks like art when it's off. We've really enjoyed that!
And so happy with our new DIY wood mantel. Glad we finally got around to it. ;)
PIN it to save it!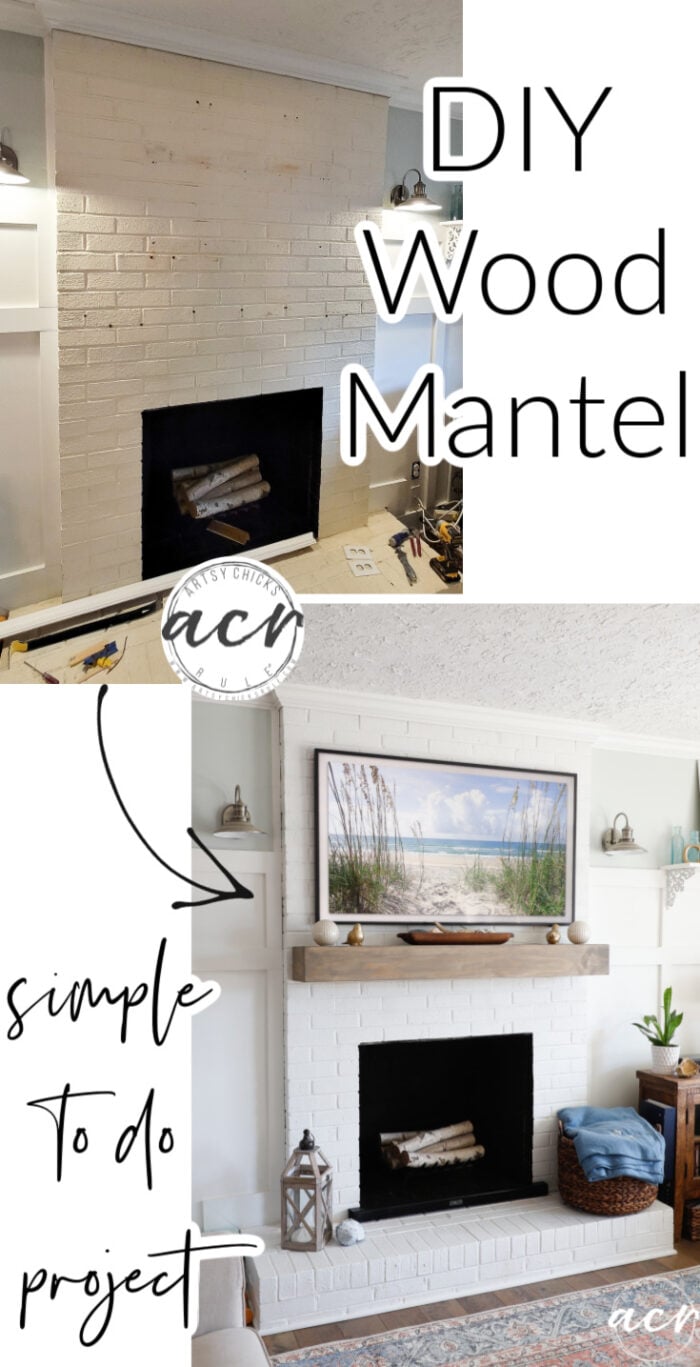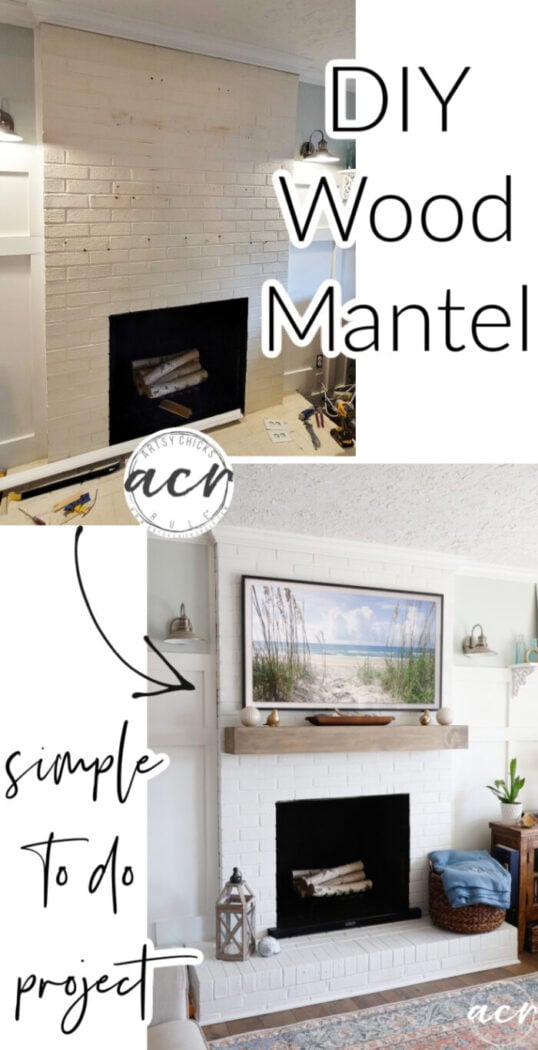 Think you might give it a go? It was truly a simple project.
I hope this post was or will be helpful to you if you do!
Have a wonderful weekend!! Come on back to check out our guest bath refresh!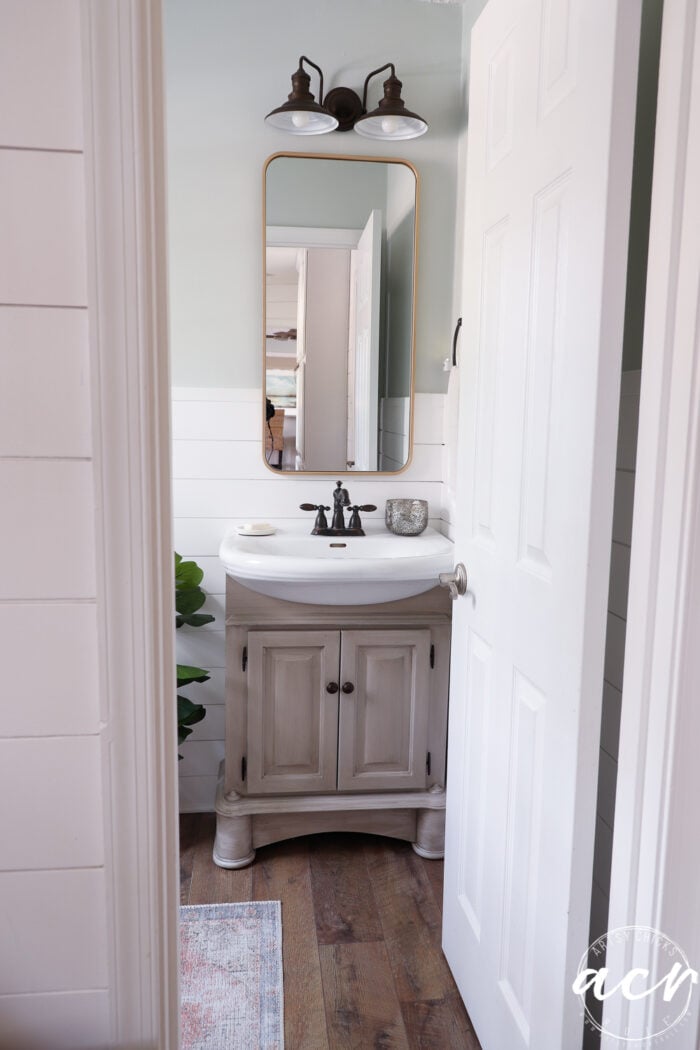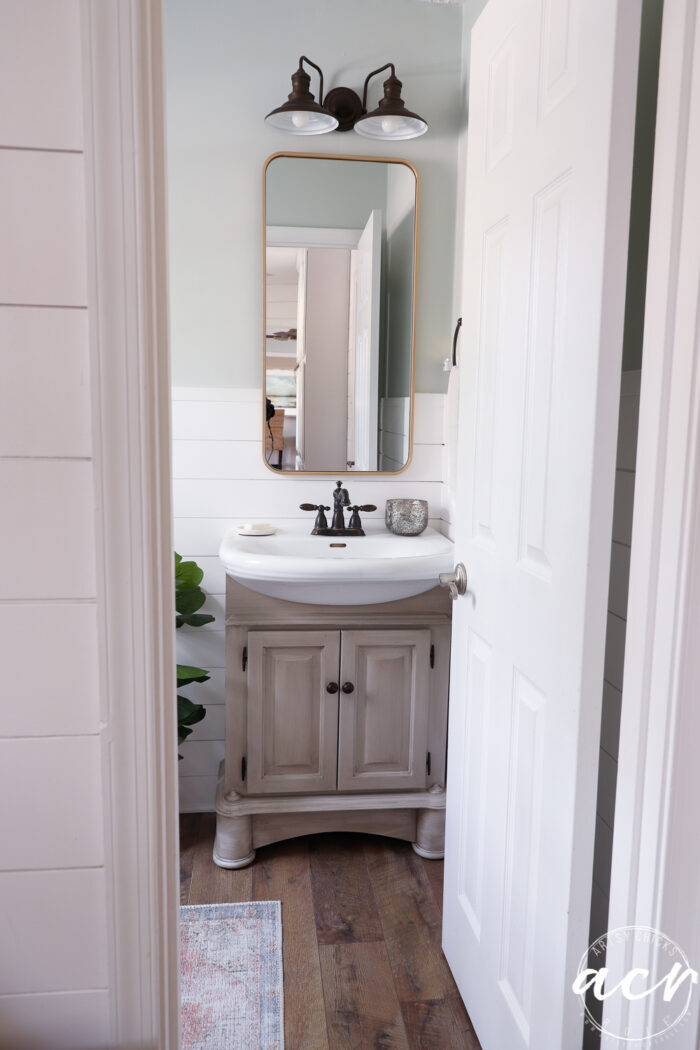 UPDATE!! See the whole bath and all we did here!
xoxo