Coastal Guest Bath Refresh
This post may contain affiliate links. Please see disclosures here.
Coastal guest bath refresh – small changes for a big impact!
Hello, my beautiful friends!
I'm finally sharing our coastal guest bath refresh. The mirror saga has concluded. lol
Thank goodness!
But first…have you entered my birthday giveaway yet?? If not, hop on over and do it quick! >>> Birthday Giveaway
I wrote a post recently about our "Changes & Updates" and shared some of what we are up to over here. One of the things is this coastal guest bath.
It's been "made over" oh, this will be the fourth time! Wow, but hey, when you live somewhere for almost 18 years, your style changes, and sometimes you just want to update a bit.
Plus blog life. ;)
Coastal Guest Bath Refresh
To recap, check out these 2 posts first if you want to see the full evolution of this room.
Here is where we started when we moved in…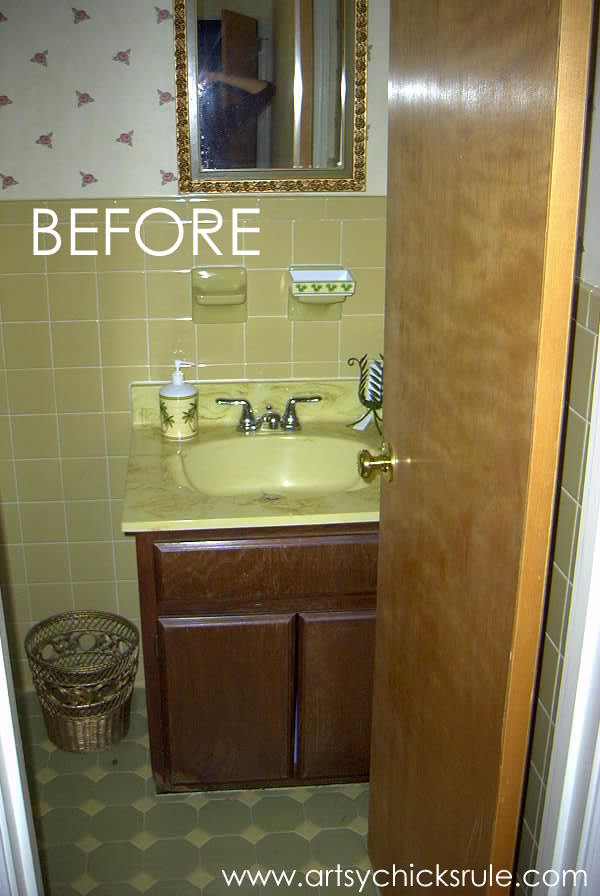 Here is the progression since…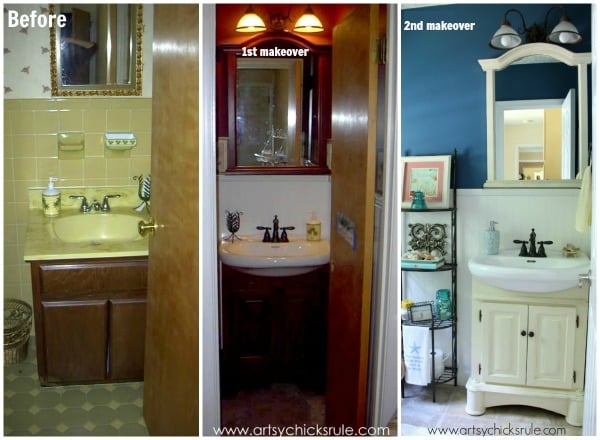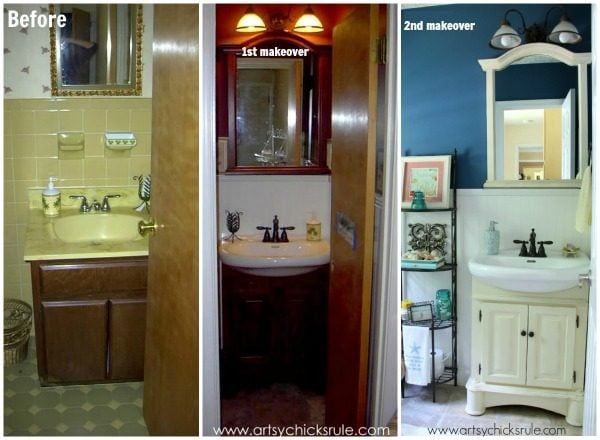 A little maroon paint on the walls with palm trees, a new dark cabinet, and new beadboard walls.
To painted cream cabinet and blue painted walls.
To this "farmhouse" rendition, and yes, cabinet painted again…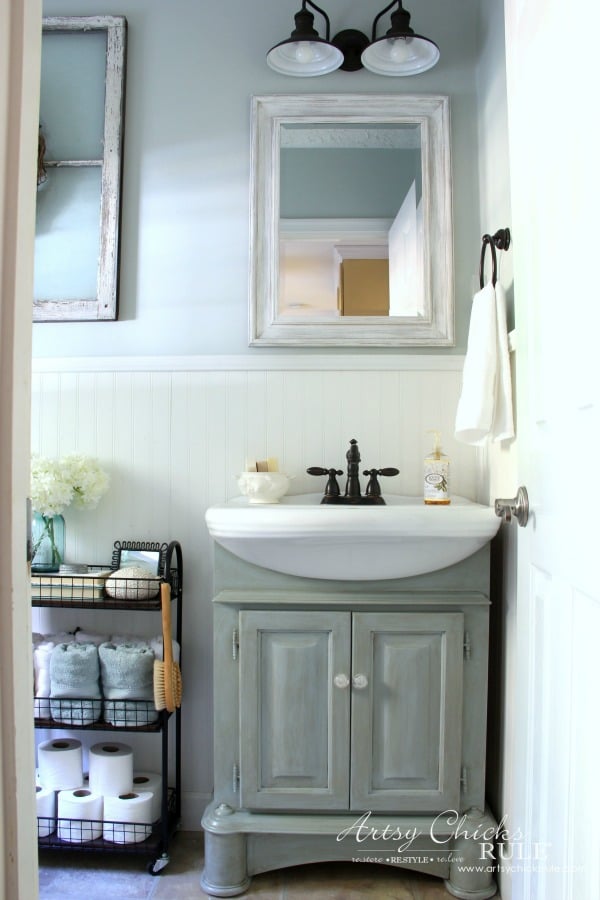 And now…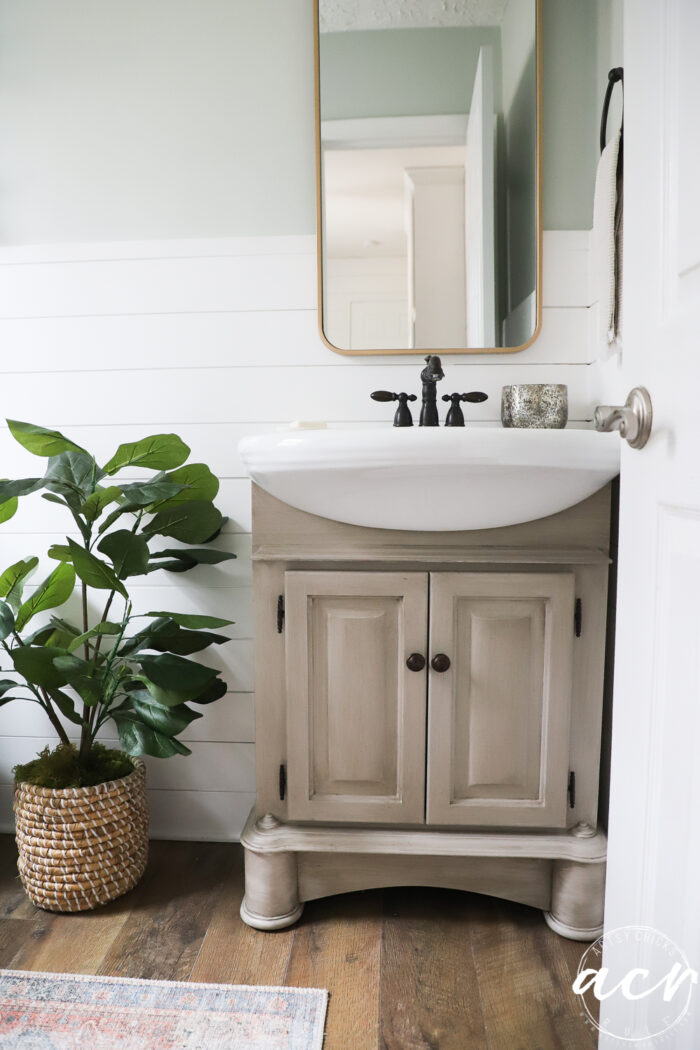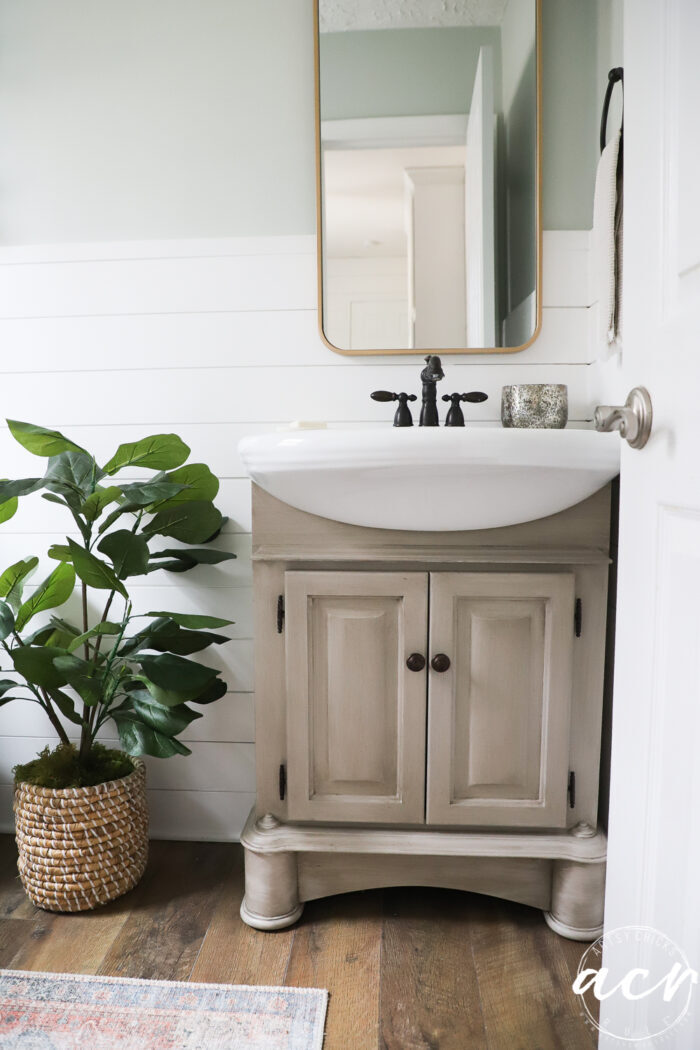 Although this still probably looks a bit "farmhouse-ish", I'm moving more away from that and more modern coastal instead.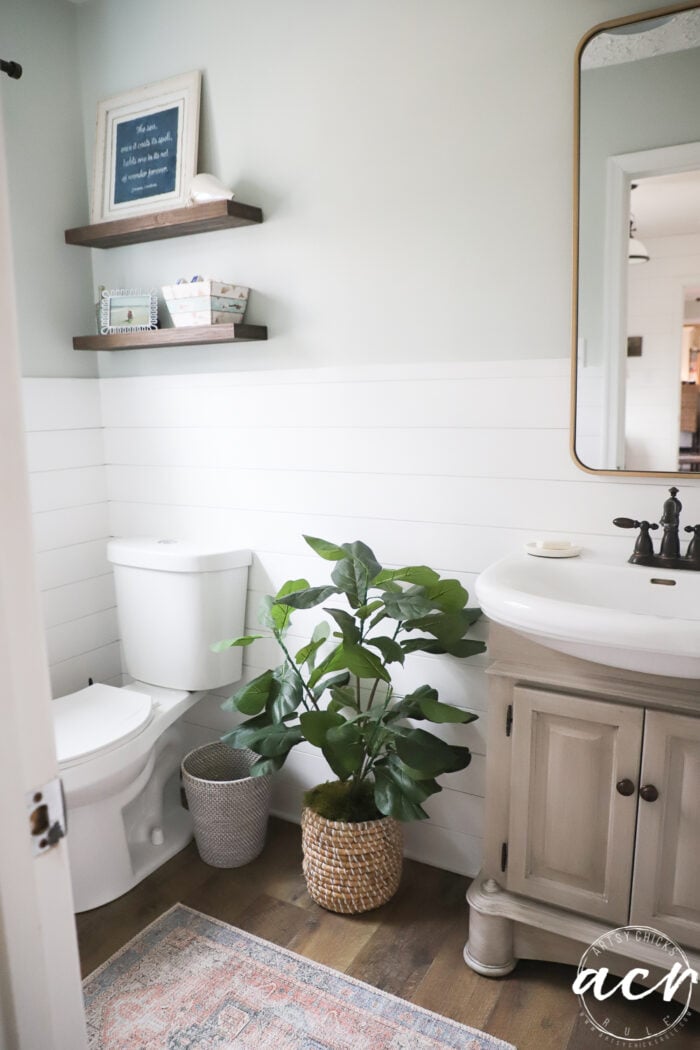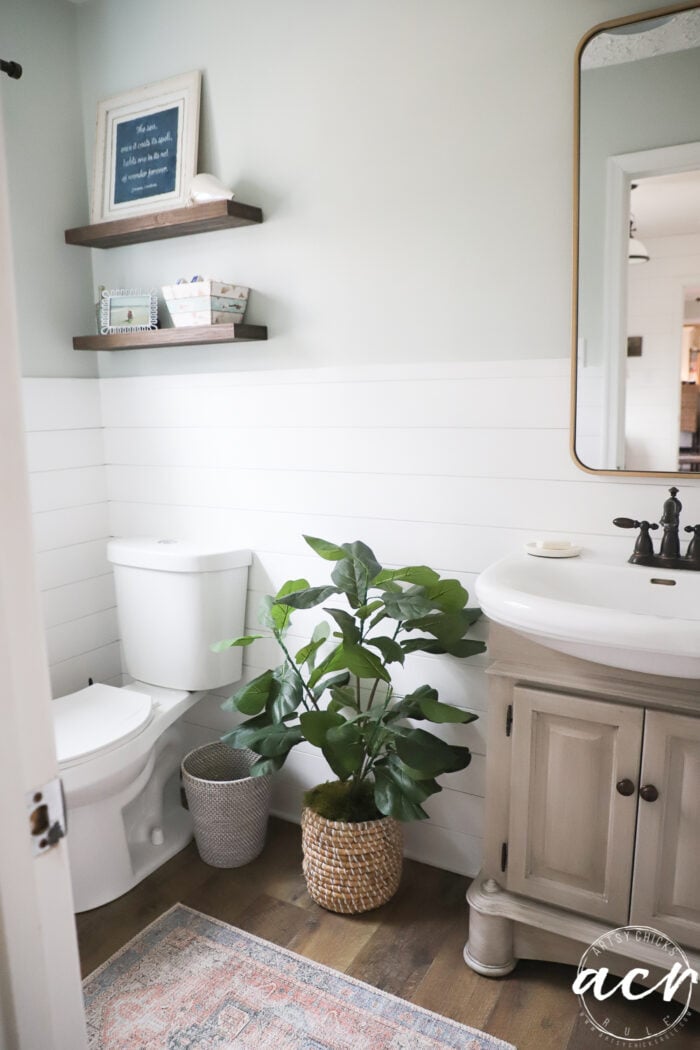 New shiplap to replace the tired beadboard, newly painted cabinet (yes, again! Ha!), and a new mirror.
It feels so fresh in there!
Okay, let me give you the materials list for the paint, etc., first.
One of the big changes (well the shiplap, of course) was replacing the old shorter mirror with a long one.
I absolutely LOVE the different look it gives.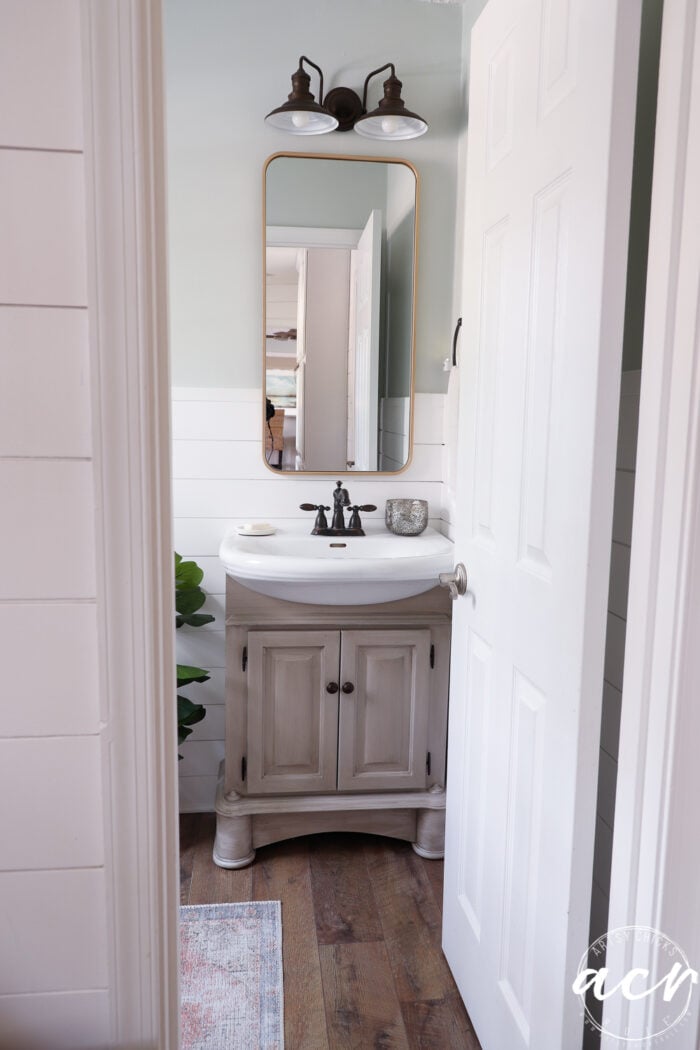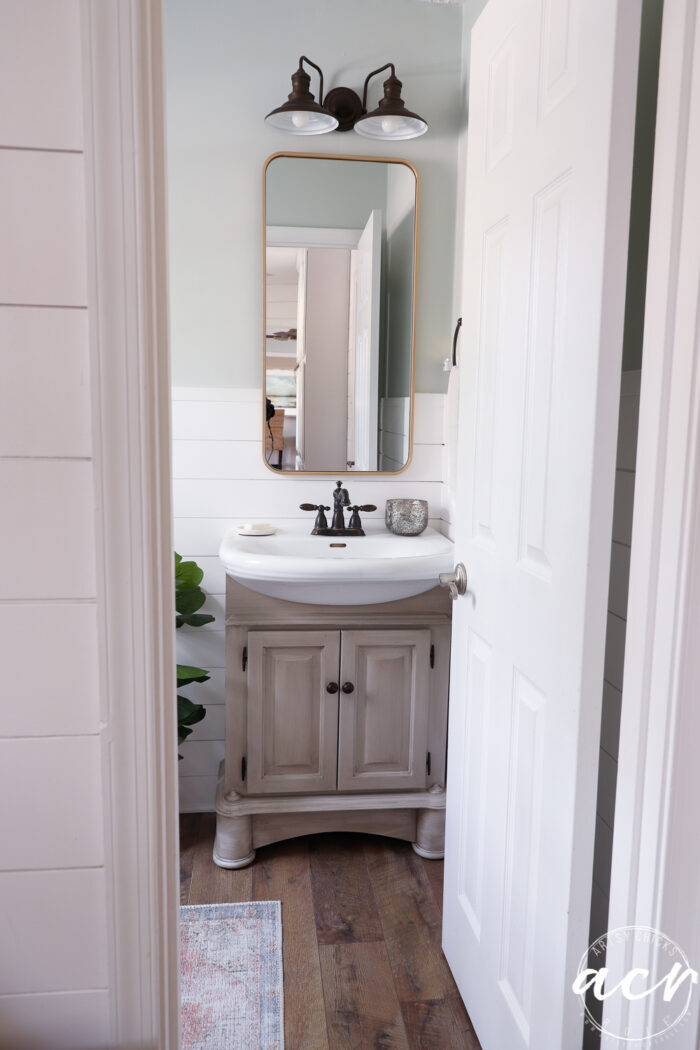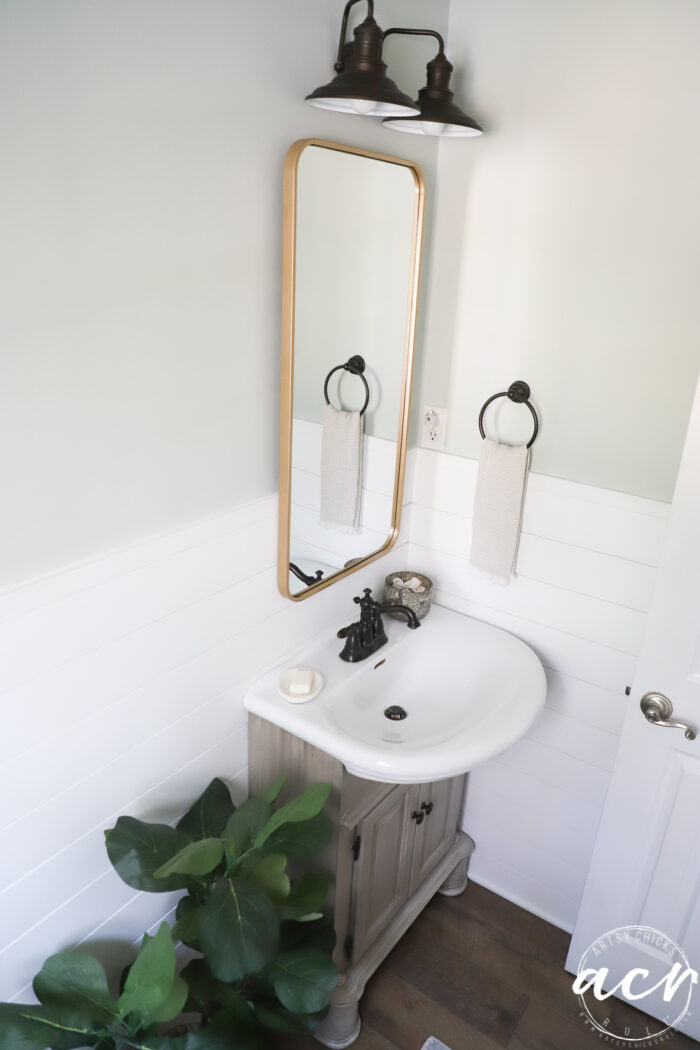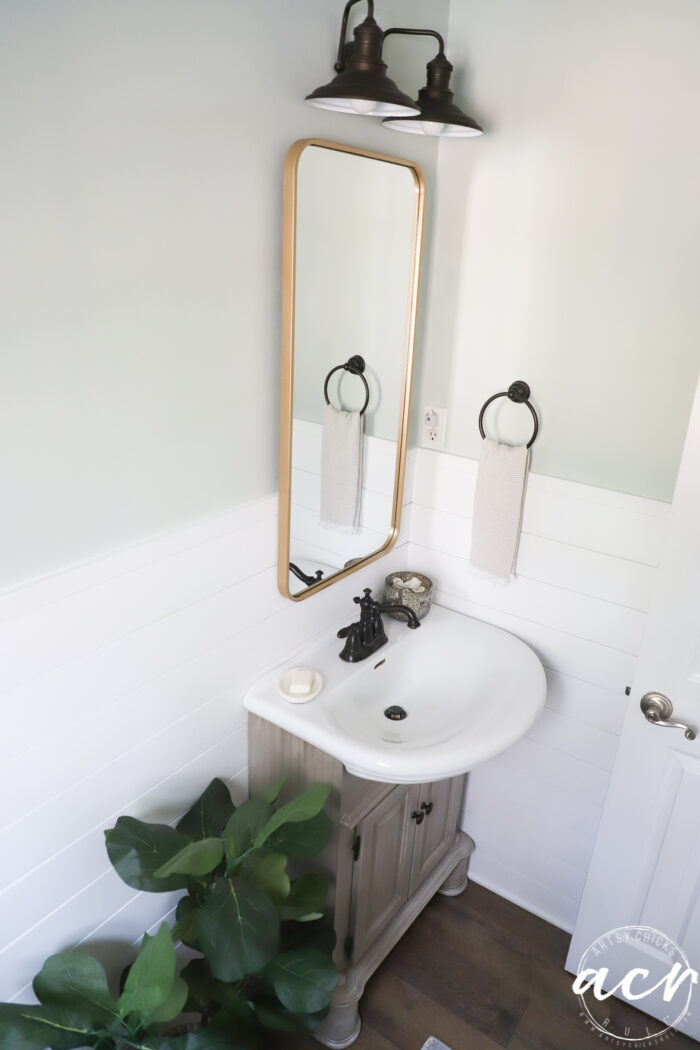 A bowl full of shells to go along with that coastal feel.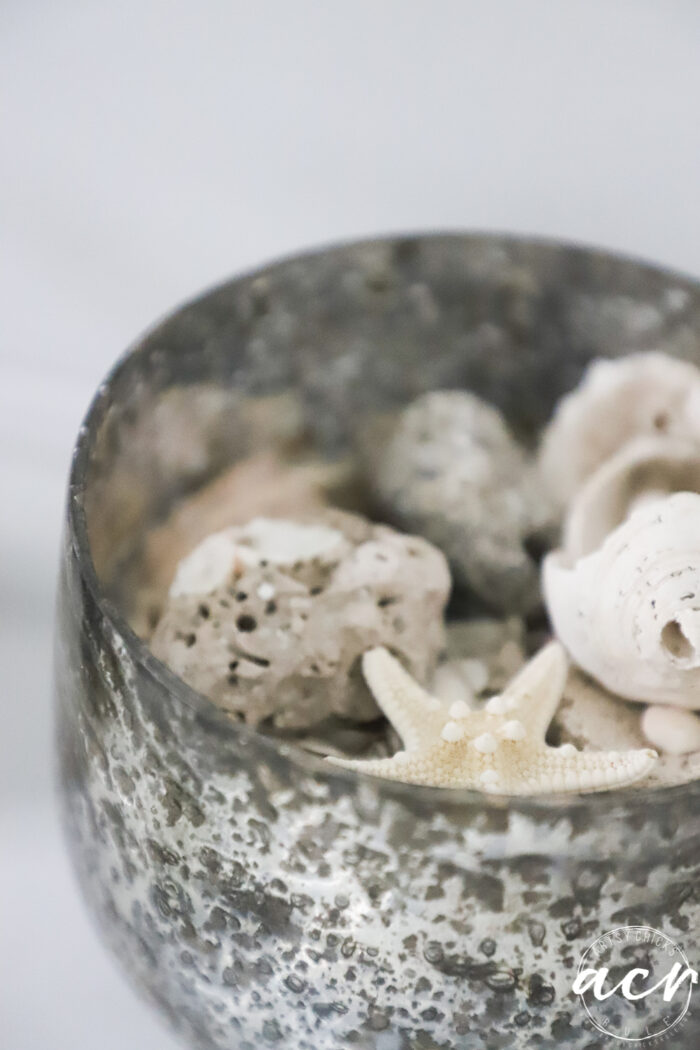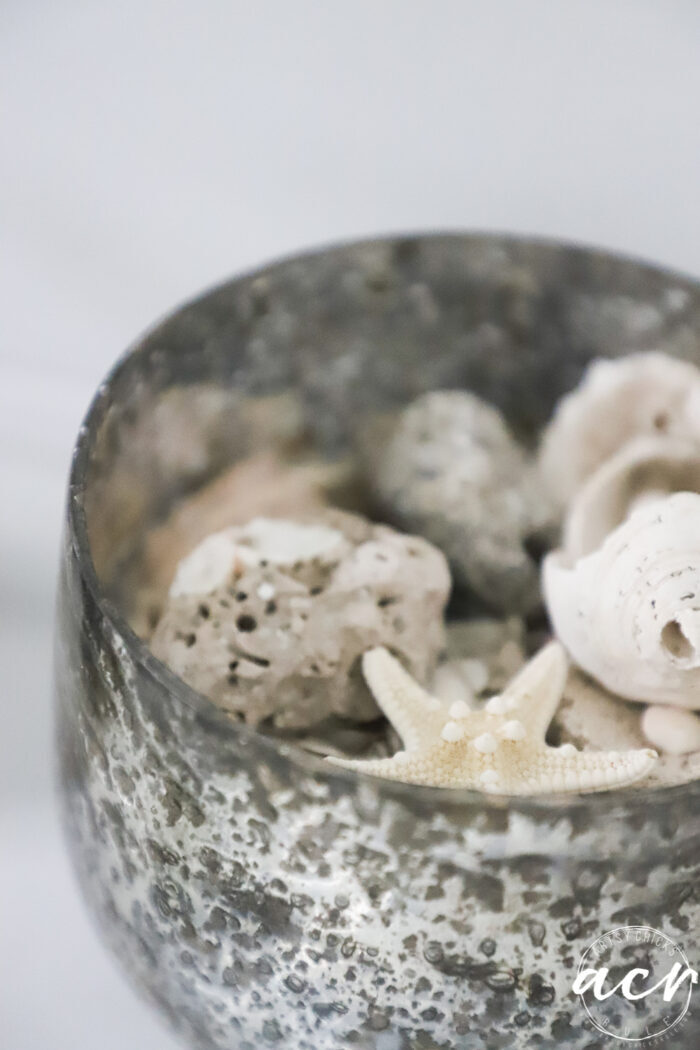 We were originally going to change out the sink/cabinet for a larger one (longer).
But it was just not working out well with the sink being on the right. It became more of a headache trying to find a top, etc, that I just said oh well, I'll repaint the other one instead.
Saves money too, so win-win.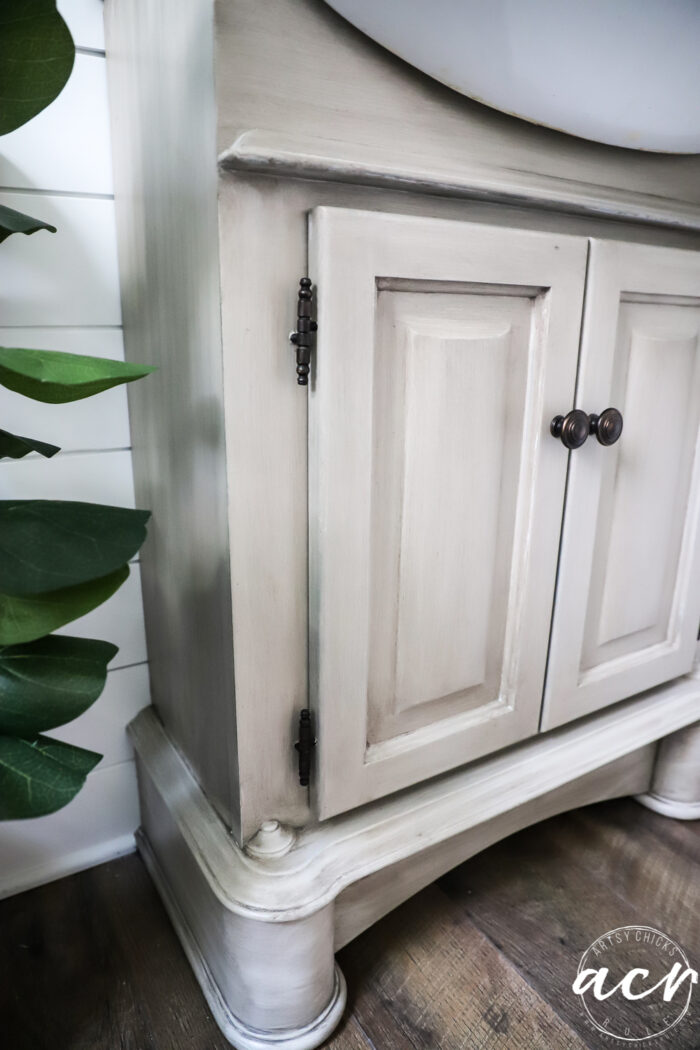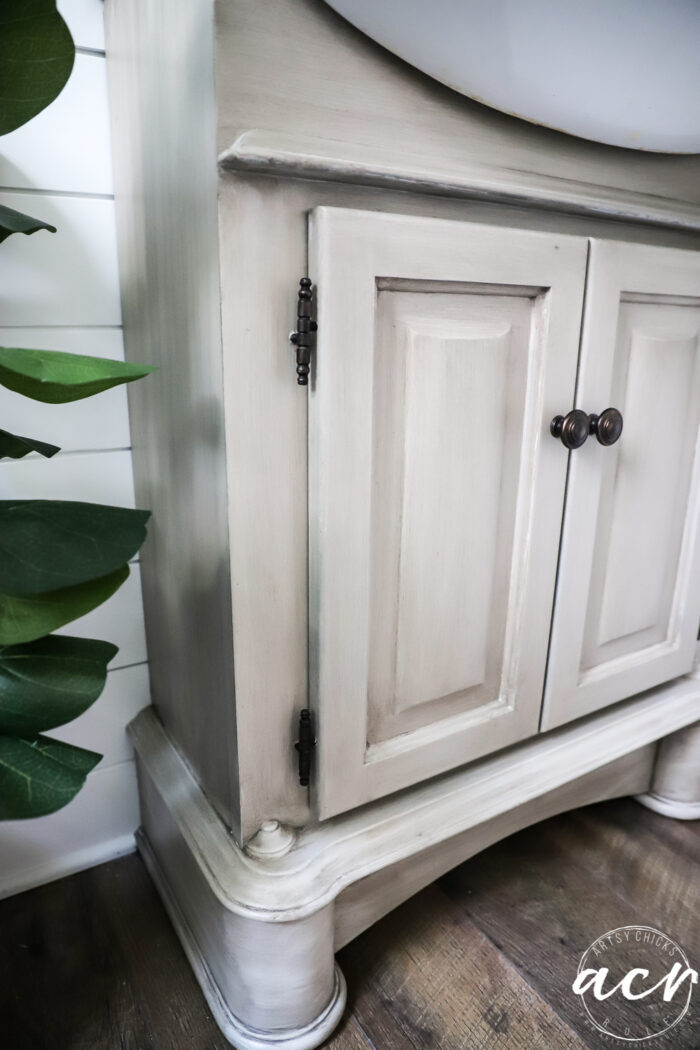 I painted it with Cobblestone (which is a lovely color!) and finished it with Driftwood stain and finishing oil.
I wanted it to have a weathered wood-ish effect to still go along with the coastal feel of our home.
I took the glass knobs off (see the older photo above) and found these metal ones in my stash.
Unfortunately, I had no Oil Rubbed Bronze in my stash so I made due another way.
I sprayed the hinges (I had painted them blue with the cabinet on the last paint makeover) and knobs with a flat black spray paint I did have.
And once that was dry, I rubbed a bit of Bronze Gilder's Paste to give it the look of oil rubbed bronze to match the faucet, etc.
I'd say it turned out quite good!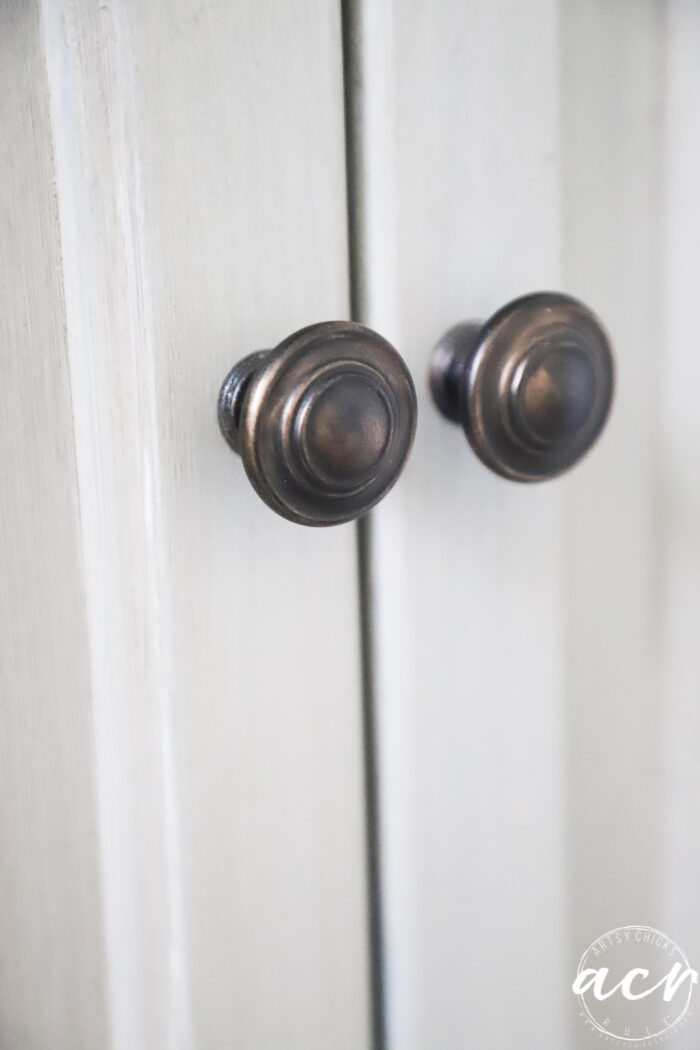 It actually looks more authentic than just spraying them with ORB spray paint.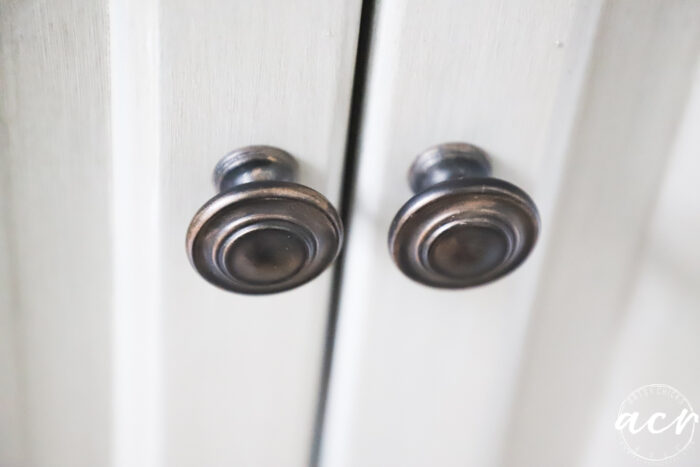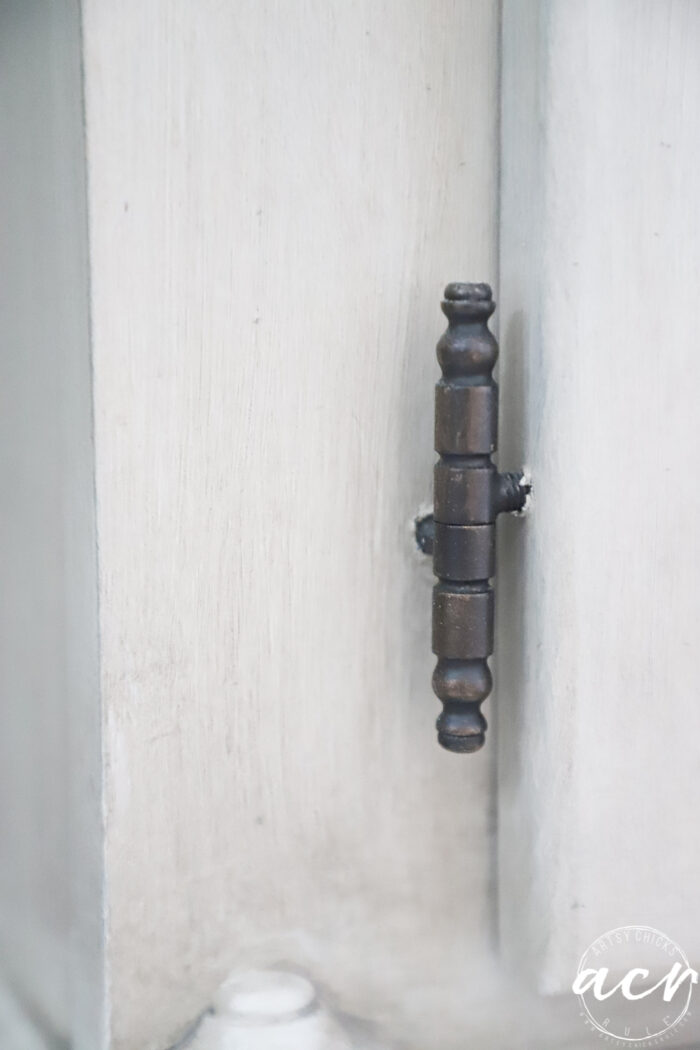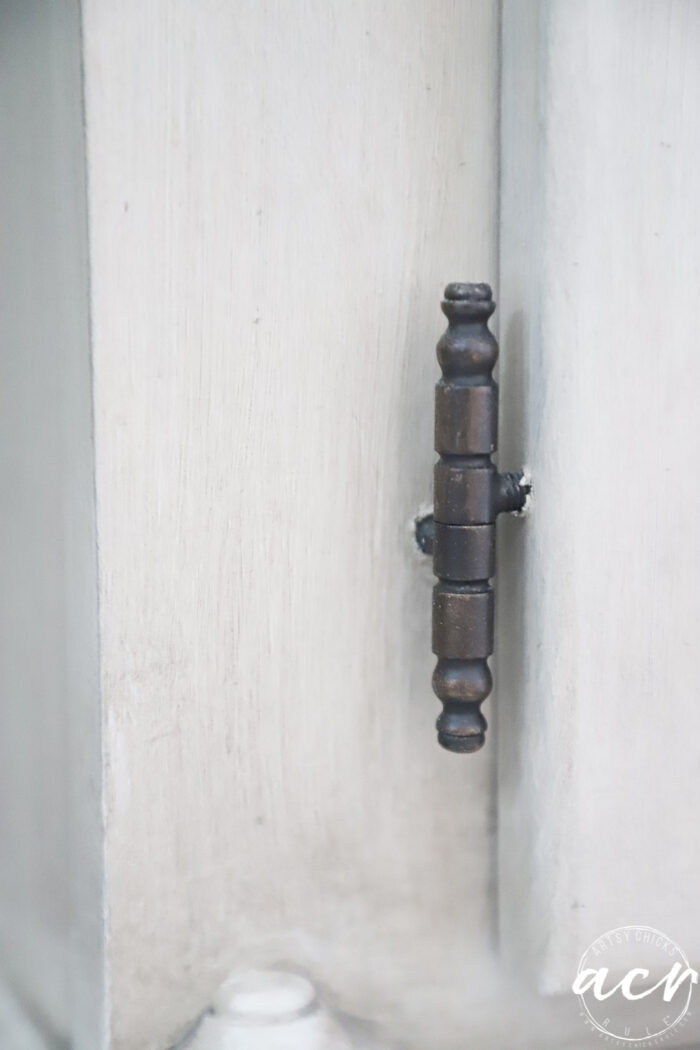 It was time to see the little cart go.
This one…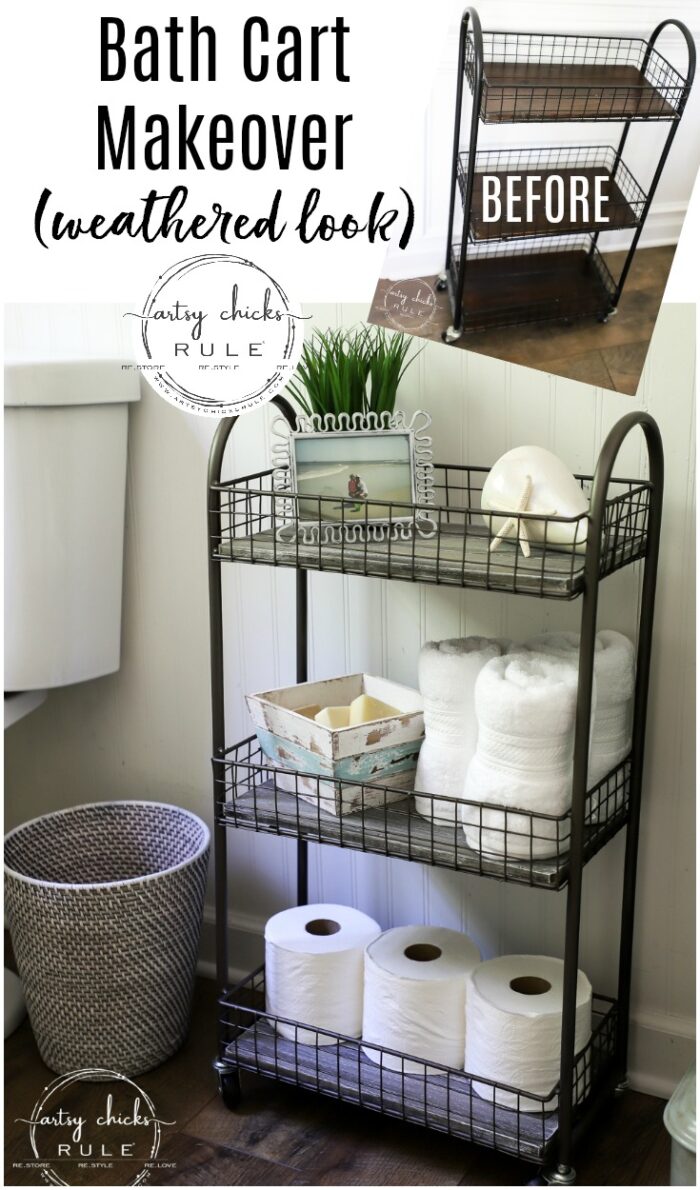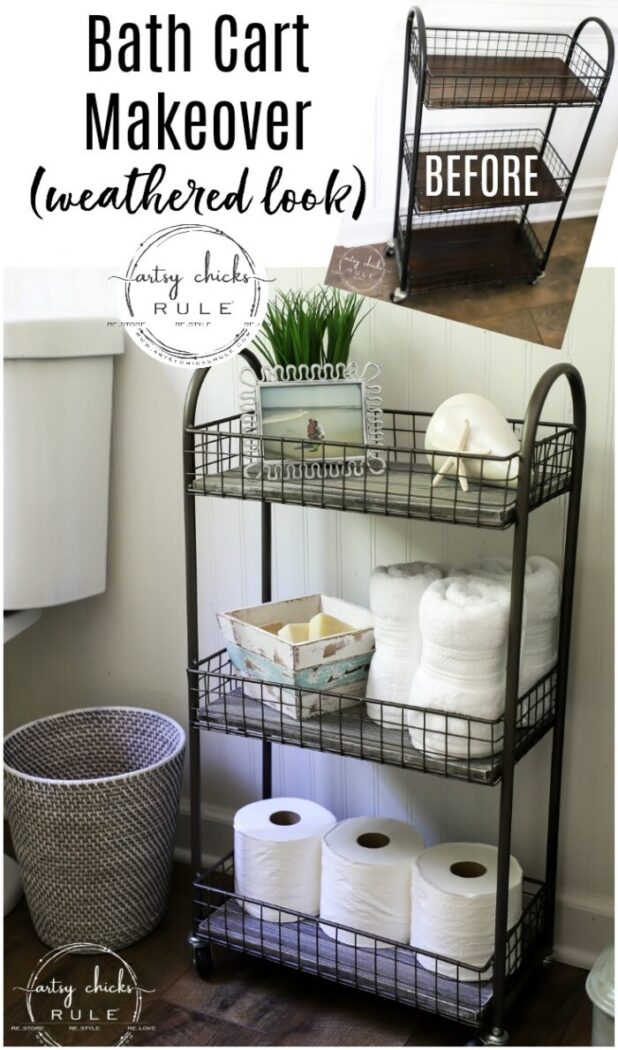 I'd even given it a makeover at some point to change things up. lol
I kind of hate that blank space in here (and why I wanted a longer cabinet) so I had the cart there previously and decided to add a fiddle leaf fig now.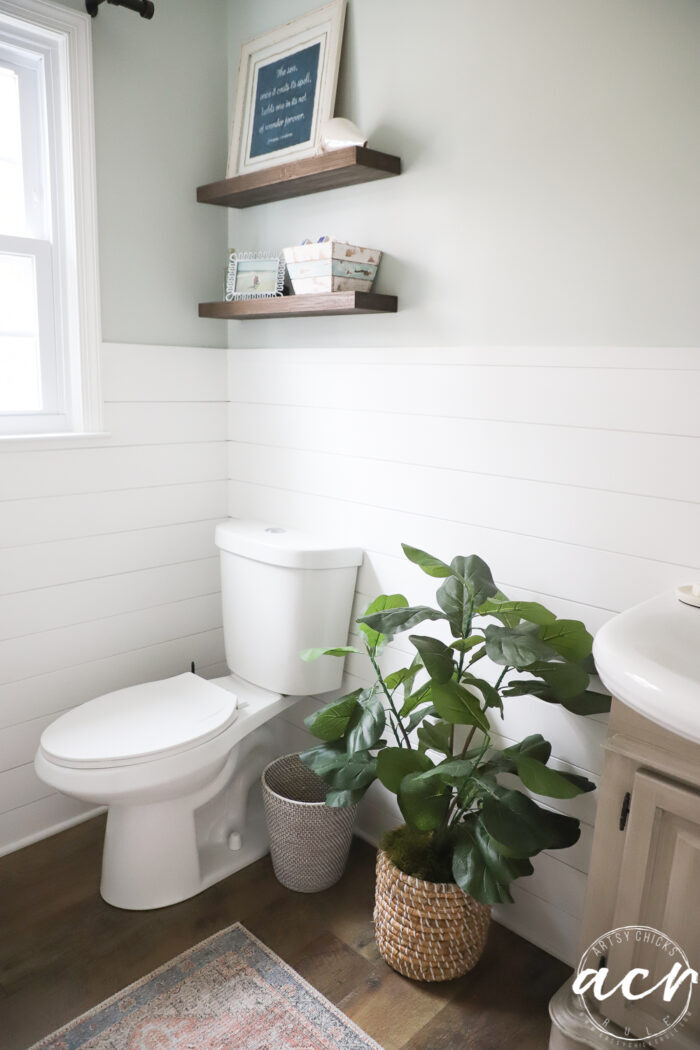 I removed the old, antique window I had hanging on this wall and added wood shelves.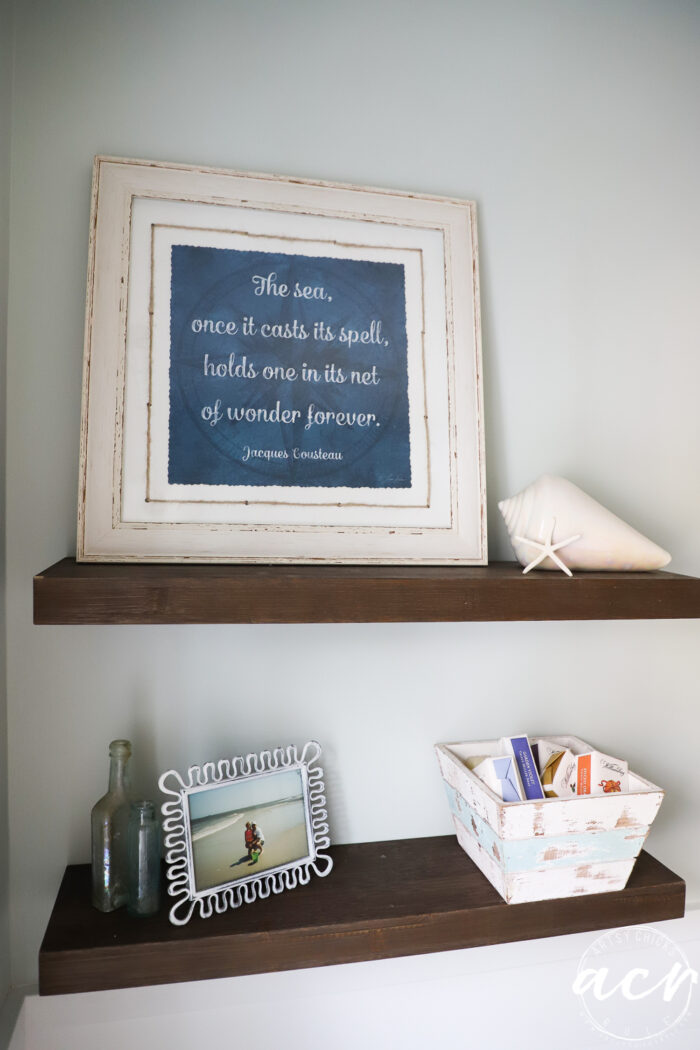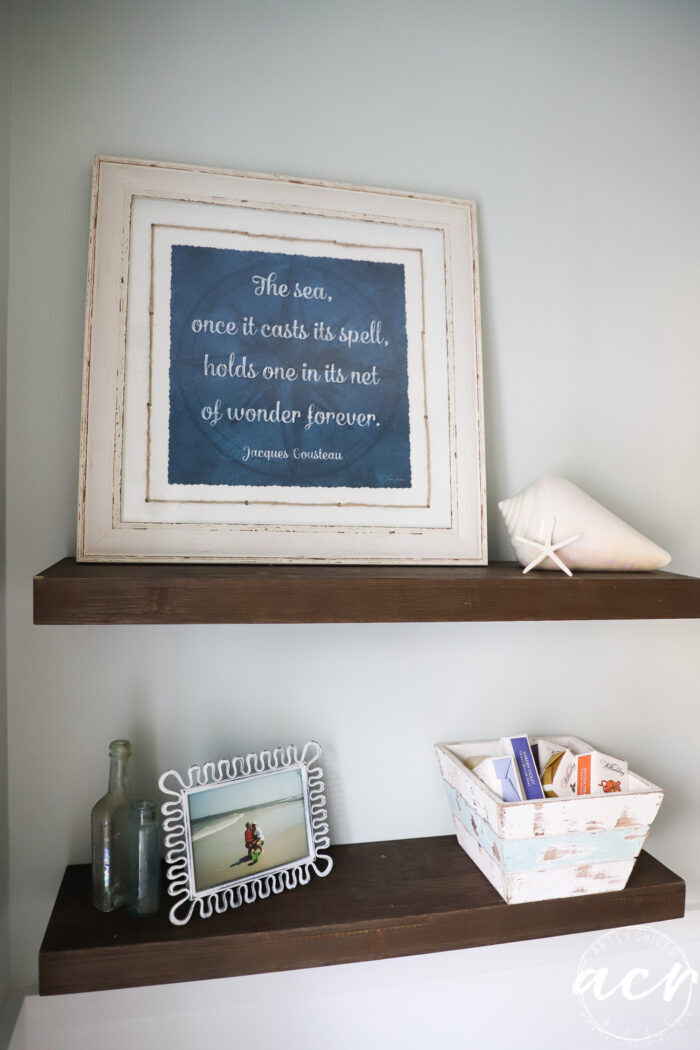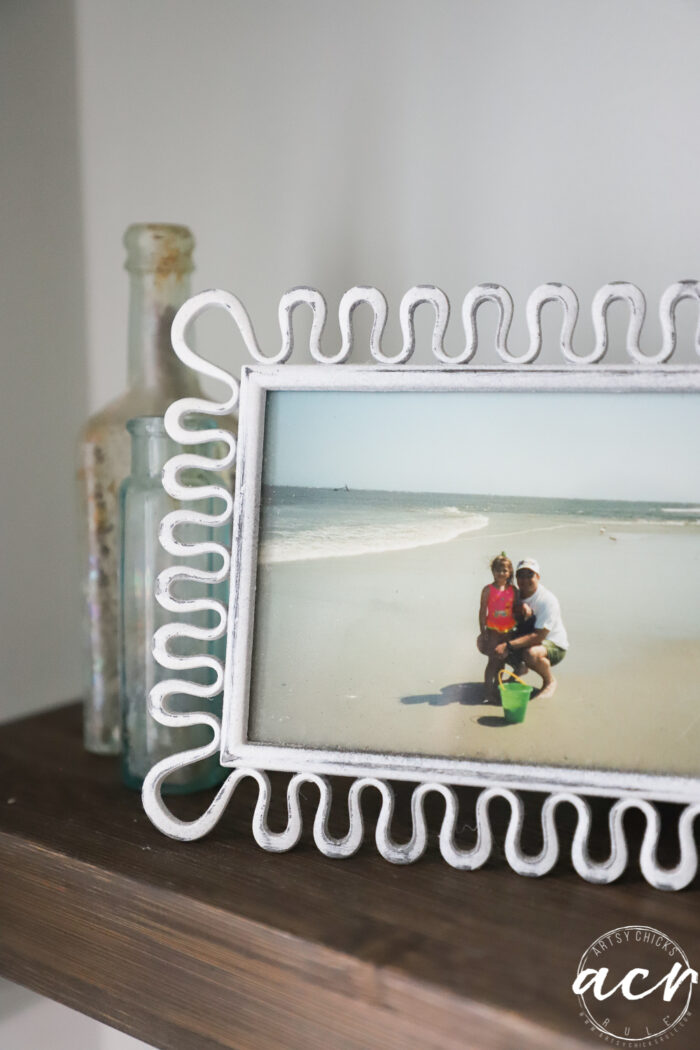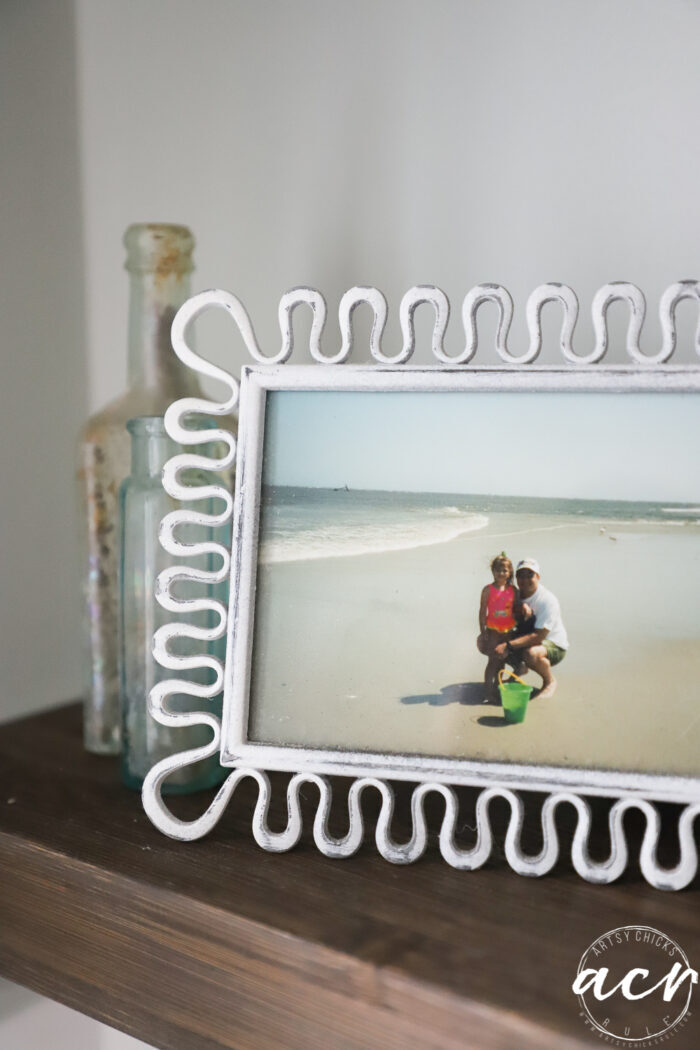 Our daugher and her uncle on the beach in SC. Miss those days!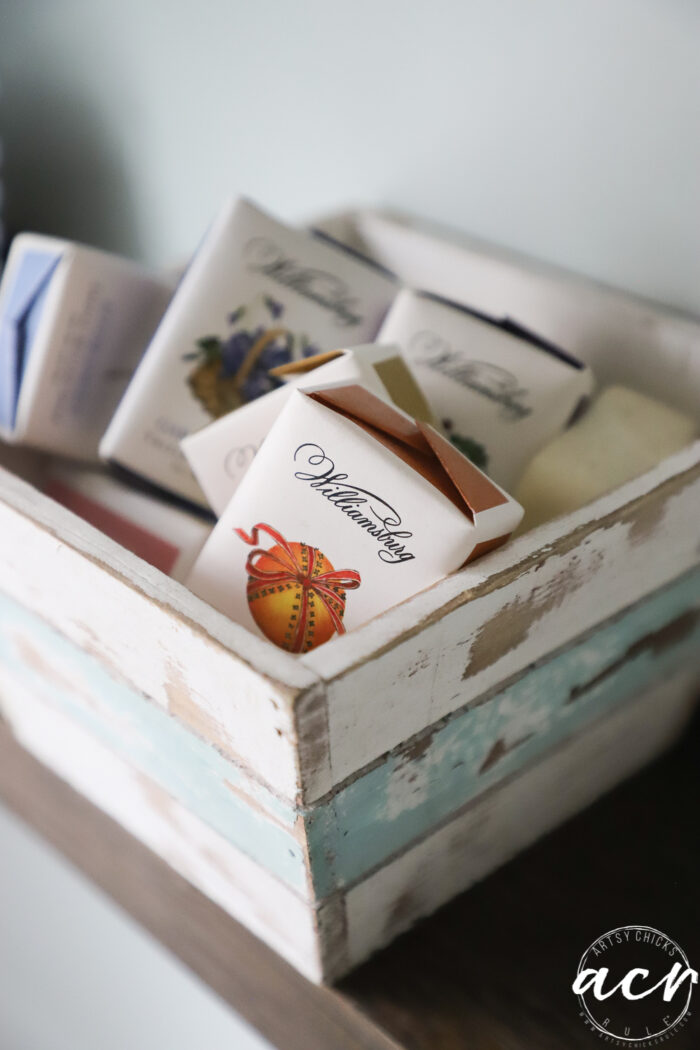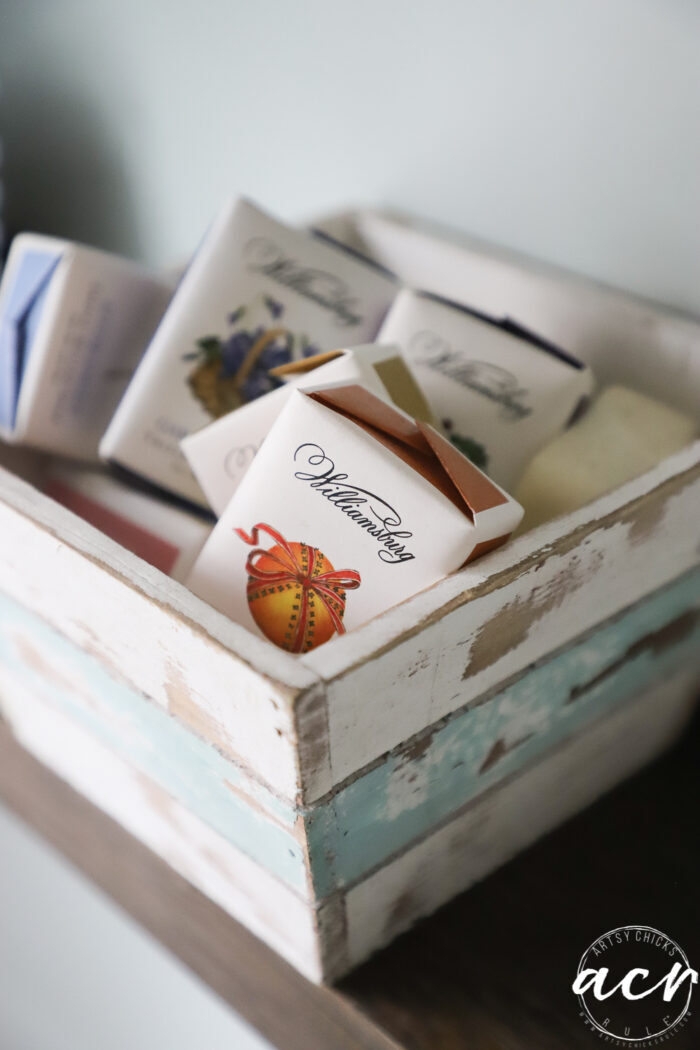 I love these fancy (and delicious smelling!) soaps we get in Williamsburg, VA.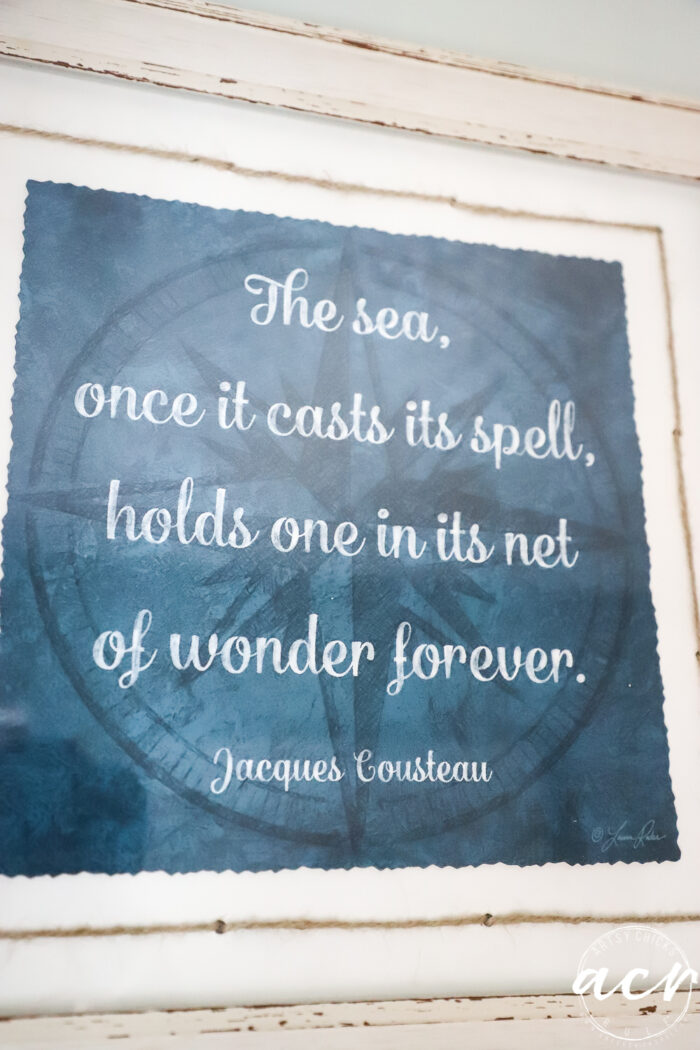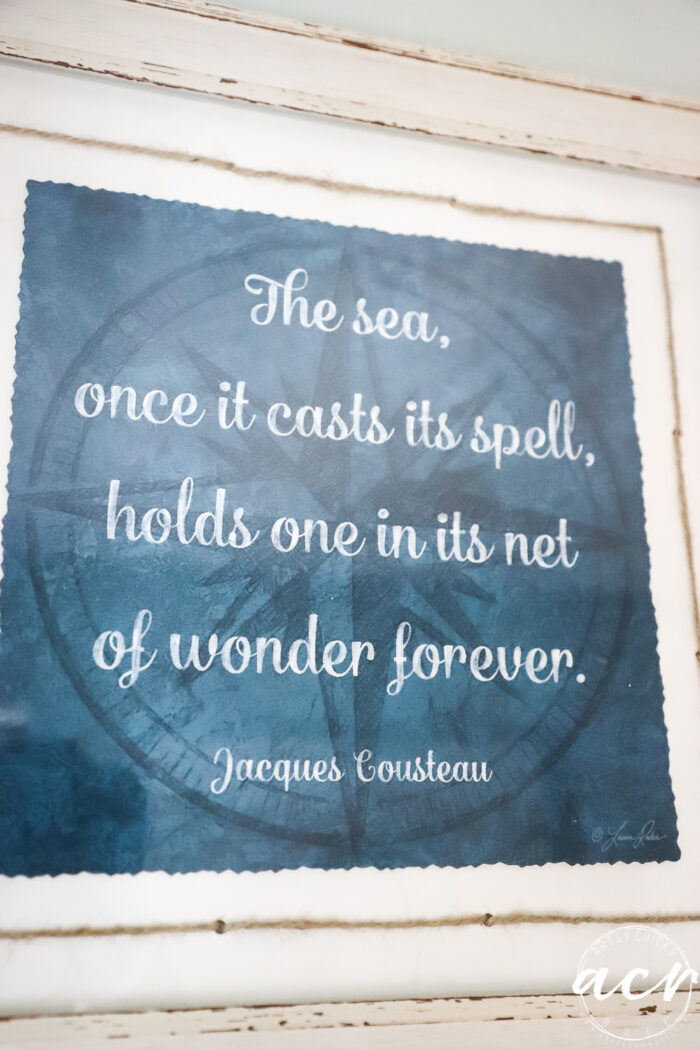 One of my favorite prints. I had it on the shelf on the wall opposite and moved it over here with the changes.
I took down the old faux roman shade I made and put in a sliding curtain instead.
SO much easier to just slide across for privacy.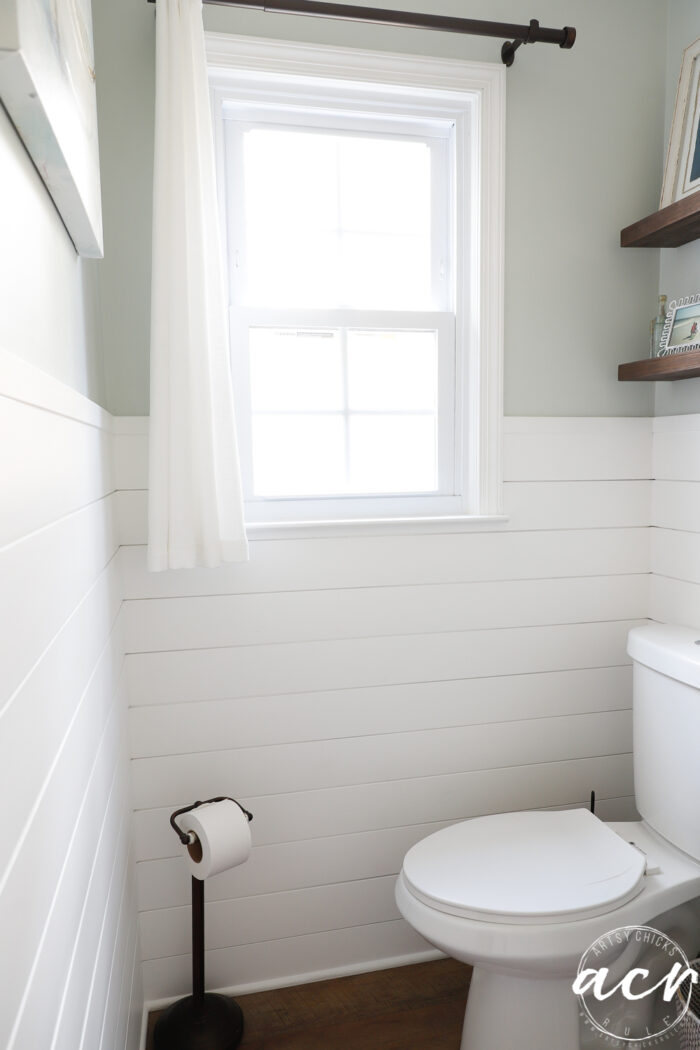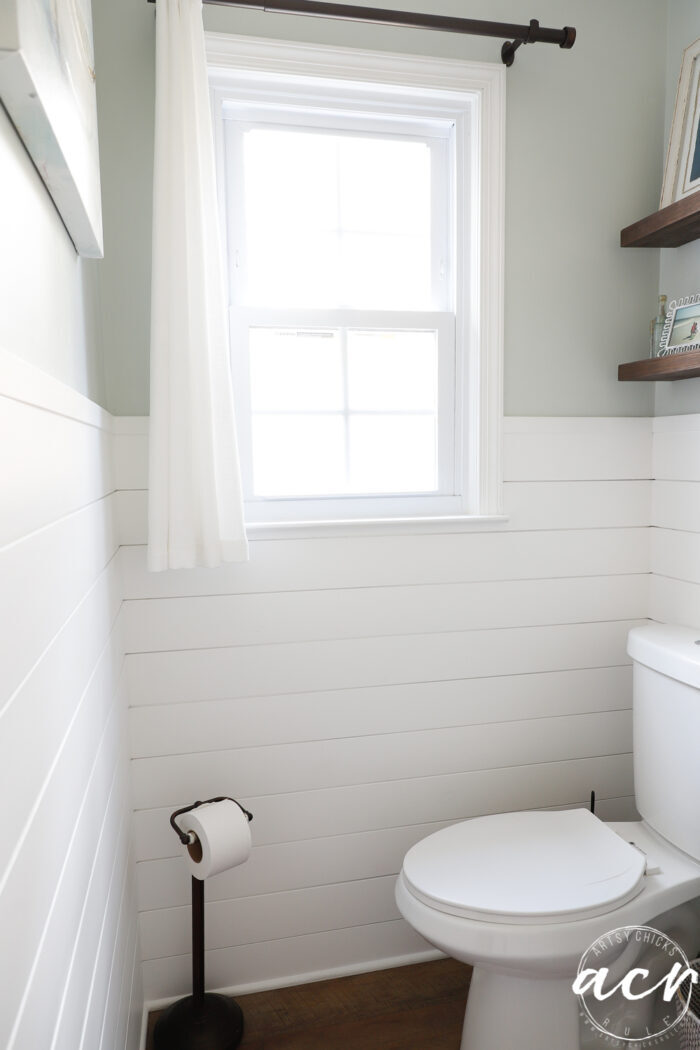 I simply bought a longer set on Amazon and shortened to the length I needed, no sew, of course! Plus a set of 2 covers 2 windows instead of one.
I made the same curtains for our other 2 bathrooms (with the same-sized windows in each).
I want a large, pretty piece of artwork on this wall. I had this one in my stash in the garage so hung it for the time being.
Once I find what I want to go here, I'll update this post.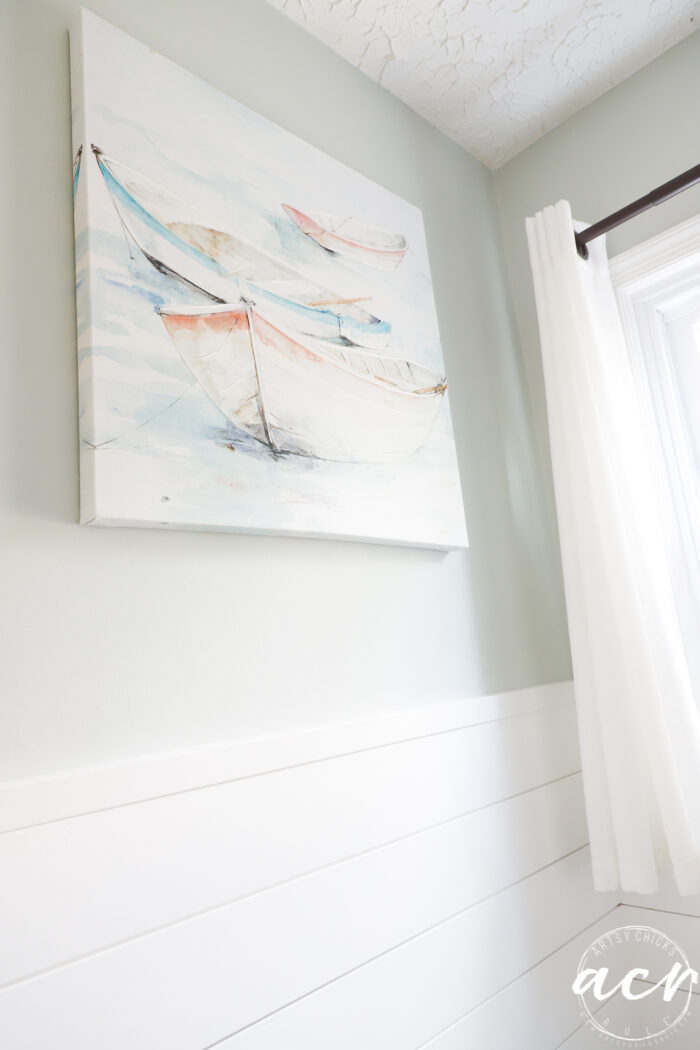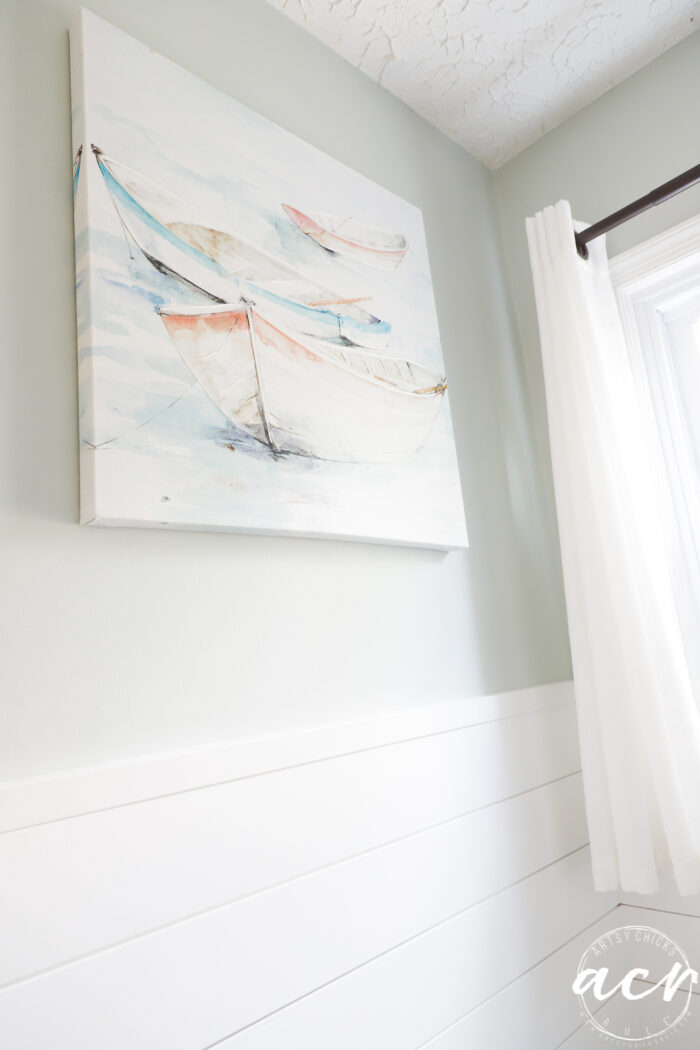 This old register used to be larger and metal slat type. (you can see it below in this older photo)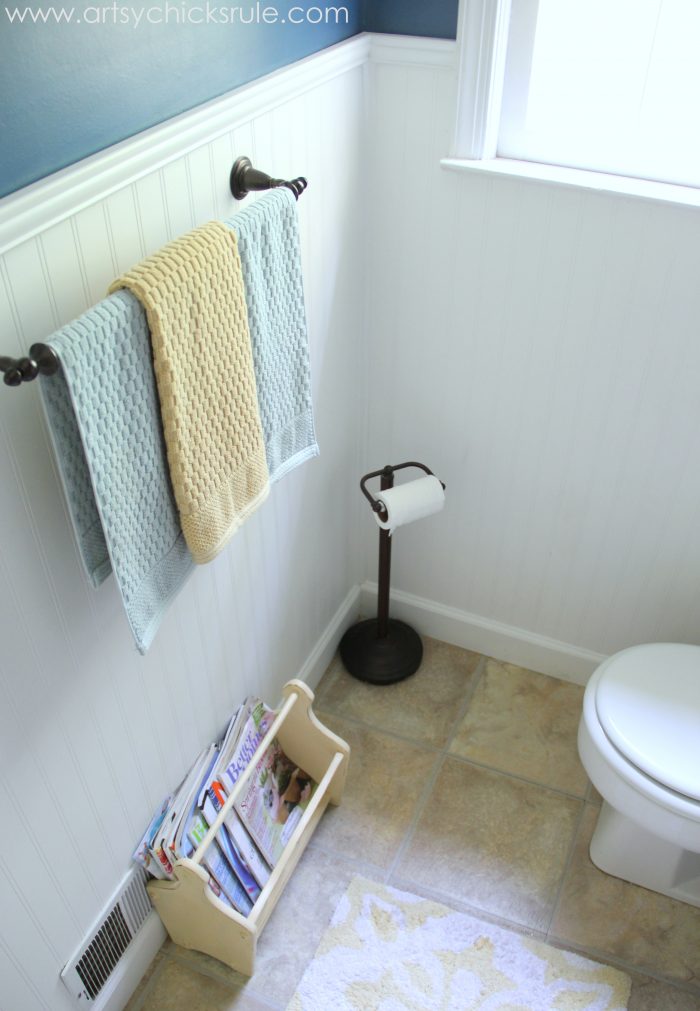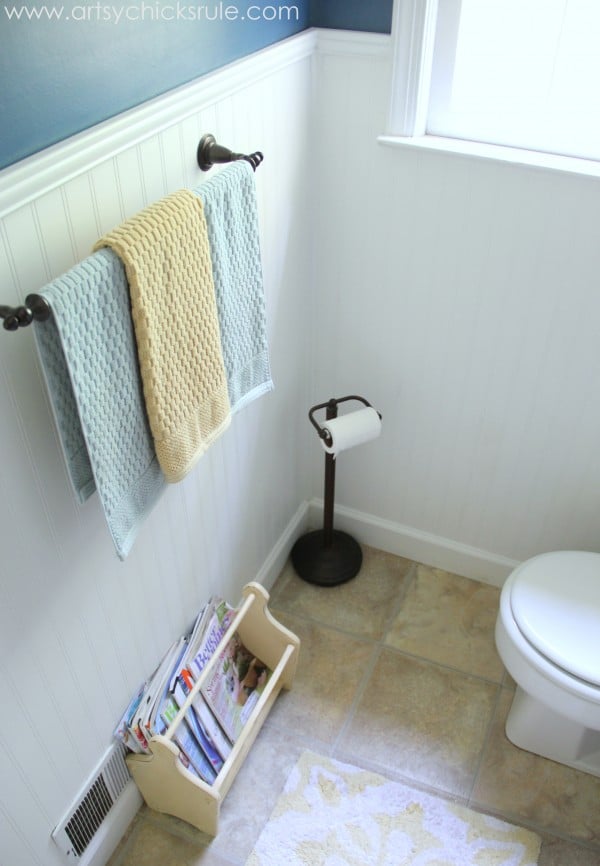 When my husband did the shiplap, he cut it to fit a normal-sized register and I replaced it to match the rest of the house.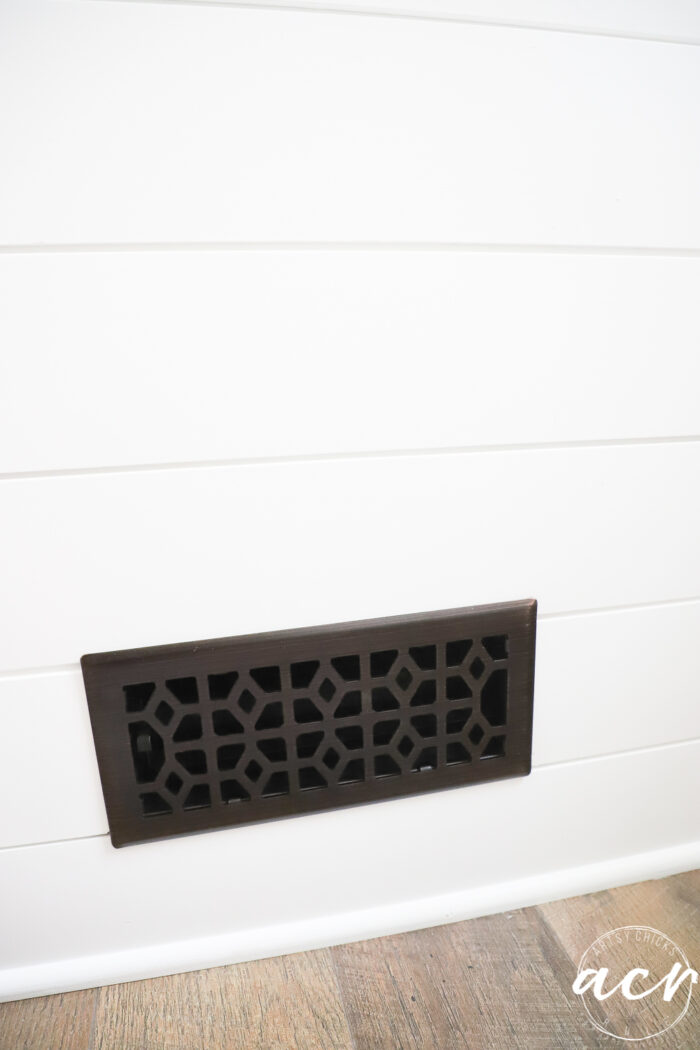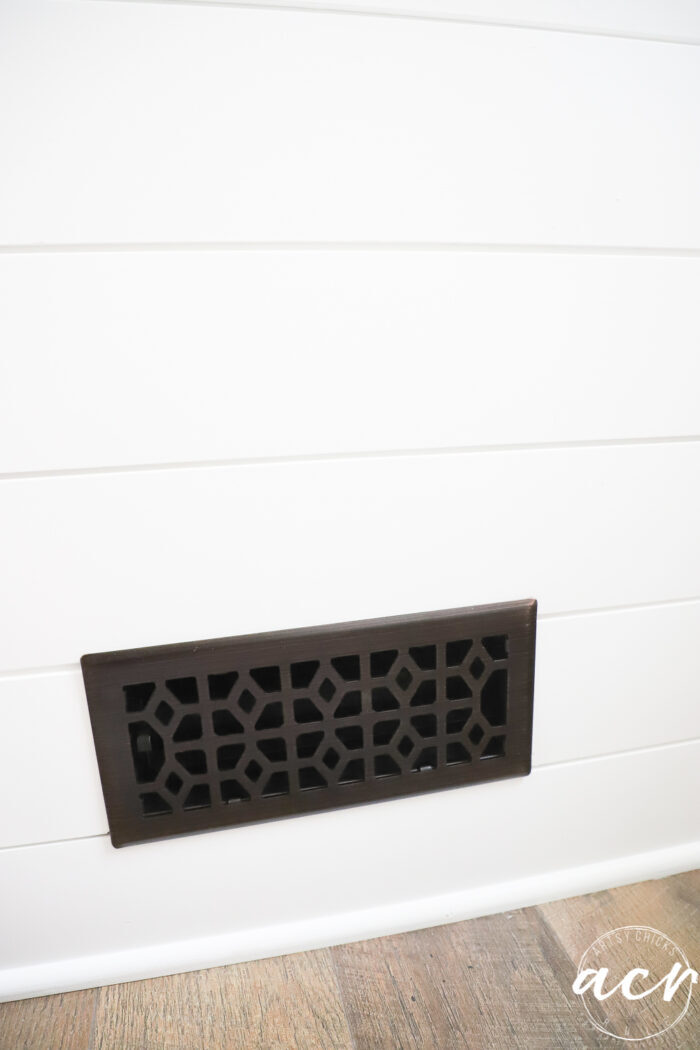 Then I ordered a small rug for in here. This is actually the same design as our new living area rug.
I just love the colors. (just a reminder, you can find links to all of these things in the "materials source list" box above)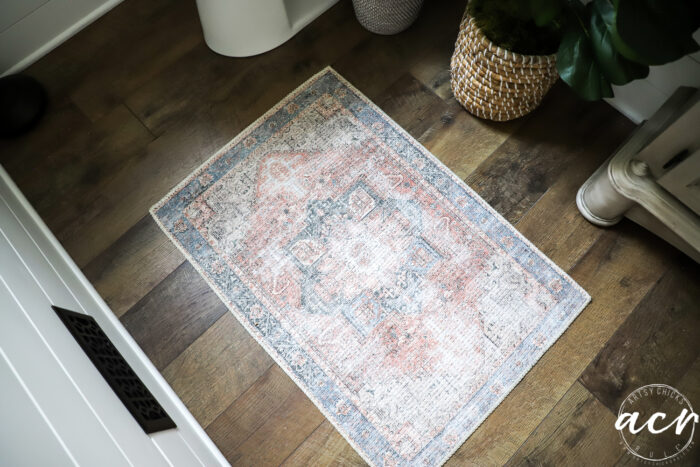 It surely looks different walking through the laundry room to the guest bath now.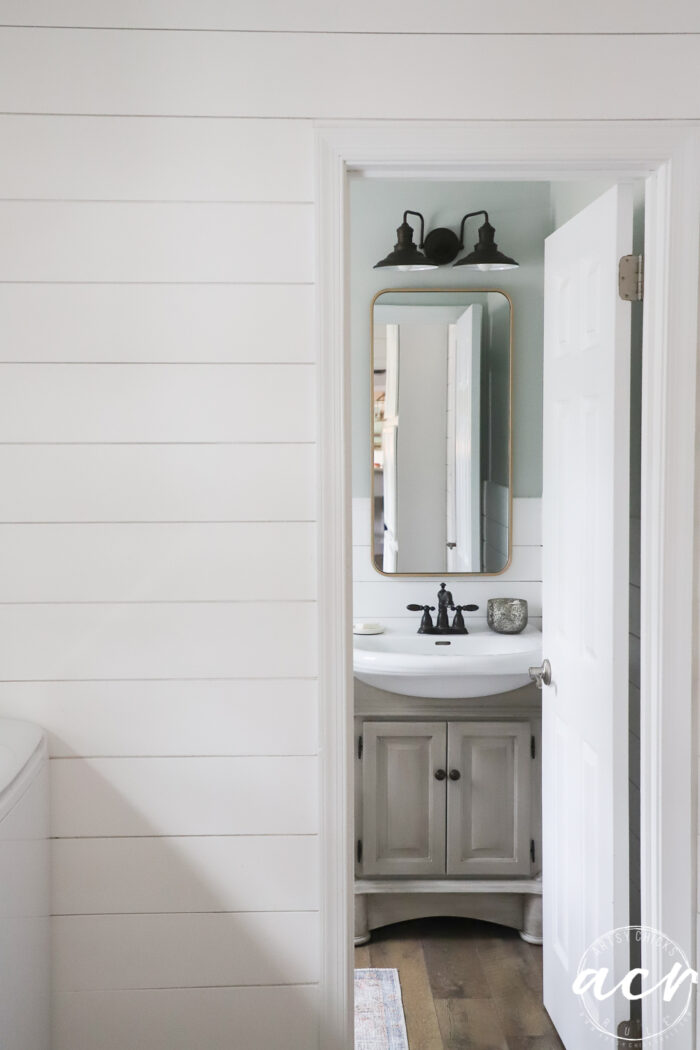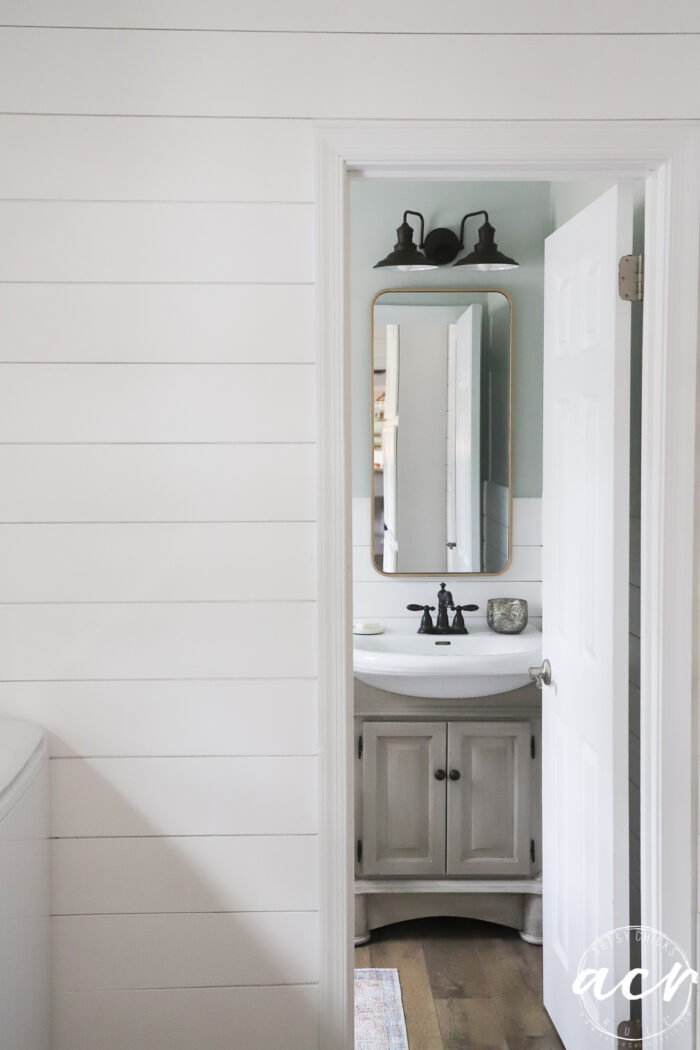 I'm so thrilled with it.
UPDATE: I've added a little something for the plant to sit on since this refresh…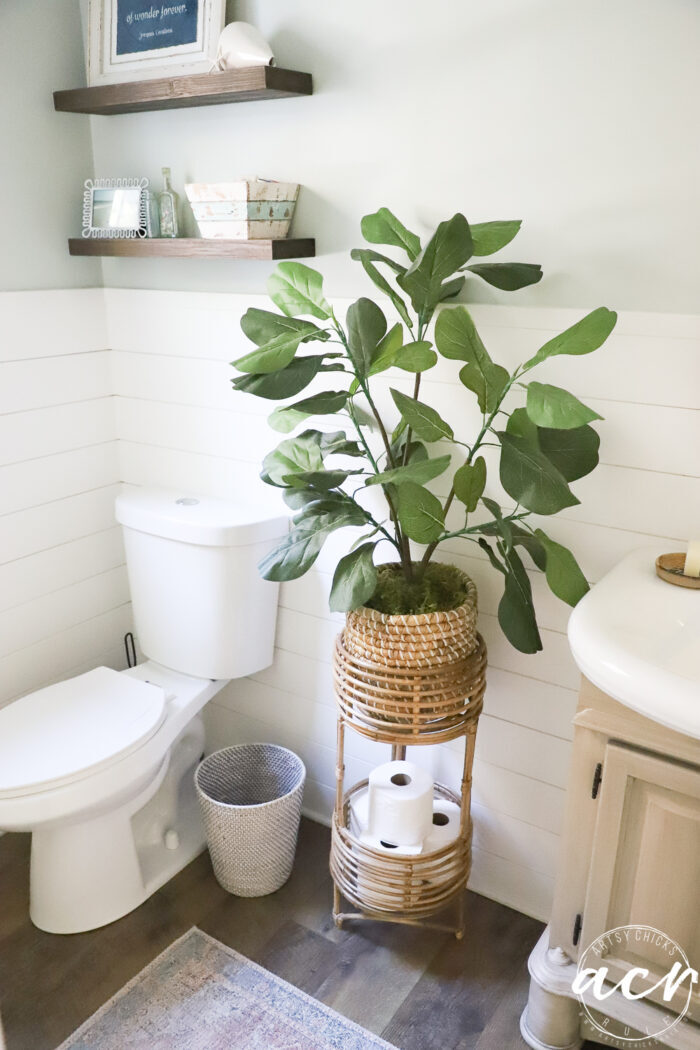 Perfect addition, I think!
And we are also coming along with our upstairs hall bath remodel. Keep an eye out over on Instagram to follow along!
We have finished the tile tub surround, installed the new brushed nickel hardware, I'm going to paint the walls this week and the floors soon after.
You don't want to miss that part. I'm very excited about the floors and will definitely be sharing on Instagram when I do. (and here later)
Another update! We have finished the upstairs hall bath remodel and you can see it here.
PIN it to save it!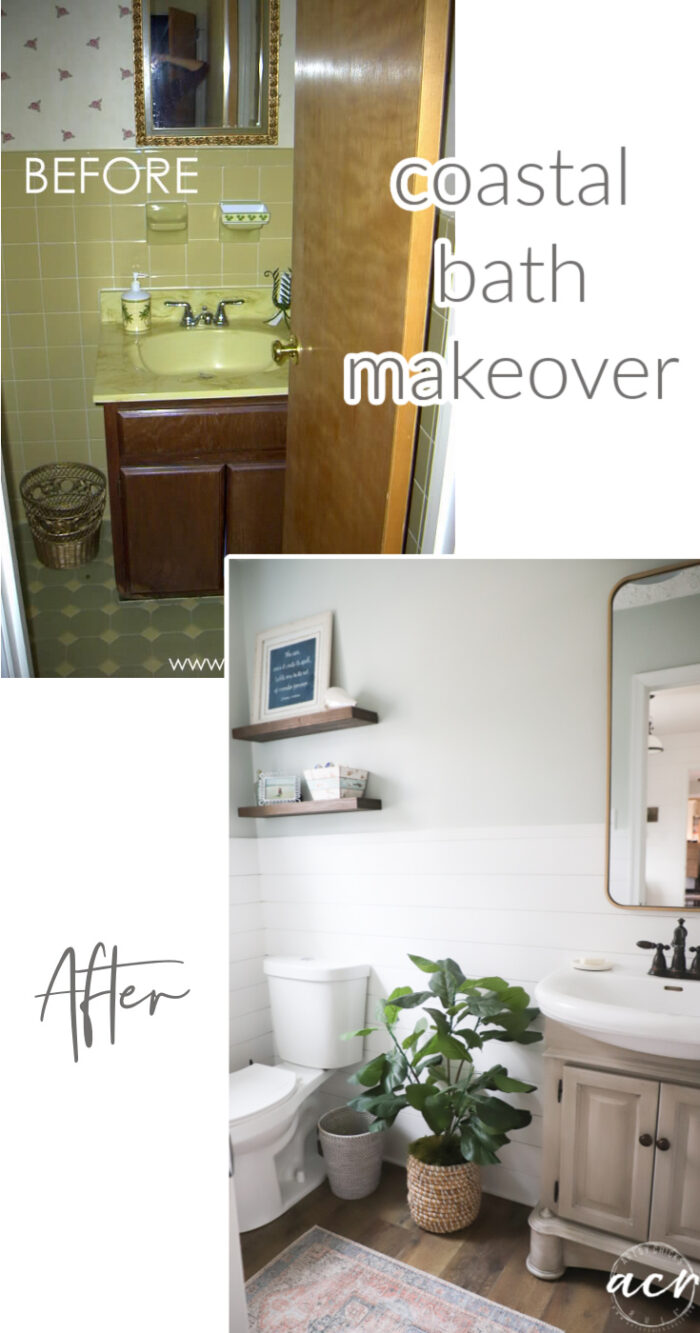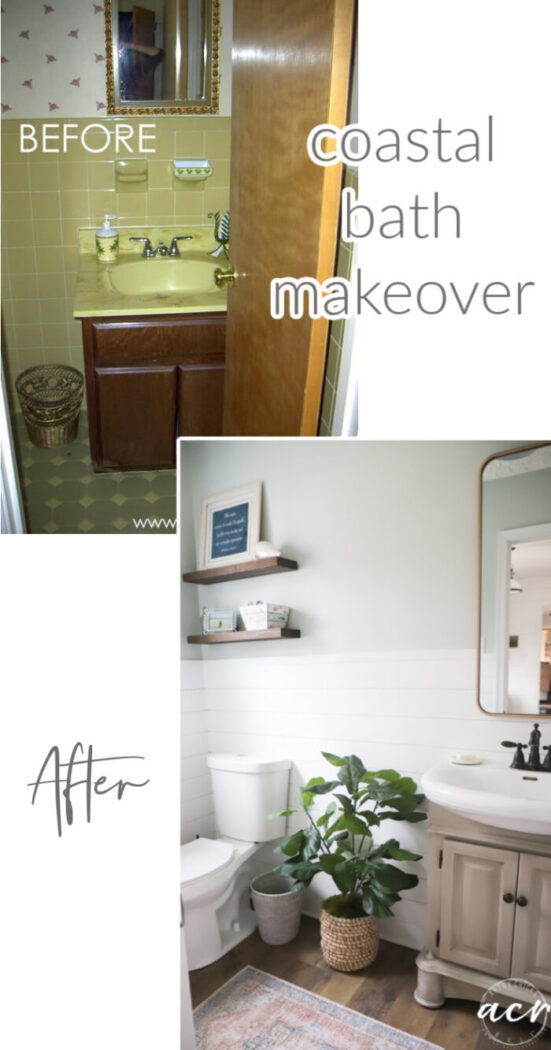 How about you? What have you been working on lately? Any new home refreshes too?
It's fun to change things up a little. Breathe a breath of fresh air into those spaces for spring!
I'll see you back here on Thursday!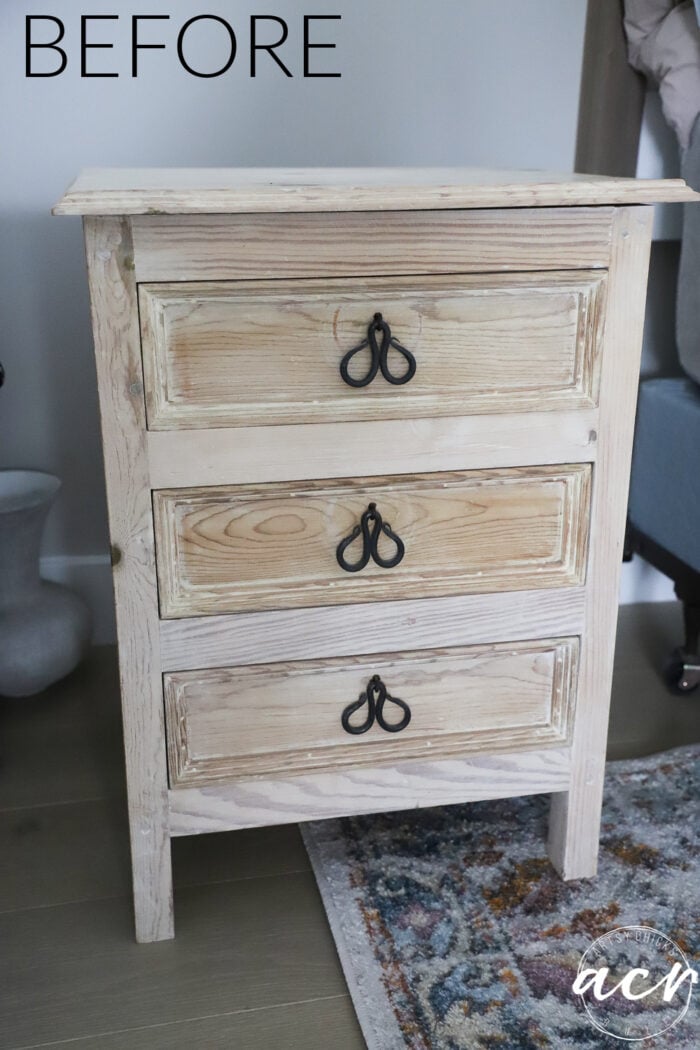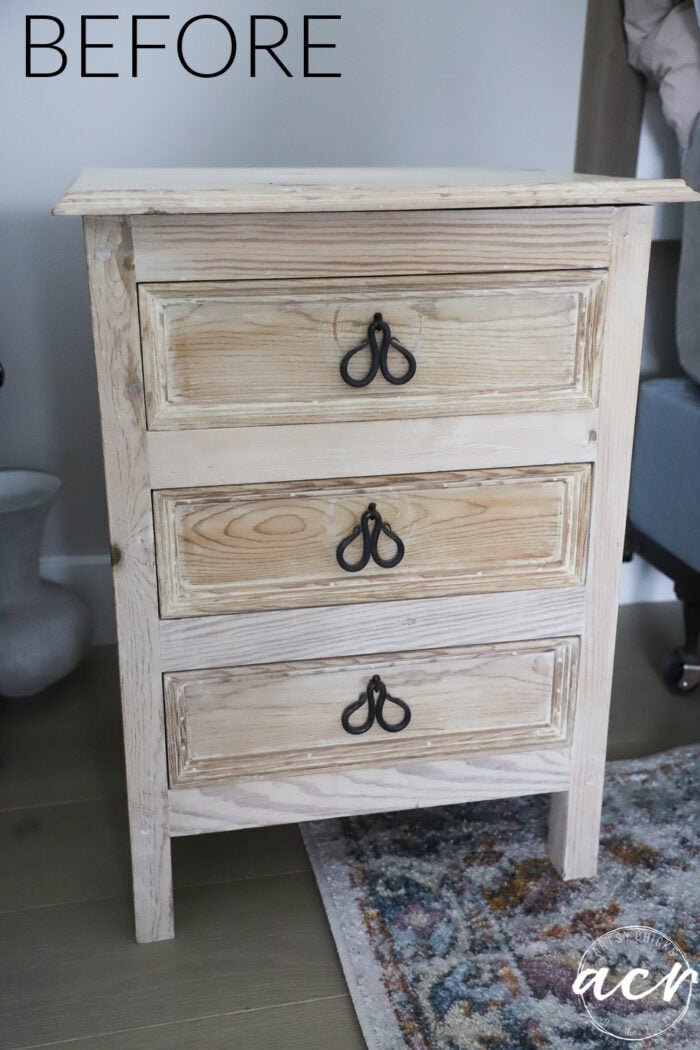 UPDATE!! See it now here!
Have an amazing week, friends!
xoxo