No Sew Faux Roman Shade (make in a hour!)
This post may contain affiliate links. Please see disclosures here.
Want pretty window treatments? Don't sew? No worries, you can with this no sew faux roman shade!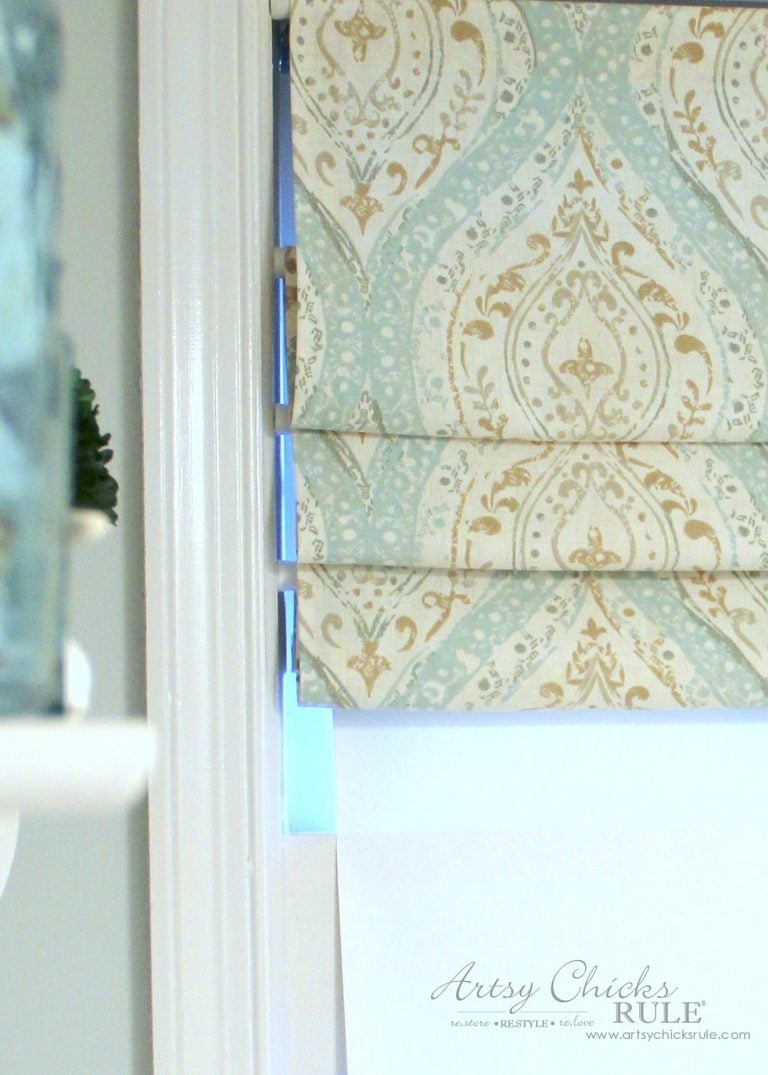 Let's talk no sew faux roman shade today. And how simple it is to make!
But first, how are you?
I've been a busy little bee! I've got lots going on in just about every room of this house.
At least it feels that way.
It would not be "normal" over here if there wasn't something going on somewhere in here.
Just ask my sweet husband. ;)
I've got mini makeovers going on in the guest bath, family room, dining room and kitchen.
And soon to be laundry room.
Gosh, I have all these plans and ideas swirling around in my head and darn, it takes so long to get them done!
But we are working on it.
I will be sharing each and every detail with you guys over the next month or so….and then it's on to Christmas decor!
Can you believe it???? I know, you know, we all know…time flies!
Today I'm sharing this easy peasy little window treatment I made for my guest bath makeover.
NO SEW FAUX ROMAN SHADE
It's sort of in the style of a roman shade anyway…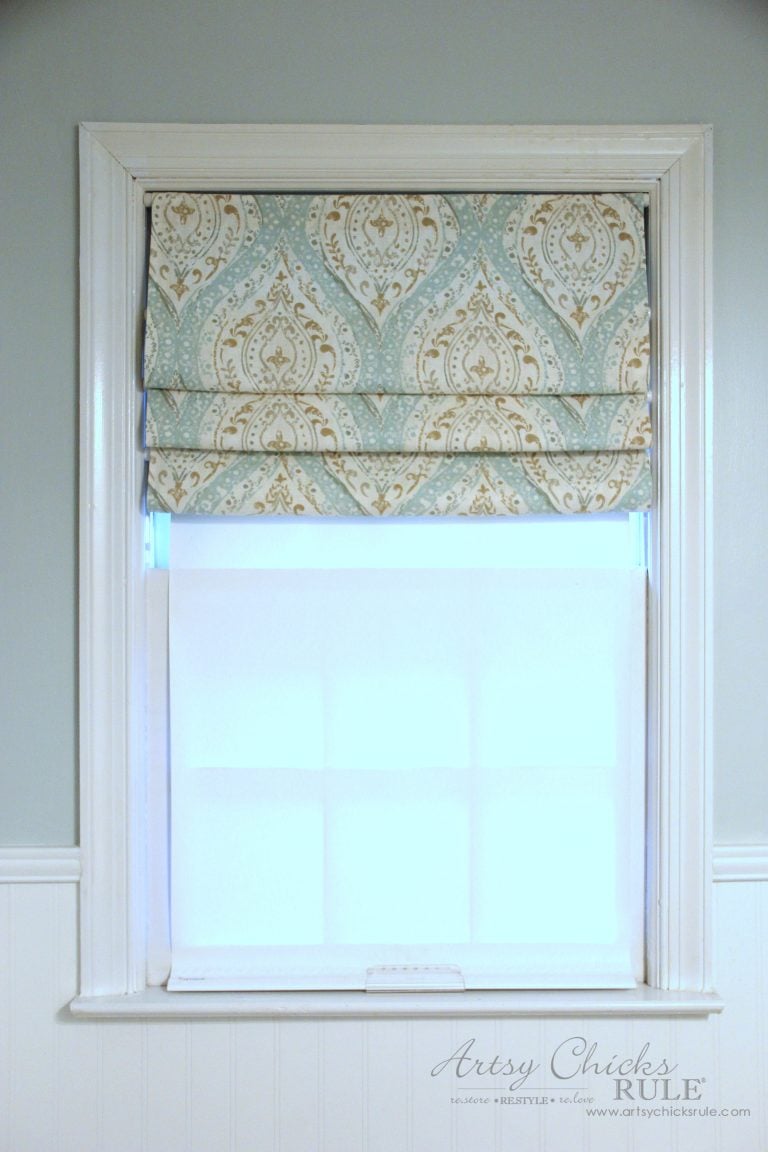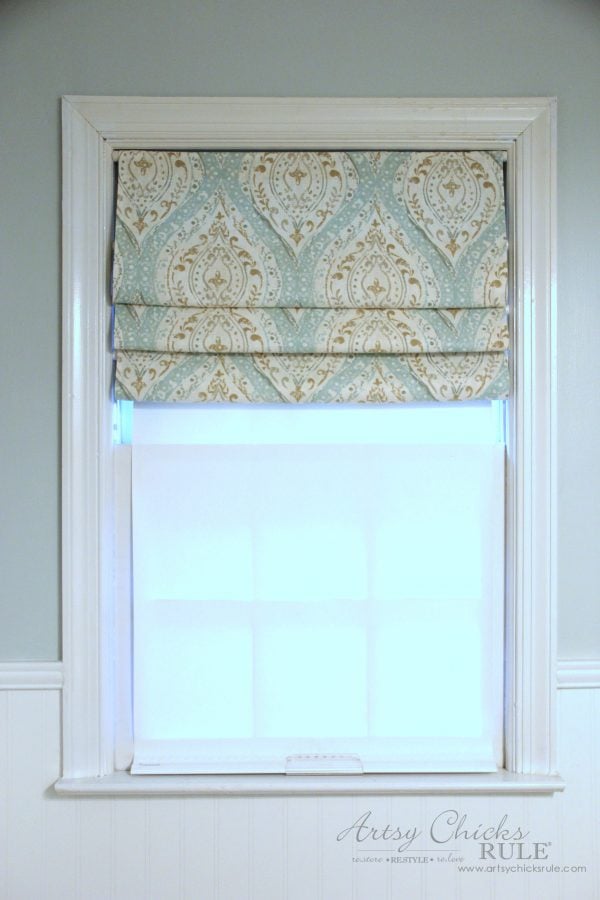 I wanted something simple in here.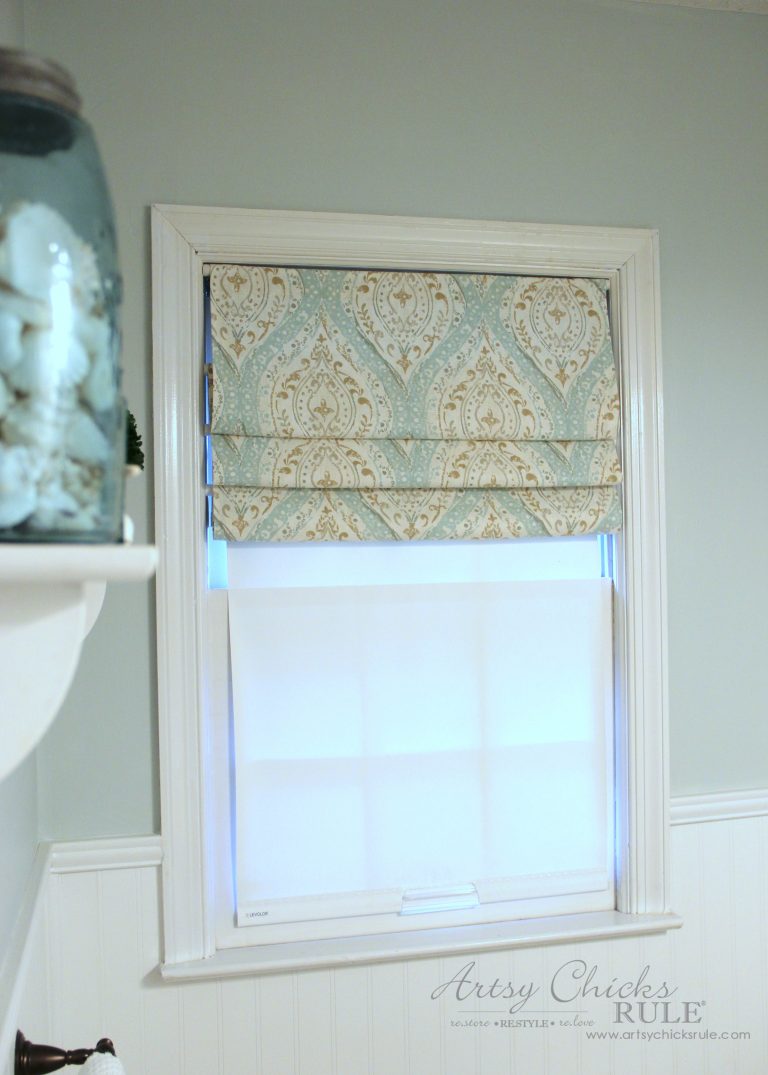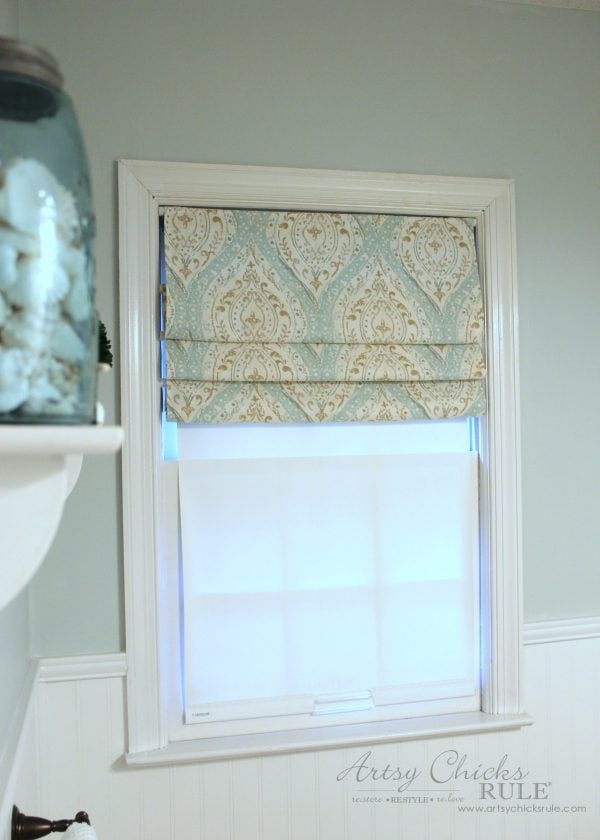 Just inside the window to keep things neat and tidy and non-fussy.
There's lots of tutorials for this on the web if you do a search.
I did a quick search and found Beth's (Homestories AtoZ) here…. "How to Make Faux Roman Shades".
I'll share how I made the "no sew" part and you can hop on over to her site and see how she used the tension rods to hang them.
She described, with a bunch of photos, in perfect detail, how to hang these properly.
Here is the fabric I used to make my no sew faux roman shade….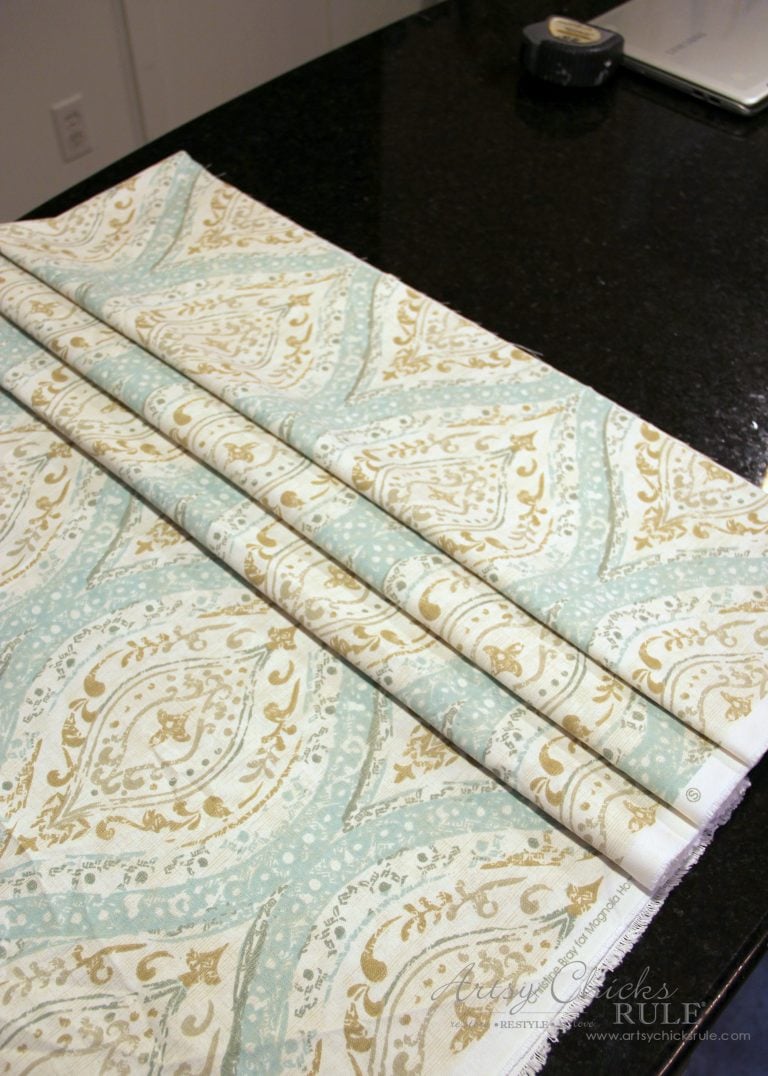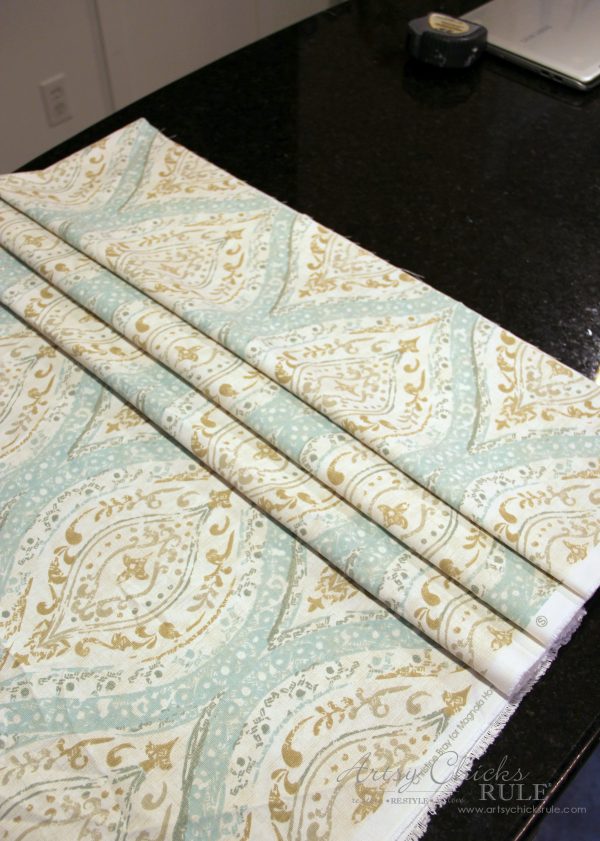 I made seams going all the way around….sides first…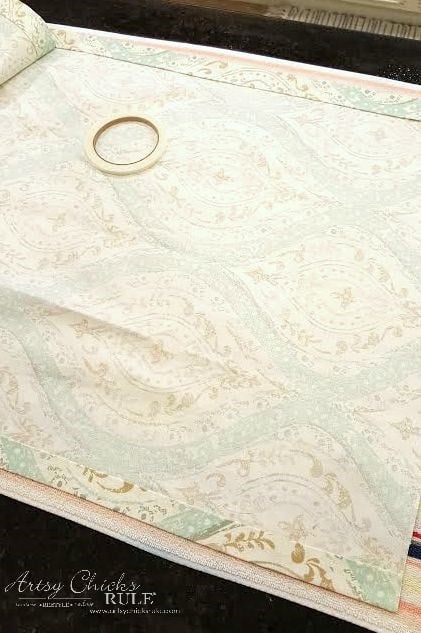 Want to see some of these projects in "live" time? Hop on over and follow along with me on INSTAGRAM. I'm always sharing in my stories as I'm doing projects, finding new furniture, fun finds….just all the day to day behind the scenes.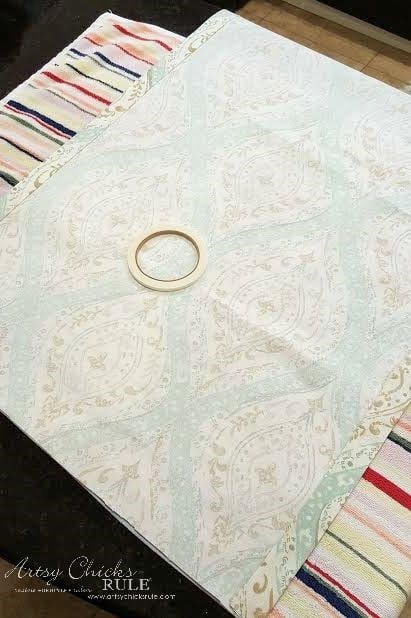 Then the ends….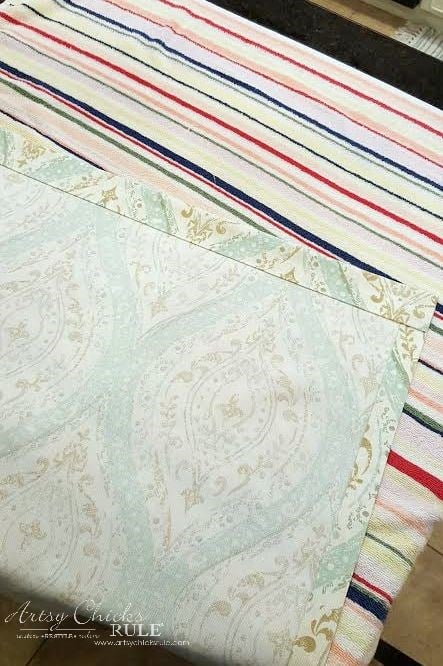 Nice and neat.
And pretty simple, just fold and fold again. I use the iron on product I list down below.
MATERIALS LIST
tension rods ( you can probably find these cheaper around town, I did)
I made a "loop" seam at the top to put the top tension rod through so it would be secure.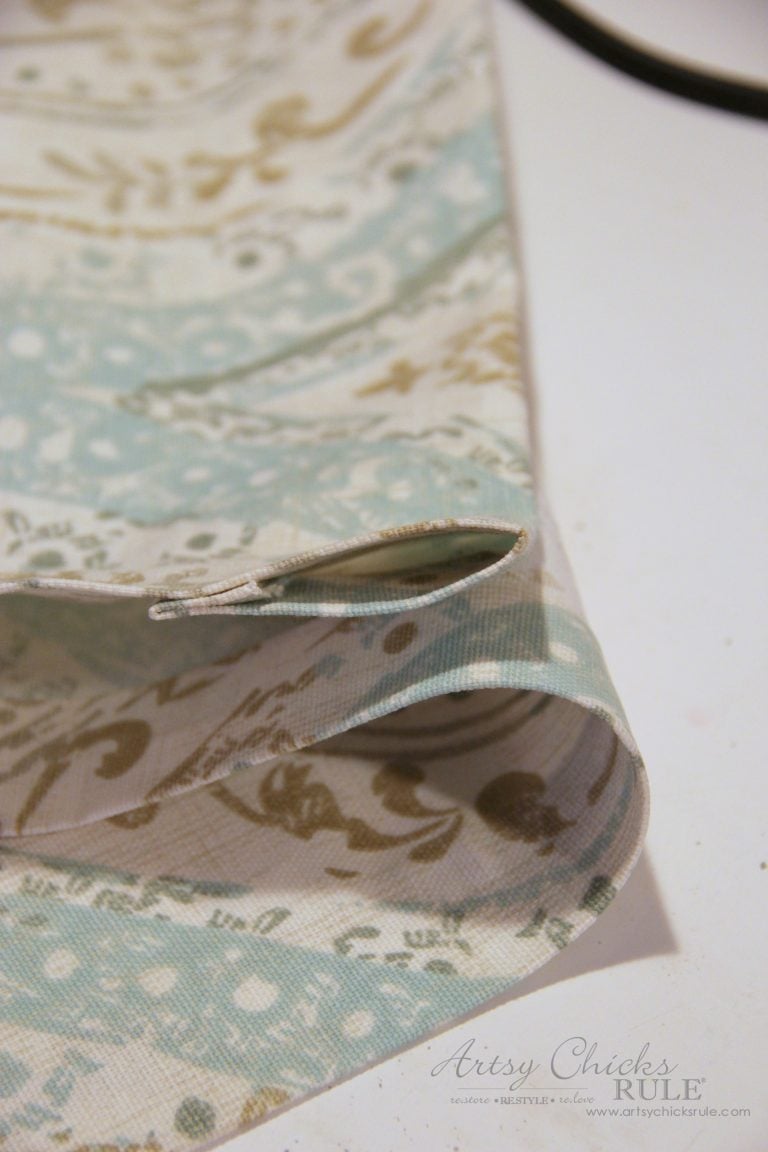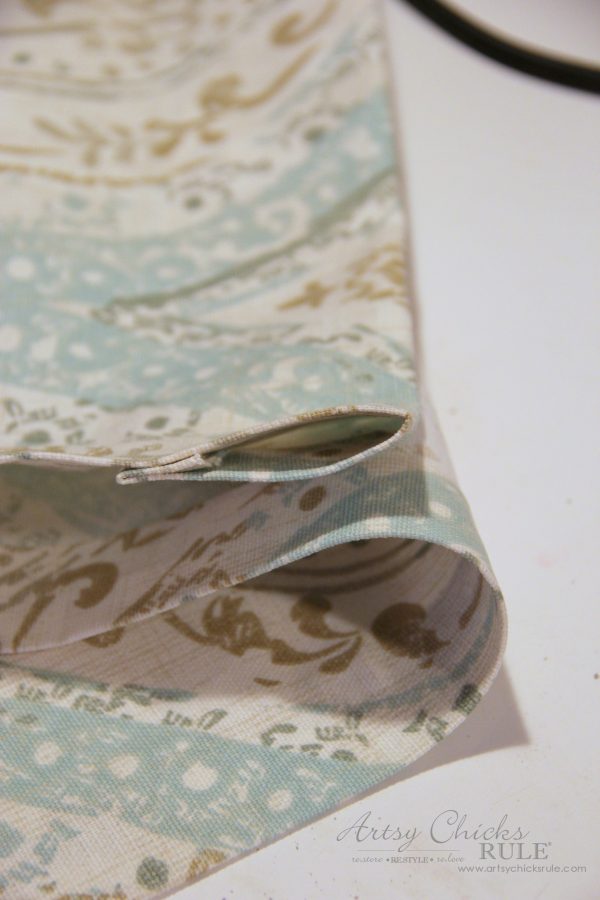 Nice and neat….and no sew! Perfect.
I then added the tension rods inside the window frame and voila…..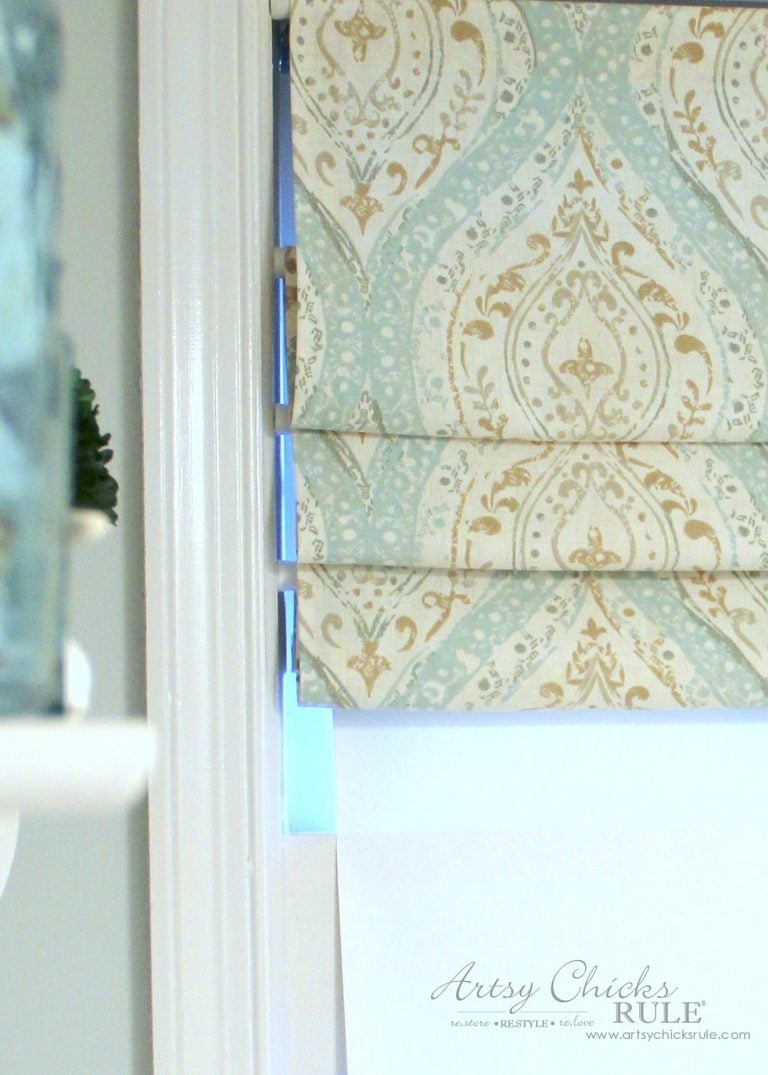 I love easy in decorating….and this was easy.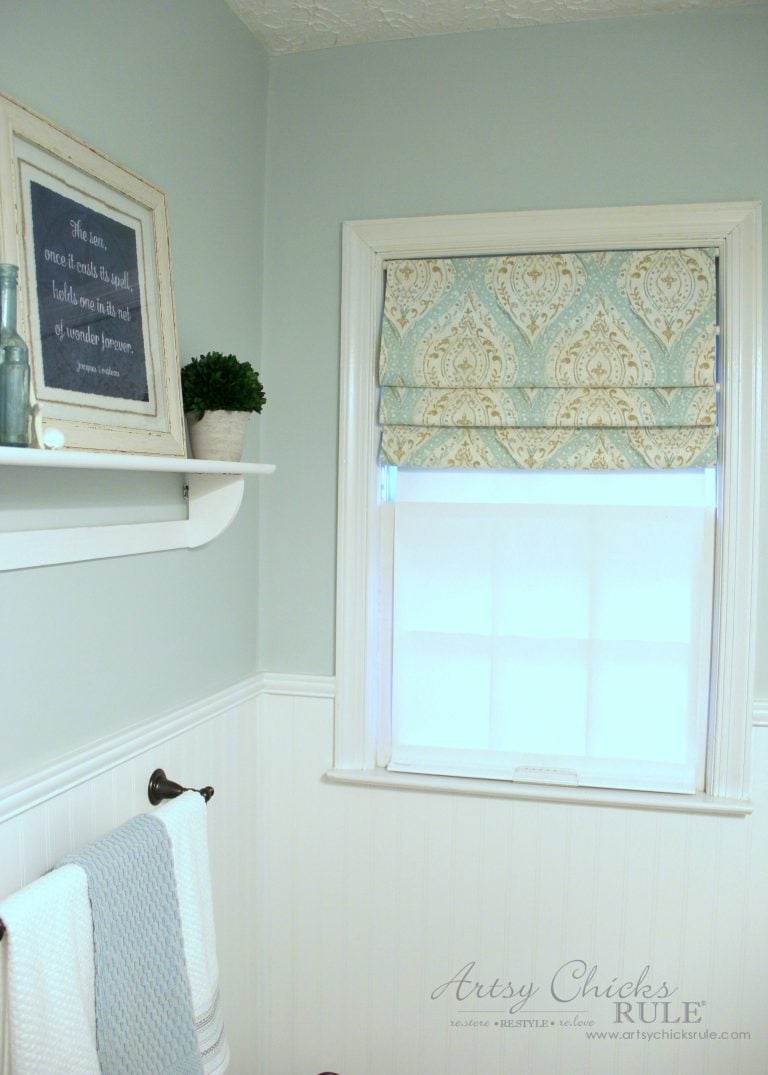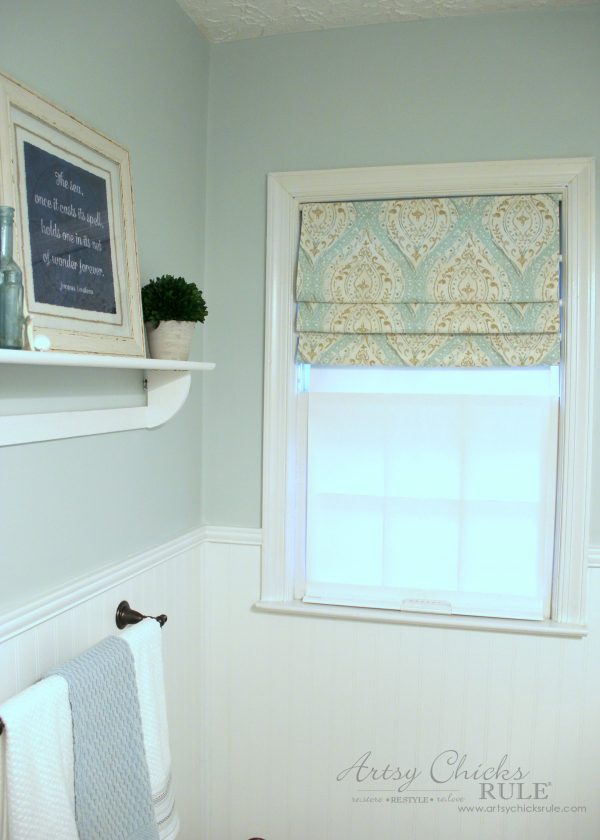 Little sneak peek of my guest bath makeover here too.
MORE to come, this week and next.
Loving the new paint color, by the way! (Sea Salt by Sherwin Williams…same as in the >>>Family Room)
It really brightened things up in this tiny little guest bath. See the paint color I had in here previously >>> Guest Bath.
Let me say what I always say on this blog here….YOU can make this.
You can, really. You don't need to know how to sew (I don't!) to make pretty things for your home.
I have now made countless window treatments and curtains for my home.
So please, don't be intimidated. Just do it.
You can make a no sew faux roman shade too!
PIN it to save it!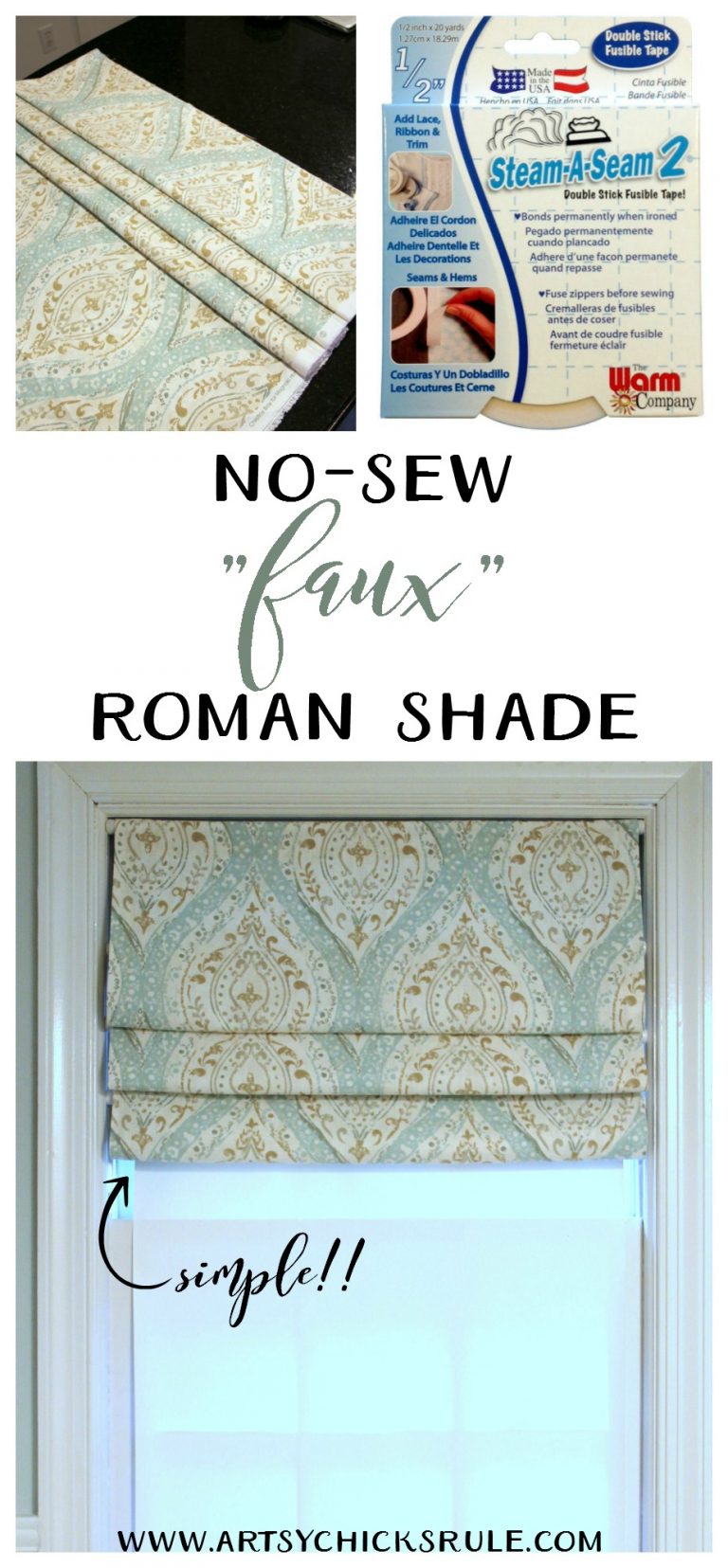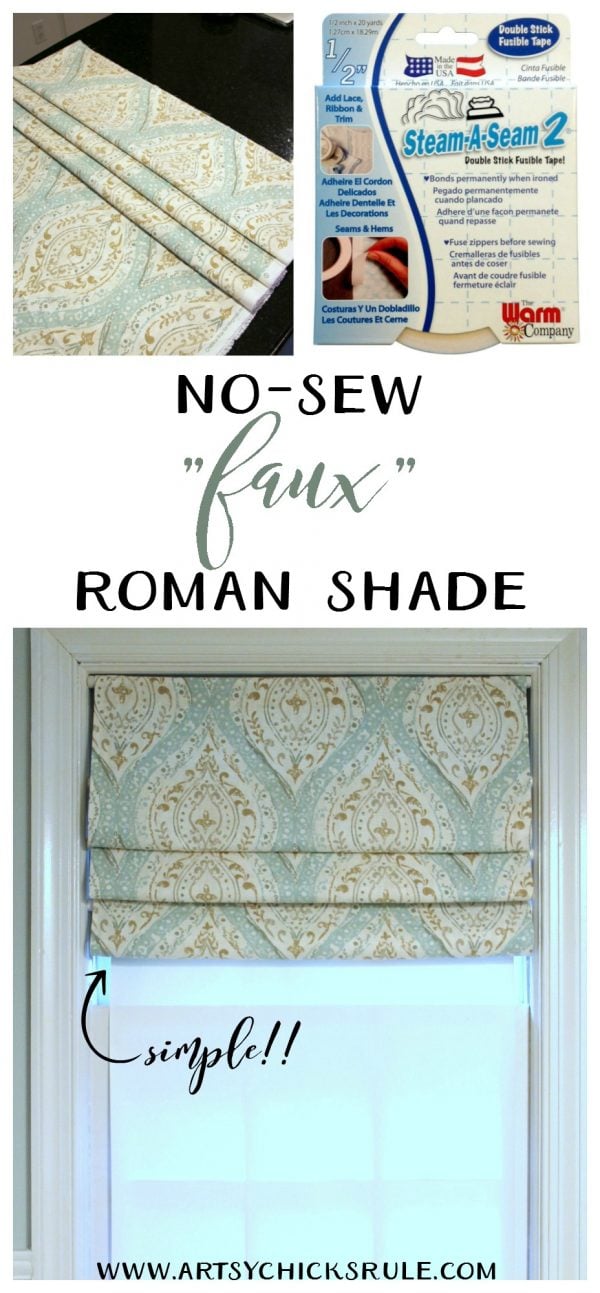 Alright you guys, if you make one, please send me a note, email or something!
I would love to see! :)
You might also like this no sew project: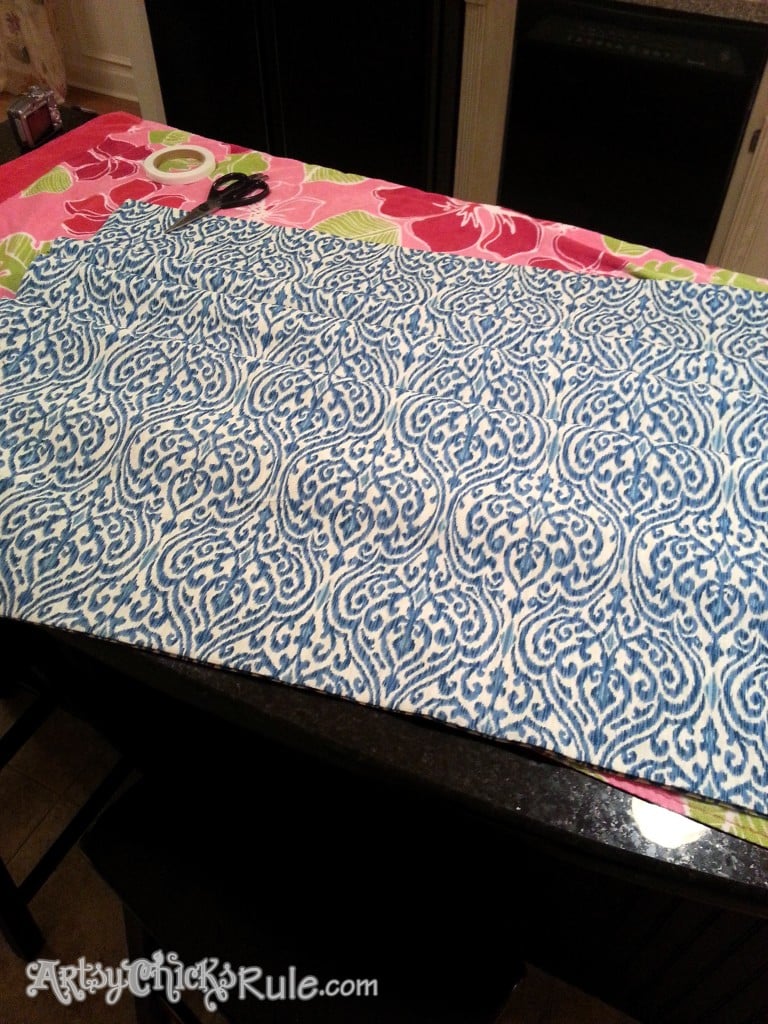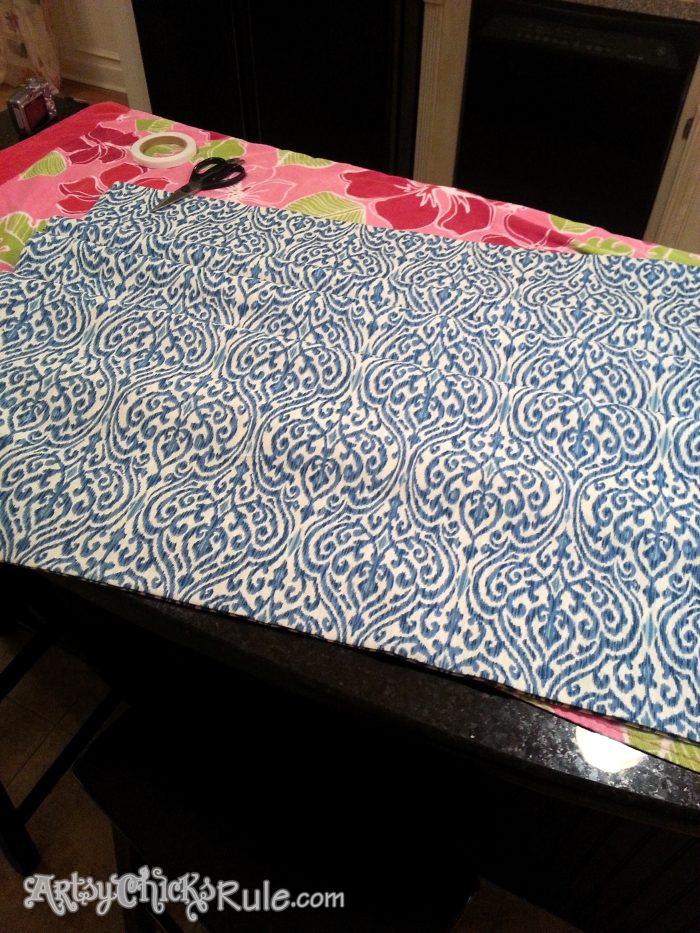 See the tutorial here >>> Easy No Sew Curtain Panels
I'll be back on Thursday with a fun little wood sign (<<<— see it now :) ) for my guest bath makeover.
It's …different…. you'll see. ;)
We are lighthearted over here and like to have a little fun.
Be sure to stop by to see it!
xoxo