Today I'm sharing how I made this super simple "DIY Green Berry Wreath".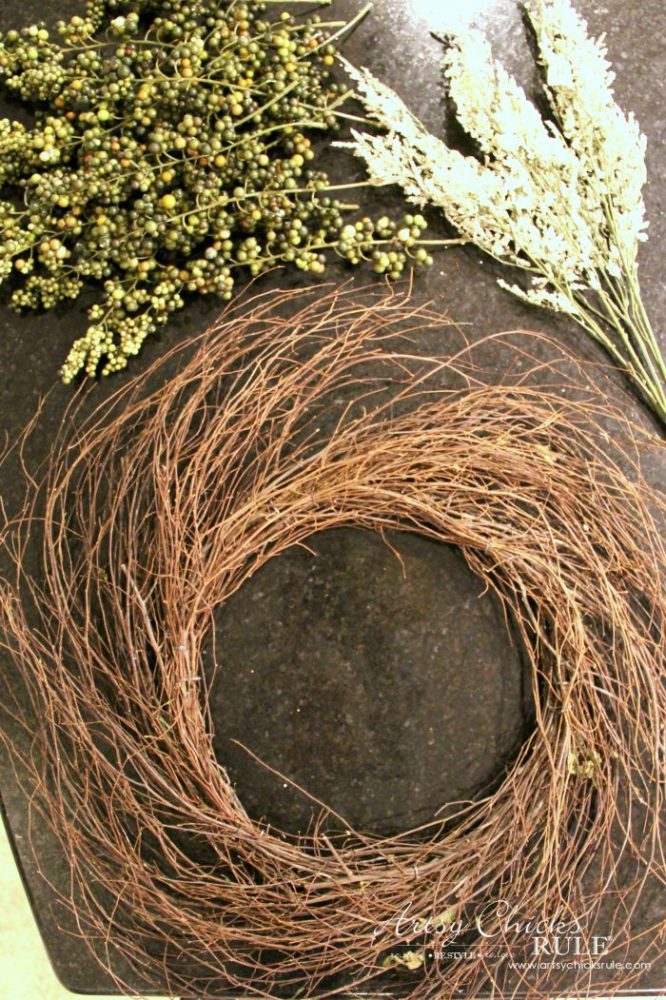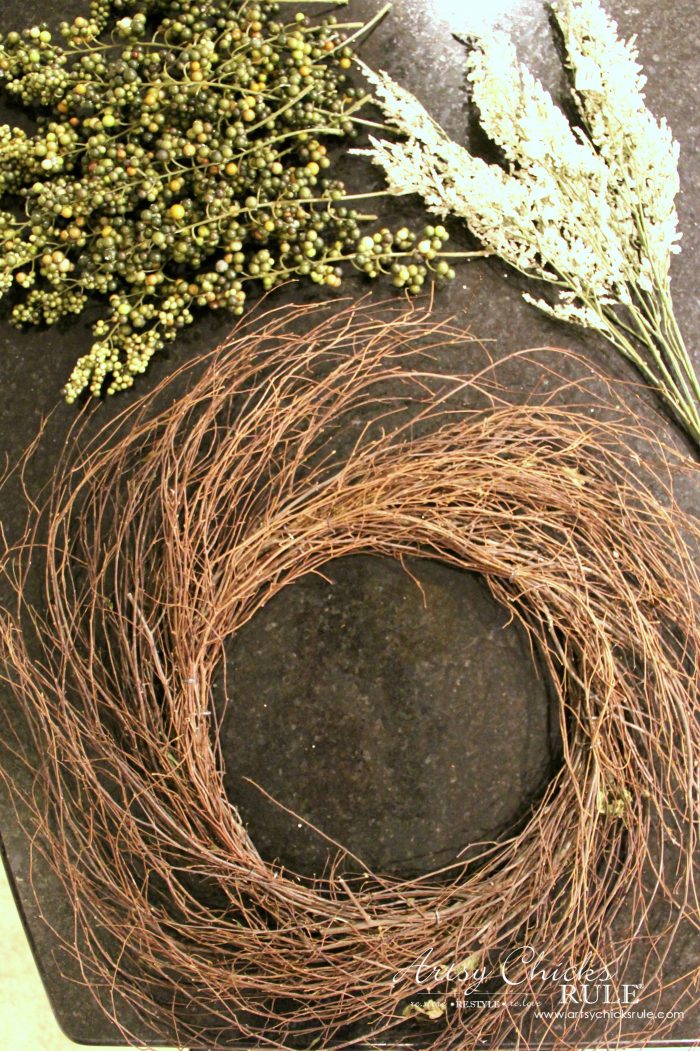 I'm sure you've seen the red berry wreaths. They are popular at Christmas but I also love them year round.
Unfortunately, I don't really decorate with much red year round so wanted to do something similar but in a nice fresh green color.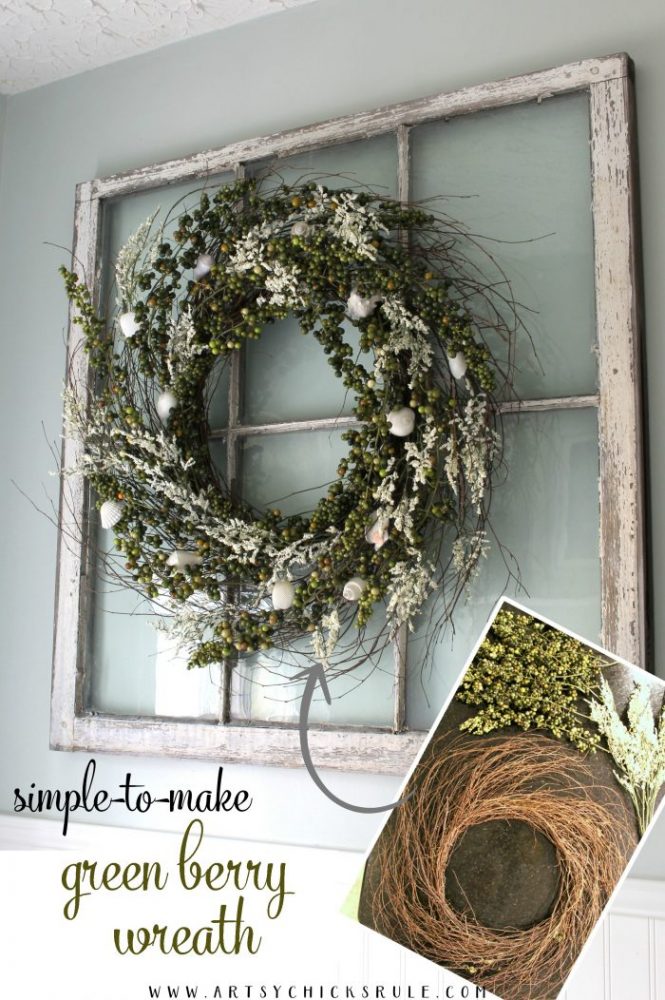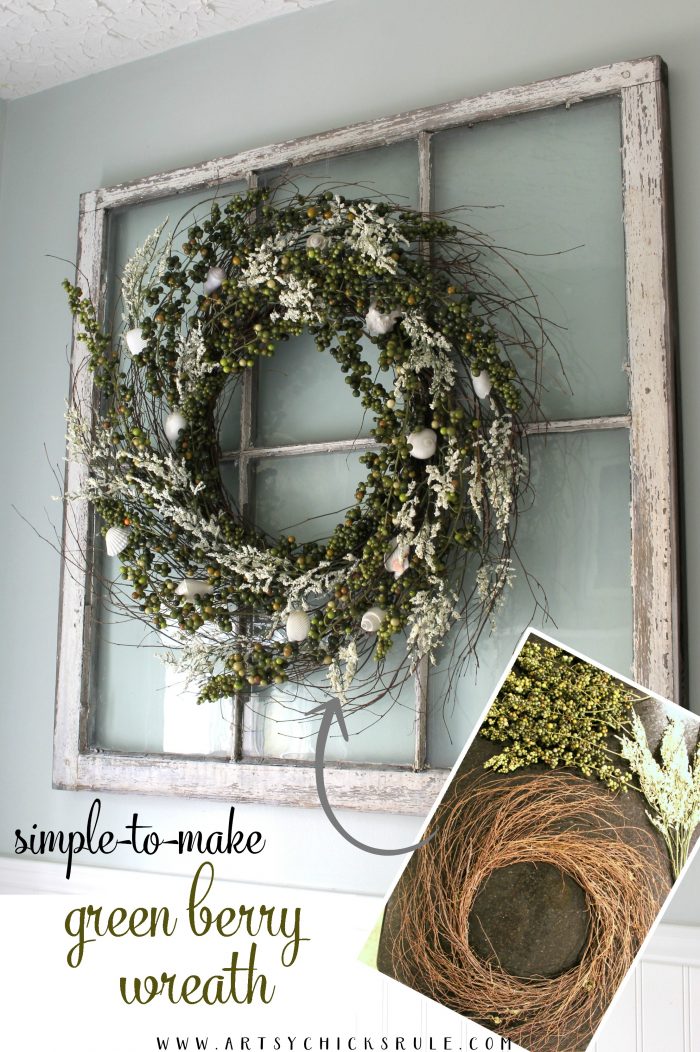 MY LATEST VIDEOS
I love greenery, plants and flowers in and around my decor. It brings a bit of life and beauty, I think.
So I wanted a similar feel with the green berry wreath.
I may include affiliate links below to the products I found or used for this green berry wreath.
You can see my disclosure here. :)
I searched the web a bit to see if I could find one….but did find this….Green Berry Wreath.
Which, by the way, costs $65. I'm too cheap to pay that. ;) Especially for one that I didn't really love.
So I gave up on the idea for awhile.
Until I came across some "green berries" in the clearance section of Michael's.
Score!
I figured, why not? I'll just make my own green berry wreath, that's what I do. ;)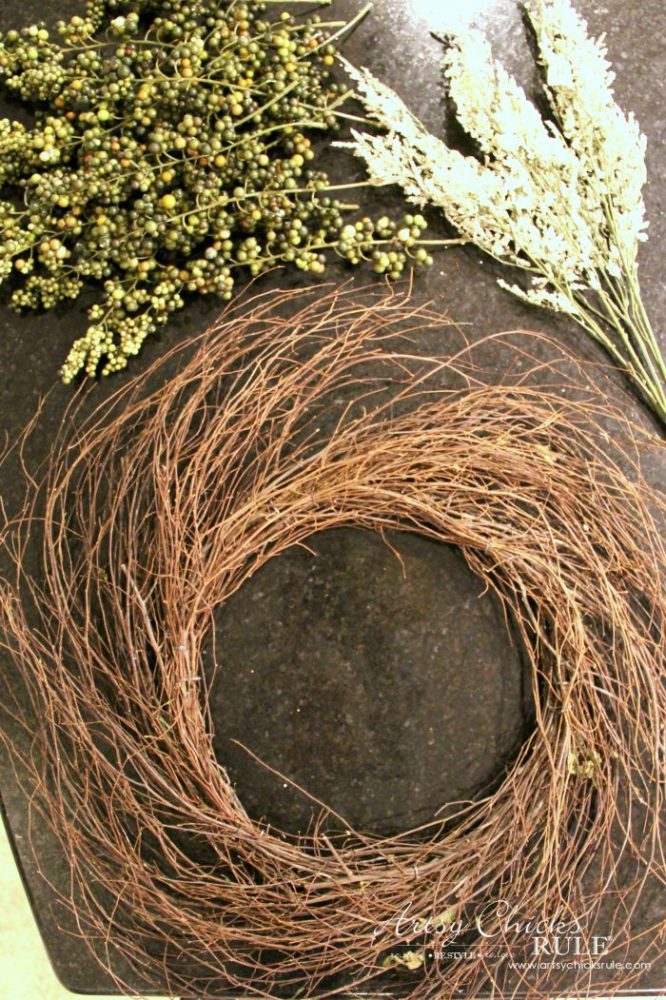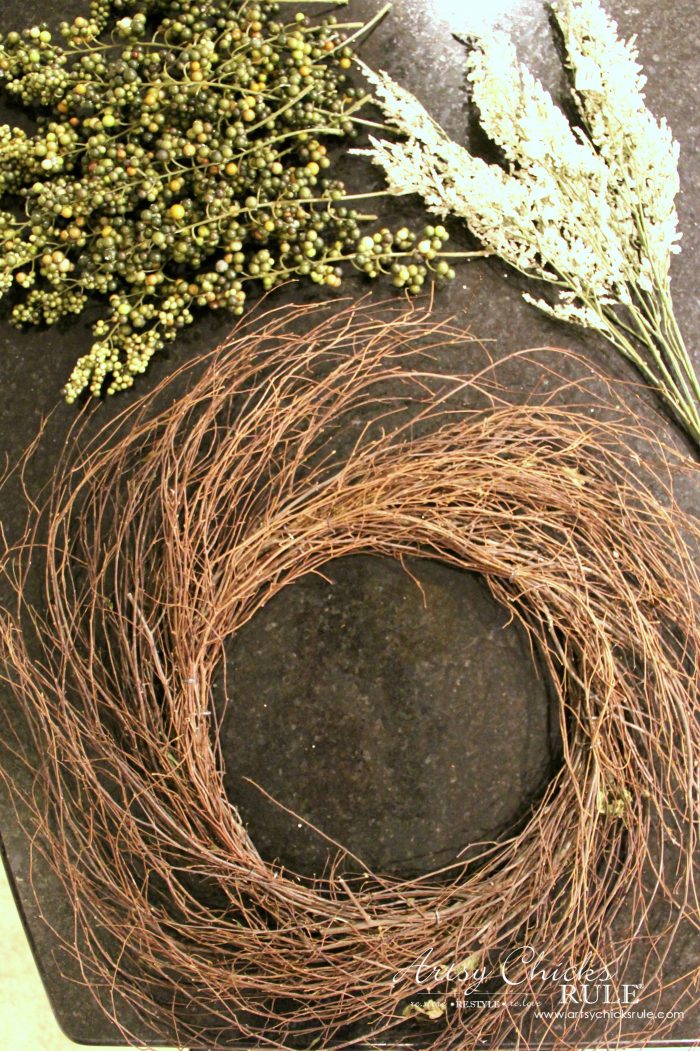 And so, along with the berries, I also picked up this wreath.
The white spray pieces were leftover from some other project I'd done.
As I usually do when making a wreath, I started by sticking the green berry pieces in and around until I liked the look.
I then went back in and hot glued them to the wreath.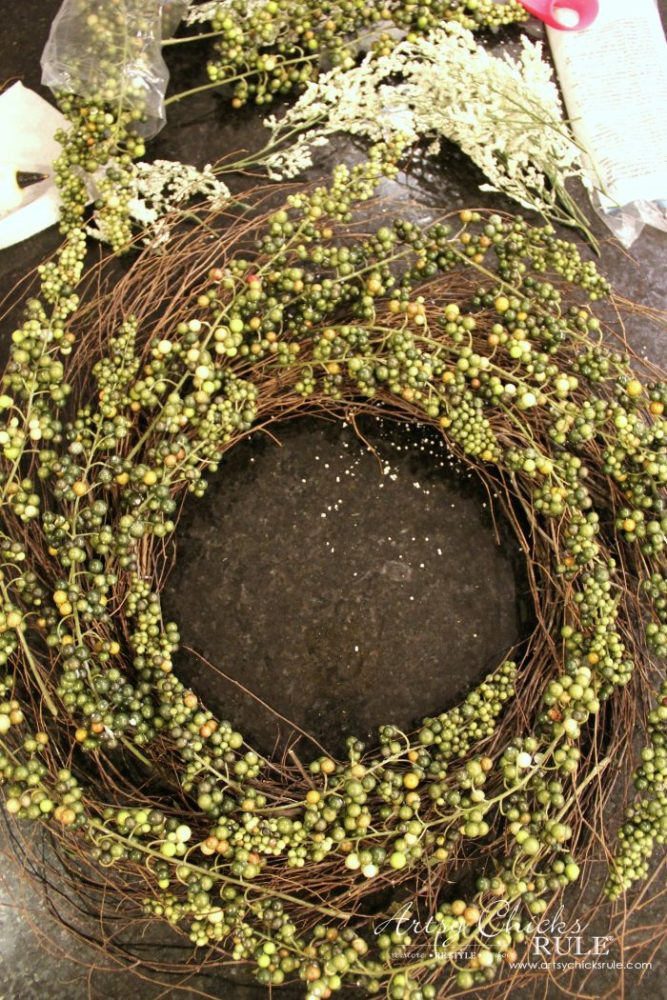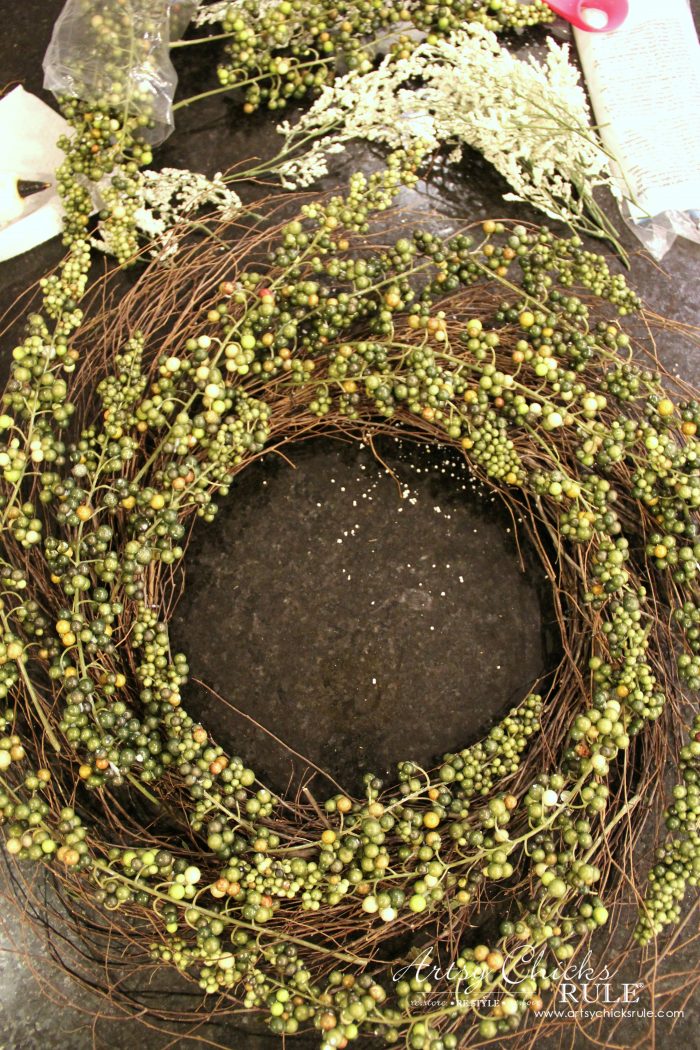 Then I added the white spray sporadically around the green berry wreath.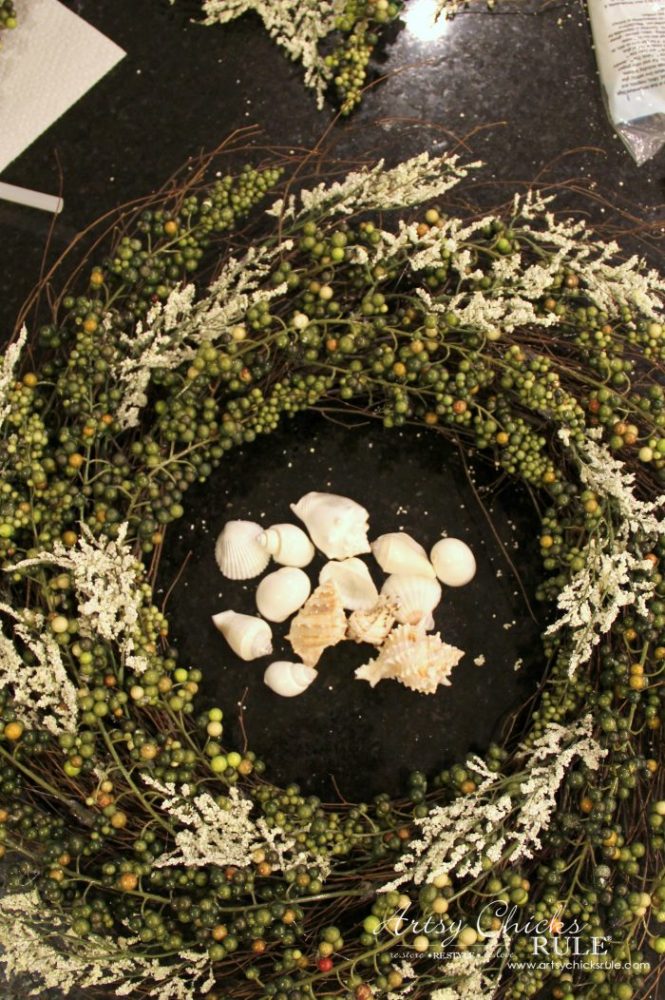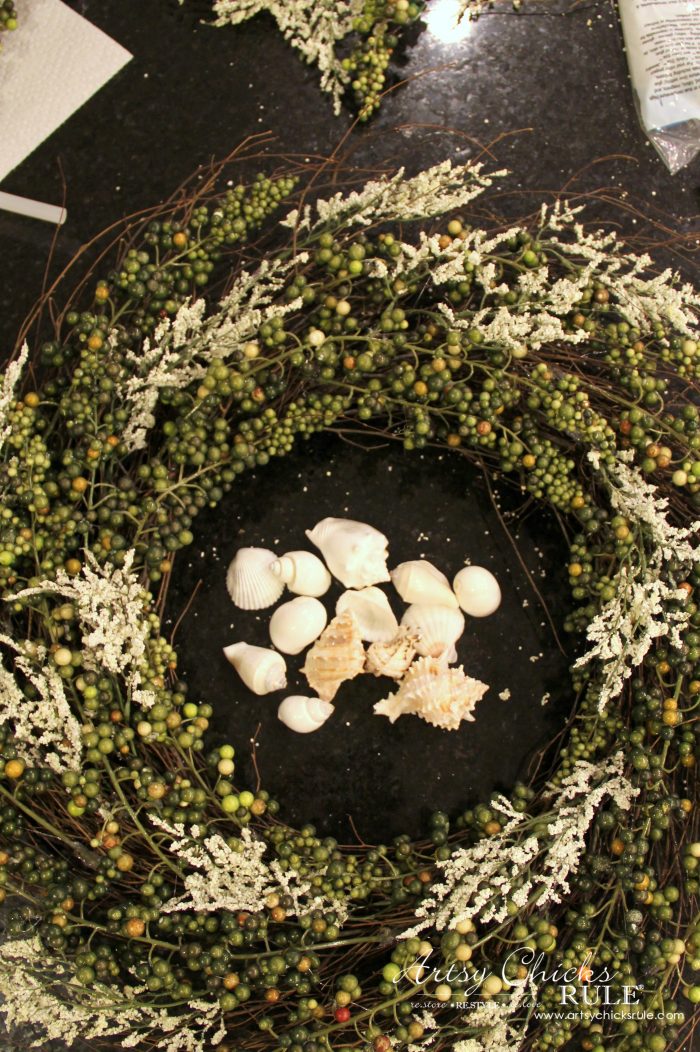 And that's when I decided I wanted to add a few seashells too.
My entire home is coastal themed, year round, so figured it would be perfect for the rest of my decor.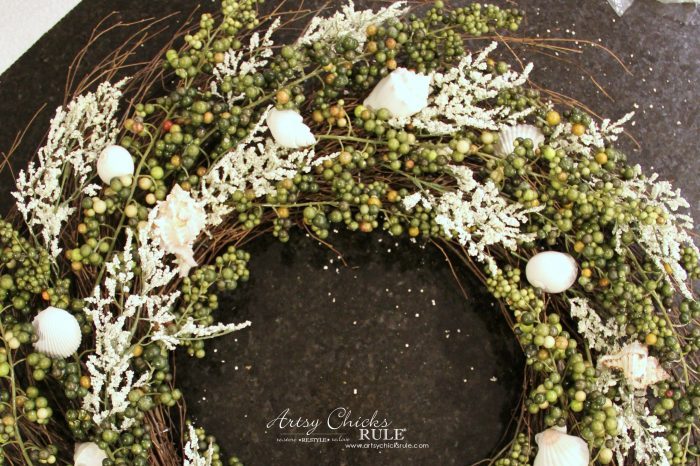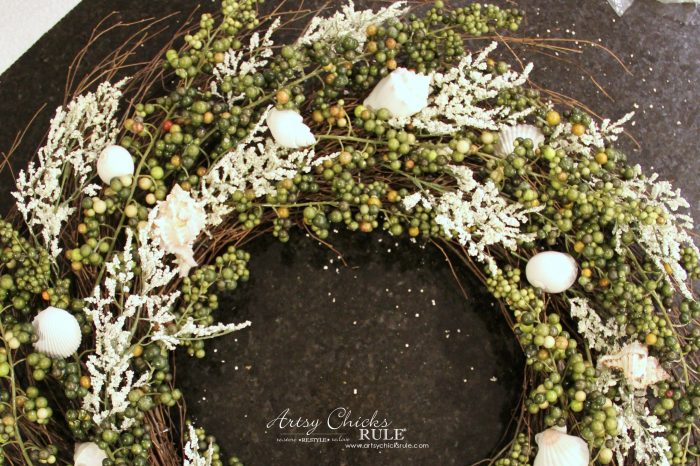 I hot glued those in and around randomly.
And that is IT! It took me, I think, a total of 20 minutes, or so.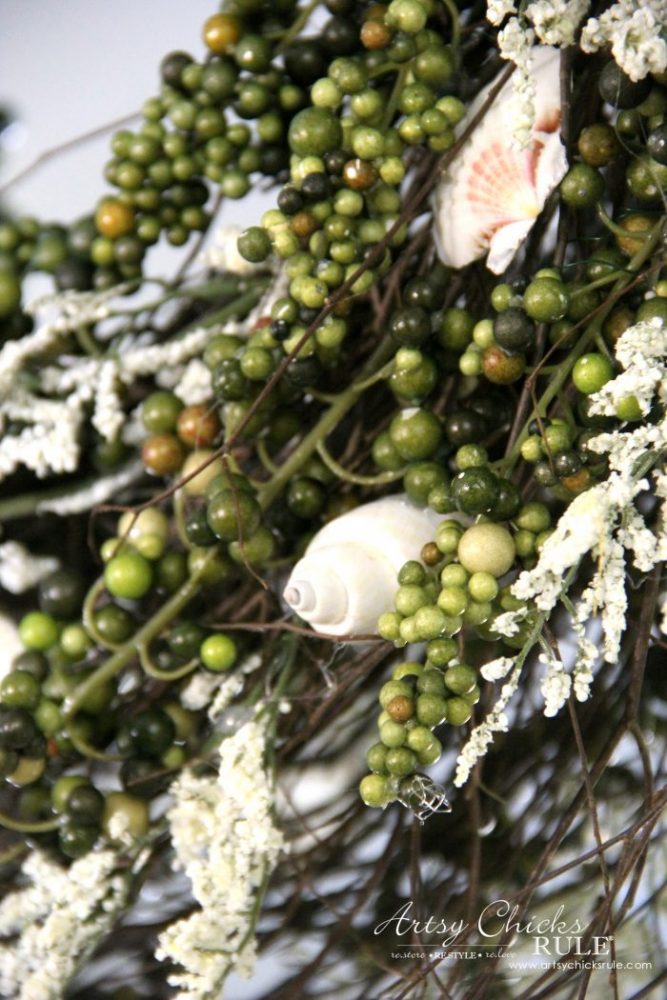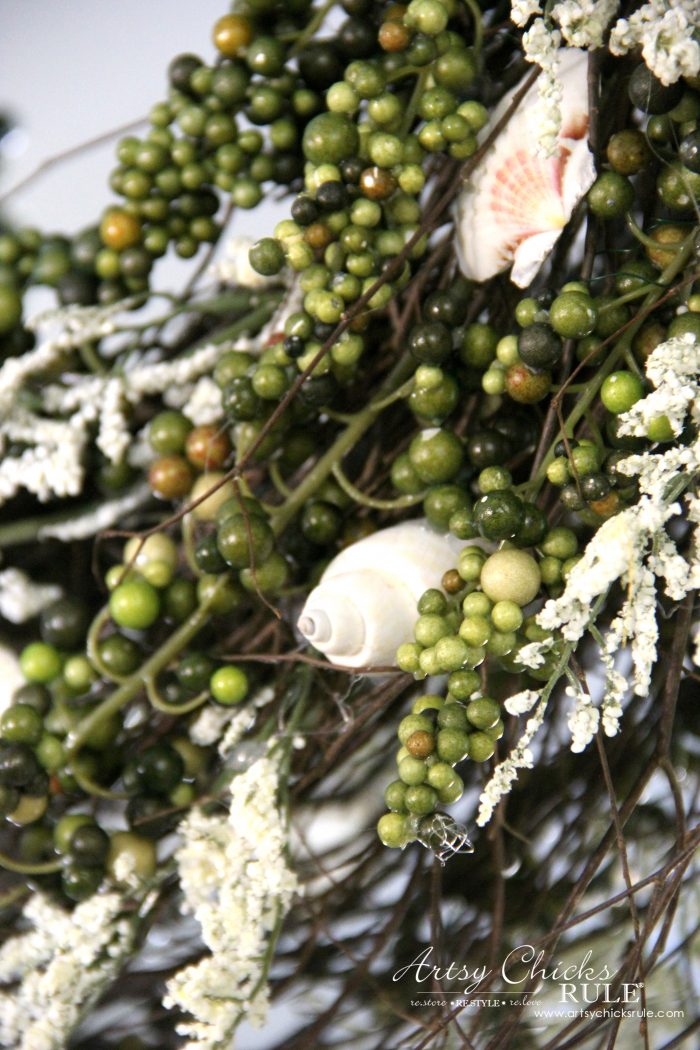 I'm so glad I decided to add the shells.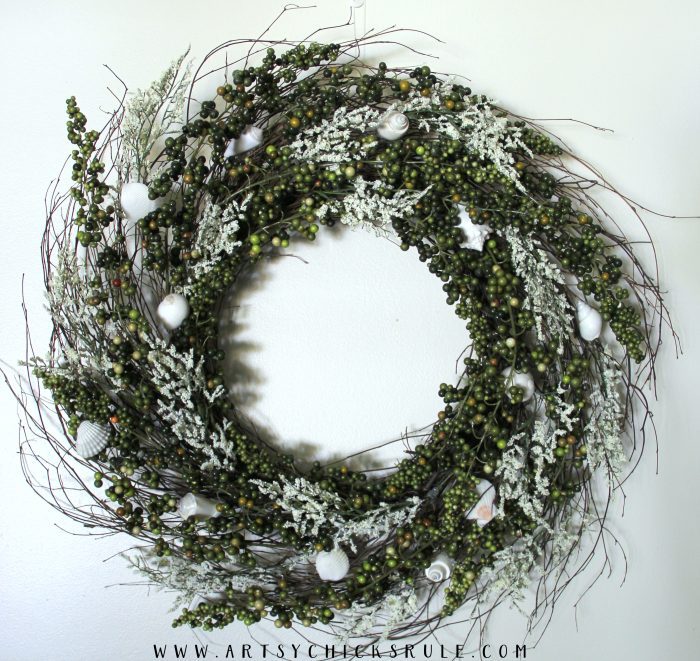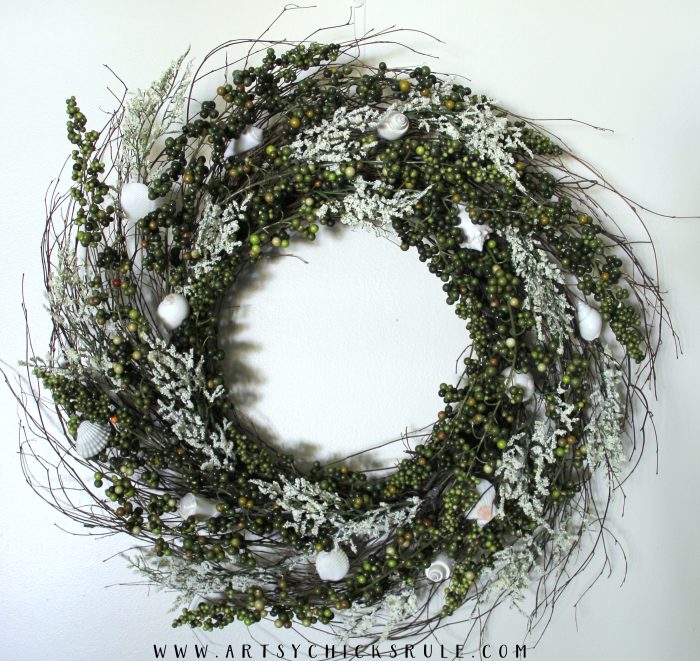 My very own green berry wreath. :) Yay! And it didn't cost anywhere close to $65 to make either.
I don't remember exactly, sorry, I made it before the holidays.
BUT the green berries for a few dollars, the wreath was half off and I already had the seashells and white spray.
So…less than $20, for sure.
Here is where I'm hanging it.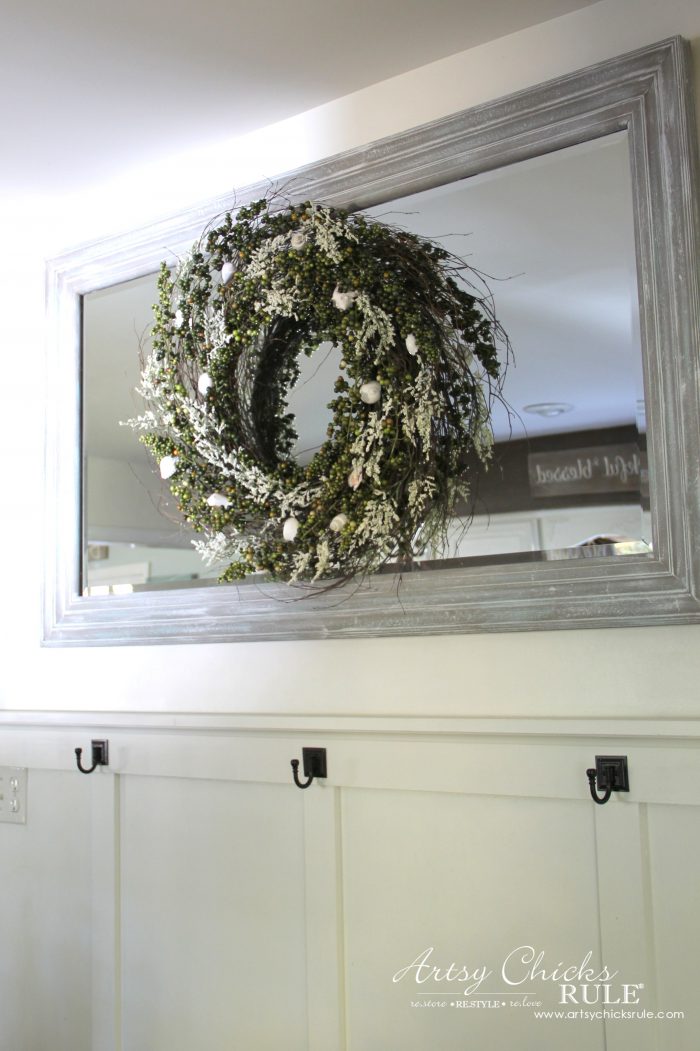 In my kitchen where I used to have my "DIY Farmhouse Inspired Chalkboard".
You might remember I added red berries to give this wreath a bit of Christmas flair…..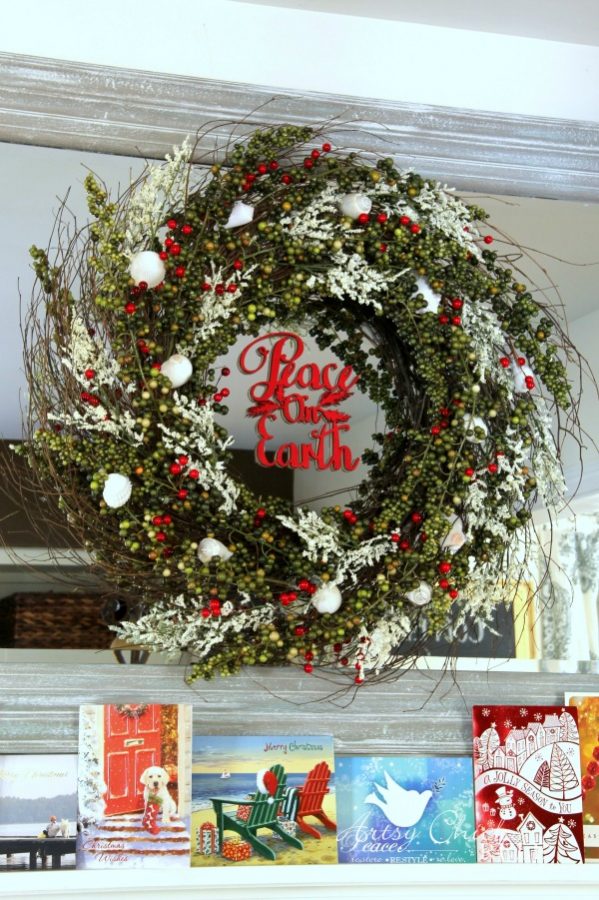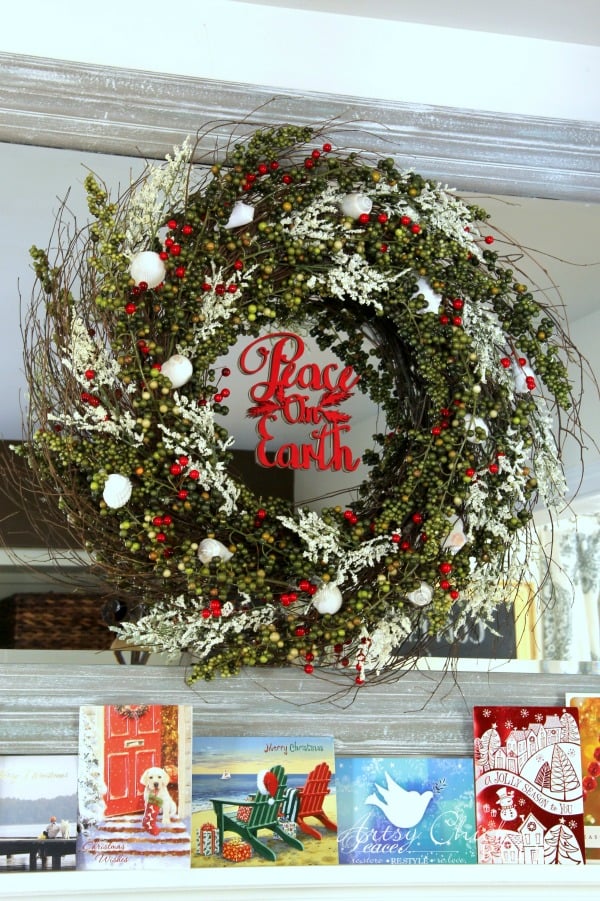 I simply stuck them in…..and pulled them out after the holidays.
Great way to add some color during the holidays. I did it to all of my wreaths. :)
Here it is hanging on my very old window in my guest bath.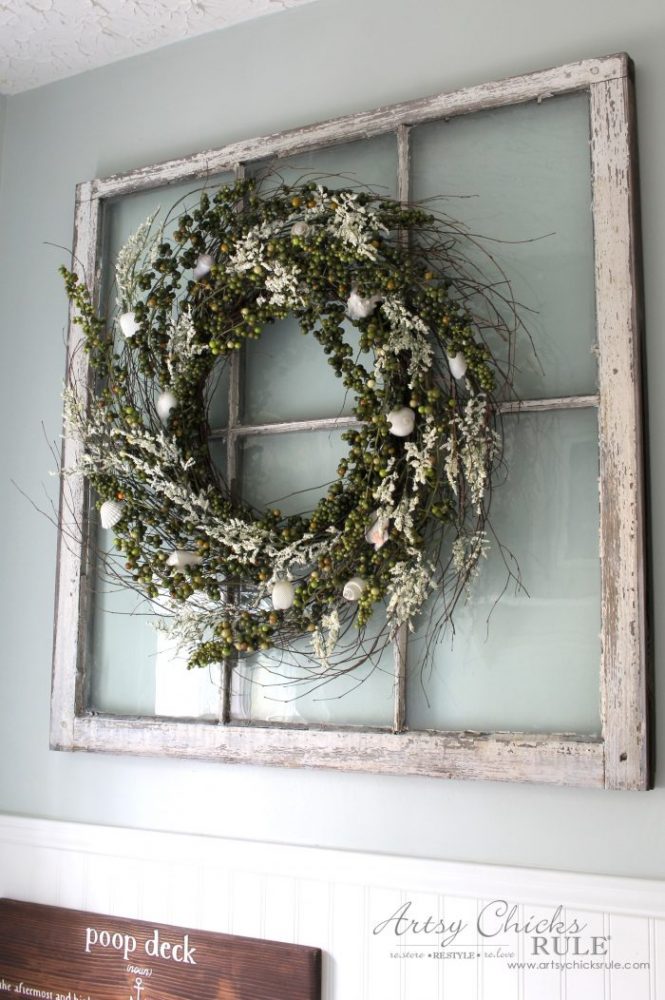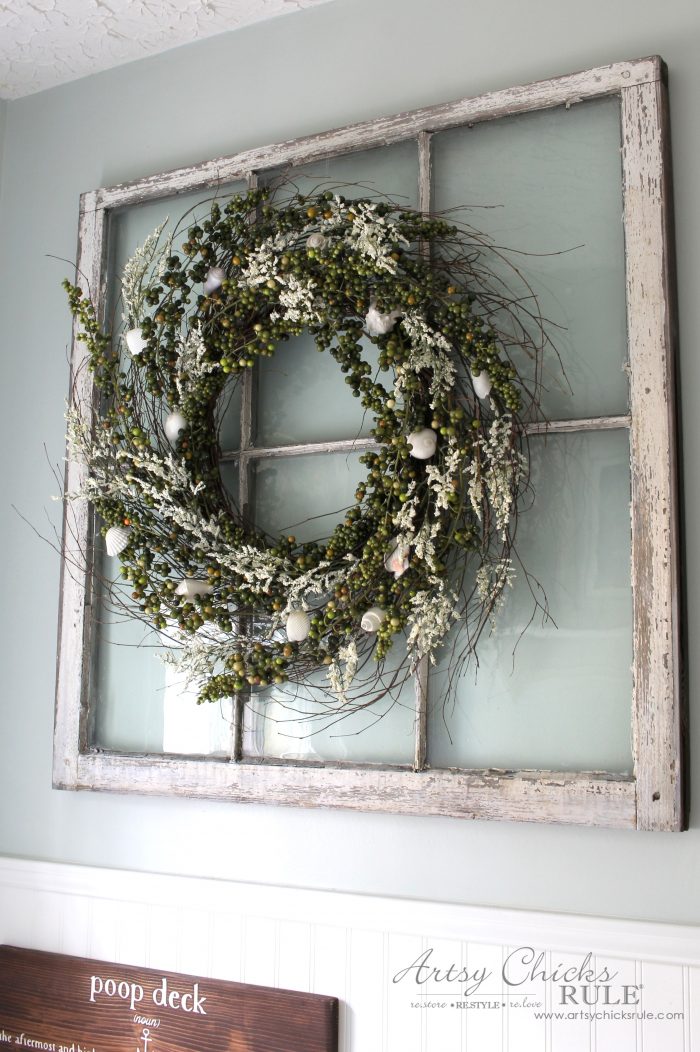 You can see the bath reveal here >>> "Coastal Farmhouse Bath Reveal"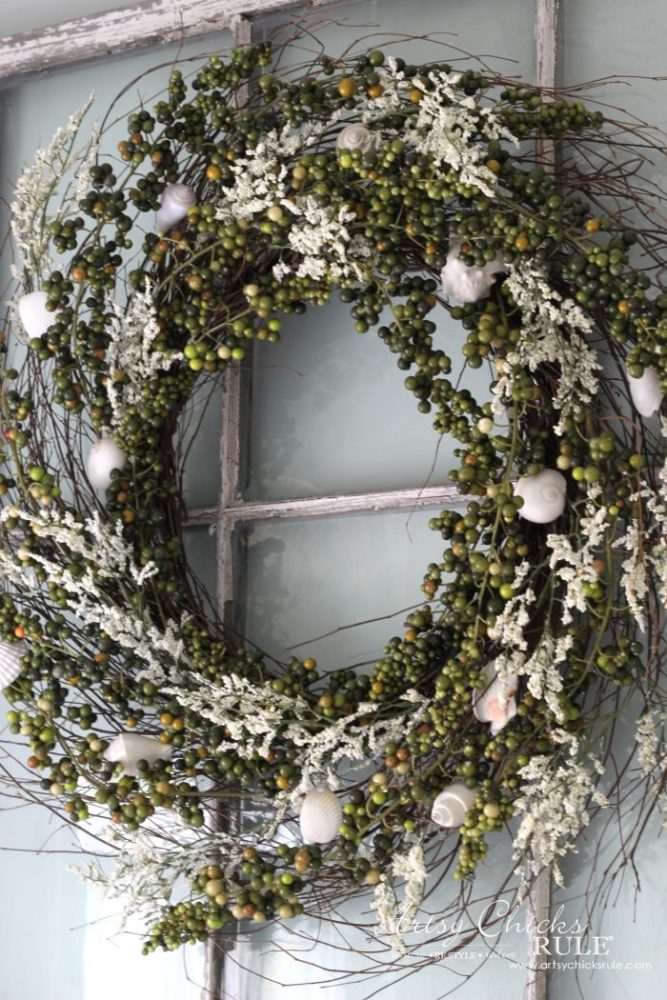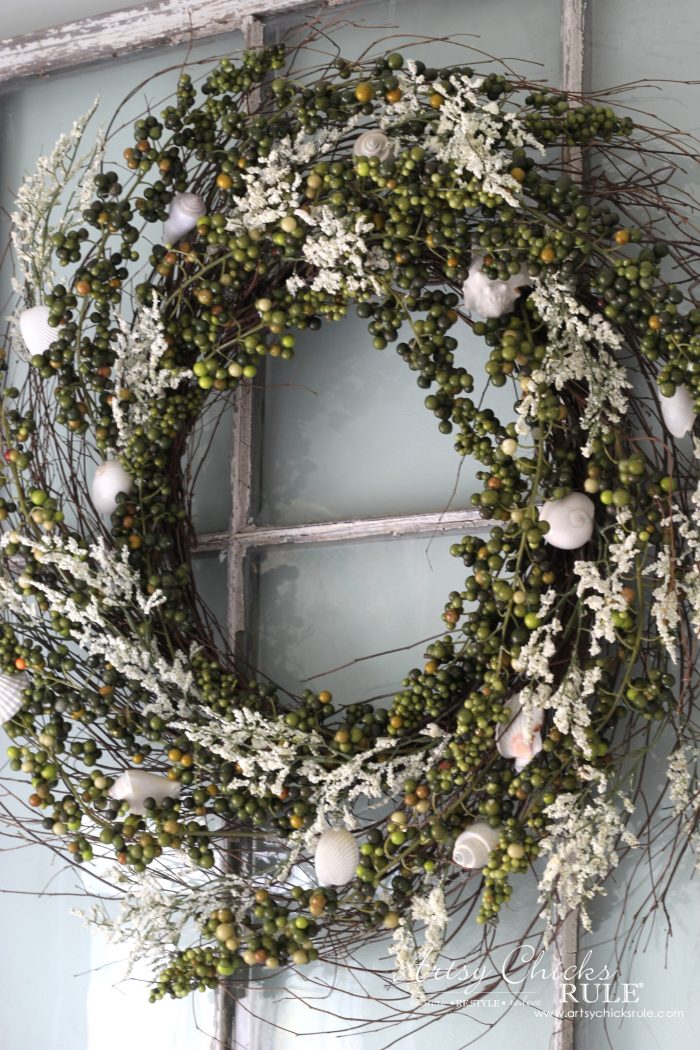 I'm so happy with how it turned out!
Are you like me? Do you "just say no"…. I can make that cheaper!!?
There's just a wonderful sense of accomplishment…in both saving money and creating something beautiful, yourself.
I hope you guys are inspired to create something beautiful for your home too. :)
PIN this for later so you can come back to it for reference……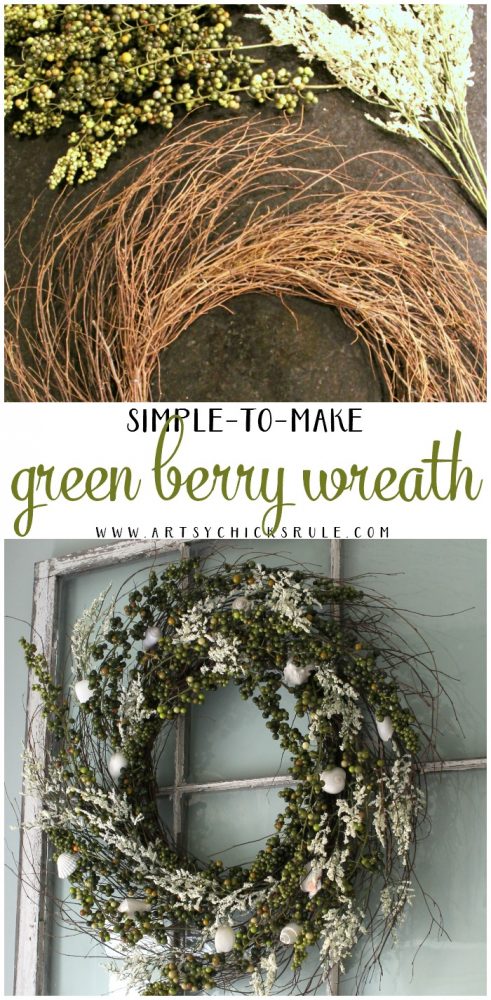 Happy making!!
xoxo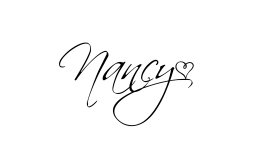 Here's a few more wreaths you might like….
Follow Along Here!