Simple (and thrifty!) DIY Floral Wreath
This post may contain affiliate links. Please see disclosures here.
Spring wreaths are a fun way to bring in the season, like this simple DIY floral wreath I'm sharing today.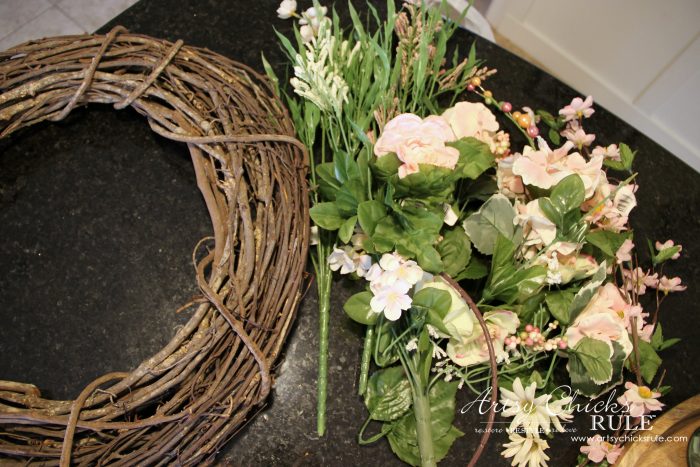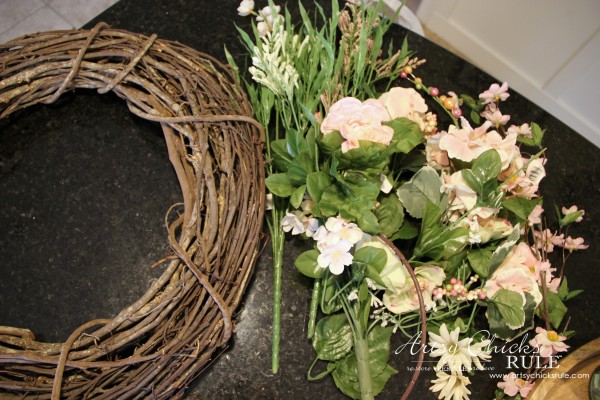 Guess what?
I made another wreath.
But I made it with the leftovers from this other Spring wreath I made a couple weeks ago.
Because I'm thifty girl….and because I had them laying around and wanted to get em out of my way. ;)
The grapevine wreath has been up on my shelf in my office/craft room for over two years.
It's a tad larger than the one I used on the linked Spring wreath above.
I found it at the thrift store a few years ago and had never gotten around to doing anything with it.
(because I'm really not a wreath maker…but I've made a few now–and if I can, you can too!)
So here's what I did with all those leftovers…..I made a DIY floral wreath!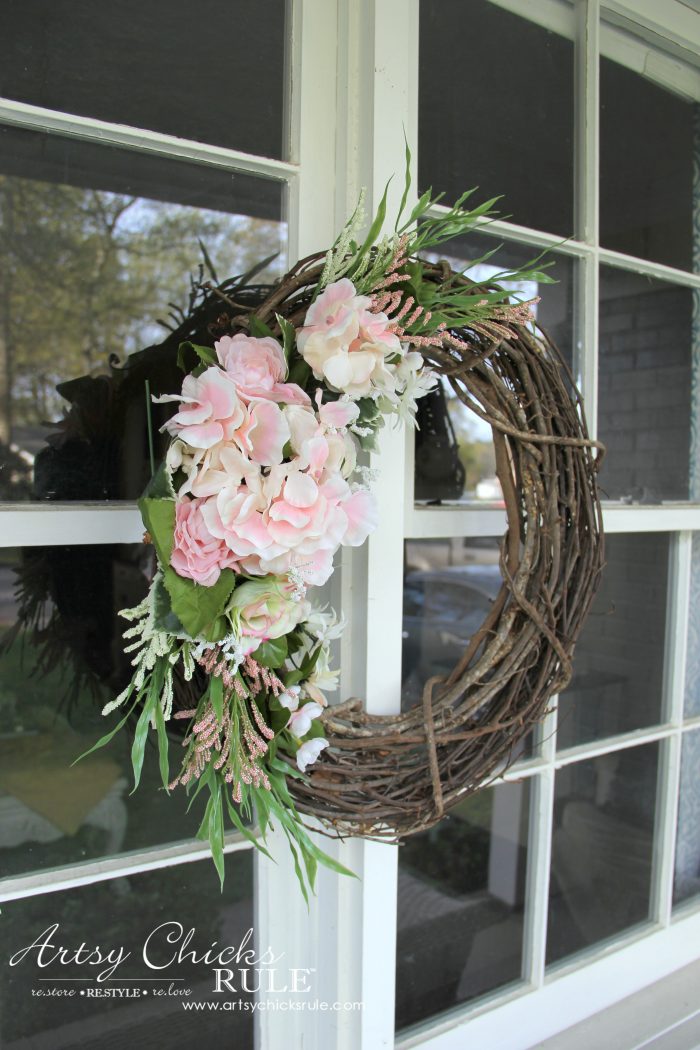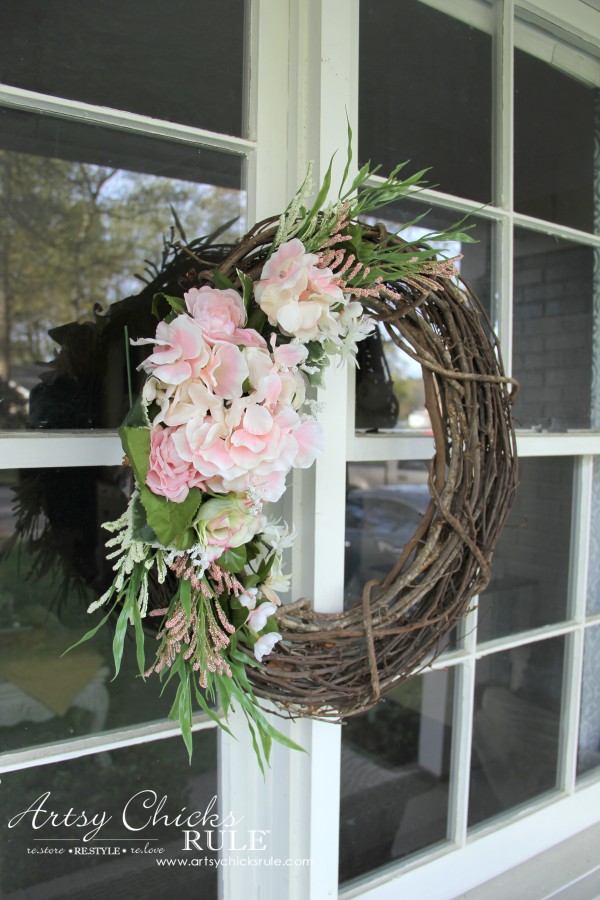 Do you recognize some of those pink and white sprigs?
That is what I made my other Spring wreath with.
If you remember, I had bought the flower bunch too but just didn't like it on that wreath.
But they were so pretty I wanted to use them somewhere, somehow, for Spring.
So I pulled everything back out and got to it.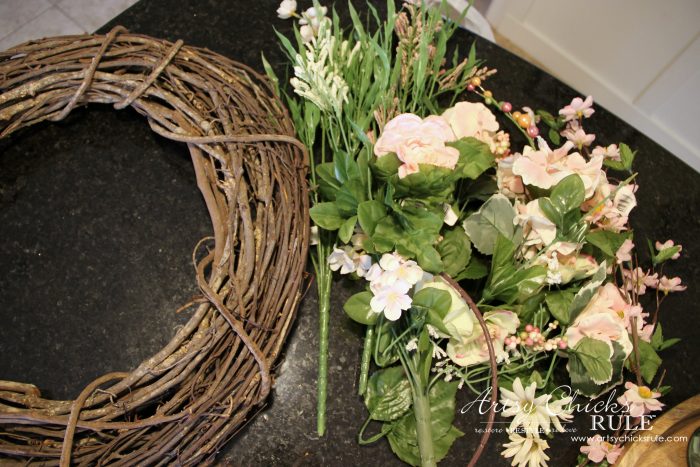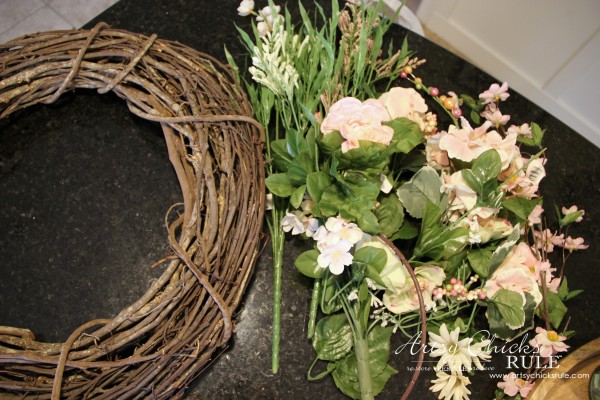 I started with the greenery and remaining sprigs of pink and white, adding it "on end" on either side.
Then I added 3 sets of flowers in the middle.
The big one in the middle and two smaller on either side.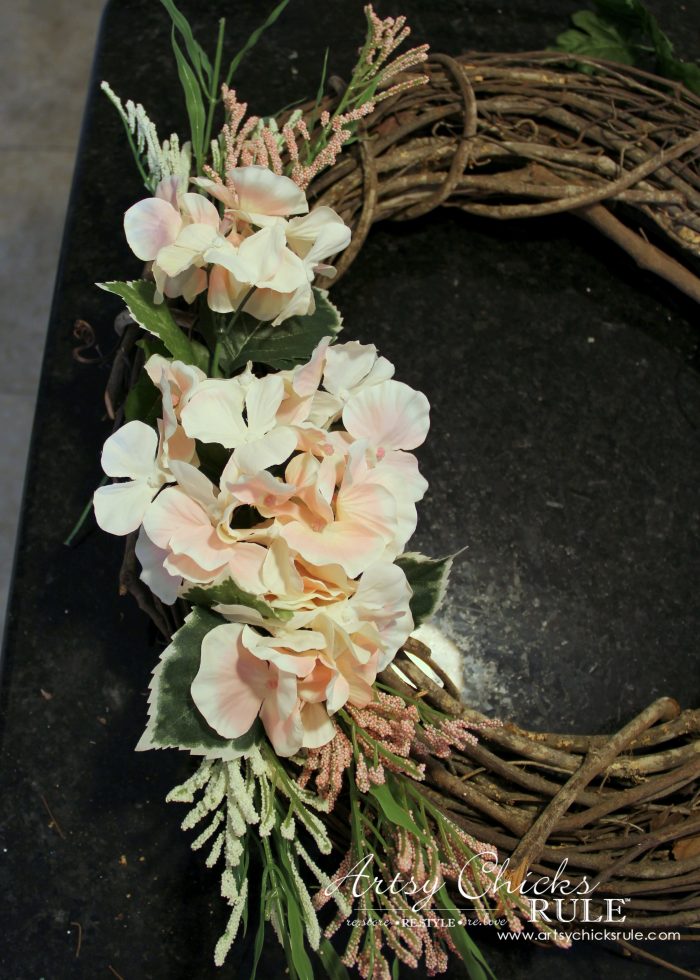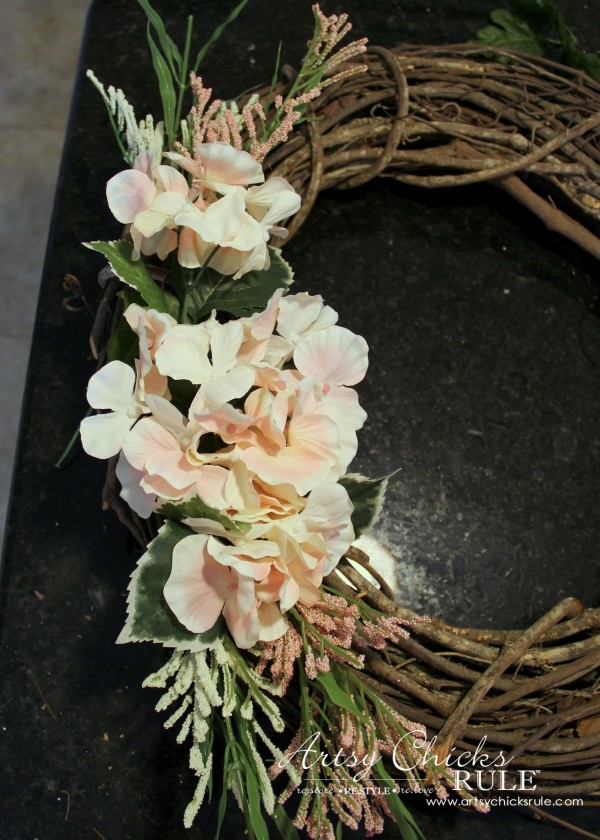 I saved the greenery from the sprigs I pulled off when making the first wreath.
They worked great for this wreath. Nothing goes to waste!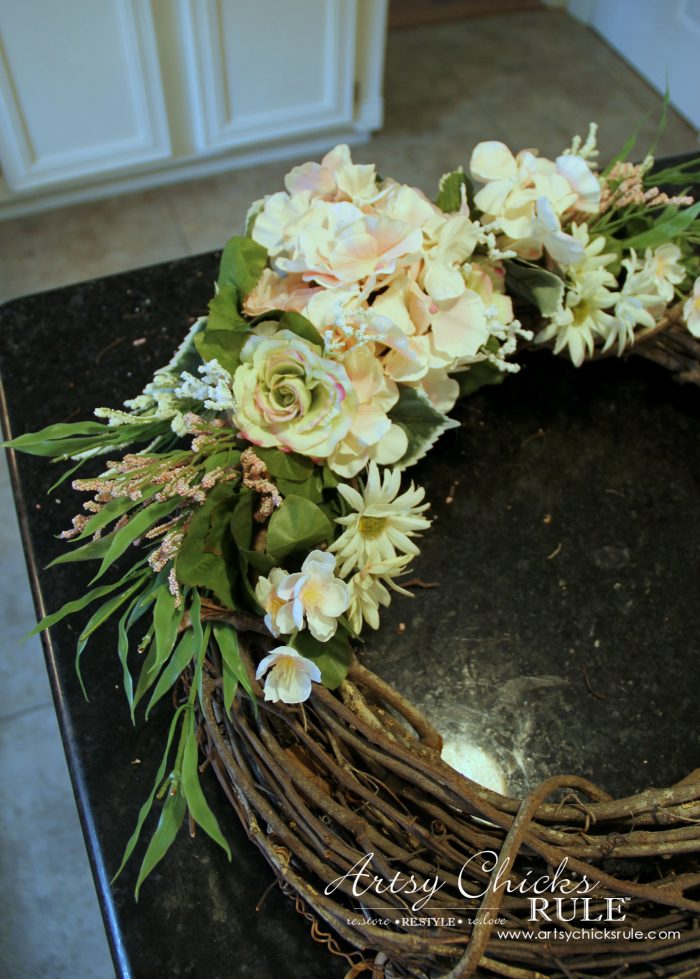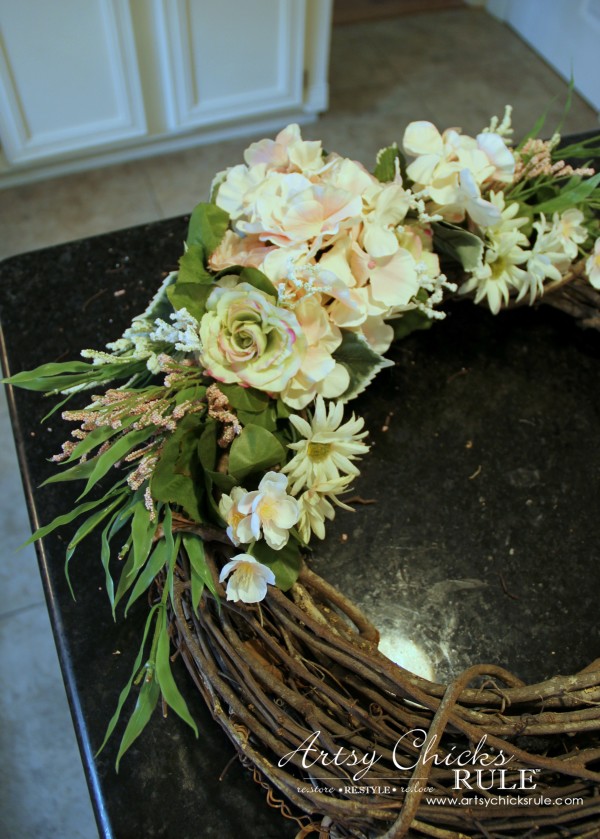 If you look closely, you can see the ends there that have no sprigs on them.
I am okay with that.
You don't really notice it once up. It just looks like greenery.
I hate to throw anything "usable" away…so I didn't. And now I'm using it! :)
I tucked the daisies and other small sprig of flowers in just above those on each side.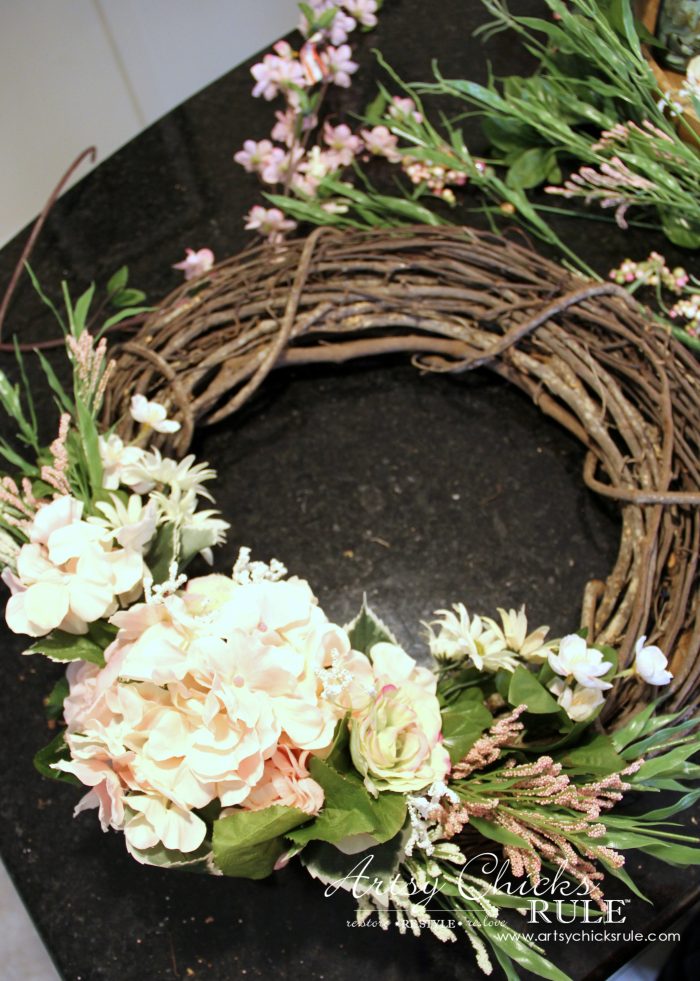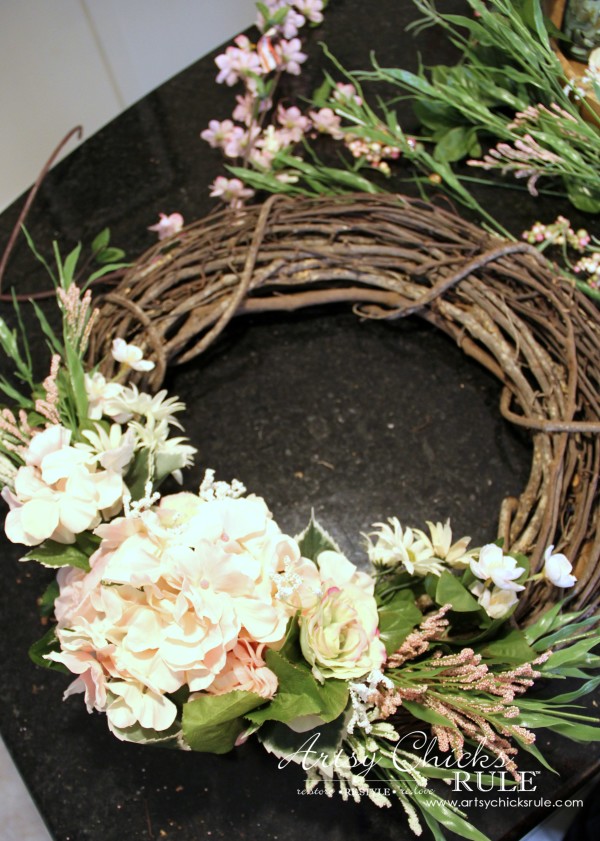 I also tucked in a few roses on either side of the center flowers.
And decided that was enough.
Just a simple floral wreath.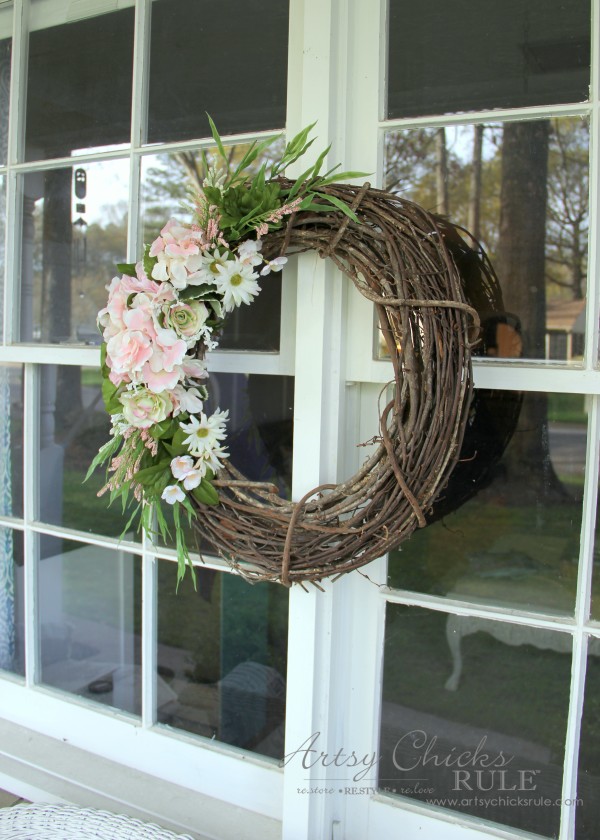 Oh…and I didn't glue a thing! Just like a few readers here mentioned…tuck in and don't glue.
I wasn't going to be putting this on my front door (no movement) so figured it'd be safe without gluing, so I didn't.
I finished this in about 10 minutes flat.
Really.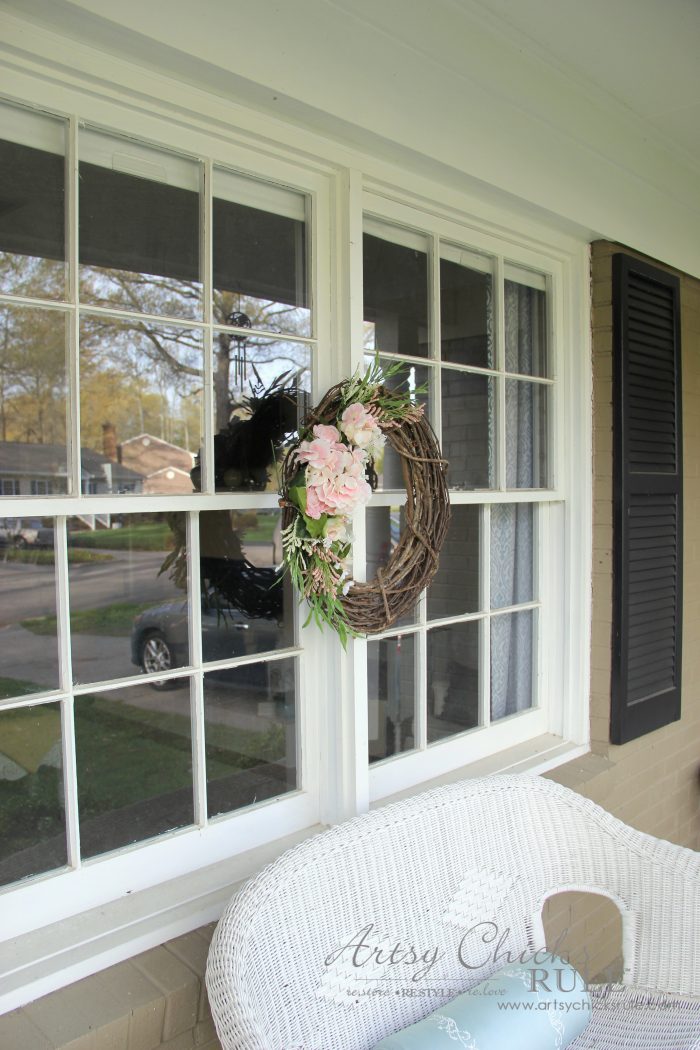 I decided to hang it on a set of my windows on the front porch.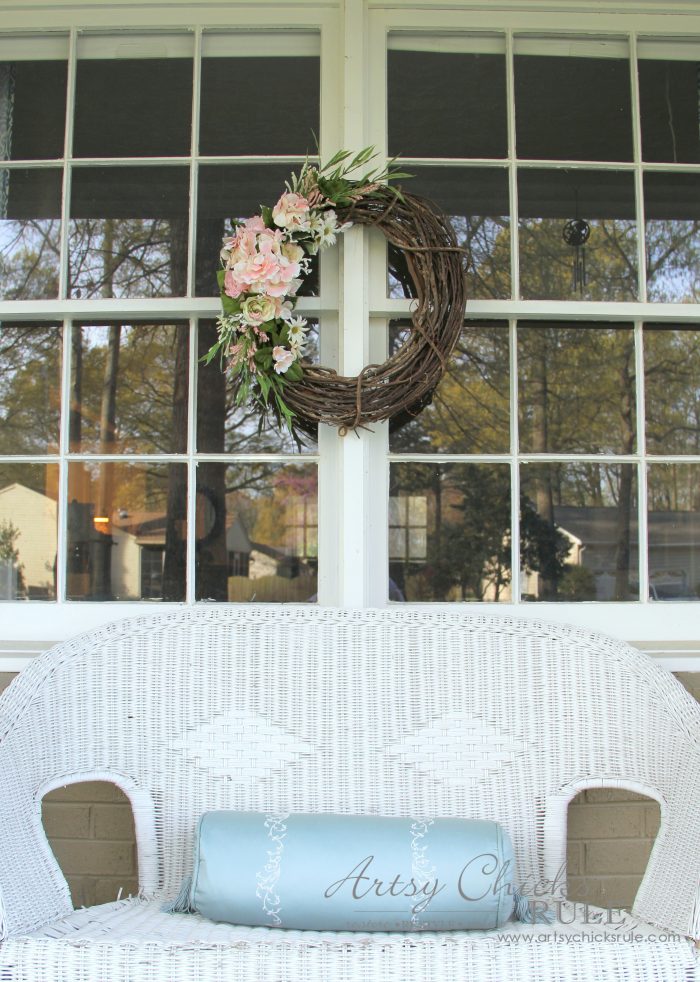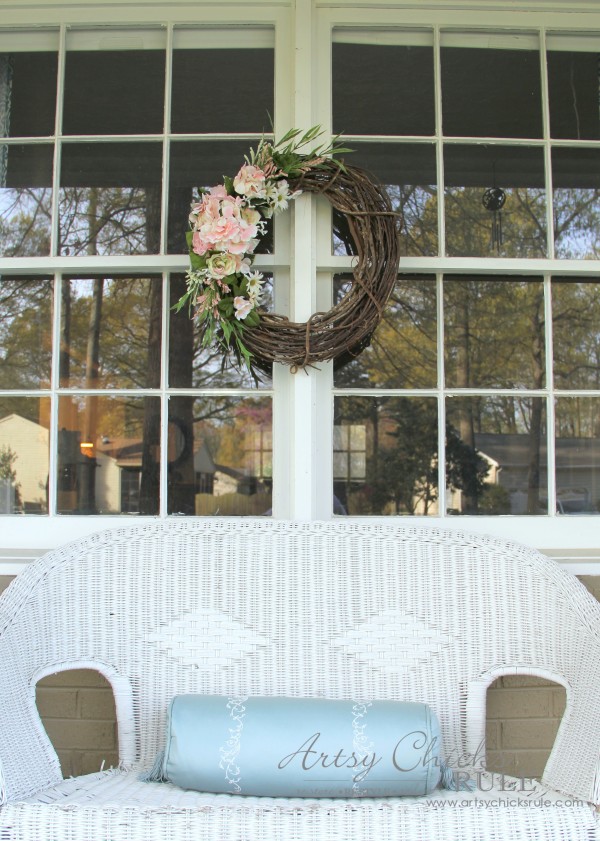 I love it there.
Perfect spot for it!
So…start to finish…10 minutes and I had something pretty to hang on the front of my home.
And it was majorly thrifty too. (wreaths are expensive!)
Thrift store grapevine wreath, leftover flowers and viola, super simple DIY floral wreath.
AKA, new pretty thing. :)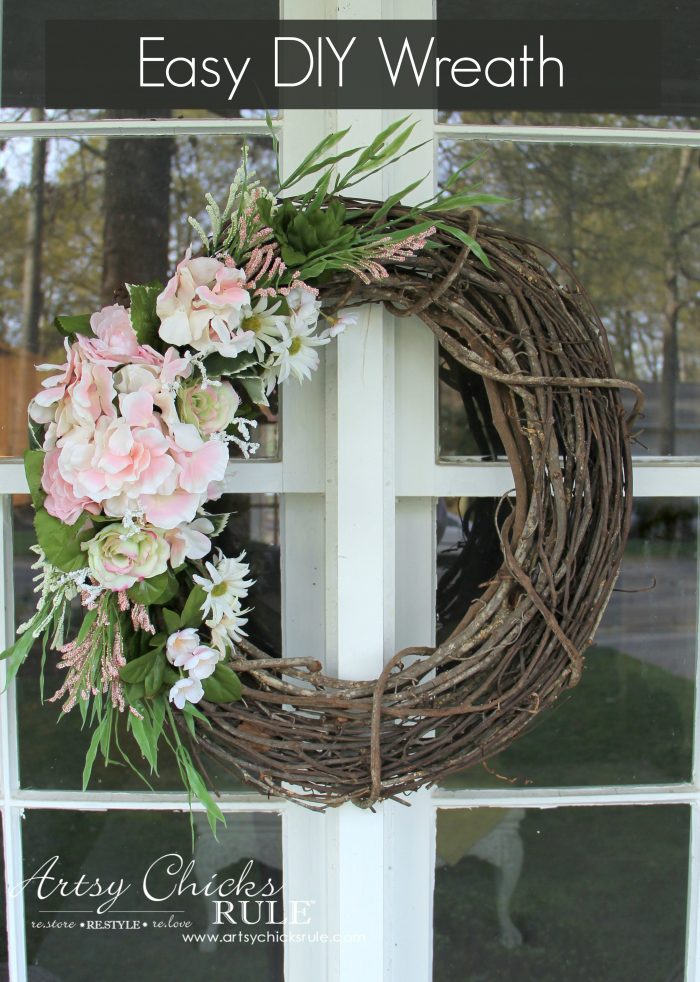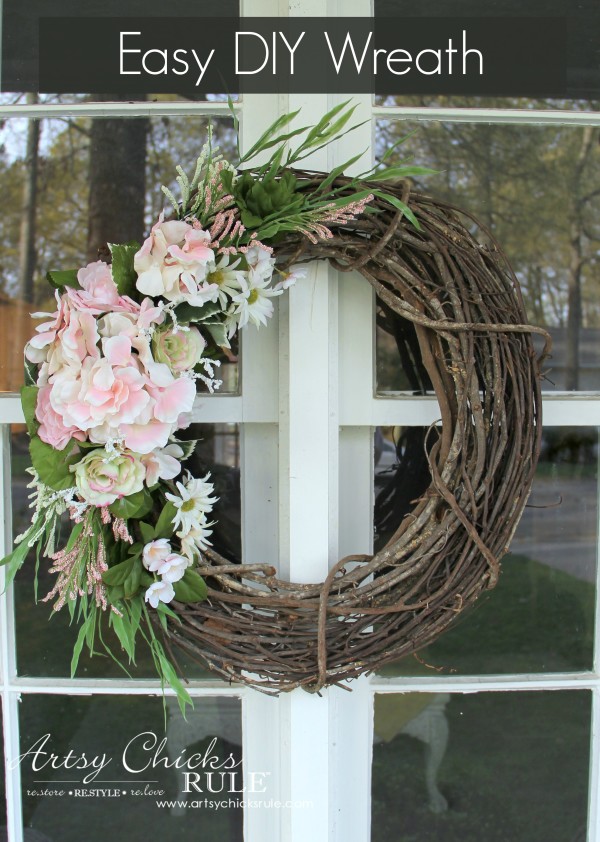 What do you think?
Do you make wreaths?
It's really the way to go. Being the crafty creative I am, I can't believe I haven't been making them for years!
It's so easy and much less expensive.
So…go make a pretty new thing too! :)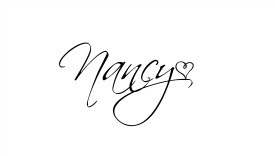 Follow along here! –> Instagram ~ Facebook ~ Pinterest
I've included a few affiliate links for you below. See my full disclosure here.