Hidden Book Storage Makeover
This post may contain affiliate links. Please see disclosures here.
Let's make over this thrifty find because who doesn't need hidden book storage?!!
I hope you had a wonderful weekend. It was my birthday last week and we did several things to celebrate. One of them was an "afternoon tea" in Williamsburg at the Williamsburg Inn. It was SO much fun!! I can't wait to go again. My husband was not too excited (haha!) but enjoyed it as well.
And today, Valentine's day, we will probably do nothing. Both of our birthdays are in February so by the time Valentine's comes, we are partied out. lol But that's okay, I don't mind! Happy Valentine's to all of you!
Today is Trash To Treasure Transformation Tuesday. That's a mouthful but one of my favorite days of the month. My friends and I get together to share our finds all made over. So, you know, our "trash" turned into "treasure". We are missing Jen & Denise this month but hope they will be back next month. Be sure to scroll all the way down to the bottom to see Christy and Larissa's makeovers too.
I've got a brand new haul I've managed to piece together over the last few weeks of thrifting here and there. I've got a couple of fun pieces and some I've already begun work on.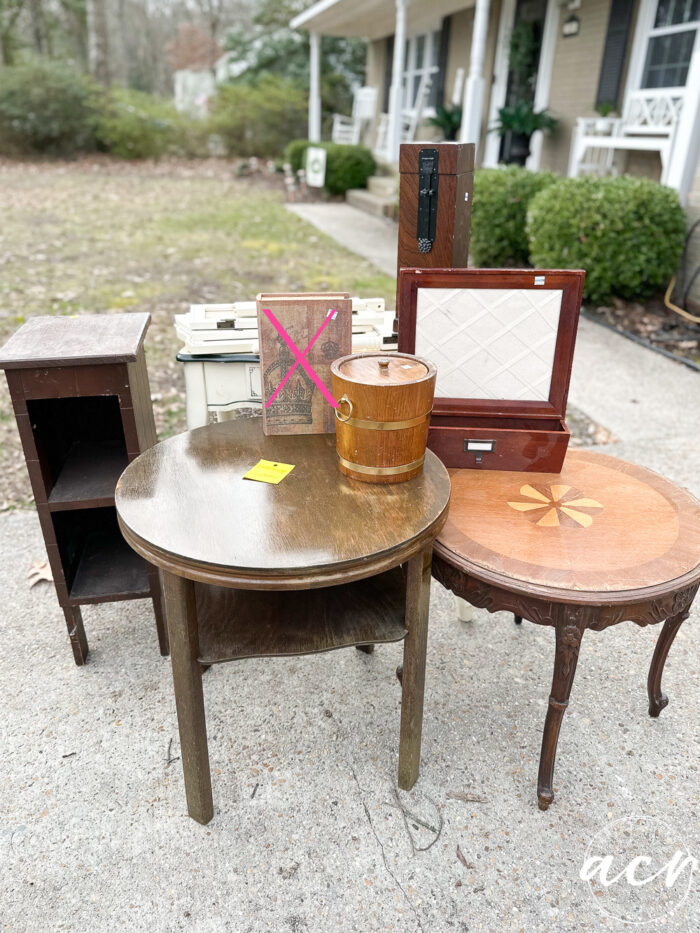 Lots of fun stuff! Today I'm sharing the "book".
Before we get to the project, I want to remind you to go enter my birthday giveaway in case you haven't! You can visit the post and enter it here.
Hidden Book Storage Makeover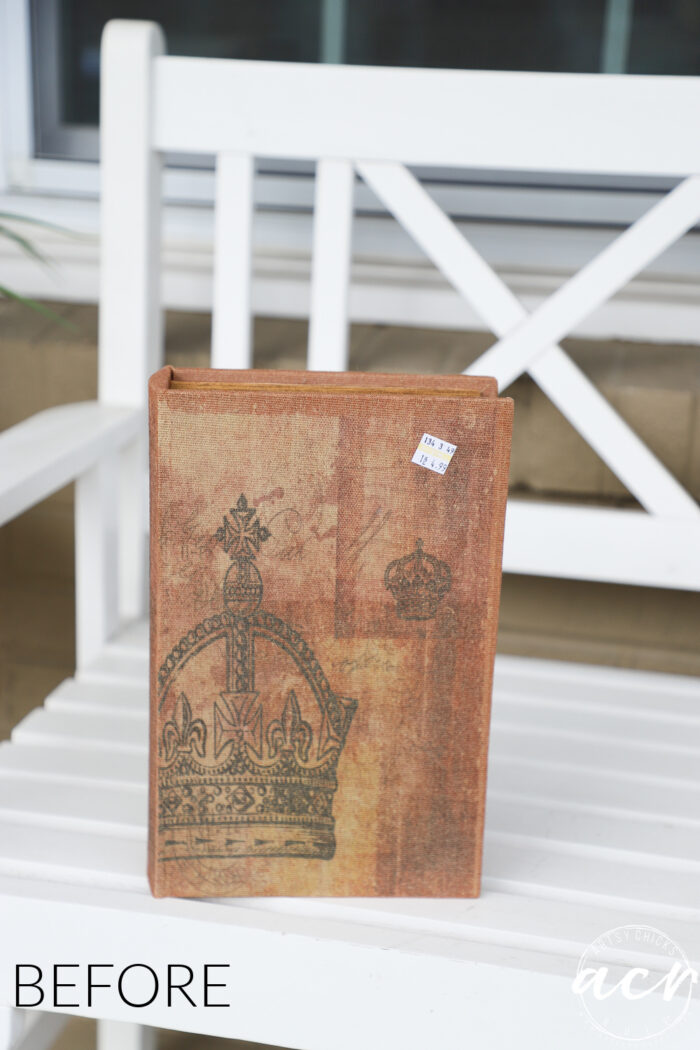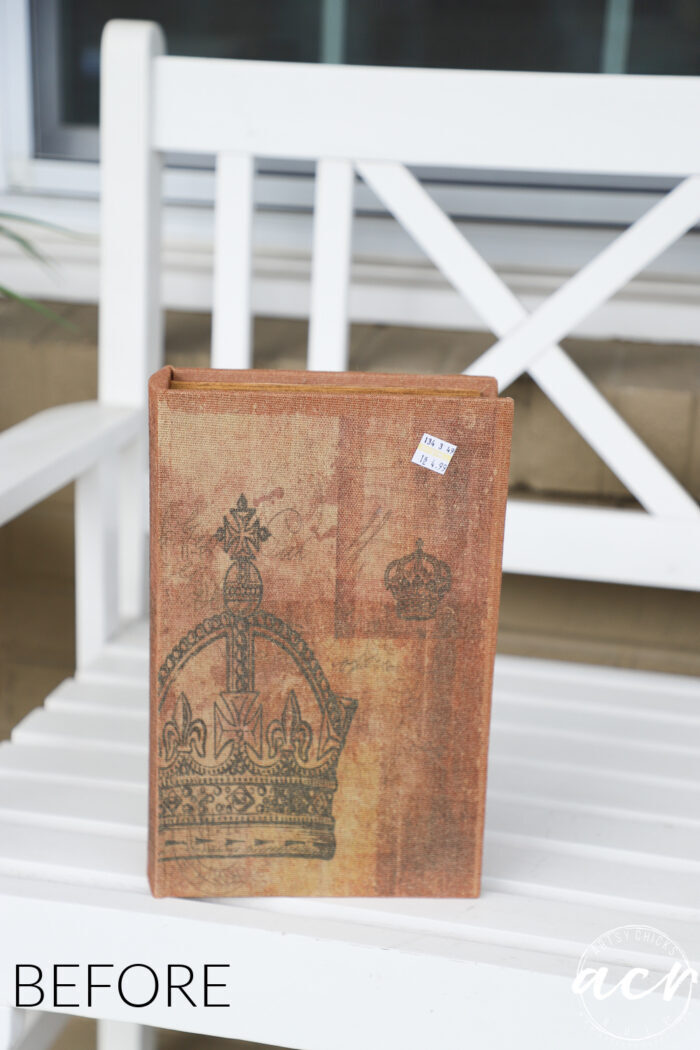 And the inside…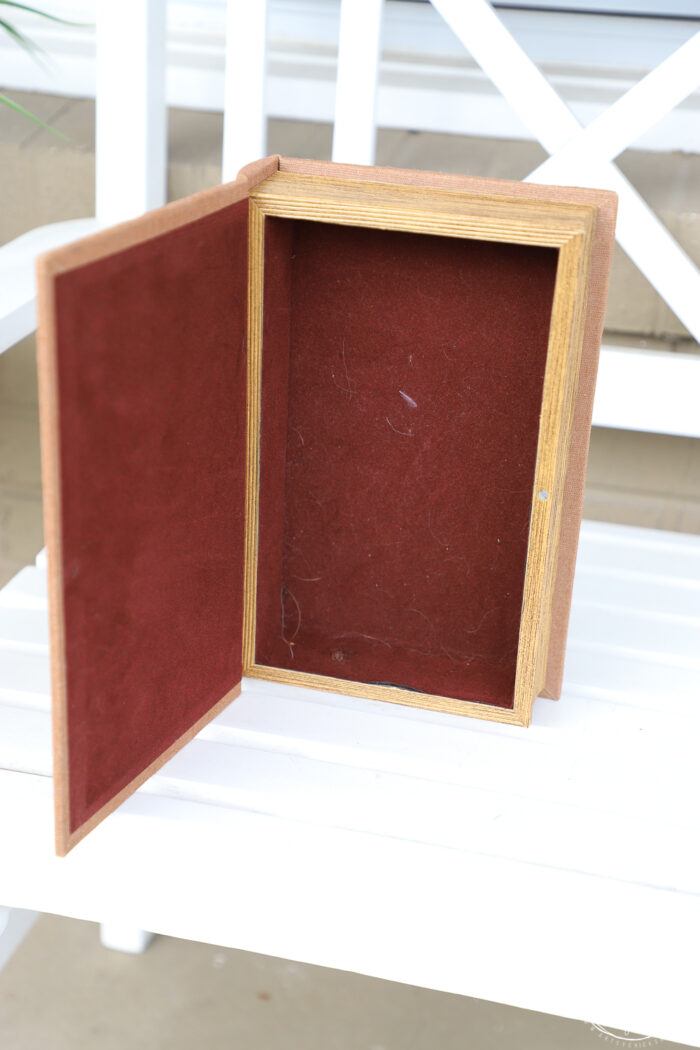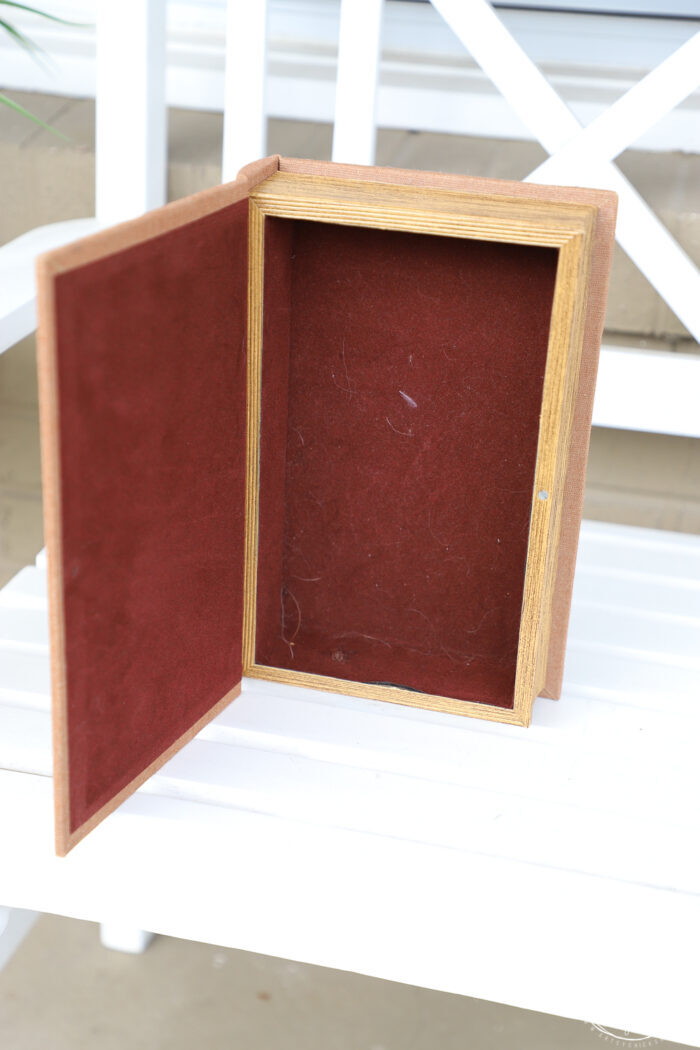 Pretty cool, huh? Hidden book storage, who doesn't need that?? haha!
Really, though, I thought "this will be a fun one to make over" when I found it.
I had great plans for it.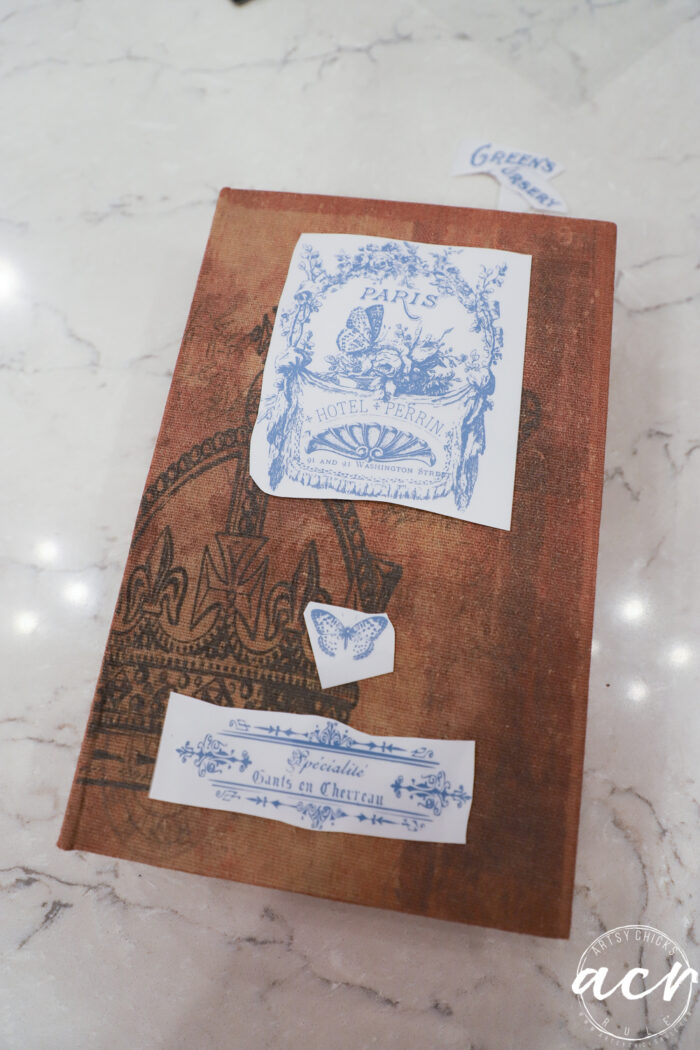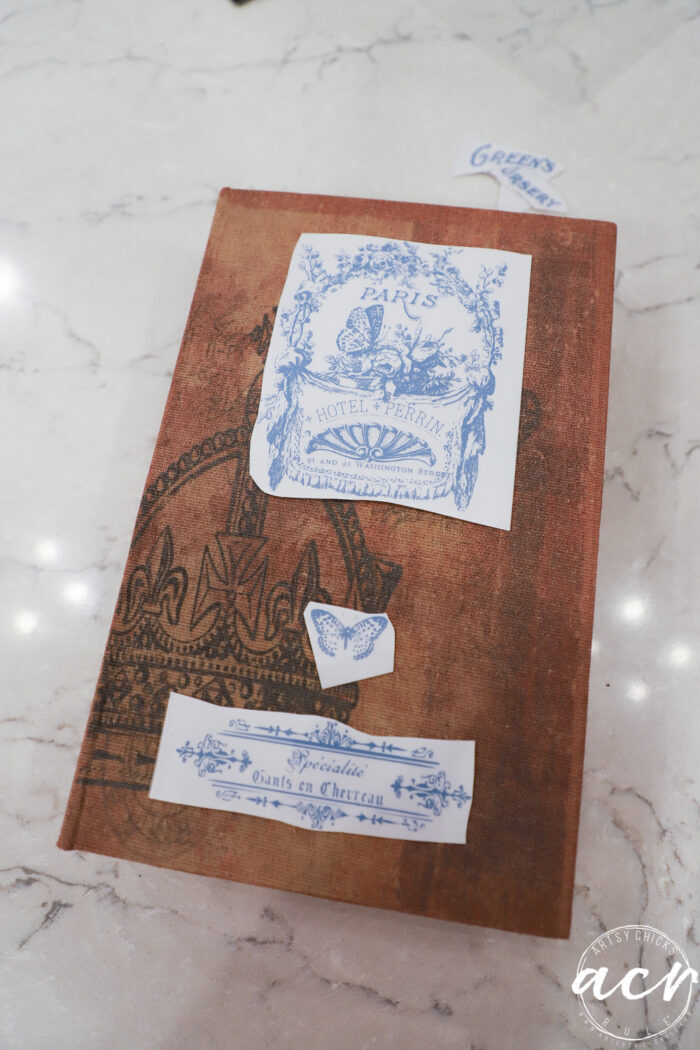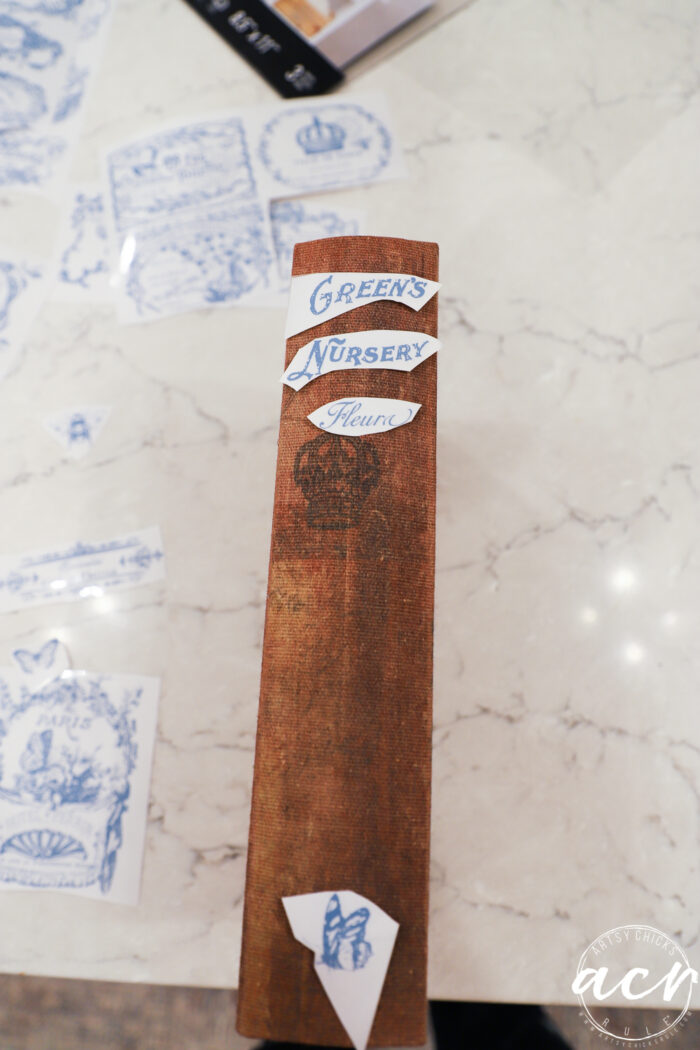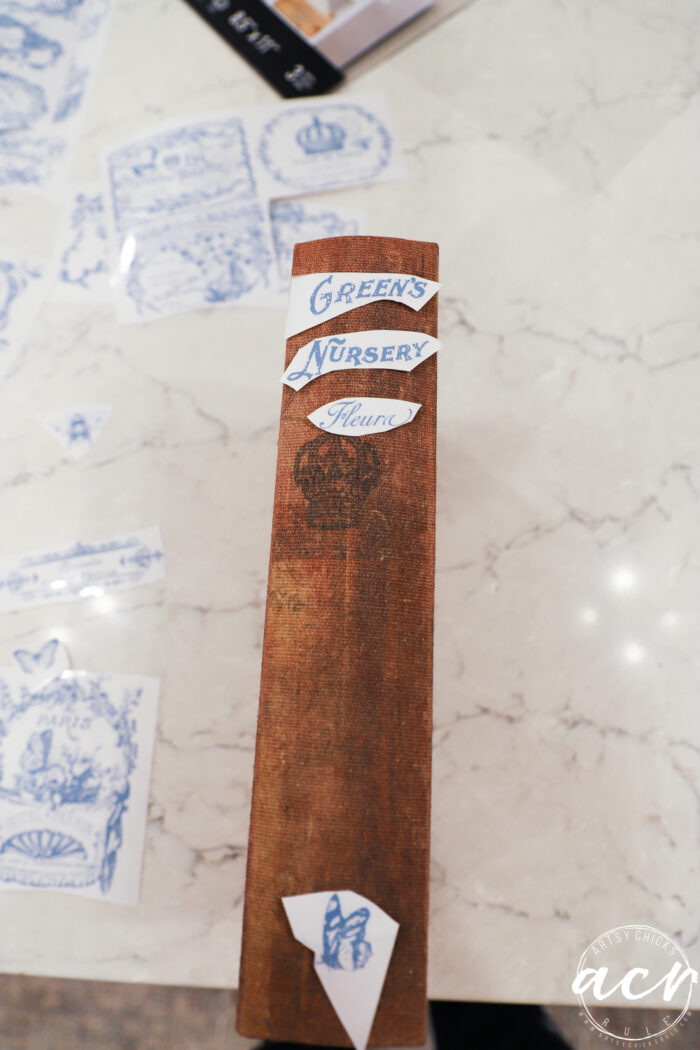 So I pulled out the interior fabric first.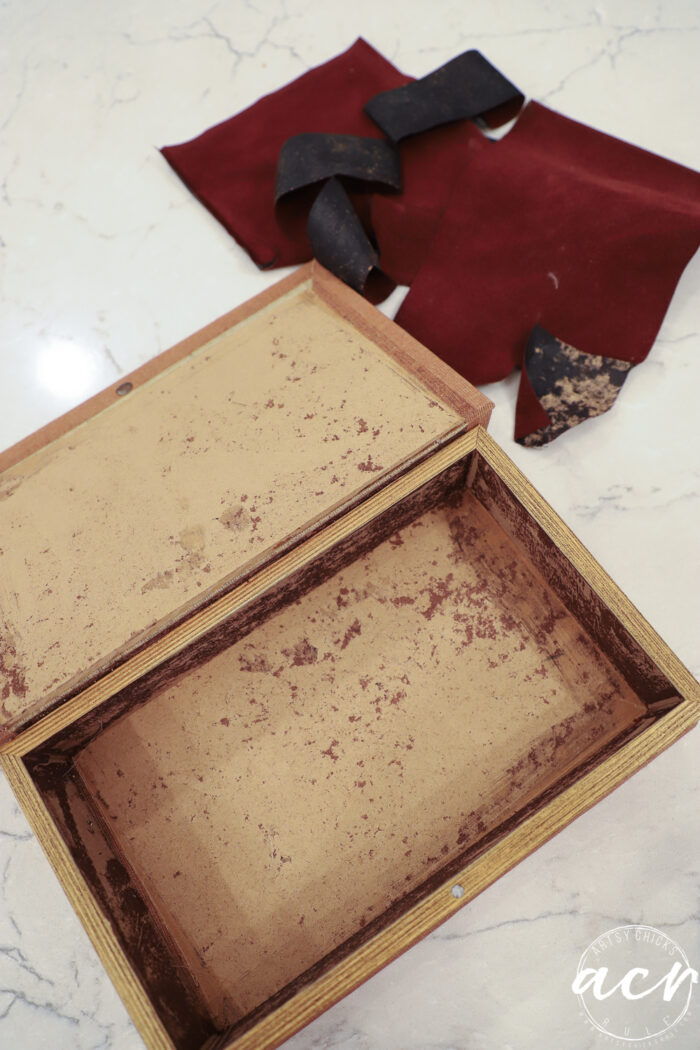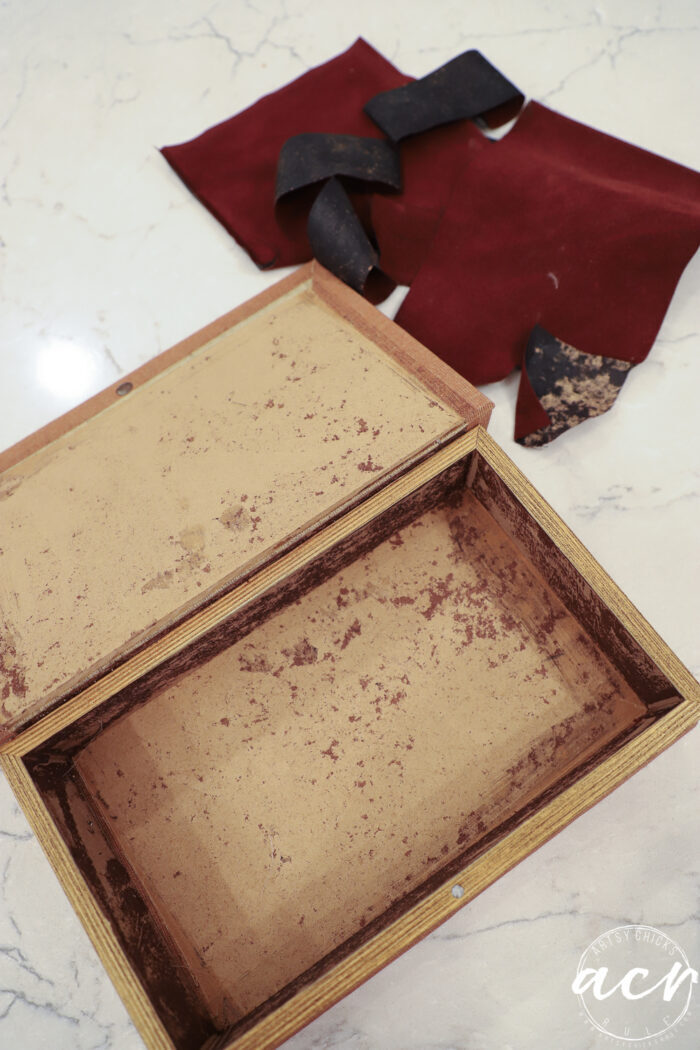 Then on to the outside.
Whomp, whomp, whomp… I wanted to put transfers on it and the outside was rough/fabric. So I first thought I'd sand it smooth and paint over it.
NOPE! Didn't work for obvious reasons…fabric.
So I thought, no worries, I'll just go ahead and remove the fabric and then paint, etc.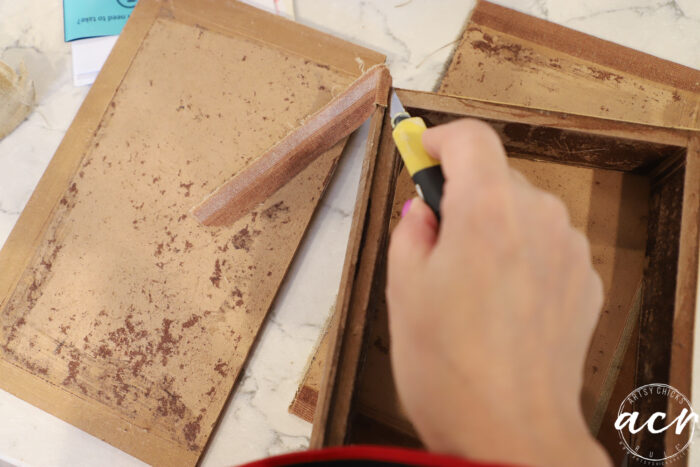 And realized that the fabric is what held the book together. Bummer!
So I just continued on and cut what didn't come off easily with the x-acto knife.
No, that's not true, I actually stopped and didn't touch it for a week or two thinking well that one is done!! lol (meaning it's not going to get made over)
But then I had an idea…hinges!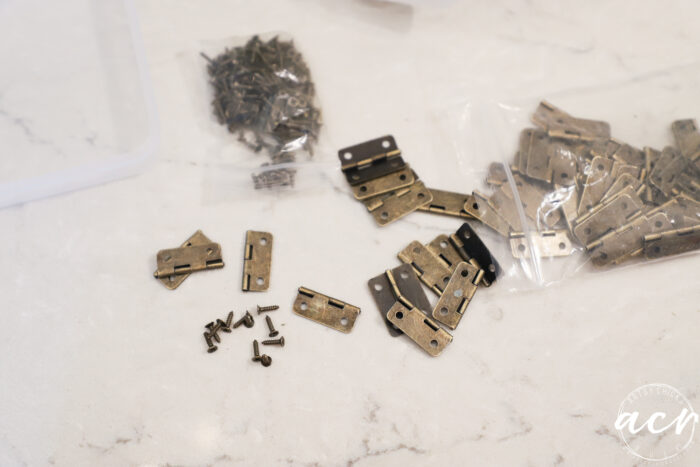 I'd hinge that sucker back together instead. So I ordered these little hinges from Amazon and got back to giving my little book a makeover.
I took ALL the fabric off, inside and out. Then I sanded it to try to smooth it out a bit.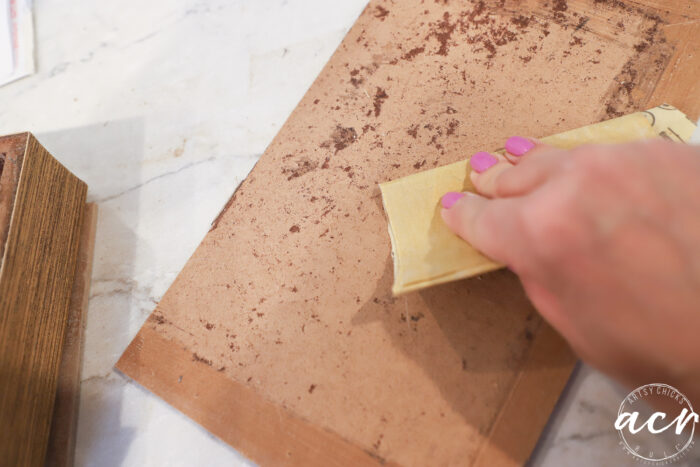 Next, I gave it a coat of primer (spray) to hopefully seal it before I paint it. (it was cardboard-ish so I didn't want the paint to sink in etc)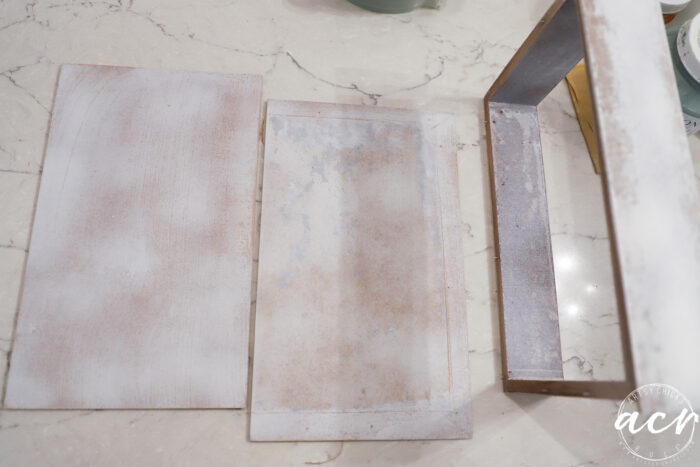 I let that sit a day or two and then painted with Casement. (2 coats)
Once it was dry, I attached the hinges.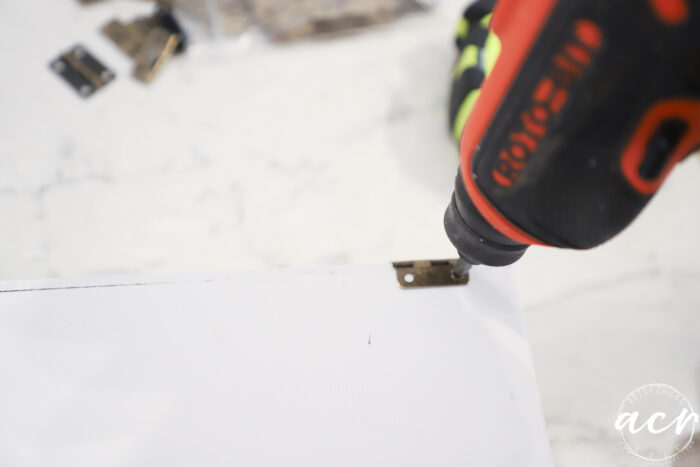 Then I taped off where the old fabric was on the lid and painted the Willowbank inside. (I adore this color…it's part my of birthday giveaway I linked above!)
Also, to note, my tiny screws did come through a little on the other side…boo. But I decided to just let it roll. I mean, I almost tossed this whole thing so I'm still calling it a win! ;) I'm not bothered by it but I could place two pieces of felt or something similar to cover them. OR try to find shorter teeny tiny screws which is probably not as likely.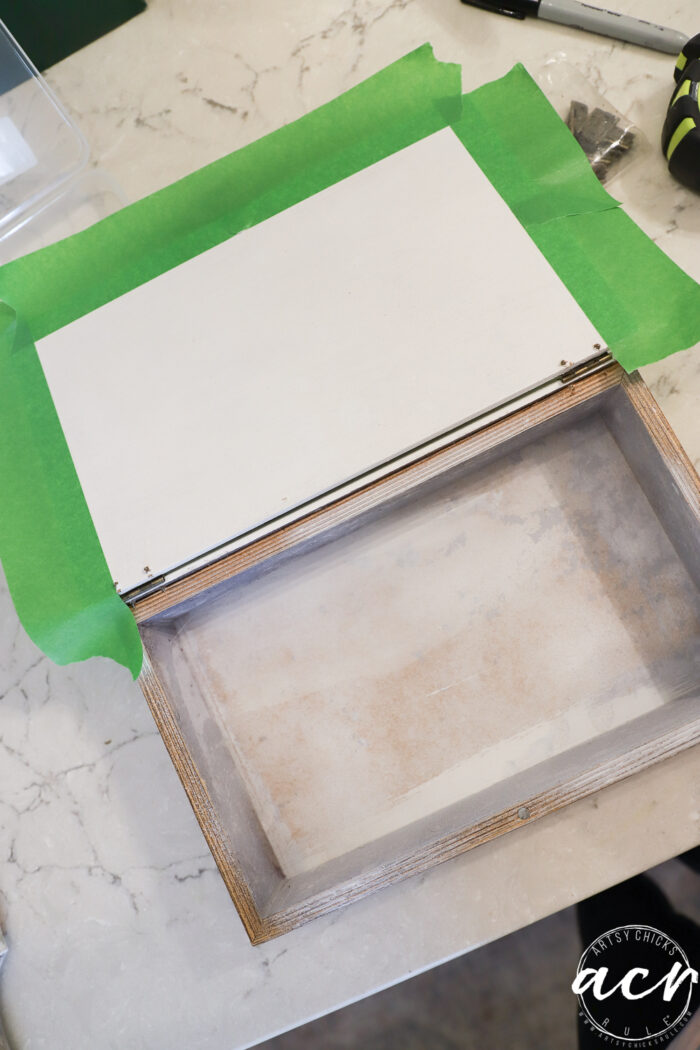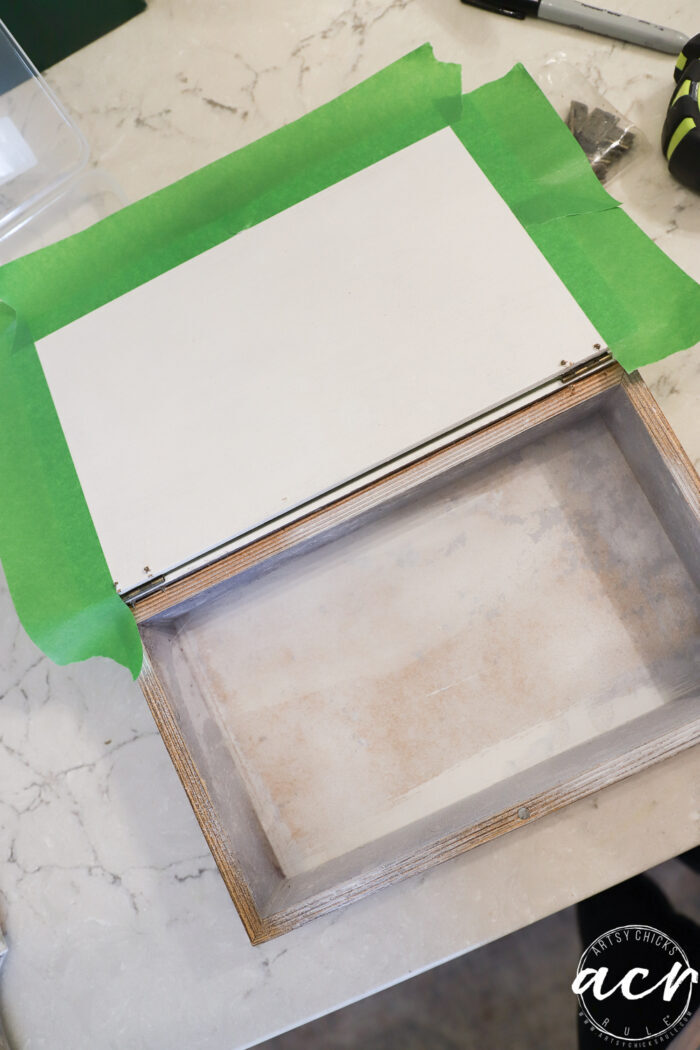 Perfect, love FrogTape the best!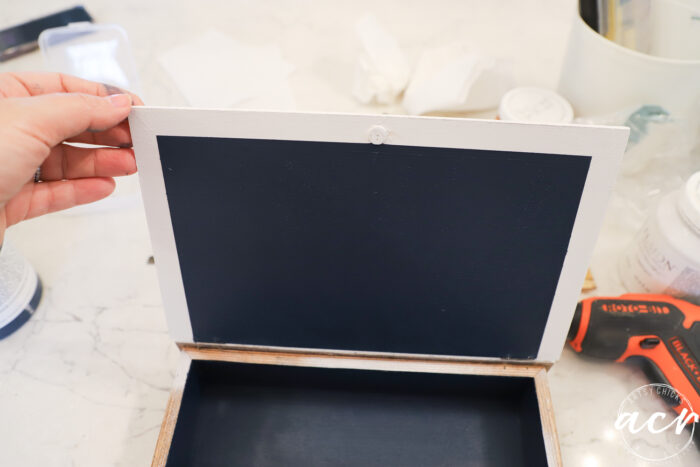 Then I got to "edge gilding", painting the "book pages" gold.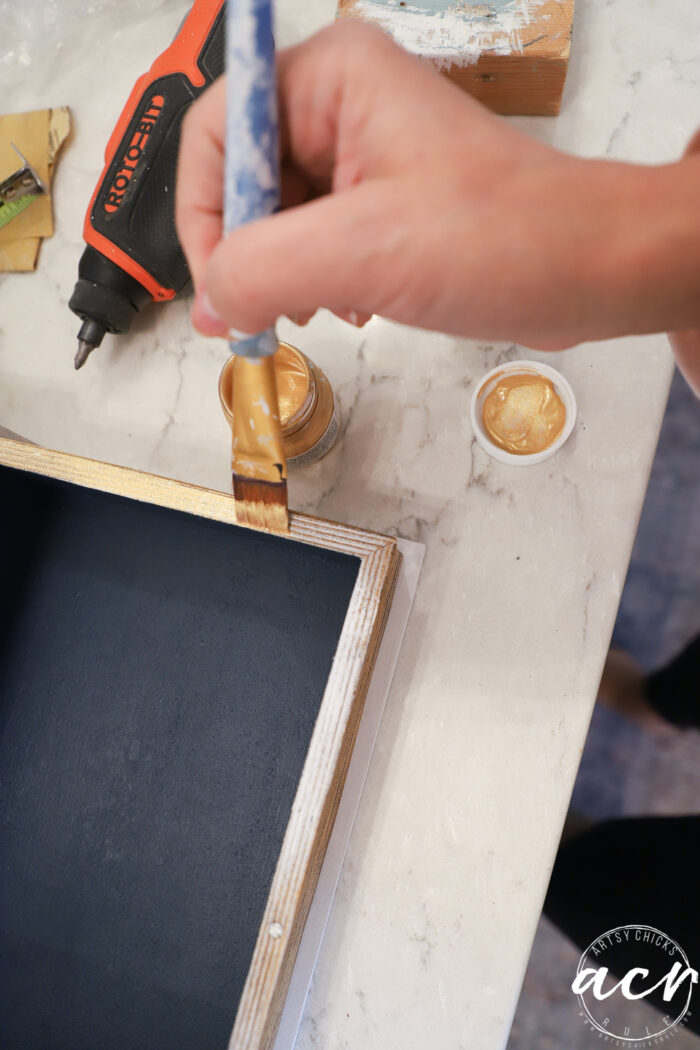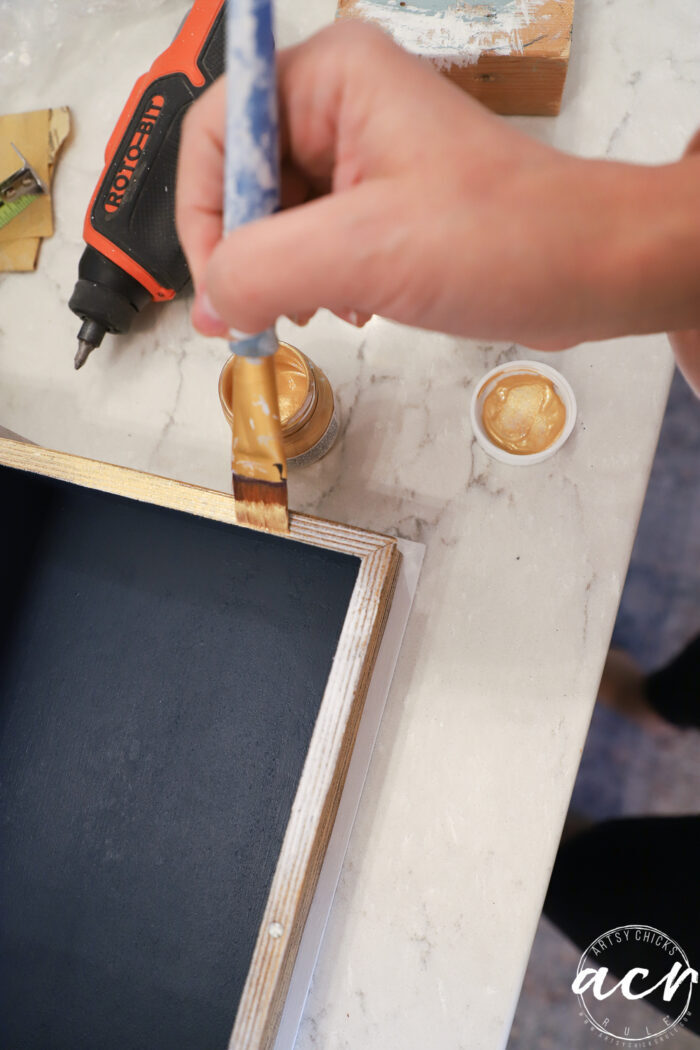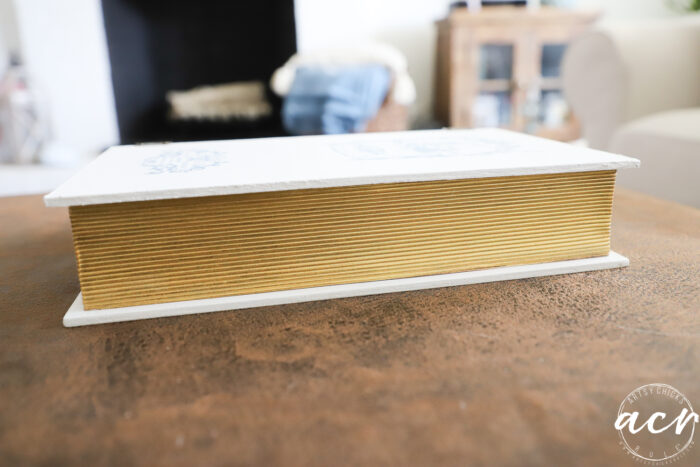 For the outside, I decided to use one of my new transfers.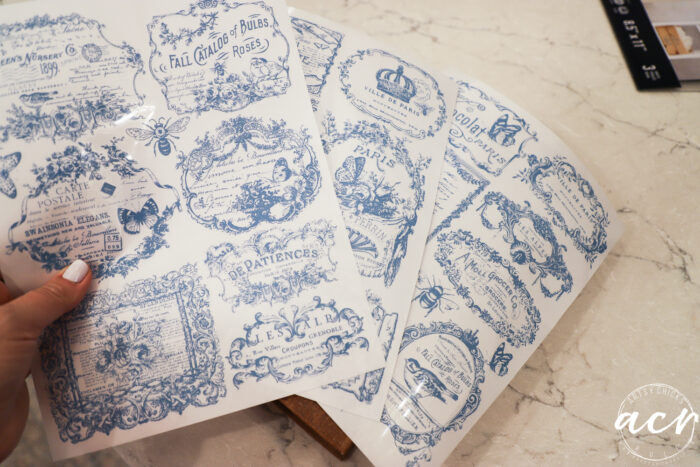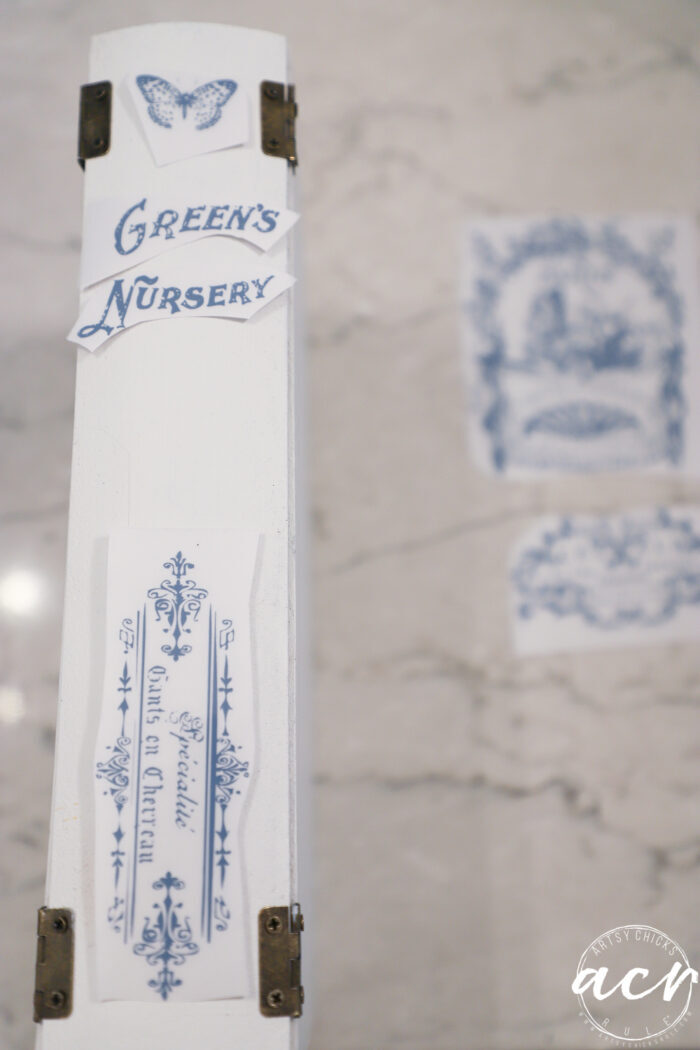 And then decided to do a "surprise" transfer inside too.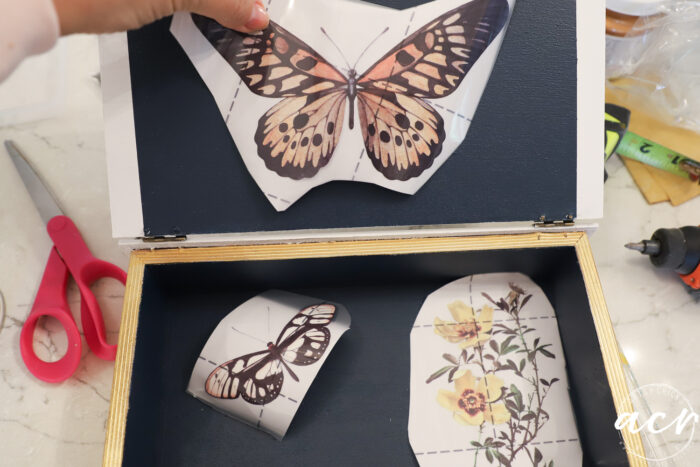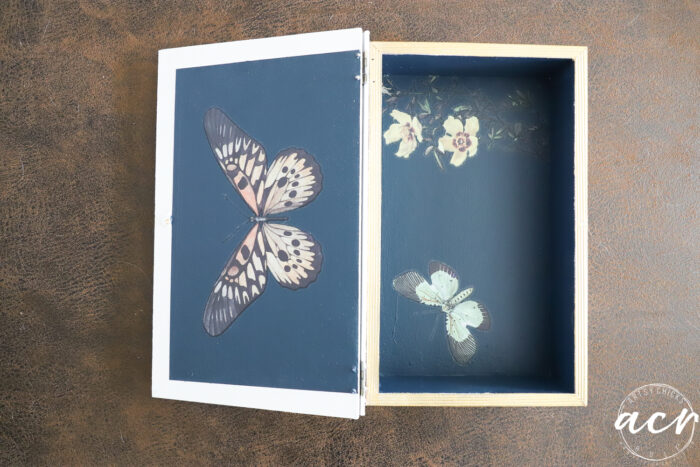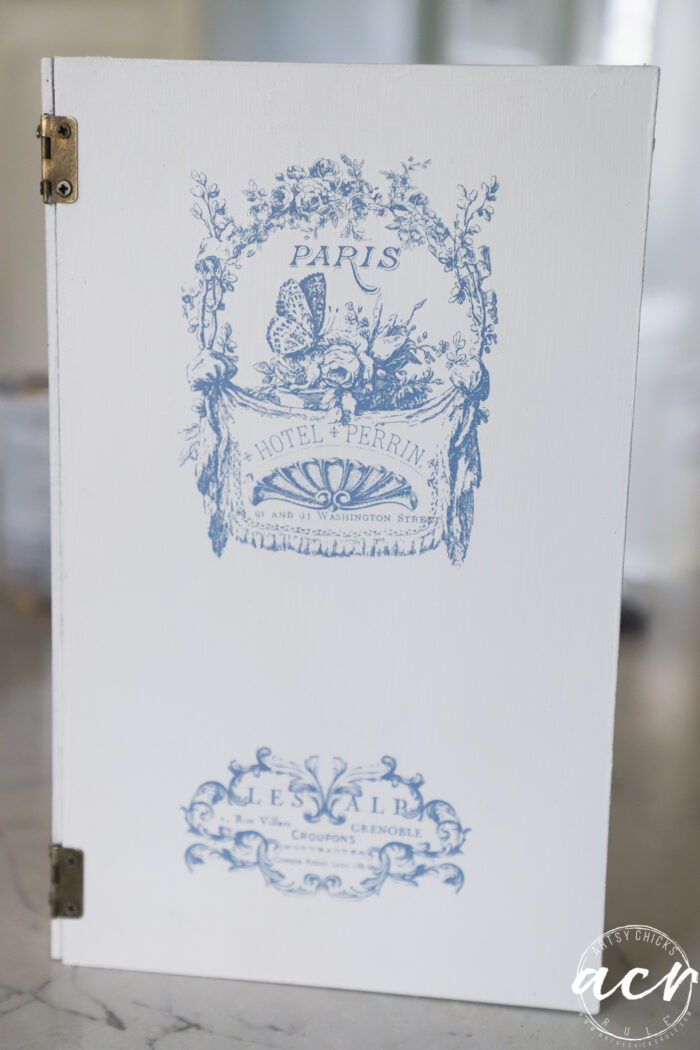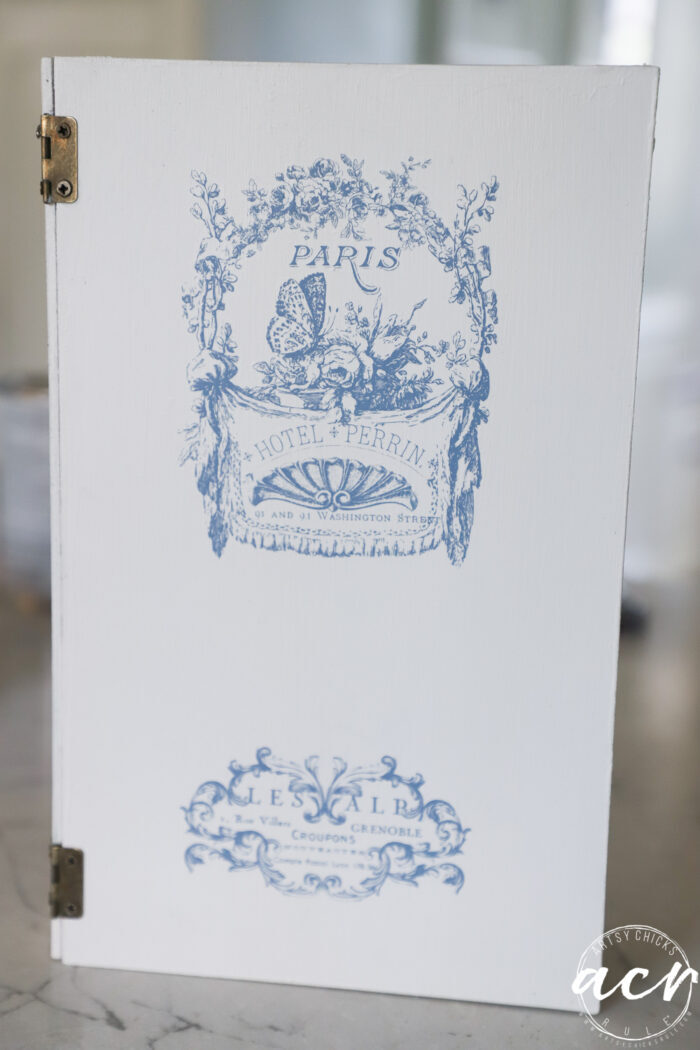 I thought about painting the hinges white…or gold but decided to leave them as-is.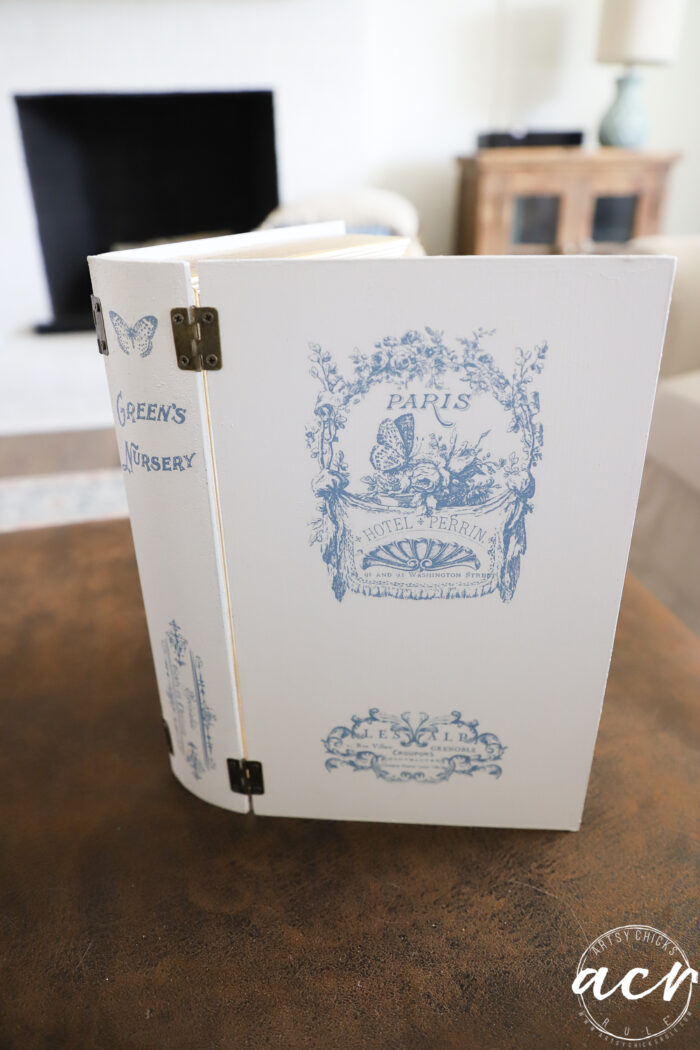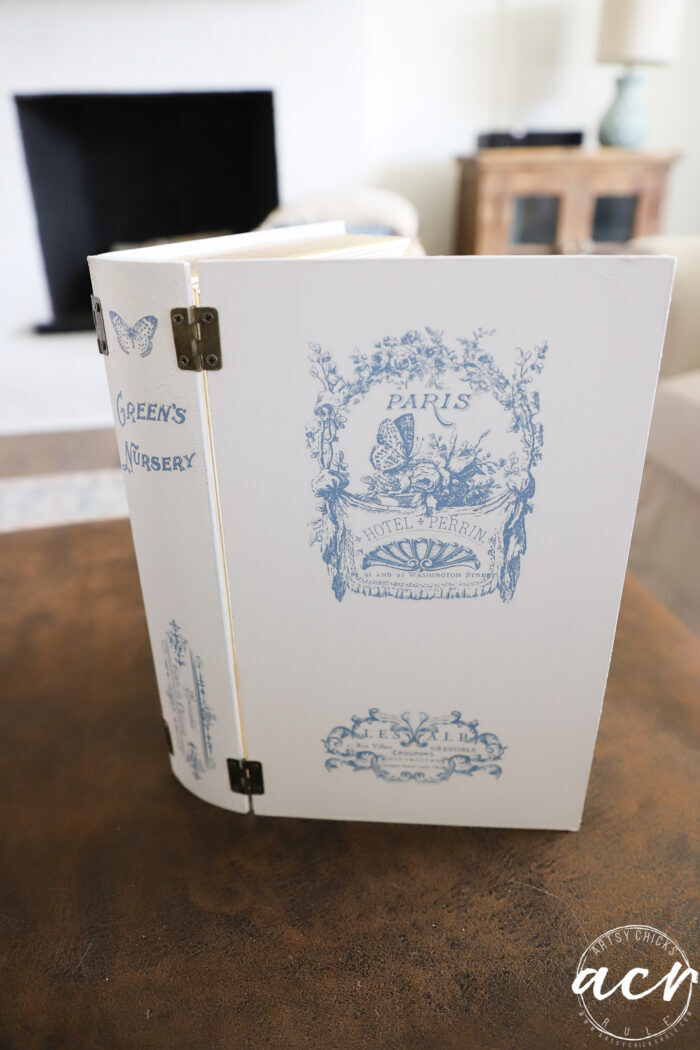 So for a project that went south very quickly, I'm happy I was able to turn it around!
So, hidden storage…could be a "coffee table book" to hide remote controls in.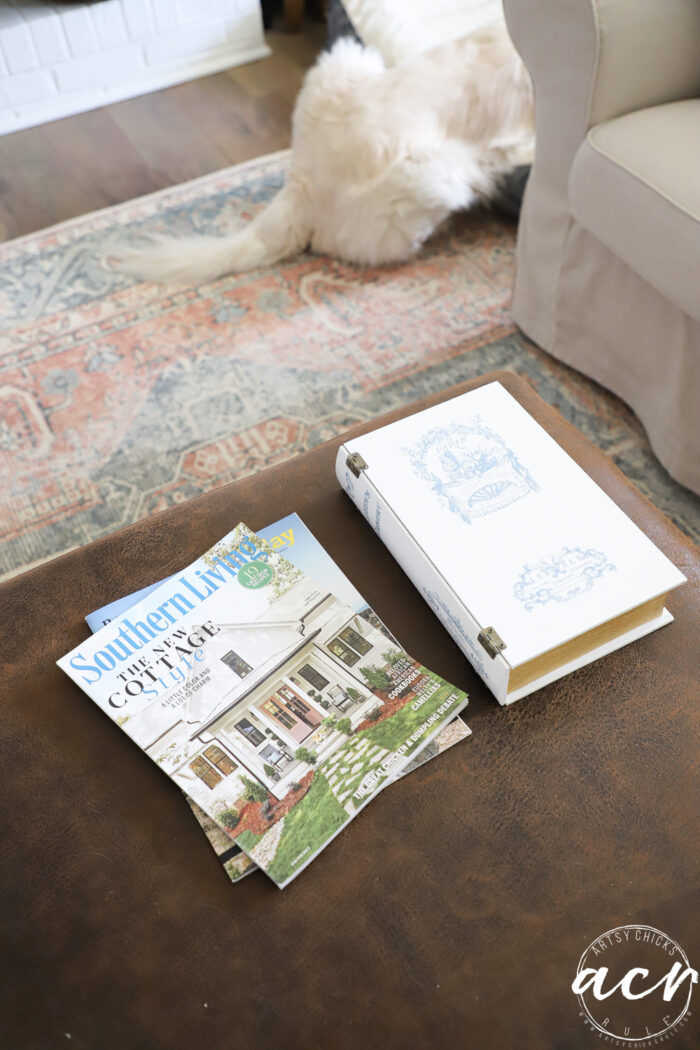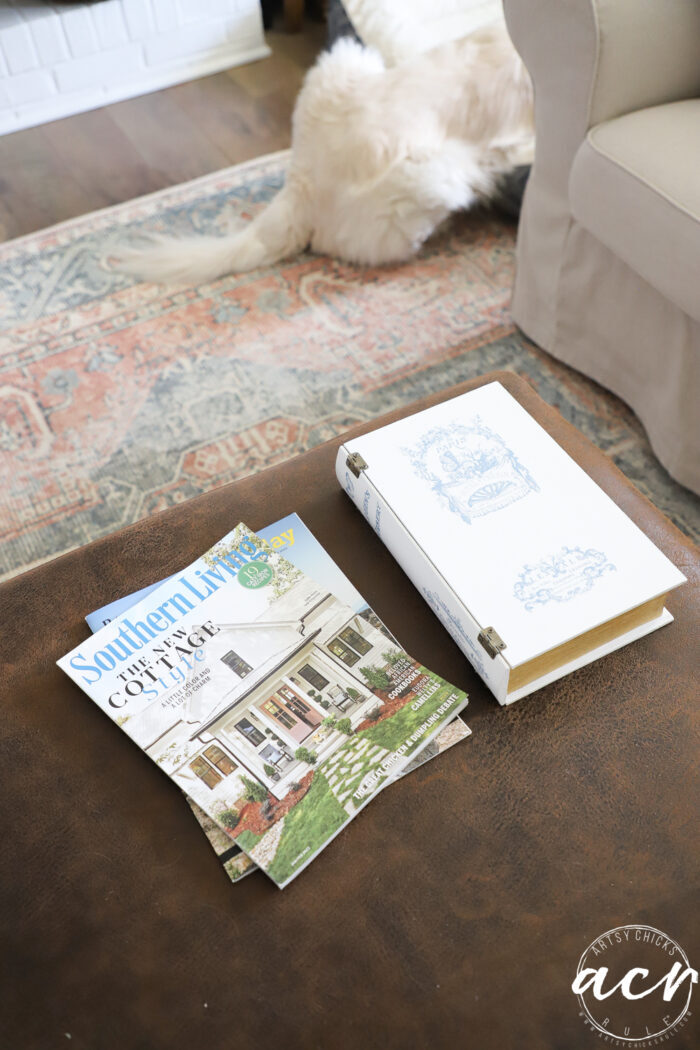 See that cute butt over there?? He was too busy chewing on his bone to be bothered by me. lol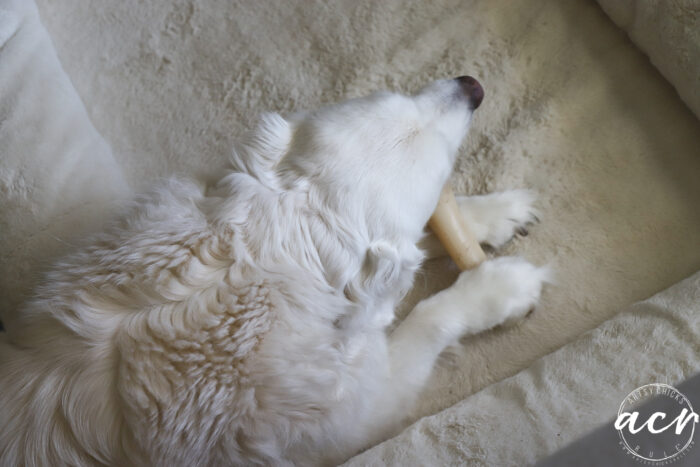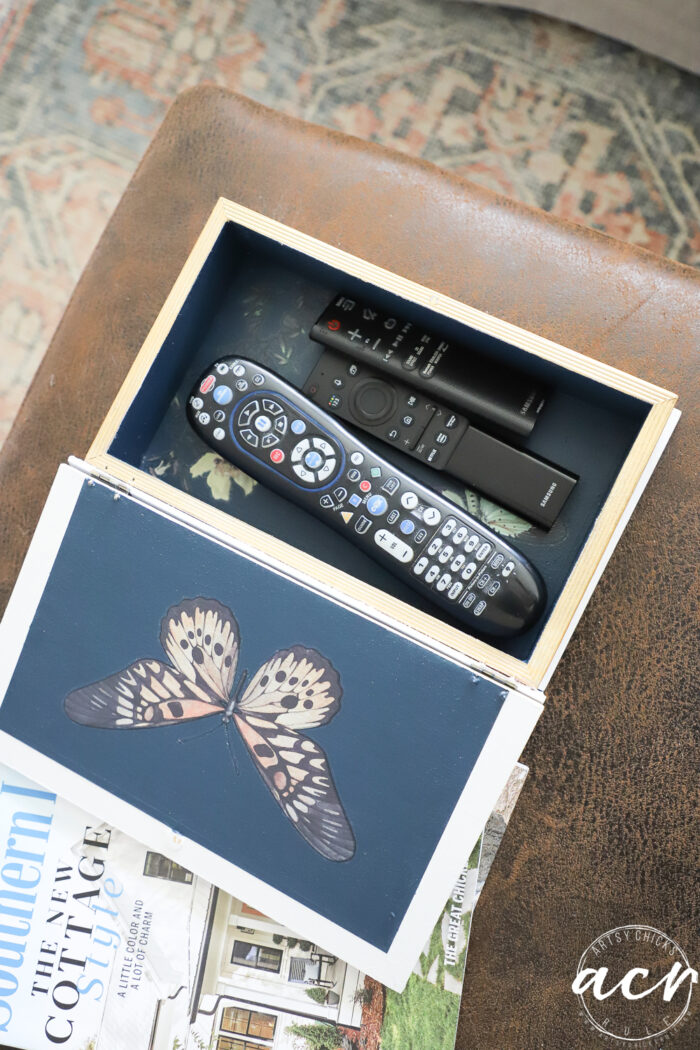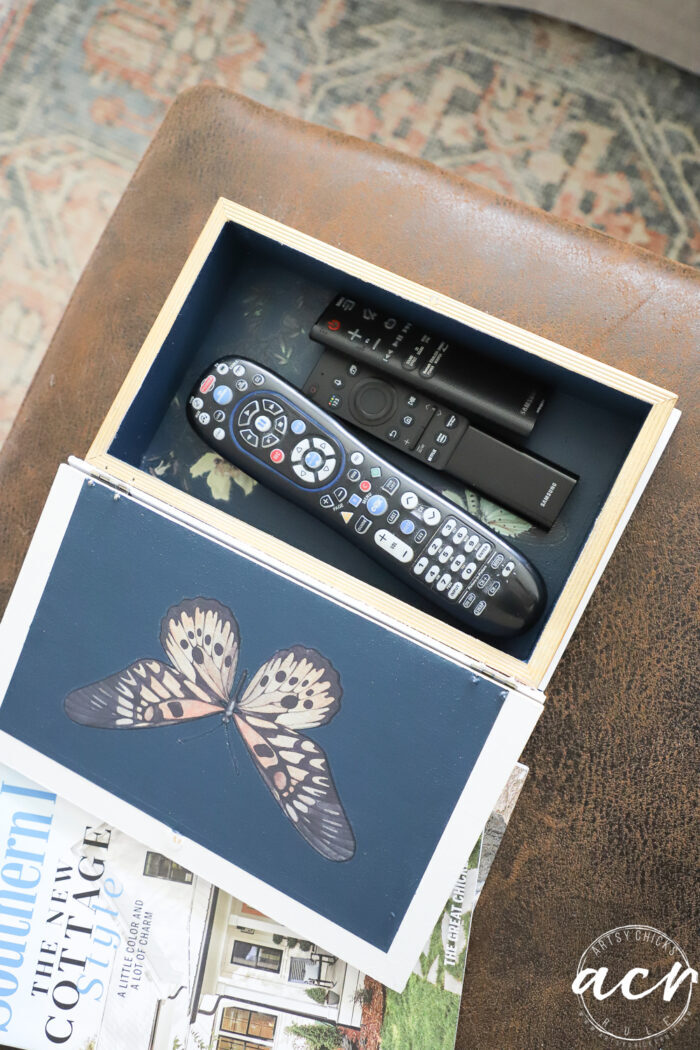 Here are a few shots of it on our bookshelf…hidden in with other books.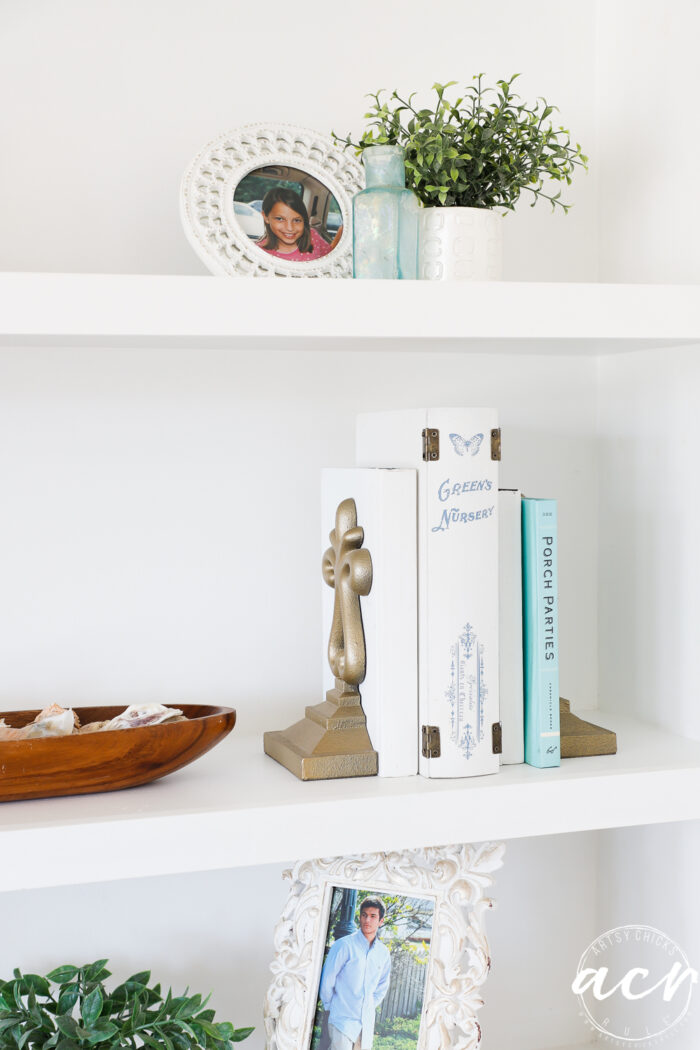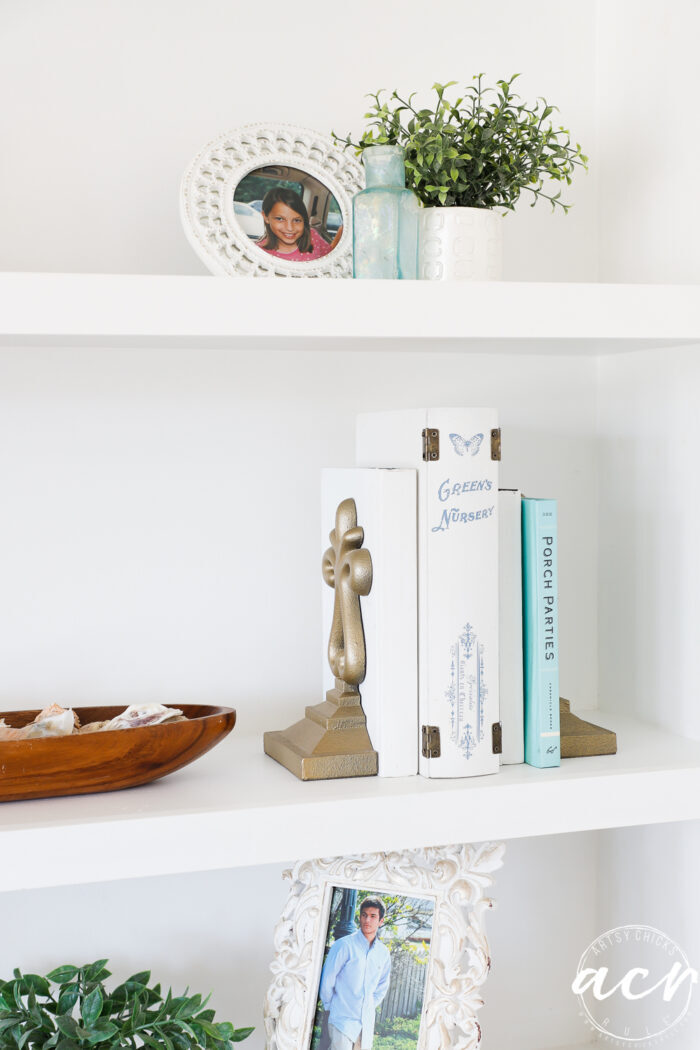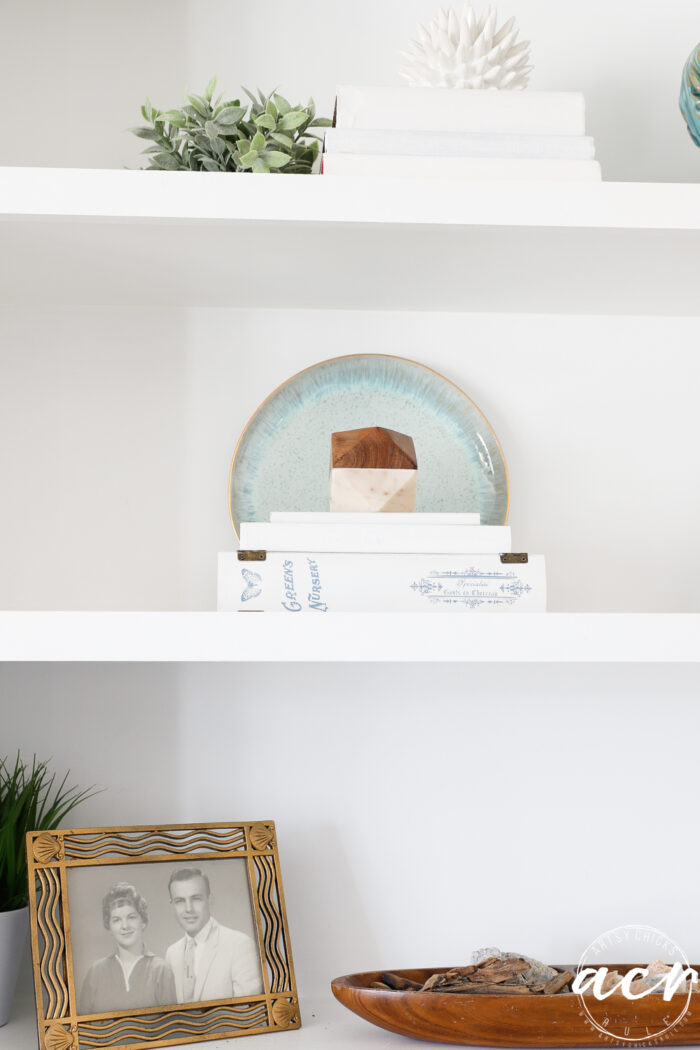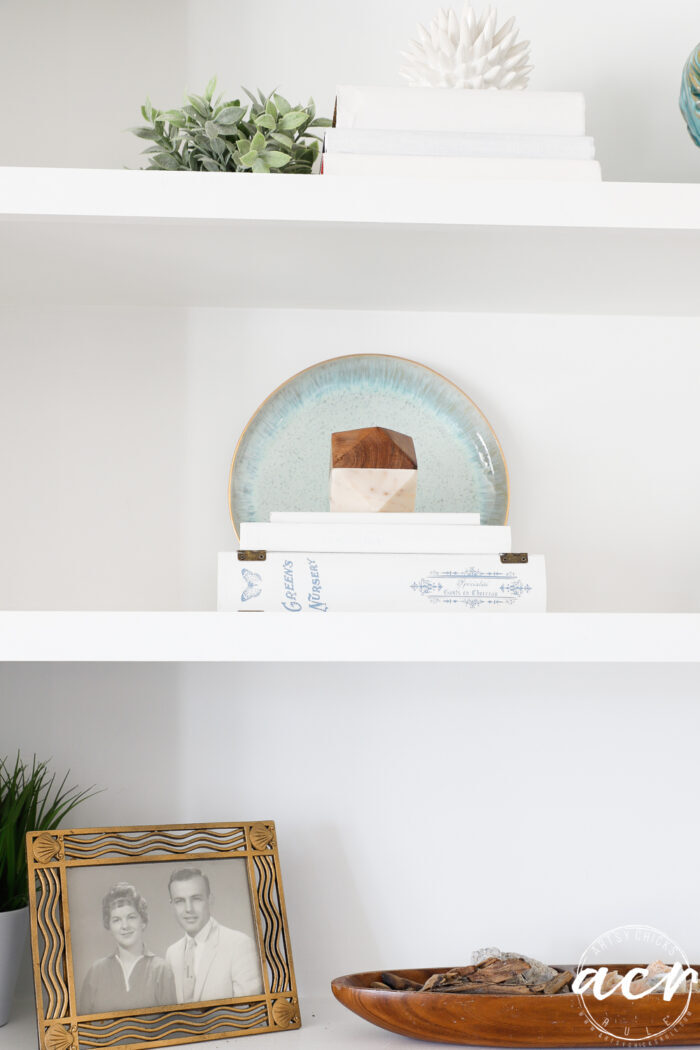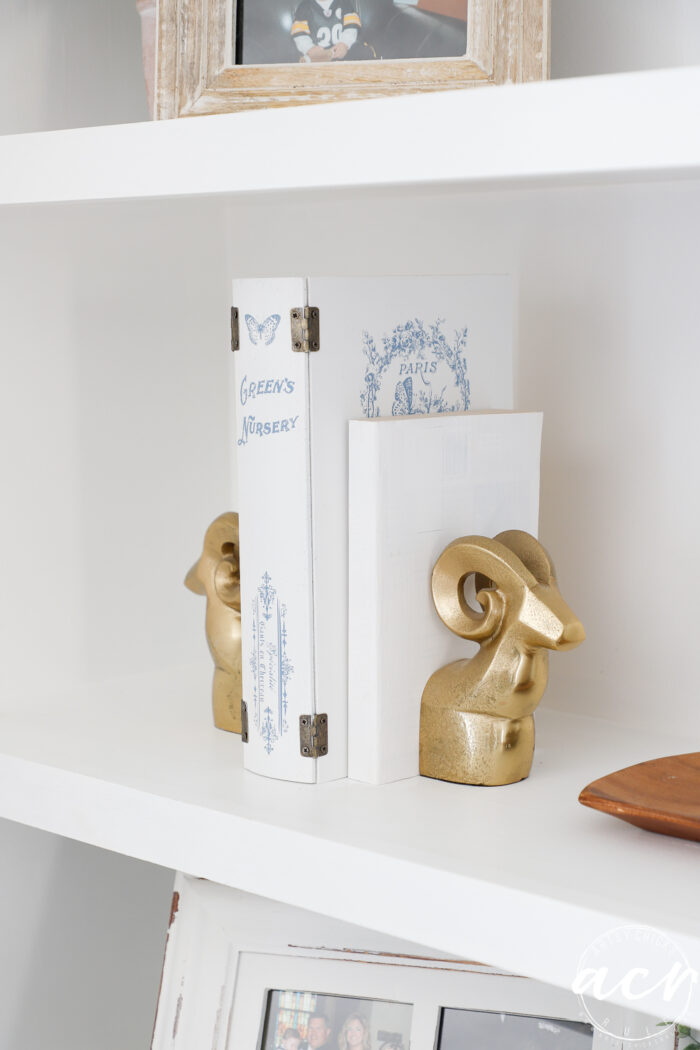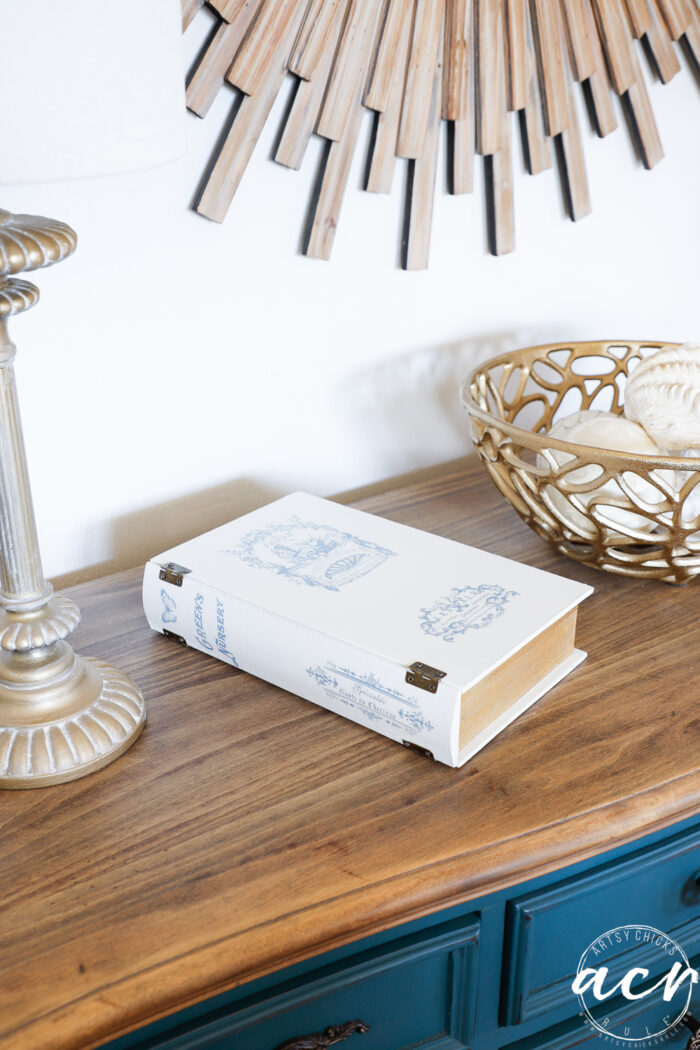 I guess the hinges kinda give it away. But that's okay, bet ya won't find another like it!
So what do you think?? Should I paint the hinges gold or white?? Or leave them as-is??
PIN it to save it!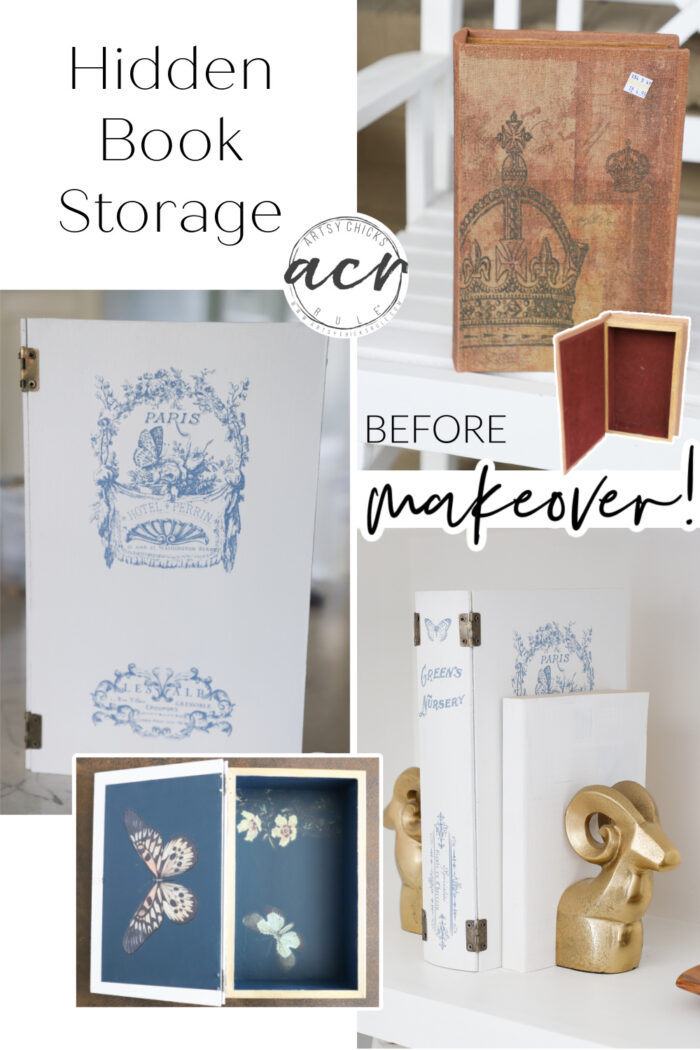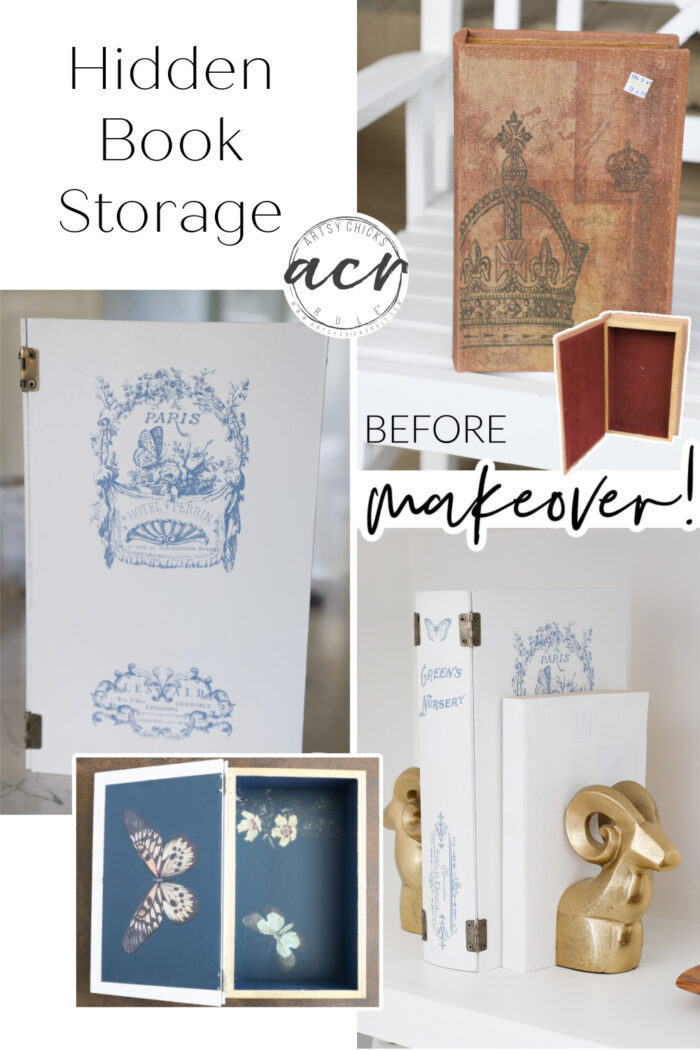 Don't forget to check my friends' makeovers today too!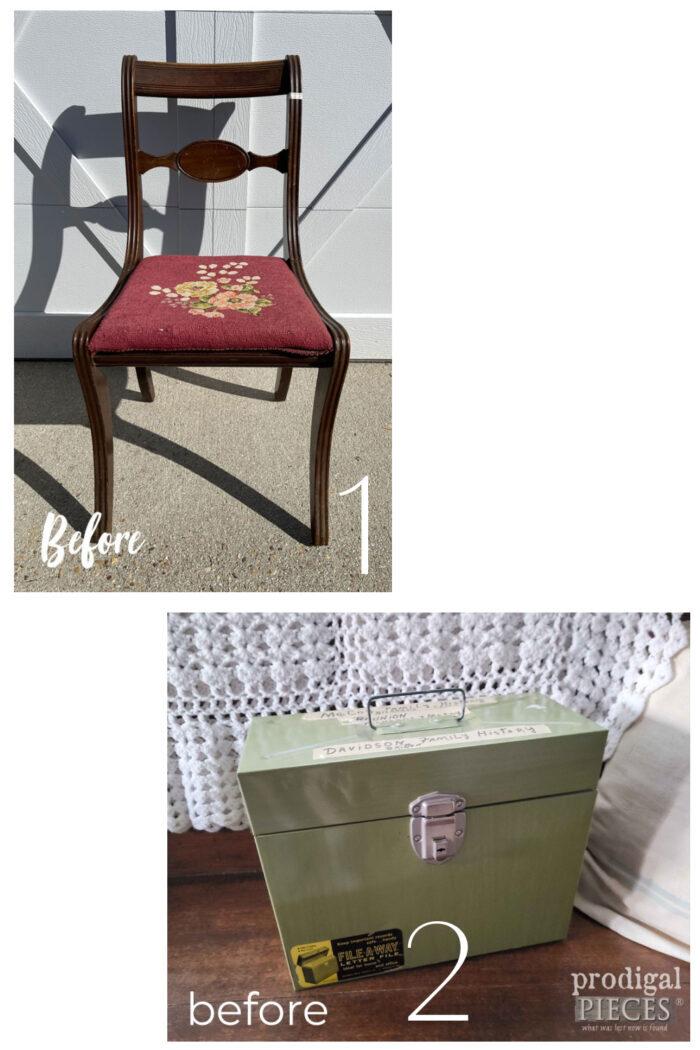 Don't forget to hop over to my birthday giveaway and enter to win the goodies! Birthday Giveaway
Have a wonderful week! We are having (and have been having, yay!!) warm temps around here. Loving it! Spring feels close, I hope so!
xoxo