Happy Birthday Giveaway!! (for you!)
This post may contain affiliate links. Please see disclosures here.
Hello beautiful friends! Today is my birthday and I thought I would do something nice for you to celebrate!
How about a fun giveaway?!
I have some new paint colors and have restocked a bunch of items over in our shop, here. Go take a look around!
Transfers have been restocked, with new ones added. Paint restocked-several new ones added too, Driftwood Stain & Finishing Oil, and more! I even added our new applicator sponges which I am really loving!
This is my way of saying THANK YOU for being here with me. Following along on all our DIY, crafting, furniture making over journey! I love being able to share with you and also inspire you to go ahead and just do it. Whatever it is!
Home DIY, painting that amazing piece of furniture, or just thrifting for wonderful things for your home.
Anyway, want to see what I'm giving away to one lucky winner??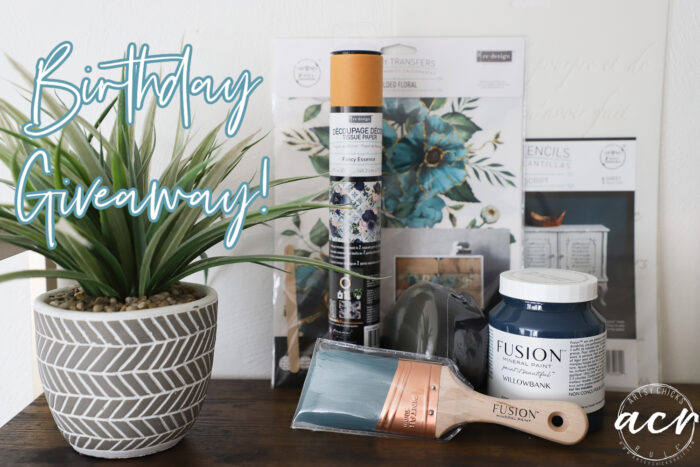 I am so excited about the 2 new colors I added to the shop, Chestler, and Willowbank. I can NOT wait to get them on a piece of furniture!
Stay tuned. :)
I definitely wanted to include one of the new colors in the giveaway. I hope you love it as much as I do!
Okay, once the contest is over, the Rafflecopter will choose the 1 winner at random.
That's it! (if you have trouble with the Rafflecopter box below, you can visit this link to enter instead, "Birthday Giveaway!")
The giveaway ends Thursday, February 16th at 12:00 am EST.
After which, one winner will be chosen at random and notified via email.
You will have 48 hours to respond. If not, another winner will have to be chosen.
You must be 18 years or older (US resident OR Canada!) to participate. Void where prohibited.
Good luck!!
xoxo