This post may contain affiliate links. Please see disclosures here.
Hello, my sweet friends!
Let's start this post off with a view of coastal Virginia living. My brother-in-law and sister invited us on their boat to go to dinner on Sunday evening and we saw this little guy on the way back in.
I thought I would share it with all of you here. (remember my painting?)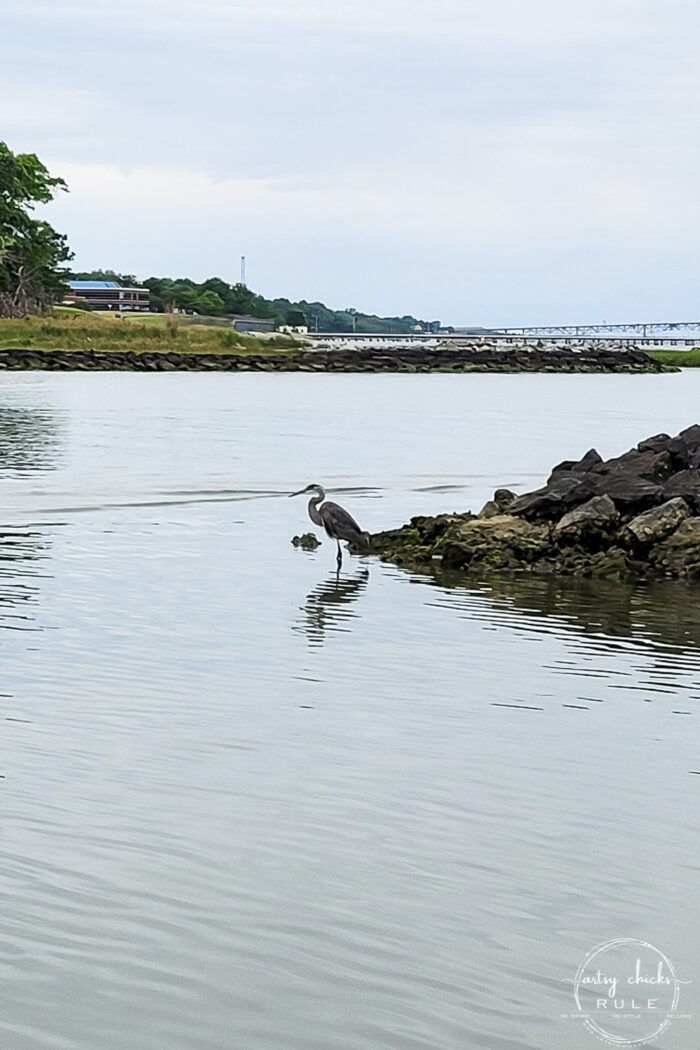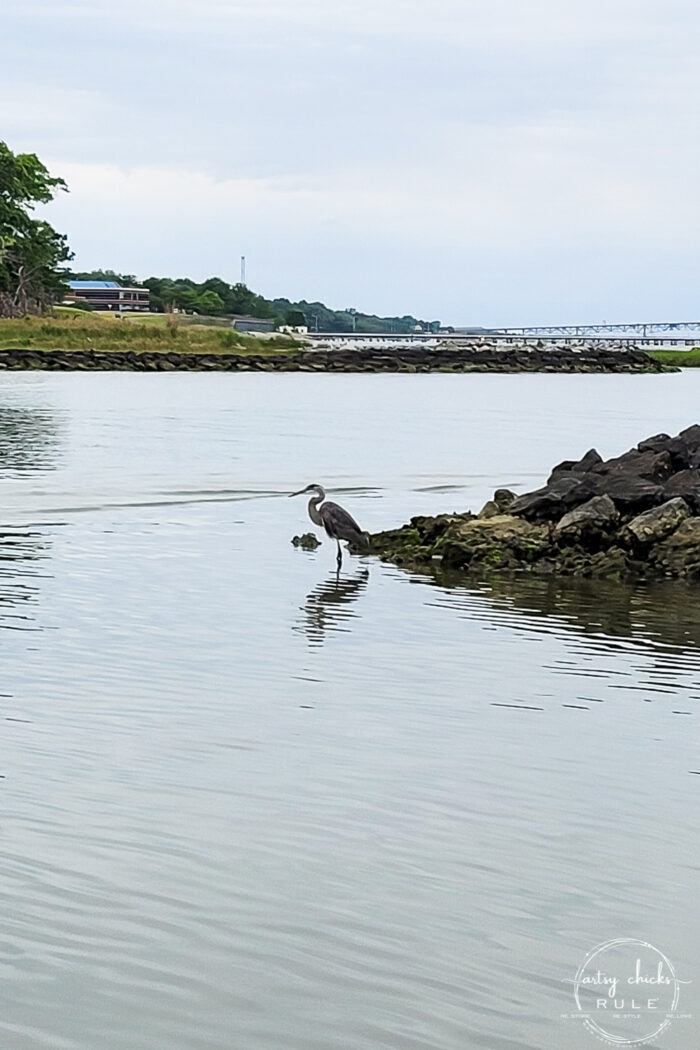 We actually saw a couple but this was the only one I got a photo of. There was actually one in mid-flight right by us on the boat as we were going out but the boat was moving too fast to mess with my phone! lol
………………………………………………………………….
But guess what else I did? For the first time in a while.
Thrift shopping!
Before we get on with that, though, have you entered my May giveaway yet? If not, hop on over right here to do that!
I have been so busy with the beach condo and all the things at our house (plus "my thing" that I've been working so hard on) that I haven't had a chance to do any thrift shopping.
I thought it was high time I did. Plus, I didn't really have anything else to make pretty for y'all.
Well, except for those larger furniture pieces in our storage unit that I am going to get to one of these days!! haha #forreal #notkidding #maybe lol
Anyway, let's see what I found.
I went to 6 of our thrift stores to see what I could find. (we have lots more around here but these are the ones I hit on the regular)
I found "smalls" but not many "bigs"…(furniture, etc).
And as usual, ReStore for the win! They have the most furniture of any thrift-type store these days. I can barely find furniture anymore.
I used to be able to find all kinds of furniture (nice furniture) at the thrift stores years ago. But no more. Boo!
I'm not too mad about it though as I like doing the small crafty pieces a lot too. And that's what I came home with.
But before we get to that, let me share with you all I saw.
First up, ReStore.
This wood nightstand was not bad at all and actually if there had been two, I'd have brought them home to makeover for the beach condo.
But sadly, they only had one.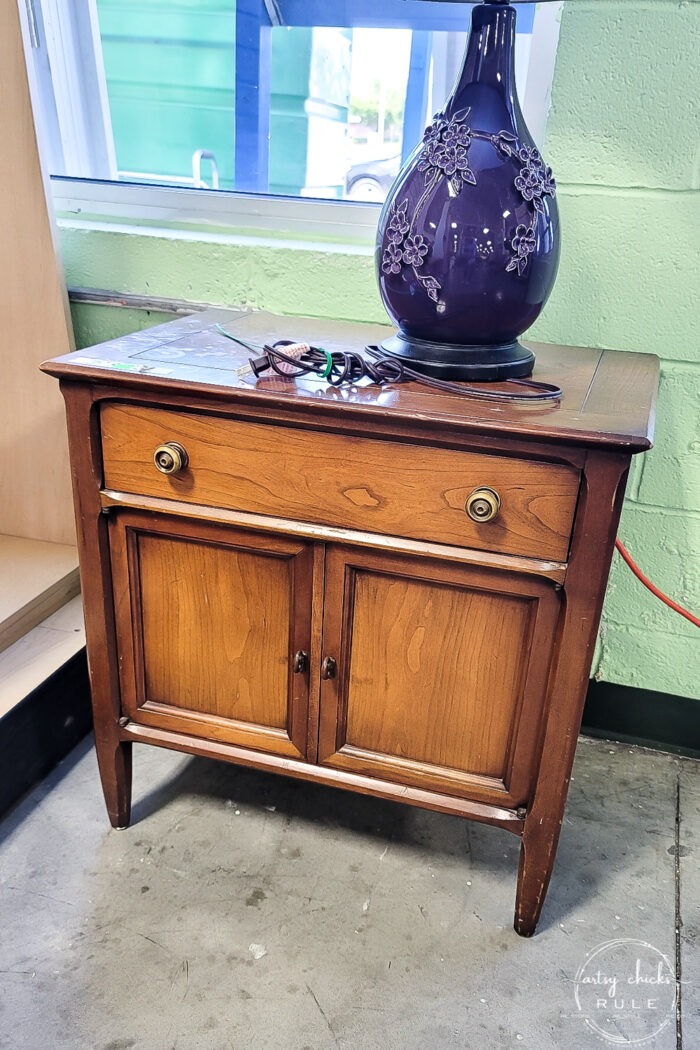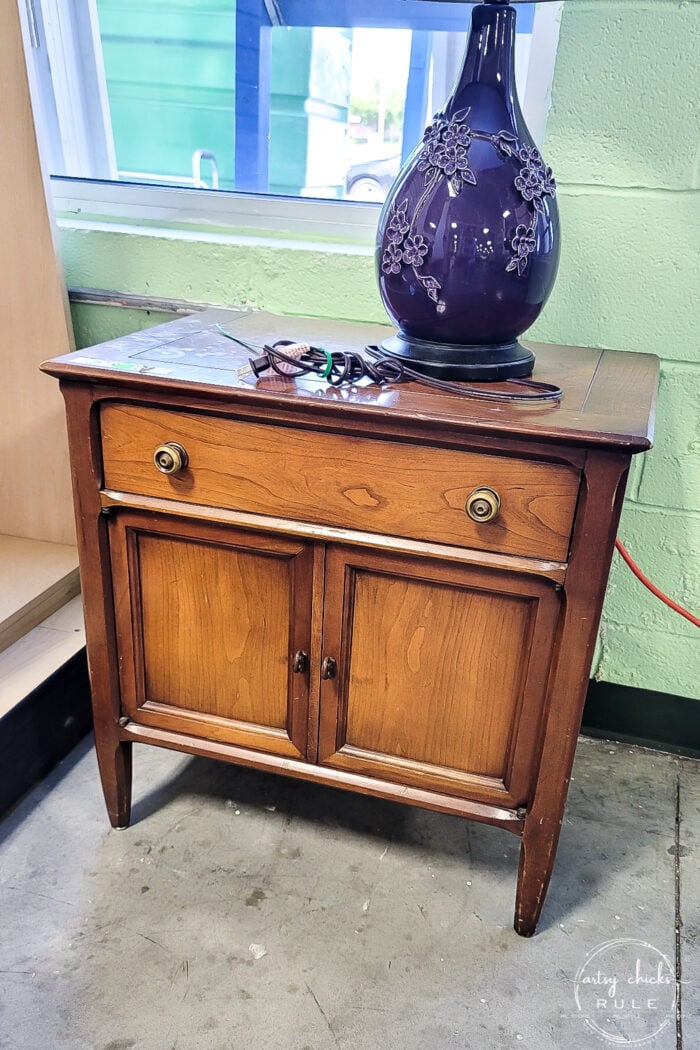 It was $19.
I love the caning on the bottom shelf. Could be very coastal-ish.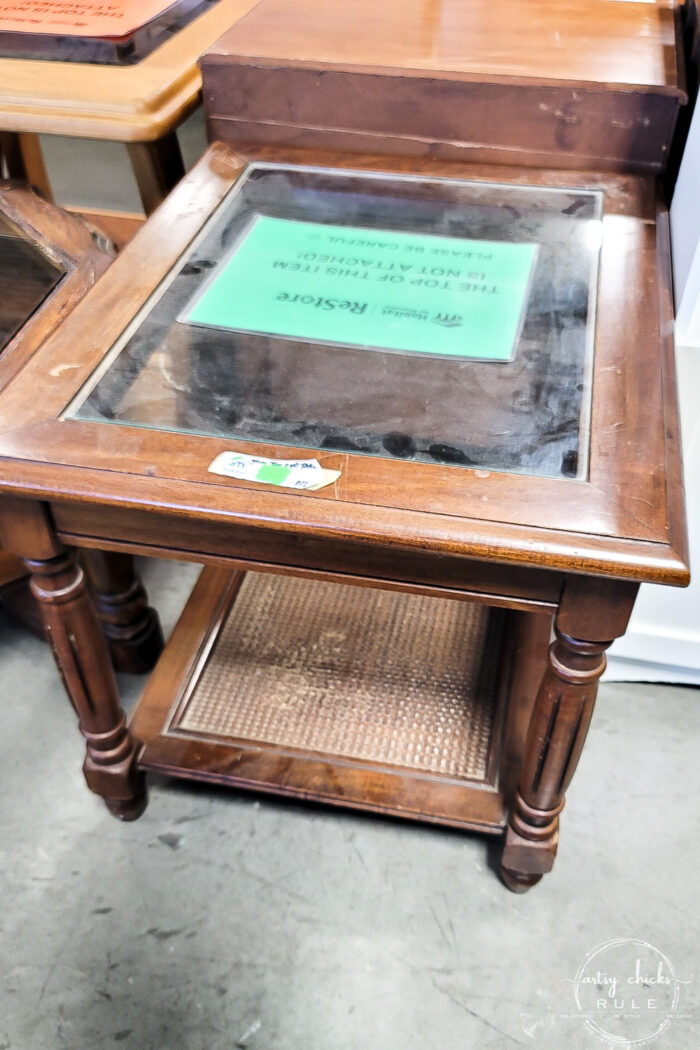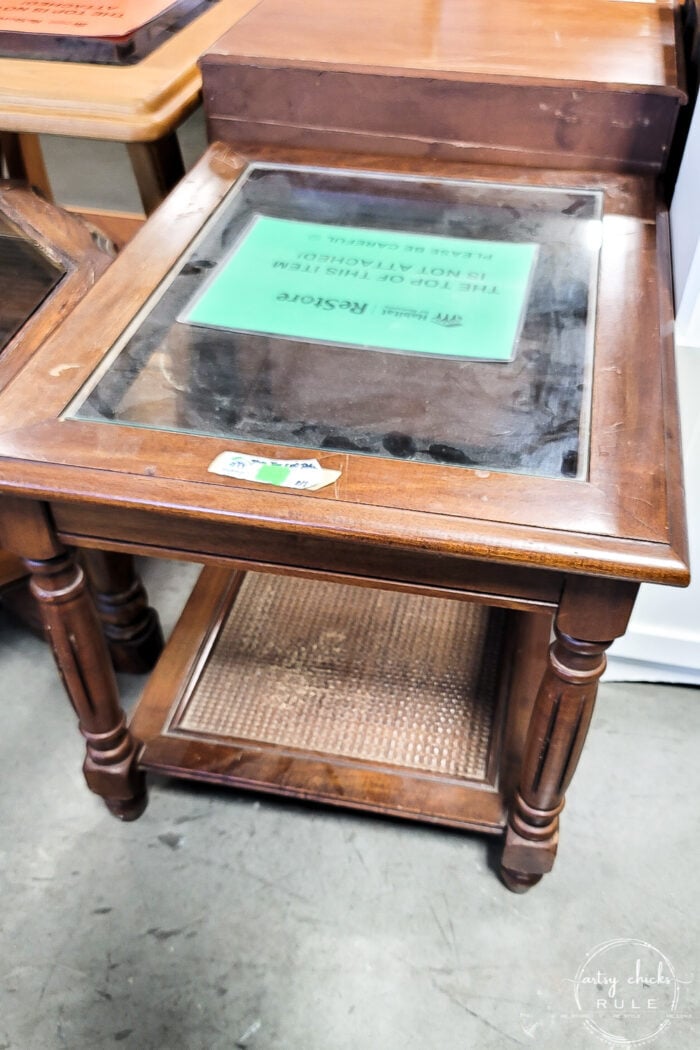 It was $5!
I thought this was some sort of cool MCM-looking cabinet…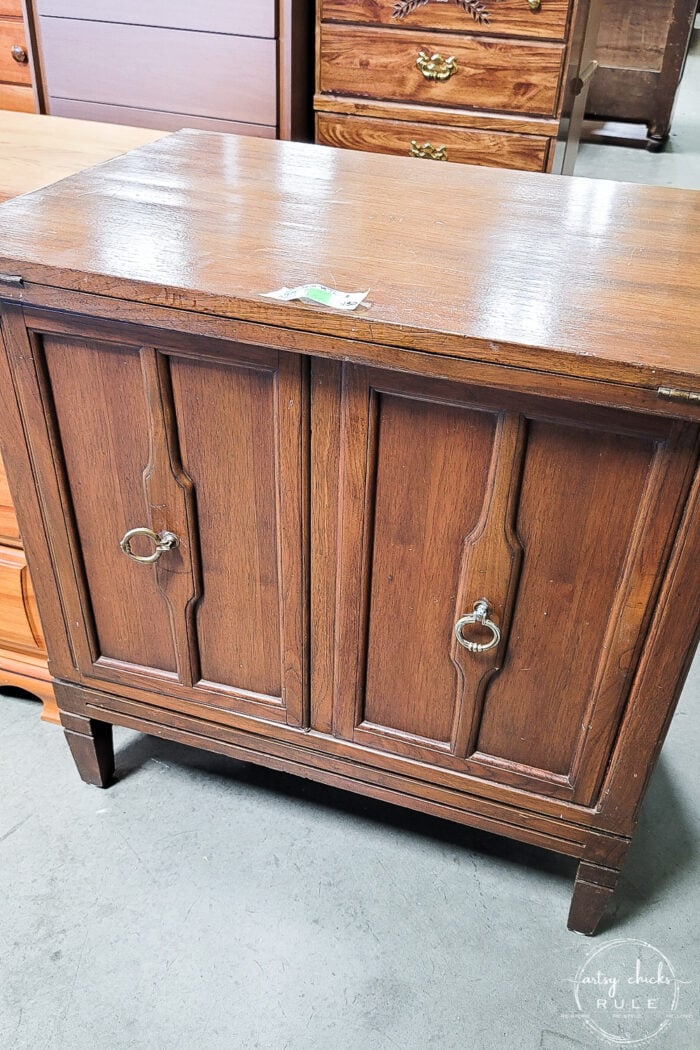 But realized it was a sewing cabinet. Have you ever seen one like this before?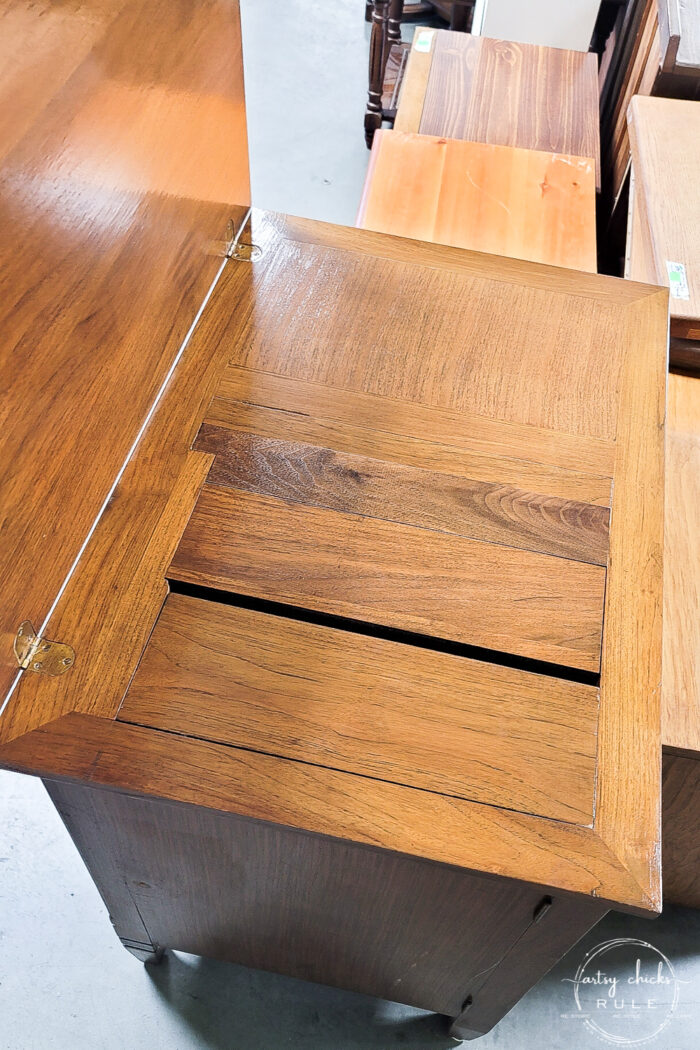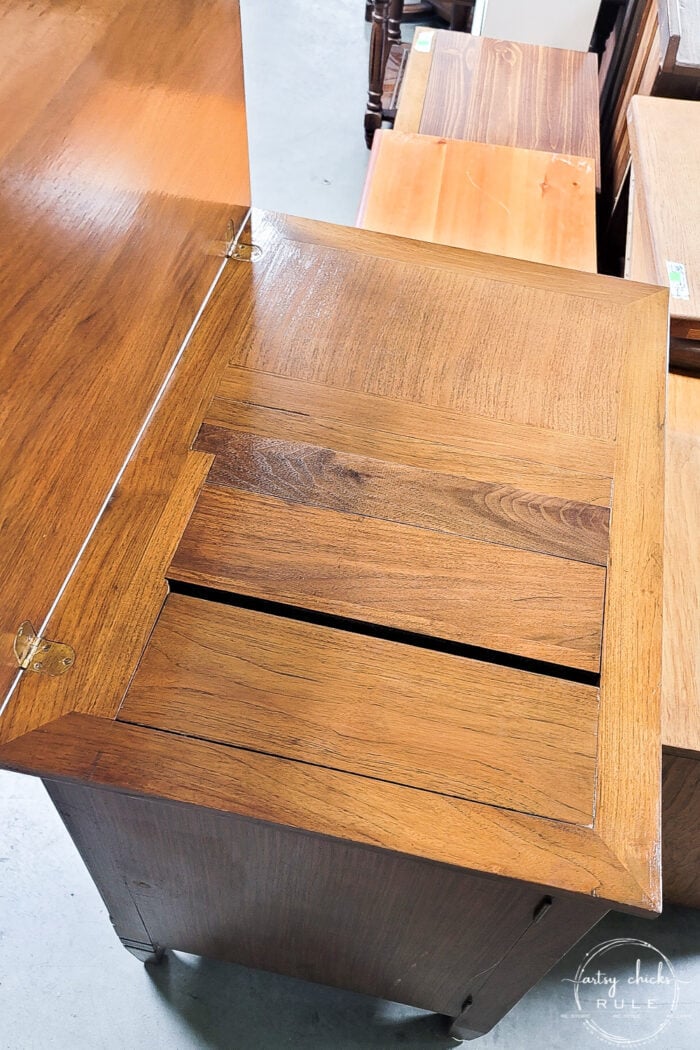 Very cool piece. It was $25.
This one would be very cute with coastal or farmhouse decor.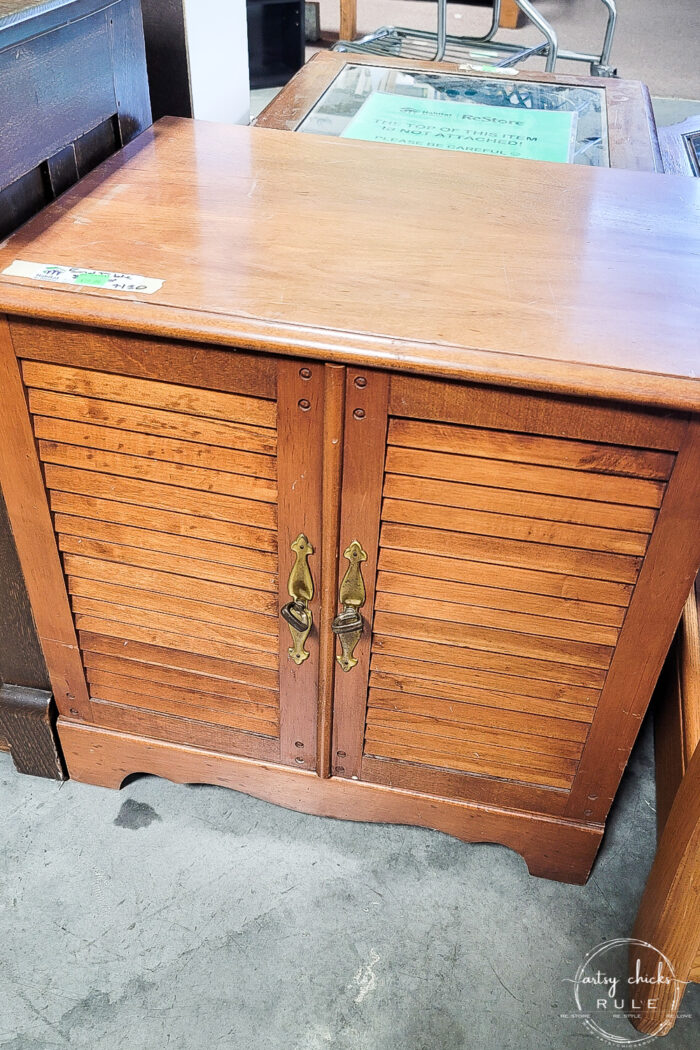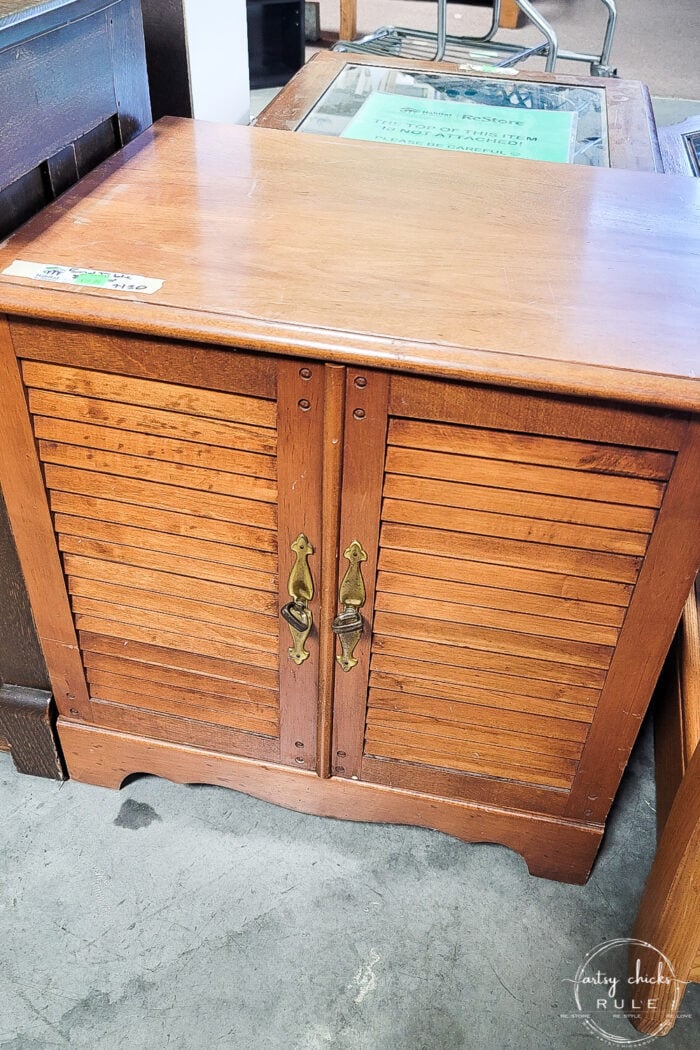 It was $19.
Lots of nice chests just begging to be made over.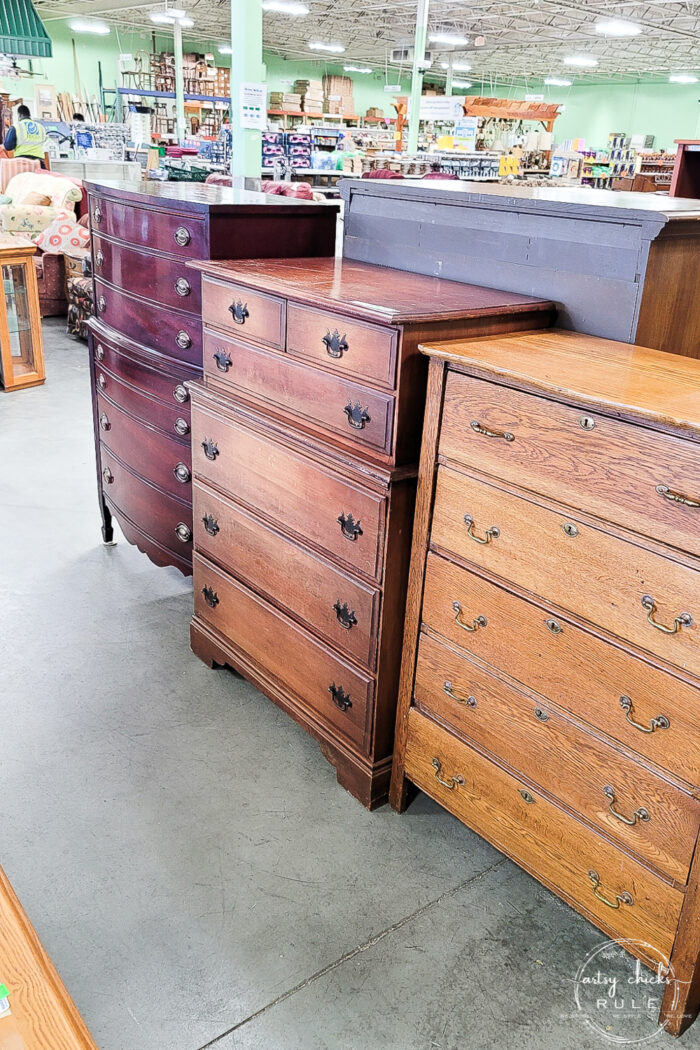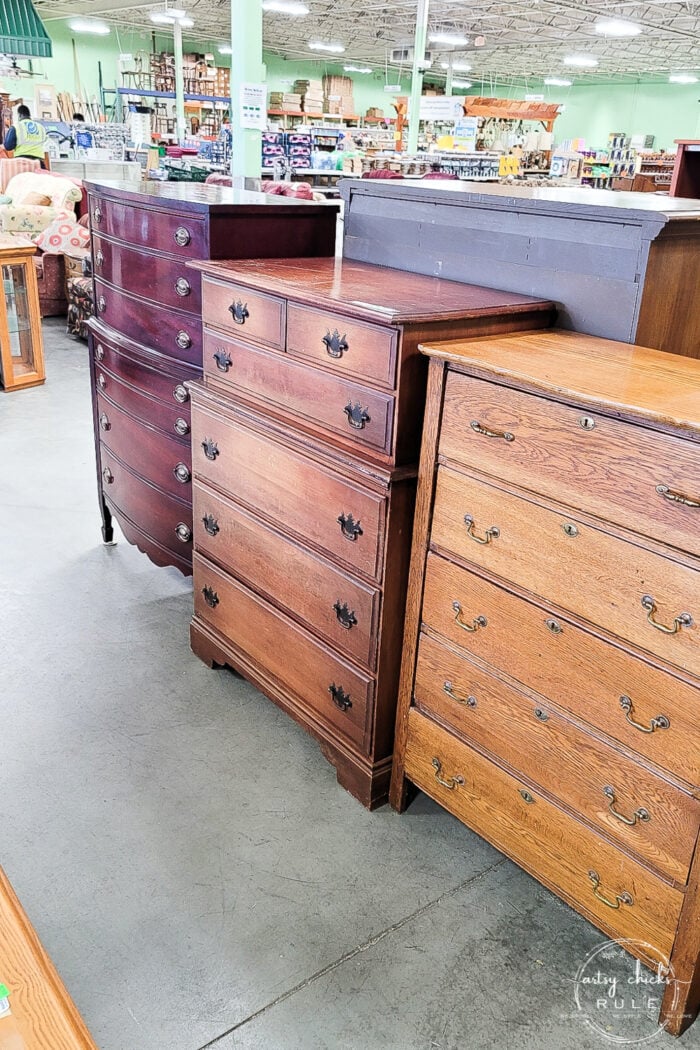 Various prices but all in the $85 ish range.
Then I saw this solid wood beauty. Oh my, can you imagine painted? Or stripped and bleached?
Oh my, oh my. I really wanted to bring it home … just to make it over. But it was heavy and big.
So I sadly left it behind.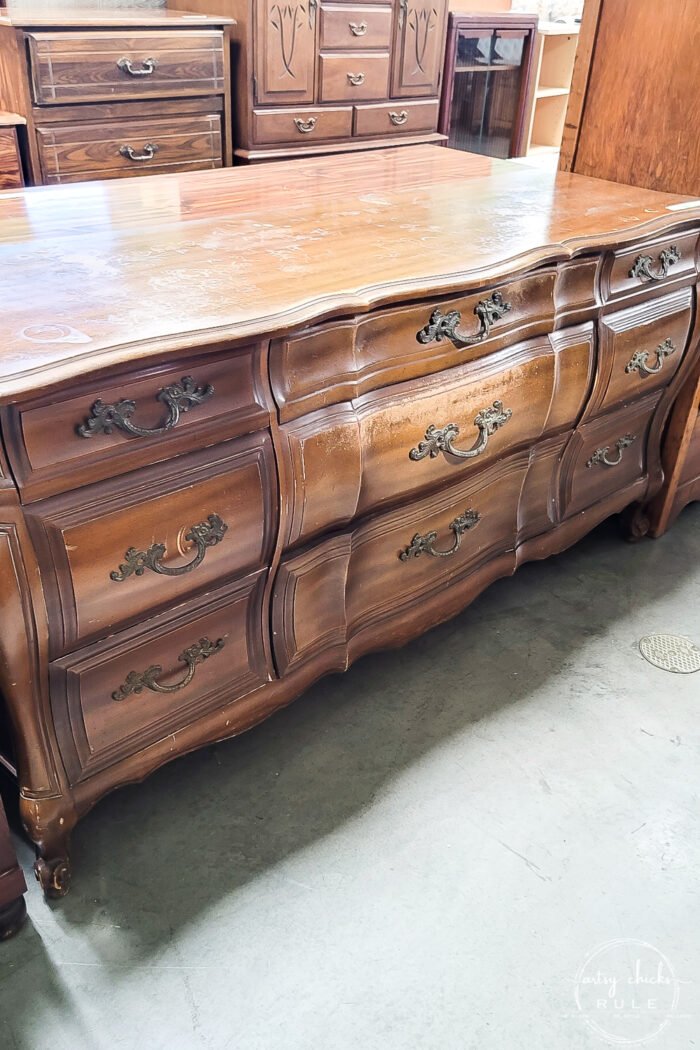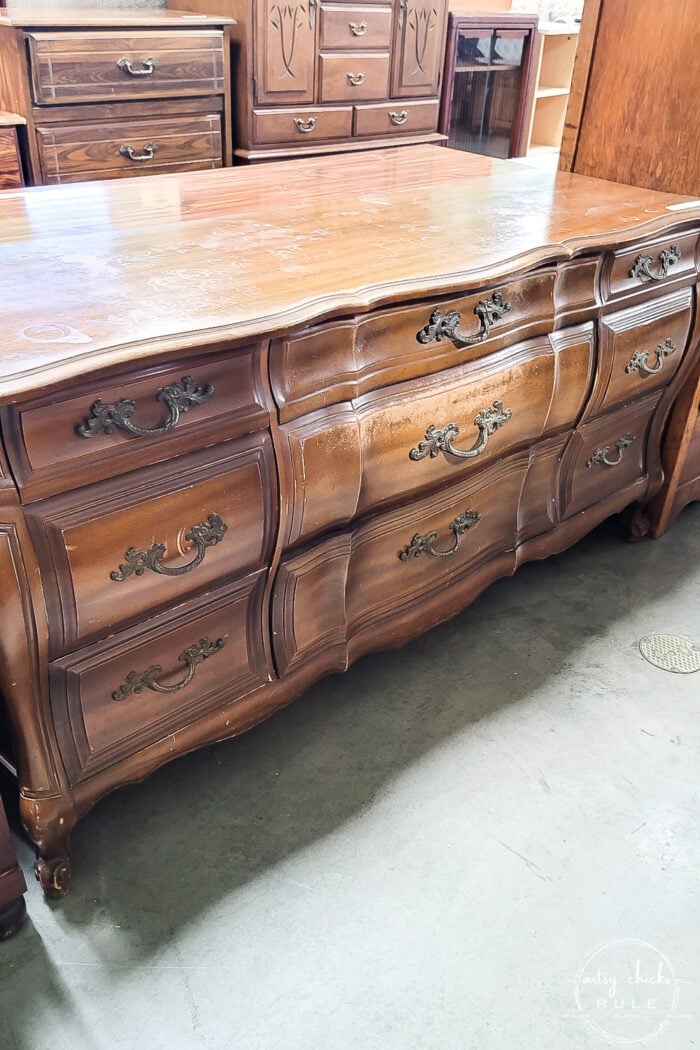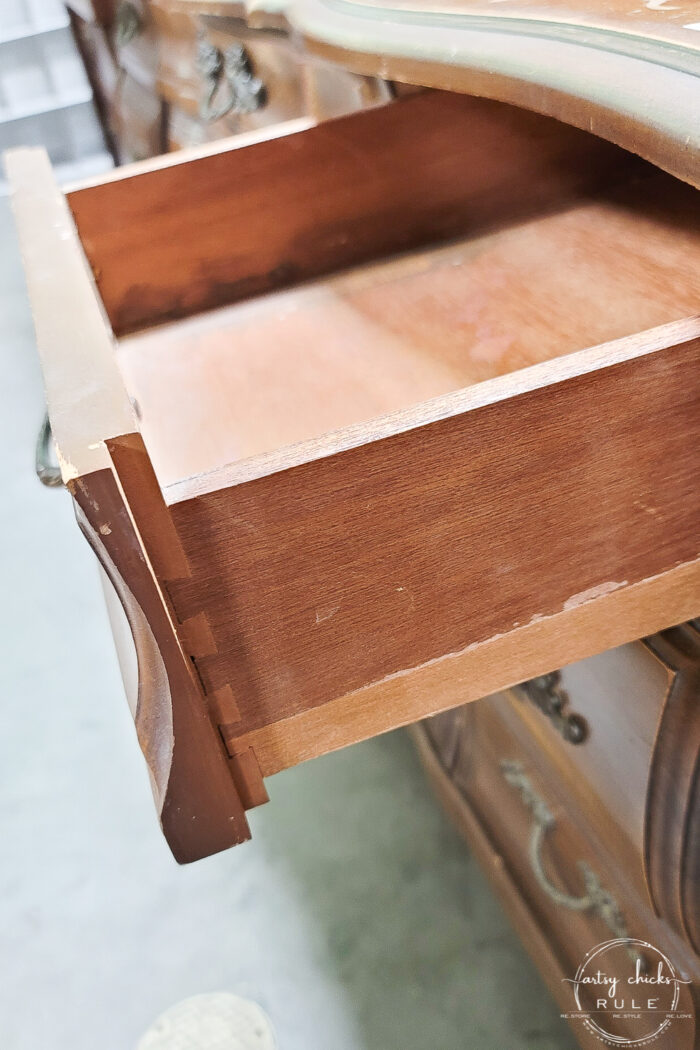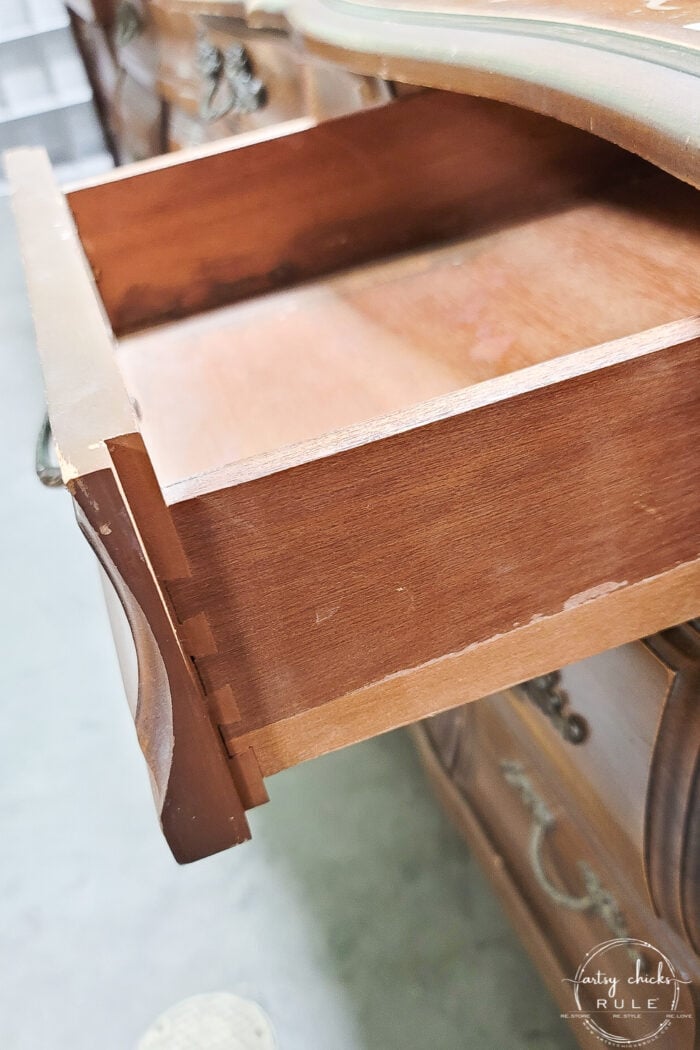 It was $99.
How about an old school desk?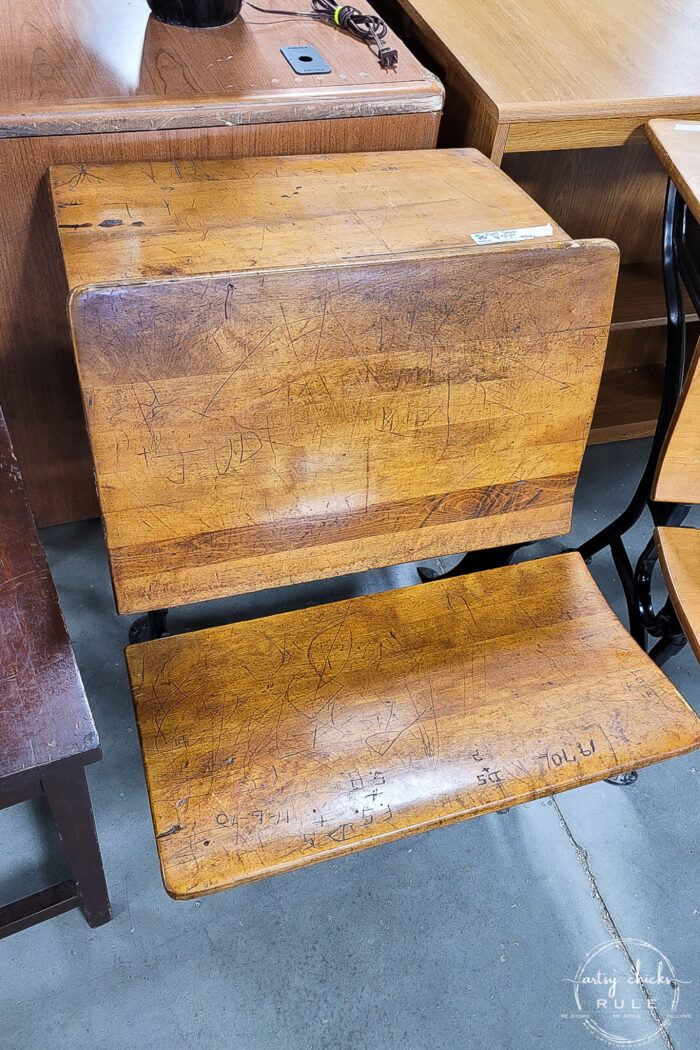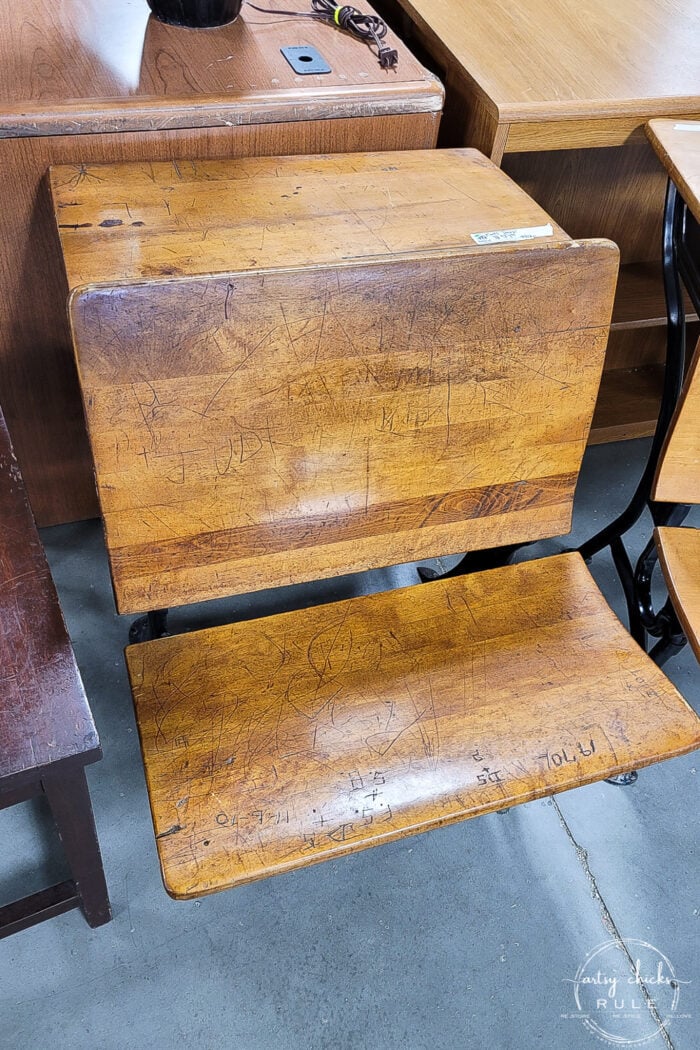 It even has a year carved in…1970.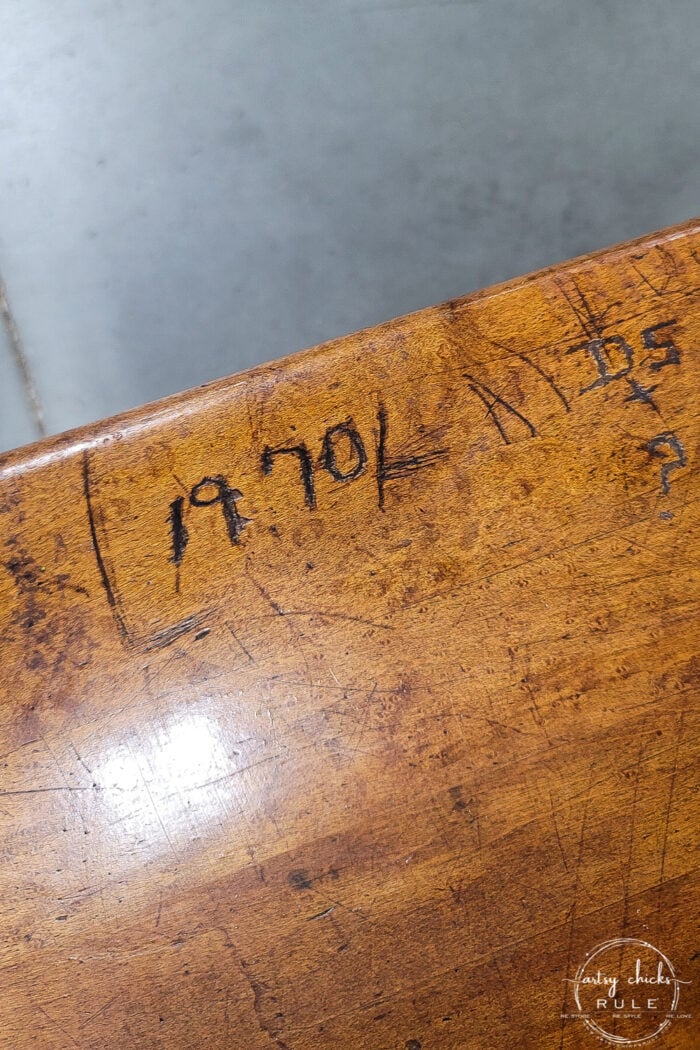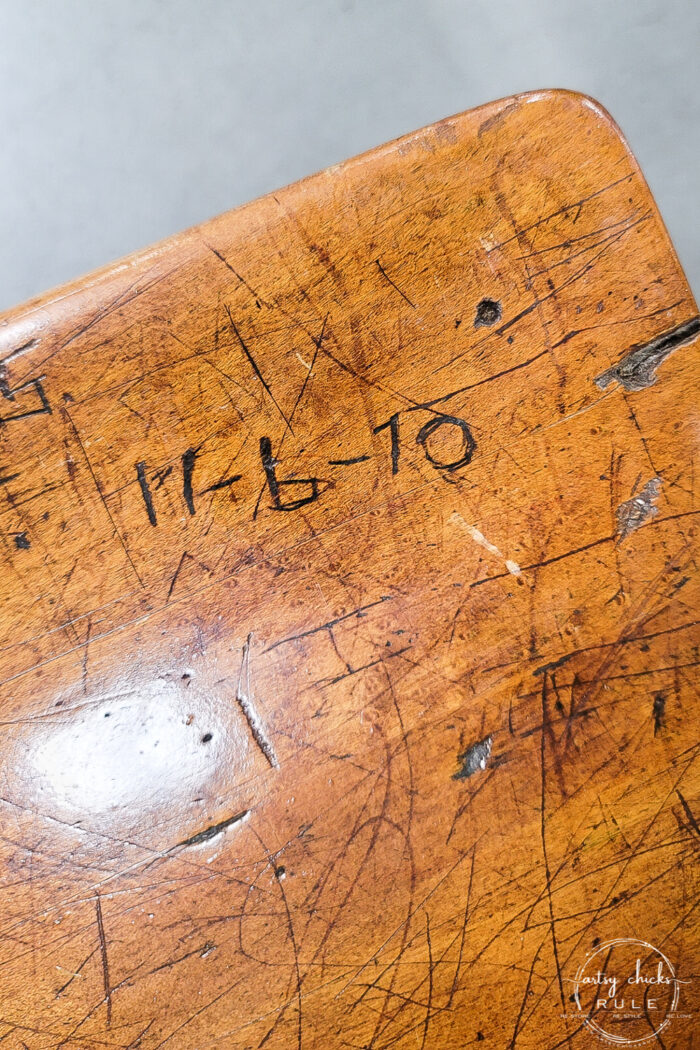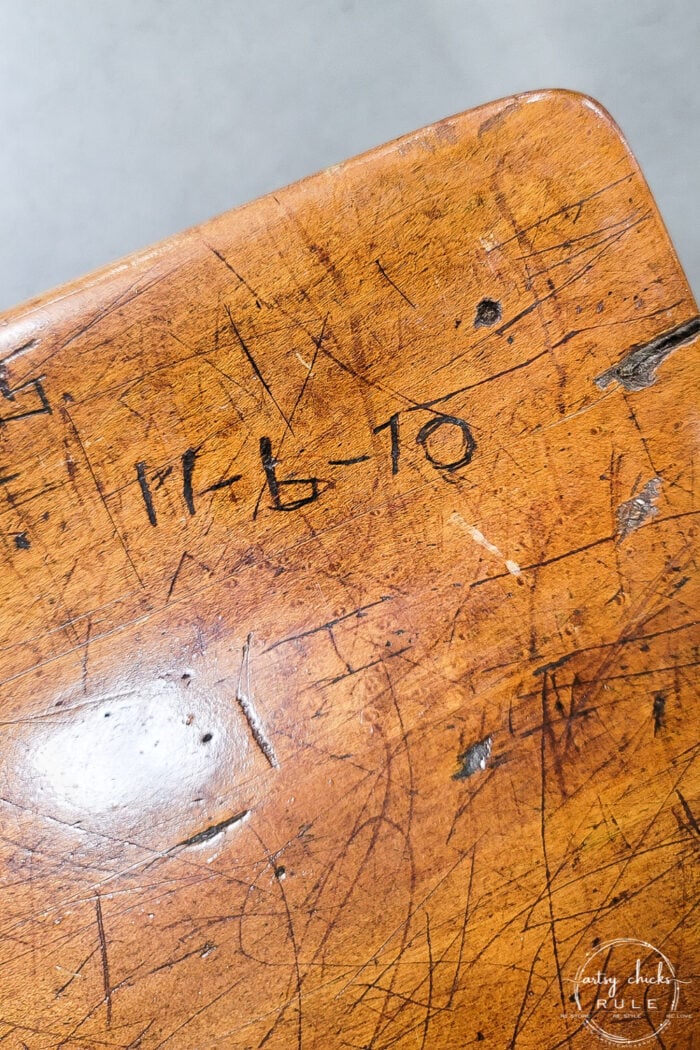 I love seeing the old things like this. Wonder what story they tell?
It was $59.
Need a piano?? (or a Top Gun bear? lol…look at the row behind)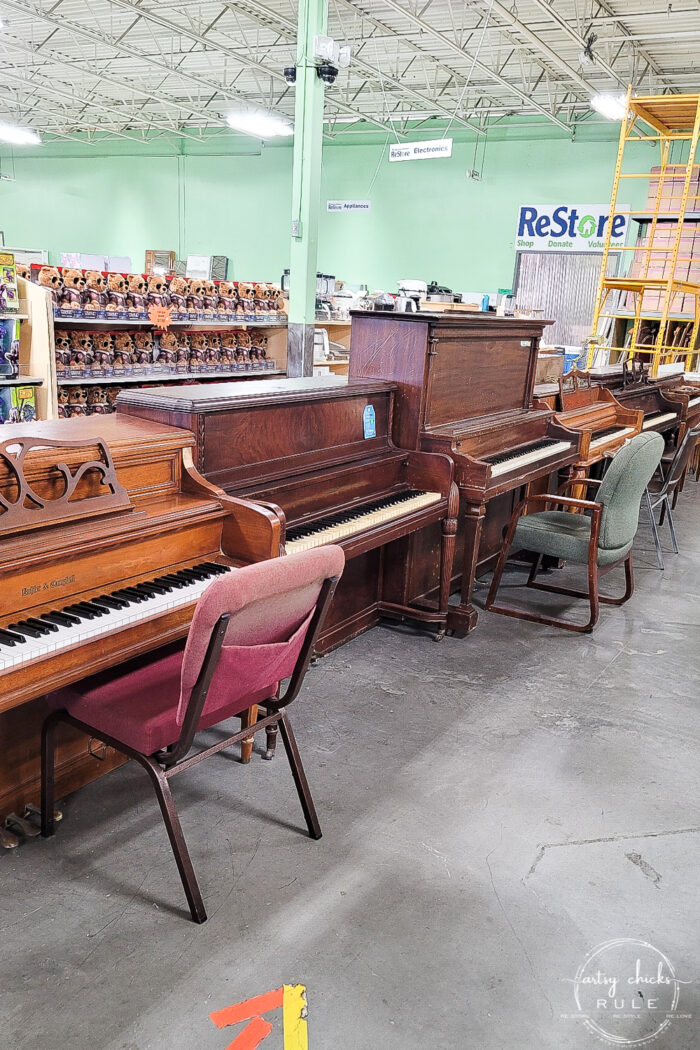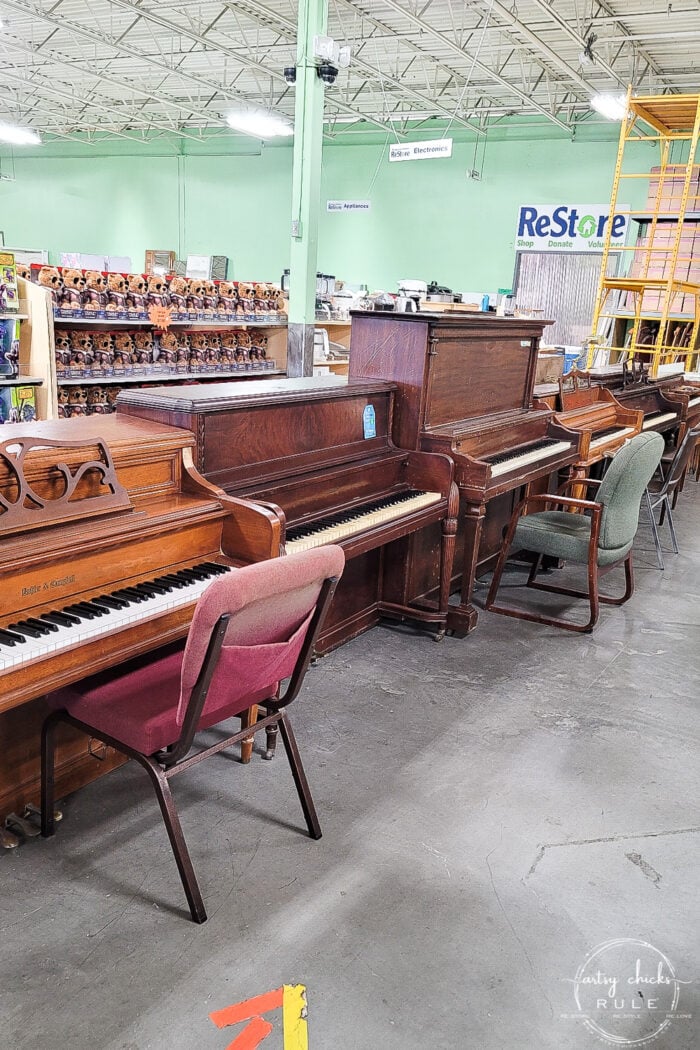 Gotcha covered with 2 whole rows of them…wow.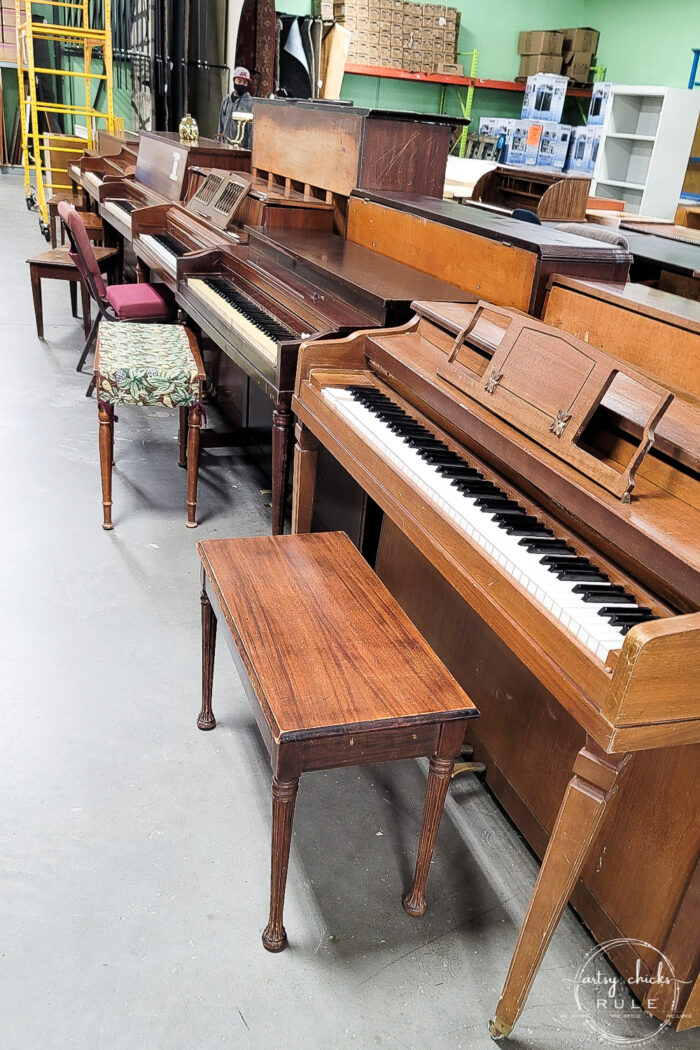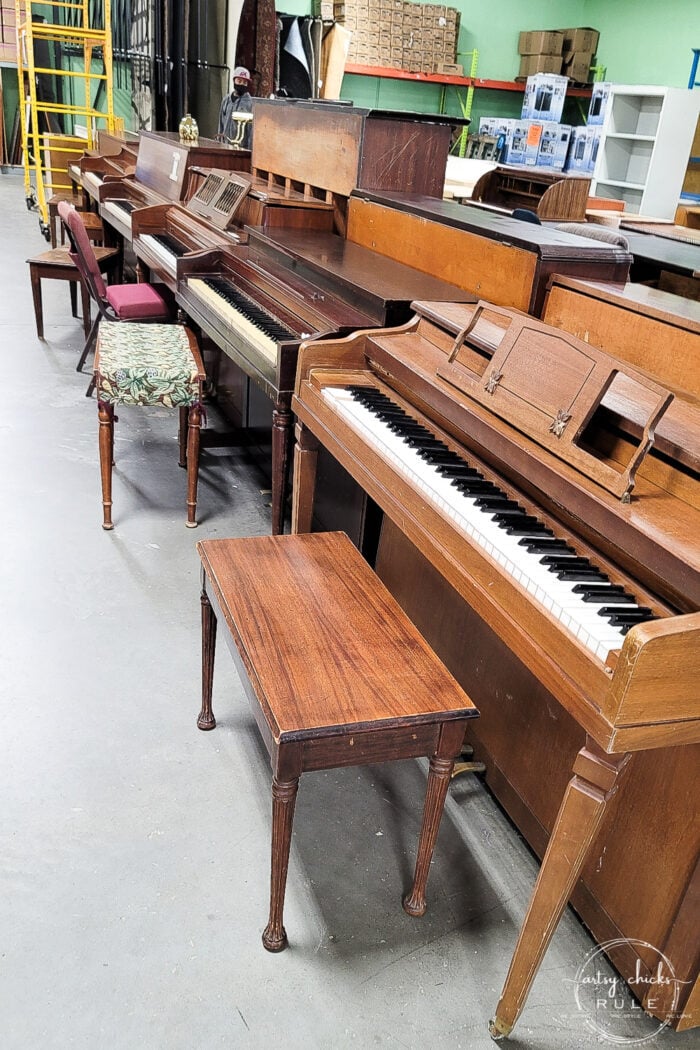 Remember that table I shared recently?? (this one, here)
This is basically the set I had originally…and what the tabletop looked like originally.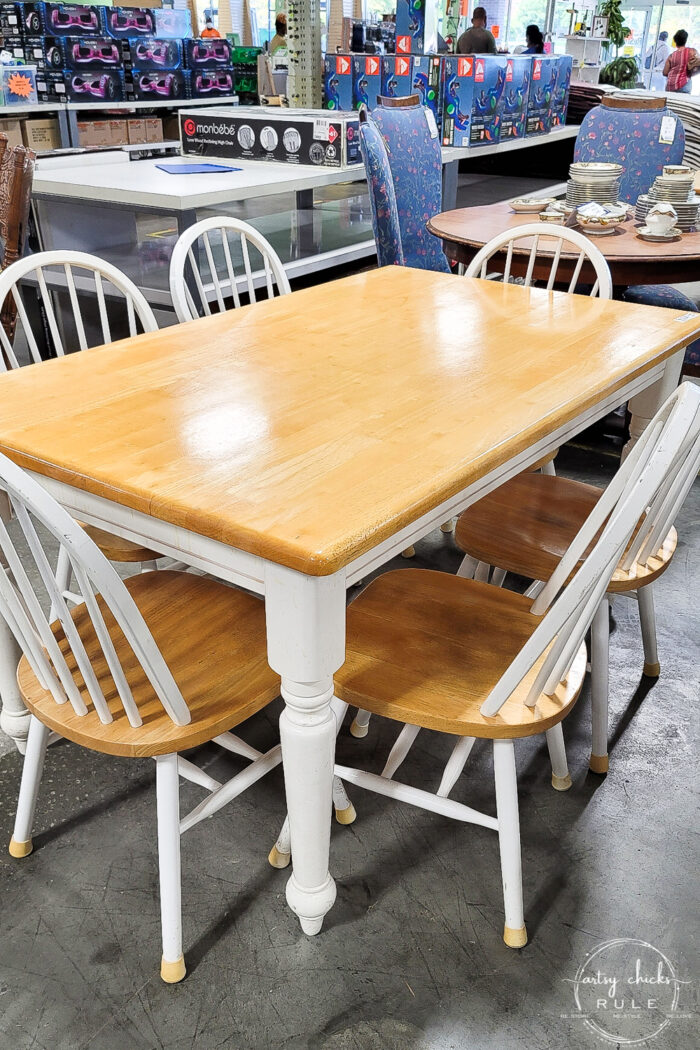 The rest of the thrift run was at Goodwills, DAVs, and CHKD.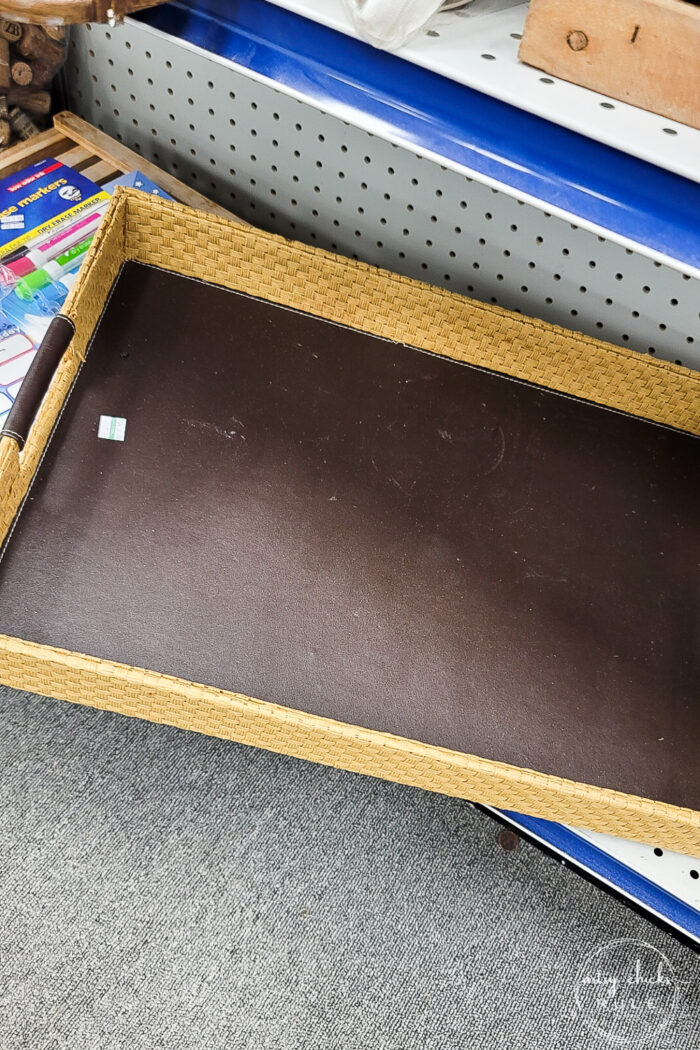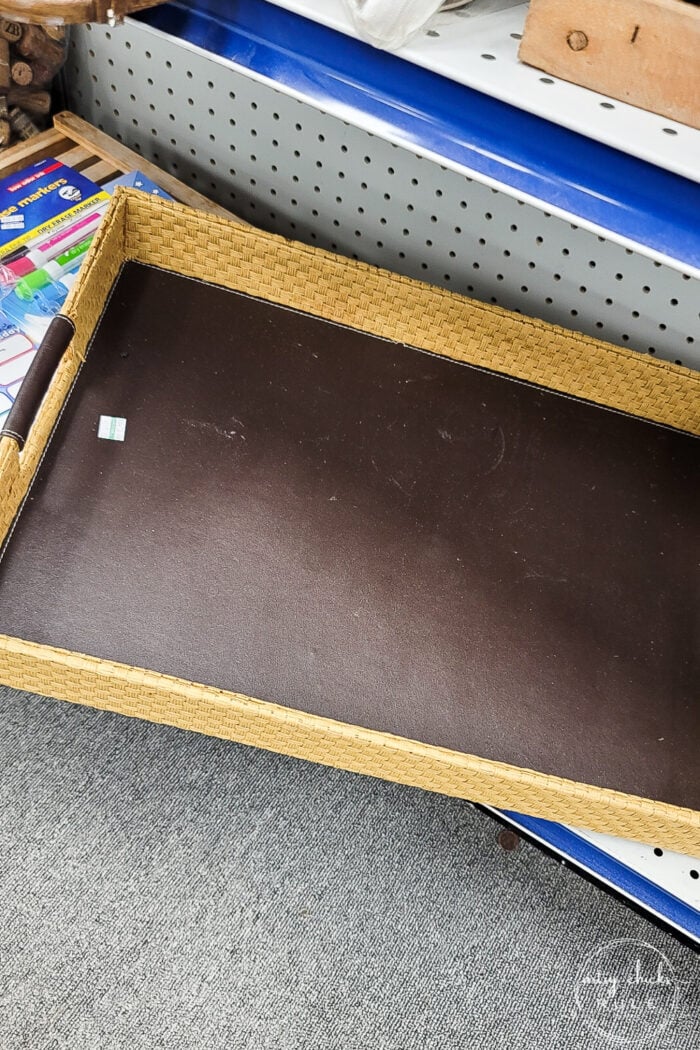 Basket tray. $3.50 (half off, orange sticker!)
Loved this sweet basket with a lid and handles.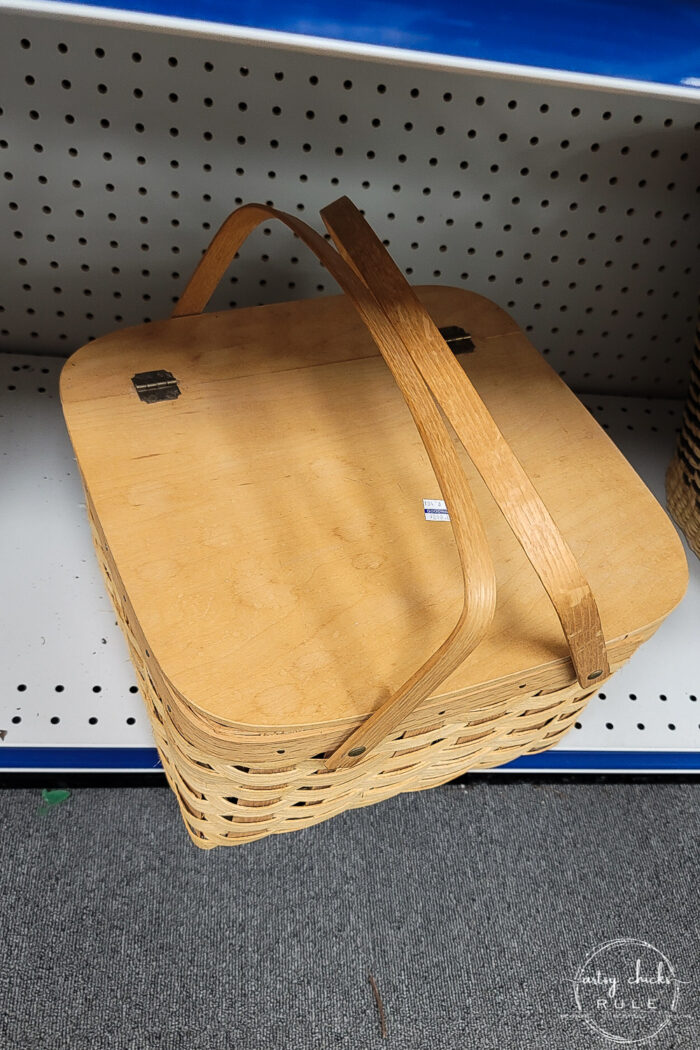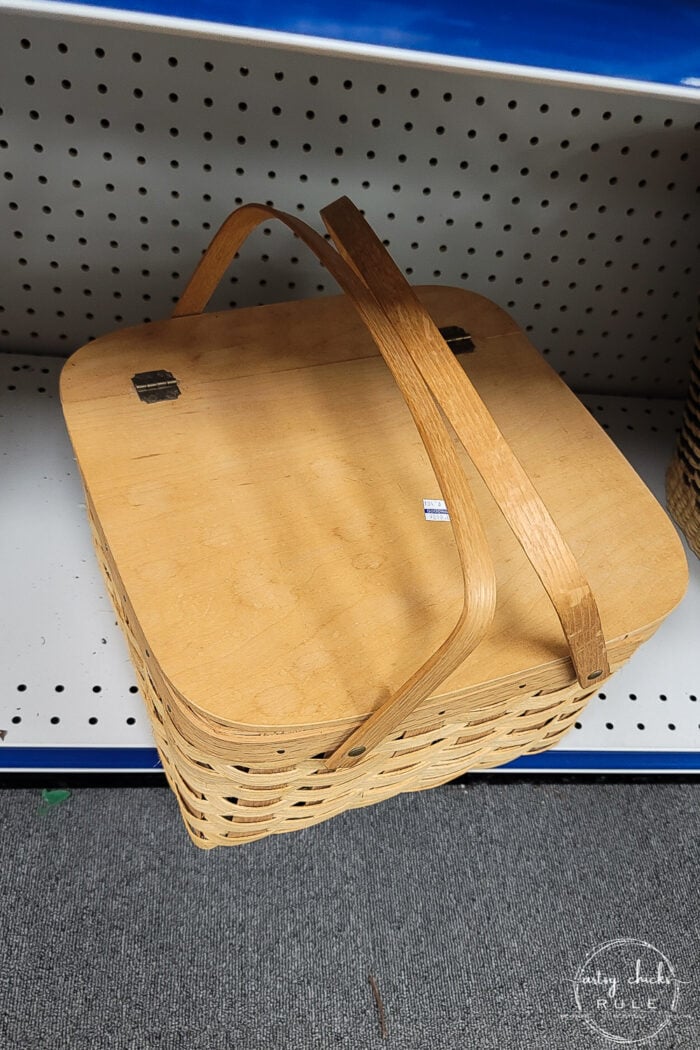 It was $8.
Another trunk. (like the one I recently gave a makeover to, here)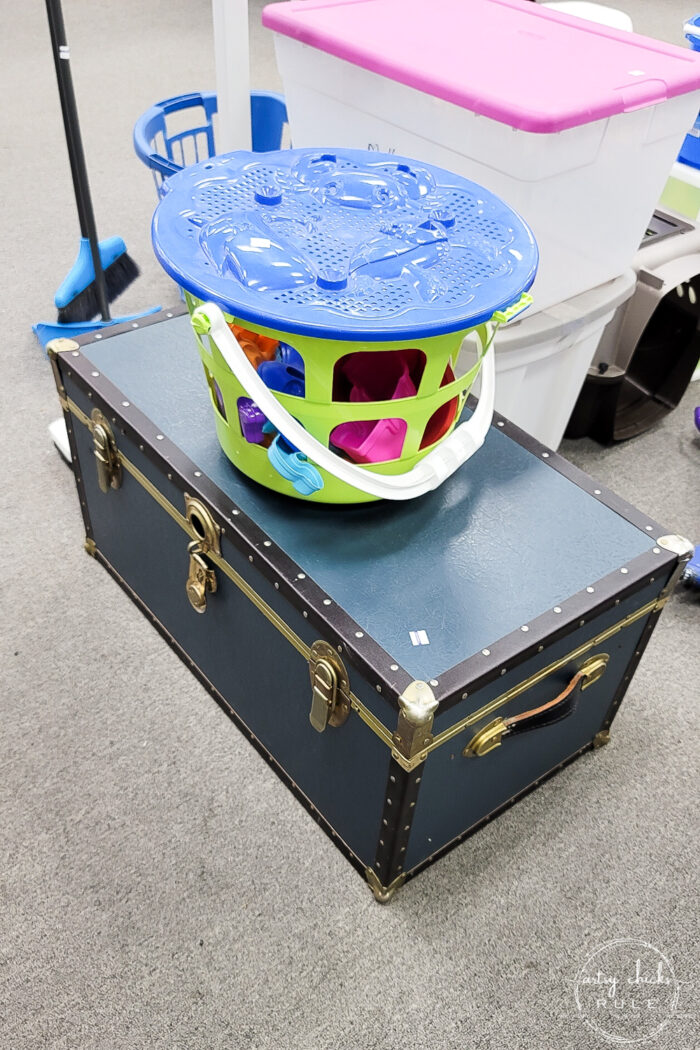 It was $10.25.
This was some kind of hanging thing.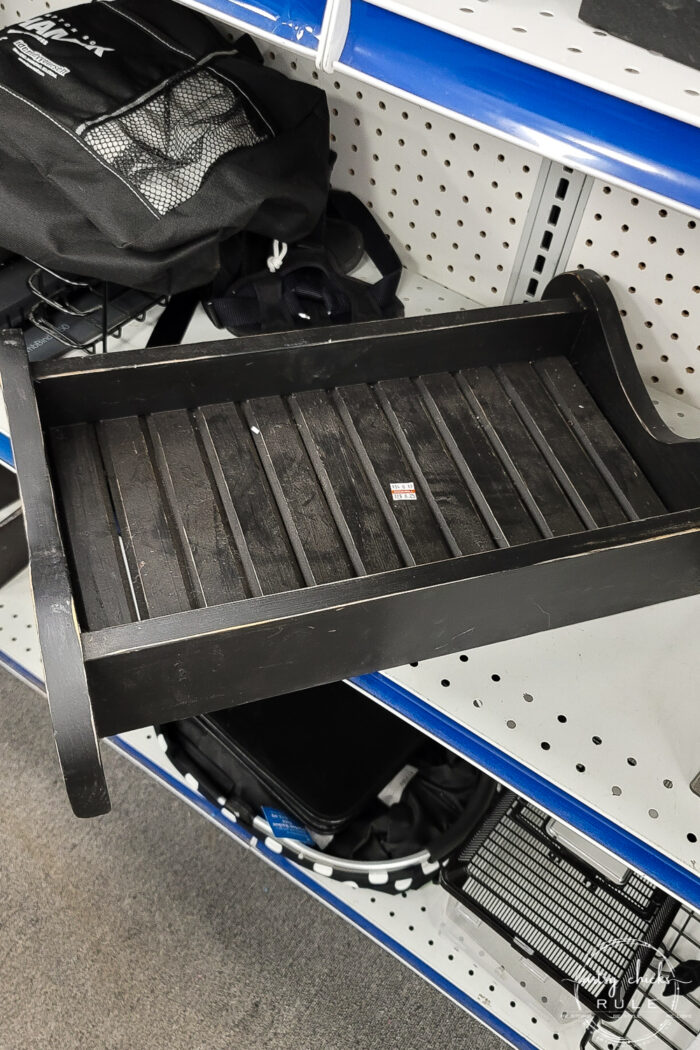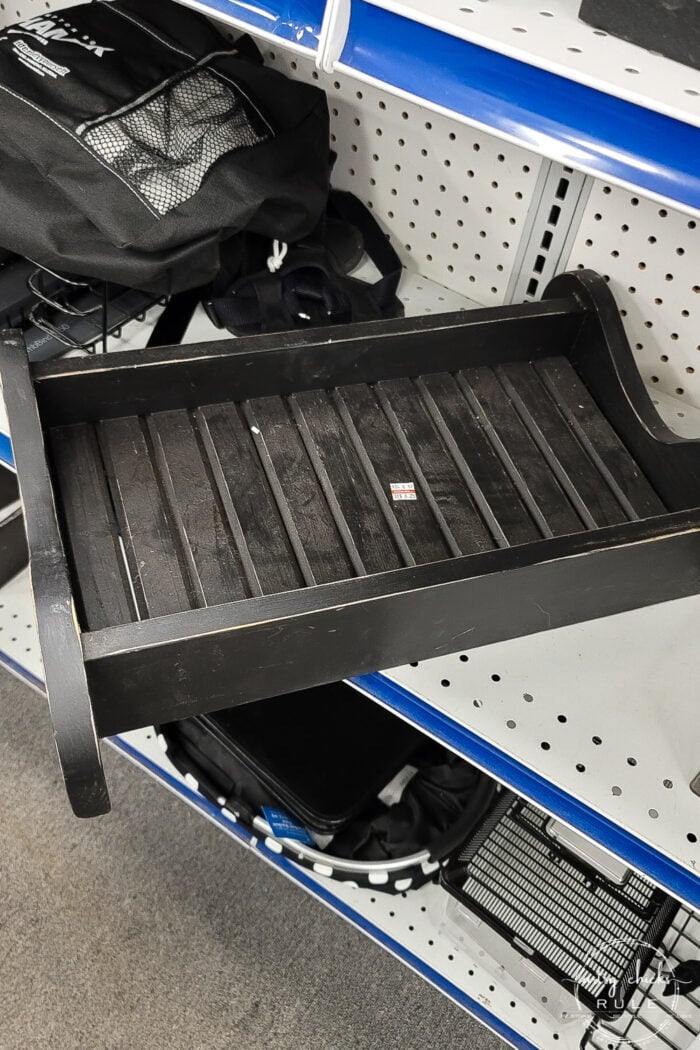 It was $6.
This could be really cute painted …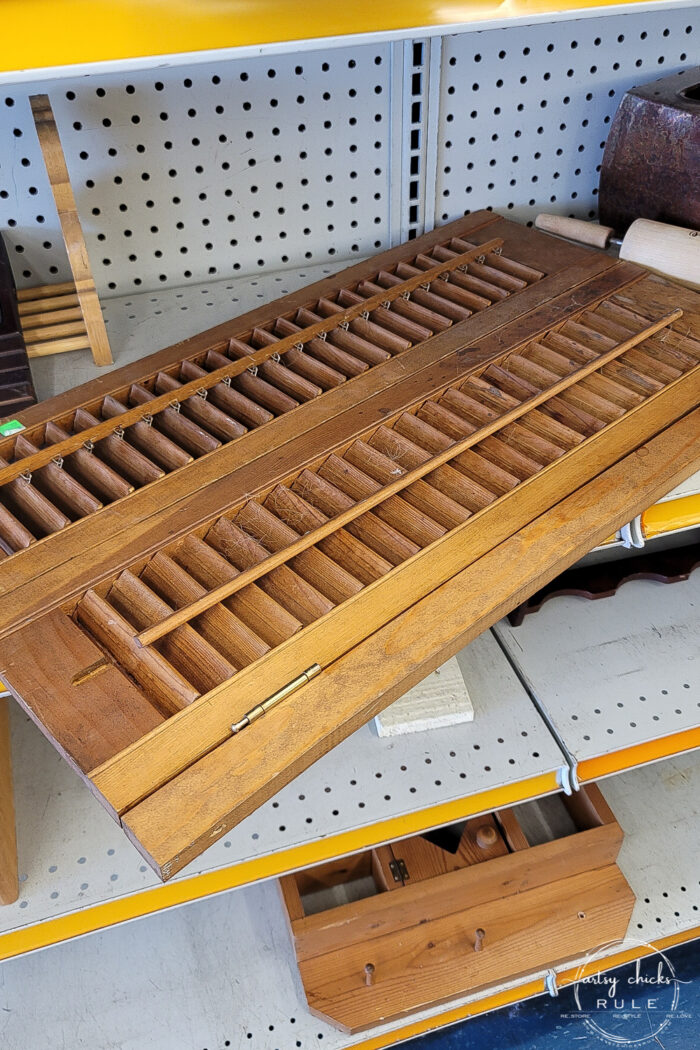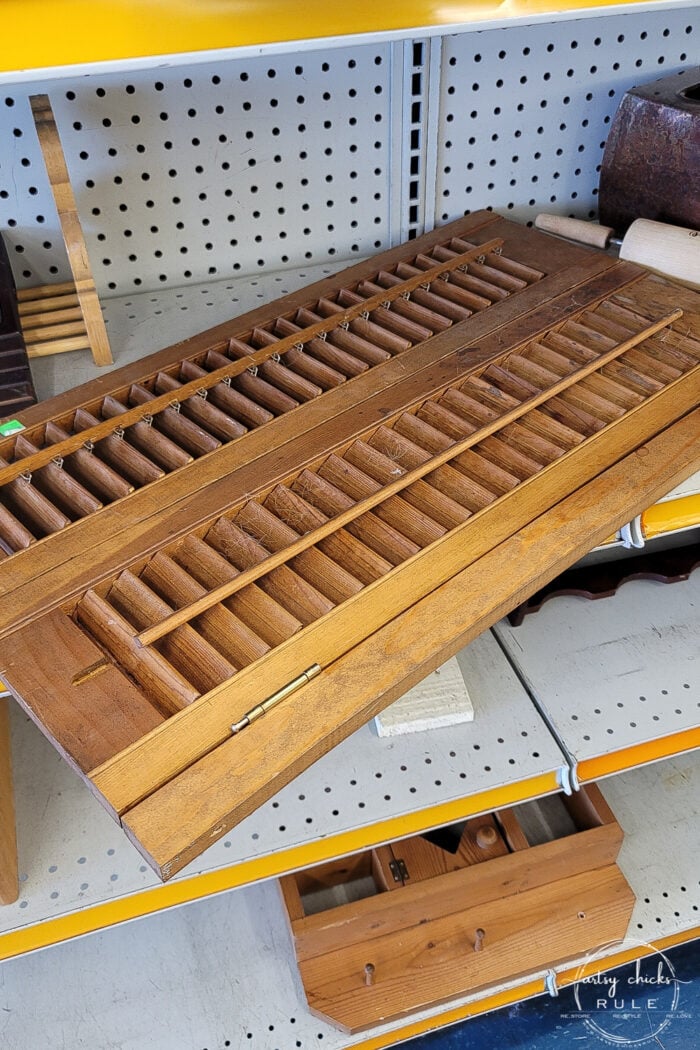 It was $3.
I thought the scrolling pattern was pretty on this one.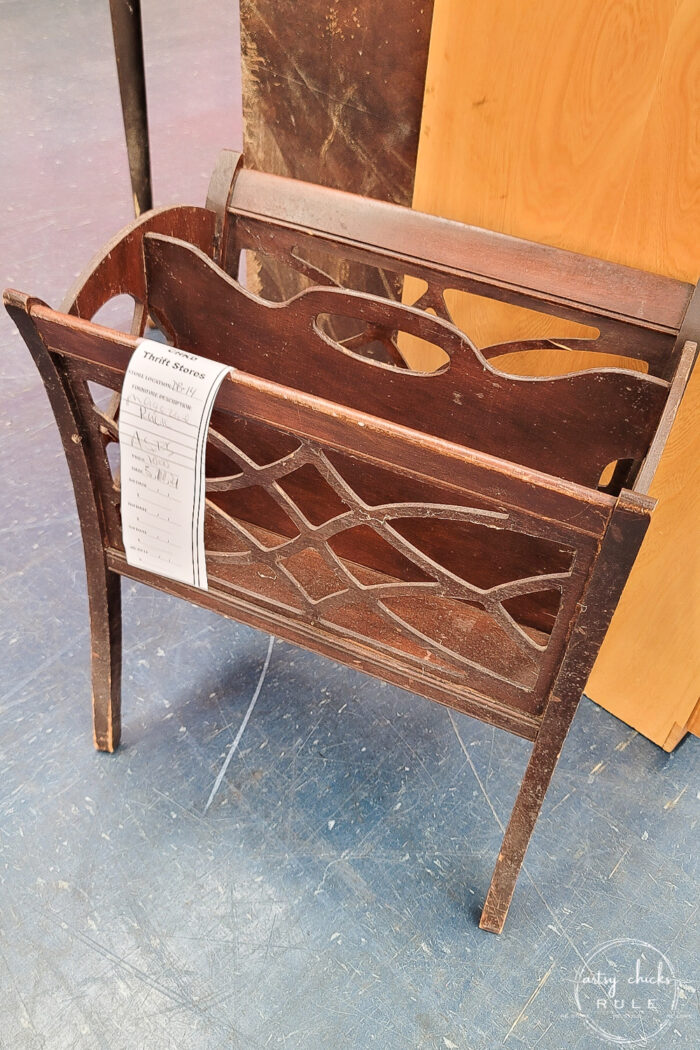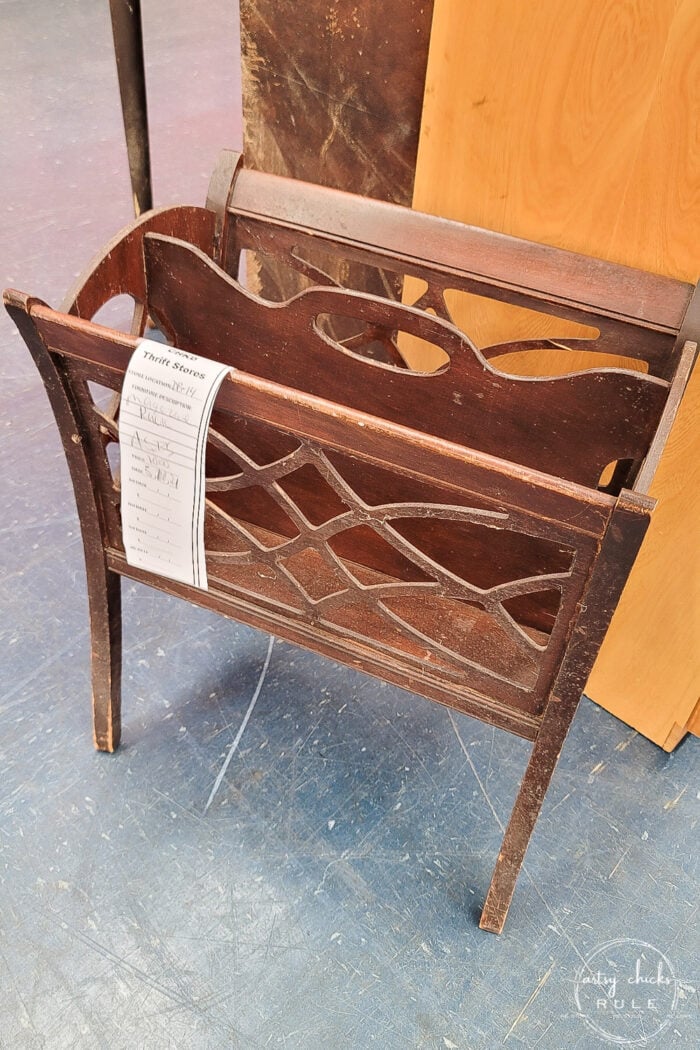 It was $10.
Another box! I always come across as least one (usually many more) of these.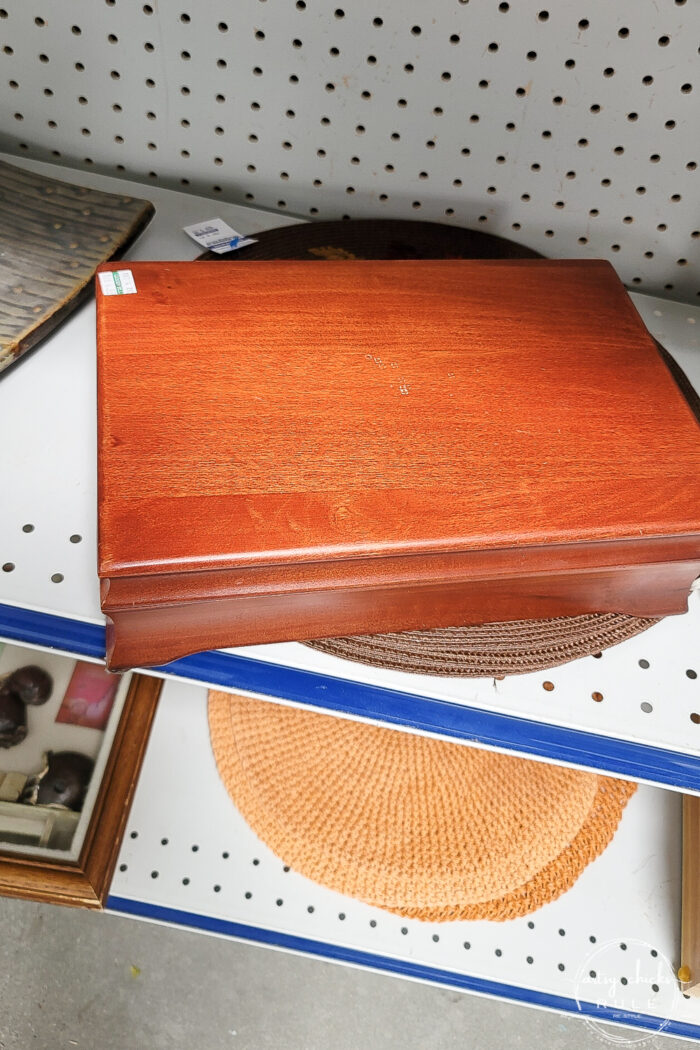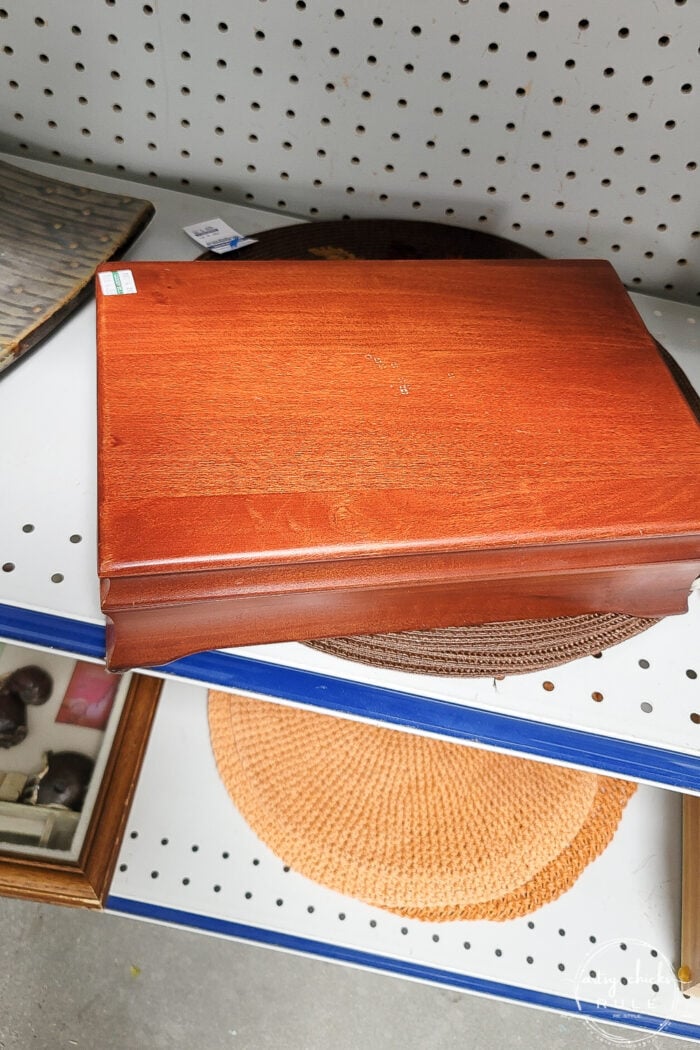 It was $4.
I love a good, sturdy, solid wood shelf!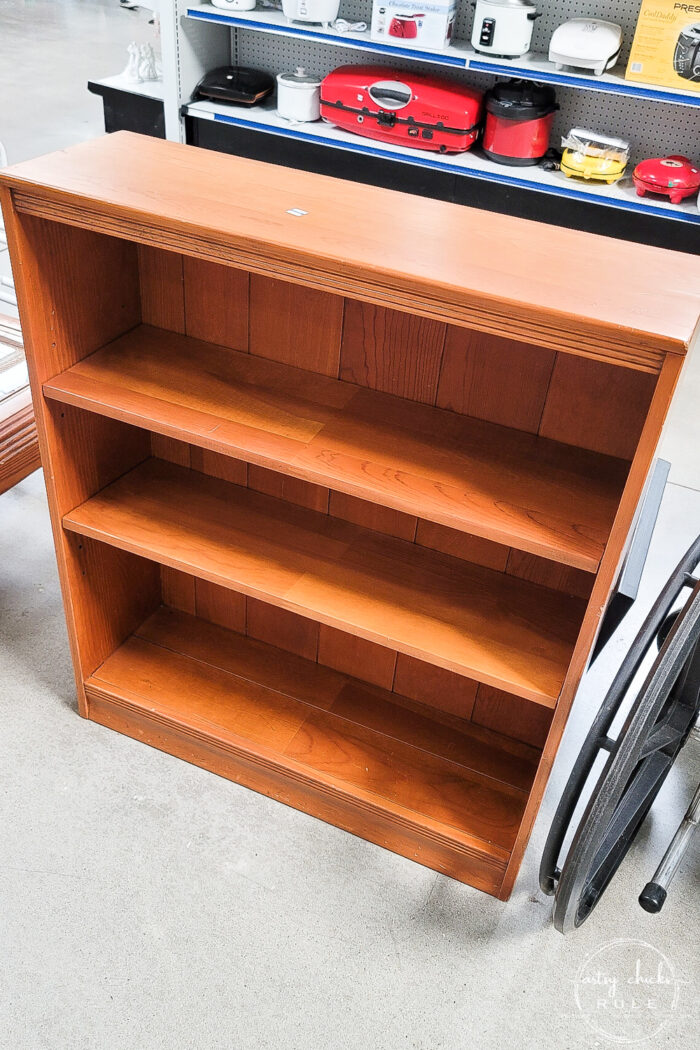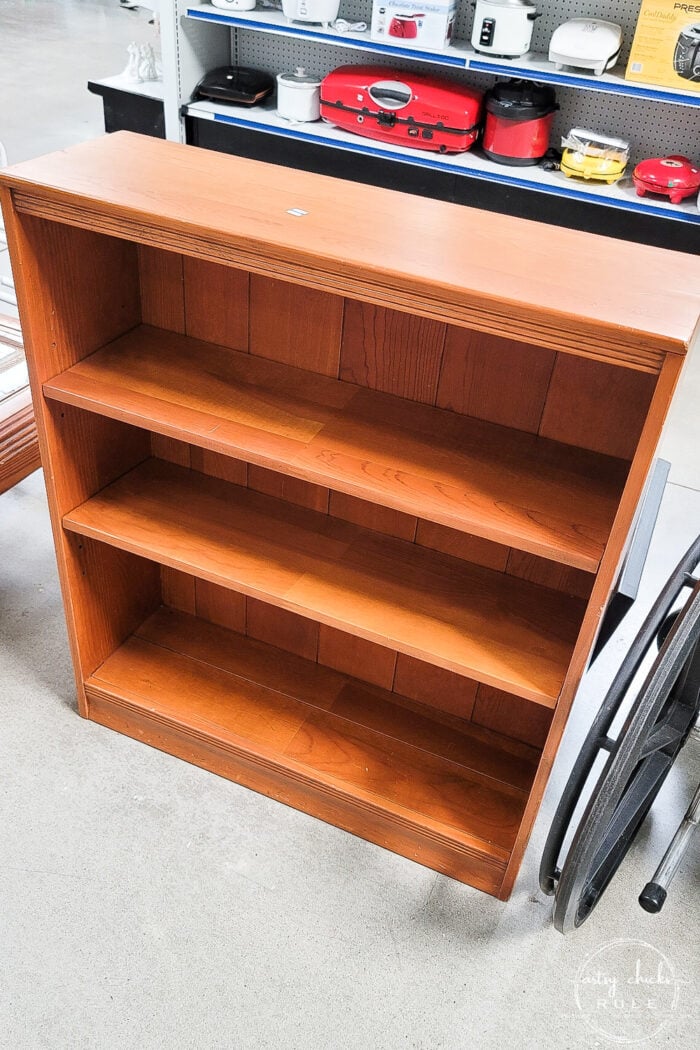 It was $20.
A pair of farmhouse-style chairs?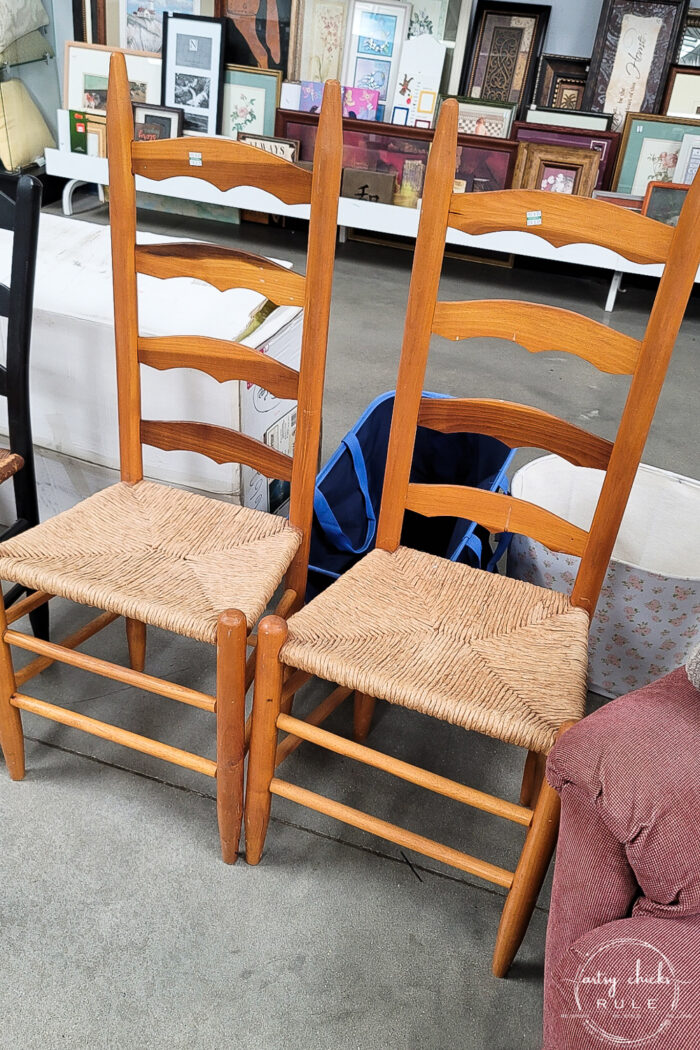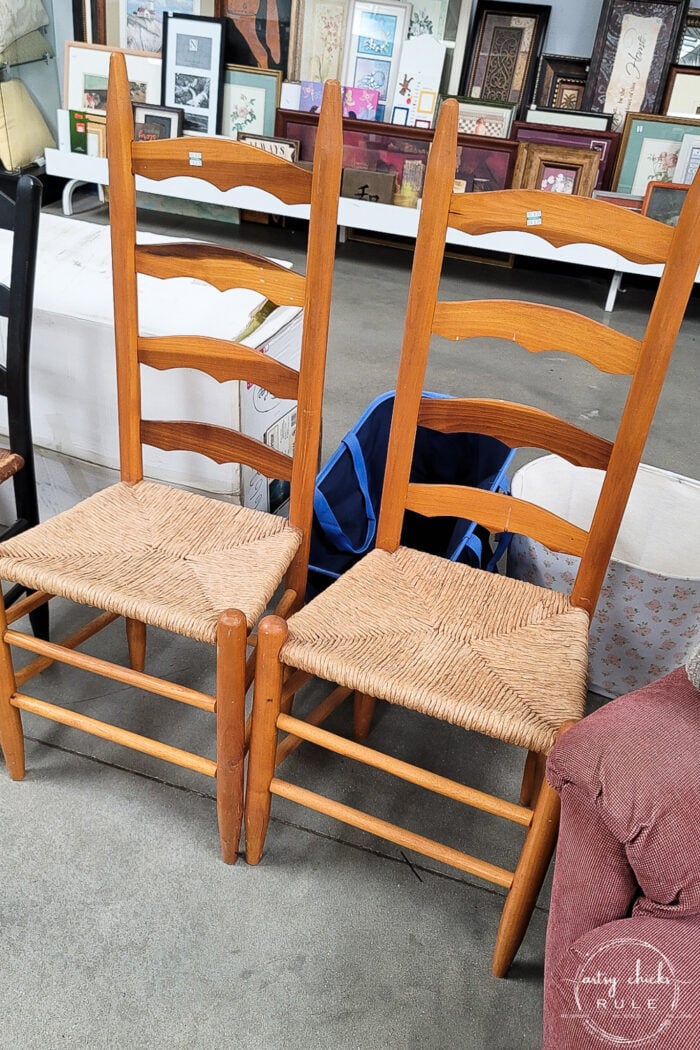 They are $6.25 each.
Check out this one! Unique, huh?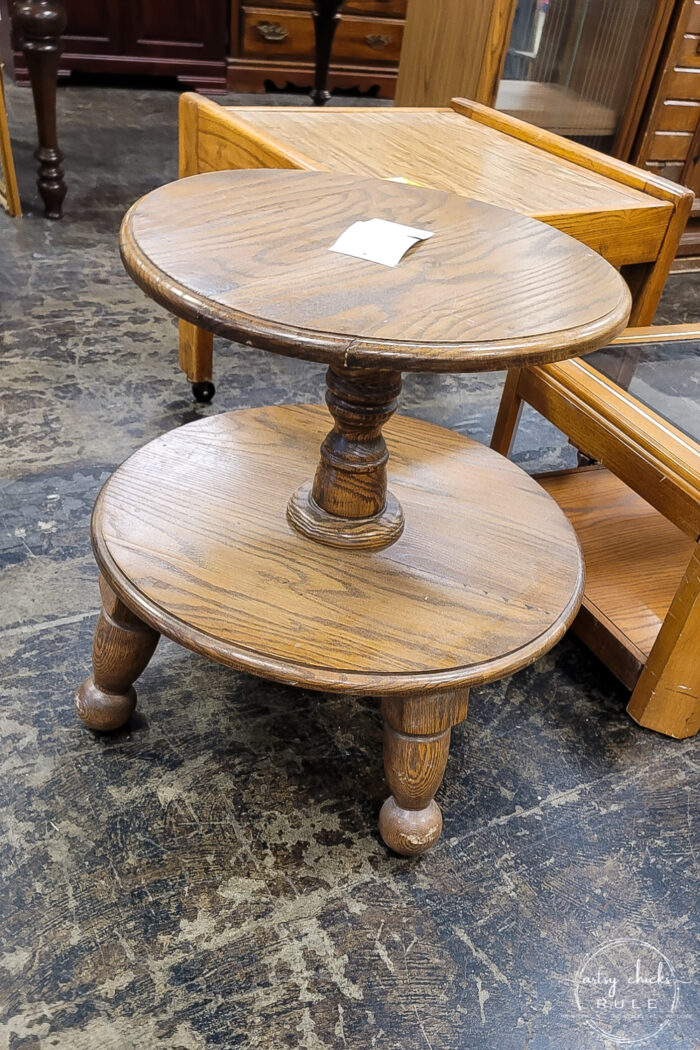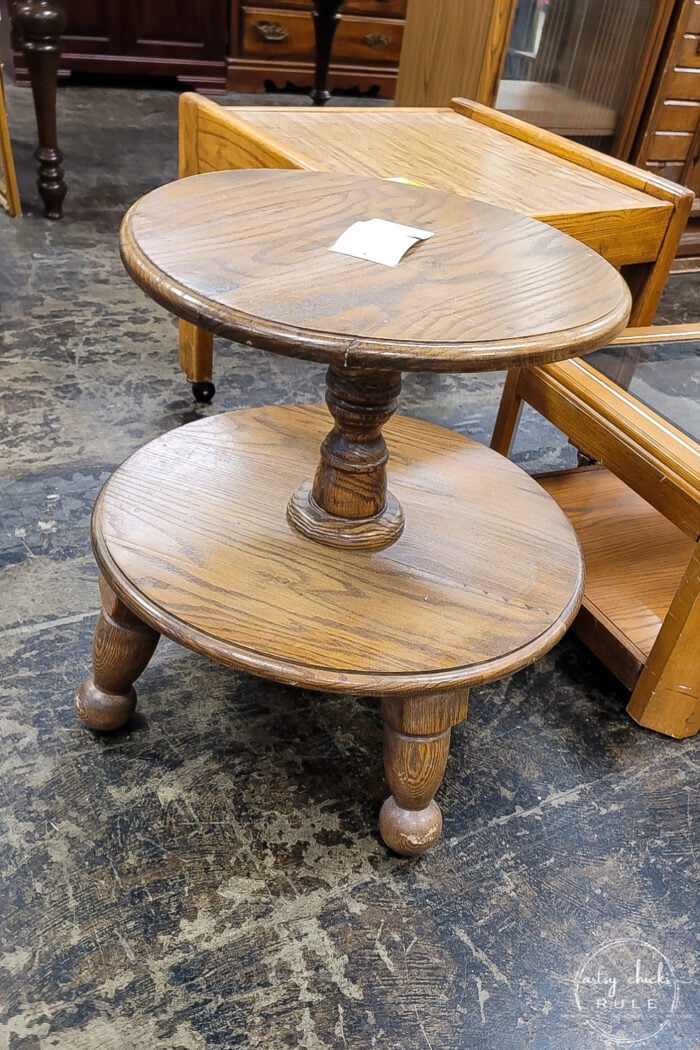 And $50?! What?
Can you just imagine painting this wood slat sign and putting something else over it? I can. ;)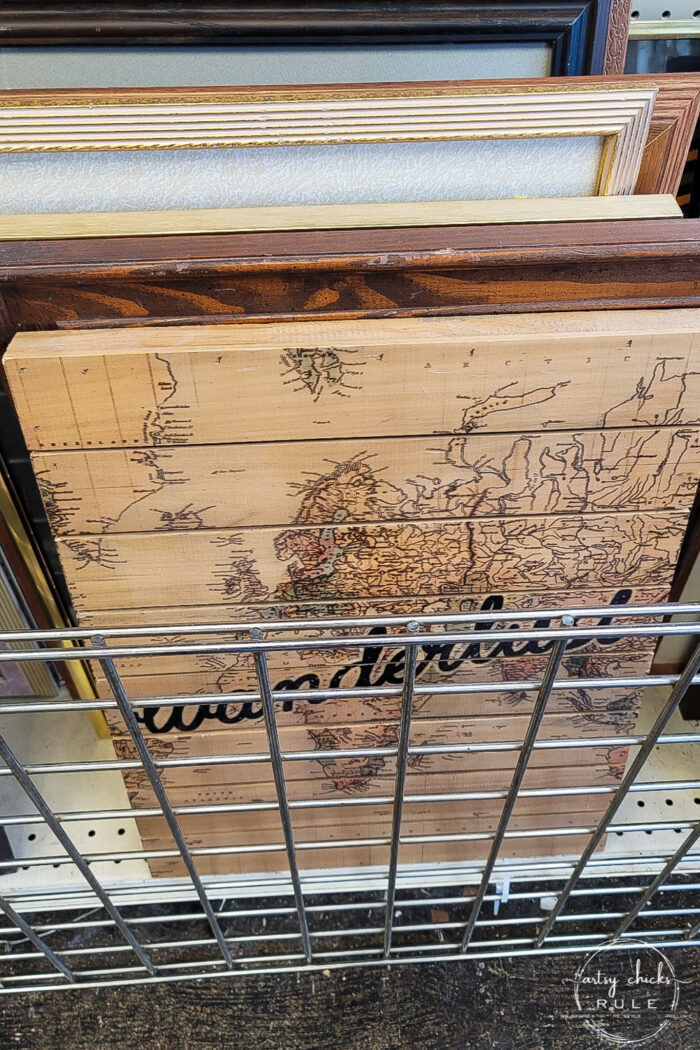 Or how about this tray?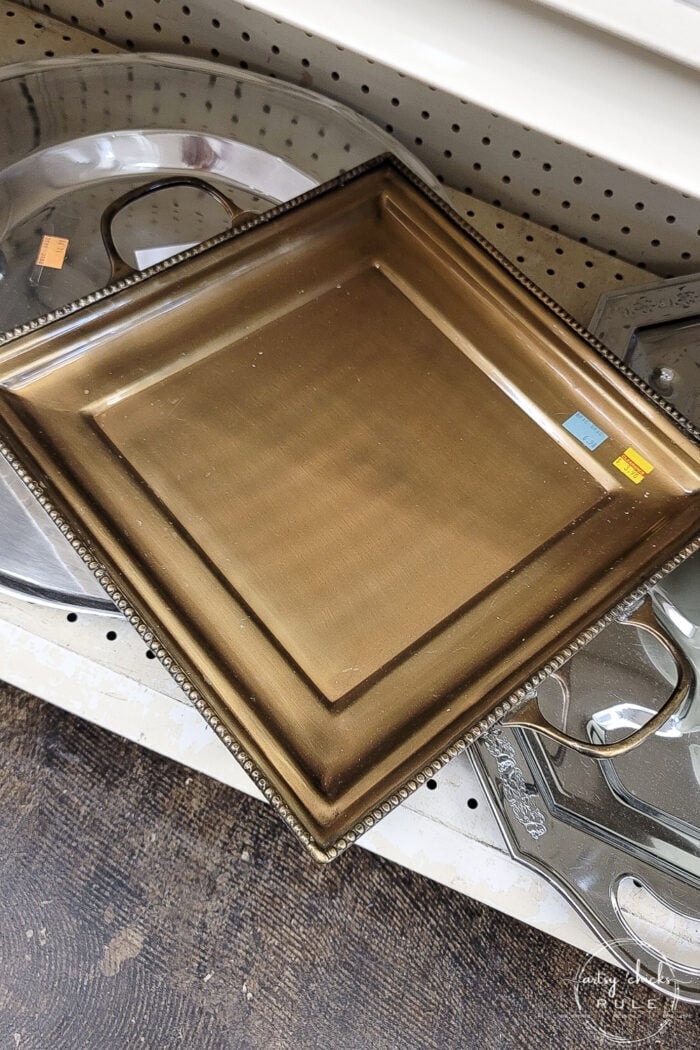 o
On clearance for $4.
Breadbox? Always come across those too!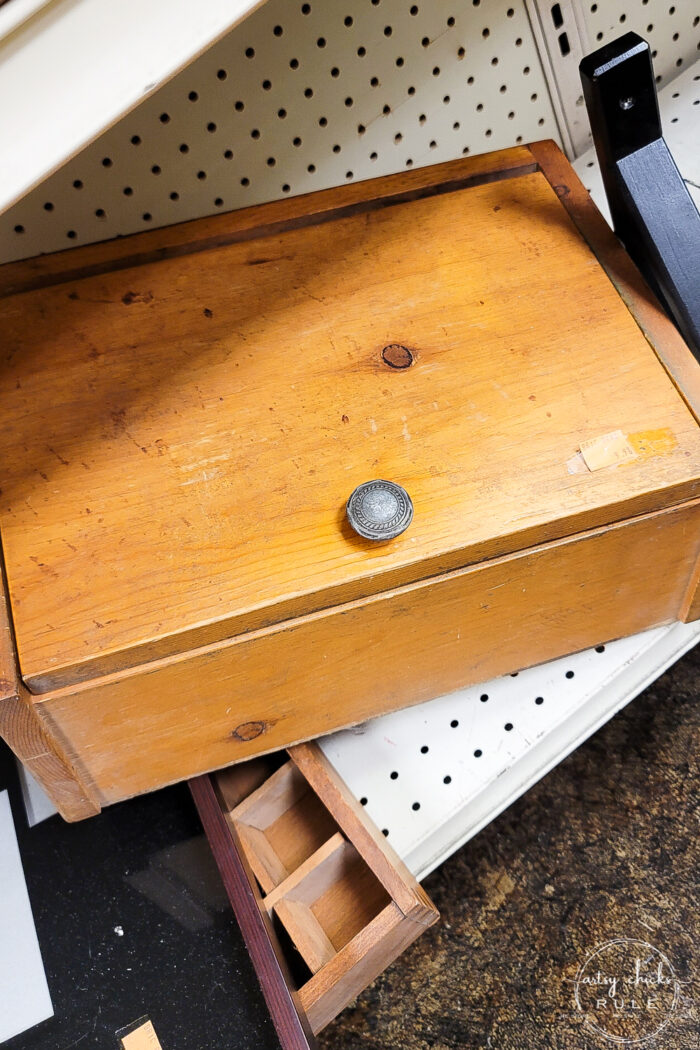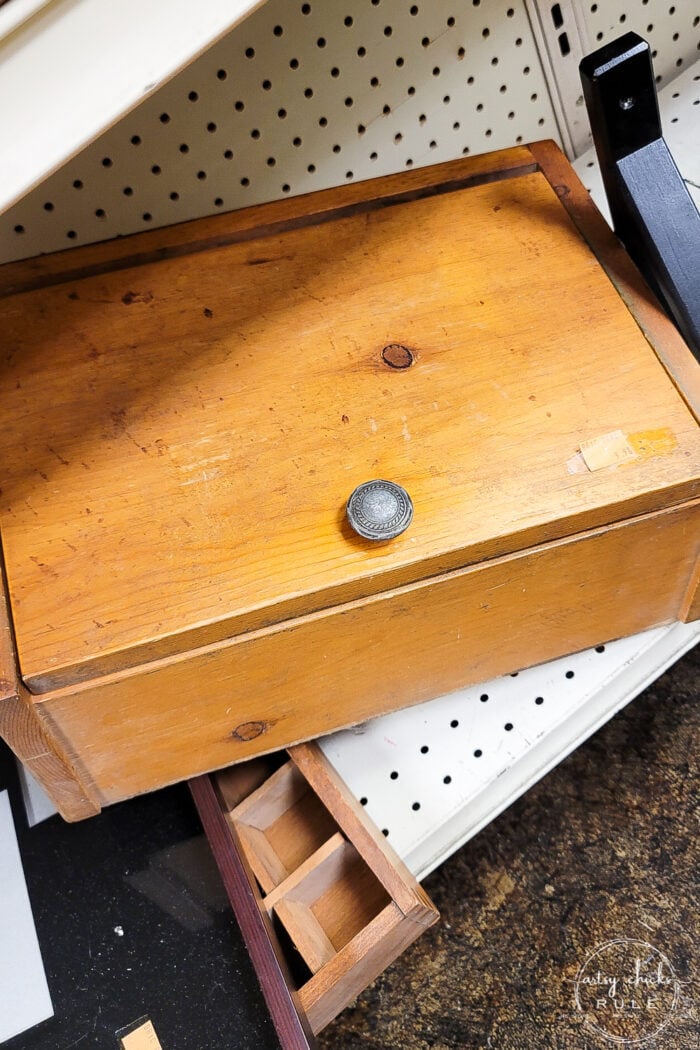 What I don't ever come across are Nike baby shoes that have been bronzed.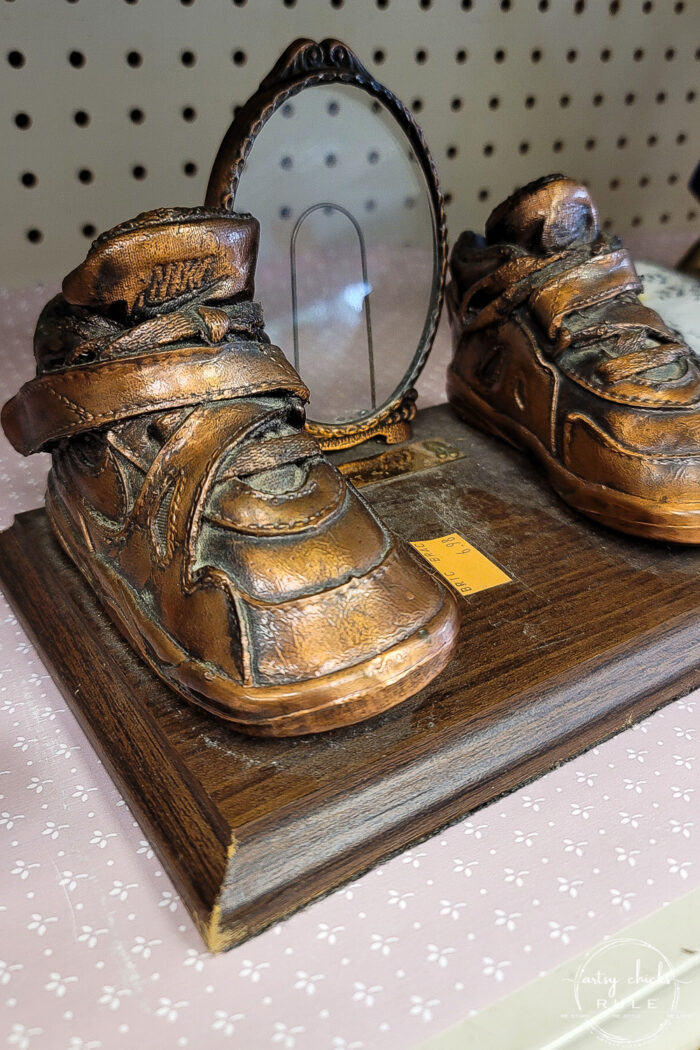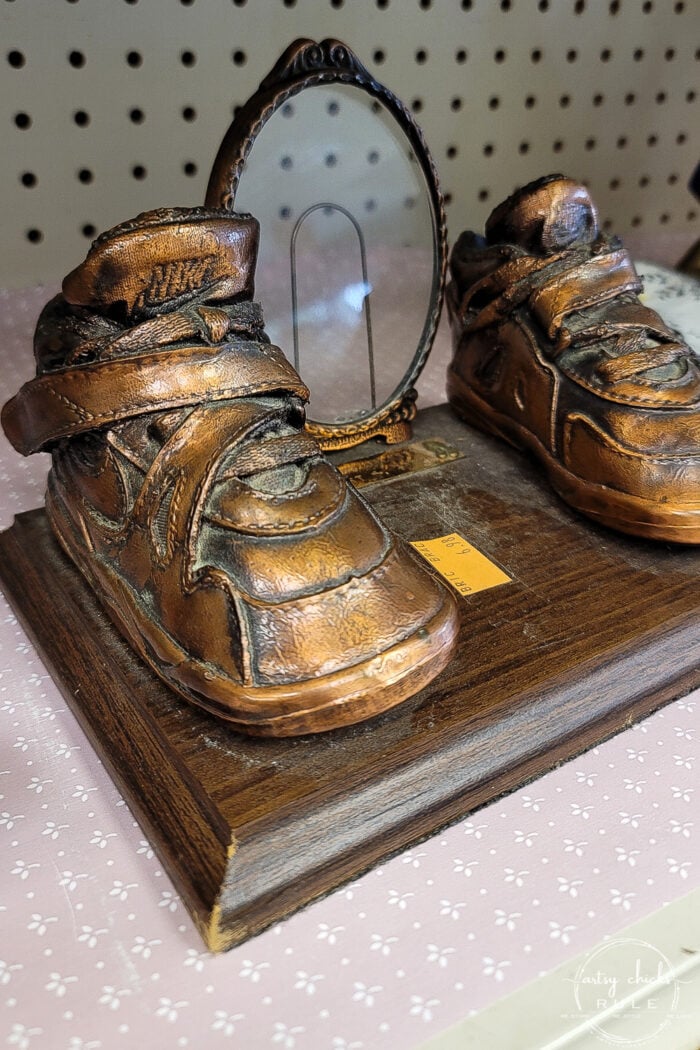 That's a definite first.
I'll leave you all with this. Because everyone needs a doughnut coffee mug, don't they? haha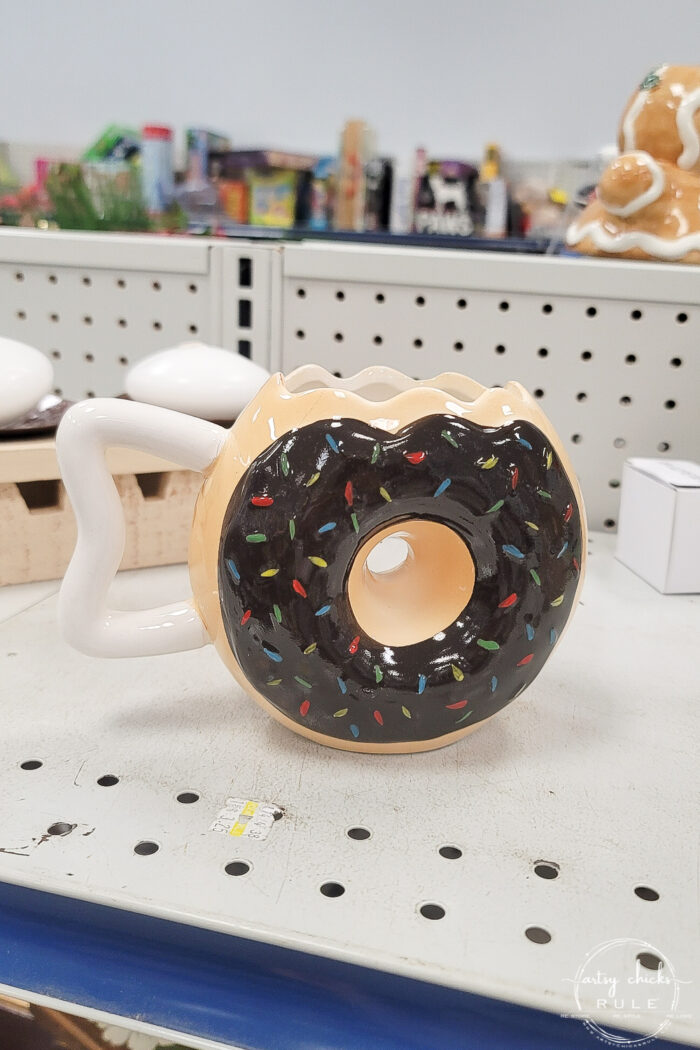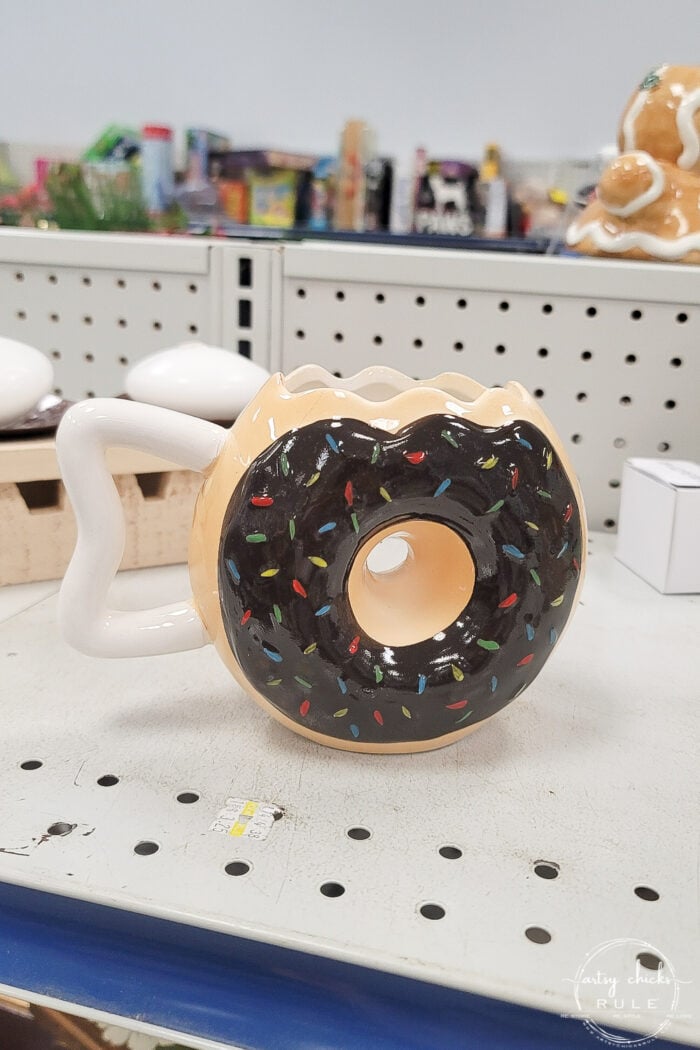 But wait…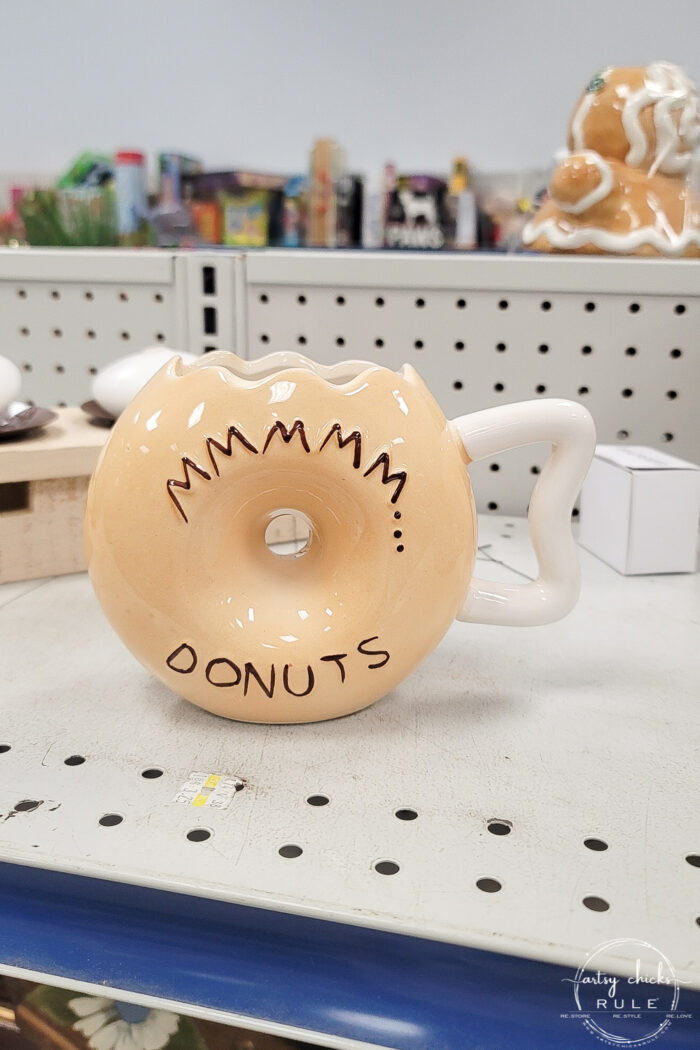 Haha…enjoy! ;)
Want to see what I came home with from all of these finds?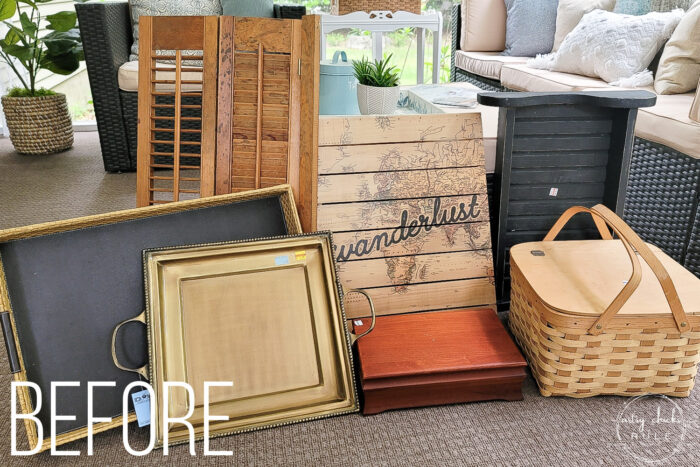 This is it.
I have a pretty good idea of what I want to do with all of them. I'm excited!
I can't wait to make them pretty.
So, I have come to the conclusion that if I do want to find furniture these days, it's going to be at the ReStore OR garage sales OR FB Marketplace.
The thrift stores just aren't what they used to be.
Have you found this to be true too?
I hope you all have a wonderful week. I'll see you back here on Thursday!
xoxo