Decoupage Tissue Paper Tray
This post may contain affiliate links. Please see disclosures here.
Pretty floral decoupage tissue paper, some gilder's paste, and paint gave this tired old basket tray a brand new look!
Updated Aug/2023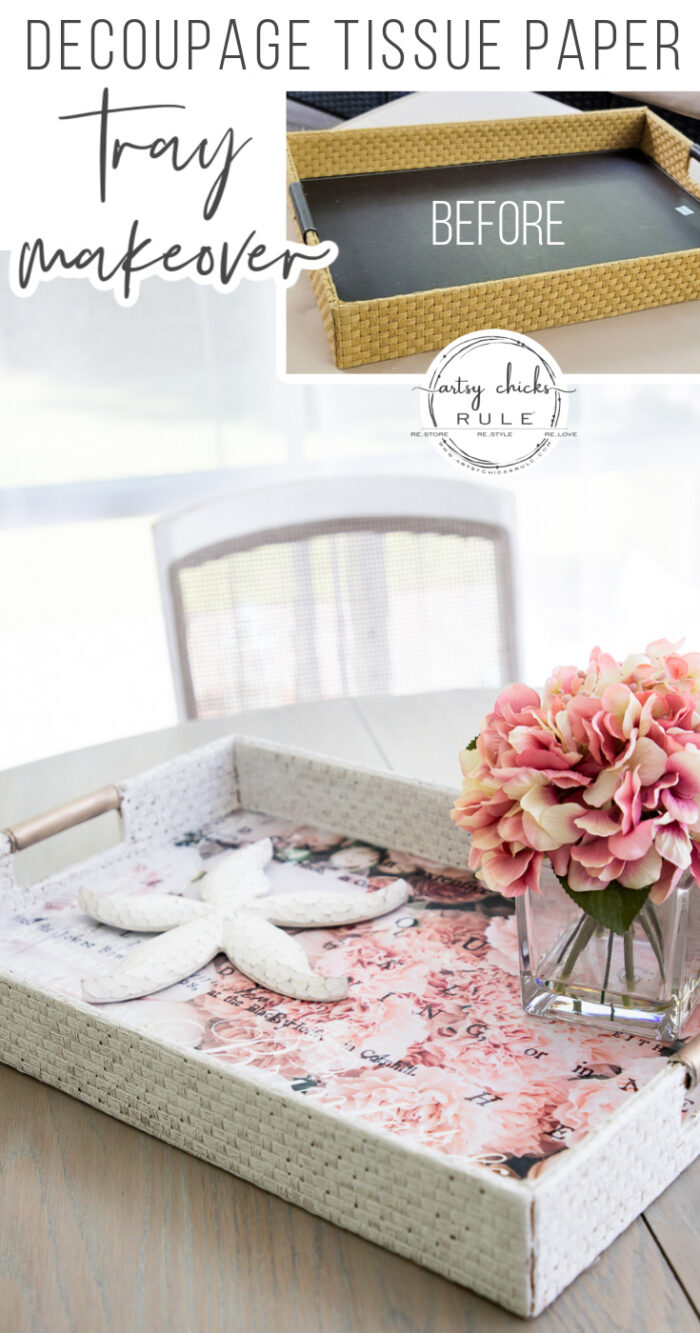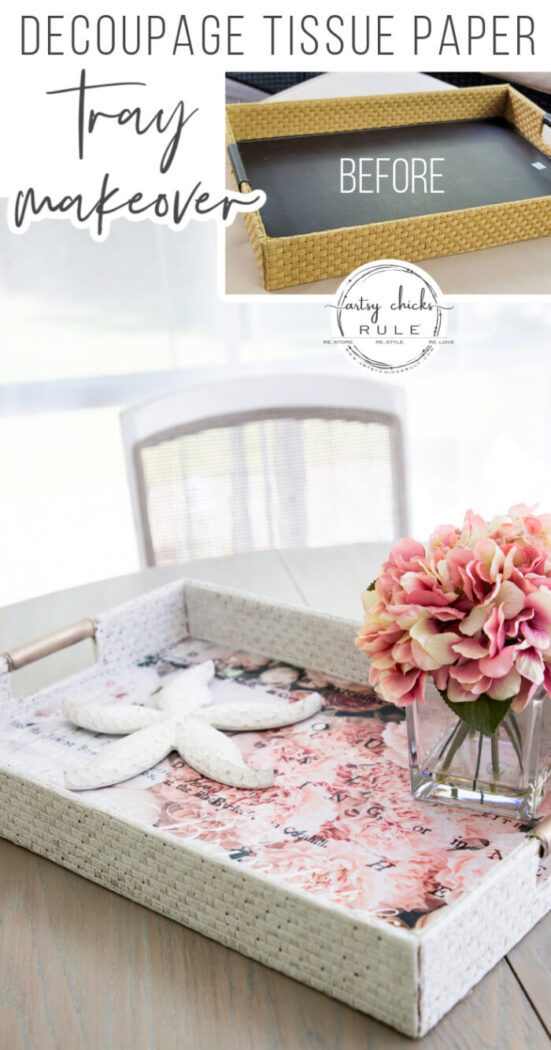 Hello, beautiful friends!
This project is from a haul a couple of years ago. If you didn't you can see it right here >>> Thrift Run May 2021
I'm sharing my first makeover from the bunch today.
I'm loving this new decoupage tissue paper!
It's completely different than you would think…it almost feels like some sort of fabric but it's paper. (I'll link it further below)
But do you know what that means? It doesn't wrinkle all up as regular tissue paper does.
It was a dream to work with!
Decoupage Tissue Paper Tray
Okay, let's see this pretty…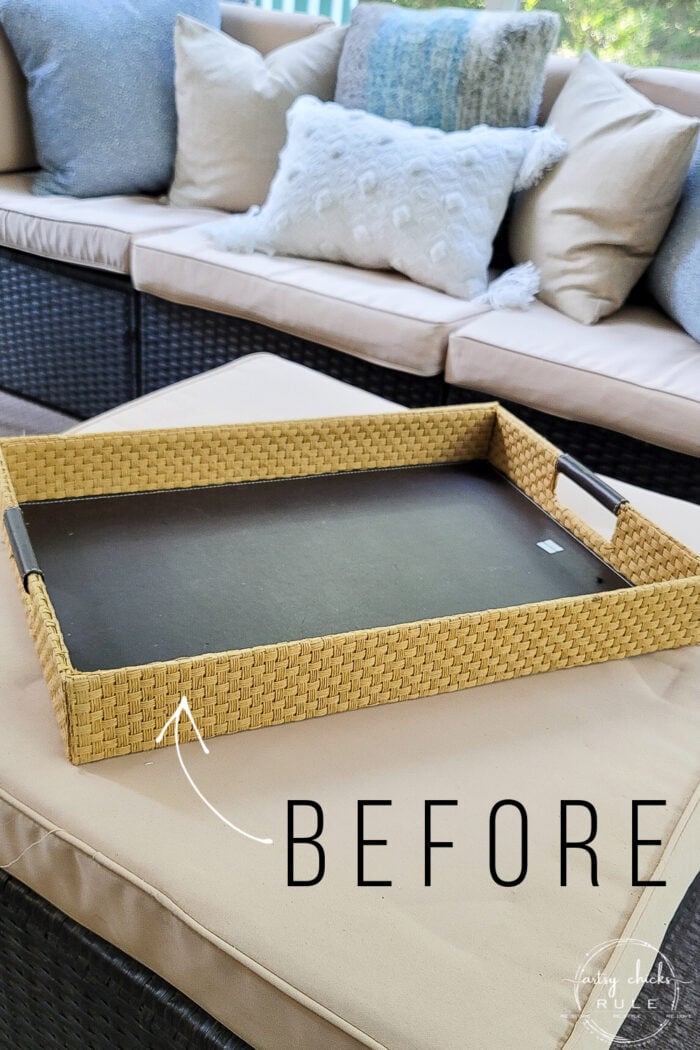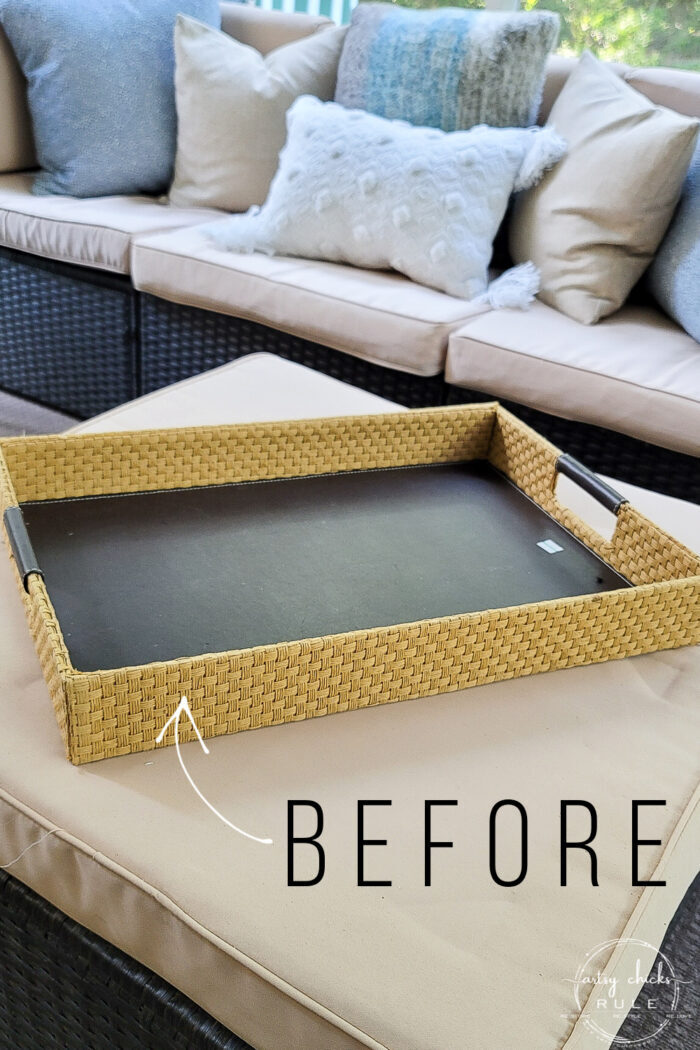 As a reminder, here is that haul from May/2021…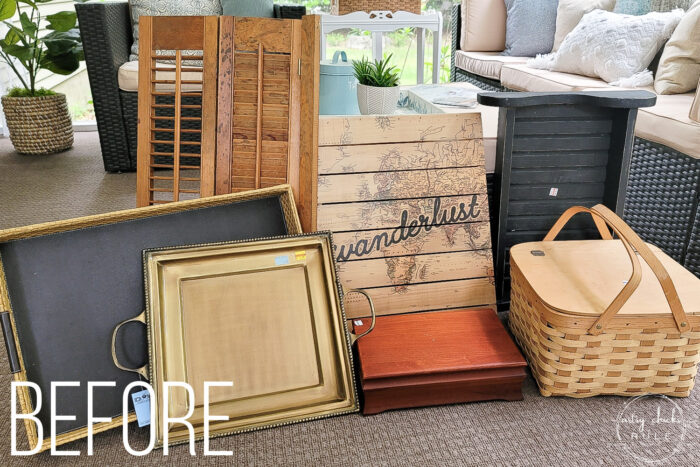 This basket tray is originally from Target (per the sticker on the underside).
And although the basketweave looks like plastic, it is not. (which was good because the paint was able to sink in nicely)
The bottom was sort of like "pleather"… and I primed it with two coats before beginning so I'd have a nice white background for this pretty decoupage tissue paper.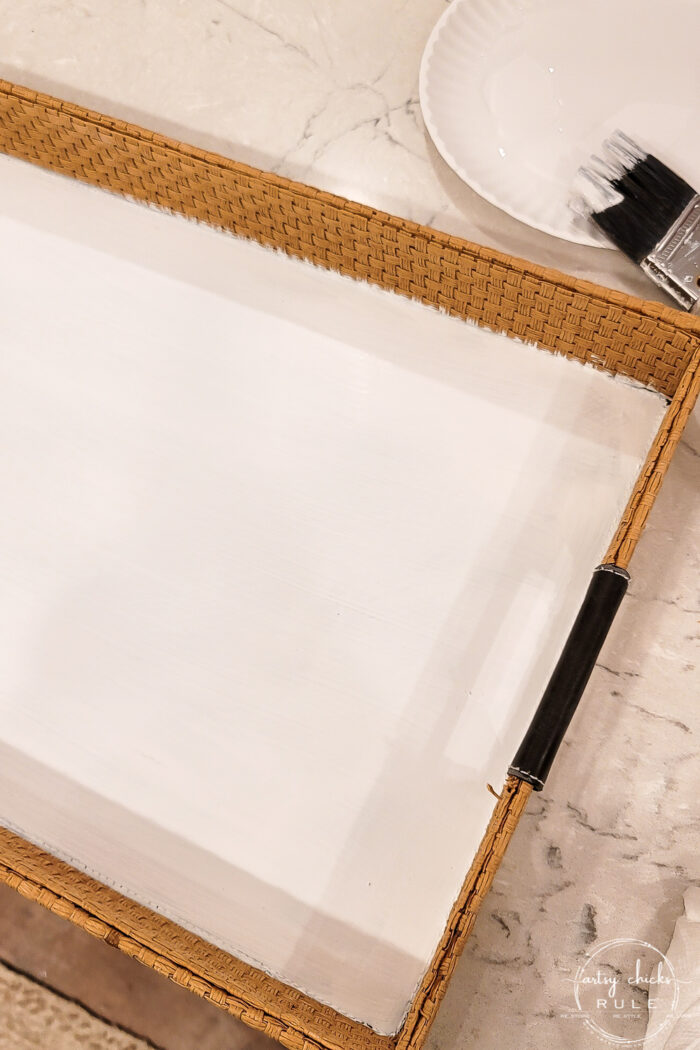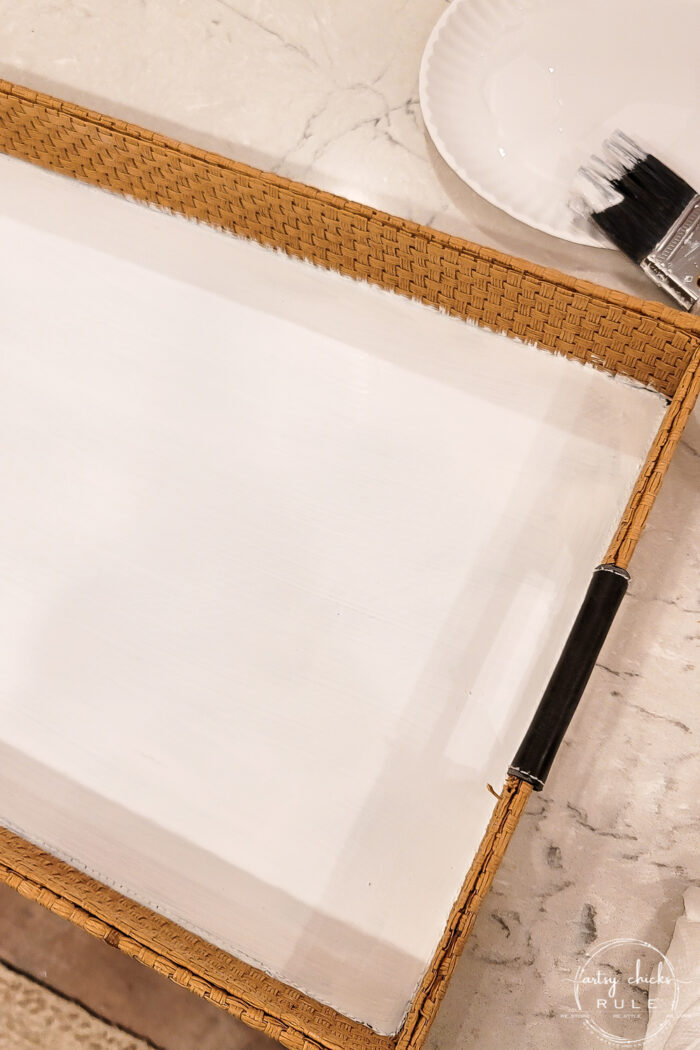 I did give it a light sanding before I painted on the primer. Not sure I needed but just in case.
Once that was dry, I painted the sides with chalk-style paint.
I only needed one good coat to cover the weave.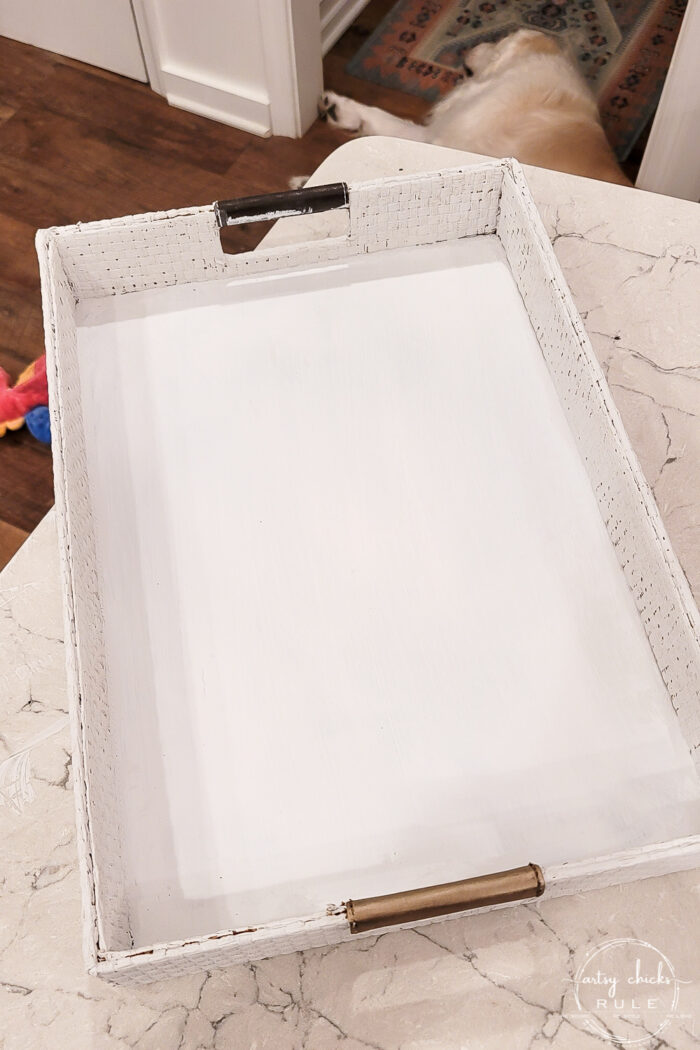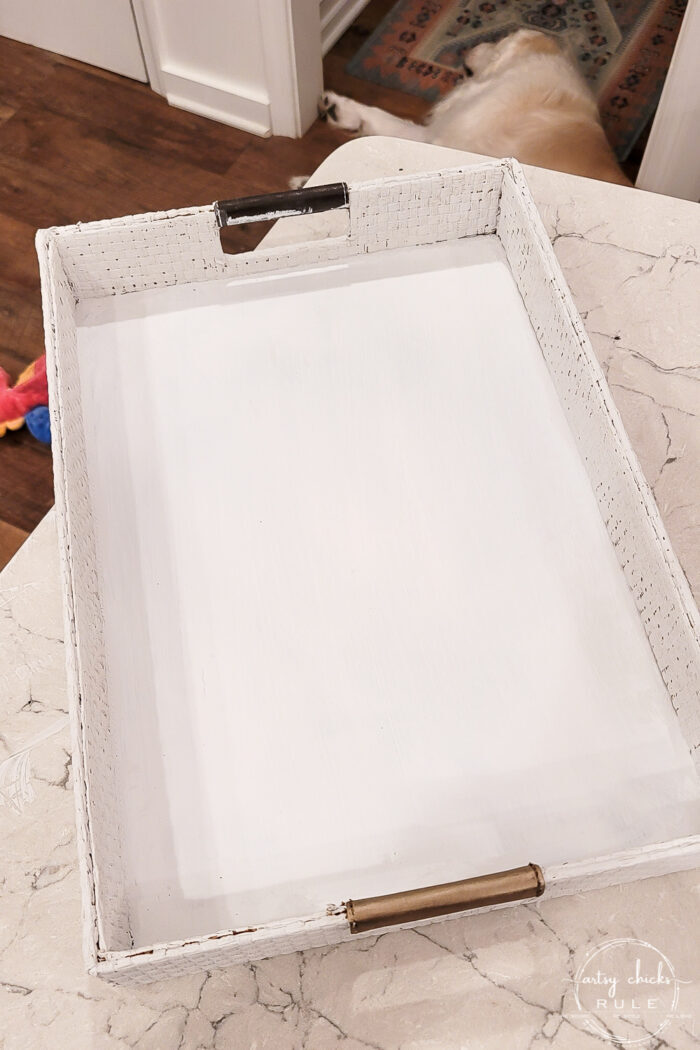 Then I used the German Silver Gilder's Paste (linked above) on the "pleather" handles to make them look like they are gold hardware.
(See the one I've done above compared to the one I haven't? Oh and Ryder snoozing over there too, lol!)
I tried sanding the basketweave to make it look distressed but the color was much too light.
So I pulled out the Bronze Gilder's Paste and used that to give it the look instead.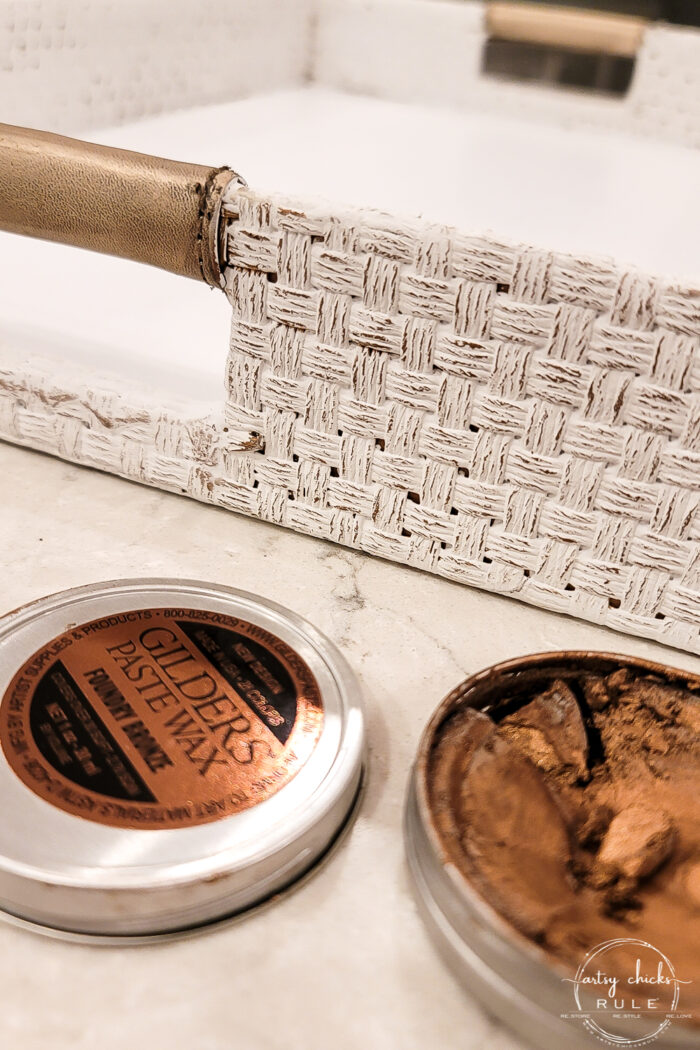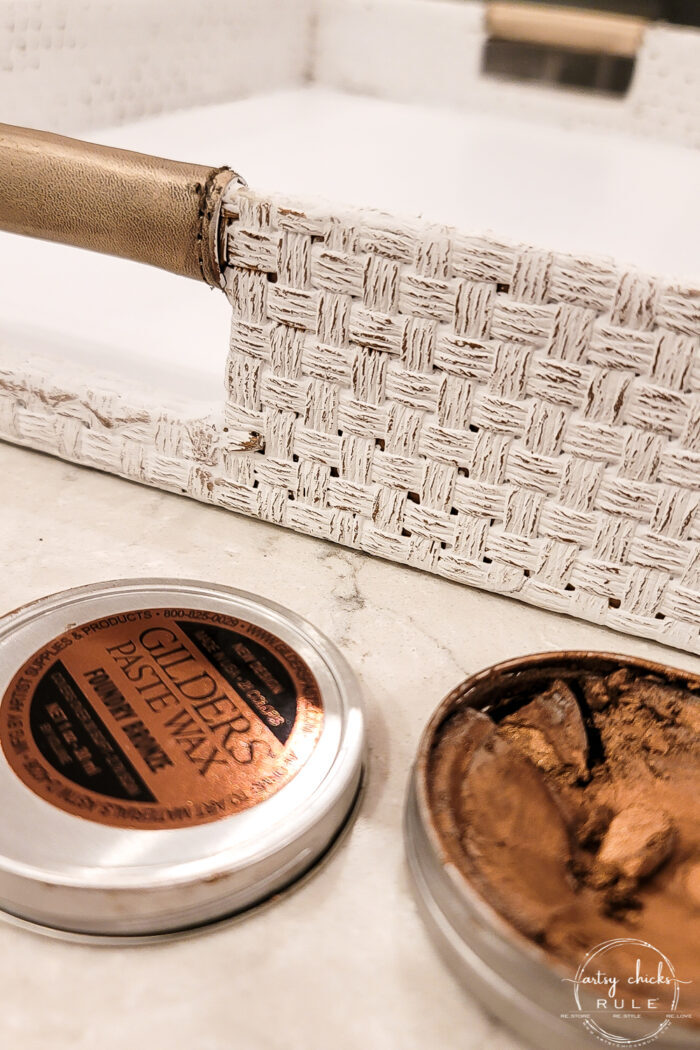 It looks like it's the basket showing through when actually it is the bronze color rubbed on giving it all that nice texture.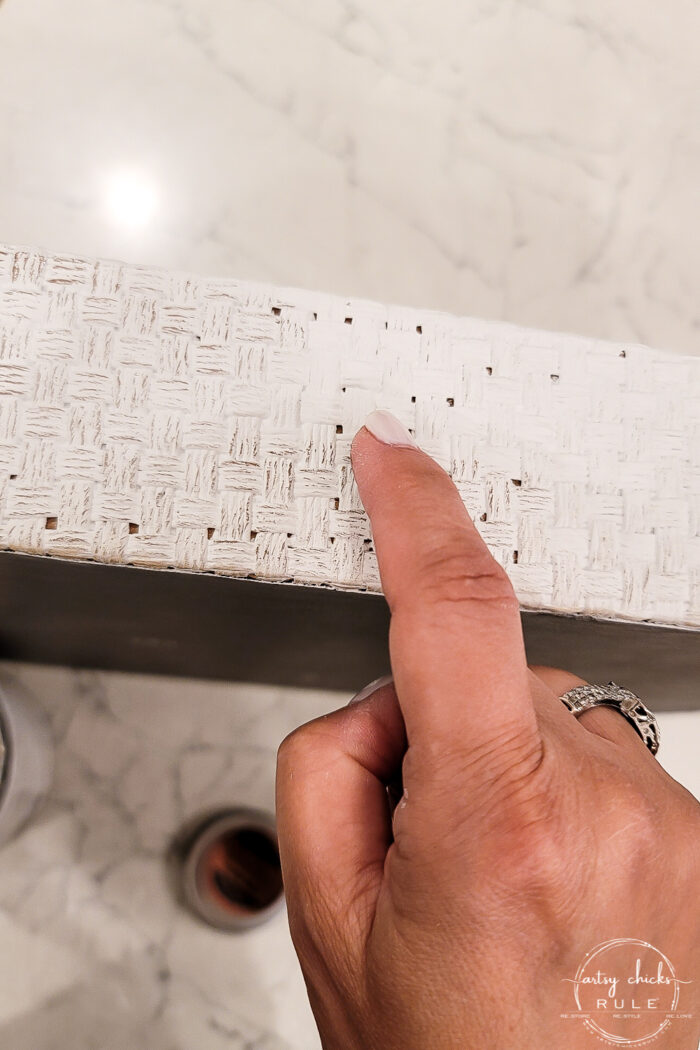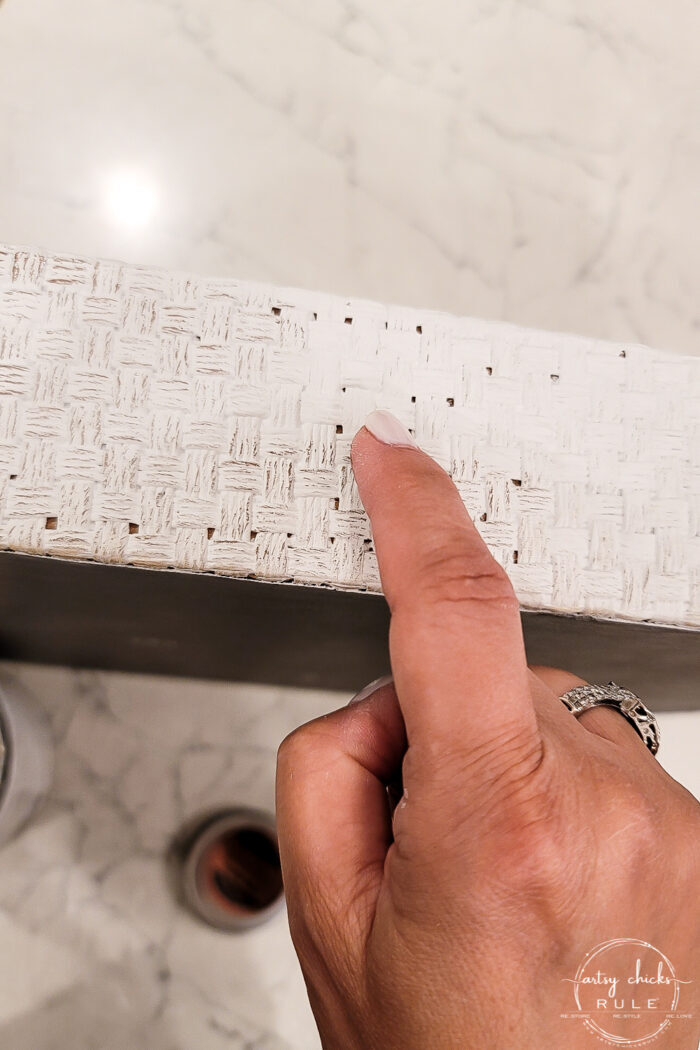 Simple!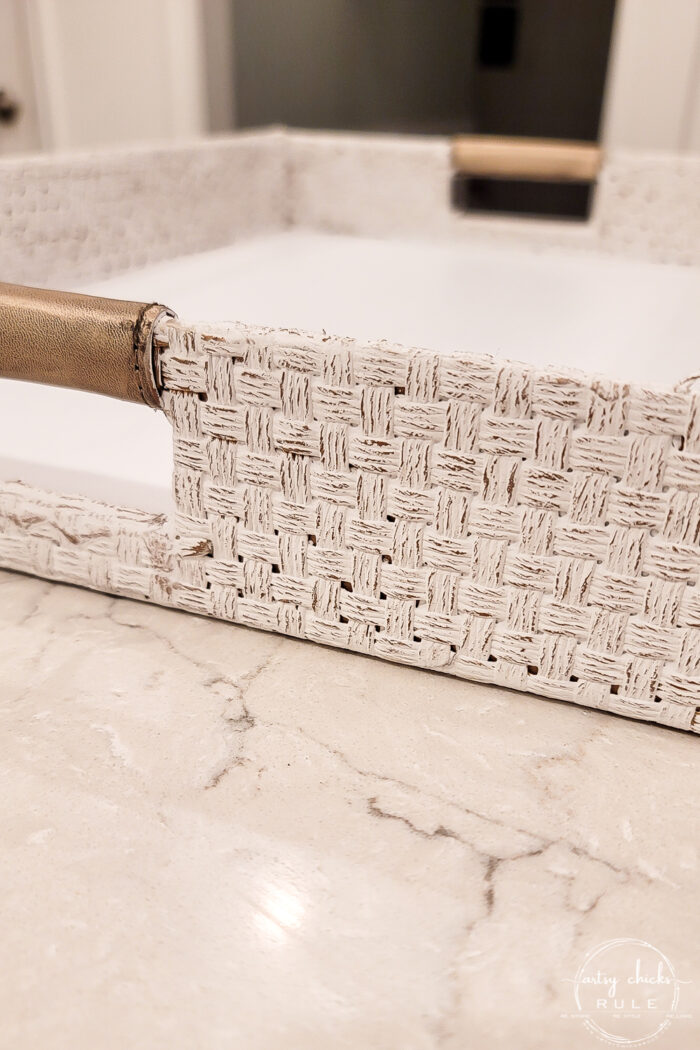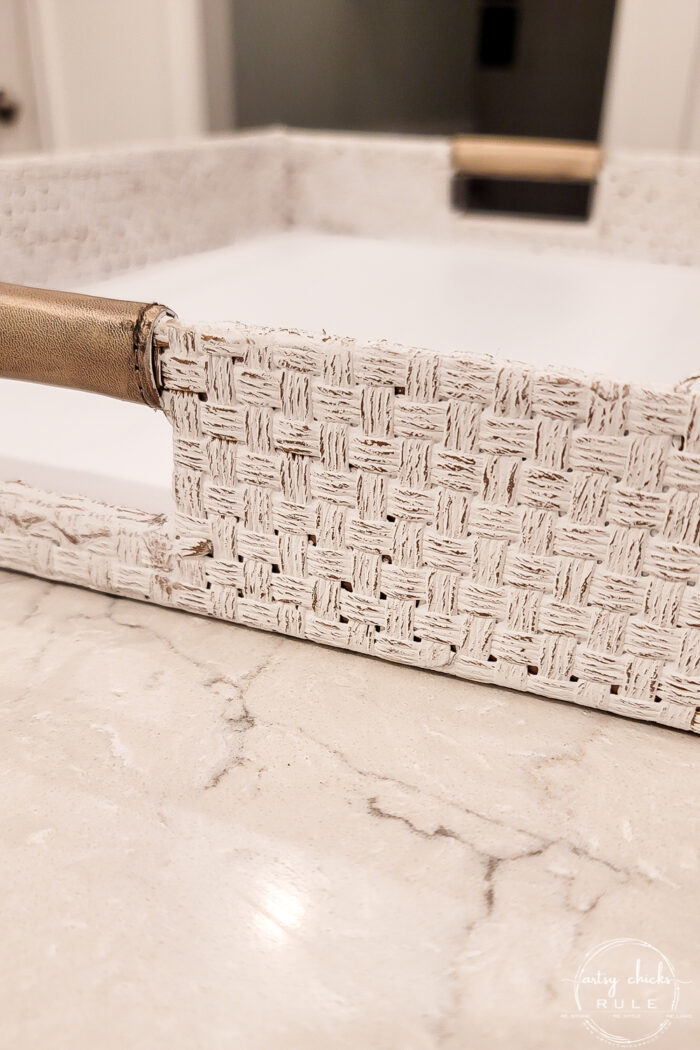 Next, I laid out the decoupage tissue paper to figure out where I needed to cut it.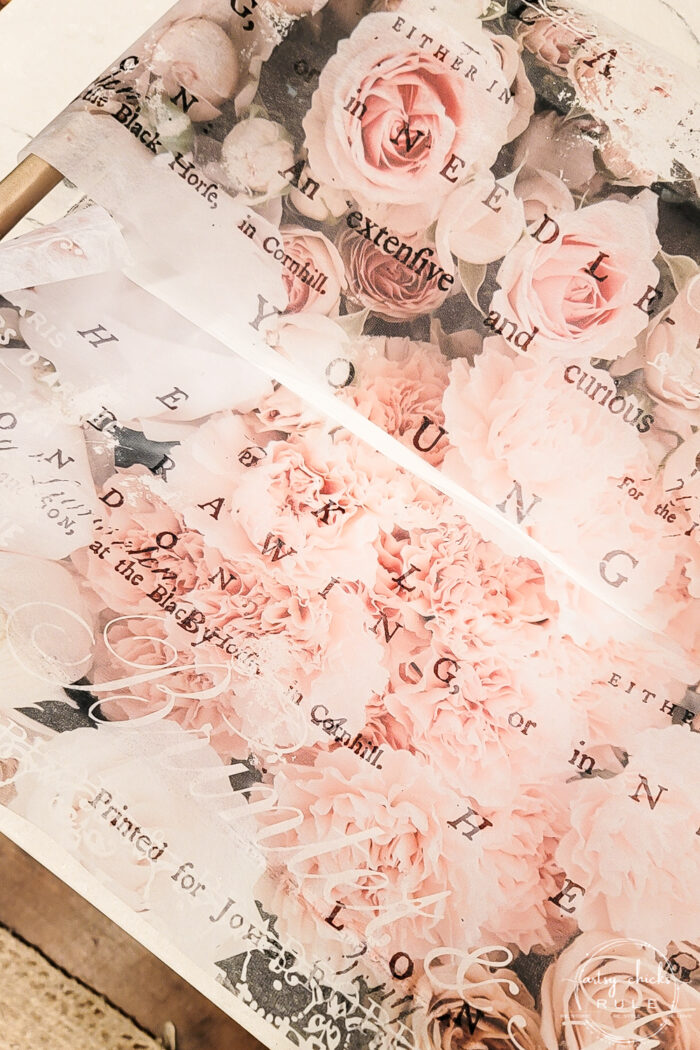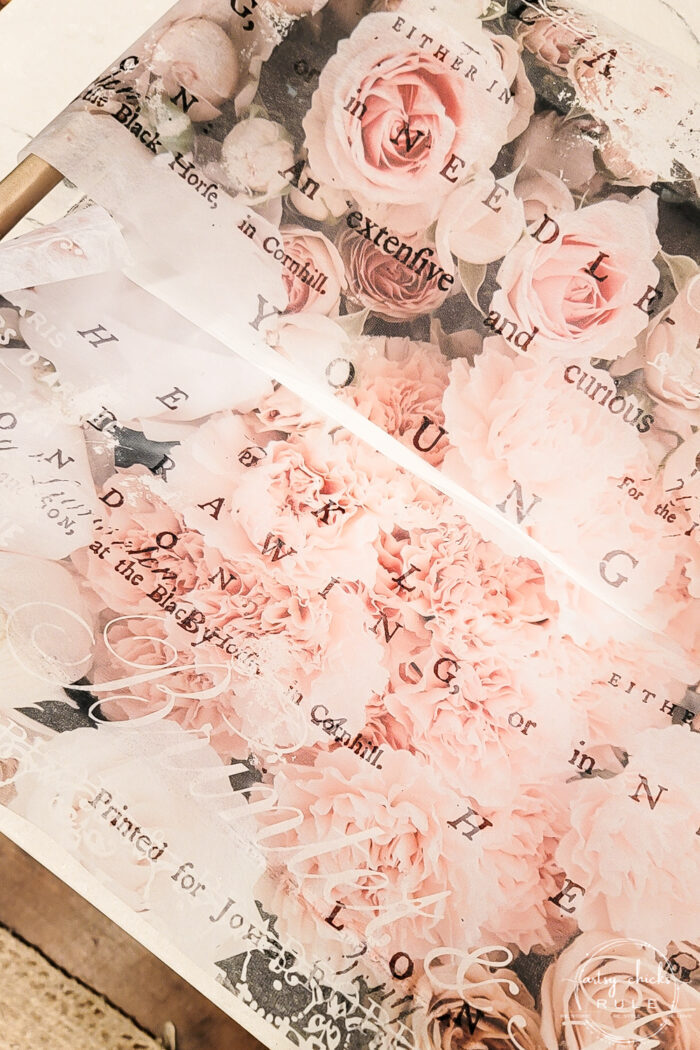 I used an Exacto-type knife to do that job.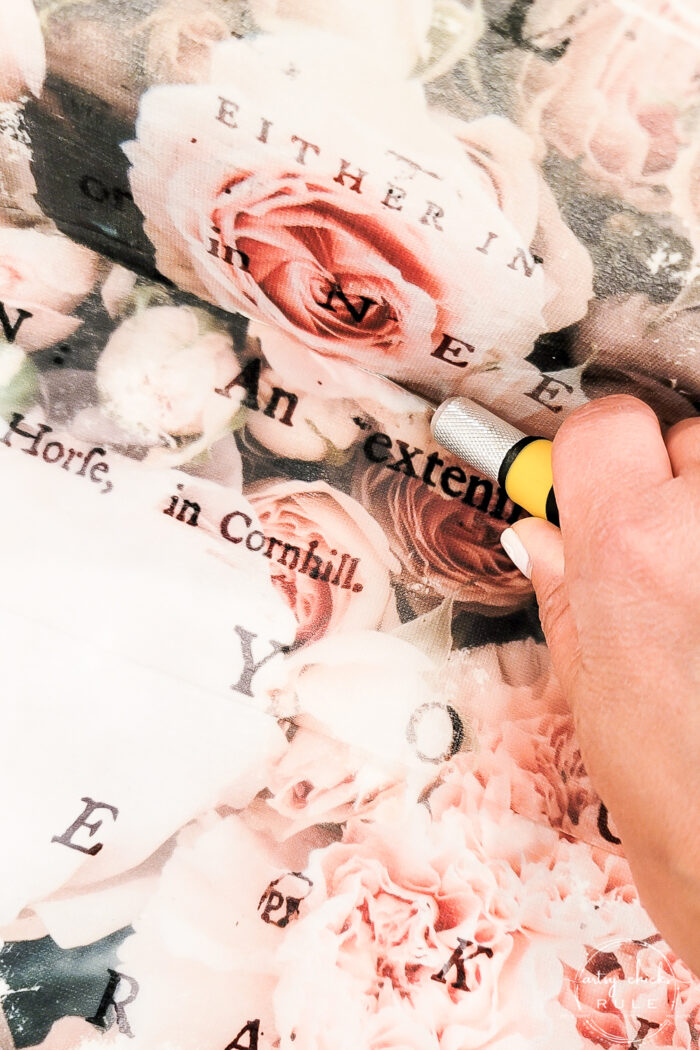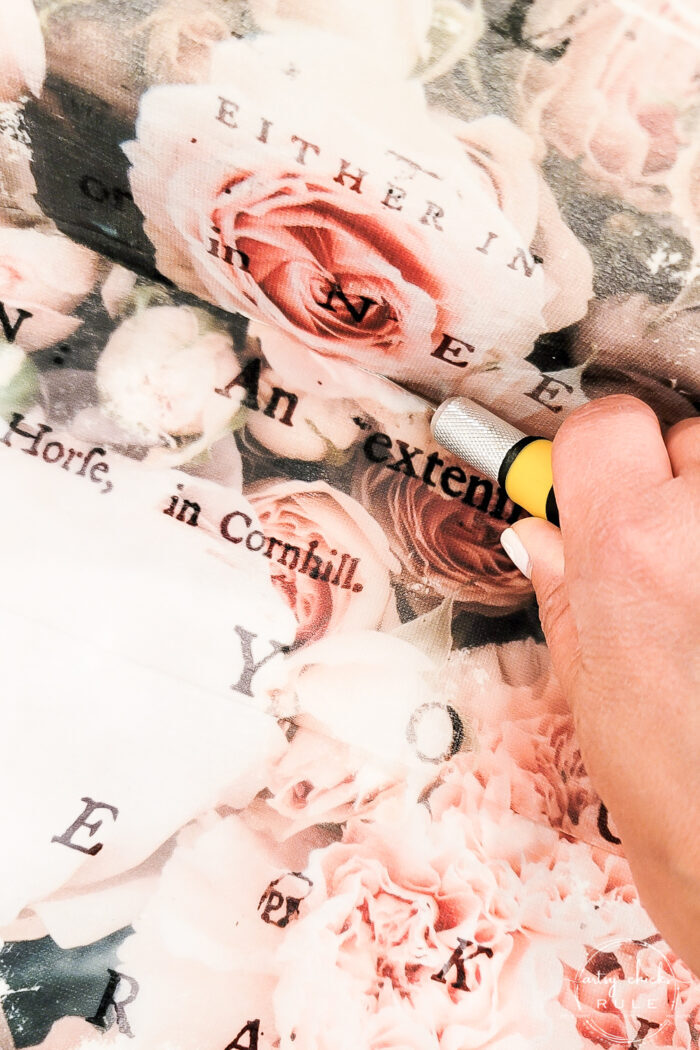 Then I used Decoupage and Transfer Gel underneath the paper…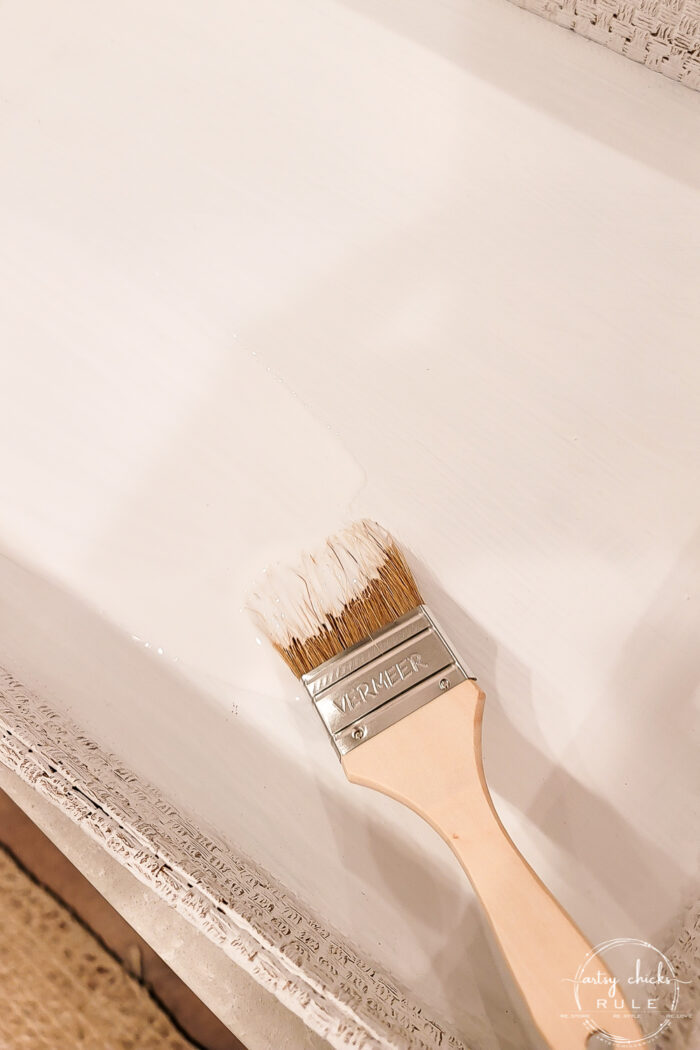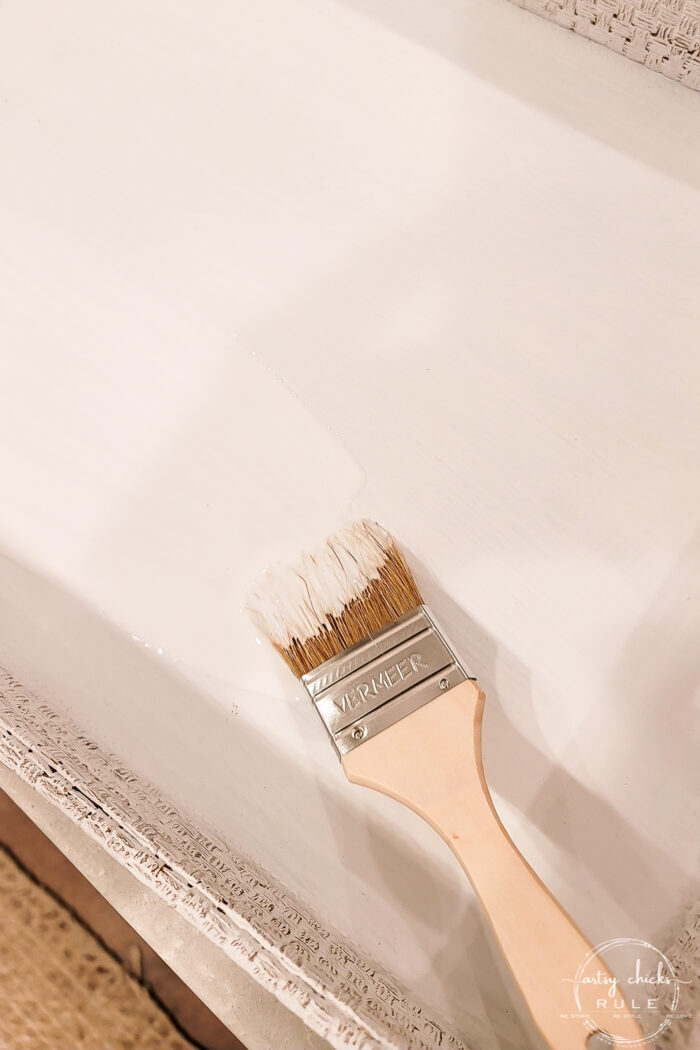 I applied a good layer all over the bottom and then attached the paper.
The Decoupage Gel literally came through the paper, it was the oddest thing! This paper is wild.
So I didn't need to add another layer on the top, I just brushed what came through and that was it.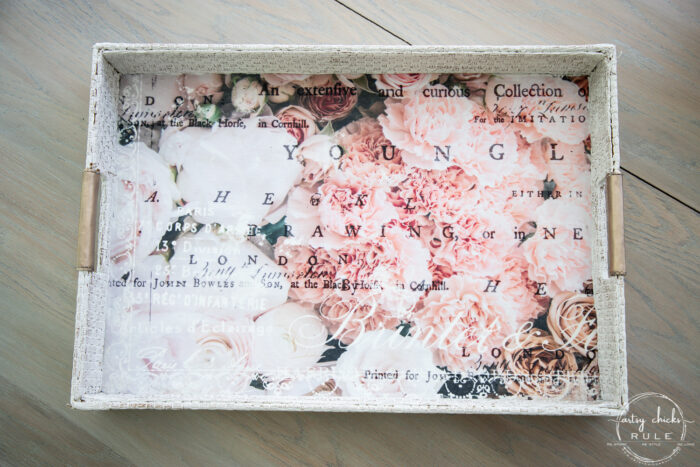 I let it dry overnight and then applied clear wax to the painted basket sides.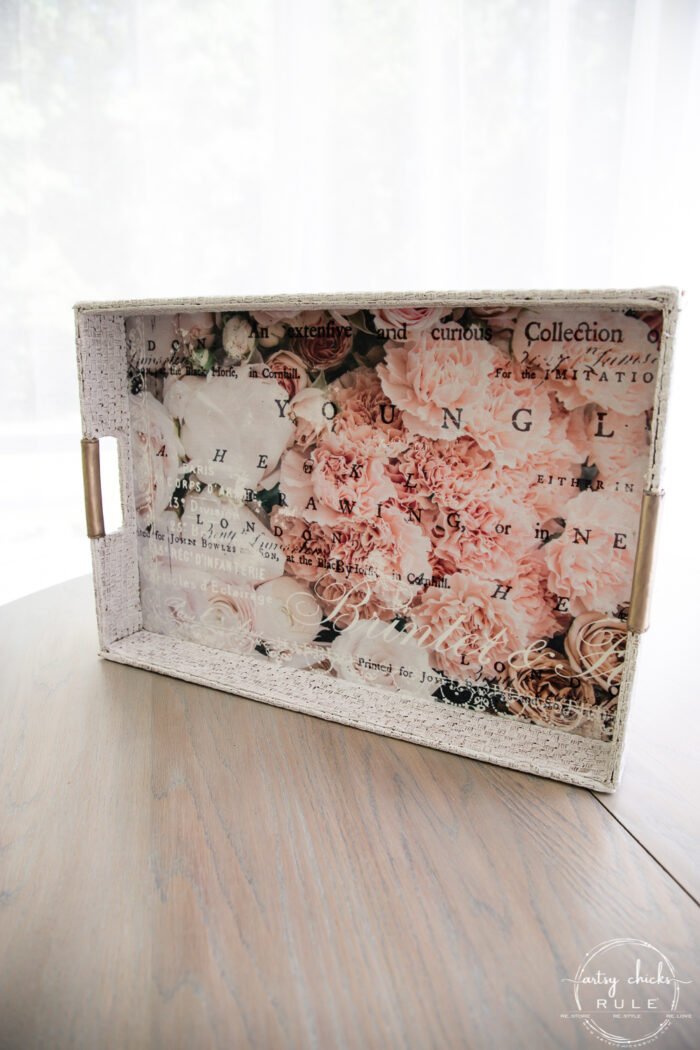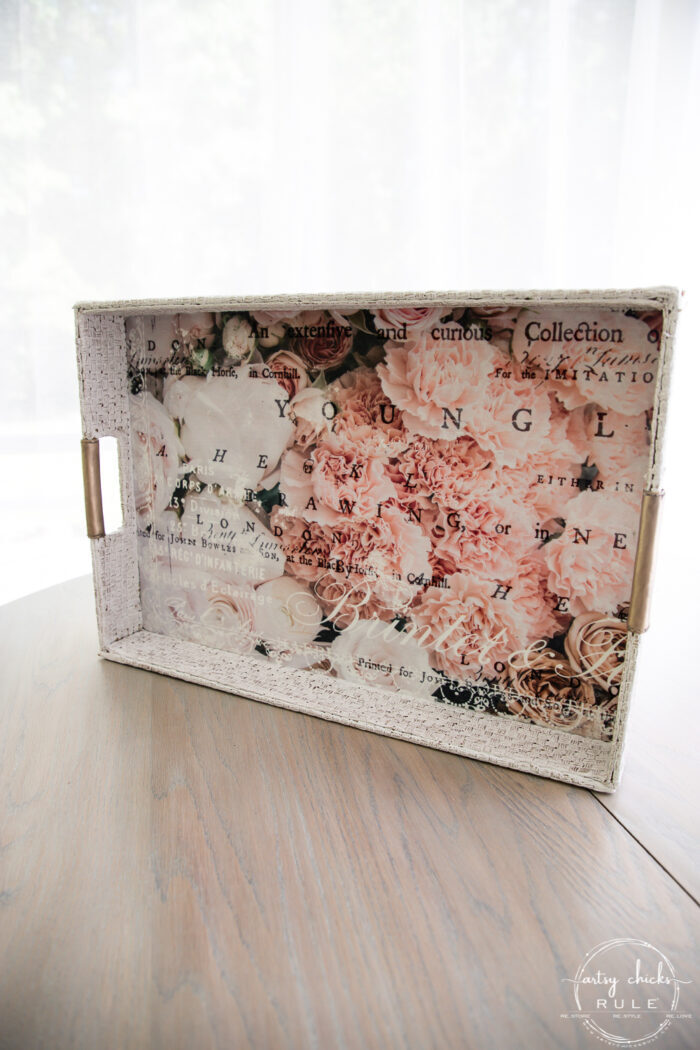 So pretty…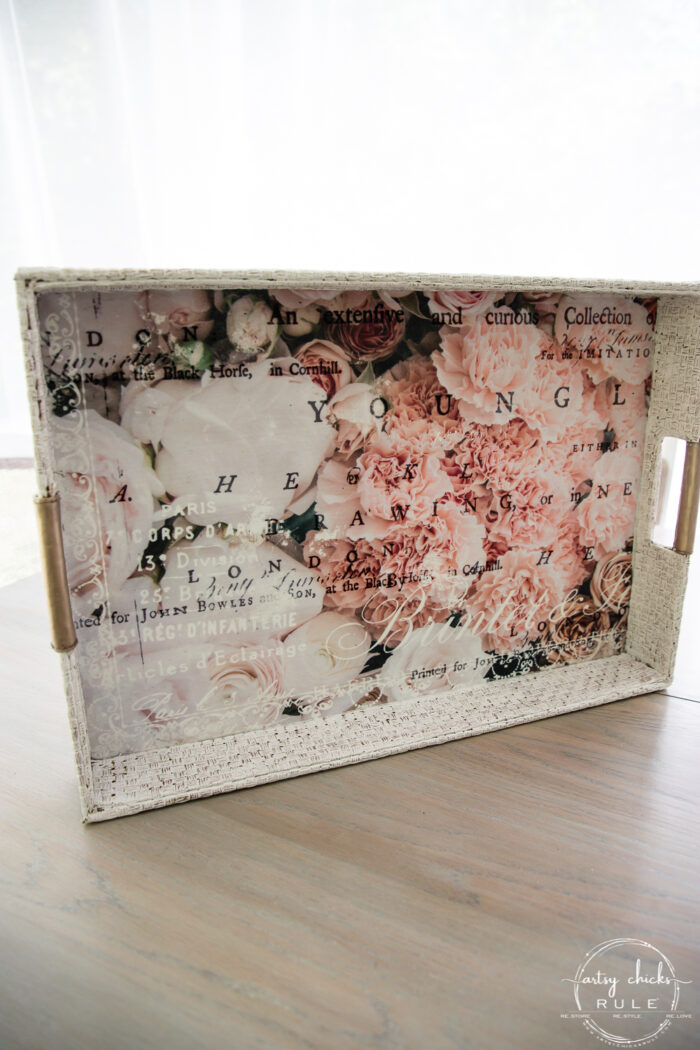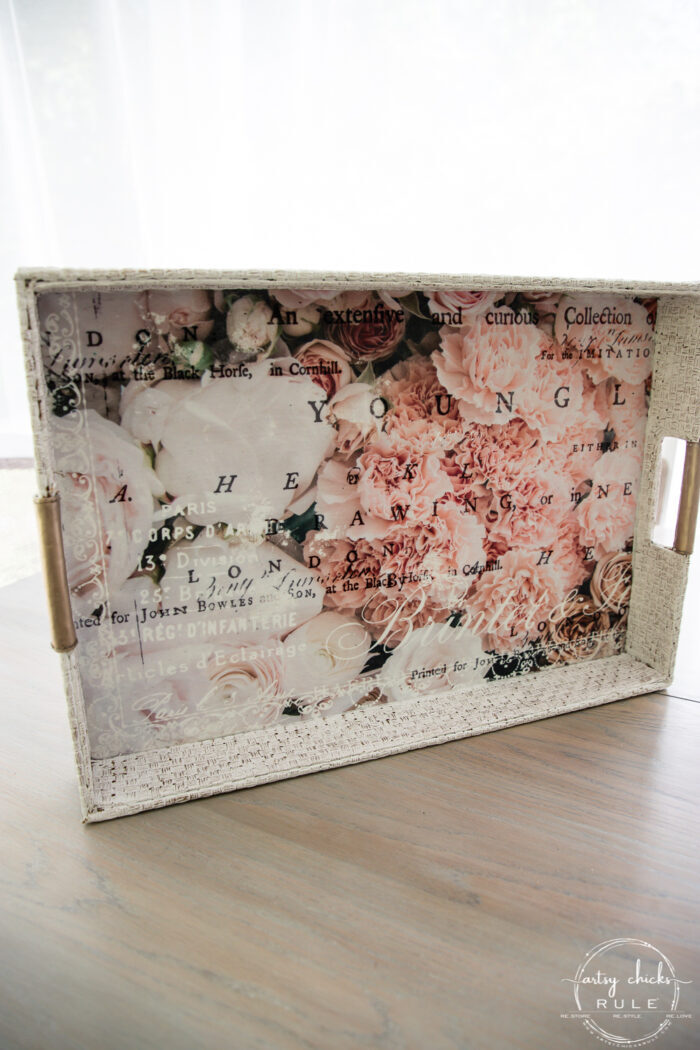 I mean, what a difference, right??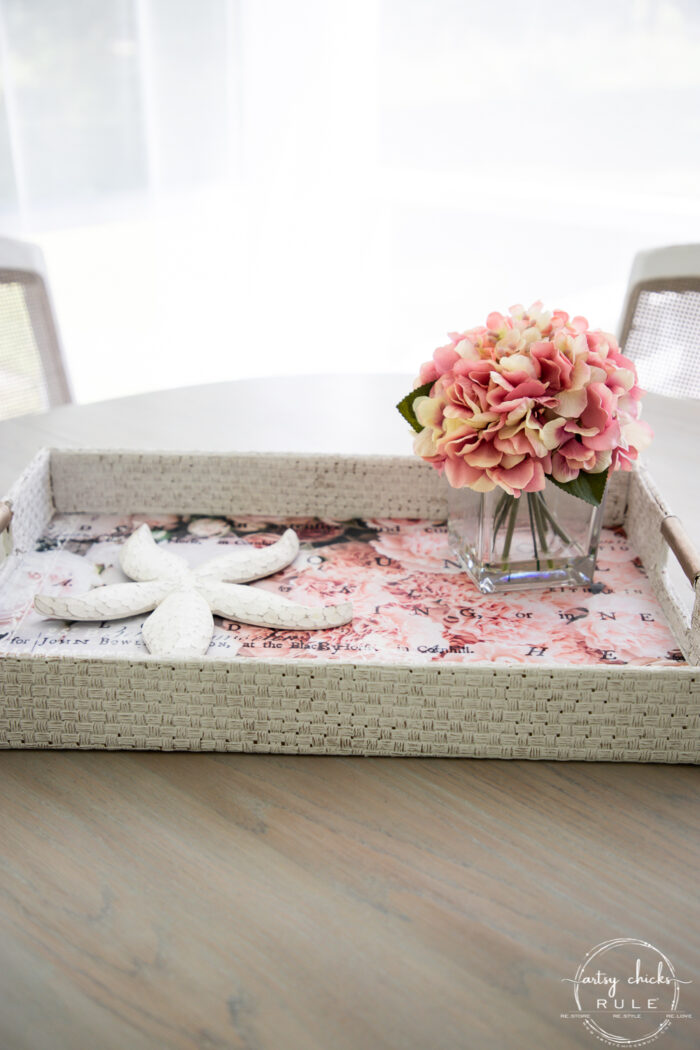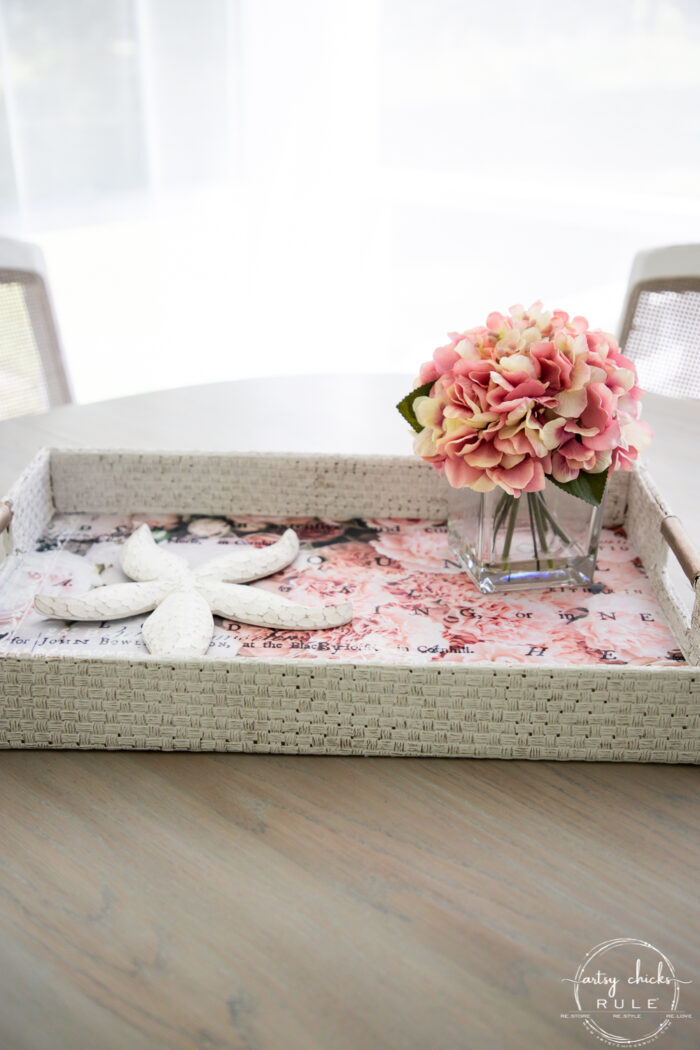 You'd never know it was the same basket tray.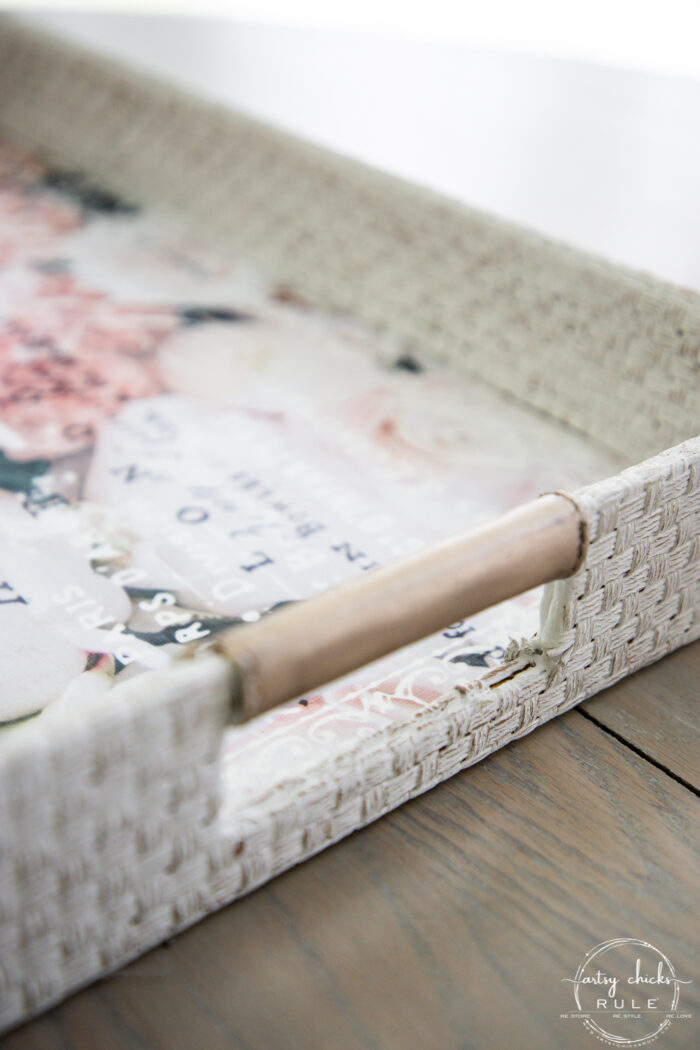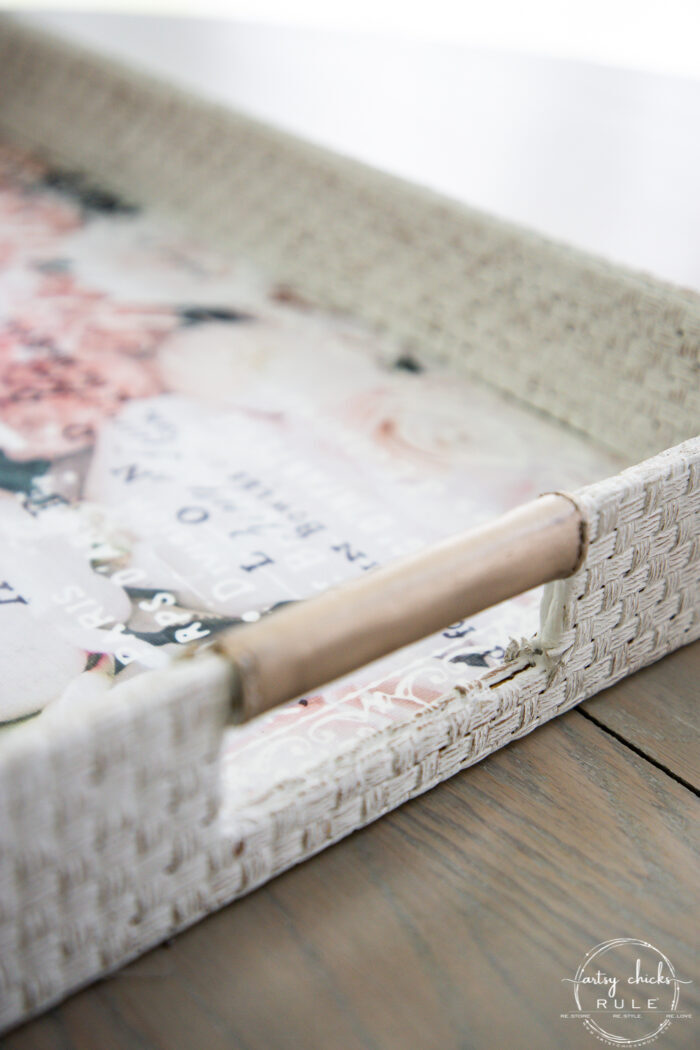 And I love the fancied-up "gold handles".
But that pretty pink floral decoupage tissue paper is the real star of the show.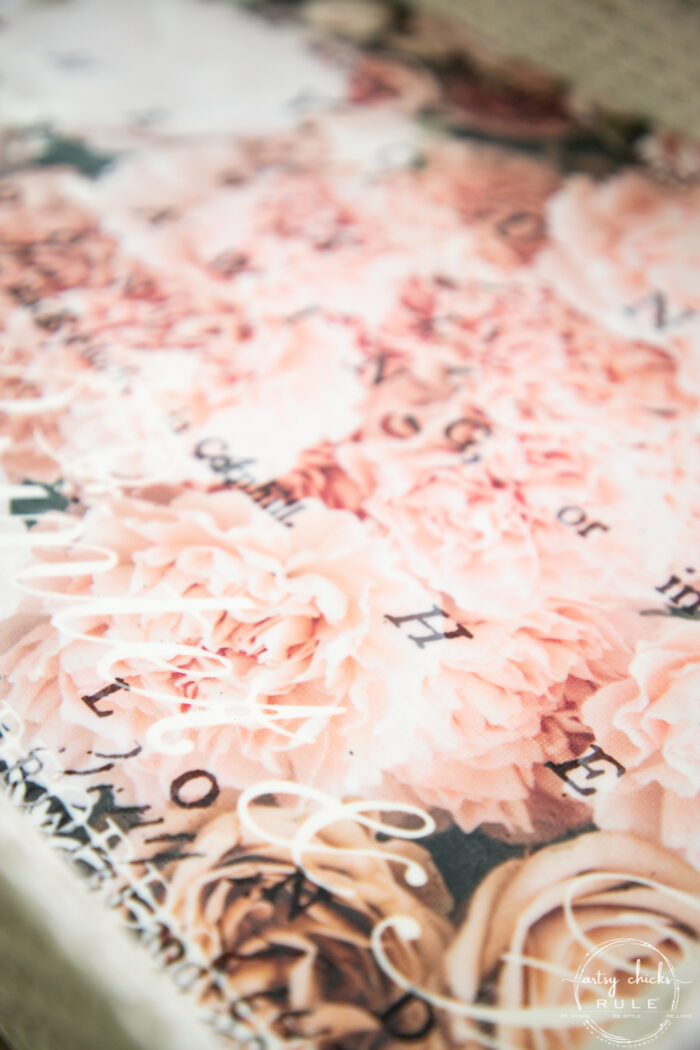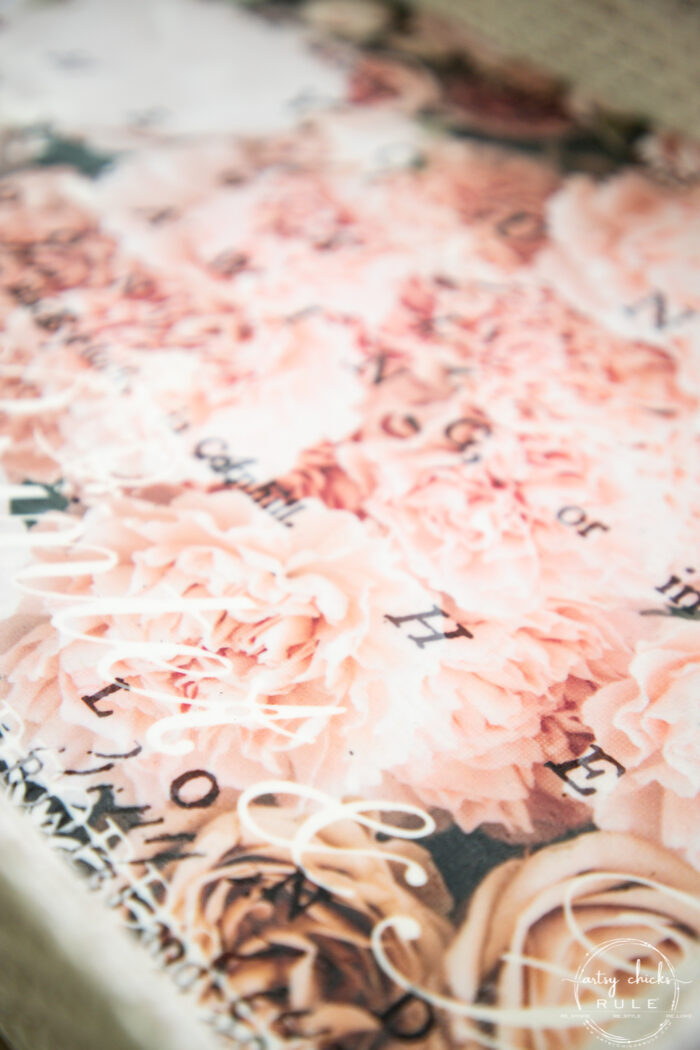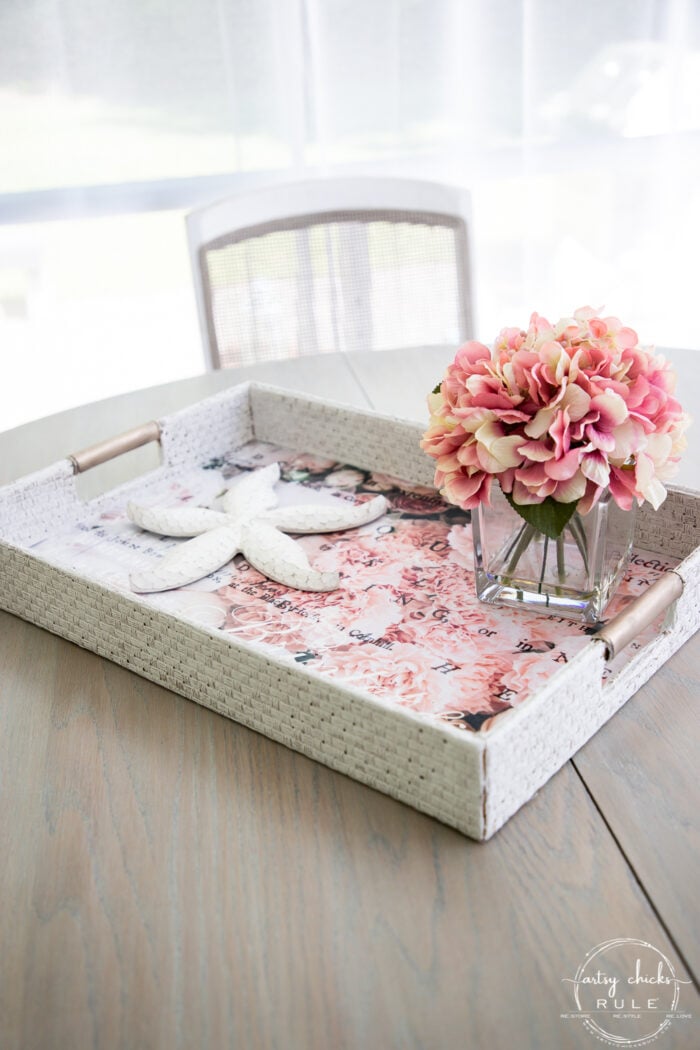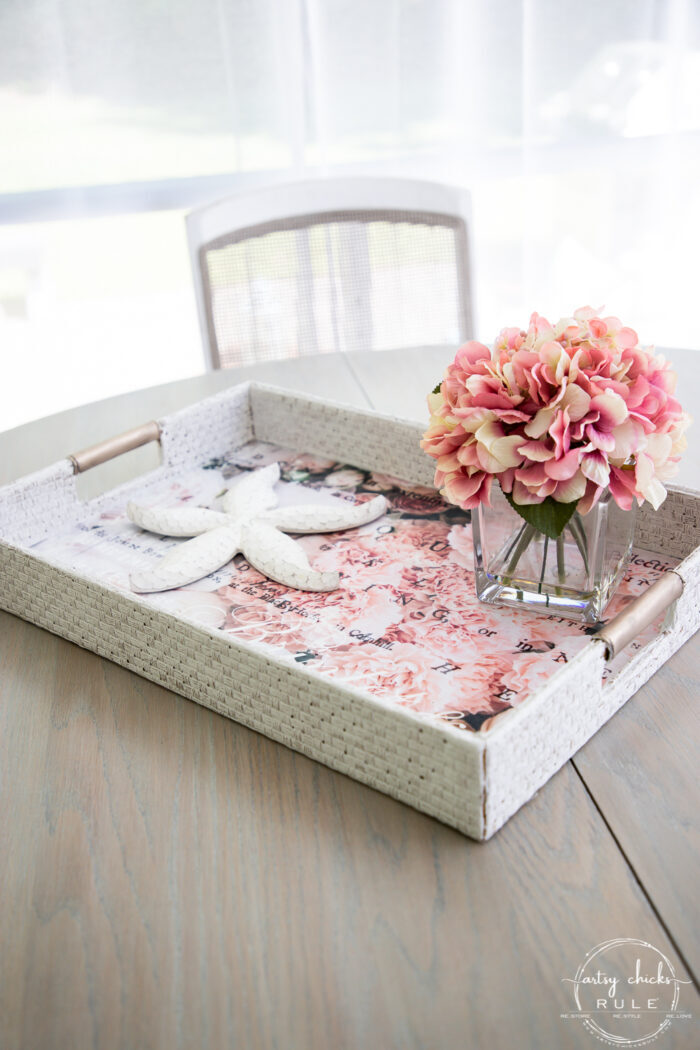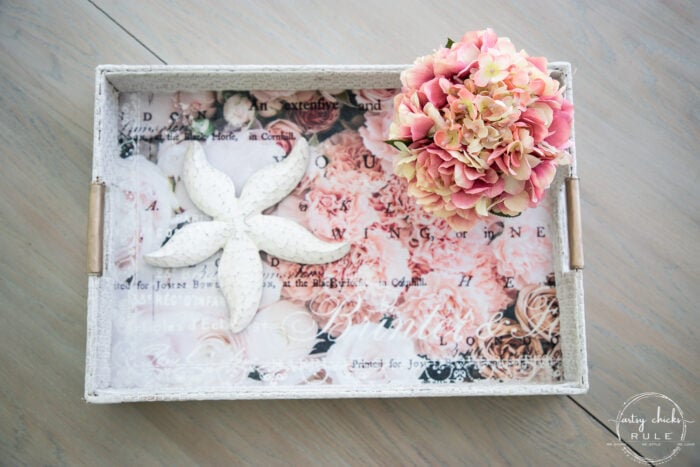 I have a few more to share soon. Can't wait to play with them too!
I really love this one.
PIN it to save it!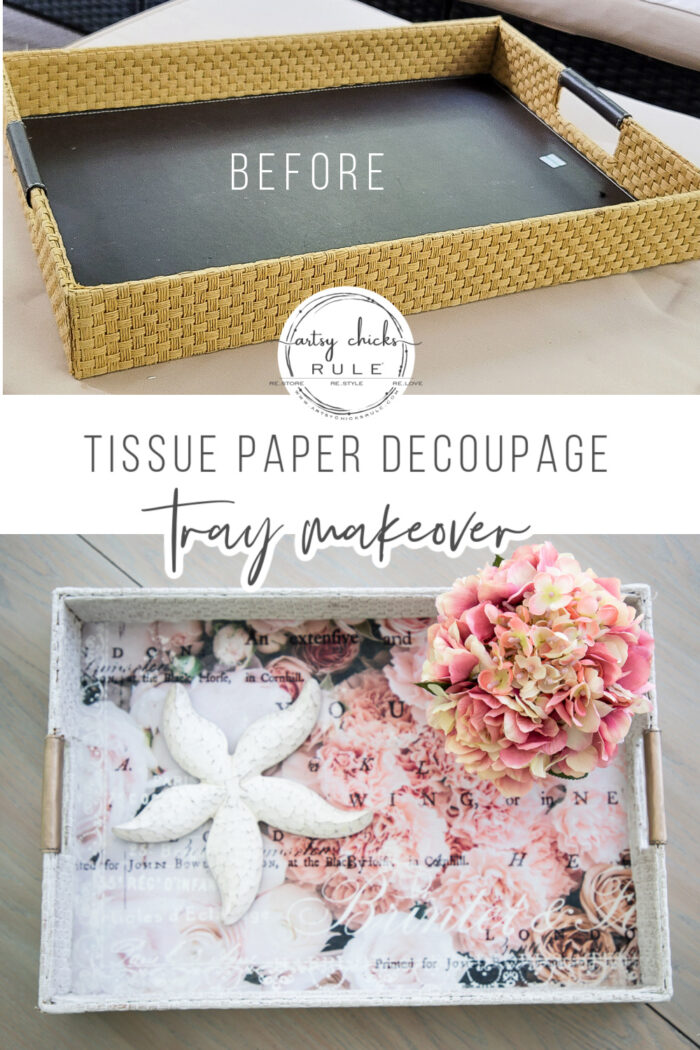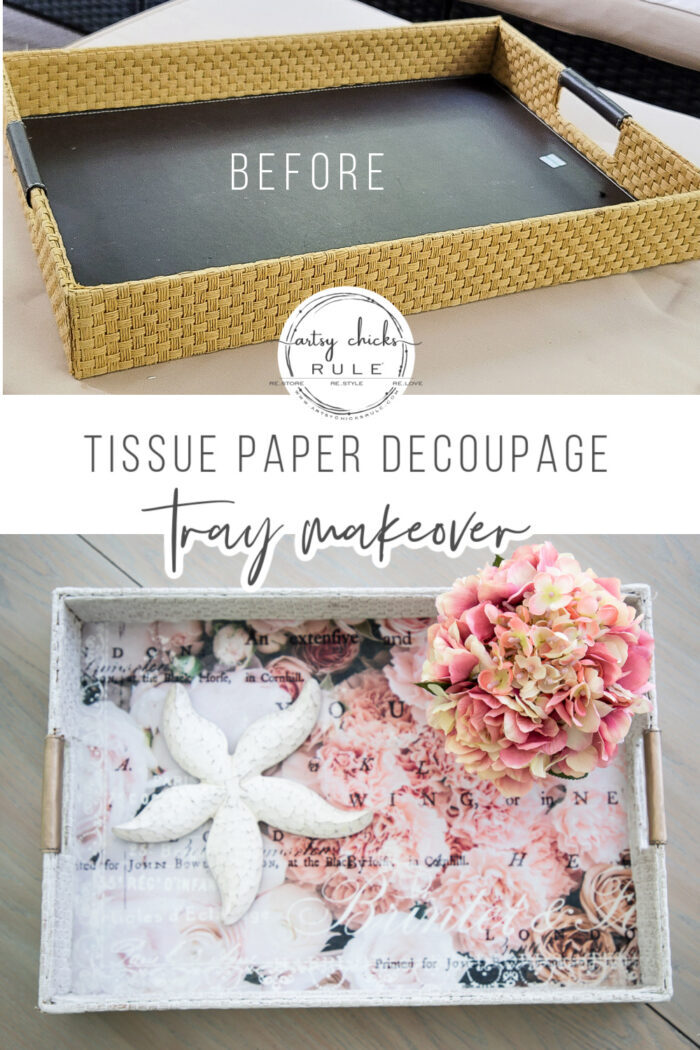 Think you might give this tissue paper a try?
It's unique, for sure! Love the pretty pattern.
I hope you have a wonderful week! Enjoy the pretty sunshine and the last of the warm weather…before fall arrives!
Check this one out next!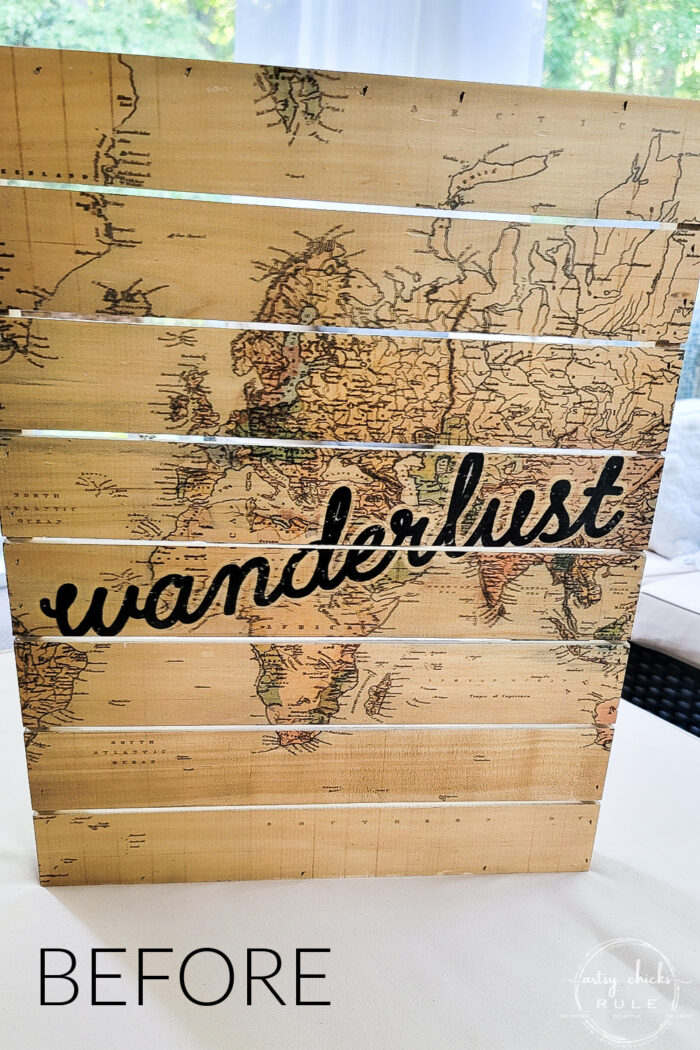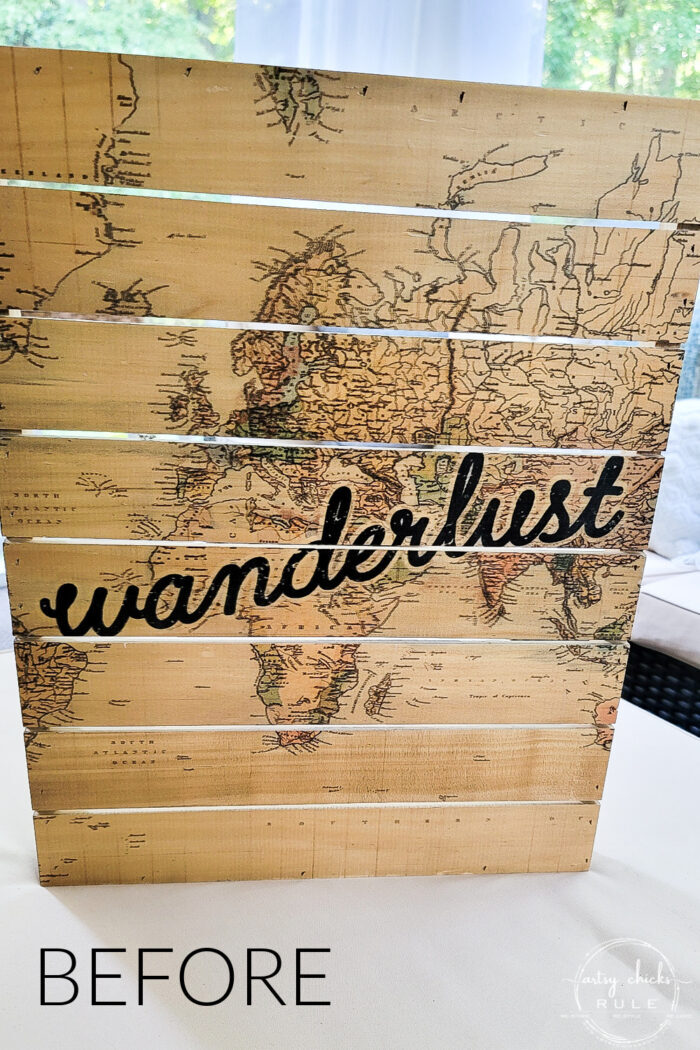 UPDATE!! See it now here!
xoxo