How To Decoupage Chair With Fabric
This post may contain affiliate links. Please see disclosures here.
How to decoupage chair with fabric…it's so simple to do! Great way to update old furniture!
Hello, my friends!
I hope you had a fantastic weekend and are ready for a few new makeovers. Grab a cup of coffee (or tea, like me!) because today is Trash to Treasure Transformation Tuesday with my sweet friends. Be sure to scroll all the way down to see what they've been up to this month!
I've been up to a little decoupage…with fabric.
If you follow along with me over on Instagram, you might have seen a snippet or two of this project already. ;)
If not, here you go!
How To Decoupage Chair with Fabric
Here is how this one started…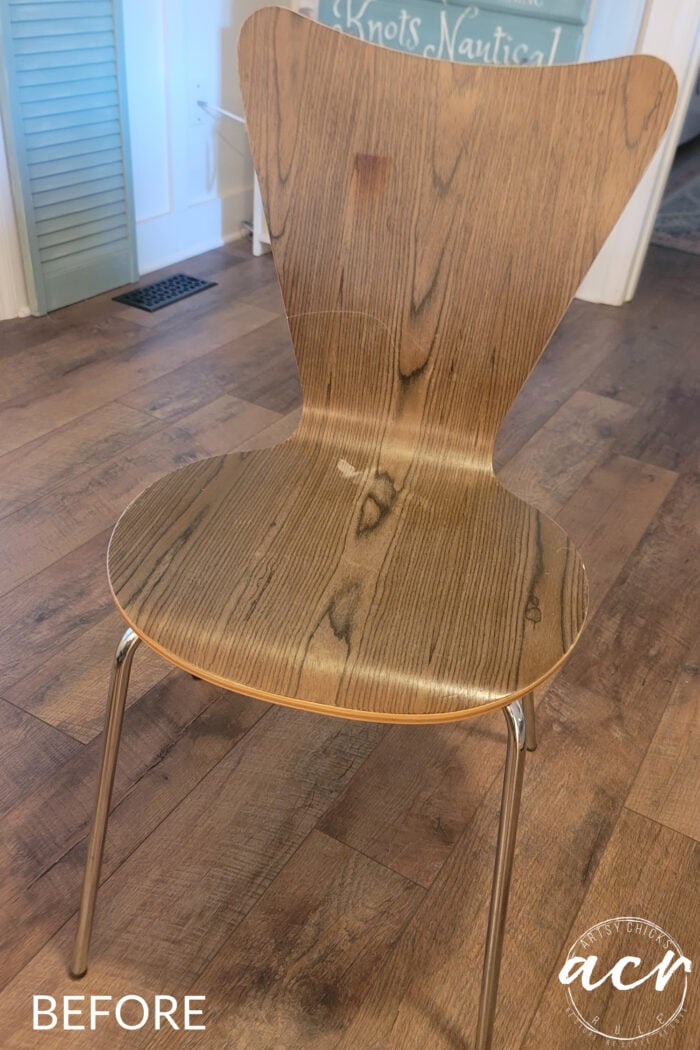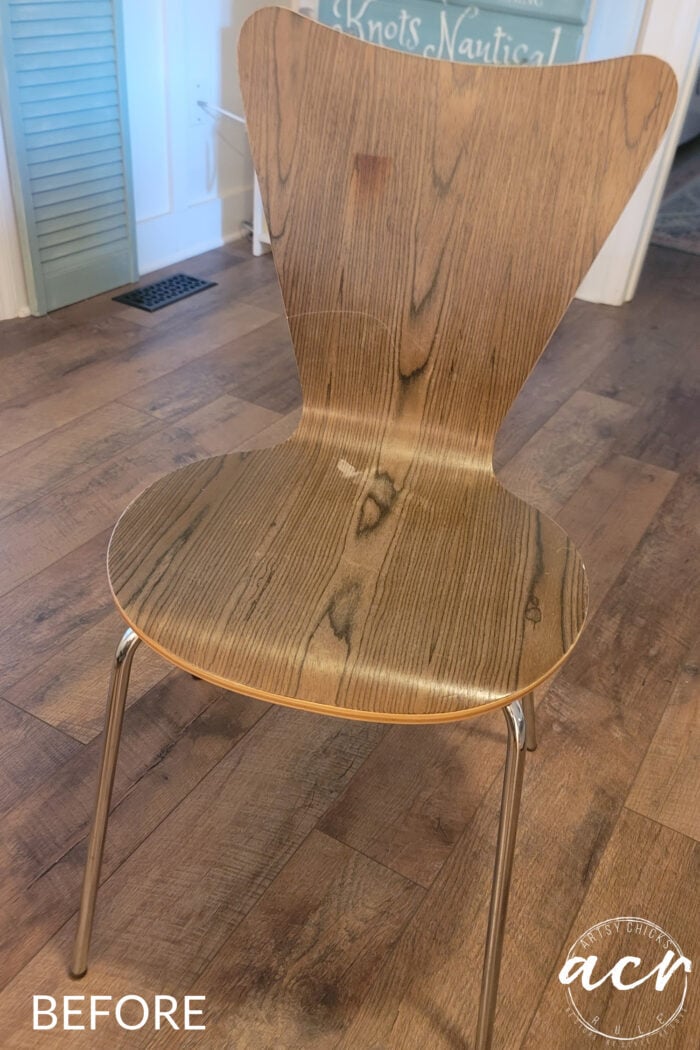 Pretty basic but not bad for $8.
I knew immediately what I wanted to do with it. AND I knew immediately how darn adorable it would (and could) be.
I hopped right on over to the fabric store and found this fun, colorful and happy fabric.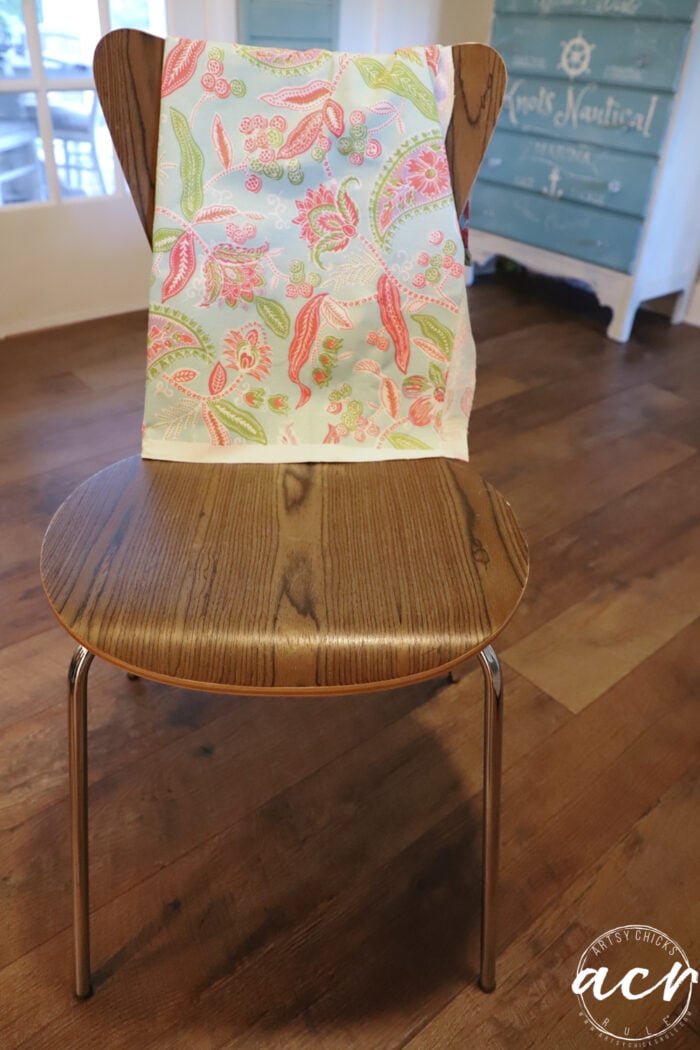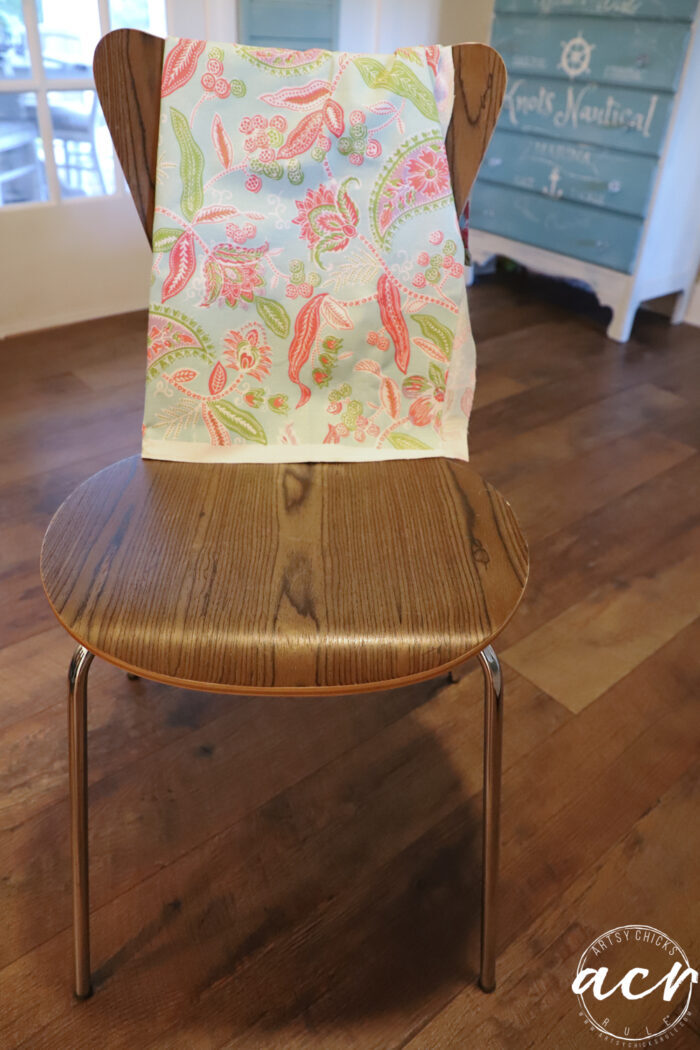 Can you just see it already?? Yep, bet ya can!
MATERIALS SOURCE LIST
Fabric of your choice
Sandpaper
I began by cutting the fabric just slightly larger than I needed to cover the front of the chair.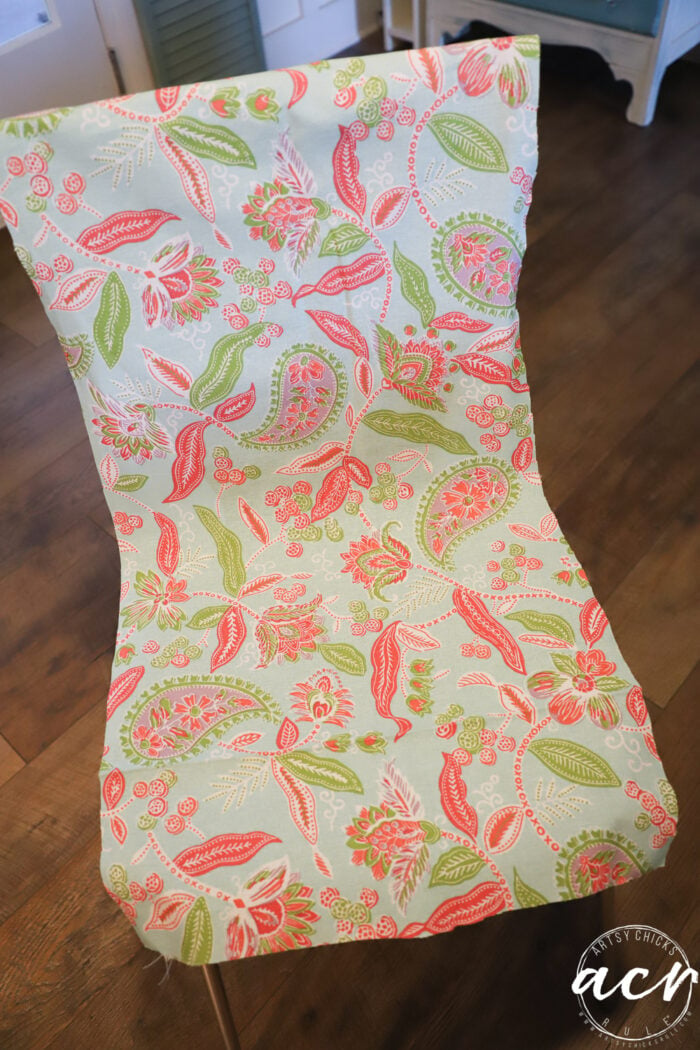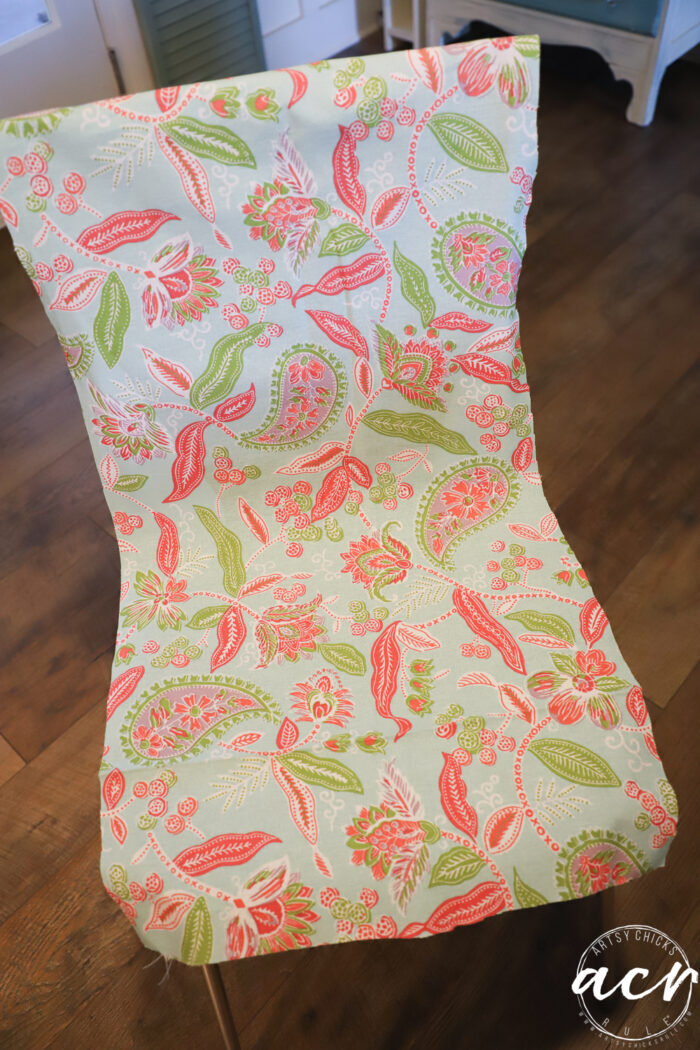 Then I unscrewed and removed the base.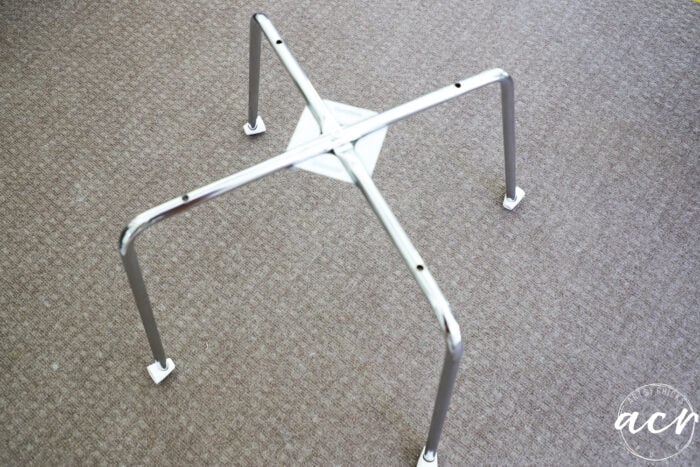 I lightly sanded the metal and sprayed it with Primer. After that was dry, I sprayed it with Satin White Spray paint.
I applied our Decoupage and Transfer Gel to the front of the chair with a chip brush…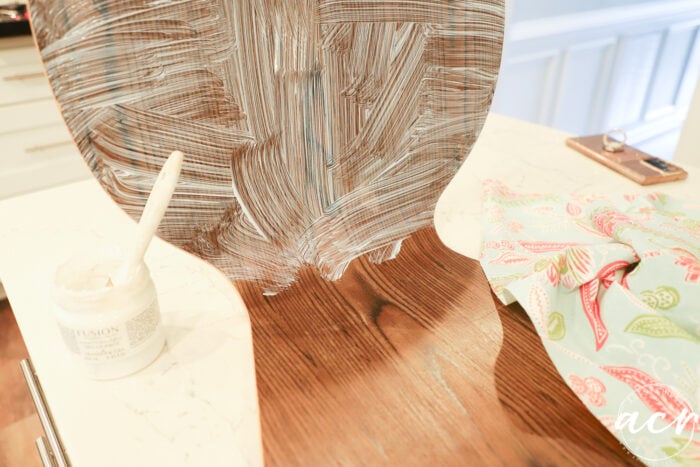 Then laid the fabric over top pressing firmly all over.
In hindsight, I wish I had sprayed the edge area there white before doing this step but I didn't!
Oh well.
That would have been a big timesaver and provided a little better coverage at the edges.
I applied more of the Decoupage Gel to the front, pressing very firmly, especially around the edges.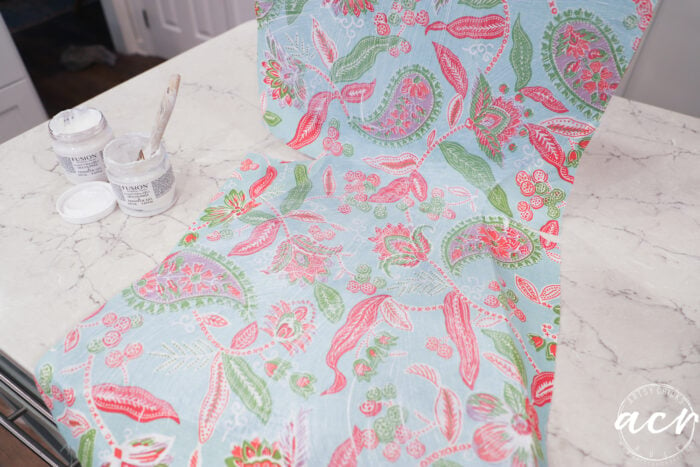 Let that dry.
Oh hey, there's my sidekick…always literally by my side. :)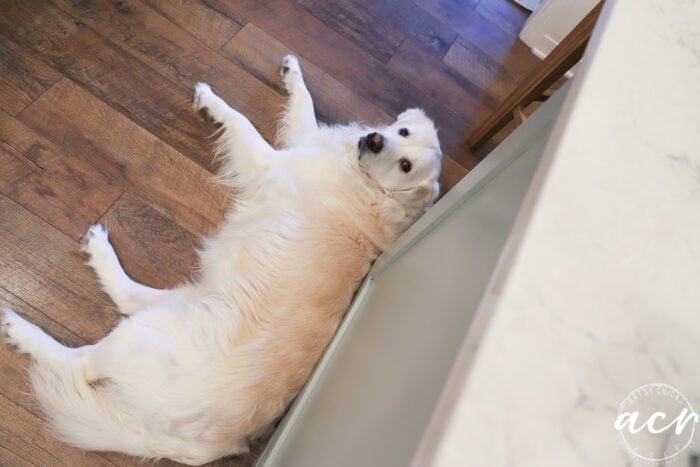 Okay, once it is all good and dry, I sanded the edge with sandpaper to separate it from the chair.
This gives a very good edge, much better than one I could cut.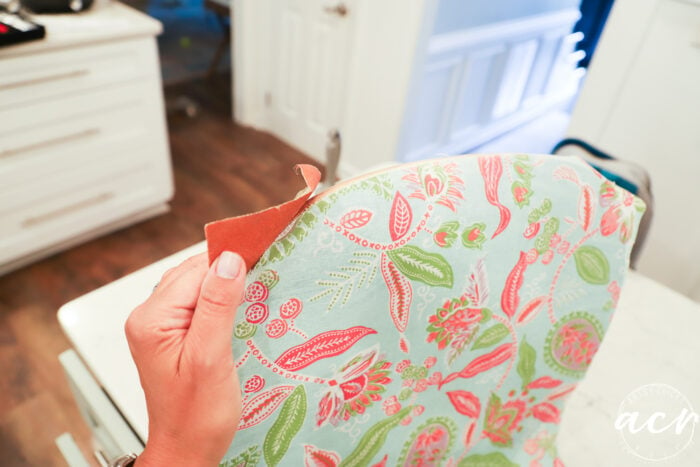 See?? Just looky there. All done and nice and neat.
Yes, it is a little time-consuming but it works great.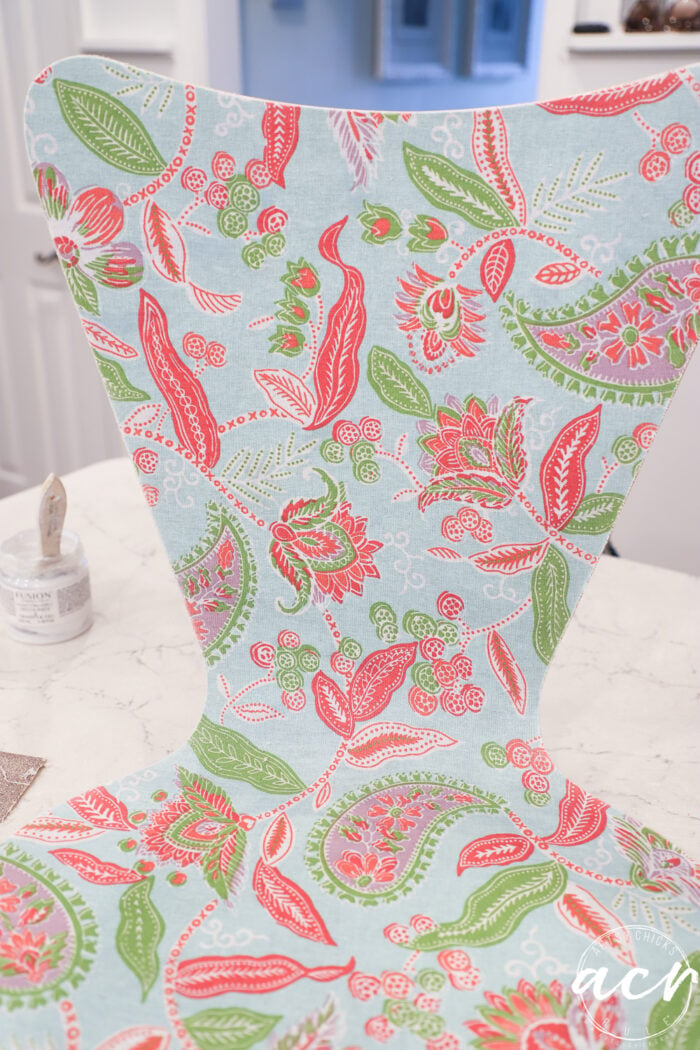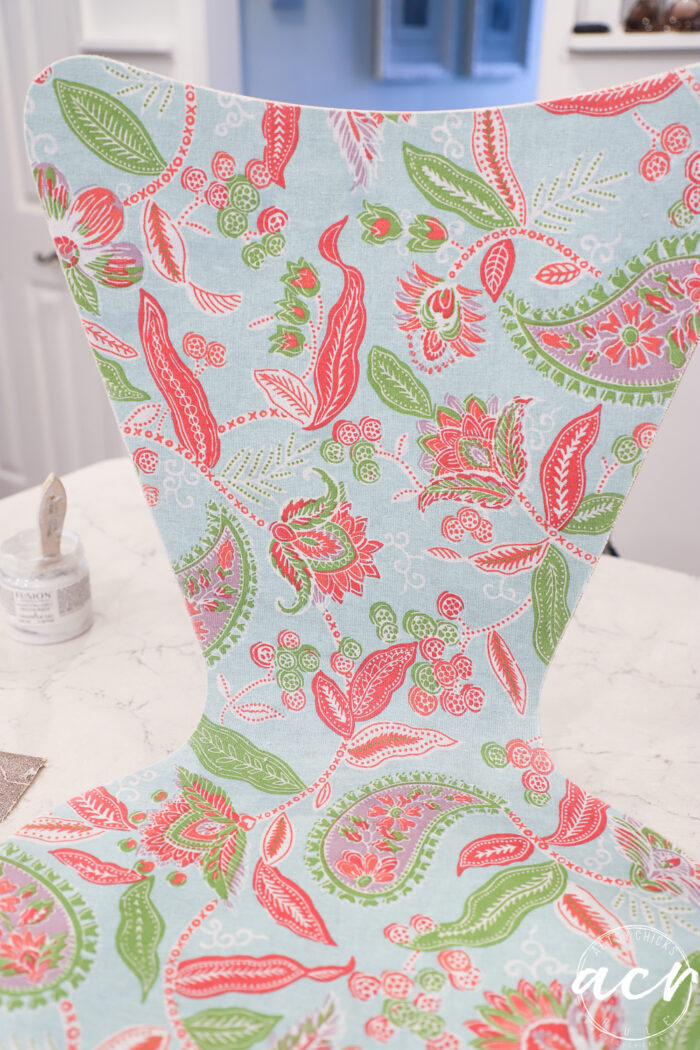 Don't want to do it this way?
Here's another way I did it that didn't involve sanding the fabric away but I also didn't cut it to the exact size on this one either.
Check it out here >>> French Fabric Decoupage Tutorial
Before beginning on the back/underside, I removed the rest of this hardware. I could've just gone over it with the fabric, then try to cut around them but I figured it would be less work to just remove them first.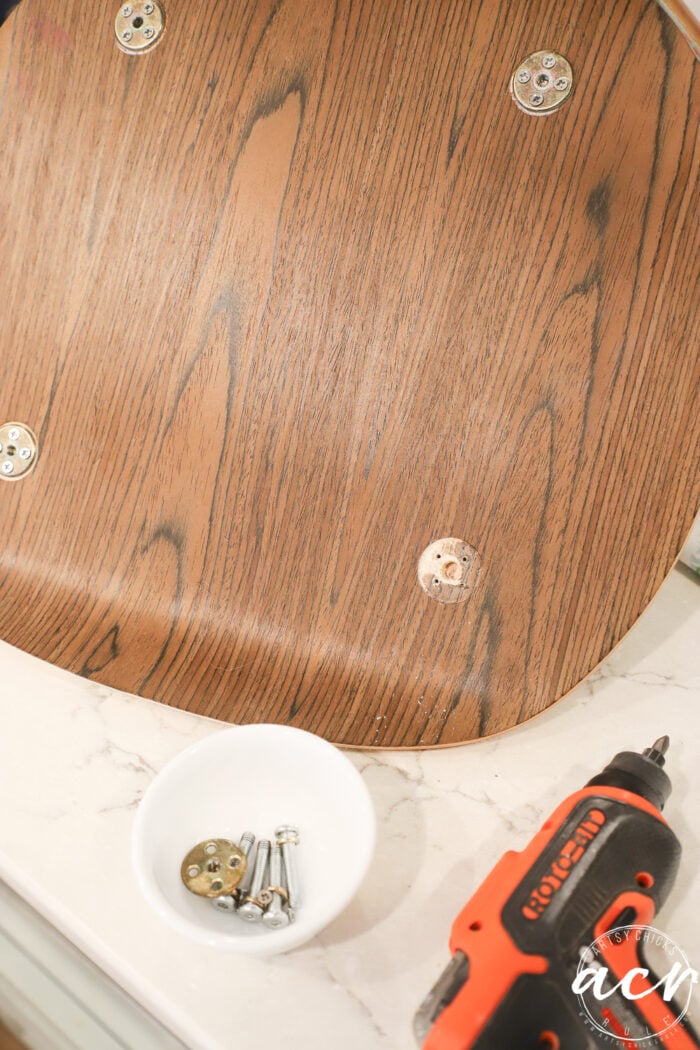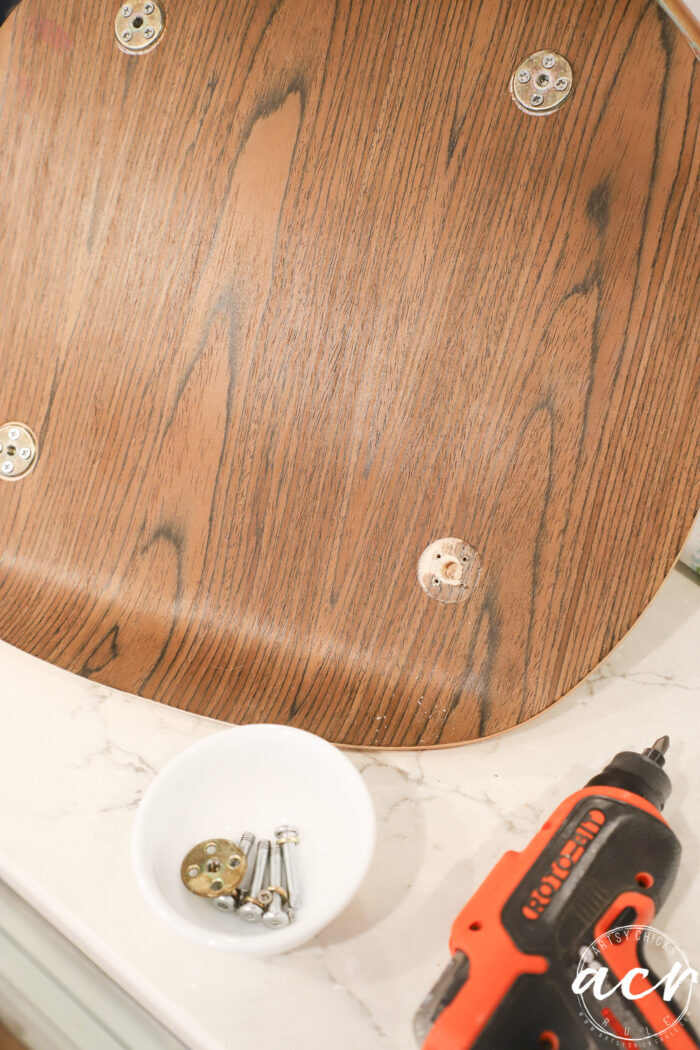 A little tip… keep all your screws, etc, while working on a project, in a small dish like this.
So much easier to keep up with.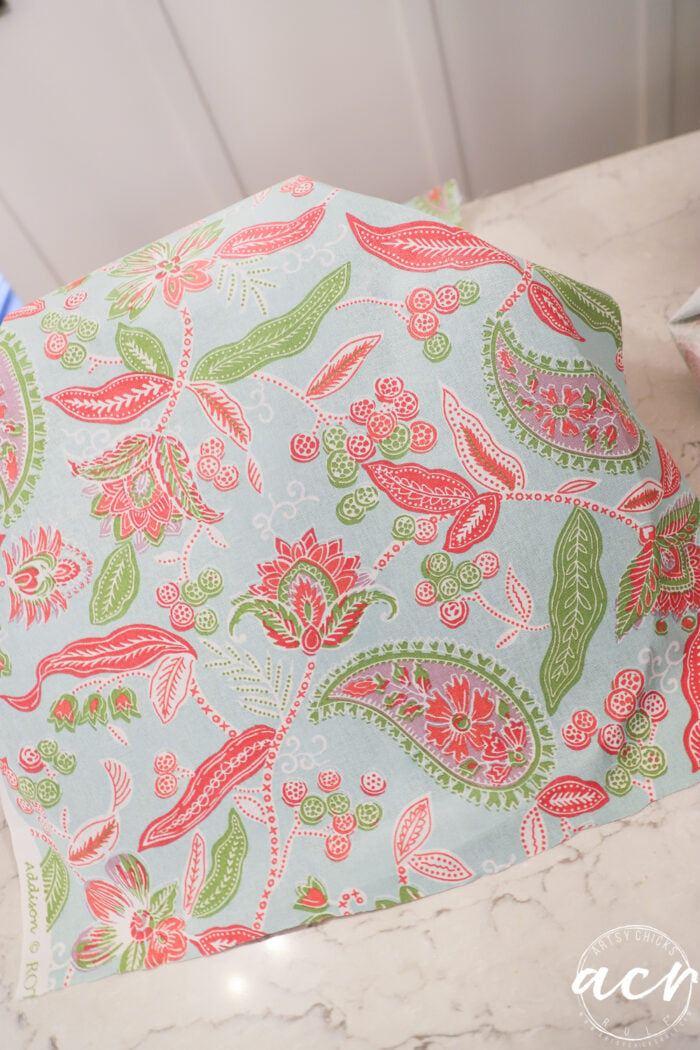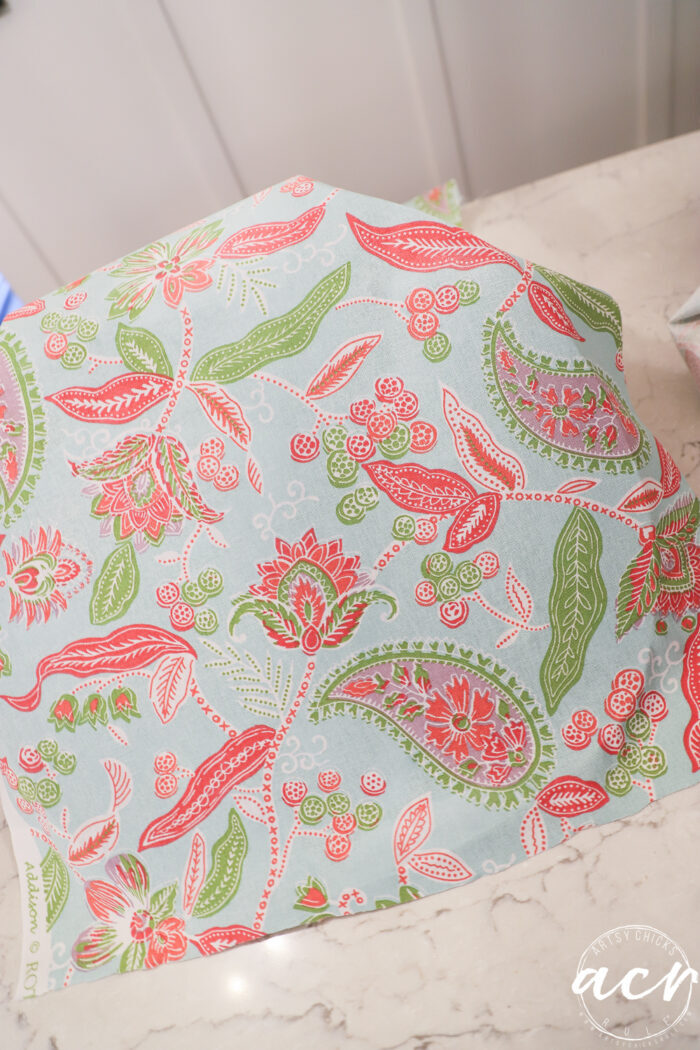 I applied the back/underside just like I did the front.
The only difference is I didn't apply the top coat of Decoupage Gel until I sanded the fabric away.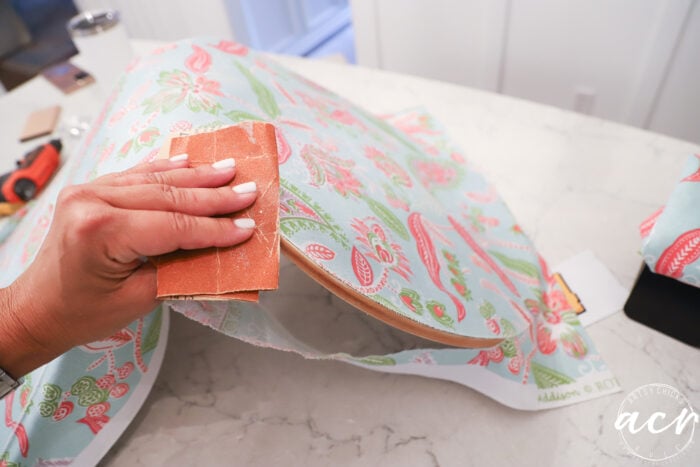 Once that was all off, I applied the top coat of Decoupage Gel.
By the way, it may have been overkill to apply that top coat as I was planning to put a poly coat to finish it off. But I did it anyway as I wanted the fabric as secure as I could get it.
Once that was dry, I used an x-acto knife to cut out the circles to put the hardware back on.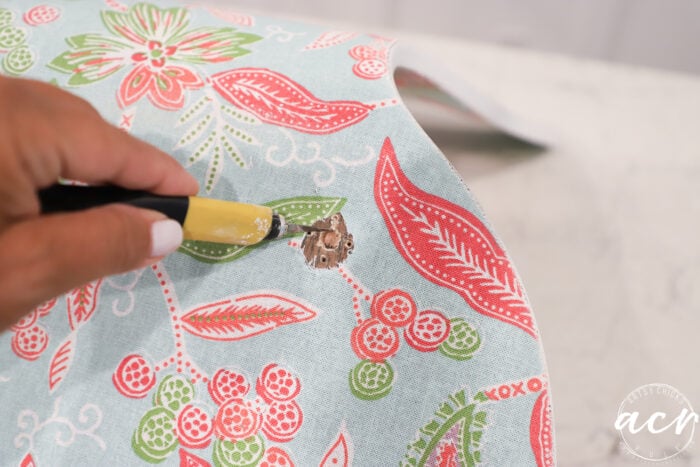 Simple!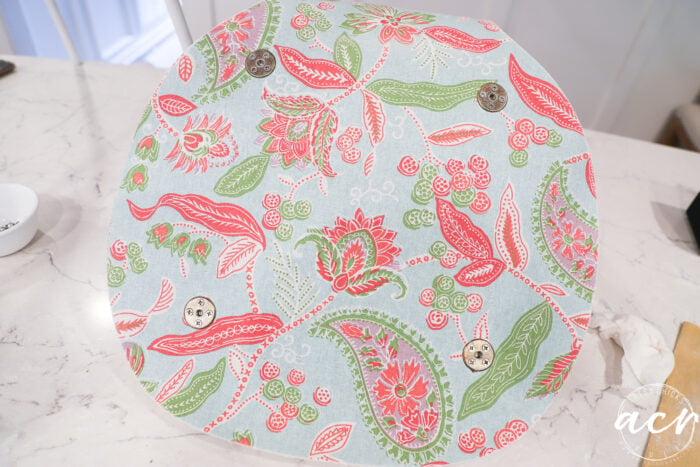 And looks so nice and neat.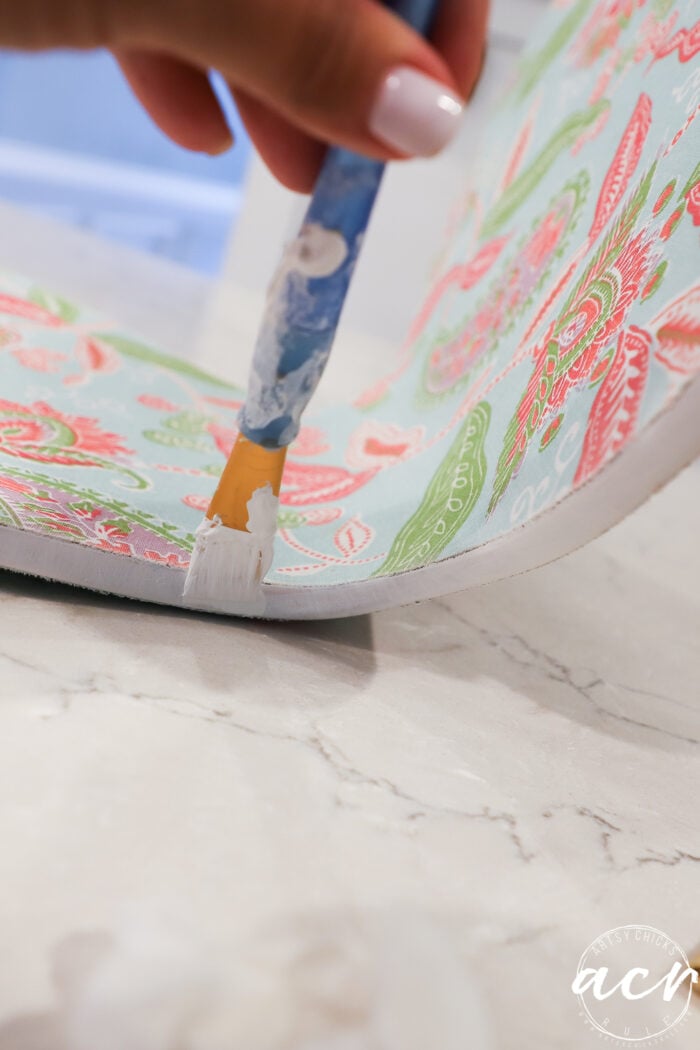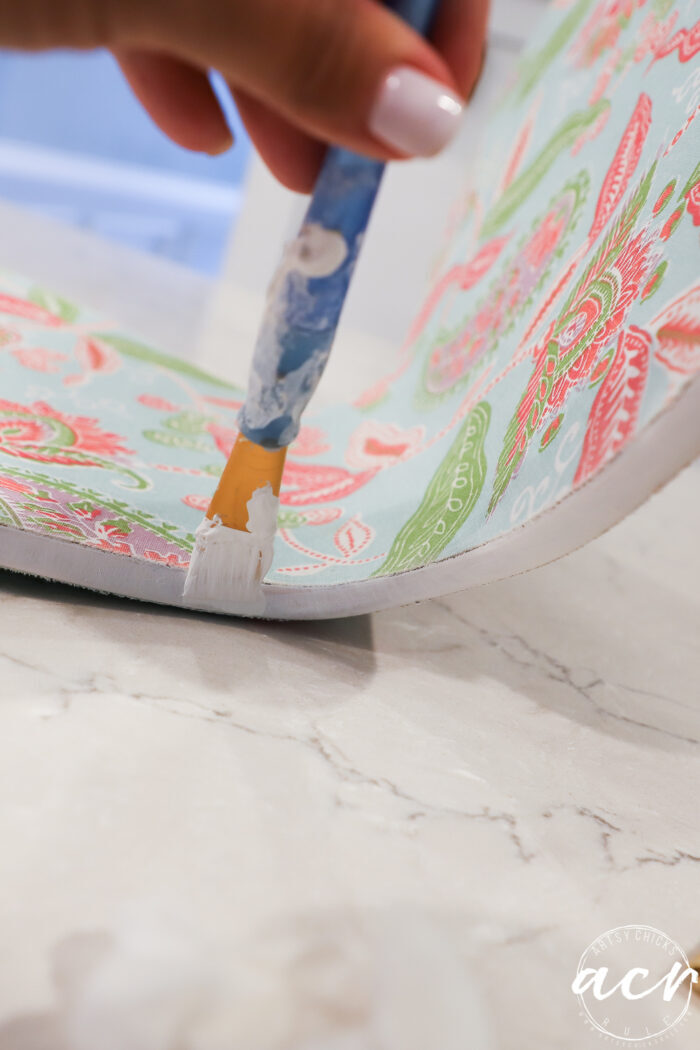 After that last coat of Decoupage Gel was dry, I began painting the edge with white paint.
See how it might have been better to spray those edges white first?? See where the fabric meets the wood?? It's dark because the underneath area is still dark instead of white.
I did a few coats to cover well.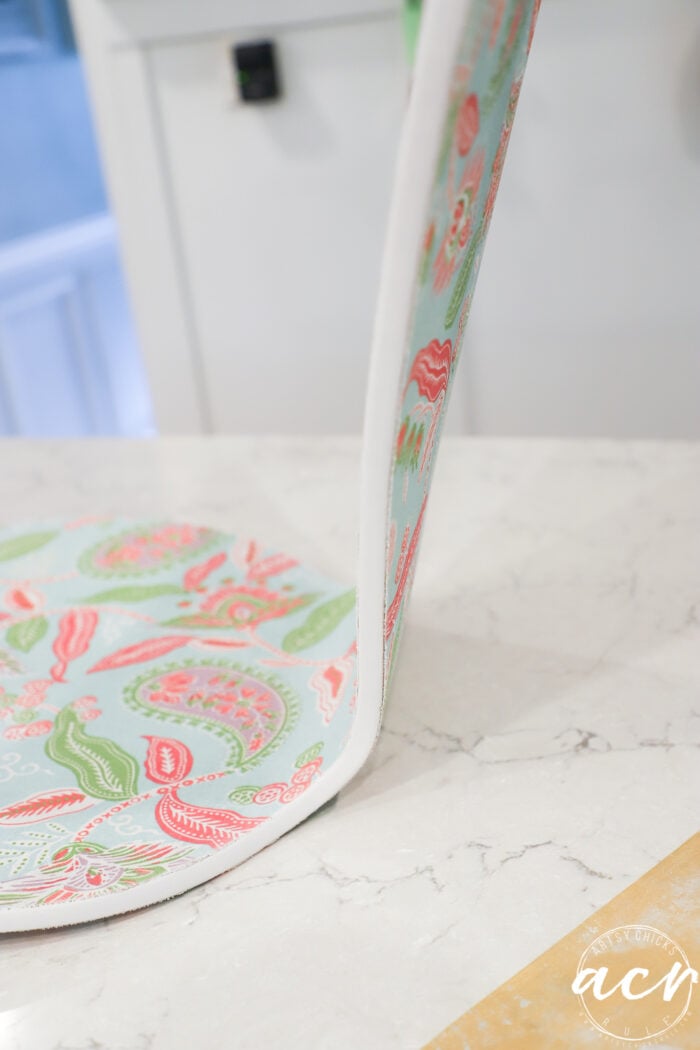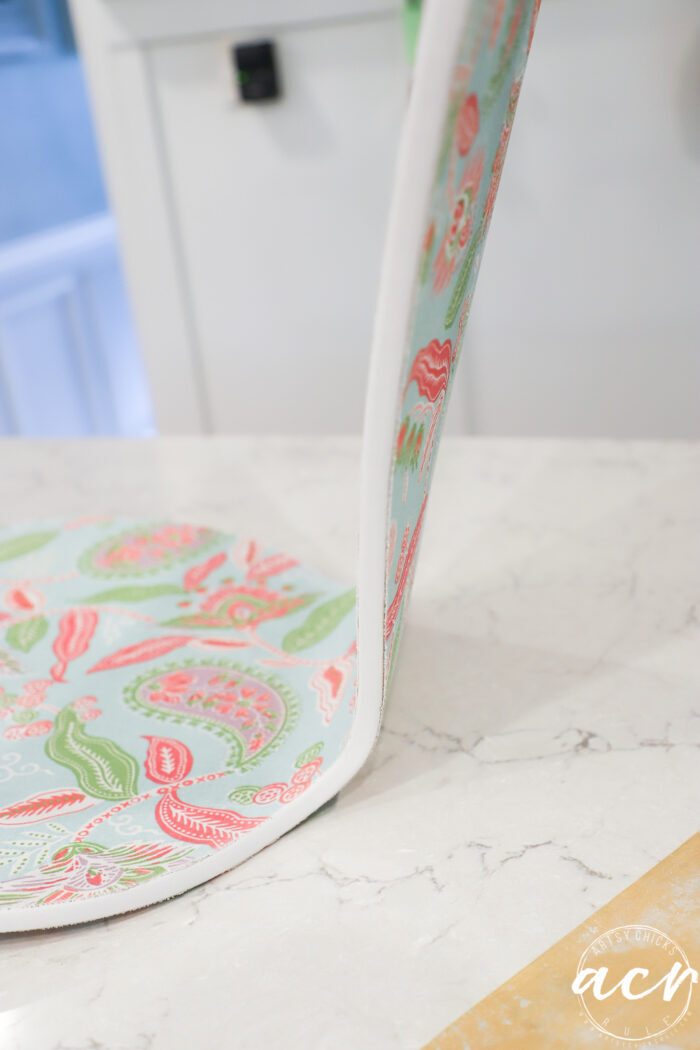 Once that was dry, I applied a top finish coat to the whole thing. I used Tough Coat Matte.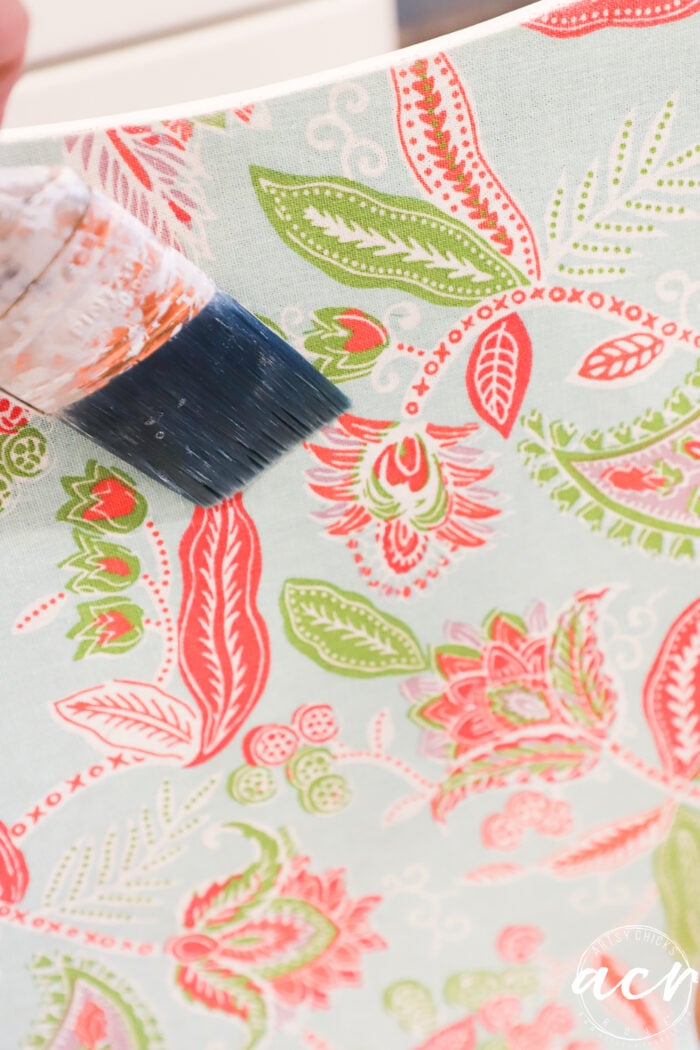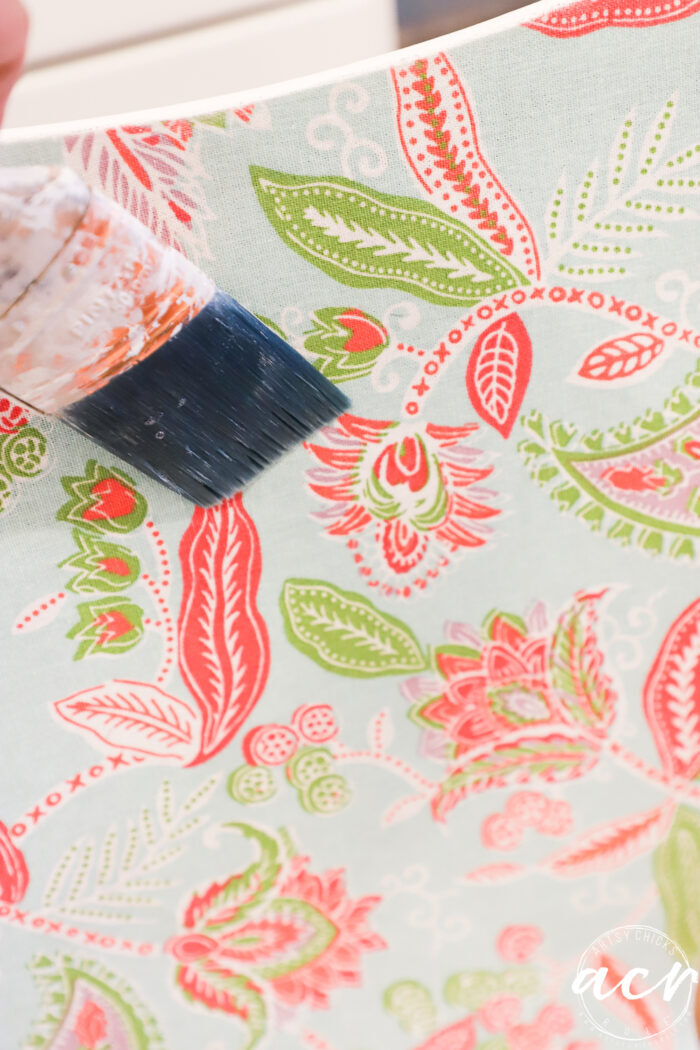 And finally, the base gets back on with 4 screws.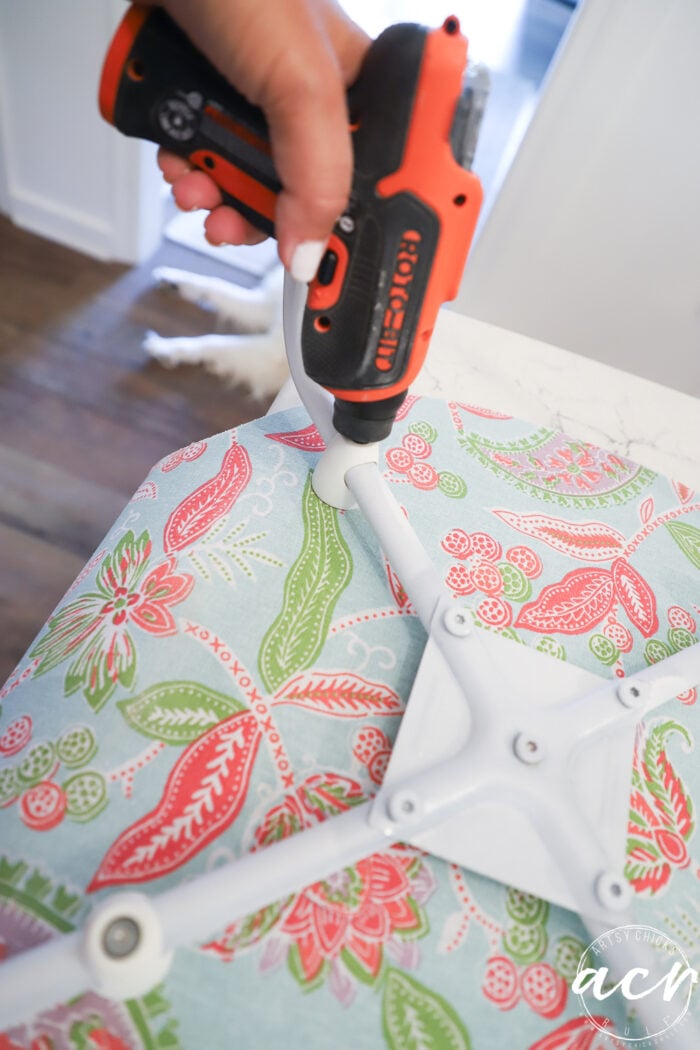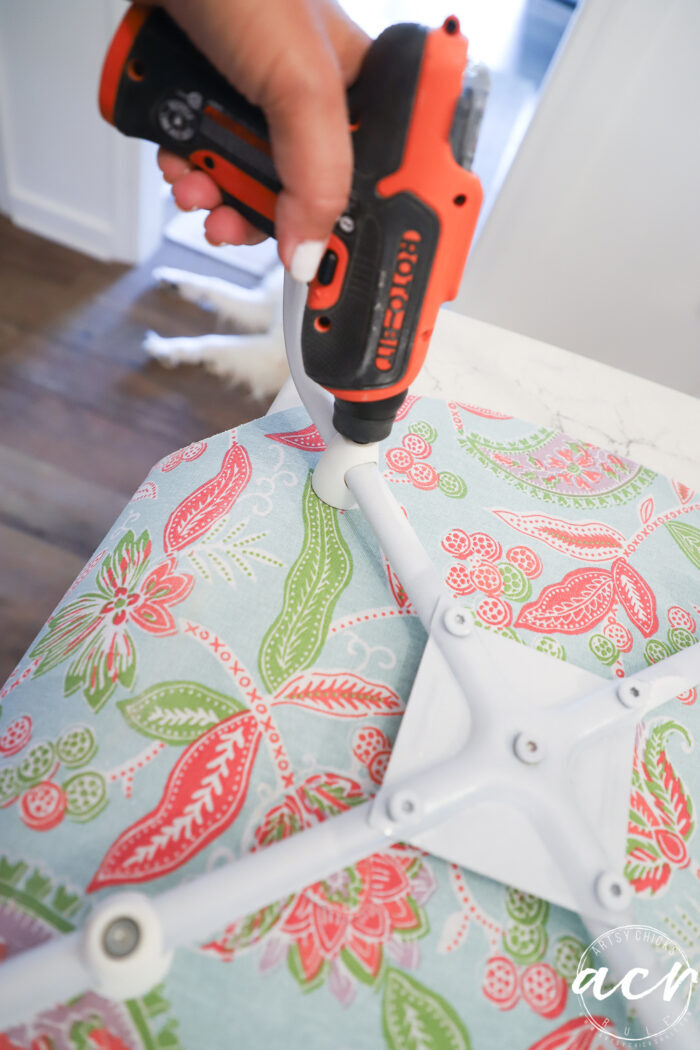 See my friend over there, always sleeping? haha
But oh so darn cute.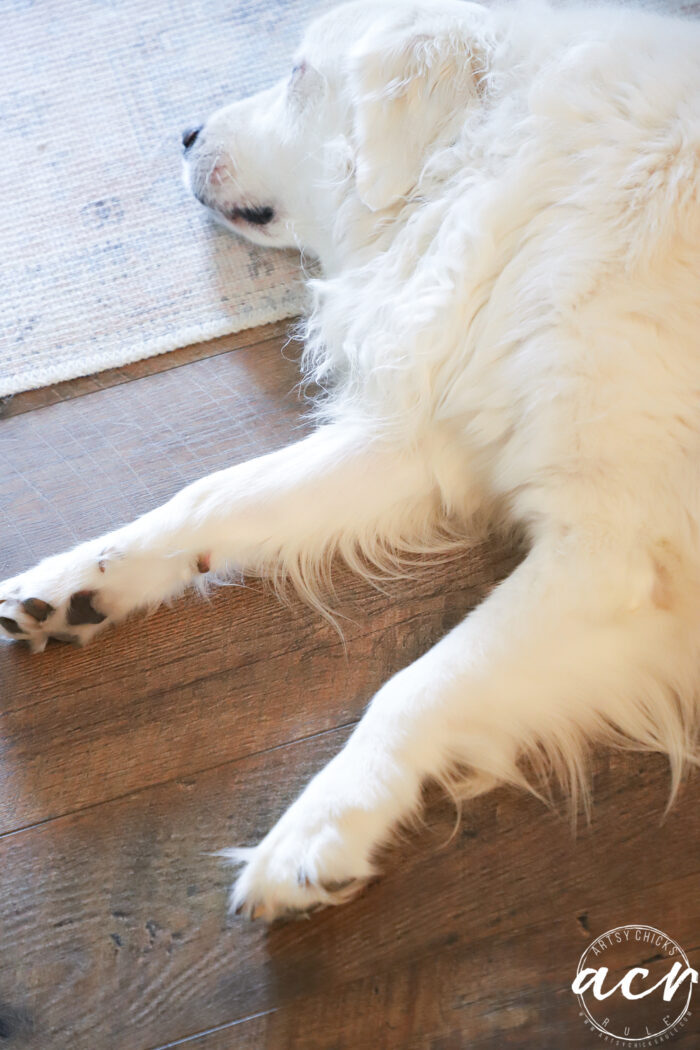 He's the best.
Okay, once the poly coat is dry, I actually took a very fine piece of sandpaper and went back over the whole thing very lightly. The poly tends to raise the "grain" (just like on wood) of the fabric so I like to smooth it out a bit. The edges, seat, etc. Now it's nice and smooth all over. That also gets any little frays that might have been there on the edge. The poly stops the fraying, etc.
Voila! Here's how to decoupage a chair with fabric…so simple, really!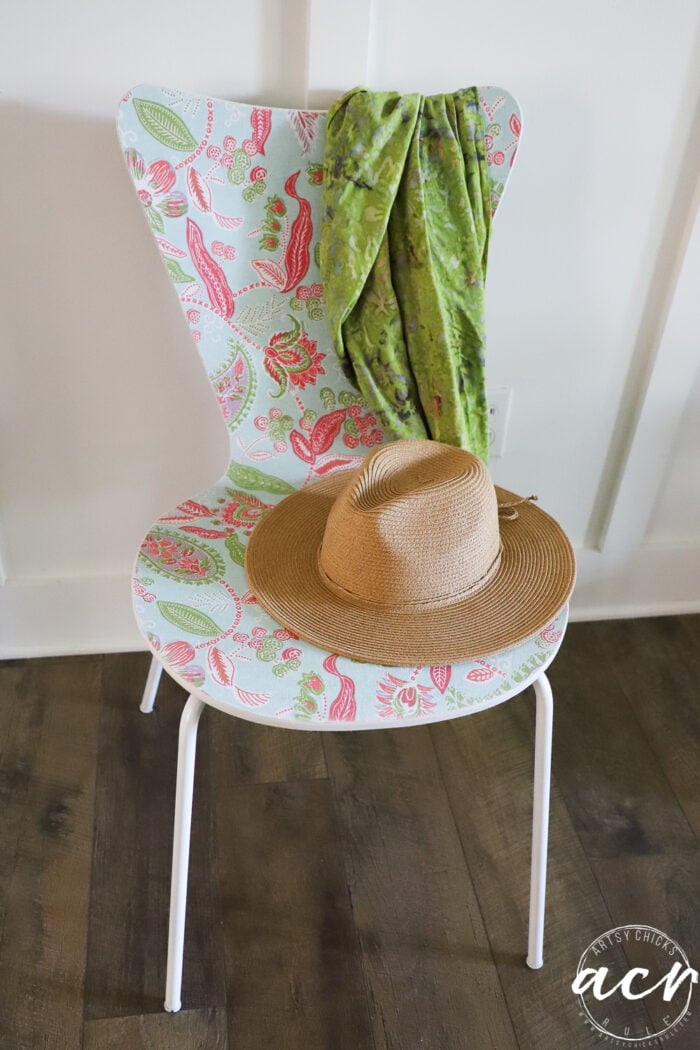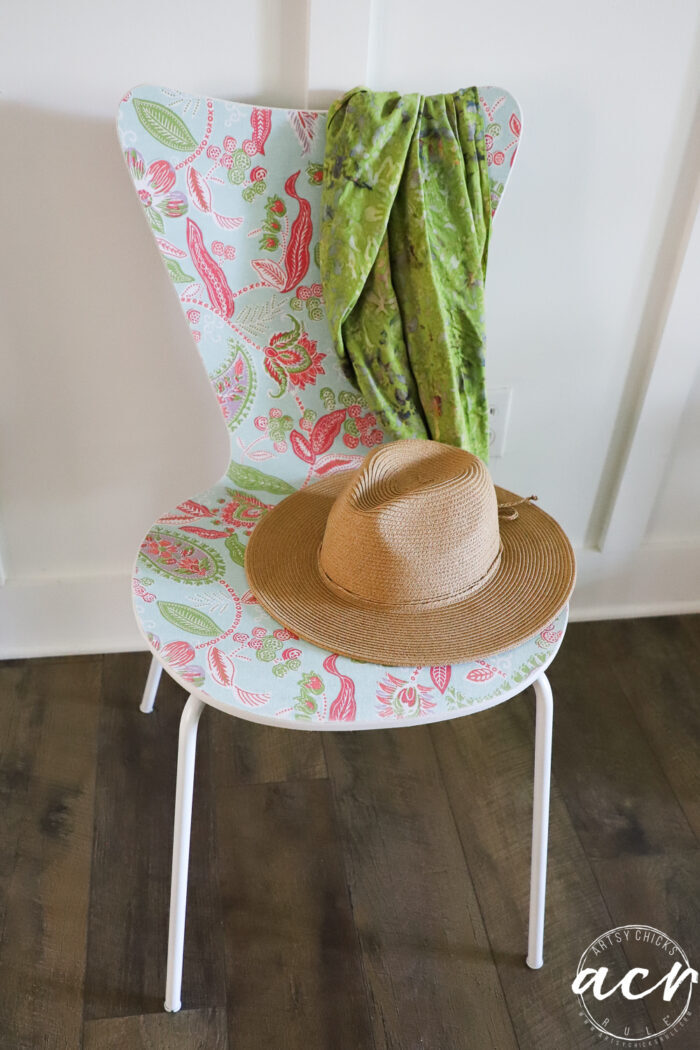 Isn't she a cutie now?? That is such happy fabric, I love it.
I can see this behind a white desk, or dressing table in a young girl's room, can't you?
That'll have to do, lol…close enough. You get the idea, right?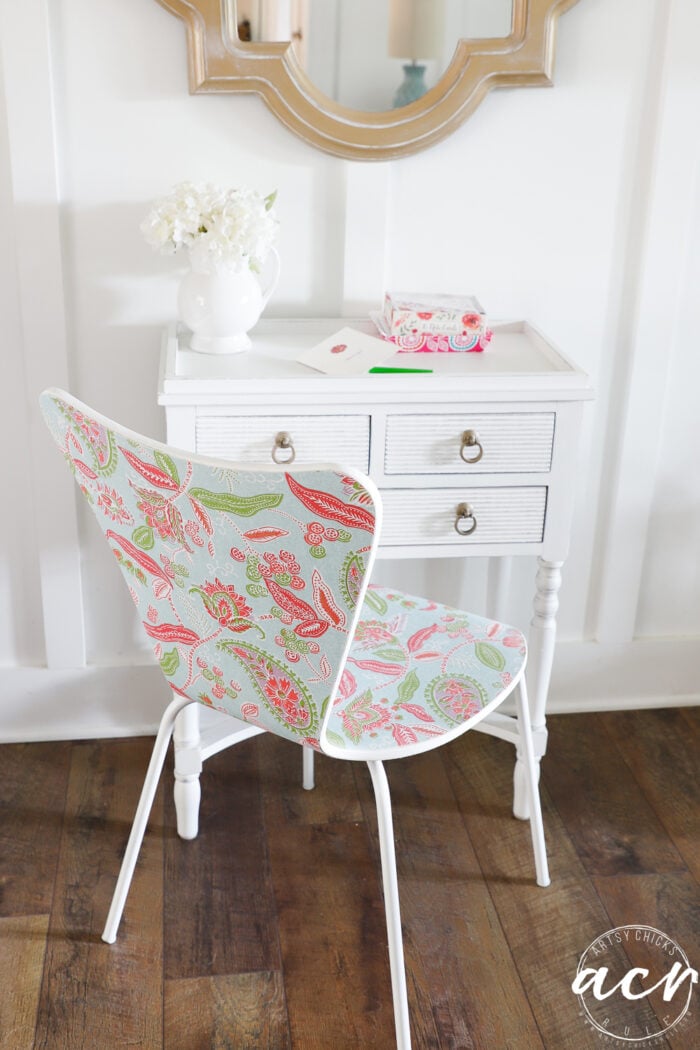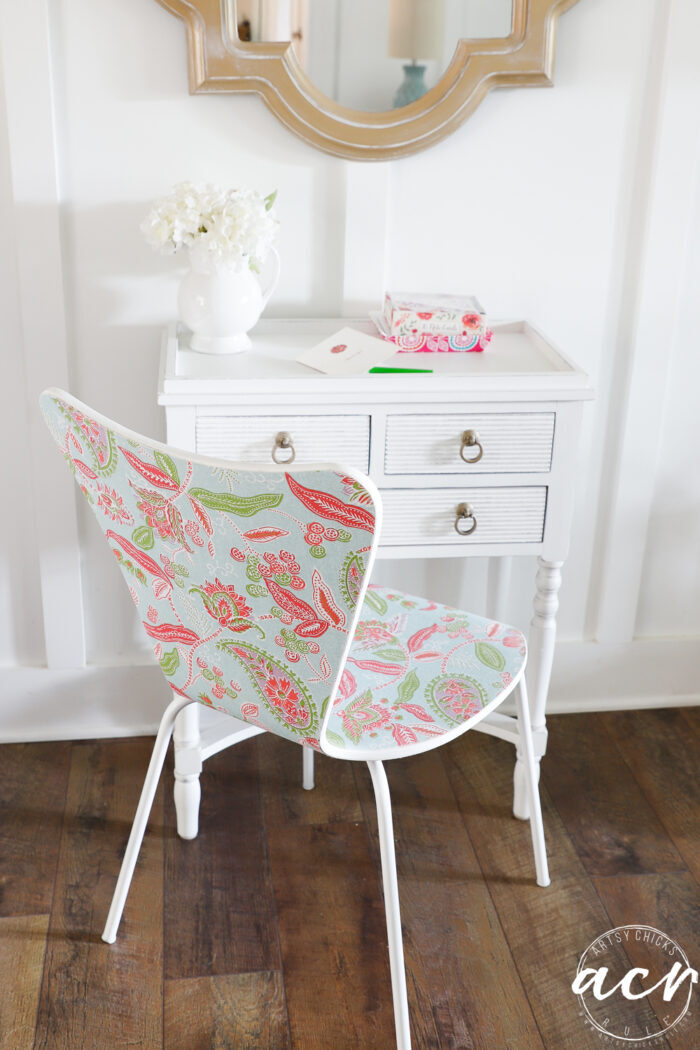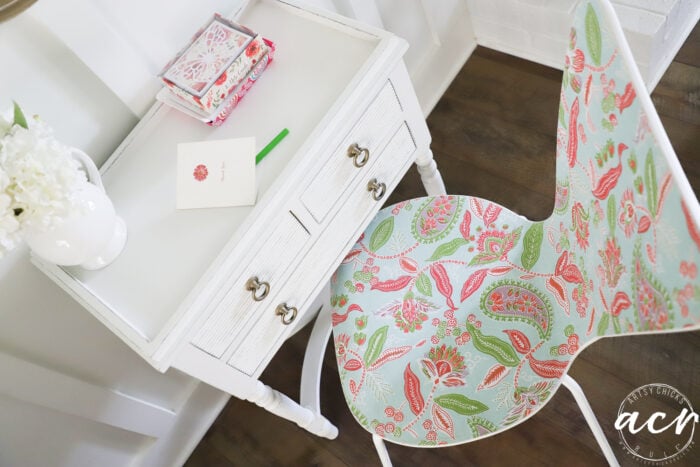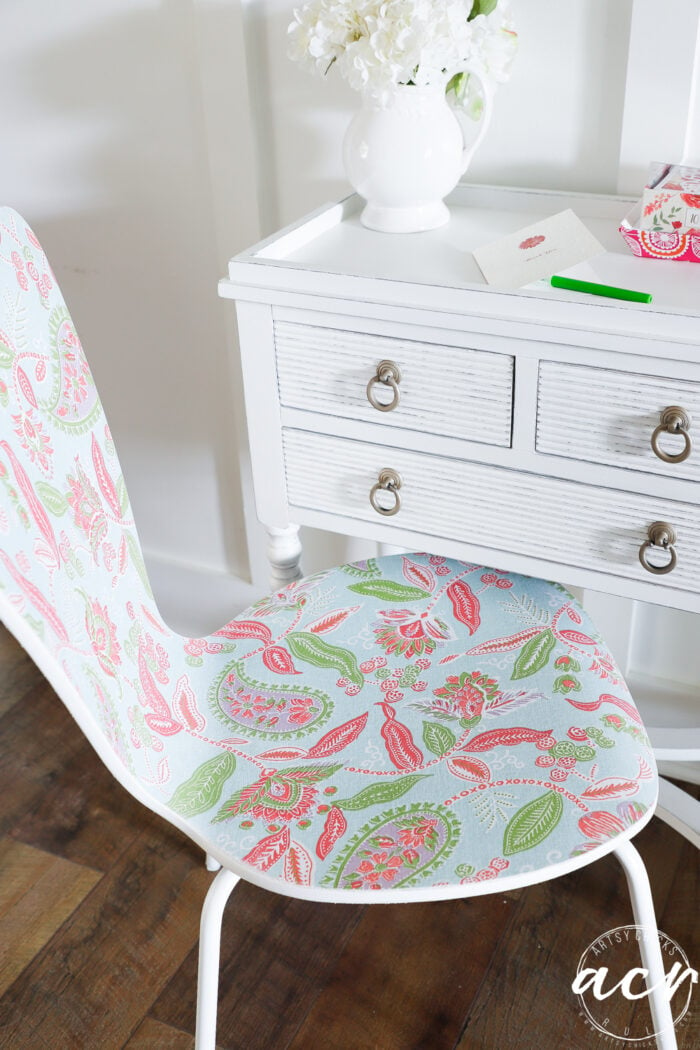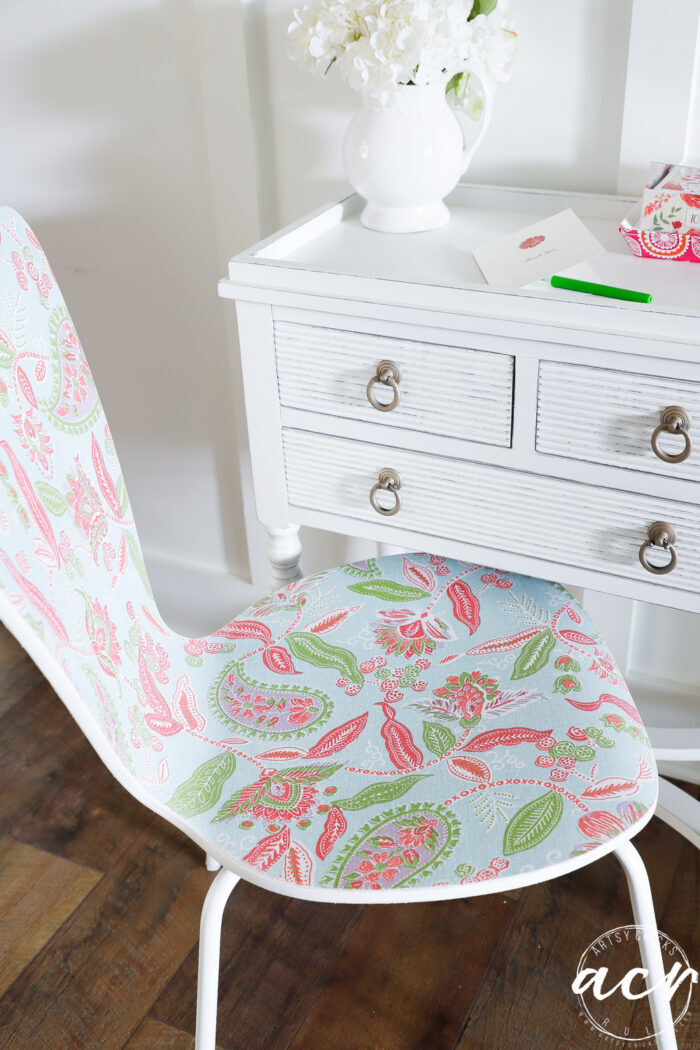 Up close.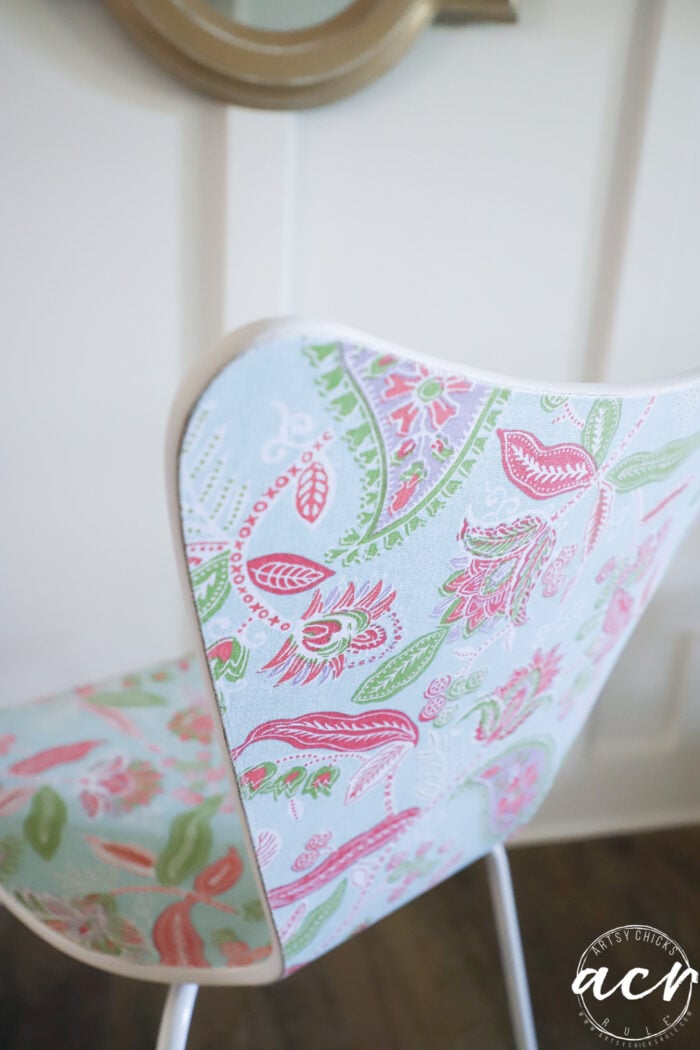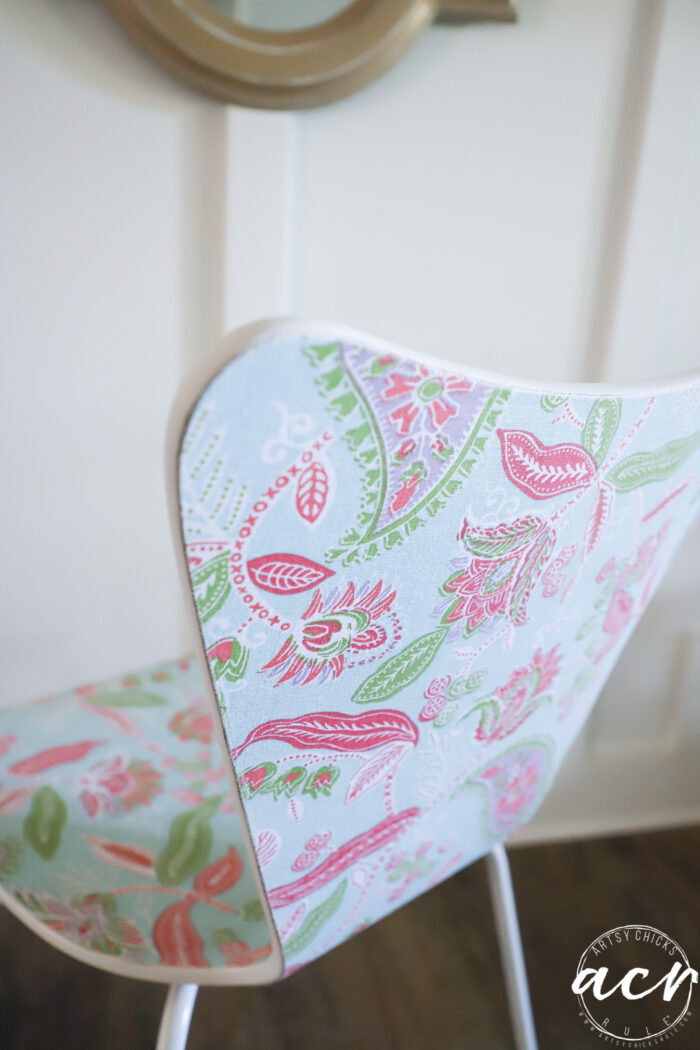 And the underside is just as pretty as the top.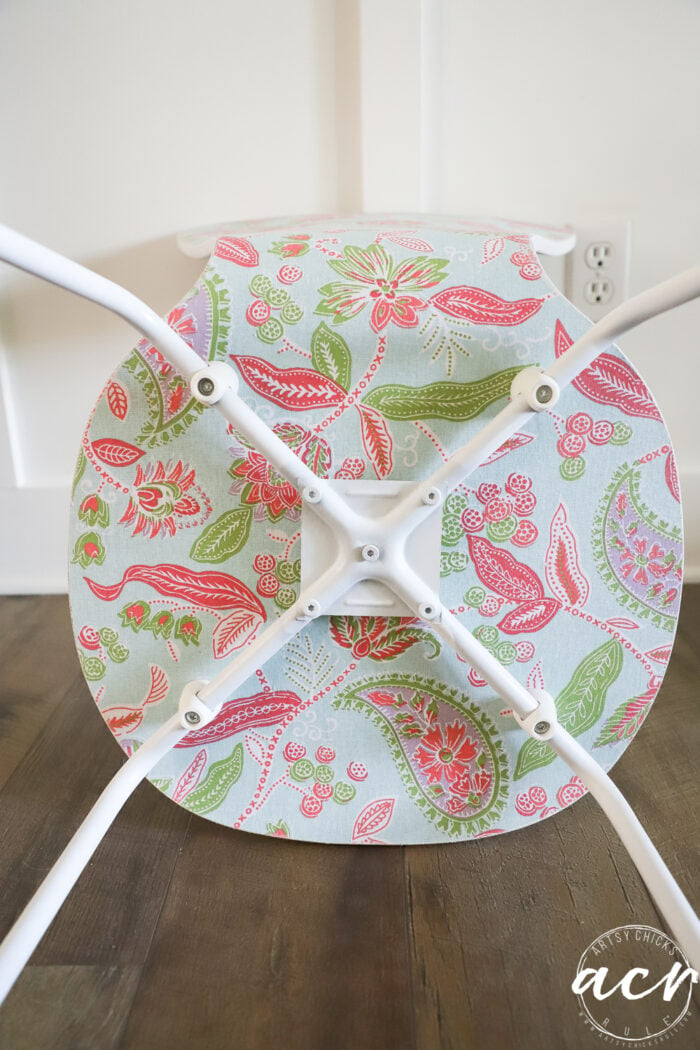 Pink and green…and aqua. Love these colors all together.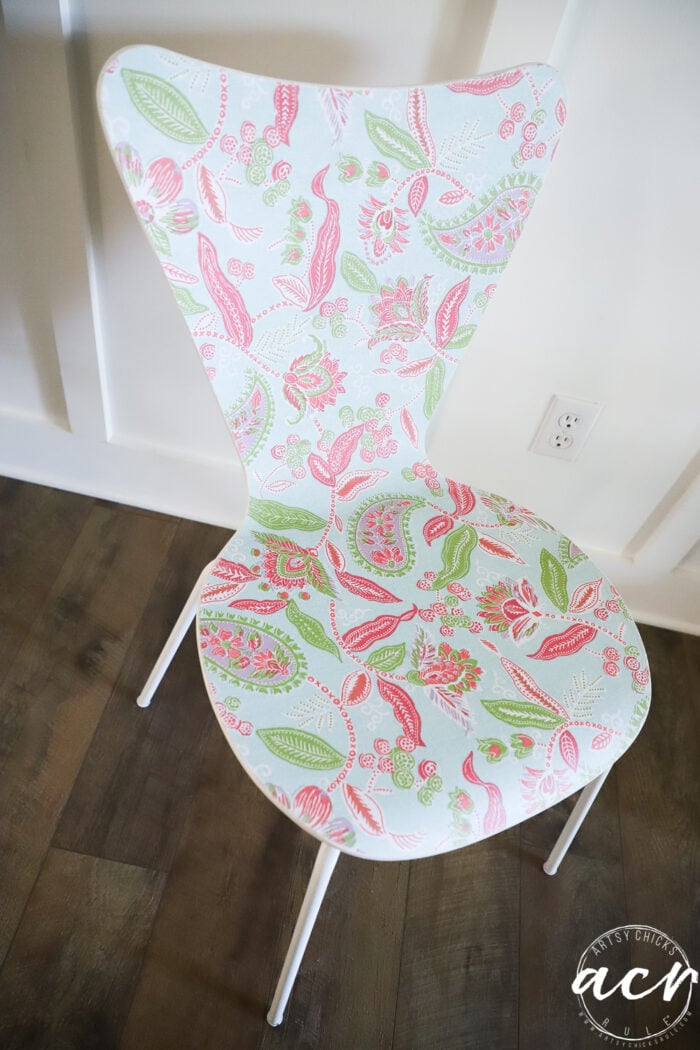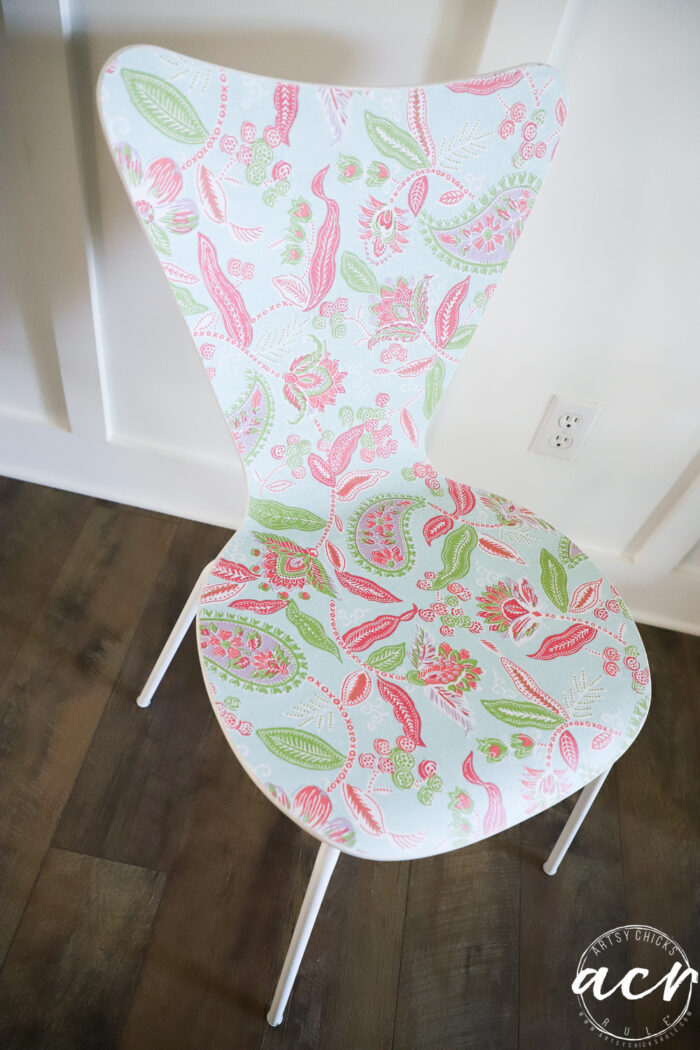 So next time you are at the thrift store, don't pass one of these up! You can easily transform them into something beautiful.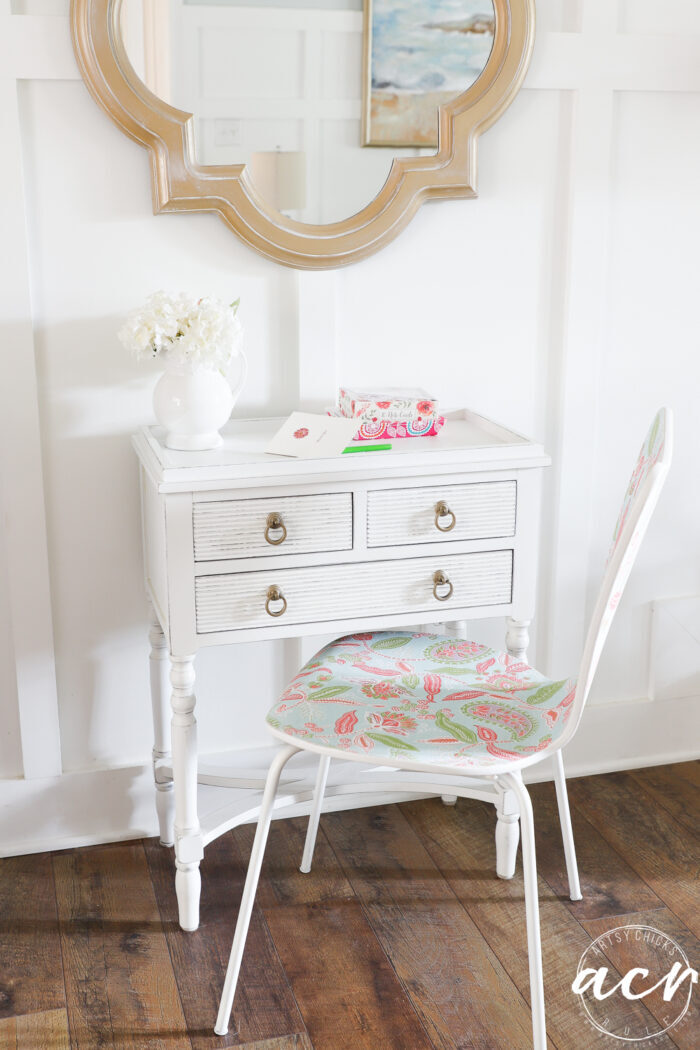 I hope I can find another chair similar to this. I have another idea for a fun (different) makeover!
PIN it to save it!!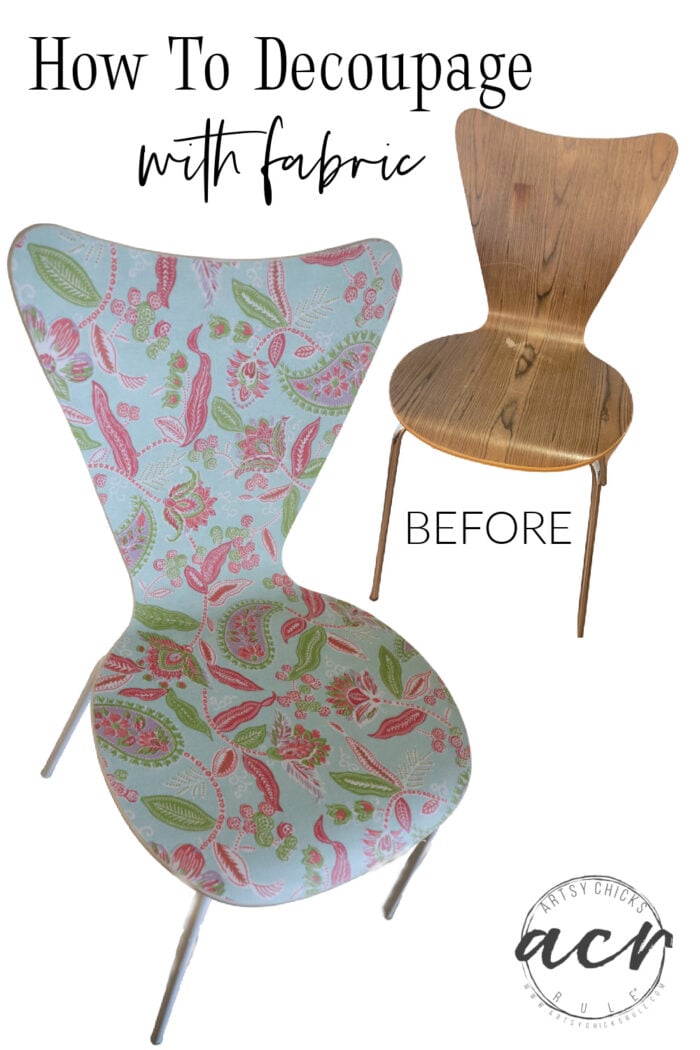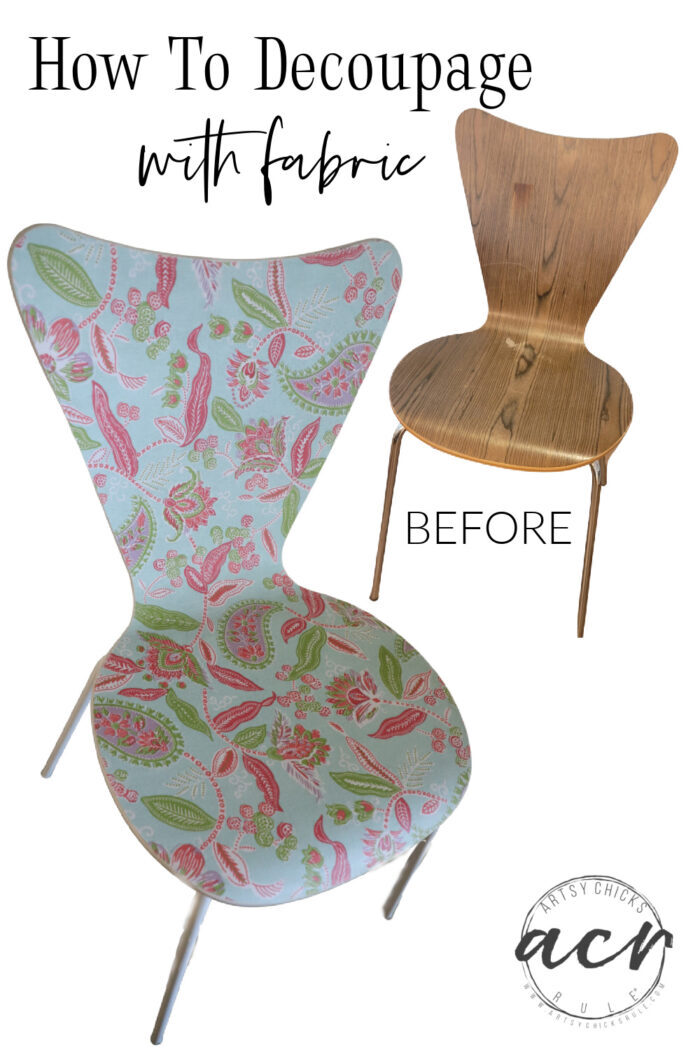 Don't forget to hop on over and visit my friends!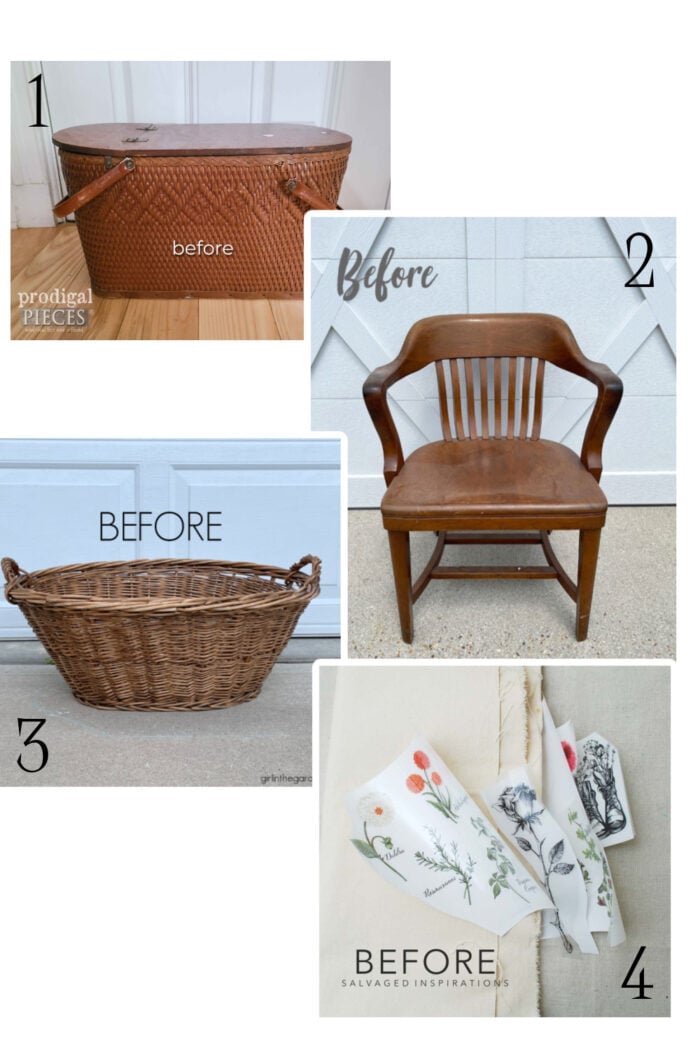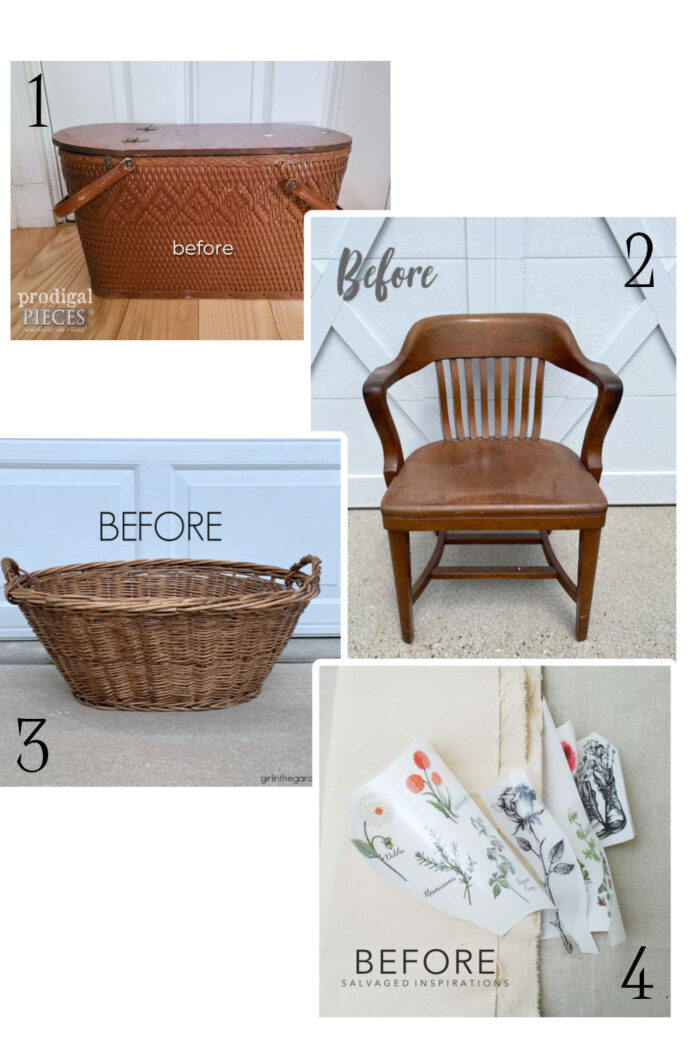 I'll be back later this week with another "Throwback Thursday"!! See you then! Have an amazing week. :)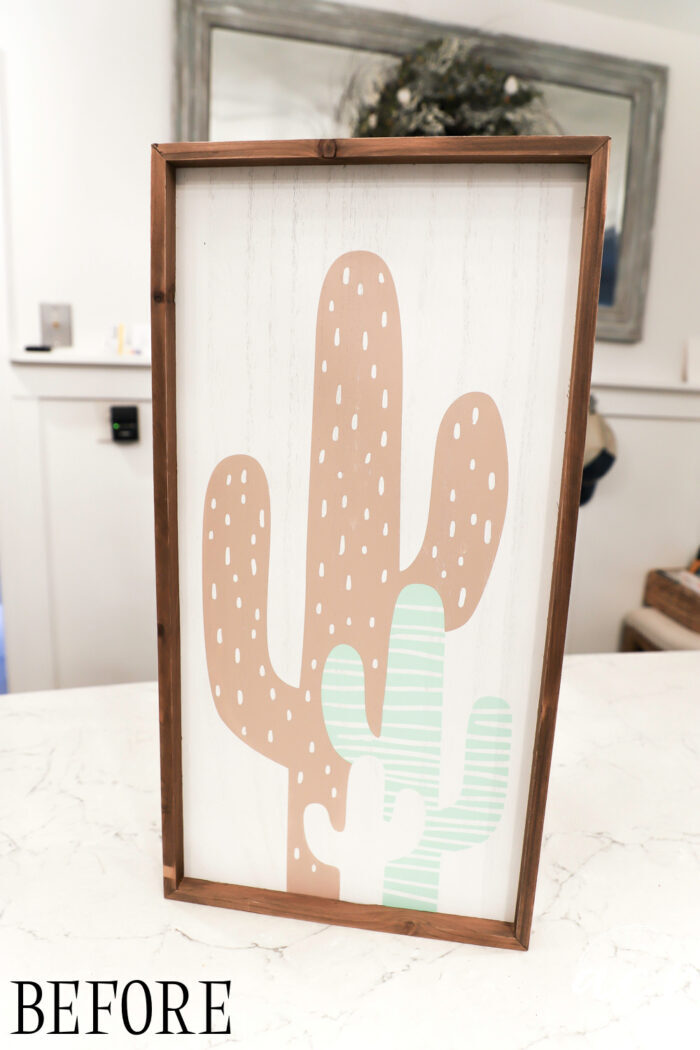 UPDATE! See what I did with this thrifty find here!
xoxo