A Lovely Dresser Turned Coffee Server
This post may contain affiliate links. Please see disclosures here.
Ever thought of turning a dresser into a coffee server? You can!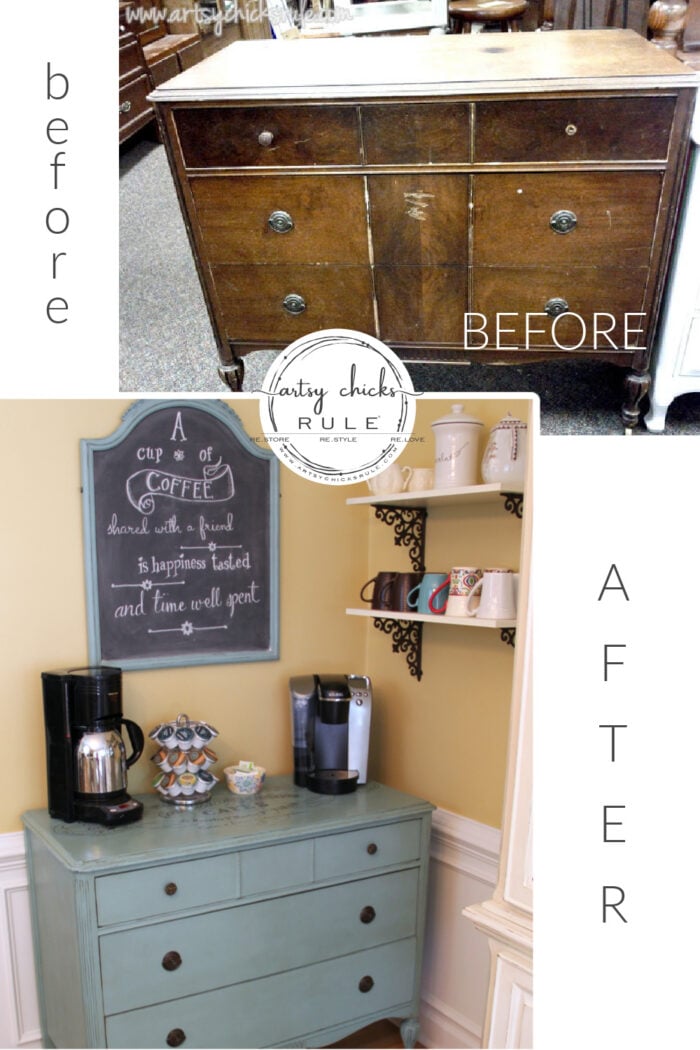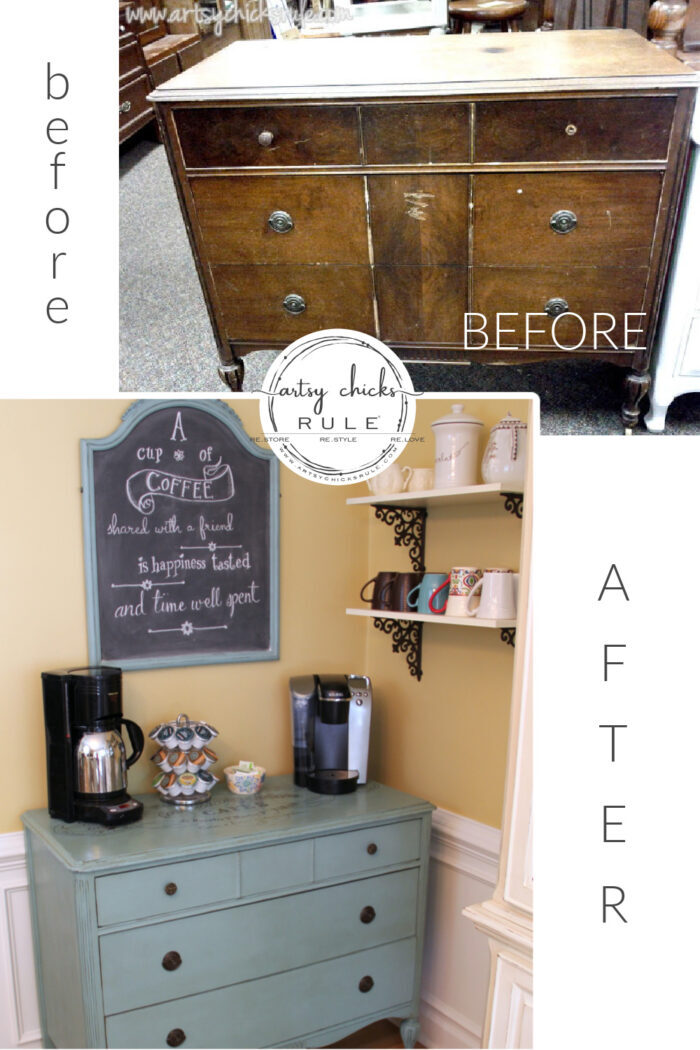 Hello, my sweet friends!
Today, I'm taking you back, way back, for Throwback Thursday!
Remember this old antique (beat up!) dresser I turned into a coffee server for my home years ago?
I loved it and it got lots and lots of use. It was the very first dresser I turned into a "coffee server".
I've since done another one, you can see it here. It's similar but not all the way the same.
I sold this one to a sweet lady a few years ago. I hope she has enjoyed it as much as we did!
Coffee Server Station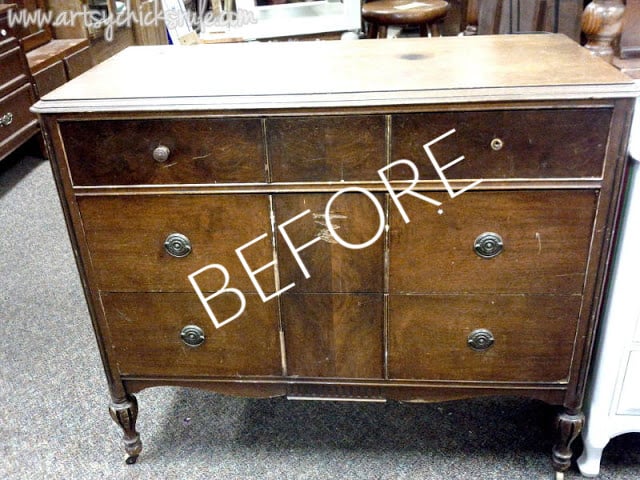 I adore older pieces like this and love it when I find them.
This one was in poor shape, however. Boo! I am not usually one to be deterred though. lol
A knob was missing and one wheel was missing, no biggie!
That's a bummer, really, but oh well. It works out that way sometimes. I could have replaced them but they wouldn't have been that "antique" look.
So they were removed.
There were also trim pieces broken and missing from the drawer fronts but I knew it could be beautiful, so home with me, it came.
The trim on the very top drawer was intact, so it stayed.
The trim from the bottom 2 drawers was broken with pieces missing.
So I took it off.
It pained me because I really wanted to keep it.
I could have made pieces that matched instead. But at the time I made over this dresser, I hadn't done it yet. Not sure what I'm talking about?
Check out this post, here … "How To Make Missing Molding"
OR this post where it all began…that time a made a missing handle. "Missing Hardware? Here's a Fix"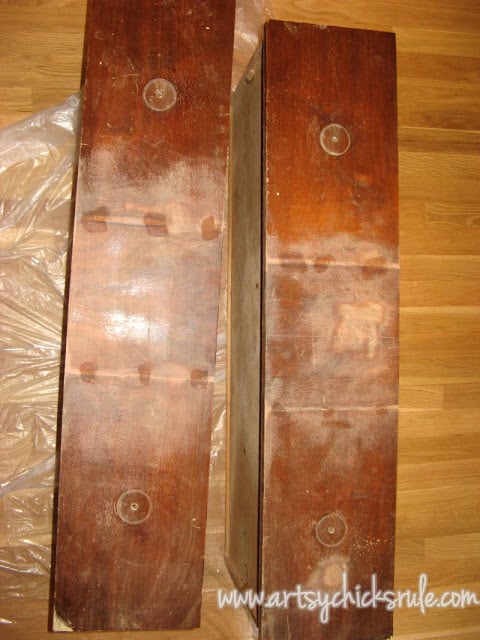 I chose to paint it with Chalk Paint. I used a LOT of Chalk Paint at the time. This was something I mixed up "custom".
If you like the color, here is a color that is very similar. >>> French Eggshell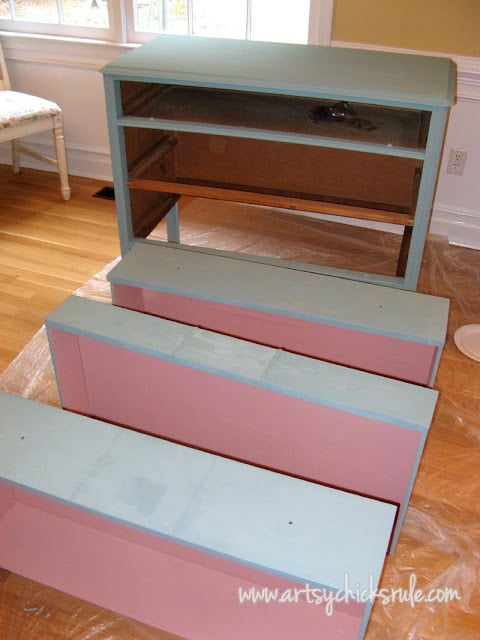 Want to see it painted on something?? Check out this post, here.
I used Scandinavian Pink (you can try this color instead) for the insides of the drawers. Isn't that just the greatest color combo??
And since I was going to be using the drawers for coffee mugs, filters, and such, I sealed the inside of the drawer paint with poly instead of wax.
You could also seal it with this.
Want to know about 26 other chalk style paints?
I've got the low down for you right here! >>> 26 Types of Chalk Style Paint For Furniture
I knew I wanted to do more than paint …so decided to add some graphics on to the top of this piece.
And since it was going to be used as a "Coffee Server" I wanted it to say "Chocolate or Cafe" or something along those lines.
I couldn't find exactly what I wanted so I used parts from 3 different graphics and transferred what I wanted from each.
I found them here… The Graphics Fairy. She has a bunch of really beautiful graphics.
I love to just sit and scroll through them all. I used to use them all the time back in the "early days".
There are several different ways to transfer graphics to furniture.
I chose to do the projector method below.
Well, that was after I saved the graphics to a flash drive, drove to OfficeMax, and had them make some transparencies for me.
Then I got busy!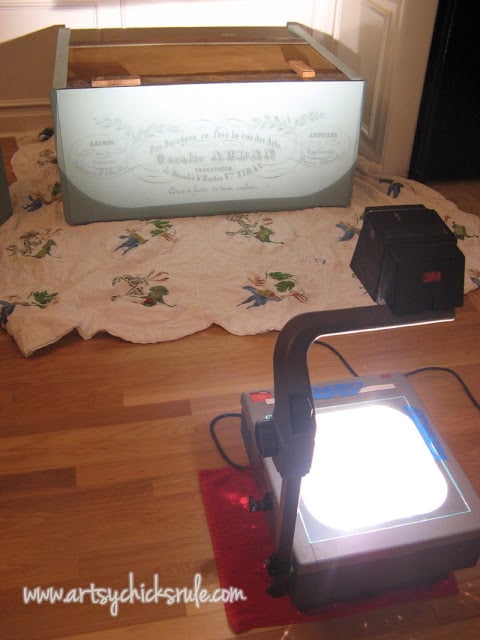 You simply project the image (from the transparency) onto the furniture, then you trace all the things you see.
It is a bit time-consuming but I find it very relaxing to do.
Here it is once I had drawn the graphic from the projector onto the top of the dresser.
I used watercolor pencils to transfer the image.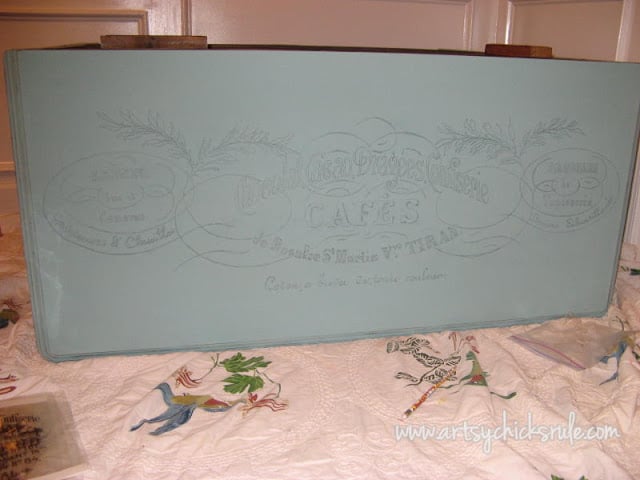 Isn't that cool?? It really is a great way to copy your things onto large pieces like this.
Then I hand painted in the wording as you see below…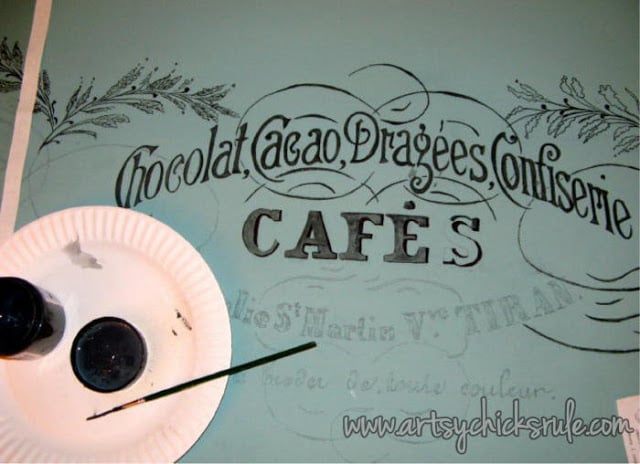 Black paint and my favorite type of paintbrush for lettering.
After I finished painting I used some fine sandpaper and distressed the lettering.
Not too much though!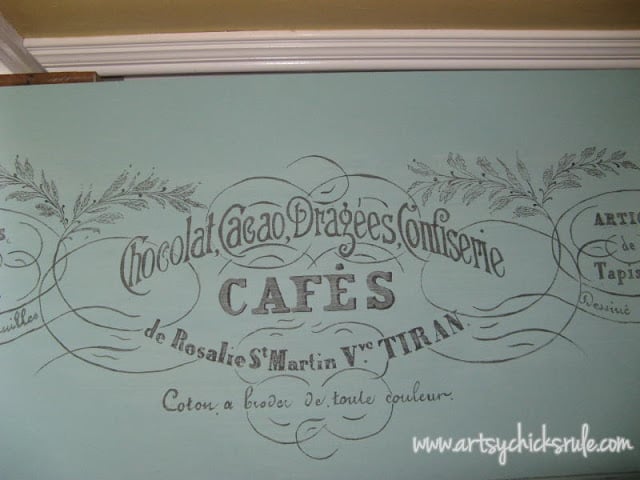 I distressed the entire dresser and finished up with a blend of clear and dark wax.
Mostly clear with just only a tiny bit of dark. A little of that goes a LONG way.
I did 3 coats of wax on the top since I was going to be using this as a Coffee Server station.
It has held up beautifully for the most part. I did sit a hot coffee mug down on it one time and it left a ring.
Bummer!
So, I don't really use that wax often anymore. I really, really, LOVE a wax finish but it has to be on the right piece and I definitely do not recommend it for table tops that will get a lot of use. (or kitchen cabinets…nope)
I still love my lustrous wax finish, and wouldn't change a thing, on these two pieces! Here and here.
My K-Cups, coffee filters, and such were in the top drawer.
Mugs are in the second drawer and travel mugs are in the third.
Perfect!
And the second drawer…

I no longer use a Kuerig. Oy! I went through 2 of those things and finally got this type instead and love it!
I've had it for years. Wait, I actually switched to this one next and realized we never really used the big pot so went to the single serve instead.
Love it…it's great for coffee and tea.
Here are a few close-ups…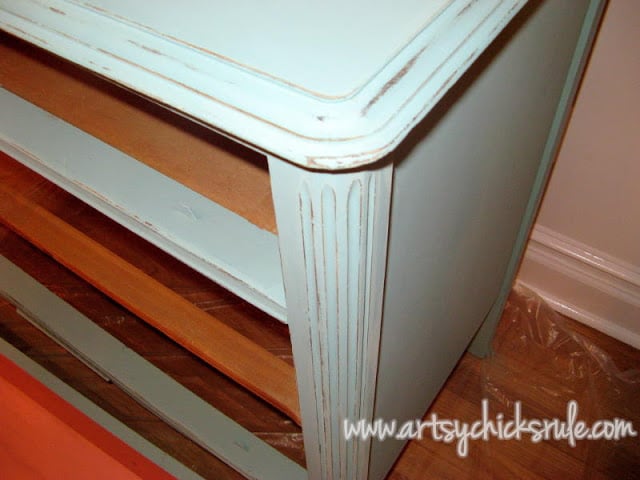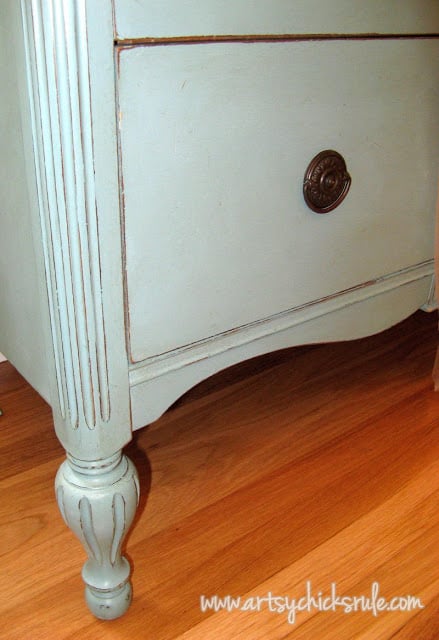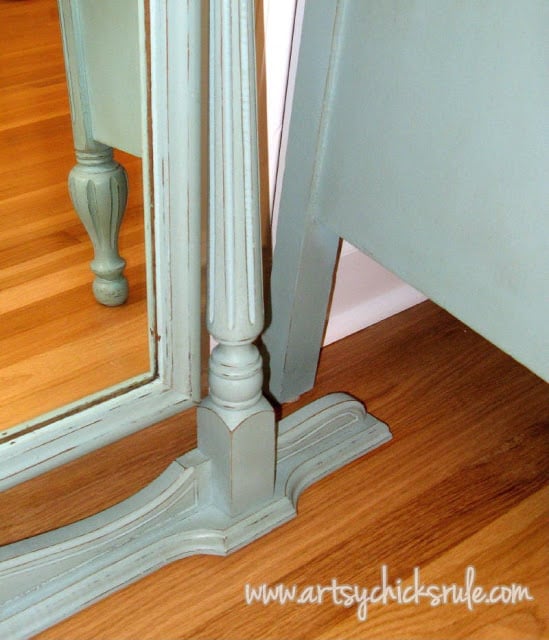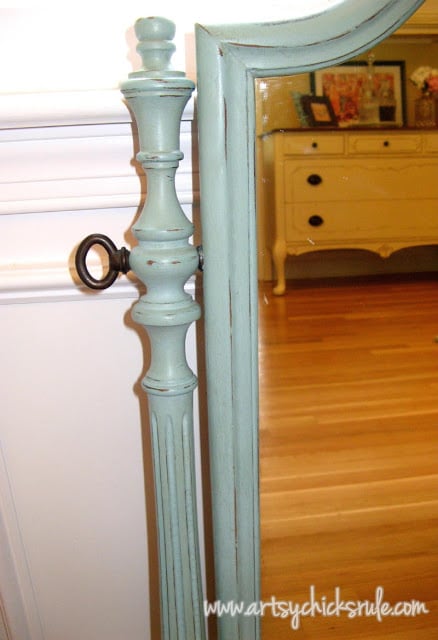 I just love all the details, those edges.
I liked the mirror but my husband thought it looked a little too "dresser-ish" for the dining room.
He suggested the chalkboard. I love it!
I used Chalk Paint to create the chalkboard. I did that a lot back then, it actually works great.
All finished chalkboard and all.
Look at the gorgeous shine on that waxed top.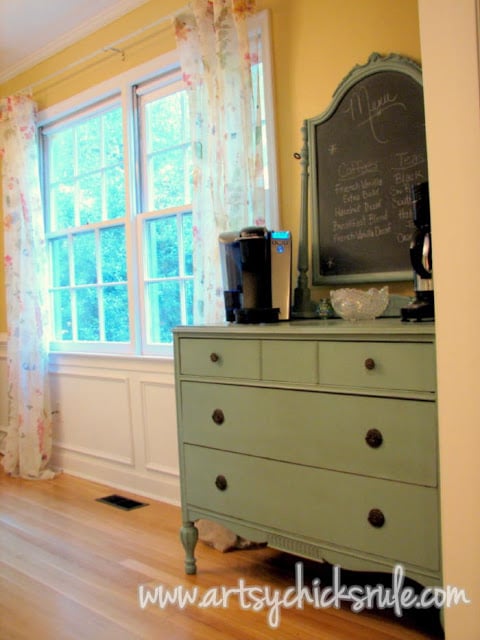 See what I mean? A wax finish is really beautiful even if it is not the most practical thing sometimes.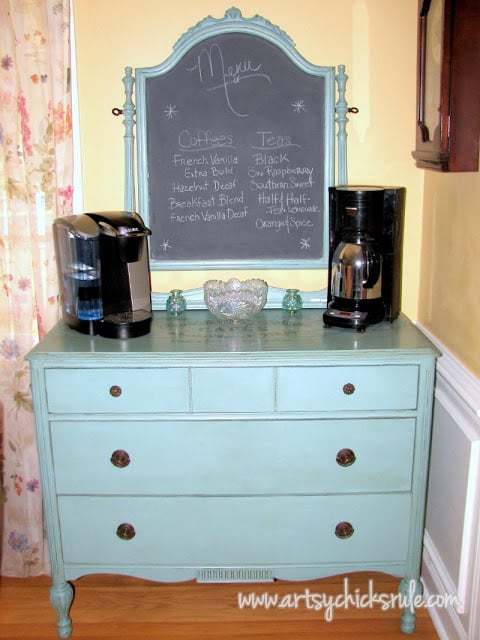 A little later I created this chalk art for it.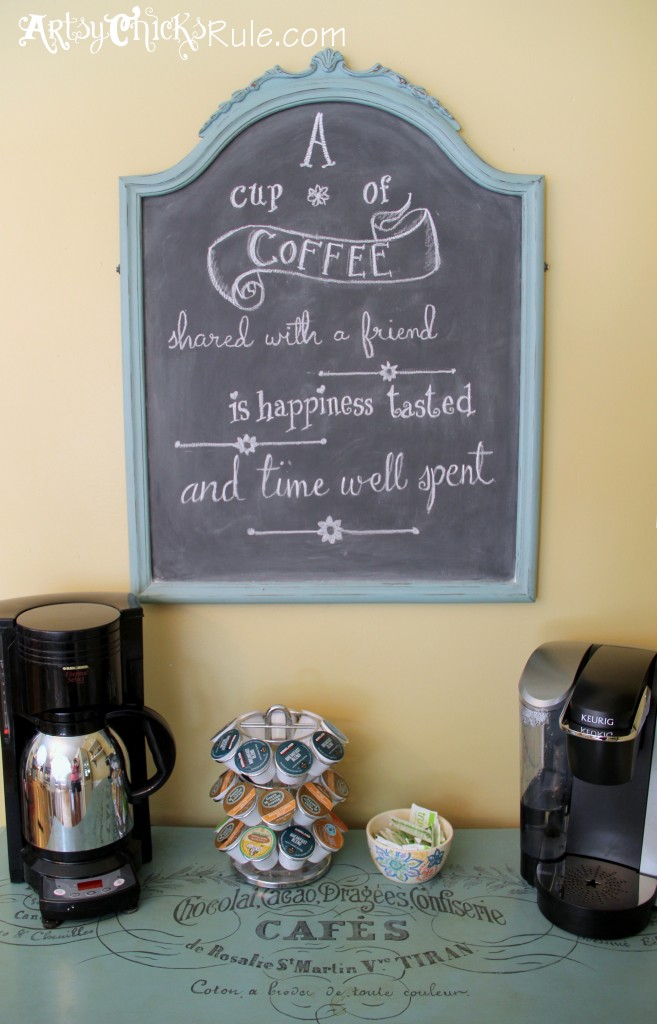 A dresser in my dining room- turned coffee server station. Why not?!
PIN it to save it!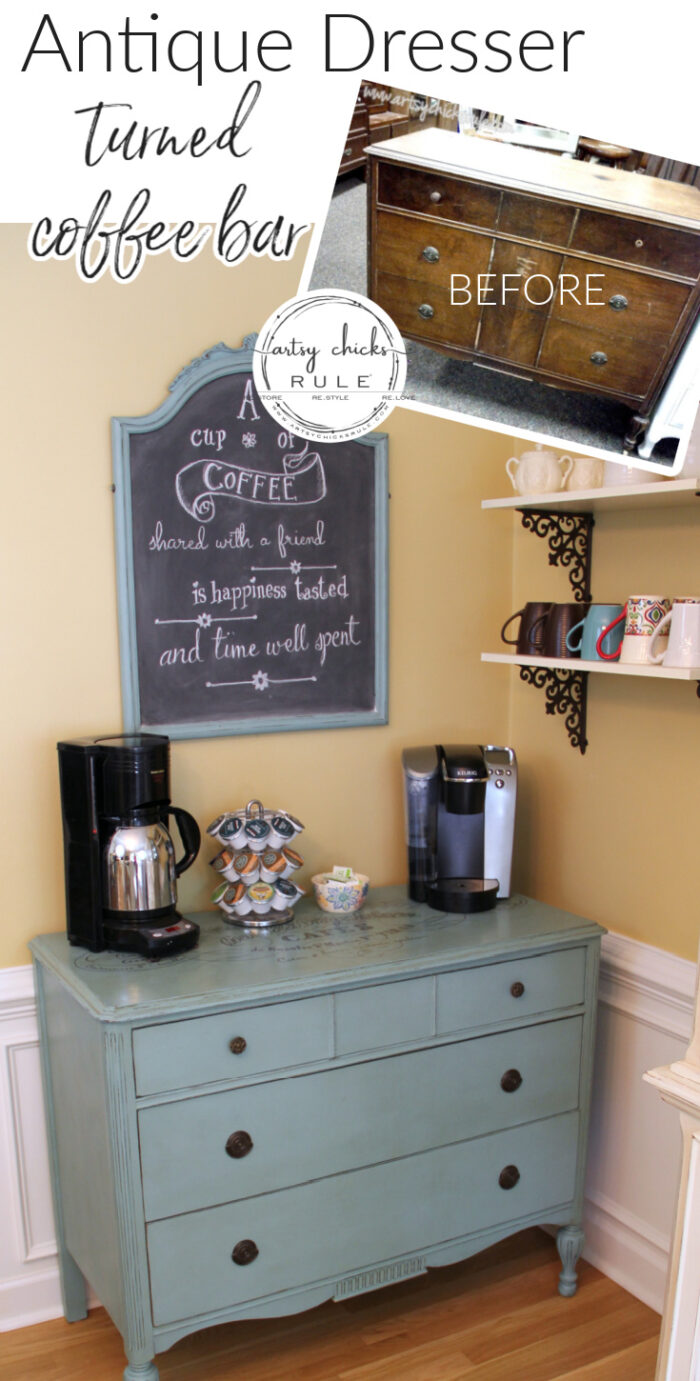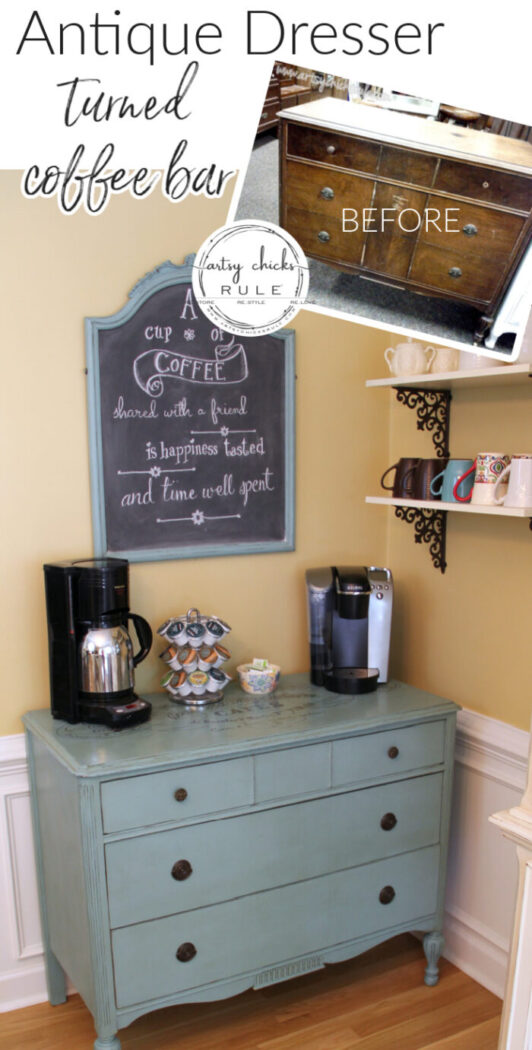 I have always loved using furniture in new and interesting ways, and not always for its intended purpose.
Do you have repurposed furniture in your home too? I'd love to hear about it!
Have a wonderful weekend! Is it feeling like fall where you are at yet??
xo