How To Make Missing Molding (it's easier than you think!)
This post may contain affiliate links. Please see disclosures here.
Ever wonder how to make missing molding? It's so much easier than you think to repair and replace moldings (and even hardware) on old furniture pieces.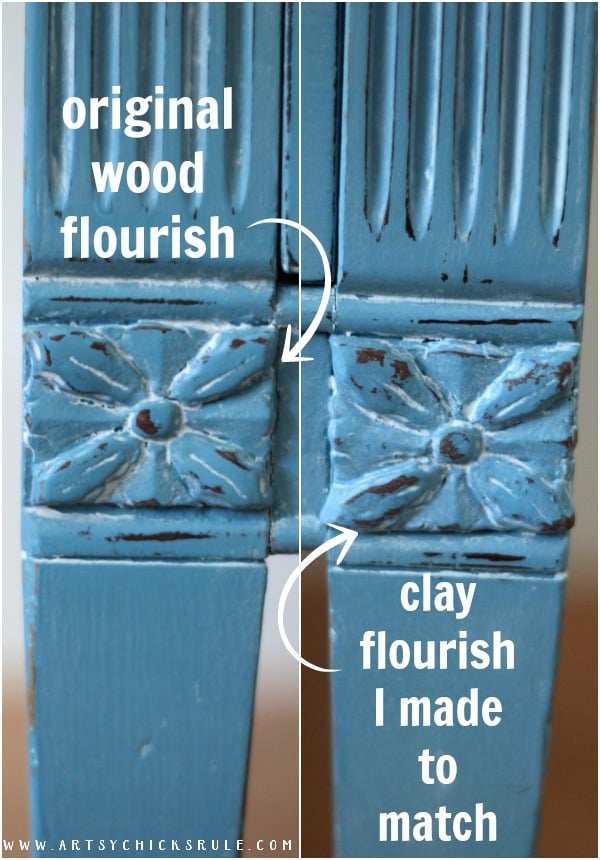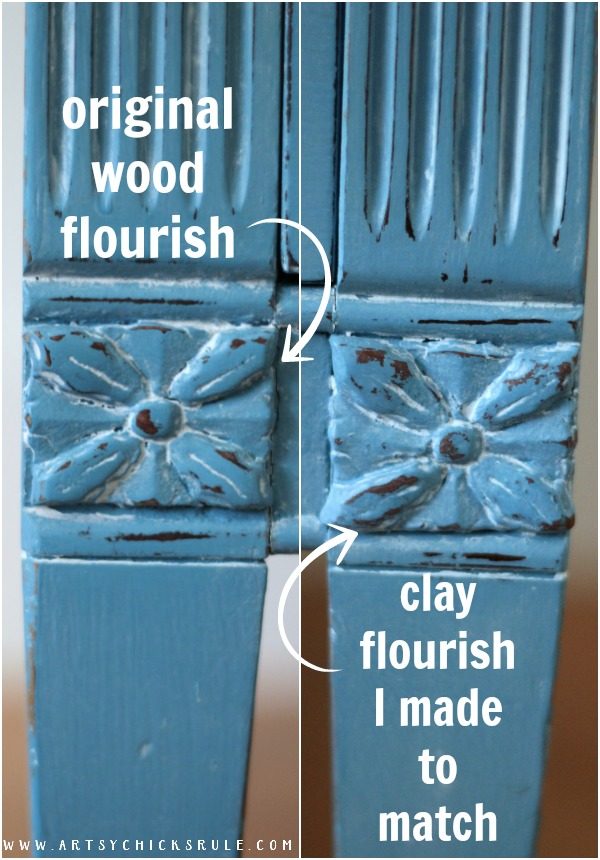 I love finding old furniture and making it beautiful again.
It's truly one of my favorite things to do. Sadly, some pieces are in not great shape when found.
Some have wonky drawers (lots of times!) and some have missing veneer, missing hardware….and even missing wood flourishes and molding.
I will sometimes pass up a piece if it's missing too much or if too much work will be involved in fixing it….unless I've fallen in love with it as I did with this one…
>>> "Teal and Red Writing Desk"
It truly was a labor of love! Take a look at the link above and you will see what I mean.
But I am so glad I didn't pass this one by.
Or how about this old beat-up dresser that was missing a handle?
>>> "Aubusson Blue, Dresser Re-do"
I didn't let that stop me, I just made one to match! See it >>> here.
Those are just a couple of examples of what I mean. As I type this, I have two dressers in my storage shed that need some love.
The drawers are very wonky on both of them. They are gorgeous old dressers though and obviously, I couldn't pass them up!
Today I'm going to share how to make missing molding.
Remember this pretty chest I recently gave a makeover to?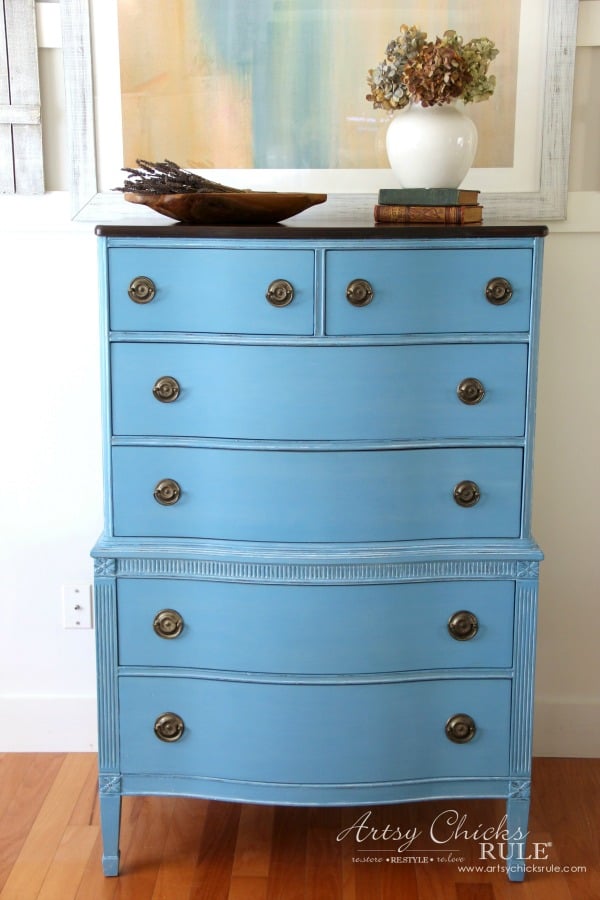 You can see the whole makeover here >>> "Giverny Chalk Paint Chest Makeover"
You might also remember that it was missing a little piece of molding, a flourish here…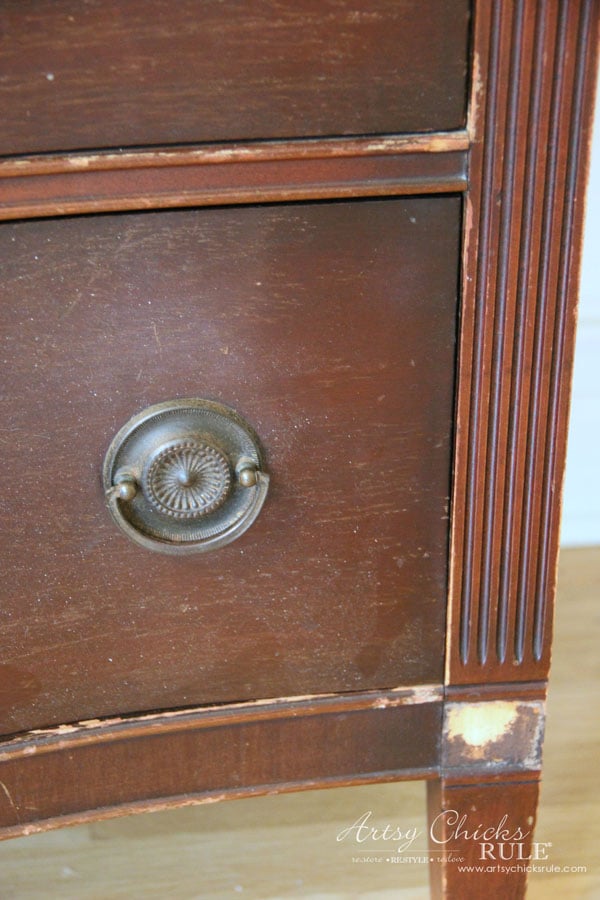 I showed you guys in that post how I made a piece to match…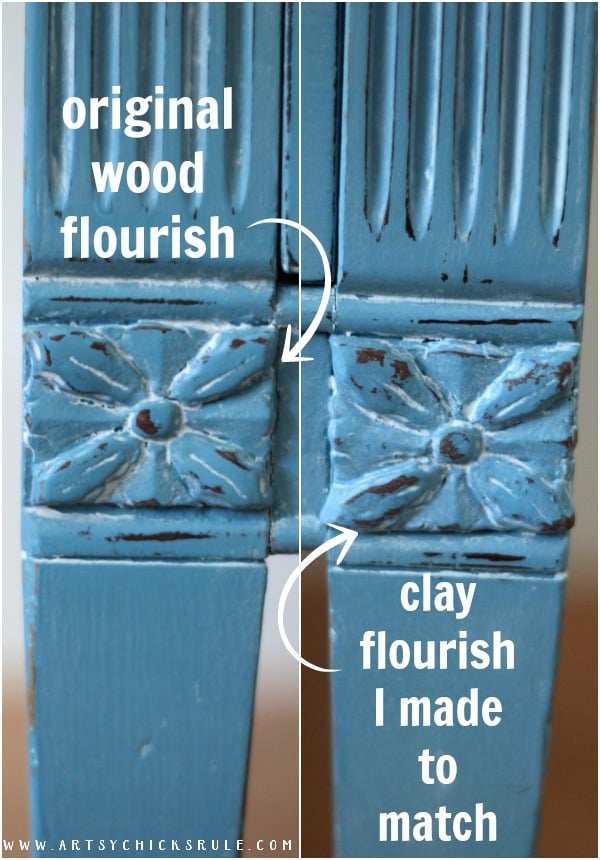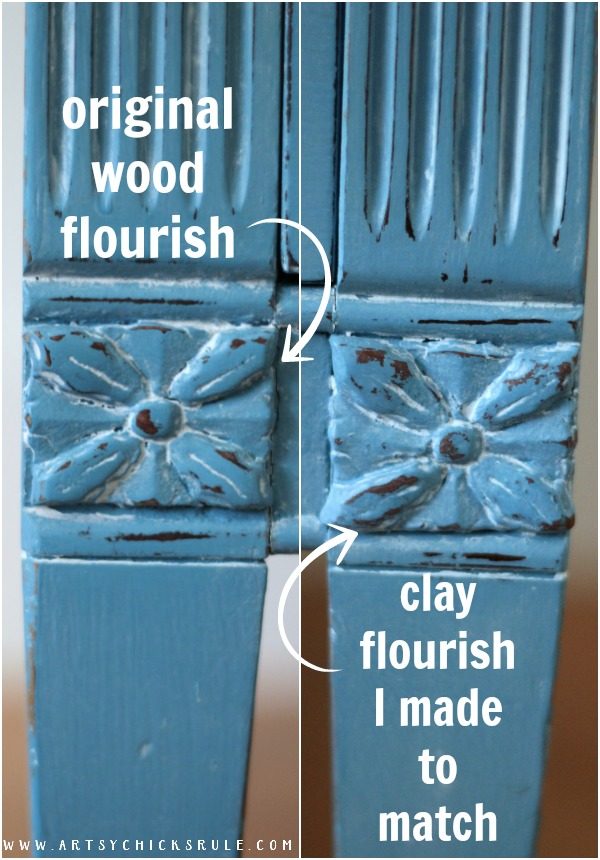 ….well now I'm back with all the details.
It's easier than you think to make missing molding.
It's easy peasy. Really.
Here's how to make missing molding…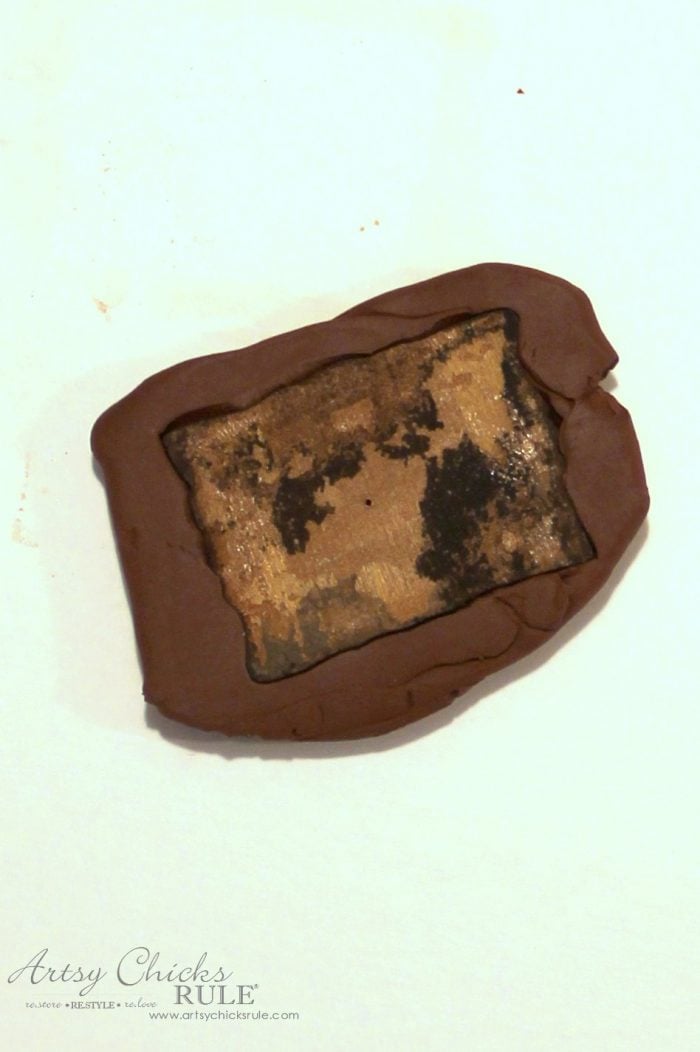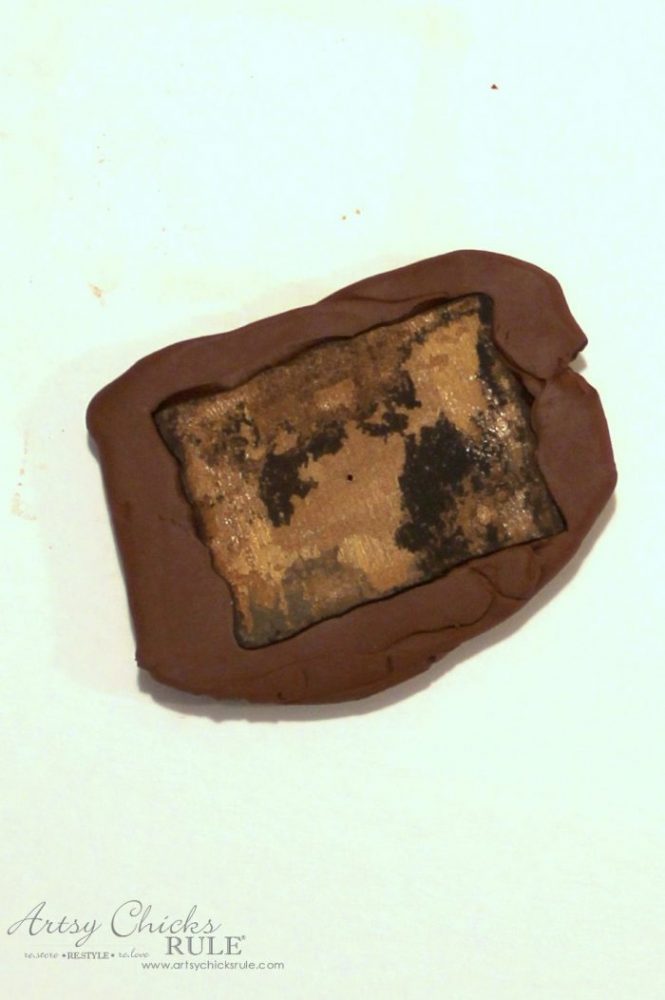 I used the same clay to make this mold as the handle in the dresser I linked at the beginning of this post.
You can find it here >>> Clay
First, warm up the clay in your hands by kneading it for a minute or two.
Then roll it into a ball and spread it out to the size you need.
Rub some corn starch or powder over the piece that you are making a mold from so it won't stick.
In my case, I removed one of the other flourishes to make the mold.
Press firmly, and evenly, down into the clay.
Gently remove the wood flourish from the clay.
Next, lay the clay mold you made onto a pan and bake it as specified on the package.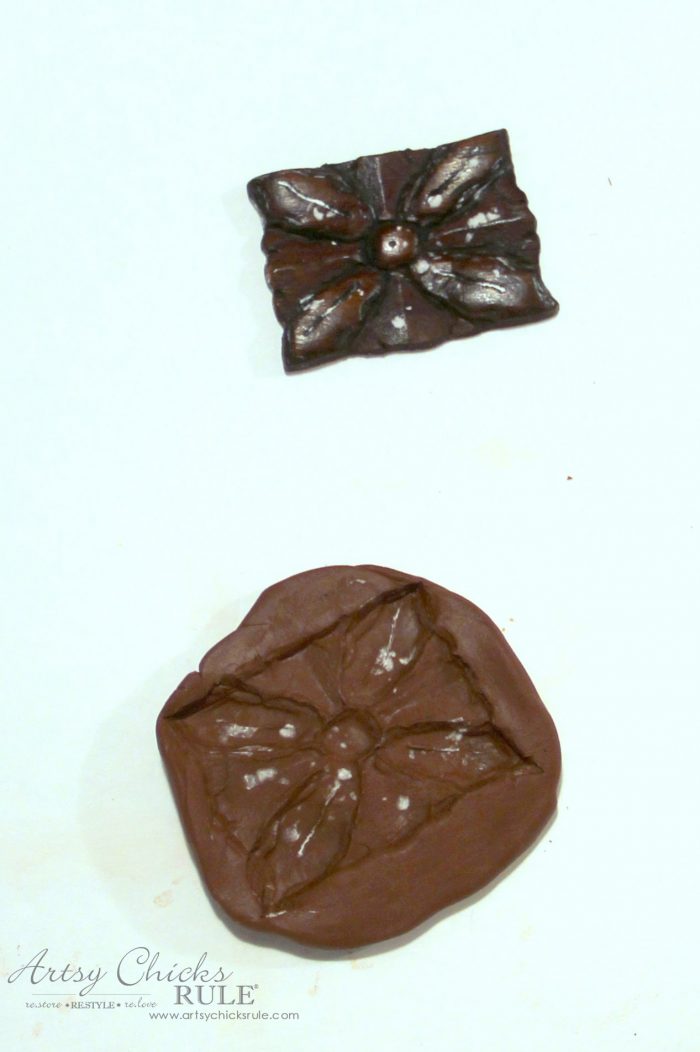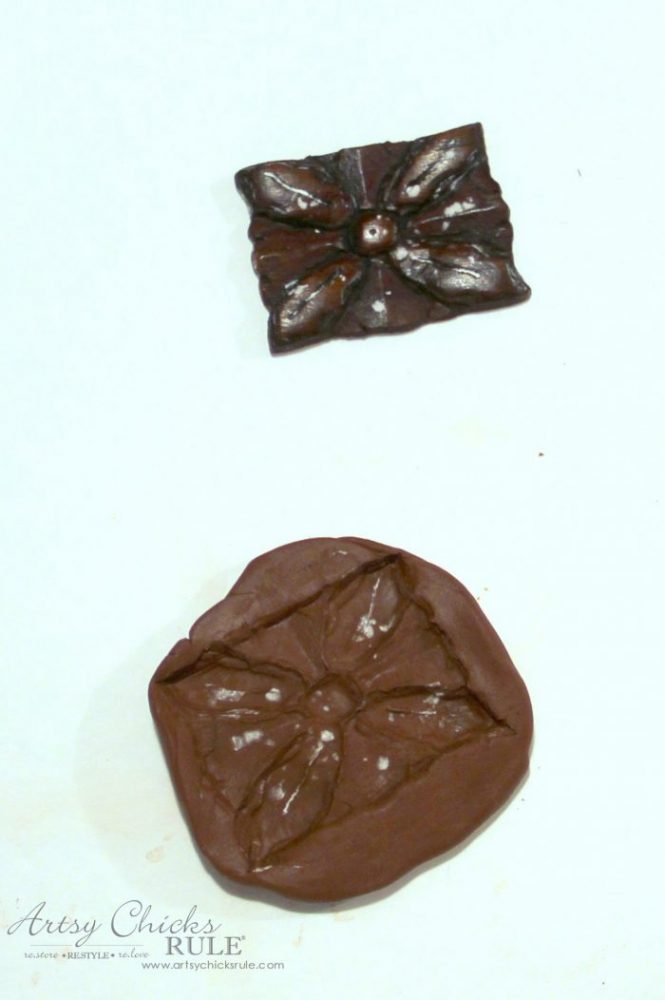 Once it has been baked, and cooled, take another piece of clay and firmly press it into the mold you have just created.
(also, dust it with a bit more corn starch or powder so your clay will remove easily)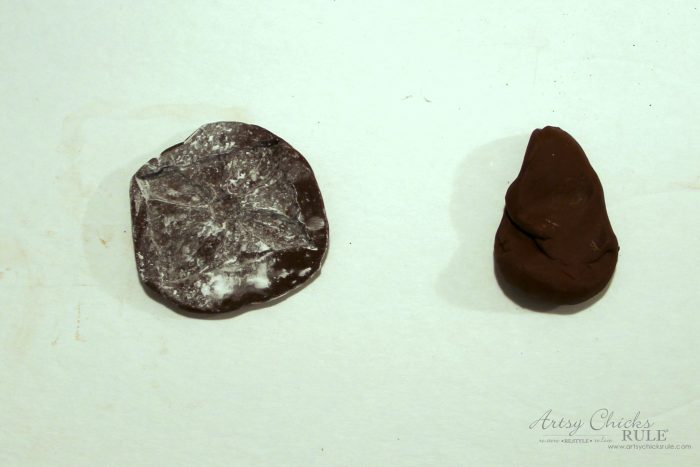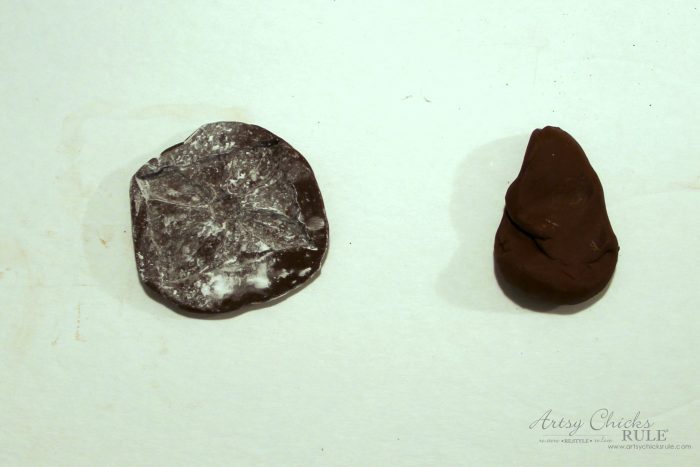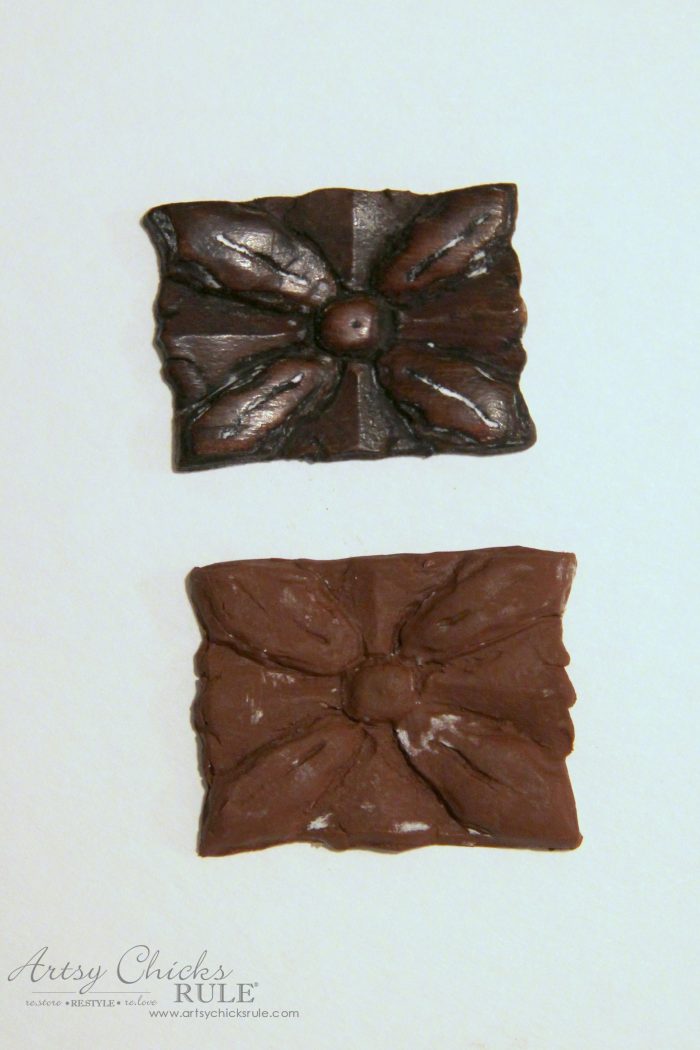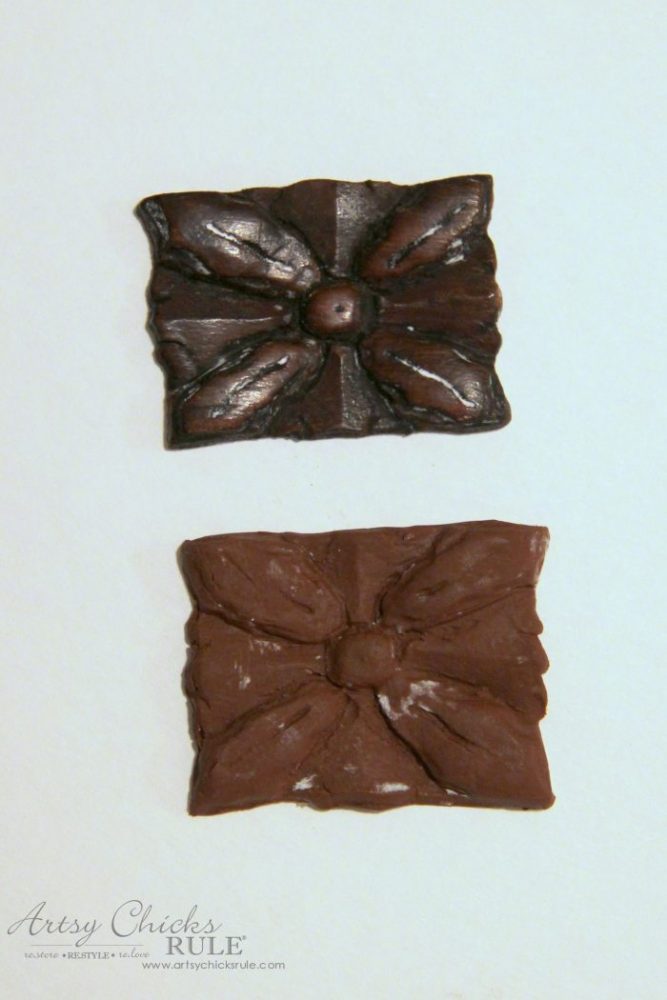 Very carefully remove it from the mold. If you mess it up or didn't get it all correctly, just smoosh it up and start again.
If you are happy with it, now is the time to fix any small imperfections.
Such as, removing any straggling pieces from the outside or anything else that doesn't look right.
Once it's baked it will be harder to fix.
Bake this piece like you did the mold.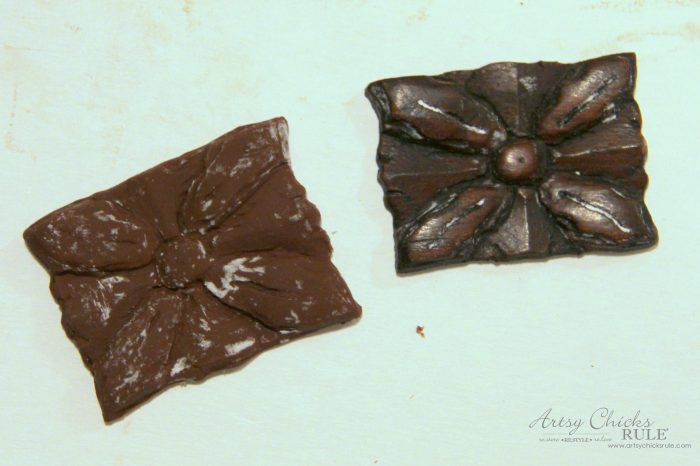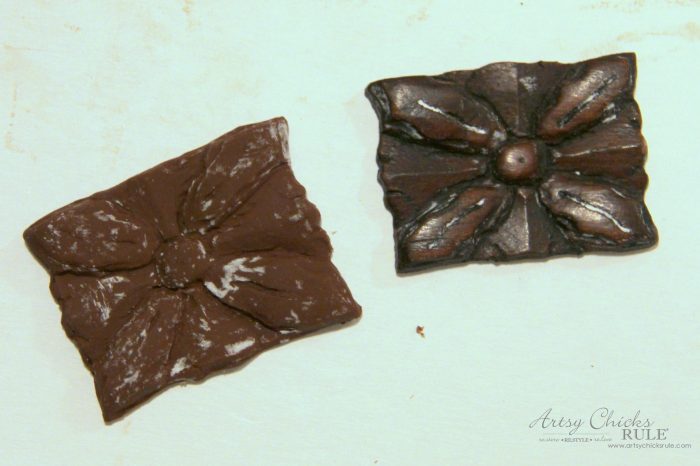 Once it's done and cooled you can apply it to your furniture piece.
I glued mine in place as you see below…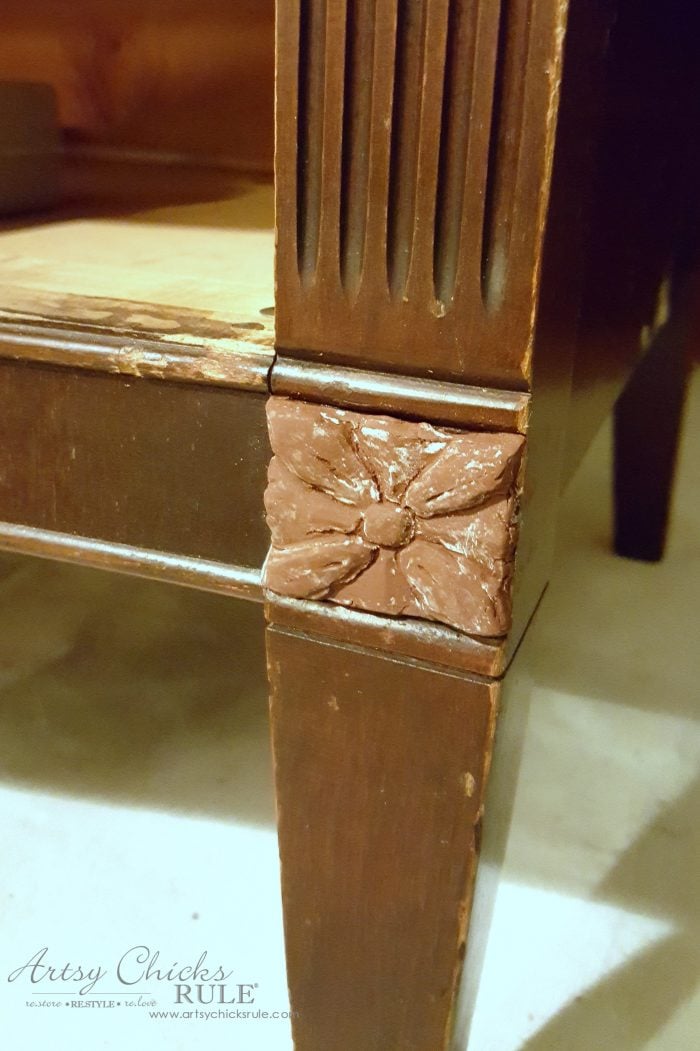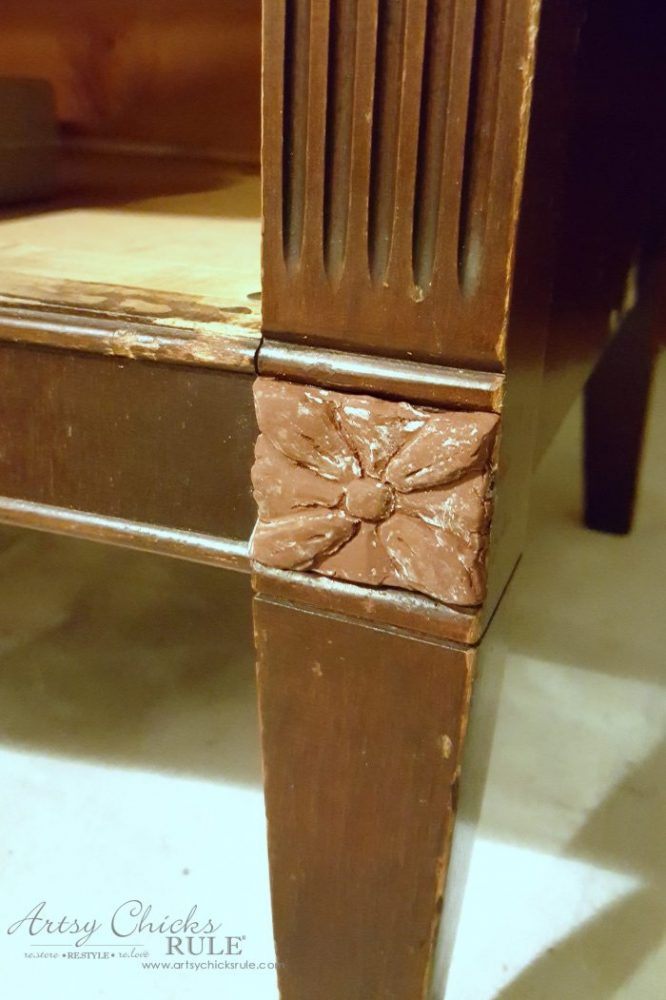 Isn't that the coolest?
I used brown clay because I knew I'd be lightly distressing and wanted "brown" to show through.
If for some reason I didn't have brown clay, however, I could have given it a coat or two of brown paint before painting it blue.
Nothing stopping me! ;)
So, yep, that is pretty much it.
I told you, easy peasy and I wasn't kidding one bit.
See the brown "wood" showing through the paint below?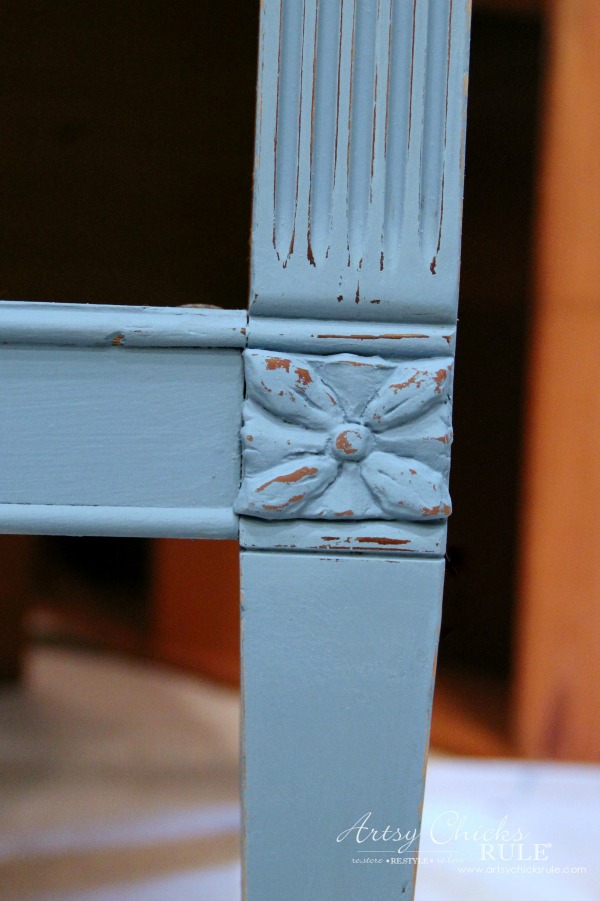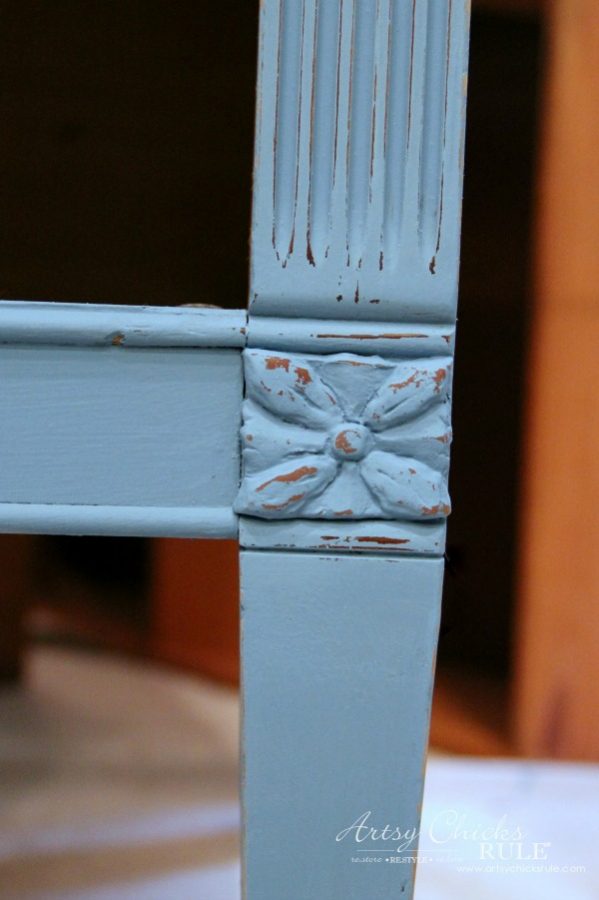 Who would even know that was not the "original"?
Not a soul! Unless you tell them….which of course you will want to, right?!
You are fabulous and innovative and you fixed this furniture in an amazing way.
Why not tell all?!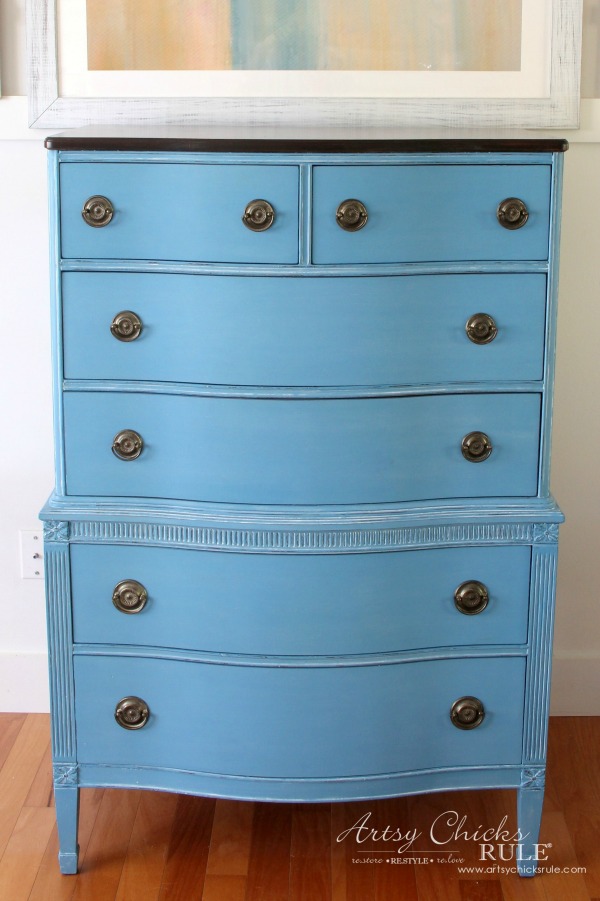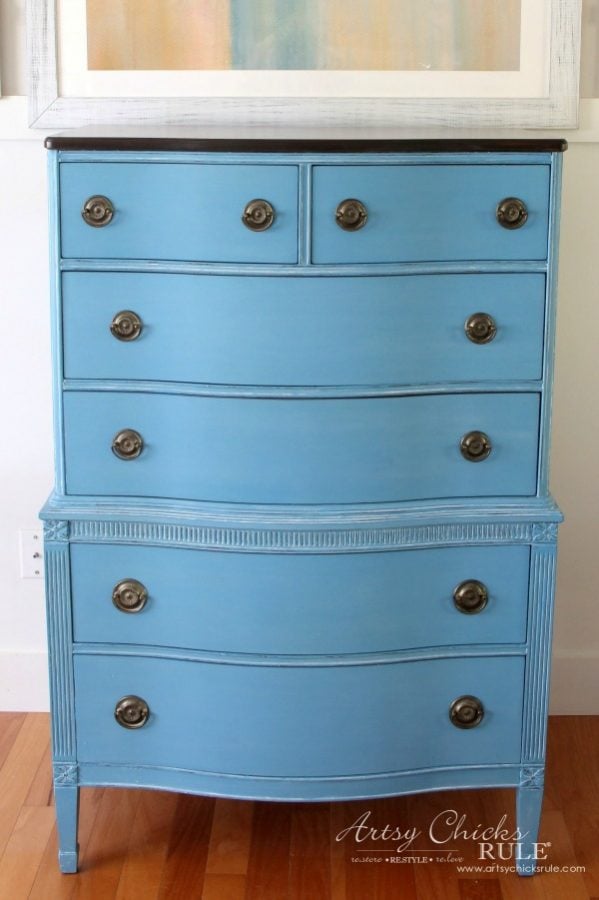 So, let's review, what do you do when you come across a fabulous furniture piece that's missing molding??
Or hey, how about one that's even missing a handle?
You bring it home with you because you've got this!
PIN this for later so you can make missing molding too.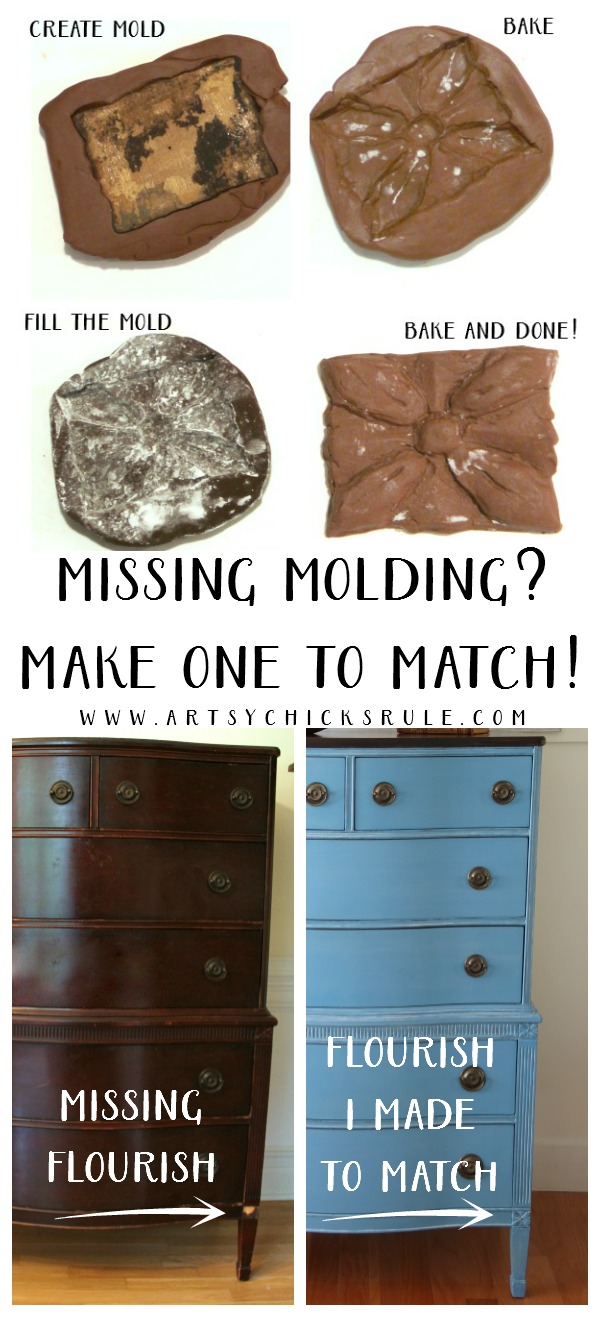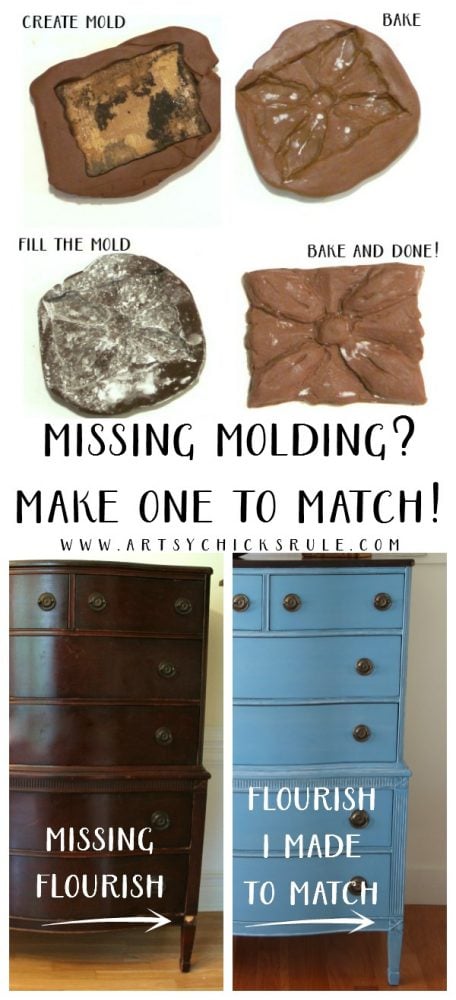 I've got some fun makeovers coming up. I went thrift store shopping for the first time in a long while last week.
I didn't find too much furniture….in the 11 stores I visited! But I did find one special little piece plus some small decor items I'm excited about.
Can't wait to get started on them and share them with you all.
In the meantime, you might also like this little goodie of a makeover…. (it also had some molding issues but I decided to do something completely opposite of what I showed you here in this post)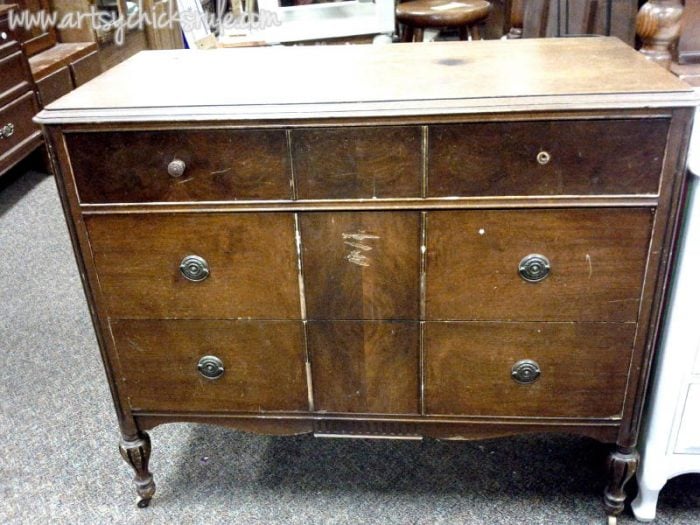 See it here >>> "Lovely Dresser Turned Coffee Server"
xoxo