DIY Design Tips for Using Flooring in Unique Ways
This post may contain affiliate links. Please see disclosures here.
This is a sponsored post written by me on behalf of Flooring America. All opinions are 100% my own.
If you guys have been around this blog any length of time, you know how I love to "repurpose" and use things in non typical ways.
For example, using a drop cloth as a tufted cushion on my coffee table?
Or how about when I removed that tufted top and used some old flooring we had leftover as the table top?
I also used flooring in one of my most recent projects when I created some coastal wall art out of old framed prints.
I love the visual appeal, texture and warmth the flooring was able to give these projects.
And I just love the visual appeal, texture and warmth of wood flooring in general!
Have you ever considered using flooring in a new and different way? You know, besides the usual…on the floor?
I'd love to hear about it!
I've shared my ideas and now the folks over at FlooringAmerica.com have a few other awesome DIY design tips and ideas.
And since I also love to use flooring in a unique way, I thought I'd share them with you all here.
DESIGN TIP #1
Below is an example of a chevron pattern on a wall that adds a nice artistic touch to the room.
No need to layer additional artwork over top of it. Don't you agree?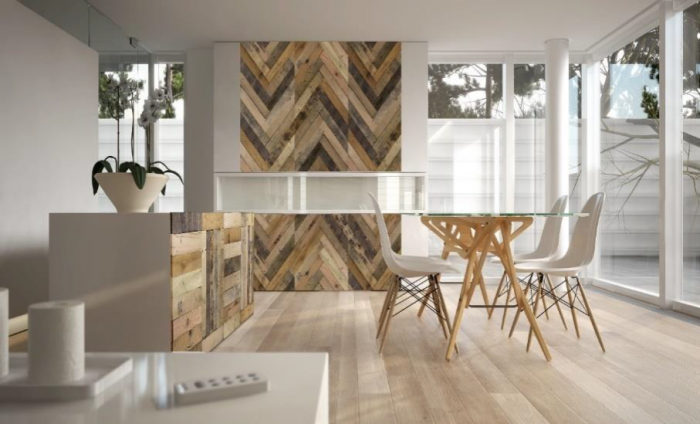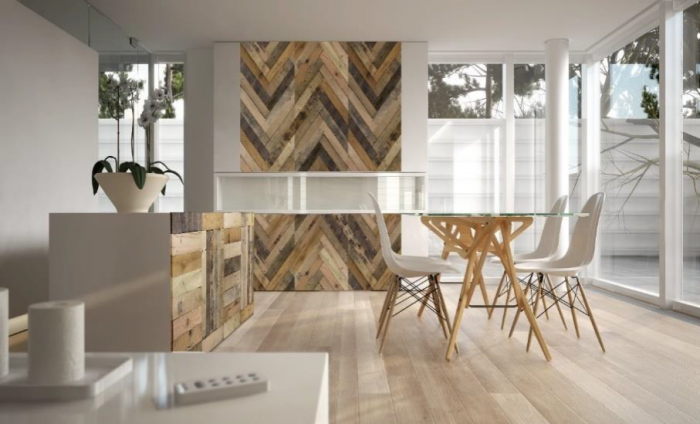 Want a high end look? Consider adding a contrasting wood color onto a wall in your dining or family room.
One step further, create a visually appealing look with an interesting pattern or opposing wood colors.
This is a fun and beautiful way to add an elegant design look with something you are already using in your home.
Another example of adding a visually appealing wall to a space, this time on the diagonal.
I love this one! Which is your favorite?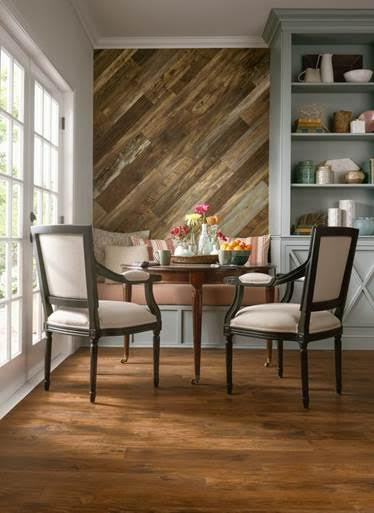 The rustic wood wall creates a space that feels warm and inviting.
DESIGN TIP #2
How about using wood flooring to create a custom headboard? This can add height and warmth to any bedroom.
I love this idea and have seen it done many times. It's a wonderful way to add interest to your space.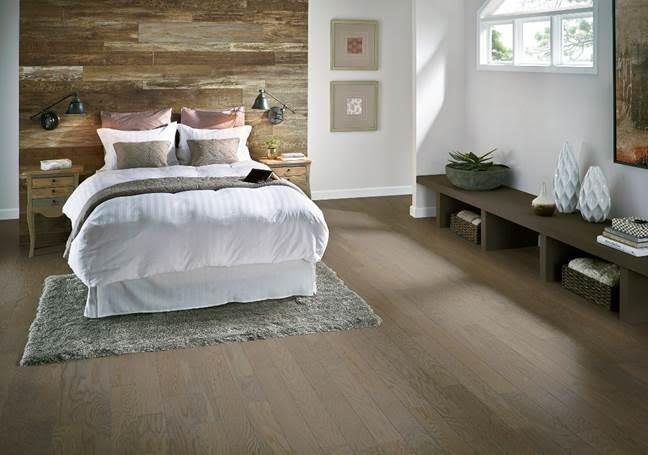 Create warmth and add texture to your room.
Designing a wall with wood flooring as a backdrop to the bed creates a "headboard" that is not only unique, but visually appealing.
The design choices are endless. Colors, textures, rustic or modern and more.
DESIGN TIP #3
Not only is using flooring on a wall visually appealing, it also offers some protection to the space.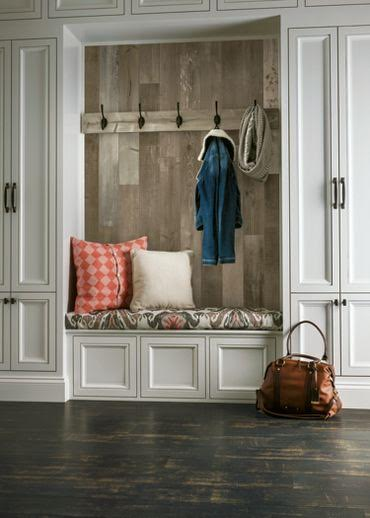 Multi use spaces, such as a mudroom, can see their fair share of wear and tear.
Using flooring as a backdrop, for a built in hall tree, for example, creates a space that not only looks good but can also take a beating.
As you can see, there are a multitude of ideas for using flooring in fun and unique ways.
With the options in color, texture and design, the possibilities are truly endless.
And again, it's a great way to create warmth, add texture and give interest to any room.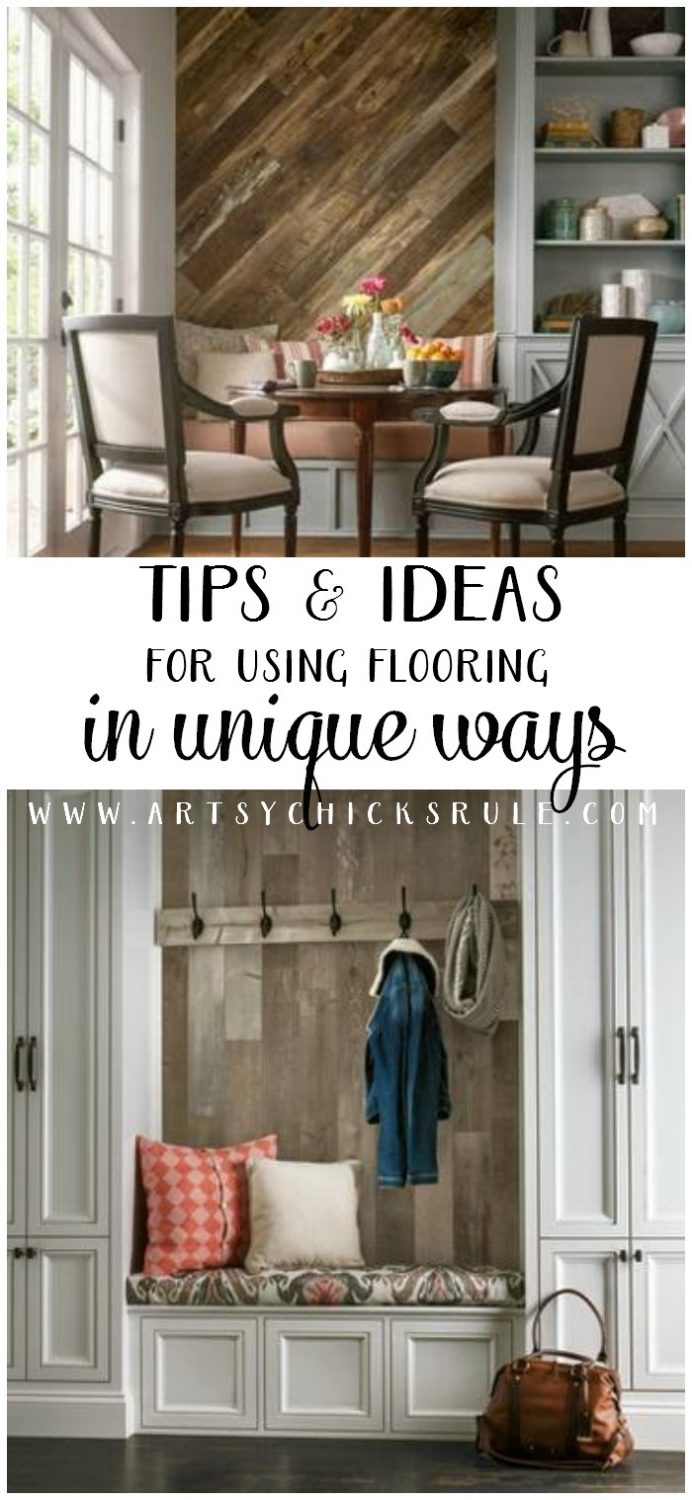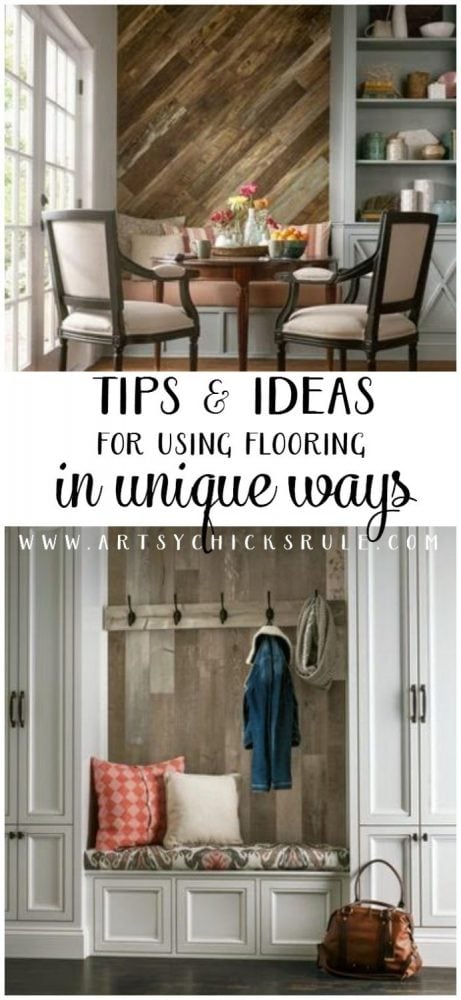 I hope this has inspired you to think a little outside of the box within your own home.
Hop on by FlooringAmerica.com and see what they have to offer.
Because whatever your design needs may be, it's clear that wood is no longer just for floors—so have fun with it! :)
xoxo