Aubusson Blue Chalk Paint Dresser (makeover, again!)
This post may contain affiliate links. Please see disclosures here.
An old thrifty find, turned Aubusson Blue Chalk Paint dresser, finds itself with yet another transformation!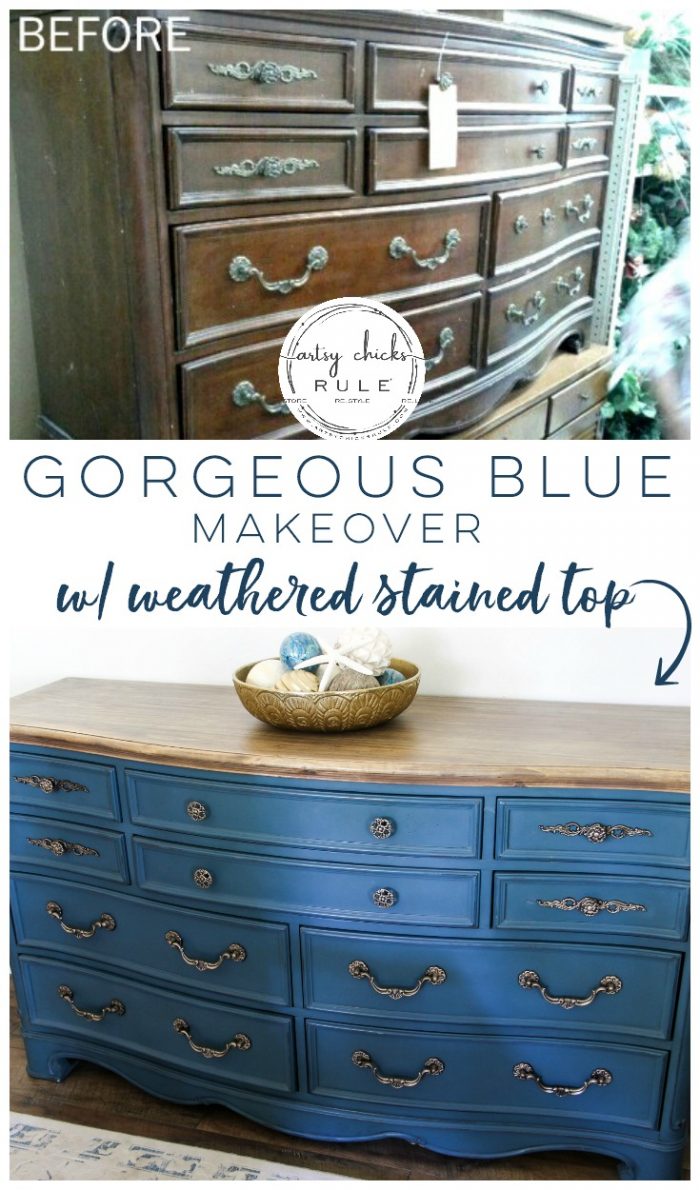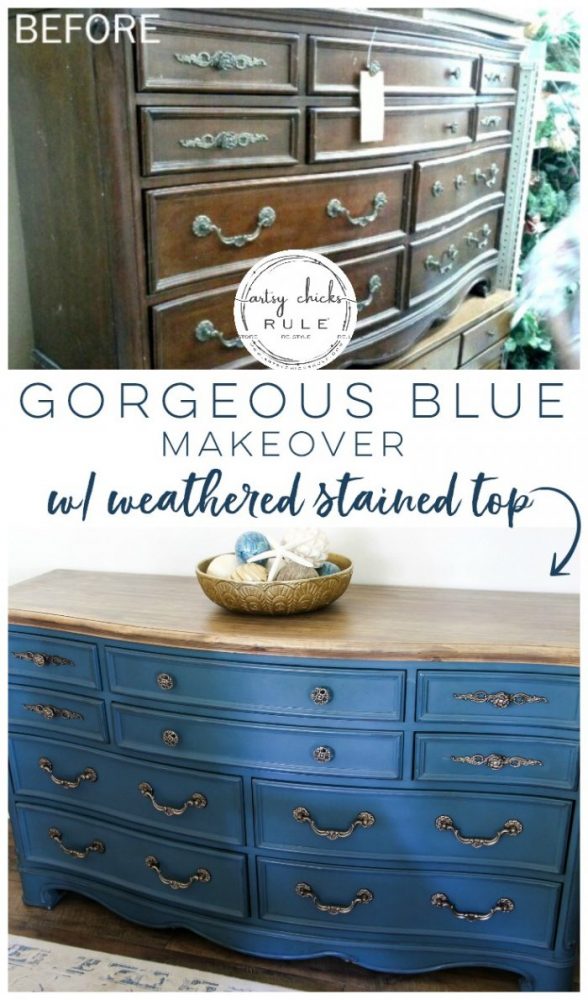 This sweet little dresser of mine sure has seen some changes!
Not only in the decor around it but also the very dresser itself.
As you know by now, not only are we doing a big renovation in our home at the moment, I am also doing a big ole "renovation" with our decor, too!
If you missed the brand new "morning room" I shared last week, you can catch it right here >>> "Morning Room Reveal".
And as you might have guessed, that did away with our dining room.
We must have a dining room, so no worries there! We have one.
What we didn't have to have down here, was a study. So we did away with that!
I have plans to give my office (an upstairs spare bedroom) a full makeover at some point and will probably add a little space for my hubby to work in when he works from home. If that doesn't work out, we have another spare we can create for him. (that's what happens when you get old and your kids grow up and move out!)
Our old study is now our dining room. Yay! It's a great big space that was mostly wasted before.
Funnily enough, the very first thing it ever was designated for (to us anyway), was a dining room.
I changed it at some point to a study.
I'm not quite ready to reveal that but I can't wait to show you guys. :) Hopefully next week.
But in the meantime, I thought I'd share what I did to one of my all-time favorite makeovers, this Aubusson Blue Chalk Paint dresser. (<<< see the first makeover here)
I originally thought I'd move this dresser up to our bedroom and put something else in its place.
Maybe an actual sideboard or something. But I searched and searched and couldn't find anything I loved.
So I decided to give this a mini makeover to make it match the current decor and keep it down here instead.
And I am SO glad I did. I love the new look!
It started out looking like this when I found it at the thrift store (and I believe it was $35)…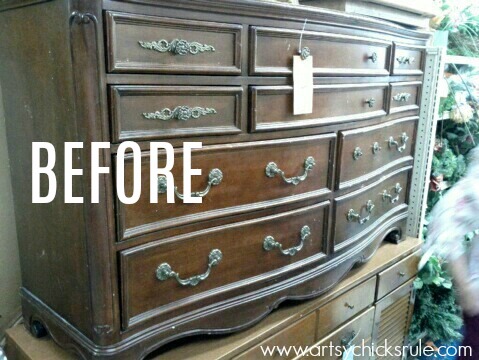 Sad and beat up and missing a handle. At the time, I couldn't find a match to this set anywhere so I actually made a handle to match instead of replacing them all.
You can read all about that adventure, here >>> "Missing Hardware, Here's a Fix"
I've since replaced the handle with a metal one as a sweet reader here pointed me to an exact match on eBay!
The original top (first makeover) was a dark walnut and it just didn't go with the new look I had created with our decor. One of the reasons I was going to move it to our bedroom.
So in order for it to stay down here, I knew I'd have to redo it a little.
I knew I wanted to lighten the top and give it a bit of a washed pale wood look. It didn't actually turn out how I envisioned but it's better than I planned!
I love how that happens sometimes.
Aubusson Blue Chalk Paint Dresser Makeover…..again.
I started by removing the finish with Citristrip. I love using that because I don't like the heavy-duty chemicals.
It usually works really well! And it worked well on this finish.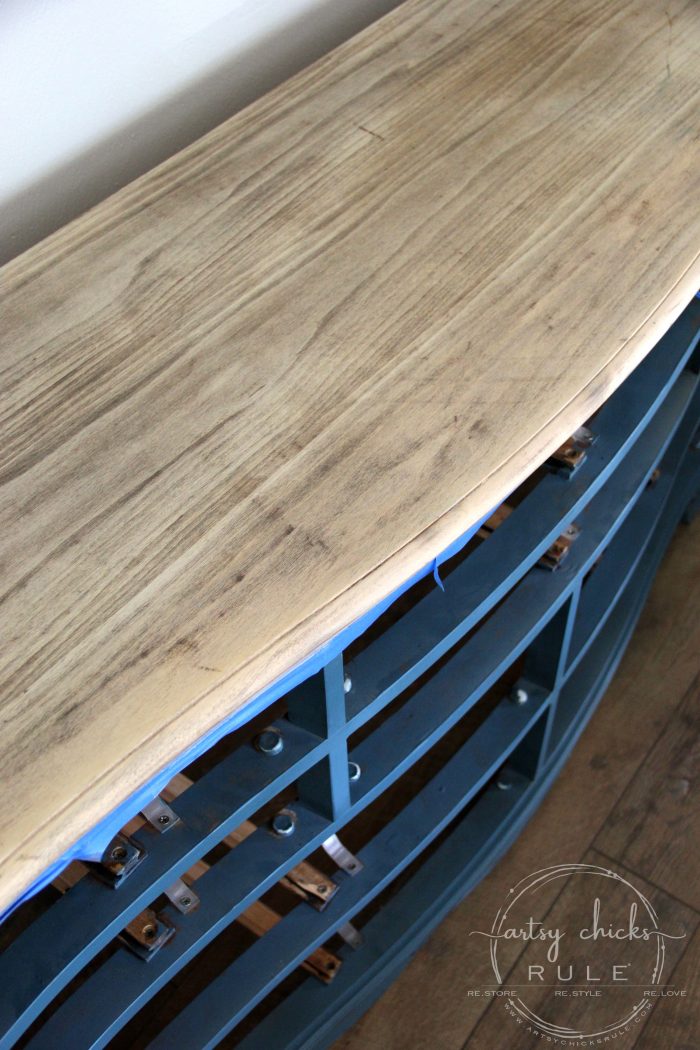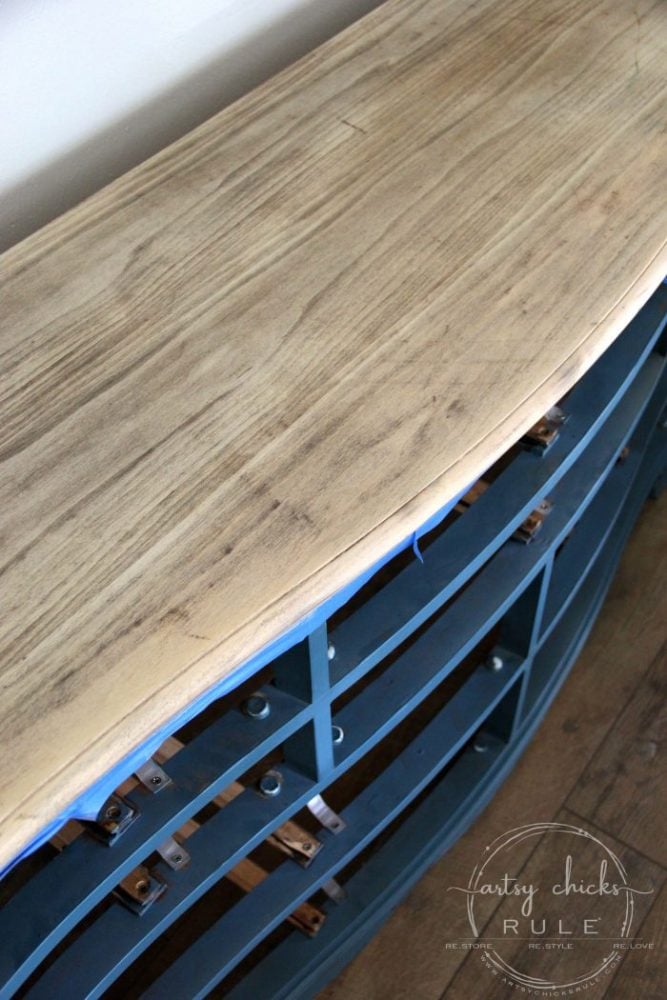 After that, I sanded it to remove more of the stain. Unfortunately, the top is a veneer (and I had already sanded it somewhat for the first makeover) so I had to stop before I could get all the stain out of the grain.
(as you can see above) I used the Citristrip and sanded it outside, by the way, and did the rest inside.
I was a little bummed that I could not get all of that dark out HOWEVER that is the happy little thing I hadn't envisioned that made the top so pretty.
It makes the wood grain really stand out and I just love that.
Want to see some of these projects in "live" time? Hop on over and follow along with me on INSTAGRAM. I'm always sharing in my stories as I'm doing projects, finding new furniture, fun finds….just all the day to day behind the scenes.
I used some pre-stain wood conditioner and then applied 2 coats of this stain.
I tried "weathered oak" first and you couldn't even tell, it was just too light. The gray one I ended up using gave it the perfect hint of color!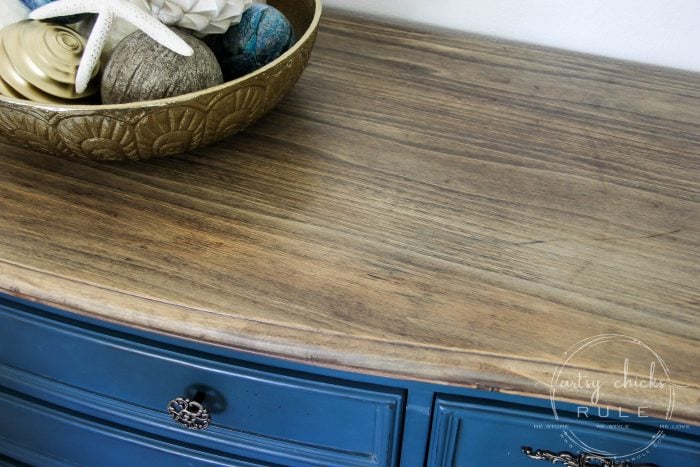 I let it sit for about 3 days and then used HP top coat, in Satin.
It's a water-based poly and I used an oil-based stain. It's totally fine to do this as long as you let the stain sit for several days before applying any water-based top coat. I've done it many times without any issues. But again, you have to let the solvents and such evaporate out of the stain you've applied before moving forward with the poly.
I mean, just look at that top now and that pretty wood grain…..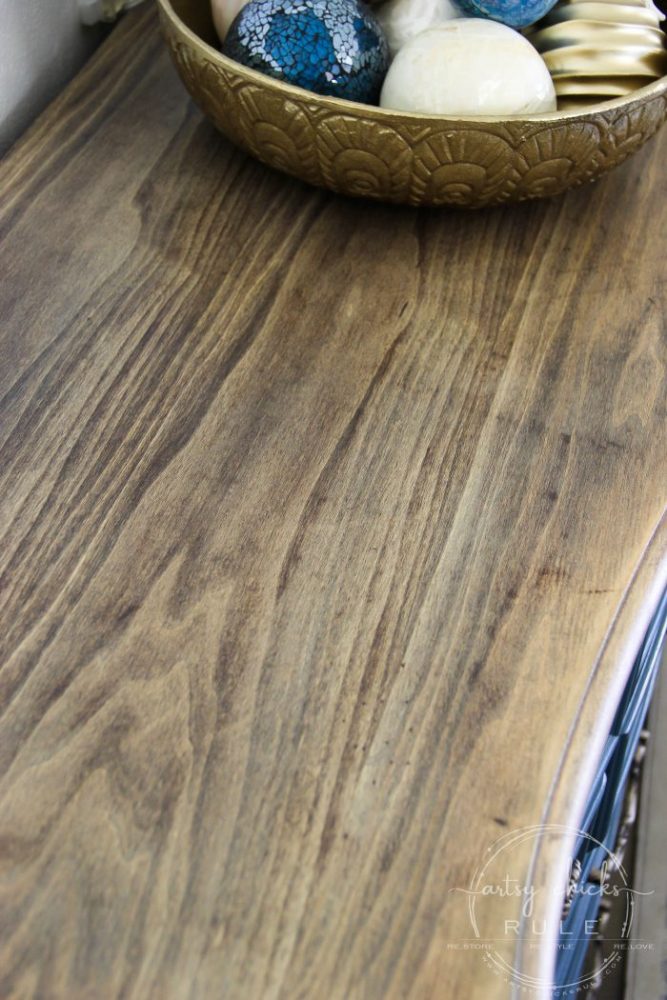 I really love it. I wasn't sure how I'd feel about it but it just goes so nicely in my new room….and with the Aubusson Blue, too, actually.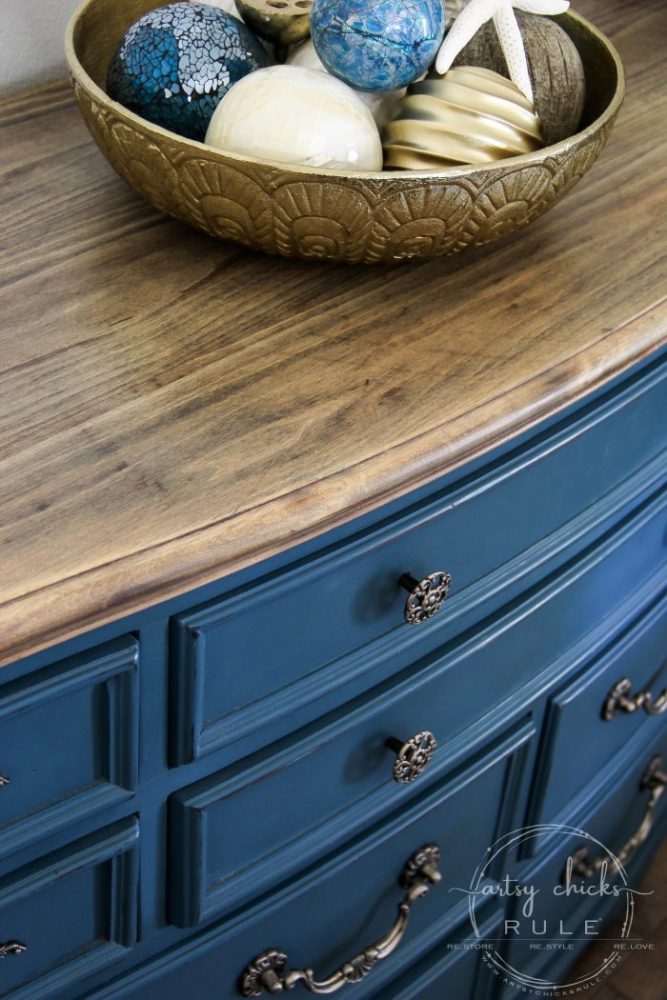 Here's a reminder of what the old top looked like…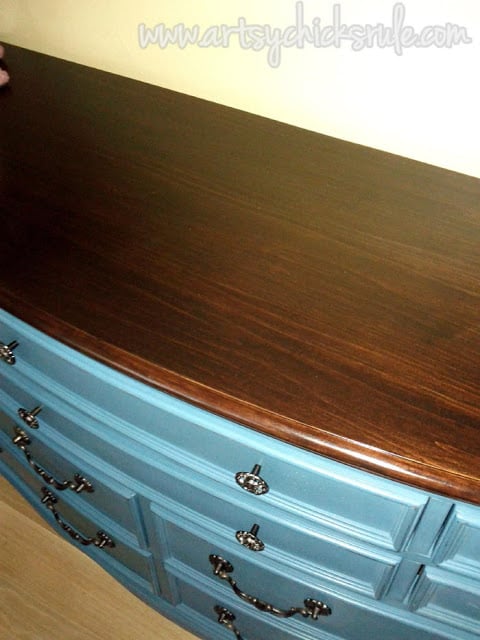 I loved the dark walnut, I really did but it was time for a change. And I needed to change it to fit my decor.
PLUS, I adore being able to see all those grain variations, even better.
Not to mention how much more character it has now.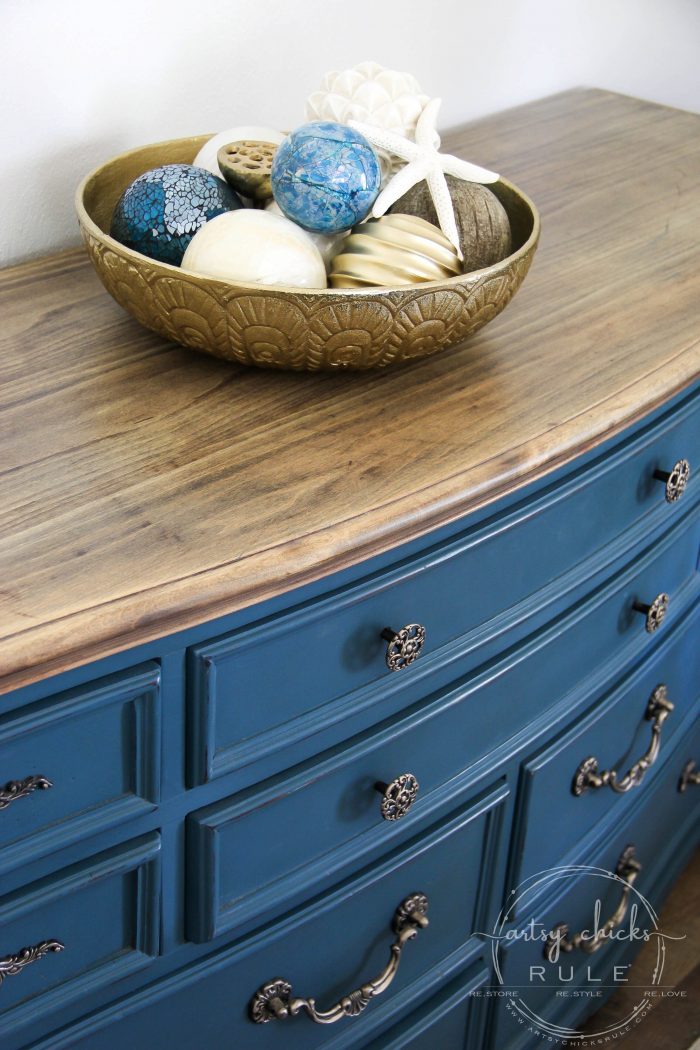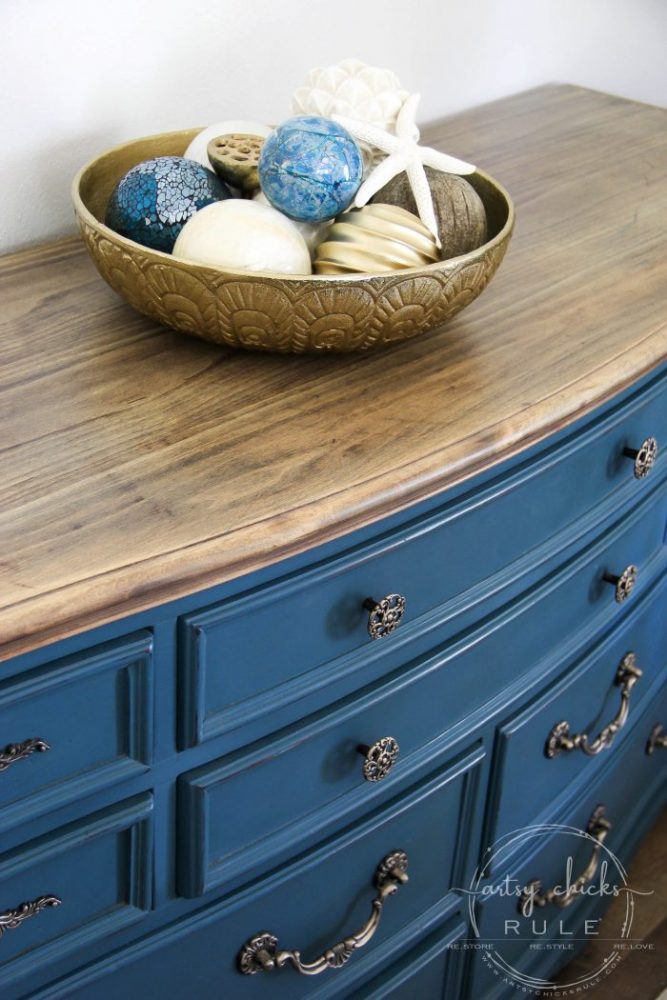 Remember, I'm calling my new decor theme, "coastal glam"??
That's exactly what I think this dresser embodies now.
Which brings me to the hardware.
I had considered changing it out to give this dresser a whole new look. But again, I couldn't decide on anything that seemed "right" for it.
So the original hardware stayed.
I wasn't loving the black look though. (it was Oil Rubbed Bronzed, but mostly looked black)
See below…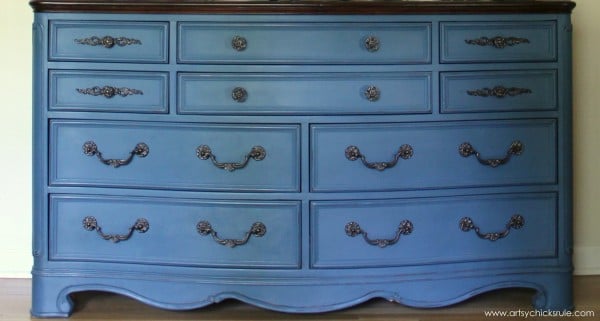 Mostly dark looking, not black, but almost.
So, instead of changing them, or pulling them off to repaint them, I gave them a hint of gold.
I used this fab gold product I've talked about a lot around here.
It's so easy to use, too, just rub some on your finger and rub your finger over the metal….and you get this…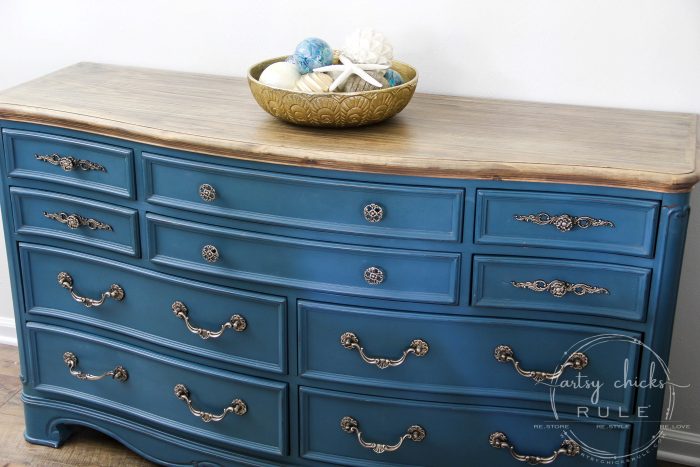 What a difference, right??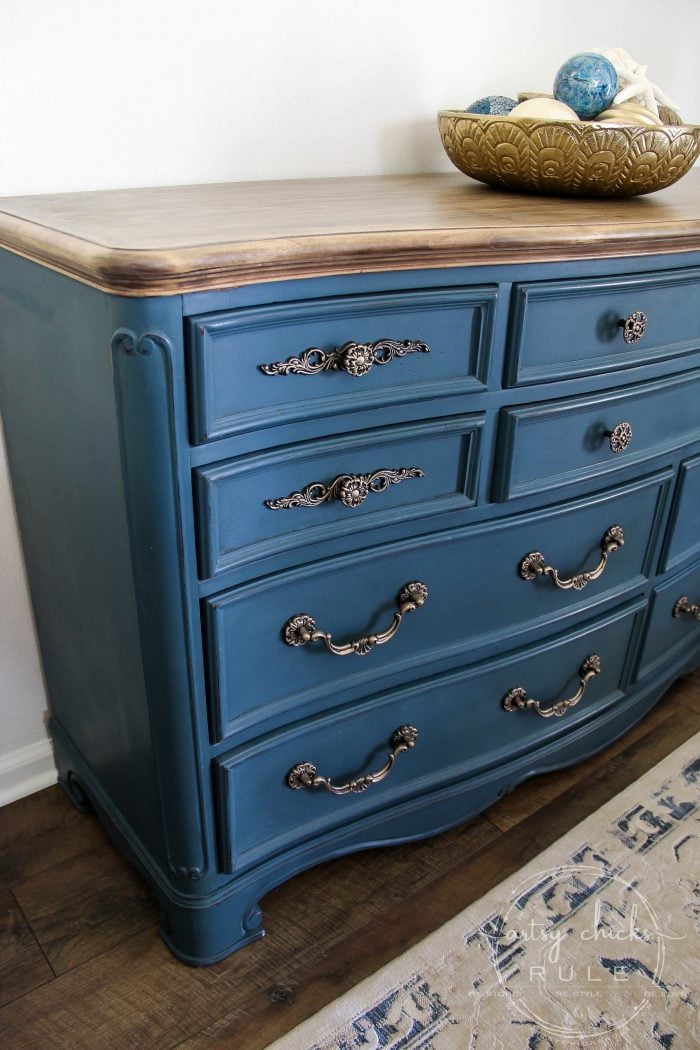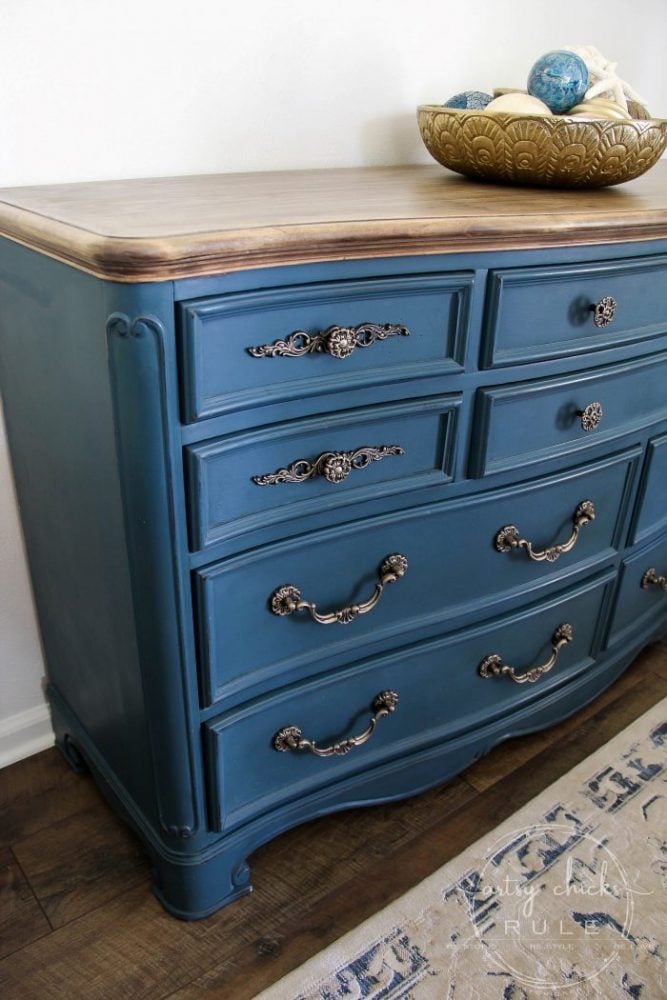 And a sneak peek of a pretty new rug in the new dining room.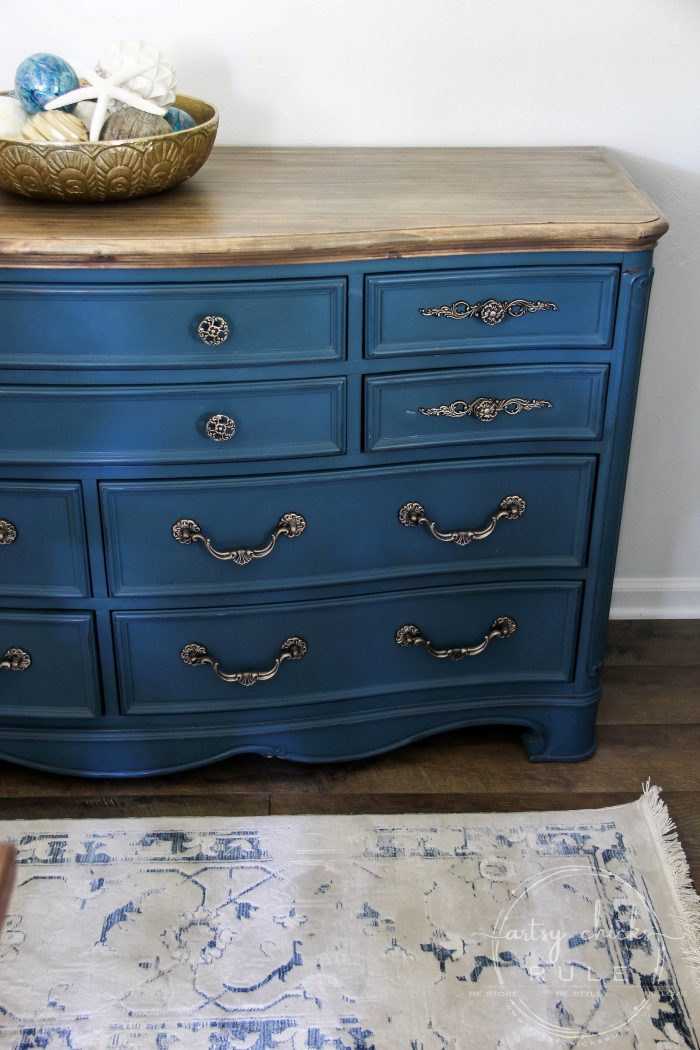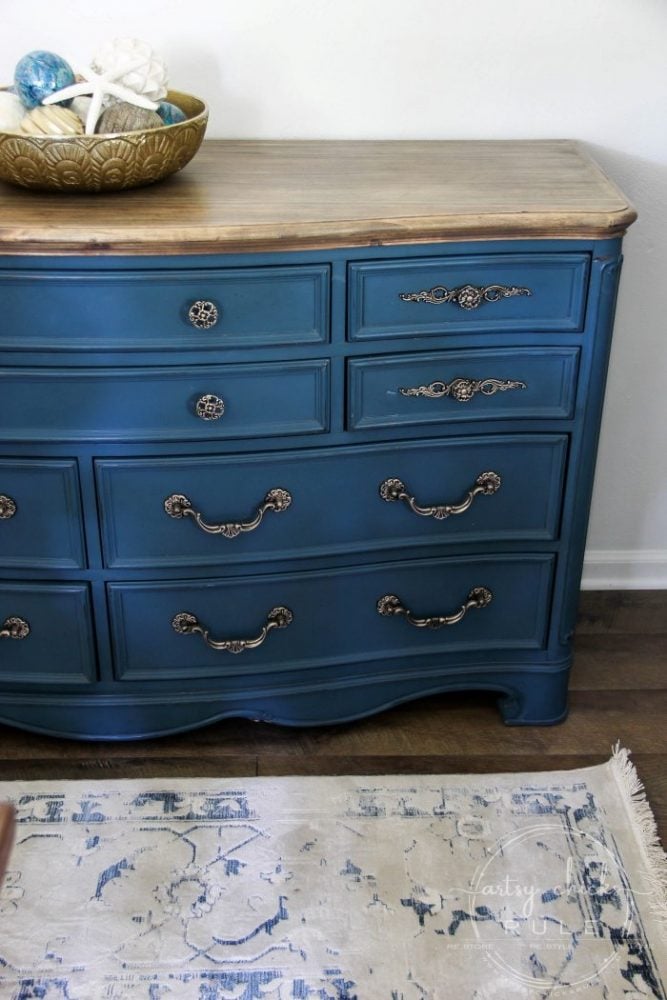 And a big, blank wall.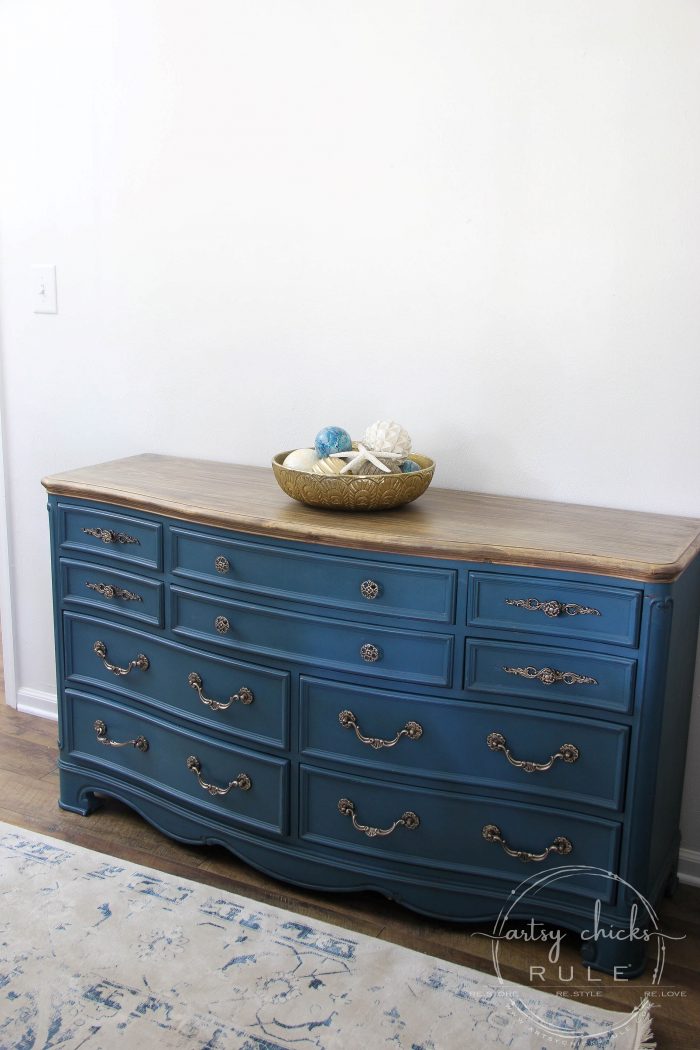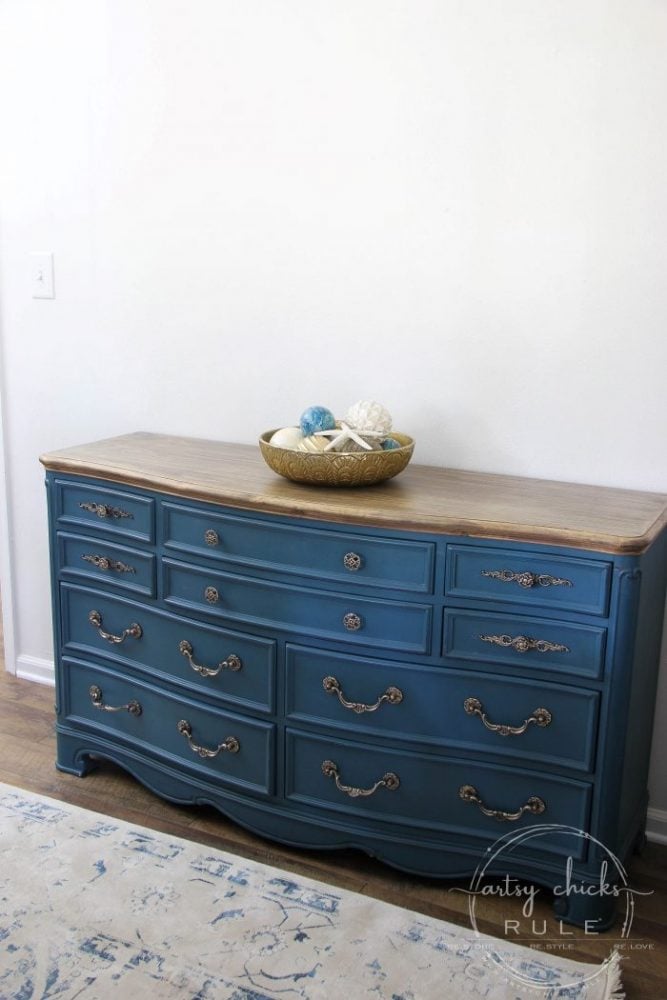 I have something to go there, I just haven't had a chance to put it up yet.
I also have a set of lamps I'm going to put on either side of the bowl.
I'm giving them a little makeover so I'll be sharing those soon.
The pretty gold bowl is from Target, by the way.
I don't have a link though, sorry, I couldn't find it on their site.
I'm so glad I didn't move this Aubusson Blue Chalk Paint dresser upstairs.
I love the new look so much, it's like having a brand-new piece of furniture.
It's been reinvented…again.
Hey, it's what I do! haha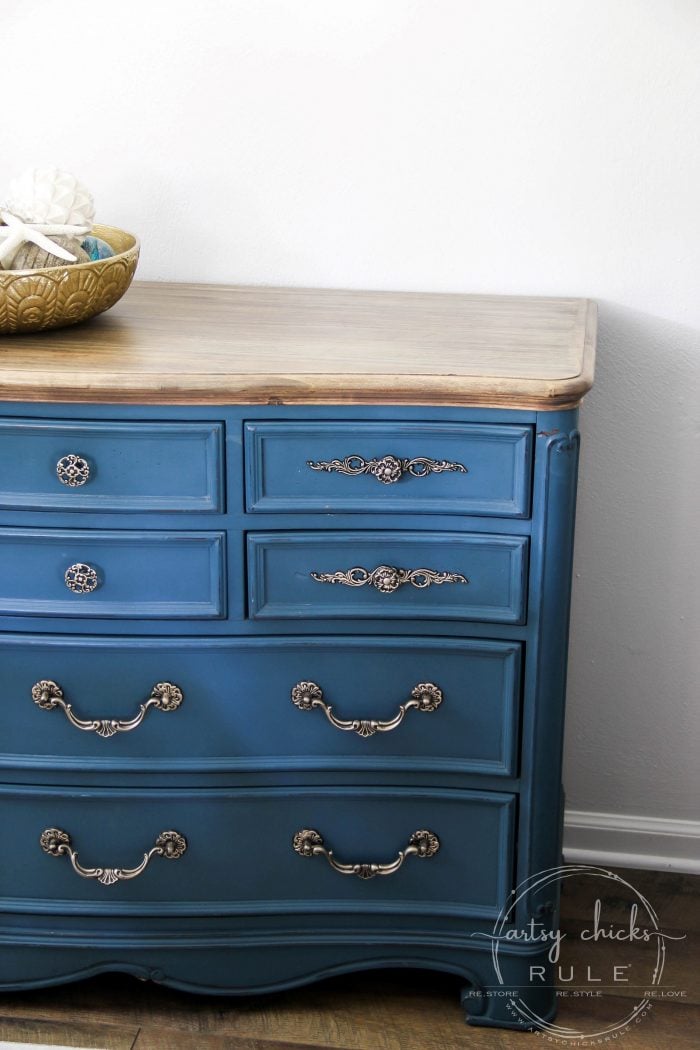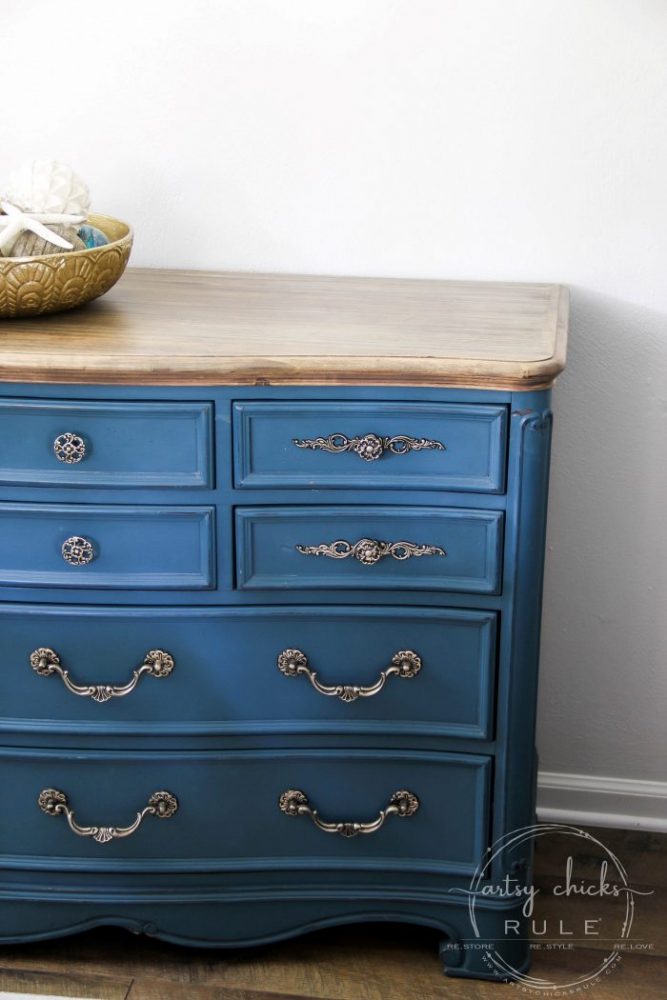 Hello new lovely. :)
And not only are you lovely, but you are also great for storage.
Over the last 8 years or so that I've had this dresser, it's gotten filled up with all kinds of things.
Most of which did NOT need to be taking up space, lol. You know how it is.
So I went through, purged, organized, moved, etc., and made room for "buffet, sideboard" storage. As you might remember, I sold my old dining set which included the buffet that used to house dishes, cookbooks, etc.
This dresser works surprisingly well for all those things…except the cookbooks and a couple of taller items. (like my trifle bowl)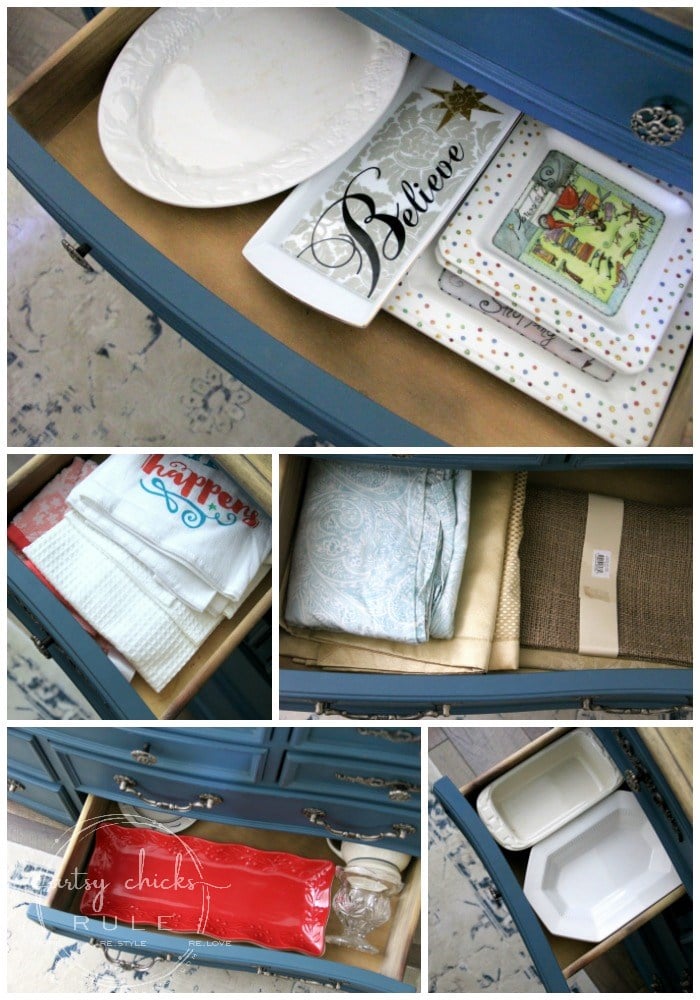 I created more space in the new dining room, in our built-in bookcase, for the cookbooks and tall items.
Which is getting a makeover too. If you follow along on Instagram, you might have seen my stories earlier this week showing blank shelves and all the "stuff" I'm planning to decorate them with. ;) Follow along, if you aren't already. I love interacting with you guys over there. Plus, I try to share snippets of things I'm working on in my stories. Or just random stuff. You just never know what I'll share from day to day!
But I try to share something daily.
So, tell me, (or don't! No, no, I can take it haha) do you love the new Aubusson Blue chalk paint dresser makeover or the first makeover better???
PIN it to save it!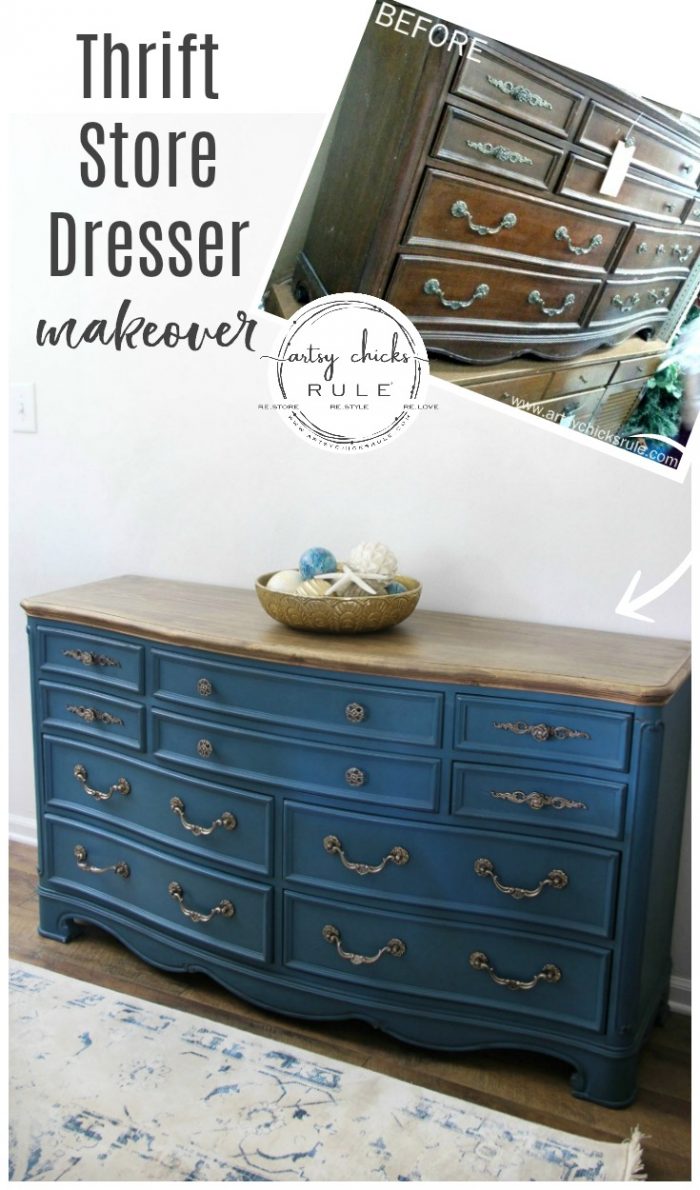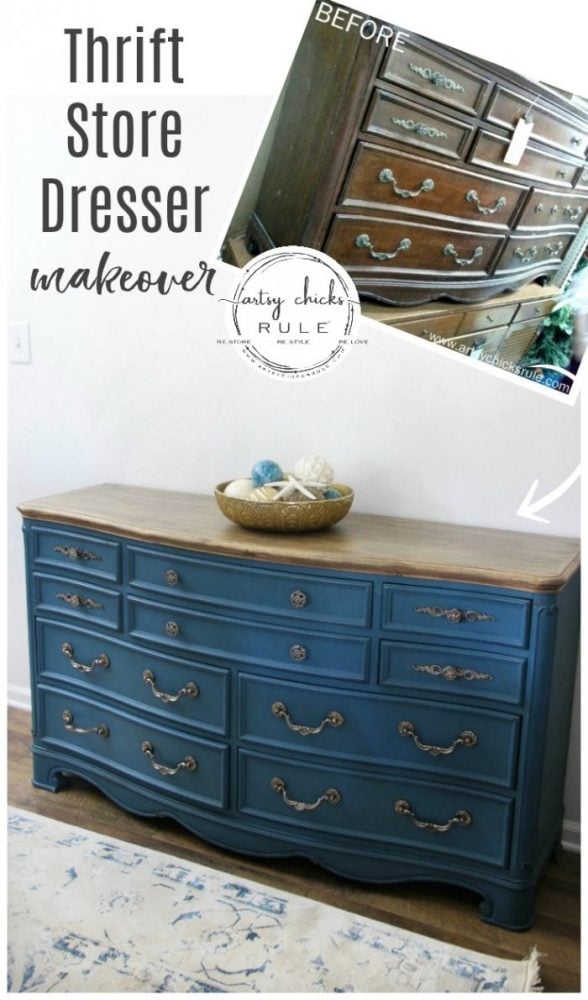 Stay tuned because I'll be back with the new, slightly made-over lamps for this space, the dining reveal, AND the new shelving decor.
And of course, the kitchen reveal which we are trying so hard to finish! Almost there.
Be sure to check in next week when I share what I did with this!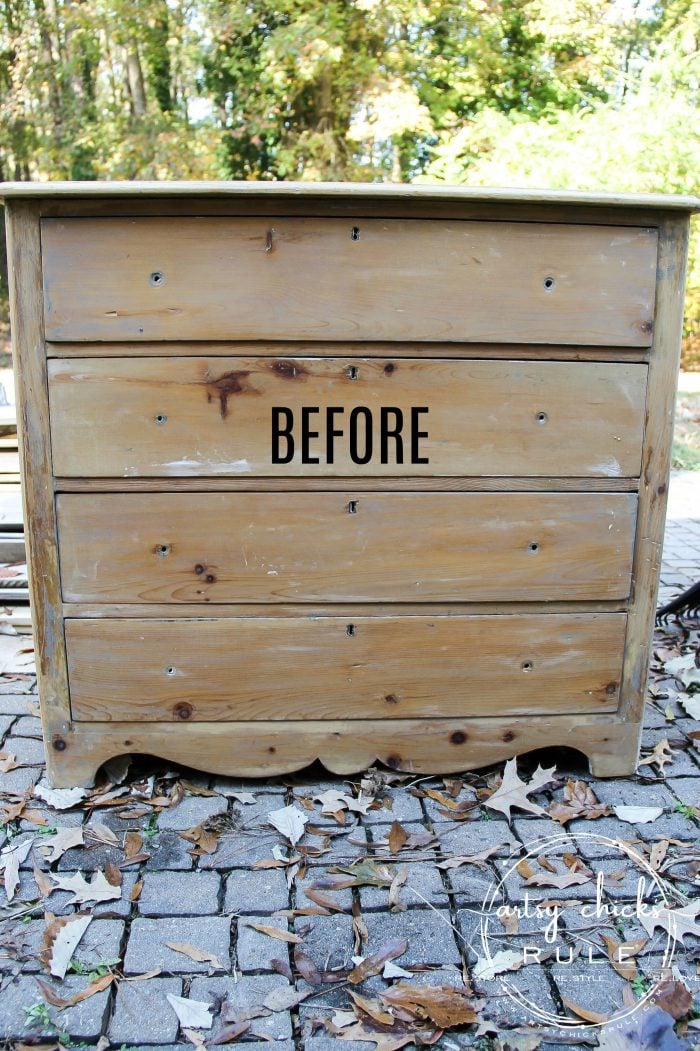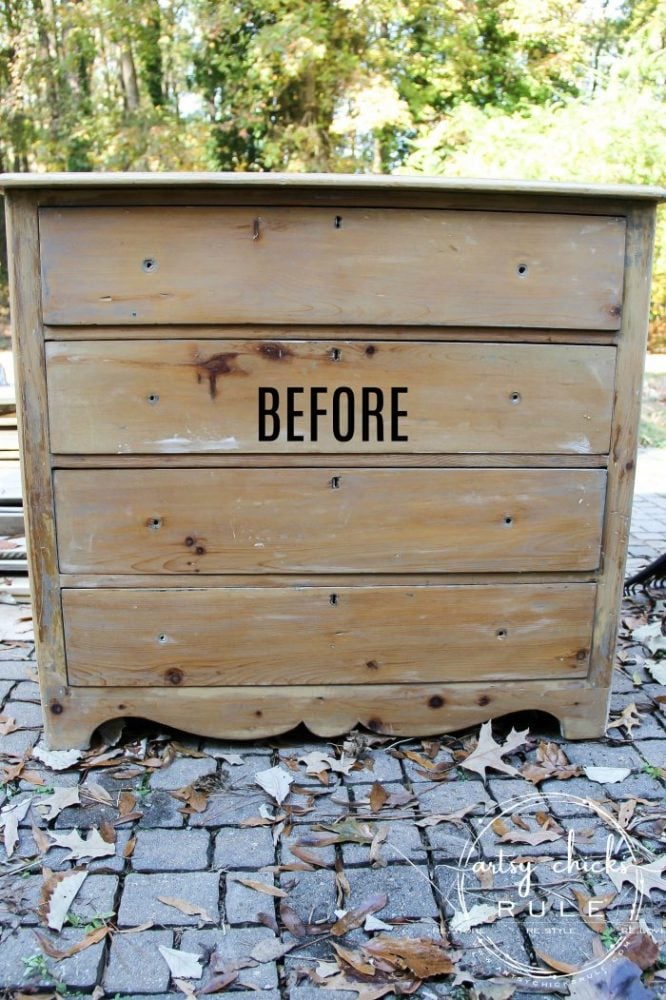 UPDATE!!! See it now, here!
Have a wonderful weekend, friends!
xoxo