DIY Bookcase Tutorial (DIY built in, all the details!!)
This post may contain affiliate links. Please see disclosures here.
Hey ya'll! I'm finally sharing the DIY Bookcase Tutorial in this room….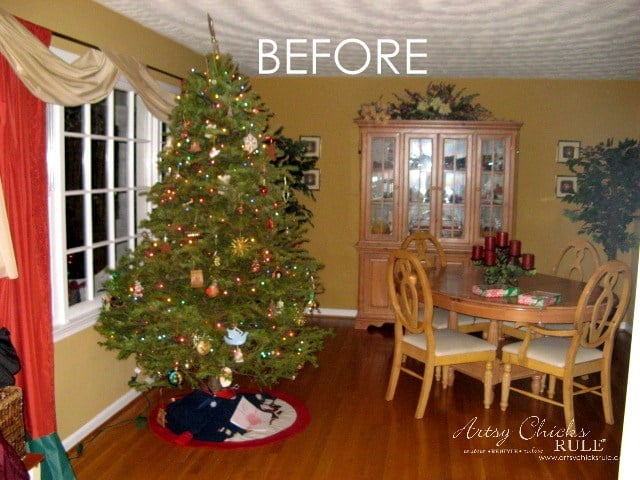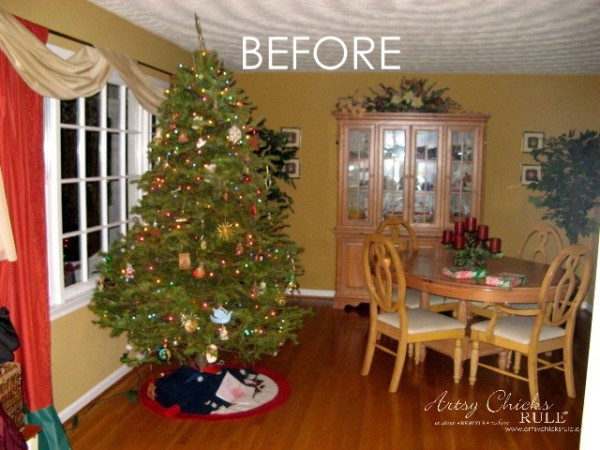 I know, it's been a long time coming but so was the bookcase!
And I've had my hands a little full….we got a puppy.
His name is Ryder and I'm quite sure you will see him in and around the blog from time to time.
(he's in and around — and into!– just about everything lol)
I really forgot what it was like having a "baby". Oh my, I'm too old for this!! haha
I shared about him over on Instagram a couple weeks ago…..
Here are some recent shots of how fast he's grown…. (top left is most recent)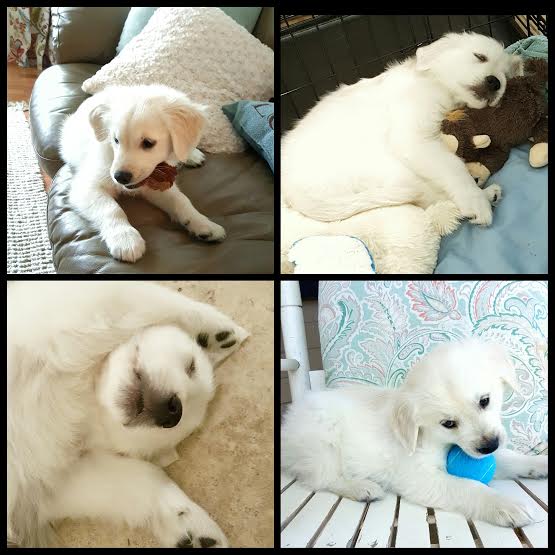 I even started an Instagram for him too. I thought it'd be a great way for family and friends to keep up with him…and his growth from puppyhood to adulthood.
You can follow along here >> Ryder
Okay, now let's talk DIY BOOKCASE TUTORIAL, y'all!
I should put a bit of a disclaimer out here right now.
We completed this project over years, yes I said years. (if you've been around, you know! )
No reason at all for that except we were busy and kept putting it off. Ugh.
So, with that, the tutorial may not be the best but I'll try to piece it together for you.
Here's the finished DIY Bookcase that I'm speaking of…..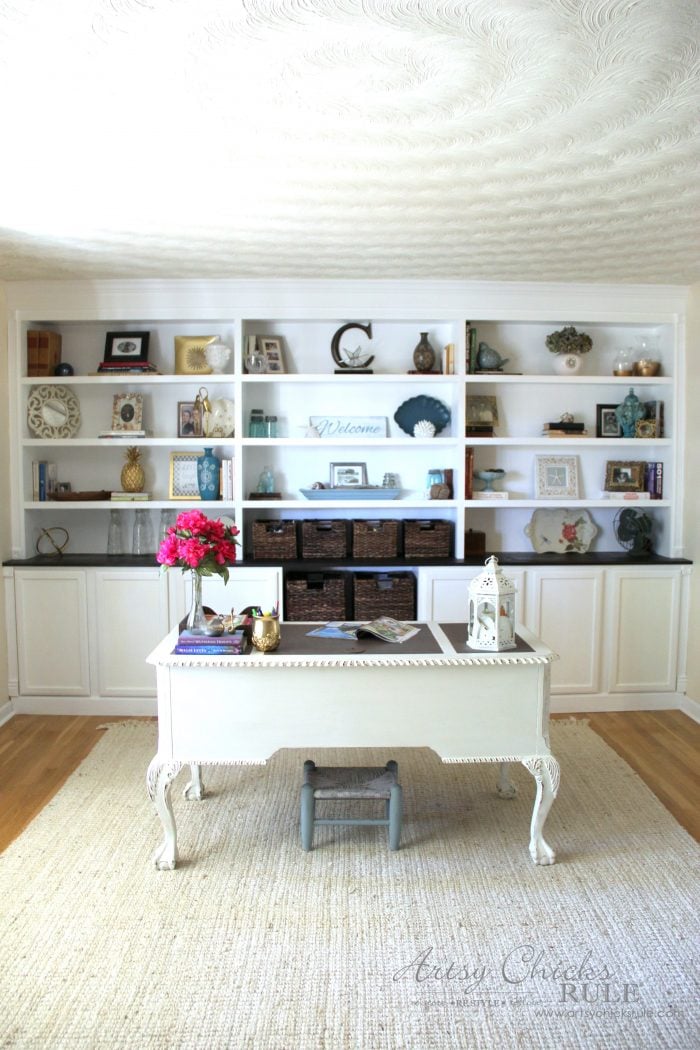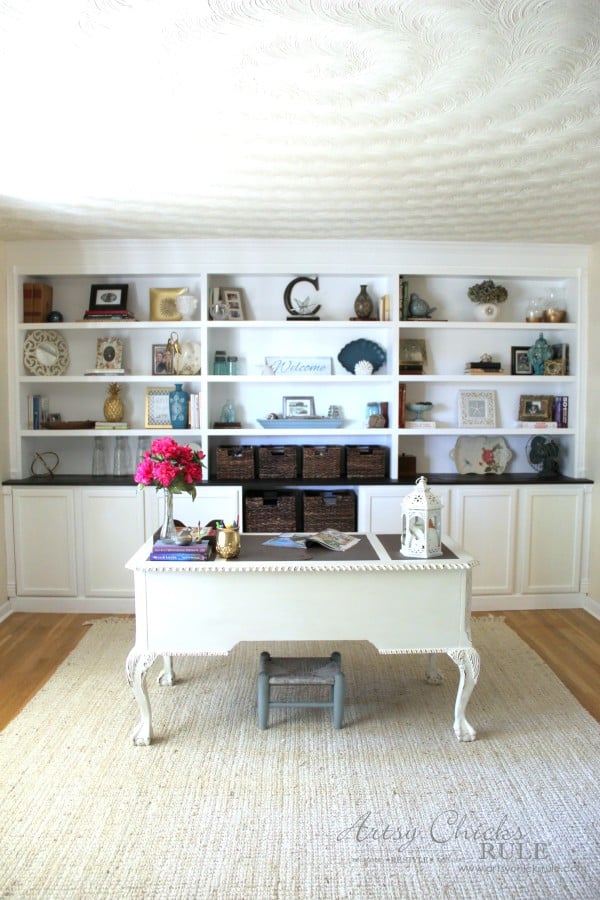 I'm so very happy with how it turned out.
It really added a lot to this room.
It definitely looks quite different than when we moved in (and through a few of my own decor adventures!)
Here's a refresher…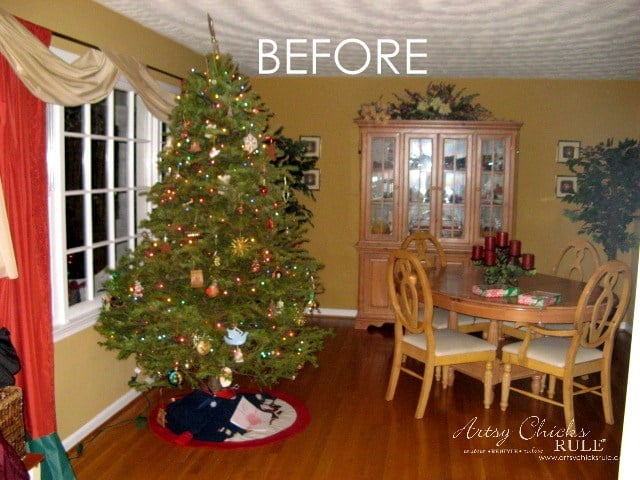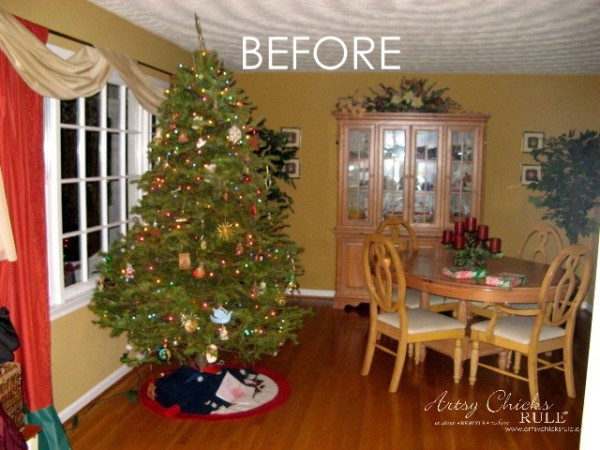 This was when I used it as a "dining room" instead of a study.
Red and gold, oh my! ;)
You can see more "before" photos, like the previous owner's take on this room, in the reveal post here >>> DIY Bookcase Reveal
Now onto the tutorial.
I may include some affiliate links for you below. You can see my full disclosure here.
We decided to use ready-to-go cabinets from Lowe's or The Home Depot.
I don't remember which now and it doesn't really matter.
They both have a similar style.
We considered using base cabinets but ultimately, I didn't want them coming out that far.
However, I did want them to come out a bit farther than what wall cabinets would give me.
So, we adjusted the wall cabinets depth, like so….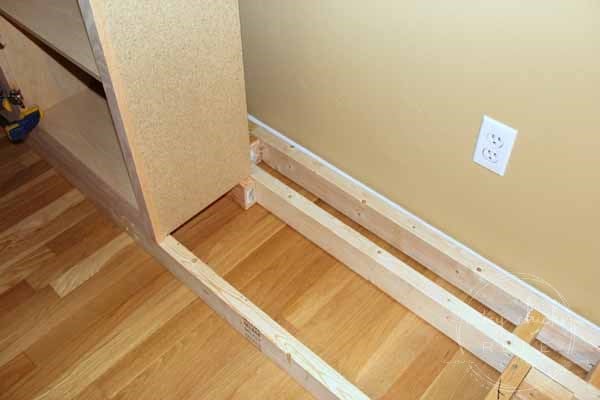 We built a base for them to sit on out of 2×4 pieces of wood.
They were screwed into each other and the wall, not the floor. (just in case the bookcase got removed someday, you never know! )
Then, as you can see, we pulled them away from the wall about 4-5 inches.
We left space on each side of the bookcase to allow for decorative trim.
You can see to the very left of the picture below.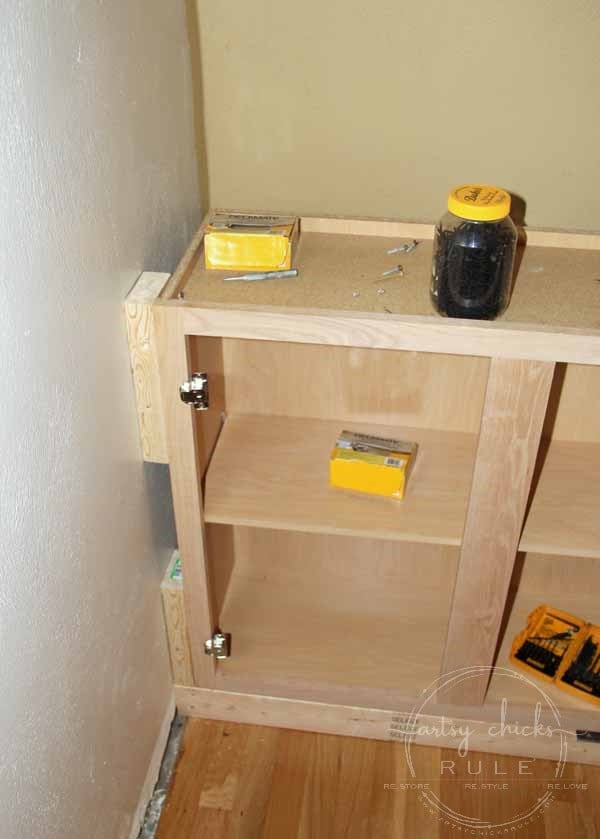 You can measure and use whichever size cabinets your space requires.
Next, we screwed, and glued, the cabinets to each other.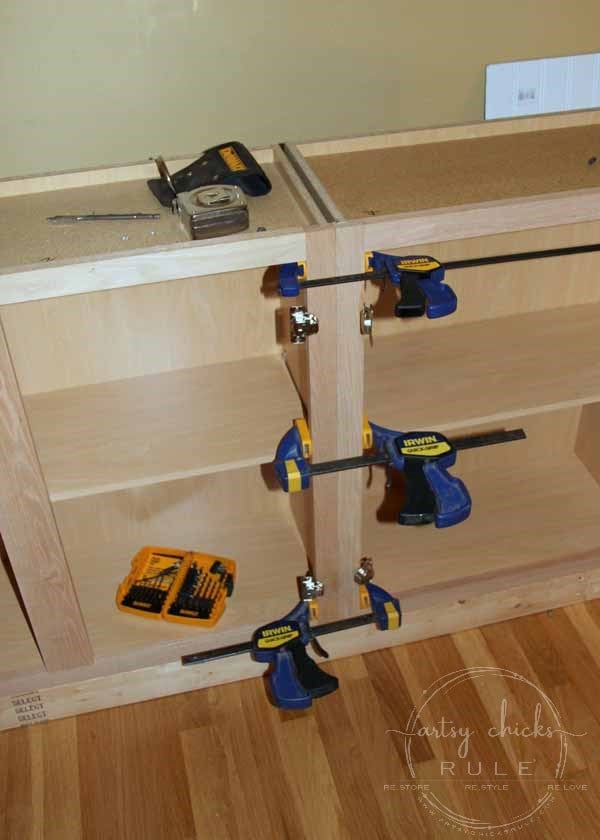 I wanted to break up the bottom section so left a space in the middle open for a shelf and baskets.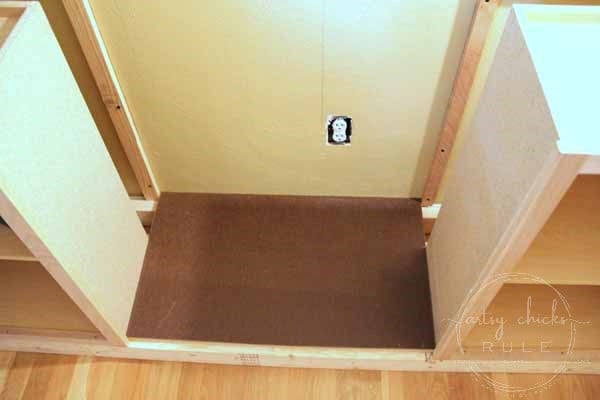 We added 1×2 strips of wood to the wall behind as "nailers".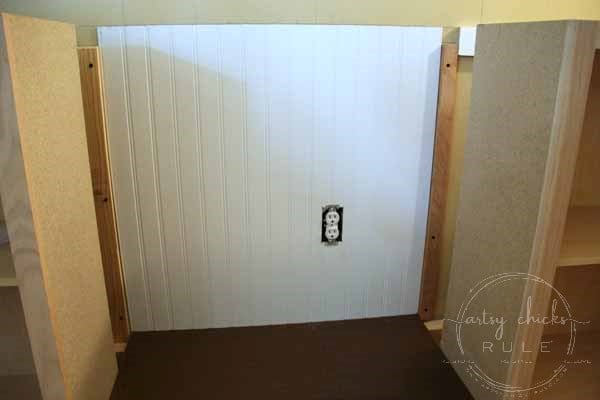 I had originally planned to put beadboard on the entire back of the bookcase but changed my mind.
That's what happens when you take 2+ years to complete a project!
We had several "change my mind" along the way, haha.
Instead, we used a flat wall panel board.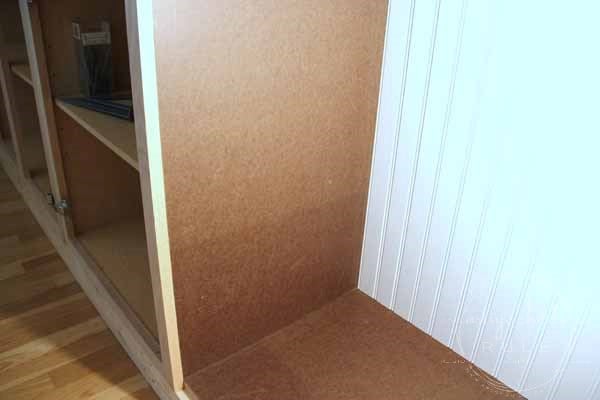 We removed that bead board at the back and replaced it with the flat wall panel board but don't have a photo of it.
My husband was thrilled with this change. heh heh
At least the entire wall wasn't done yet, right?
The middle shelf in that opening, (not shown), is made with 1×6 pieces of wood.
We glued and pieced them together to make one board. (just like we constructed the top below)
Want to see some of these projects in "live" time? Hop on over and follow along with me on INSTAGRAM. I'm always sharing in my stories as I'm doing projects, finding new furniture, fun finds….just all the day to day behind the scenes.
The top…..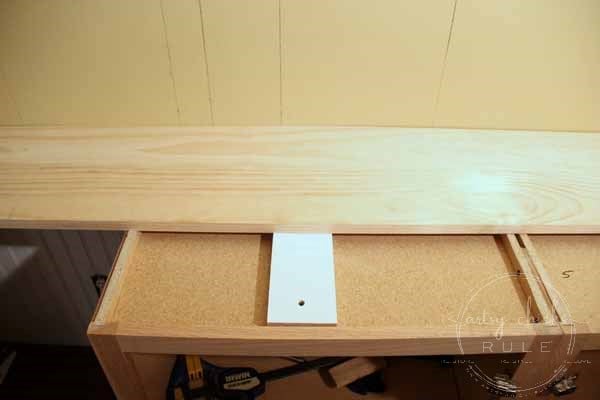 I wanted to have a dark-stained wood top so my husband and I made one.
For support, we added 1×4 pieces of wood on the tops of the cabinets. (shown above in white)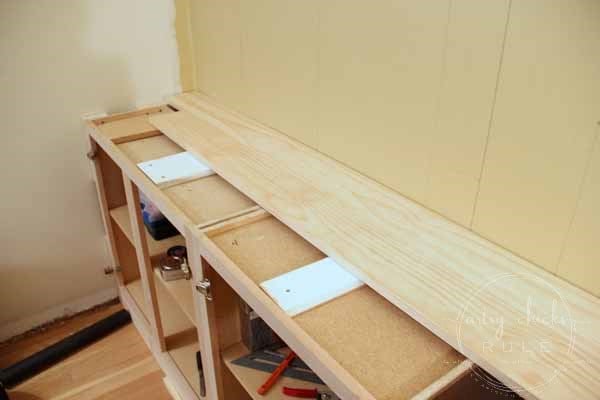 The top was made out of 1×6 pieces that we glued together. (3- 1×6, 1 – 1×4)
Lining up the pieces with painter's tape to glue the biscuit joiners.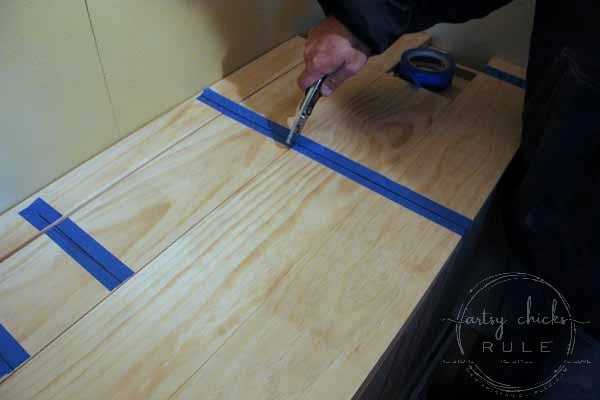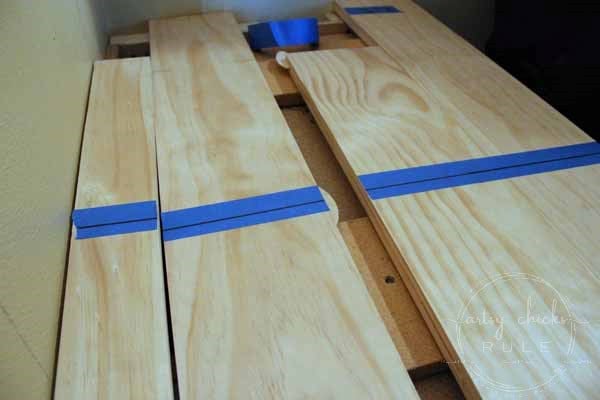 We used biscuits to join the wood.
Marking where they are…..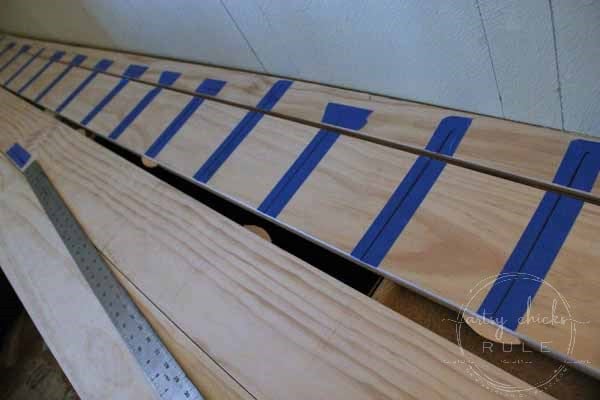 Once it was complete, we screwed it to the base from underneath. (from inside the cabinets)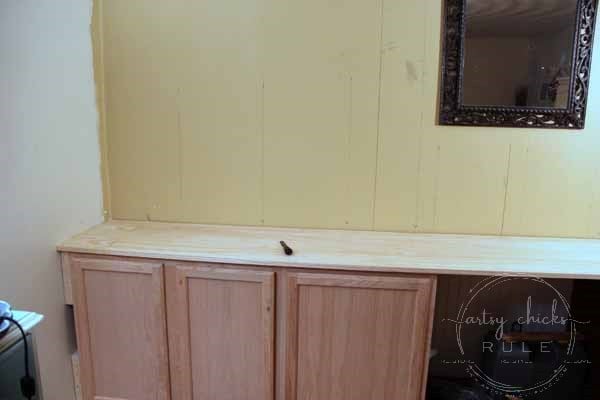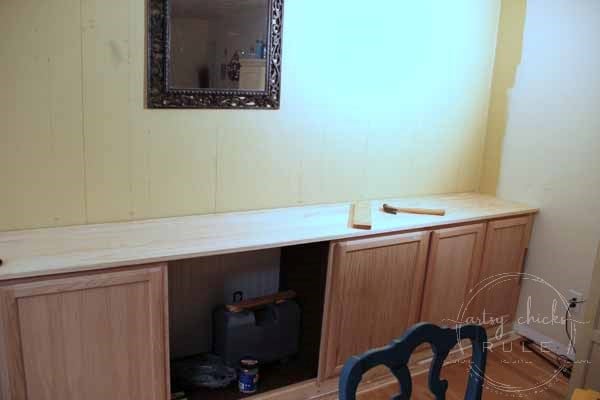 The tops/shelves were made from 3/4 inch cabinet-grade plywood that my husband ripped down.
He recommends using 1×12 pieces, however. It's easier!
Nailed together and ready for paint. (I used my paint sprayer, so easy!)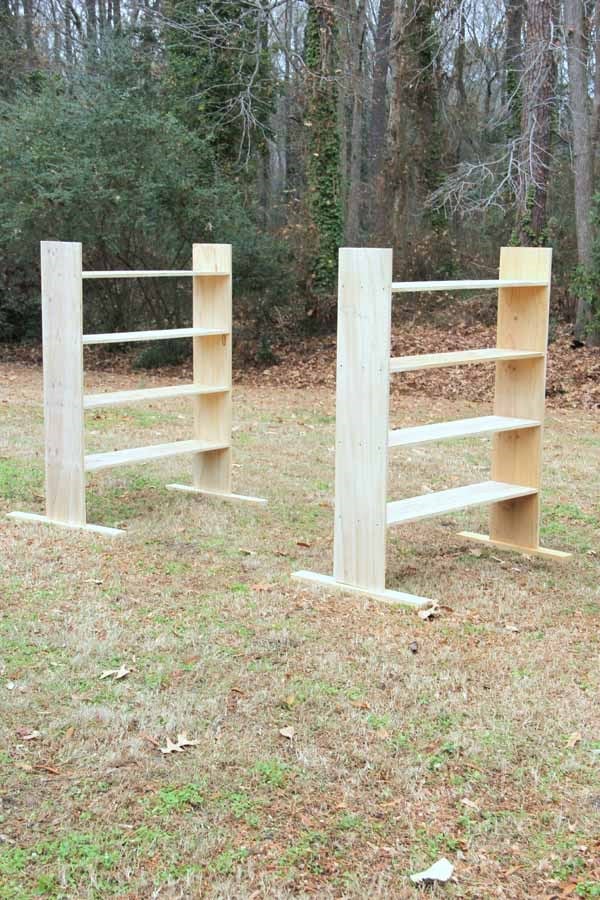 You only see two, um, because there were only two. Until I changed my mind….again.
I was going to have an open space in the center of the upper cabinets for a large print/painting originally.
I decided I wanted to keep it "easy" and just have shelves go all the way across.
So we ended up building another one of these to go in the center.
I also considered just painting the back wall and not having a back on these.
Old house, nonstraight walls, etc.
That really wasn't going to look very nice so we opted to add those flat, smooth wall panel boards to the backs of these.
No photos of that, sorry. At this point in the game, I just wanted them done and my house put back together!
I also don't have pictures of installing these shelving units, etc.
Basically…we slid them into place and then screwed them to each other and the wall.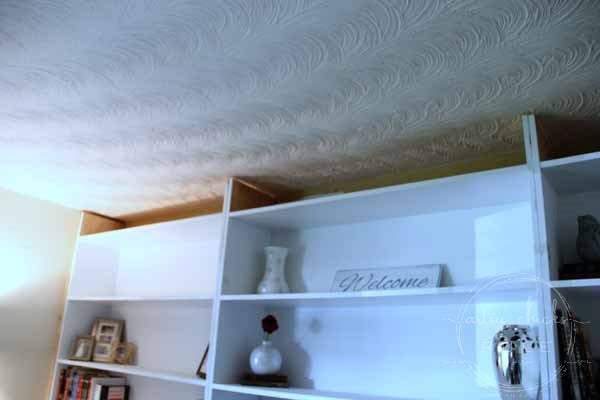 Yes, I have "stuff" on the shelves. You would too, if it was a 2-year project.
But anyway, you can see how they are "put together" above.
Not very attractive, huh? But wait.
You've gotta add the trim to make it pretty and finished.
We used 1×2 inch pieces for the shelves.
The shelf sections ended up with a little "lip" area. I like the look that was created.
The very top got a 1×8 that didn't need to go to the ceiling because we were adding crown molding there.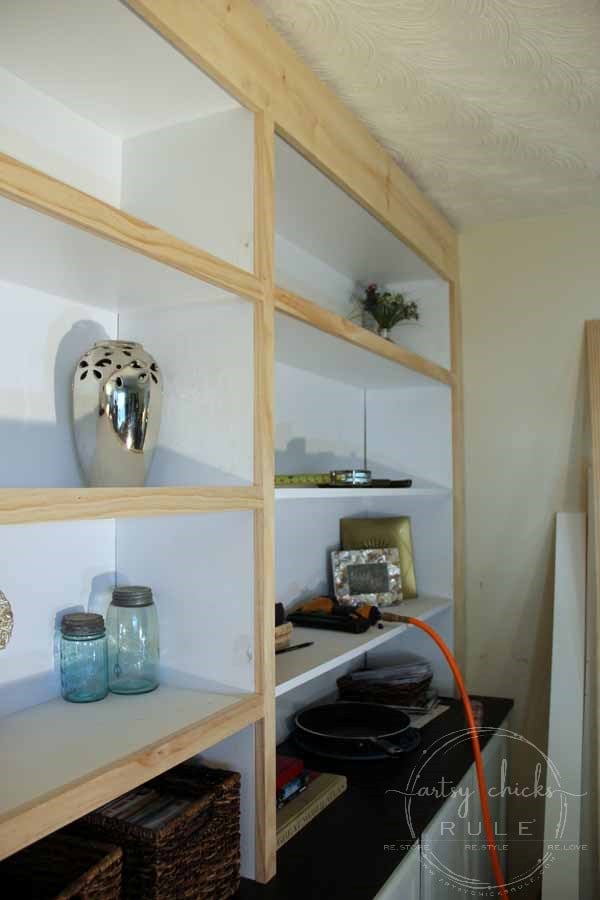 Yes, that's a frying pan. ;)
You can see I have some caulking to do too.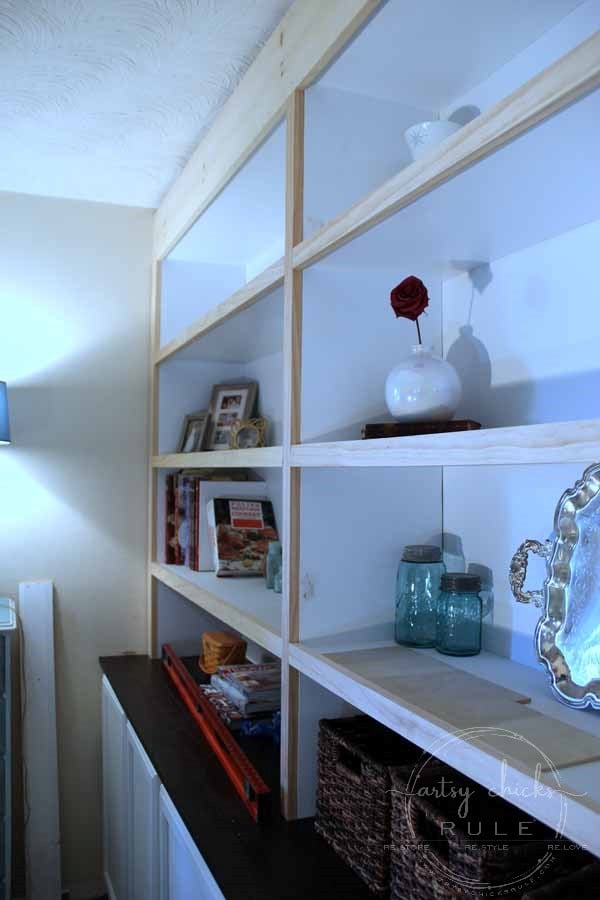 I stained the top piece with Java Gel Stain. It's a little darker than I wanted.
I should have mixed it with Antique Walnut (my fave go-to blend).
Oh well, I've gotten used to it and it's staying that way now!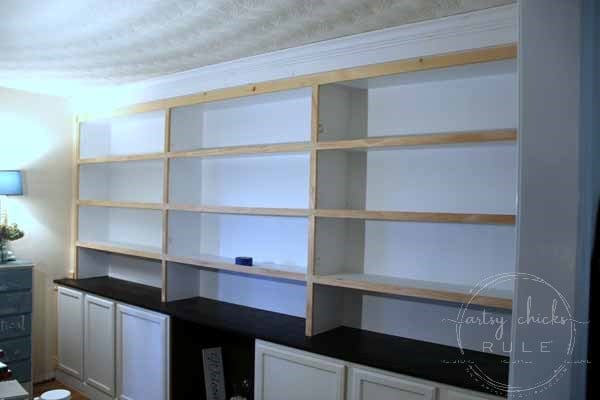 For the sides, we used fluting and rosettes to add a decorative touch.
(both above and below)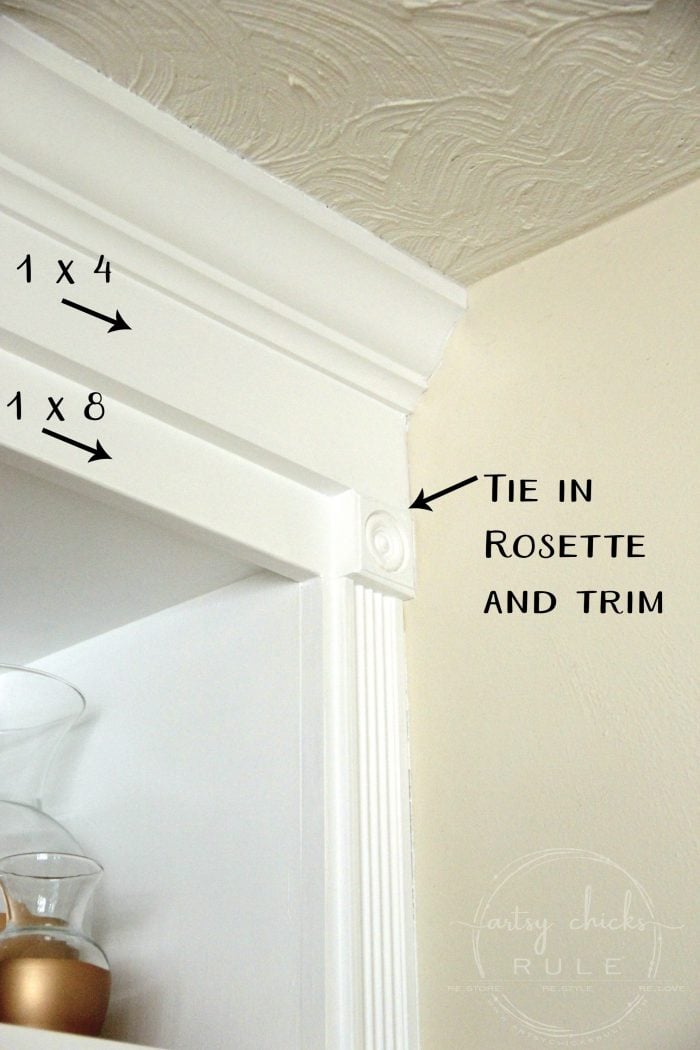 We added 1×4 over the 1×8 to help tie in the decorative fluting and rosette.
Otherwise, it would have looked awkward just "hanging out" at the top.
All caulked and ready for finish paint…..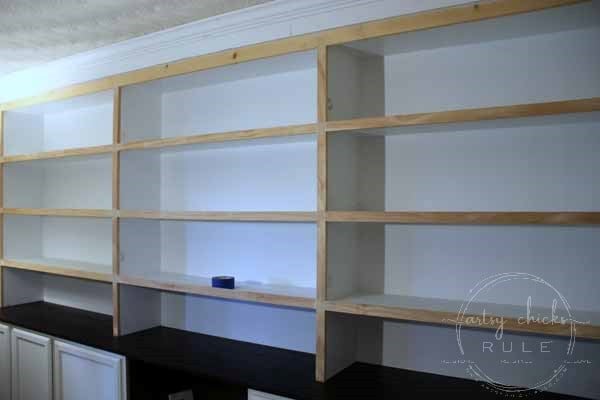 Caulk really is your friend with things like this. I love a seamless look!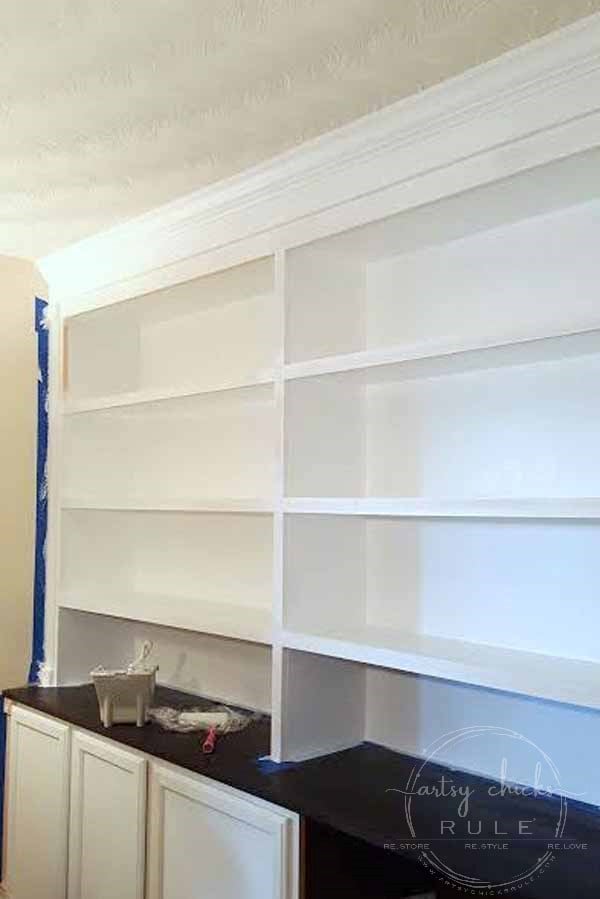 A recap to PIN and save for later.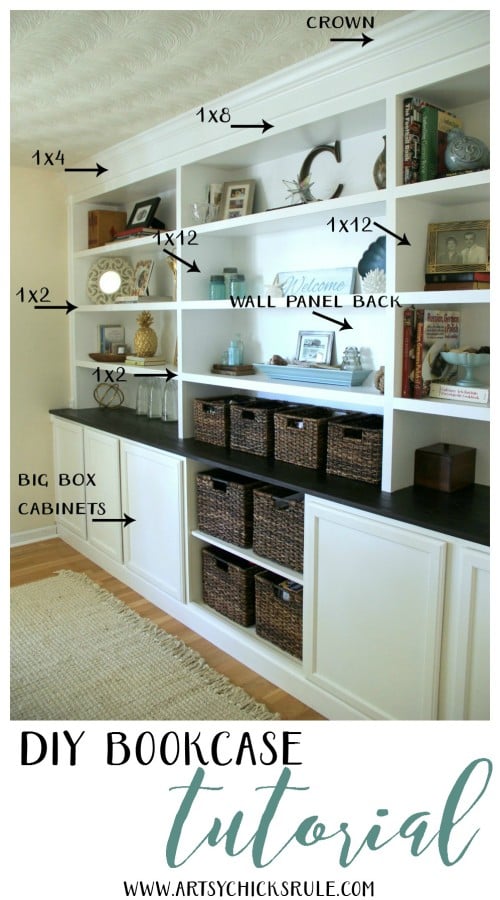 Decorated and done….yay!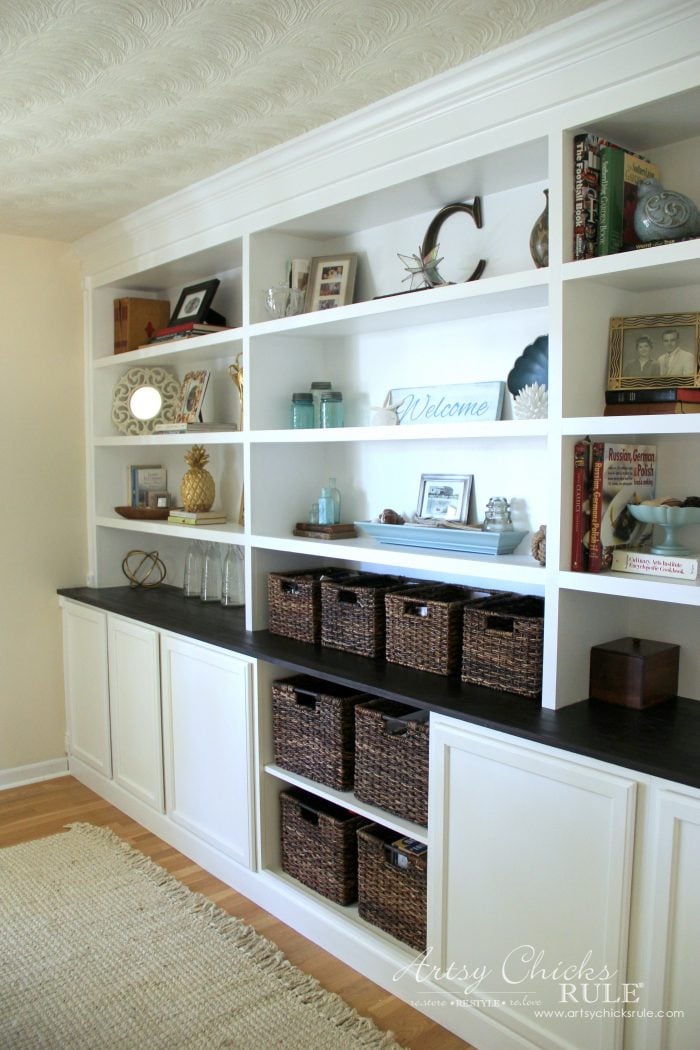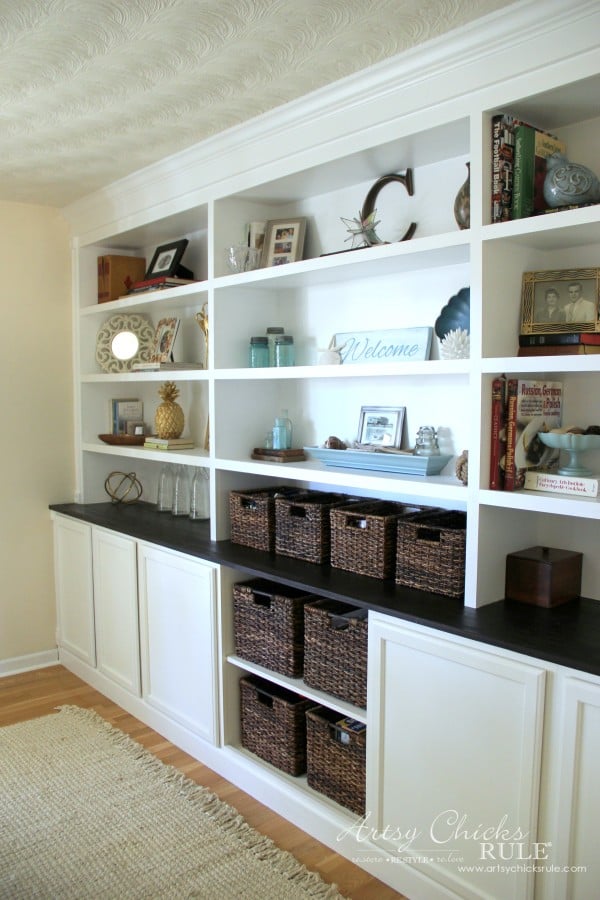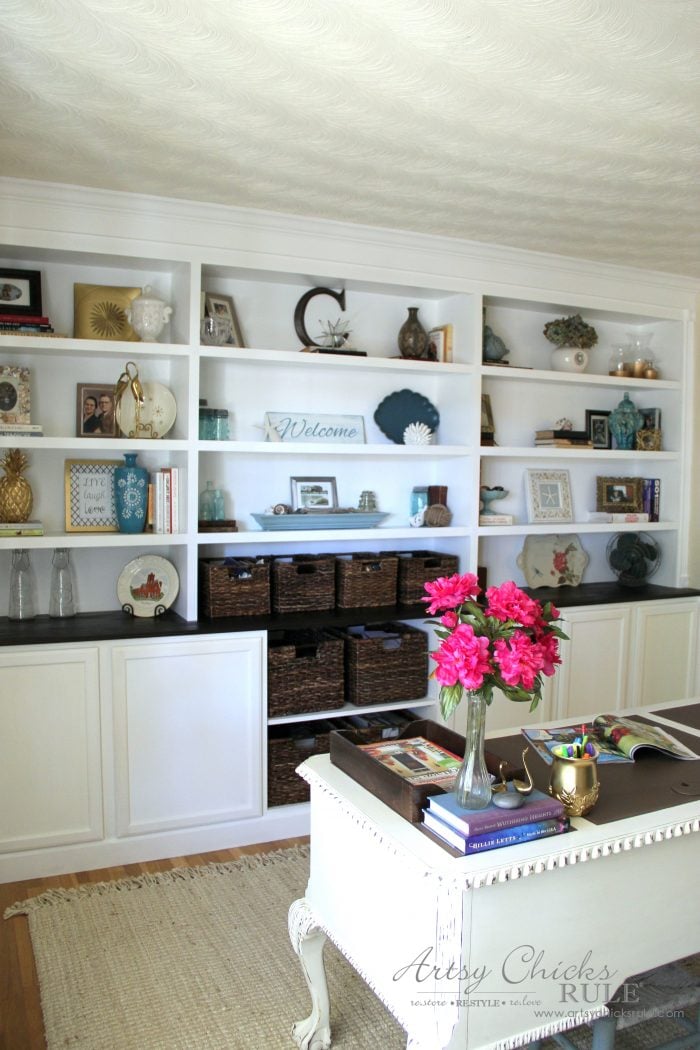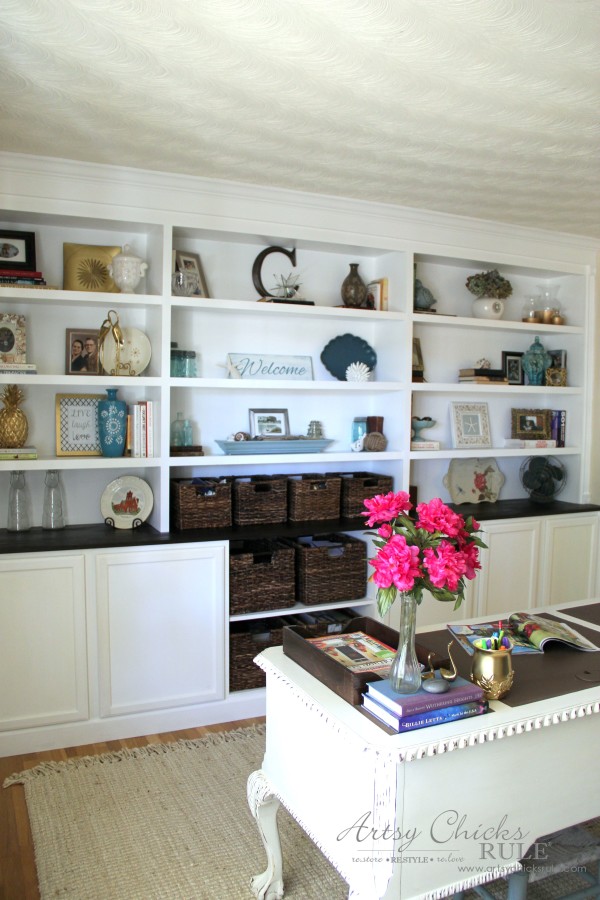 I love having a place for all my pretty baskets.
You can find them here…
Milk Crate small
Milk Crate large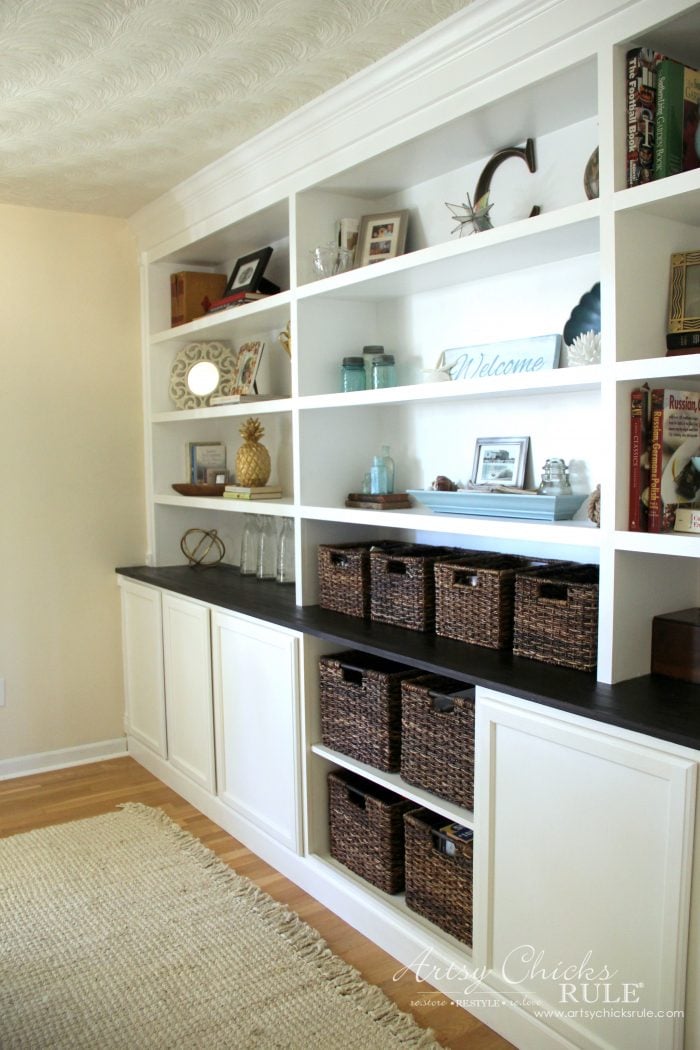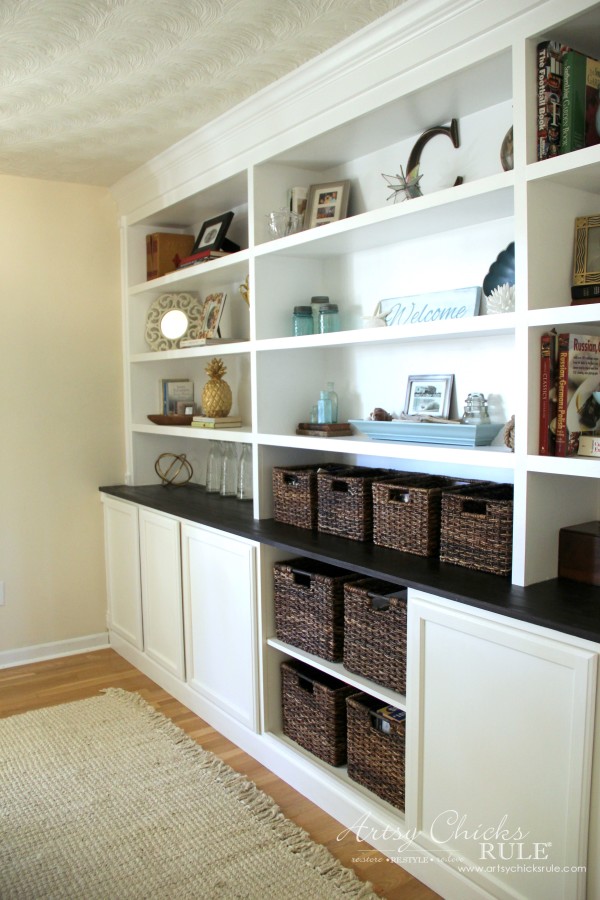 And I love that it breaks things up a bit too.
More finished photos here >>> DIY Bookcase Reveal
EDITED TO ADD: We have since changed this room back to a dining room. See how it looks now, here: Coastal Dining Room Reveal
PIN this so you can build a DIY Bookcase too!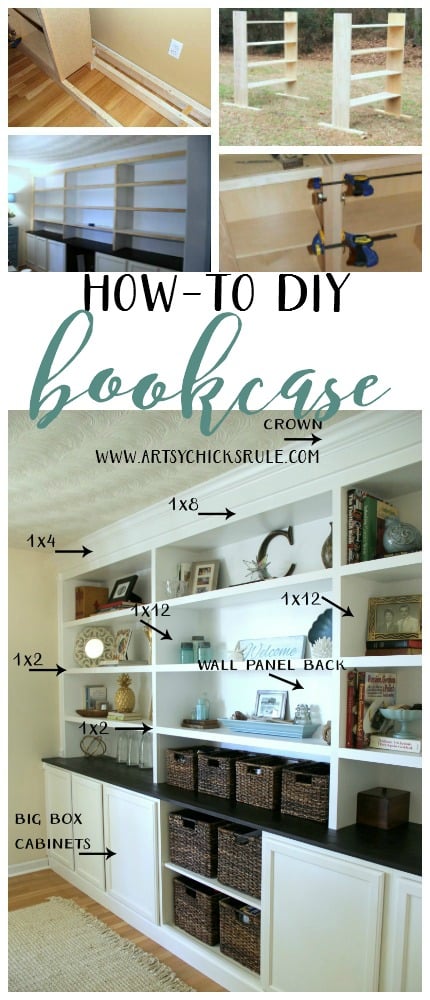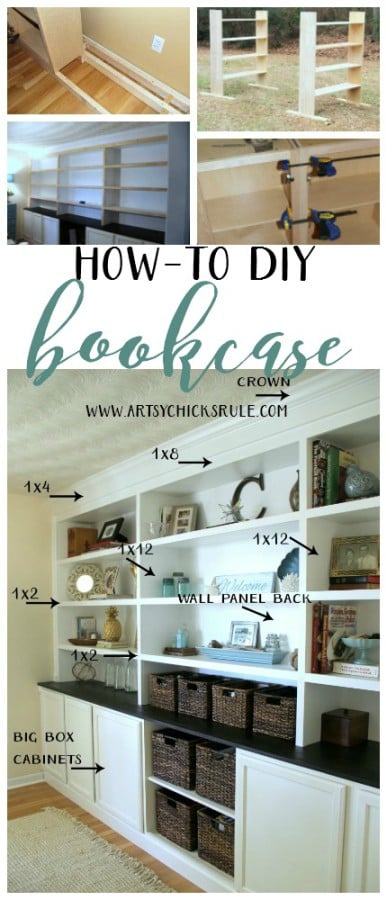 So even though it took us for forever and day (or 300!) it's totally do-able.
Busy was the only reason it didn't get done in a timely manner.
I don't even care, I'm just glad it's done.
More home DIY tutorials we have shared here:
I hope the DIY Bookcase Tutorial made sense.
If you have any questions at all, please don't hesitate to ask!
I'm working on the shelves for the dining room (at the poly stage, yay!)
Hopefully, they'll be up and decorated soon so I can share those with y'all next.
Have a great rest of the week friends!!!
xo