"Custom" Master Closet Reveal (IKEA PAX Closet System)
This post may contain affiliate links. Please see disclosures here.
We created a "custom, built-in" master closet look with basic IKEA PAX closet system cabinets simply by adding trim and a few extra touches!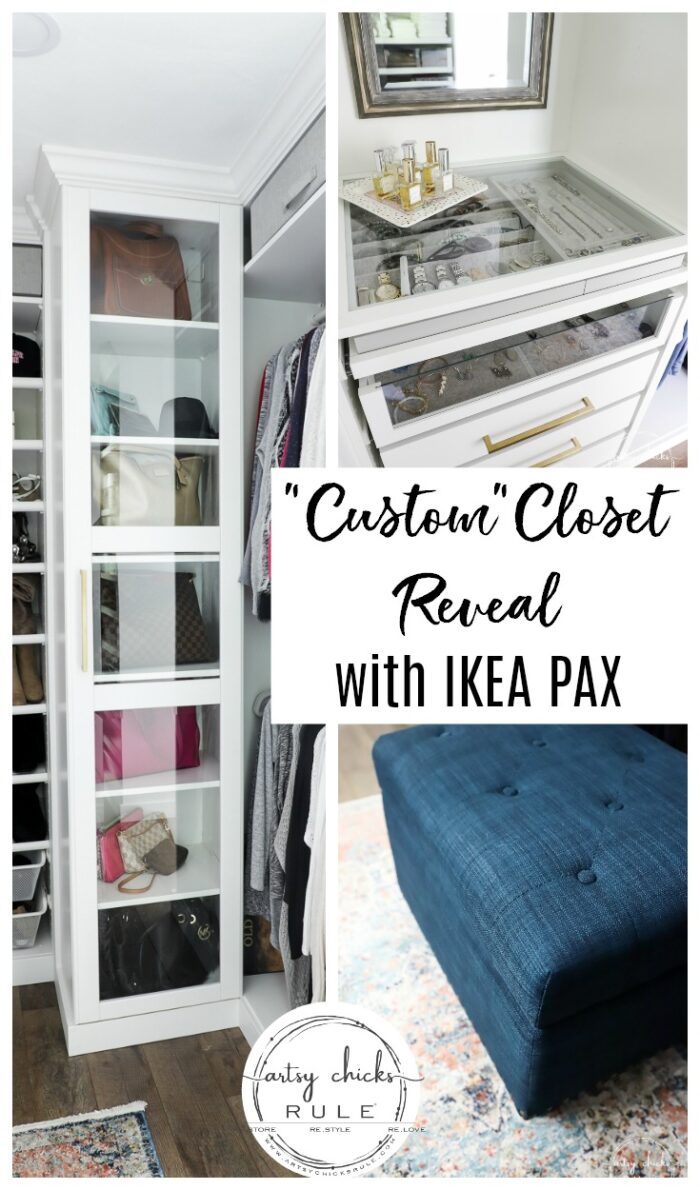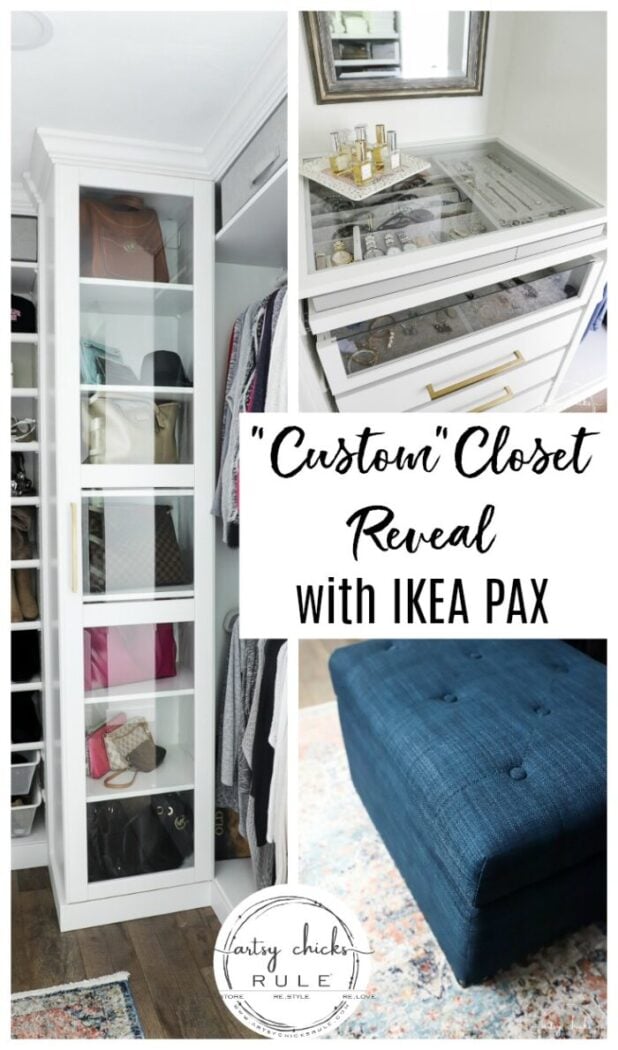 Hello beautiful friends!
Guess what? I'm finally revealing our master closet. This one sure has been a long time coming.
I mean we only started on it 3 years ago! And honestly, we'd been semi messing with it since we moved in back in 2004.
Here is the first post I shared about this makeover back in April of 2017. (<<< check out all the rest of the "before" photos there)
So I am beyond thrilled to mark this one off the list. Our bath/closet area was the last of the remodels to get done so it sure is a happy day here.
The closet started out being "our" master closet but turned into "my" closet. ;) We are building a closet for my husband on the other side of our bedroom. If you follow along with me on Instagram, you've probably seen it. I am sharing in my stories as we do the build. (By the way, we have a makeshift closet up in my office and we actually measured and planned to make sure this new built-in closet would be enough for all of his stuff…it is! Otherwise, I wouldn't have the master closet to myself.)
Along with sharing this new closet with you all, I want to also share how we used stock IKEA PAX closet system cabinets/drawers and made it look somewhat custom. Totally do-able!
And if you missed it, the bathroom part of this remodel that I recently shared can be found here >>> Coastal Bathroom Makeover Reveal
But just to refresh your memory a little bit…here is where we were…
…looking in from the bedroom.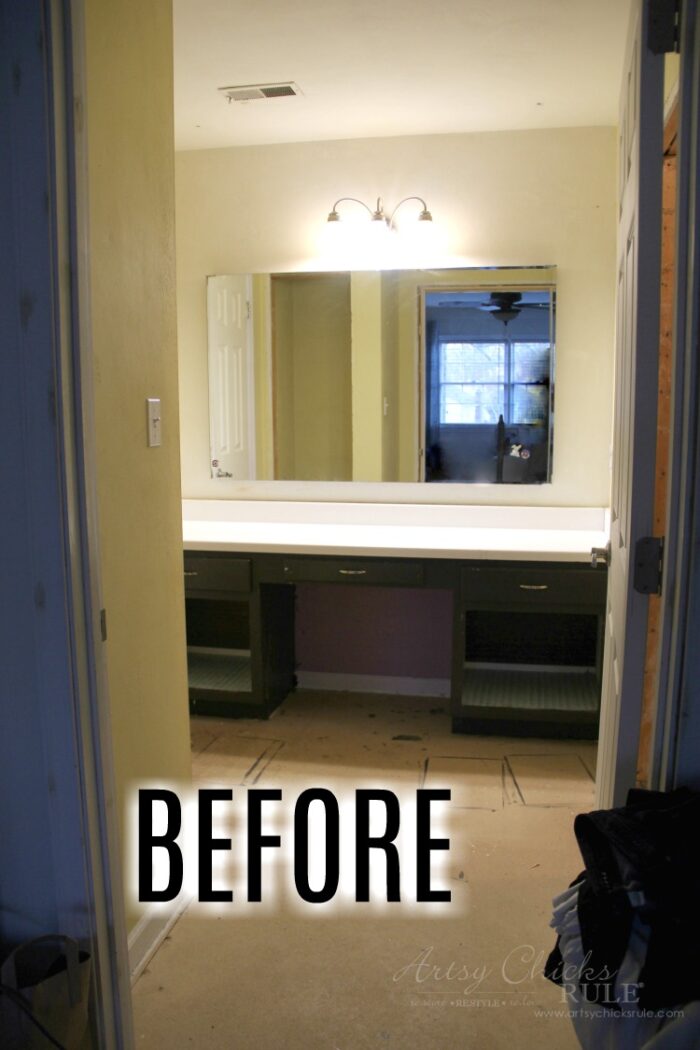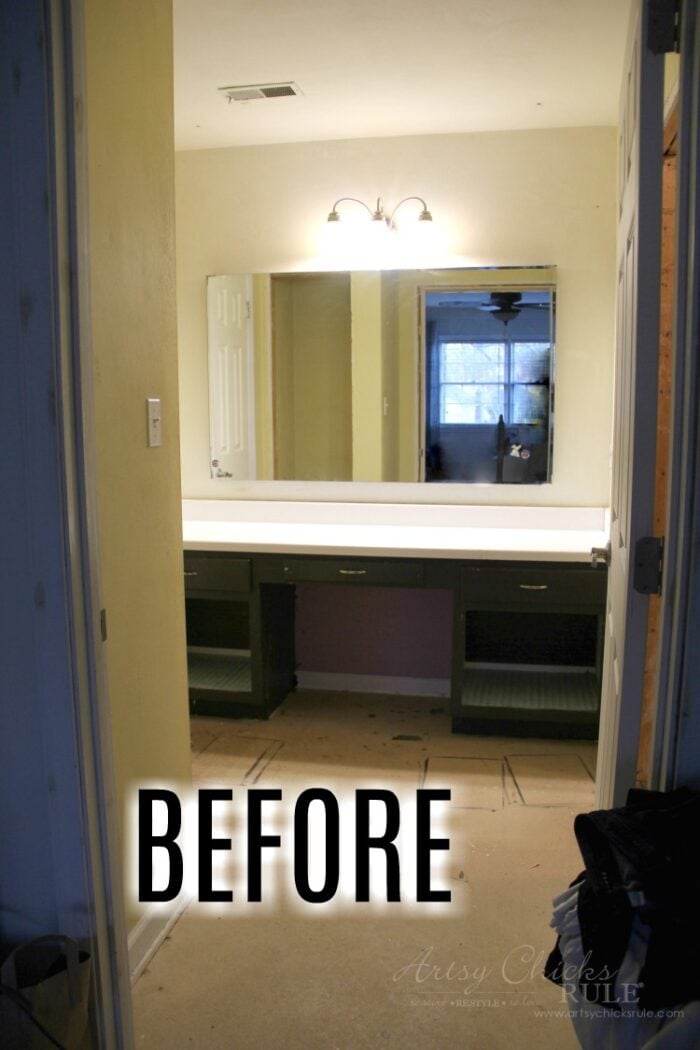 That is the bathroom straight ahead, old linen closet to the left and the extreme left is going back into the master bedroom. (you can see we had already started "re-doing" by getting rid of the wood, flat panel door and replacing with this 6-panel door with new hardware—still unpainted years later :p)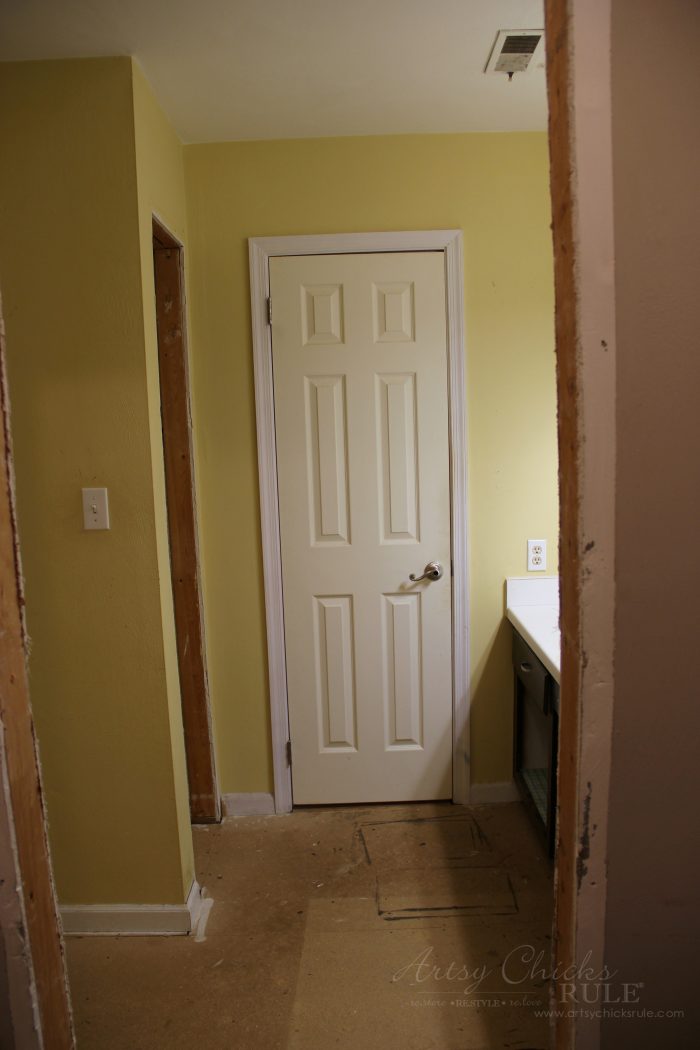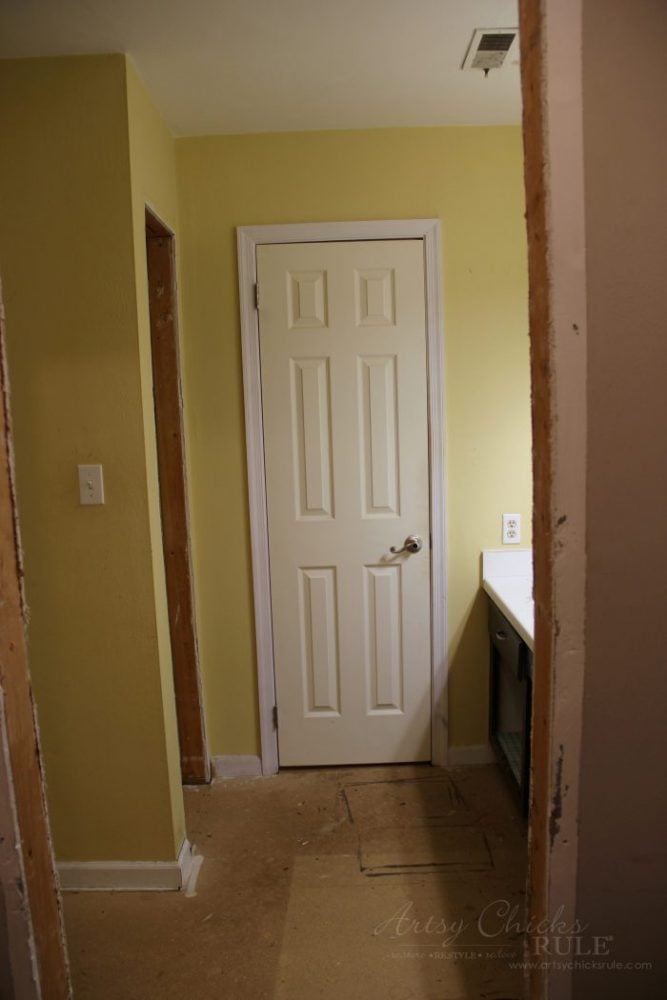 To the right…(there was a wall and that little space there was the old closet…that wall came out)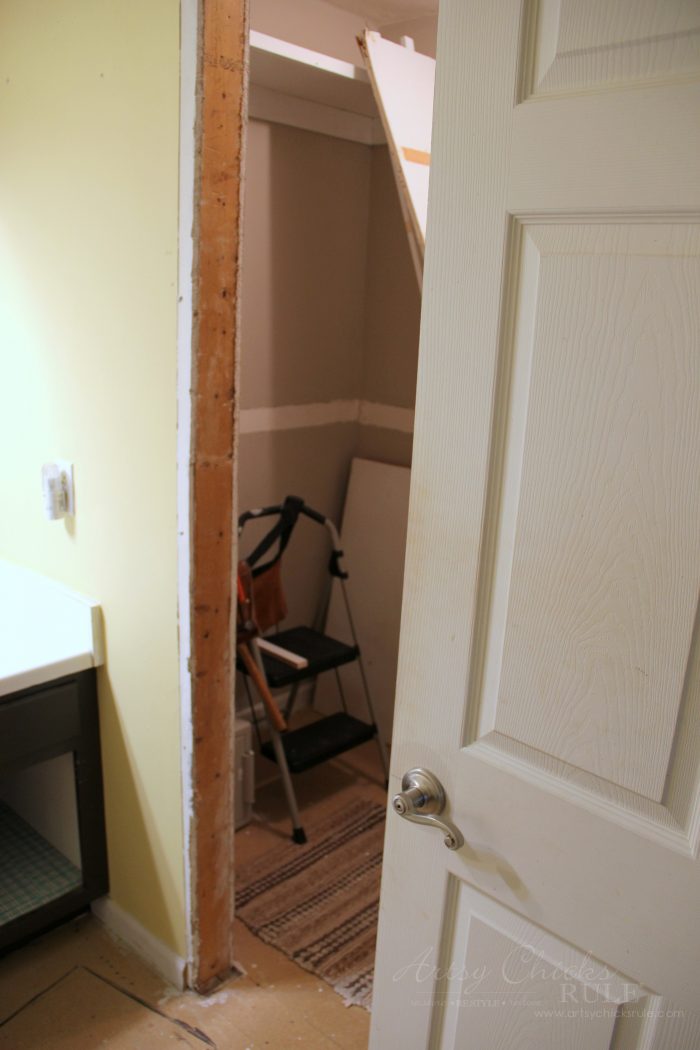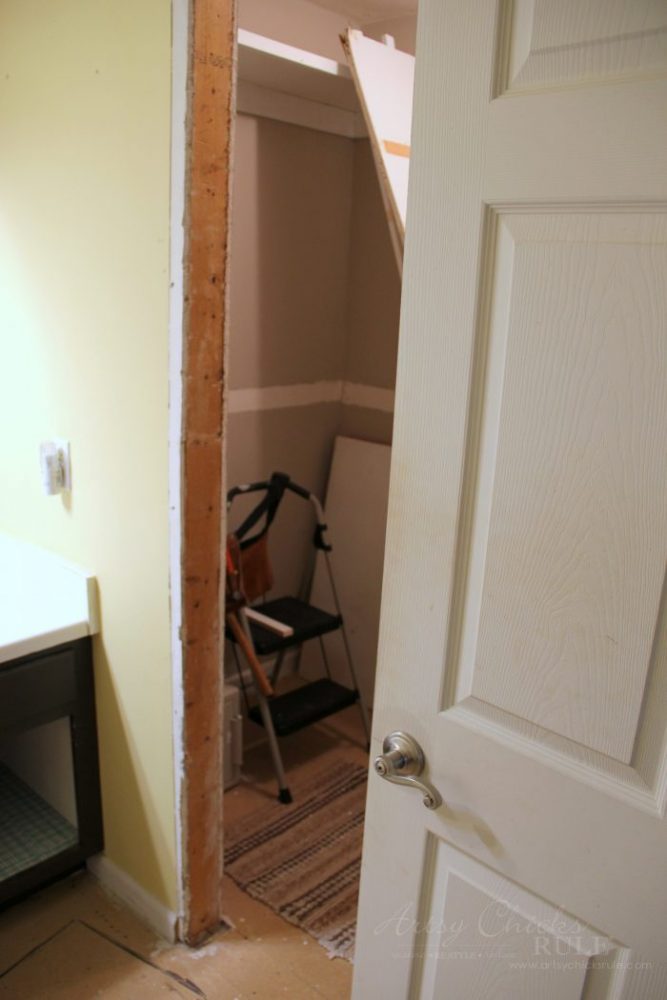 You can see the rest of the "before" photos at the link I provided up above.
Master Closet Reveal (IKEA PAX Closet System)
You can create your closet from your room dimensions online with their PAX planner or go into the store to get them to do it with you. That is what we did. Then we tweaked it some and moved things around a little once we got home. As you can see below, we switched places with the purse cabinet and the clothes cabinet from what is shown here. And once we decided to make this my closet, we took out the shoe shelves on the cabinet to the right.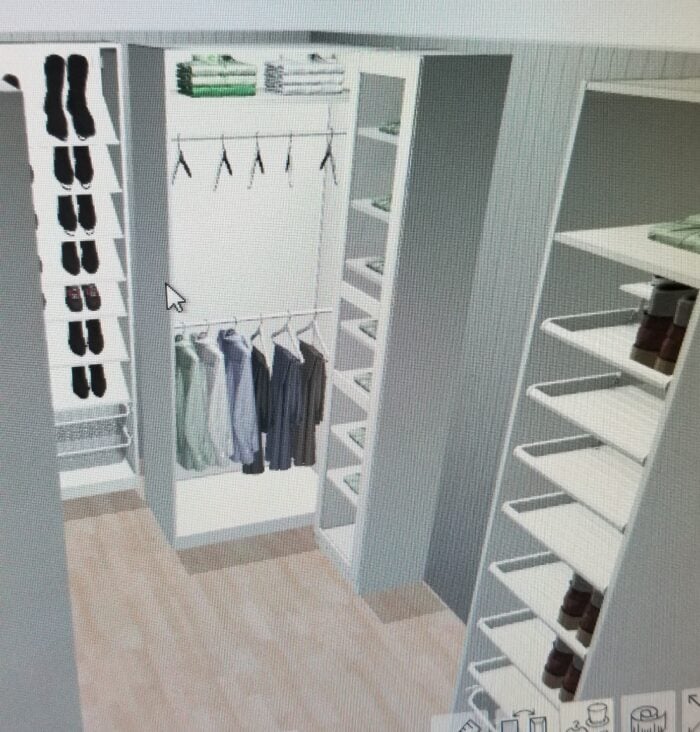 Now let's see how it turned out…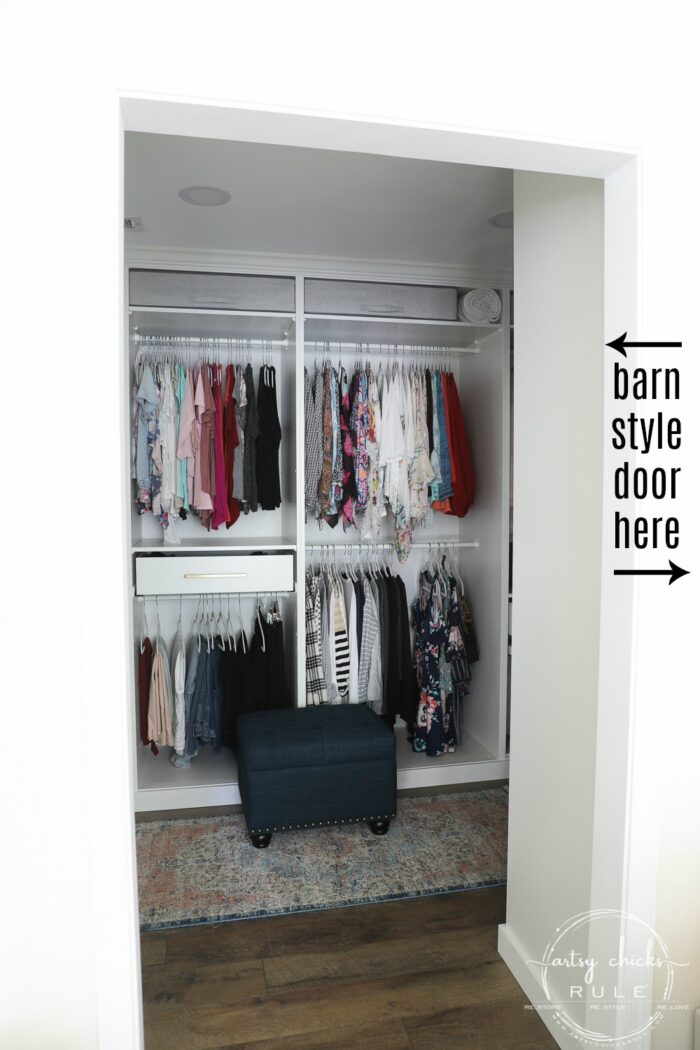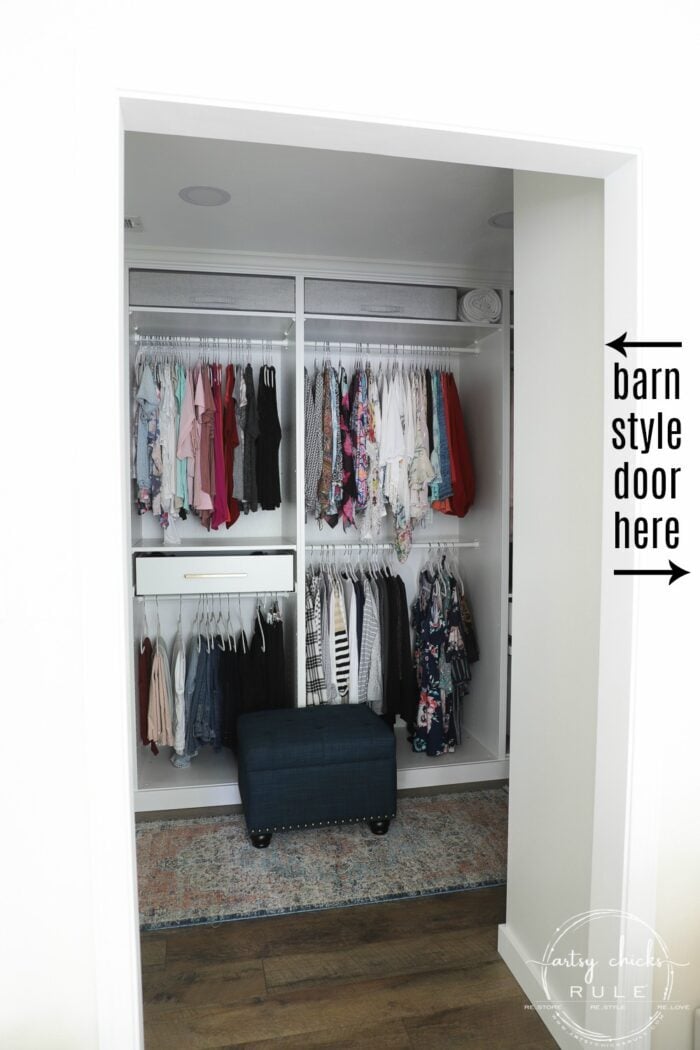 Same view looking in from the master bedroom. (and showing where we will have a barn style door)
Looking to the left now…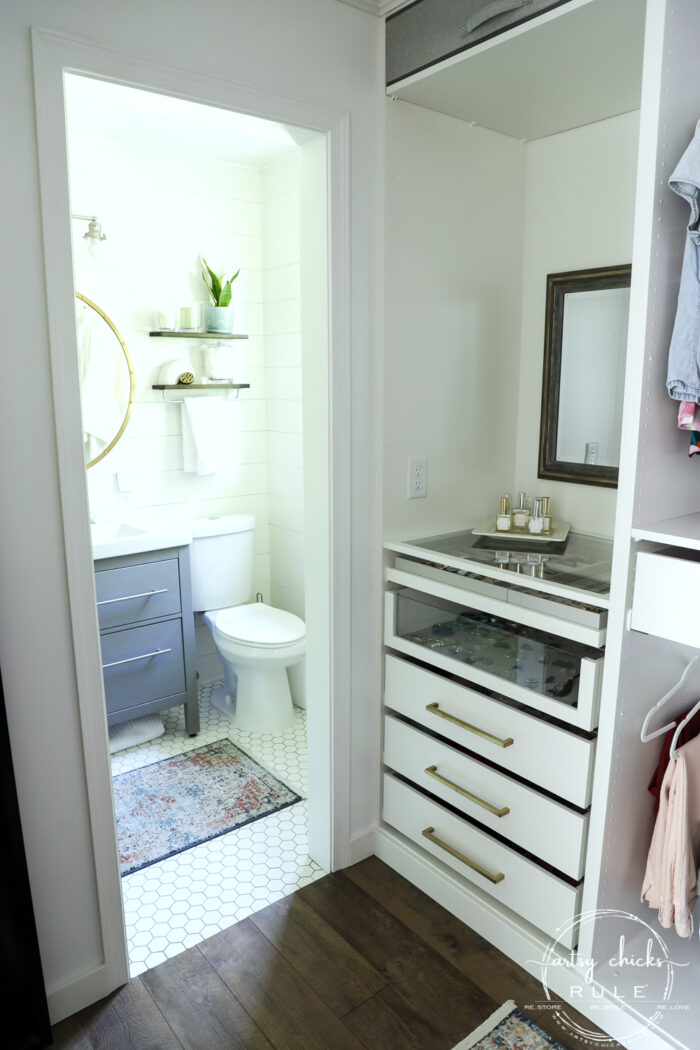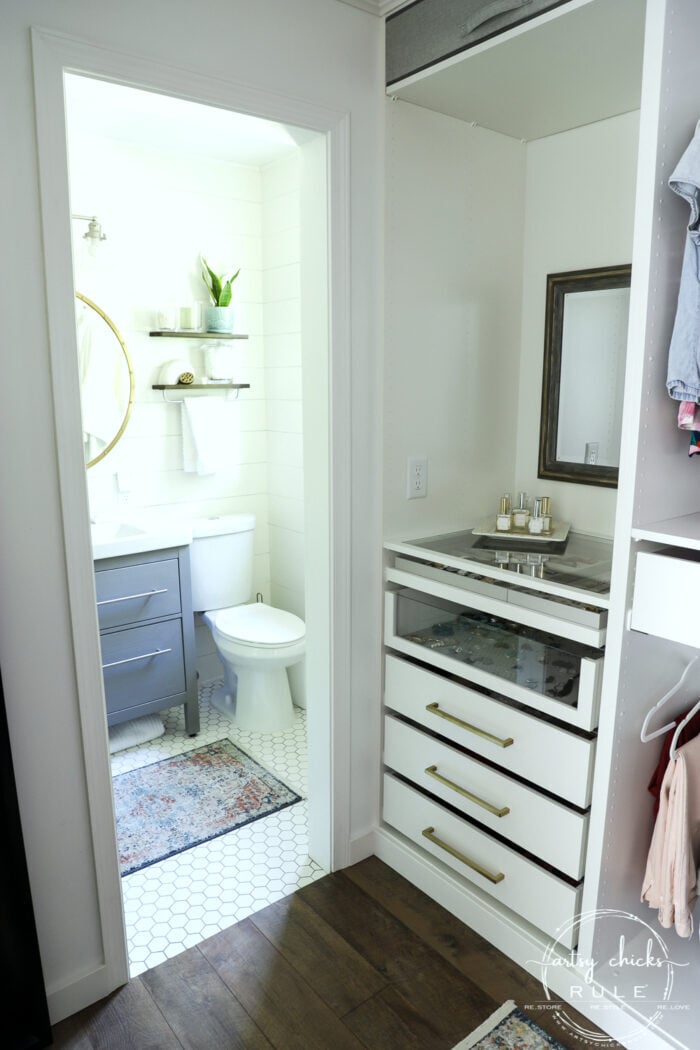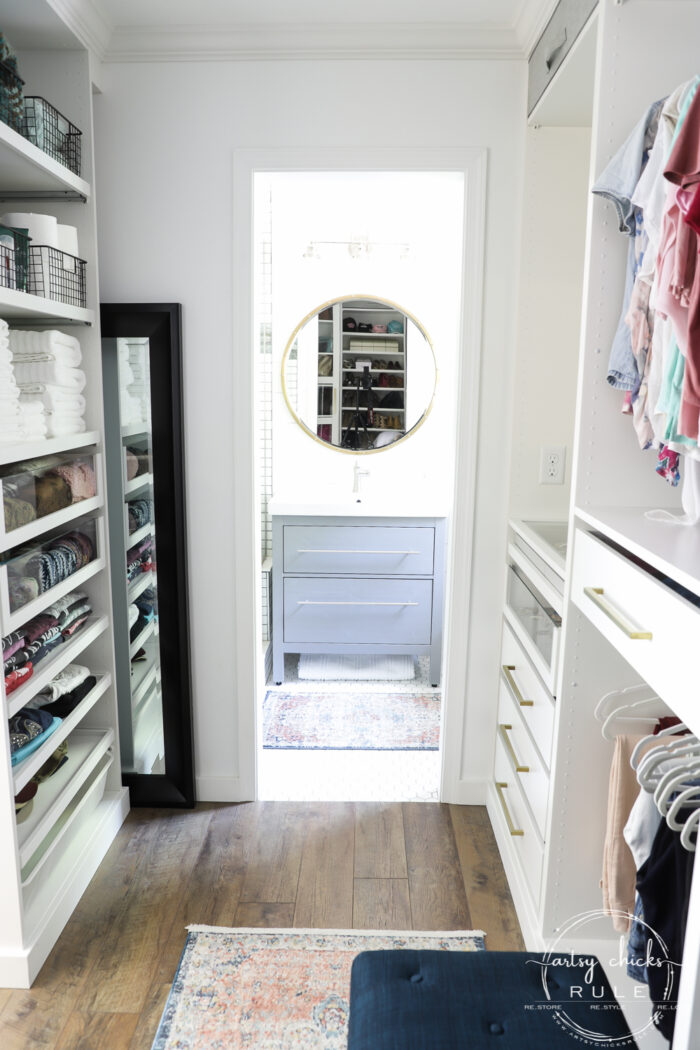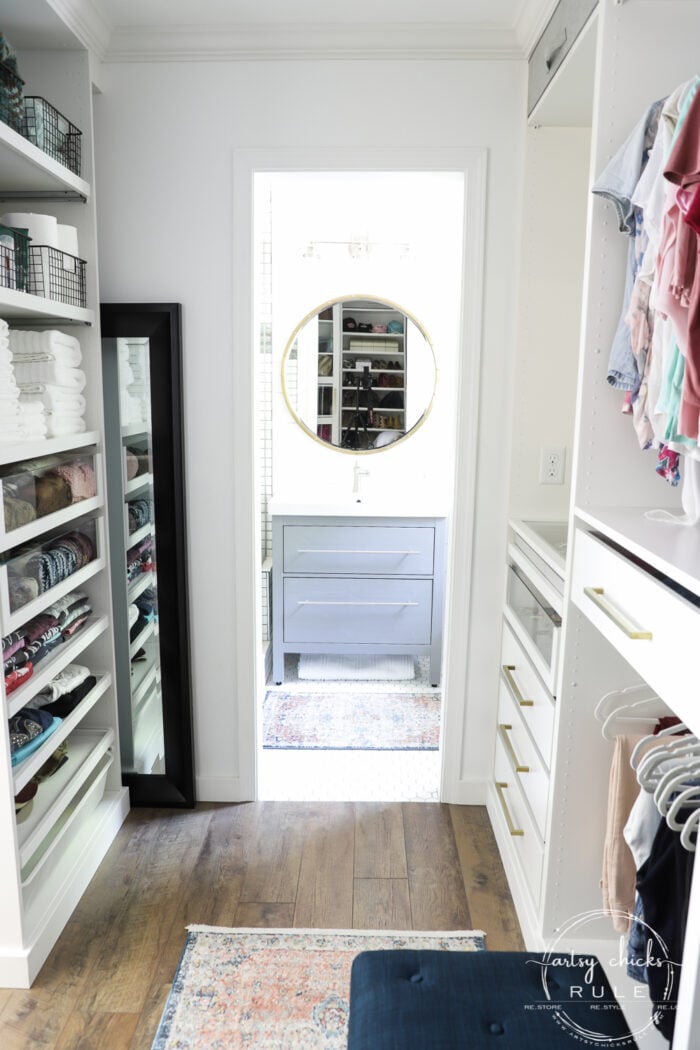 Looking to the right now…(no more wall, all opened up)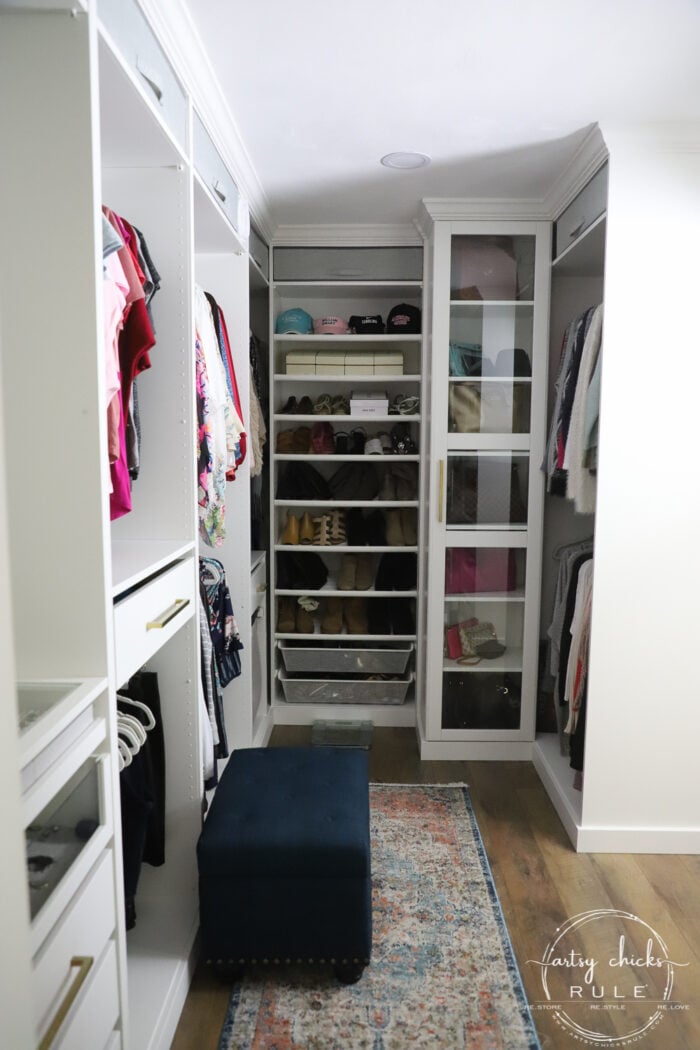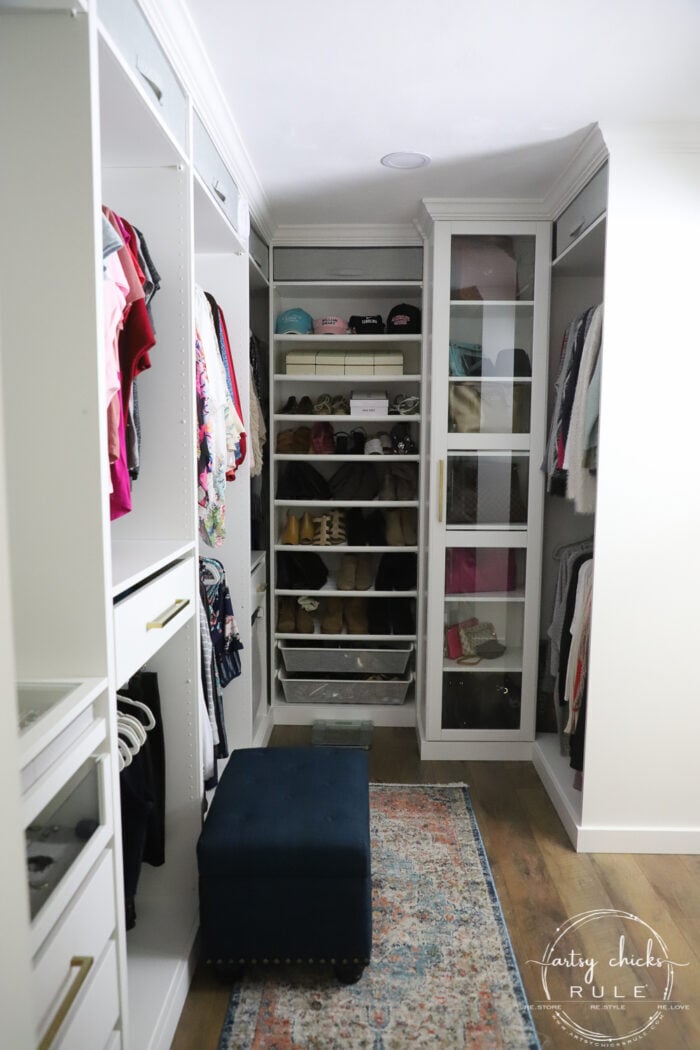 See the cubbies at the top of each section?? I found these storage containers that were mostly a perfect fit. (source list at the bottom of the post)
Let's "customize" and build in this IKEA PAX closet system…
Now that you've seen the closet reveal, I want to talk about some of the things we did to make it a little more "custom" looking. Or at least more of a "built-in" look. Plus, I also want to share all about the IKEA PAX closet system and how it all works together. And even a couple of changes I've decided to change once living with it for a bit. (of course, right??! haha…just small ones though)
This is one of the things I did that I probably would not do again. Why? Because once you've filled them up, you can't even tell it's there.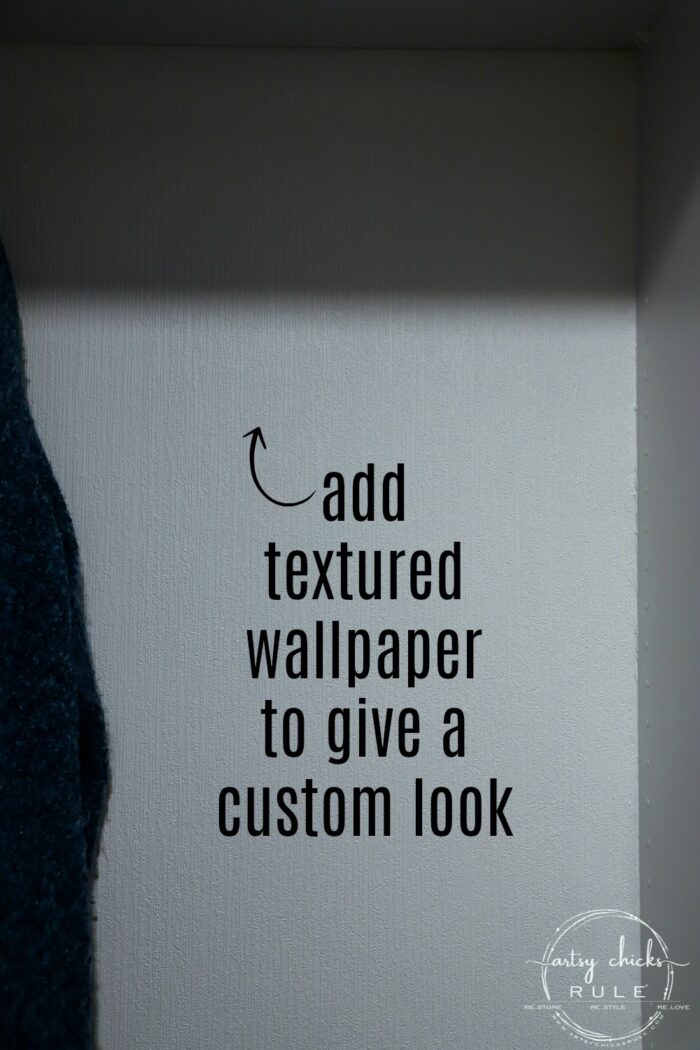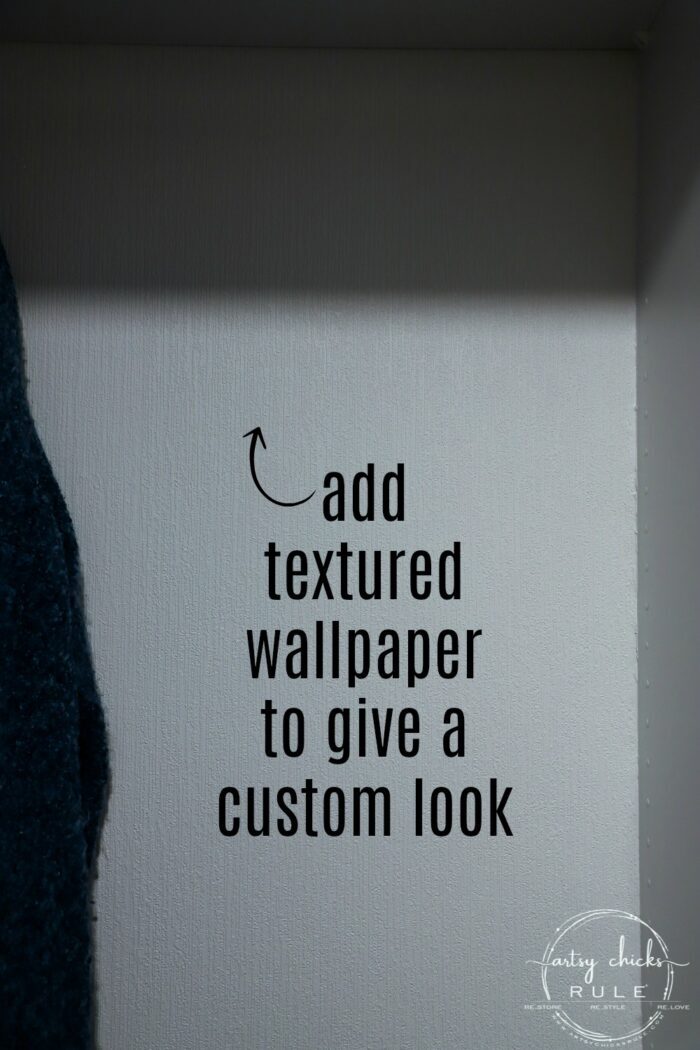 I added textured paintable wallpaper to the backs of the cabinets to hide the line that goes down the middle. (it's where it folds before you open it up to put the cabinet together)
Here's a little better picture to show the texture.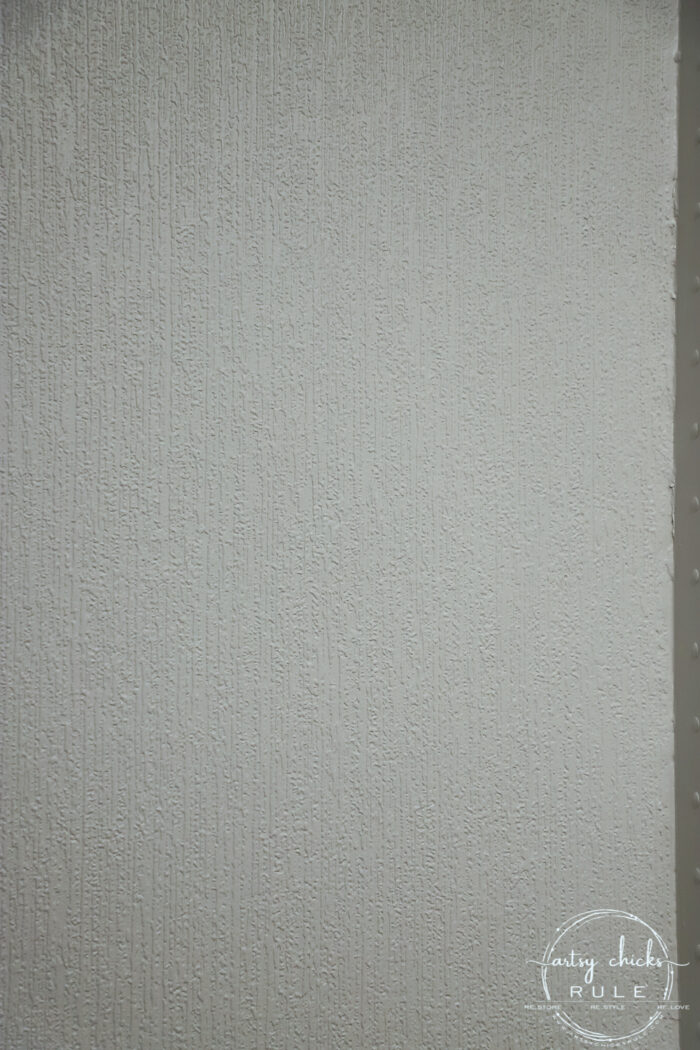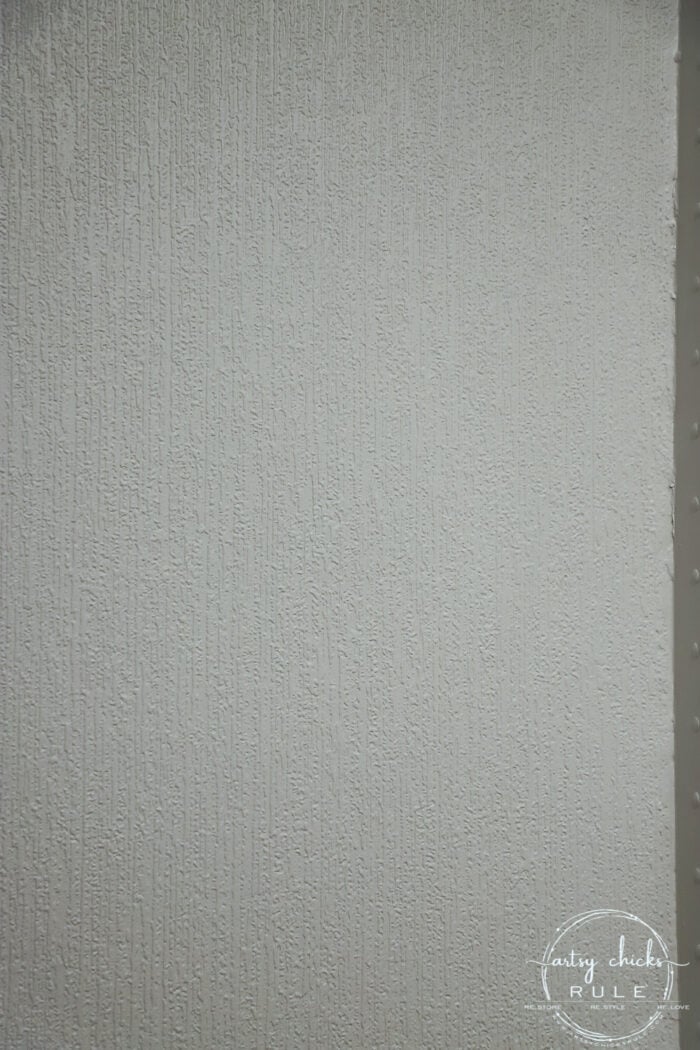 I suppose I could've painted it a contrasting color or used something like grasscloth wallpaper (I considered it) but I wanted to keep it light and bright.
Yassss. You must do this or it will not look so great with all those black holes everywhere. BUT you will need some patience (and some tough fingers, lol) as there is A LOT to fill. IKEA sells these in packs of 100 I think. We bought many packs. ;)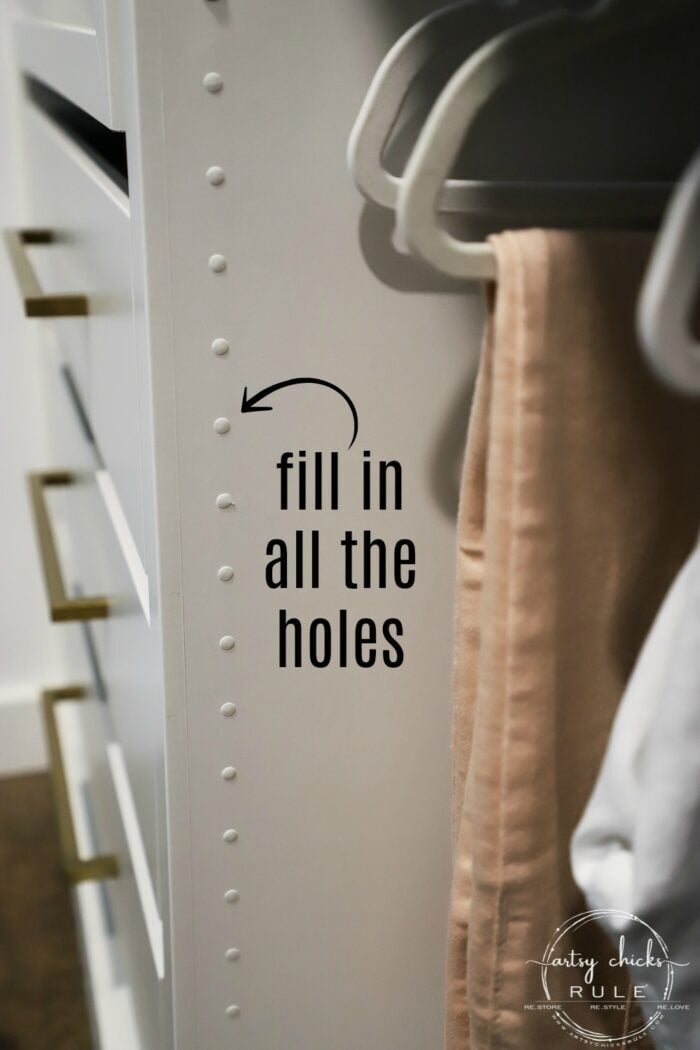 You'll notice in the further away photos how well they blend in and look seamless. Without them, you see lots of little black holes.
Definitely nicer with.
There was a gap between the top of the cabinet and the ceiling before we added the crown mold. What an absolute difference it makes.
So good.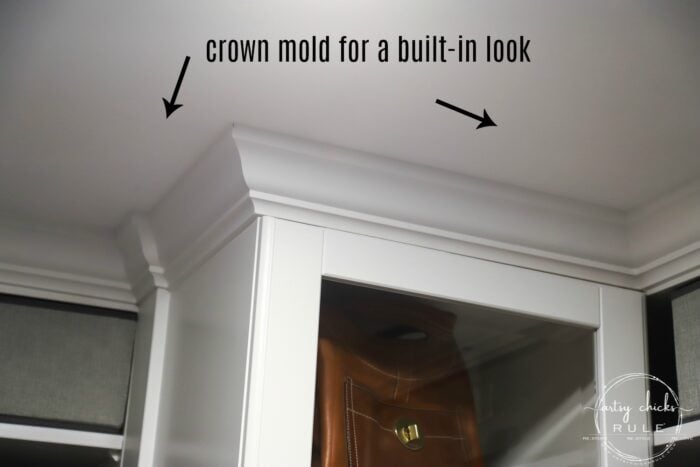 I think my hubby did an awesome job on this crown mold.
All the way around the room for a seamless look.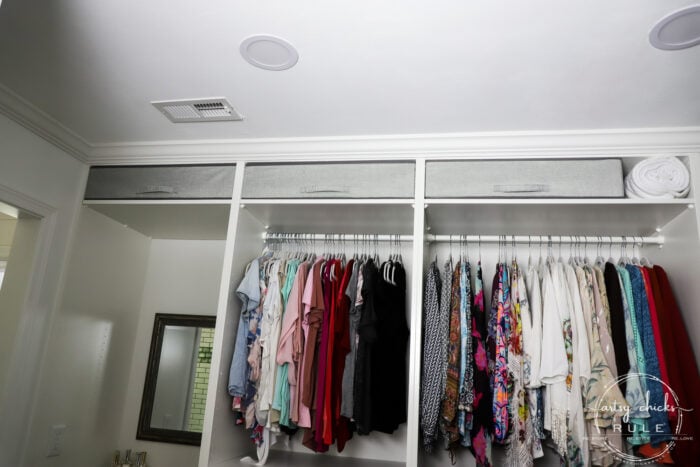 We also had to repair the ceiling after the wall came out. We had to move the vent over to clear the crown molding and also added 2 recessed lights. (we hired that out and moved our light switches, but did everything else ourselves)
Trim on the bottom to continue that built-in look. (and lots and lots of caulk!lol)
Filling all the holes (where the cabinets are put together).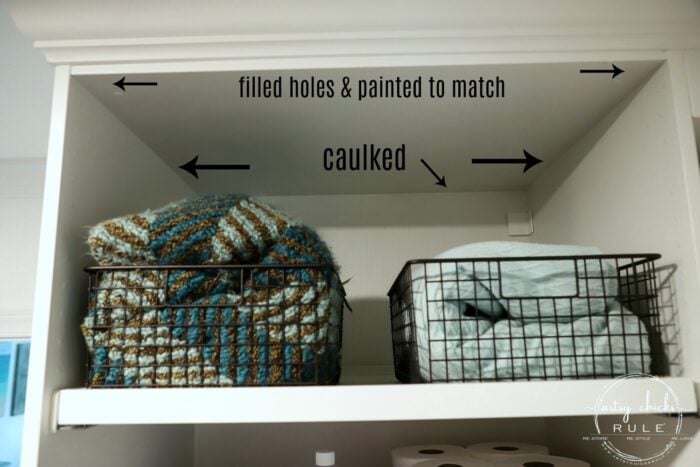 We had to add a piece of trim to hide the wall where this cabinet was set. We could have covered that with the shoe cabinet to the left by putting a deeper cabinet in but we wanted to maximize space.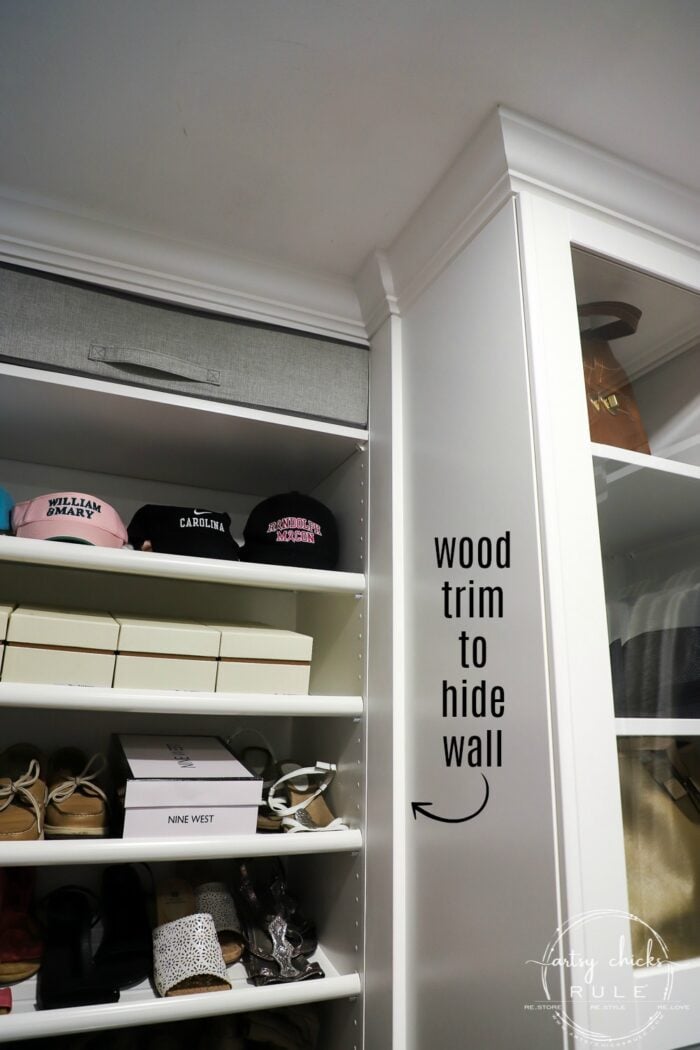 And by putting a shorter depth cabinet (the shoe cabinet) in here, allowed us to utilize more of this corner cabinet.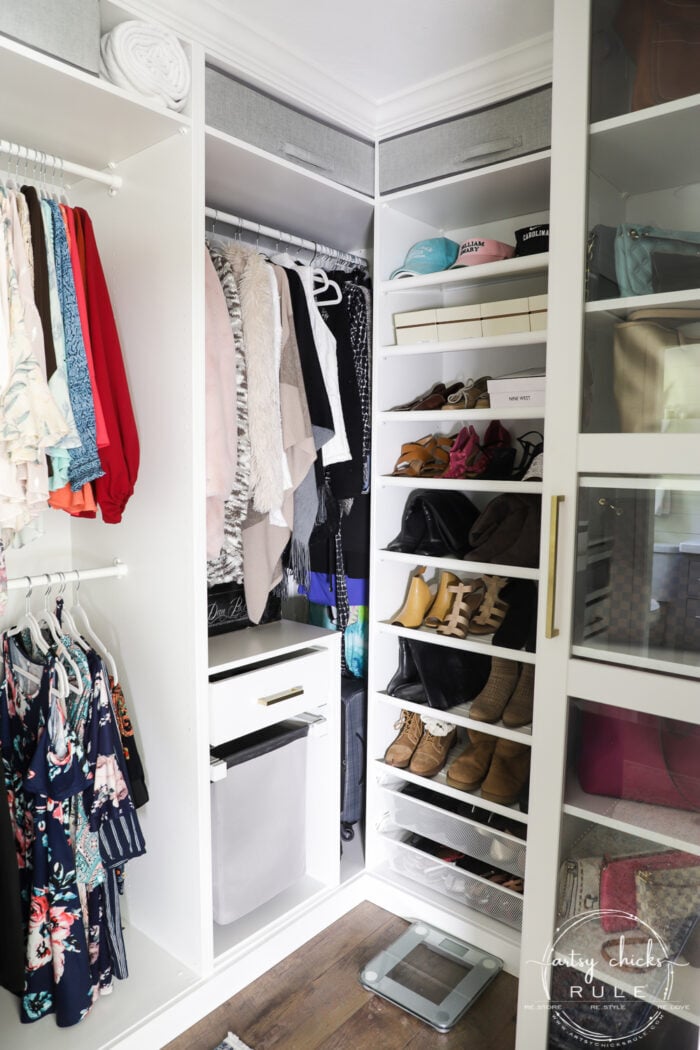 Which is perfect for all of my long sundresses and such.
And my suitcase and tall rain boots.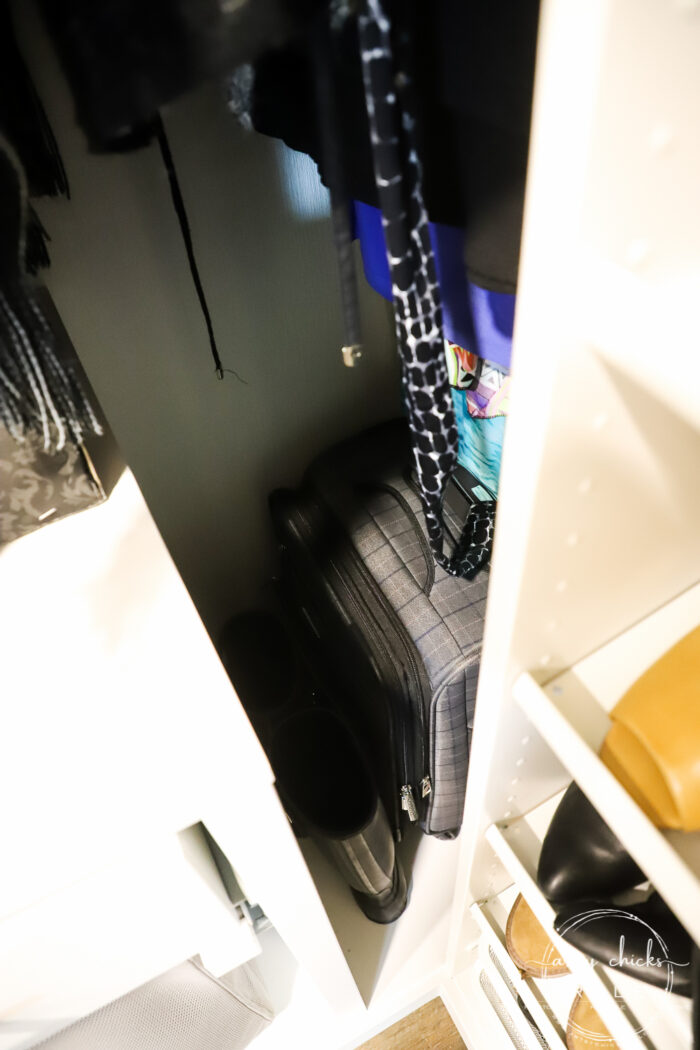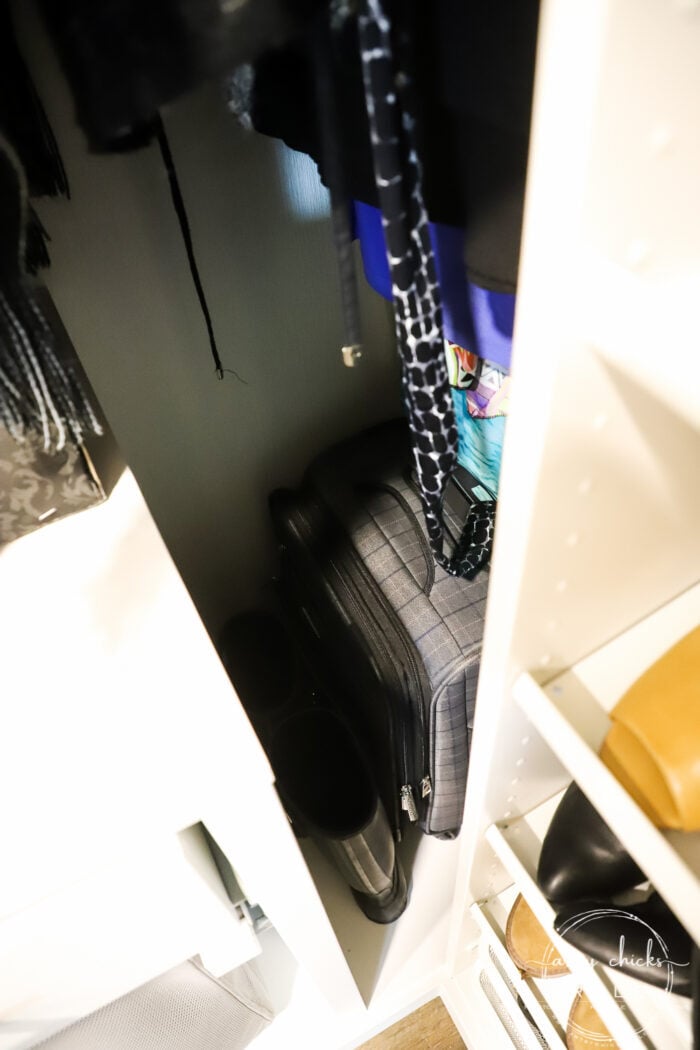 We put in this little cabinet inside the larger cabinet to hold these two laundry bins…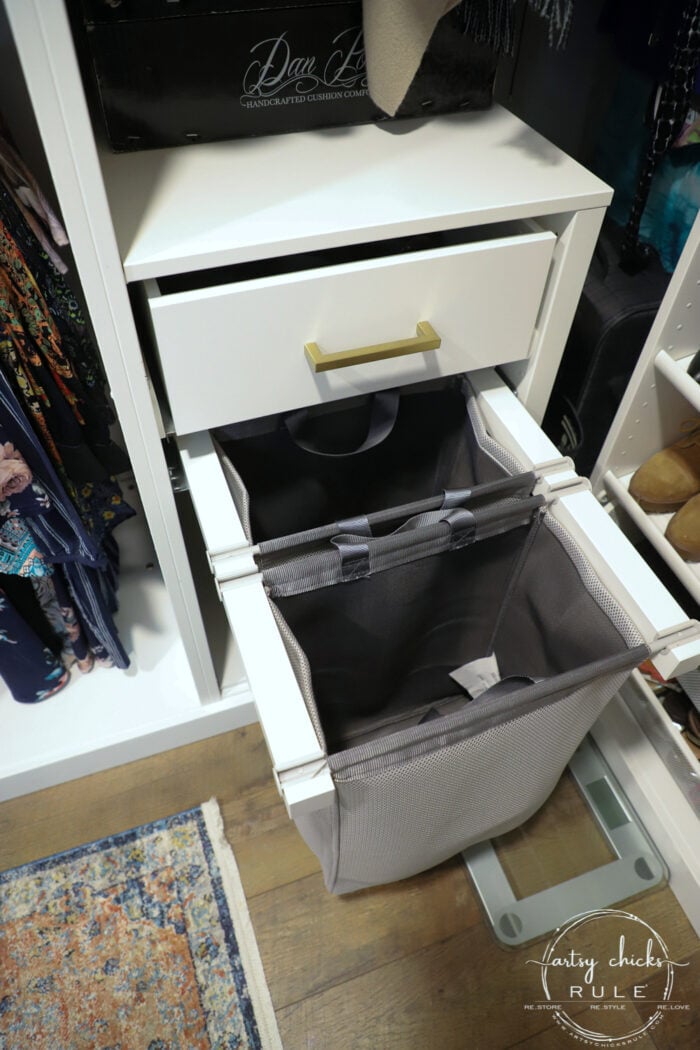 And this drawer for belts and things…(you can buy all these inserts from IKEA for the PAX system)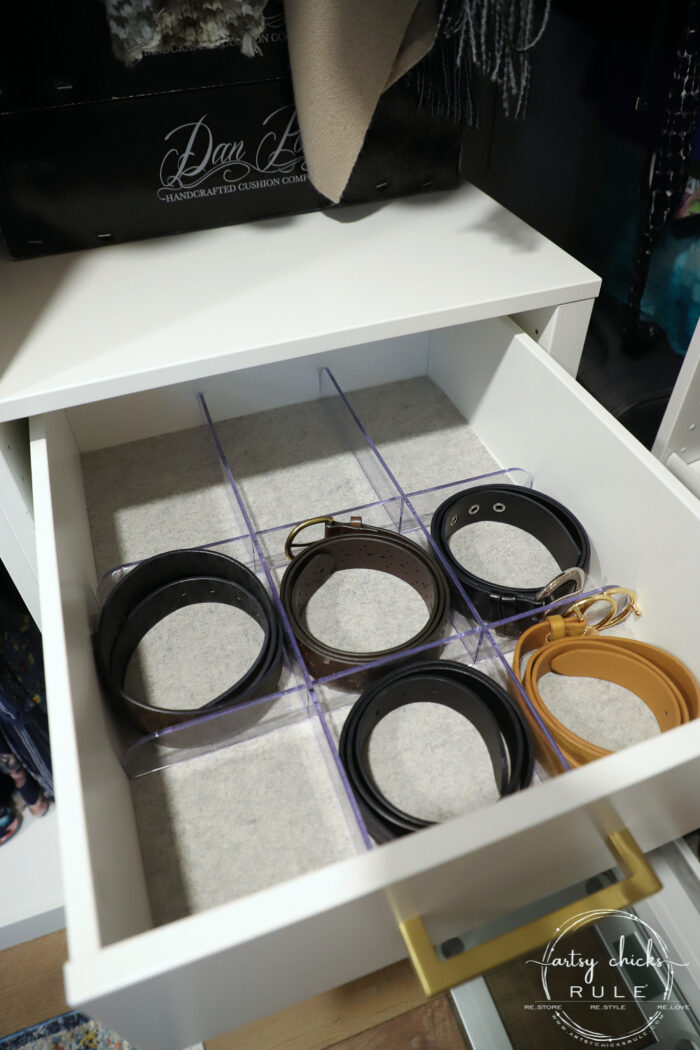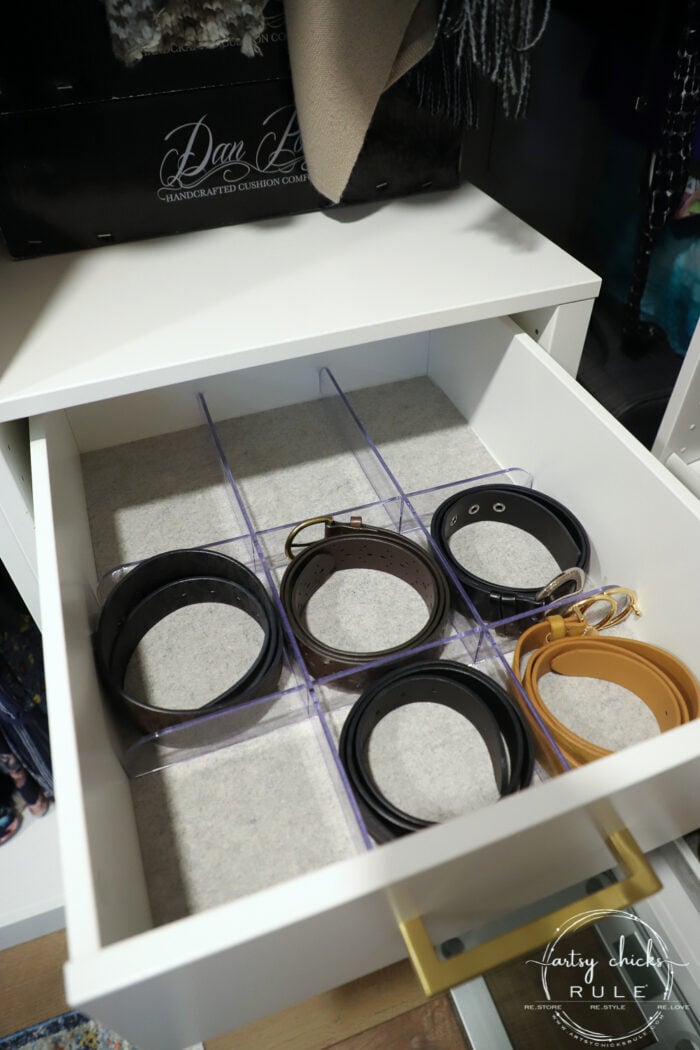 Plus the top is perfect for storing boot boxes.
They also have these slanted metal shelves for shoes…(or hats, etc.)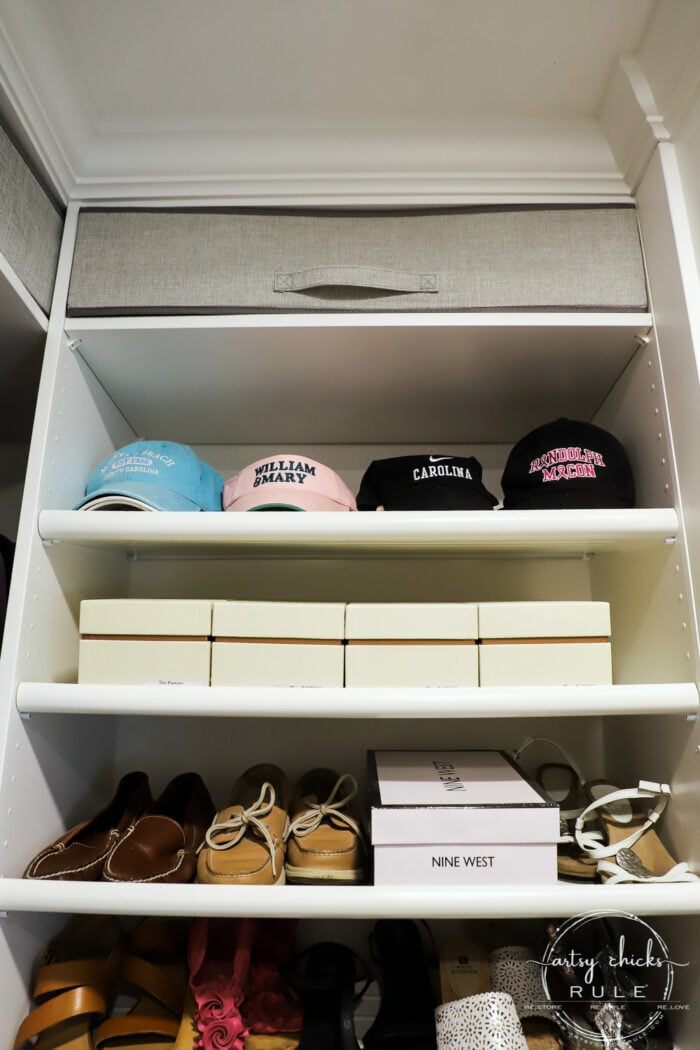 I put two baskets (that pull out) at the bottom of the shoe rack for sandals and flip-flops.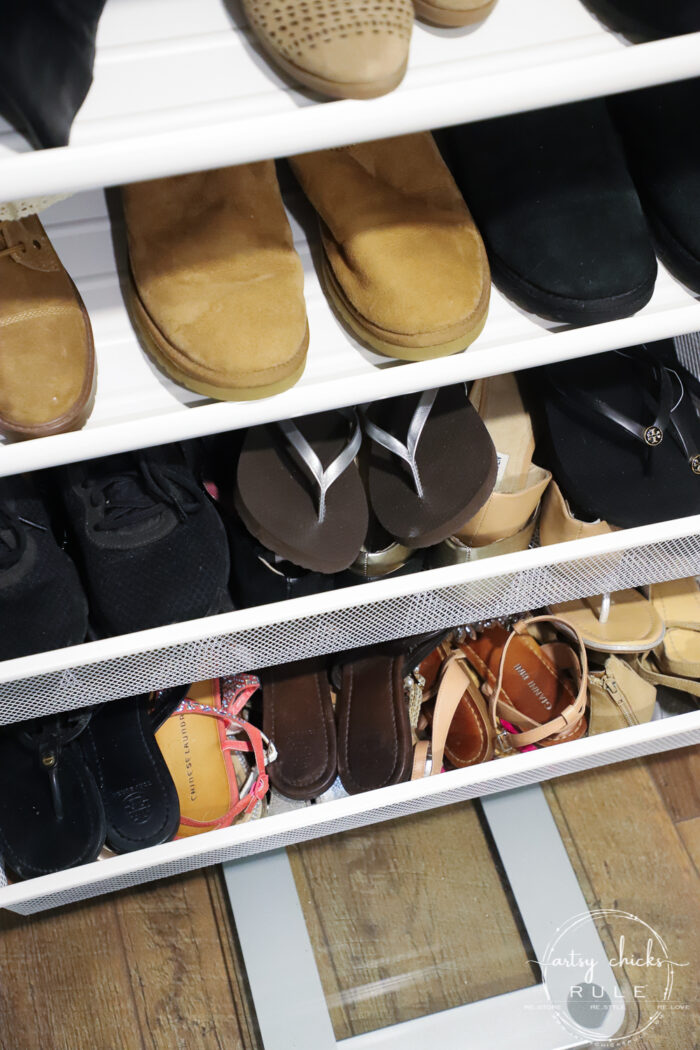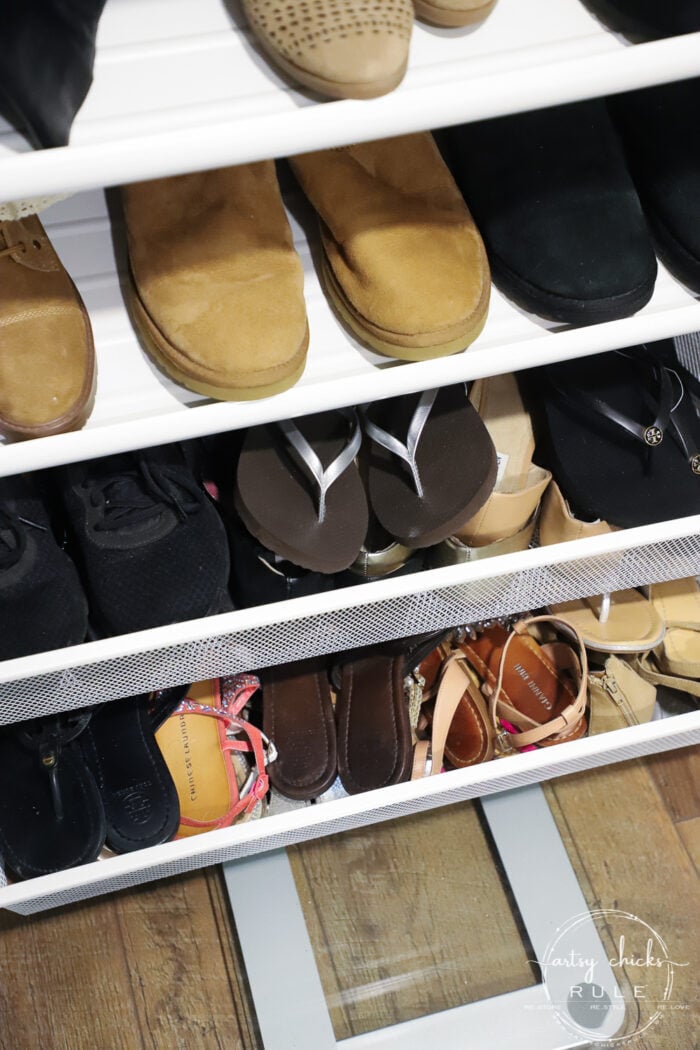 I've always wanted a "purse cabinet" because they always get so dusty and mangled up sitting around in my closet.
I knew I wanted to have one with a door to help keep the dust down. I'm so thrilled with the little one we managed to fit in.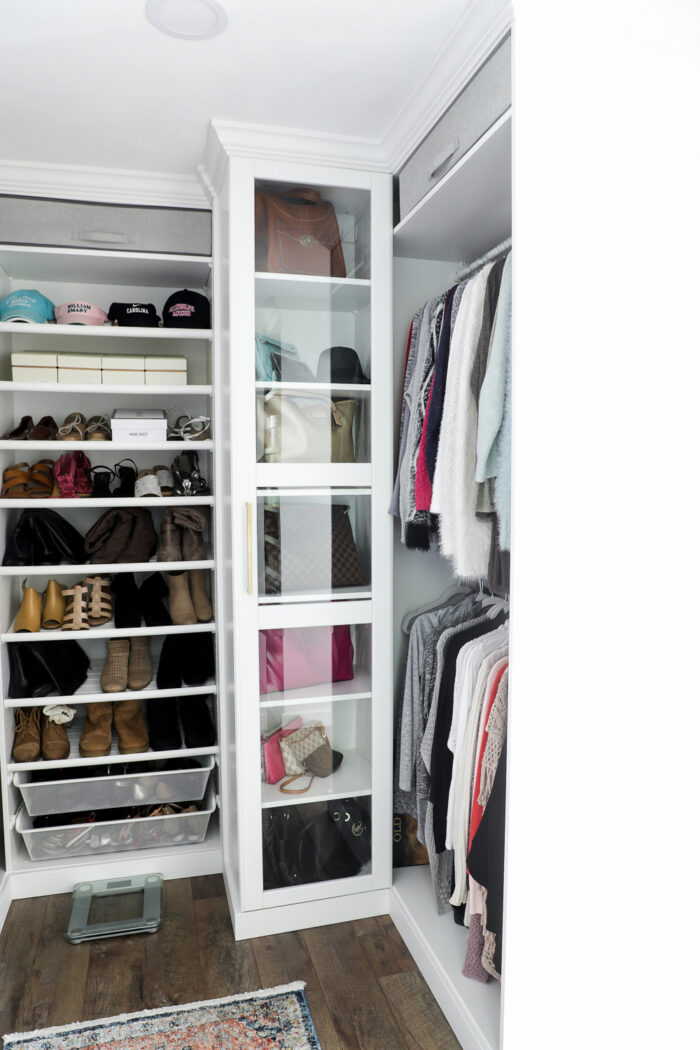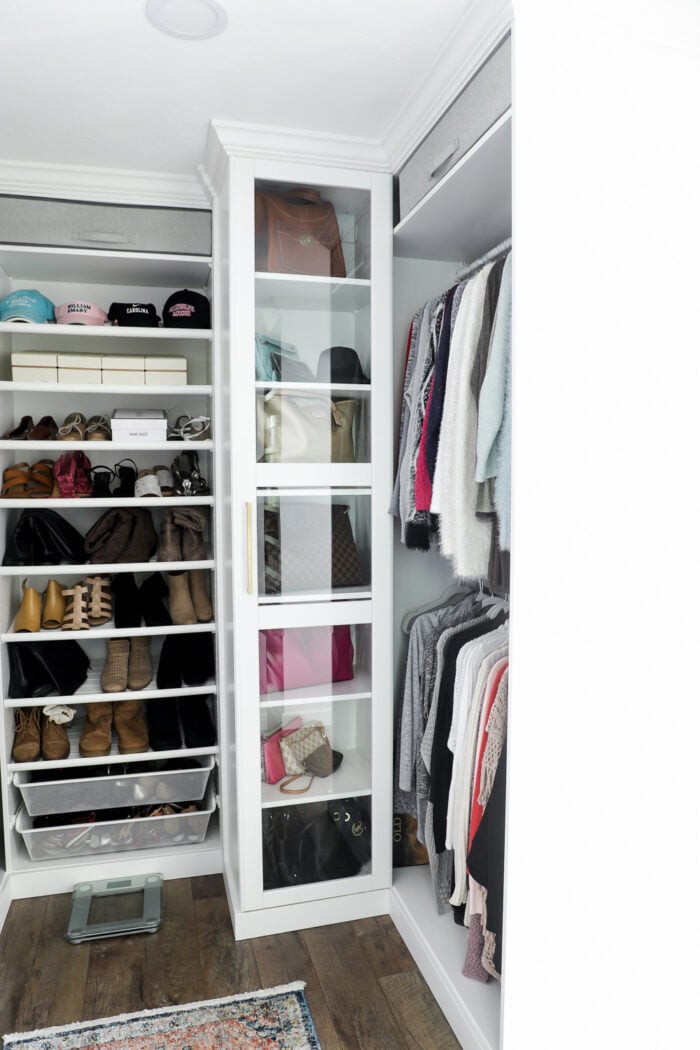 And over in the corner of this cabinet, I can fit in a box or two of boots or other things.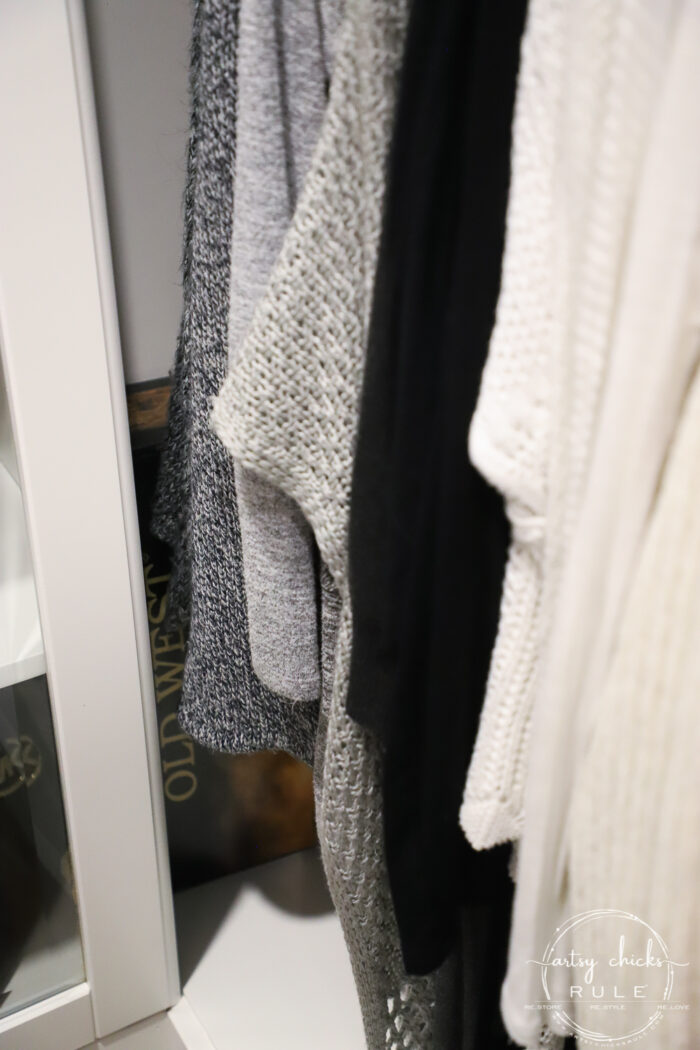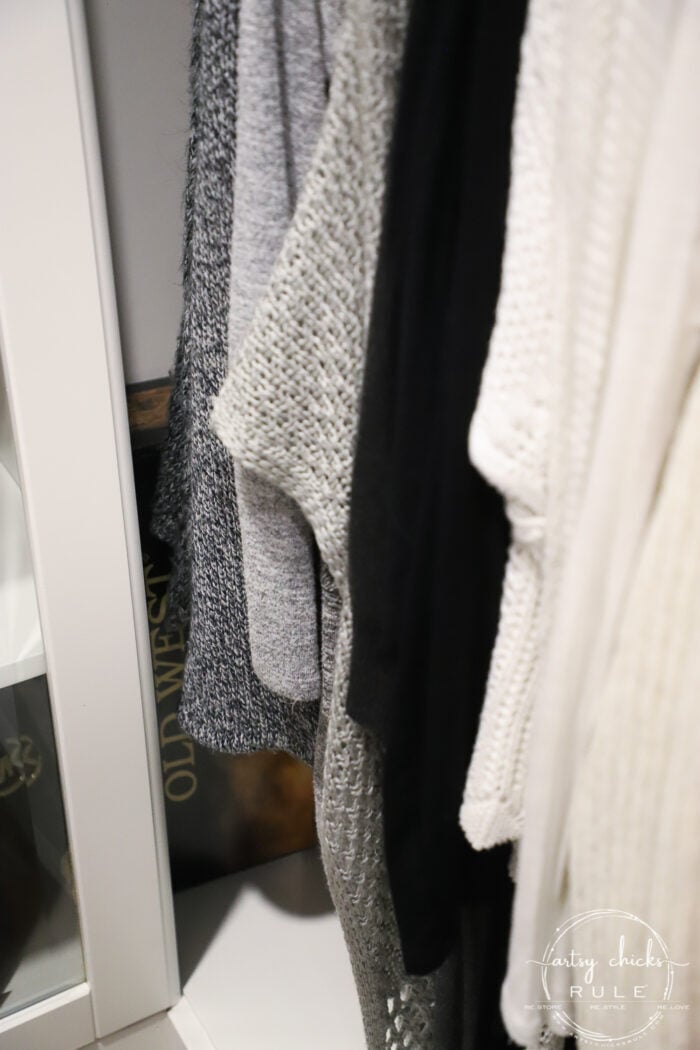 And since our master bath is so small, this area right by the bathroom is meant to be another small dressing area…with a mirror and extra plug for curling irons or hair dryers. (the outlet is on the left you can see it in other photos)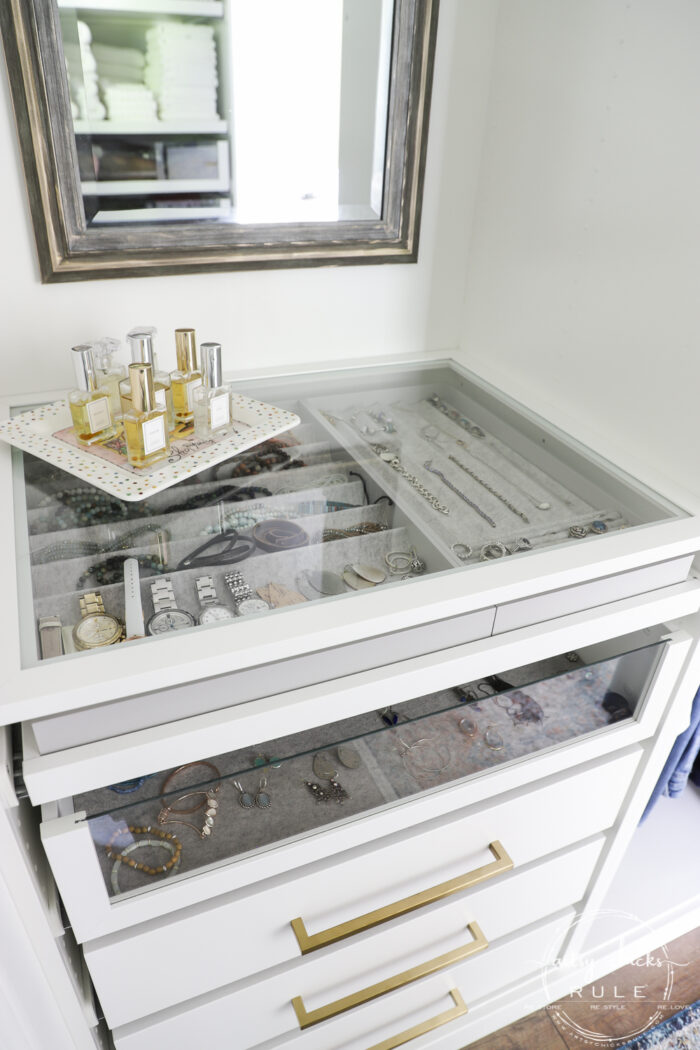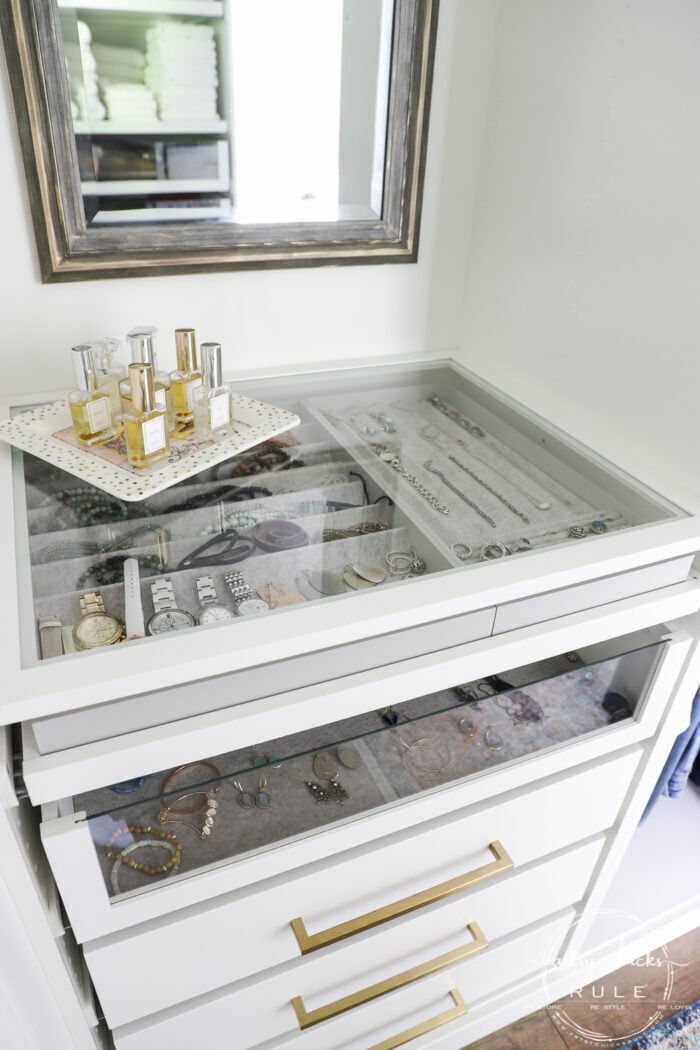 I used to have my jewelry hanging up on a corkboard in our bedroom but I'm thrilled to be able to free up that wall space and bring it in here.
These work great (and this is one of the areas I'm tweaking…)
I love being able to see through the glass top. Plus it keeps an open feel which I also love.
These roll-out shelves are perfect for jewelry. I put these small jewelry forms from IKEA in to hold things.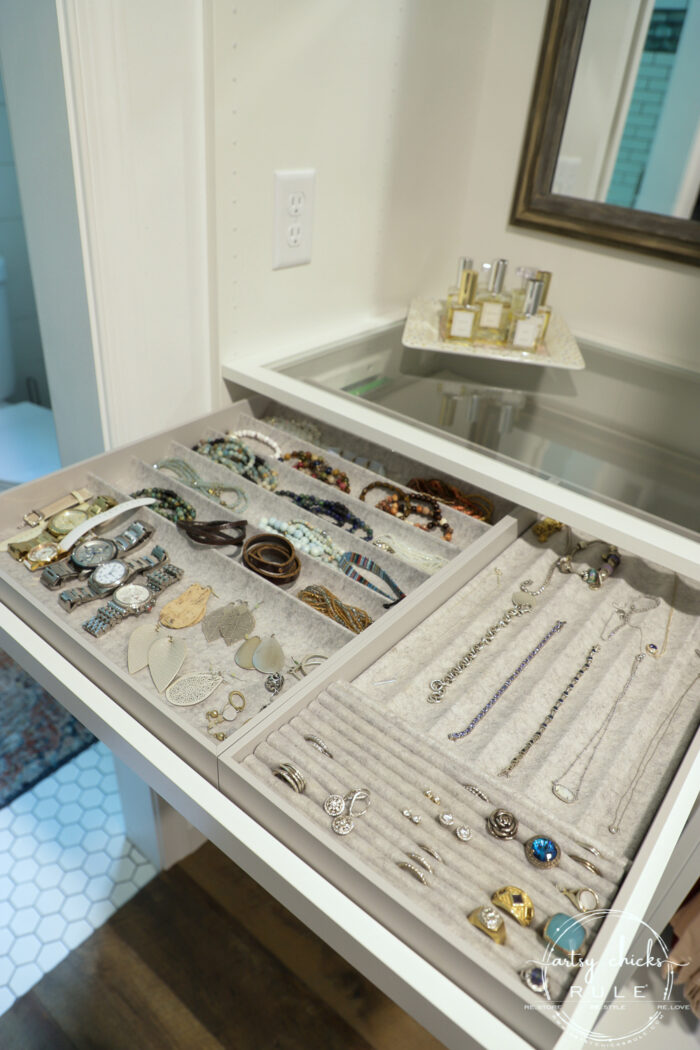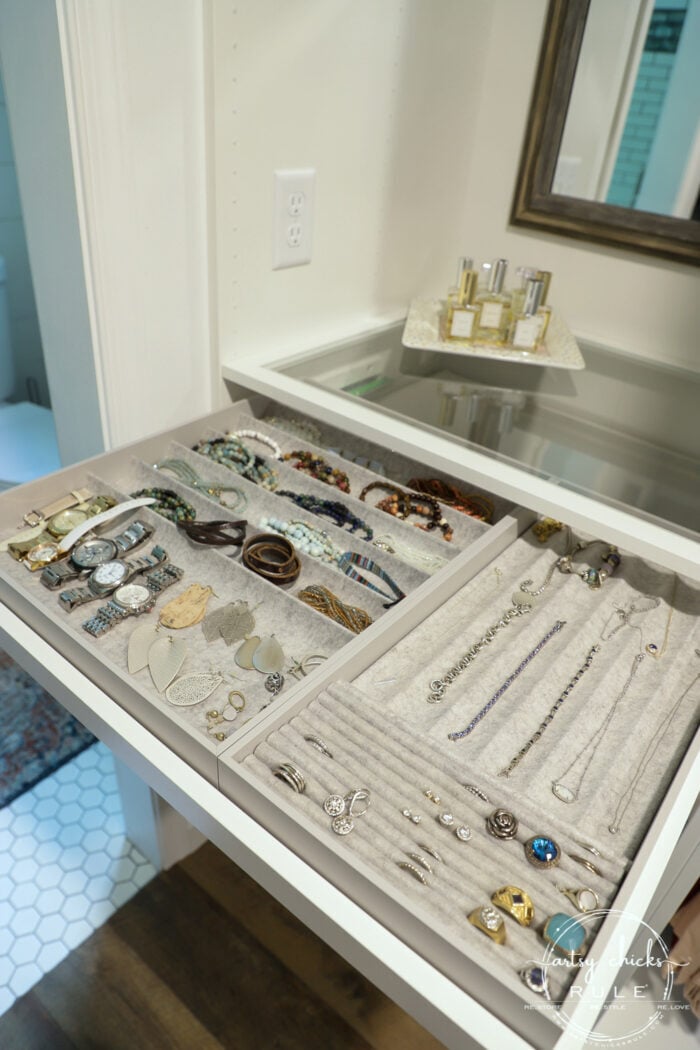 Second drawer which is a glass front drawer… (and one I'm tweaking…)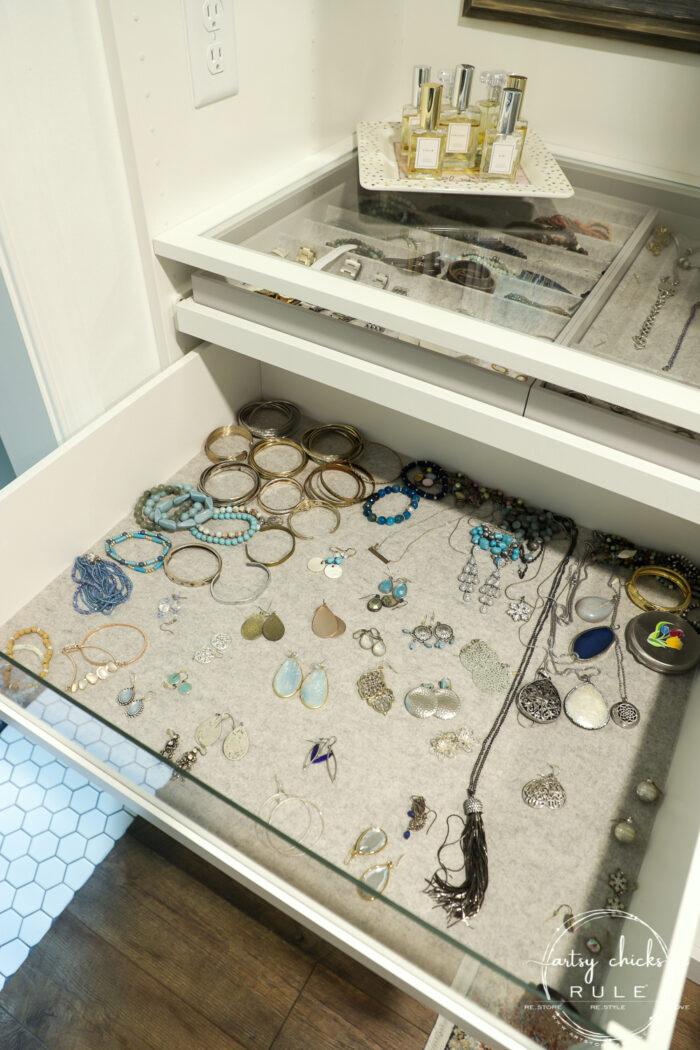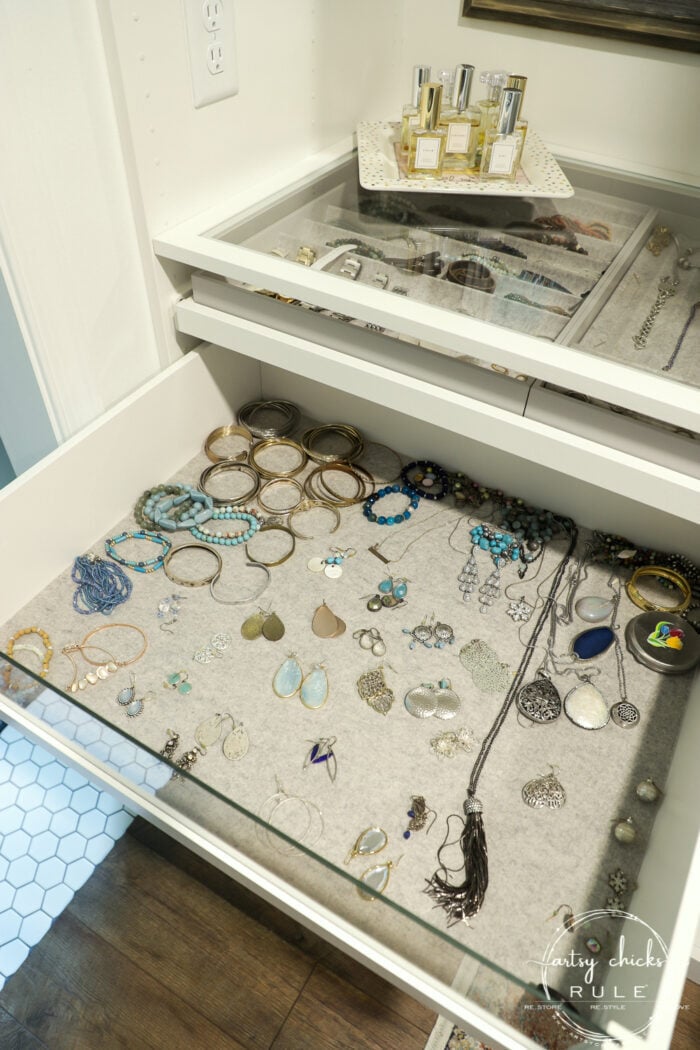 I added a felt liner so I could use it to lay jewelry in. But … I had originally planned to use this for something else.
So I am moving this drawer to the cabinet on the opposite wall and putting in two more roll-out shelves (like the one above it) to hold long necklaces, bracelets, more earrings, etc. It just makes more sense since this is a lot of wasted space with such a deep drawer. (so I will have 3 roll-out shelves here like the one on top, but no forms, only felt liners to lay things flat)
This drawer holds my lady things (that I removed for the photo because nobody needs to see that! lol). ;)
But I wanted to share these little felt compartments that IKEA sells for the drawers.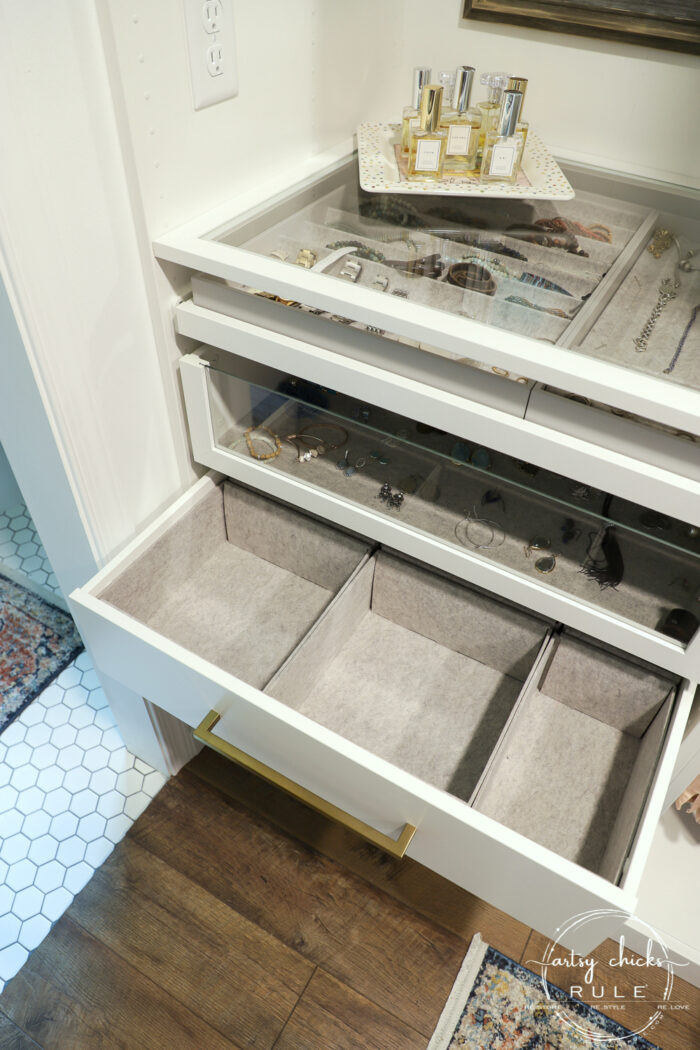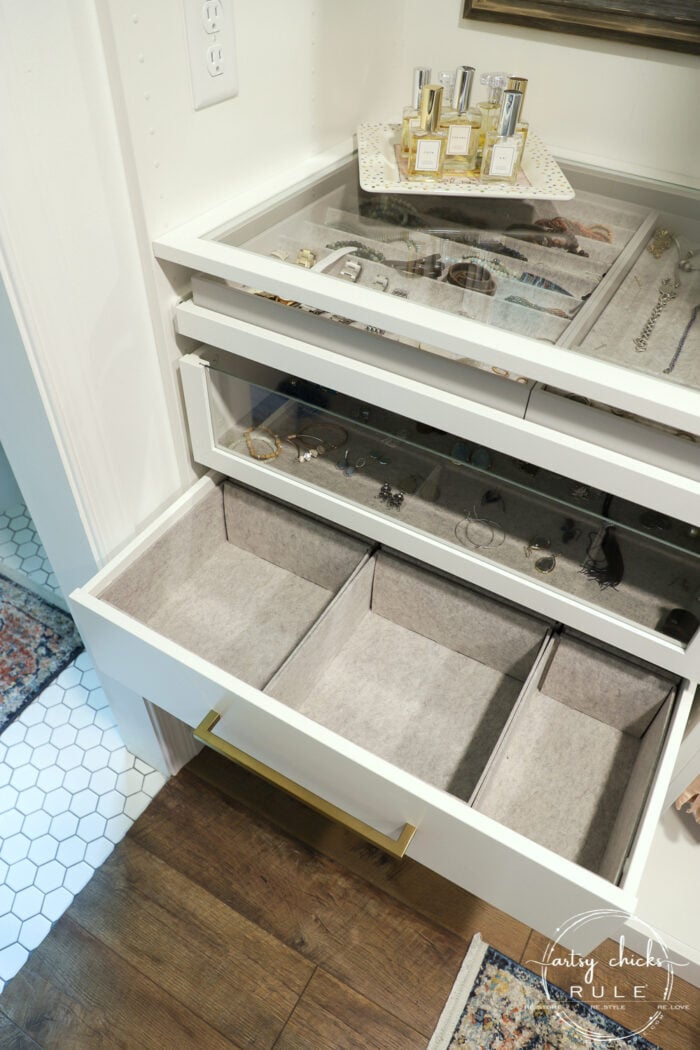 It sure makes using these larger drawers nice because you can divide all your things up (bras, undies, socks, etc) and still have them all in the same drawer (there are 3 more, so 6 total in this drawer…I love them!).
You might also notice we added gold bar hardware to the fronts of the drawers. I wanted to dress it up a little bit.
Okay, here is the cabinet opposite the one I just shared with you. This is the one that the glass front cabinet is going into.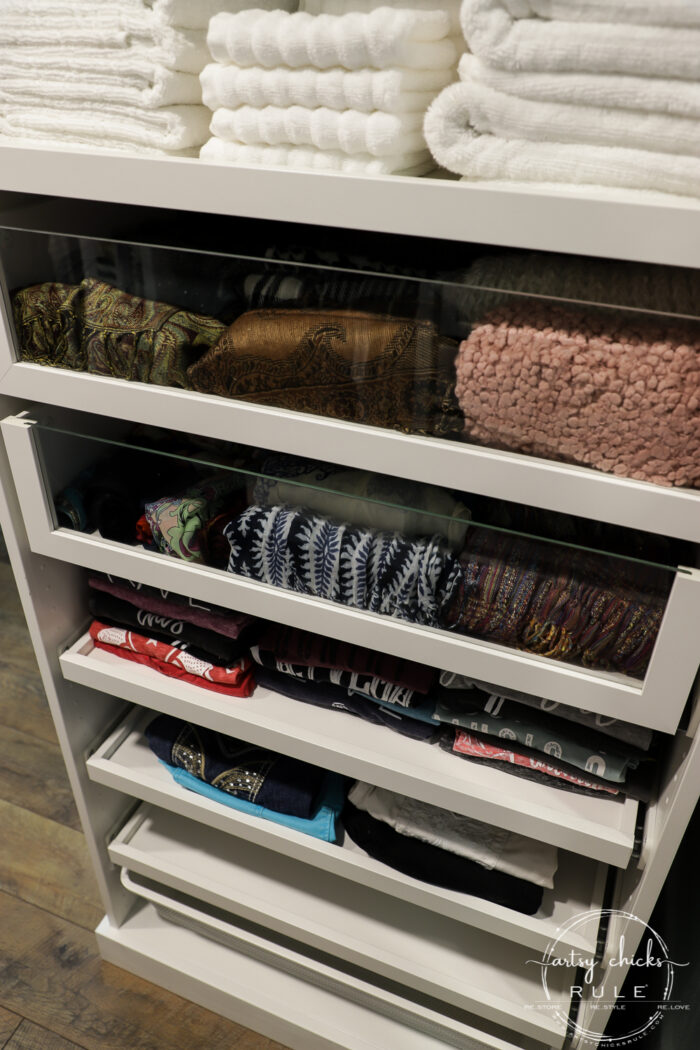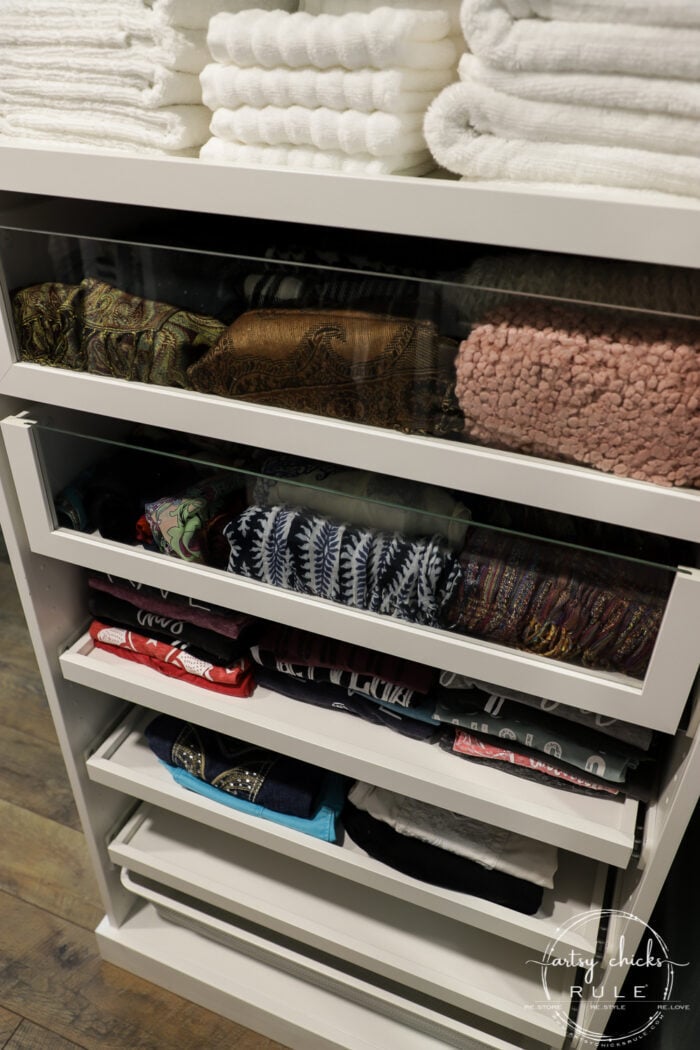 So I will have 3 glass front drawers here. (the t-shirt shelf and shorts will go in those two extra drawers)
I kind of loved having them on this open shelf because I can really see what I have there but the glass front shelf will also allow me to see it all too.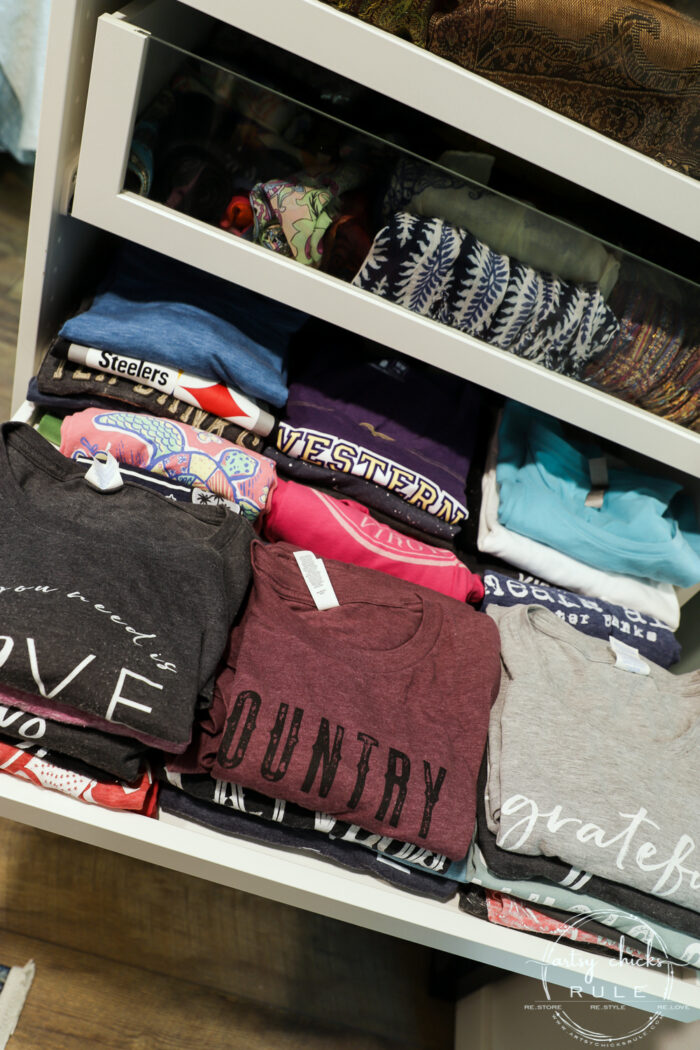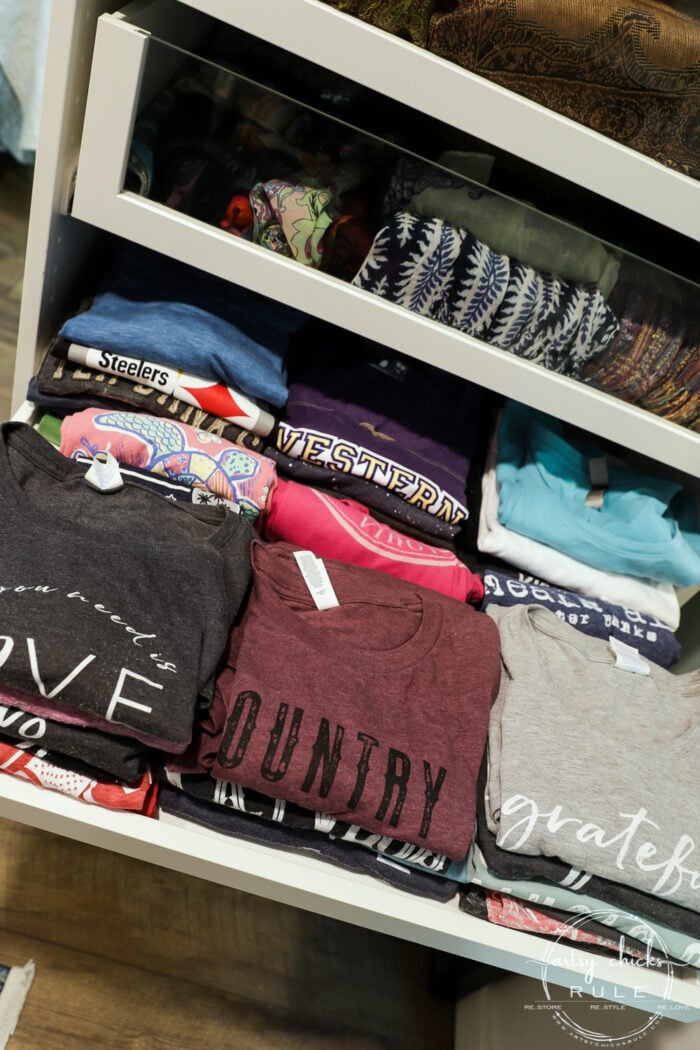 I might be a scarf hoarder… ;) (Yes, I needed 2 drawers for my scarves…need to buy me a gift?? You can never go wrong with a pretty scarf…I'll make more room for it! lol)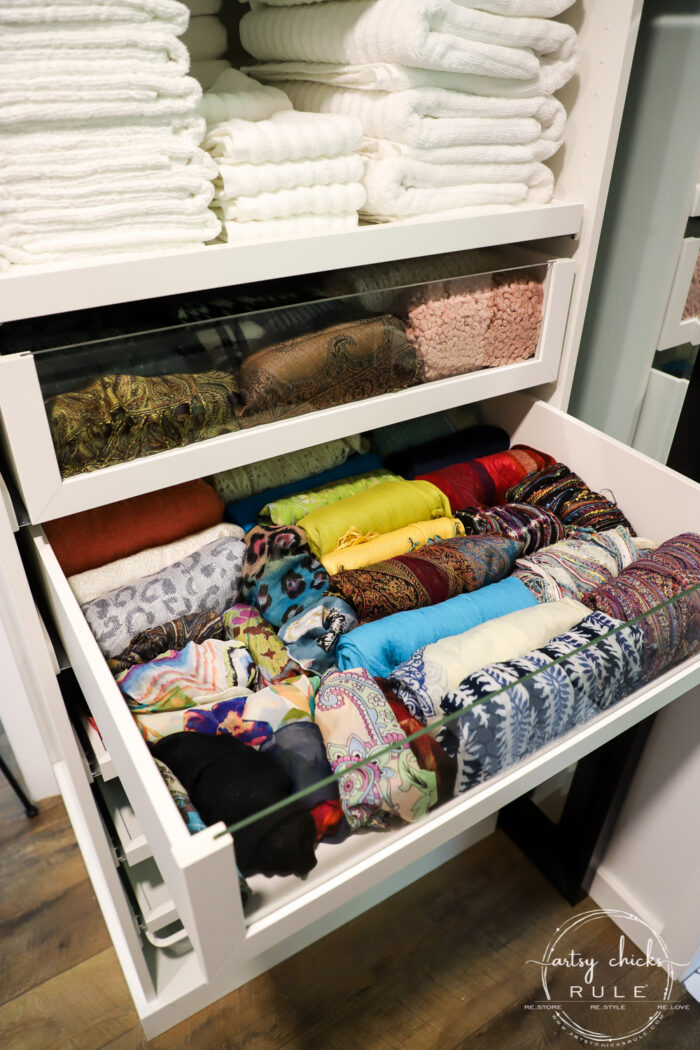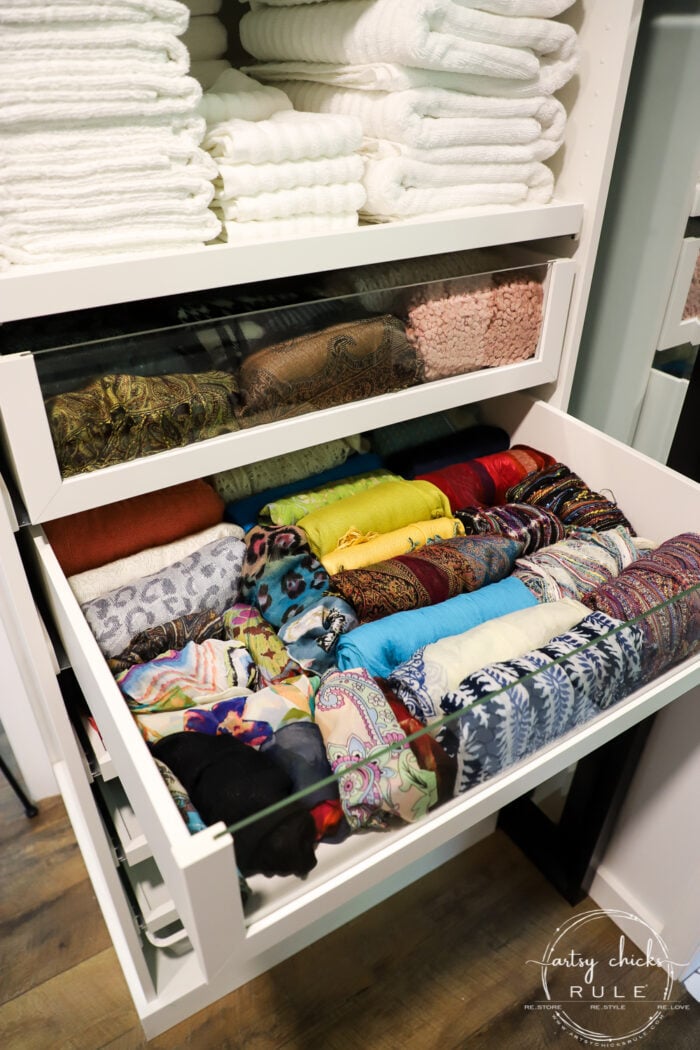 I love how these roll-out shelves work. It's nice to be able to see what you have and get to it all, as needed.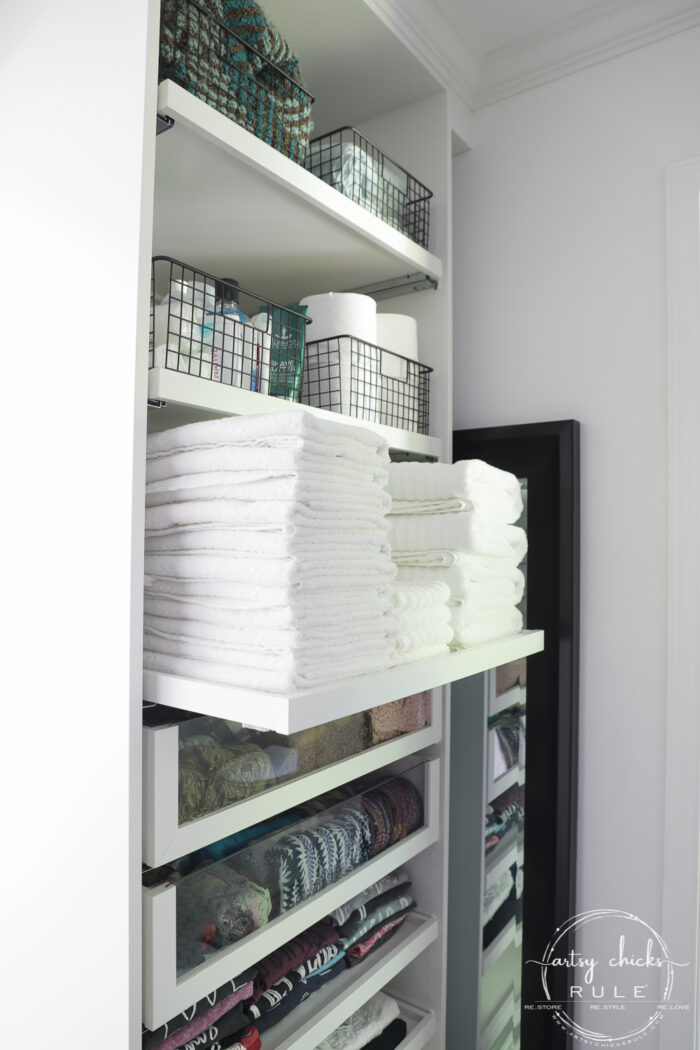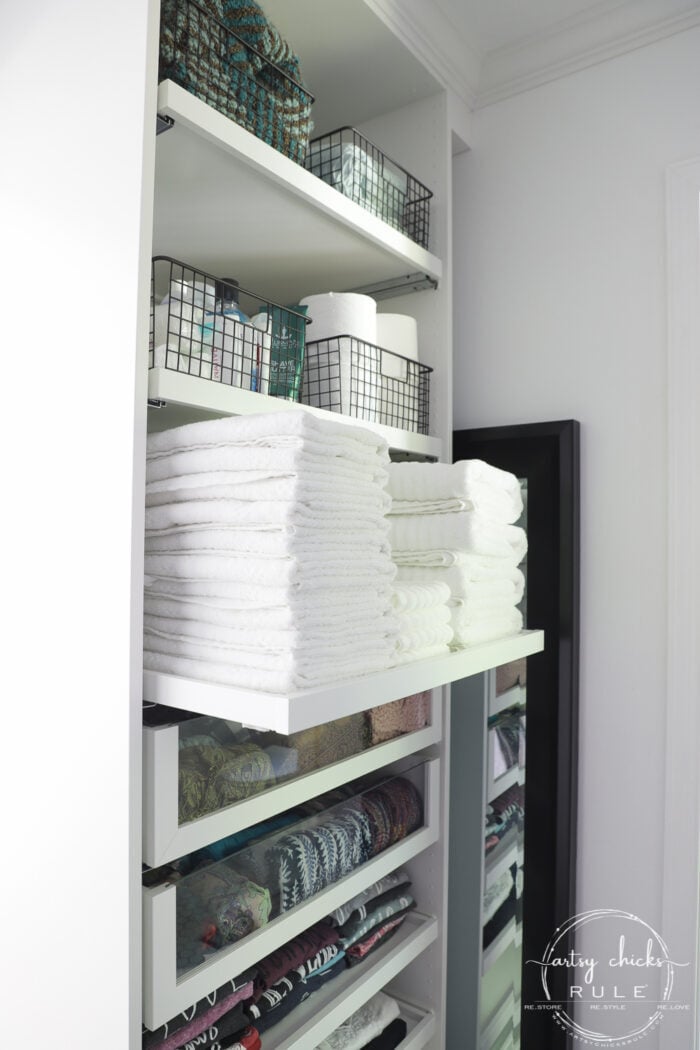 These baskets are perfect for holding bathroom essentials and extra things we need that can't be stored in our small bathroom.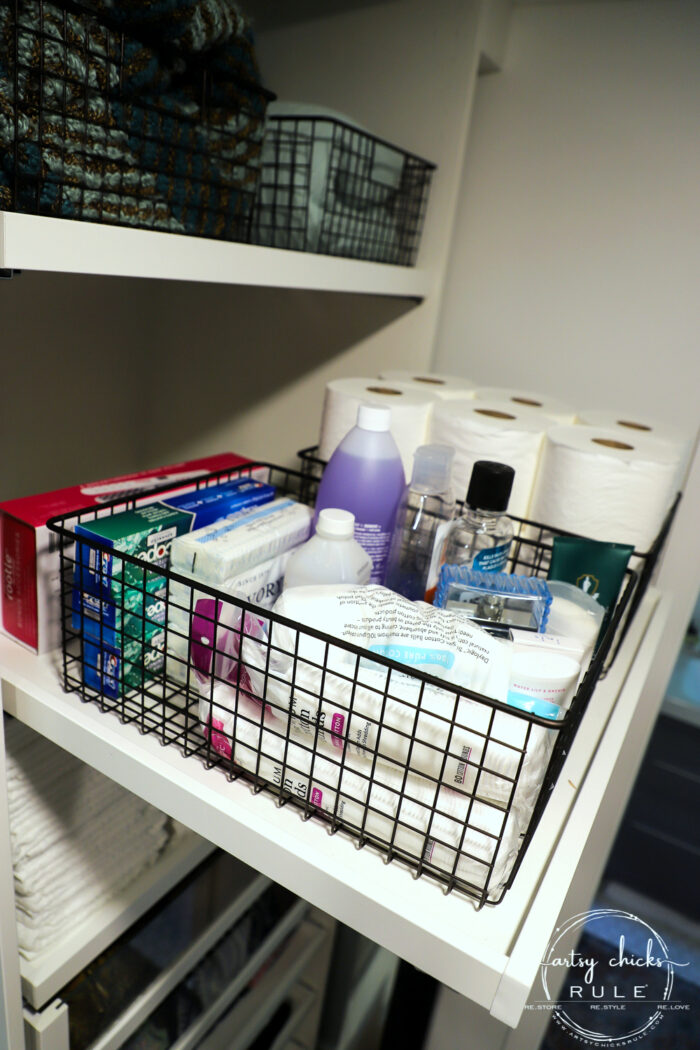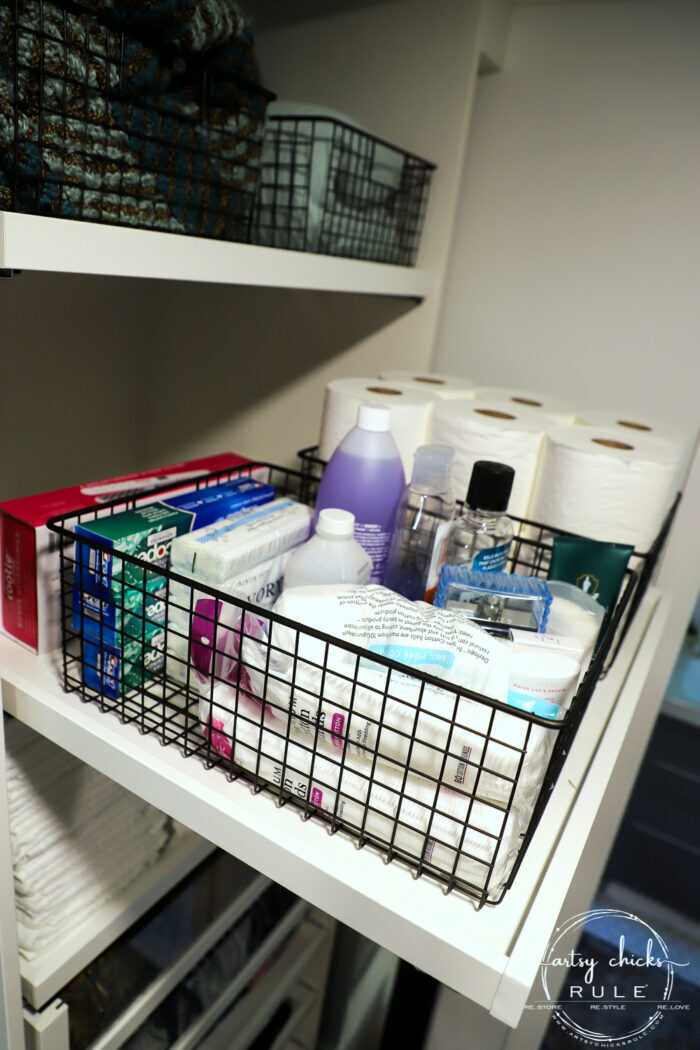 So to recap…here is what I'm changing.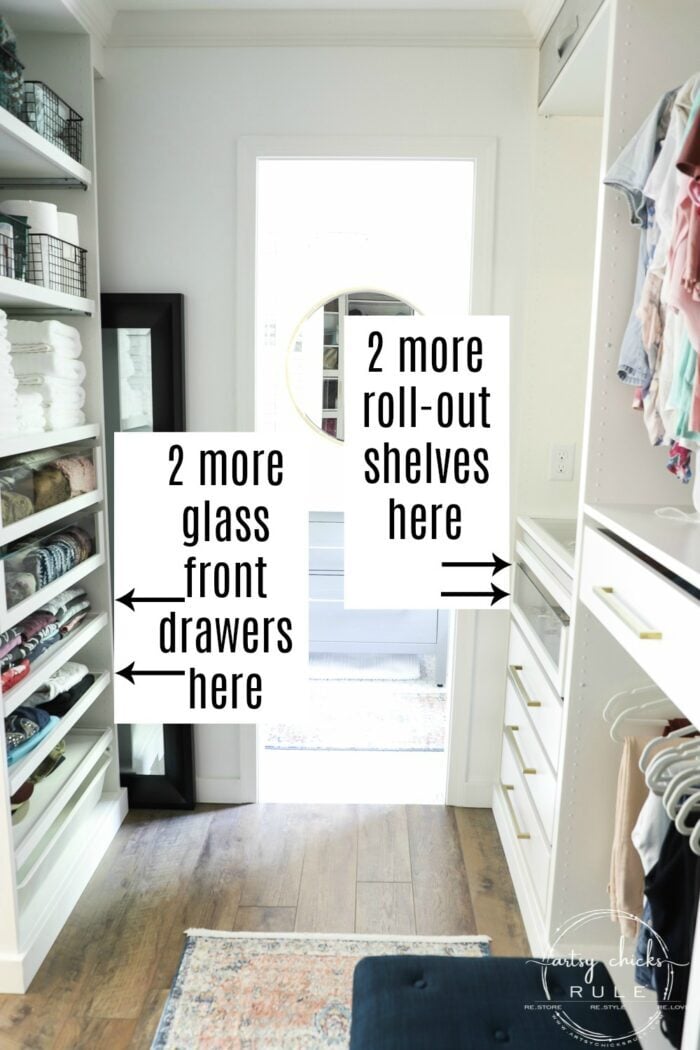 And do you see that little block up there by the crown mold? We had to leave a space here so the barn-style door we are making would fit behind it when open. So my husband added a small framed in area there for the crown molding to attach to. (it's a really small space and he didn't really want to have to take the molding around the backside there….nightmare! haha)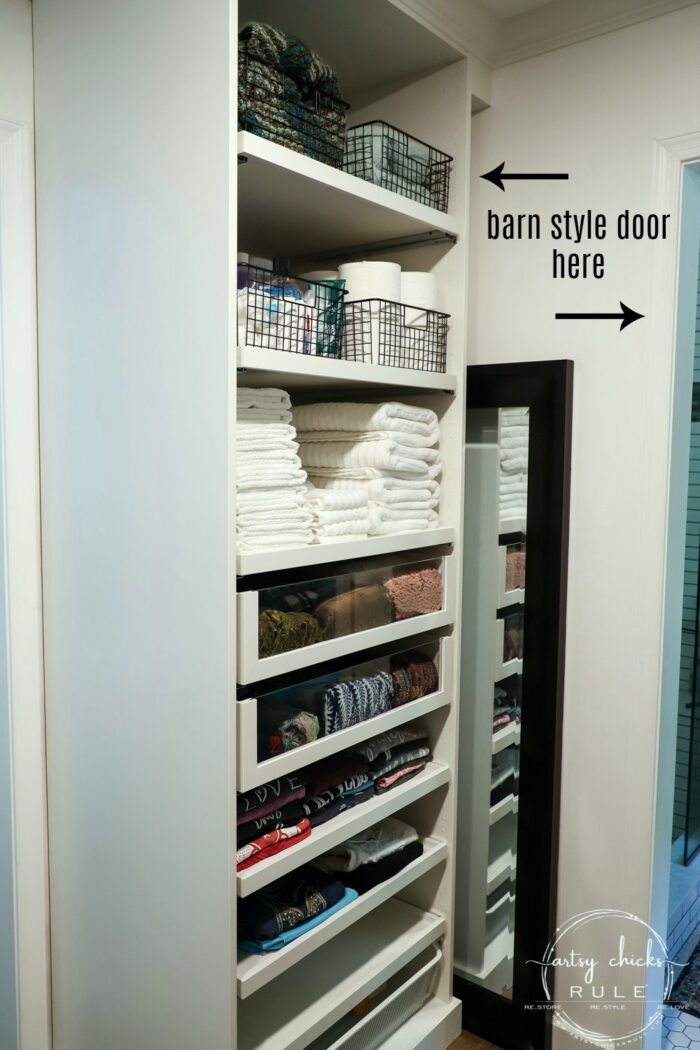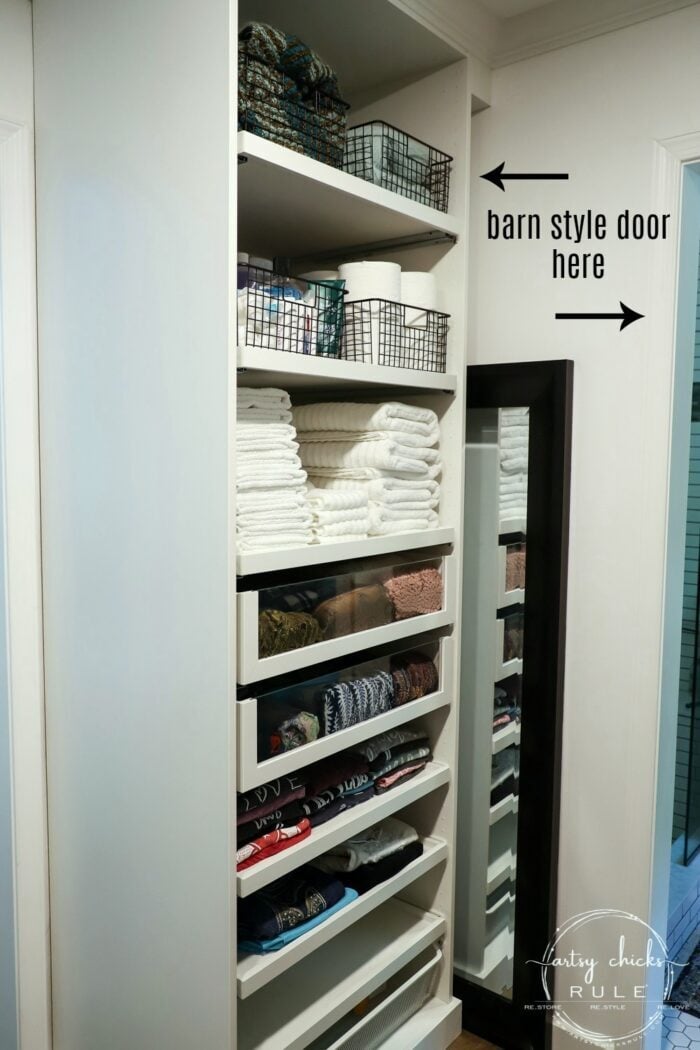 That floor mirror is going back into our master bedroom once we finish in there. I'm going to paint the frame though.
The rug runner I'm using in the closet is the same pattern as the one I used in our recent Coastal Bathroom Makeover.
And found this little ottoman online. ( I can stand on it to get to the top shelves)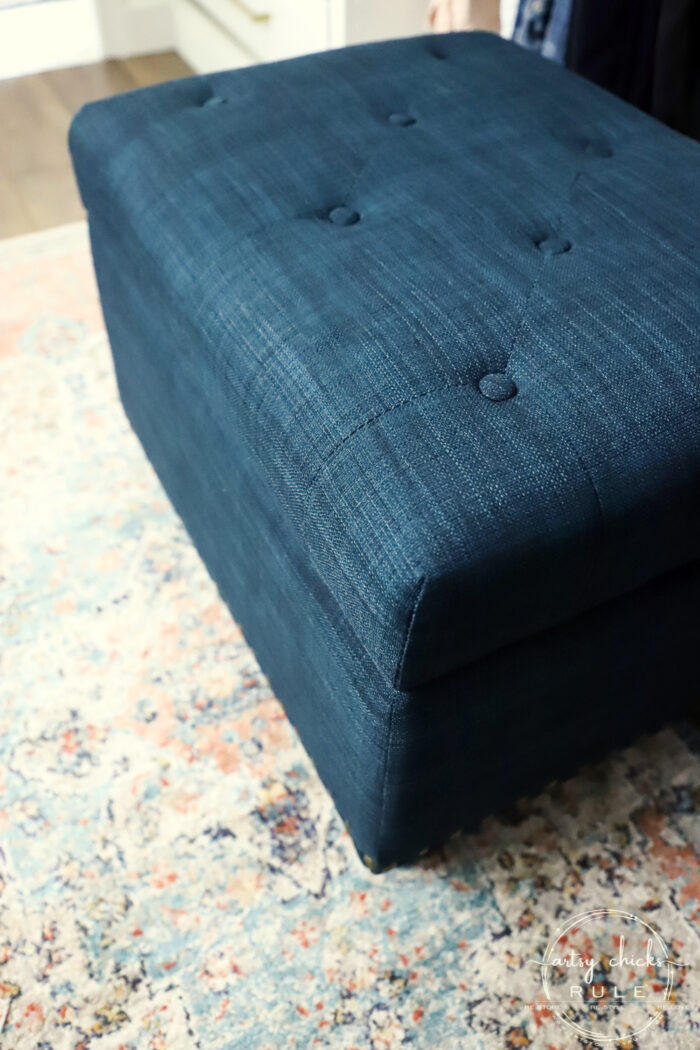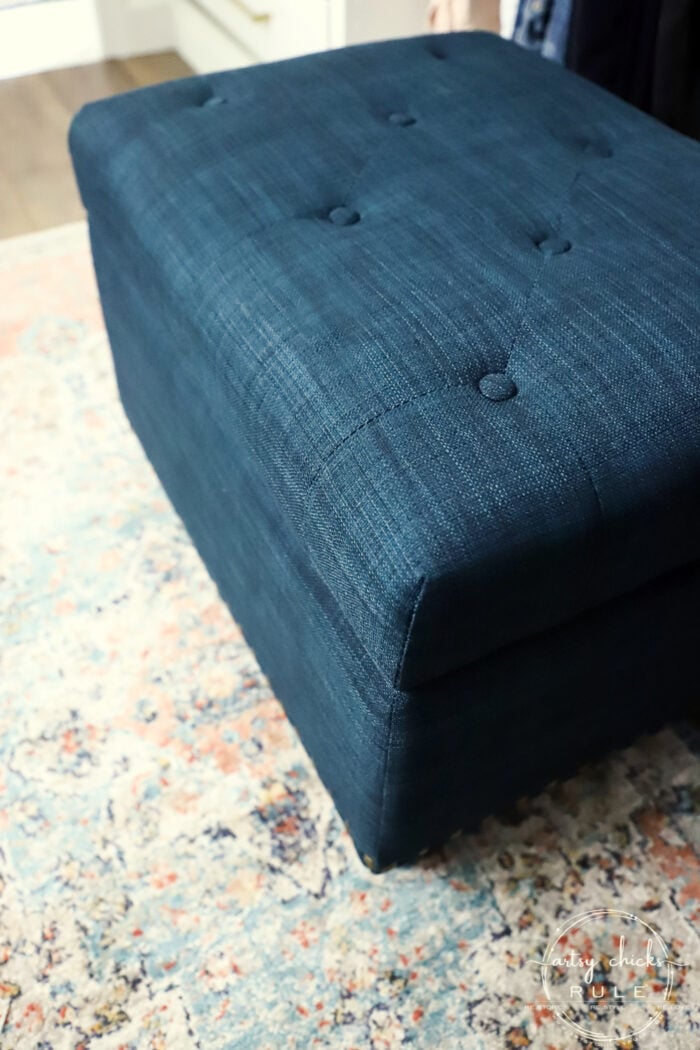 I love how it opens up for more storage.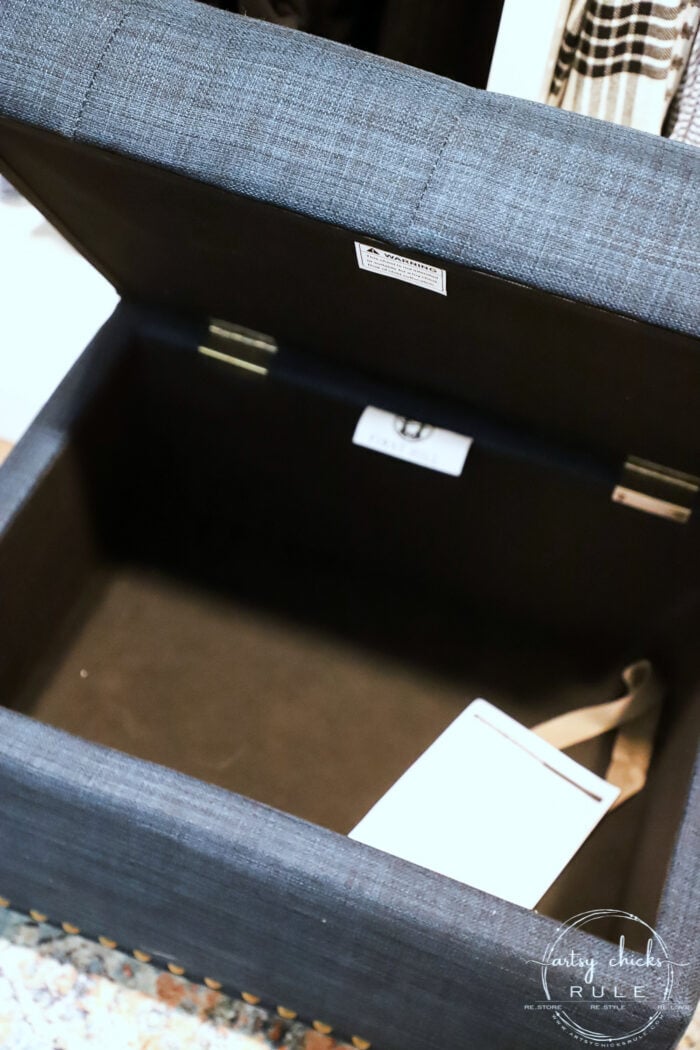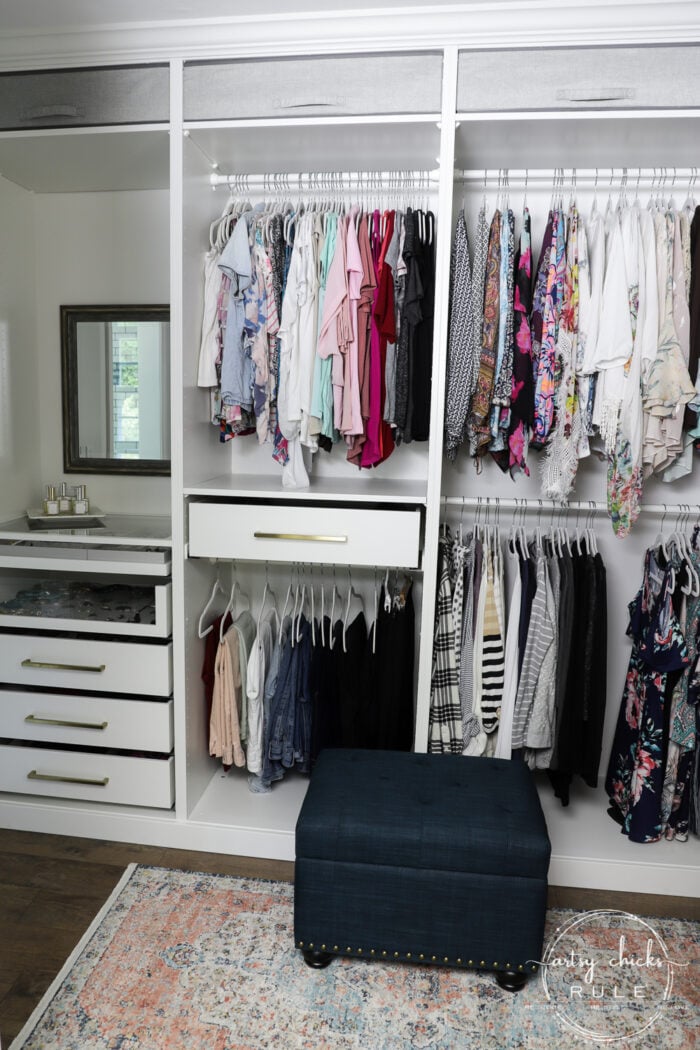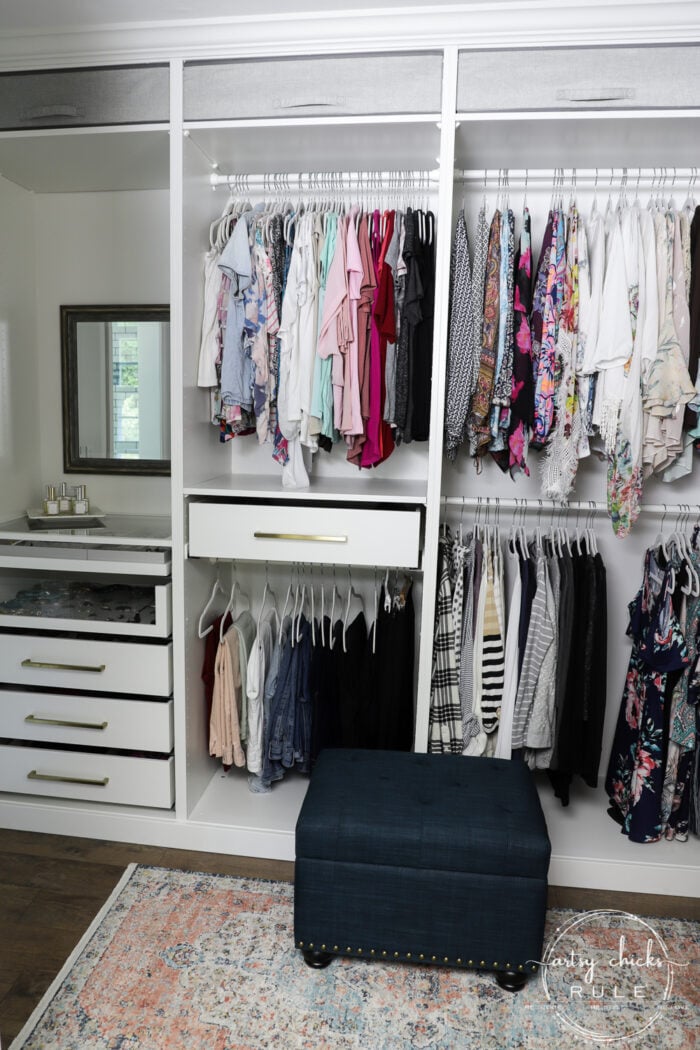 So happy to finally have this closet!
Now to finish my sweet hubby's closet built-in ….so I can have my office back!! haha (and that's going to get a very-needed makeover after that…I'll be sharing all of that on here too, of course!)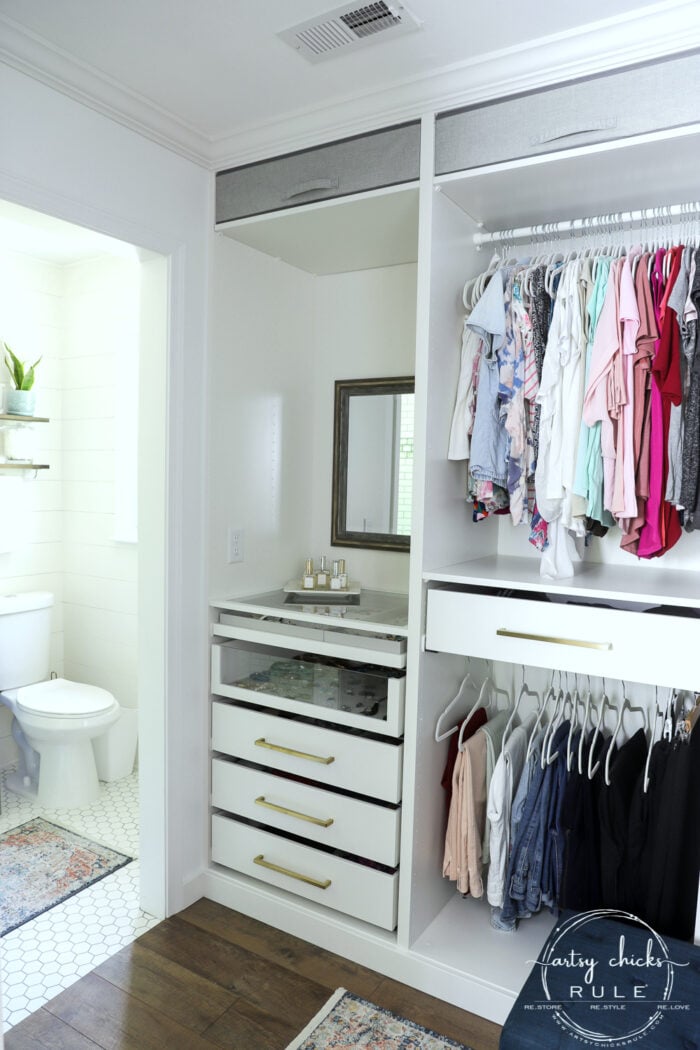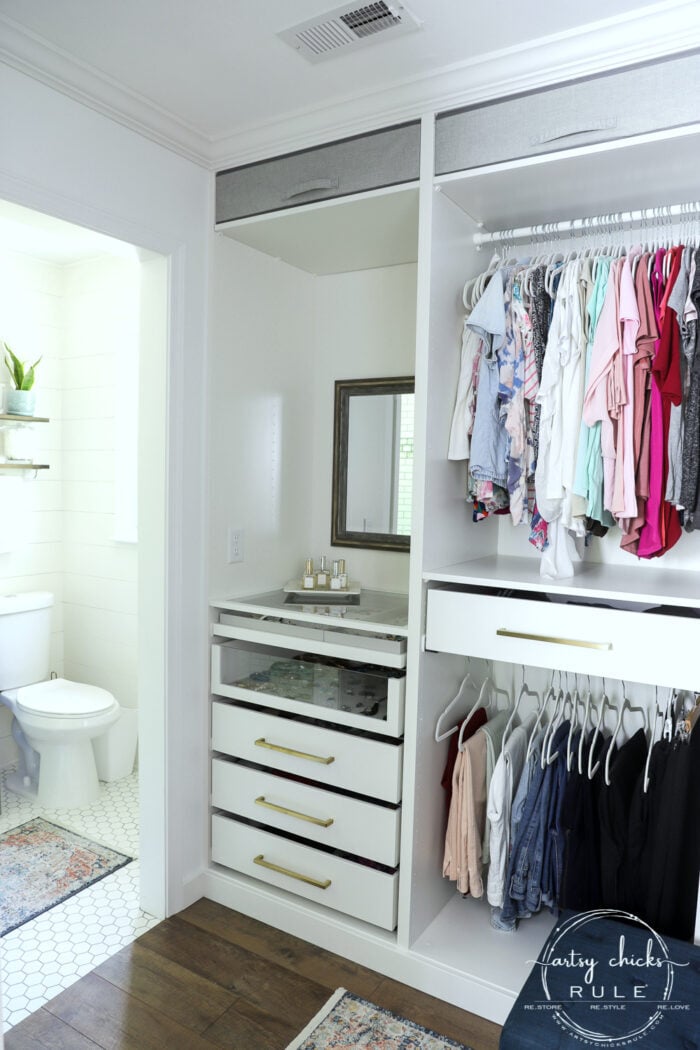 I hope you enjoyed following along with this makeover. If you've been around here for a few years…thank you for your patience!!
It's hard to keep up with work, life, and blogging along with all this DIYing we've been doing for years. But I'm not saying it's not doable. It's absolutely doable! And if we can do it, so can you. :) Plus you can not beat the savings. (and hey, the sense of accomplishment that comes from doing it yourself too, right?)
Want the sources for our IKEA PAX closet system remodel??
Wall Paint Color – Pure White by BM (color-matched by Sherwin Williams)
If I missed something you might be interested in, let me know!
PIN it to save it!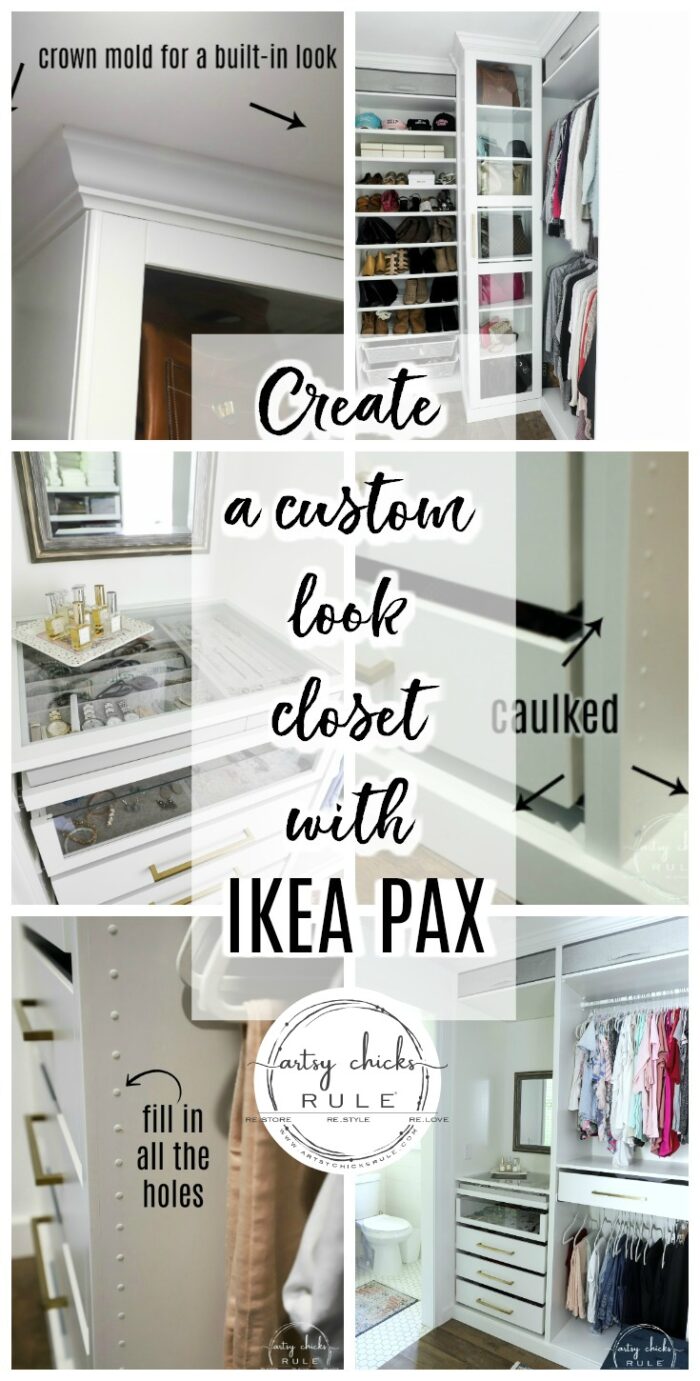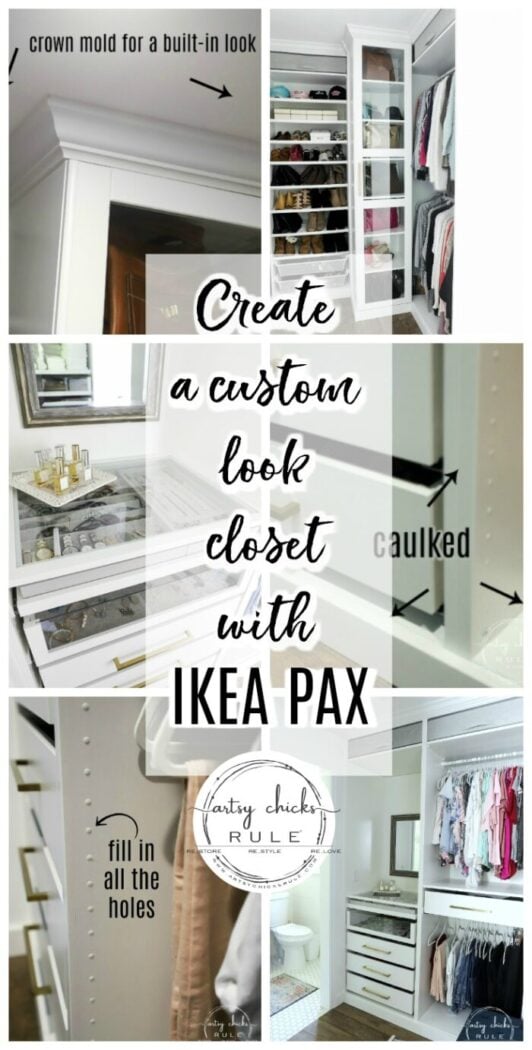 More home DIY tutorials we have shared here:
I hope you have a blessed and beautiful weekend! Get crafty…DIY something or just sit back, relax, and enjoy.
I'll be doing a little bit of all three of those.
See you right back here next week!
xoxo