Blue Removable Wallpaper Ideas (and a few home updates!)
This post may contain affiliate links. Please see disclosures here.
Today is all about home updates plus bunches of removable wallpaper ideas and options!
Hello friends!
So, today I thought I'd share a few things that I am considering doing in our home. You know how it is (or maybe you don't, lol!) you get tired of how things are looking and want to change it, right? I know I sure do.
Sometimes a few new pillows, a throw, or something small will do the trick.
But sometimes it just won't.
That's where I'm at right now. I've had a few things rolling around in my head for a while. Things I'd like to change here and there.
Well, today I'm going to "put it out there" to you all and see what you think!
I mean it's time for a little home remodeling, right? That's what I do around here. I am ready to pull the wall paint, etc., back out!
No, not changing that Sea Salt that I love but adding to it.
So let's begin.
Blue Removable Wallpaper Ideas (and lots of updates I want to do…am going to do very shortly ;) )
Laundry Room
If you've been around here a while you know our laundry room got a big makeover some years back. It had a few smaller ones before that.
For a refresher, here is where our laundry room began…right after moving in.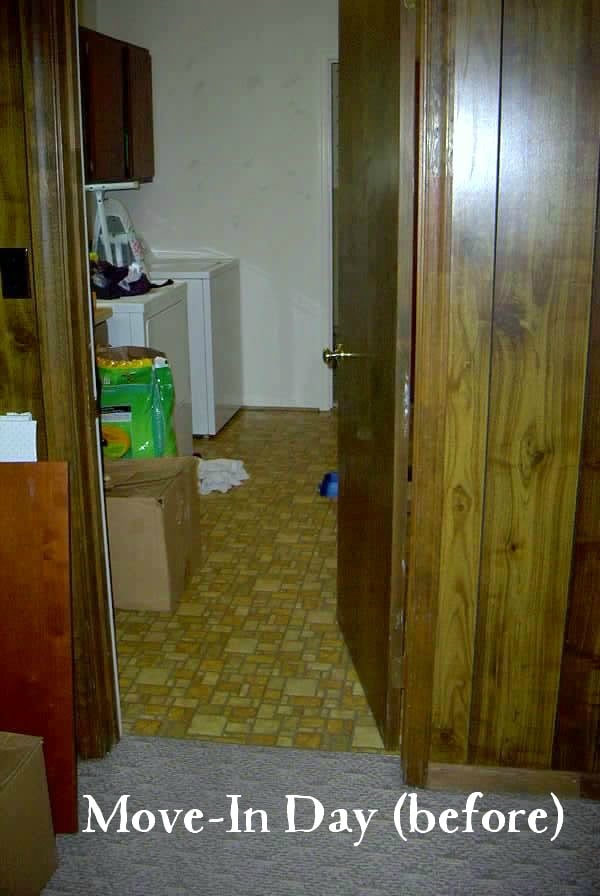 Here it was after one of the makeovers…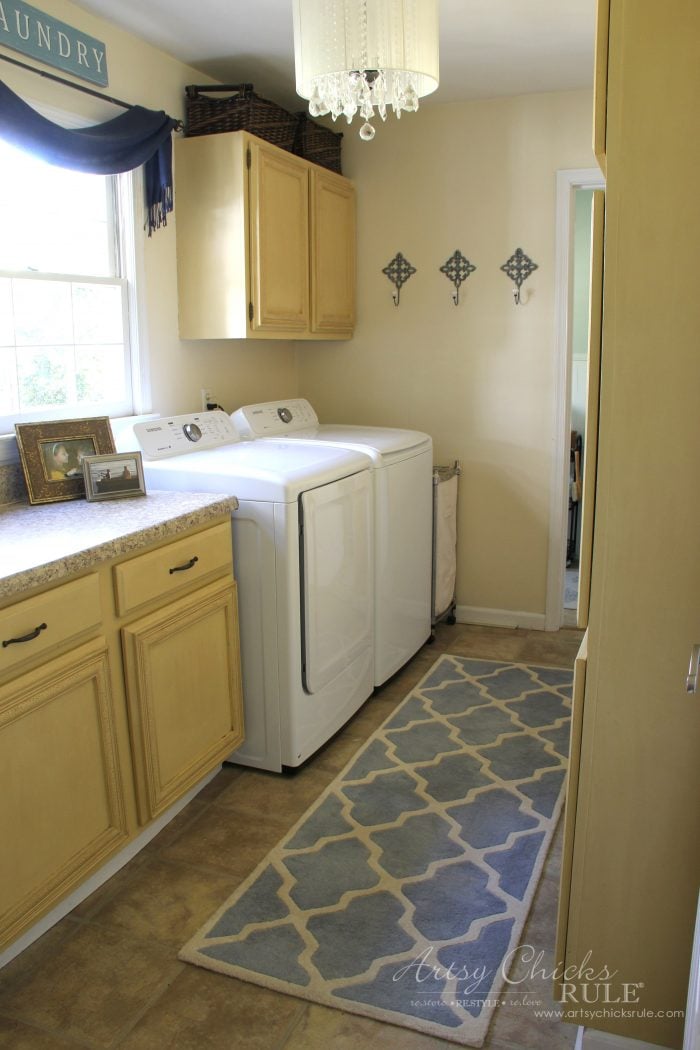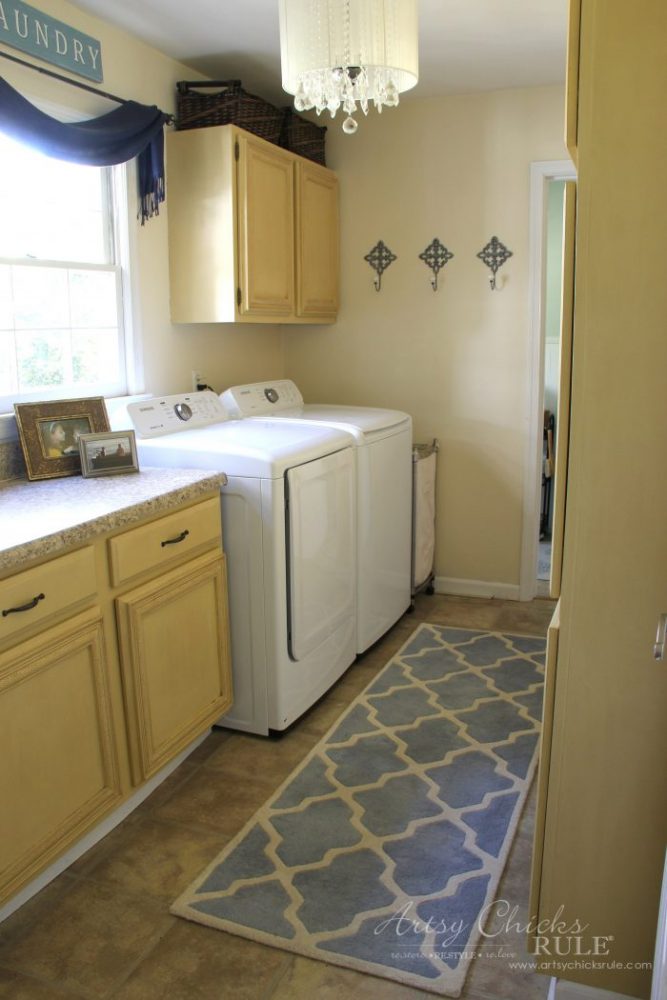 And here it is after the big makeover…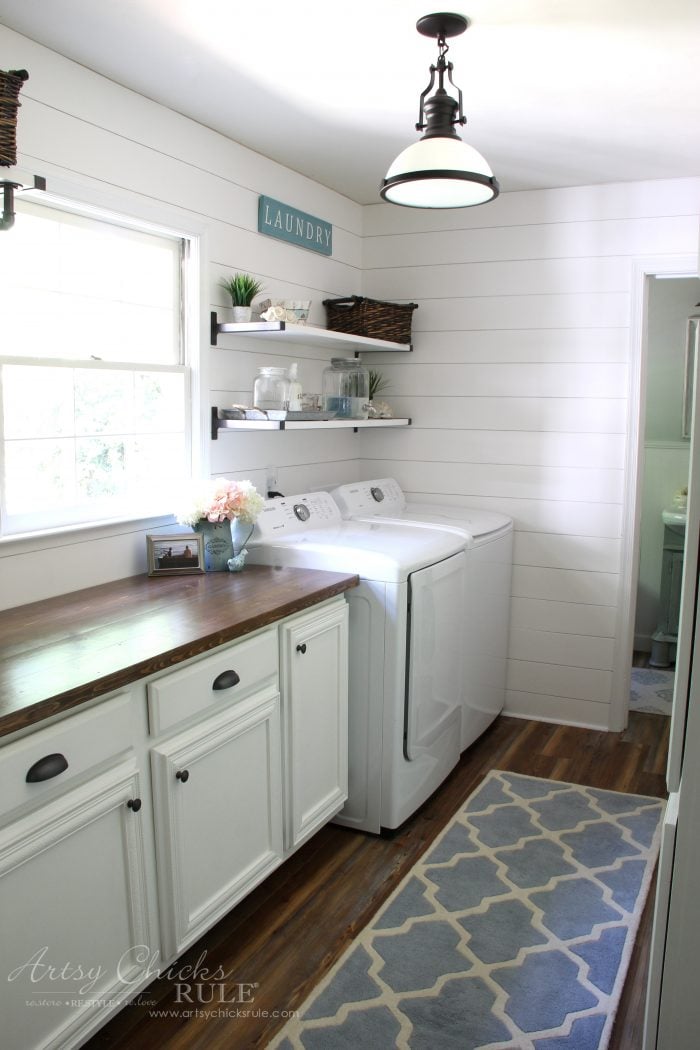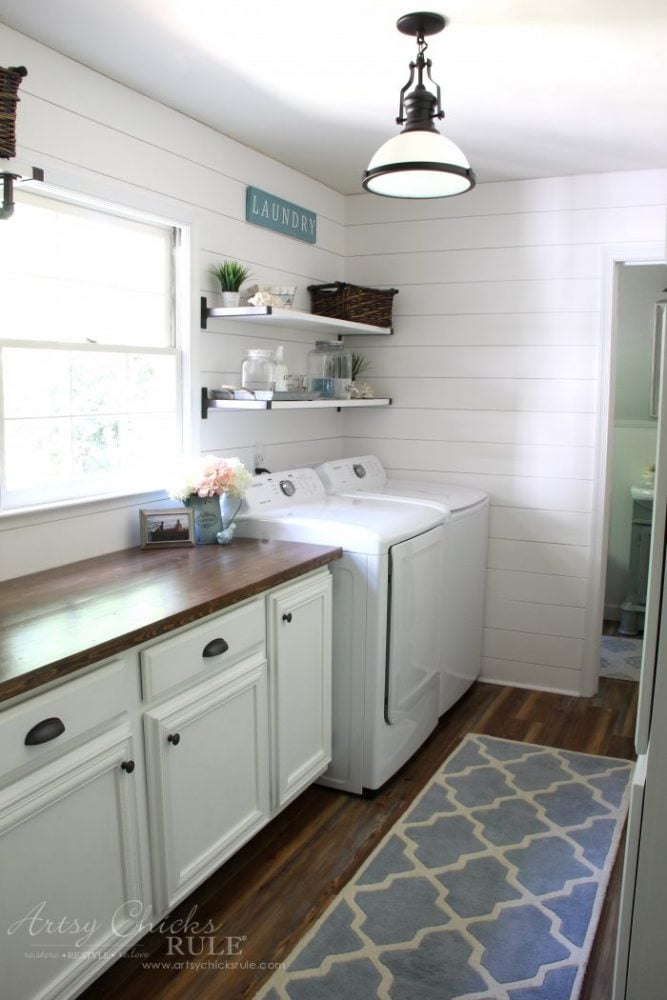 Here it is currently… (we changed the flooring since and a different rug)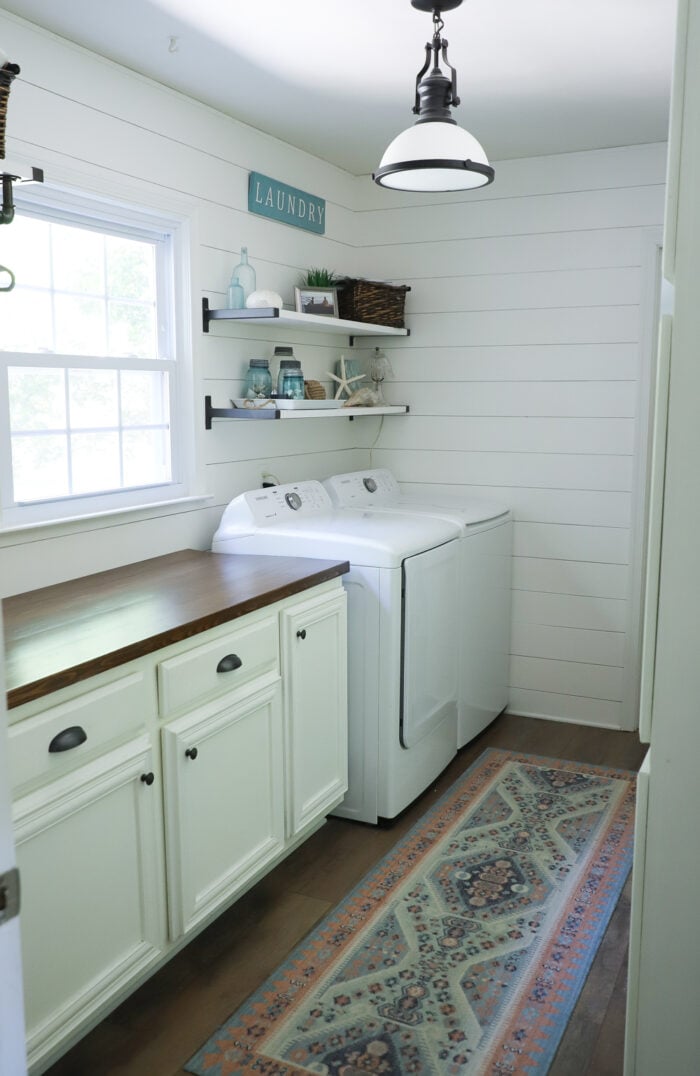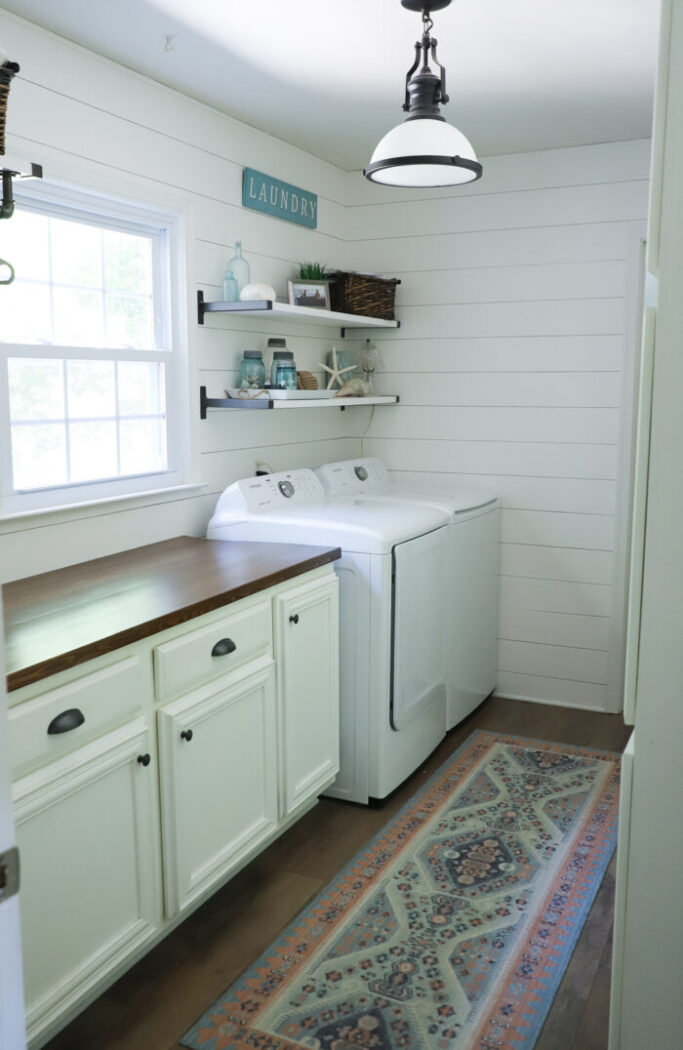 This is the room I'm wanting to change the most. When we first made this over back in 2017 our style was more coastal-farmhouse.
I have since changed every room in our home to reflect a more modern, somewhat "glam"(and by glam I mean touches of gold ;) ) coastal feel. Doing away with the more rustic feel that I had in places.
I didn't change the laundry room at the same time because we had recently done it and I actually loved it.
BUT it's time. I am very ready to give it a more updated look. One that would be a better fit with the rest of our home's current style and decor.
So here is what I want to do.
Paint the cabinets
New hardware
Paint the shelf brackets
New light fixture
New, freshened-up decor on the shelves
Add hardware to the cabinets on the right (there are none now)
Refinish the wood countertop
Ever since I painted that antique cabinet in Willowbank, I have been wanting the blue somewhere in here.
And I thought, why not the cabinets in the laundry???
Here's an idea of what I mean…
And if you want to see a bunch more inspiration, check these out here.
Okay, so first up was the color of the cabinets, some sort of medium/dark blue.
Next, hardware.
I want something gold-ish but muted, not "in your face" gold. If you know what I mean.
I suppose an antique gold is what I am after. (similar in style to what you see above on the cabinets)
Our shelf brackets are bronze now, I'd keep those but paint them gold.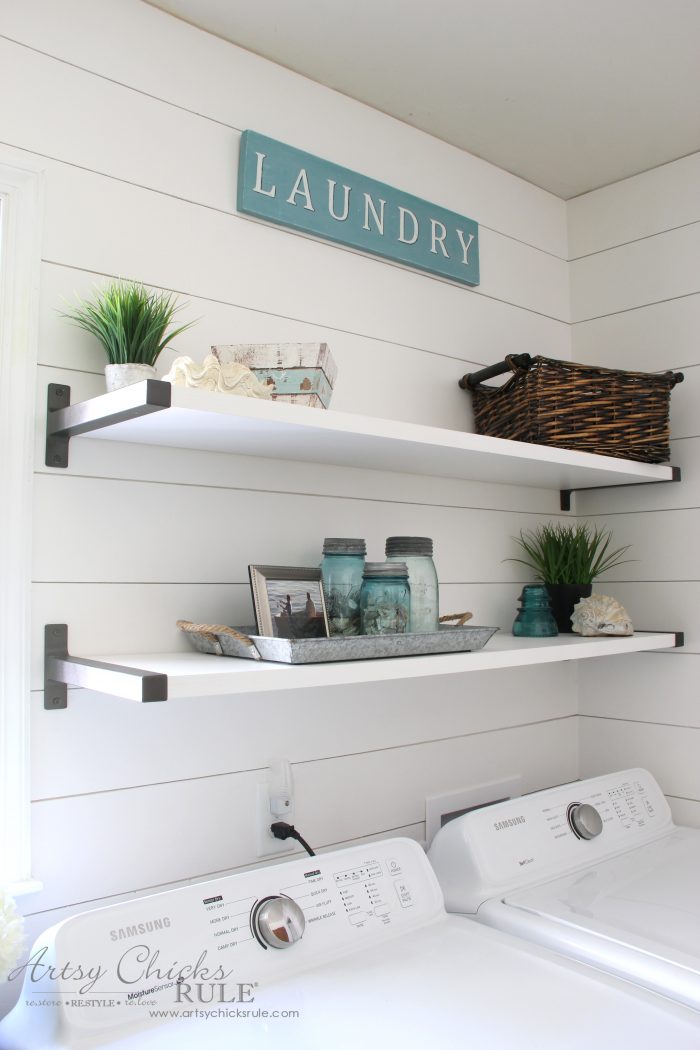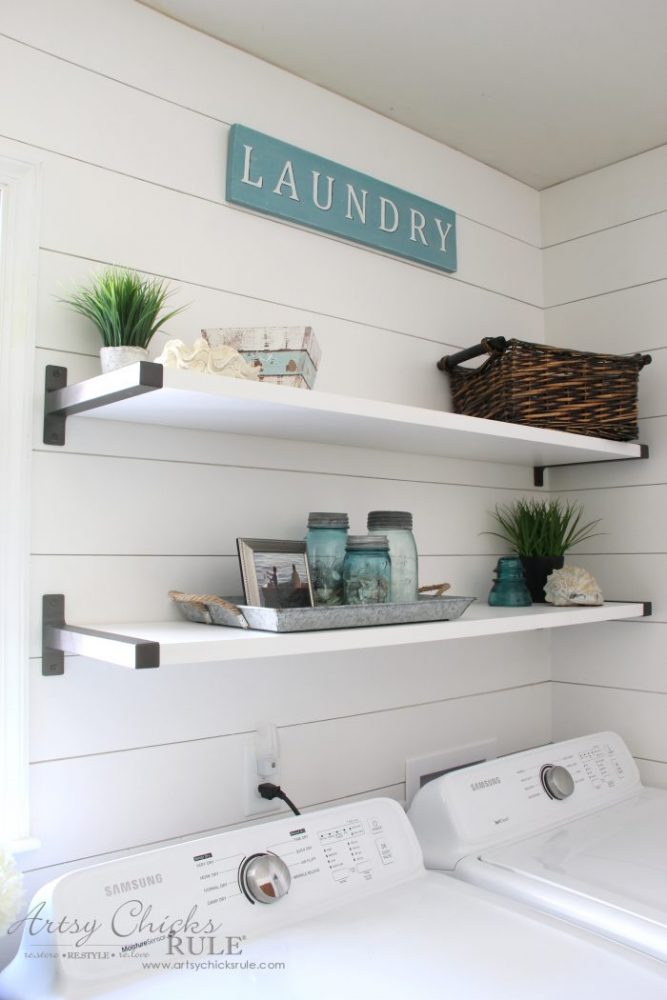 And I would like to find something in gold that looks a little less rustic/farmhouse for the clothes rod here.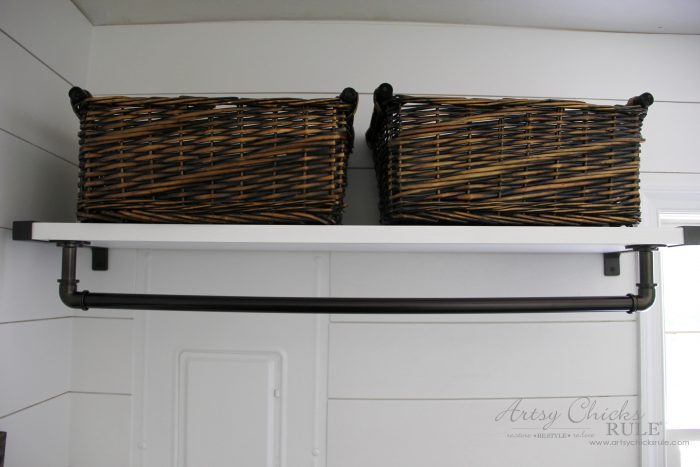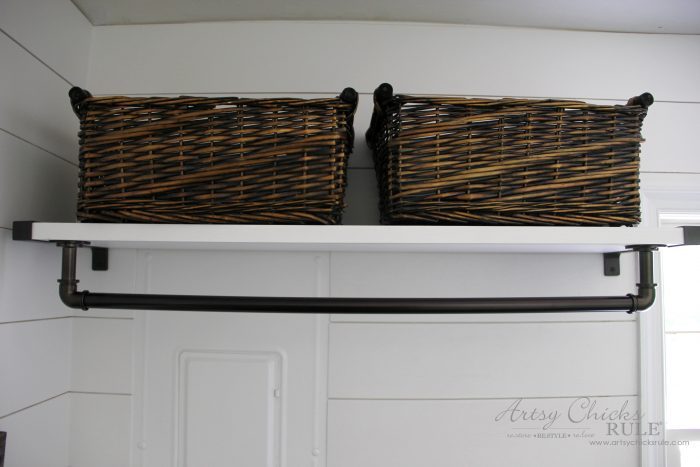 The light fixture will have to go too, unfortunately! I can't wait to see what I can find to replace it.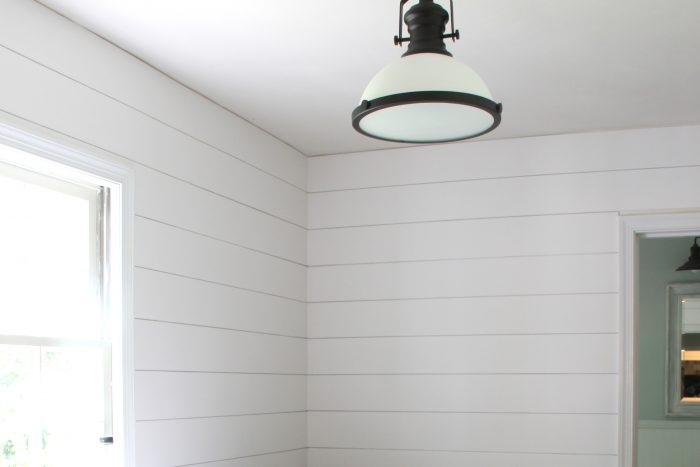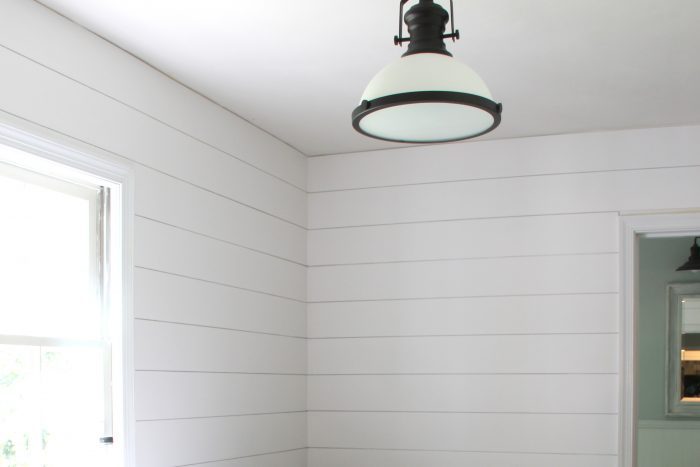 And lastly, the wood countertop.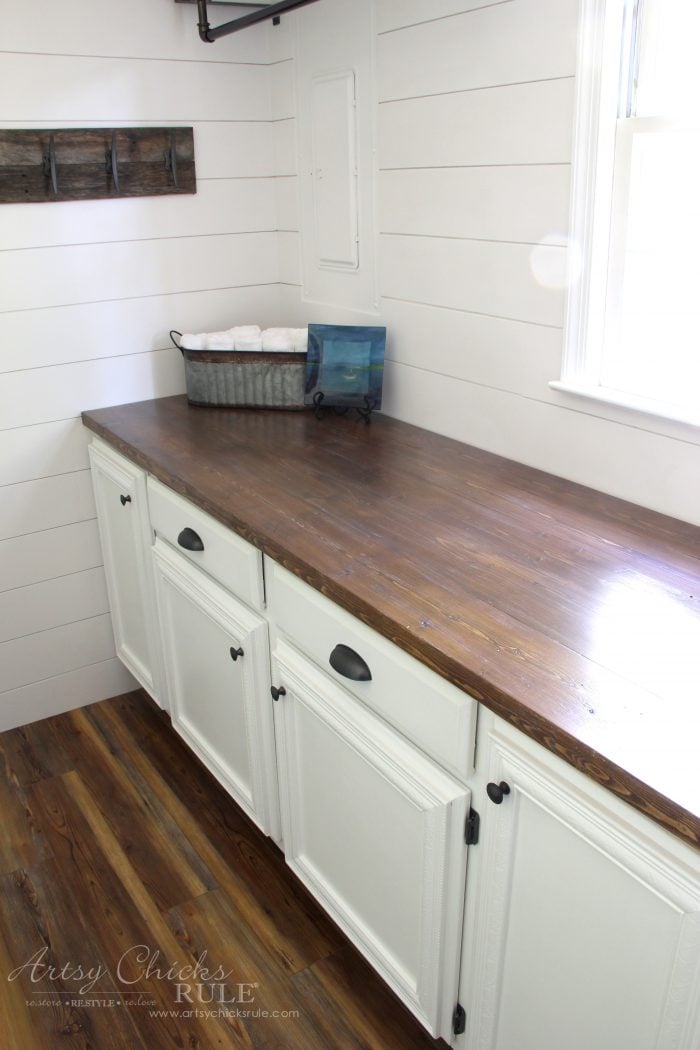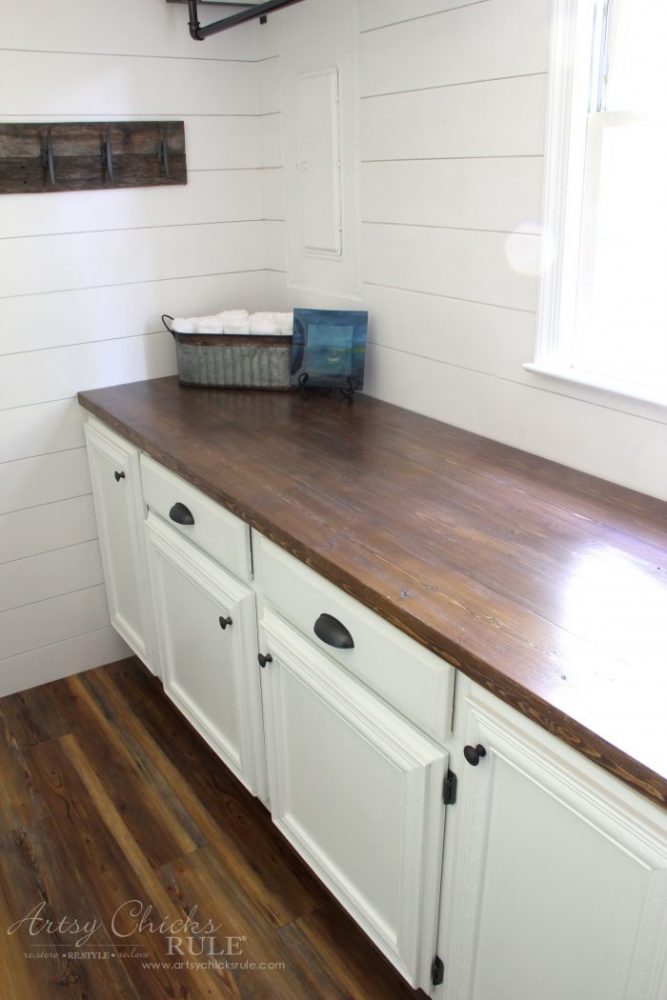 I want to refinish it.
Sort of like what I did with this Aubusson Blue dresser of ours.
I refinished this top twice. The first time when I made it a dark walnut brown…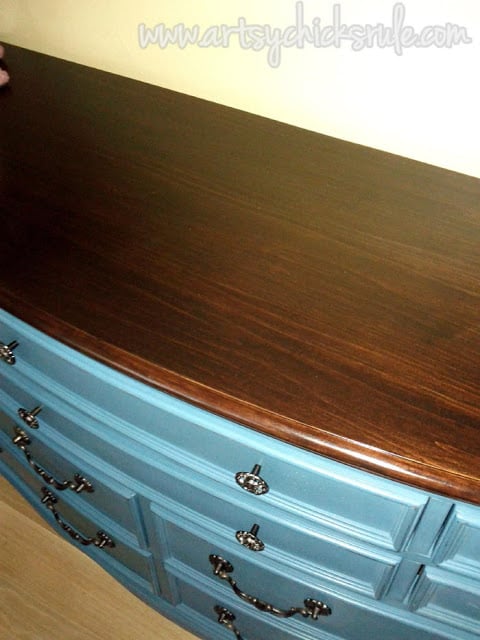 And then decided to bring it more in line with our home and decor a few years ago.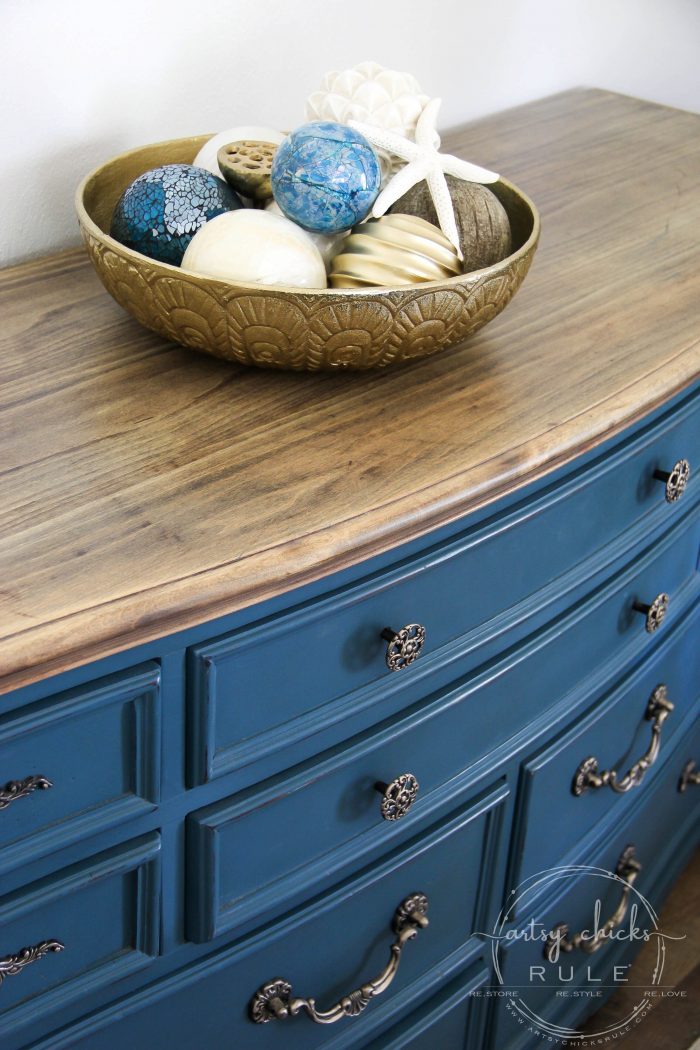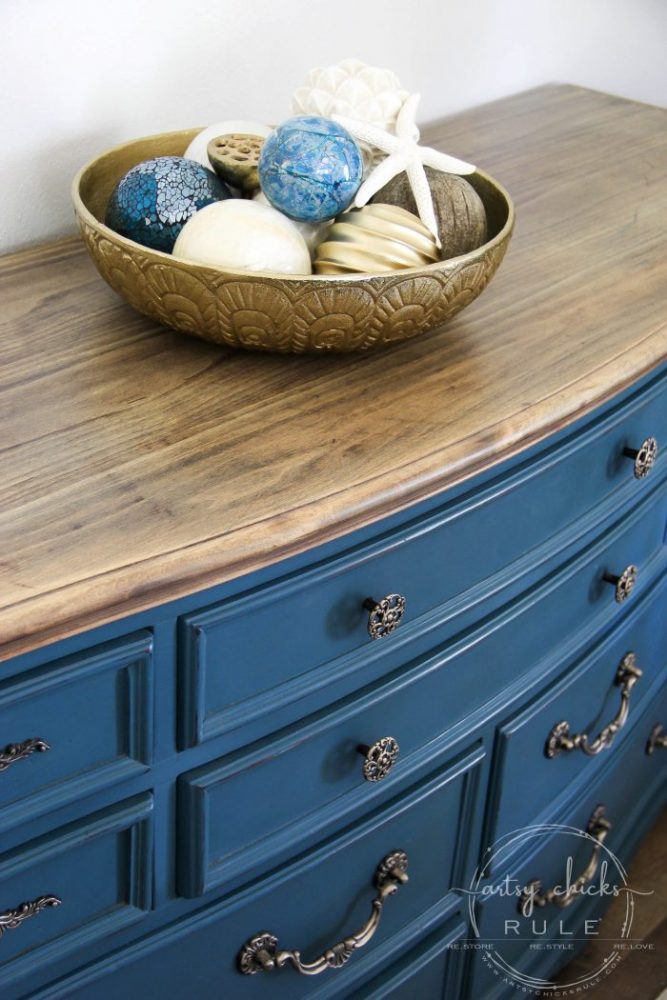 I want to do something similar to this with the laundry room wood countertop.
Once I pin down all the things I will do in here, I'll create another post for the laundry room makeover and all the details.
Guest Bath
We gave this bathroom a mini makeover not too long ago. You can read all about it here.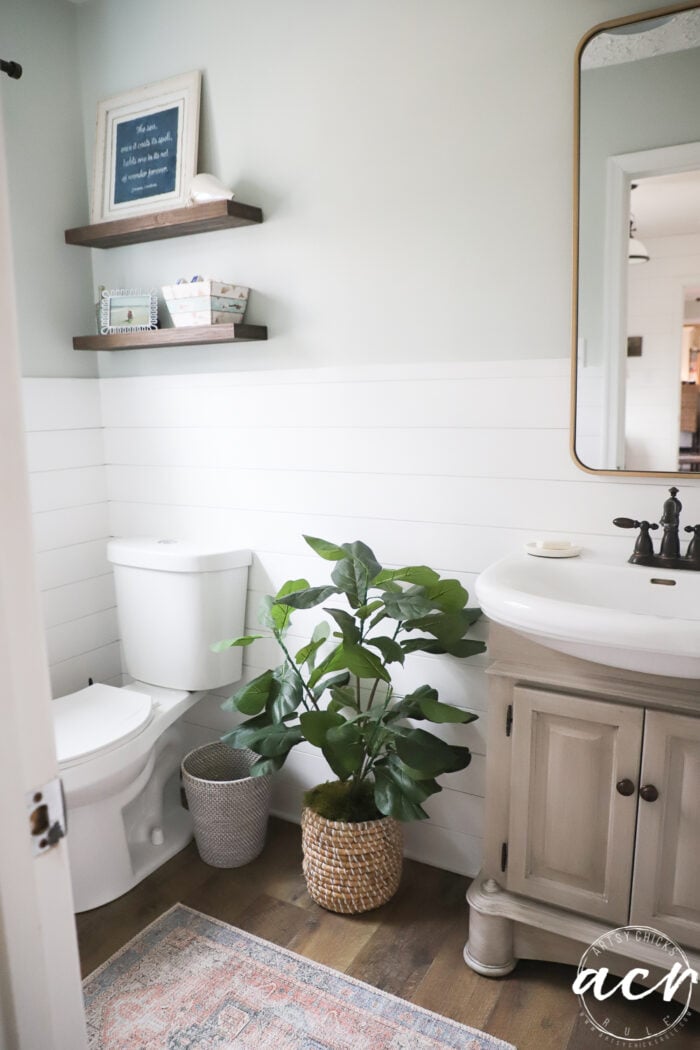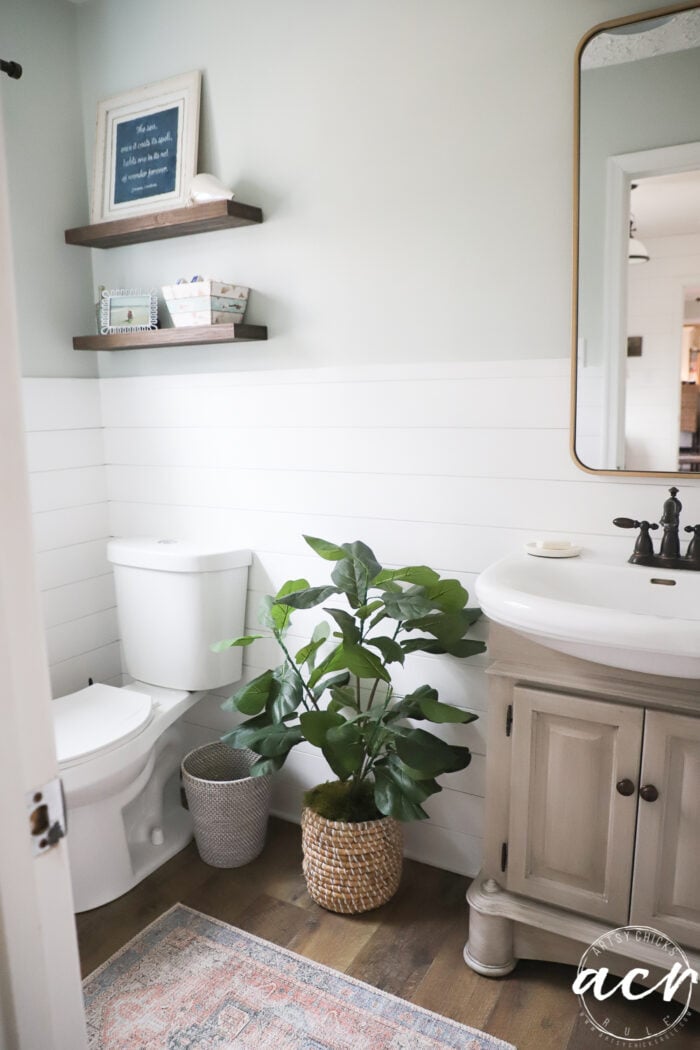 The only thing I want to do in here is add wallpaper. As much as I love that Sea Salt in this room too (it's in other rooms of our home), I'm ready for something fun. I've been wanting to add some wallpaper here and there for a while now but I've been haunted by all the 70's/80's wallpaper I had to remove when we moved in here!! haha!! It was a BEAR.
So, I've decided to use removable wallpaper instead. (I change my mind too often to use regular!!)
I will probably paint those shelves white once I add wallpaper. AND…I may add some pretty gold/brass brackets underneath even though it doesn't need it for support. Just to give it a more elegant look. (I haven't decided but I like these or these)
Here are some of the removable wallpaper ideas I'm considering: (links to each are below)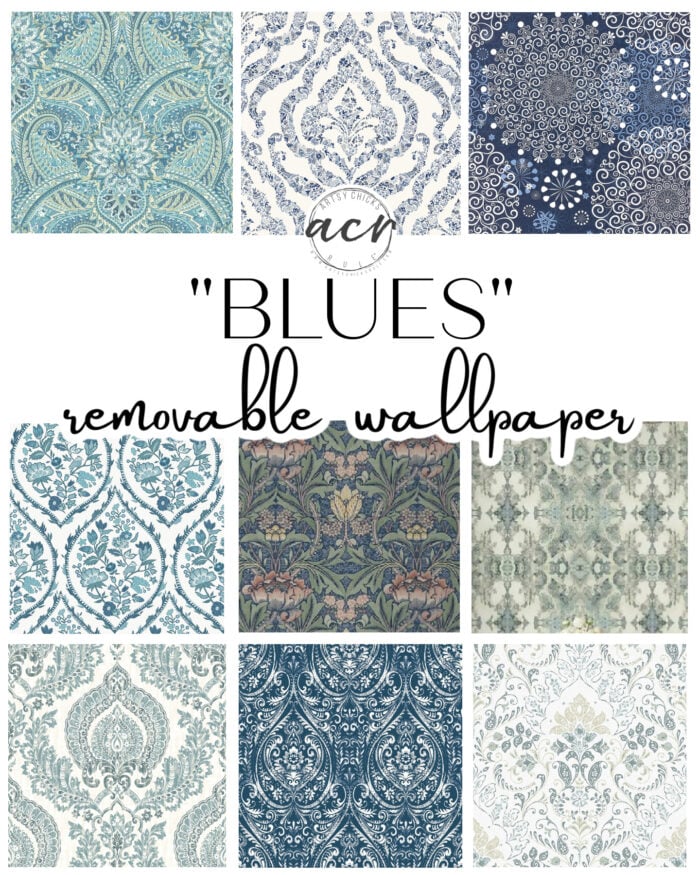 Starting at the top, moving to the right and down.
Foyer
I would LOVE to wallpaper our ceiling in the foyer however, it has texture. So I don't think I will tackle that headache.
Removable doesn't really work well on textured surfaces (and neither does regular, to be honest).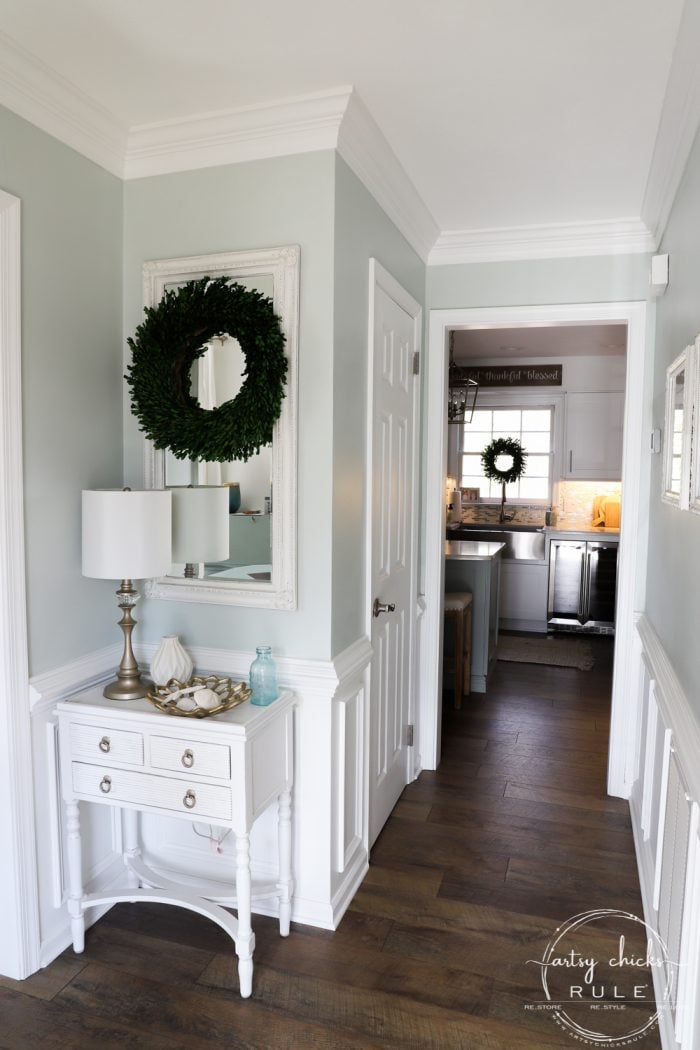 So instead I'm thinking a dark-ish blue would be stunning.
Sort of like this.
Isn't that gorgeous? I even love the color.
I get a little hung up on the Sea Salt and what might go nicely with it because I will keep that color. Or I should say, I want to.
But who knows, maybe I'll wallpaper in here and paint the ceiling a gorgeous dark blue. Hmmm.
We also changed the light fixture in here already. Before Christmas! I'm sneaky, lol, I just have not shared it with y'all yet. :)
I love it and I'll share it when I share what I do with that ceiling.
This is what was in here. (and the one I painted here, remember?)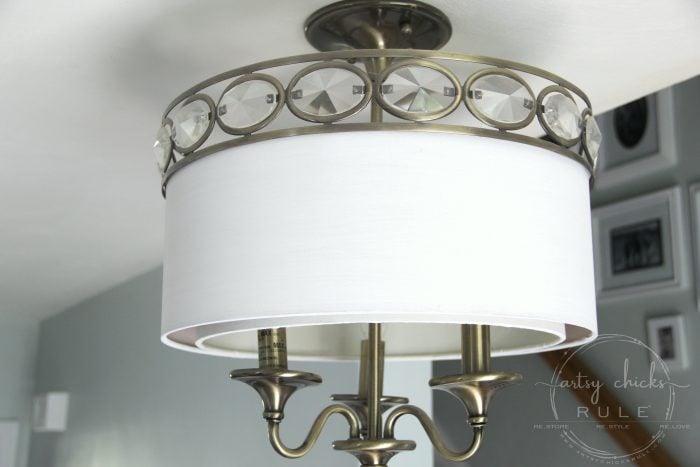 Kitchen
This wall in our kitchen…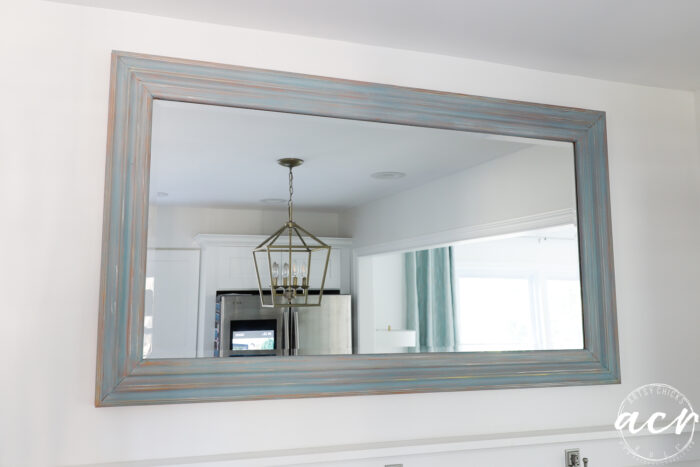 …I've been wanting to do something different here for a long time.
I have asked you all and you've given me some great ideas.
But…I think I know what I want to do! Well, one of two things I'm considering.
A rod with hanging cutting boards like this…
I love the idea of searching for and finding old antique cutting boards and/or unique new ones. Maybe some of both mixed.
Sort of an eclectic look.
Or skinny shelves and do something like this…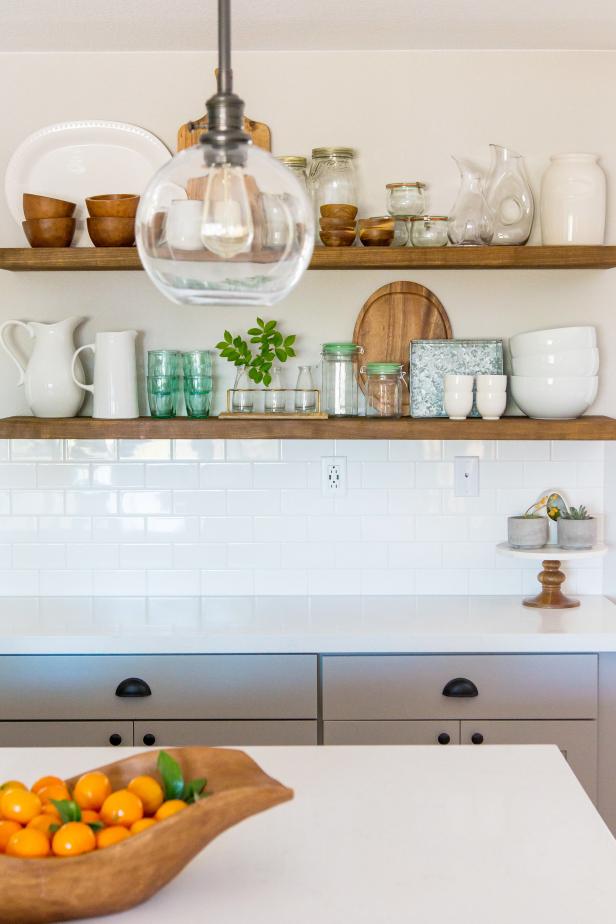 With maybe a few smaller items and mostly still a collection of cutting boards since the wall area is also a walk-thru.
I've thrown around the idea of painting the upper walls in the kitchen too. Not sure what color though?
OR even wallpaper in the morning room.
If I do either of those, it will come later.
So that's it for now! Those are the updates I'm considering (that I'm doing, I don't know why I keep saying it like I haven't fully decided yet!haha) in our home.
Stay tuned because I'll definitely be sharing as I go. And I'll be sharing updated posts with what I decide on too.
PIN it to save it!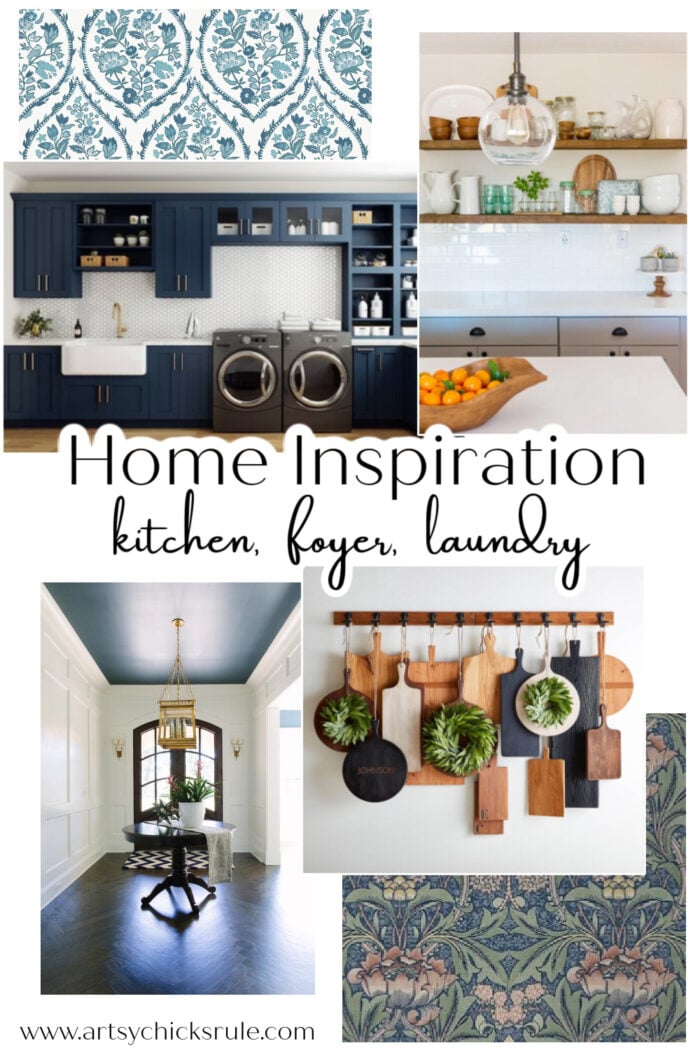 I'm so excited!! I love changing things up. I love "re"decorating. Or just decorating, in general. I can't wait to get started.
I hope y'all will follow along with me!
And please, tell me what you think below. If you have any other ideas or thoughts, I'd love, love, love to hear them!
xoxo