A Father Is Every Daughter's First Love
This post may contain affiliate links. Please see disclosures here.
I remember that.
I remember saying I wanted to marry my Daddy when I grew up. I literally remember at least one of the times as I'm sure I said it more than once. I was about 3 or 4 at the time and he was sitting in an armchair while I was crawling all over him like little kids do.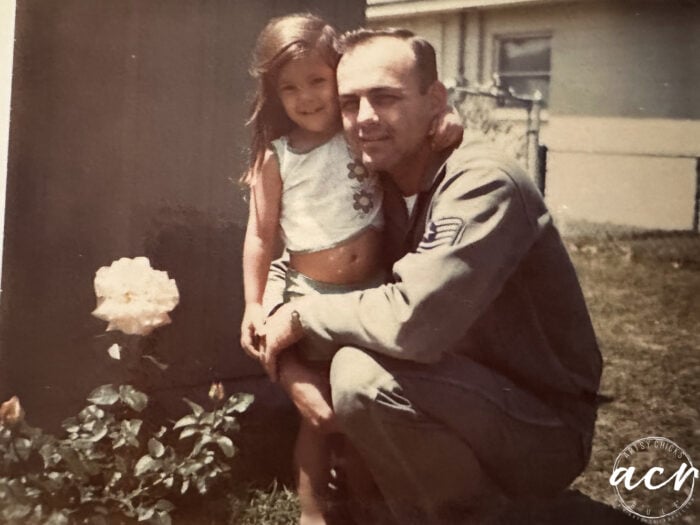 That seems so long ago now. Well, I guess it really is but in a way, it doesn't really seem so long ago.
Time is like that.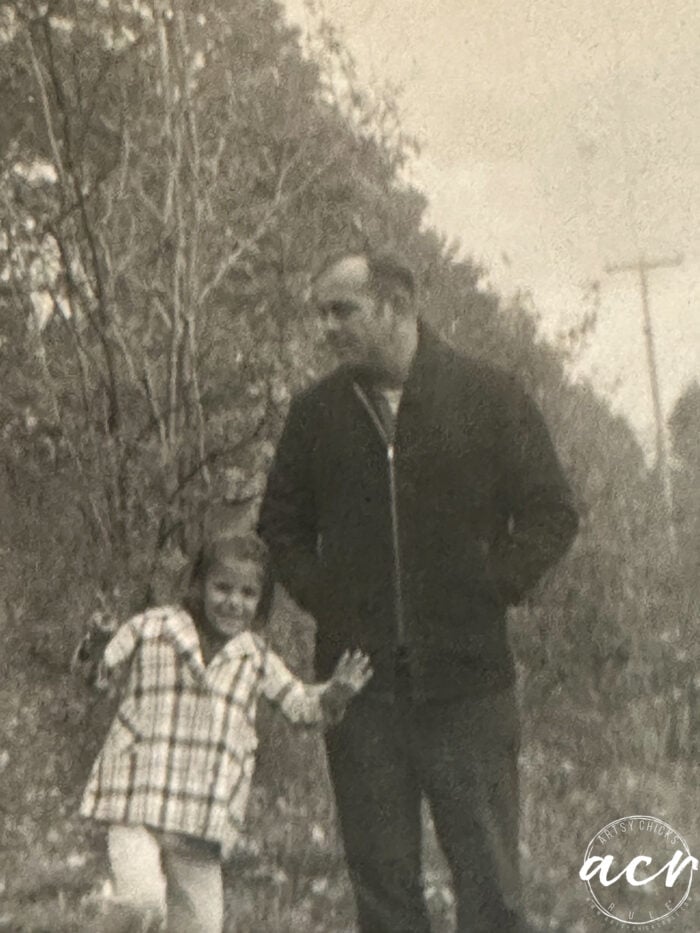 We lost my sweet Dad on April 30th.
I feel blessed to have been there with him when he took his last breath. As hard as it was, and it was heartbreakingly so, I wouldn't have been anywhere else. As a matter of fact, I didn't leave the hospital for days because I could not bring myself to leave his side.
He was 88 and would've been 89 in just a short month and a half.
Most would say oh, what a lovely long life he had! And yes, I agree but it's never long enough is it?? And we are never quite as prepared as we think we are. Even when we know the end is very near.
Because you can never fully prepare for such a profound loss as this. It was the same with my Mom when she passed. Hers was also "expected" as she had terminal cancer. But I still was in no way prepared. I wrote about her also in 2013 when she left us. You can read that here.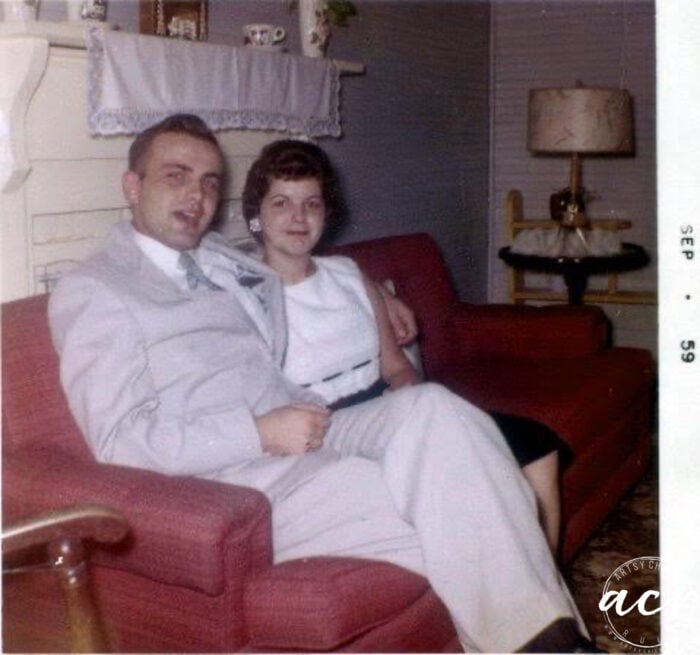 It's hard to lose a parent. So so hard to lose a Mother. I wasn't sure I'd ever be able to move past it. Yes, it's true, it does get "easier" but it never ever goes away.
I thought it'd be easier to lose my Dad as we had been through the immense shock and loss of losing a parent already. I thought it would prepare me better. And also because we were blessed to have him for almost ten years more. He was older. He lived a long life, right?
But I was wrong.
It is in no way easier. In a way, it is harder as there is an indescribable feeling when you lose both parents.
Those 2 who were constants in your life. Always there.
And are no longer.
It's a very strange feeling. A very different world to live in.
The memories are beautiful and painful all at the same time. Memories of times past flood my mind. They offer some peace and sometimes smiles but also sadness.
Bittersweet.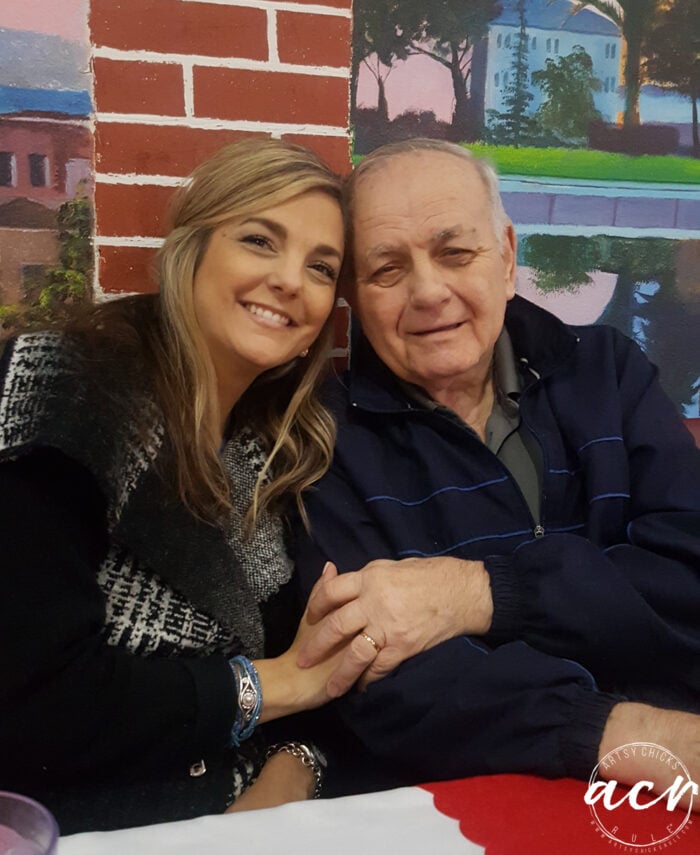 My dad was an amazing man. He did SO much in his lifetime. And he was the smartest person I know! I mean that. I'm not sure I know anyone who knew as many things about so many different things as he.
It's something special to read what others thought of him after his passing. And the thoughtful kindness of those who shared.
Some of the things said or written:
…. a wonderful person, an amazing man, always making people laugh, always having treats/candy for the kids, always talking about the old days, loved hearing his stories, always had a camera around his neck, sweetest man, very special person, kind and caring, kind loving man, lovely person, all his photos and stories, gentleman, kind soul, soft-spoken and wise, pretty handsome too, always smiling, loved by the entire family, will be greatly missed.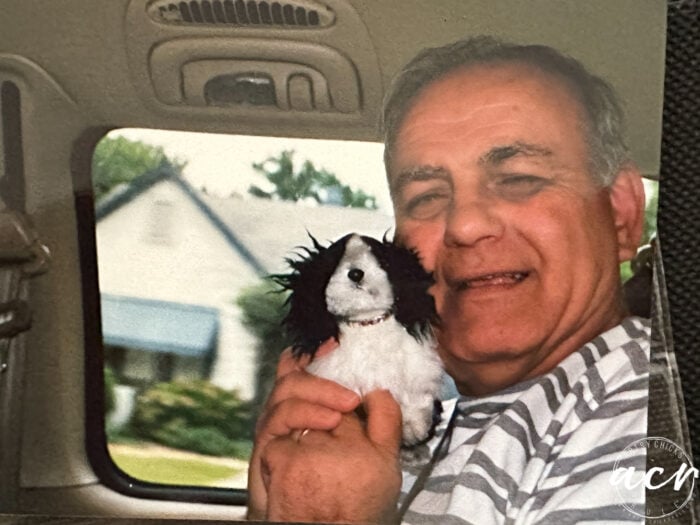 (my daughter snapped this shot of him with her stuffed doggy when she was young)
See, my dad always, always had a camera around his neck. He was always snapping photos my entire life. As we gathered photos for his service we gazed at all the wonderful memories he captured. So so so many. What an incredible blessing to have them all. And our extended family feels the same as he always got photos of all of our important family events and shared with them (either in photos or when times changed, CDs he made for them).
Such a blessing to so many.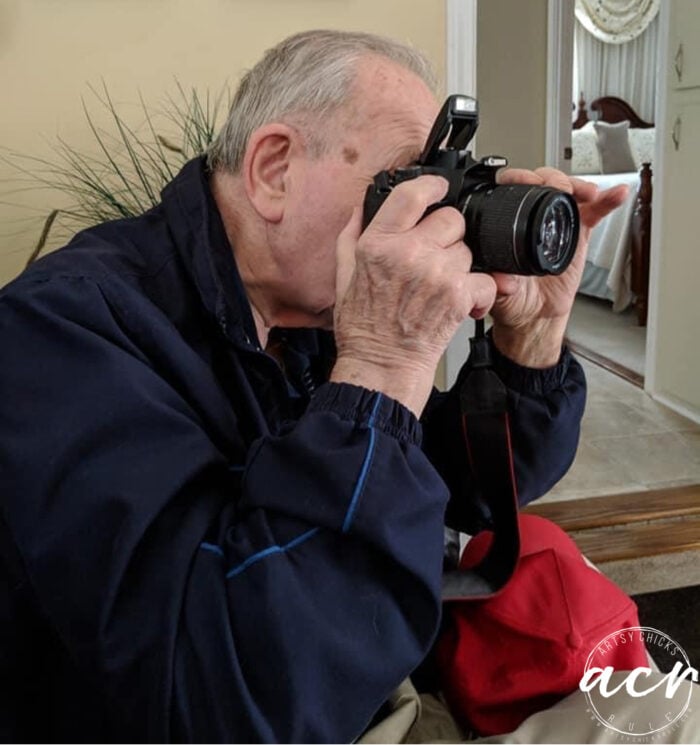 My dad had hobbies, so many hobbies. And when he went into them he went head first and learned as much as he could about it. He is where I got my creativity (and curiosity about everything) from. Over the years, he made beautiful jewelry for his girls (my mom, sister, and I), as well as gifting other family members with his beautiful creations. He built computers/laptops for many years and gave them away to family members. I blogged right here for over 10 years from one he built and then rebuilt for me at the age of 80+! It still runs great but I filled it to the brim. I still use one of the many laptops he built for me over the years.
He as well as my Mom were Master Gardeners. They had many friends and many adventures in that. He had a gorgeous yard that folks from all over came to visit over the years. He created his own varieties of blooms that are still in circulation today.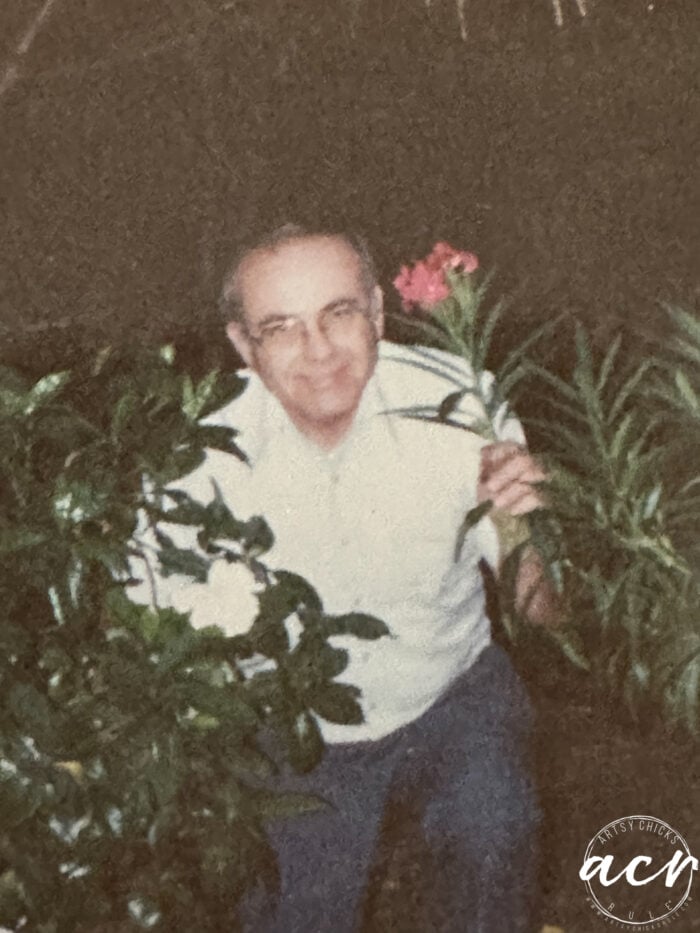 I don't know where the term "Dad jokes" came from but it fits my Dad for sure. He was always telling super goofy jokes. Always.
And always super silly. Sometimes only he thought they were funny! As you can imagine, we girls were like, okay Dad. lol
He would write funny things on photos and send them to us in emails too. I miss his emails.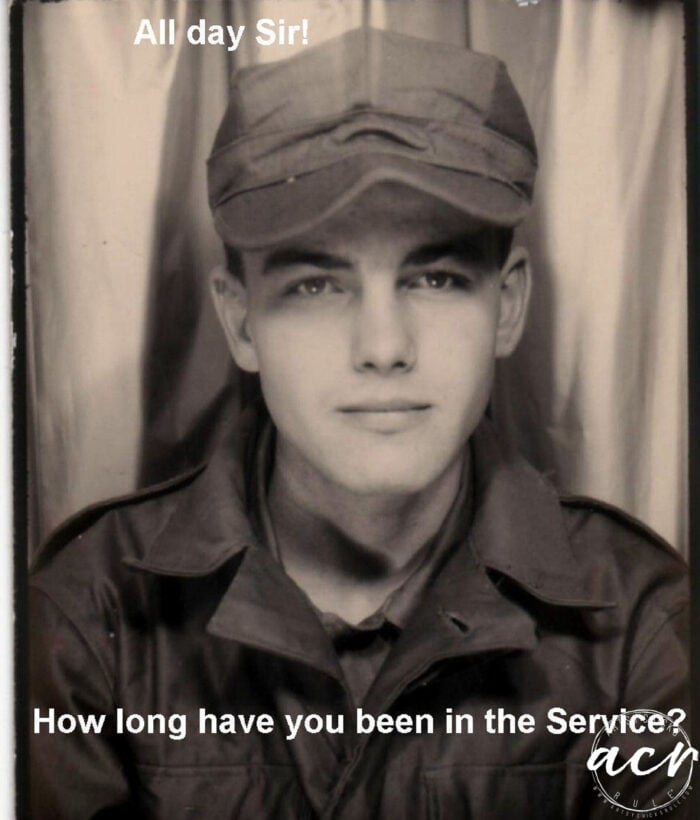 One example of a service photo of him and a funny comment he wrote on it. Which is pretty funny actually. :)
My dad was so proud of his Polish ancestry and could tell you anything you wanted to know about Poland. (and I do mean anything!) He was also very proud of his military service with the USAF. (21 years and served in both the Korean and Vietnam wars)
And he loved all things history. He could reel off historical events like a walking encyclopedia!
His extensive and interesting military career, Polish ancestry, and historical knowledge are some of the stories so many loved to hear about.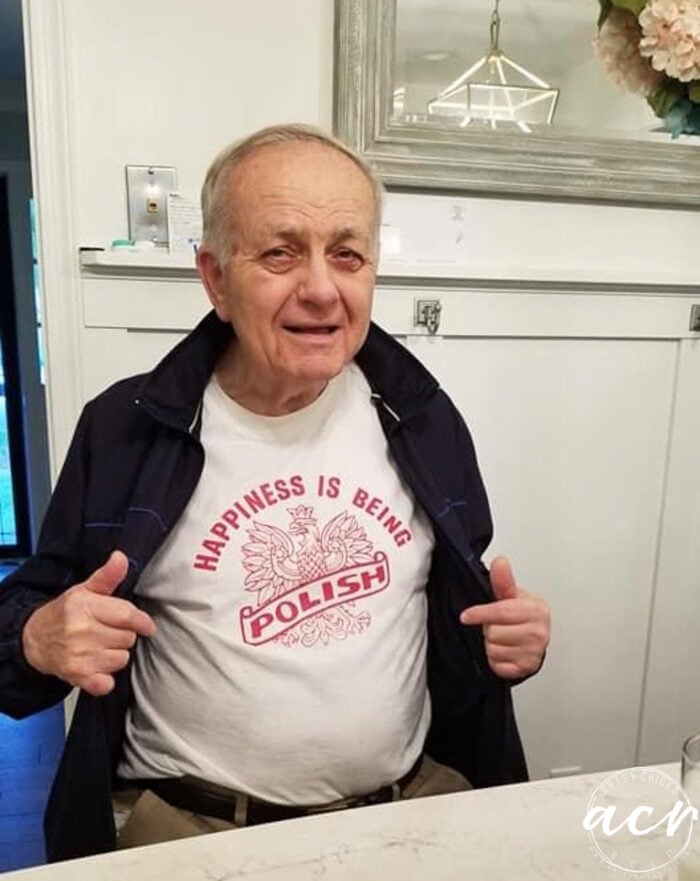 Dad brought his old Air Force shirt to a family gathering (I think it was Father's Day 2021) and wanted to snap a photo of it with one of us in it. I obliged. So glad to have this shot of him…which ironically is not his photo but one of him taking the photo of me.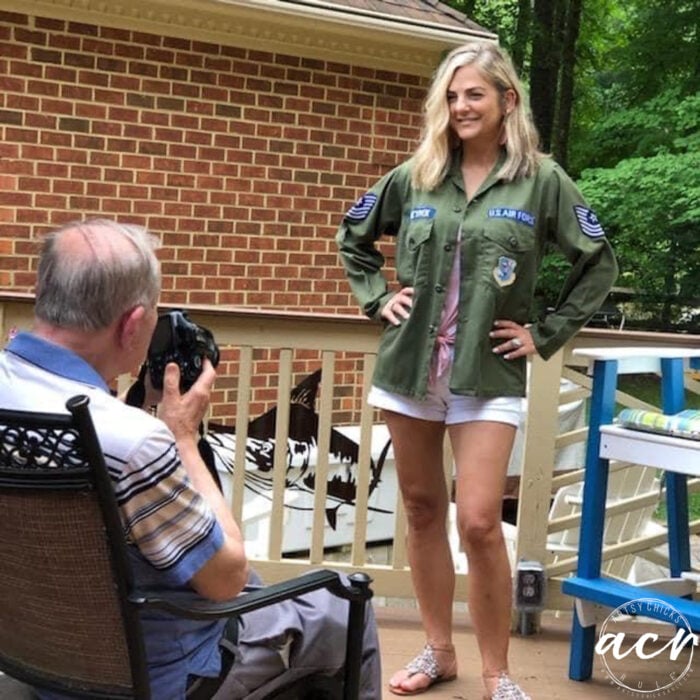 Sweet, sweet memories. Sadly he started to more noticeably decline soon after.
I can find some solace in the fact that Mom and Dad are reunited.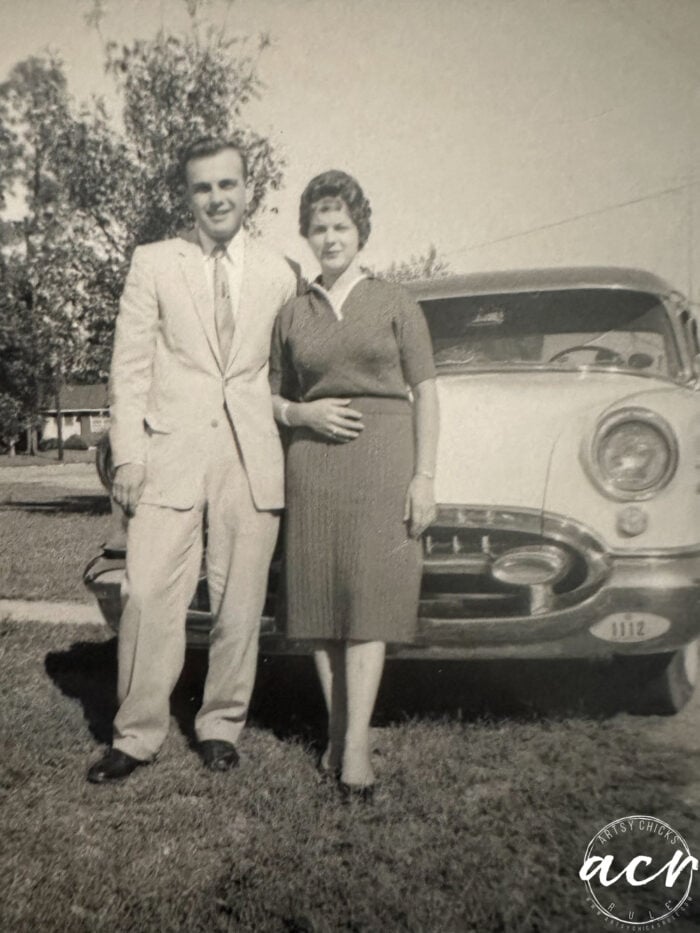 But I will miss you both always.
And I will love you both forever.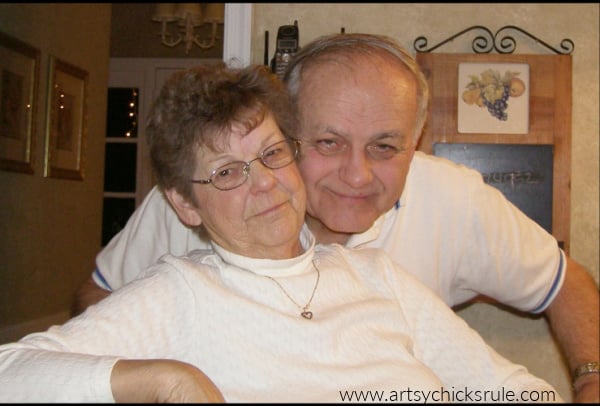 Thank you for reading and allowing me to share, my sweet friends.
If you are blessed to still have your parents with you, go hug them tight for me!
xoxo