Things To Do Around Nashville
This post may contain affiliate links. Please see disclosures here.
Things to do around Nashville, Franklin, Leiper's Fork, Fox & Locke, Loveless Cafe, and more!
Hello beautiful friends!
I hope you don't mind this little excursion away from the regular home DIY, furniture makeovers, and redos! I wanted to share with you in hopes of helping you out if you ever make your way to Nashville and the surrounding areas. There is so much to do and see.
If you want to, just skip on past this and I'll be back to regular programming soon. ;)
But for those of you who might be interested in seeing more, follow along! Today, I'm sharing all about the "outskirts" of Nashville (downtown Nashville, that is)
Now, keep in mind we only had a few days here and didn't get to do many other things we wanted to. But we managed to squeeze a lot in anyway!
If you missed Part 1, Pigeon Forge (things to do and see), you can see it here.
Things To Do Around Nashville
Our first stop when heading to our downtown Nashville hotel was Franklin. I loved Franklin!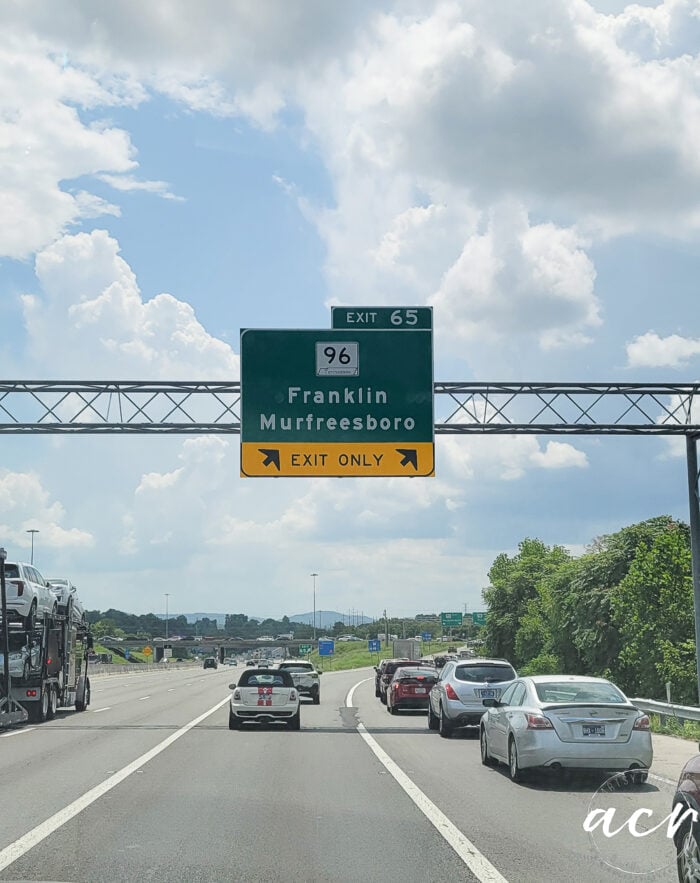 There's a little roundabout right in town.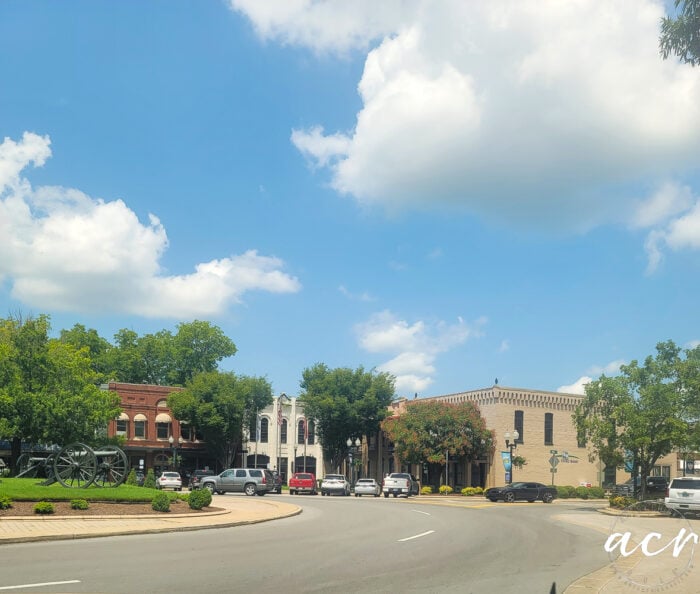 So cute! Looks like something out of a movie.
So much charm.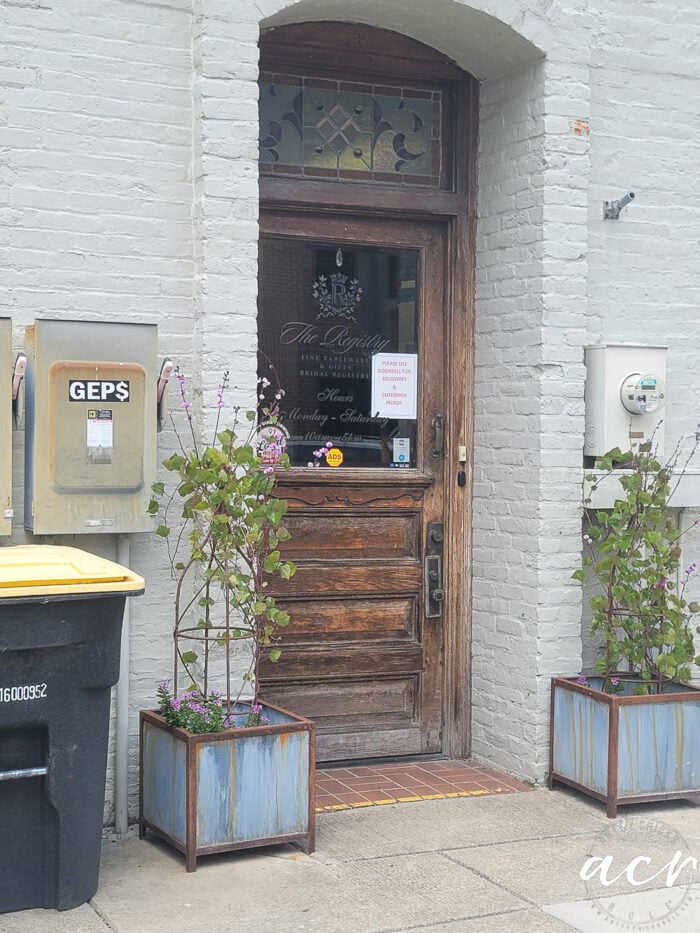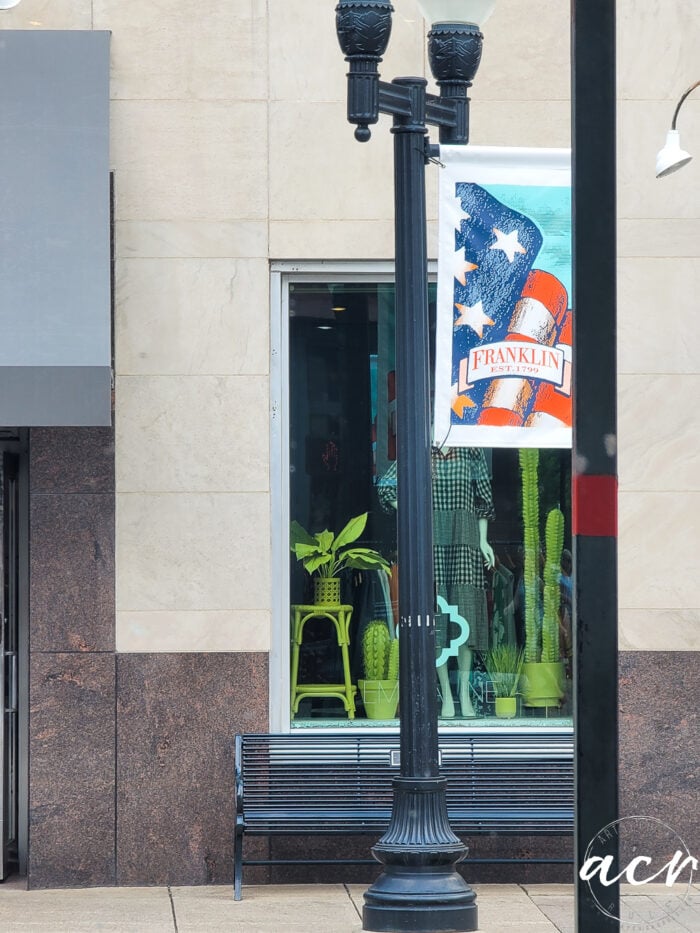 We went to eat lunch at 55 South. Loved it! Highly recommend.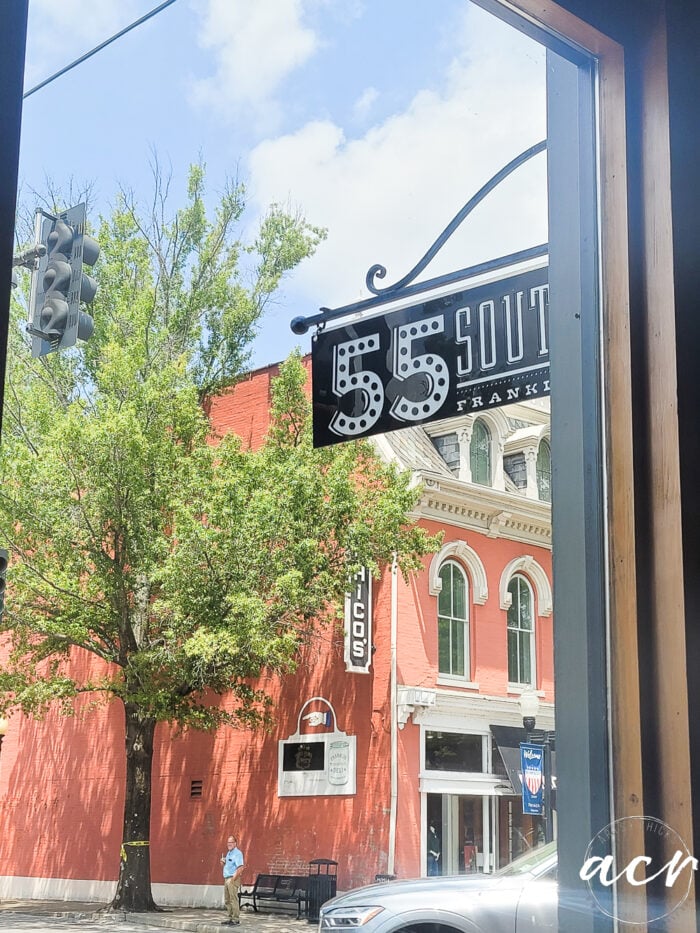 I had one of the absolute best salads I think I've ever had there. Yum.
And my husband's shrimp and grits and son's tacos were also a hit.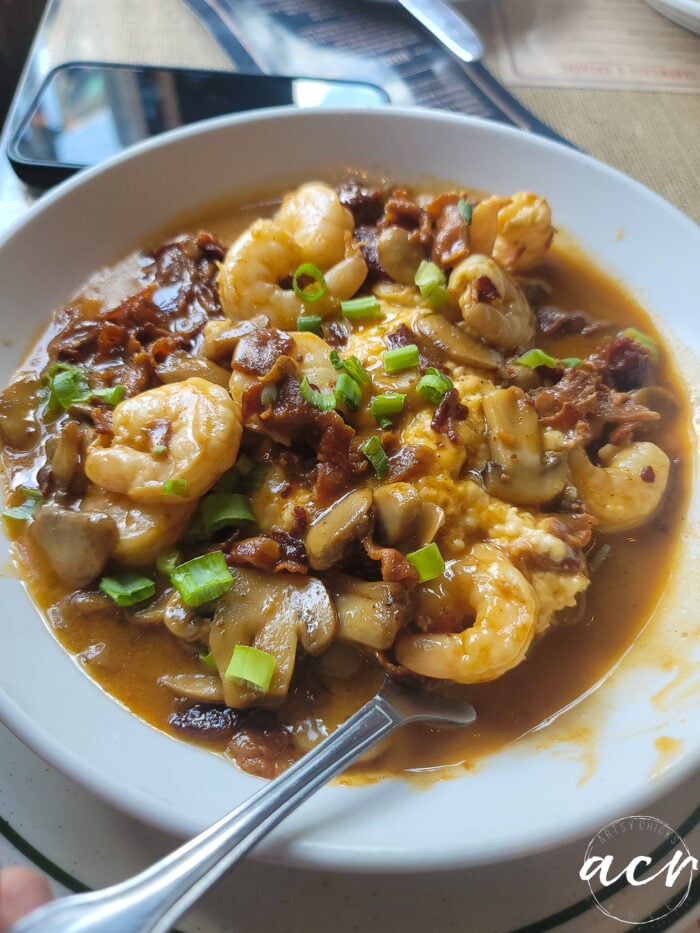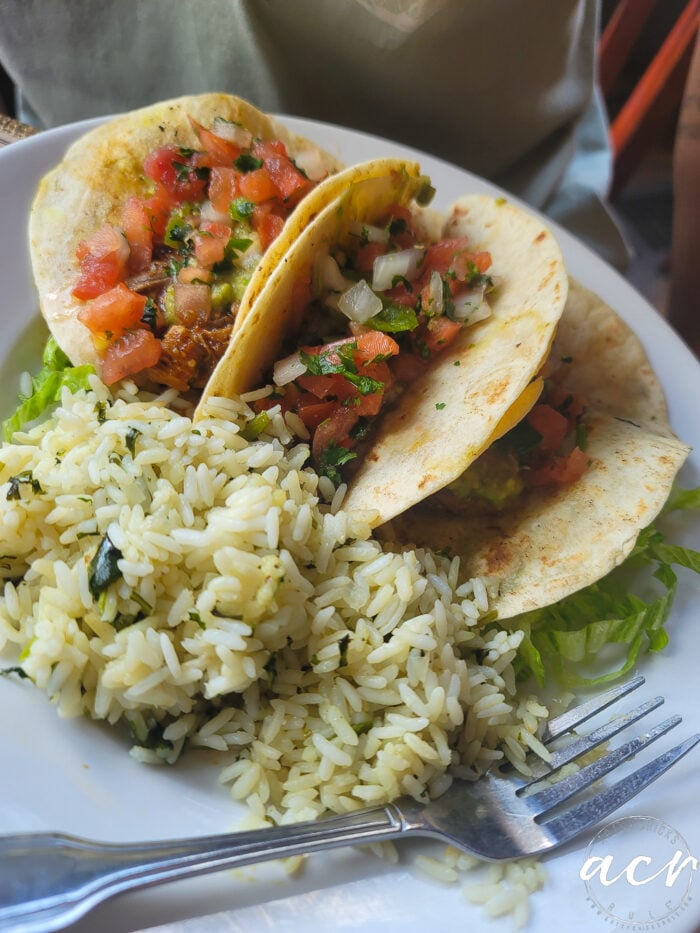 But that salad…I'm telling ya, it was amazing.
After we left there, we walked around the town a bit.
We saw this place… Gray's on Main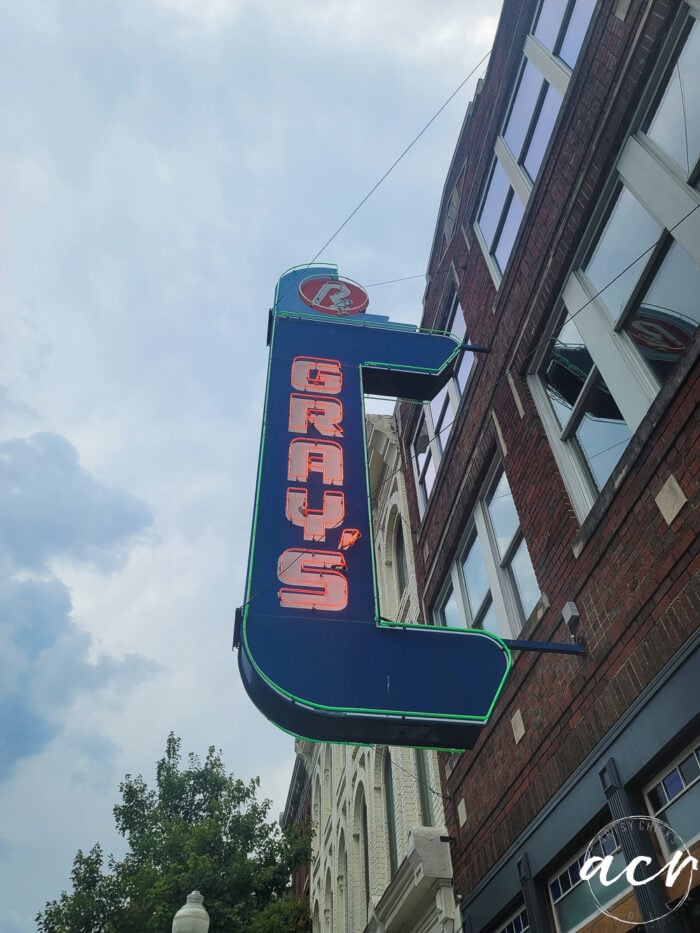 …and decided to go in to check it out.
It apparently has been a pharmacy for forever…until now.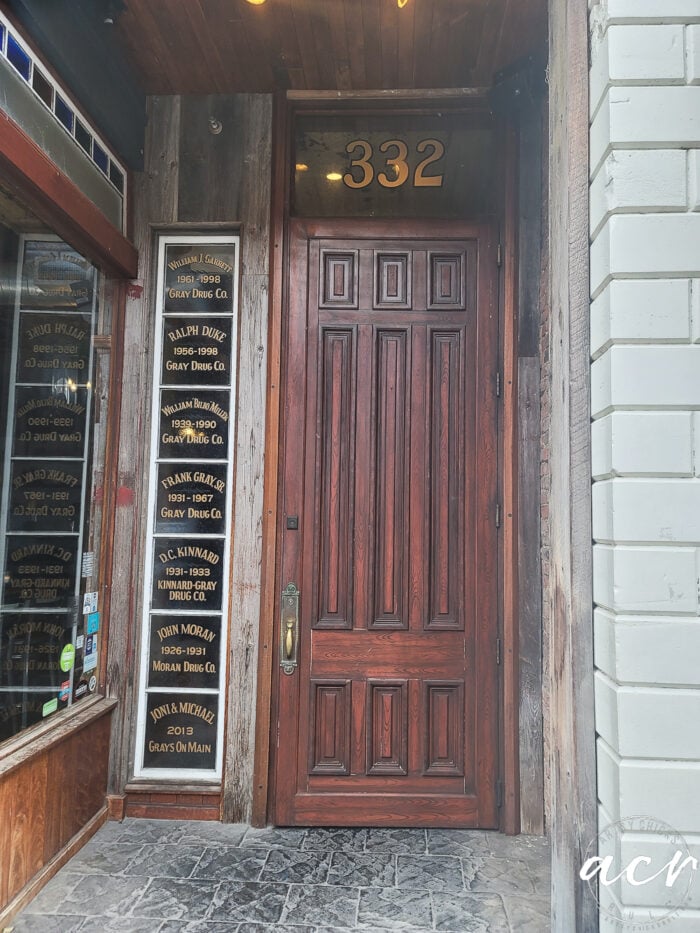 See the dates on the glass of who (and when) the pharmacists were over time?
So cool!
We went up the stairs to the bar area.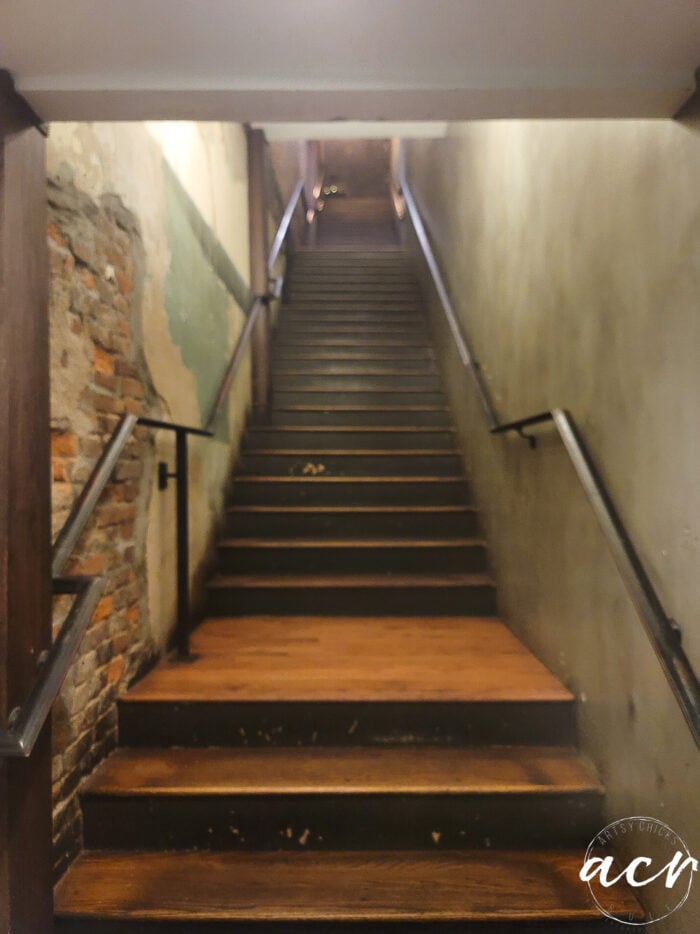 Which was a beautiful bar.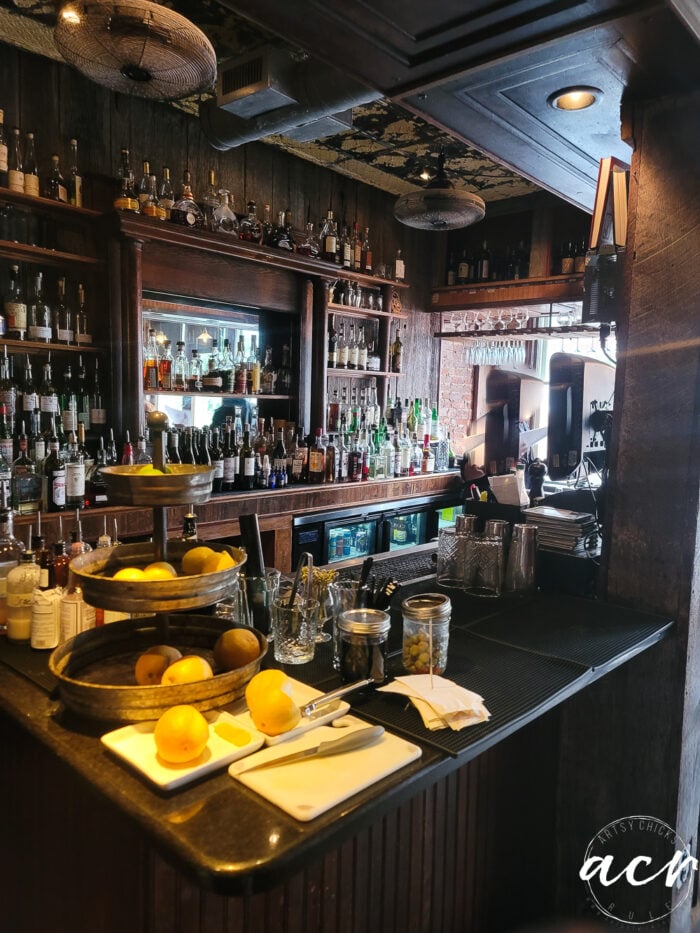 They have a raised stage at the other end for music and tables for eating up here.
The food looked amazing. We hope to come back and have dinner someday!
We went to a few small shops and saw these things…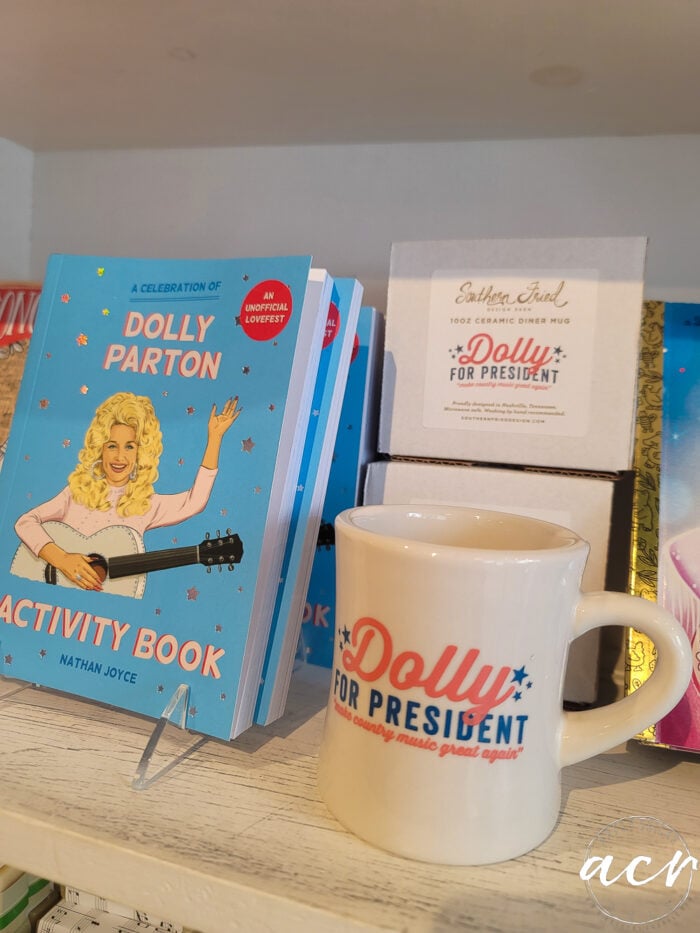 How fun is this??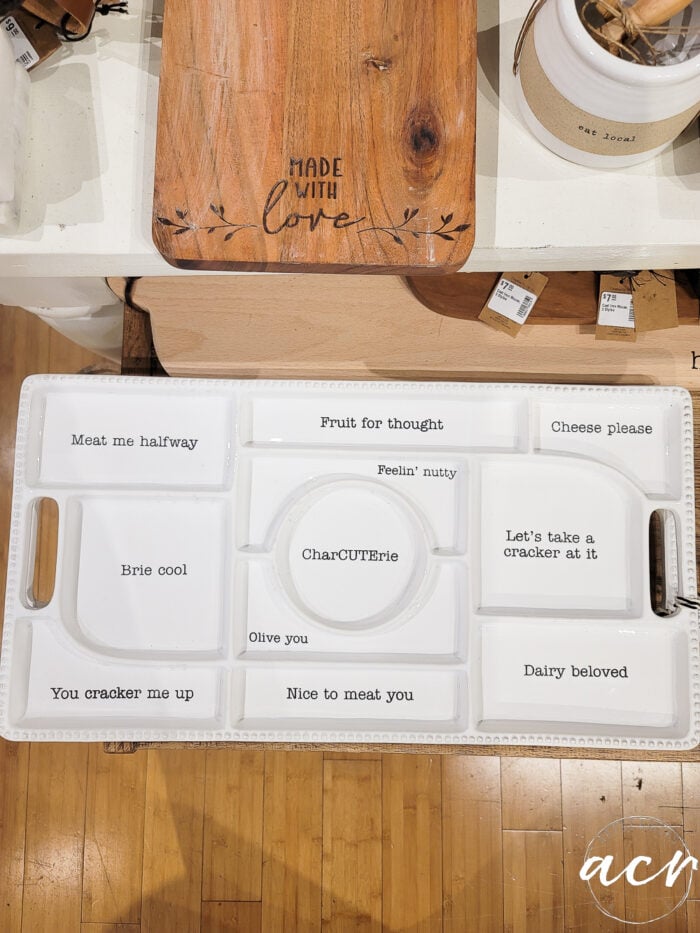 And this one!! lol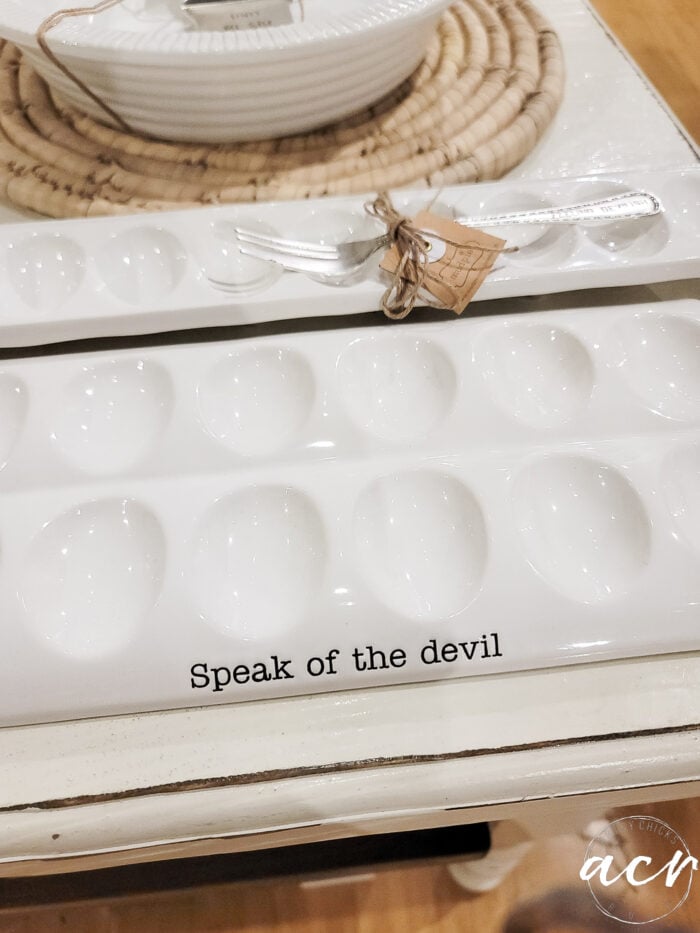 While we were at Gray's the bartender there told us to check out Kimbro's.
They have music (and different types, like pickin' on the porch, for example) in each room. So neat!
It's in an old house, check it out below.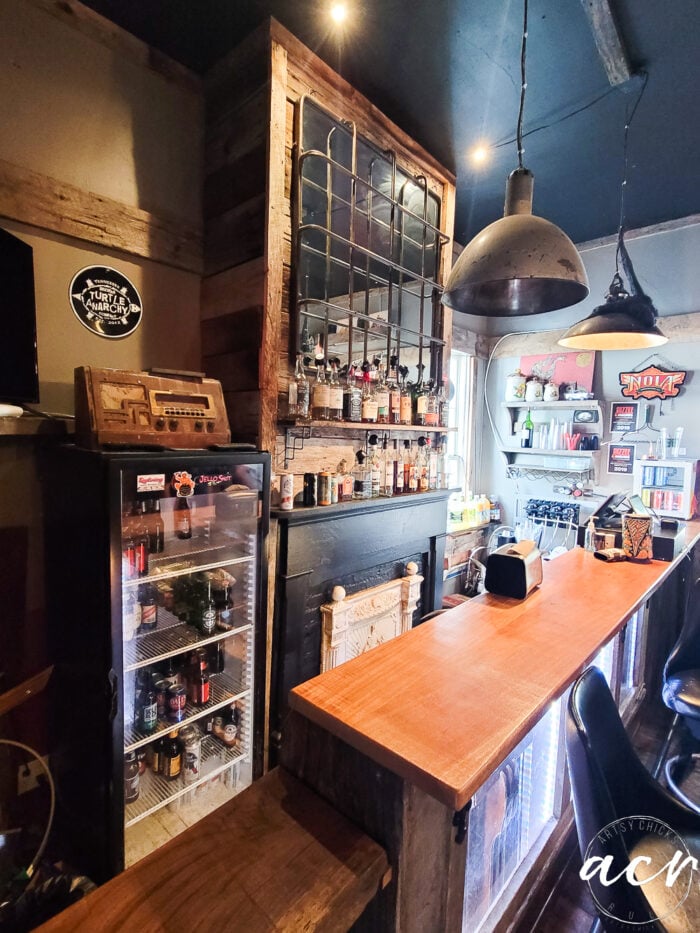 There was just so much to see in every room.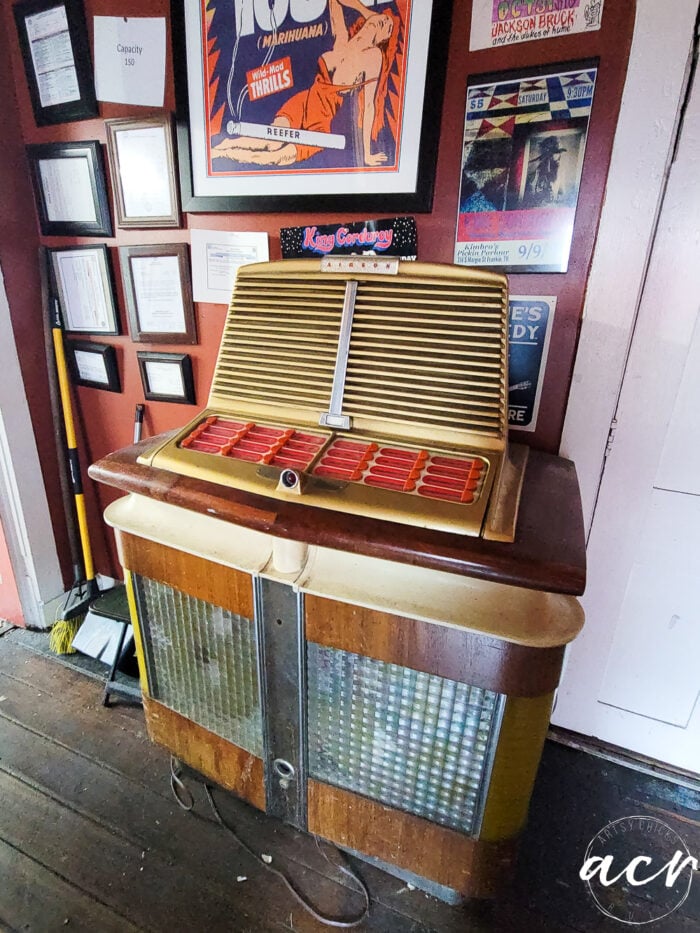 We almost came back that evening to check out the lineup but didn't end up making it back from Nashville that evening.
Next time!
You know I had to get my sweet hubby to drive all around Franklin so I could see all the pretty houses, don't you? Haha
He sweetly obliged. (he enjoyed seeing it all too)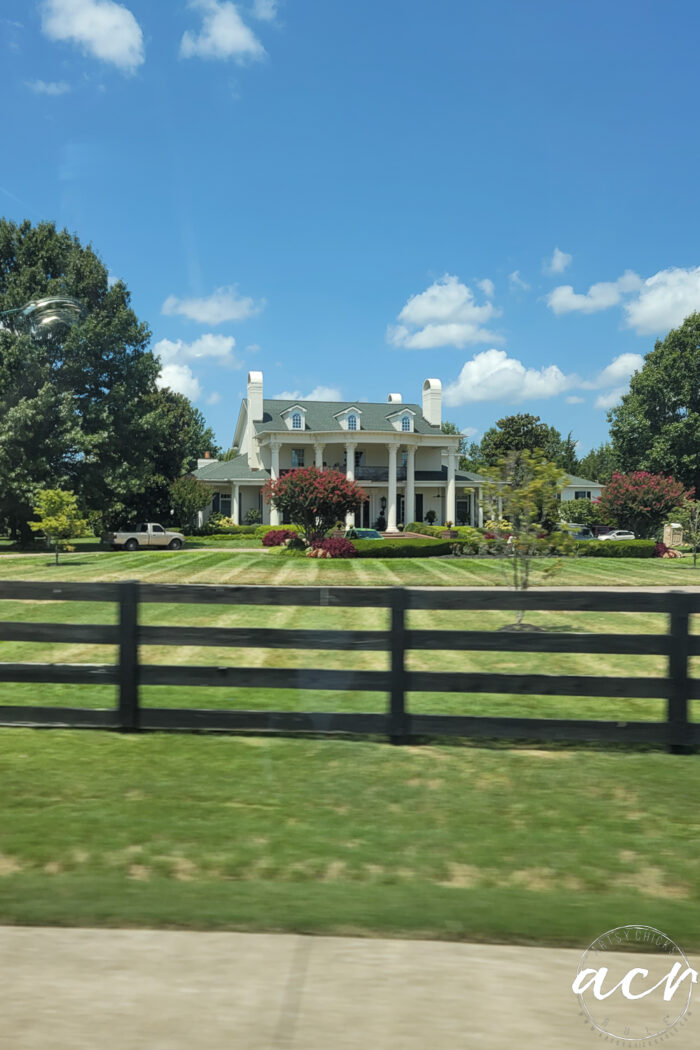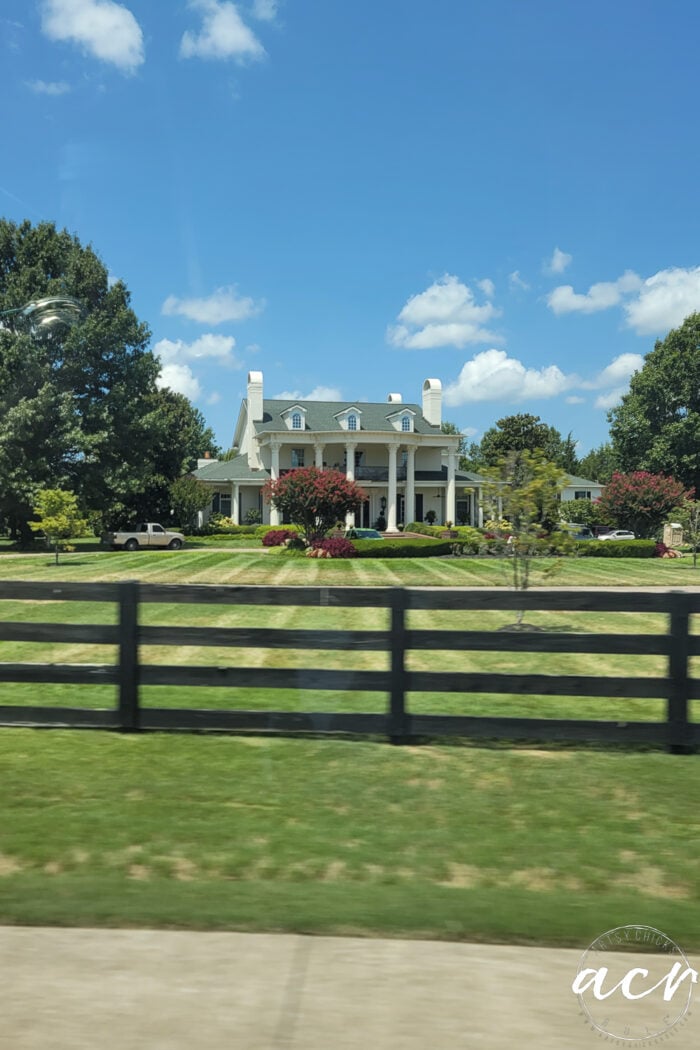 So pretty out here. Lots of land all around still but lots of new growth too.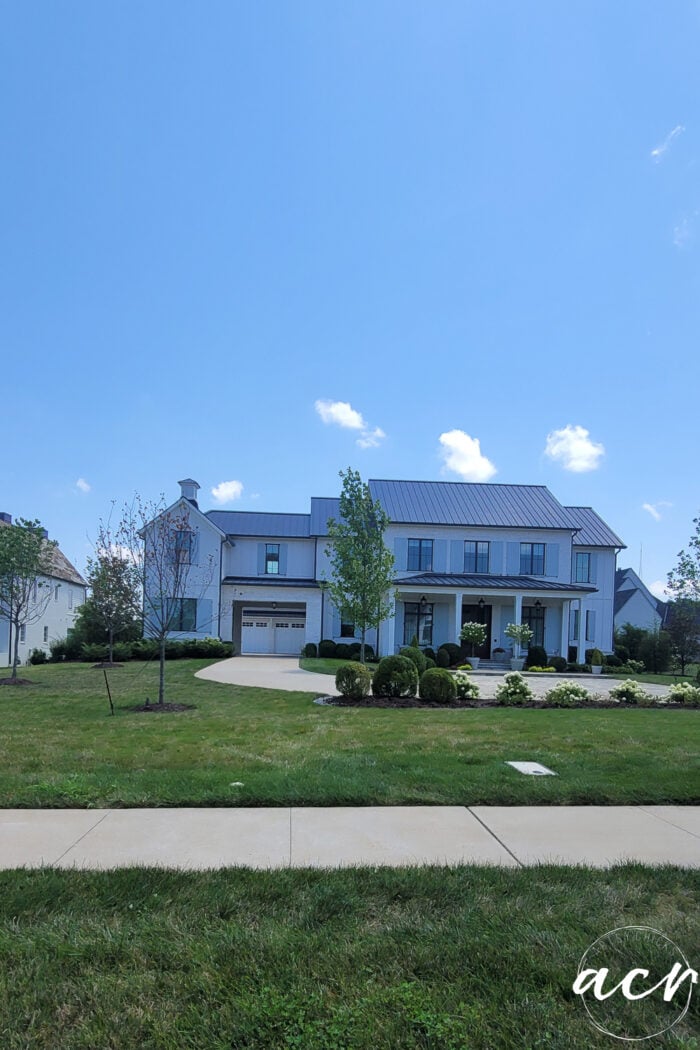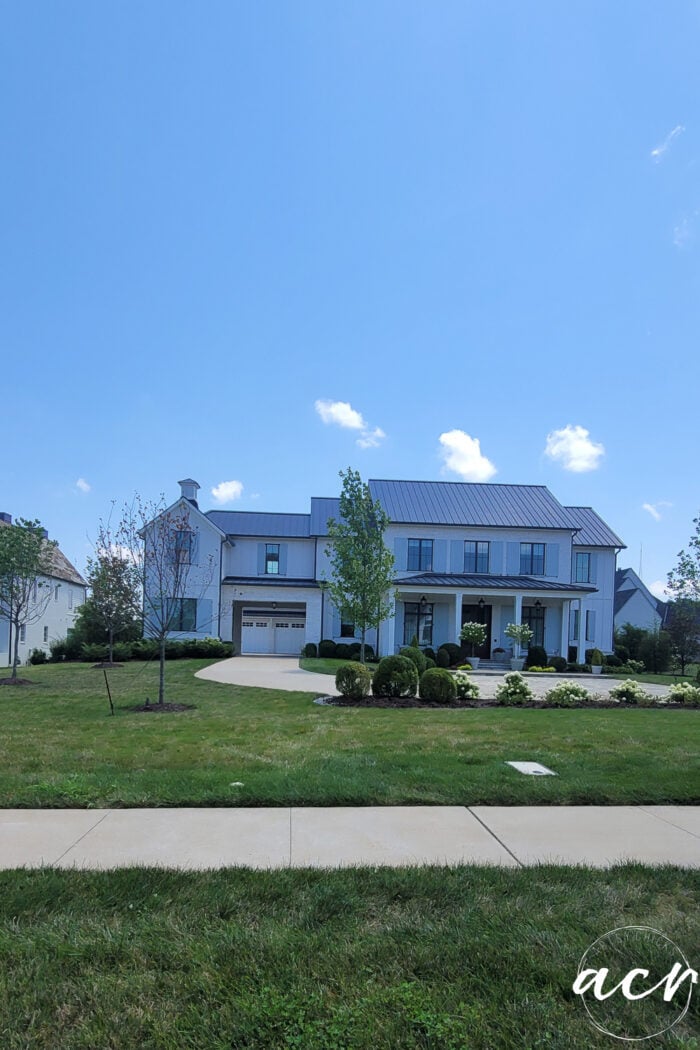 So pretty.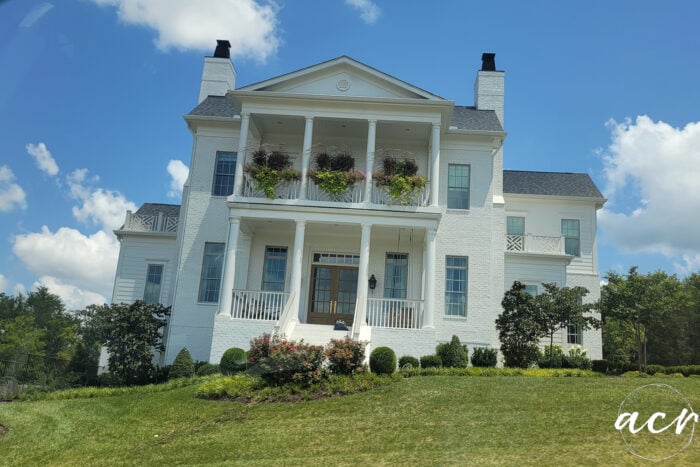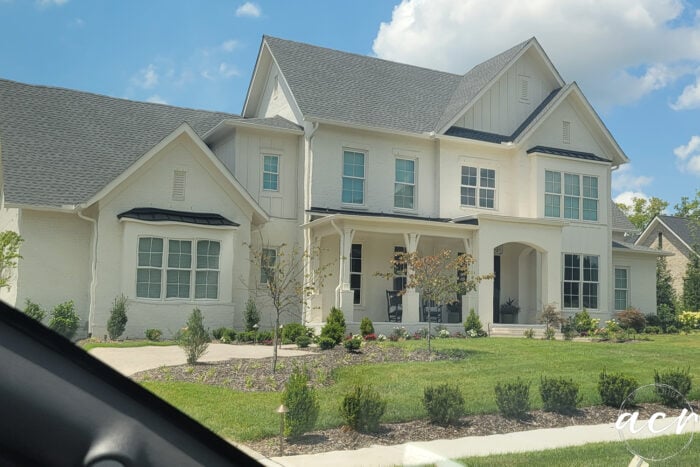 And check out this one!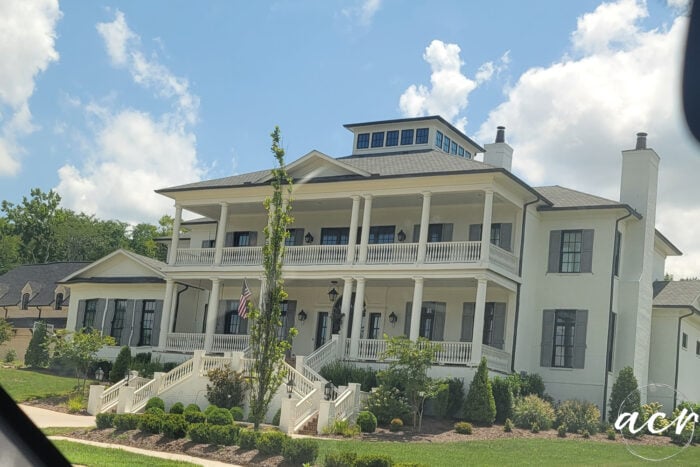 And same one from the side. Wow.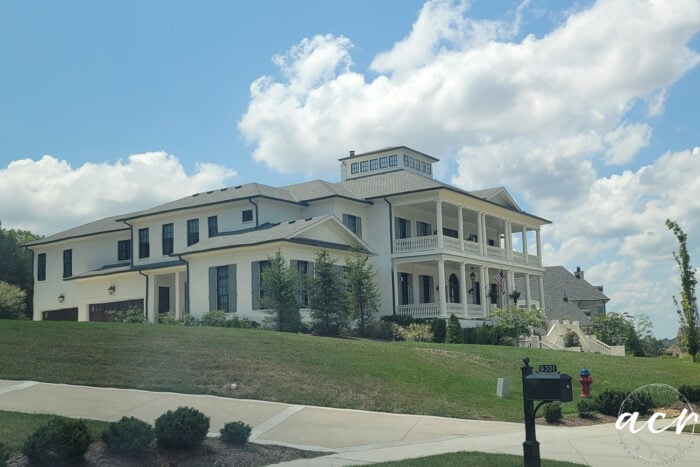 Oh my, that was a big one.
After that, we headed to check into our hotel. We stayed in downtown Nashville for the evening. I'll be sharing that later this week.
The next day, we got up and ventured out again. This time we decided to go to Leiper's Fork.
A cute little (and I do mean little) town.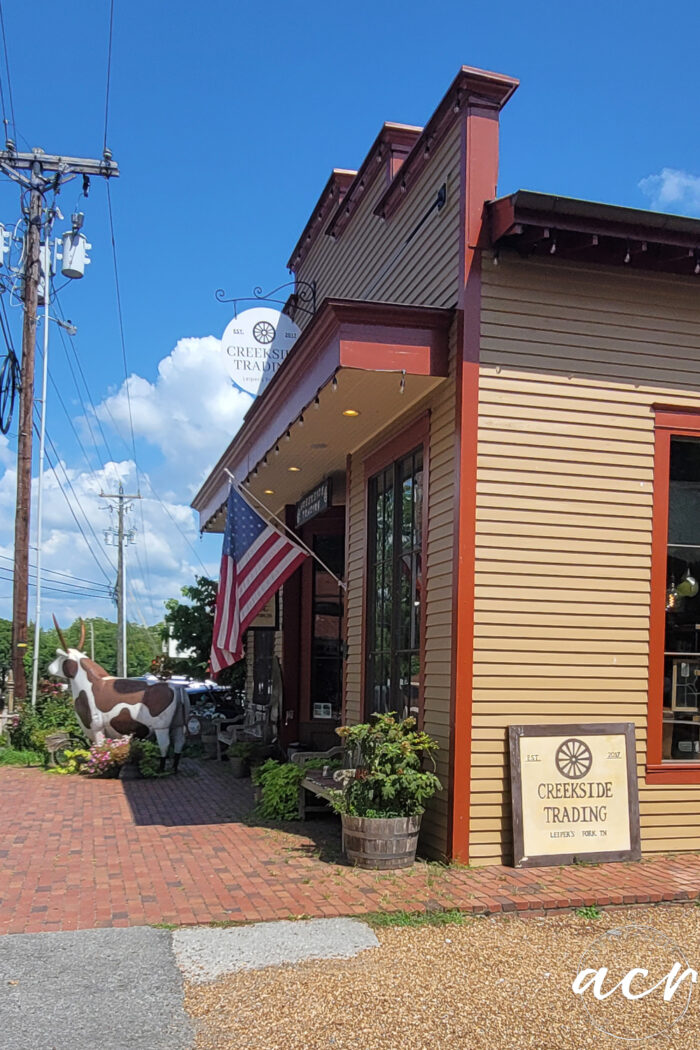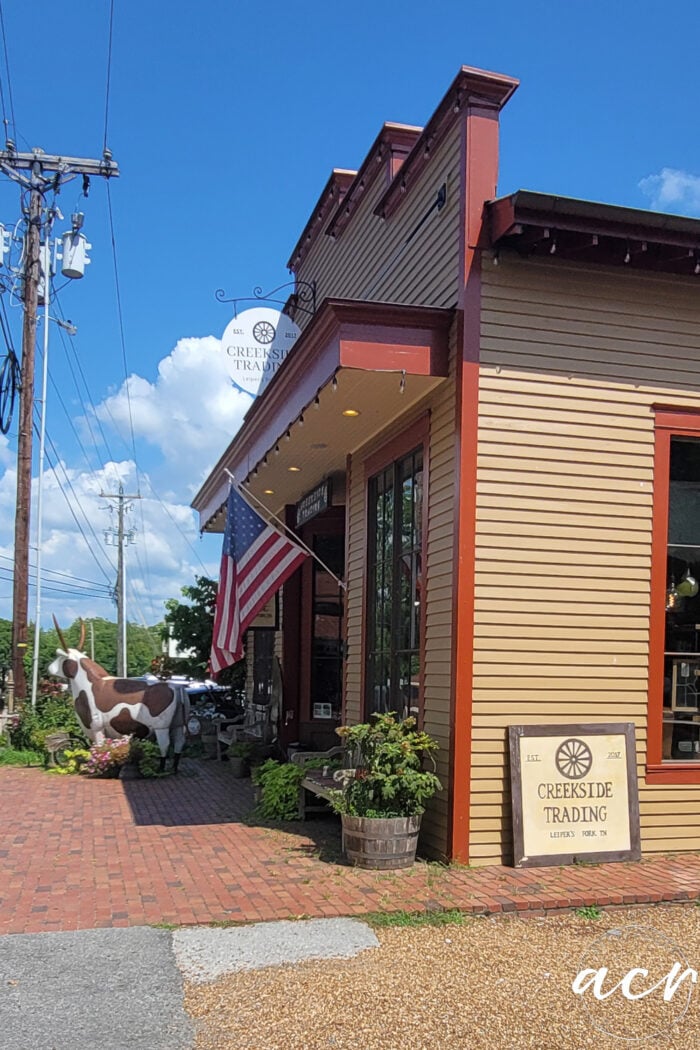 Not much to it but we walked around and shopped in this little shop here. (it's across the street from the Fox & Locke restaurant)
One of the shops had a big porch and this huge swing. Nothing better!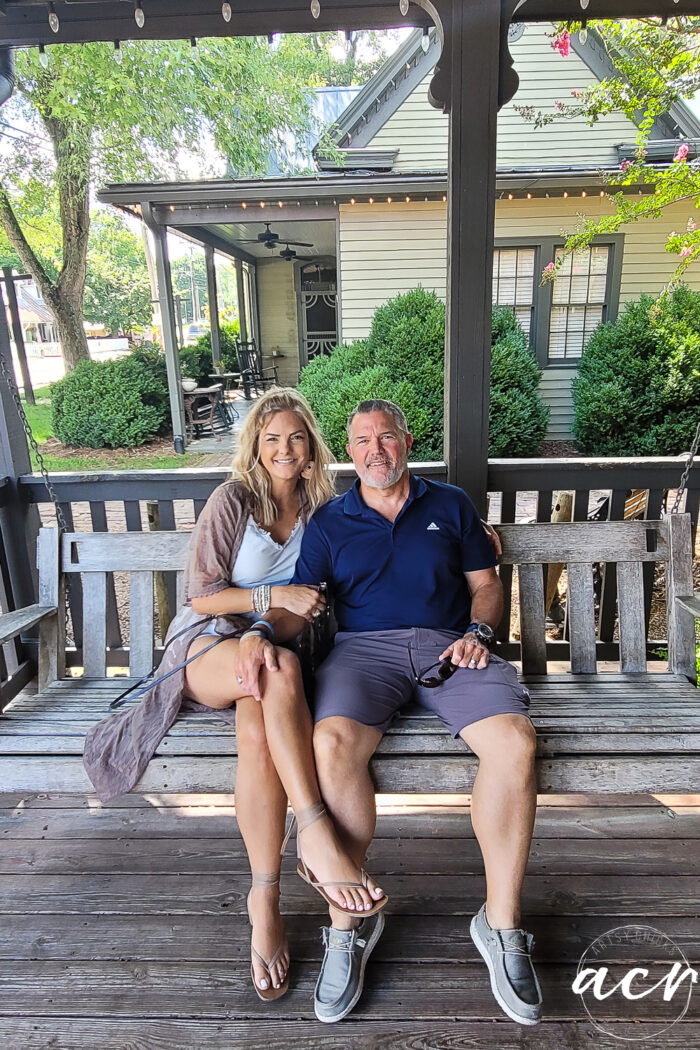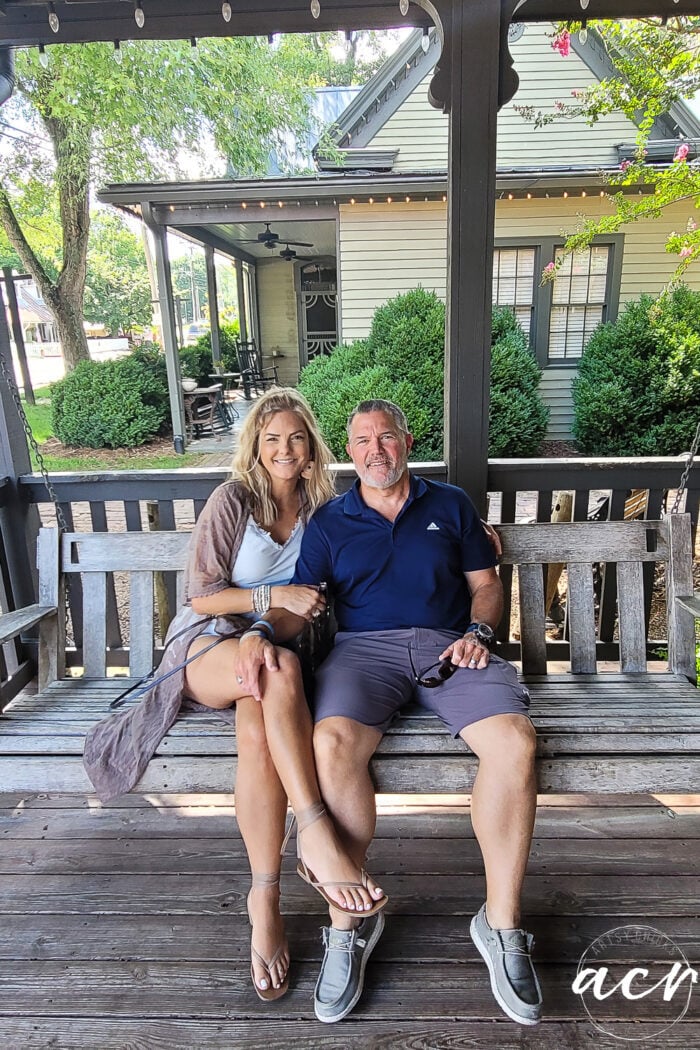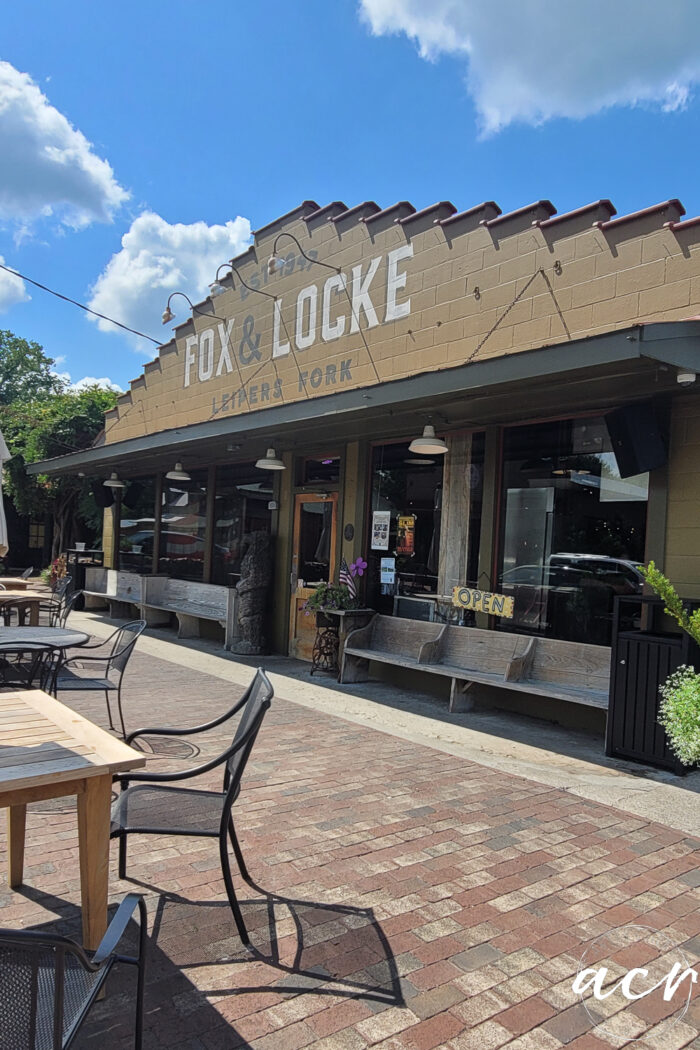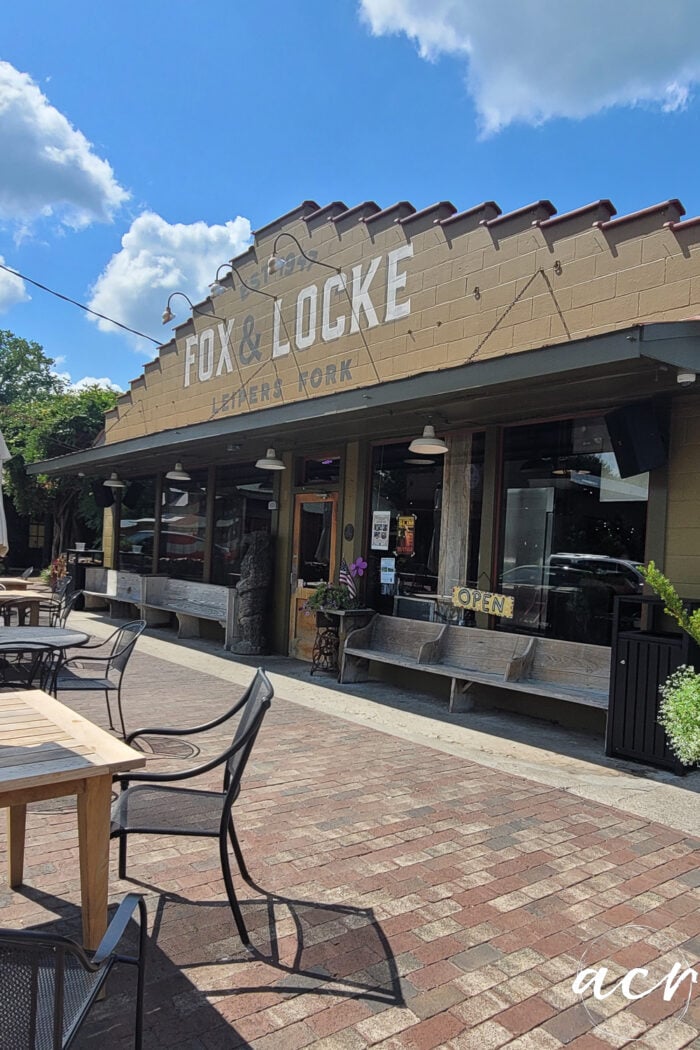 We wanted to visit this place someone referred us to. Apparently, it is old and very famous.
It's known for recording artists doing surprise visits, hopping up on the stage, and singing. So of course we had to check that out!
Wait till you hear more about that…read on!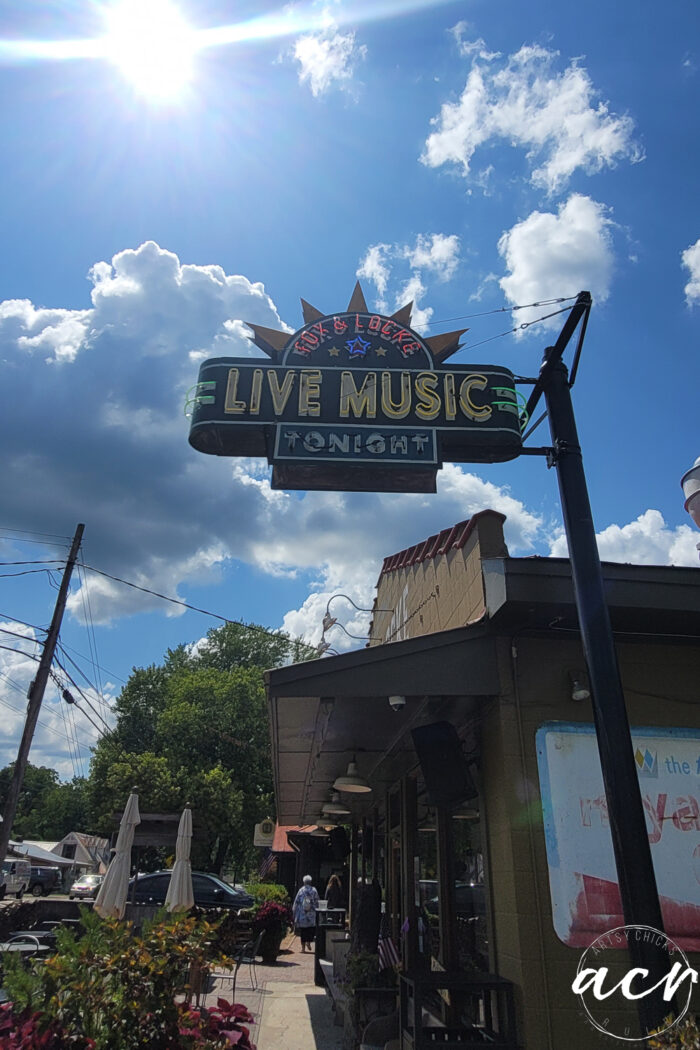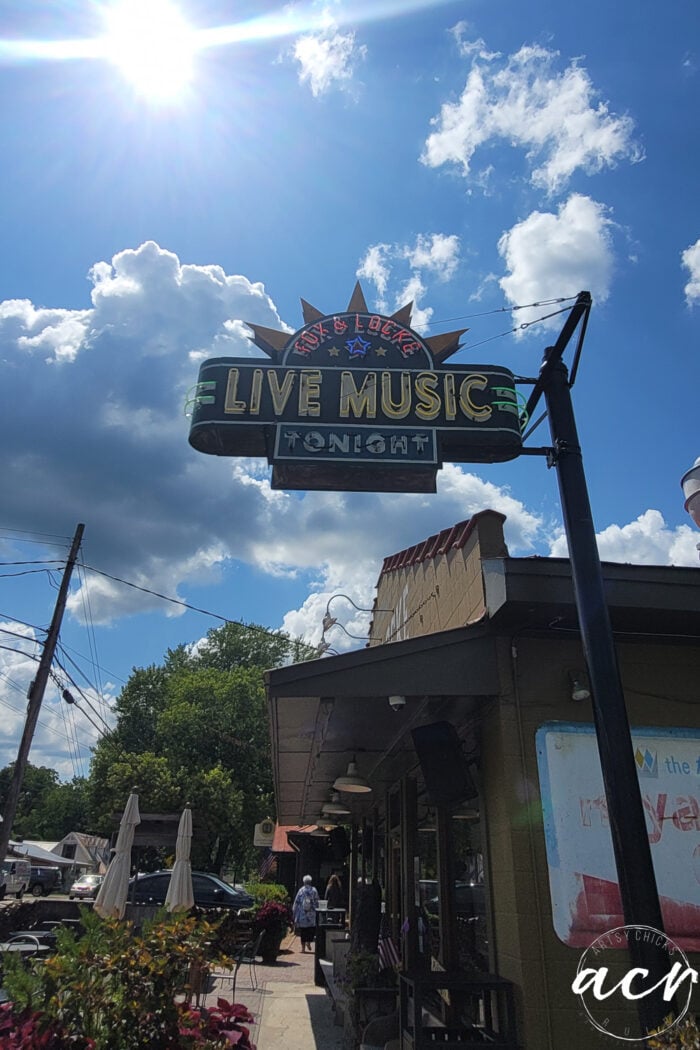 Over at the bar, we saw this sign.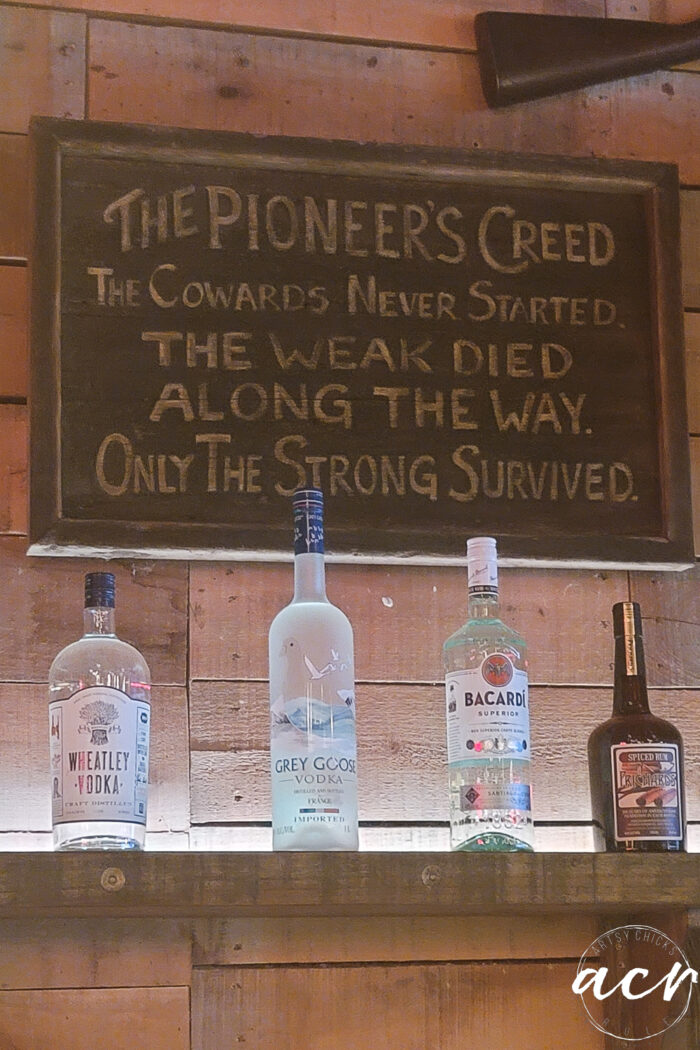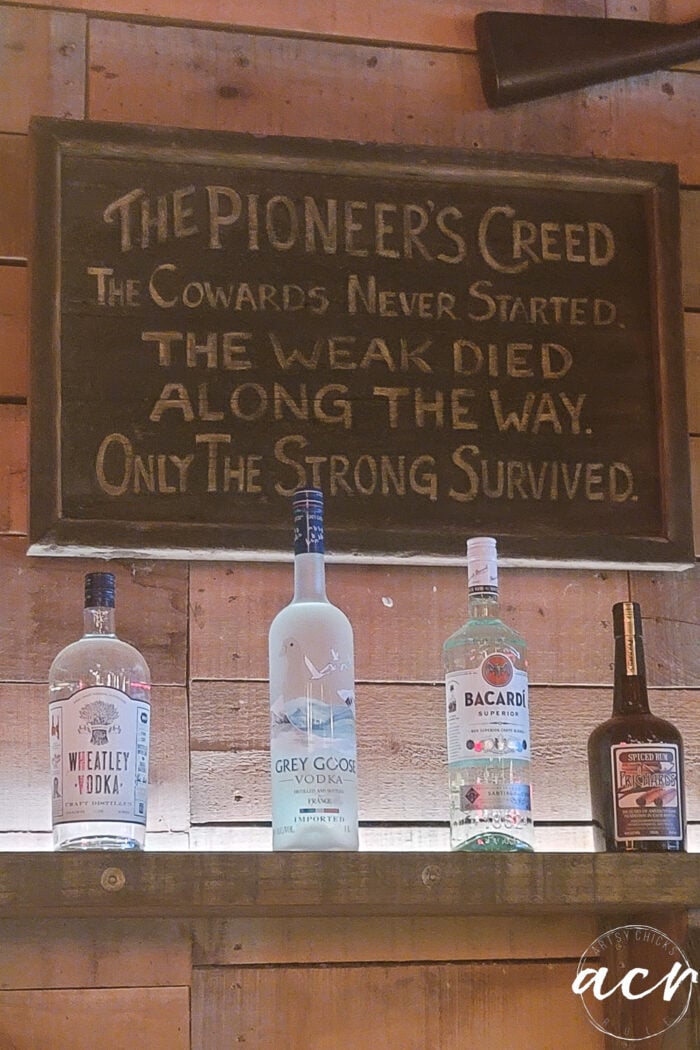 Here's the inside looking out (and looking at the stage). We were just to the left of those tables at the bar.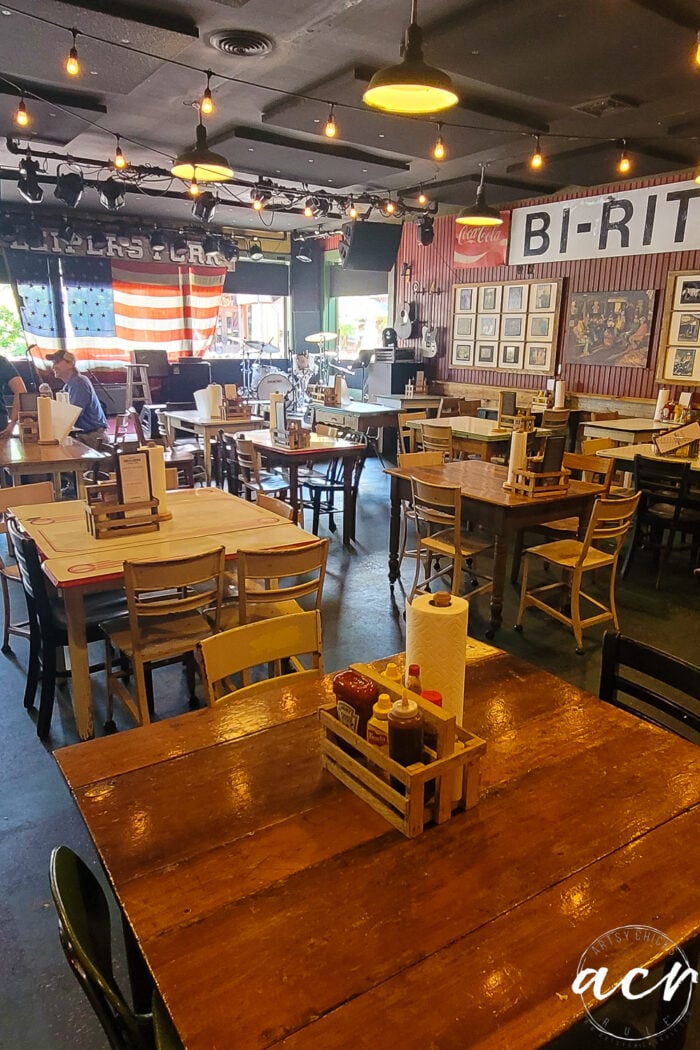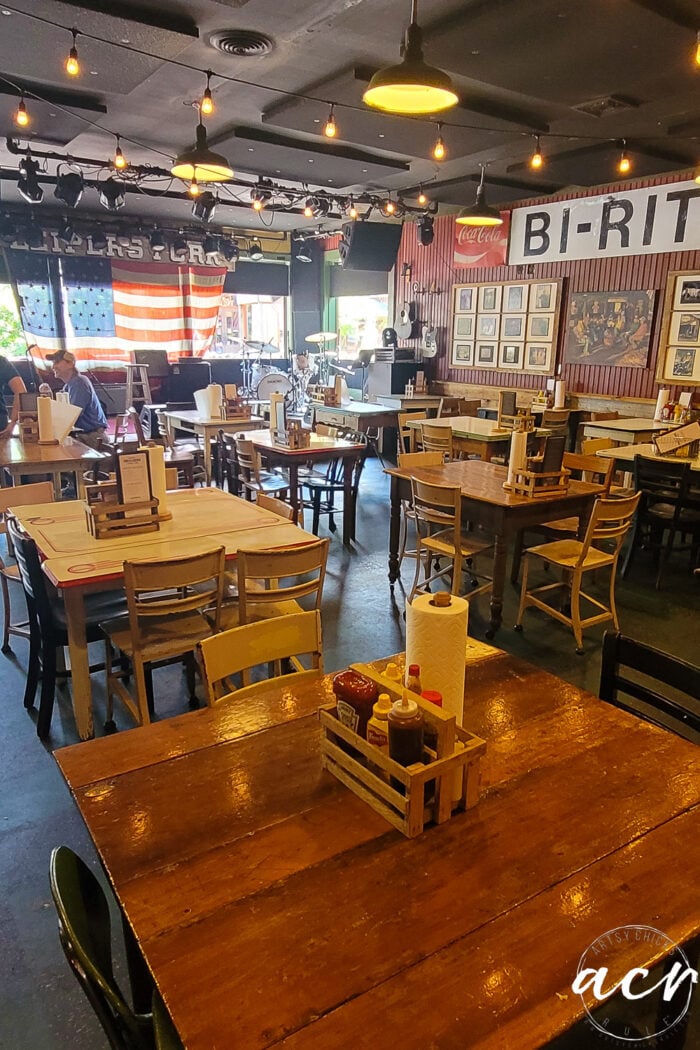 It was only about 3 or so, so not very busy then. It started to get busier about the time we left.
Which took us just down the road about a mile to Leiper's Fork Distillery.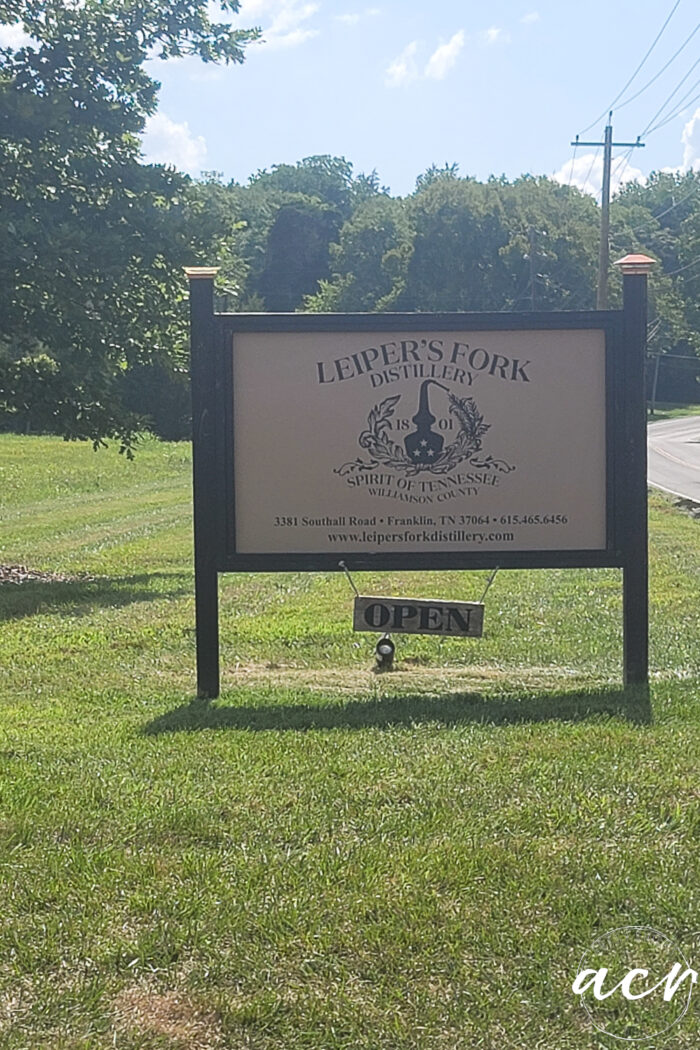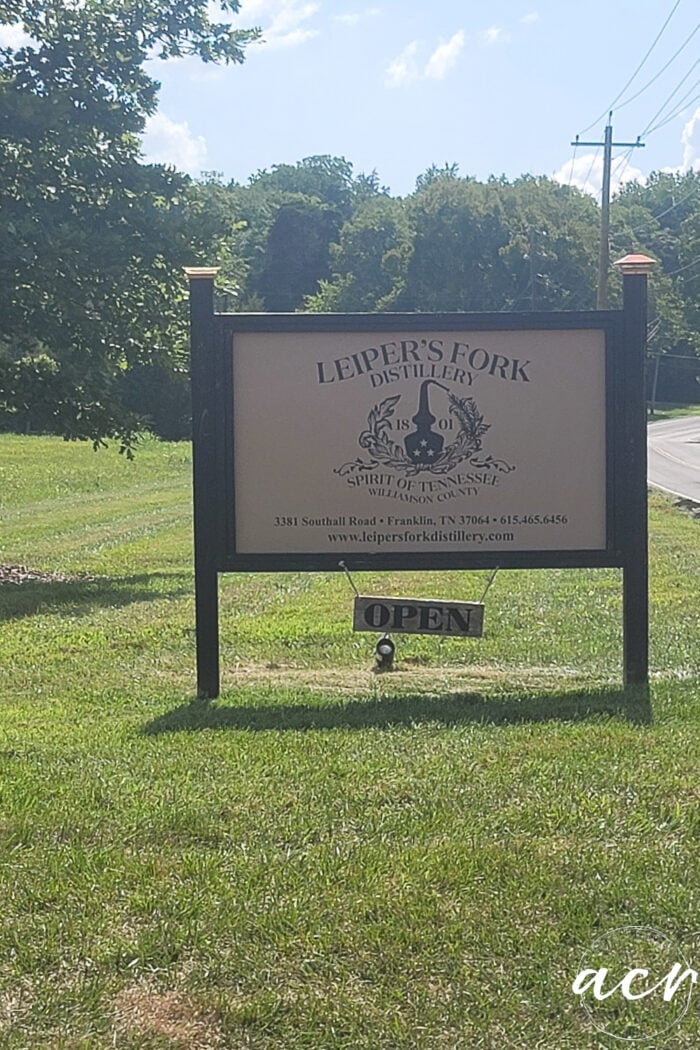 Very neat, historic place.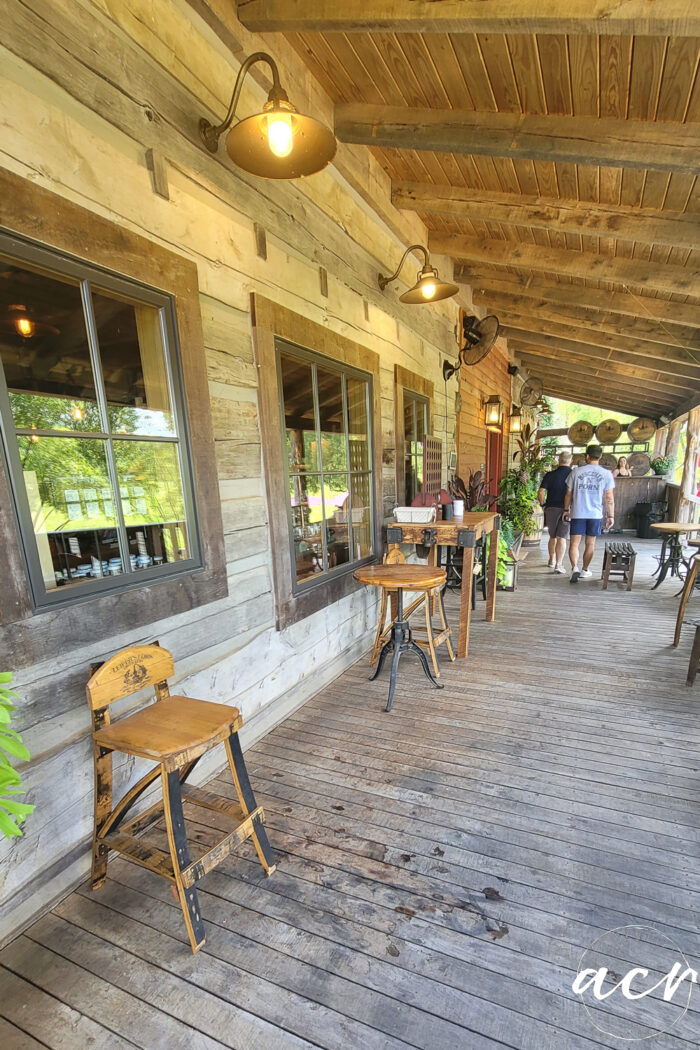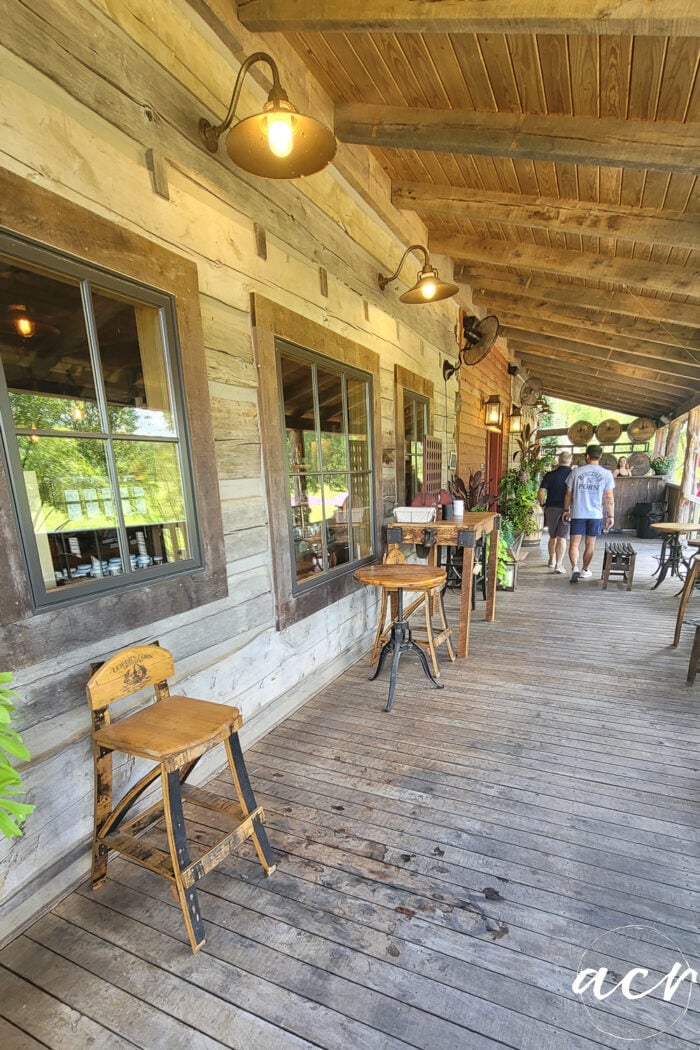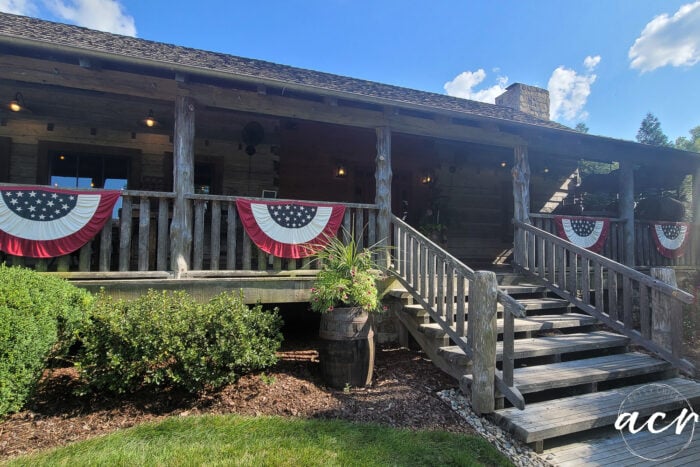 My husband and son did a tasting… (I don't like bourbon or whiskey so I was out!)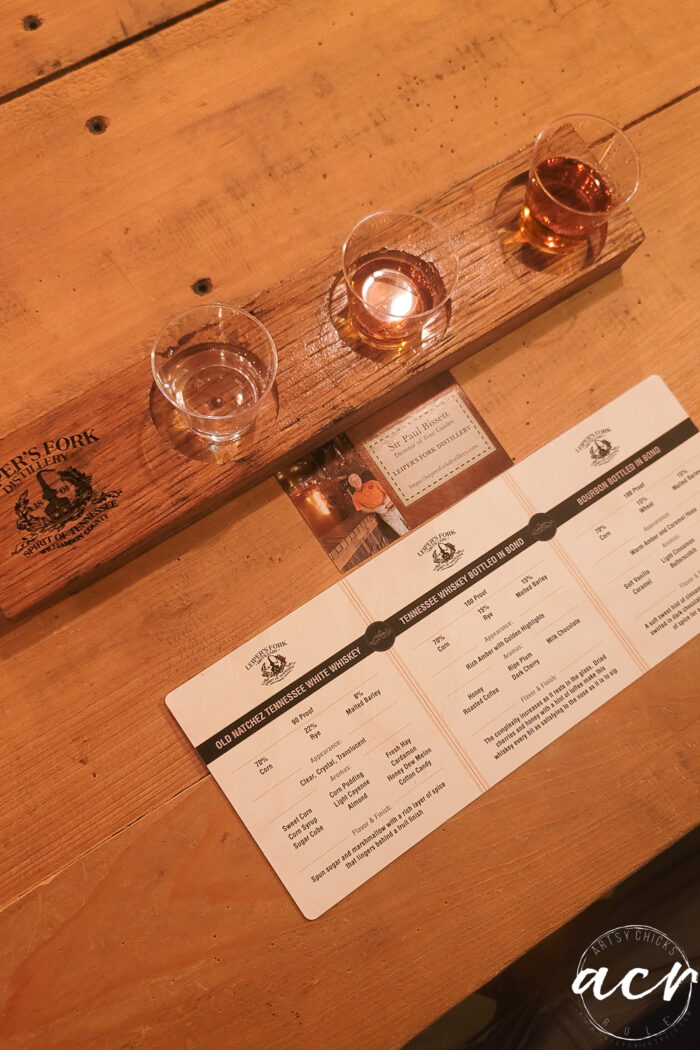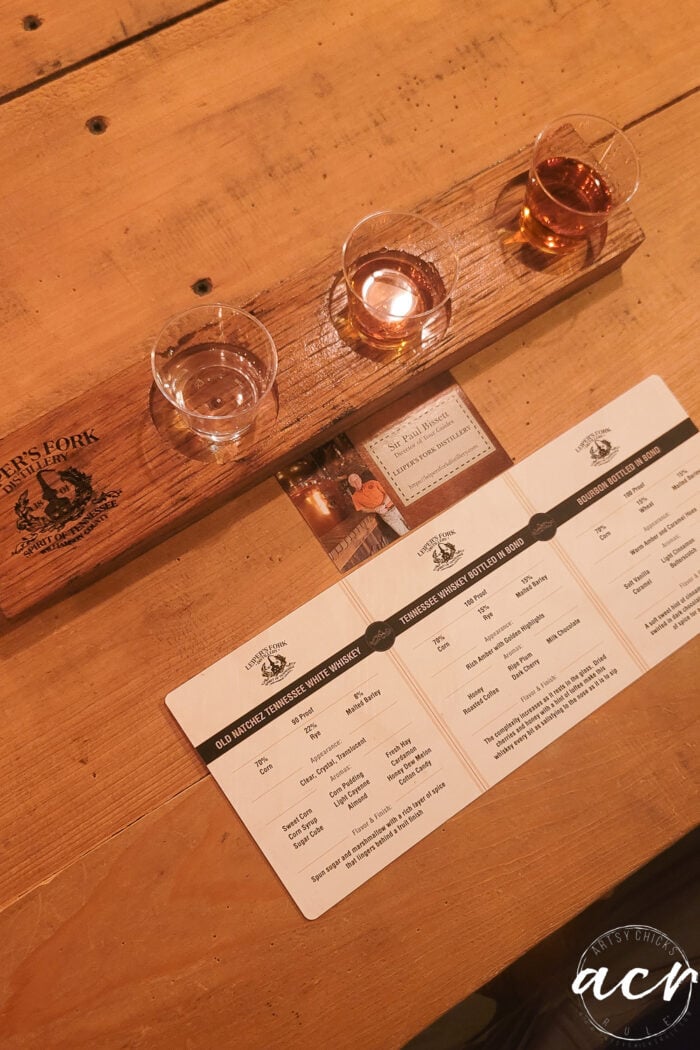 … in the tasting room.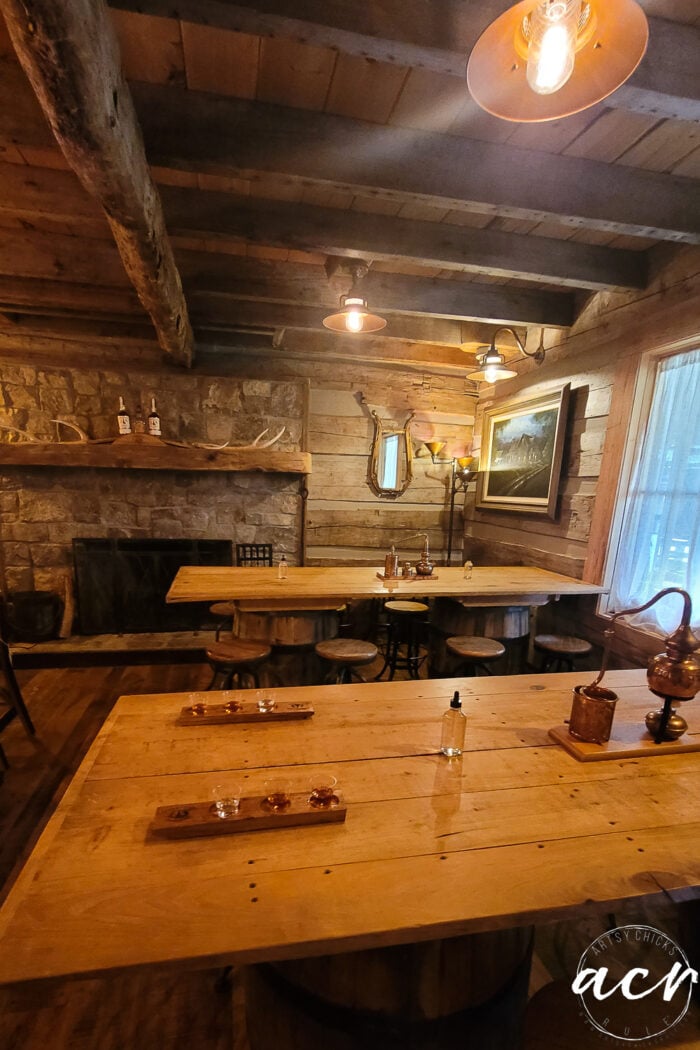 Very cool old house. Original house built in 1820ish. (You can read more about this place and see more photos here)
That bar top was made from old reclaimed wood. Union troops burned down a tavern…the wood came from that old tavern. Some of the pieces had burn marks from the fire – so cool – but that bar top was one of the prettiest pieces of wood I've seen! (if you look to the right of the bar top you can see one of the burn marks)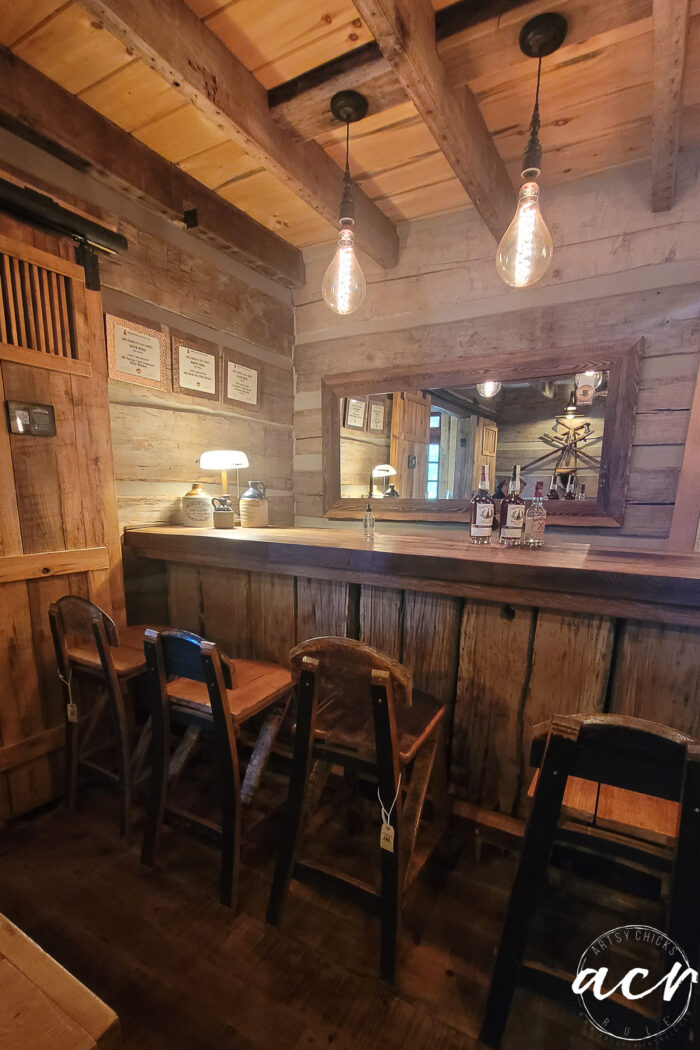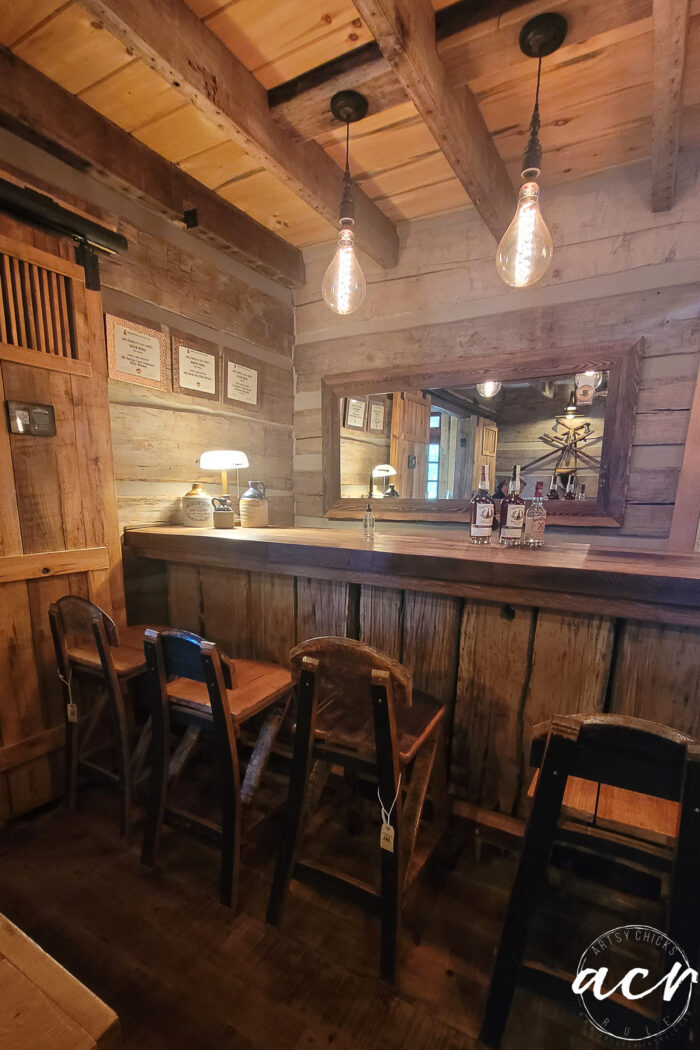 And this is so cool, the original owner of the small cabin here carved his last name into the wood. This section of the cabin used to be outside. It's now inside because of bathroom additions and such. They put a small frame around it to preserve it. Love this!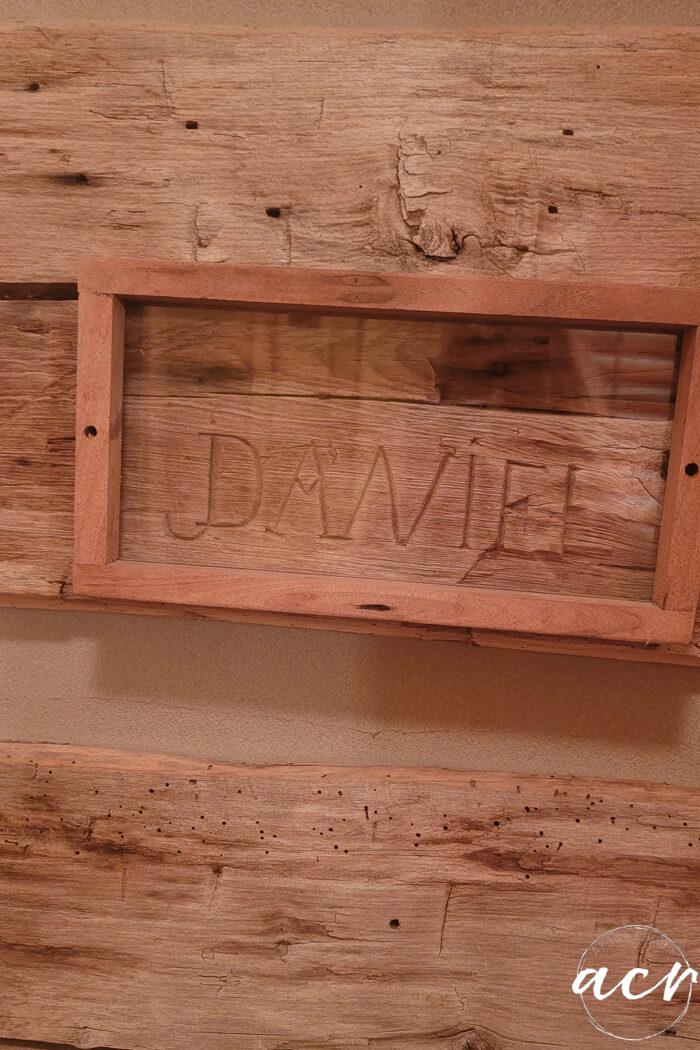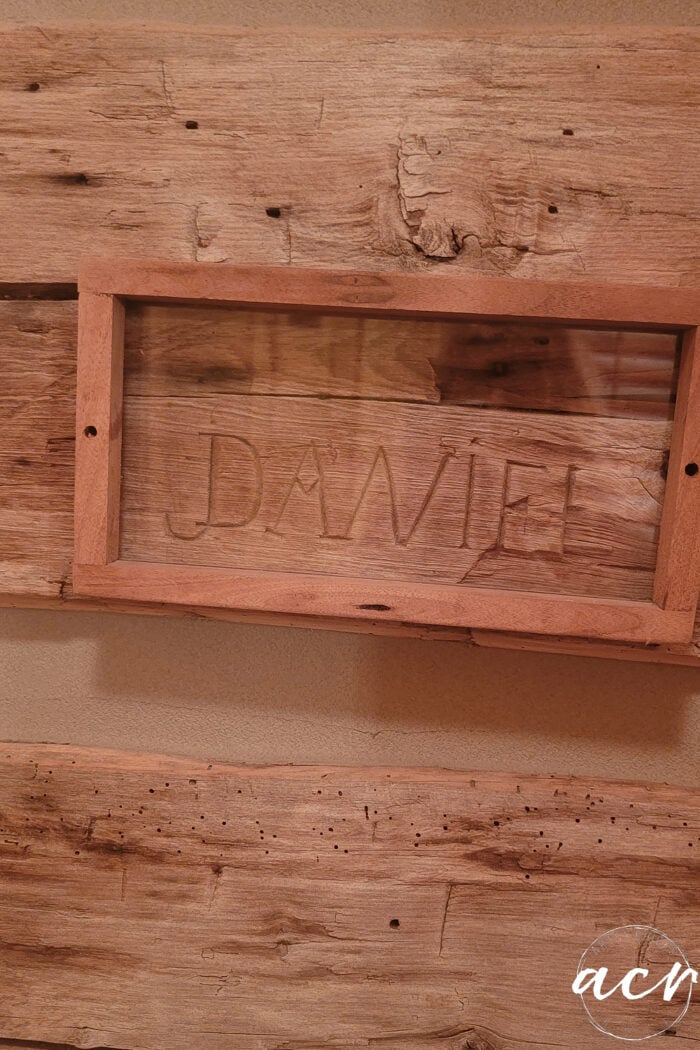 I have to tell you, one of my VERY favorite things about traveling is meeting all the people.
We met amazing people, with amazing stories, every single place we went. The man we met here was from Scotland and had an amazing story as well. (and a fabulous accent that I just loved!)
As we went to leave, our truck decided to act up. Of course, right?! On vacation, it has to happen. lol
I shared all of this as it was happening in my stories over on Instagram, so you might have seen this already. ;)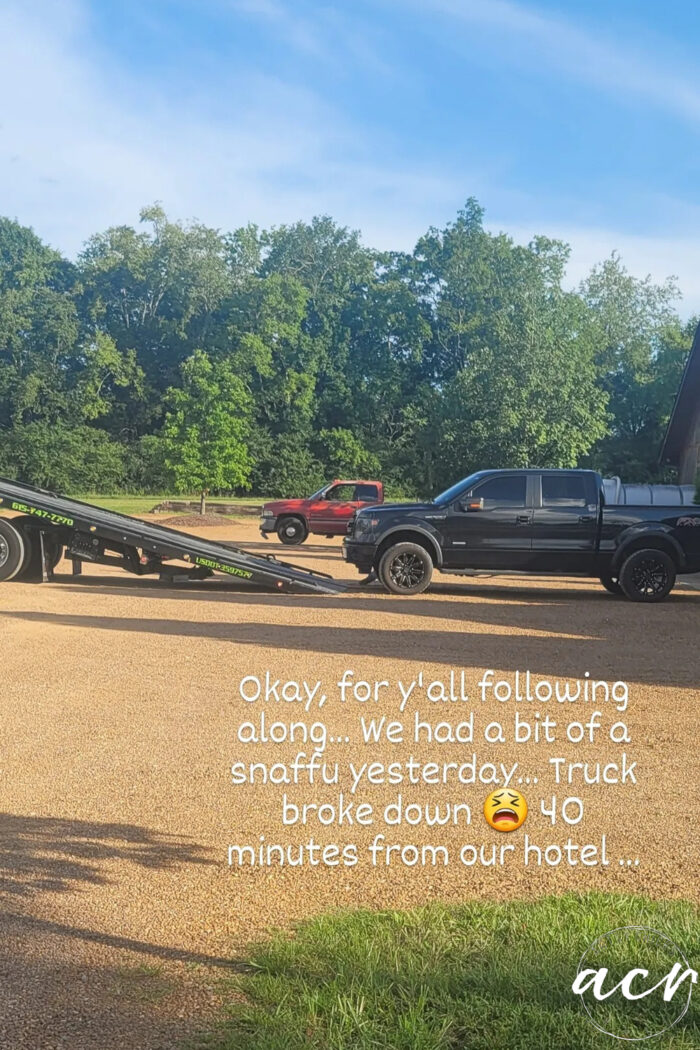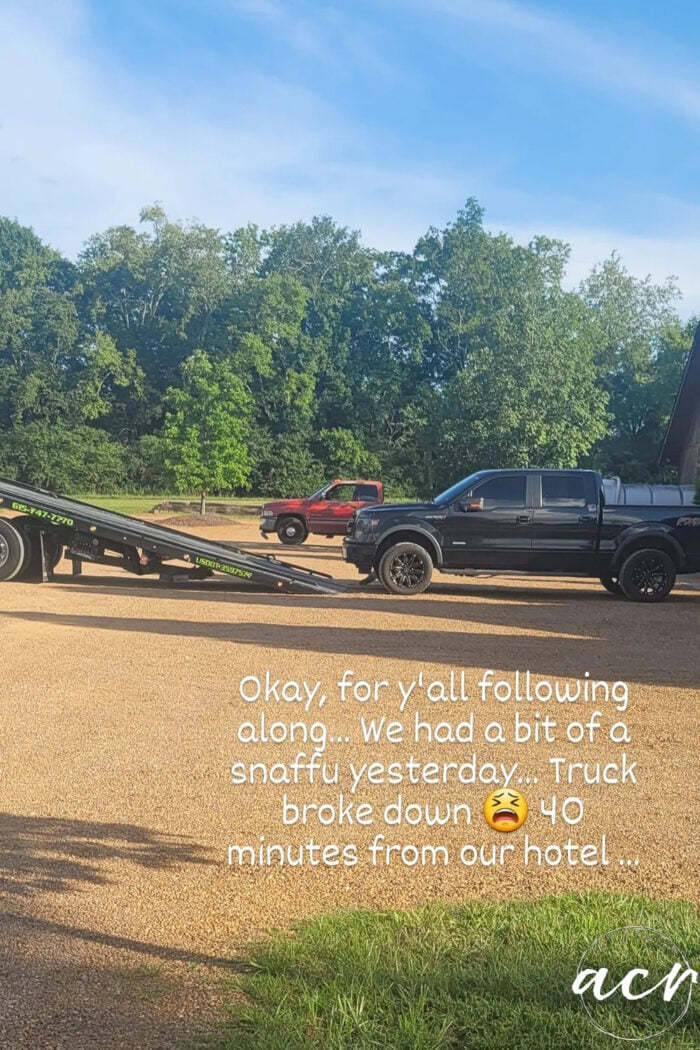 Boo!
Can I just tell you how hard it is to get an Uber to pick you up this far out?? Haha, very!! I tried for over an hour with no luck.
And can I tell you how hot and humid it was this day? Very!! lol
So, with not much luck of a ride back to our hotel, I was honestly wondering if we'd be sleeping on that porch that evening. But our sweet Scottish friend came to our rescue. He offered to drive us back to town as they were closing up and thought we might be able to get a ride to come there to pick us up.
So back to the Fox & Locke we went!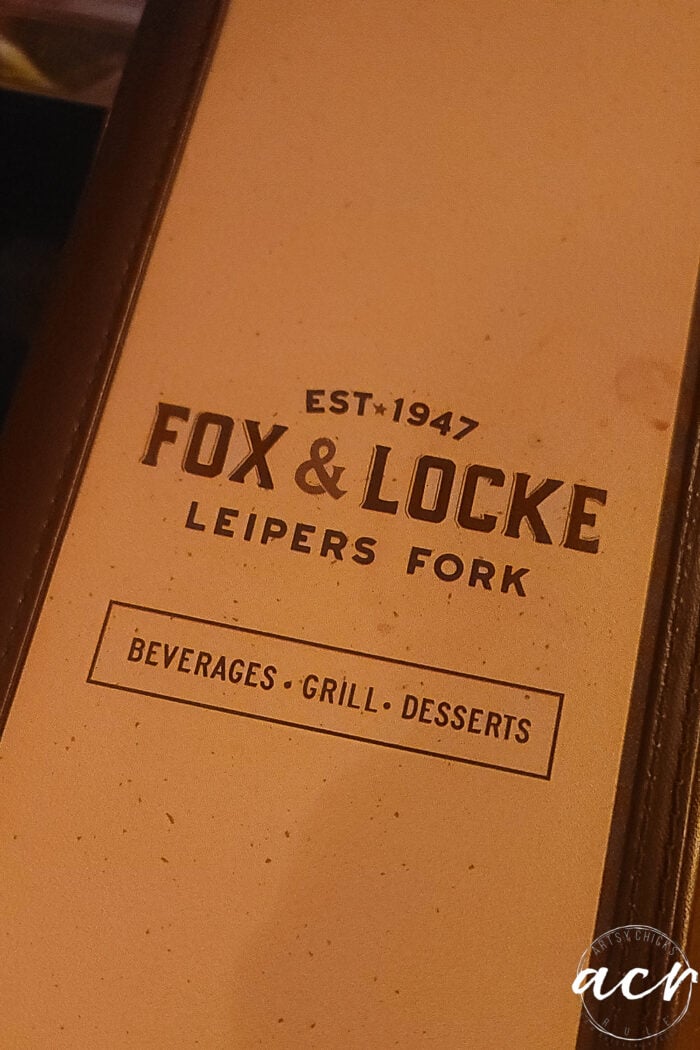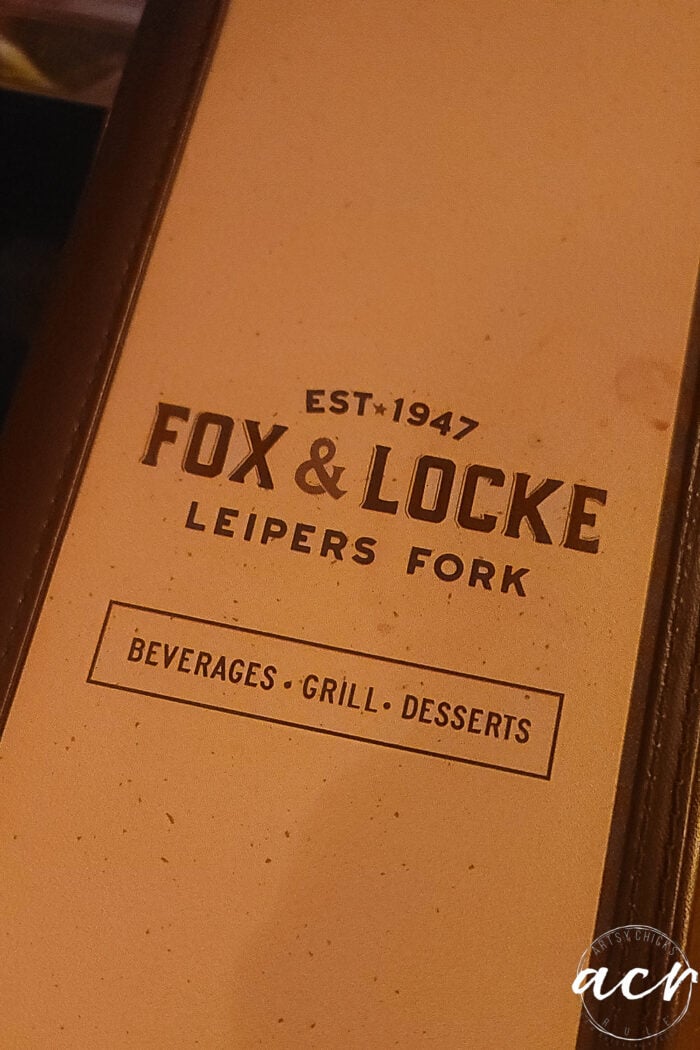 We sat back up at the bar and decided to have dinner. (we had planned to go to the Loveless Cafe that afternoon when we left the distillery but had to scrap that for now)
It was now evening time and we didn't have reservations at the Fox & Locke but they thankfully felt bad for us and let us stay. (they do reservations in the evening for music)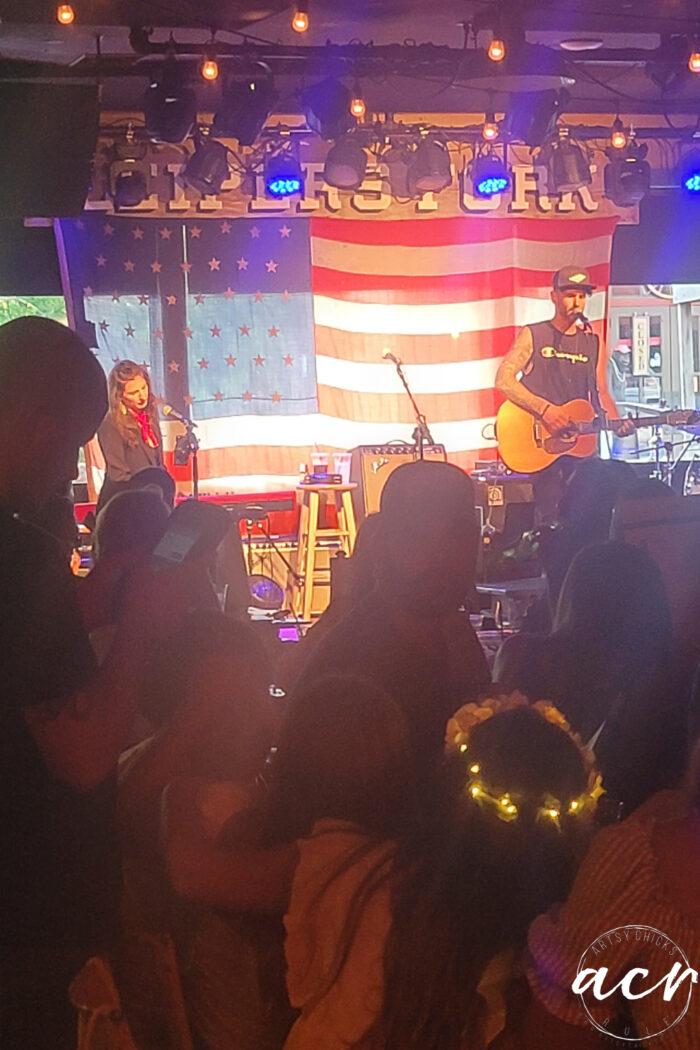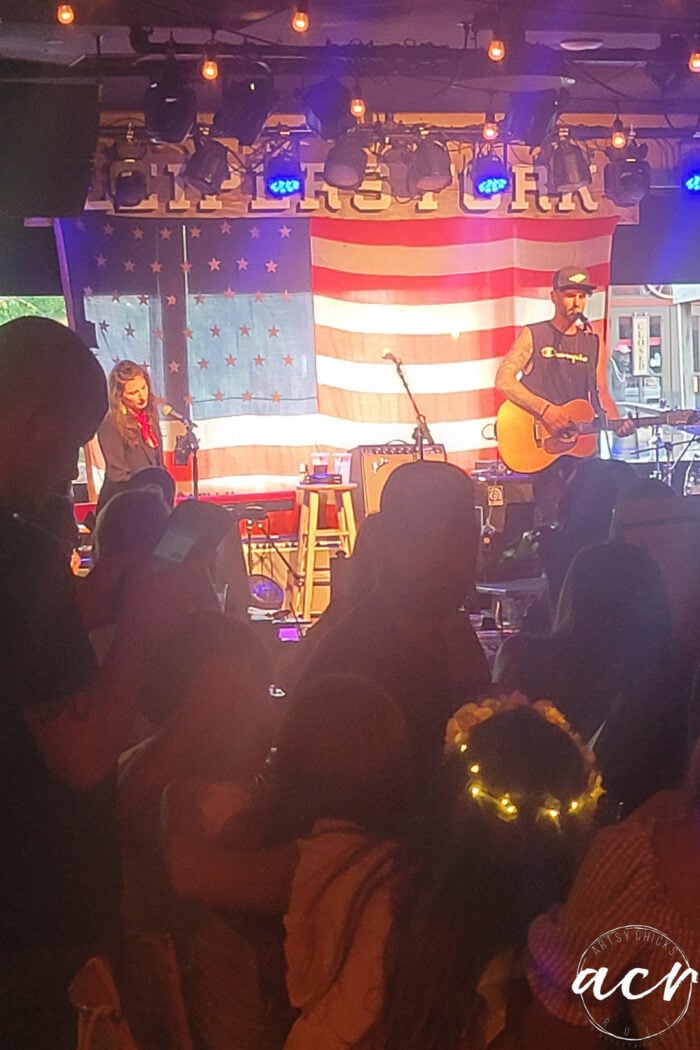 So we enjoyed some dinner and music while we waited for an Uber.
Which we finally got to come get us on a "scheduled" pickup 3 hours later. Whew!
It was kind of a bummer to be stranded so long but we figured this is where we are supposed to be tonight.
Maybe some famous recording artist will pop in and sing tonight, right? You never know! They really do apparently.
Nope! ha! It wasn't in the cards for us that night but we had a great time anyway.
And we wouldn't have met our lovely Uber driver had we not got stranded. We loved talking with her and all about Memphis where she was from on the way back.
We met so many nice people.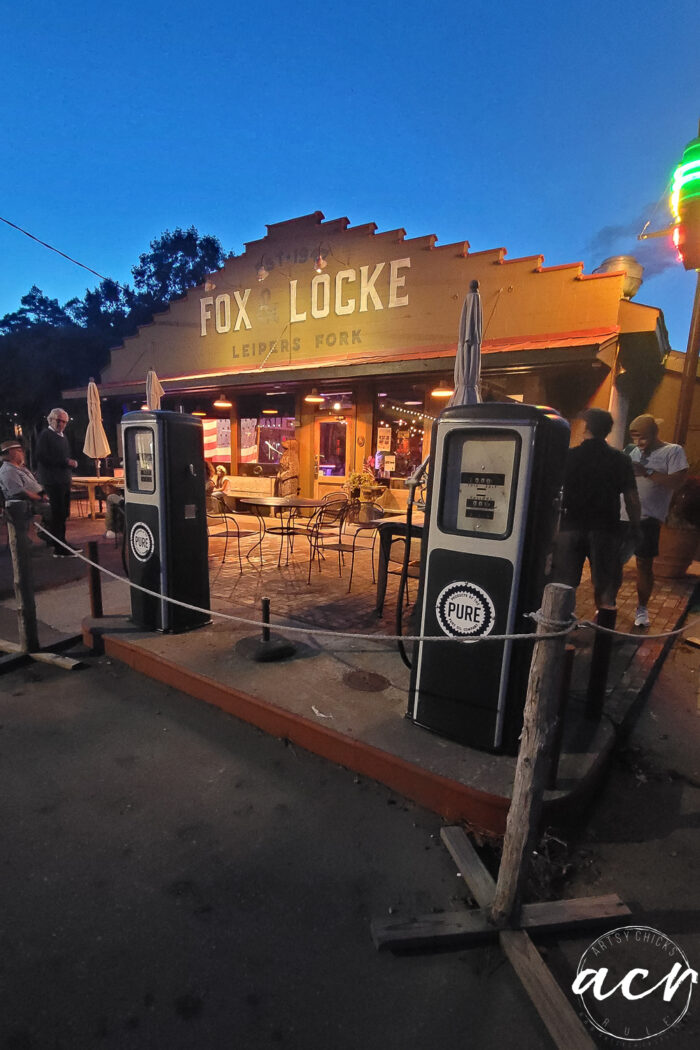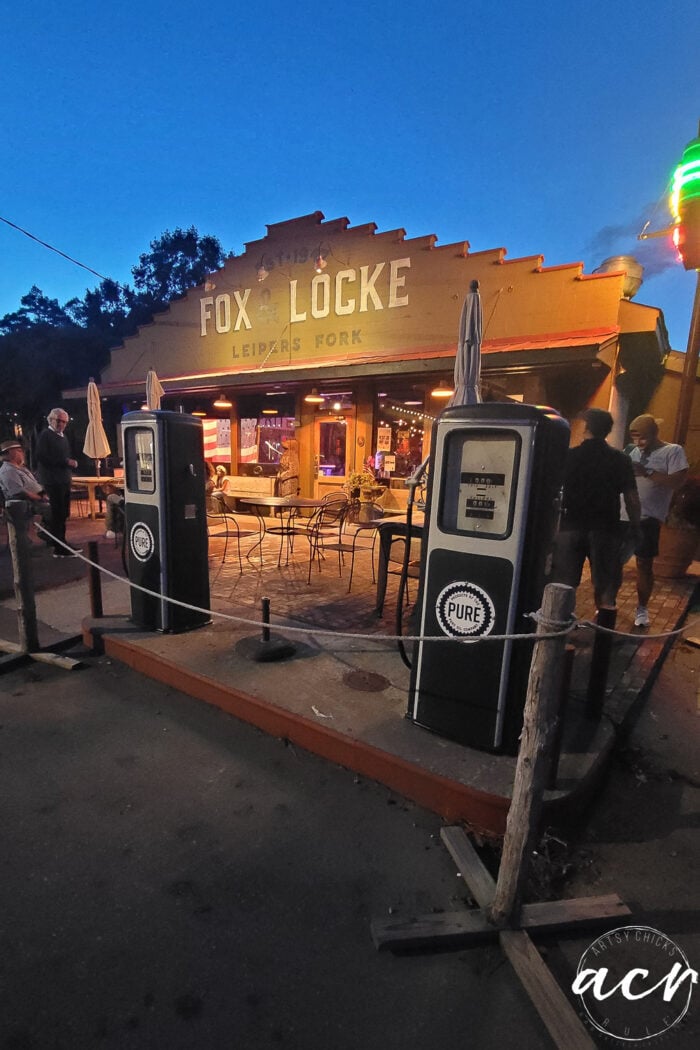 Outside waiting on her to arrive.
I do have to share this with ya'll though! hahaha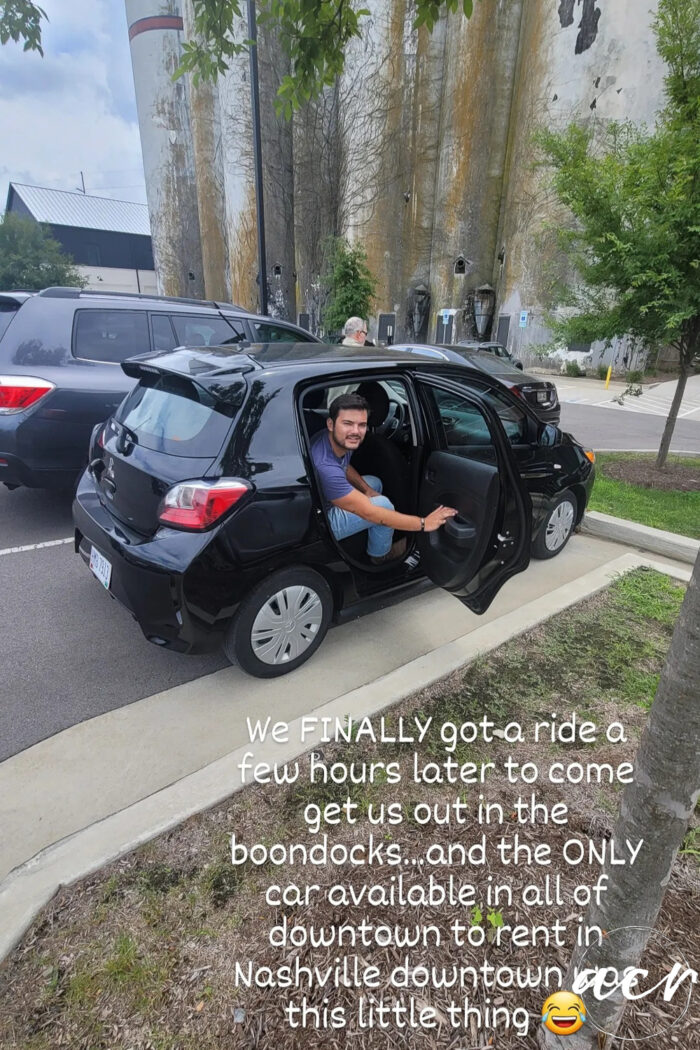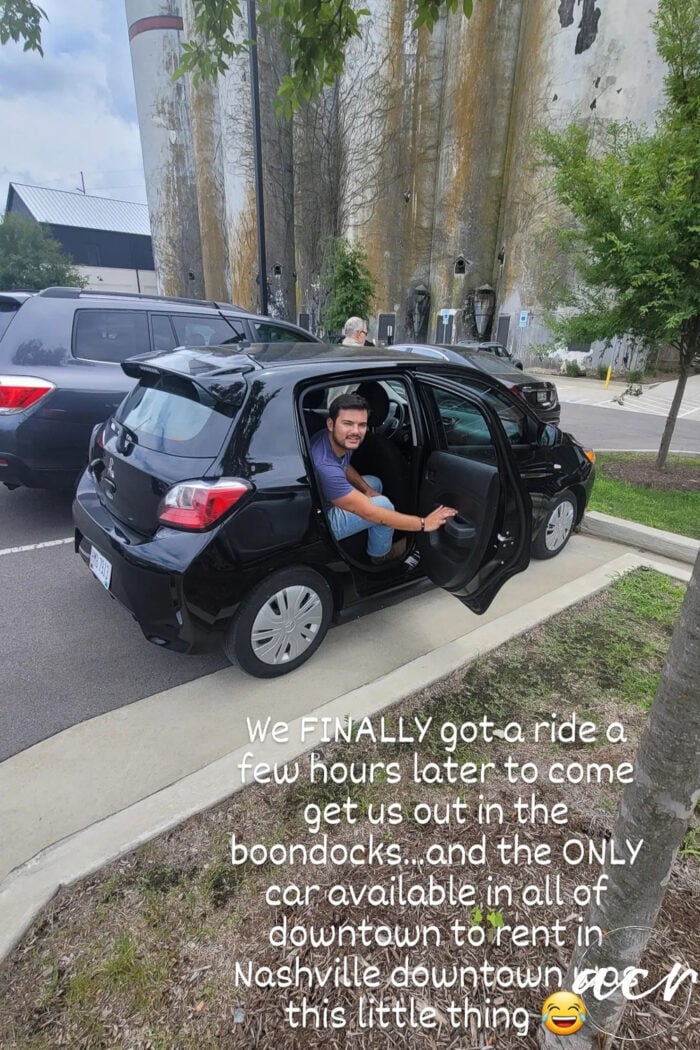 We decided to get a rental for the day while our truck was being repaired. I mean I had more adventures for us yet!
And the only car and I do mean only, (I called them all!) left in downtown Nashville was this one. (that's my handsome son crawling out of it)
It was a little small but it did the trick…and was super easy to park!! haha
My husband said it's the "clown car", you know, like the tiny one that stops and 50 clowns somehow roll out of!! Haha!! He's so funny.
And hey, that little car got us to the Loveless Cafe the next day so I was a happy girl!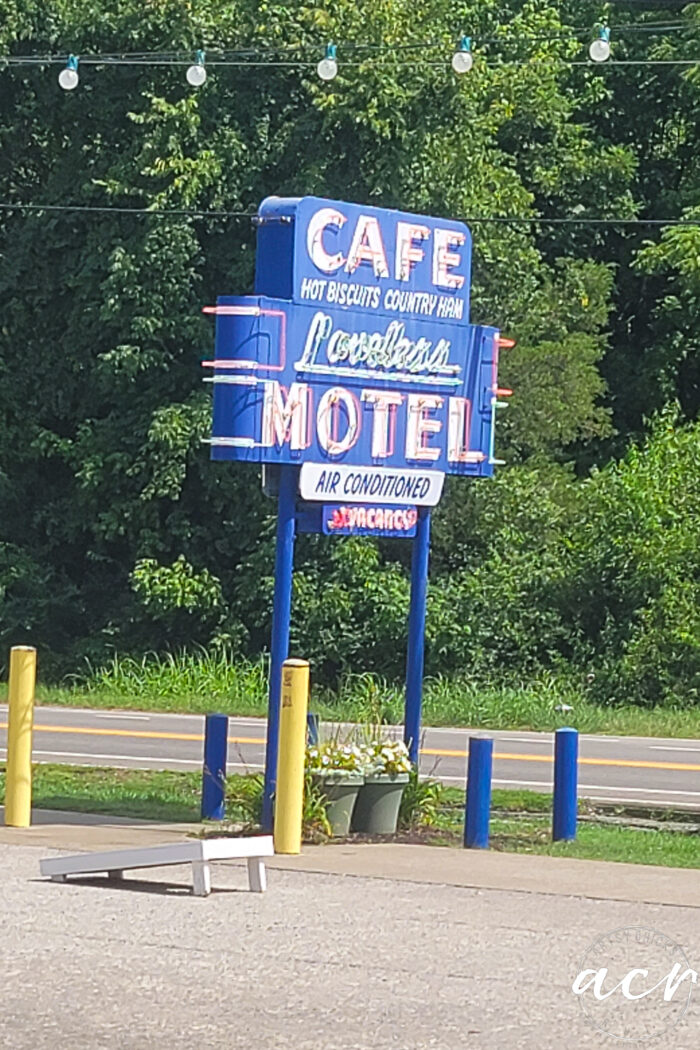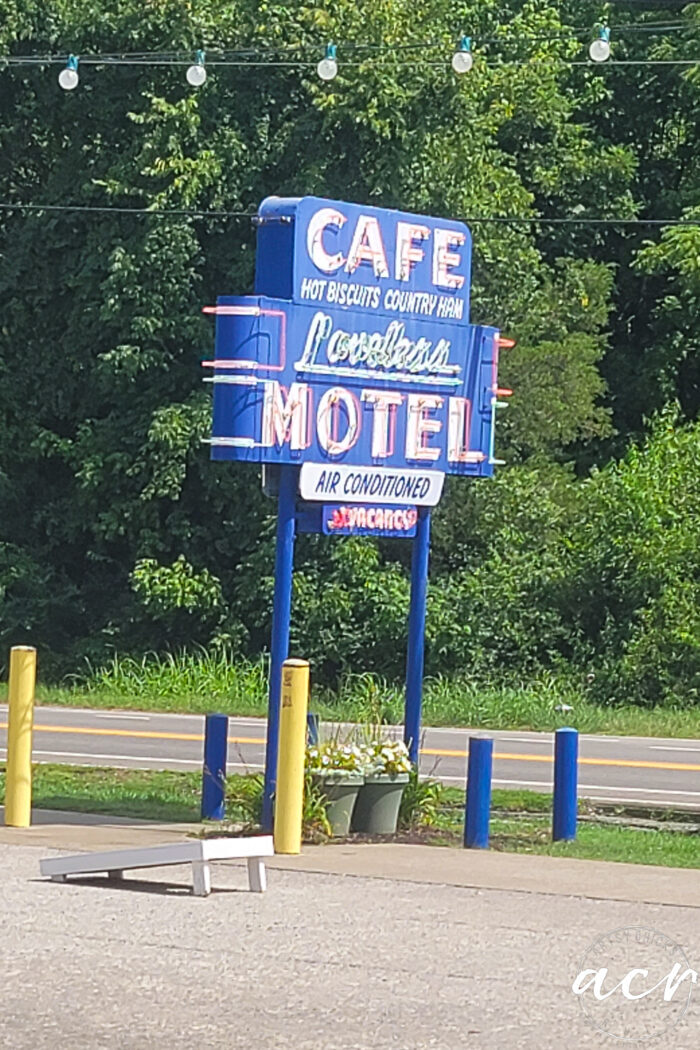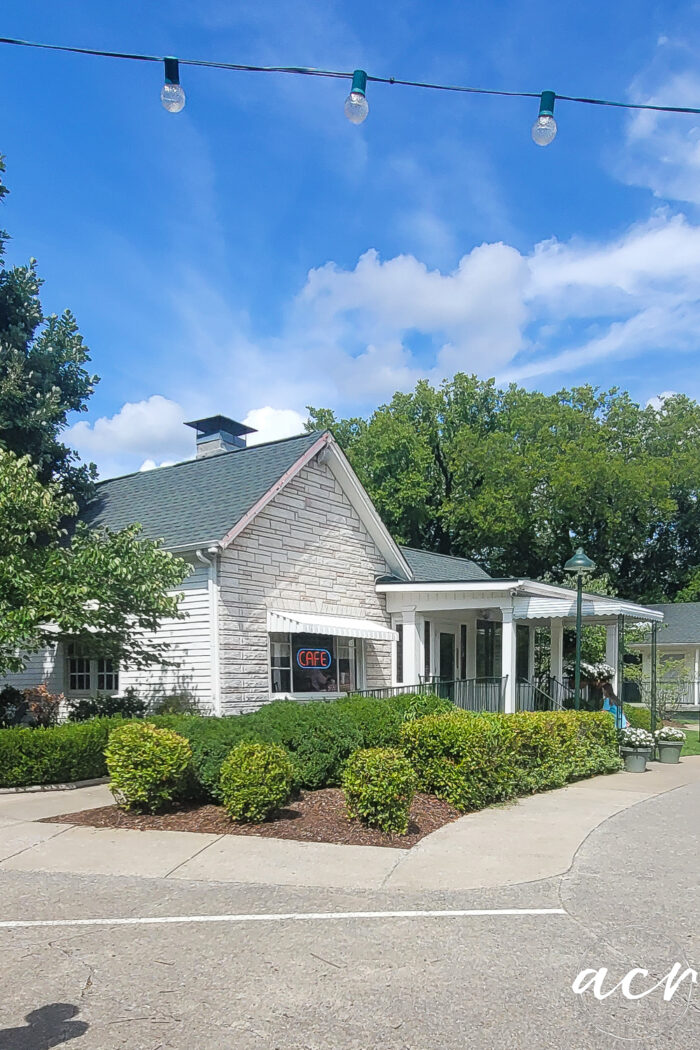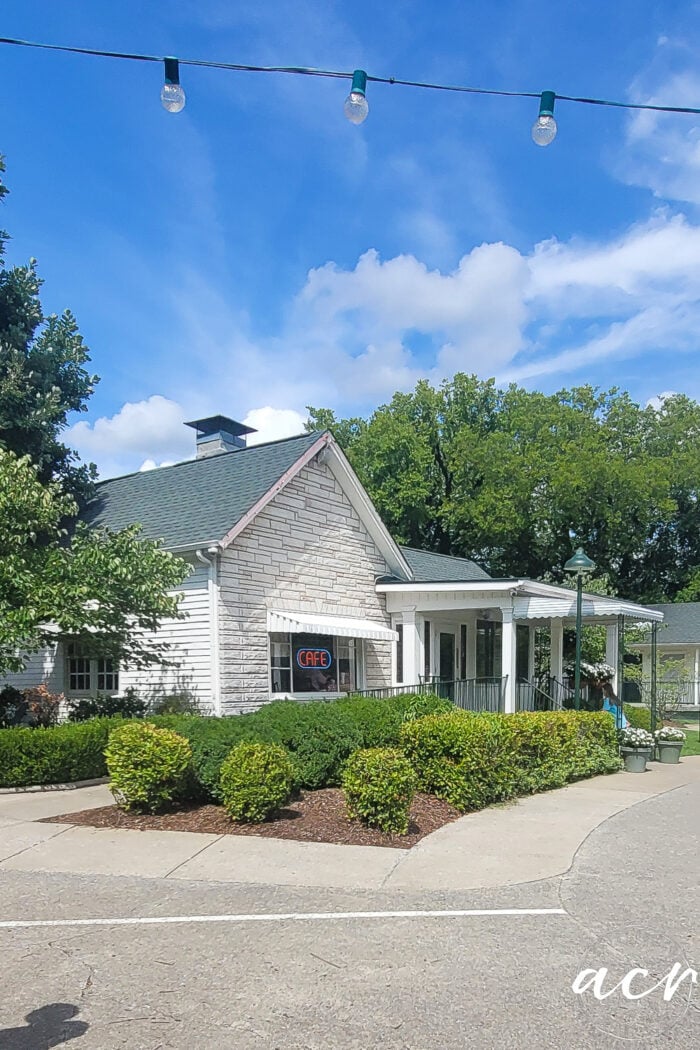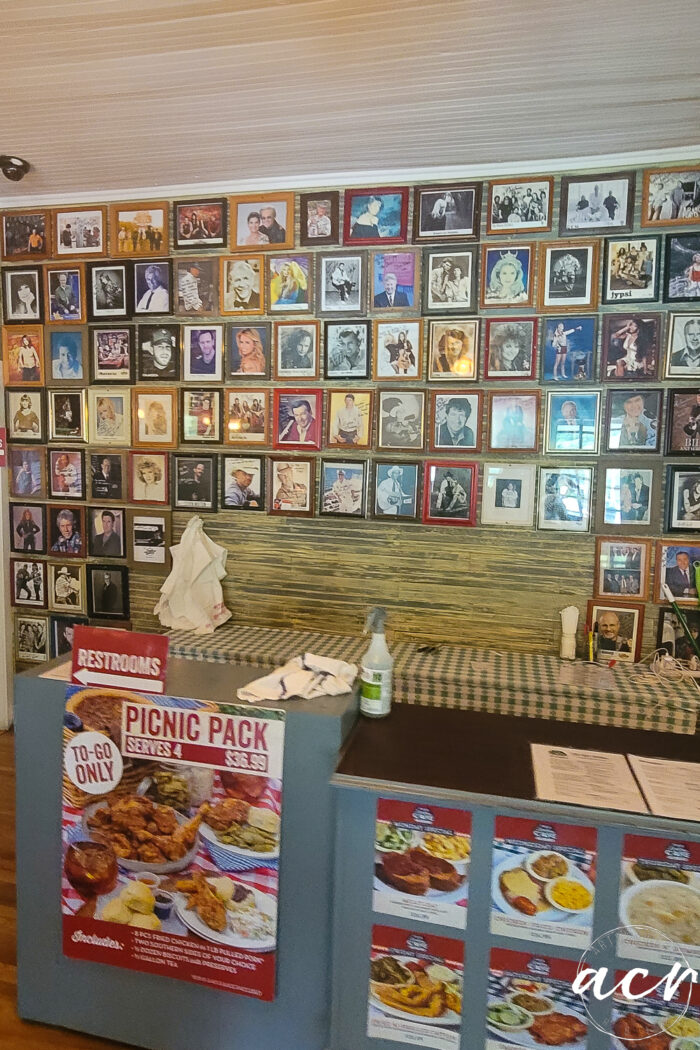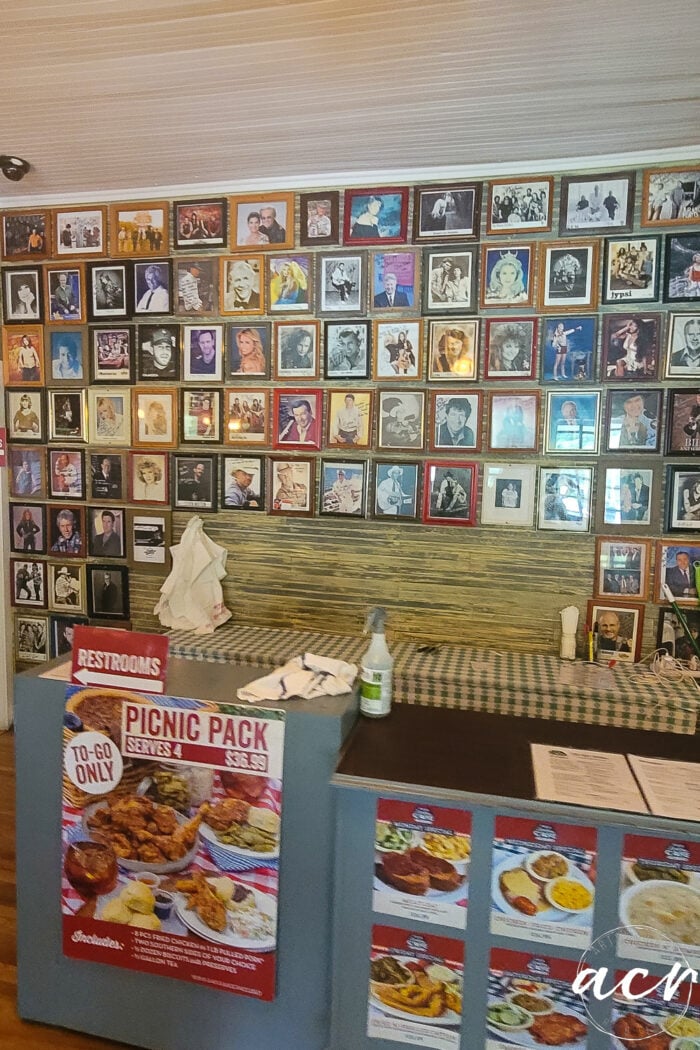 They know how to do biscuits. It's true!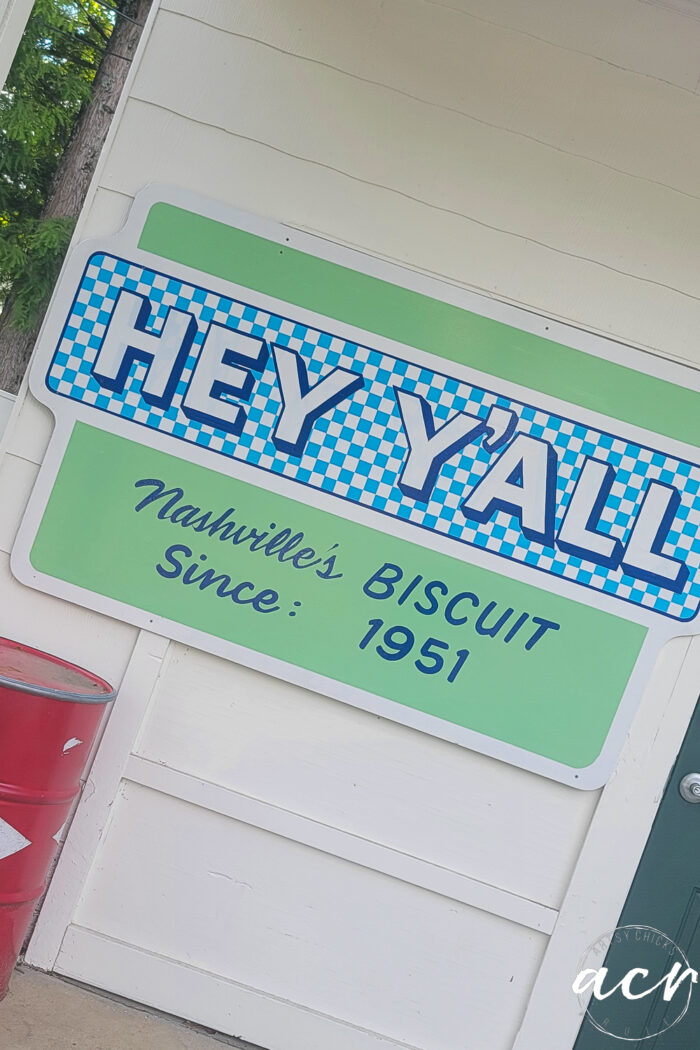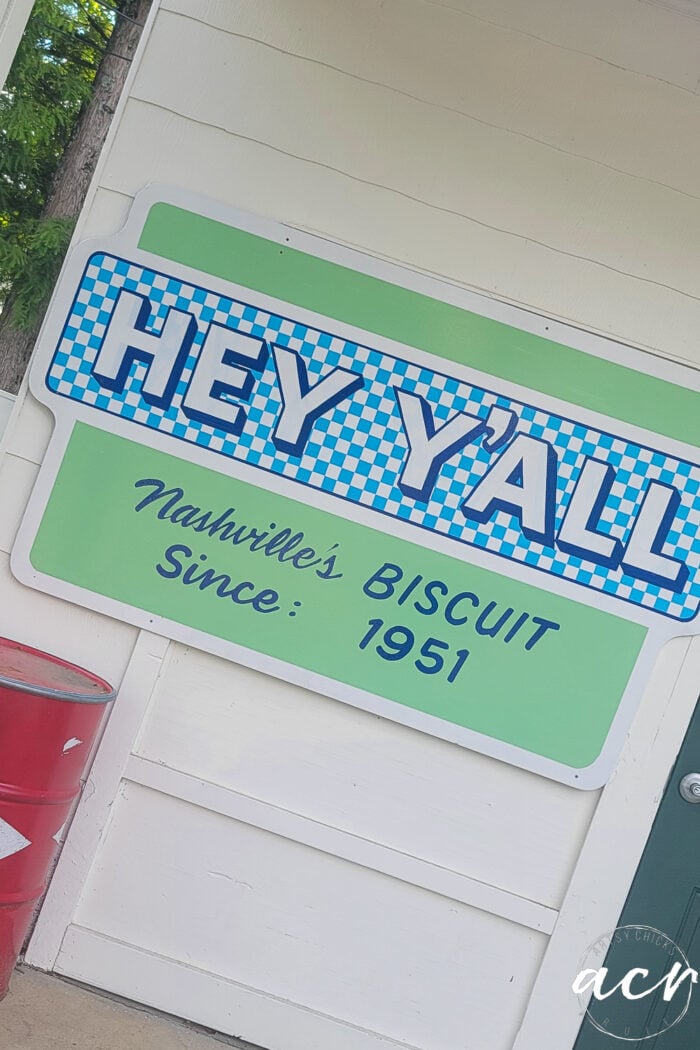 Best biscuits, oh my, so good!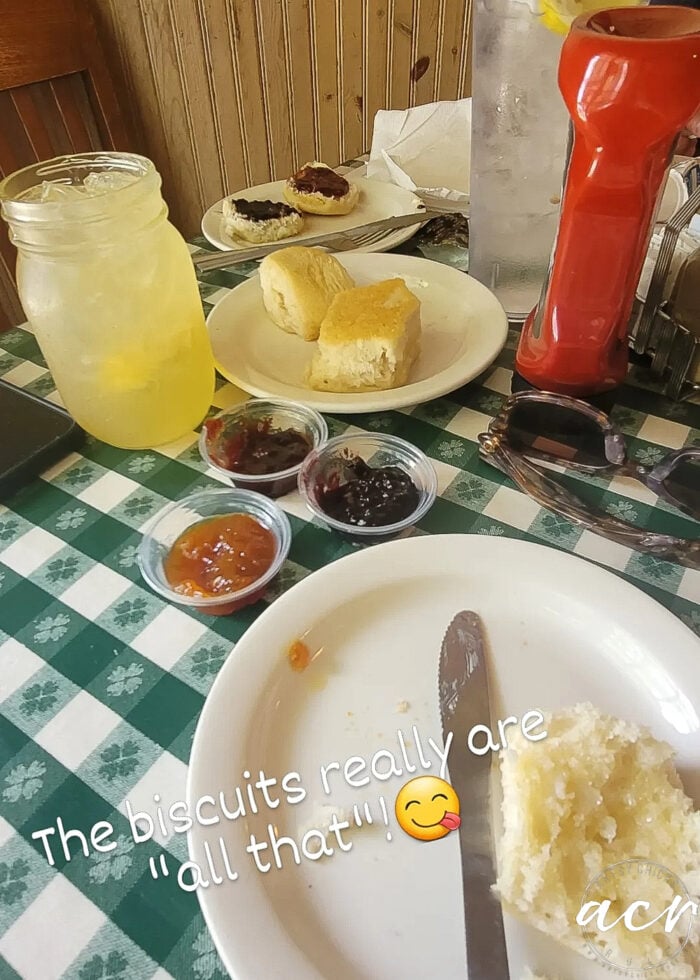 The food was good too. I got Chicken and Dumplings. Yummy.
We went next door to the little gift shop. I had to have one of these adorable shot glasses! (even though I don't do shots! lol)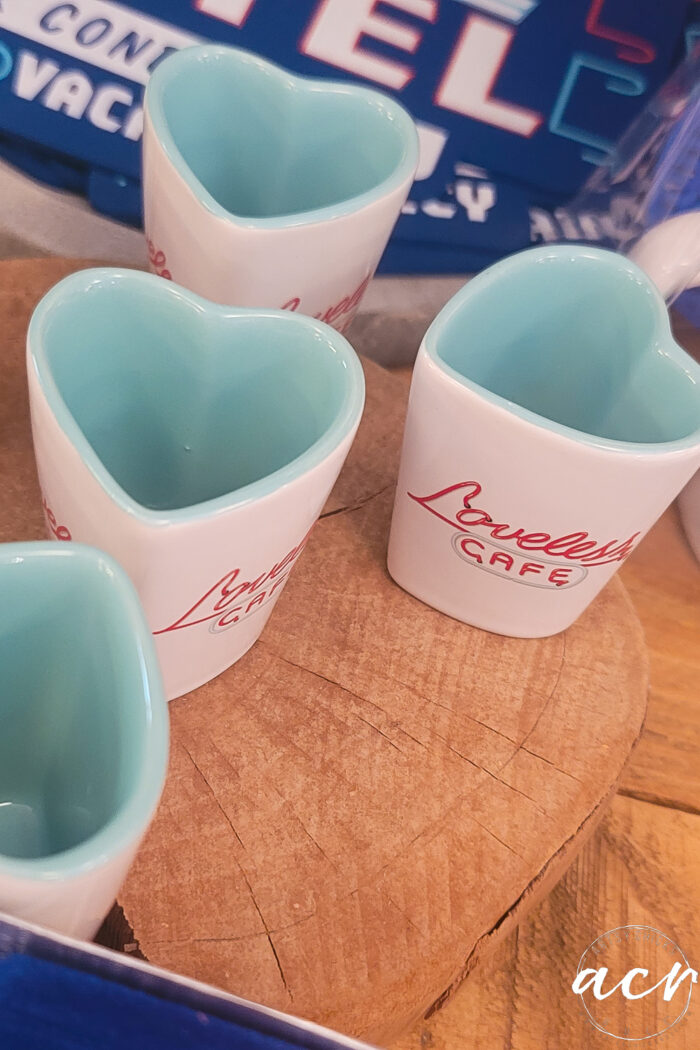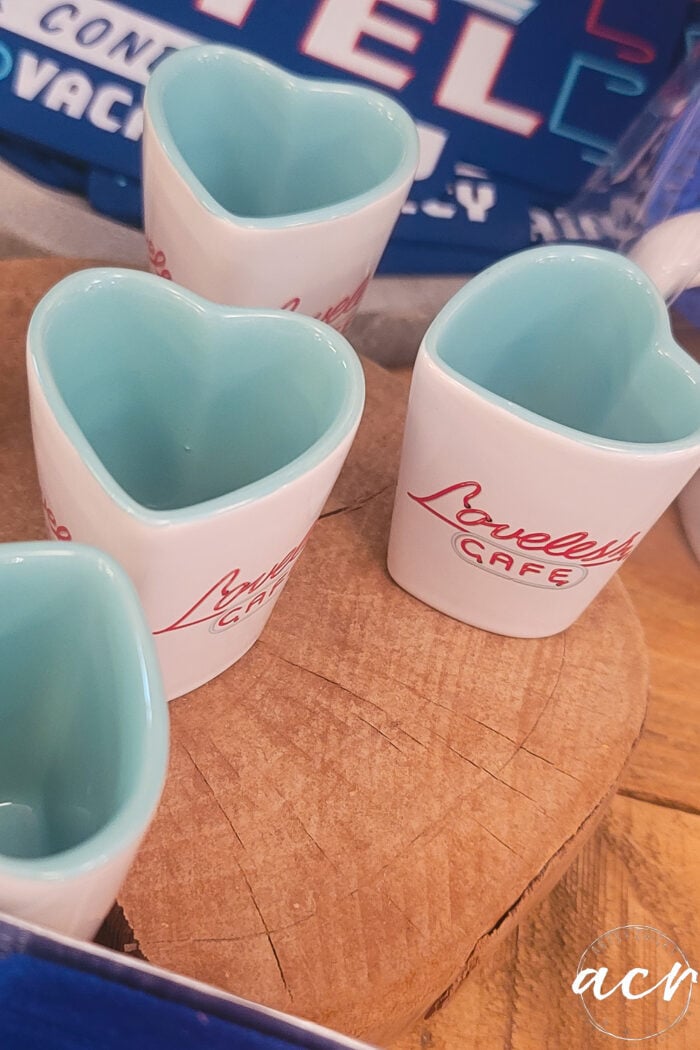 Now let me tell you the fun part.
Guess who was in the Fox & Locke with friends and popped up onto the stage to sing 3 nights later?!! Just guess!!
CARRIE UNDERWOOD!
What?! Yep, she sure did. But not the night we were there, dang! Oh well, but wow, too funny.
Here's >>> a link to the news article about it. If you scroll down, you can watch the little video someone took and see the same areas I photo'd above and the bar where we sat.
Aw, well, maybe next visit because we will surely return to Fox & Locke on our next visit.
Have you been to any of these places? What did you think? See anyone famous??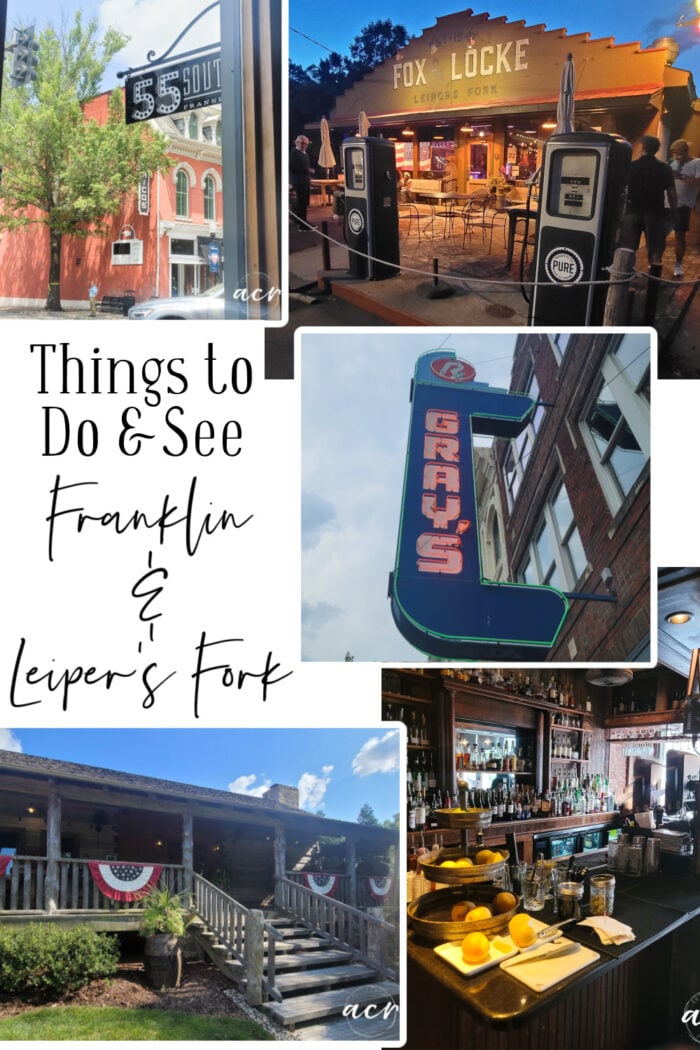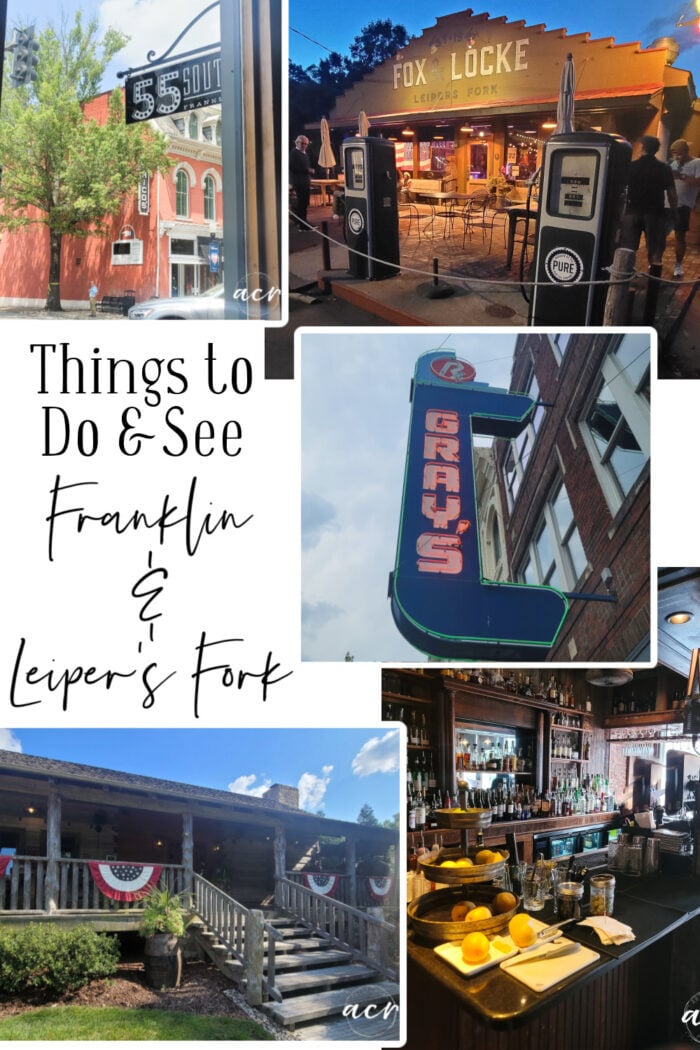 I hope you enjoyed seeing more about our trip! I'll be sharing the "Nashville"/part 3 later this week. Stay tuned!
xoxo