Things To Do In Downtown Nashville
This post may contain affiliate links. Please see disclosures here.
Things to do in downtown Nashville (what to see, where to stay, and more!!)
Hello friends!
Today is Part 3 and the last in my little travel series. I haven't been anywhere other than our beach condo in years so I hope you don't mind indulging me!! haha! I was just so excited to finally get to go. We had been wanting to go to Nashville for a long time and can't wait to go back!
In Part 1, I shared all about our trip to Pigeon Forge. If you missed it you can check it out here.
In part 2, I shared all about things to do around Nashville. You can check that one out here.
Today let's talk all things downtown Nashville. Now, we didn't do all the things, not enough time. But we did some of the things! We need another visit, or 5, to do them all! ;)
Things To Do In Downtown Nashville
Let's go!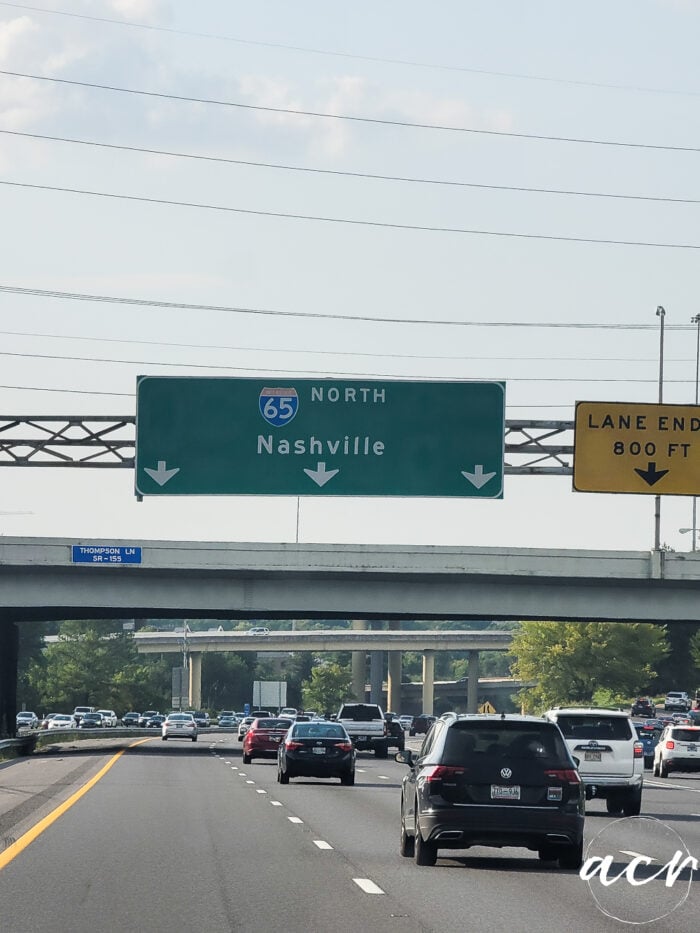 We'll start with our hotel. We stayed at the Hampton Inn & Suites, 4th Ave.
We got a "King Bed – 2 Room Suite w/Balcony" (dinette, parlor, sleeping space, and balcony). It was huge and perfect for the 3 of us!
There's our balcony, on the 5th floor. (only one other above us)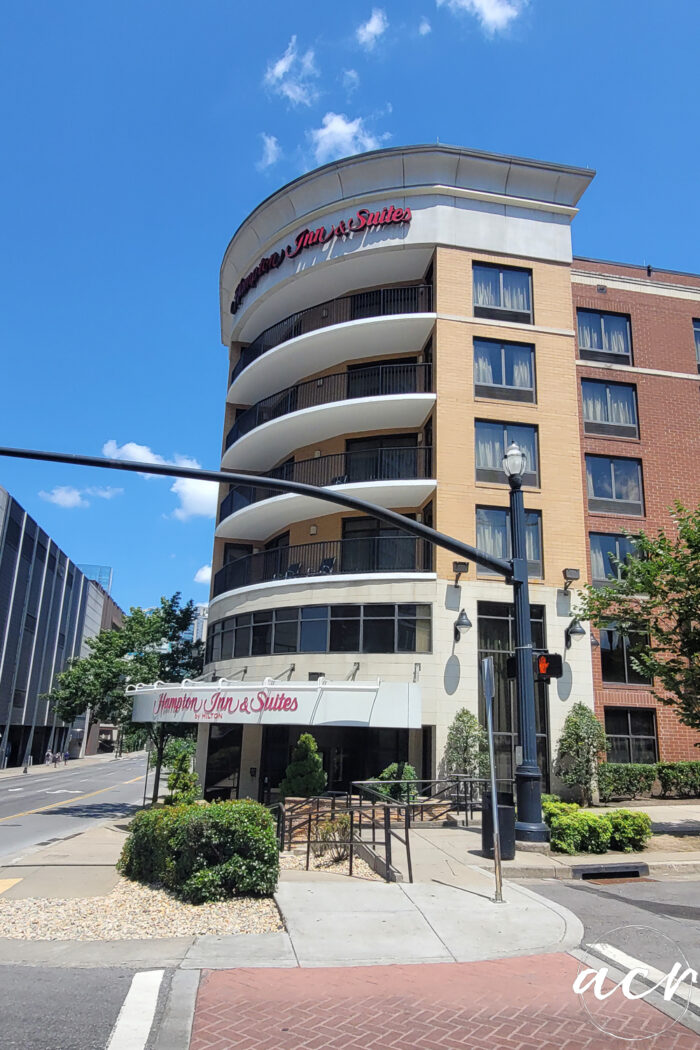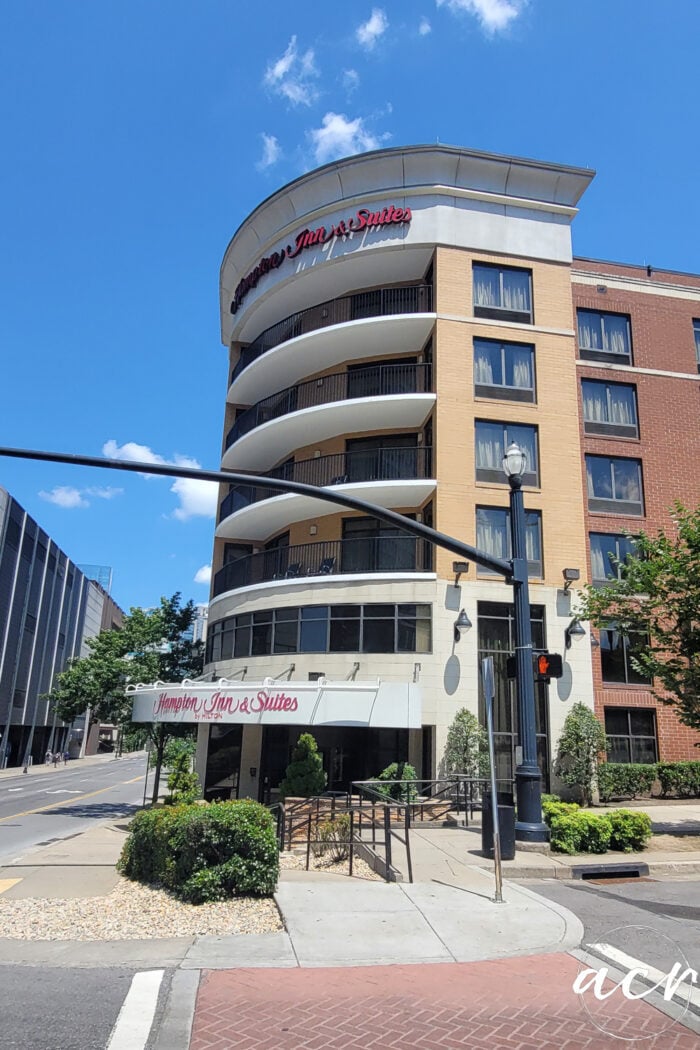 It was only about 2 blocks from downtown but it was very quiet here. Actually, one of the quietest rooms we've ever stayed in!
The hotel had an amazing included breakfast every morning too. It was fabulous and even had "Nashville" inspired waffles.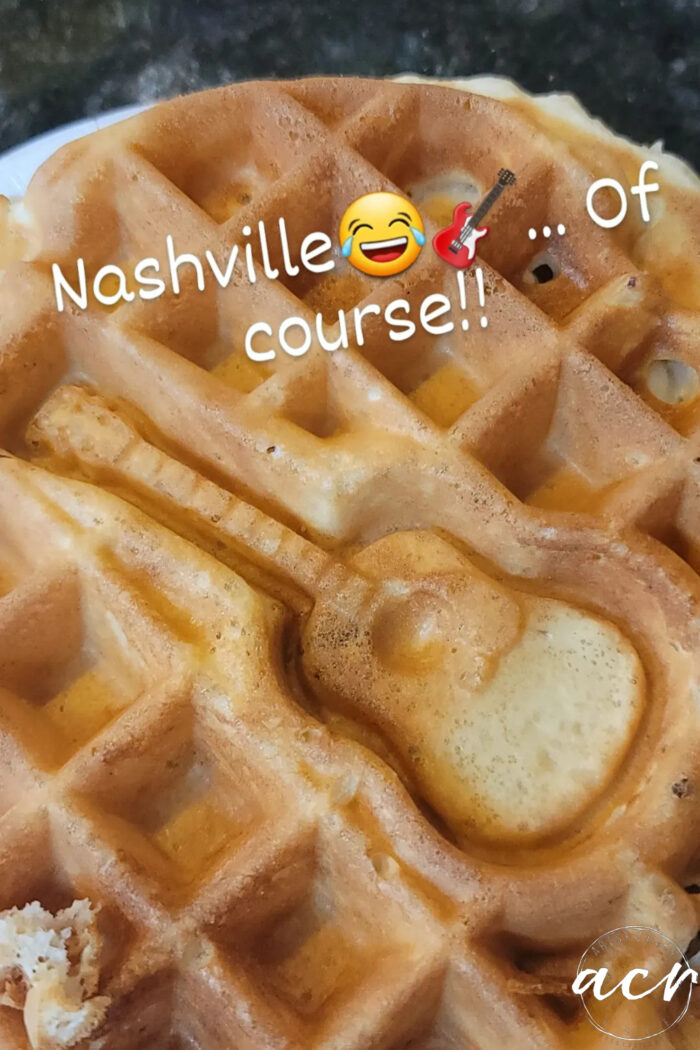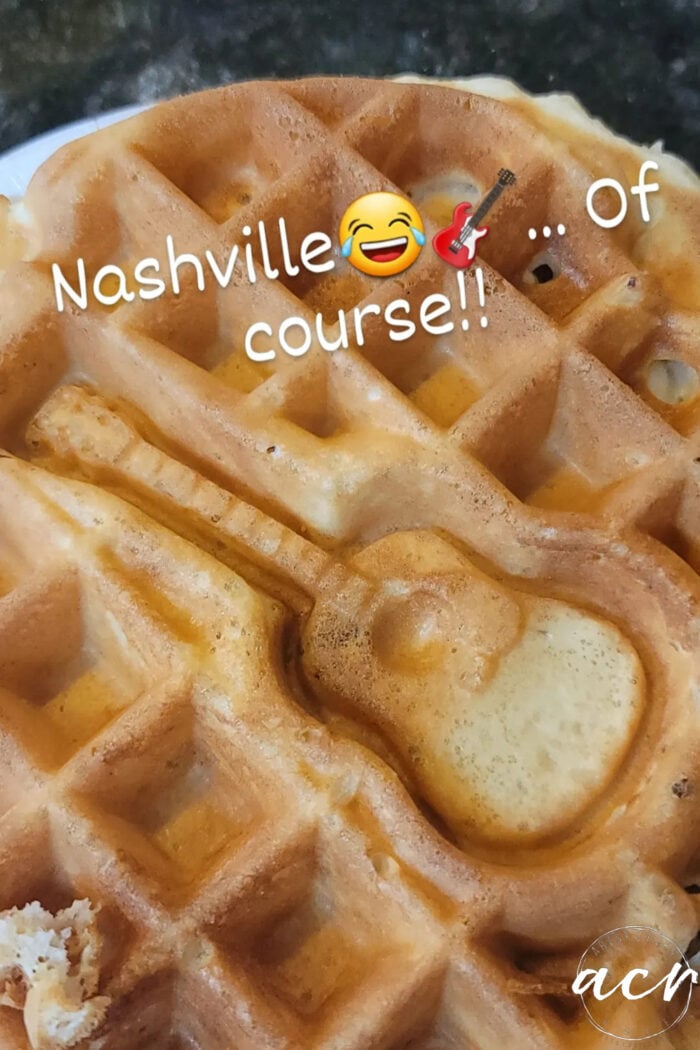 The balcony was awesome. That's us there in the reflection sitting out enjoying it.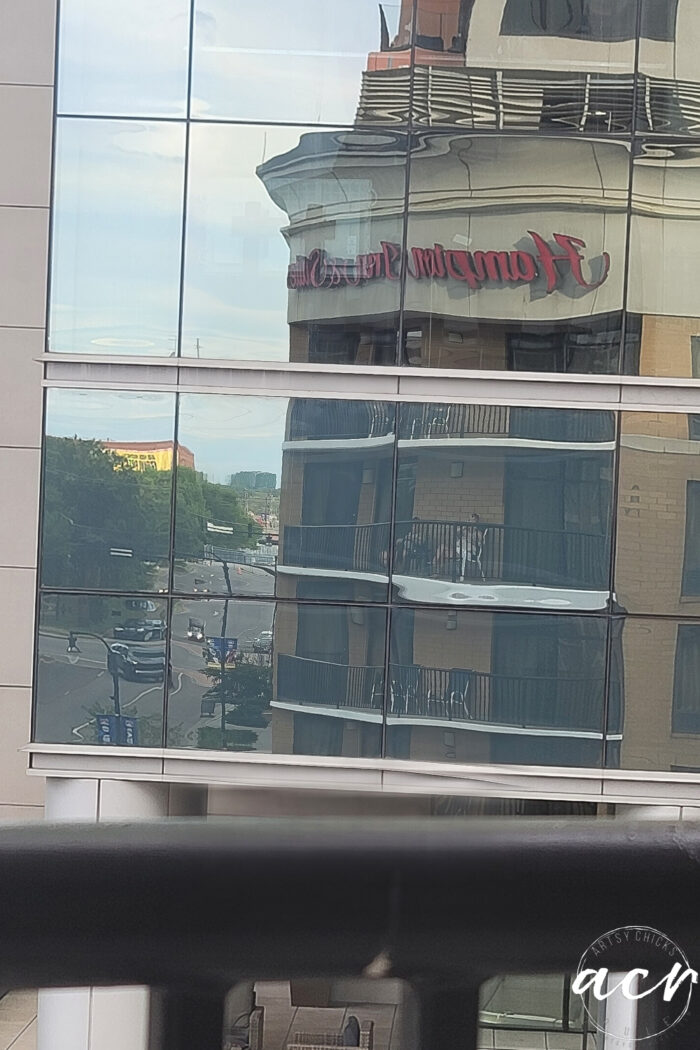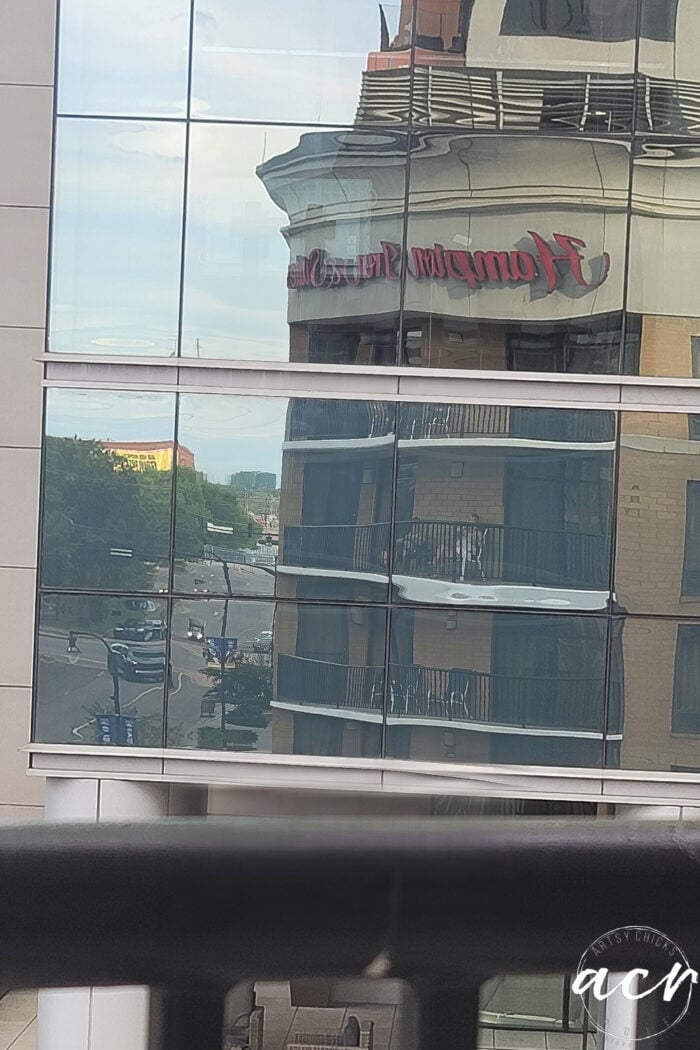 And my sweet hubby went out here with his coffee every morning…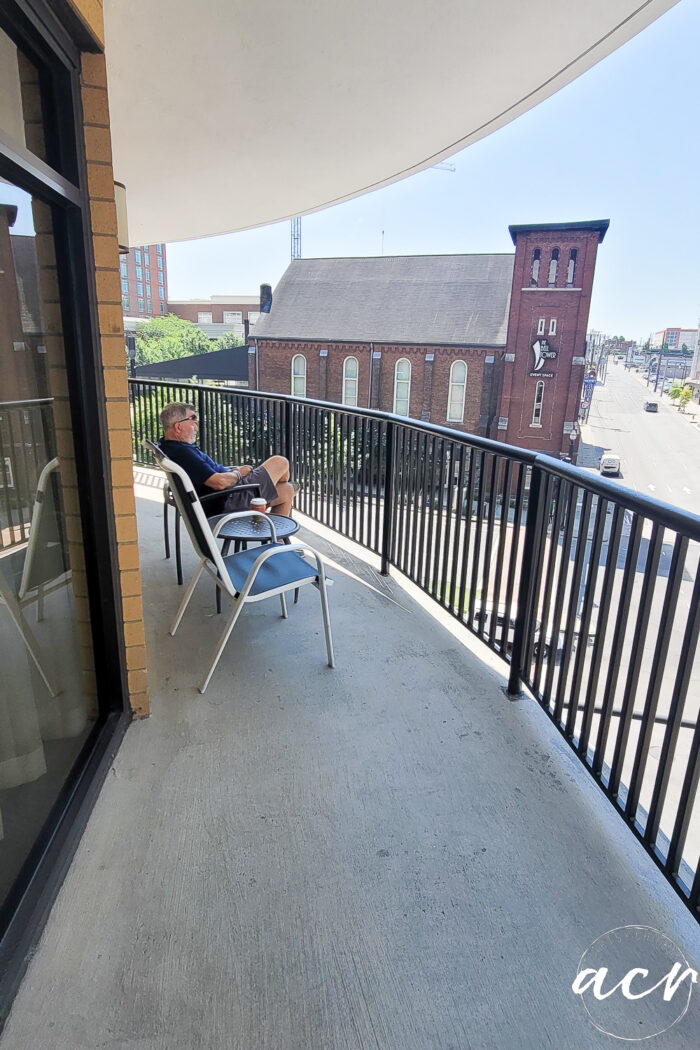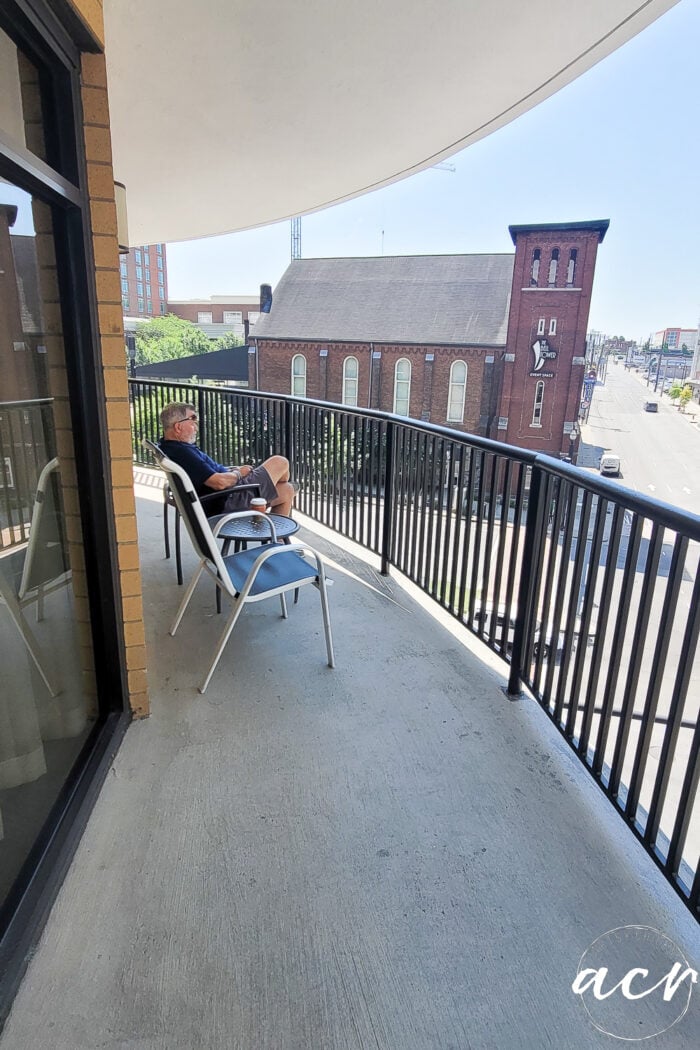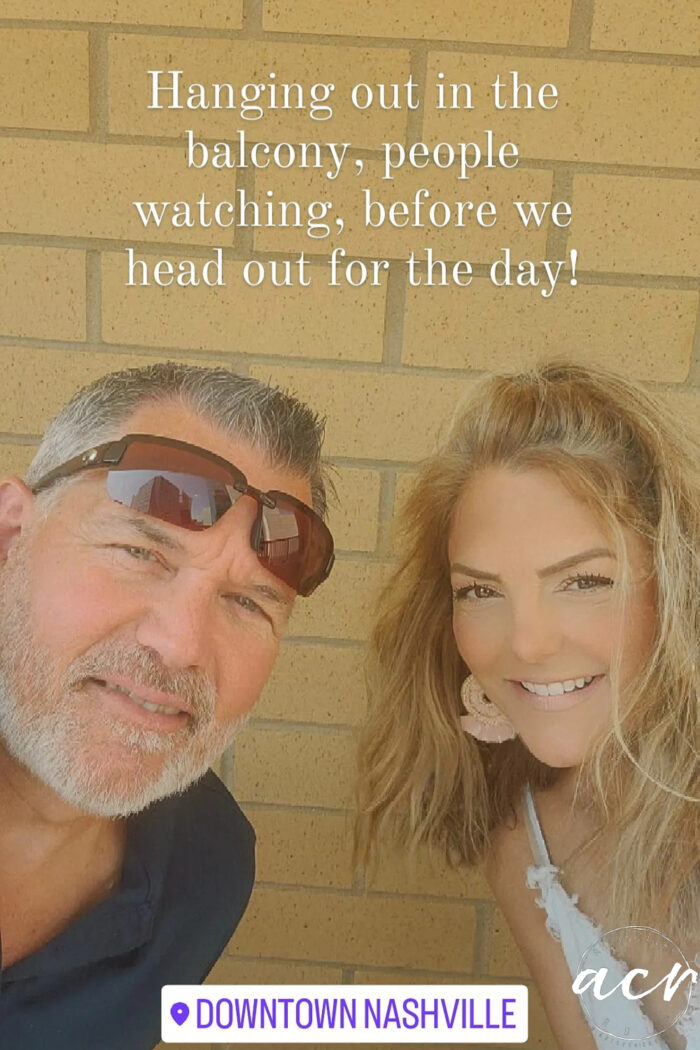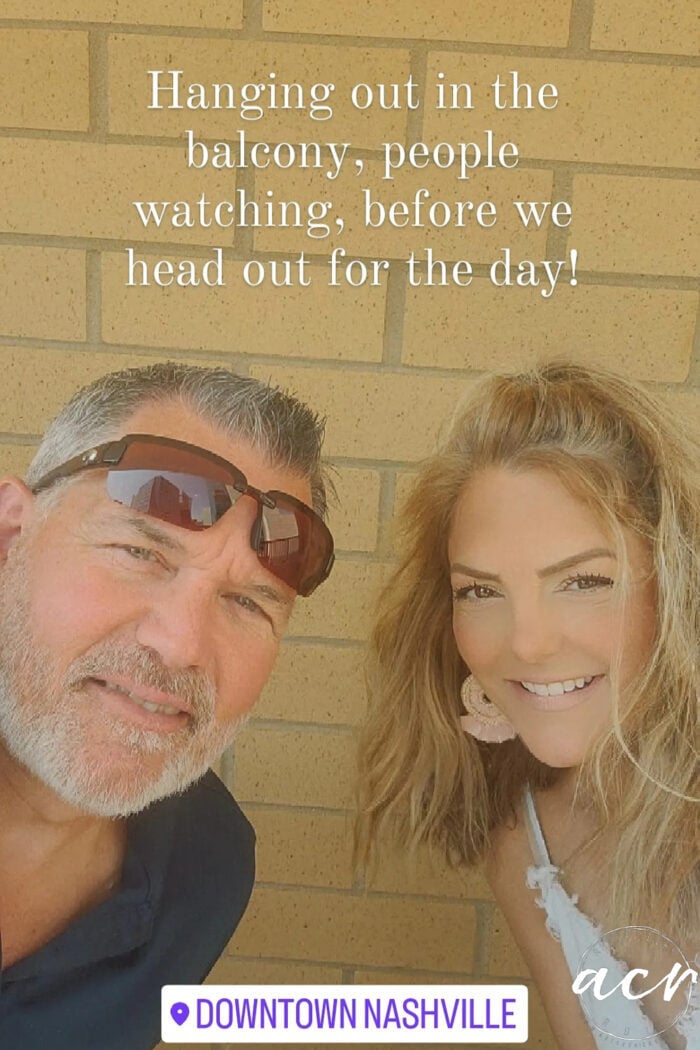 Here's looking toward all the fun stuff from the right side of our balcony.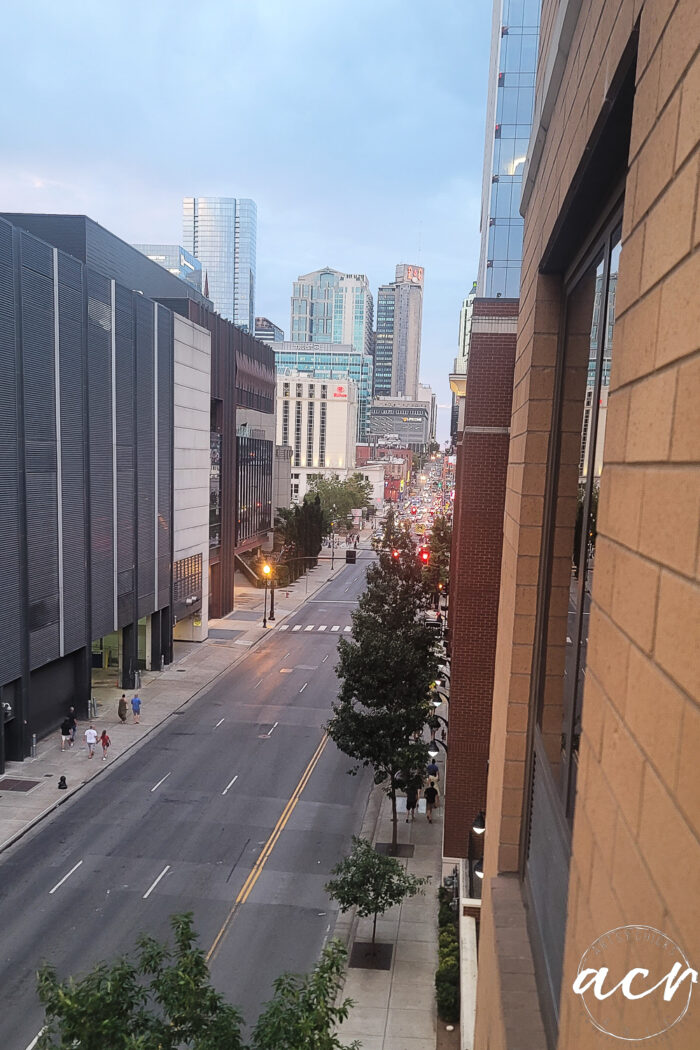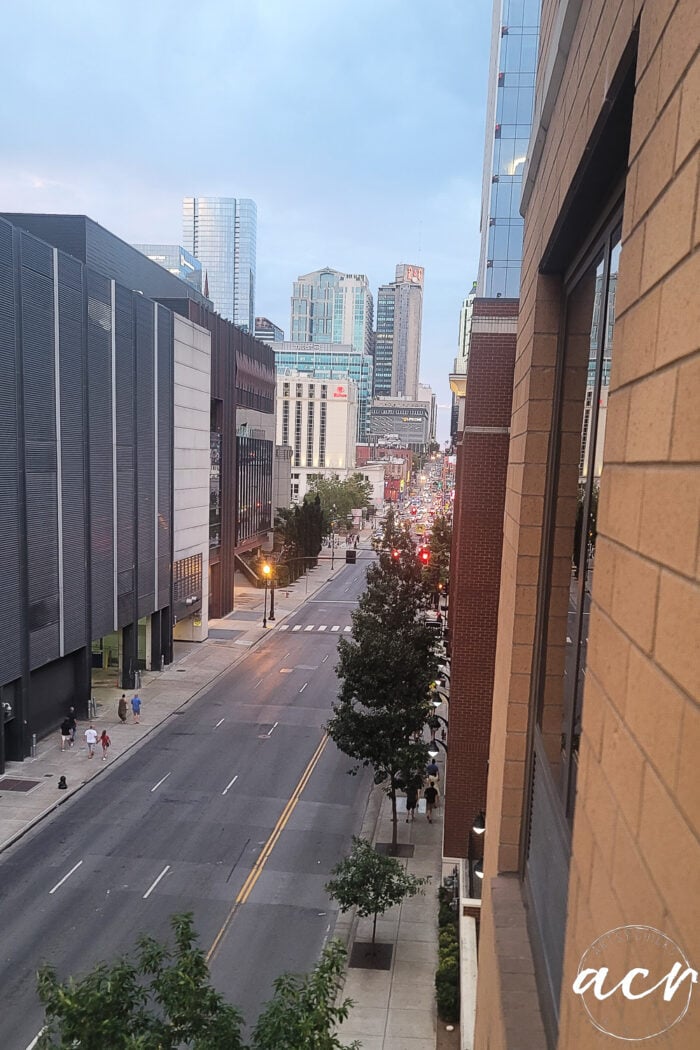 We were a tiny bit away from the action but we did see all kinds of party buses come by here daily.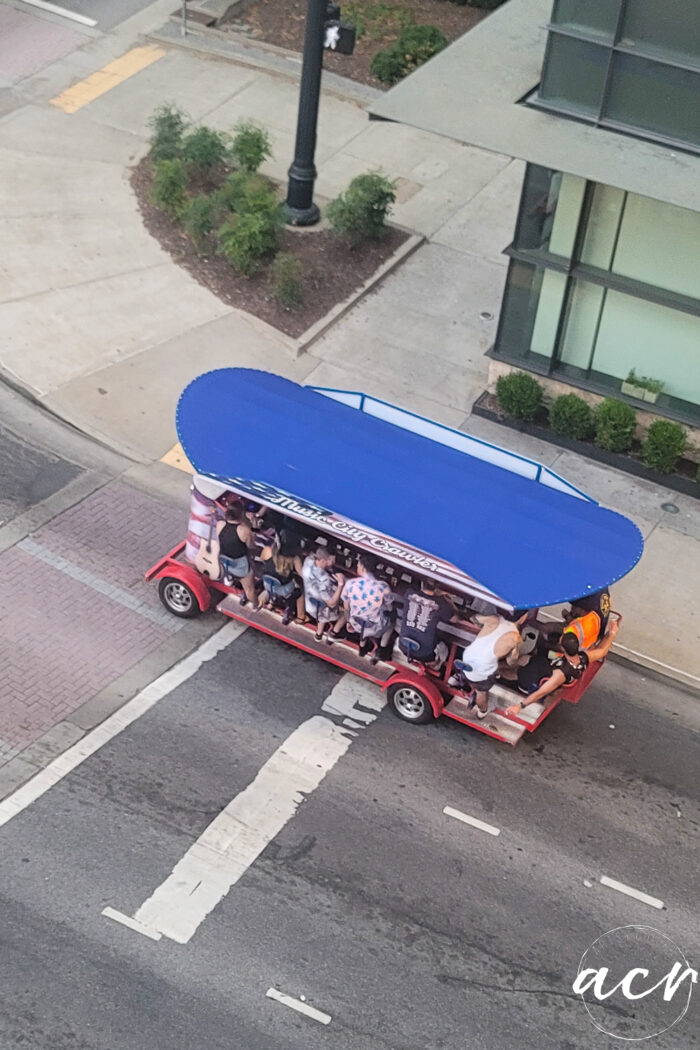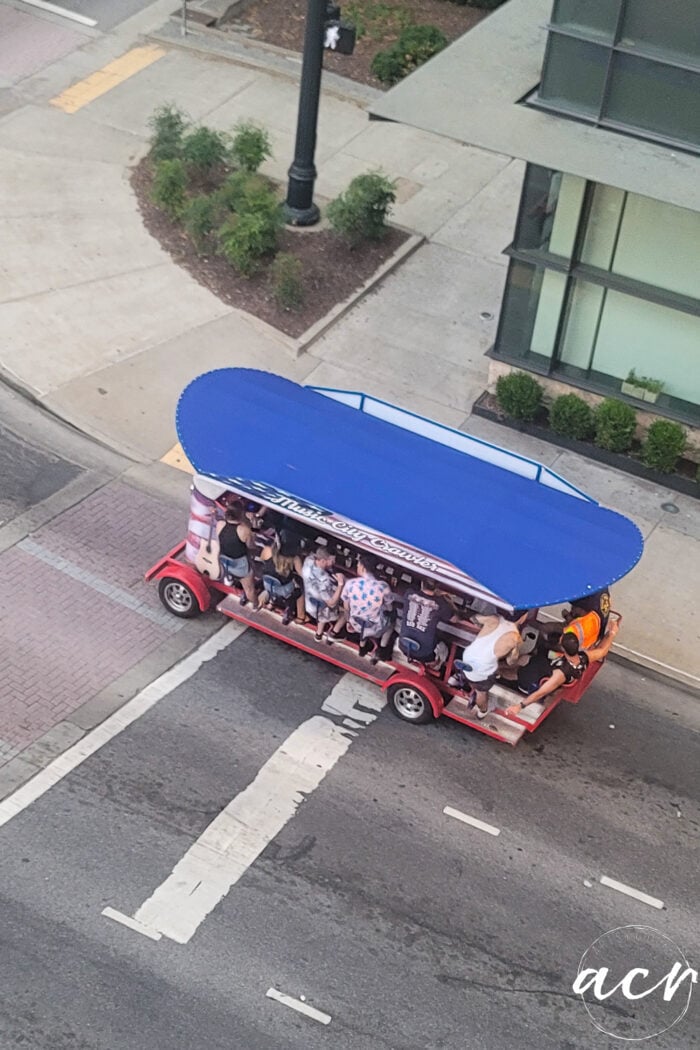 Everyone singing and having a grand ole time.
Even tractors pulling people. haha!
Horse and carriage rides, old school buses turned city tour bus.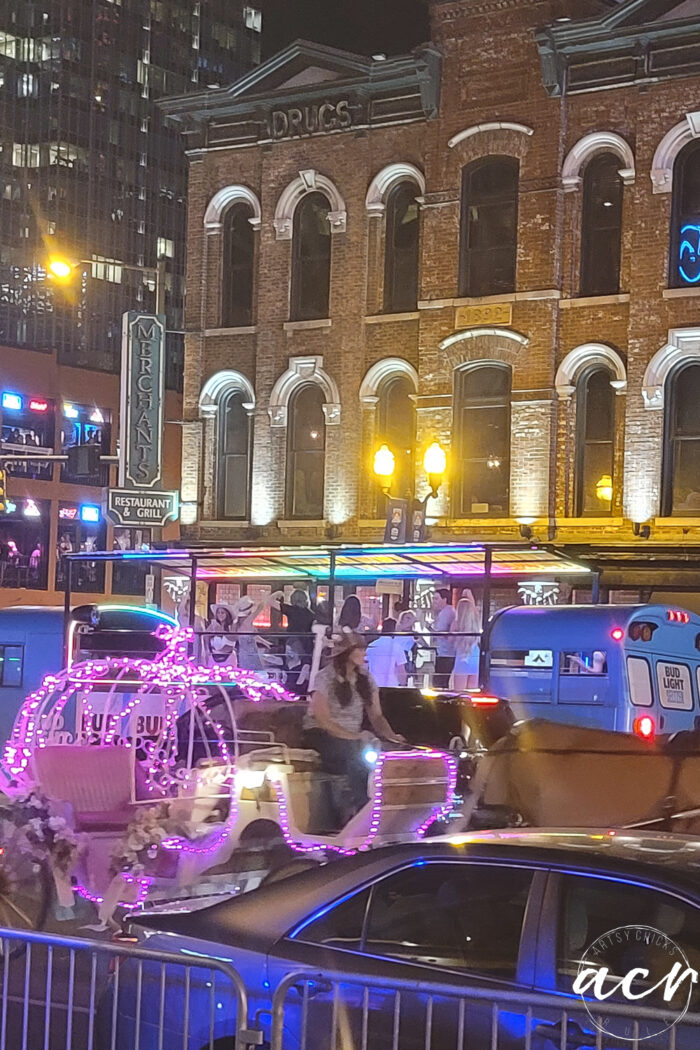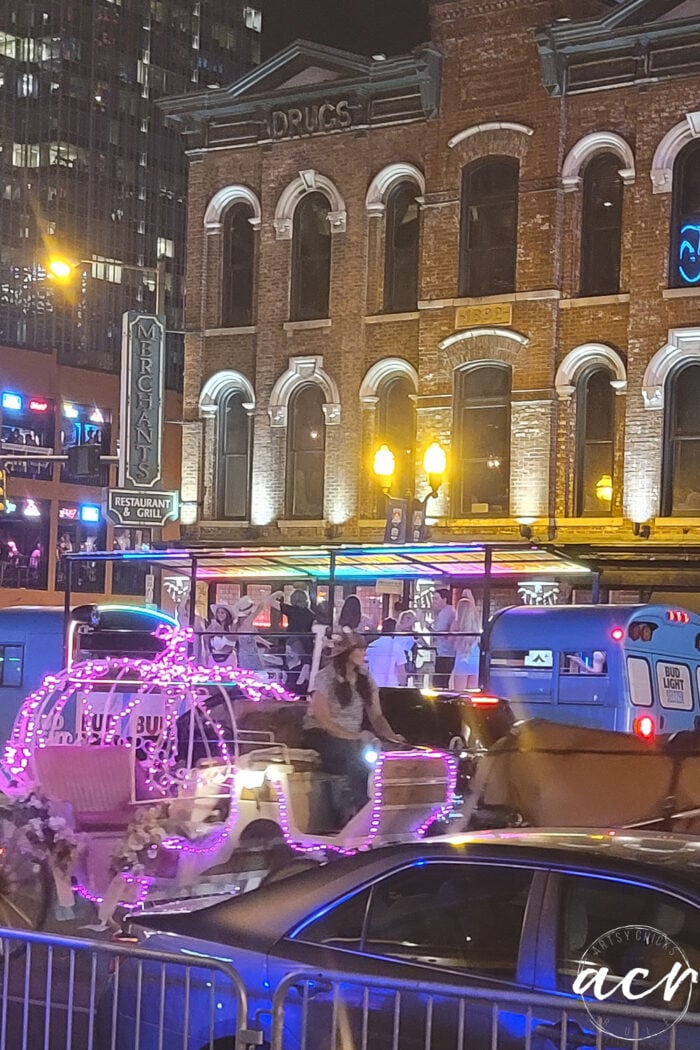 Old fire trucks turned city tour bus too.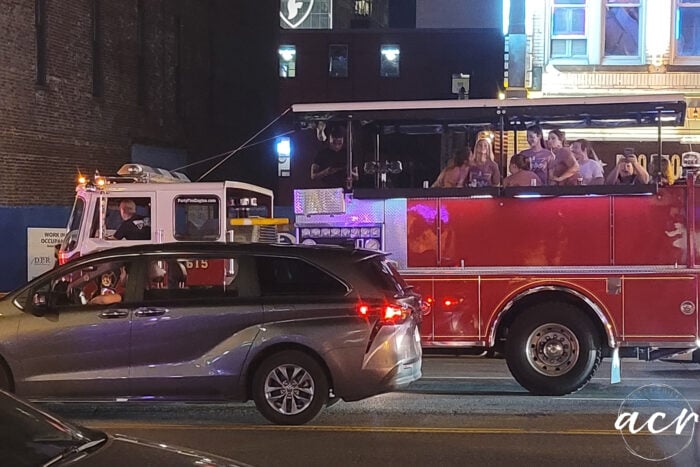 How about this one! haha They were having fun.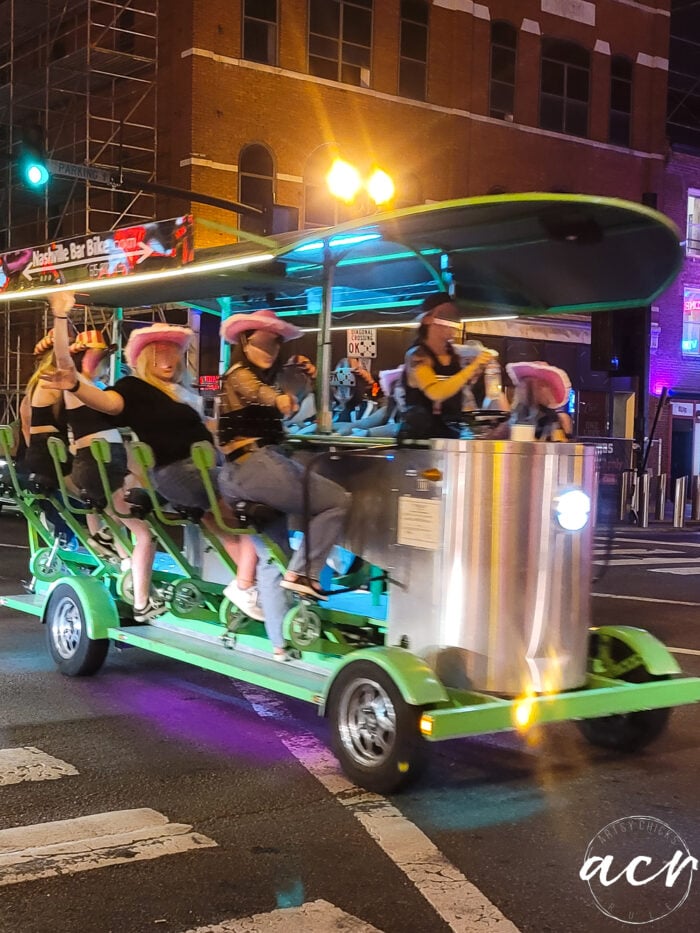 (I blanked out people's faces for privacy)
We went to Blake's place the first night there for dinner. Ole Red.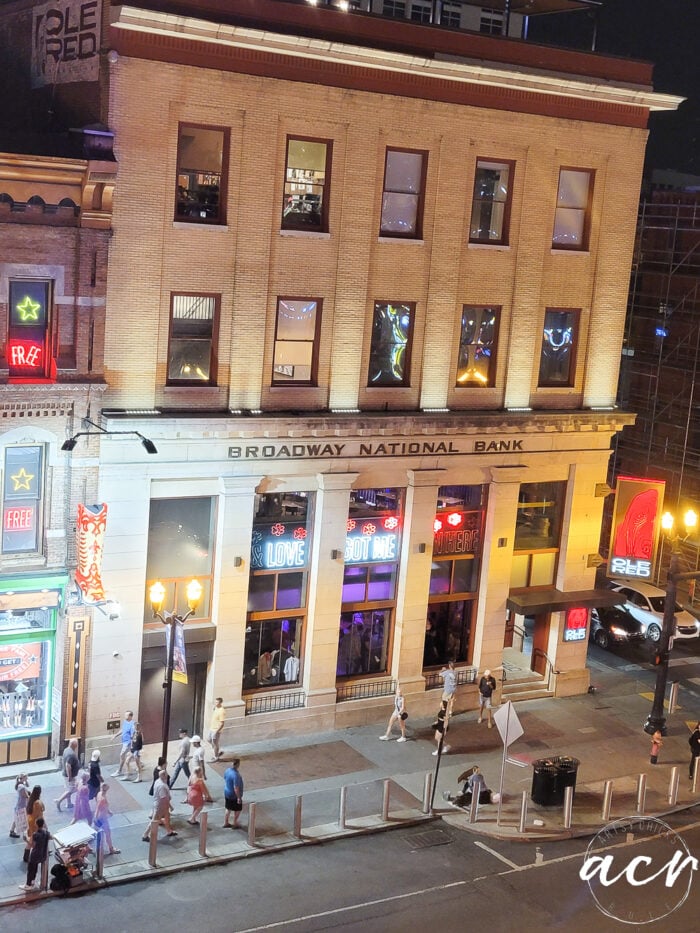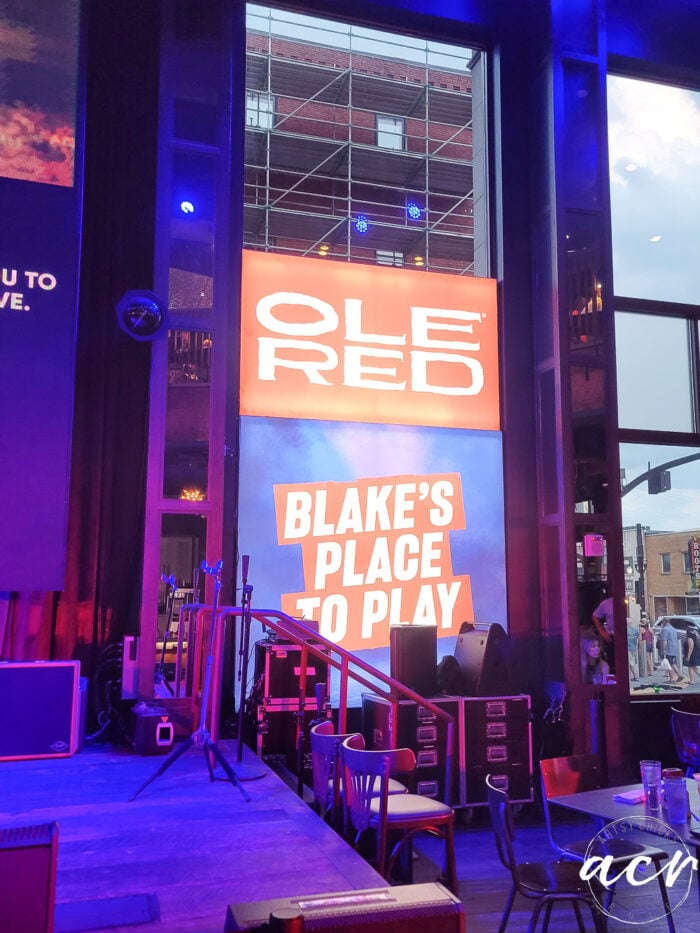 It was two stories. We went upstairs and got a table to eat.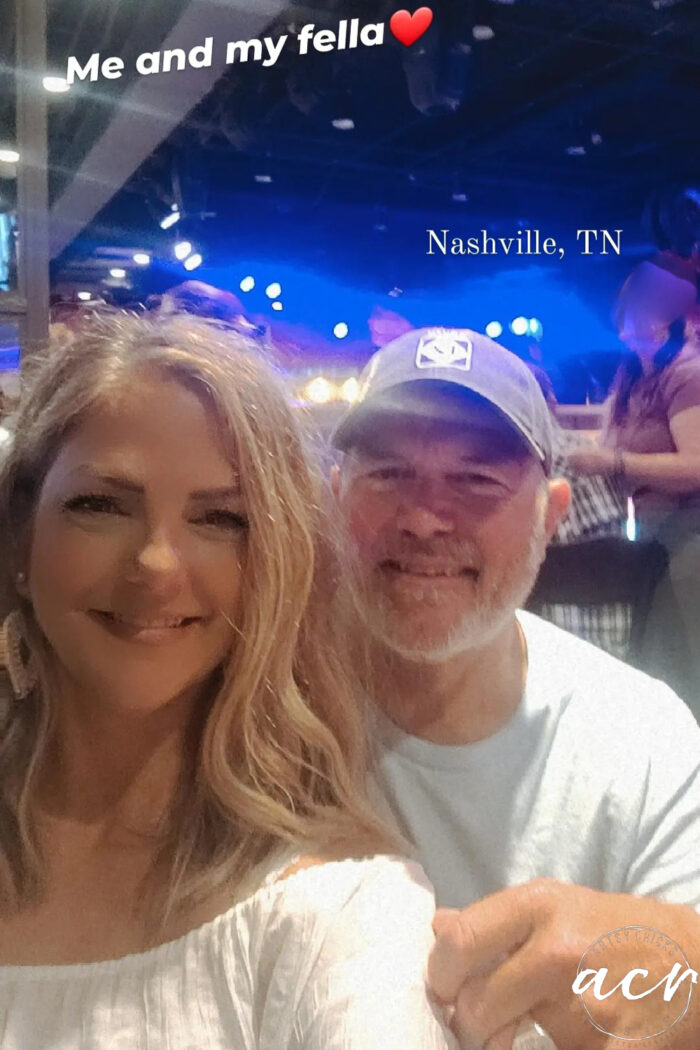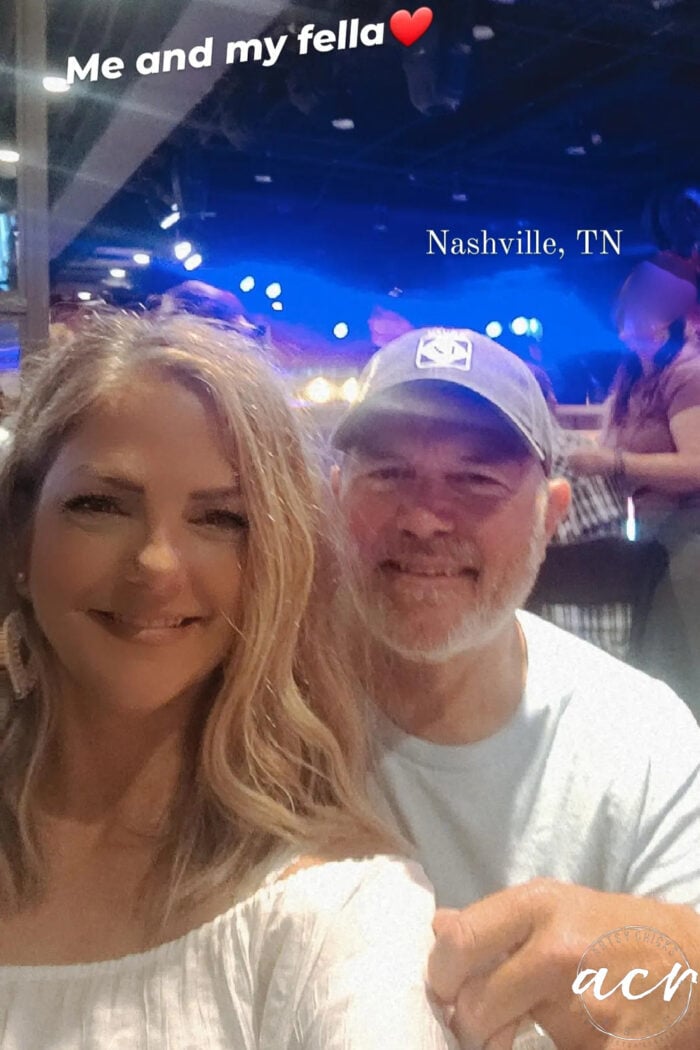 Over the stage, there was this tractor! What?! Yikes, lol.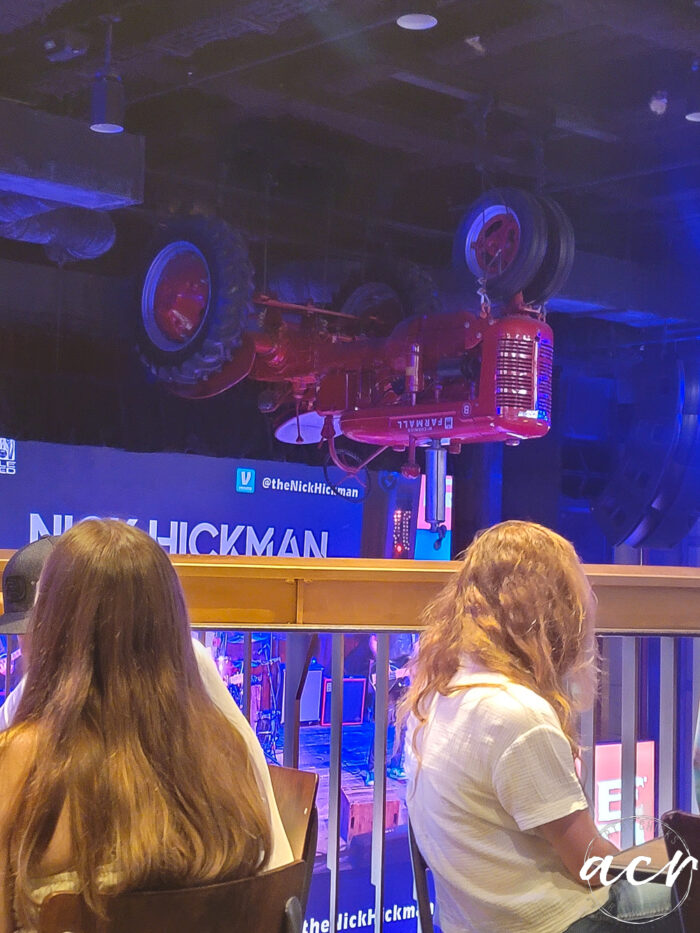 They like to put tractors in odd places.
Here's another bar with a tractor in it.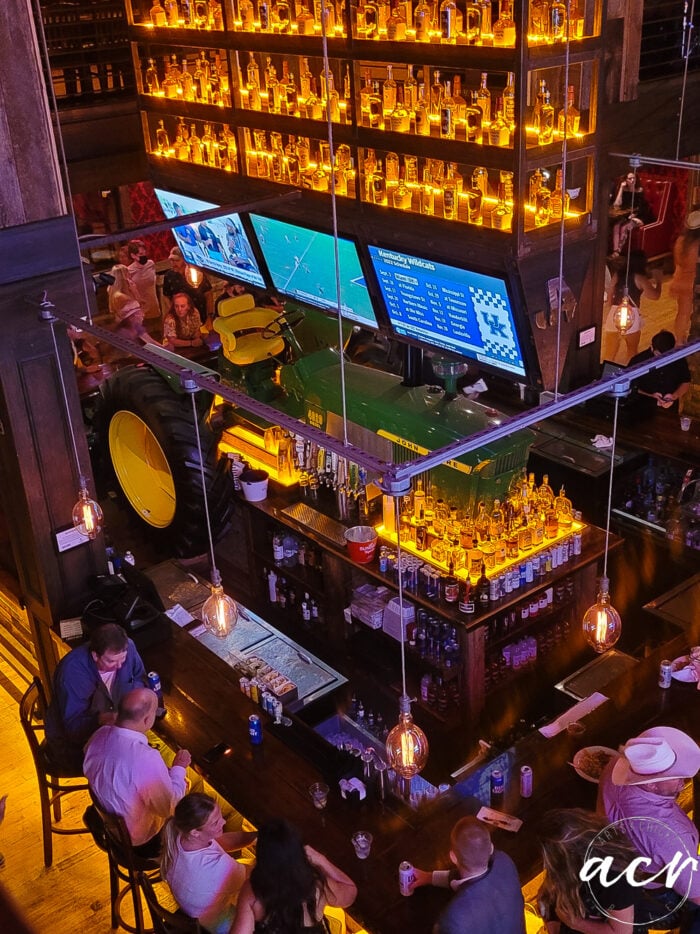 Here's a tip!
If you don't like it too busy, go on Mon or Tues. We noticed that it wasn't that busy downtown on Tuesday…we weren't there on Monday. (generally speaking) As the days went though, it got busier and busier. By Thursday, it was pretty packed in many places. However, we were told that weekdays are not as busy but once Friday hits, it's packed like crazy all weekend. They did have sections closed in almost every bar/restaurant we went into and we wondered why. We were told they are closed during the week because so many fewer people. Those sections are all opened up for the weekend, however. I can't imagine! Which obviously makes sense, I guess I just thought it'd be packed every night of the week. I enjoyed the less busy nights, for sure!
Jason Aldean's bar.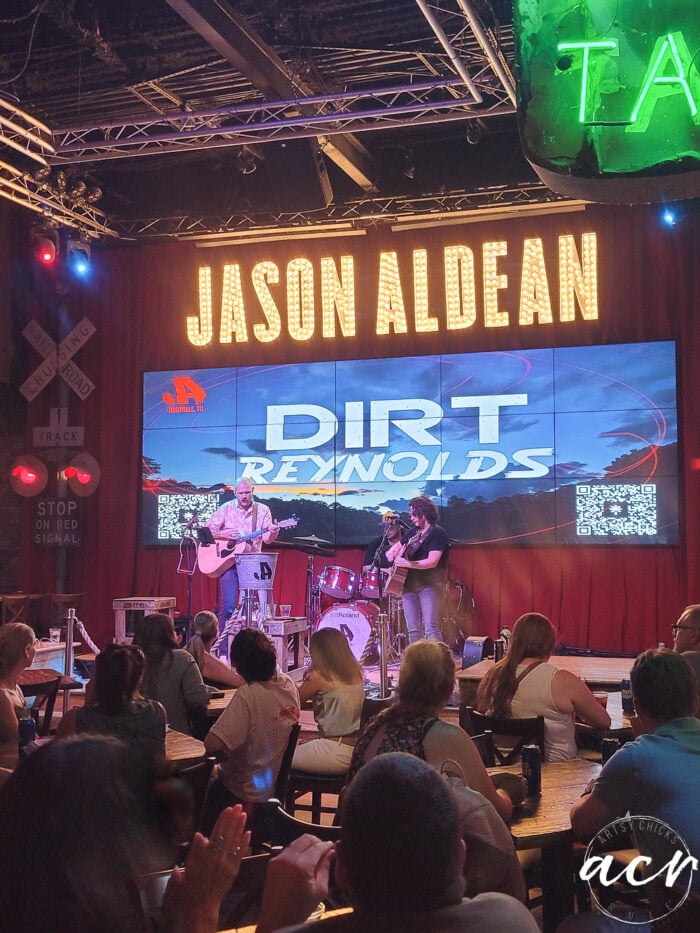 It's nice to sit inside to listen to music but I enjoyed being out on the rooftops. Many of the bars have rooftop areas.
And another tip! They all have several floors, with different music/musicians on each level. And it's LOUD. I don't really enjoy crazy loud music and didn't even think to bring some sort of earplugs, etc. Duh!! Rookie move.
I would have enjoyed listening to the music so much more with a little buffer (and protection for my ears).
Next time, I won't forget that!
Rooftop of Jason Aldean with my favorite son. ;)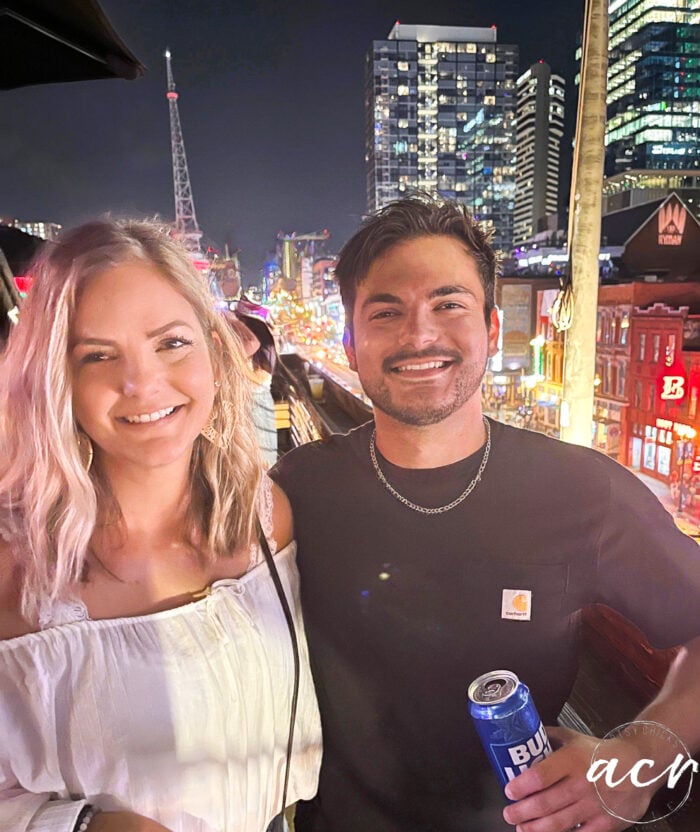 I think we were at Kid Rock's rooftop bar in this photo. The two rooftop bars across the way are Luke Bryan's (the lower one) and Jason Aldean's. (the higher one)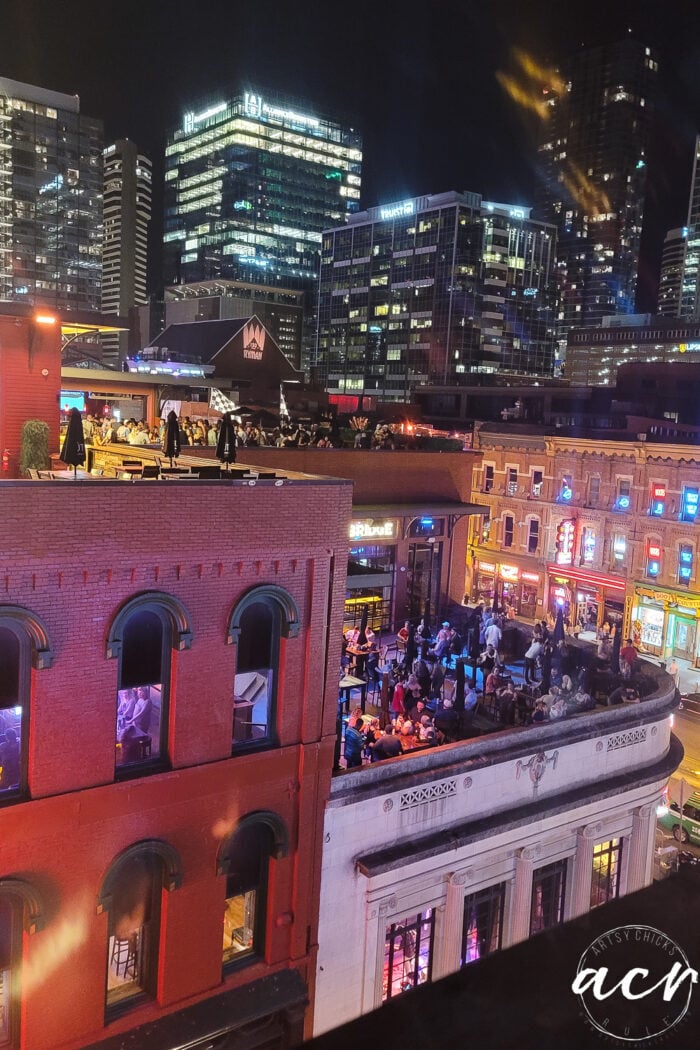 Not crazy busy, as you can see. And notice the closed rooftop section to the left of the photo?
Looking down from one of the rooftops we visited. (we visited many)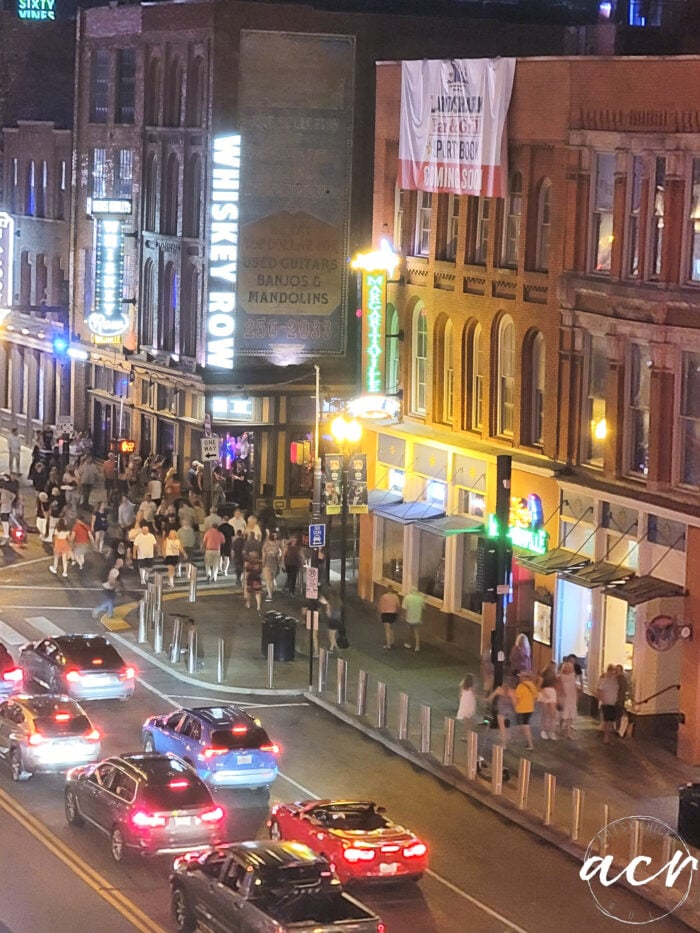 This was a neat painting on the hood of a car. Inside Kid Rock's maybe?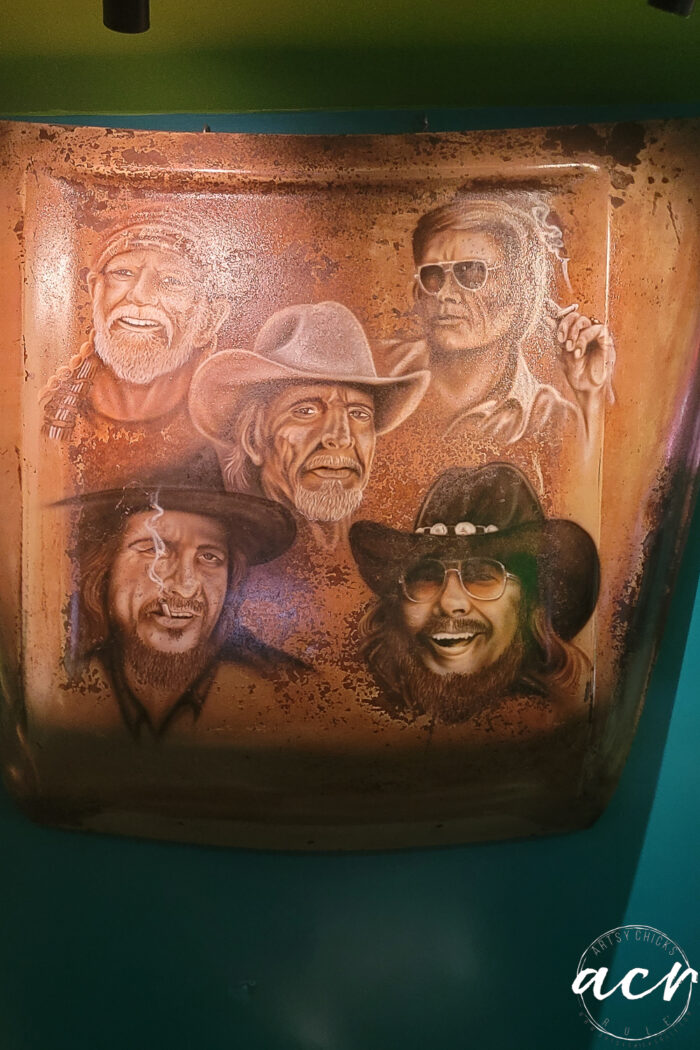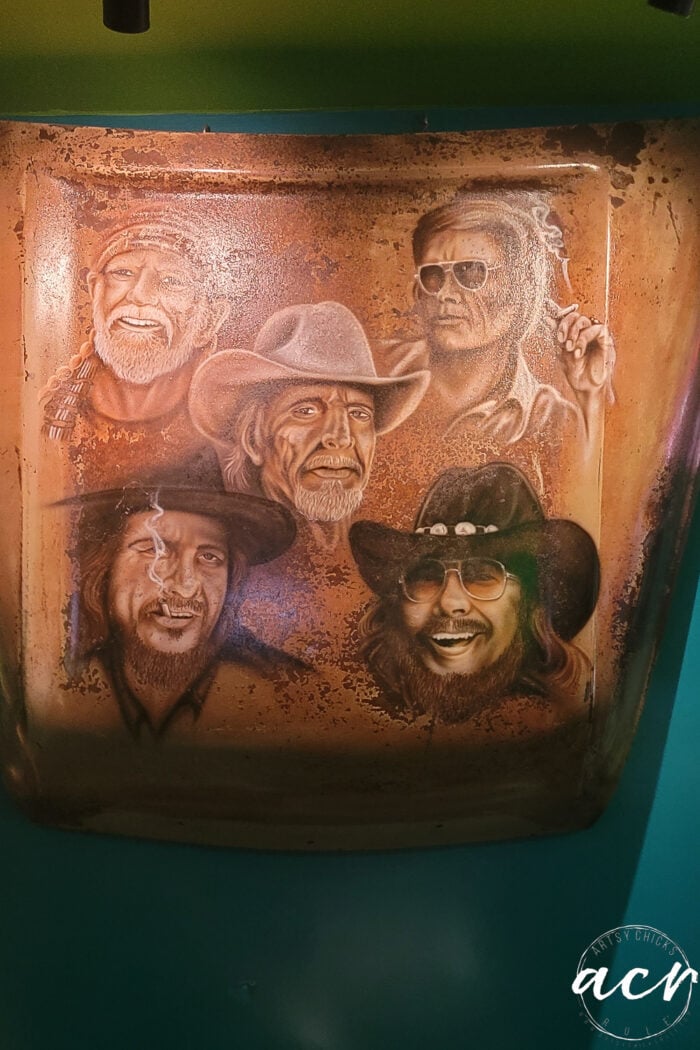 I think this was Thursday night, so getting busier. Kid Rock's Honky Tonk.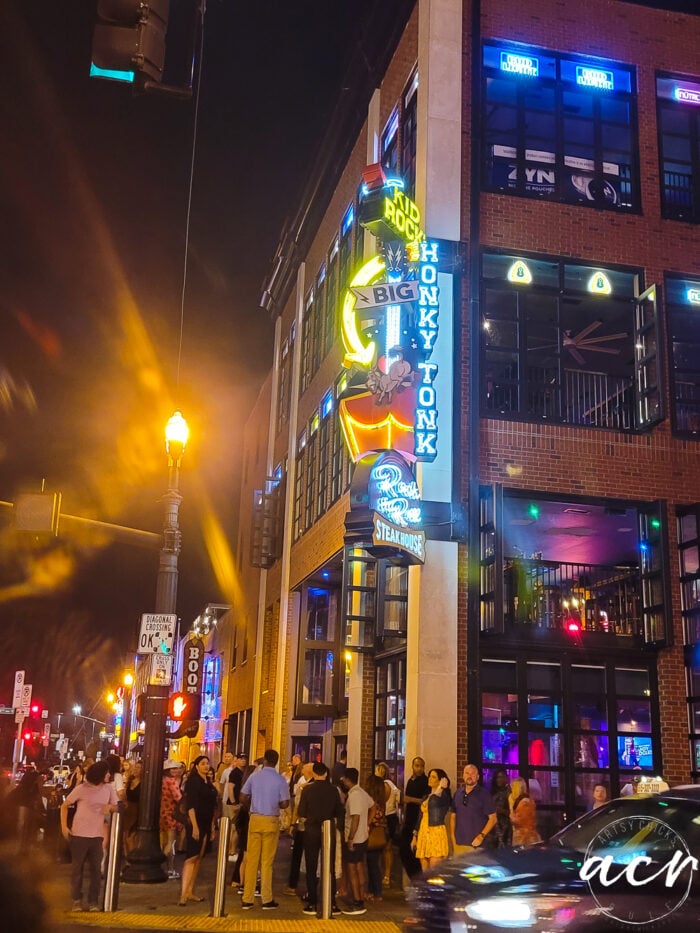 Luke Bryan's place…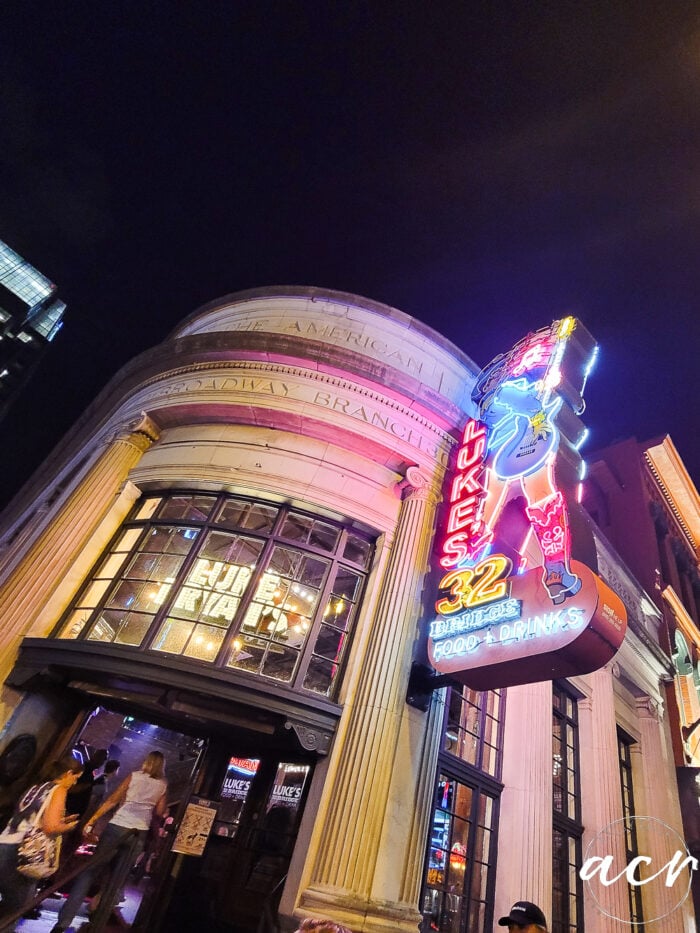 We never made it into Tootsies! Always a long line.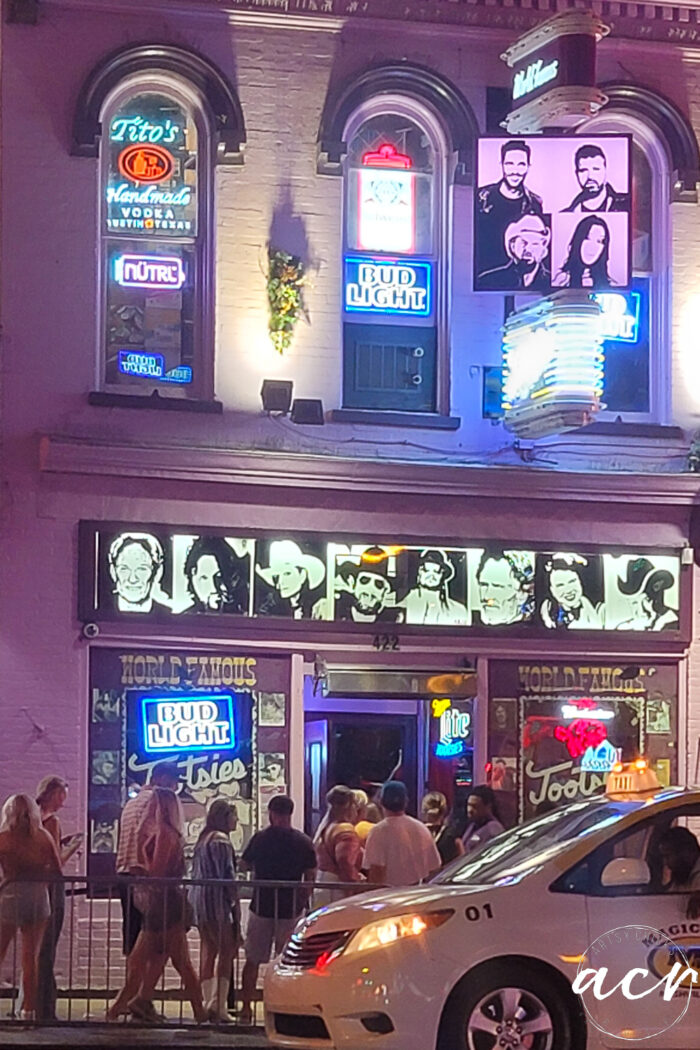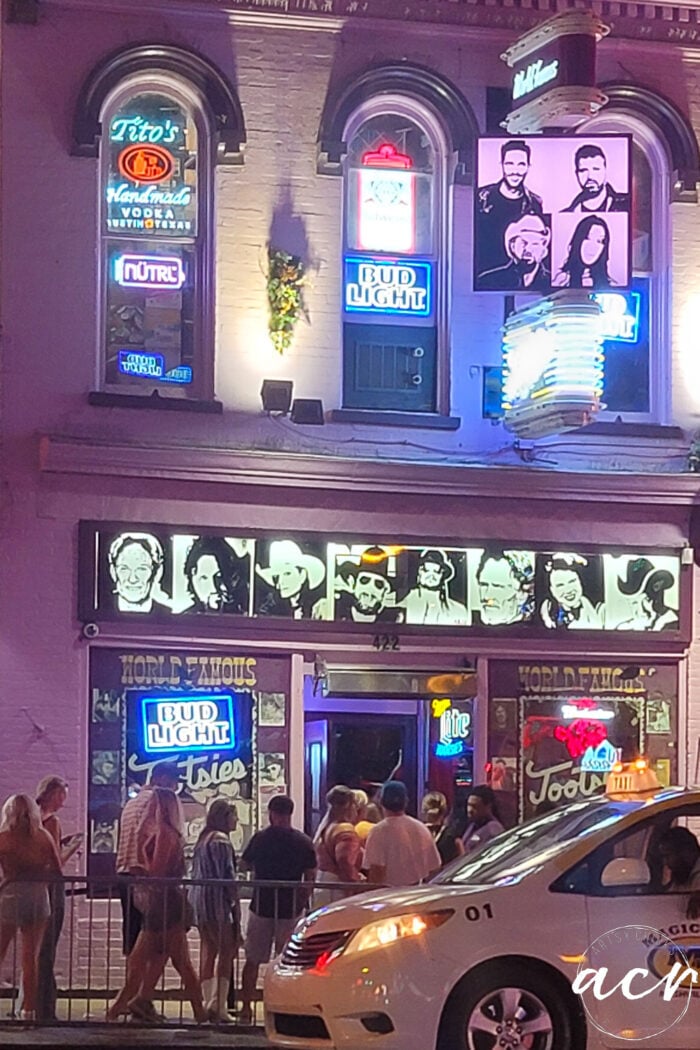 We didn't go in this one but I thought the name was funny.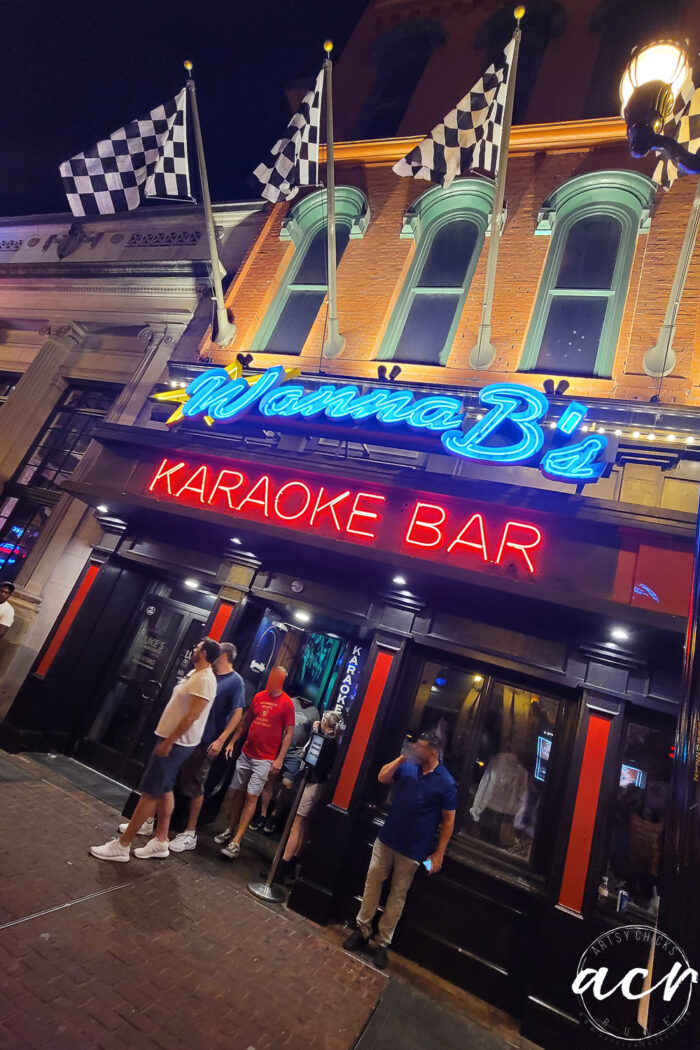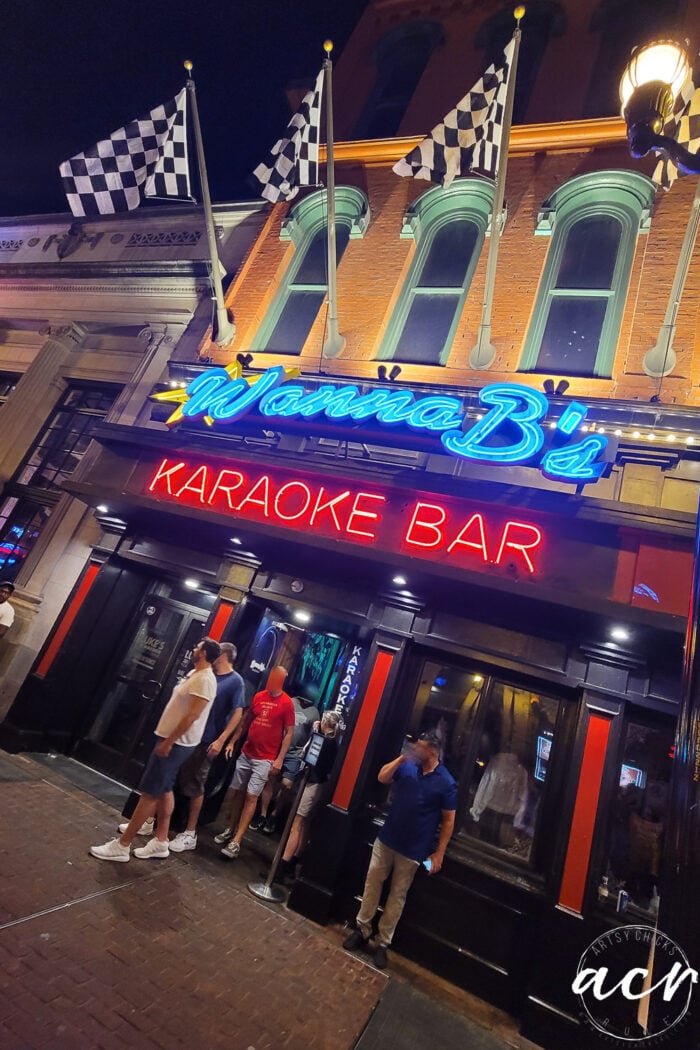 Of course, we had to do this photo op…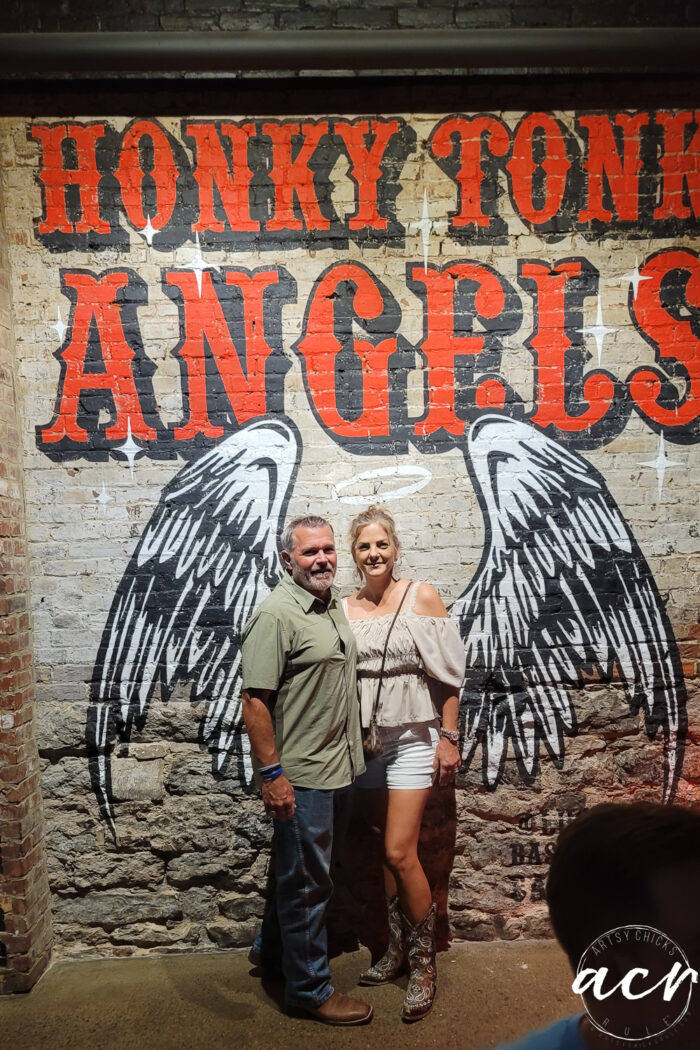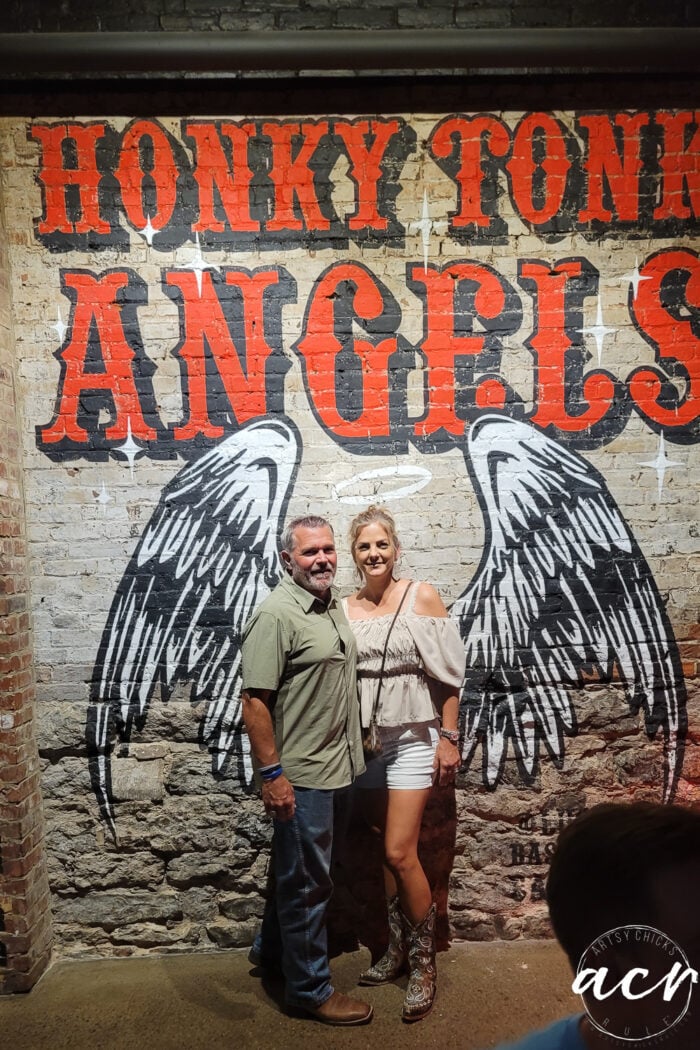 My two handsome fellas right there hanging out with Alan Jackson himself!! haha!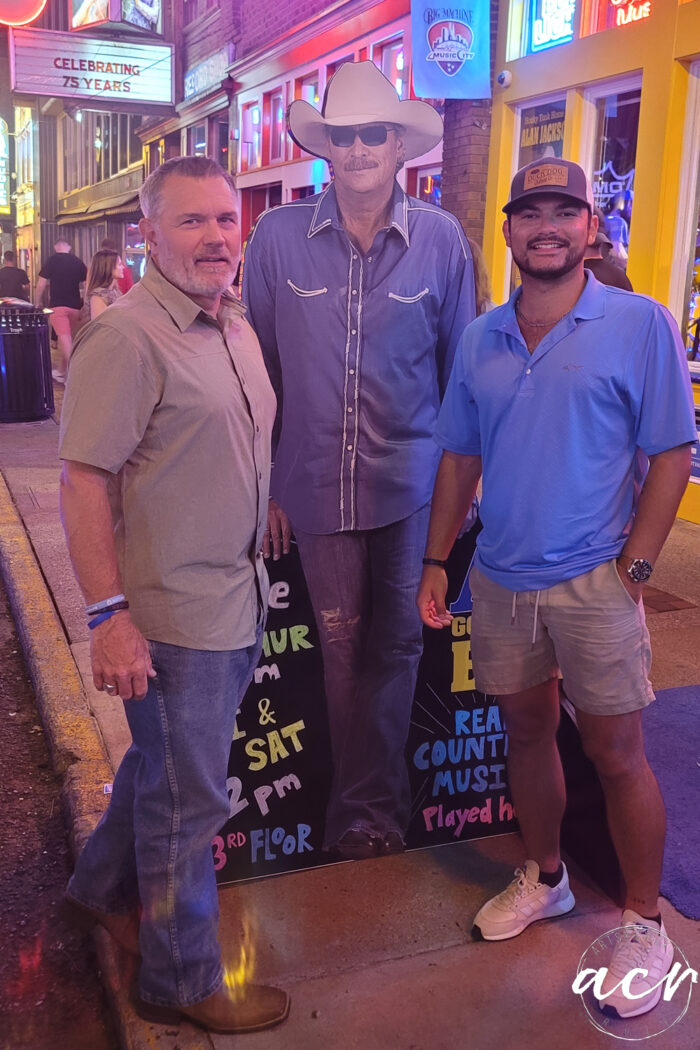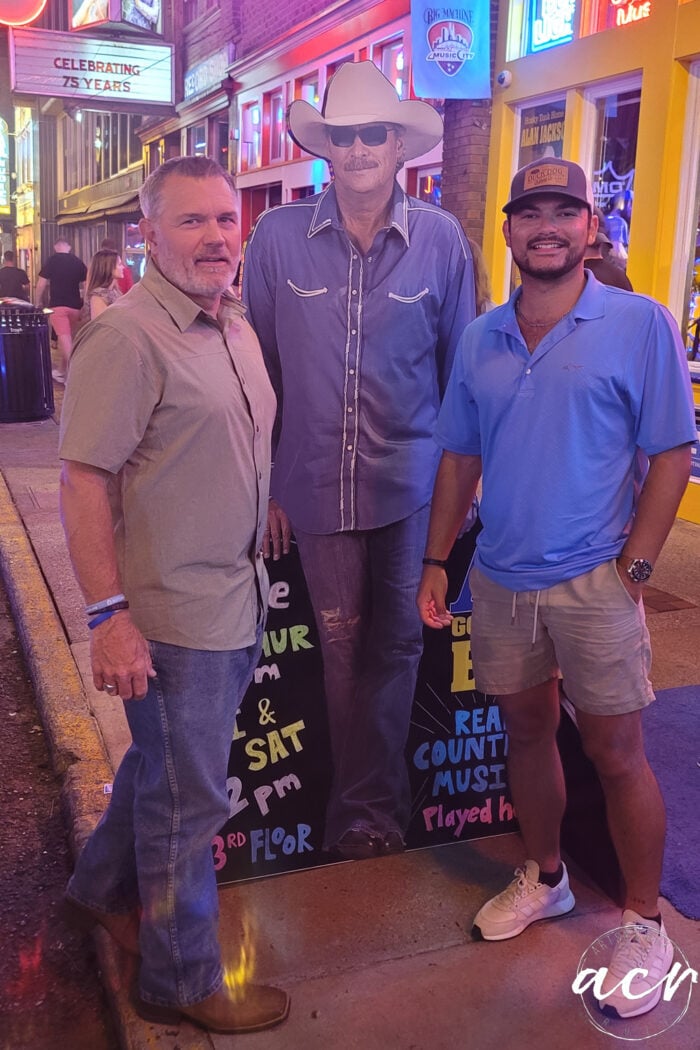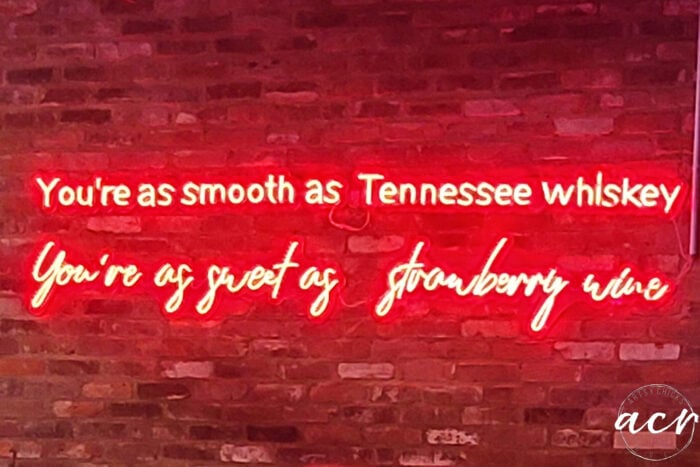 Right?!
This (Florida Georgia Line) was probably one of my favorites. Maybe because it felt a little more lowkey.
We sat up at the second-floor bar and ate, etc. We could hear the music from the lower level just perfectly, and just enough to be enjoyable!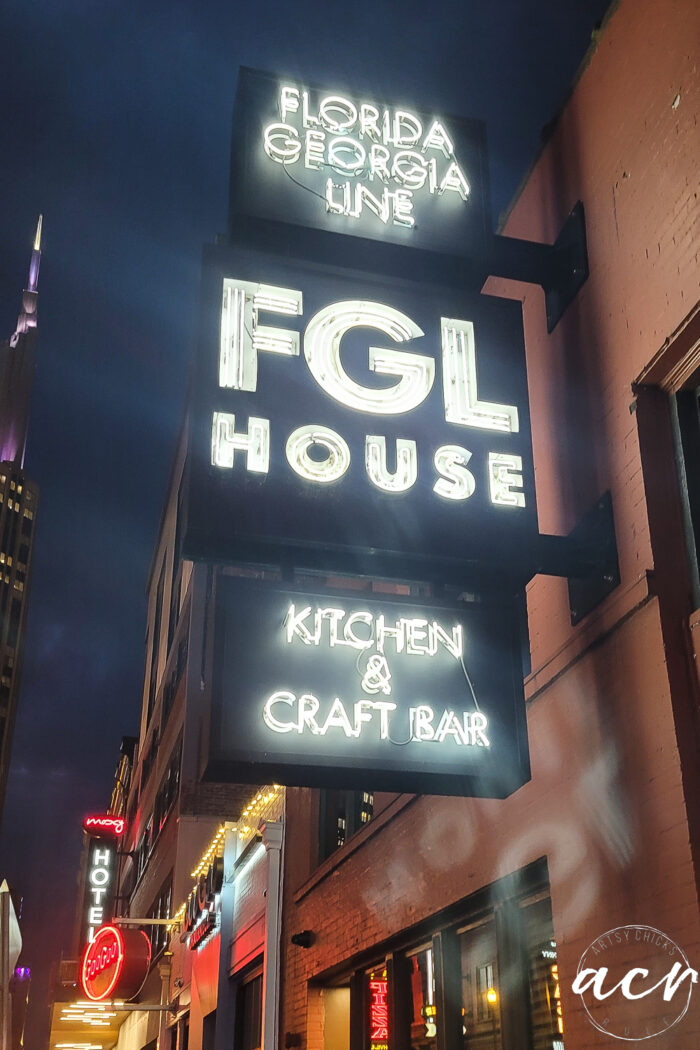 That last night we were there, (Thursday night), they were preparing for the Music City Grand Prix. That would've been fun to watch! We even met one of the drivers staying in our hotel. Fun, fun.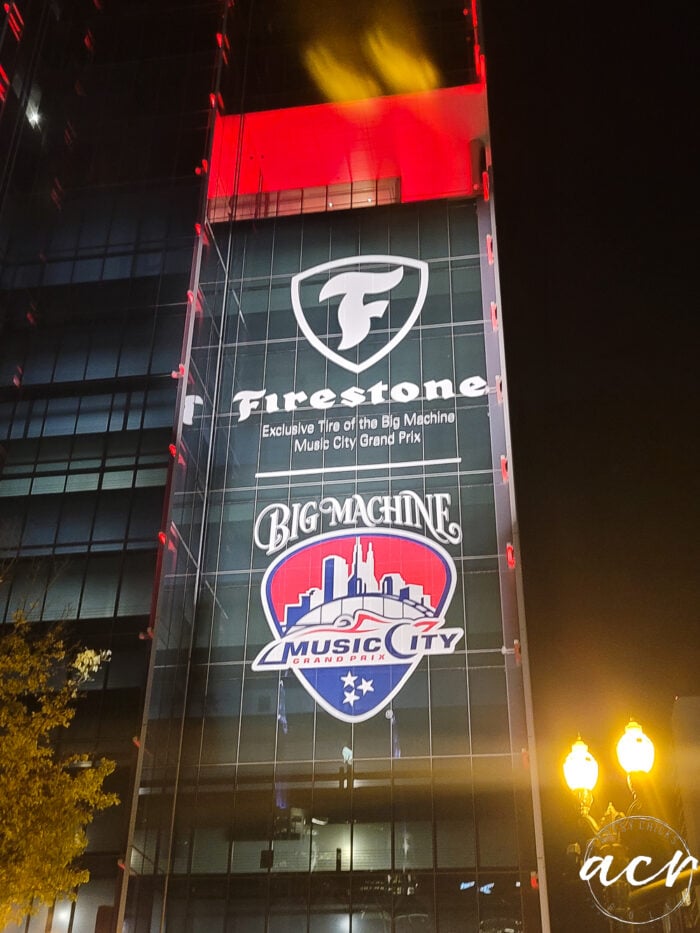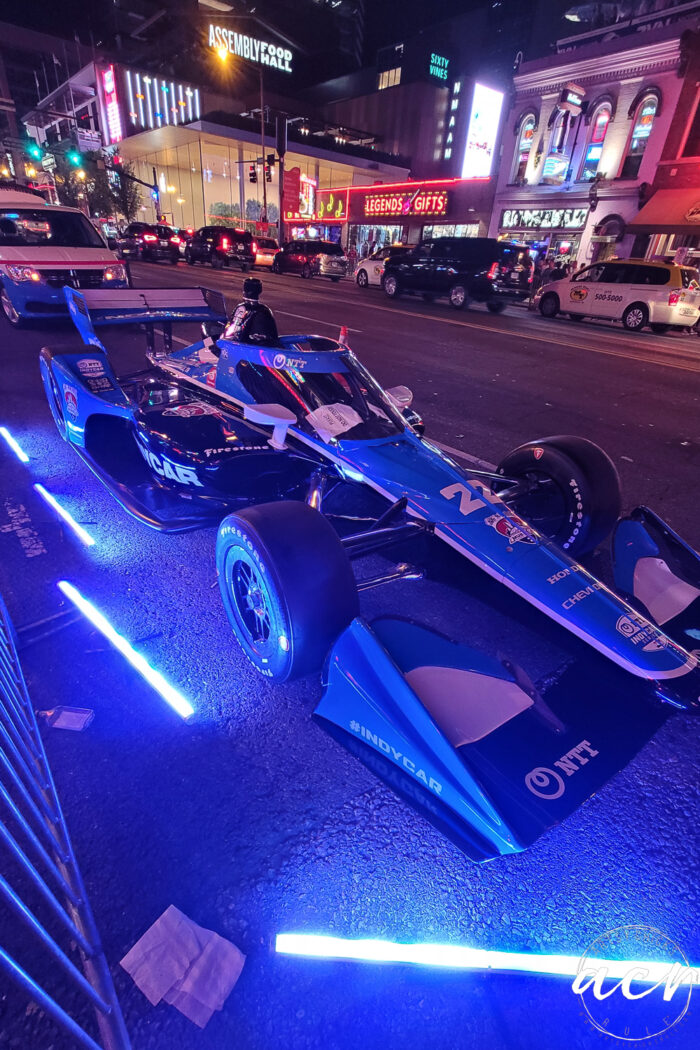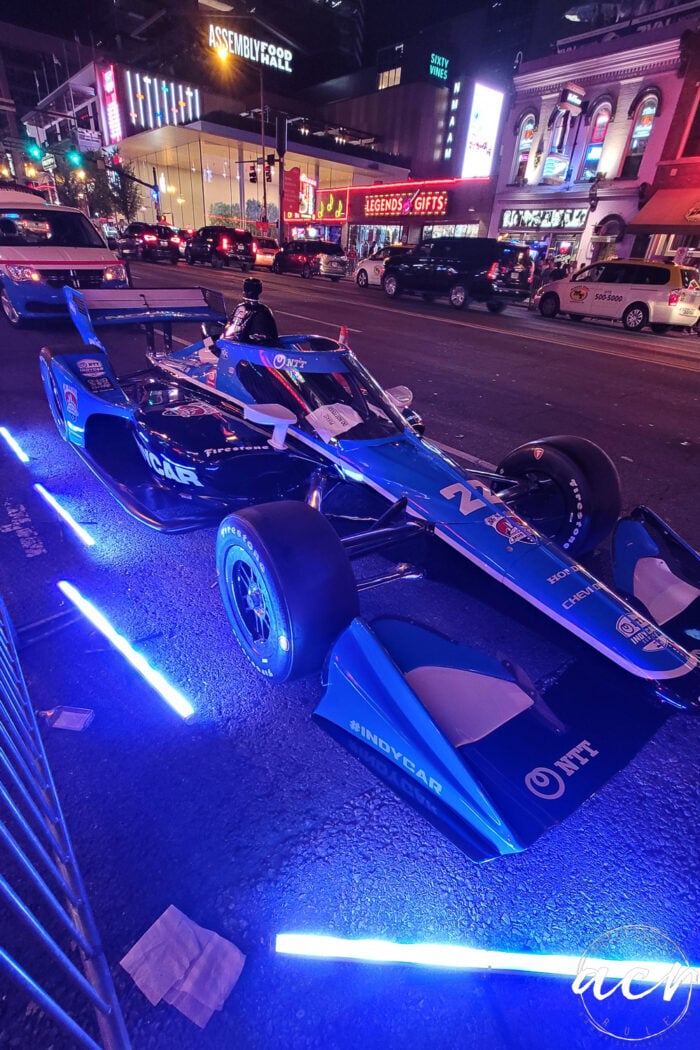 Do you see that building that says "Assembly Food Hall"…well, that is another place I wish we would've visited!
I'm so bummed I didn't know much about it before we went. Will definitely go next visit!
It was a very fun visit. We managed to fit a lot of things in but still so much to do!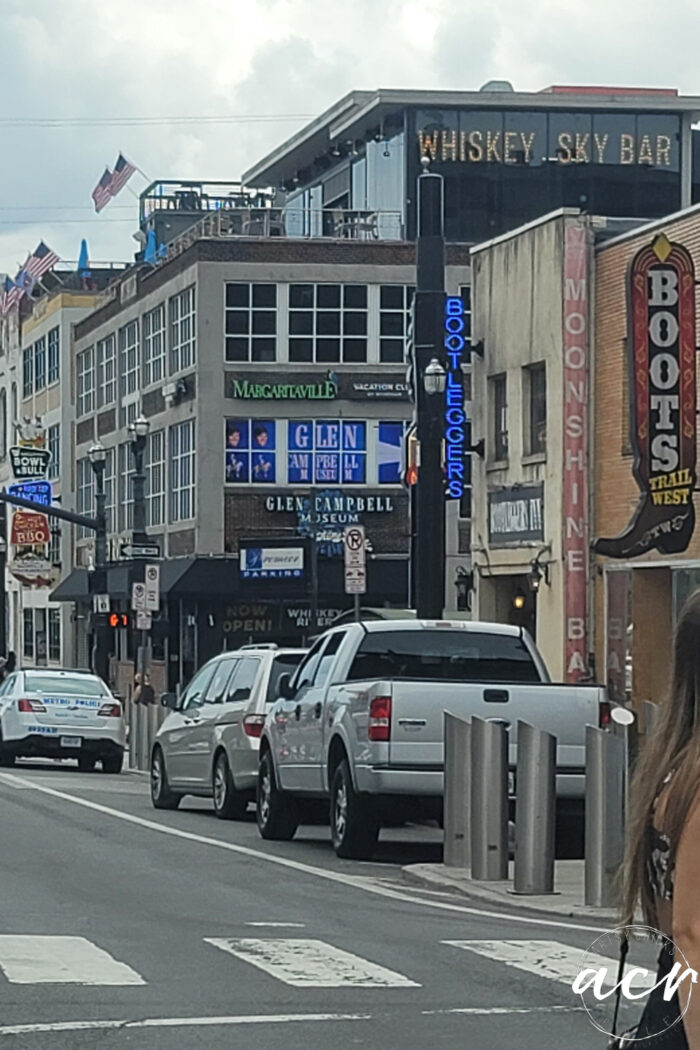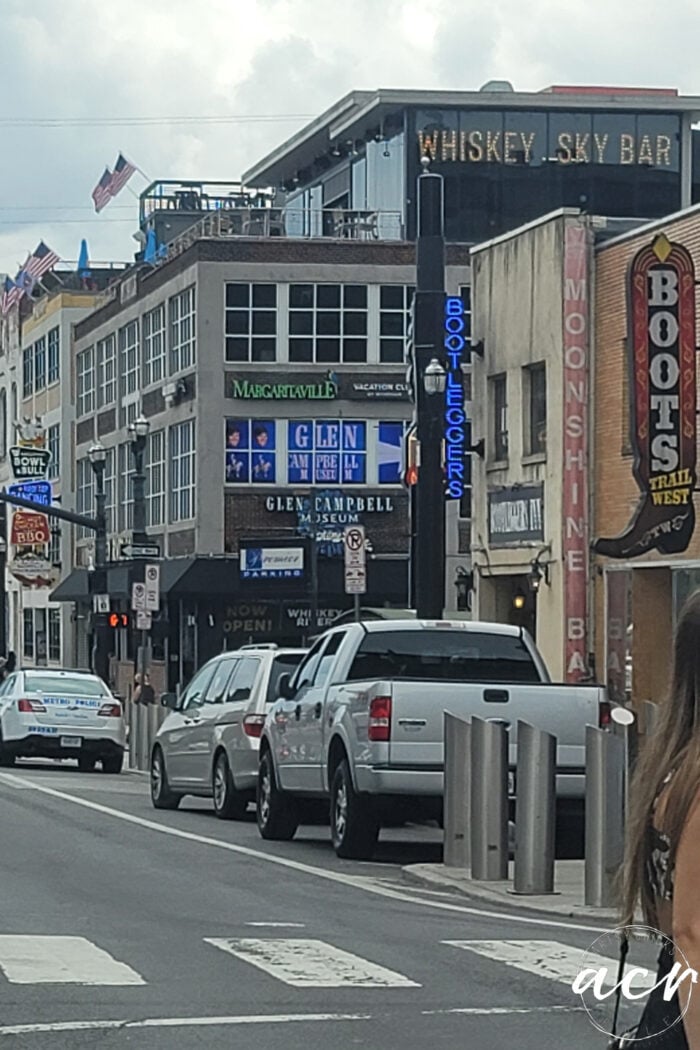 I hope you enjoyed sharing in our visit to Nashville. It was a fun time and I look forward to going back and seeing and doing even more in and around downtown Nashville!
Have an amazing weekend! It was HOT in Nashville (and at home) but we came home to much nicer temps. Hopefully, you are having some of those lower temps like we are! So nice to be outside now!
xoxo