This post may contain affiliate links. Please see disclosures here.
Meet Piper, our new long-haired Chihuahua! We are in love!
Hello, sweet friends! Guess what?
We got a puppy.
Oh my goodness, she is the absolute cutest thing ever! AND since we got her on Sunday I haven't gotten a thing done!! haha!!
So today I thought I would tell you all about it and share a few photos of her with you.
And how she came to be…with me! Because we were not looking.
My friend recently got a 9-month-old "puppy" that had an apparent "oops" pregnancy and no one even knew she was pregnant!
So after the puppies were born, (there were 3) my friend was letting one go but keeping the other two.
Until she sent me this photo a few weeks later.
When she decided to only keep one and let this one go also.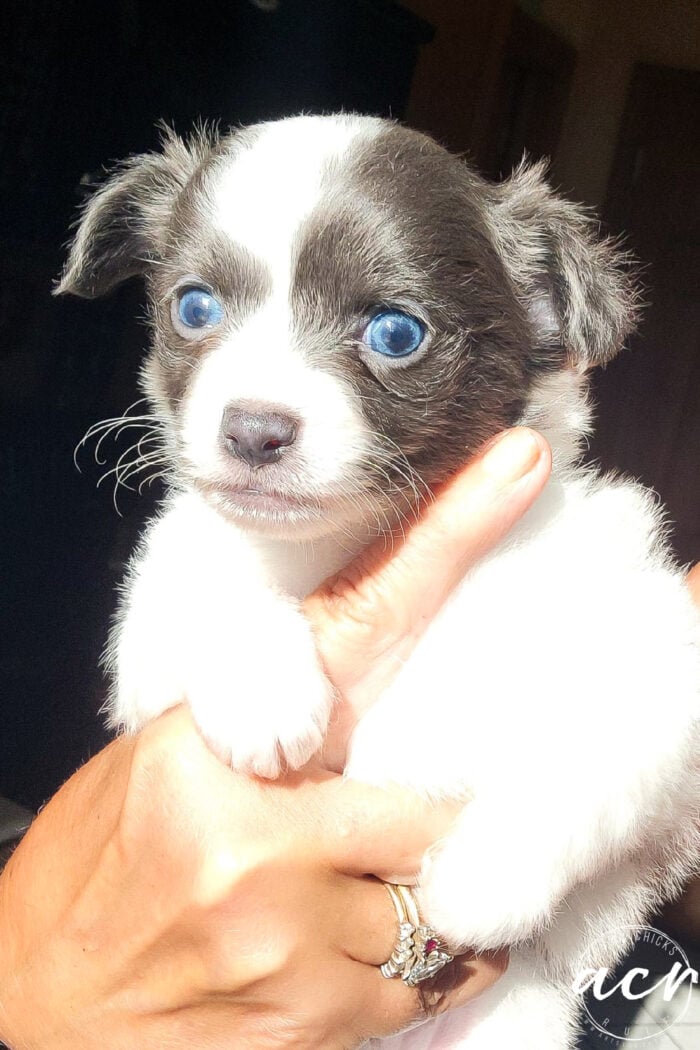 Well you know that was it, right? How could you say no to that face?! I sure couldn't…I was immediately smitten.
Then a few days later I went to meet her in person. (this is me holding her that day)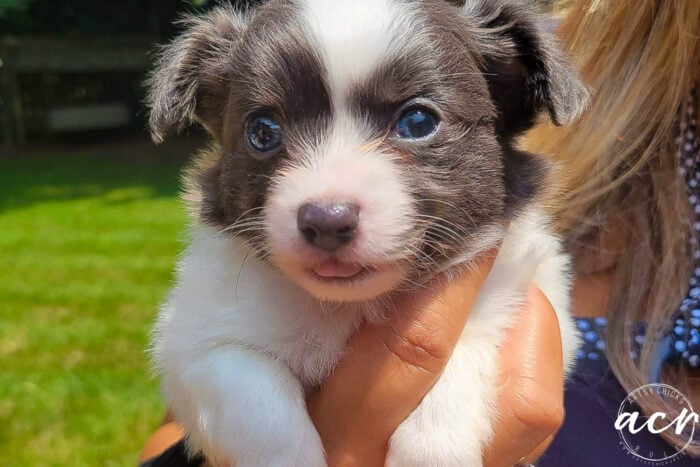 And that was all she wrote! ;) I texted my hubby and said "Guess what, we are getting a puppy!" haha!
So over the next long 4 weeks, I visited about once a week.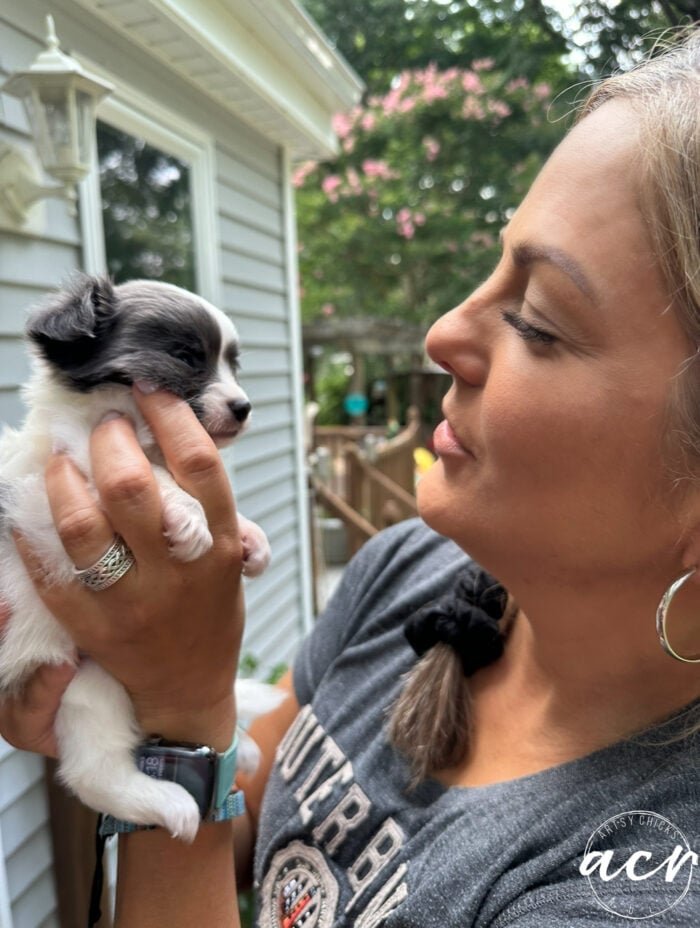 And brought my husband to meet her too… I think this is exactly when he got smitten! ;)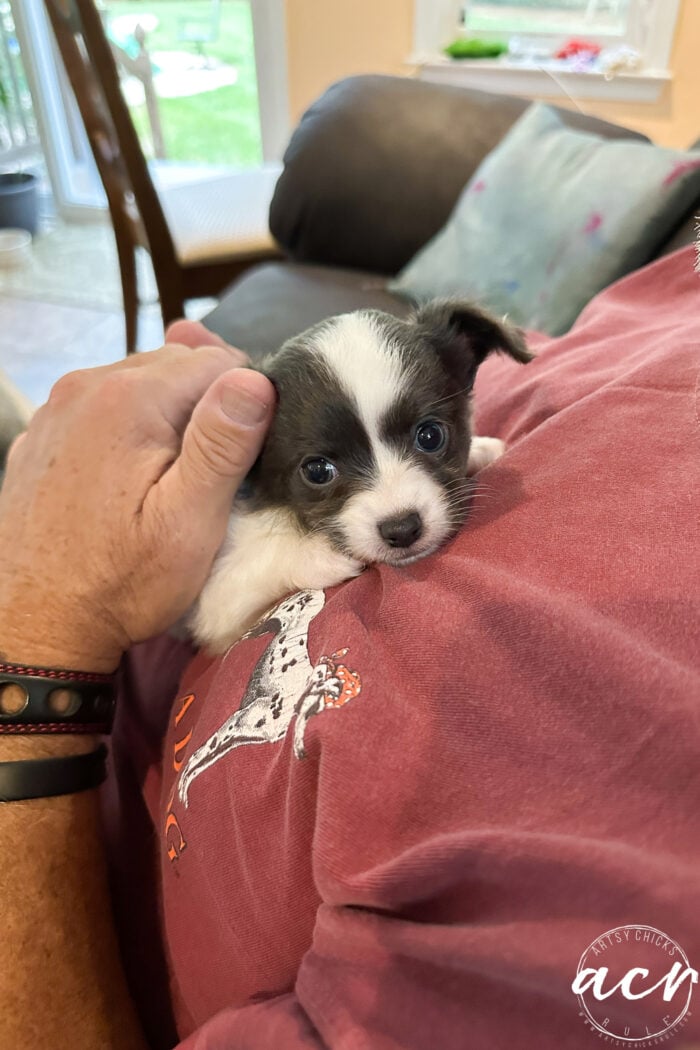 By the way, she is a long-haired Chihuahua. I grew up with Chihuahuas, two different ones at different times.
Munchkin and Shorty, original, I know!! lol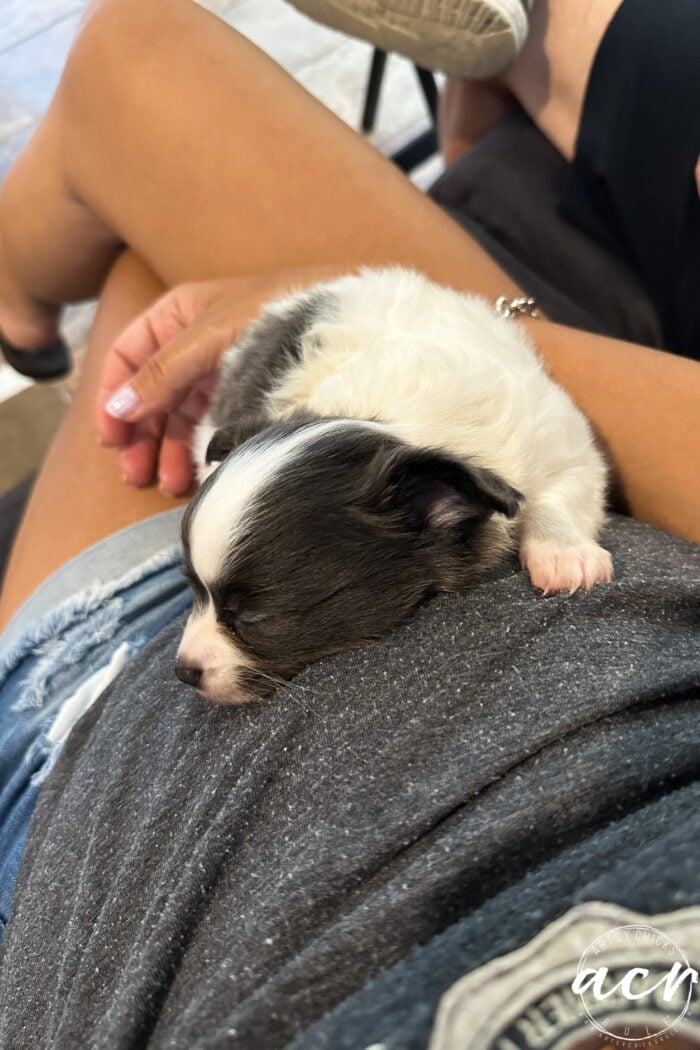 One week in and I loved her so much already.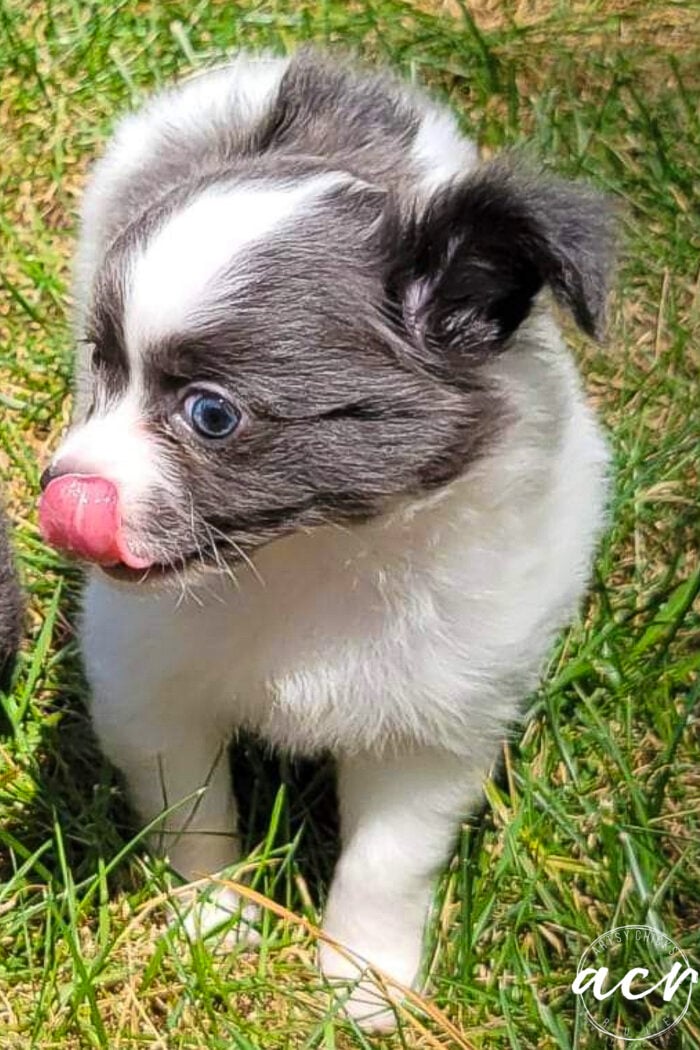 It was hard to wait four weeks to bring her home but my friend sent me photos of the puppies most days and I visited about once a week.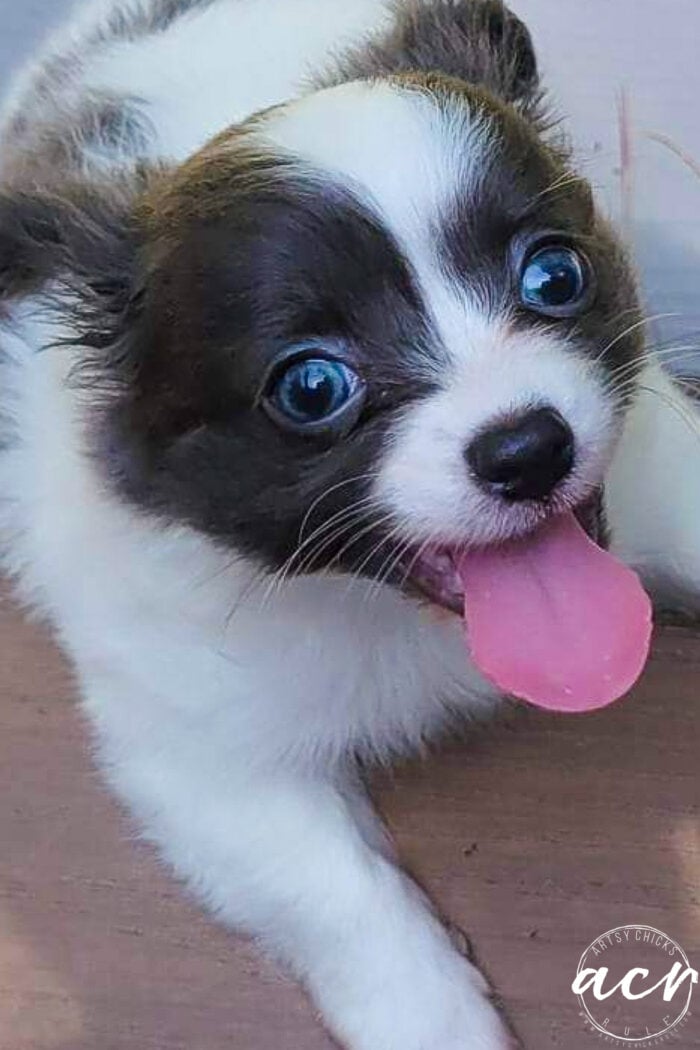 Isn't she the cutest thing ever?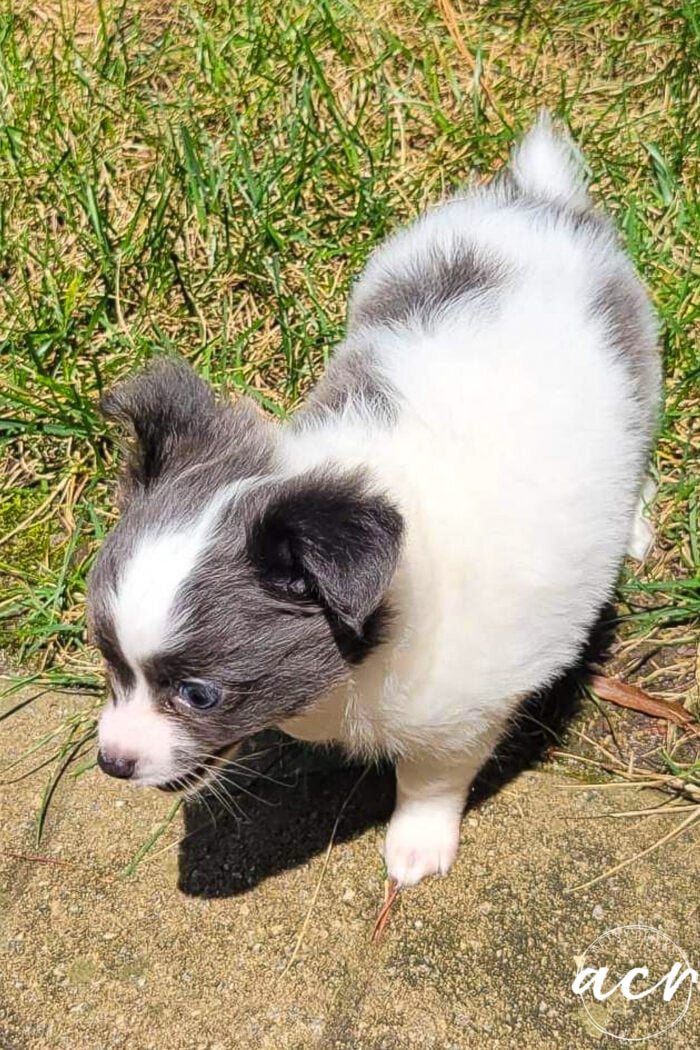 Her and her siblings a week or so ago. She is the biggest of the 3, in case you couldn't tell. lol (she's on the far right)
And look at those pretty blue eyes of hers. It's the funniest thing, her mom is gold and white and has gold-colored eyes. The black and white one on the left has dark eyes, the gray one in the middle has gray eyes and our Piper with the gray and white fur has blue. It's so wild how that is with all their eyes being 4 different colors and literally matching their coloring.
By the way, the "gray" fur is called "blue".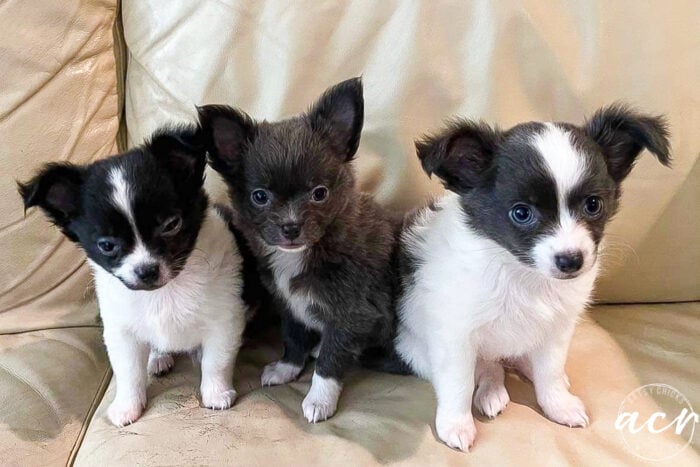 Her ears are so big they are still flopping and look twice the size of the other two.
I love the "mustache" on the black/white one and the white feet and tiny ears on the gray one. Their markings/colors are all so pretty and unique.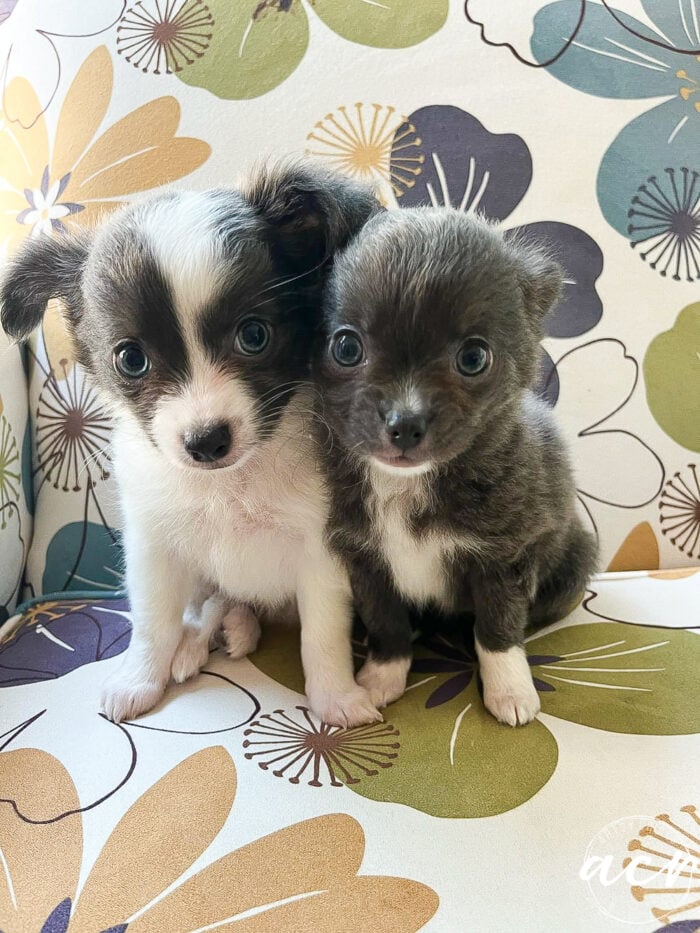 Well, that's it for now. I just wanted to share her with you. I know how much you guys love Ryder! Now you will be seeing two pups in my photos around here.
I can't wait for them to get to know each other. Right now he is pretty much uninterested in her.
He only wants what she's eating and her toys and that's about it!! lol
But I know once she gets used to us and grows a bit more, (meaning, she is bouncing all around and barking at him heh heh) that he will have lots of fun with her. And you just know she is going to be the boss, right?? The new little princess, for sure!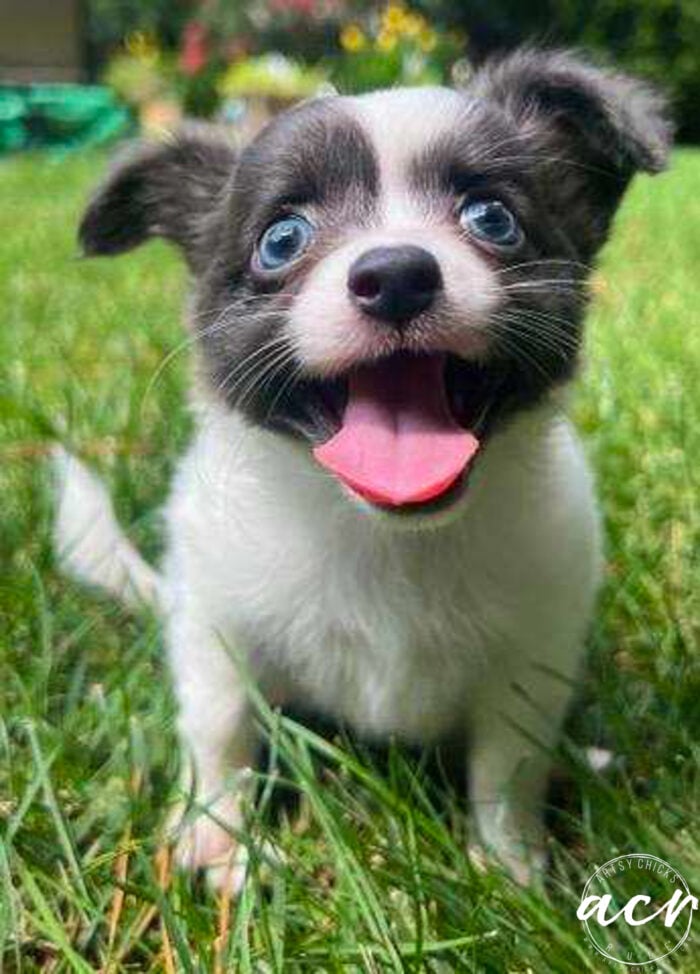 Stay tuned for more.
I'll be updating about her often (with pics) I am sure!
Oh, and I'll be back later this week with a screened porch/patio update. I've done a few things, added a few things, etc.
Just thought I'd share the updates with you!
Have a wonderful week!
xoxo