Affordable Rustic Laminate Flooring (the big reveal!)
This post may contain affiliate links. Please see disclosures here.
I'm so thrilled to be partnering with Select Surfaces, who provided the beautiful, rustic laminate flooring, and excited to finally be able to share this affordable option with you today.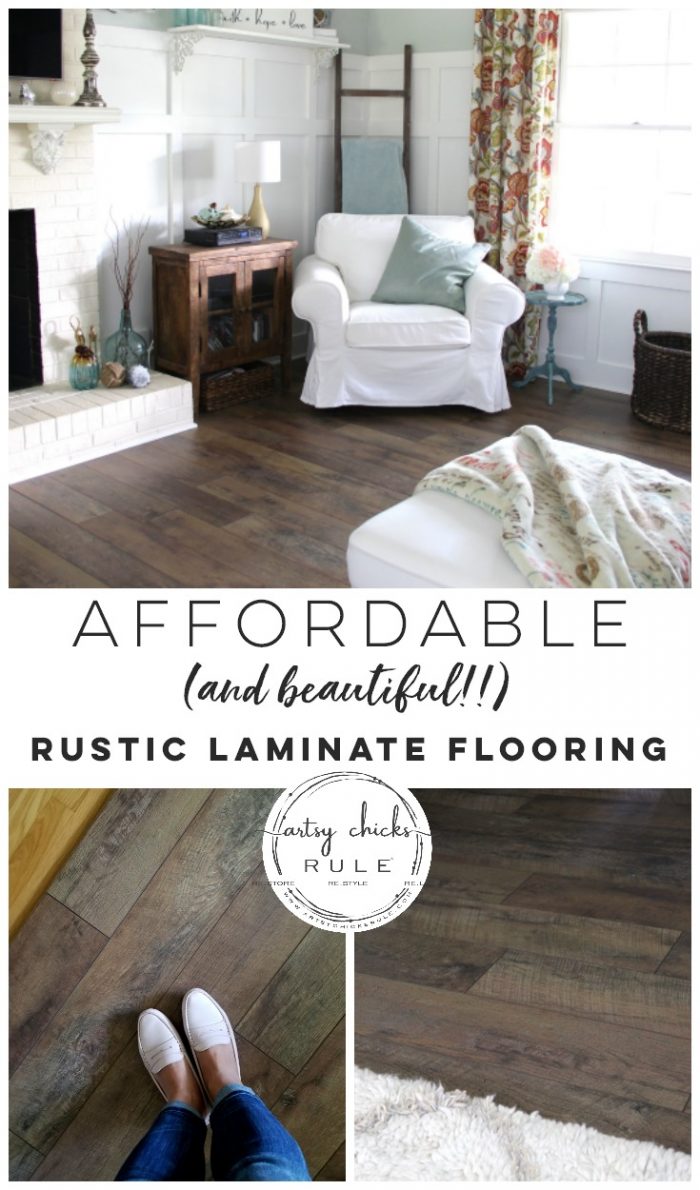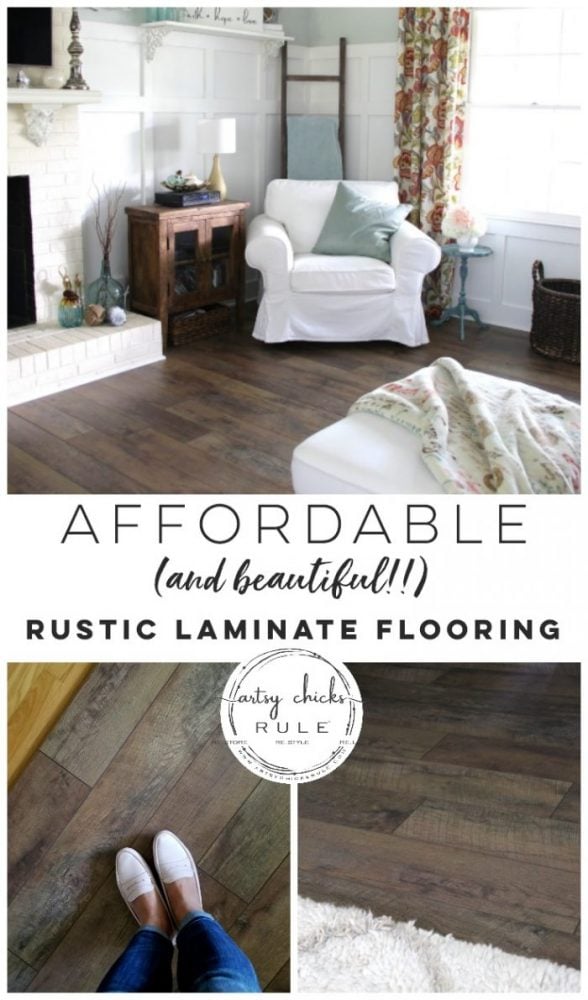 You guys.
Today is the day.
…..finally…..
I'm sharing our new floors!!!
I know, I've talked and talked and shared snippets and sneak peeks here and on Instagram and you probably thought the day was never coming! ;)
But it is, and it's TODAY!
As I mentioned above, I partnered with Select Surfaces who so graciously supplied this wonderful flooring for our big home remodel/makeover.
Select Surfaces carries some of the most beautiful laminate flooring and it's available at Sam's Club. Win!
Did I mention this flooring is less than $2 a square foot? Yep!
So not only is it beautiful, but it's affordable too.
Let's talk about this rustic laminate flooring.
Here's the 3 choices I narrowed it down to….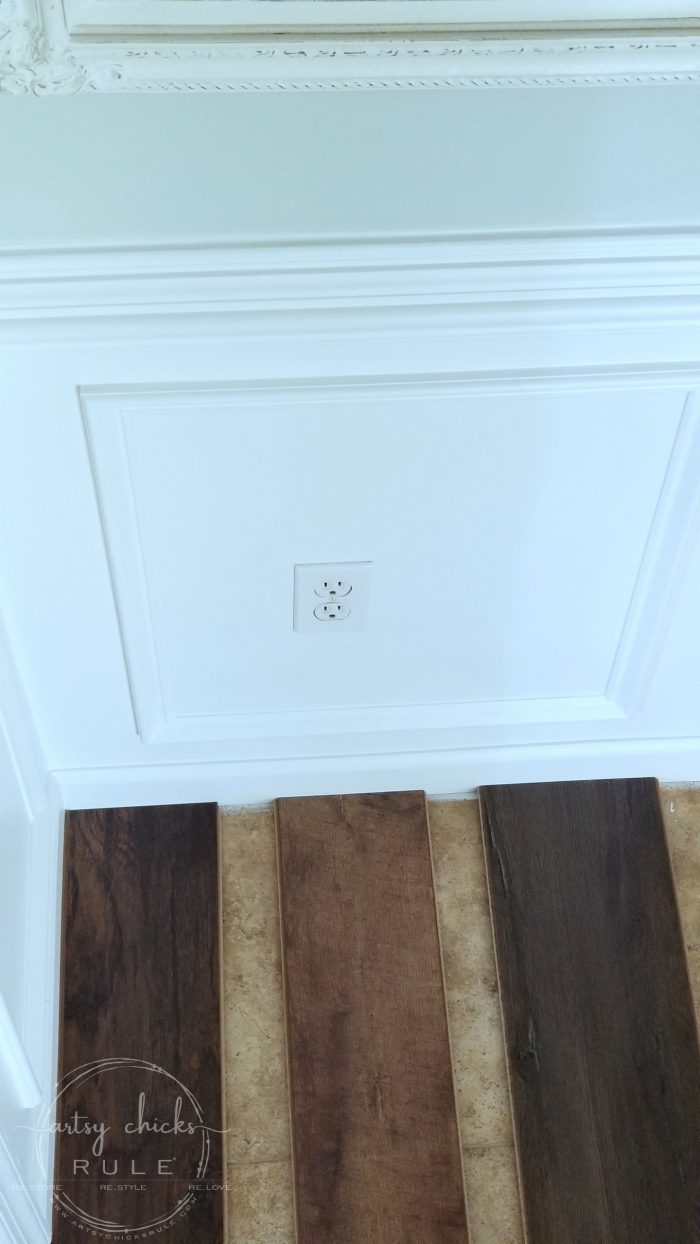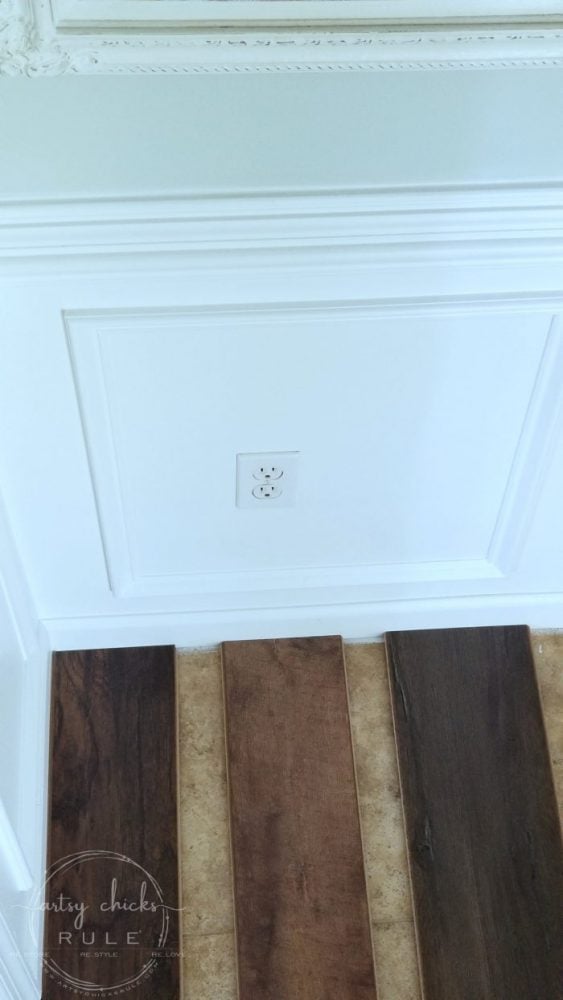 Woodland Hickory on the left, Driftwood in the middle and Urbanwood on the right.
This was a hard choice, y'all, they were ALL beautiful.
I loved something about each one.
I especially like Driftwood and Woodland Hickory though.
I laid out some of the planks of each to get a feel for them….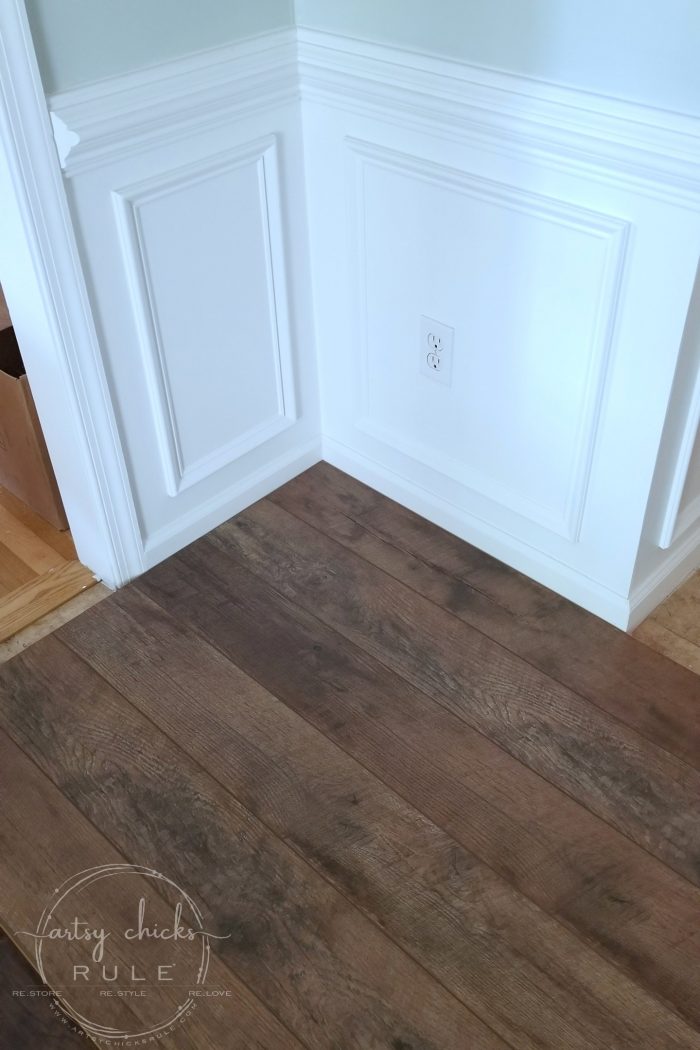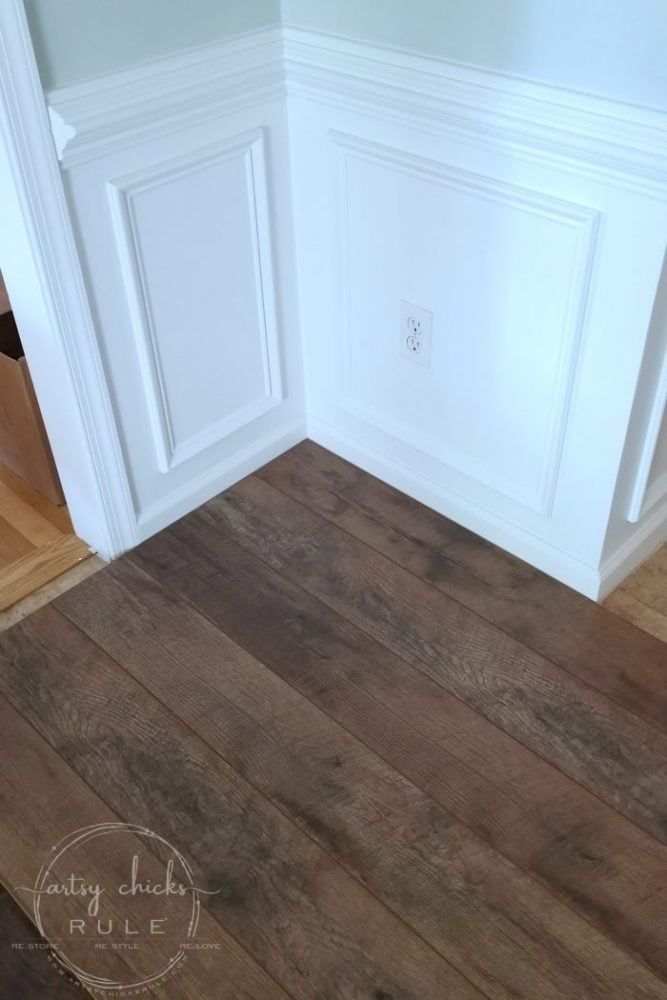 This one is Driftwood.
And now Woodland Hickory….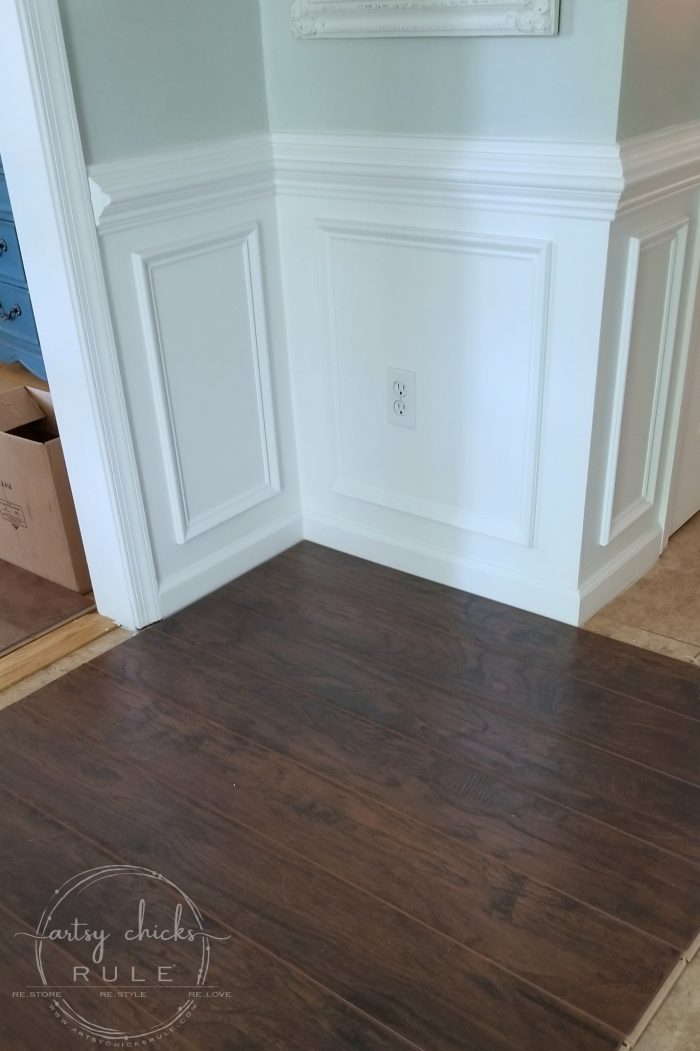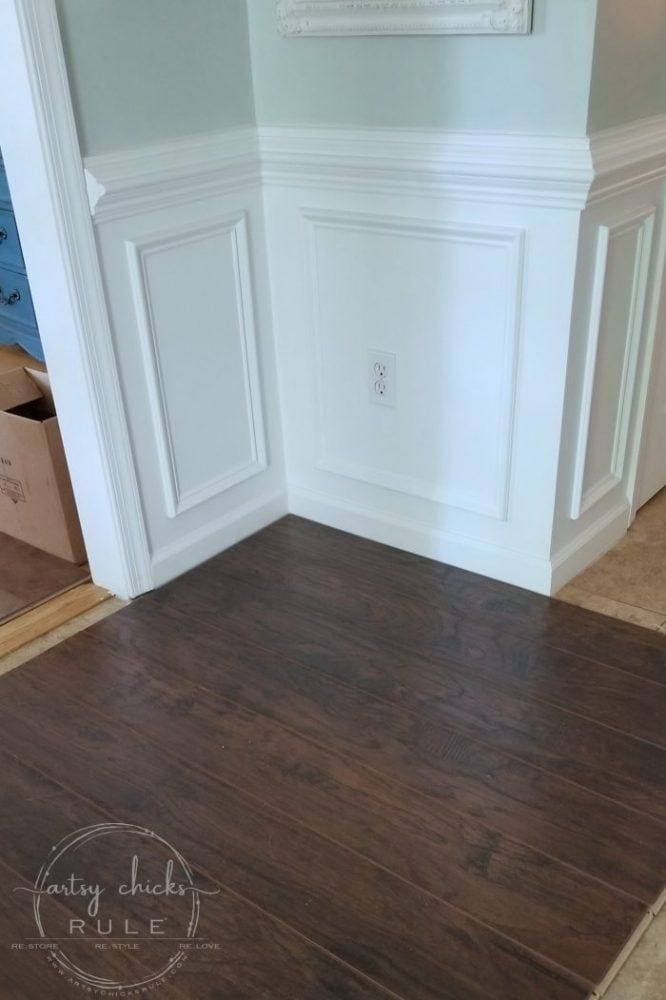 I really loved the Woodland Hickory and wanted that dark dramatic look.
But I was afraid it might be a bit too dark for my decor/style and my Ryder's blonde hair. ;)
You guys were great at helping me decide over on Instagram! Lots of you mentioned the dark floors and white dog hair and how it shows so much.
I can tell you, not much is noticeable on the Driftwood so it was the right choice!
The Driftwood really is the perfect balance. It's dark enough to give me the look I was after but with the variations in the design, doesn't show all the stuff! ;)
It gives more of a relaxed feel and I just adore the colors in this "wood"!
So, as much as I loved that Woodland Hickory, Driftwood ended up being the winner.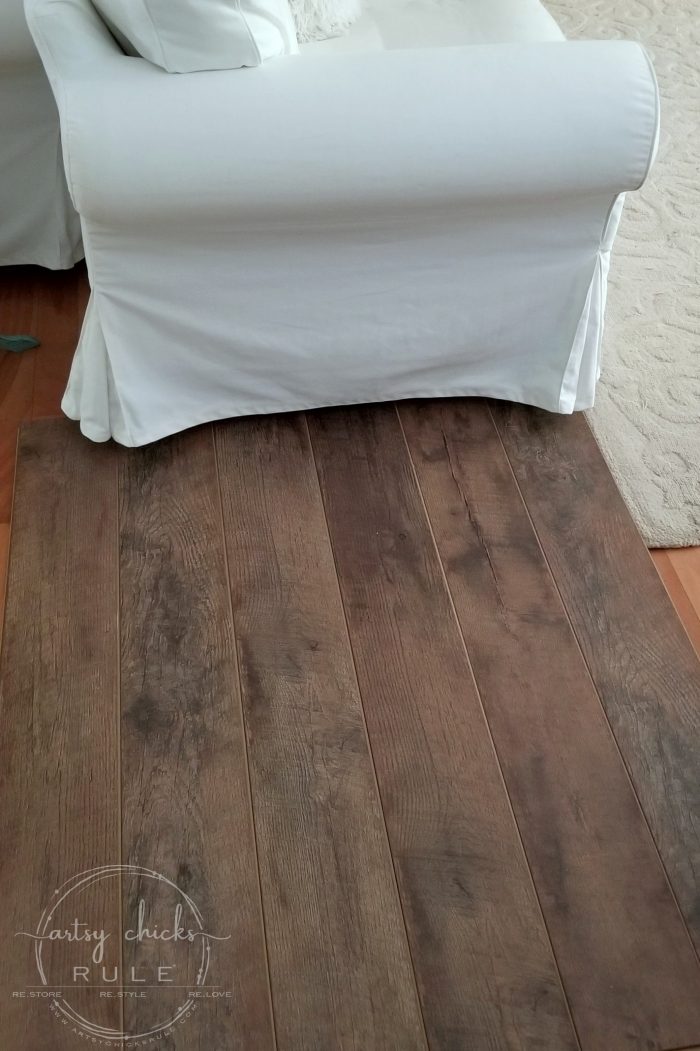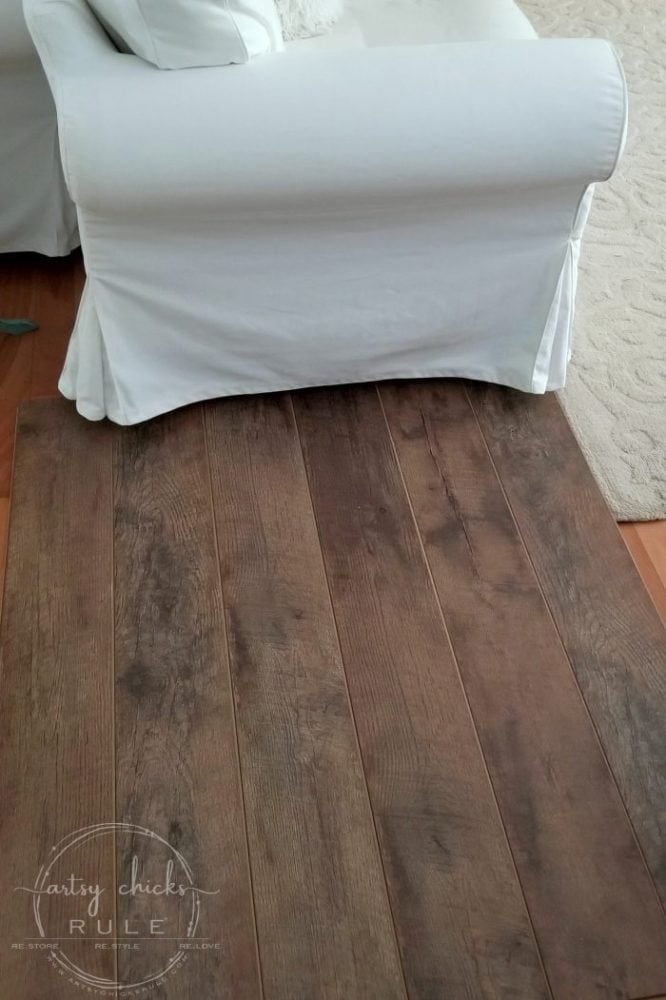 I thought it fit the style, design and feel of our home and decor more perfectly.
And doesn't it look so realistic? Yesss.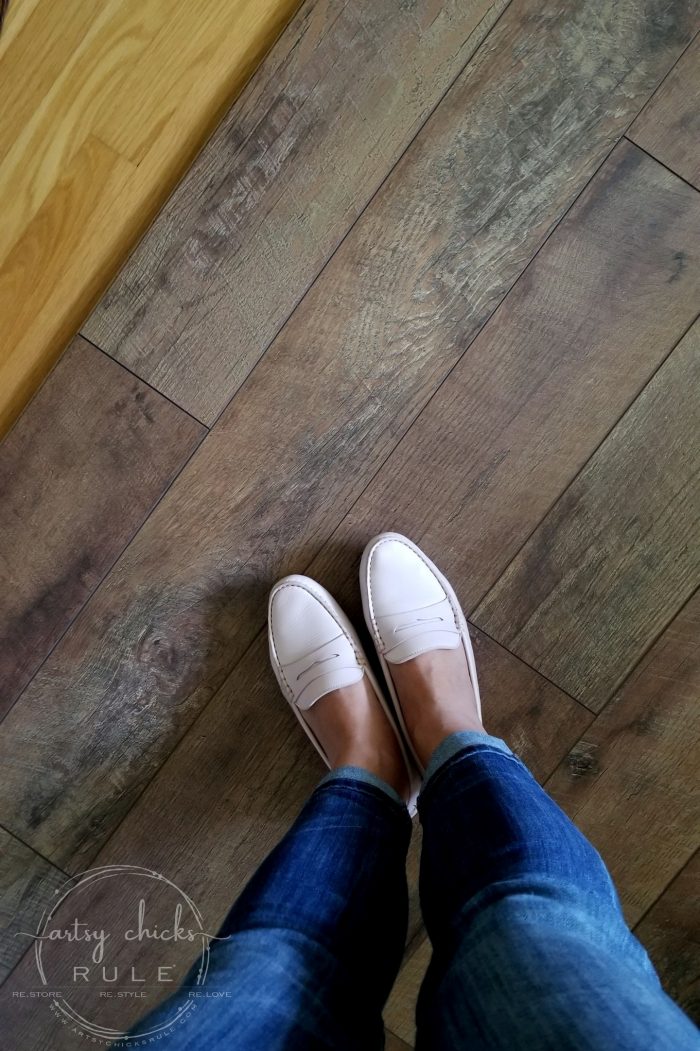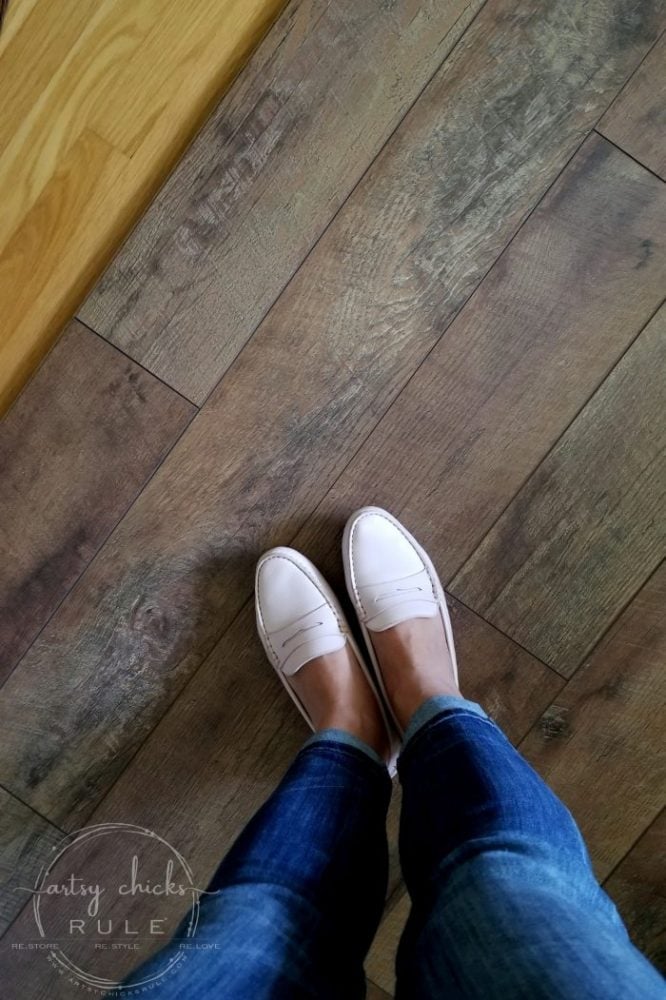 Even Ryder thought it was a winner…. (haha)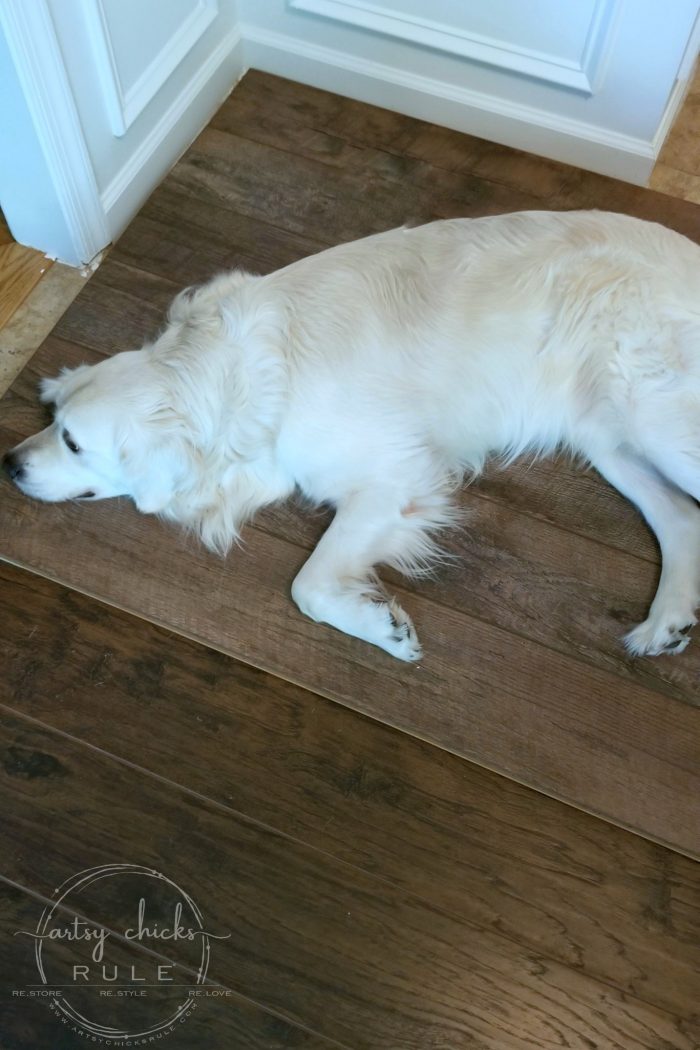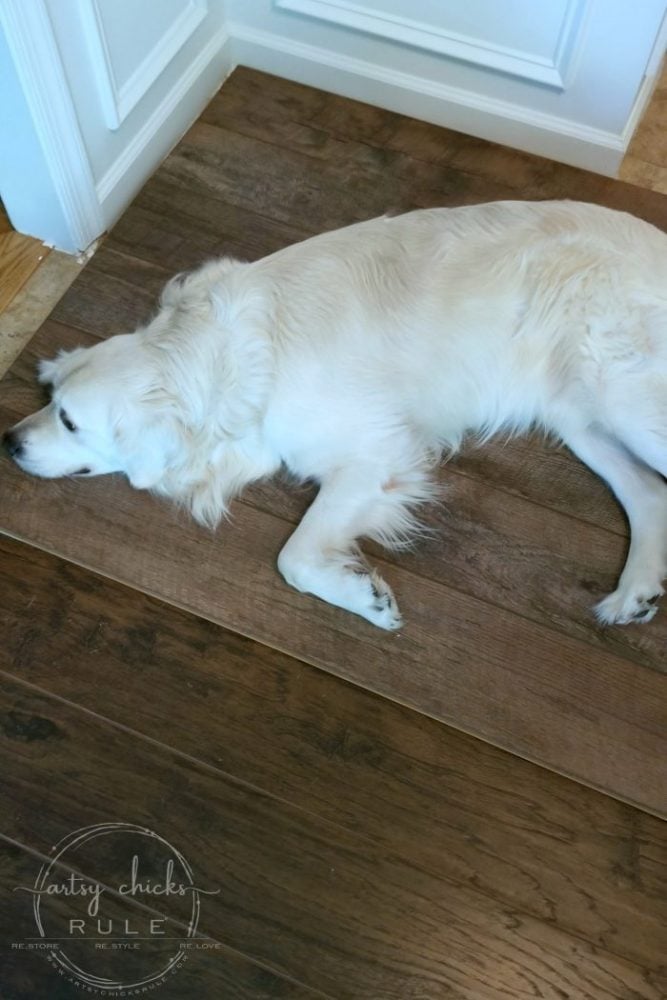 …he claimed the Driftwood over Woodland Hickory too. (although, you can see how nice that one is too)
And with a name like "Driftwood", how can it not be a winner in this coastal styled home?! ;)
You really can't go wrong with laminate. It's hard and durable and with a 65 pound Golden Retriever, we need that in this home.
This flooring is suitable for heavy residential traffic and light commercial traffic.
Not only that, but it's also backed by their lifetime residential warranty which is a plus too!
Unfortunately, the other (engineered wood) flooring we installed some years back had gotten very scratched up over the years. It just did not hold up well to the pups.
Not to mention it was quite orange for our liking. When we installed it, we were trying to match the existing solid wood flooring original to the house that was also somewhat orange-ish in color. (you can see it below)
At one point, we actually went to the trouble of moving everything out of both of those rooms, sanded and re-polyed the solid hardwood floors ourselves.
They looked great…. for about a year. Then they yellowed again. (we even used a non yellowing, water based poly)
I think it's just the nature of that wood.
That is to say, I was never thrilled with either room of wood flooring we had.
SO, this go round, we knew we wanted a little more control over that.
That's where Select Surfaces and this rustic laminate flooring comes into play.
They have such a great selection of wood colors, designs and styles to please any eye.
I can honestly say I am beyond thrilled with this floor, and with it's Speedloc™ installation system, installing it was a breeze.
It's durable and gorgeous.
Time to see the reveal of this beautiful rustic laminate flooring! :)
But first, let's take a look at where we started…. (sort of, you'd have to go back to this old post and this one to see where we really started in this house. ;) )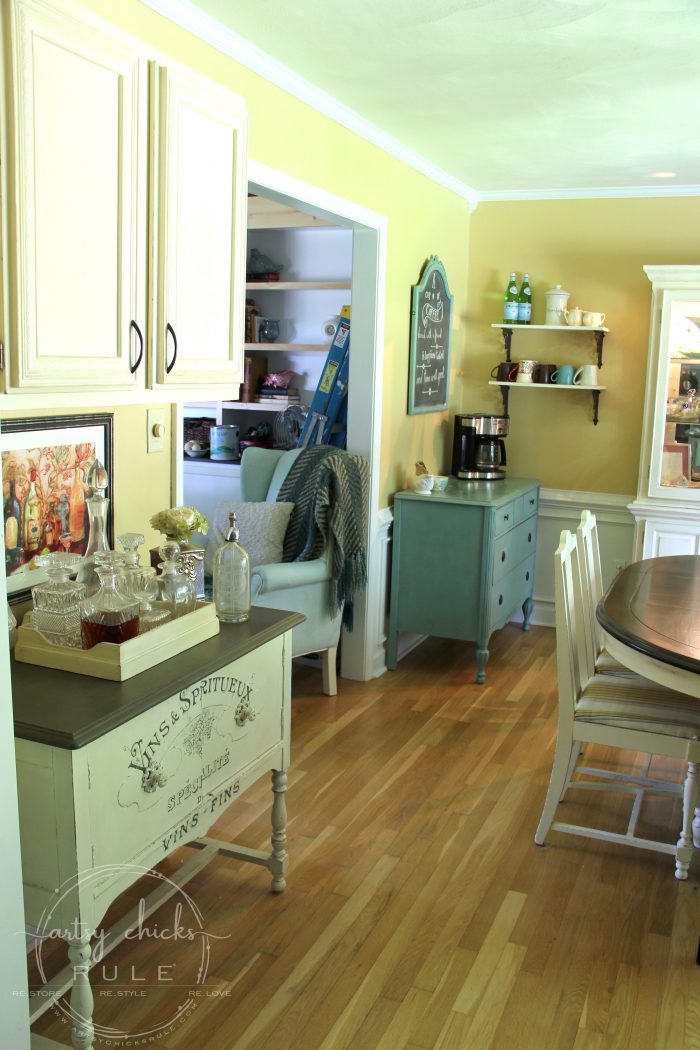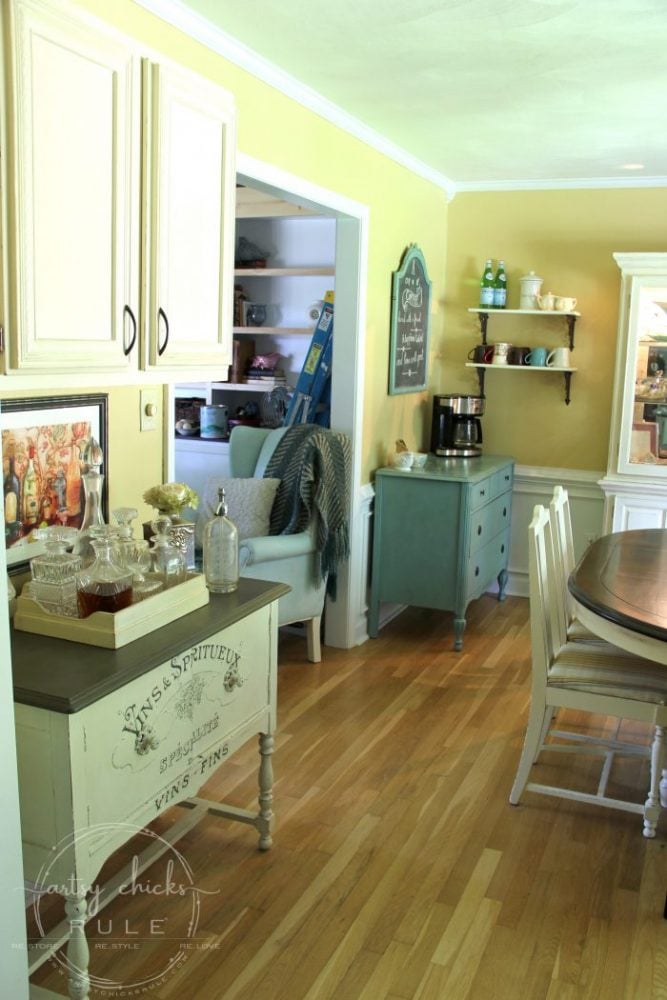 And the same little corner where the coffee bar was, now….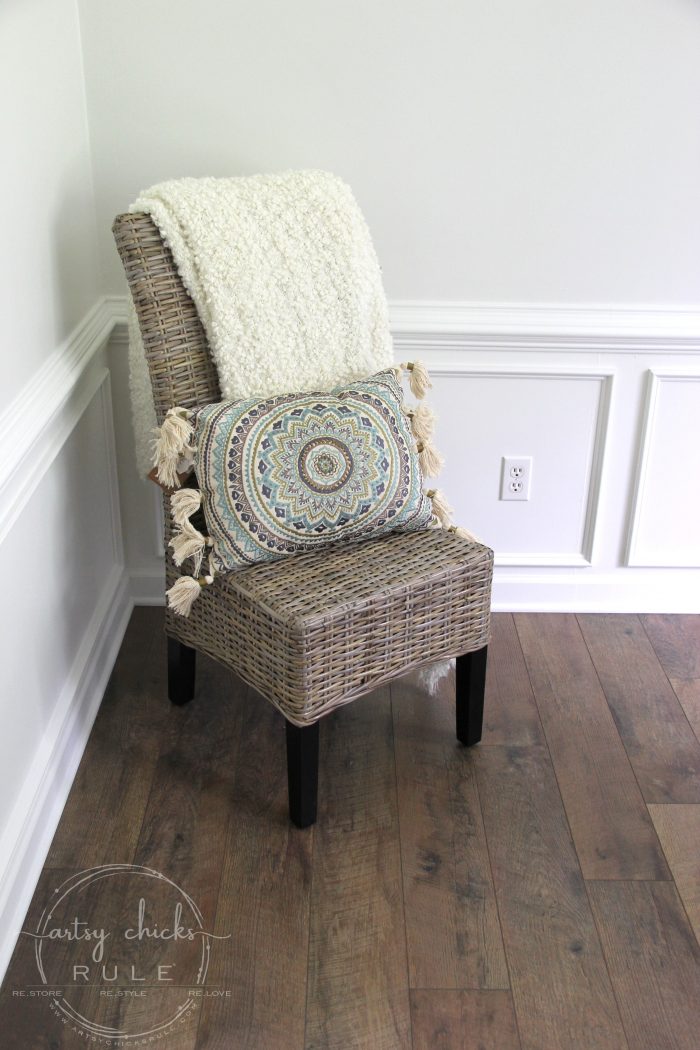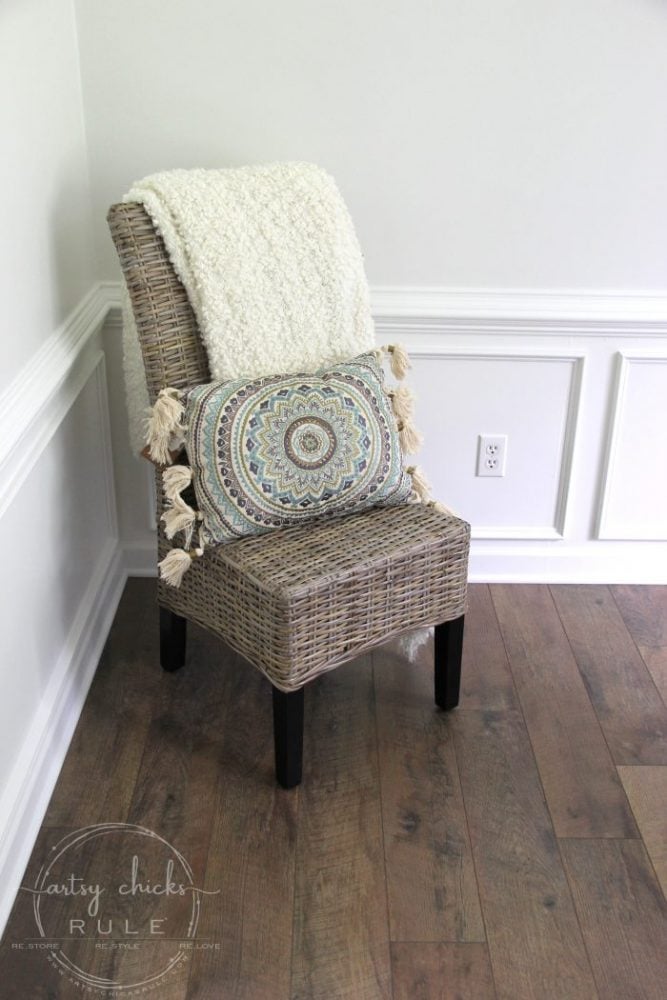 Before….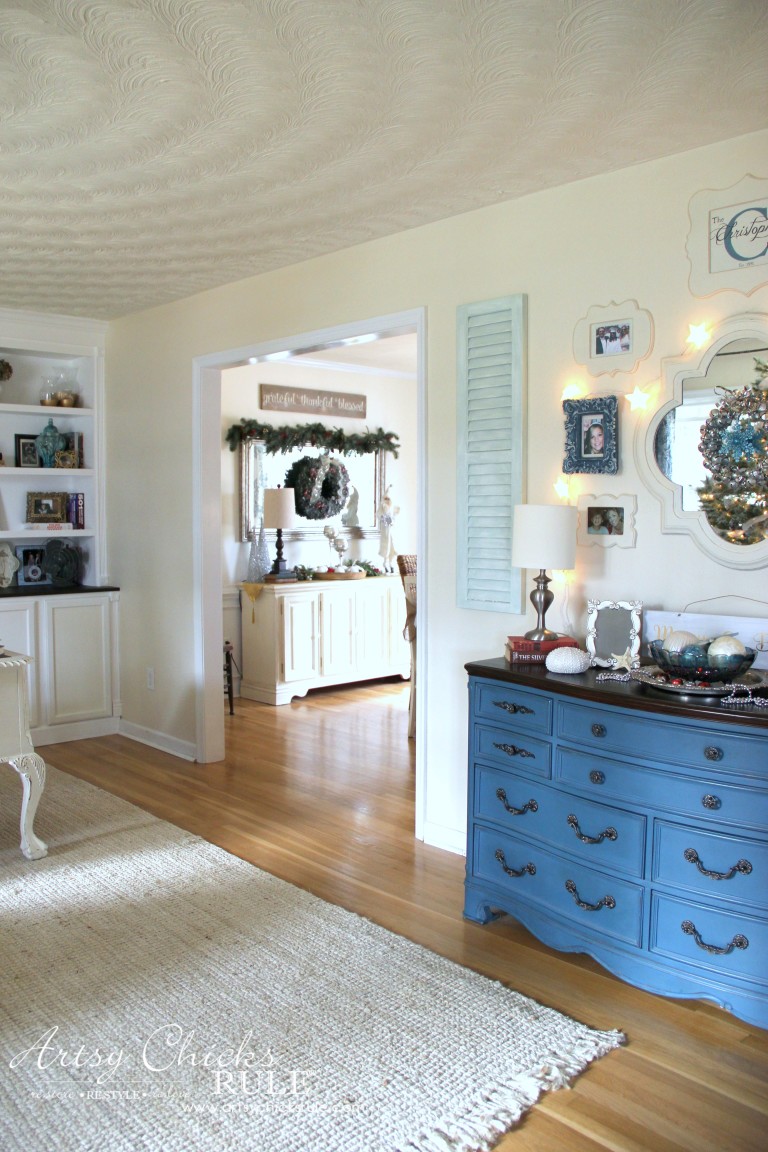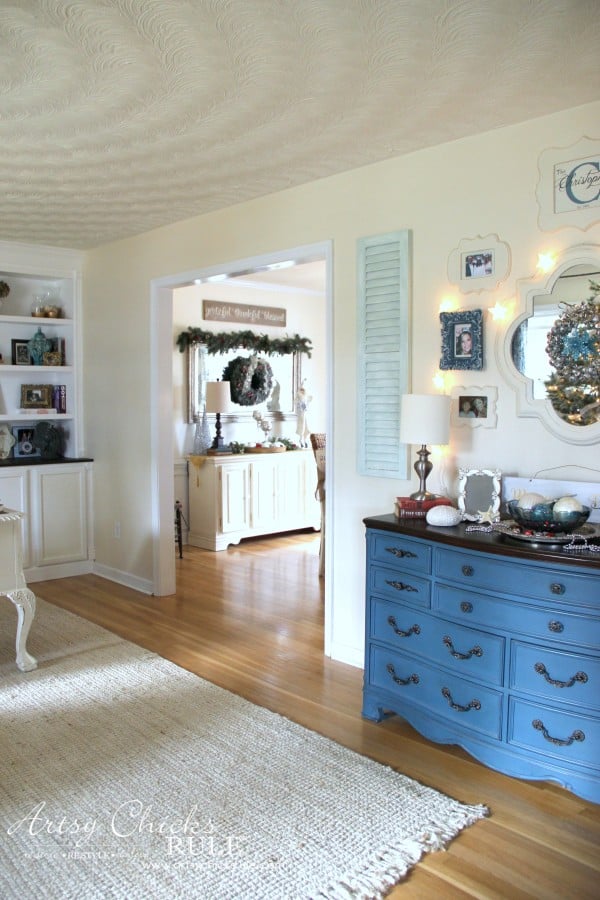 And now….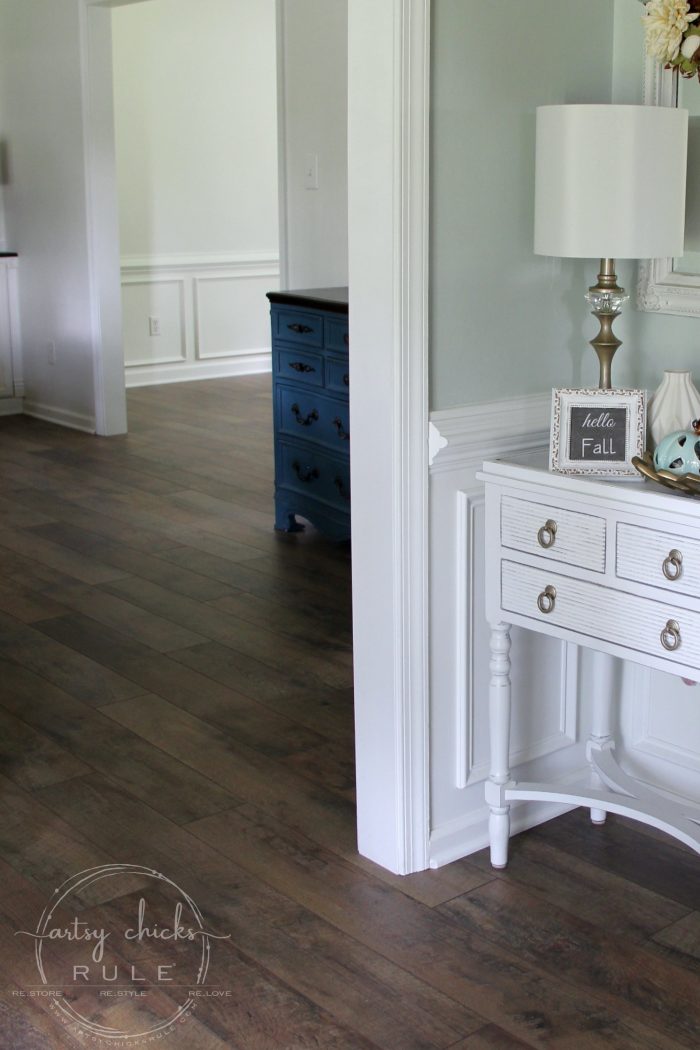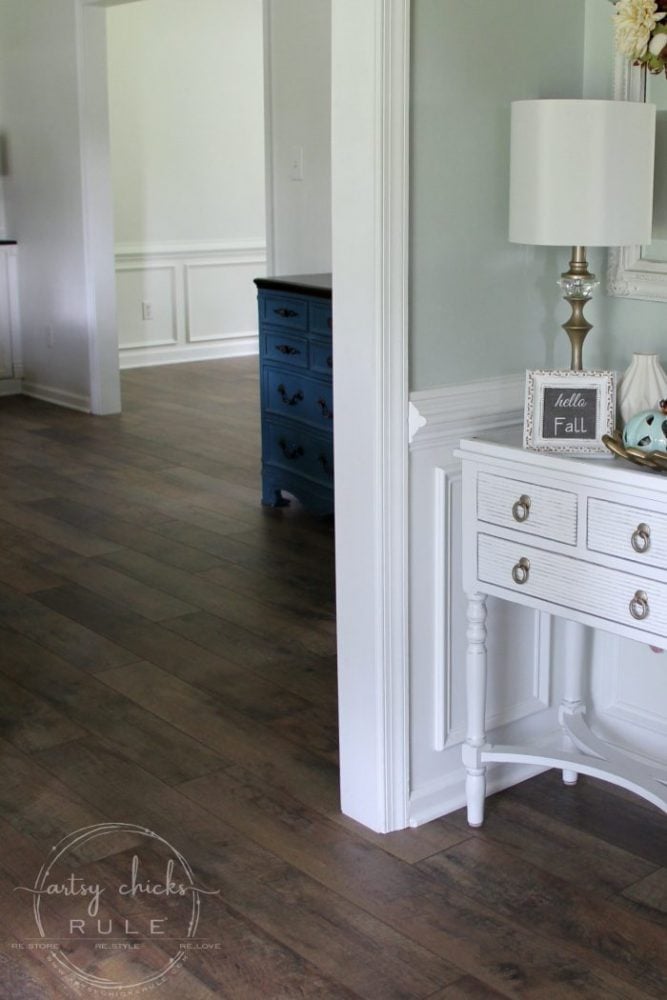 Before… (and 2 of the 3 flooring styles we had previously)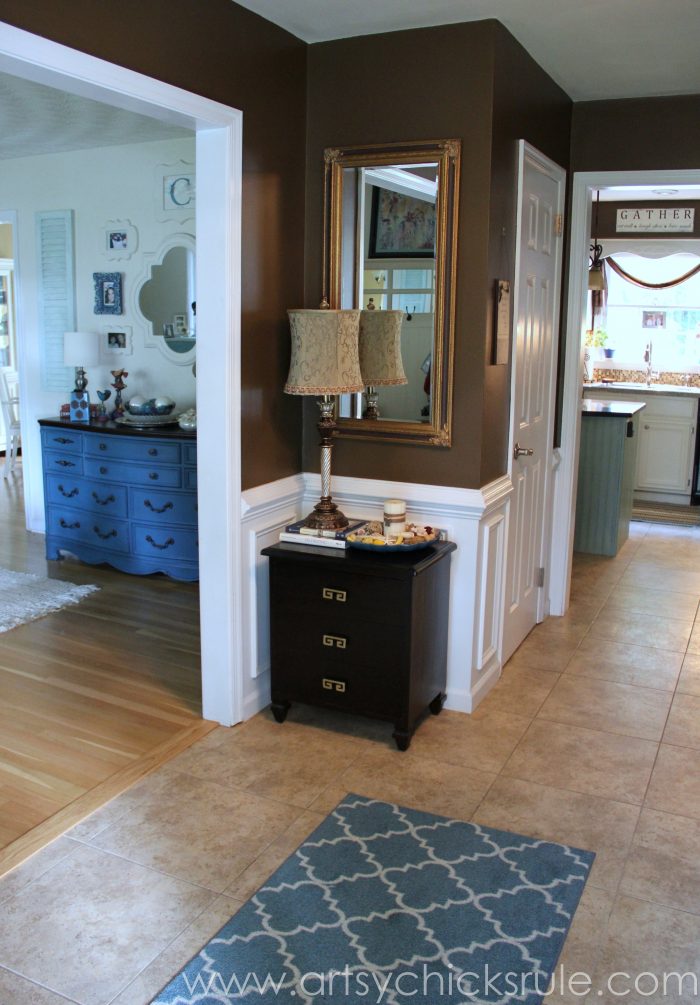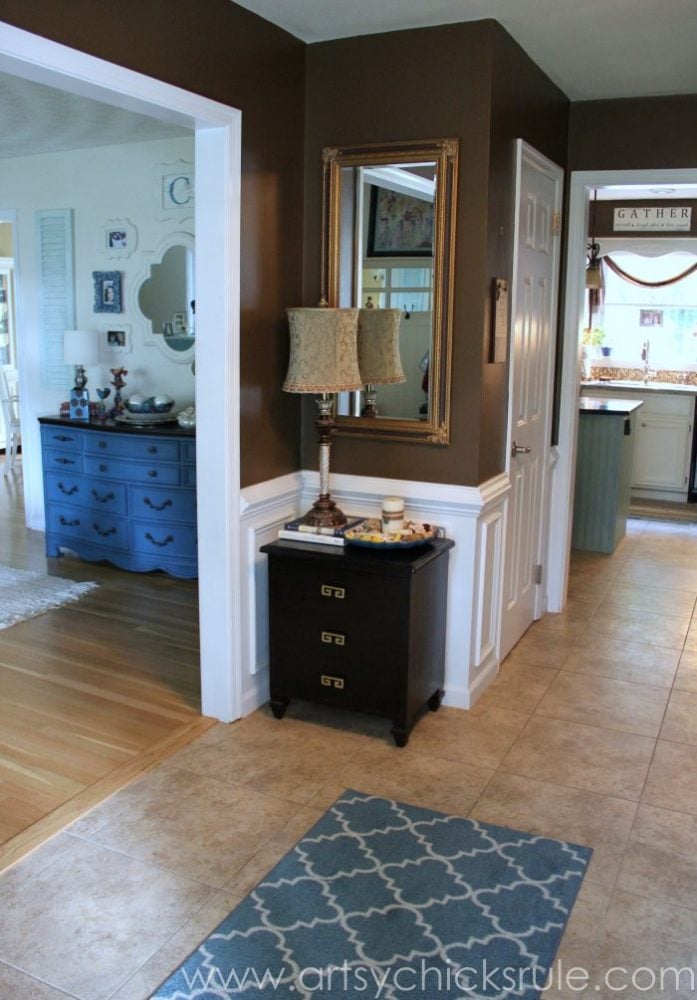 After….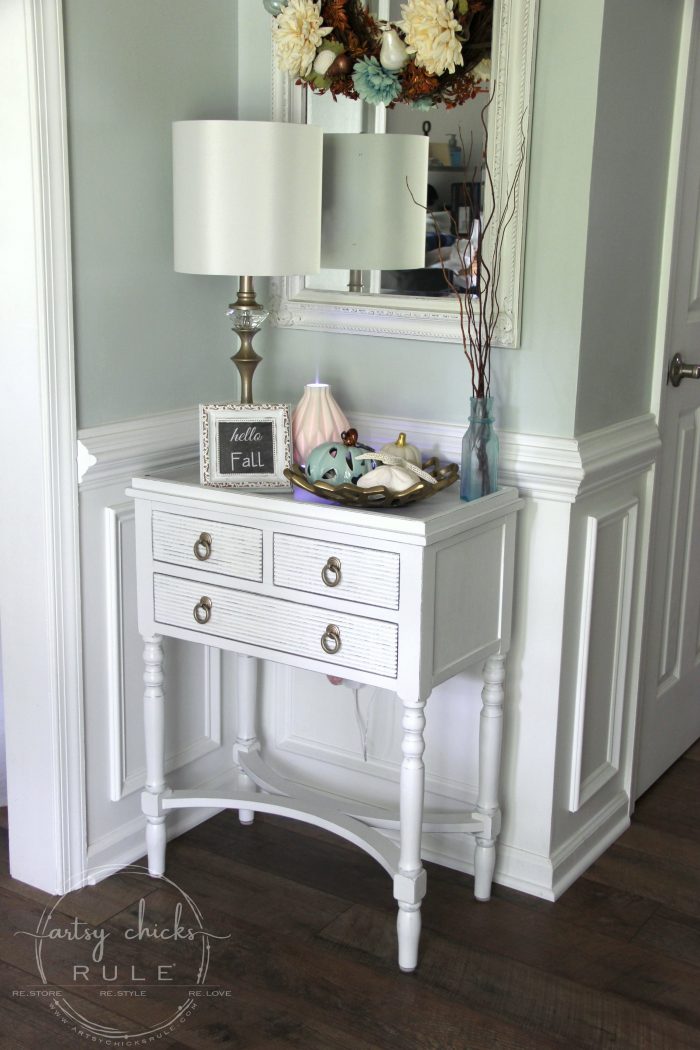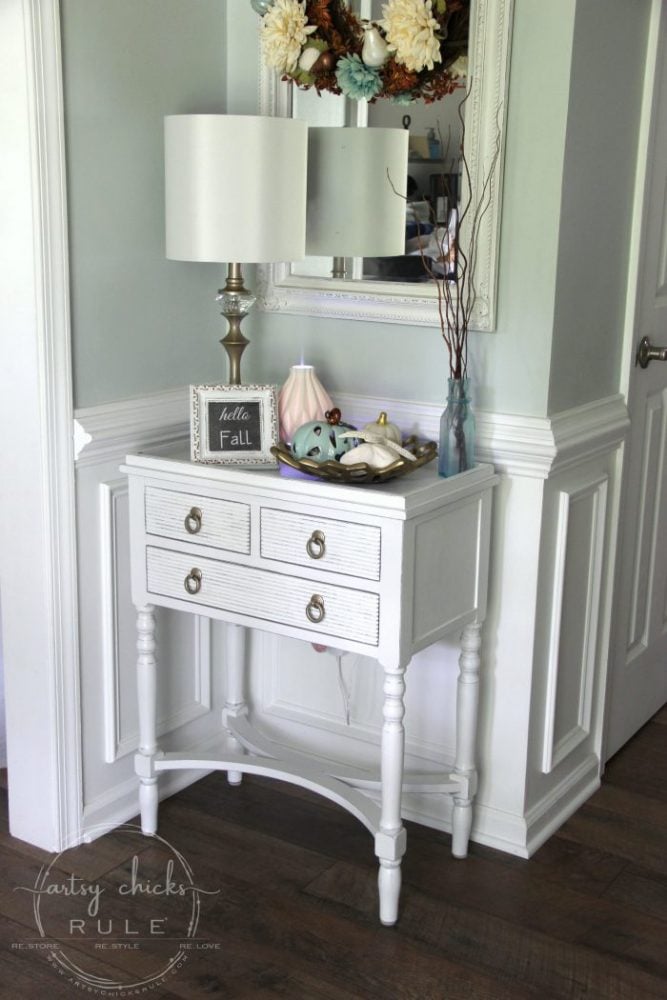 Before…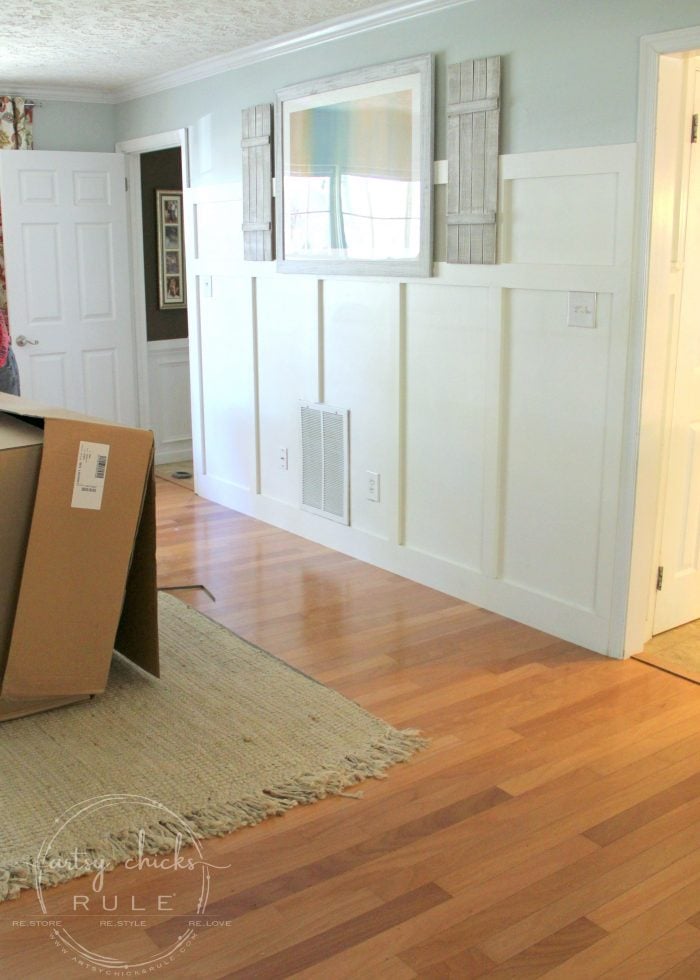 After…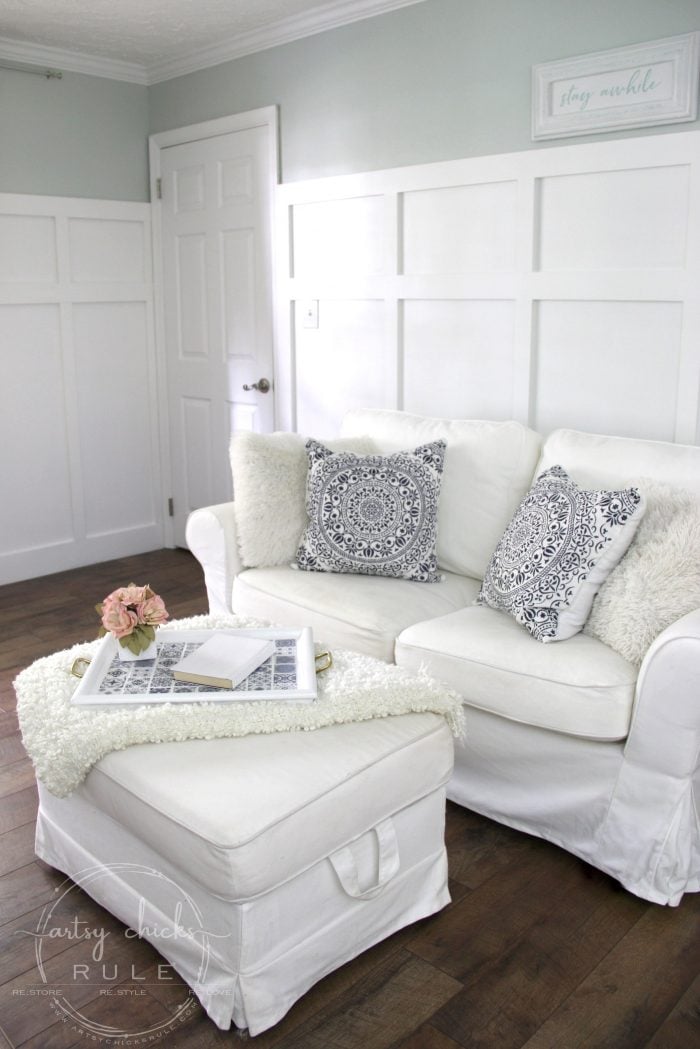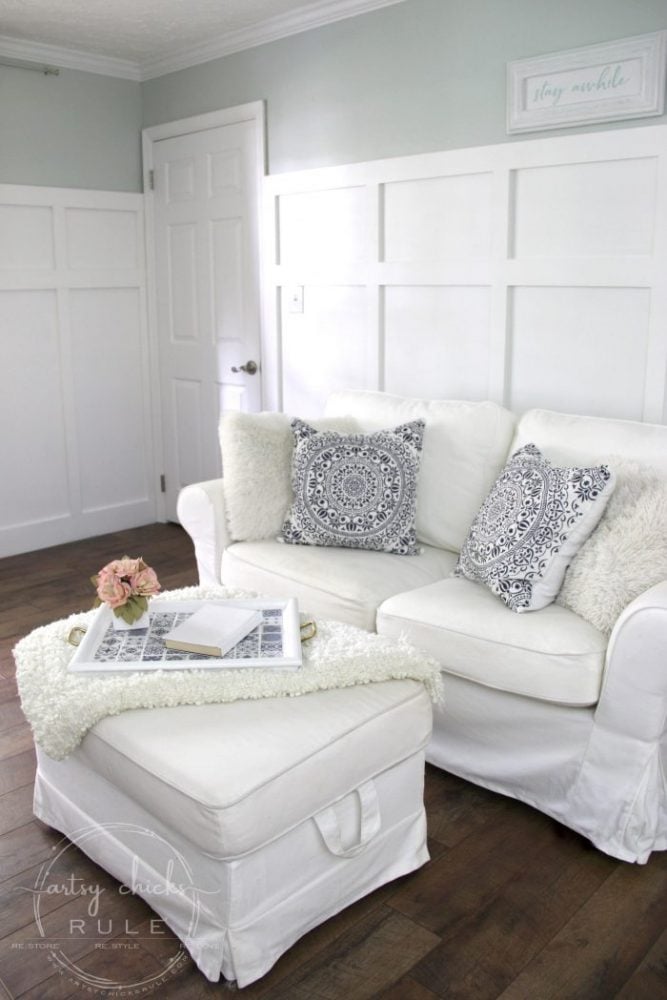 I LOVE the contrast of the darker floors and the white furniture and walls.
The rustic design is perfect without being too rustic.
Before…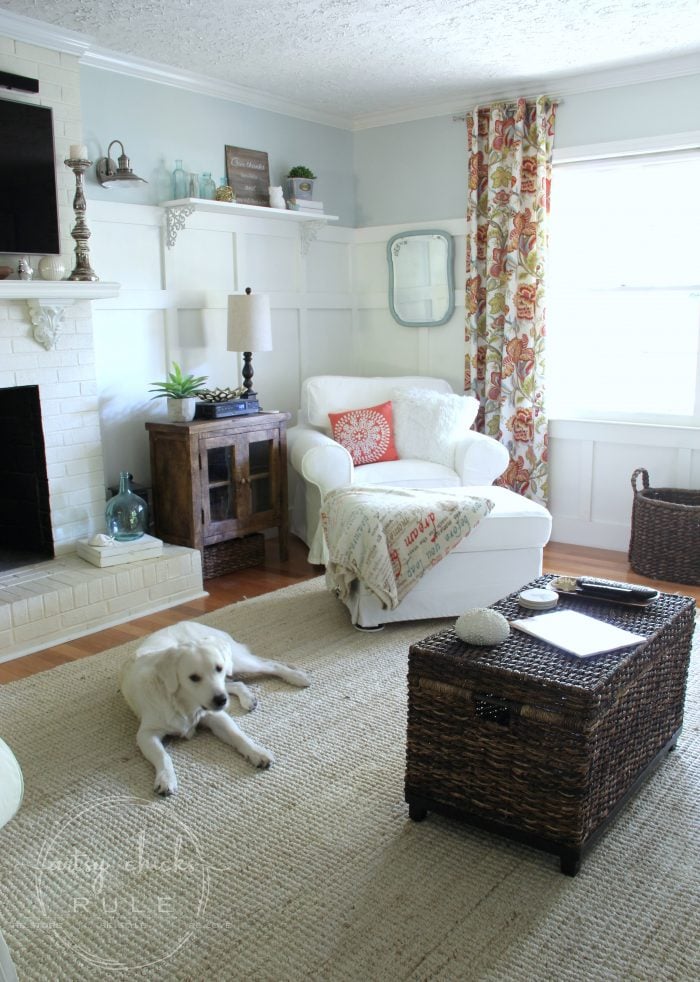 After…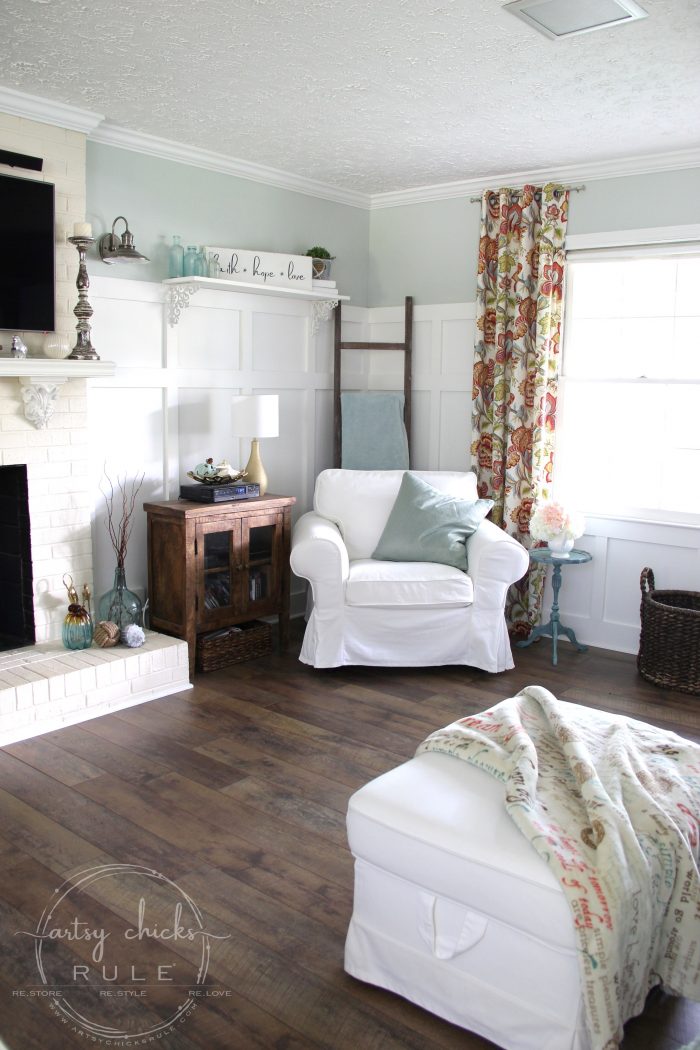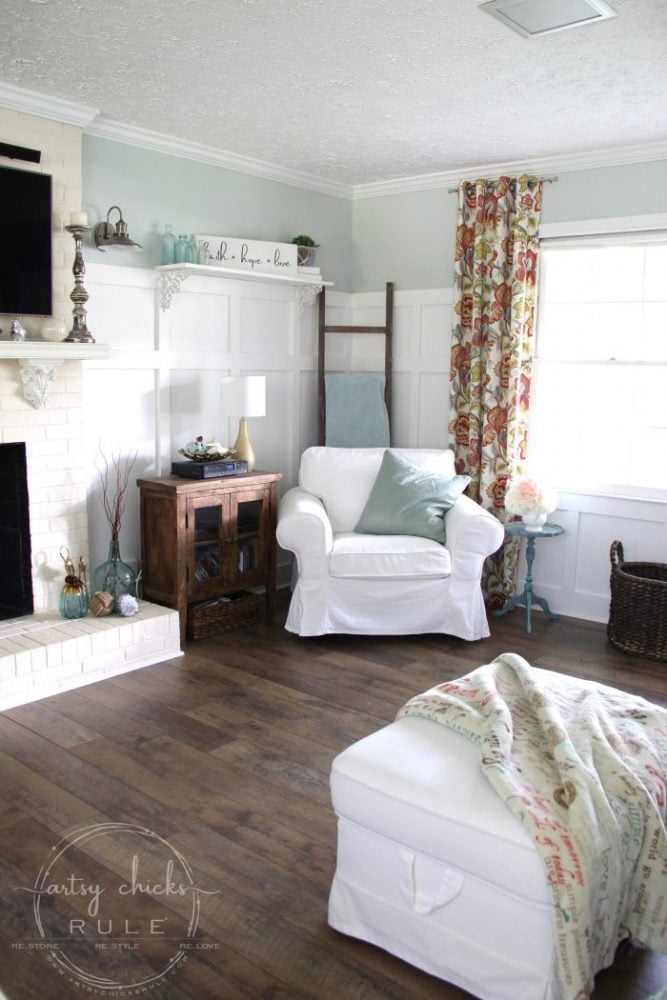 Ryder loves it. :)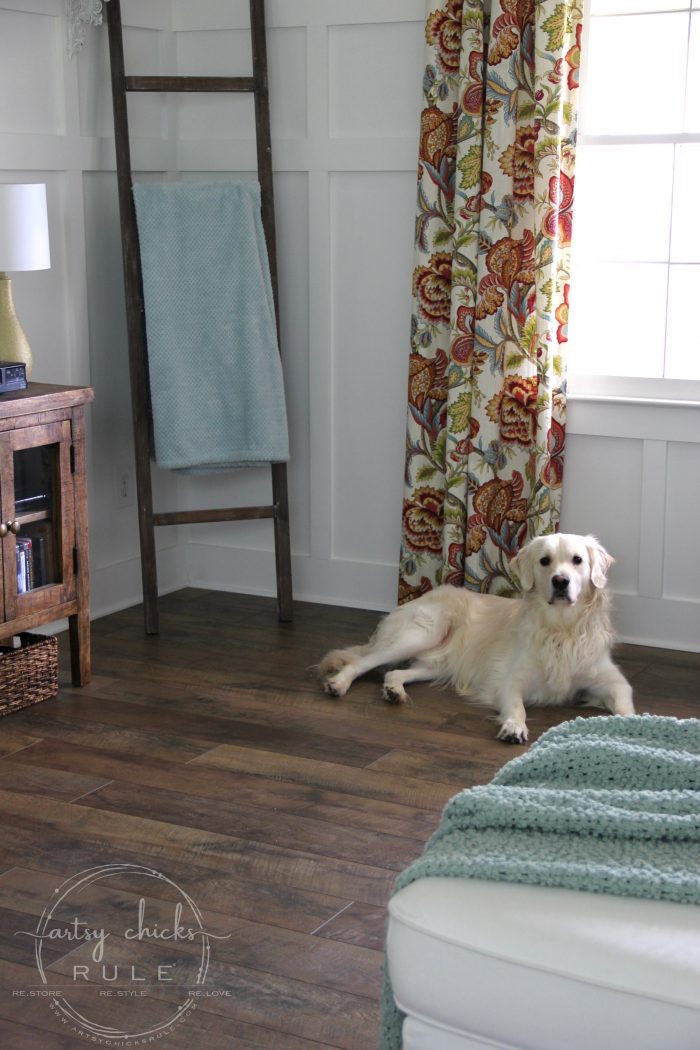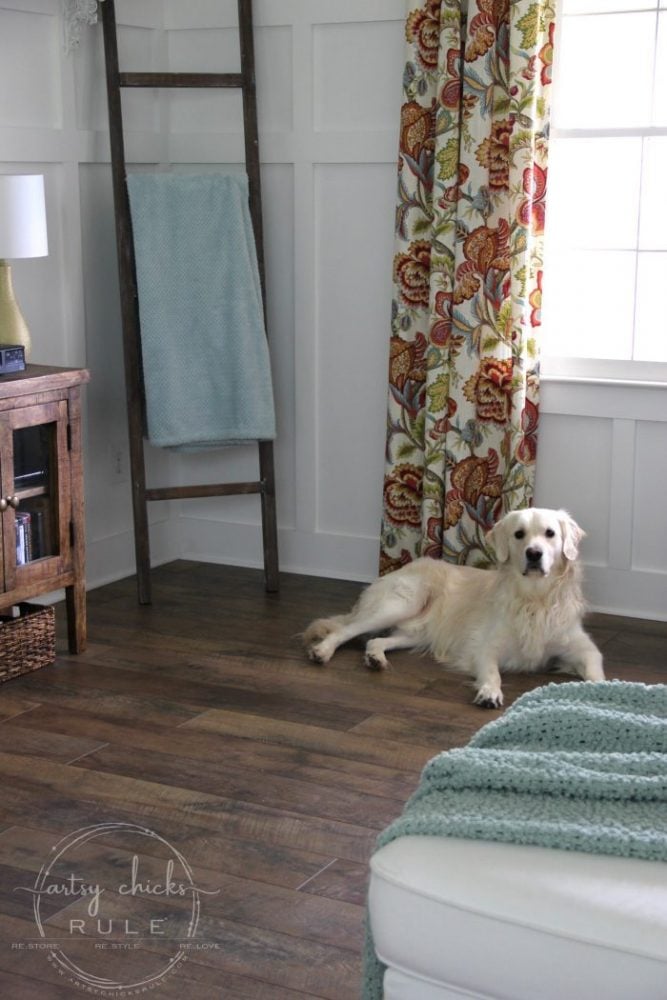 I said "treat" and he perked up…haha…and yep, he got one right after this shot.
He loves his treats!! ;)
One of the many things I love about this floor is the very realistic wood grain….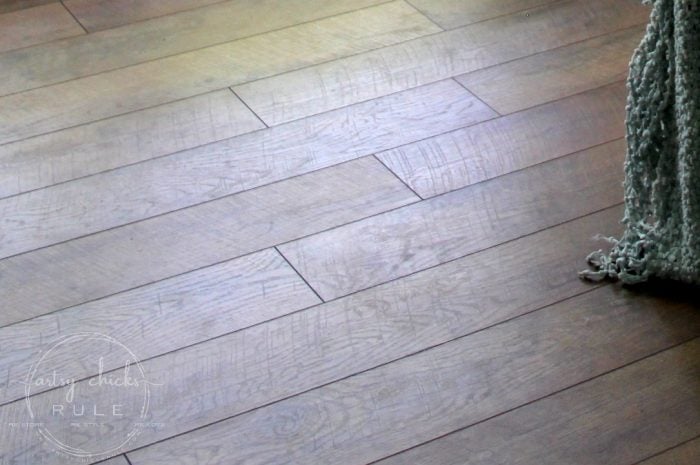 Up close…..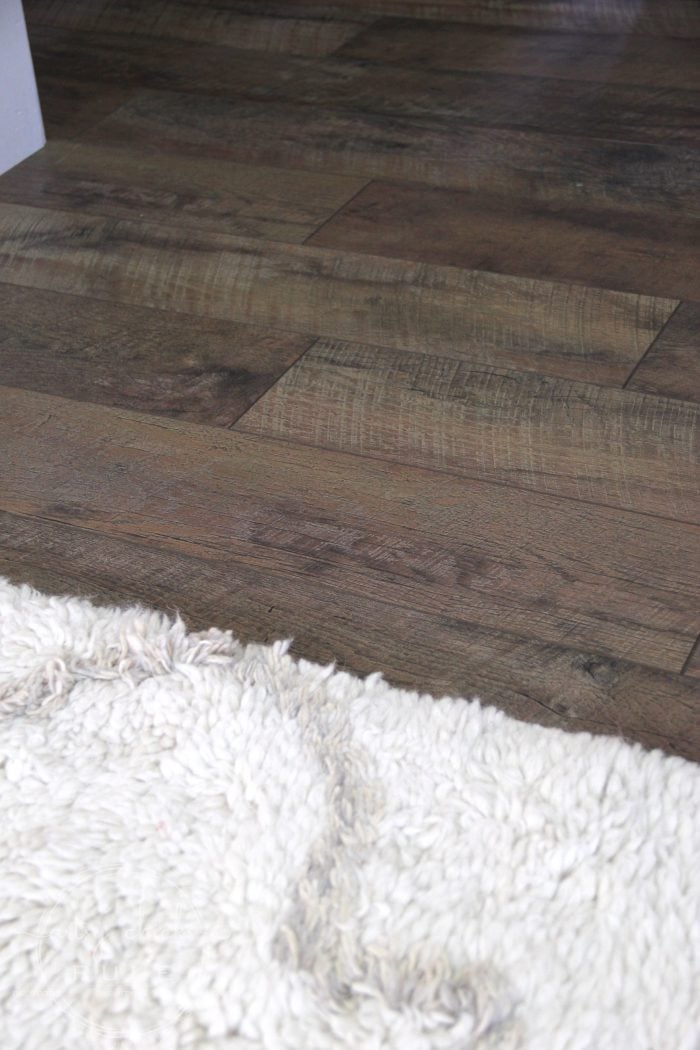 I can't show you all the rooms …. just yet. :) We're getting there.
I can't wait to reveal what I'm doing with 2 of them. Such a tease I am, I know! ;)
This has been a big undertaking for us but we are always game. We've been DIYing our way through this old home of ours for over 14 years now.
And as you guys know, we also demo'd our entire kitchen and replaced it with all new, but the one thing that made the most impact?
This floor!
Switching out the 3 different types of flooring we had going on in here, which left the entire space feeling disjointed, was a game changer.
Don't get me wrong, the kitchen is ahhhmazing and is probably my favorite room in the house now, but this floor, it changed the look and feel of everything.
Between it and the kitchen, I feel like I'm living in a brand new house! :)
And I'm happy as can be with it all. It's been a long time coming.
Guess we may stay here a few more years! ;)
Here's a few more DIY home improvement projects we've done:
Be sure to PIN this to save this very affordable, rustic laminate flooring option!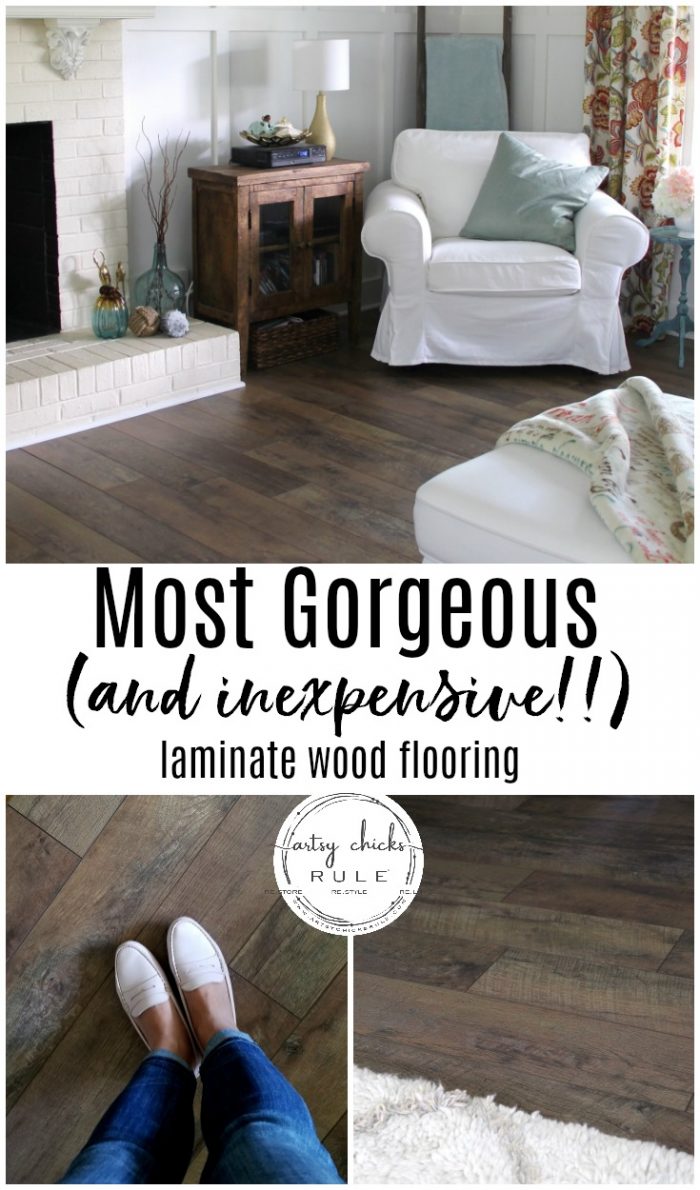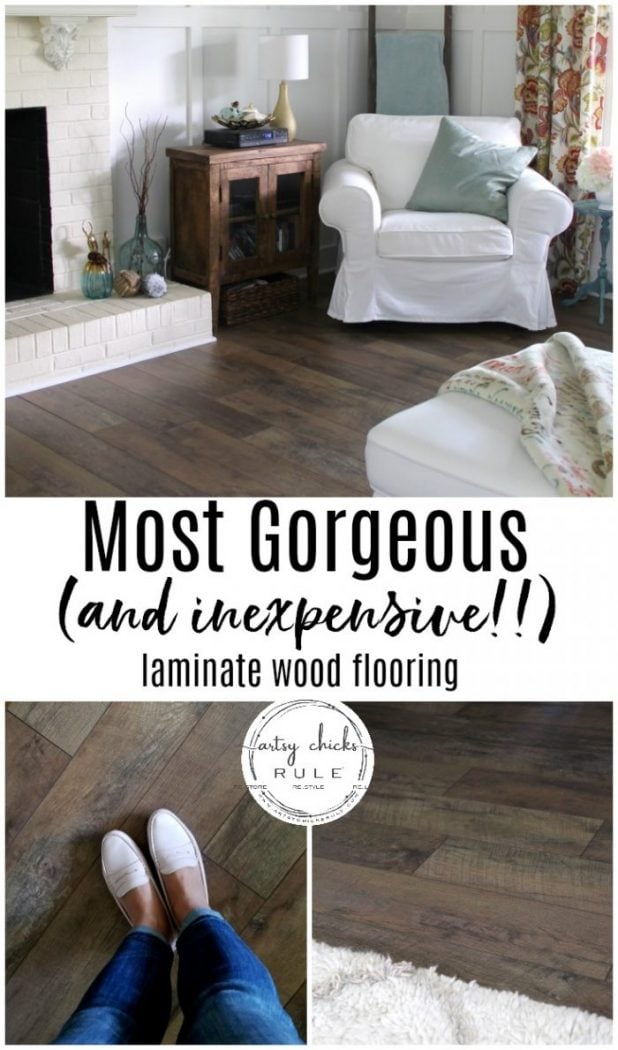 I'll be back next week to talk about the whole installation process, more info on the floor and more photos too.
Be sure to check back then to get ALL the details. (EDITED: see it now, here!!)
Thanks again to Select Surfaces for providing this beautiful rustic laminate flooring for this project!
Want to find out more? Visit this link for more info on the Driftwood we chose.
I'll see you next week. Have a wonderful and blessed weekend, friends!
xoxo