Installing Laminate Flooring (with tips & tricks!)
This post may contain affiliate links. Please see disclosures here.
Thrilled to be partnering with Select Surfaces, who generously supplied us with the flooring for this project. Today I'm talking about installing laminate flooring and the reason we chose it!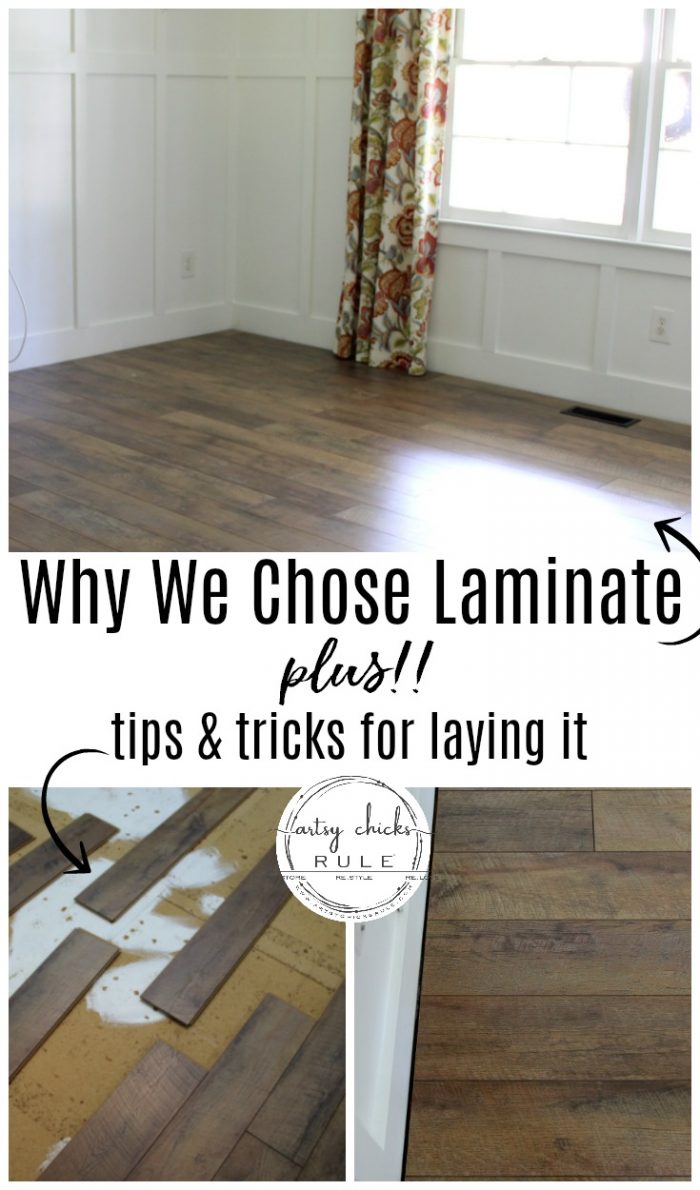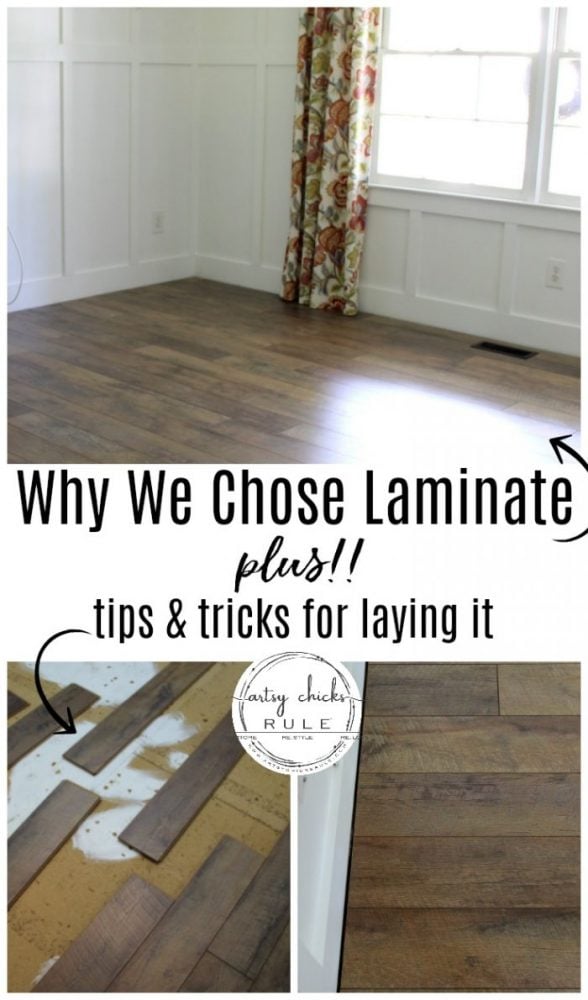 As you all know, I finally shared our big flooring reveal last week! :) Yippee!!
If you missed it, you can see it >>> here.
So happy to finally be sharing it with y'all. :)
Now that you've seen the reveal and all the pretty shots, I'm going to talk a little about why we chose laminate, how to lay it plus a few tips, too.
One of the biggest reasons we chose laminate is for it's durability. With a 65 pound Golden, I didn't want to have to worry so much about scratches, etc.
Another is the authentic wood look and appearance it provides.
It's amazing how realistic it is!
Lastly, installation and upkeep is a breeze. All a win in my book.
Not to mention, it's also available at Sam's Club. :)
Installing Laminate Flooring
Measure and calculate amount of flooring needed.
Be sure to measure your home and add 5% for waste. Also take into account the amount of T-Molds you will need for doorways, etc.
Select Surfaces has a handy calculator that can tell you exactly how many boxes you need.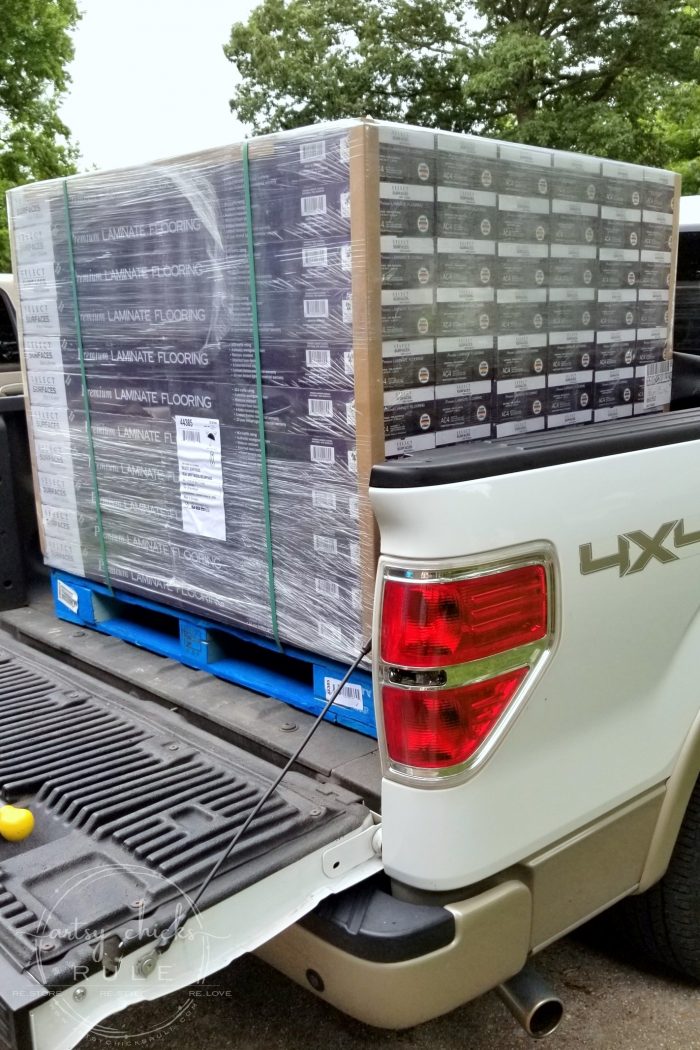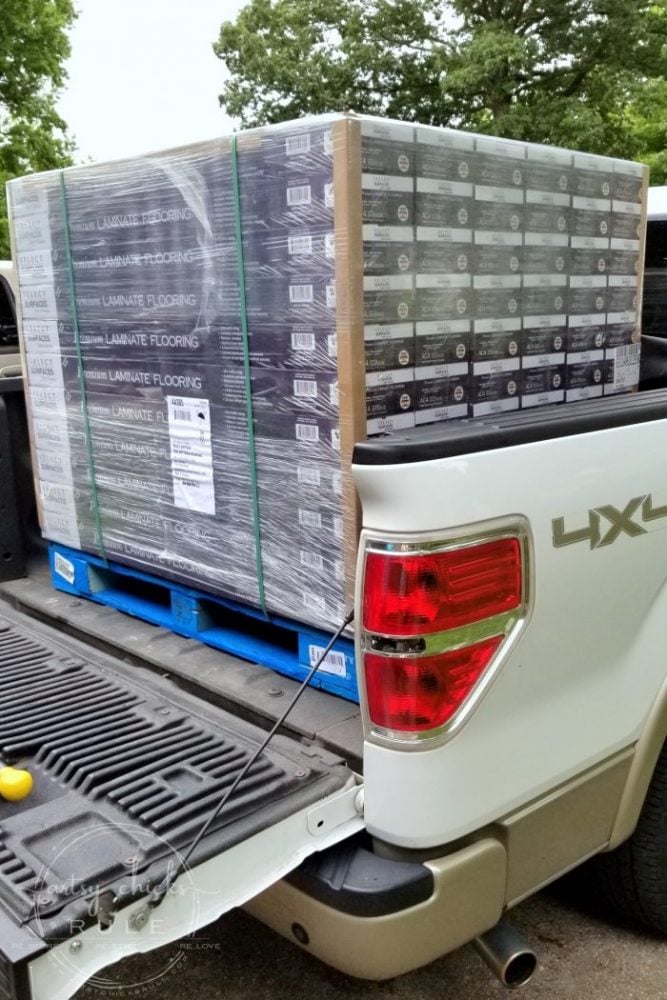 We replaced the flooring in our entire downstairs so it took quite a lot.
It took us 2 trips but it was worth it.
At less than $2, that makes this floor incredibly affordable.
With a pre-attached foam backer along with the Speedloc™ installation system, it makes for a DIY dream.
Why did we choose laminate?
We were thrilled to go with laminate this time around since the flooring we installed about 10 years ago had gotten scratched terribly over the years.
One of the main benefits of laminate is it's durability.
I was also impressed with how realistic it looks. Wood grain variations and all!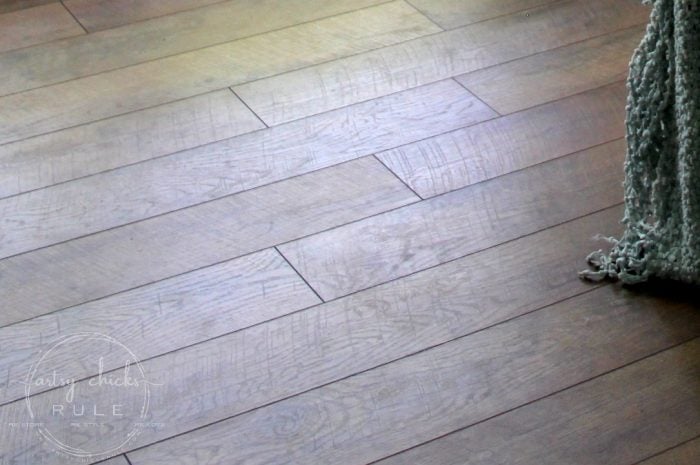 Isn't that amazing?
You'd be hard pressed to tell this isn't the real deal.
Let the flooring get acclimated.

Once you've picked up your flooring, bring it into the space where you will be installing it so it can get acclimated.
Prep the surface.
We had originally planned to take up the old oak flooring in our dining and study but realized the flooring was completely level once we removed the transition pieces. If we had taken up the solid oak flooring we would have had to lay more plywood to make it even with the adjoining room, etc.
So we decided to leave it in place and installed the laminate directly over top.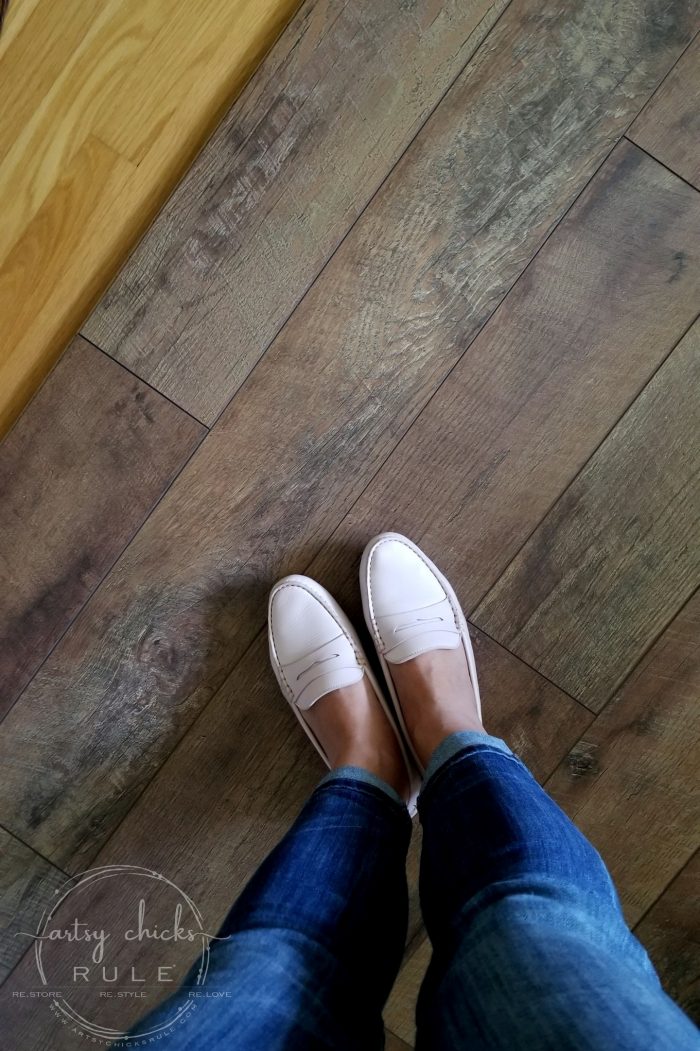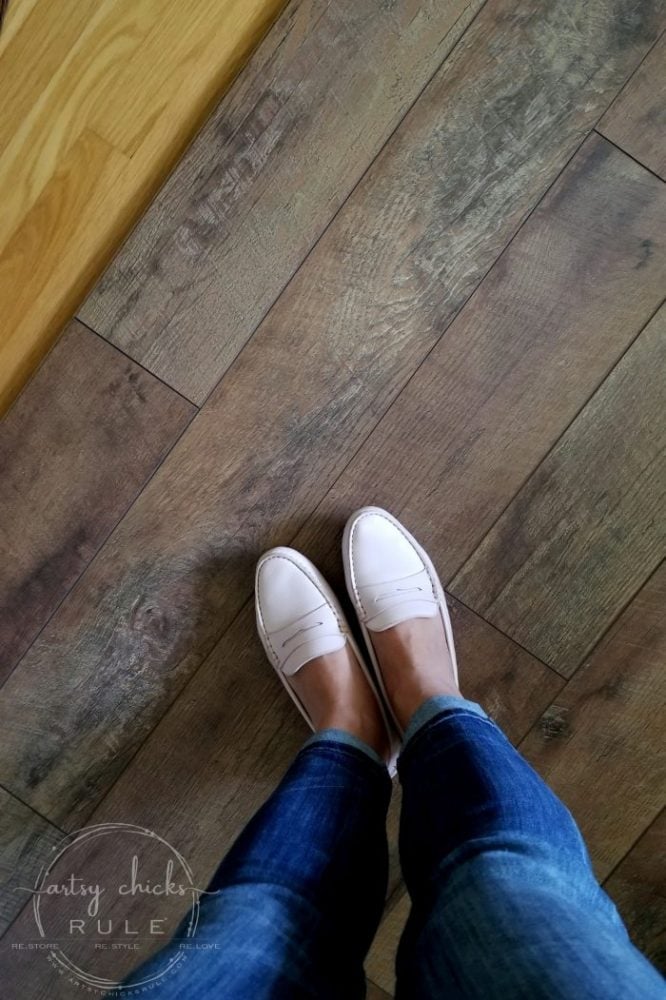 We did have to remove all the flooring in the family room though.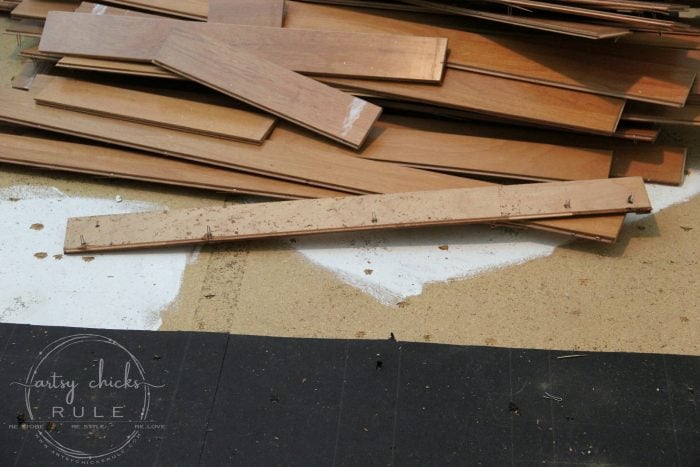 When removing old carpeting or flooring, be sure to remove all remnants, nails, etc.
And make sure your floor is level, that is very important.
Once you are ready to lay the flooring, decide which way you will lay it.
We laid ours long ways to create depth and make the rooms feel larger.
Open several boxes and stack like patterns together. (be sure to mix and match from more boxes than 1 or 2 to accommodate color variations between boxes)
We counted 11 different designs which was great! It really makes for a more realistic floor when there are more wood grain designs in the mix.
Just one of the many things that we love about this laminate flooring.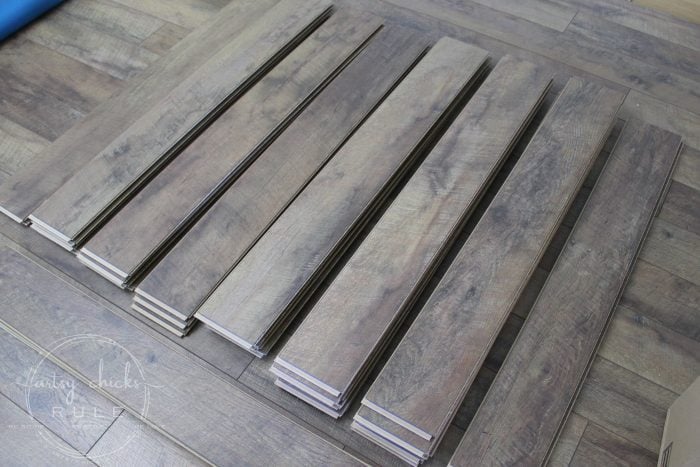 Similar to above, we kept a rolling supply of the varying designs opening the new boxes and adding as we went along.
Lay the boards out in advance.
It's a good idea to lay out pieces ahead of time so you don't overlap, or overuse, the same pattern too often.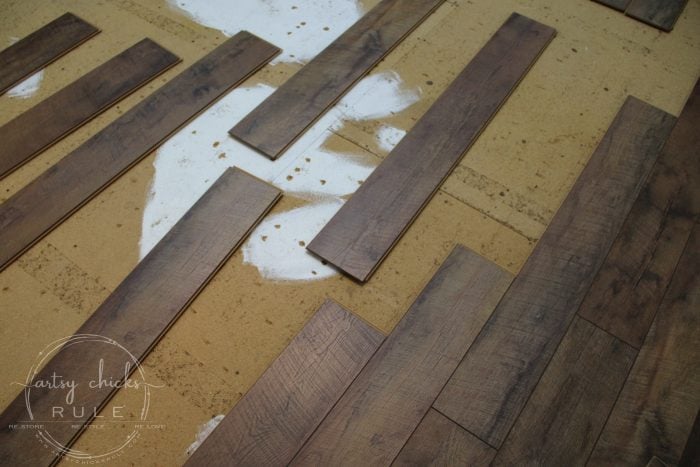 It's always good to have 2 sets of eyes on this part.
If you work with them too long, they all start looking alike! ;) (not really, but you know how that is)
There were so many designs that my husband and I gave a few of them nicknames to differentiate which ones we were speaking of! haha
Like "Broom Hilda". (remember her from the Bugs Bunny cartoons and her hair pins flying everywhere? lol)
The grain design looks like a hair pin so it became Broom Hilda. ;) (you can see it in the bottom right corner of the above photo)
We also had "m&m", "scar", "blondie", "c-flip"… anyway, you get the idea.
Sounds crazy but I'm telling ya, when you're working row to row to row, and one of you are on one side looking at the boards and the other is picking one out. You can say, "grab a Broom Hilda, we haven't used that one since over there"! haha
Measure and cut.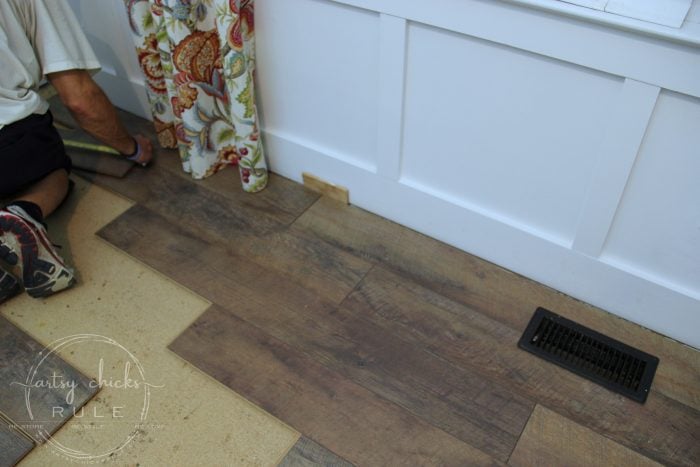 We decided to cut a bit more and stagger ours since we like that look better. You do have a little more waste doing it this way but it makes the floor look more realistic, in my opinion.
Leave a gap around the perimeter.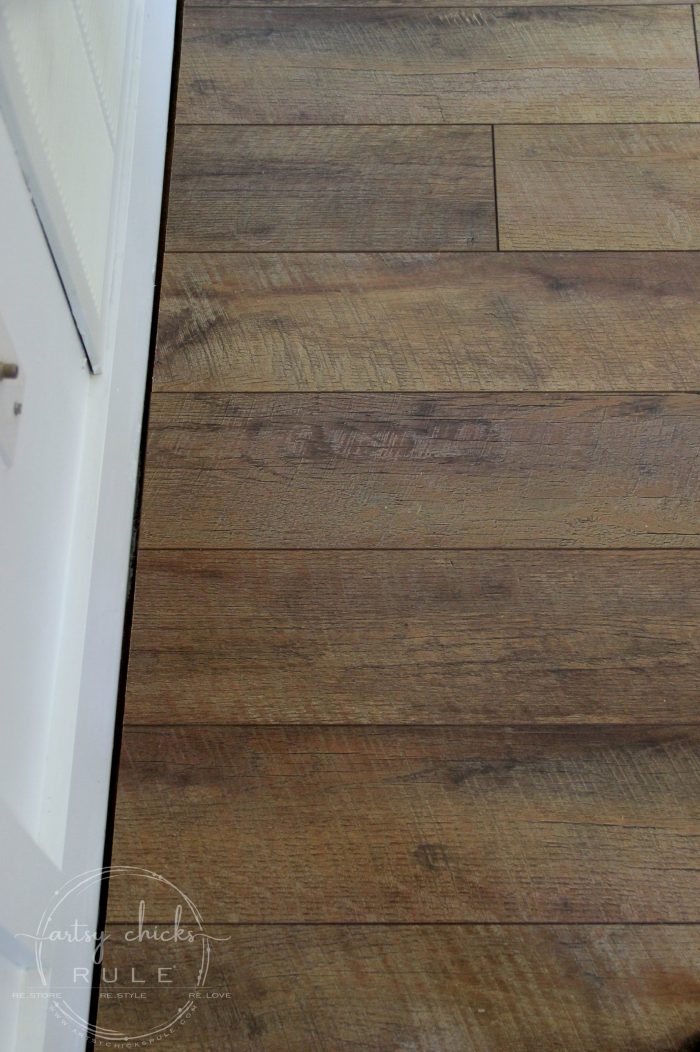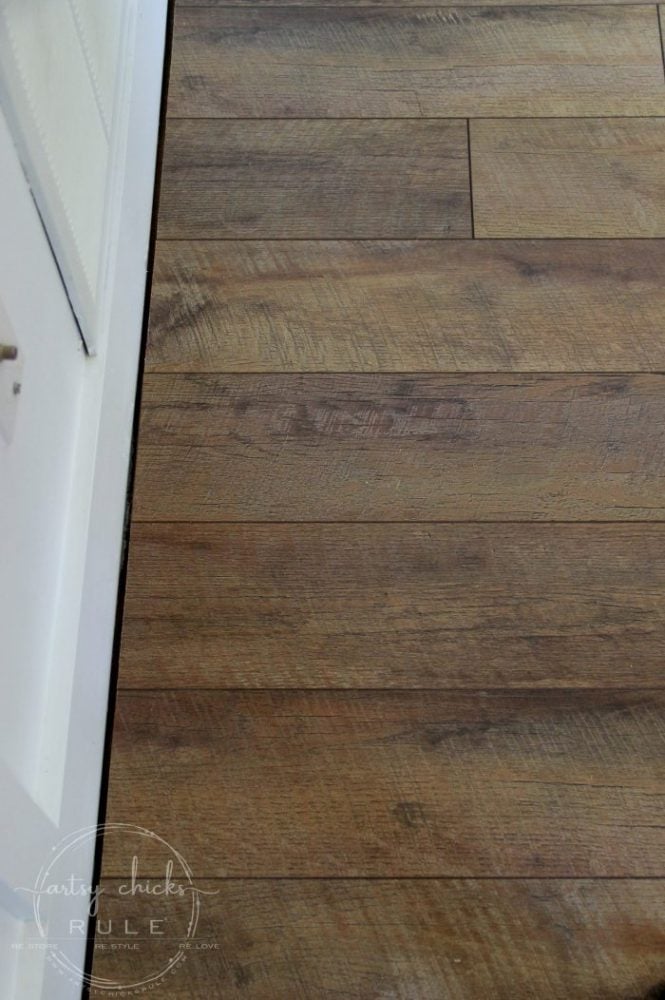 You should leave an expansion gap around the perimeter to allow for temperature based expansion and contraction.
We just used a spacer piece of wood as we went along. (as you can see in the photo above this one)
Finish trim.
Once you are done laying all of the pretty flooring….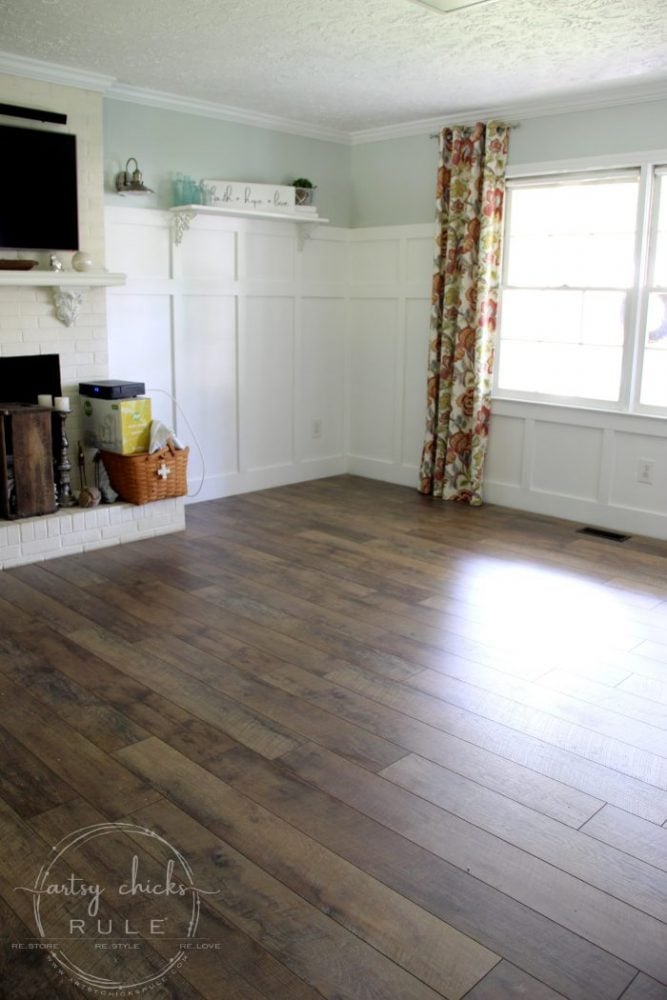 ….you'll want to finish it off with some quarter round, or similar.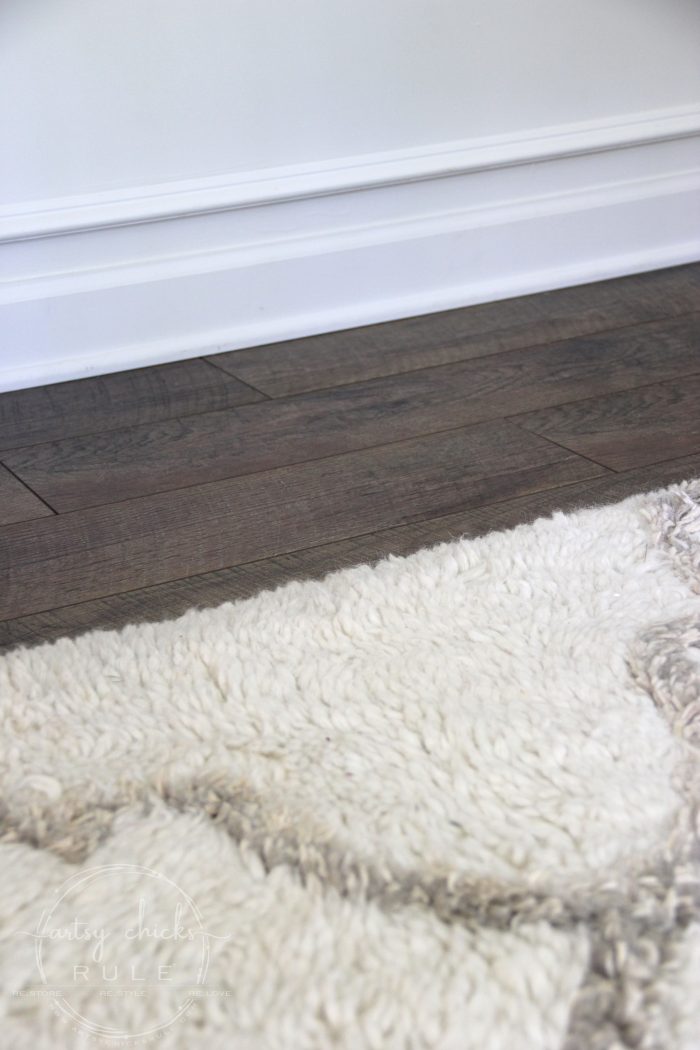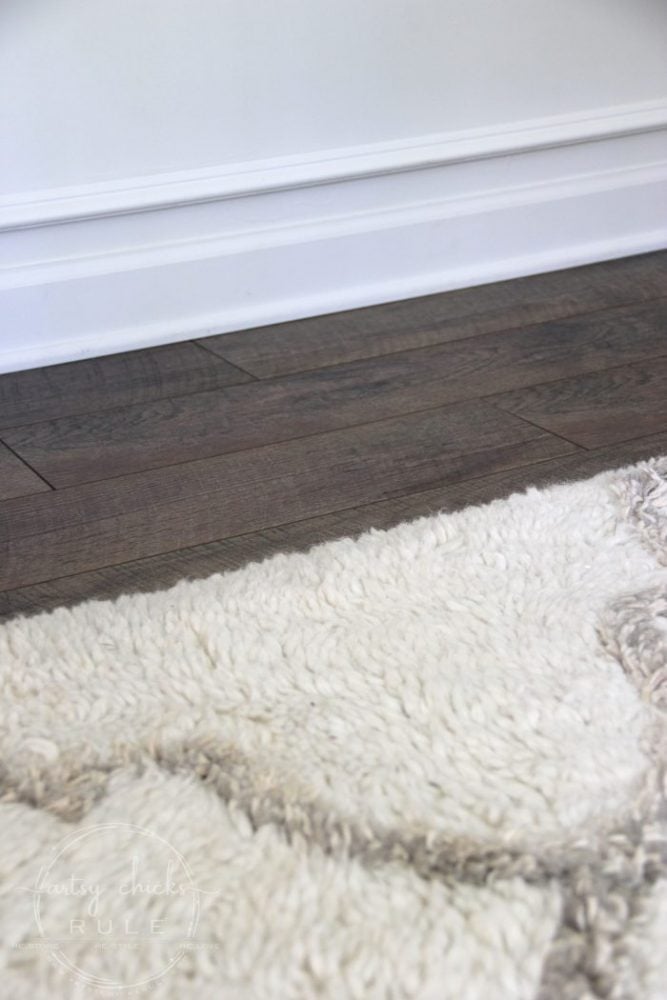 And done!
Just as a reminder, we ended up using "Driftwood".
Perfect name for our house! ;)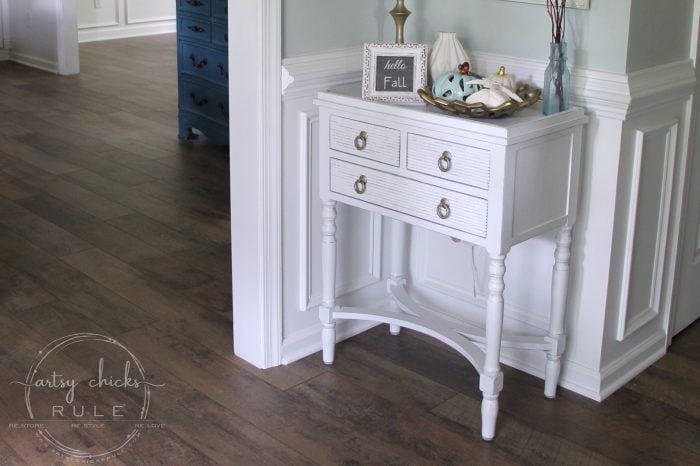 Gorgeous warm and cozy "wood" floors to enjoy.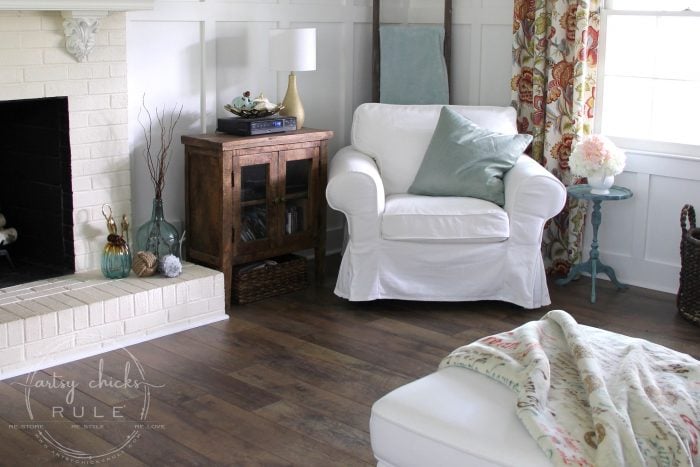 Even Ryder approves. ;)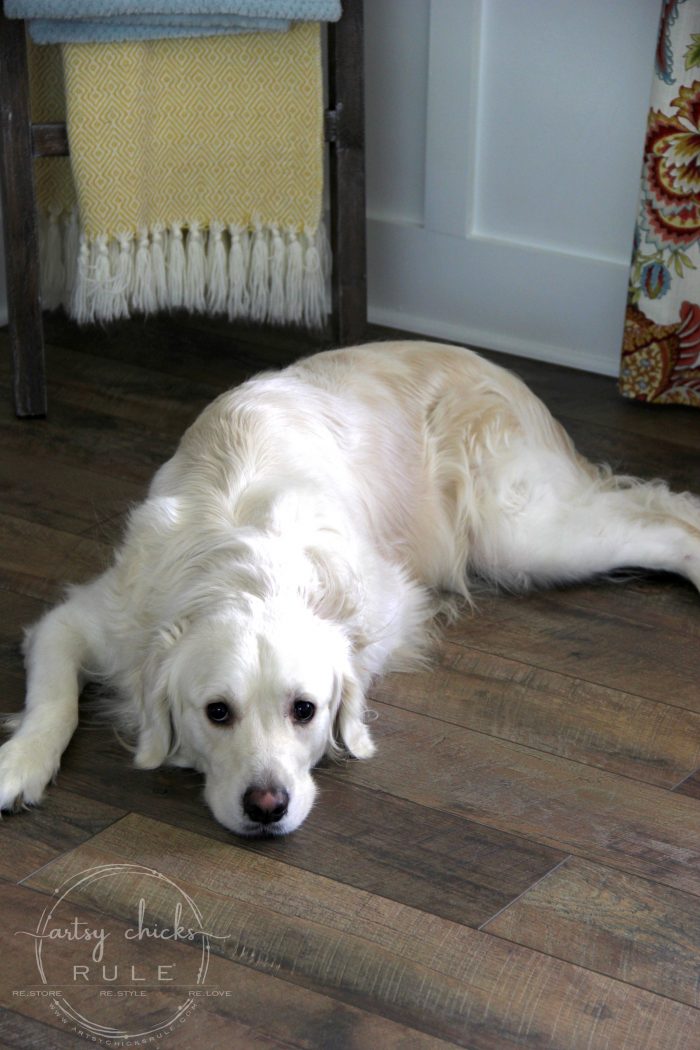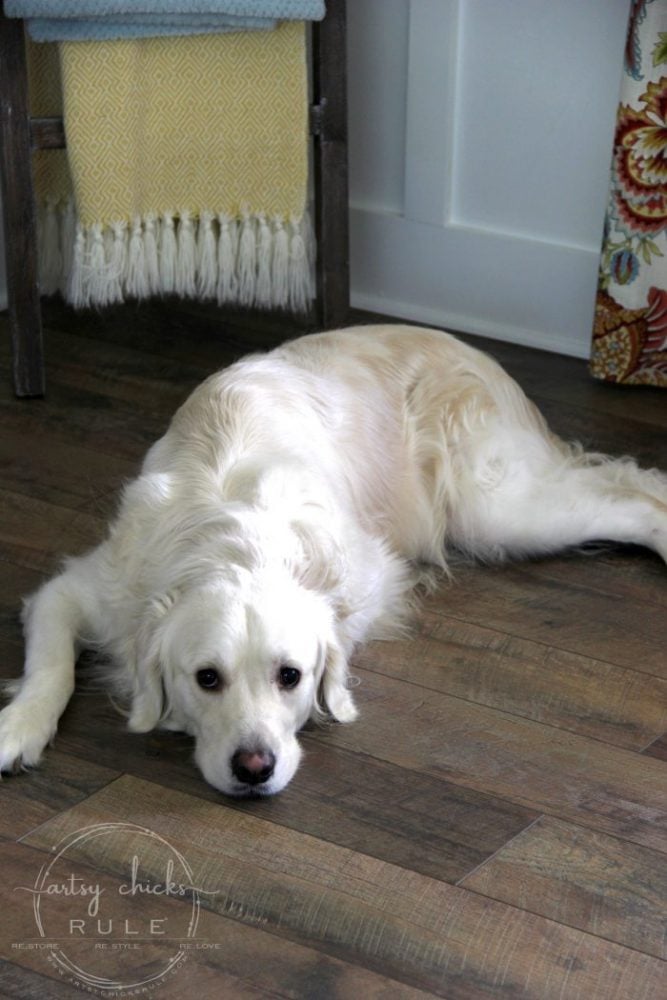 We are very happy with our choice in using and installing laminate flooring in our home.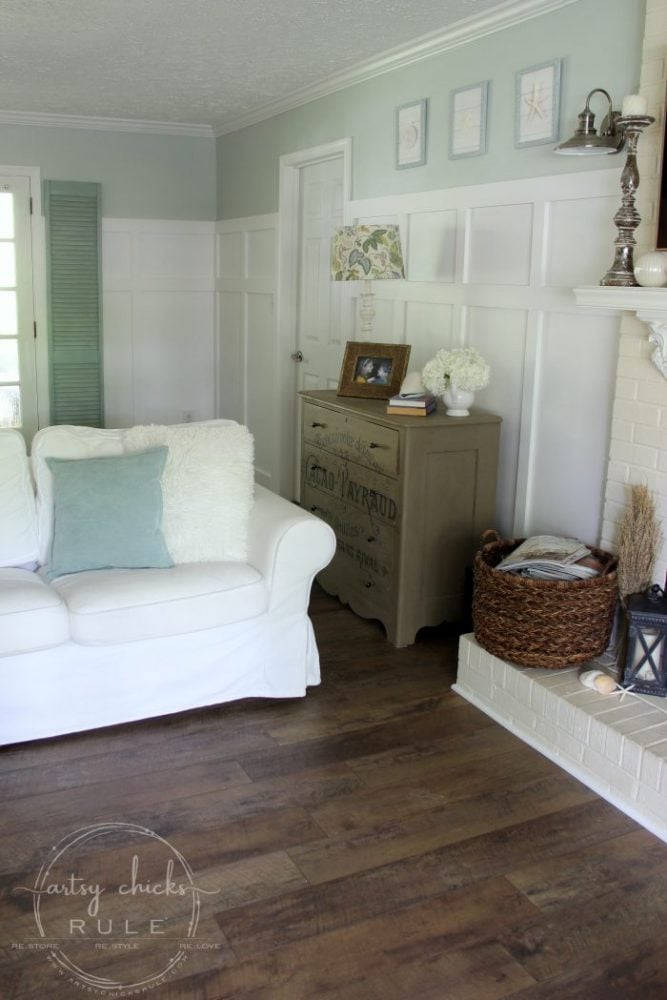 For even more help, check out these installation videos and guides over at Select Surfaces.
More home DIY tutorials we have shared here:
Pin it to save it for later!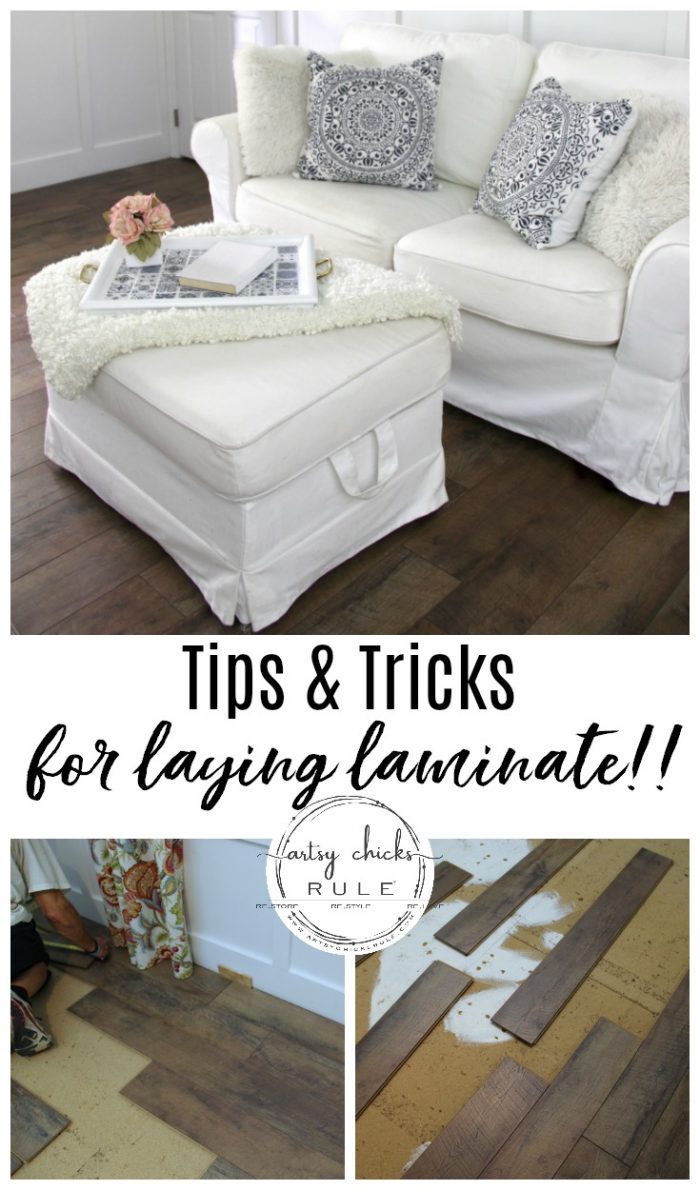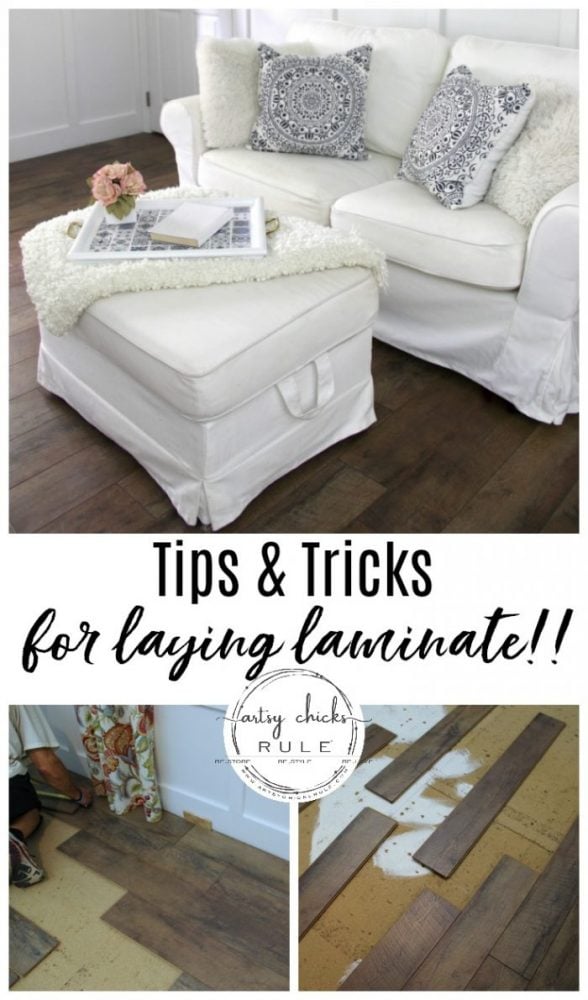 Thanks so much for following along on our home makeover journey!
I'll be sharing more (the kitchen and new counter tops) soon. :)
I'll see you on Thursday with something brand new for fall.
See you then!
xoxo