Floral and Pumpkin Fall Centerpiece (in less than 15 minutes!)
This post may contain affiliate links. Please see disclosures here.
This simple to make floral and pumpkin fall centerpiece is a beautiful addition to any fall decor!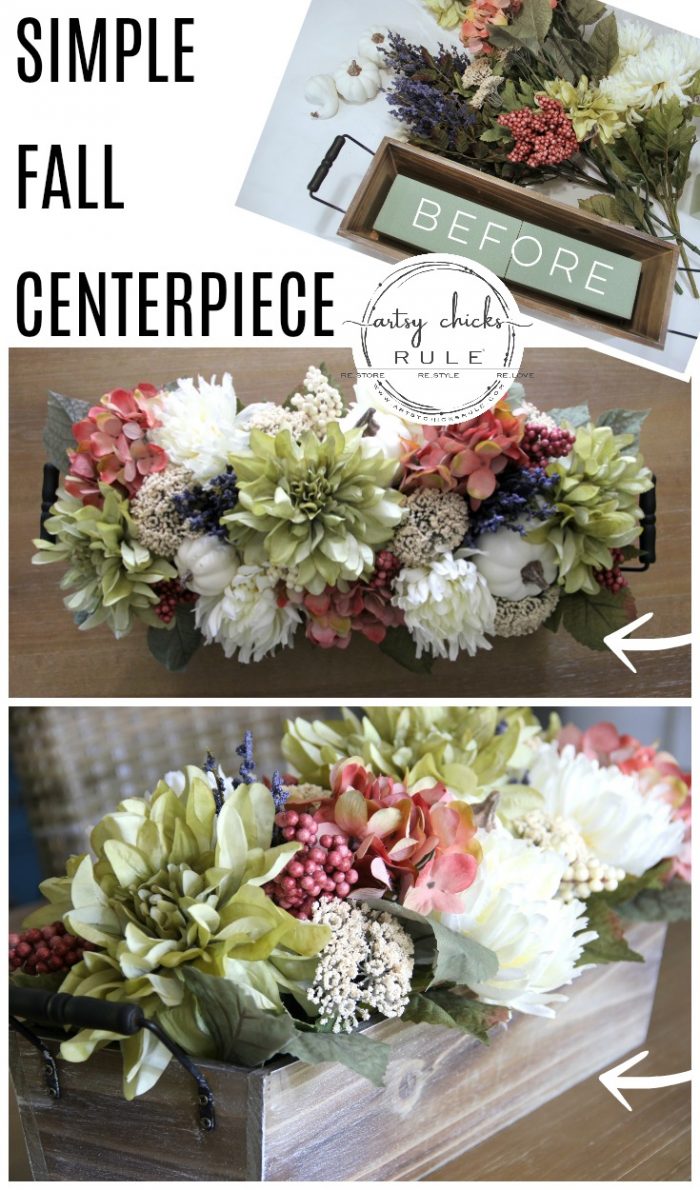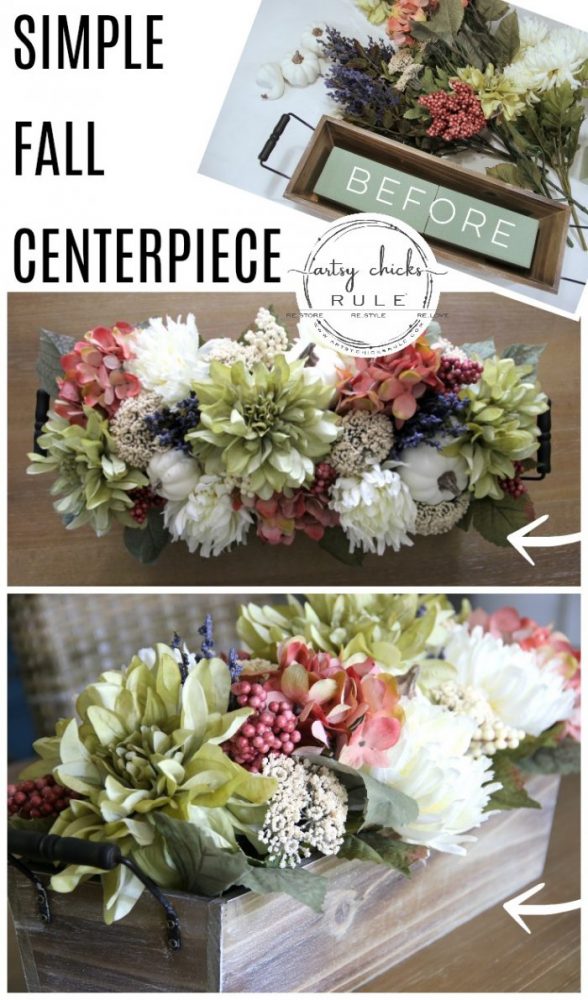 Hey friends! Today I'm sharing a little something for fall.
I know, I know, I'm a little behind for the whole fall thing (in blog world anyway, everyone around here is onto to Halloween now ;) ) but who can think about decorating with your house upside down??
I actually bought this cute handled box (and flowers) from Michael's about a month ago but didn't get around to making it till recently.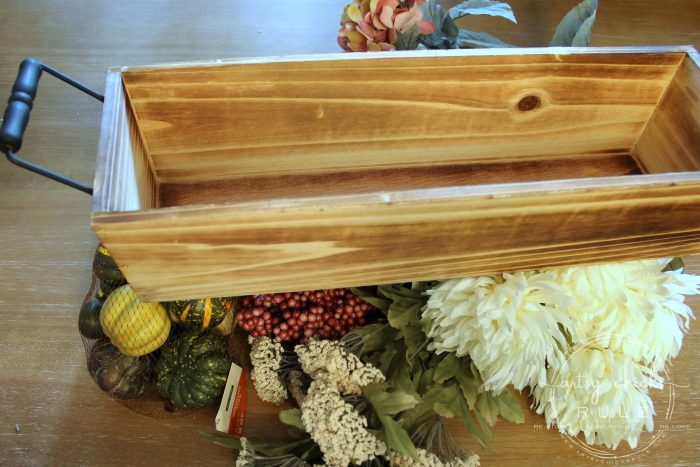 I wonder why?? haha I came close to just putting it away for next year!
Anyway, I threw it together, quite literally, in about 15 minutes time yesterday.
The great thing about getting things like this from Michael's is the 40% off they often have. Everything I bought was 40% off so that made this fall centerpiece a pretty thrifty project!
Here's how I made this fall centerpiece.
As you can see, the box was originally orange-y.
So I used this stain to warm and weather it up a bit.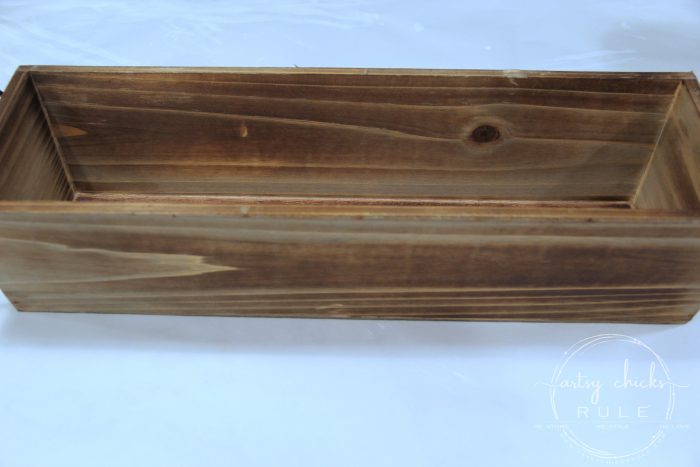 Isn't that pretty awesome?? I also recently used this stain on another project I'll be sharing soon.
Even though I loved the stained look, I still thought it was missing a little something so I gave it some dry brushing with white paint.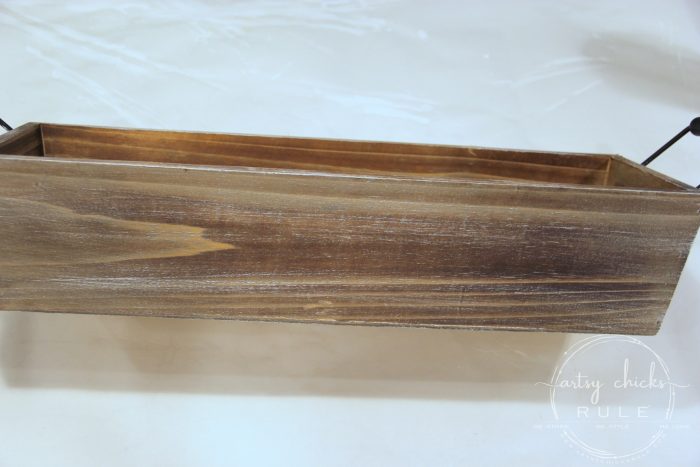 There we go! That's what it needed.
Want more details on DRY BRUSHING?? Check out this post and video here >>> How To Dry Brush
Next, I added some floral foam.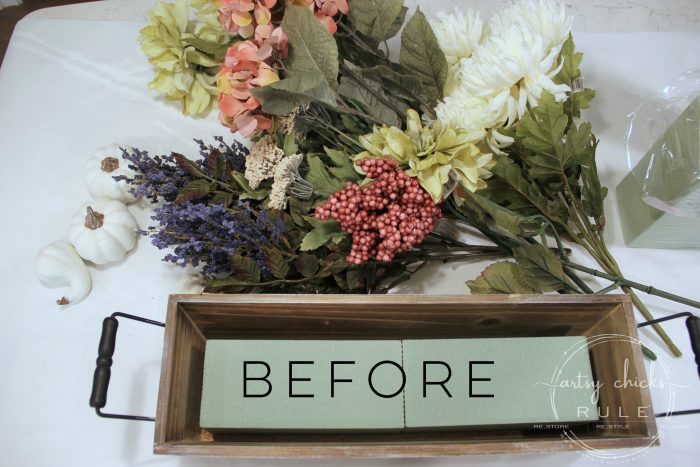 I hot glued them to the bottom of the box so they'd be nice and secure.
Then I simply started adding the flowers. (minus most of the leaves on the branches-you'll take those off and save them for later)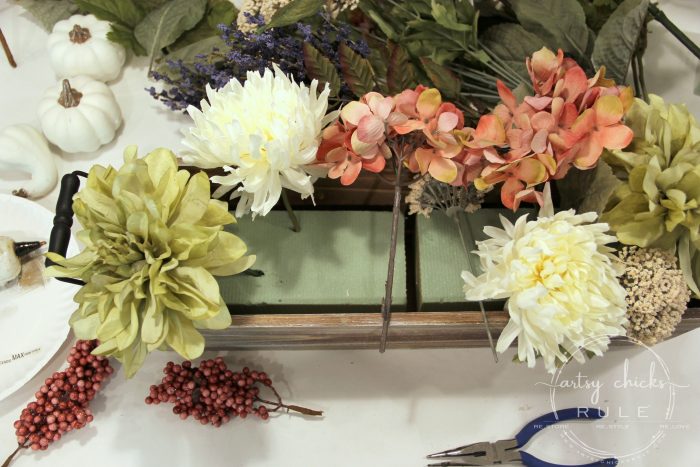 Just keep doing that and adding as you go.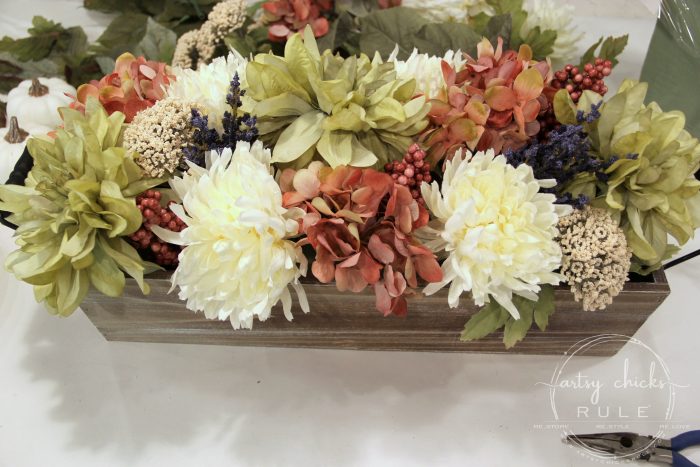 I hadn't originally planned to add the purple ones but I saw them in a box (from my packing up over here) and popped them in for a little more color.
They probably aren't very fall-ish but oh well.
I used them originally in this galvanized tray.
Next, I added the leaves I removed from the stems back around to the sides of the box.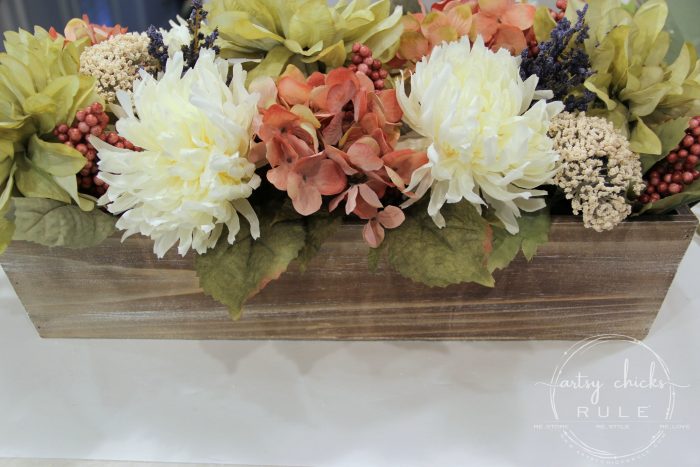 Pop in a few small white pumpkins and you are done. I used some I painted white last year.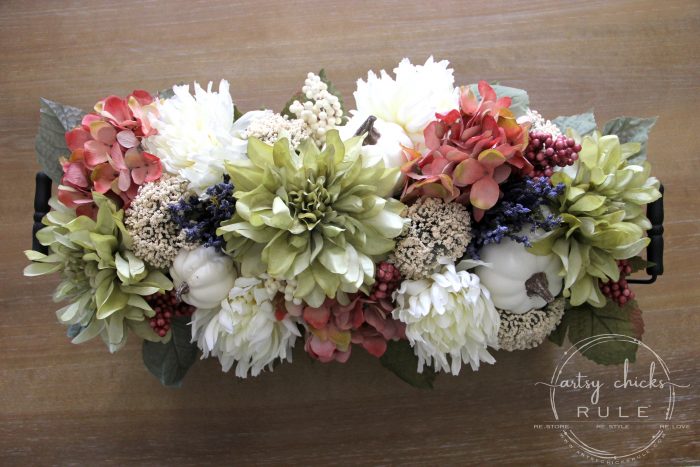 And that's it!
Really simple.
Here's one side…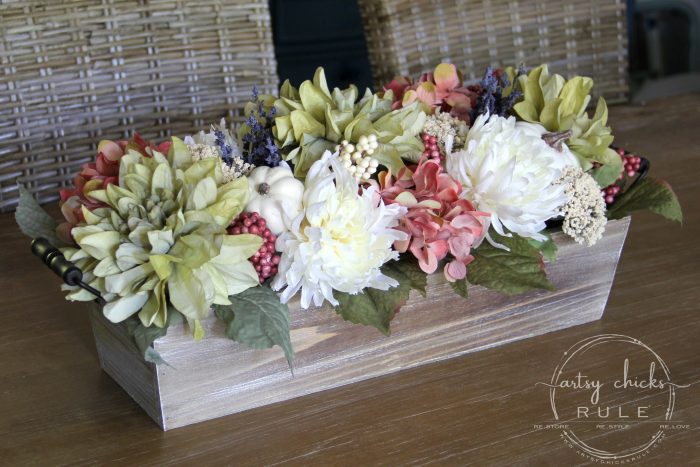 And here's the other side…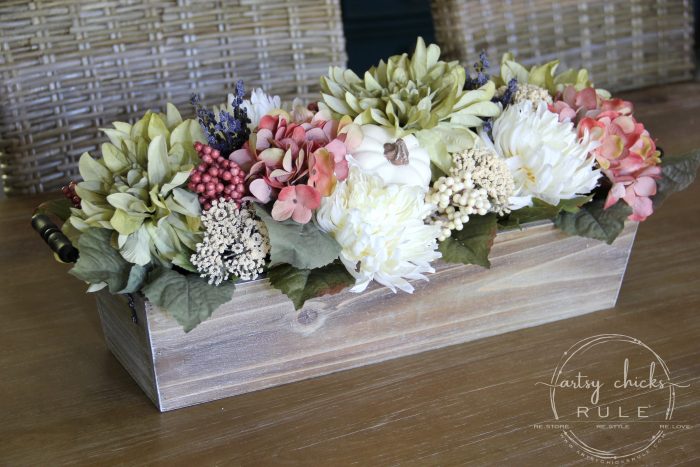 Such a simple and pretty fall centerpiece that looks great just about anywhere in your house.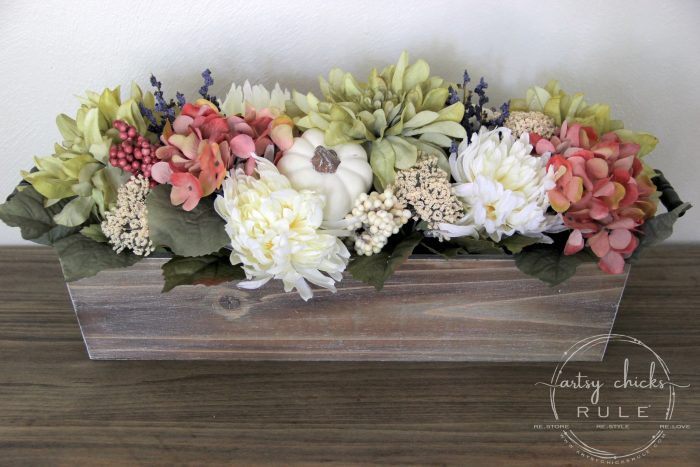 I could see it as a centerpiece for a kitchen island…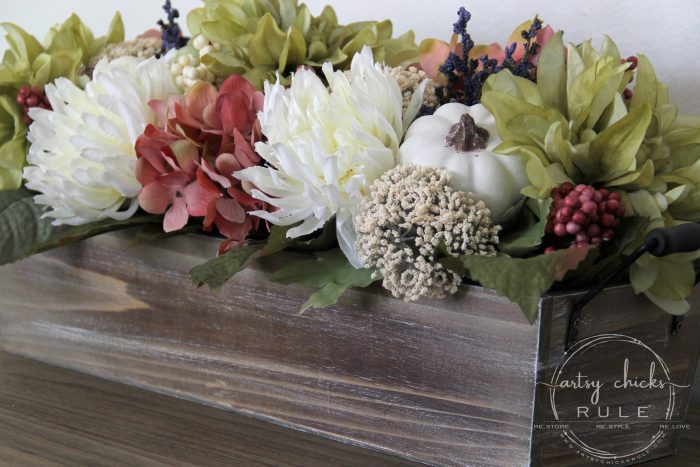 …or a coffee table…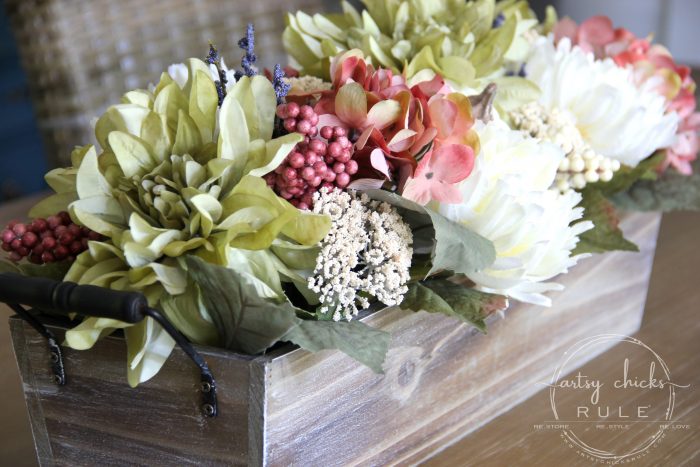 Or a dining room table…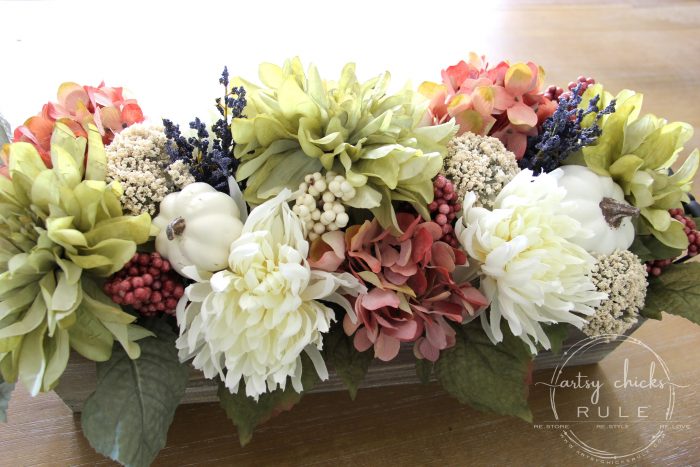 I promise this one is easy to make!!
I'm no pro at floral arranging, that is for sure. But it's usually not too hard to put something together that looks nice.
I hope you will give it a try!
You can use any flowers you like or even colored pumpkins.
I chose flowers that I thought looked somewhat fall-ish.
Again, not so sure about the purple, but I liked them!
Now let me tell you what I did after I had taken (and edited) all of my photos for this post. lol
I decided my little fall centerpiece needed some pizzazz.
So I sprayed a few leaves with gold paint and placed them around with the green ones.
I thought it not only made it look a little more "fall-like" but it also gave it a little glamour.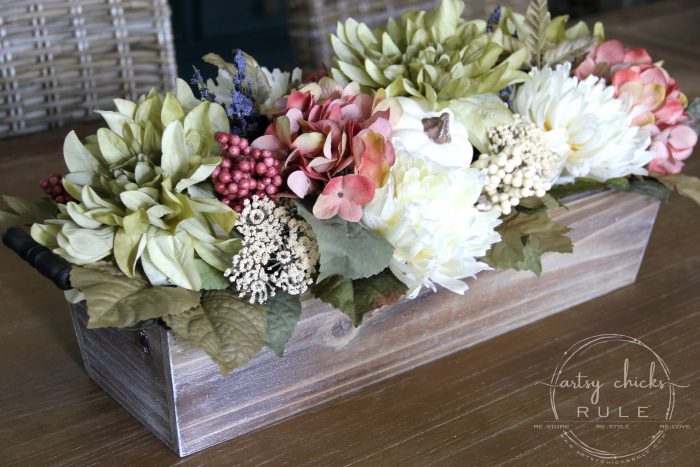 I love it SO much better!
Darn. Sure wish I'd thought of that before I took all the photos.
Maybe I'll take more tomorrow and edit this post. We'll see.
It's actually early evening here and was looking a bit dark in the room so one shot is all I got.
It's amazing what cameras and editing programs can do! You'd never guess that, would you?
And here's a shot with the gold leaves in the kitchen on our new island countertop. (yippee!!)
You might remember, I partnered with Wilsonart for that.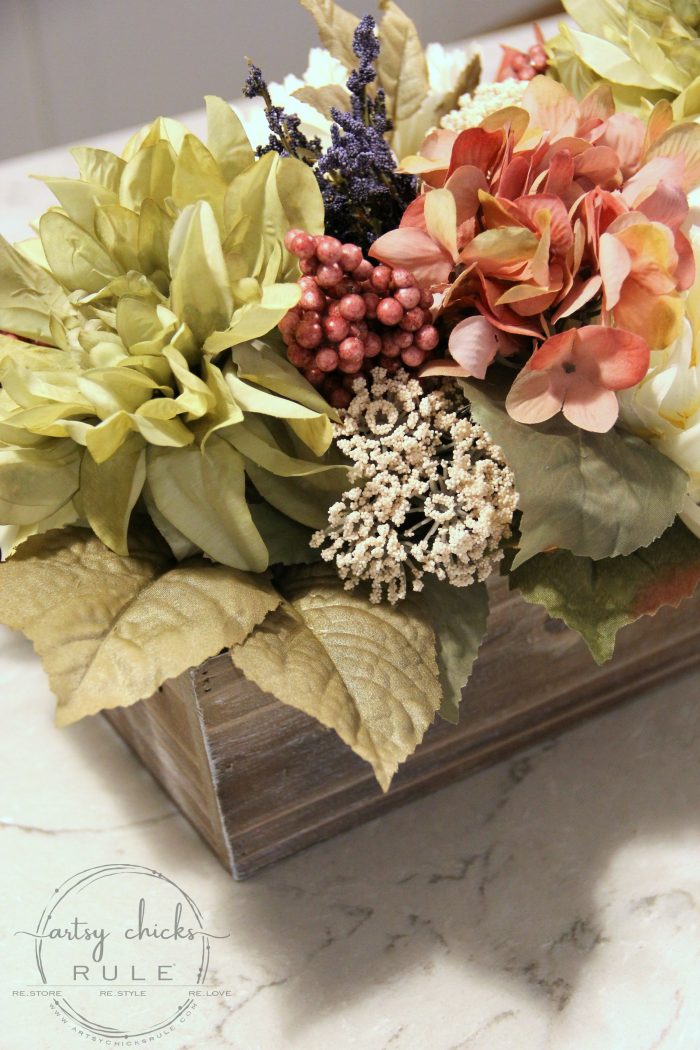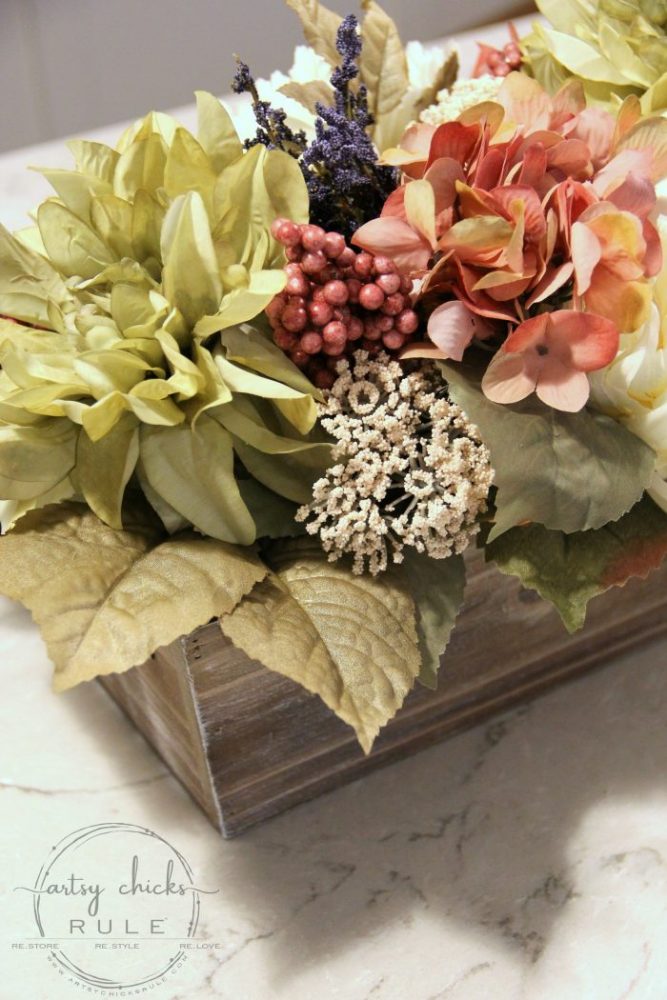 And it's the bomb! Really, the icing on the cake.
I'll be sharing all the details on it soon. (if you follow along on Instagram, you probably saw a couple of new photos of it in my stories and on my timeline yesterday)
It's beautiful if I do say so!
Oh!
And I had a few leftover floral pieces that I threw into this pretty blue can/kettle.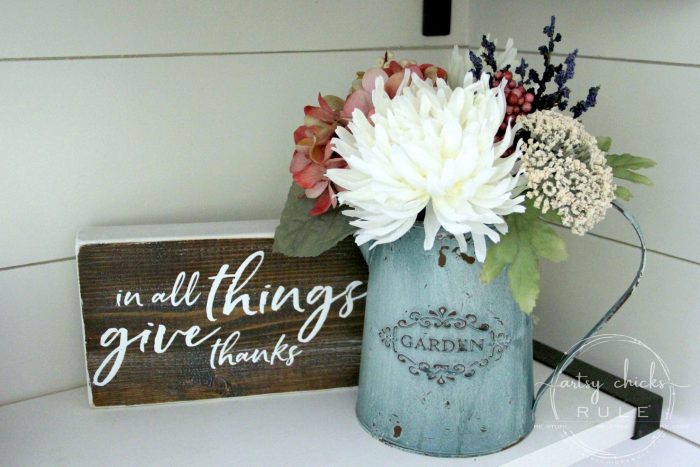 I put it up in my laundry room on the shelf.
Hope you like today's fall centerpiece full of flowers :)
PIN it to save it!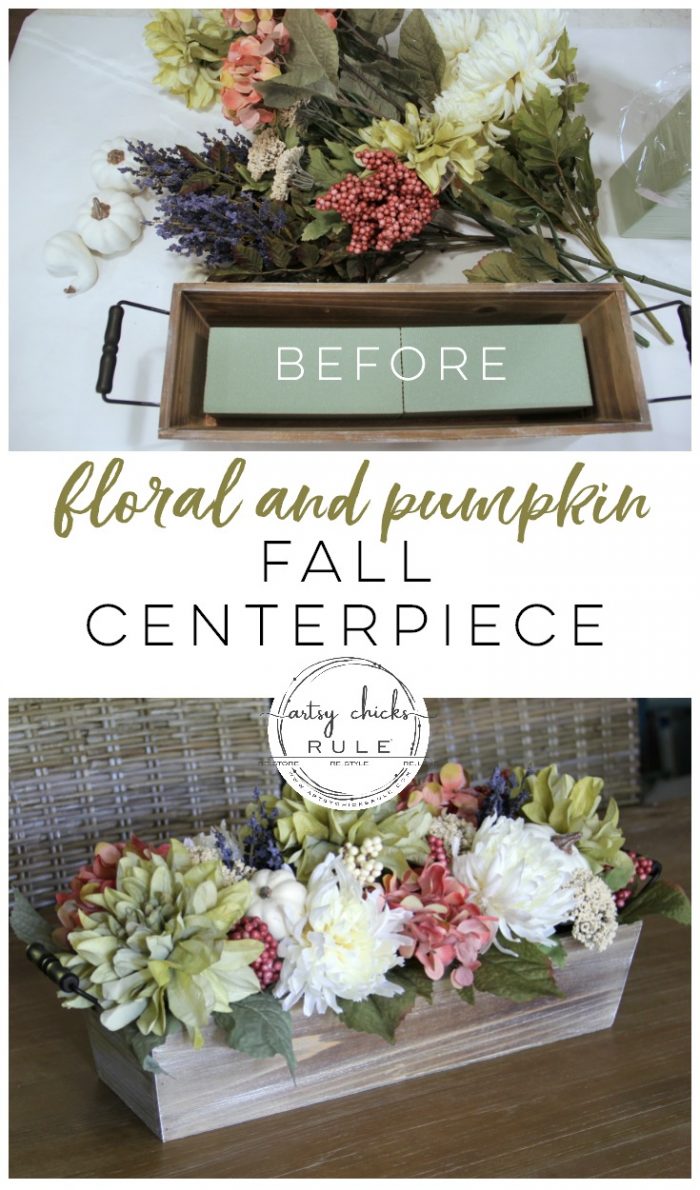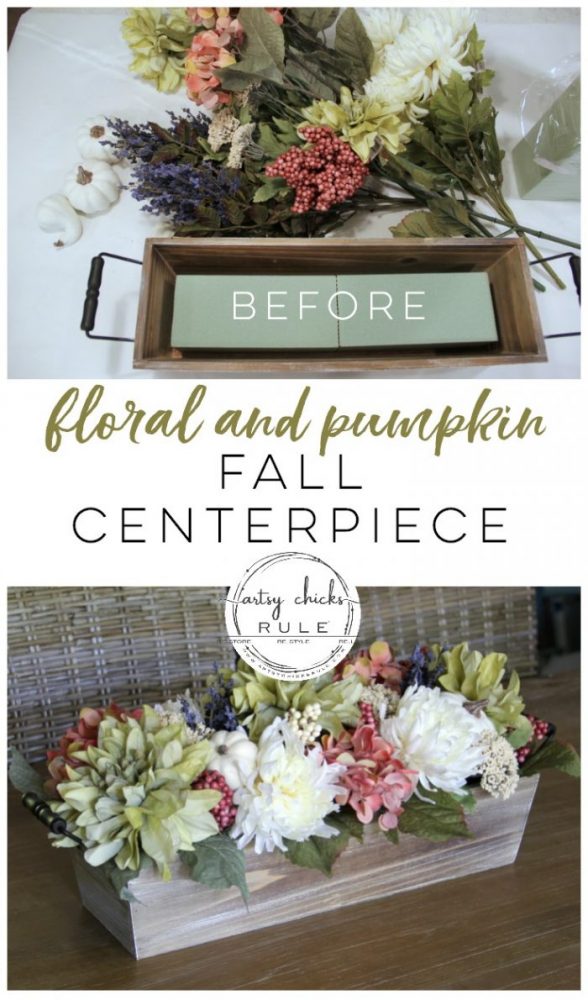 Have a wonderful weekend, friends!
I'll see you back here next week for Trash to Treasure day. I'm making over this chair…..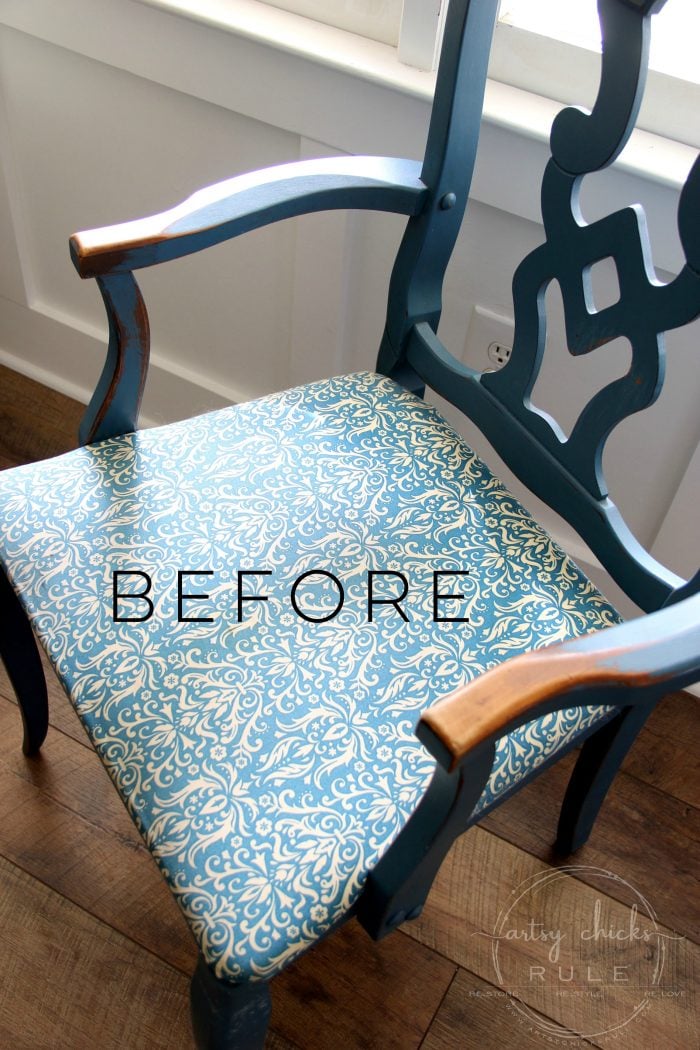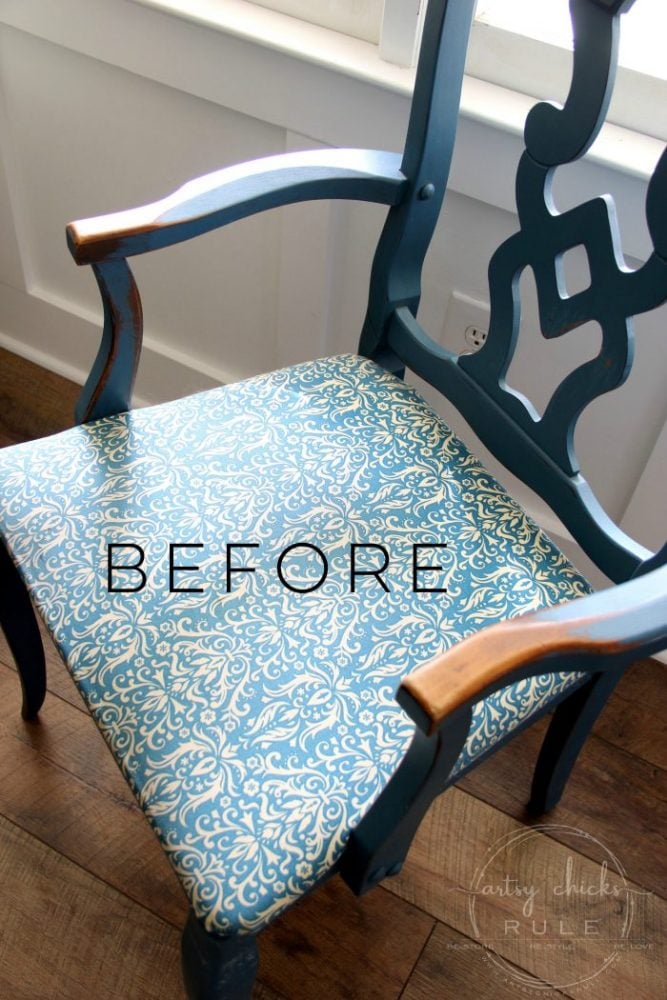 UPDATE!! See it now here!!
It has been well loved and well used! Ha!
So much so, that the paint has worn off (not chipped off, worn off) the arms there.
This chair was one I gave a makeover to a long time ago and my husband used it at his desk in the study.
You can see what it looked like when I found it all those years ago, here.
xoxo