DIY Farmhouse Ladder (for less than $6!!)
This post may contain affiliate links. Please see disclosures here.
Good Thursday Morning Friends, I hope your week has been wonderful!
Today I'm sharing this DIY Farmhouse Ladder the Mr and I made right before Christmas.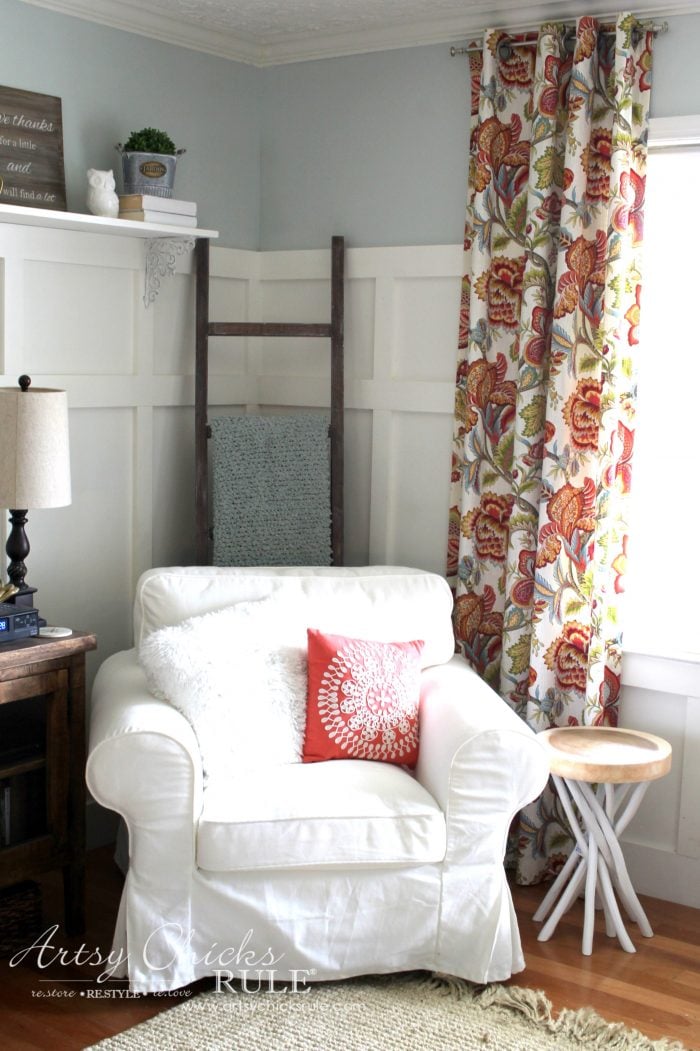 Here it is at Christmas….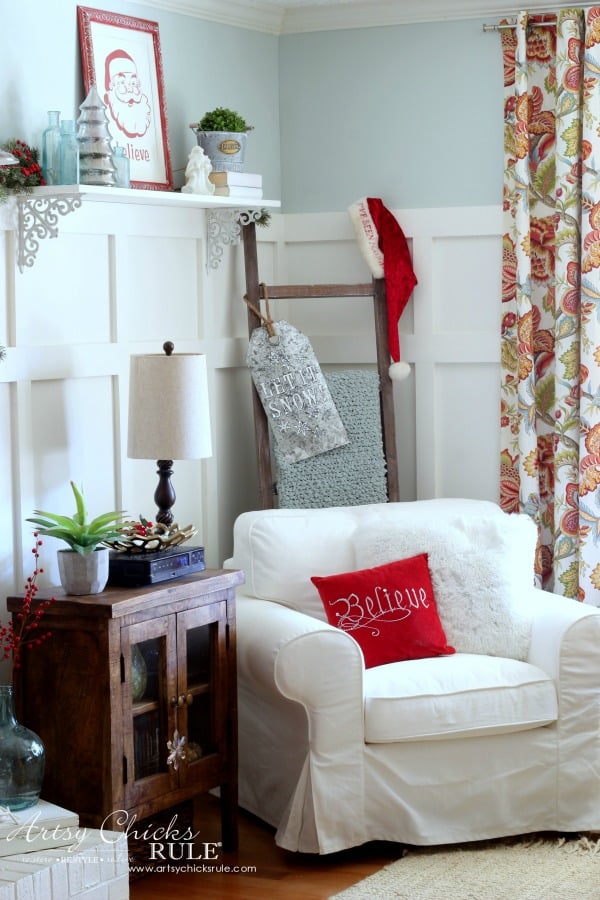 I'd been wanting one for awhile not but they are pricey, if you have to purchase them.
Sadly, I never came across an old one so would either have to buy or make one.
Have you seen the prices on them?
I considered this one for months from Amazon (affiliate links, disclosure here)…..>>> 6 ft Rustic Ladder

….. but it is $79.99! No way, I just couldn't do it.
So guess what? We were able to make this 6 foot ladder for less than $6!
Yep, really. Can't beat that.
No, it's not reclaimed wood but I didn't need it to be "authentic". It's just a ladder….sort of. ;)
Here's what we used:
3 – 2 x 2  6 foot utility wood (I think that is what they called it – Lowe's) (less than $2 each)
Wood screws
Pre Stain Wood Conditioner
Stain
Poly
White Paint
Chip Brush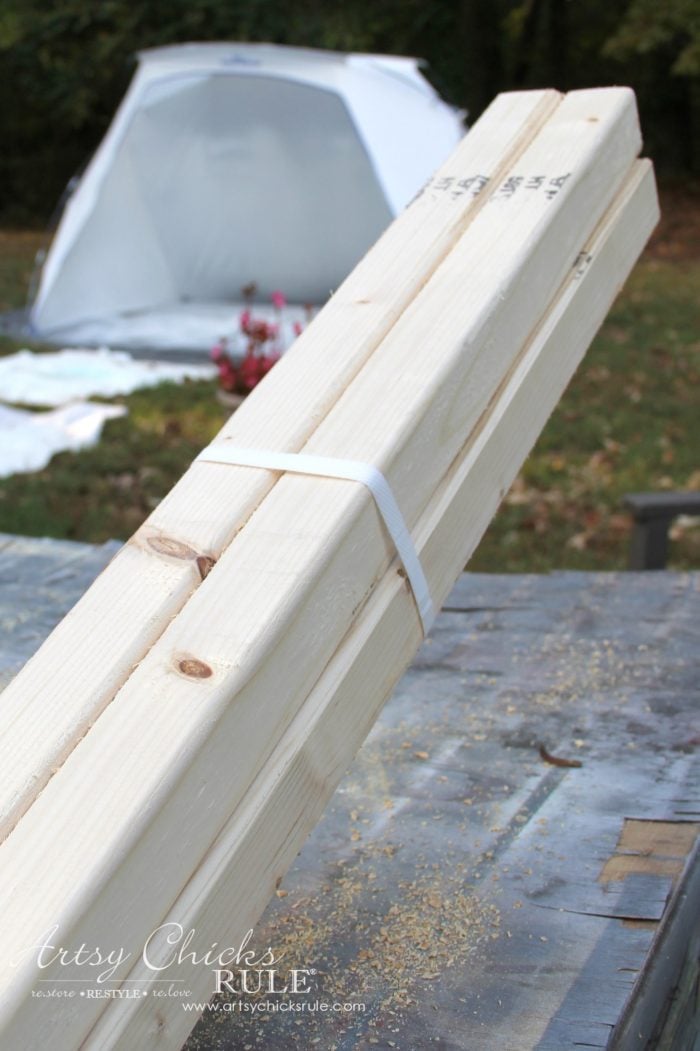 One of the pieces was cut into 14-1/2 inch sections and used for the "steps".
Clearly they are not wide enough to step on but I was just going for the general look of an old ladder.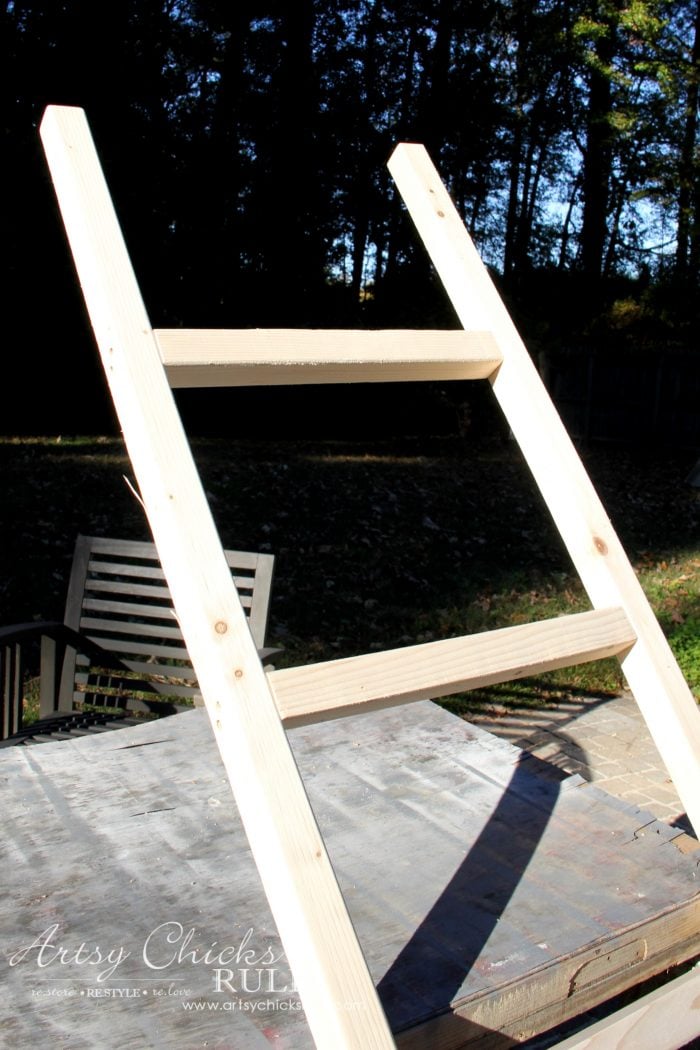 We spaced those about 10 inches apart which gave us 5 rungs.
You can see above how the sides are a little rough. That is the look I was going for plus the cost difference was about 6 dollars a piece!
I did, however, clip off those stray wisps of wood sticking out. ;)
Next, I applied pre-stain conditioner.
Let that sit for about 10 minutes and then apply the stain.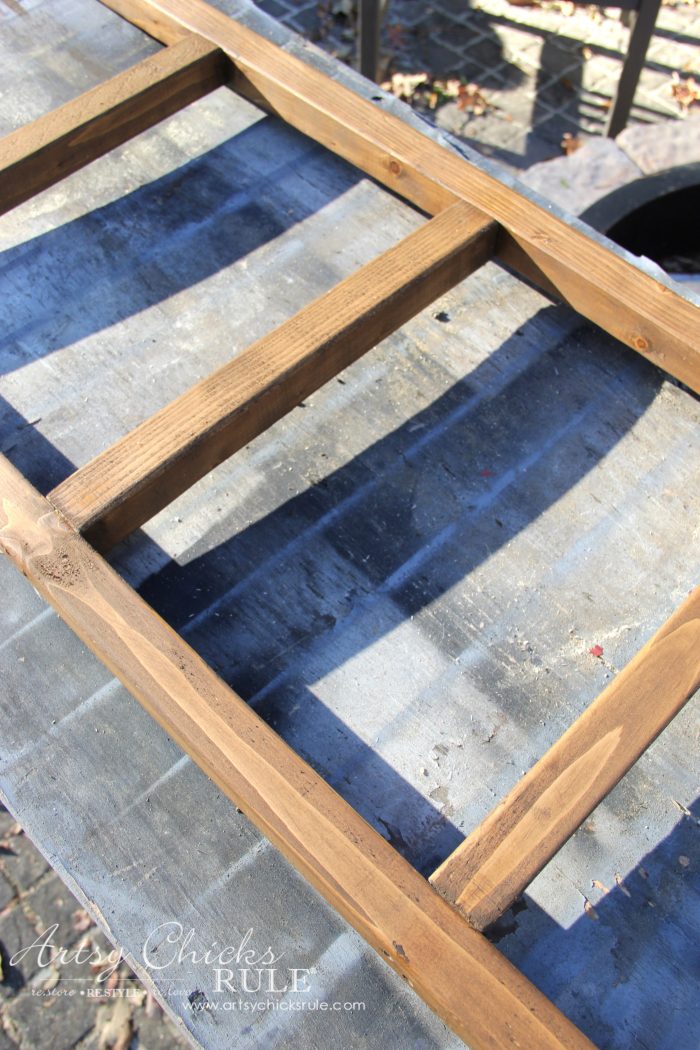 I considered giving it a driftwood finish but liked the idea of a nice walnut finish instead.
I did want it to look a bit aged however, so gave it a touch of dry brushing after the stain had set.
Want to see a VIDEO on exactly how to dry brush? All the ins and outs, here >>> "How To Dry Brush – Video"
You can see on the side of the rung there how we screwed it together.
Two screws on each side, left unfilled or patched. I loved the rustic look of leaving them as-so.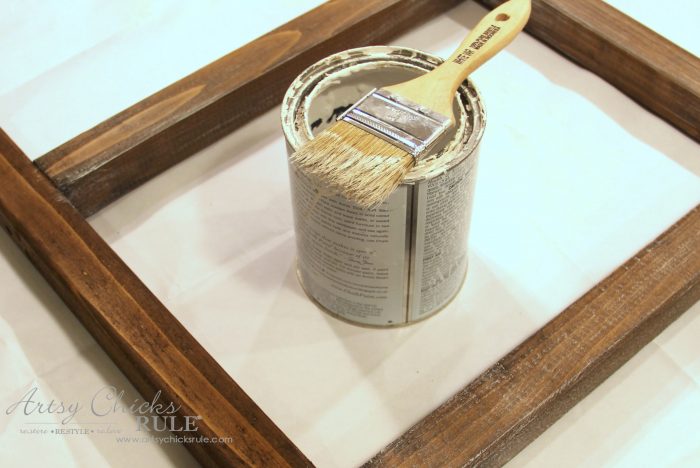 The chip brush is perfect for giving a whitewashed, dry brushed, finish.
That's what I use most often for that effect.
Finally, I sealed it with a flat poly. Again, I wanted it to look aged, so I didn't want the finish to be shiny at all.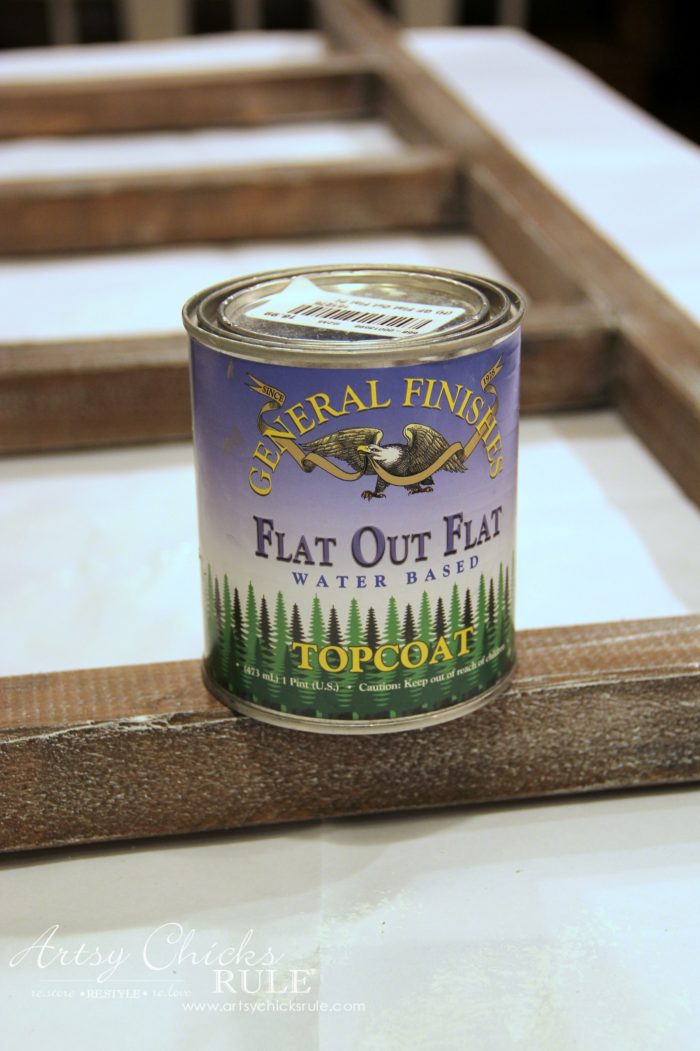 You can see the "whitewash" a little better here…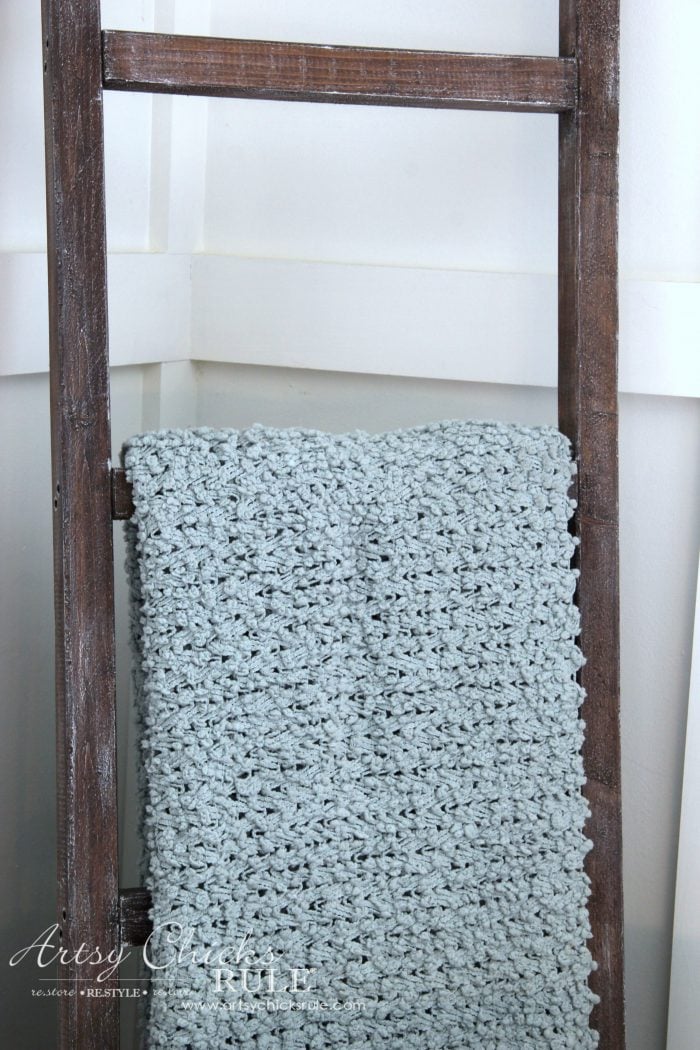 I think it gives it that tiny little extra bit of aging.
Lots you can do with a DIY farmhouse ladder like this.
How about hanging magazines over the rungs? Or maybe attaching it to the wall and sitting framed photos on each rung? Hang it from the ceiling, parallel to the floor, and hang things from it.
Maybe just throws like I have or you could even just leave it empty.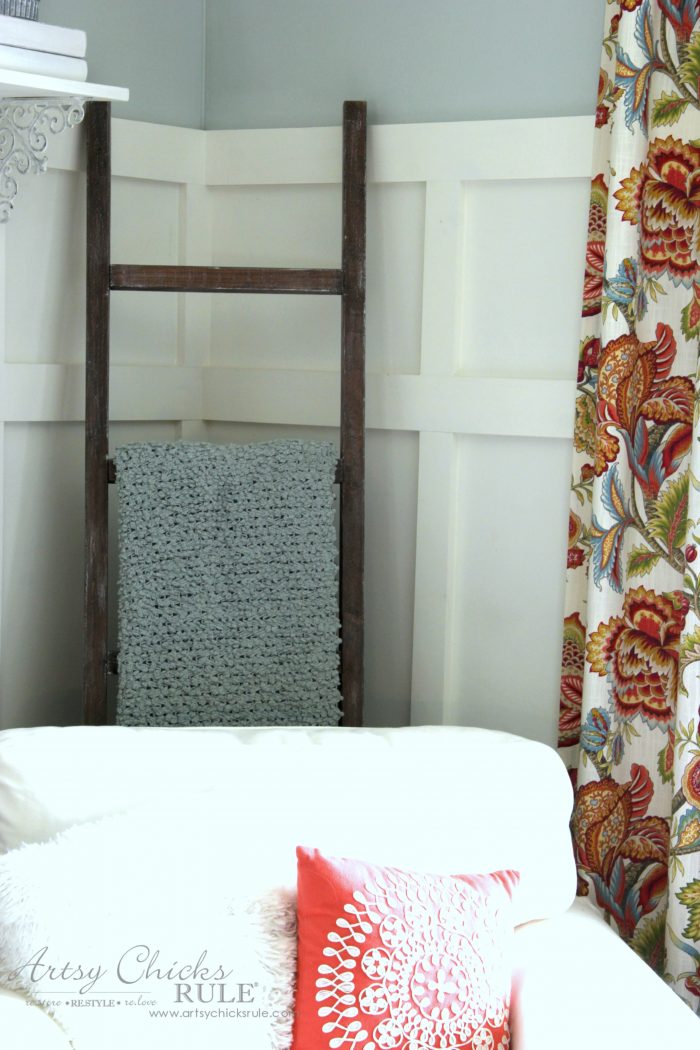 Either way, making your own DIY farmhouse ladder is the way to go!
This one cost less than $6 but even if you changed the wood style up a bit, you'd still save money making it yourself.
I hope you are inspired to go build one too. :)
And you could  probably get Lowe's or The Home Depot to cut the rung pieces for you.
You come home and screw it together….and done!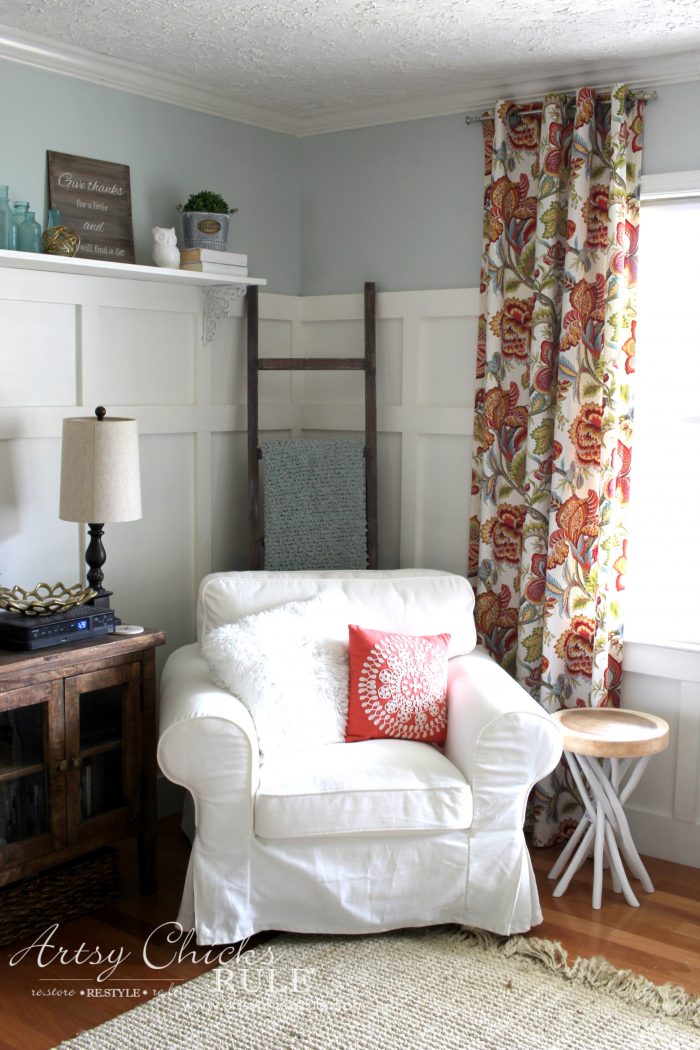 Can't get much easier than that.
(You can see the "no sew" curtain tutorial >>> HERE )
Want to make your own DIY farmhouse ladder too? PIN this for later so you can. :)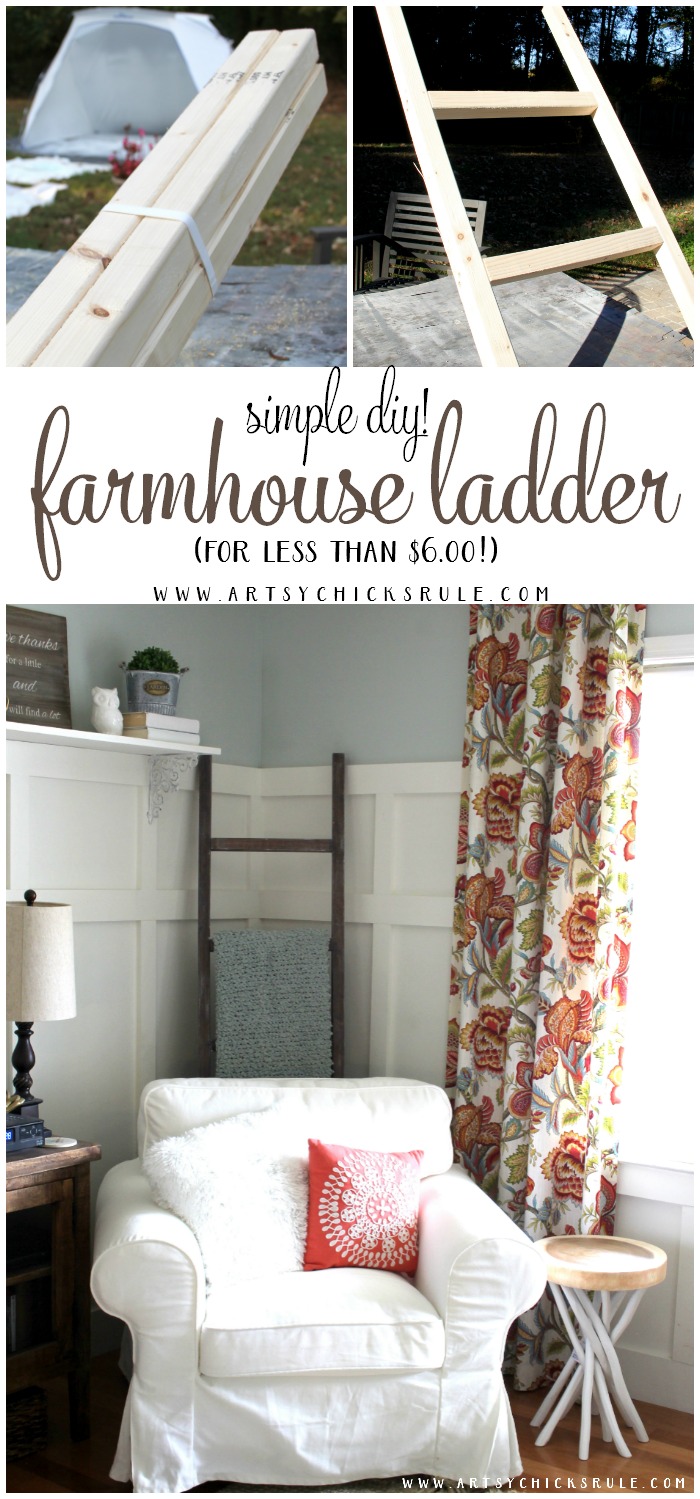 See you next week with another new tutorial. Easy, easy, my favorite kind!
Happy making! :)
xoxo