How To Build A DIY Coat Rack (wall mounted)
This post may contain affiliate links. Please see disclosures here.
This wall-mounted DIY coat rack is great on any wall and perfect when you are short on space!
Create this DIY wall-mounted coat rack (or buy one at the store) and create a "mudroom" space for your home as I did below.
I simply borrowed a little space from an adjacent room to our foyer.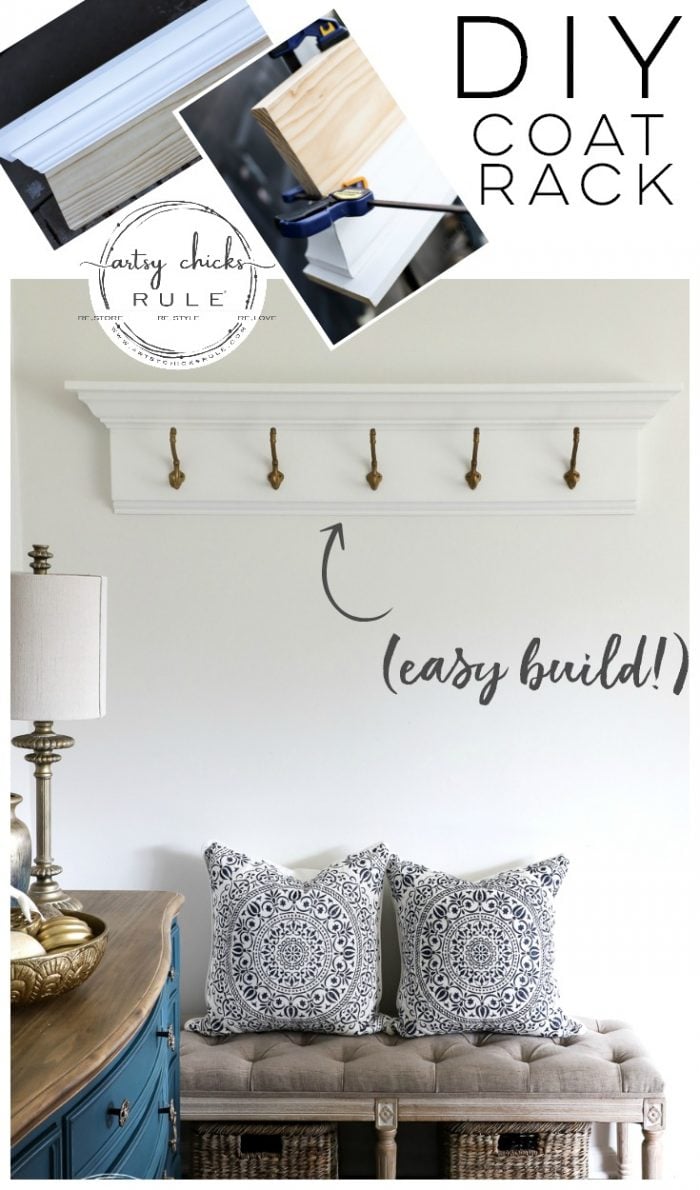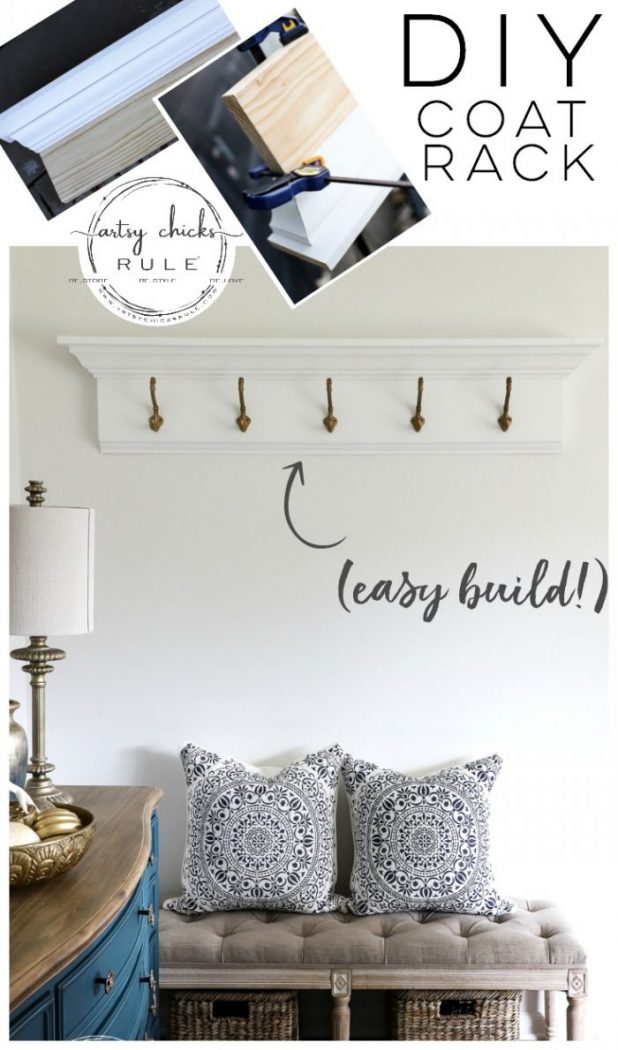 Hey friends! I'm finally sharing this DIY coat rack I've mentioned a few times and given a sneak peek, or 5 heh heh, of over on my Instagram stories over the last few weeks.
I really wanted to have a perfectly laid out "step by step" for this one but we were literally finishing and hanging this on Christmas Eve.
I was scrambling to get so much done since we were hosting our family on Christmas for dinner. We were racing the clock and beat, so stopping to pull out the camera was at the bottom of the list!
I did get some photos though. And I promise it was a really simple and basic build.
DIY Coat Rack
Here's what I used:
2 x 10
1 x 6
3″ crown molding
We made ours 4-1/2 feet long because of our wall space.
Keep in mind that your sizes will vary depending on what length you are going for.
I knew I wanted something heavy and secure looking and I think we achieved it with this one!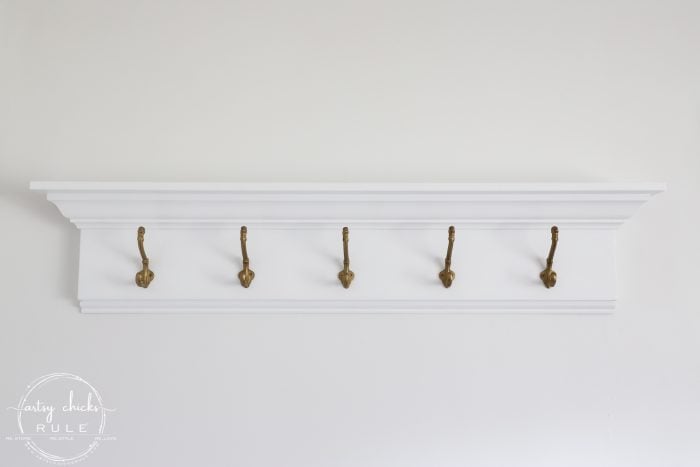 We started by attaching the top 1 x 6 to the 2 x 10 board.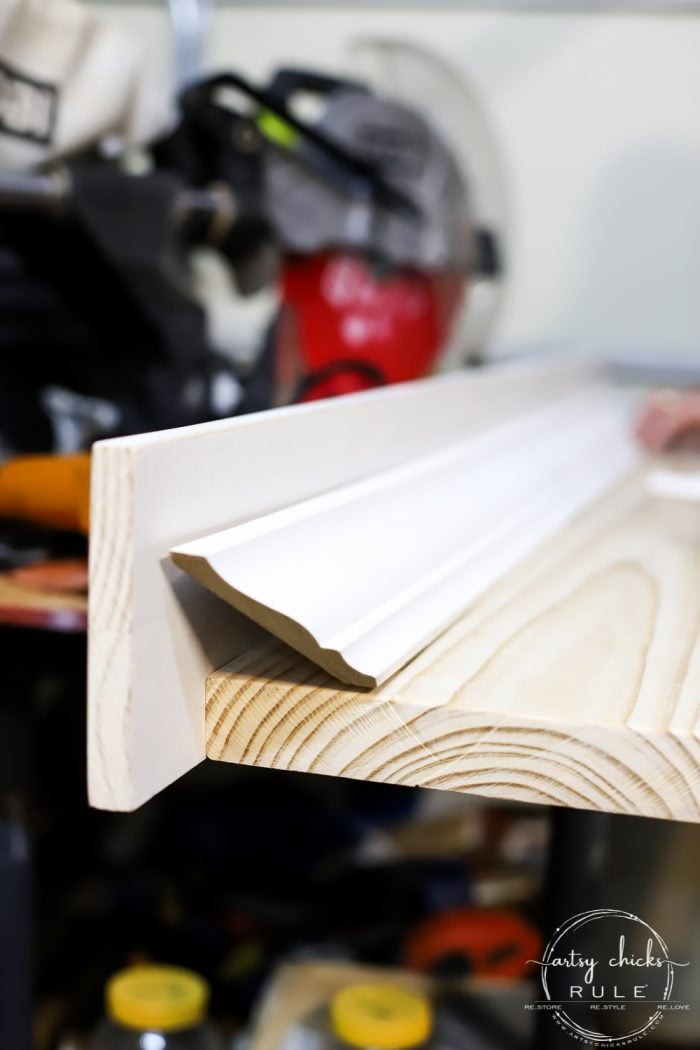 We left an overhang on each side to account for the crown molding piece that we put under the 1 x 6.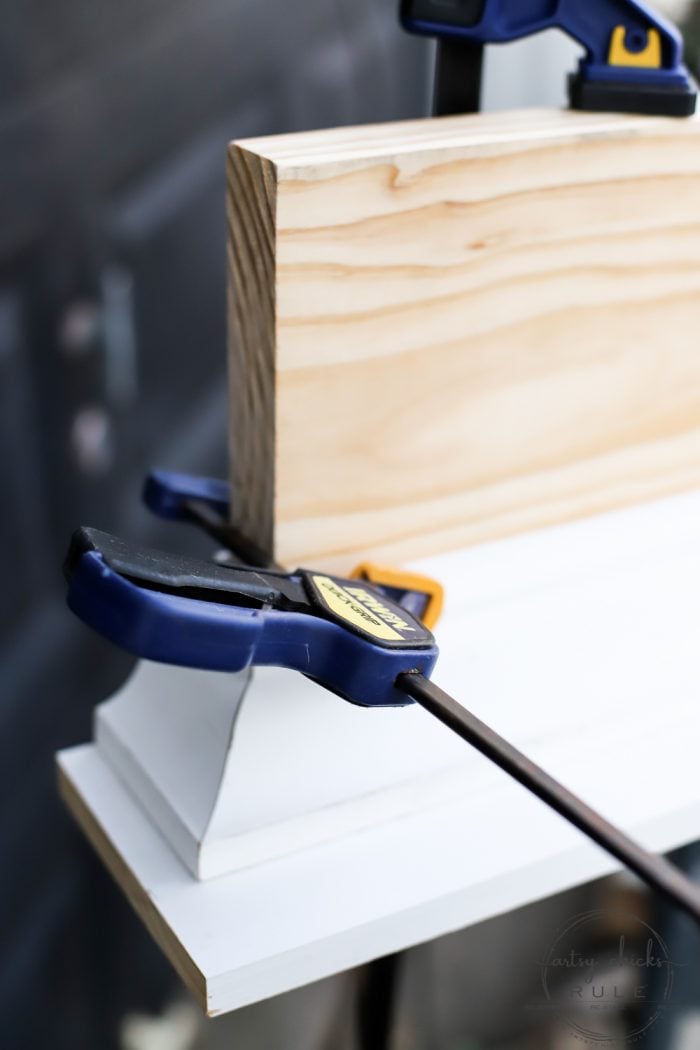 We used wood glue and a nail gun to attach the crown mold.
You can see how it looks right way up here…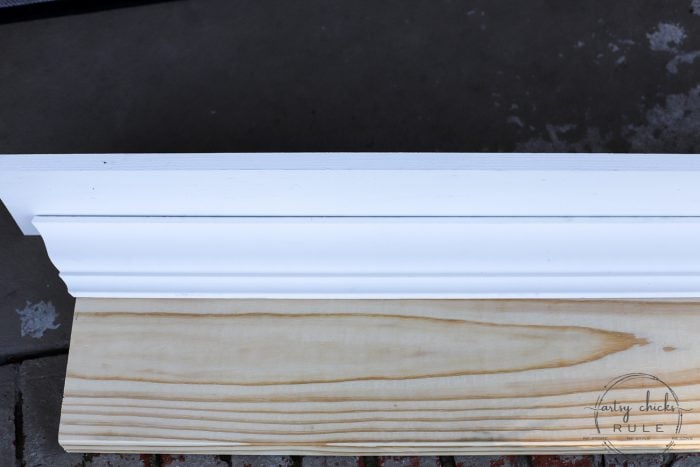 We were going to leave it like this but then decided to add a small trim piece at the bottom. (you can see it at the bottom of this photo)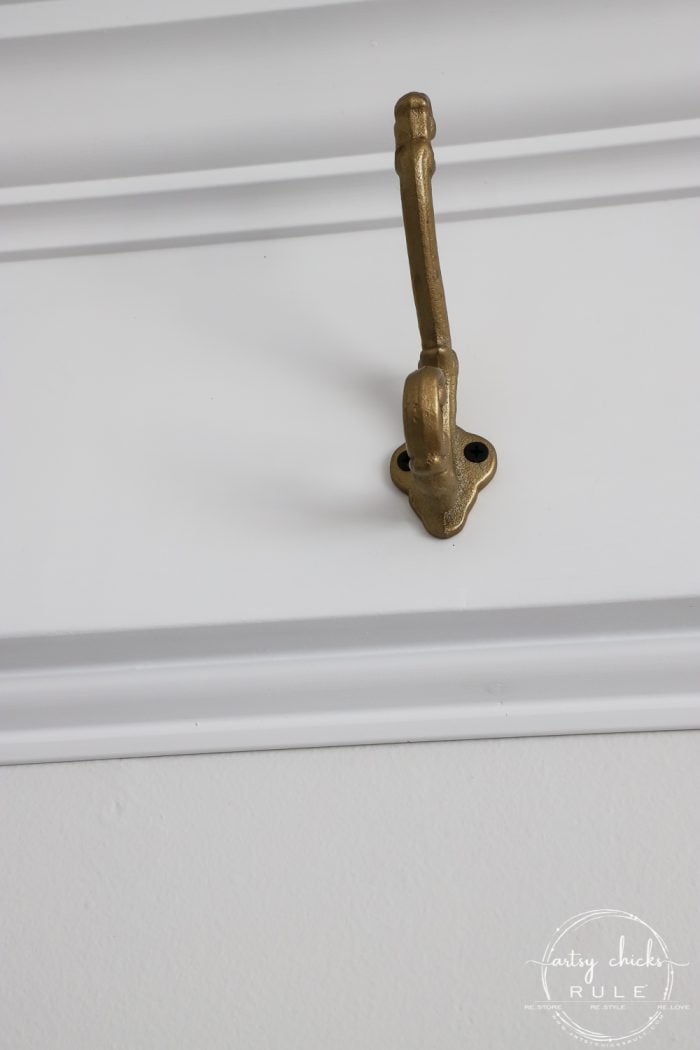 Before I painted it, I sanded all of the sharp edges to soften the look.
Plus, CAULK.
I caulked it everywhere to make it look seamless.
I just love how caulk makes everything look perfect and new.
And look at how the bottom trim we added mimics the lower section of the crown mold above.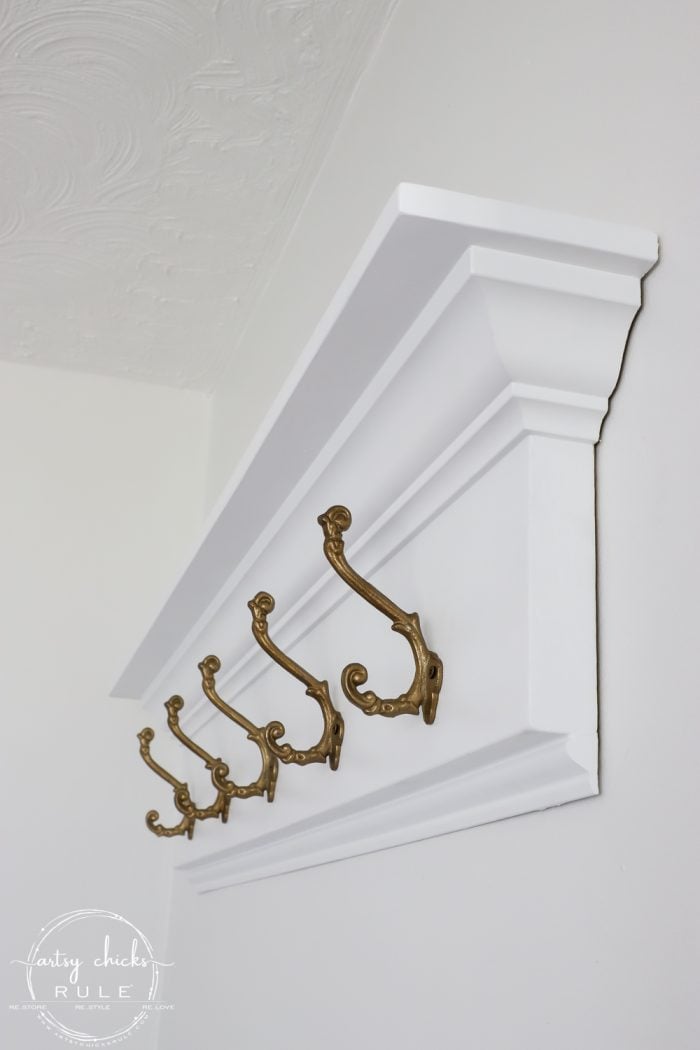 And see? Seamless. Love that!
We actually attached it directly to the wall from the front.
We drilled holes and sunk the screws in where there would be a hook/hanger attached.
If we didn't have a stud, we used anchors.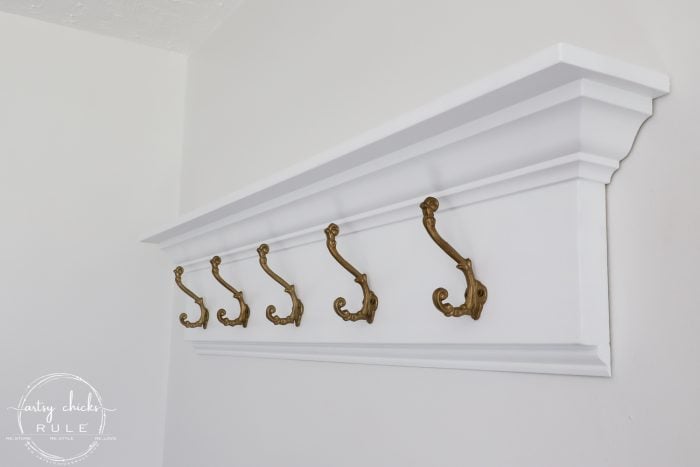 I painted one coat of this primer (but in white) and then 2 coats of Sherwin Williams Extra White in an eggshell finish. (which is the same color and finish I used on our trim)
I found these at TJ Maxx.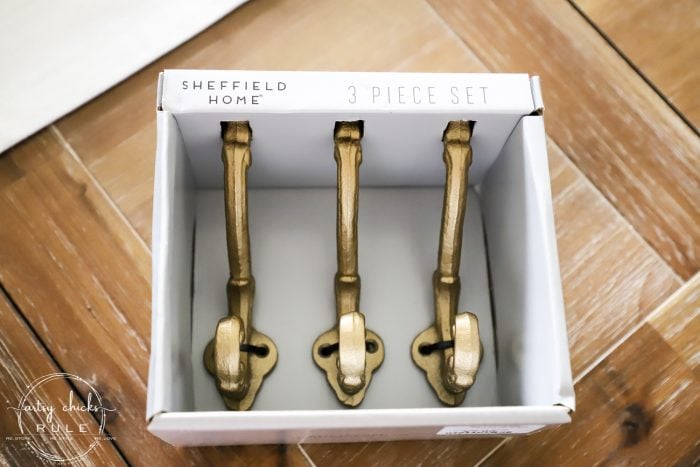 The screws that came with them were not really secure enough so we used our own…. which were black.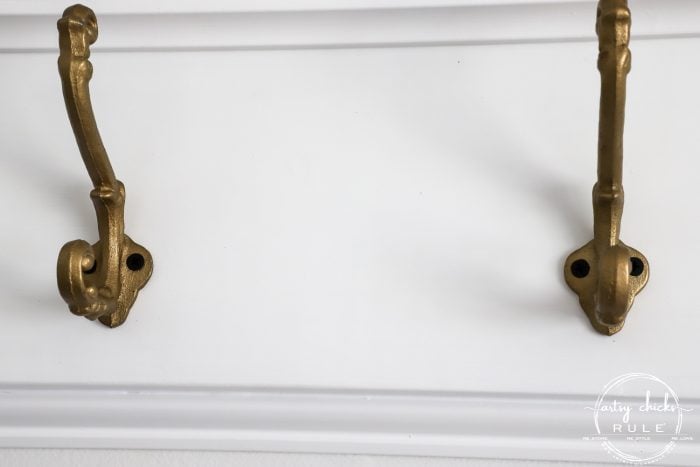 But no worries! I used my fave product, Gilder's Paste Wax, to color them to match.
And wow, did it ever match perfectly!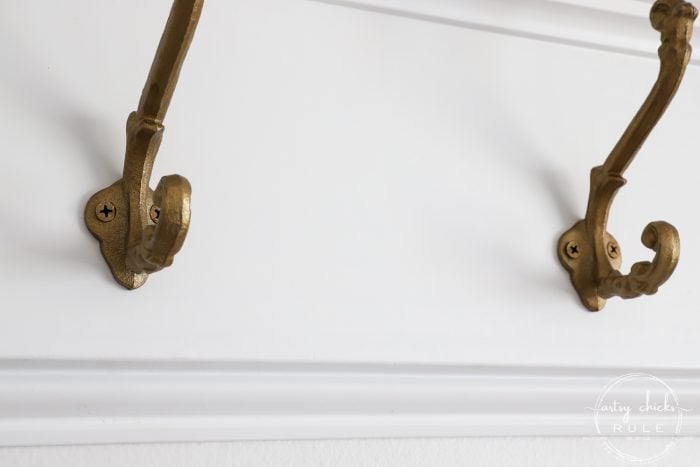 So thrilled…and so easy to use this stuff.
Here's a shot of it before and after.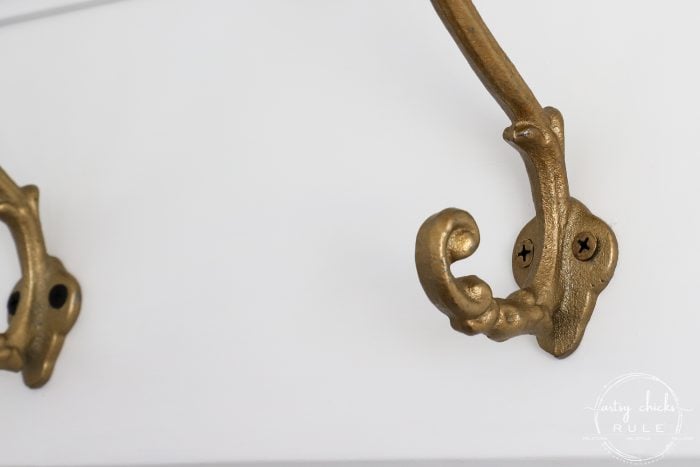 I used the color Gold and it was just right.
Here's where we previously had a hall tree to the right of the opening in this very same room.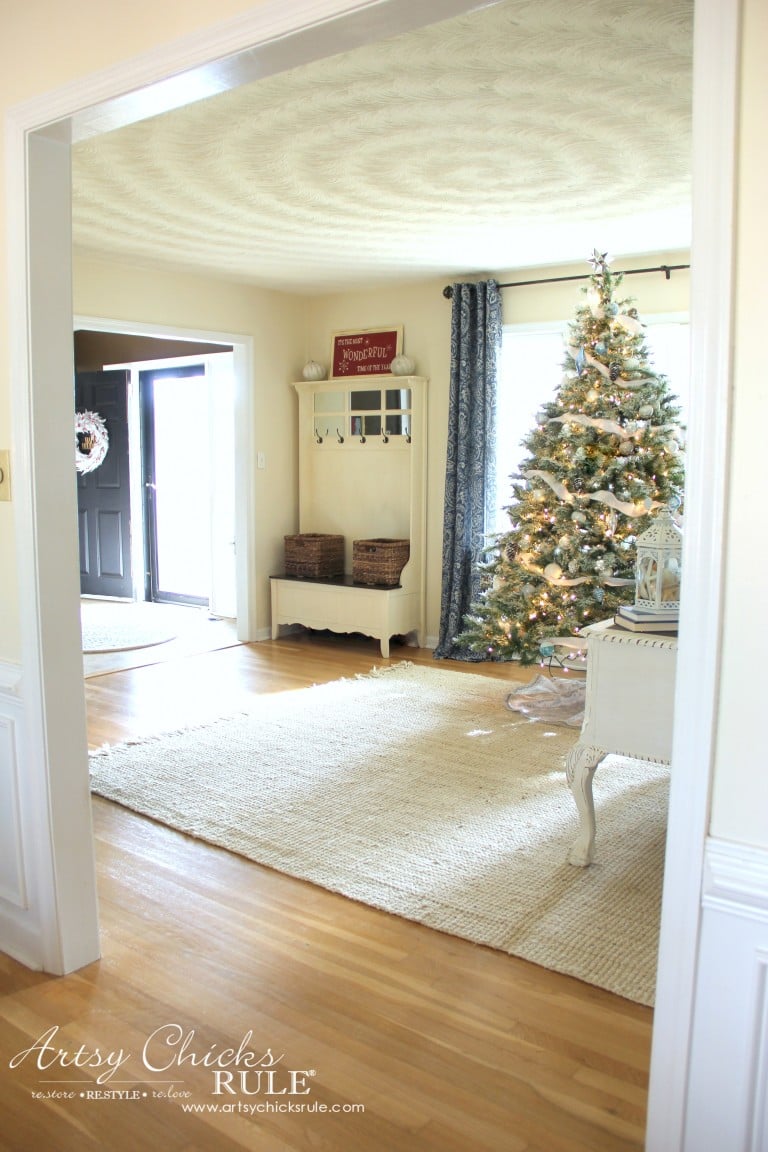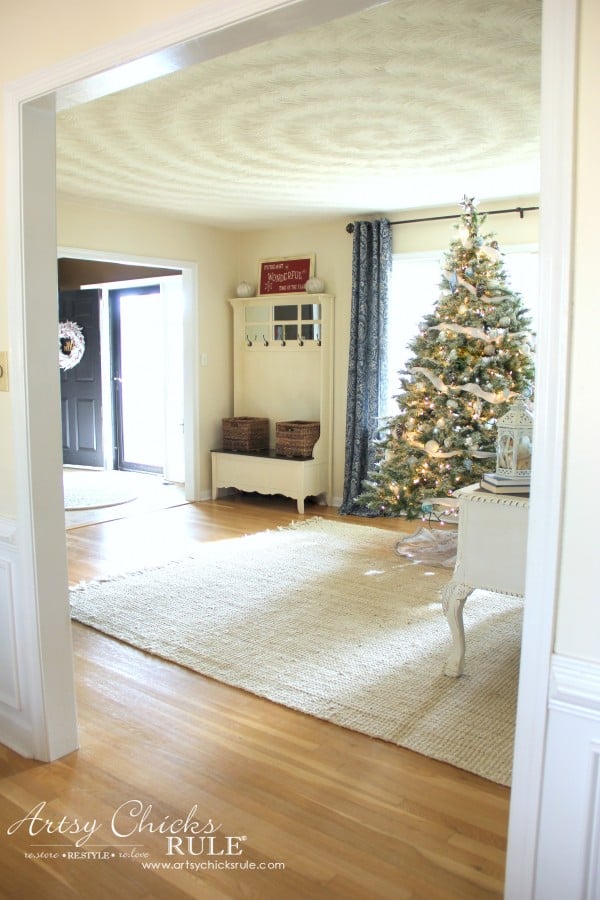 But since we've redesigned this room, that one got sold and my pretty secretary desk now resides in that space. (and gosh how different do this house and room look with the >>> new paint and >>> new flooring??? Very! And painting the ceiling a nice bright, ceiling white was also a game changer.)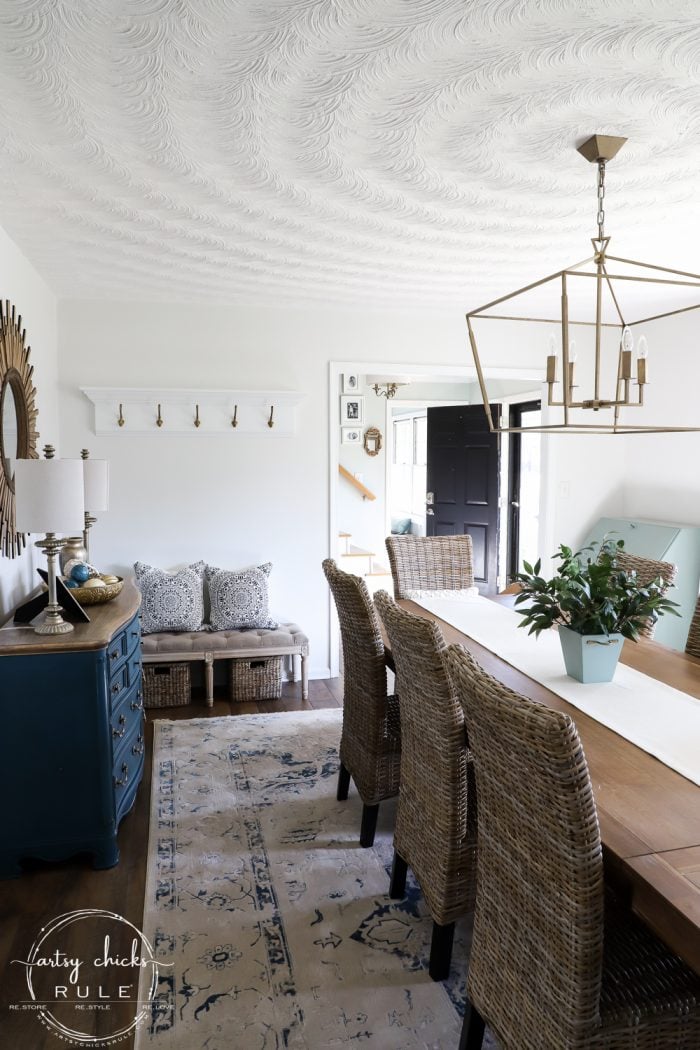 But we most definitely need a "hanging spot" for my small purses, scarves, our coats, etc.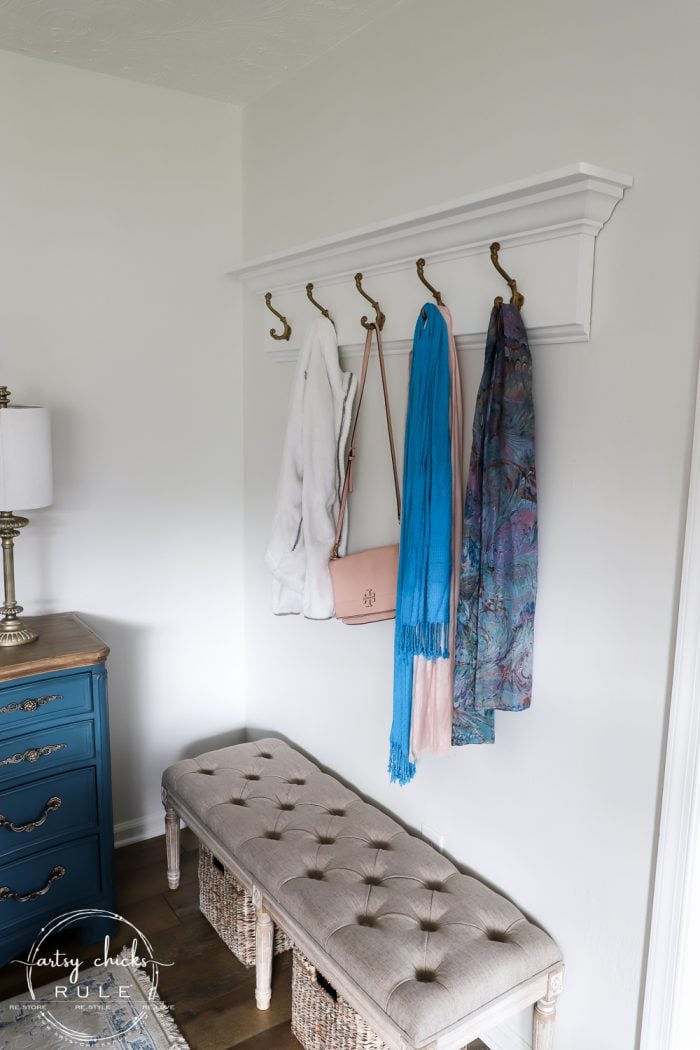 And right inside the front door and on this empty wall in the dining room was the perfect spot for it.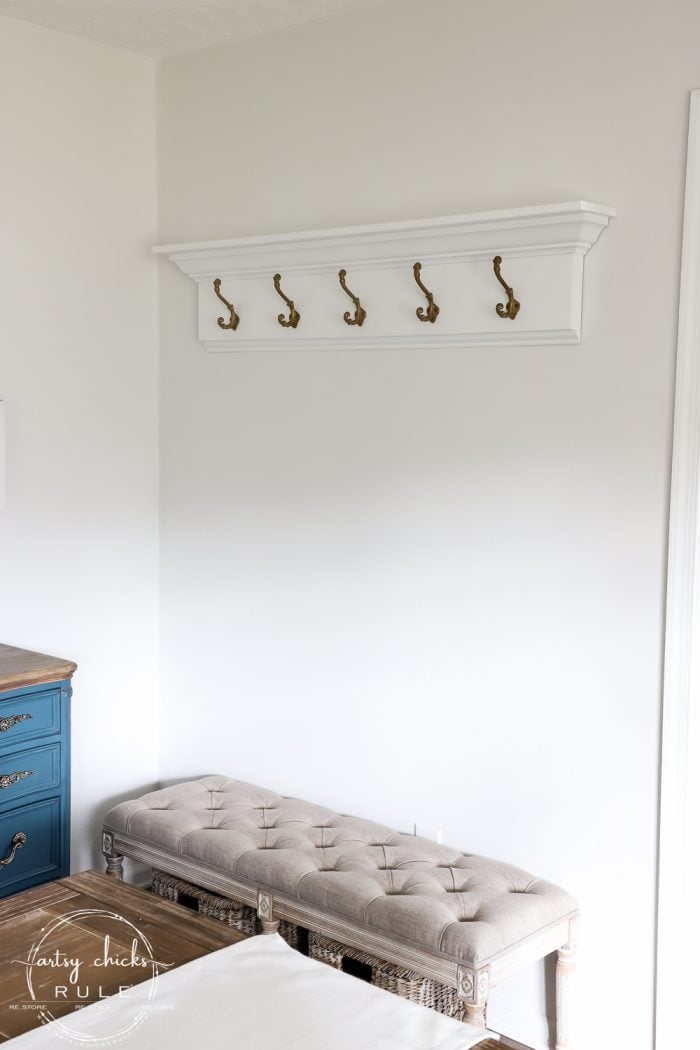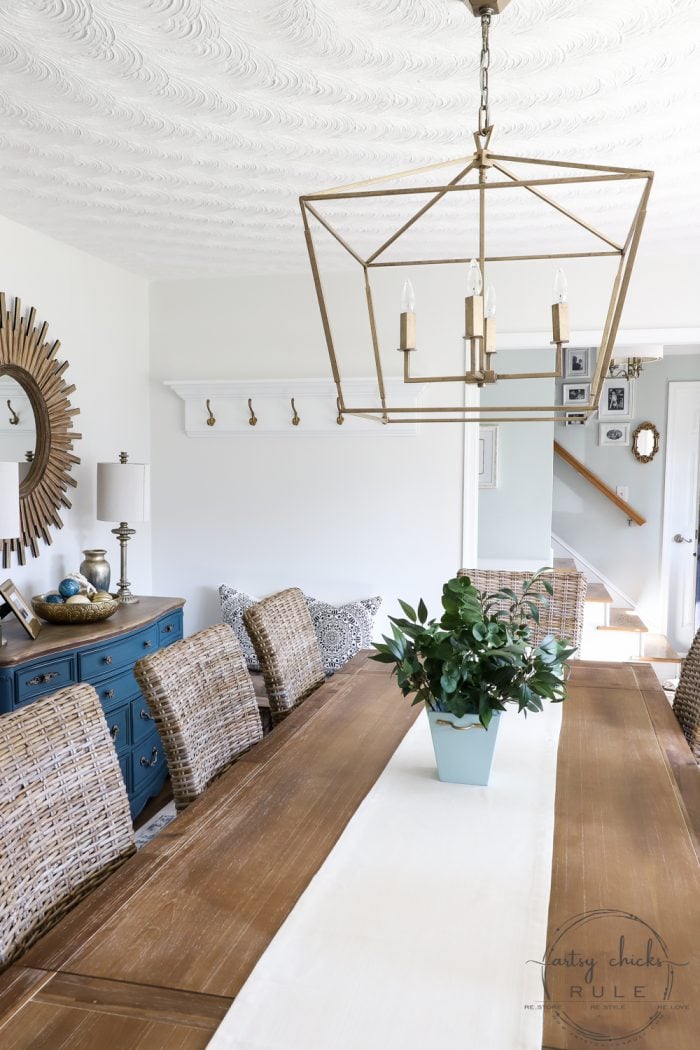 And oh…I created a simple little arrangement with some greenery I had on hand for the centerpiece in there.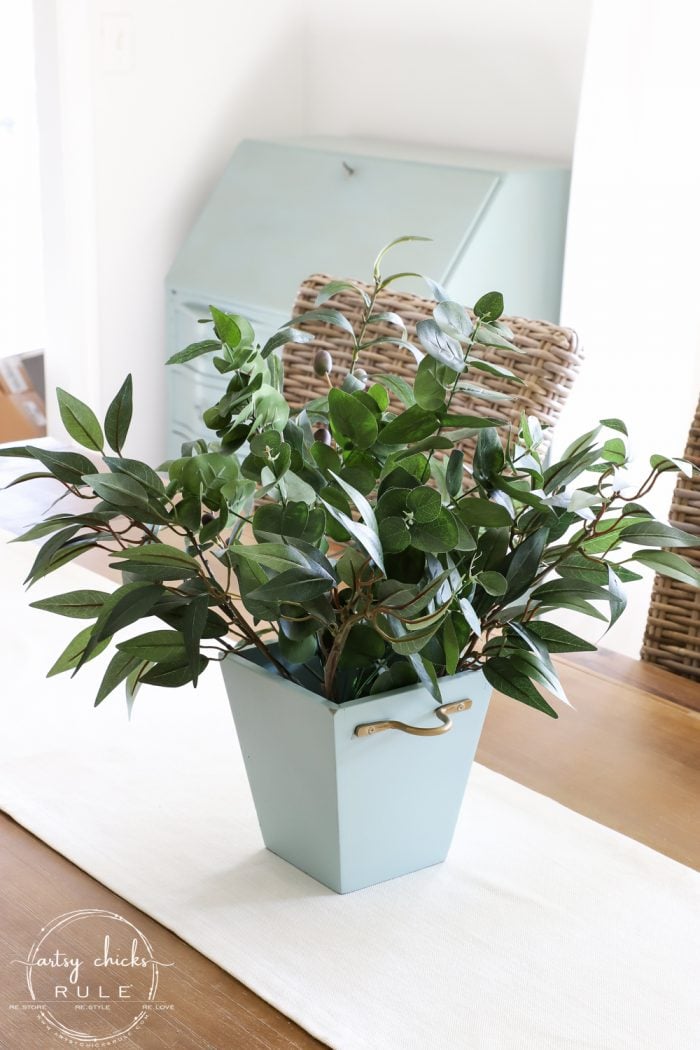 I thought this worked nicely for the winter months.
I used the thrifty makeover container I had hydrangeas in at Christmas….perfect!
I'm really thrilled with how this turned out.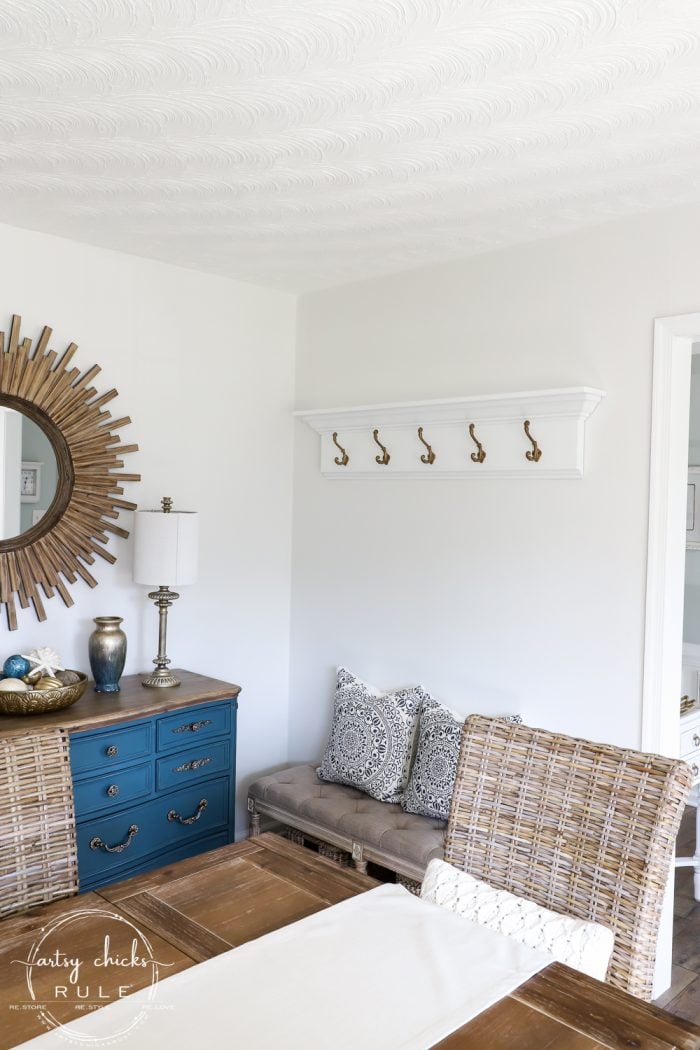 With pillows…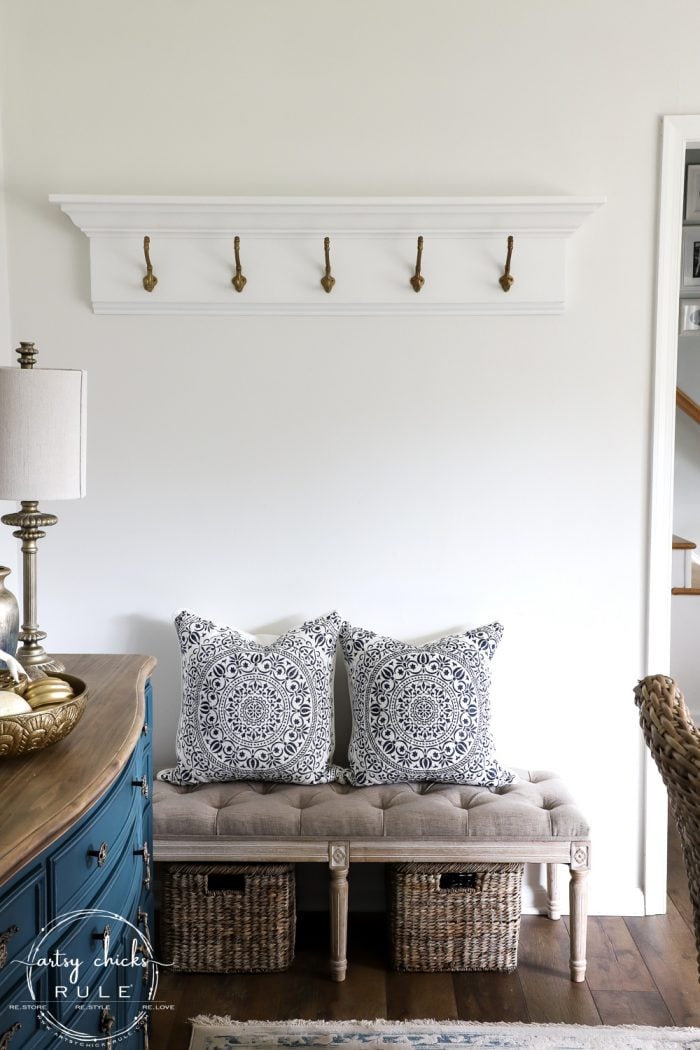 Without…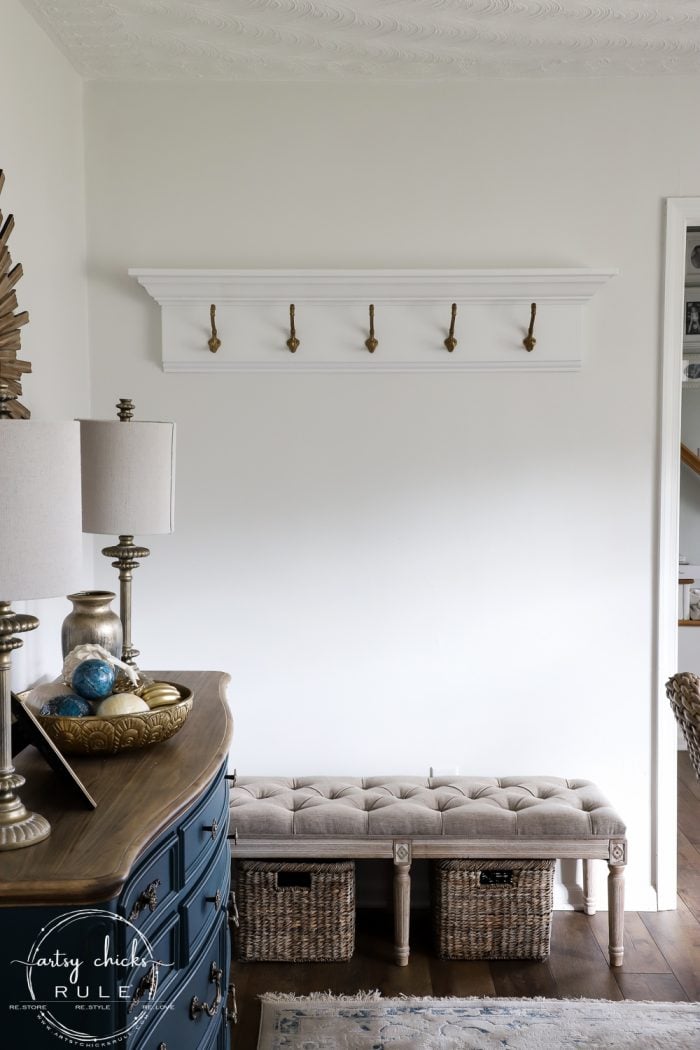 And I must tell you about this little bench I got.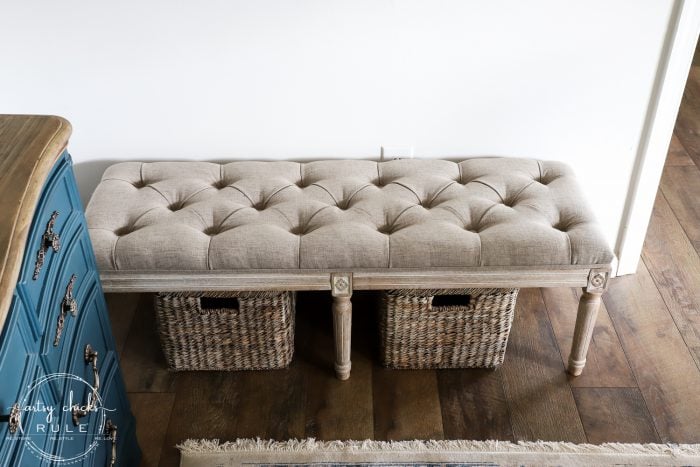 I originally ordered a smaller one but decided I wanted something that was more of the scale of the DIY coat rack above.
So I ordered the larger one. (I got them both on sale)
I decided to keep the smaller one and am using it in front of the window in our family room for more seating.
I not only wanted something like this DIY coat rack to hang our things, and guests' things, but I also wanted a place to sit down and put on shoes, etc.
Or a place for guests to place purses, hats, etc.
This bench works perfectly!
It would also be lovely at the end of the bed in a master, also.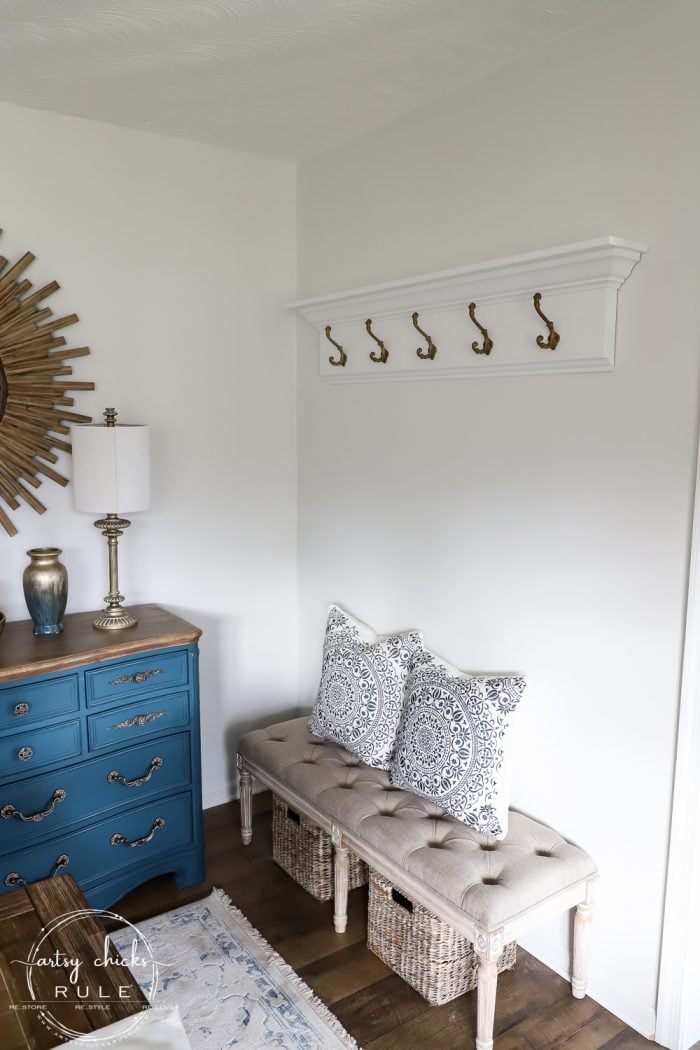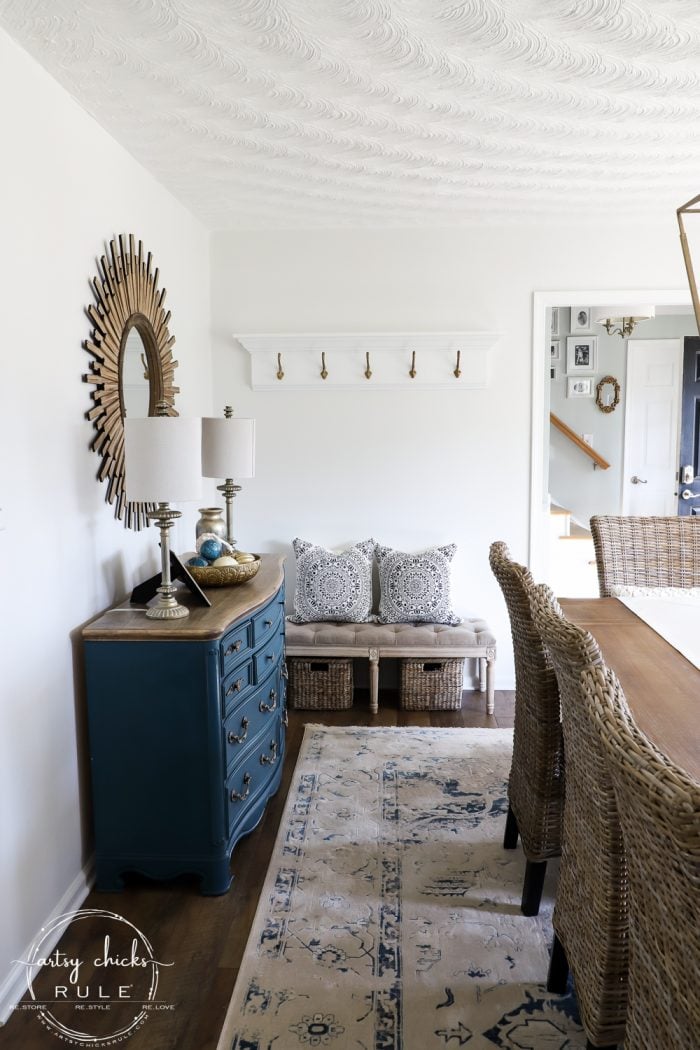 The baskets also got a makeover. These are the same ones I used to use on our old hall tree in the photo I posted further up above.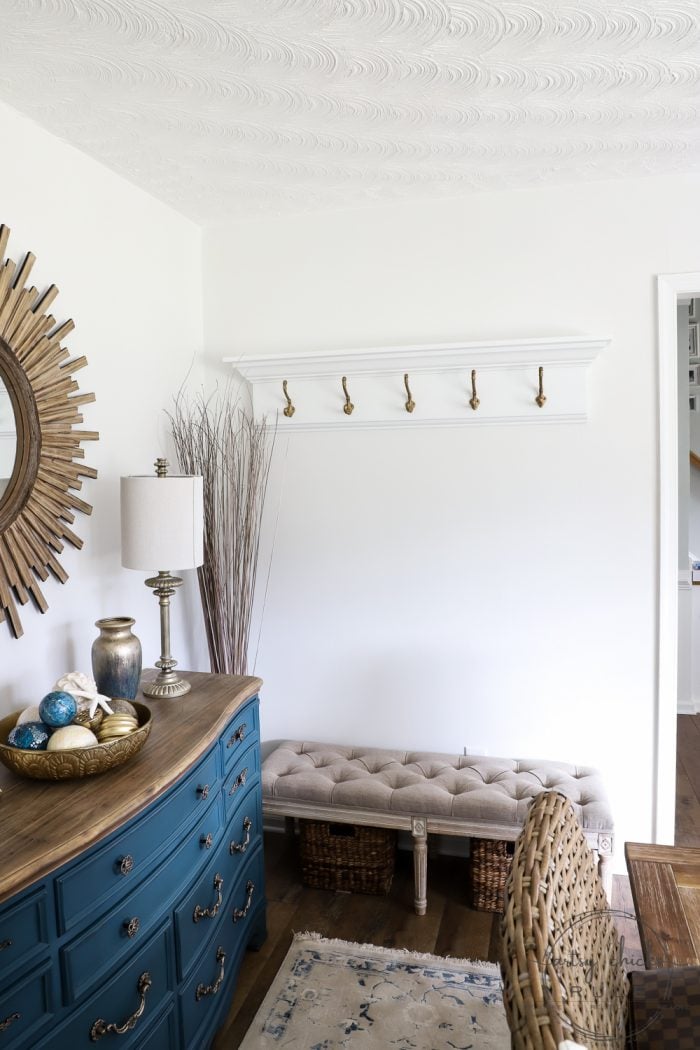 But just as I painted with a little "dry brush" the other ones in this room.
I also gave these a little makeover so they'd match better in here.
You can see the other baskets and what exactly I did to them, here.
And the new look…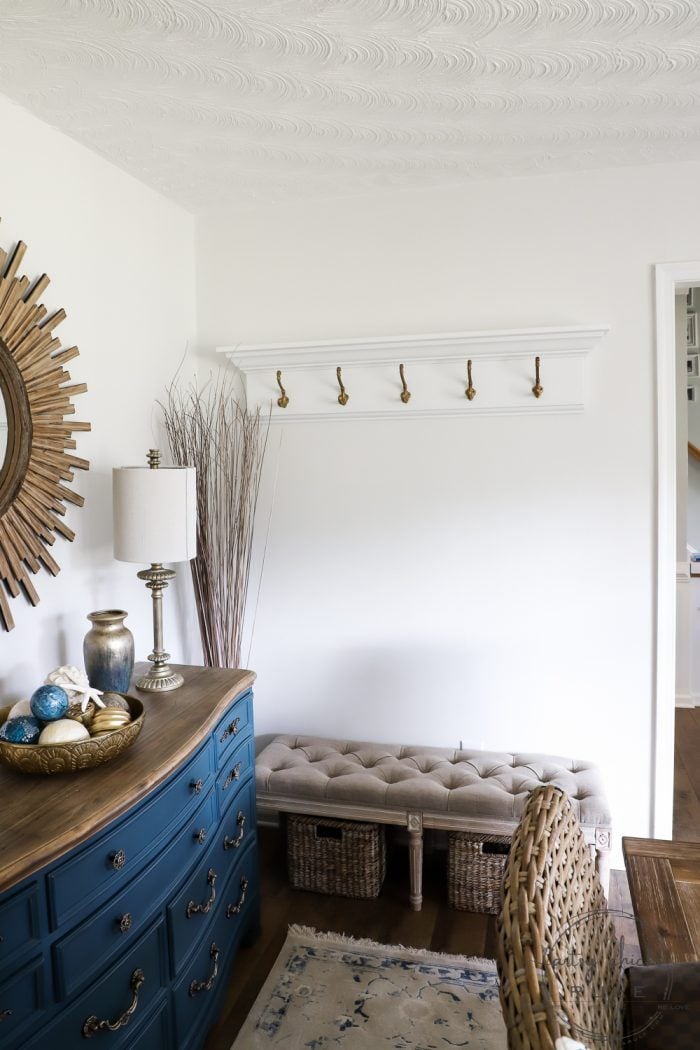 So much better and I just love how this simple paint effect looks SO natural.
See that jar on the blue dresser??
That's another one I found at the thrift store and gave a hint of paint to, to make it look completely different. (see the other one I did, here)
I'll have to share it soon! I just love this one.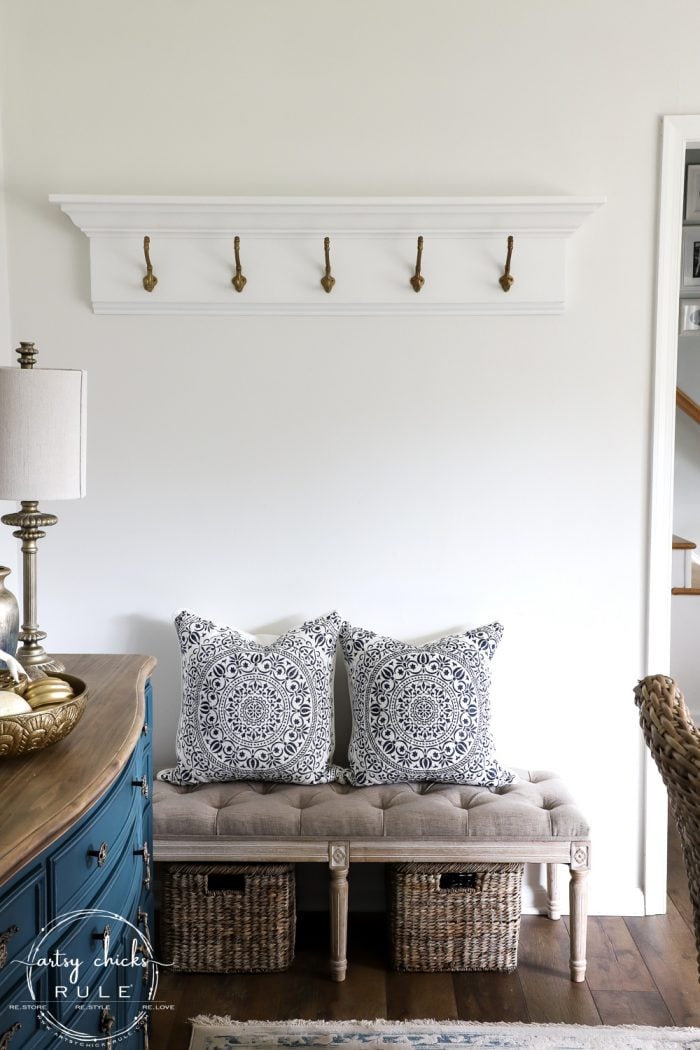 You can find some of the items in this room here…..

PIN it to save it!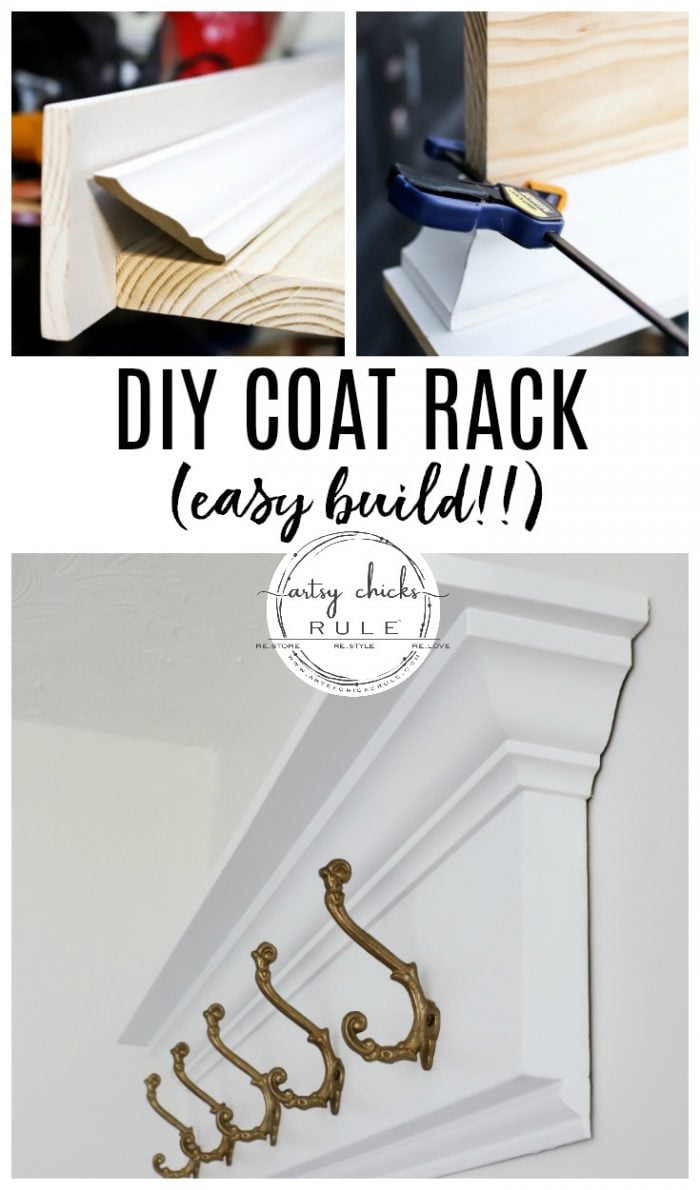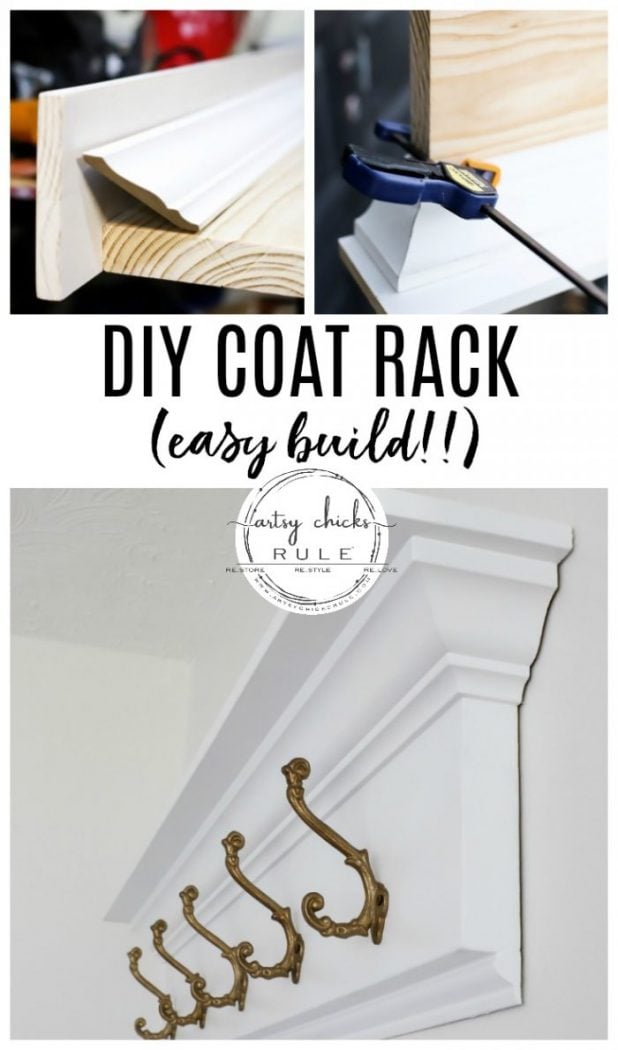 More home DIY tutorials we have shared here:
Do you have a wall coat rack too? Where do you hang your items? We have a small closet right in our foyer but it is pretty full of winter coats, etc.
So the DIY coat rack is perfect for us.
Let me know if you decide to make one, too! :)
Check out this post next week! All about finishes. You won't want to miss it!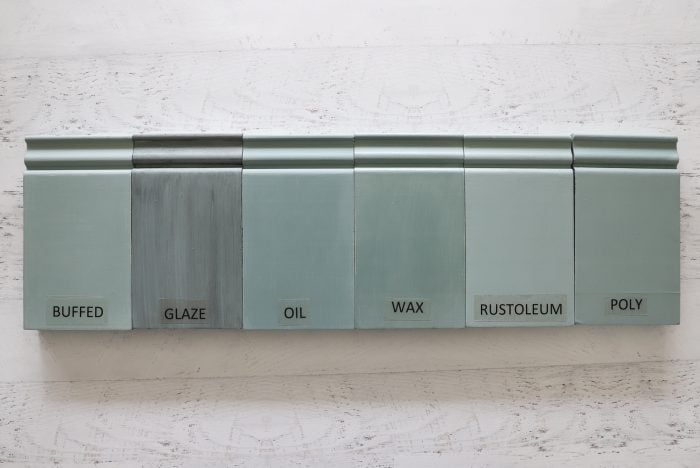 UPDATE!! See it now here!
xoxo