Decorating With Flowers For Christmas
This post may contain affiliate links. Please see disclosures here.
What better way to bring a little warmth and beauty into your decor during the holidays then with fresh flowers for Christmas!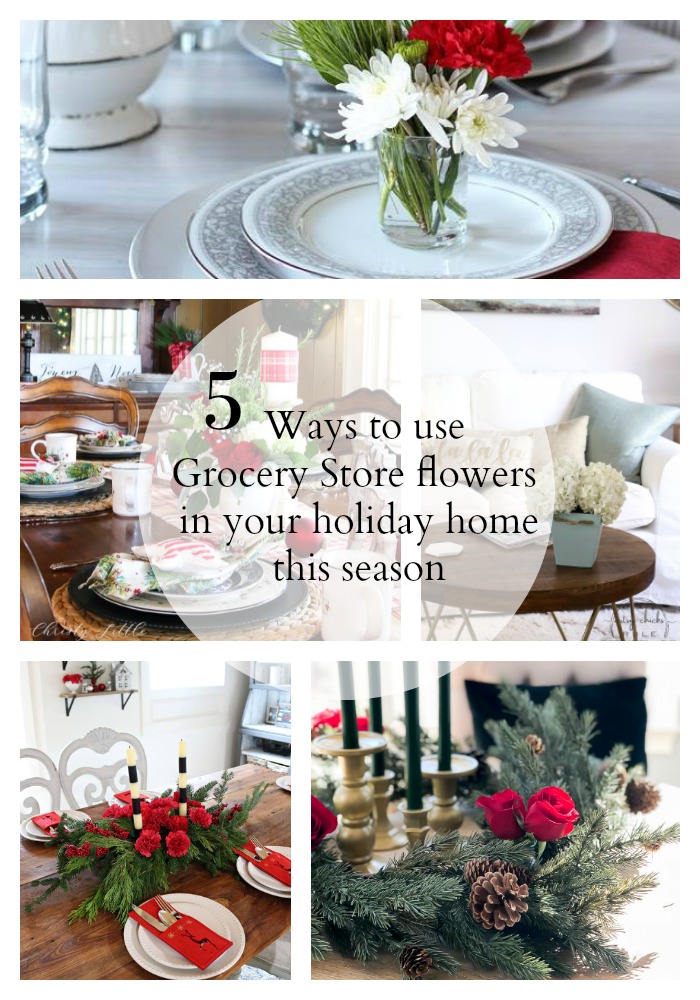 It's been awhile (too long!) buy my Decorating Enthusiast friends and I got together to share ideas for using regular ole grocery store flowers for Christmas.
They are inexpensive and are so beautiful too! I was even able to get most of mine on clearance. Win!
Be sure to scroll all the way to the bottom to see my friends' flowers for Christmas too.
And side note, did you know that you can "refresh" hydrangeas with hot, boiling water?? Sounds bizarre, I know.
But it WORKED! I bought my flowers last Thursday night and didn't get to take photos until Monday. One of the hydrangeas had wilted badly.
So I tried this trick…and voila, like new! I couldn't believe it.
Okay, so tell me if you knew that. lol Because I had never, ever heard of it. ;)
Alright, let's get back to talking about flowers for Christmas.
I thought it might fun to not only share ideas on how to use grocery store flowers for Christmas, but also something thrifty to use them in. :)
I found these 2 dish/containers at the thrift store and thought they'd be perfect with some pretty flowers.
After I painted them, of course. ;)
This actually had a sticker underneath from one of the online floral companies. lol
So more flowers it was going to get!
After paint, that is….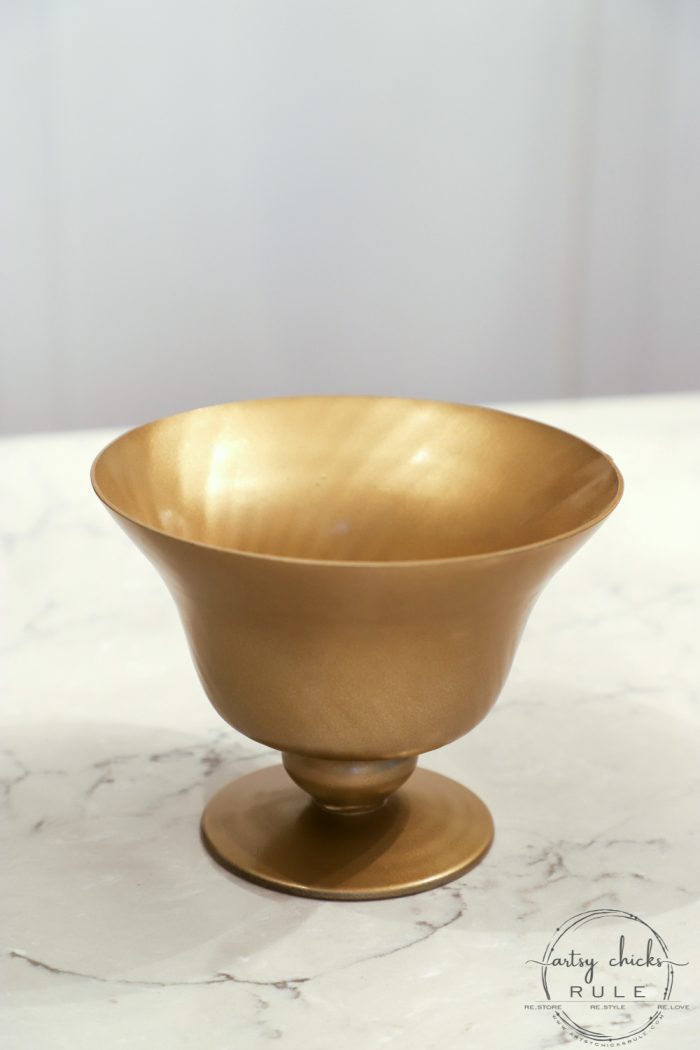 So pretty and perfect for the holidays now.
Here's the paint I used.
And this one…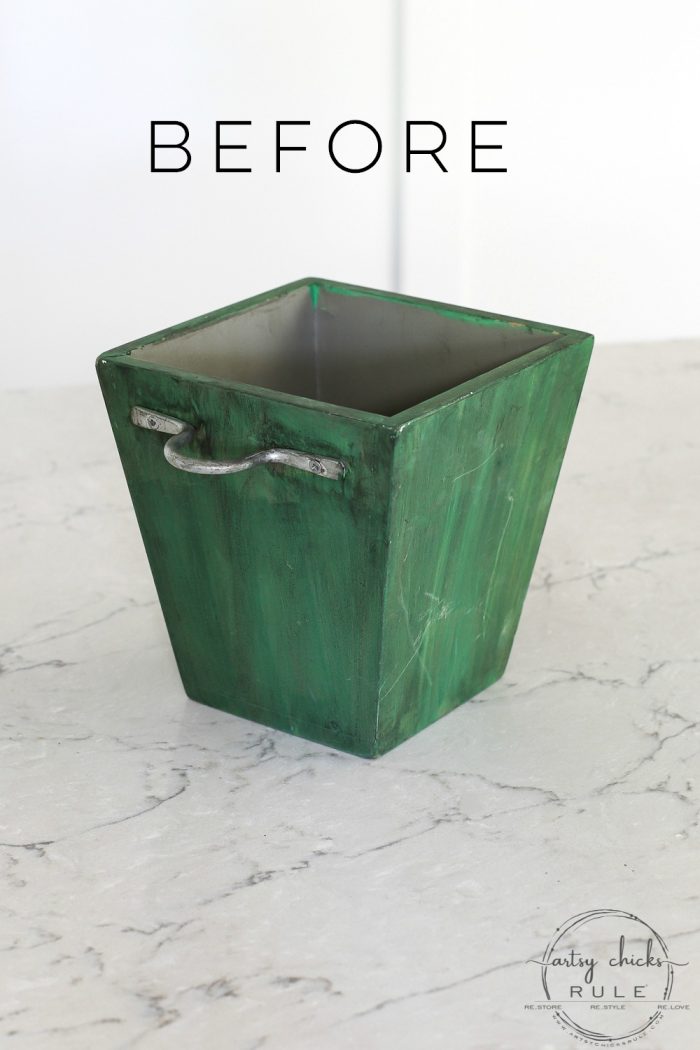 Which got 2 paints…the gold one I linked above and this one.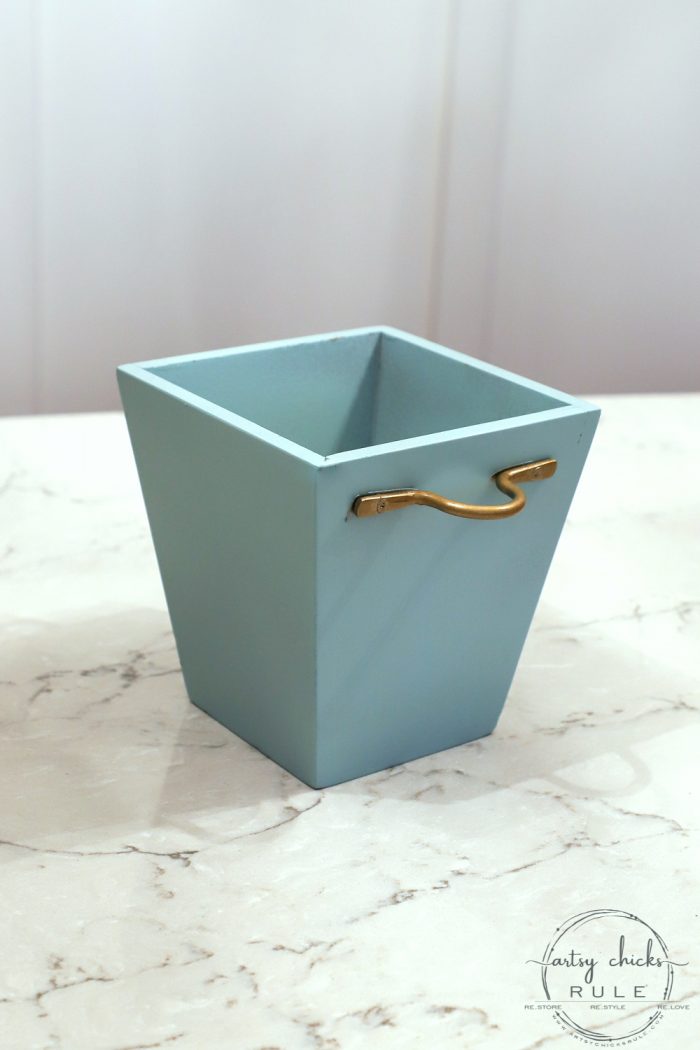 I'm going to start with these "non" flowers. ;)
I did get them at the grocery store though AND they are so festive and perfect for the holidays. (not to mention, smells great!)
I love the casual look of them laying in the gold jar. Simple and elegant.
Perfect for a splash of color and/or centerpiece on the dining room table.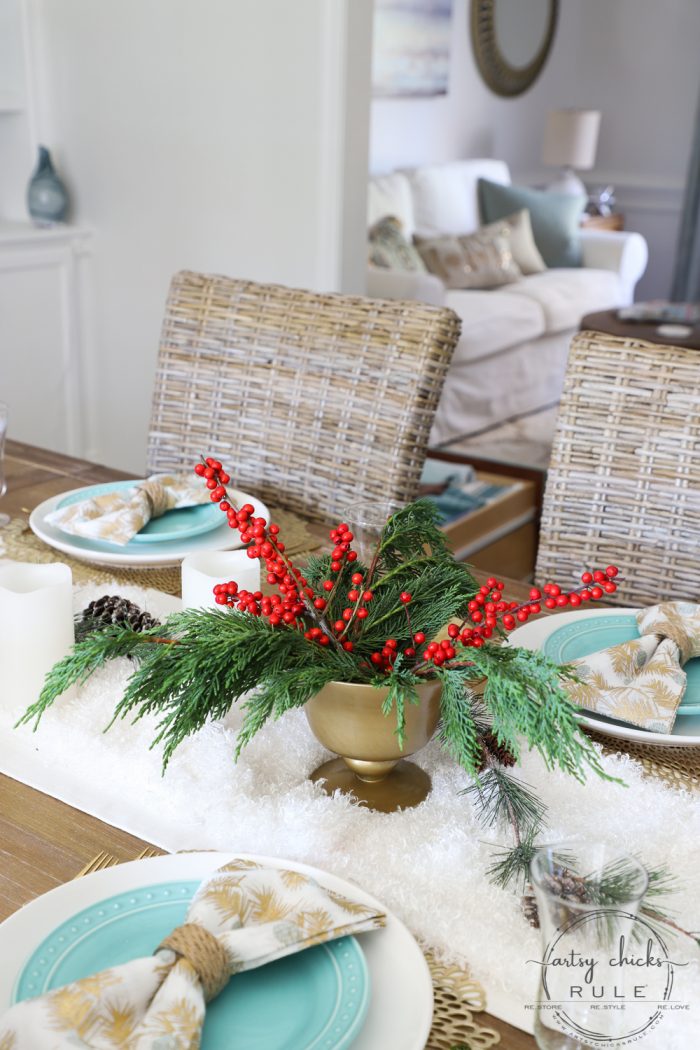 Ignore the drawer full of dish towels behind the chair there, lol, we are working on our kitchen island this week!! Yippee!!
Check my Instagram stories for a peek. ;)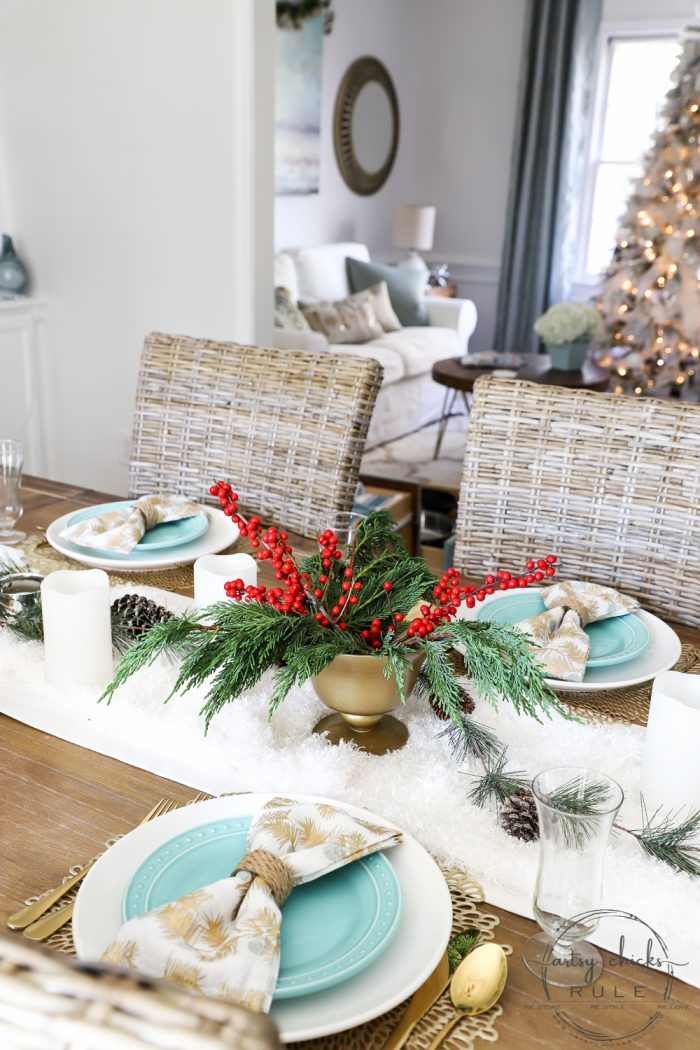 In that photo above you can see what I did with the blue container. :)
But first, let's see other ways you could use the berries and greenery.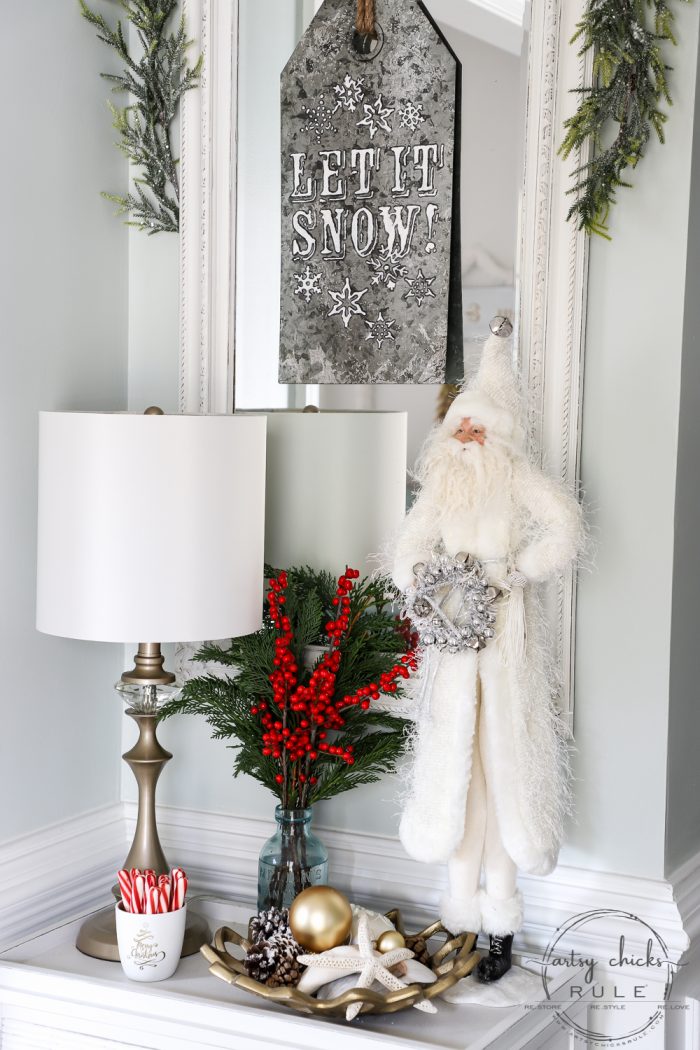 In one of my antique blue bottles….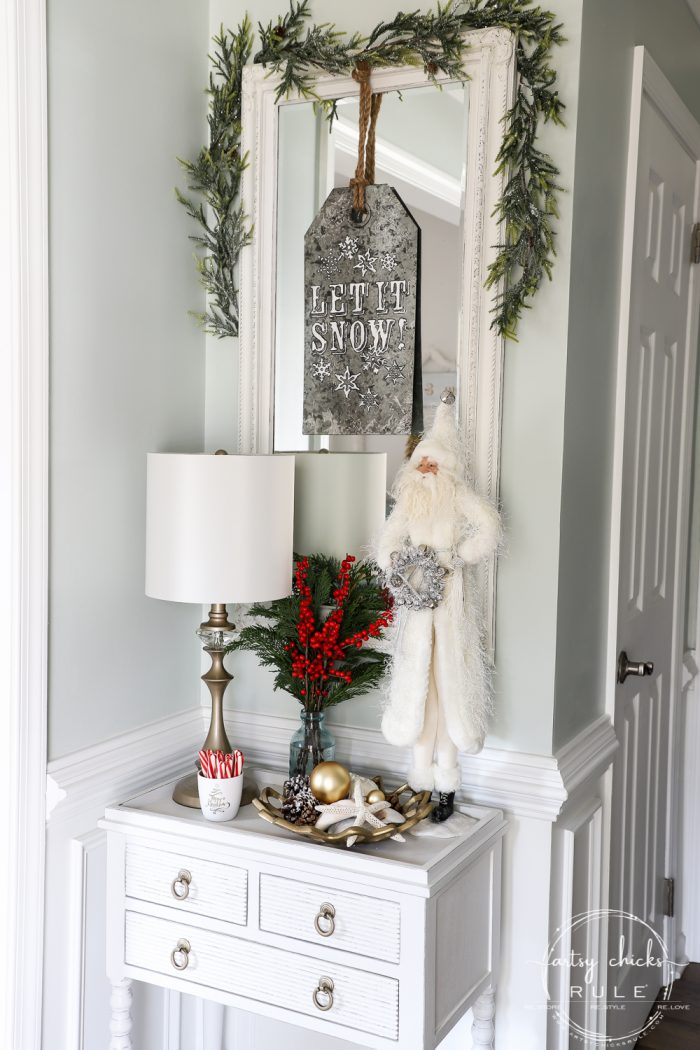 …for a pop of red in the foyer.
Or in the family room….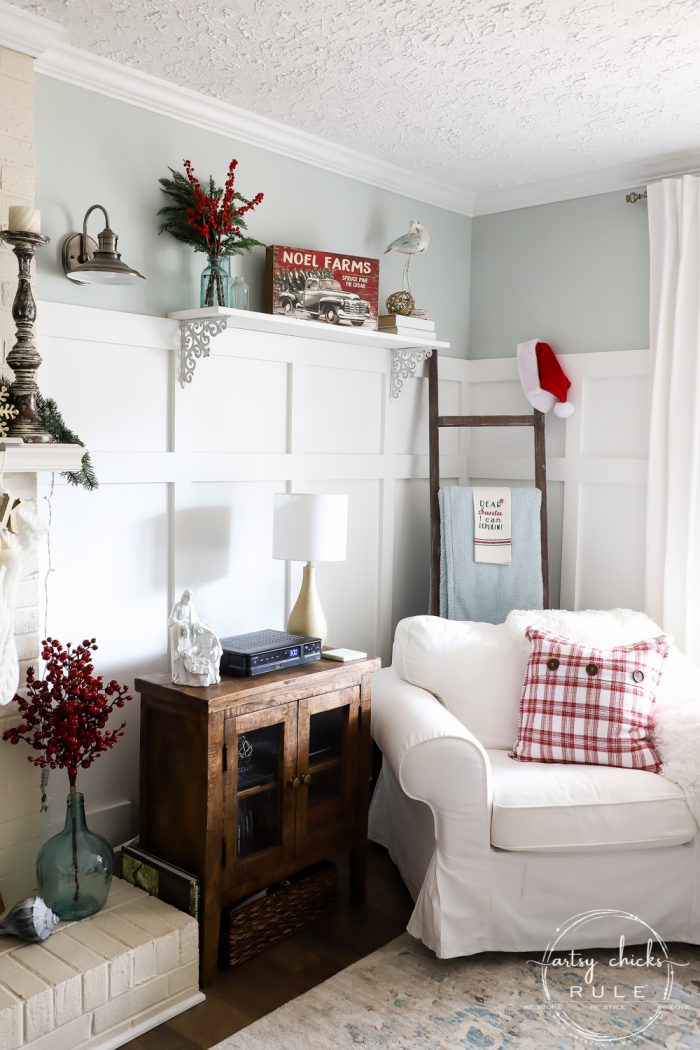 …where I just put up or Noel Farms sign from last year! It didn't make it into my Christmas tour post because I hadn't come across it yet. ;)
But there it is. :)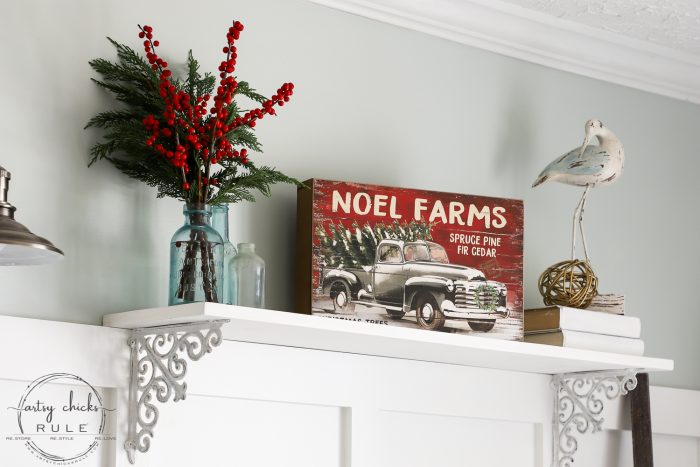 I really love these. So festive and fresh looking.
Here's what I did with the blue and gold box….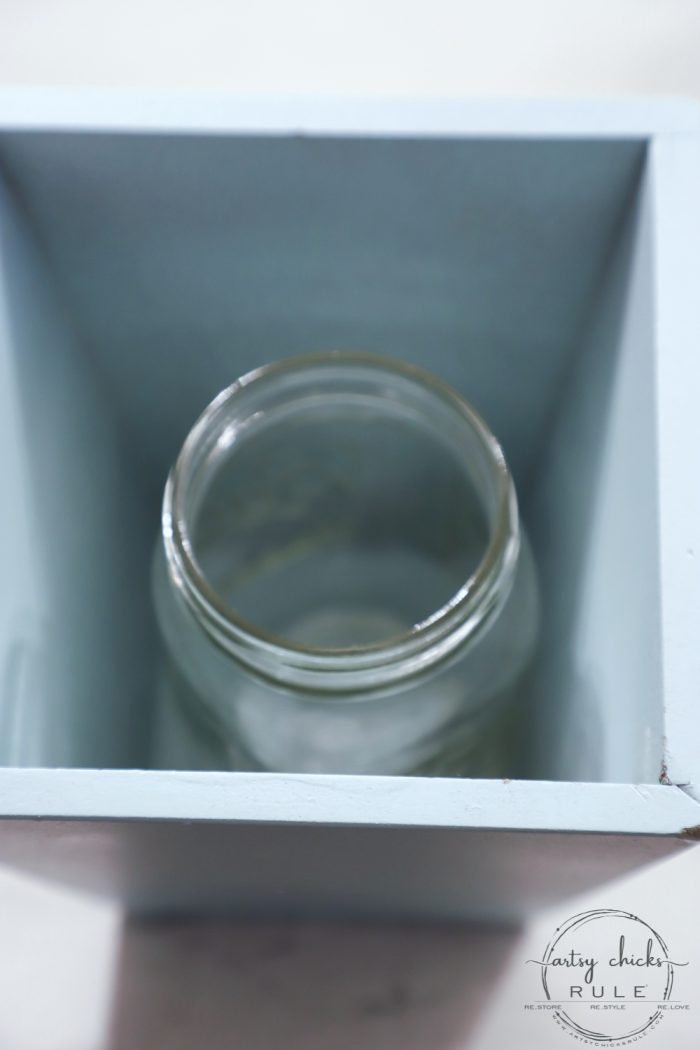 First, I added a mason jar for water since this is made out of wood.
Then I added my "refreshed" hydrangea…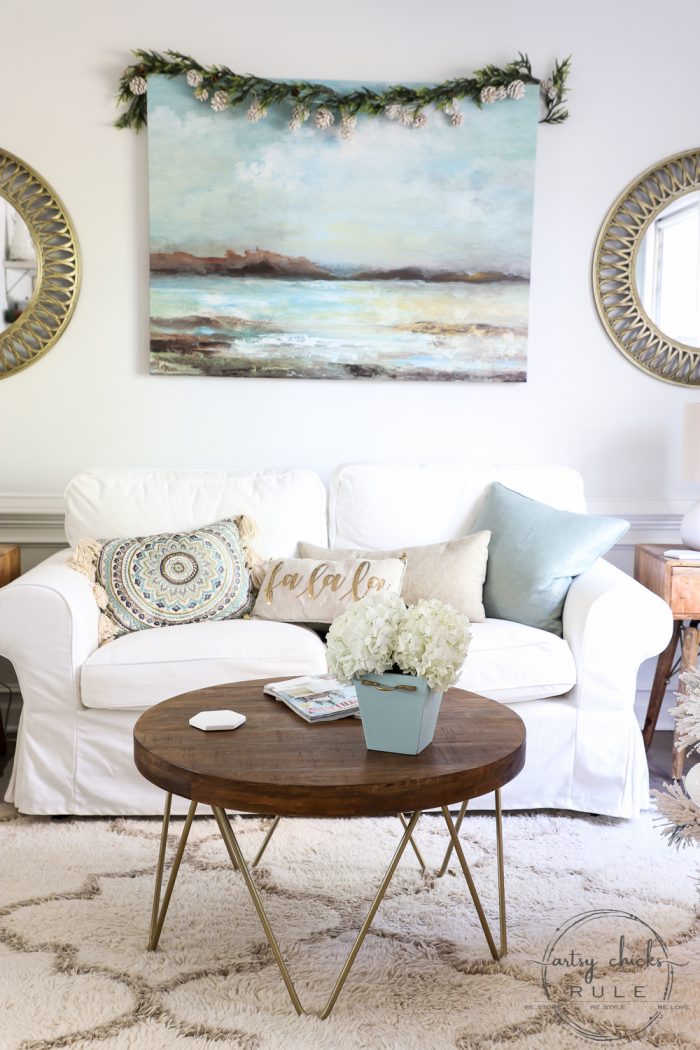 I thought a simple white would go best in our neutral, all white Christmas tree, morning room.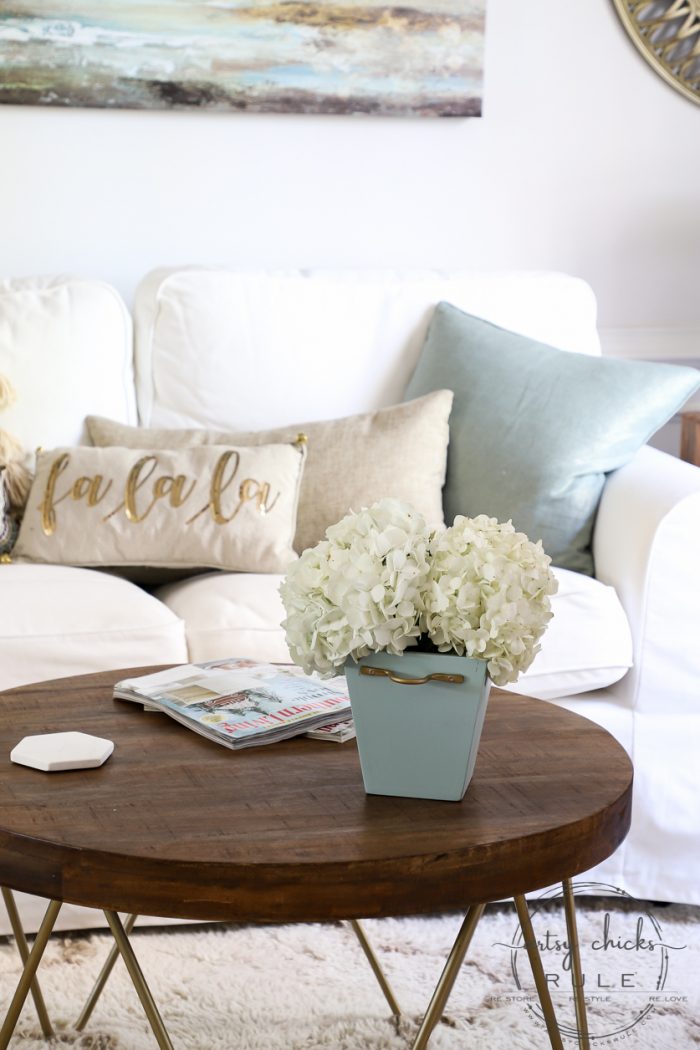 I think this one is perfect for the fullness of hydrangeas.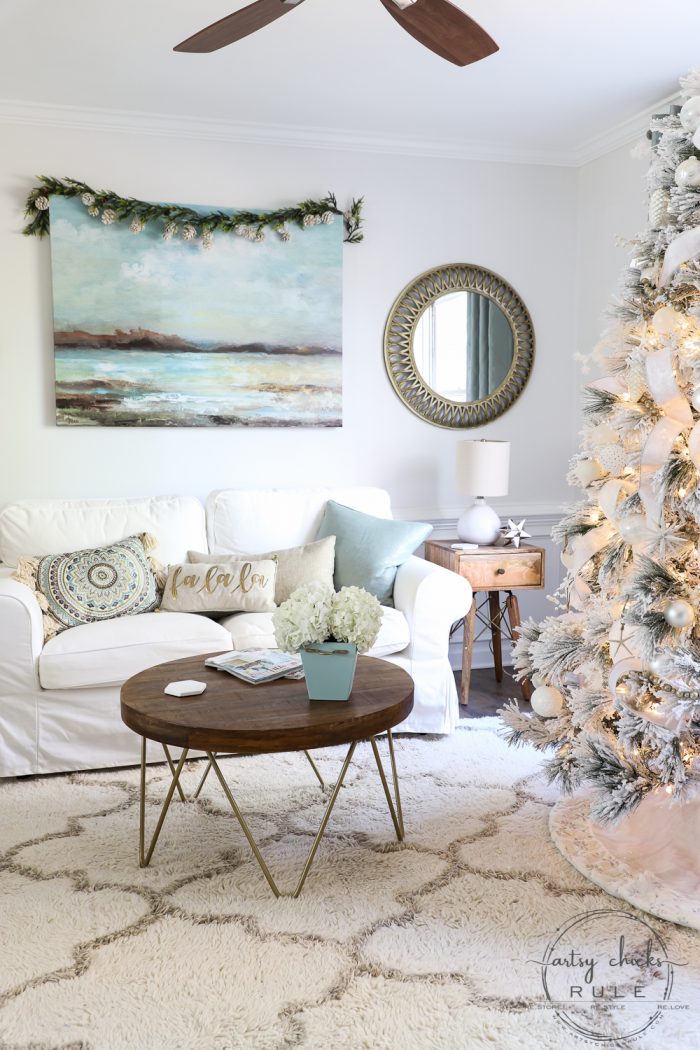 And lastly, the one that didn't make the cut. haha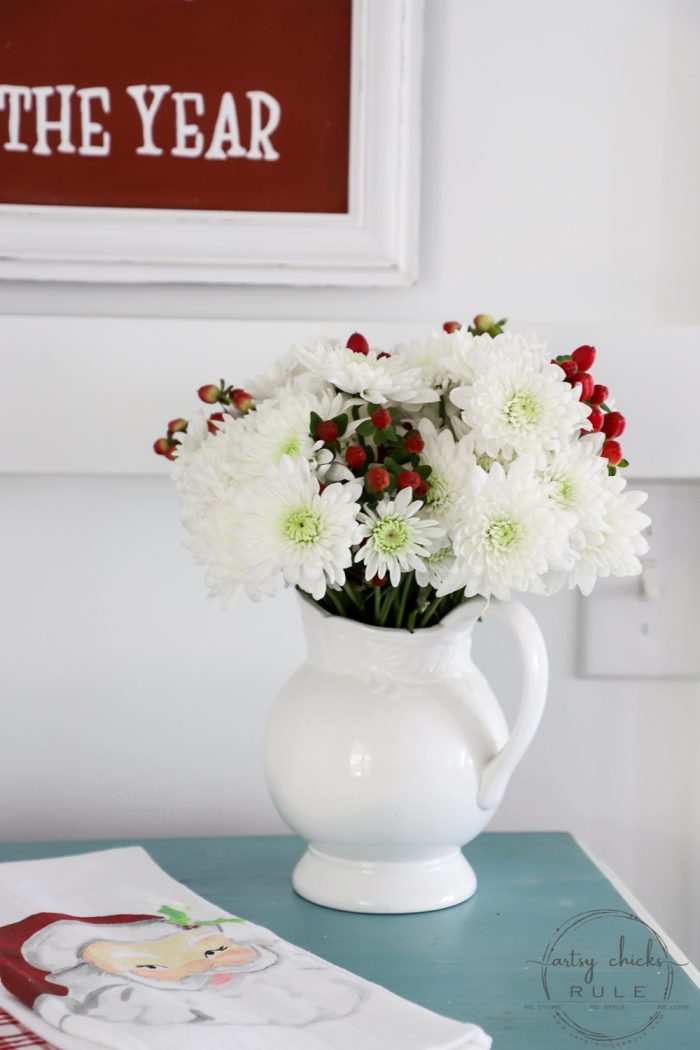 I had such high hopes for these both but I just couldn't get them arranged the way I wanted.
Plus I felt like the white flowers just didn't look very Christmas-y either.
But the pop of red in the white is a win. :)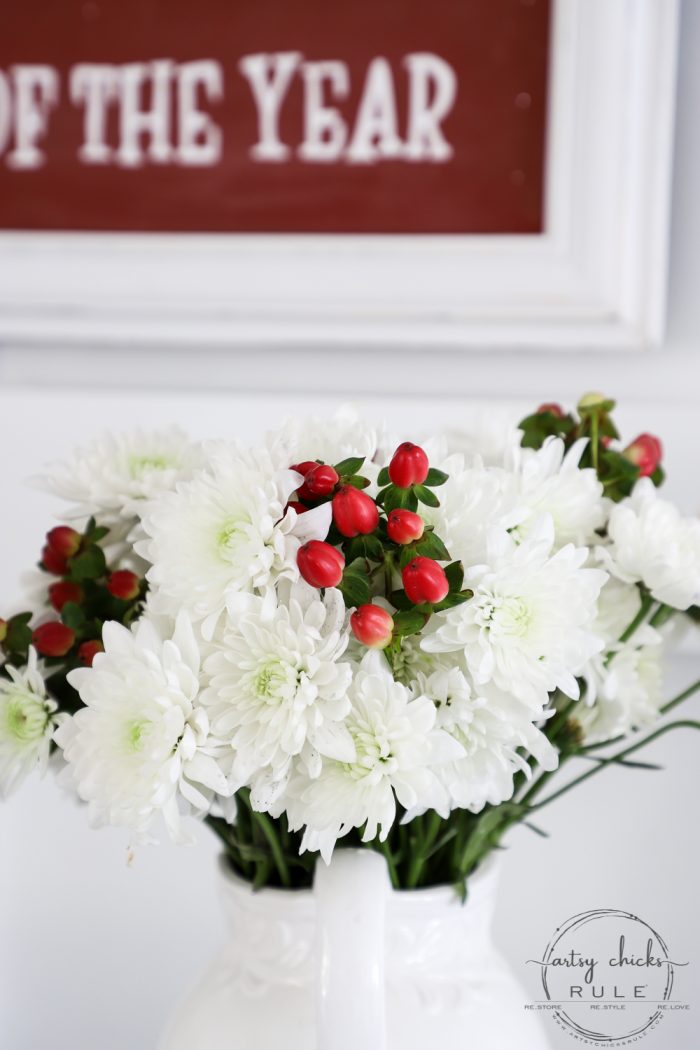 Do you use flowers for Christmas in your home??
The grocery store is my favorite place to buy them. (my faves are Trader Joe's and Kroger)
Or how about using old thrifty finds as "new" and unique containers for those flowers??
Fun to change it up sometimes! (and an inexpensive way to do it, too)
Be sure to scroll on down to see the rest of the pretty grocery store flowers for Christmas ideas!
PIN it to save it!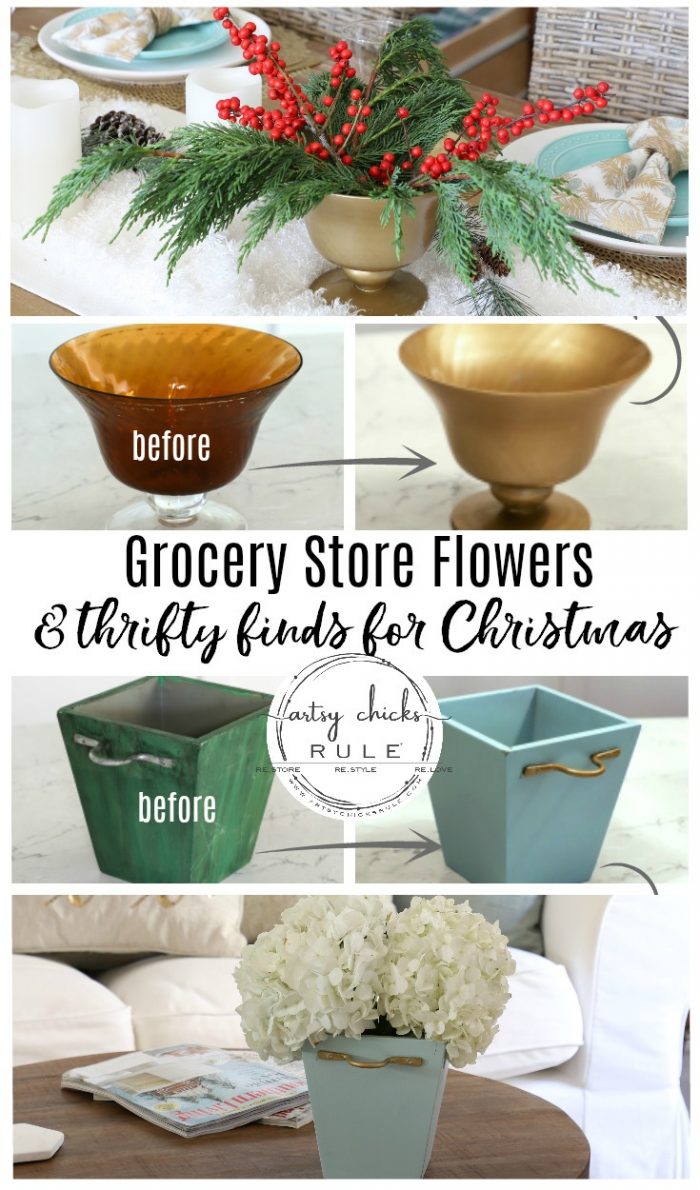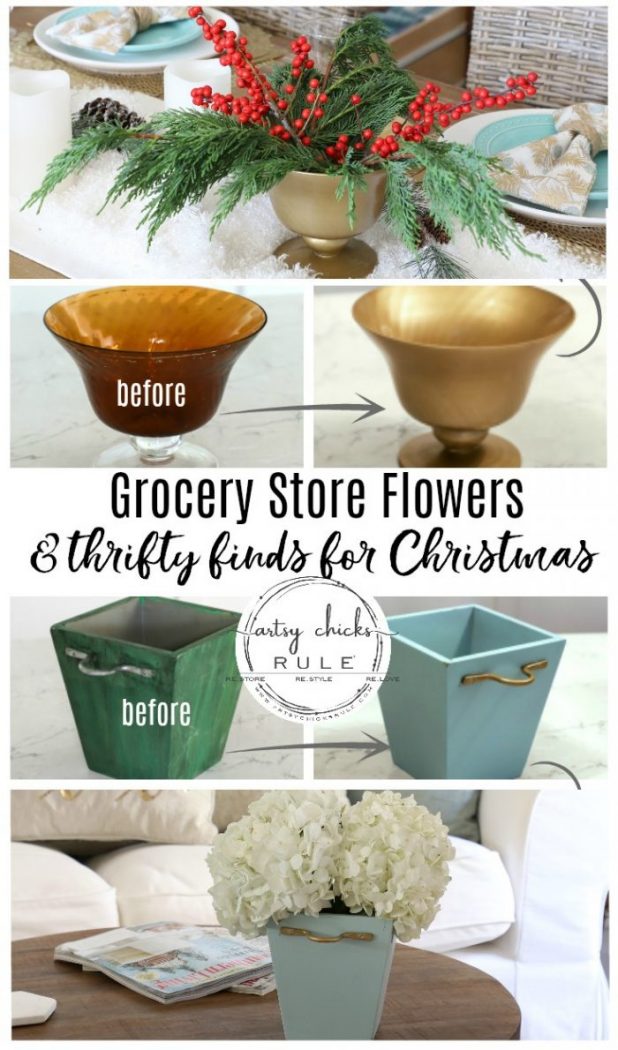 Click the links below the photo collage to visit the corresponding posts. :)
Enjoy!!!

Confessions of a Serial DIY'er Our Southern Home Duke Manor Farm Artsy Chicks Rule Refresh Restyle
If you are not a member of our >>> Decorating Enthusiasts-DIY Facebook group, I invite you to join today!
See even more holiday ideas here >>> Holiday Project Gallery
I hope you have a wonderful weekend!
I'll see you on Tuesday with a post on last minute, quick & easy (and cheap! ;) ), holiday decor ideas you can make in a flash. (could be a good gift idea too!)
xoxo