All White Christmas Tree (morning room decor!)
This post may contain affiliate links. Please see disclosures here.
Recreate the magical look of this all white Christmas tree with a perfectly flocked tree, white lights, all white ornaments, white ribbon and coastal touches too!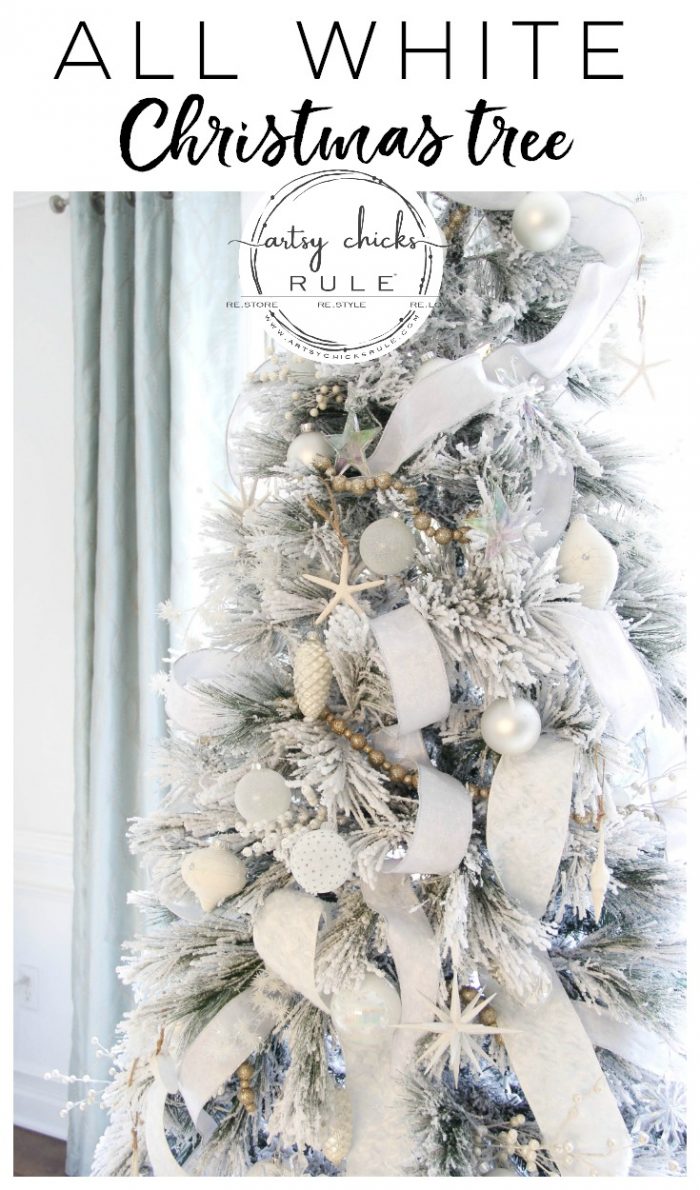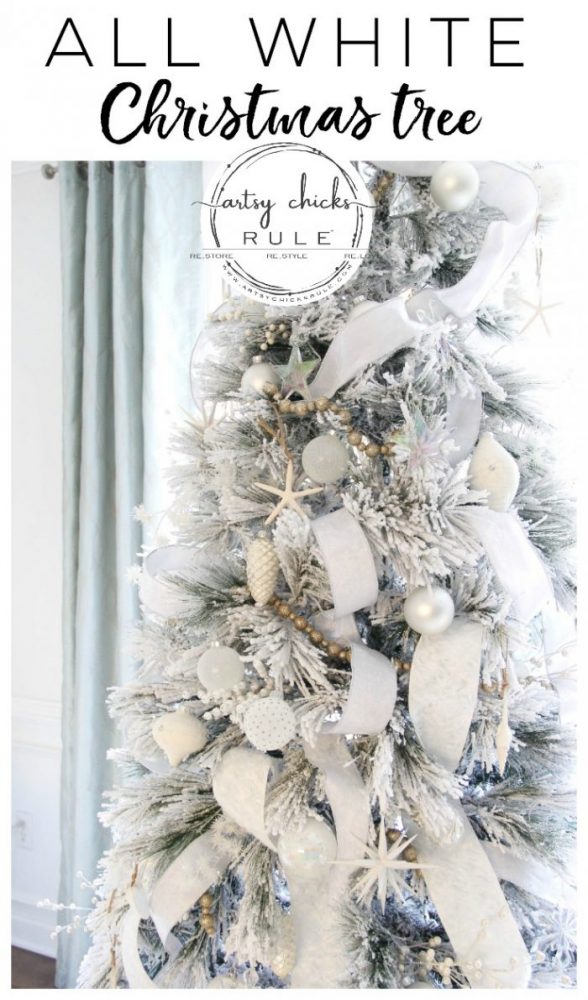 Hello sweet friends! I know, I know, I said I was sharing the coastal dining room today…but….I was waiting on something to come from Amazon and it came in too late for me to take photos. One day of taking photos in the dark this week is enough! ;)
So, I decided to share the morning room, and our all white Christmas tree instead.
Since we are almost finished with our home remodel, I finally got busy decorating for the holidays. I LOVE decorating for the holidays but it's hard to change it up every year to keep things interesting around here. I hope to always share new and different ideas for you guys. Before the blog, I pretty much did the same thing every year. ;) But no one wants to see the same ole thing every year on here. Plus, I have to be honest and say that I really enjoy the challenge of changing things up every year. Every time I start it seems so daunting, I think there is no way to make it different, but somehow I do! For the most part anyway.
This year I feel like I'm in a completely new home and with the addition of the "extra" room (the morning room), which is not really extra, it's just now being used differently which makes it feel extra. ;) So I decided to do 3 full size trees in each of the main rooms.
I've never done 3 full sized trees before. SO MUCH FUN. I totally feel like a kid at Christmas with them.
They just make me so happy. I smile every time I walk into any of the rooms and see them shining brightly with all of the pretty, sparkly, shiny ornaments and lights. :)
However, I wasn't so sure how I was going to decorate three full size trees and have them each be a little different from each other.
Even as I began to add ornaments to all three, I still didn't have a plan. lol Really, not even kidding.
Then it just started to evolve.
All White Christmas Tree
The morning room ended up being all white. Which I adore.
It's my favorite tree in the house. My all white Christmas tree.
It gets all the hearts from me. :)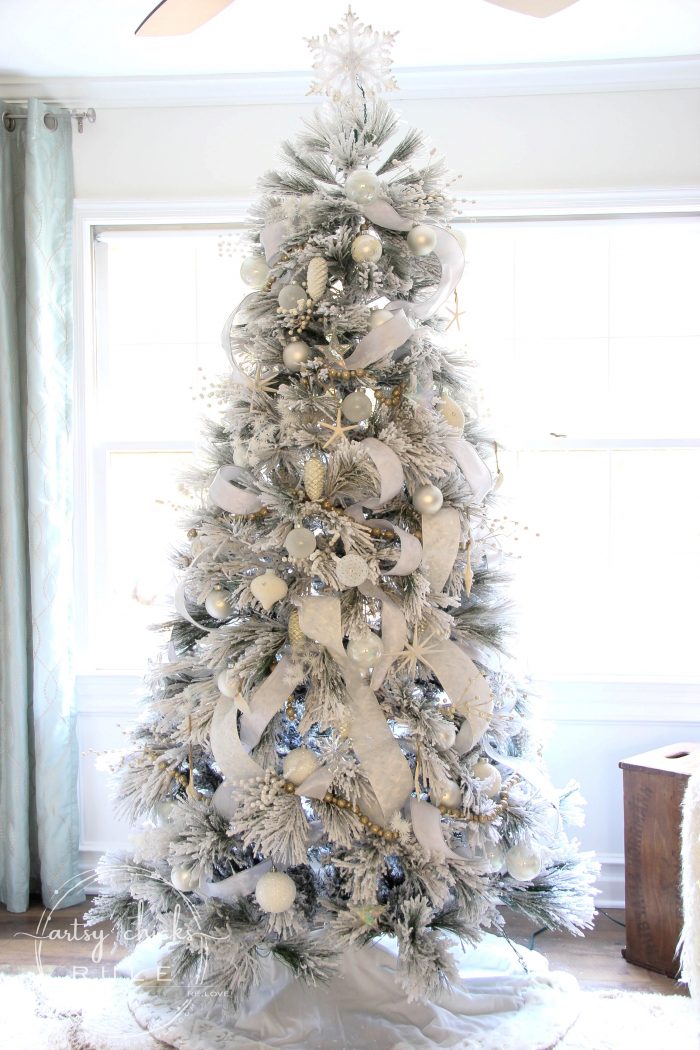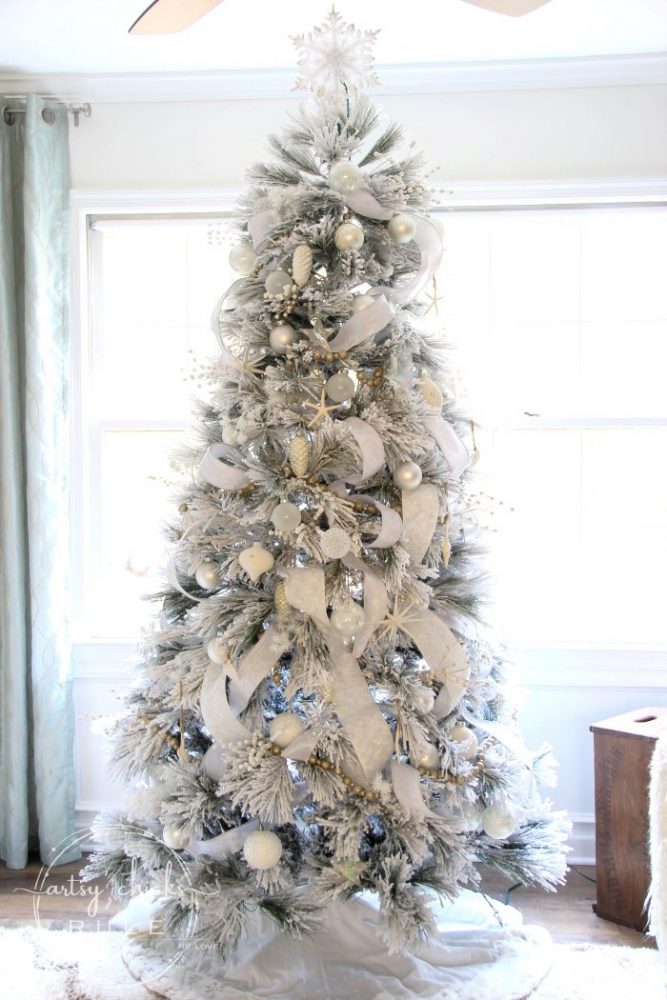 It just looks completely magical.
This is with the lights off so you can see all the white better.
By the way, if you like the tree, you can find it here. It went out of stock shortly after I bought the 2 I got.
I wanted to share the link anyway in case it comes back in stock soon. It's a lovely tree!
You'll have to stay tuned to see what the "themes" of the other two trees evolved into. ;)
I'll be sharing those and the rest of my house next week. :)
Up close of the ornaments and ribbon.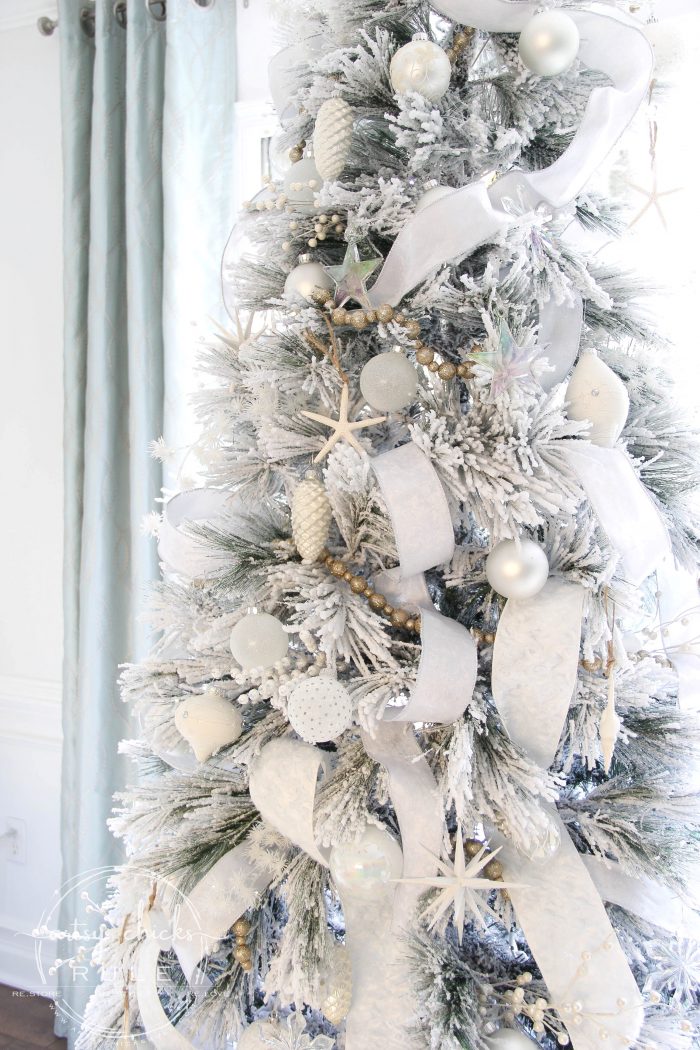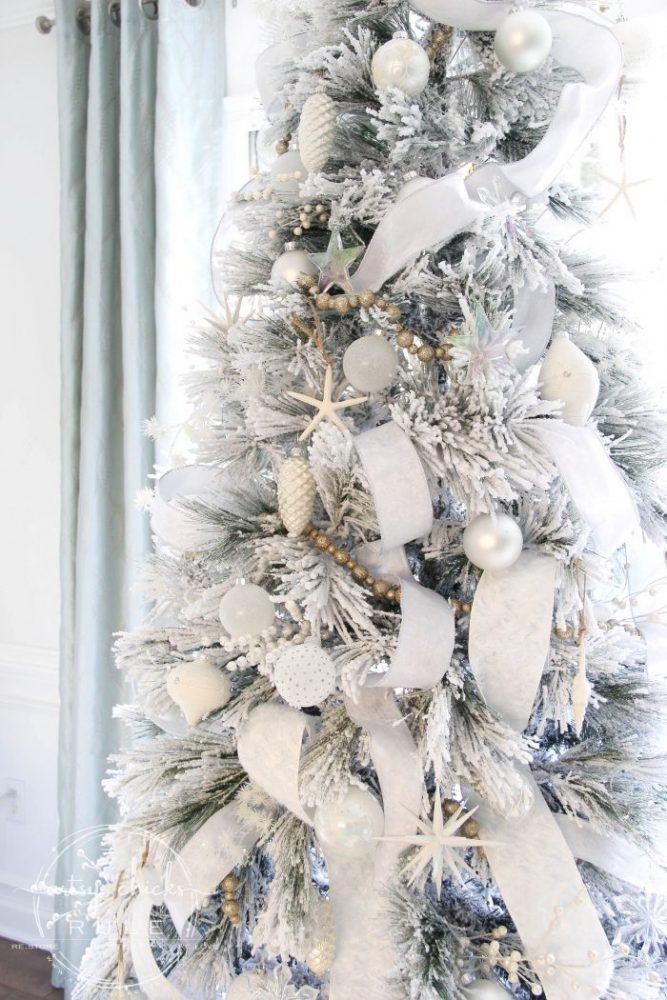 You can see I added some gold garland on my "all white Christmas tree". ;) hee hee
Well, remember when I just started adding stuff without a plan? Yep, that's when that got added.
I decided to leave it however, because I liked the little hint of gold on my all white Christmas tree. :)
And with the lights on…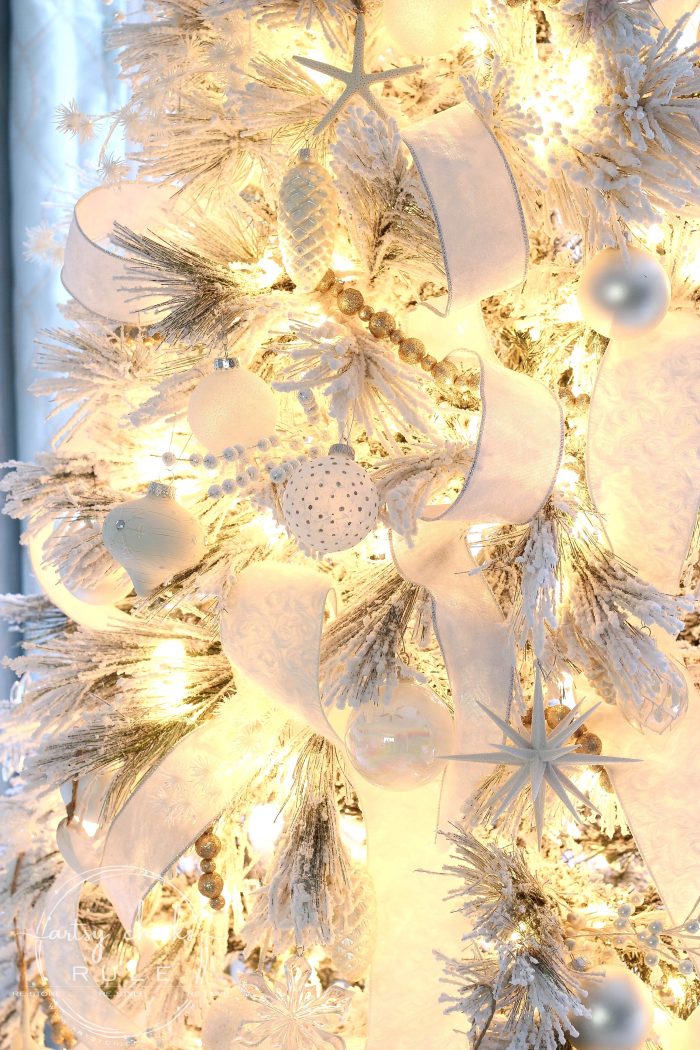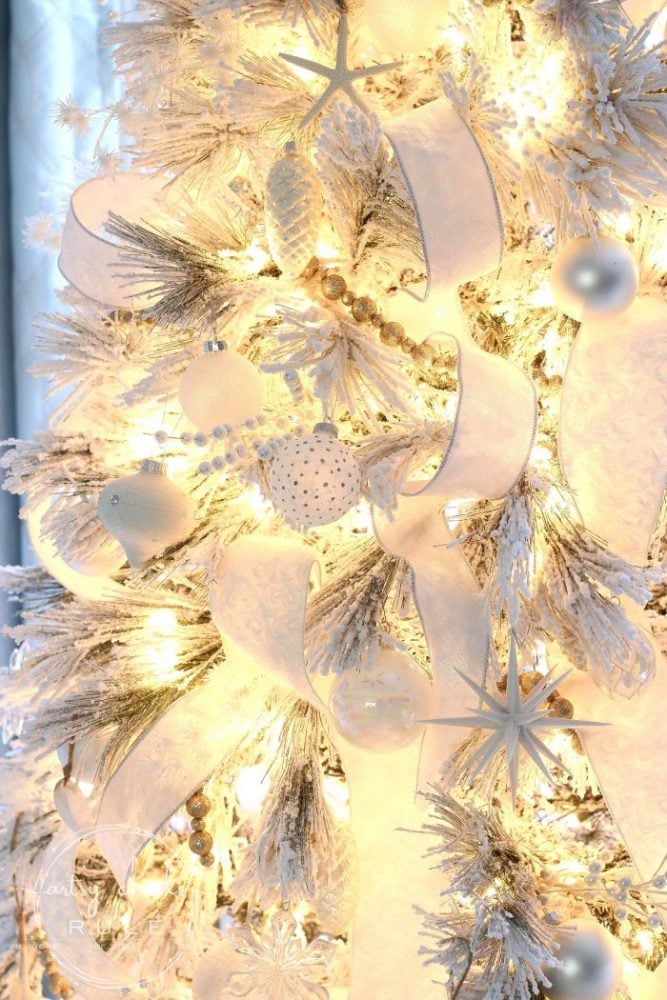 Magical, right?
I used some white ribbon I had from many years past.
I also picked up that furry looking ribbon you see right in the middle, this year, and added it too. (it's from Michael's)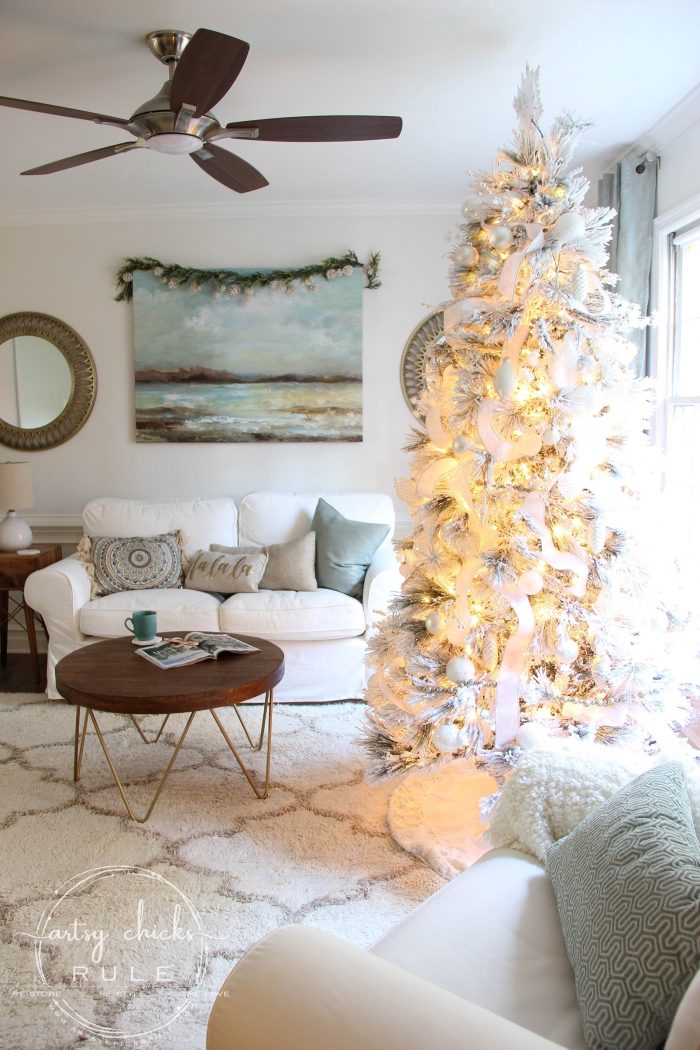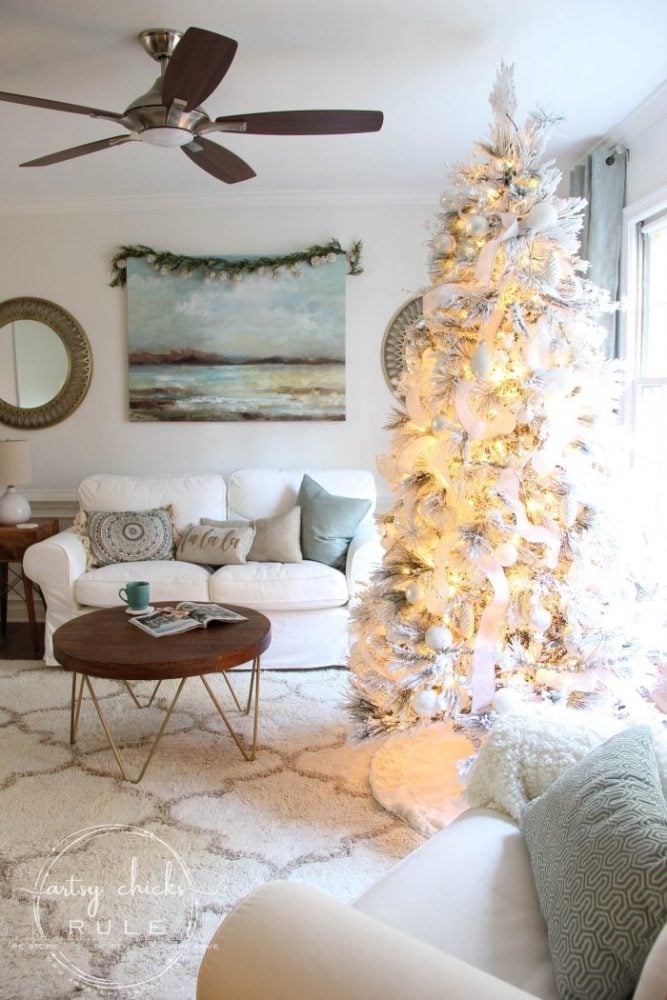 There's just something about a white tree.
I think the flocking helps add to the magical look of the tree too.
I actually flocked my own thrift store tree a few years ago! What a HUGE difference it made.
You can see it and all the details, here.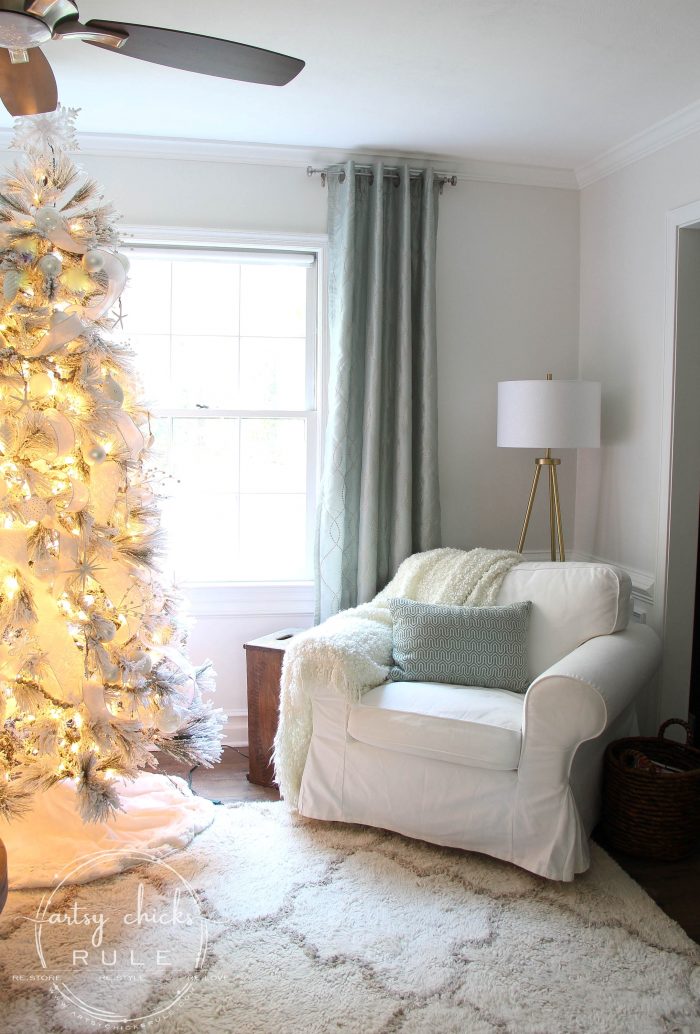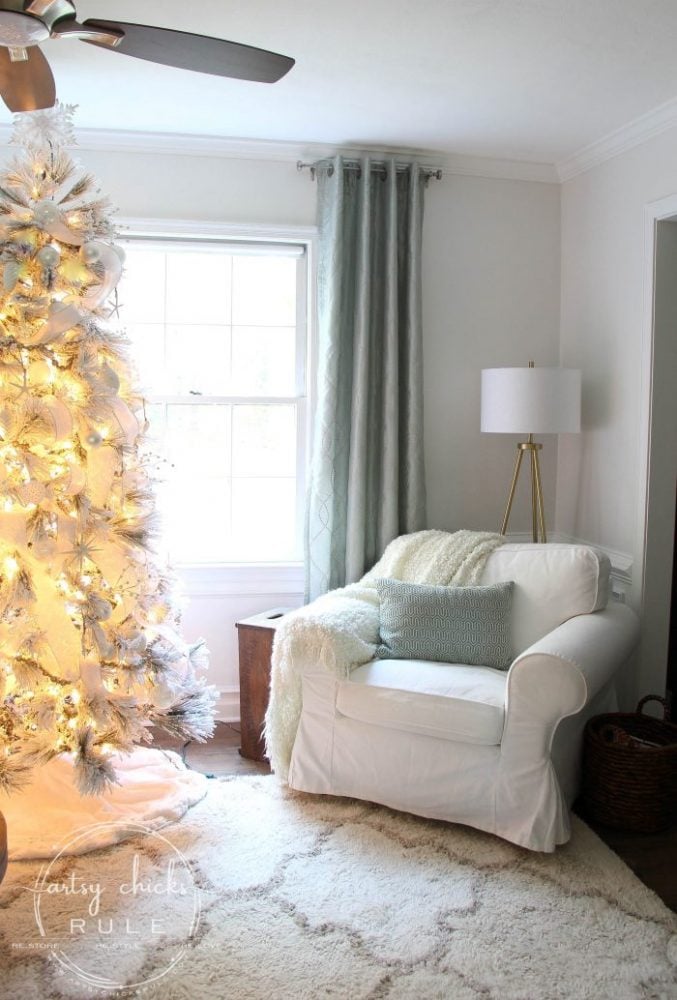 And the aqua dresser/coffee bar I just shared on Tuesday… all decked out for the holidays now.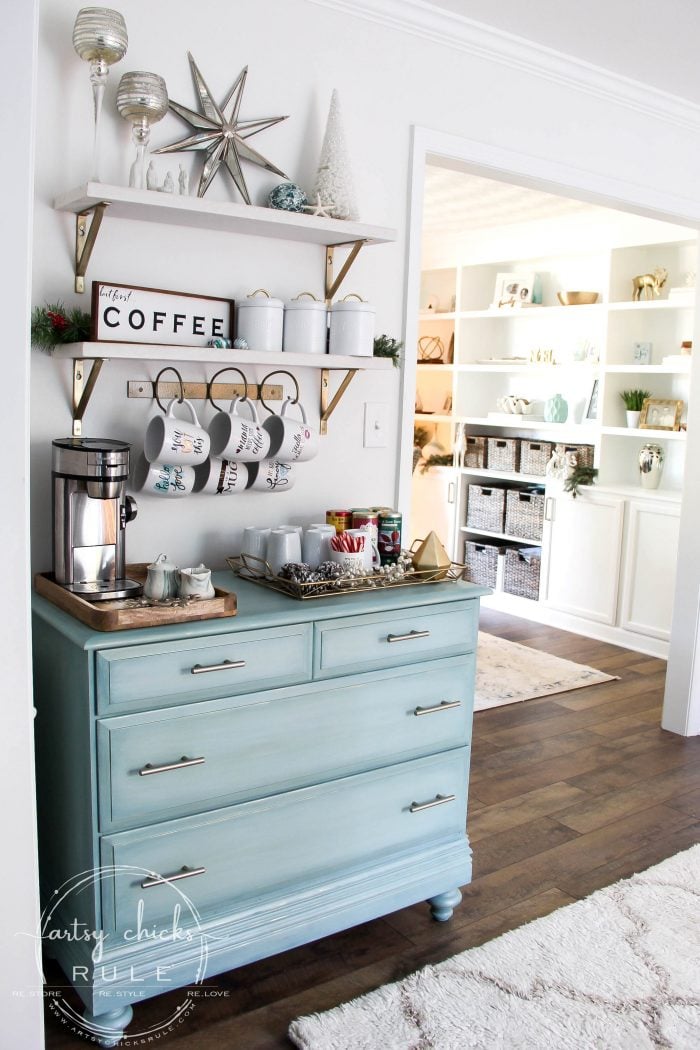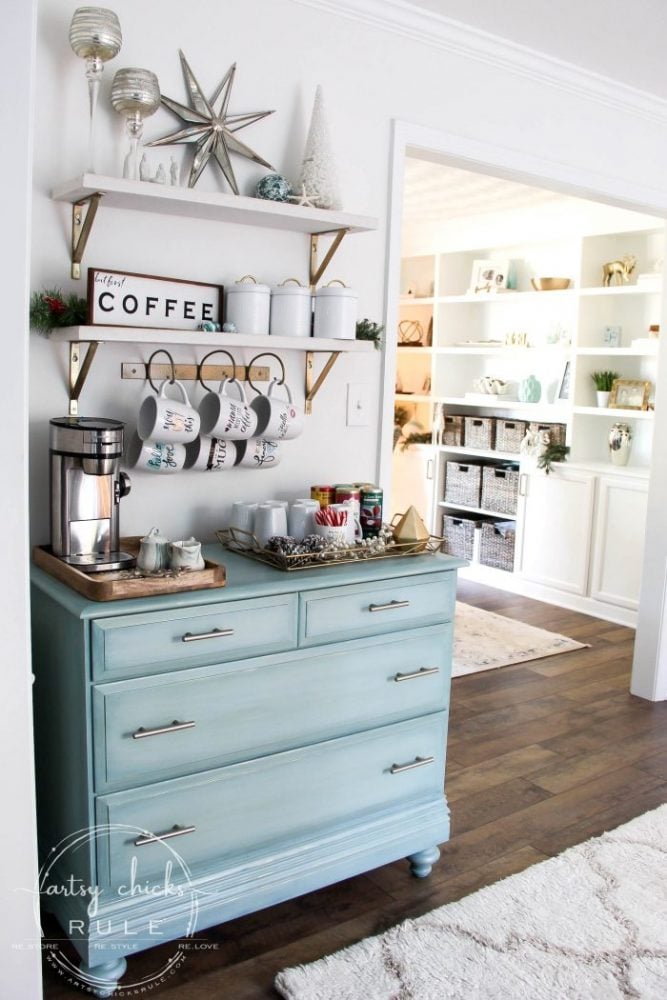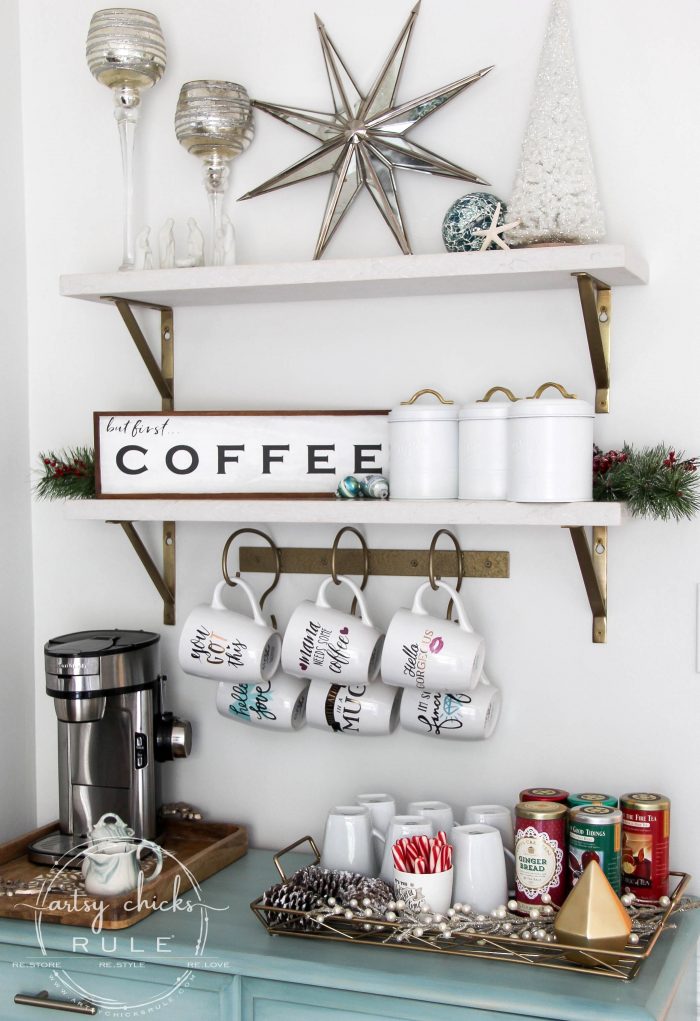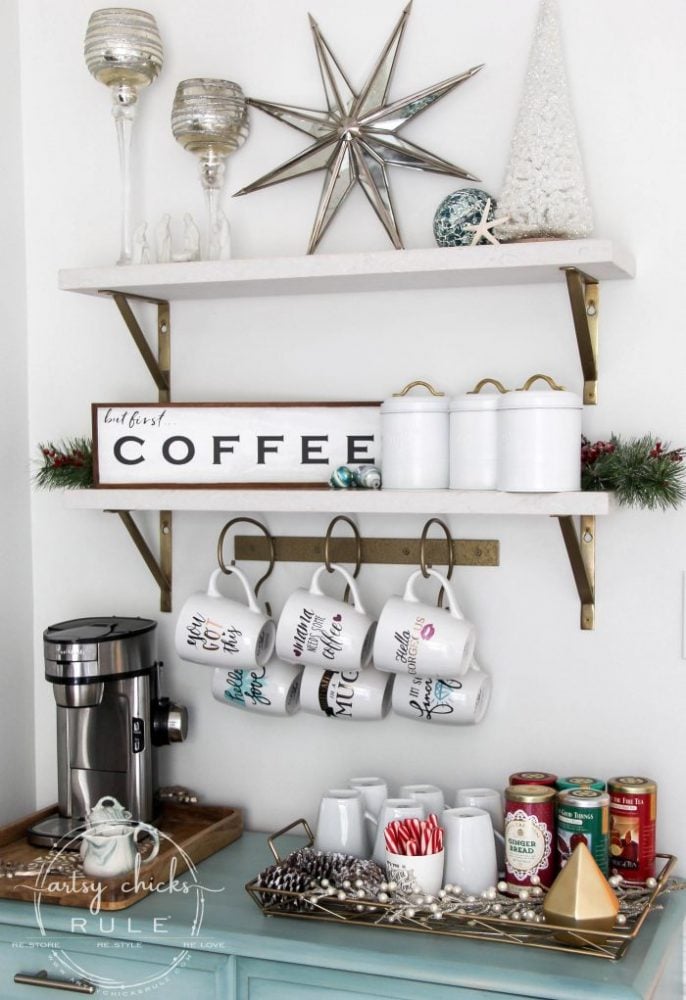 I love our little nativity set that we've had since the early years of our marriage.
The star behind it is just perfect!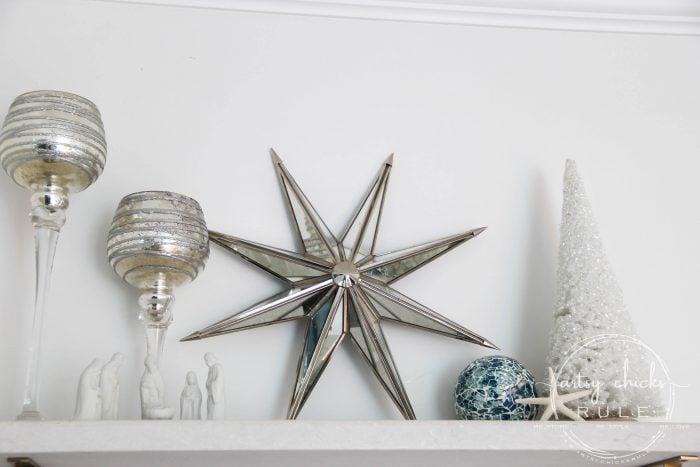 The sparkly white Christmas tree on the right is from here.
And you can turn your coffee bar into a "cocoa bar" for the holidays.
I put out all of my "holiday style" teas too.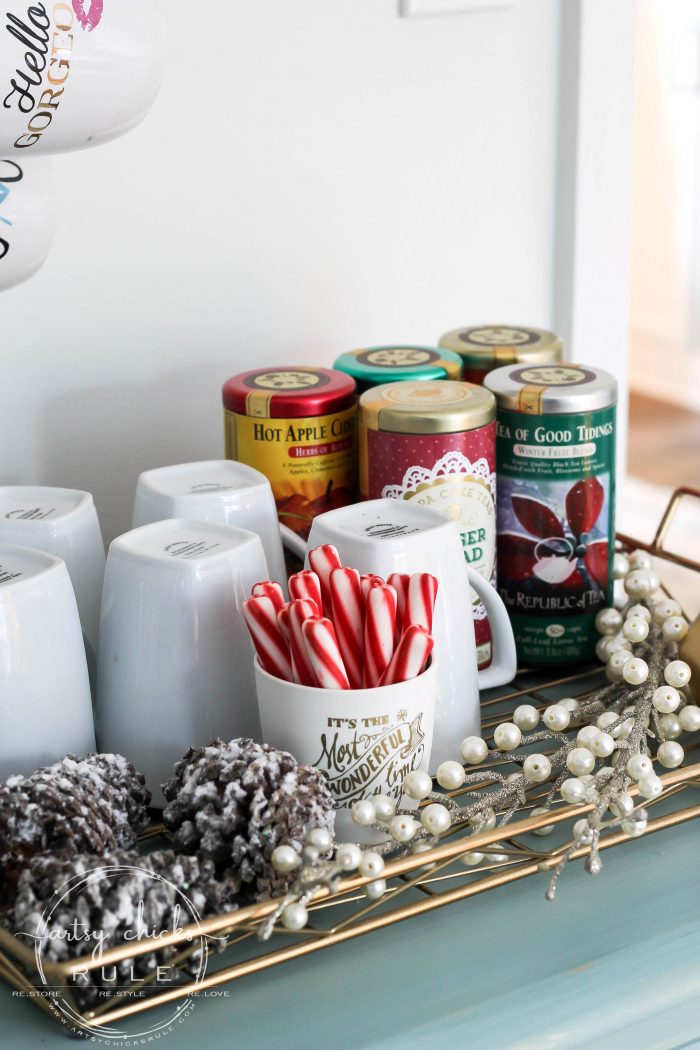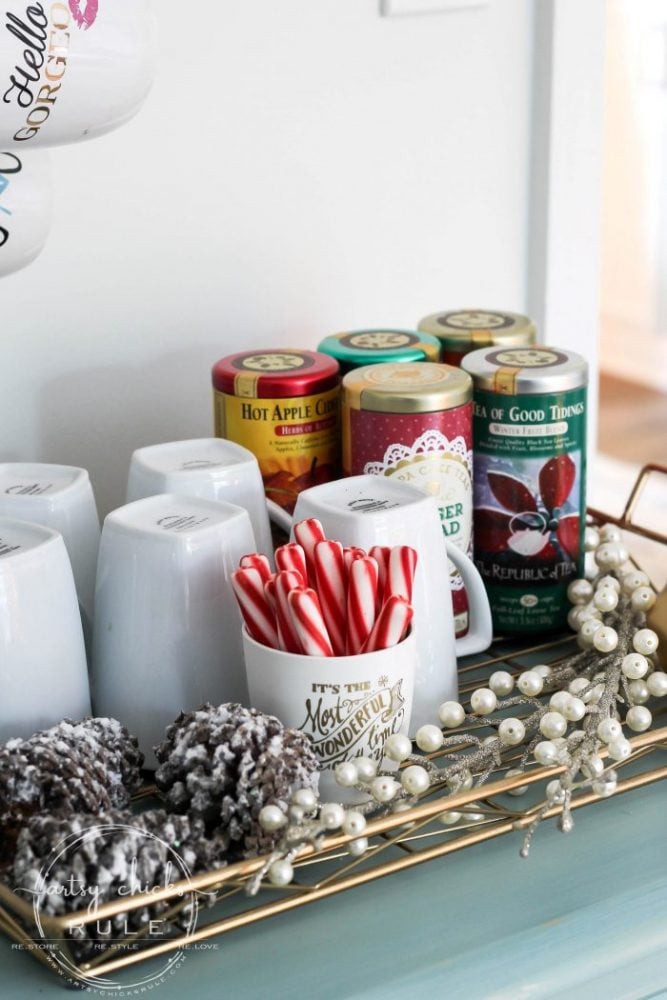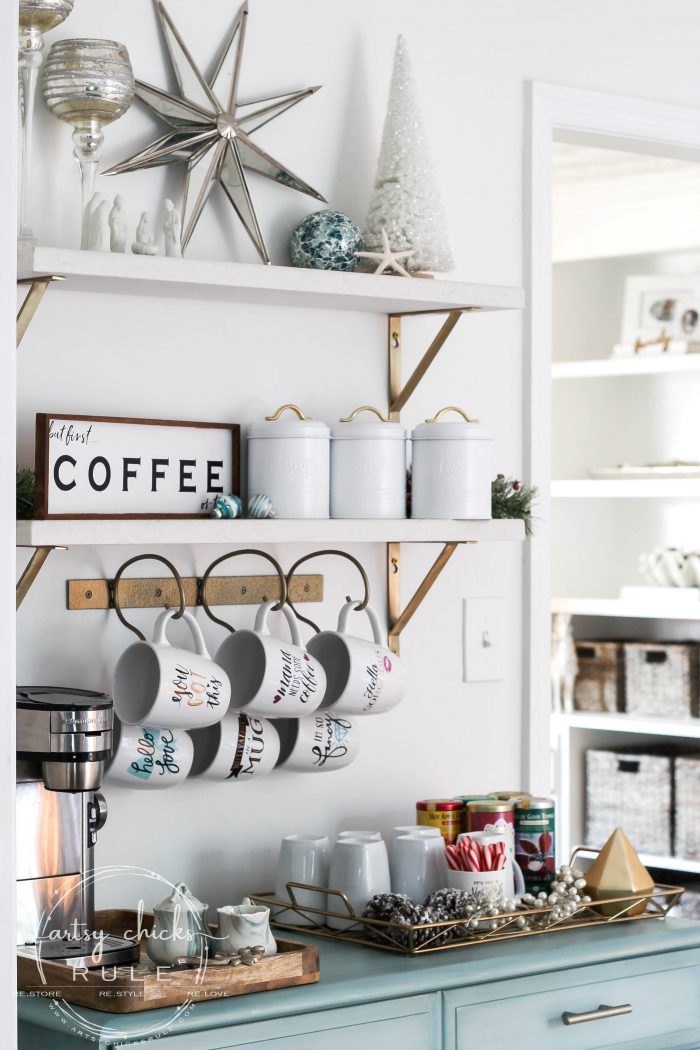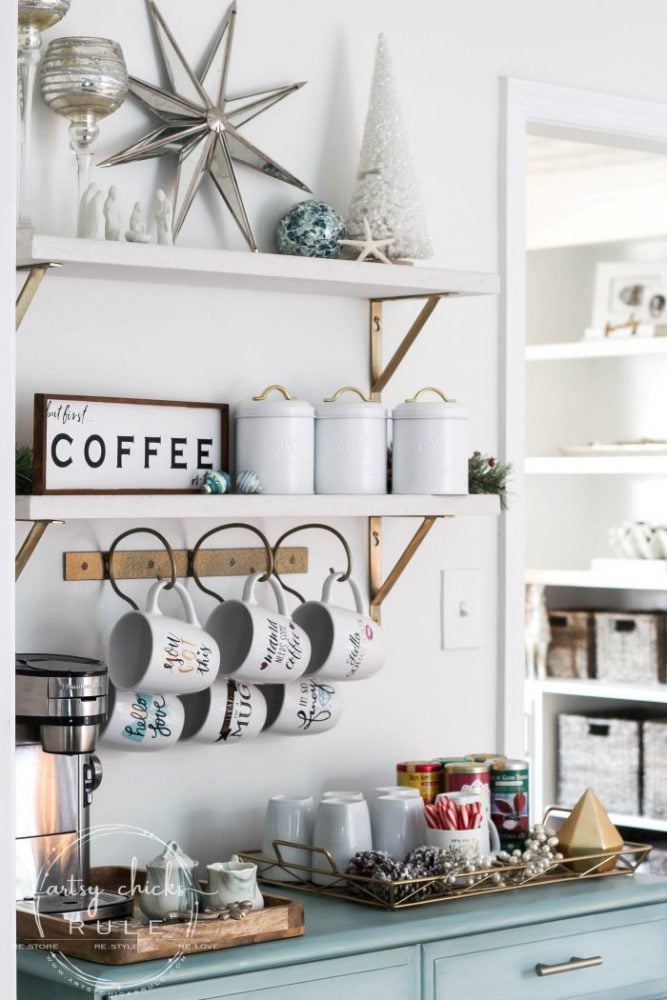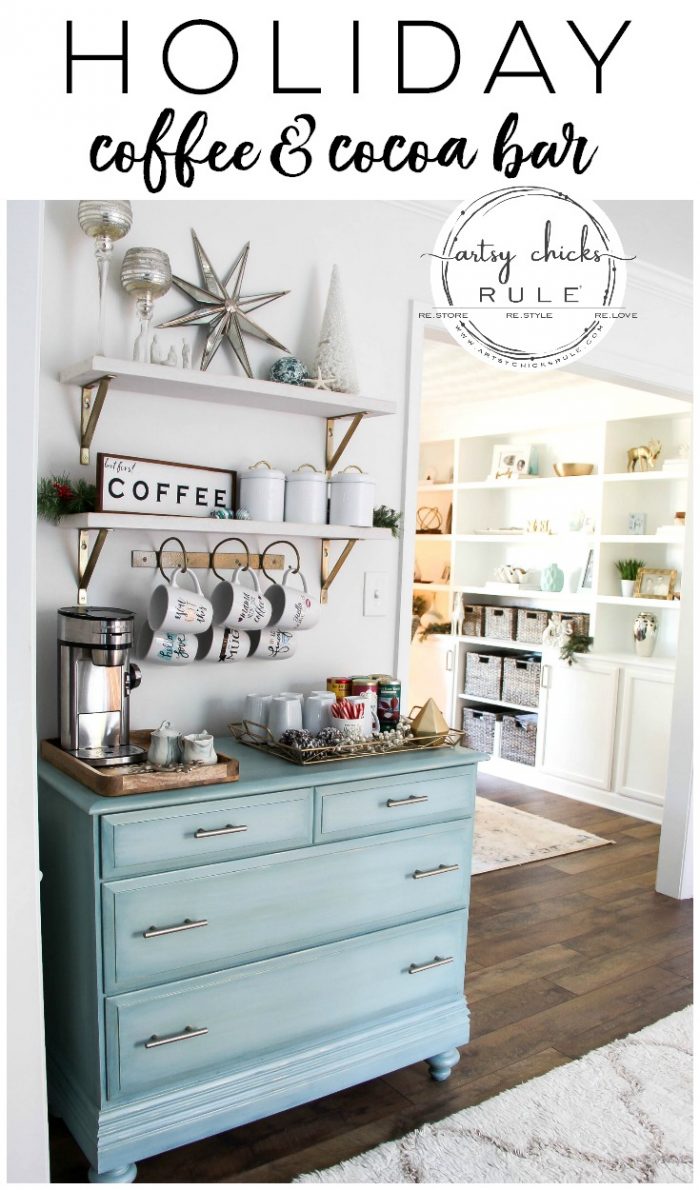 Some Christmas styled mugs would have been cute hanging up there but I don't really have any.
And didn't think to do that until just now as I'm writing! ;)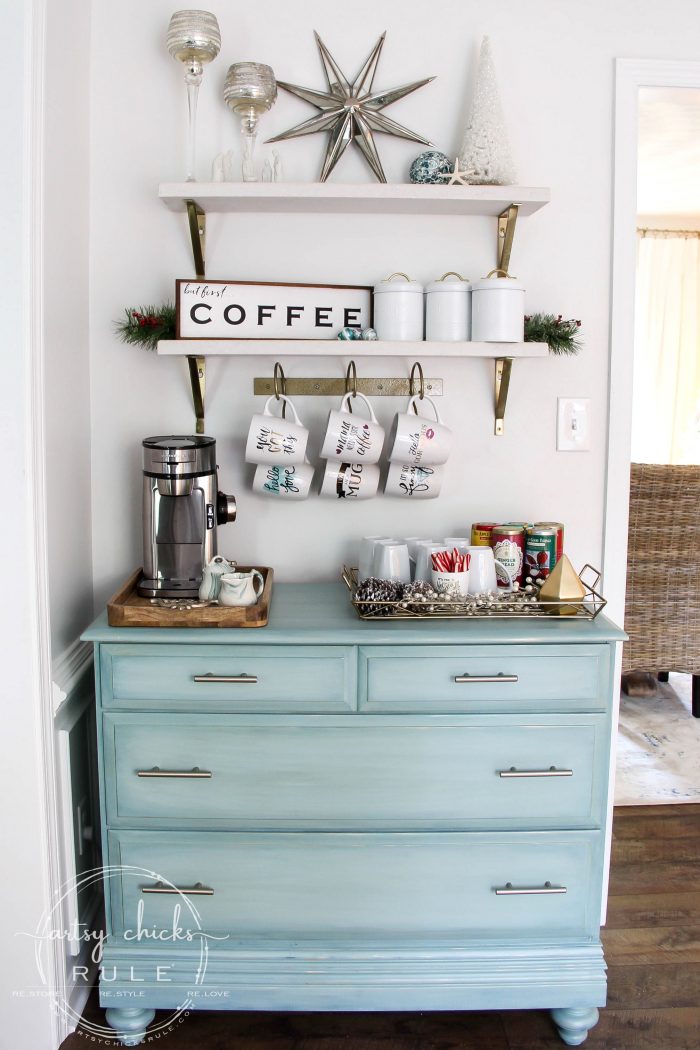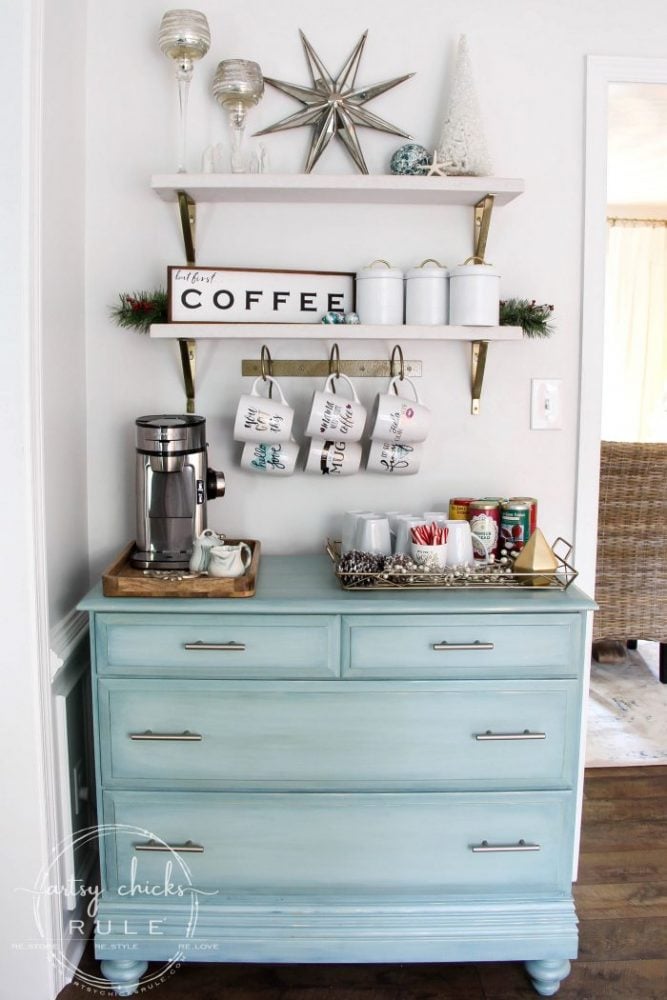 A simple bit of green garland and white pine cones over our painting. (you can find the painting, here, it's on sale too!)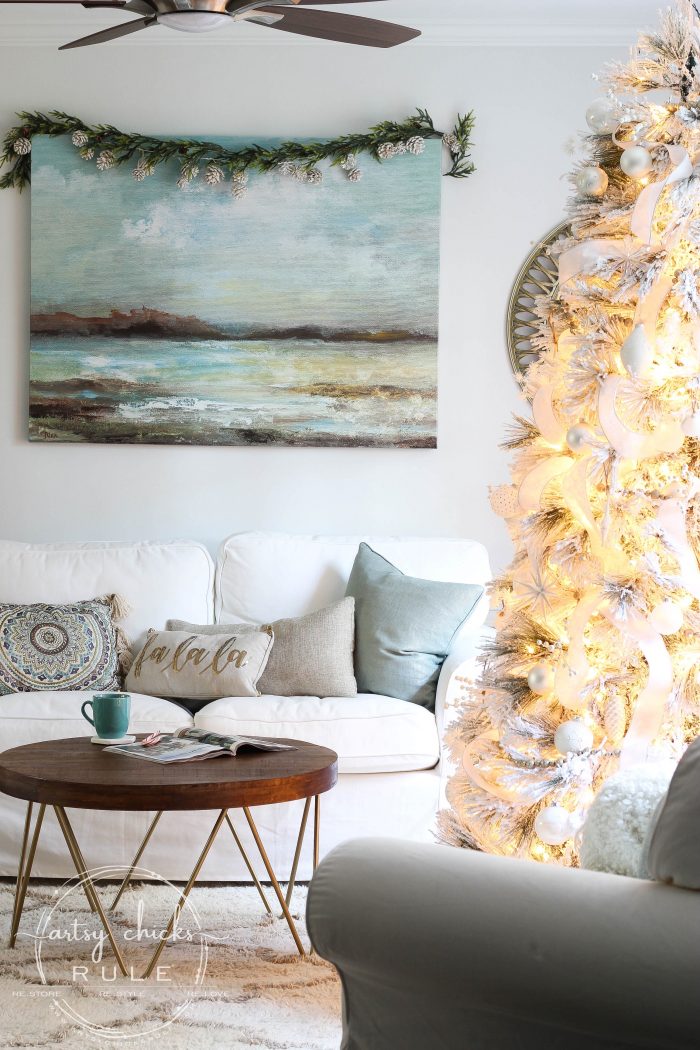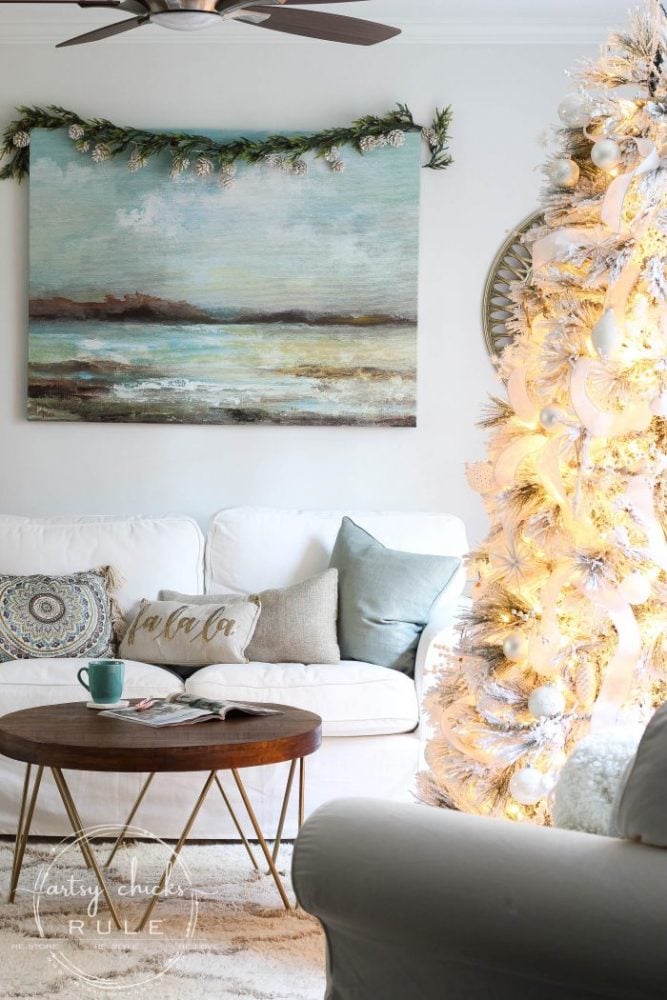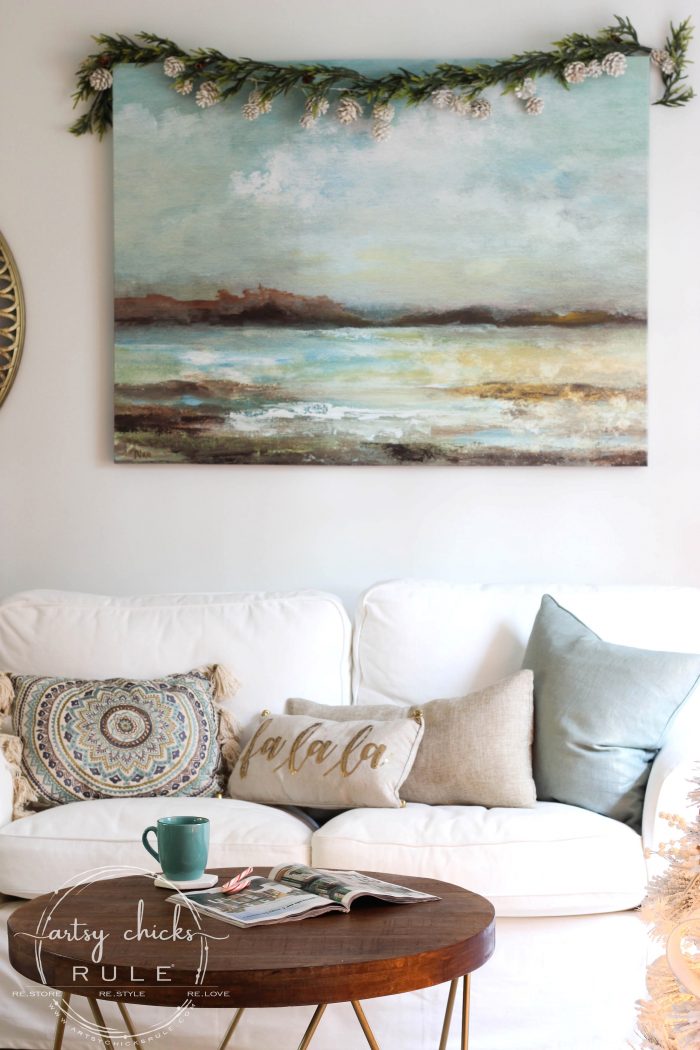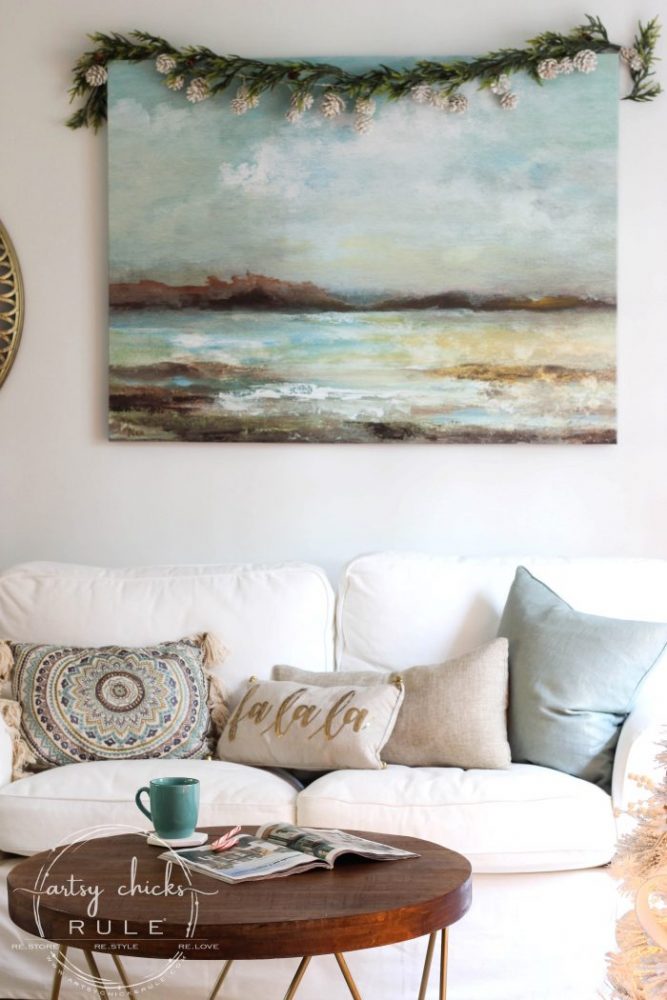 I simply added that cute "fa la la" pillow to the pillows I already had in here.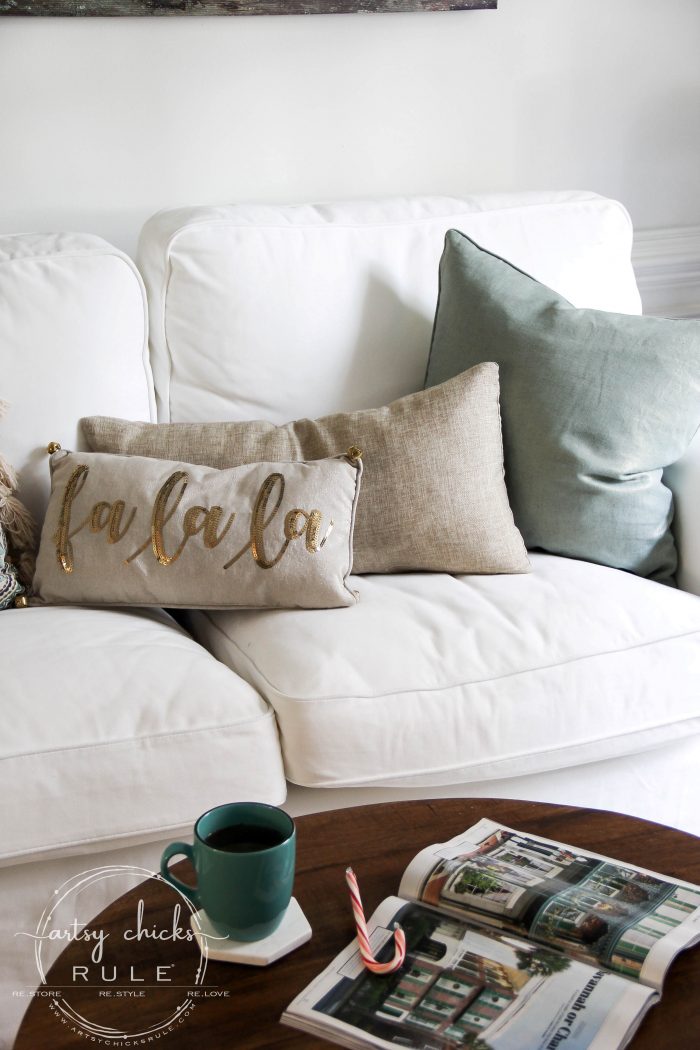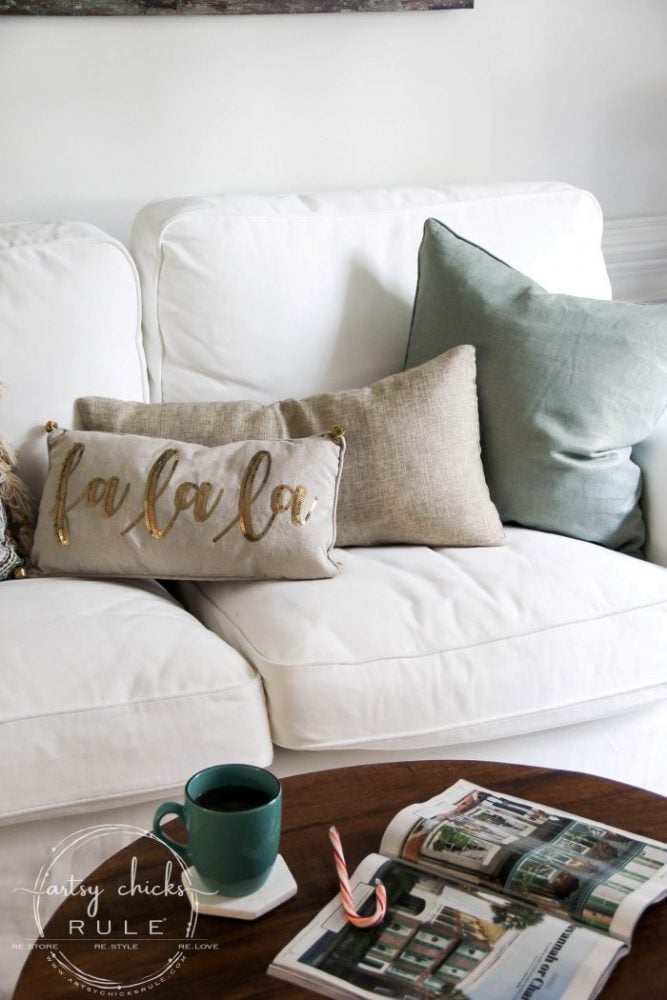 And that's it! Very simply done this year.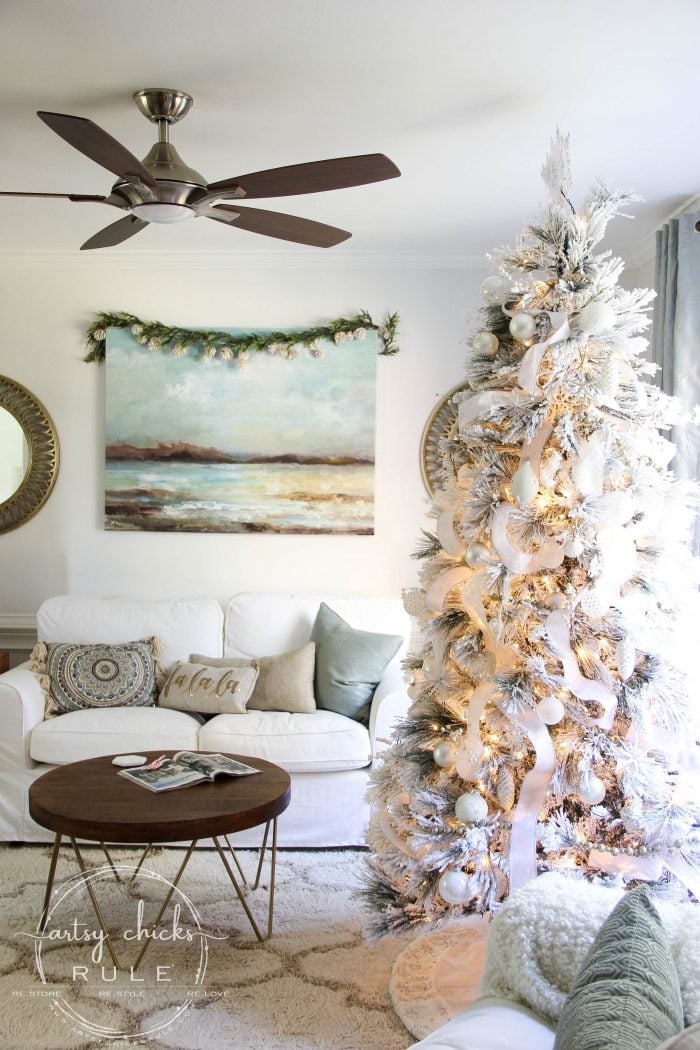 PIN it, or any of the other PINS above you want to save, for later!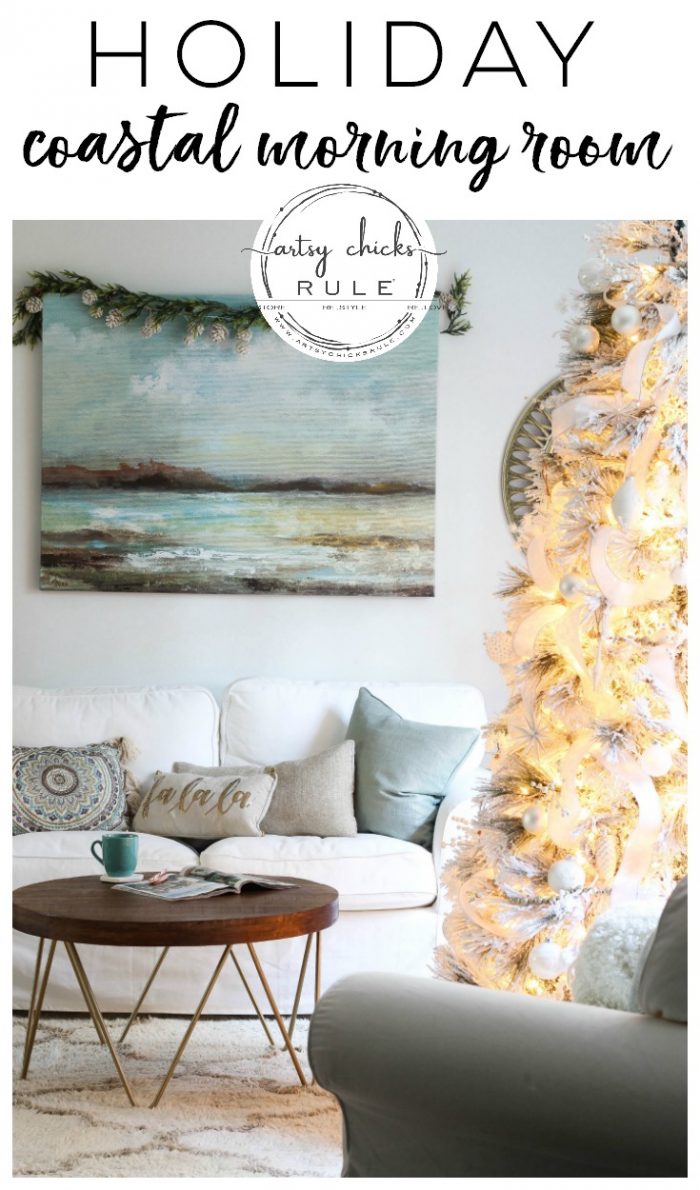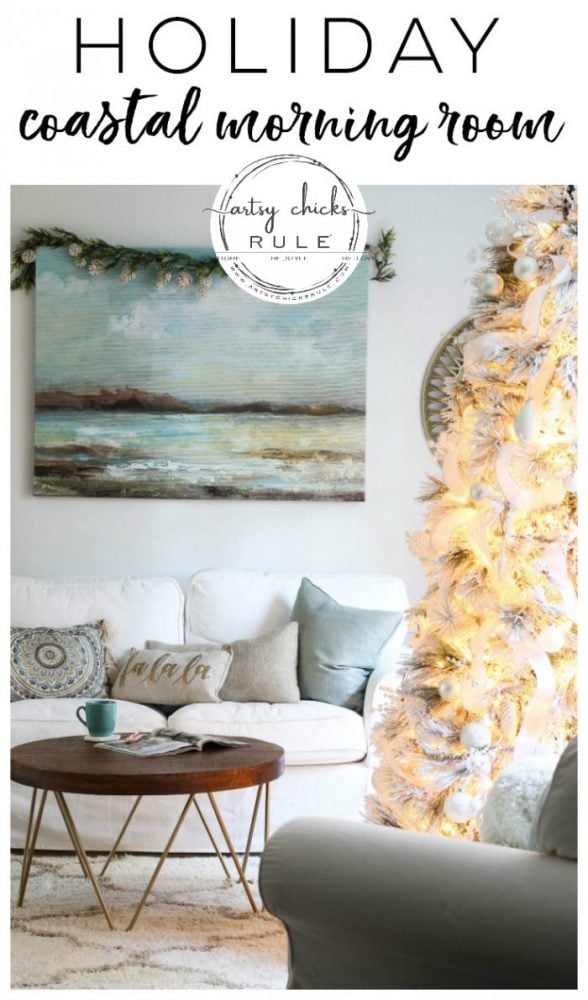 I hope you enjoyed seeing this part of my house decorated for the holidays today. :)
Maybe you got an idea or two?
I'm so excited to share the rest with you and the other two trees! (and I'm going to try to do a walk through video to share with y'all too so keep an eye out for that. I may even do one on Instagram too!)
Are you all decorated for the holidays? I am finished, yippee!… and we are just trying to tie up all the "loose ends" of the this remodel.
One of which….our kitchen island. We will have it done before the holidays! ;)
I wanted to do a reveal of the kitchen before the holidays but I'm all decked out for Christmas in there already….so, I'm only going to share snippets of the decor in there now. And the FULL kitchen reveal will just have to wait til January. :)
I hope you have a wonderful and festive December weekend!
Be sure to check back in on Tuesday when I'll be sharing our "blue & gold" tree and dining room holiday decor!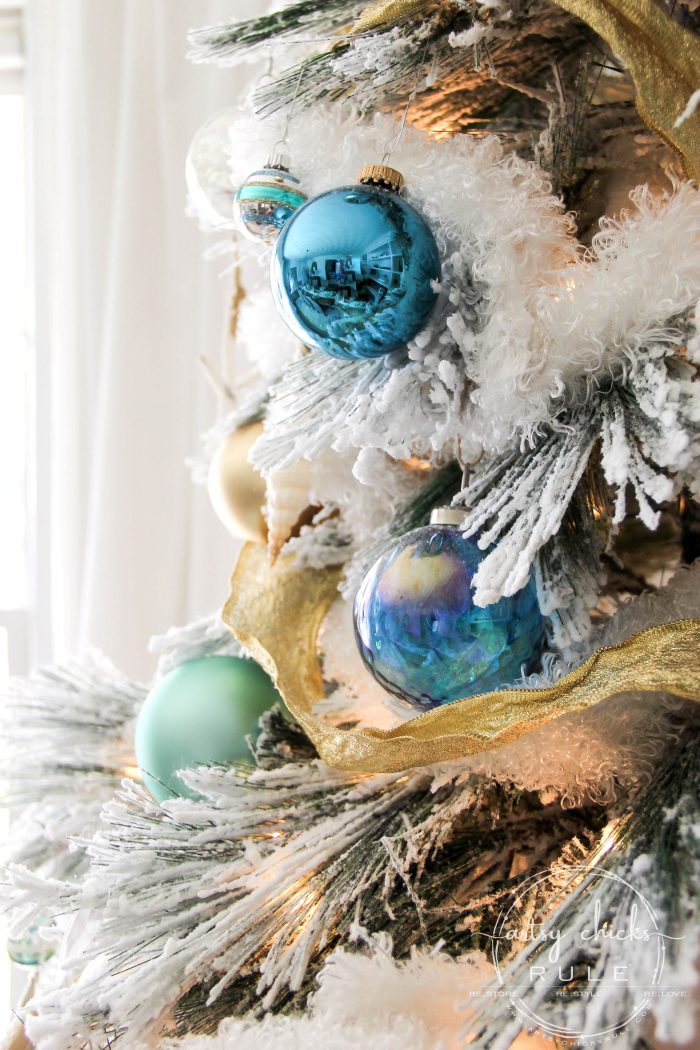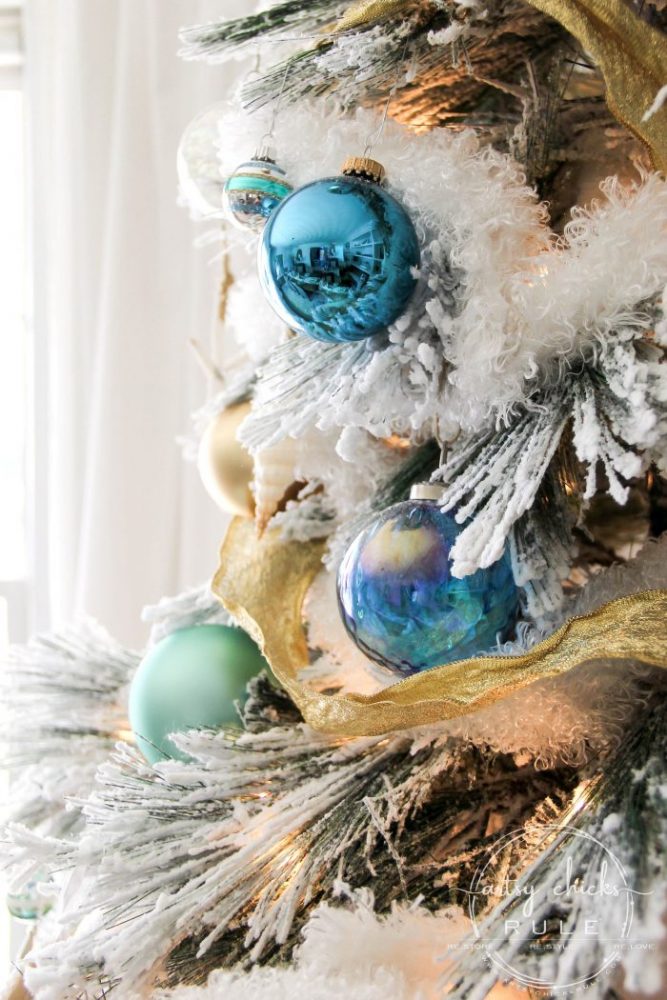 UPDATE!!! See it now, here!
xoxo