Blue and Gold Christmas Tree (and dining room decor!)
This post may contain affiliate links. Please see disclosures here.
Some of my very favorite colors all wrapped up in this elegant blue and gold Christmas tree and holiday dining room decor!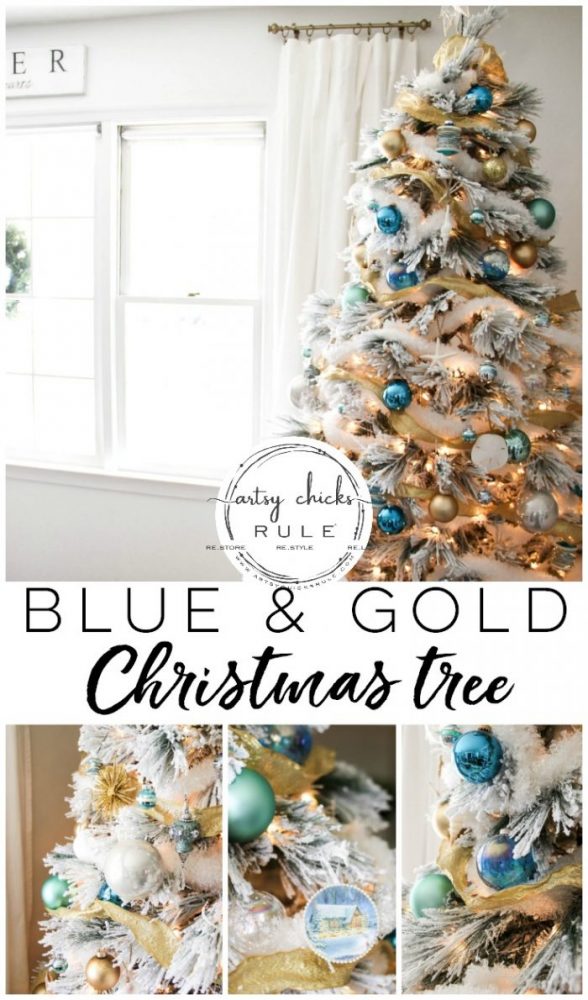 Hello beautiful friends! :)
I'm back today to share tree #2. This one is BLUE and GOLD.
I decided to do a blue and gold Christmas tree for the dining room since those are the colors that are predominant in there.
I thought it might be lovely to play off of those colors for our holiday decor….and I just love it.
The "all white Christmas tree" in our morning room that I shared last week is my favorite, but this one is a close second! :)
Blue and Gold Christmas Tree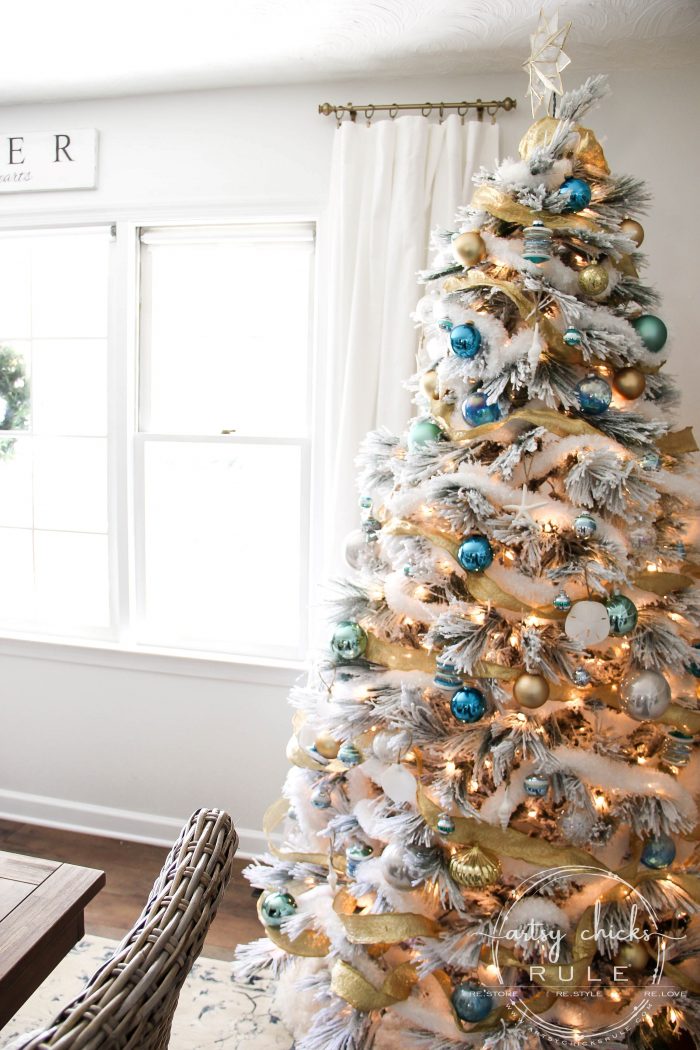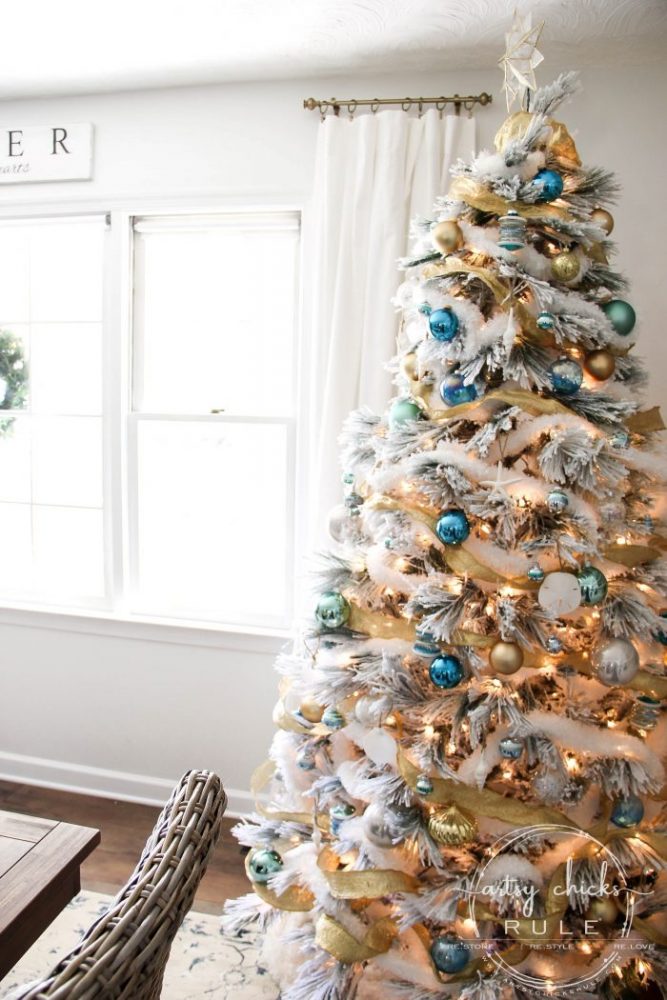 This is the same kind of tree that I have in our morning room.
Here is the link to it, however it is still sold out at the time of this writing, unfortunately.
It's a really lovely tree! I was hoping it would come back in stock sooner though.
I'm just loving the blue, aqua & gold colors on this tree. So pretty!
I decided to do the ribbon a little differently on this tree. I wrapped it around instead of going up and down like I did on our all white tree.
I also added some "snow" in the form of white fluffy garland I made last year. (soooooooo simple! Really, take a look at this post to see what I made it out of, and how truly simple it was to make! ;) )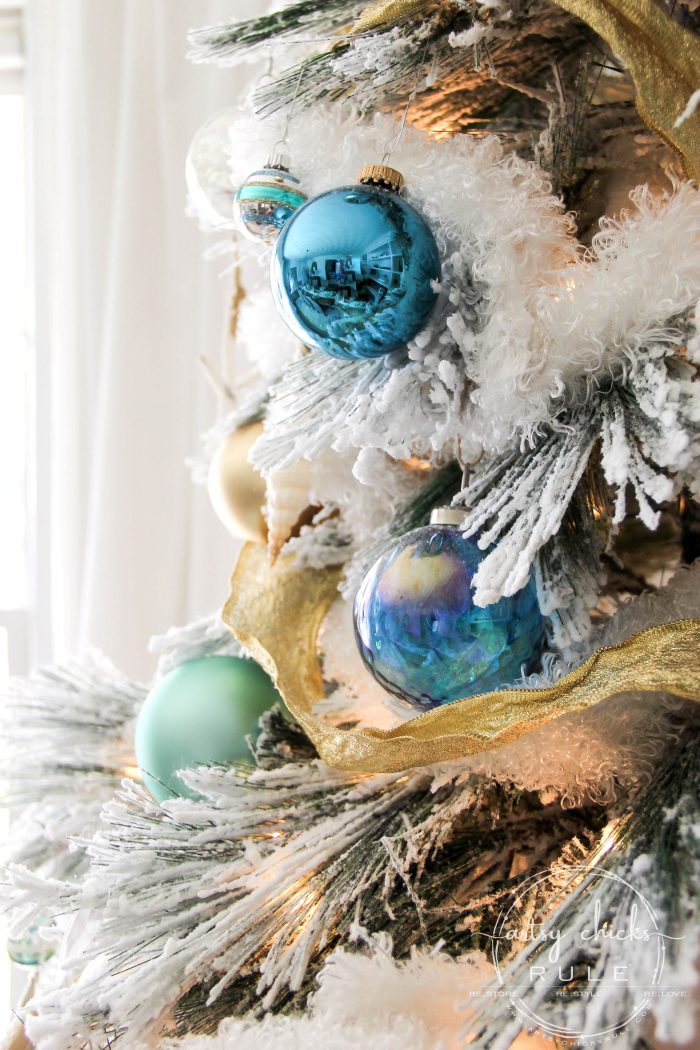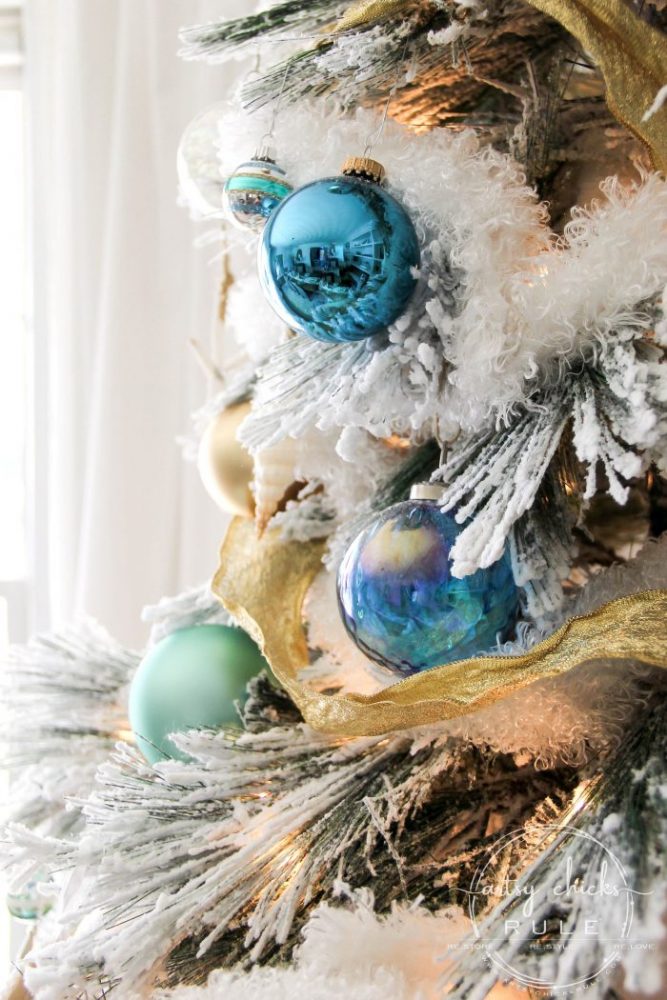 I picked up those pretty blue globe ornaments at At Home this year. They are just beautiful!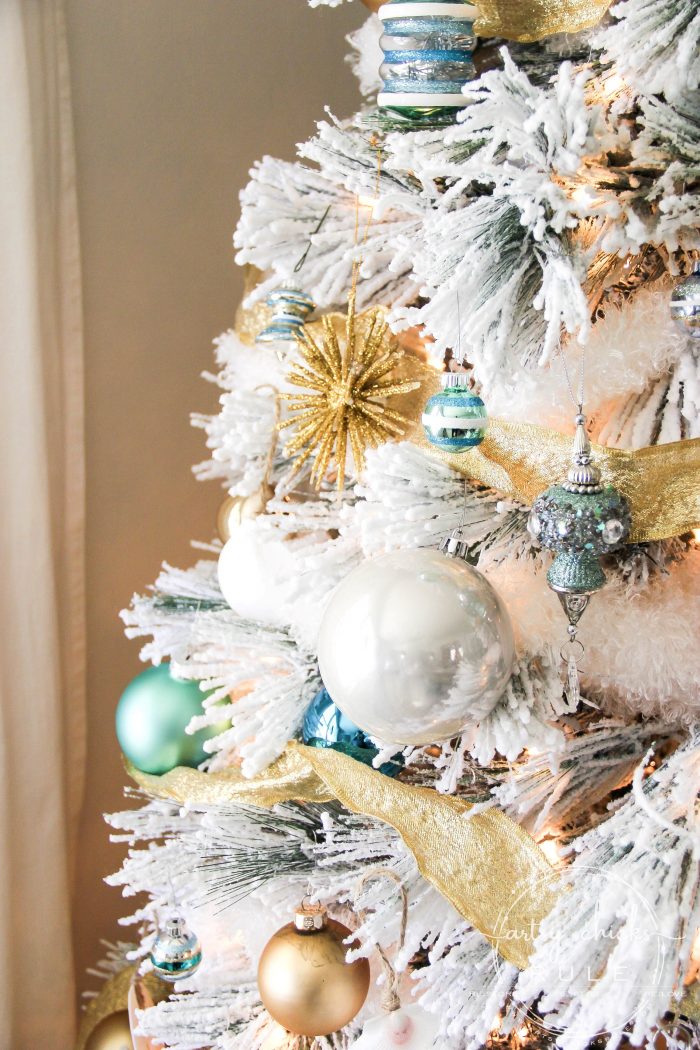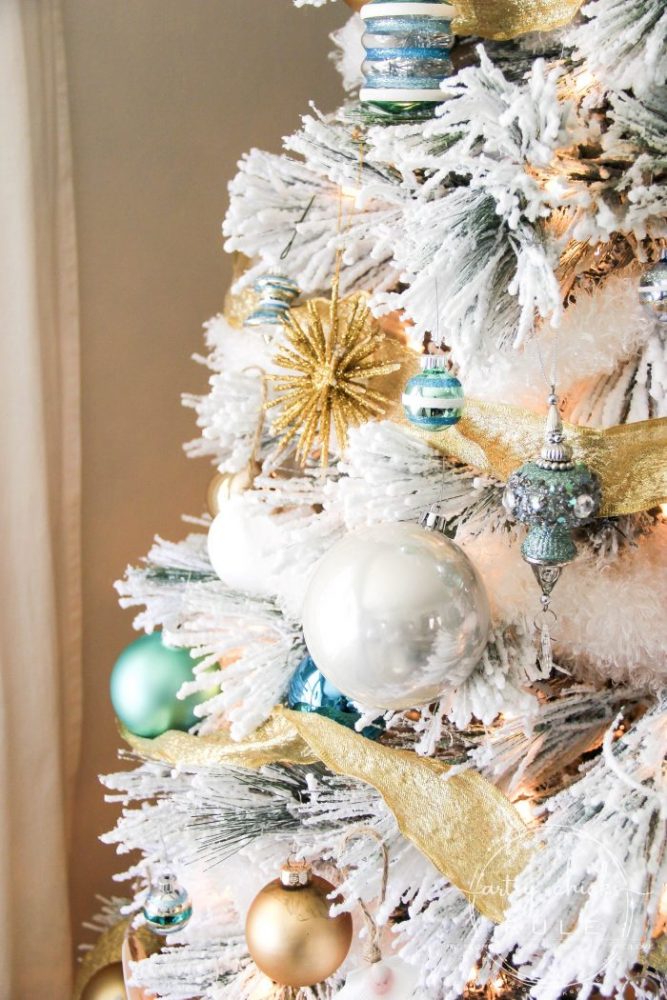 And the Shiny Brites from a few years ago. (found those at TJ Maxx)
The gold ribbon is many years old.
Here's one of the ornaments I made out of an old Christmas card last year. (one of the many projects I shared using old cards…you can see more of that, here)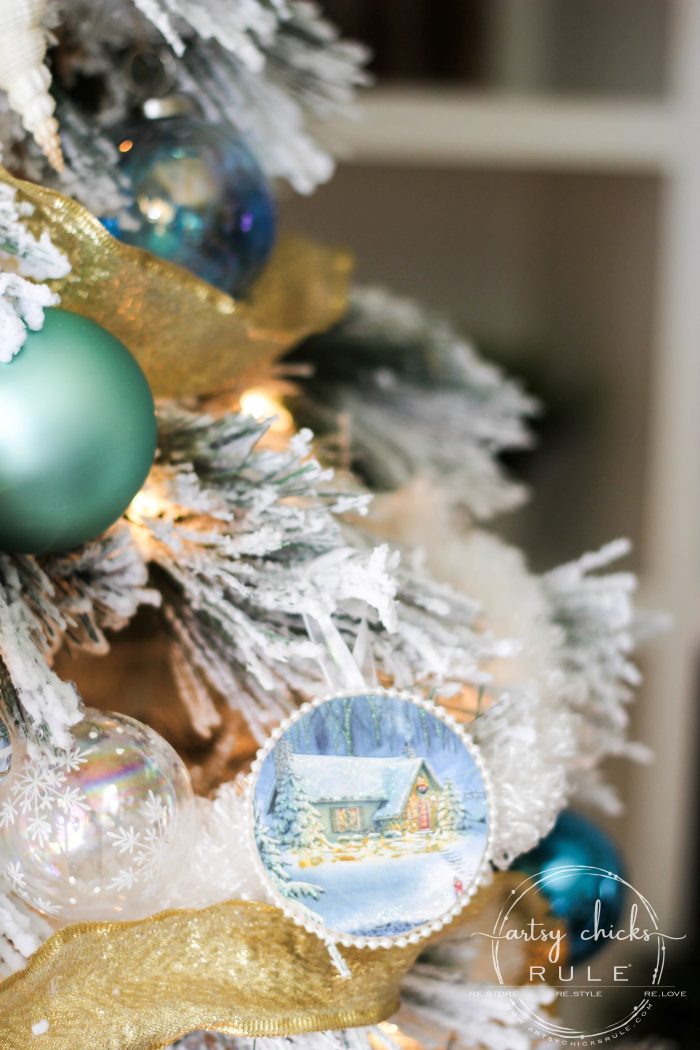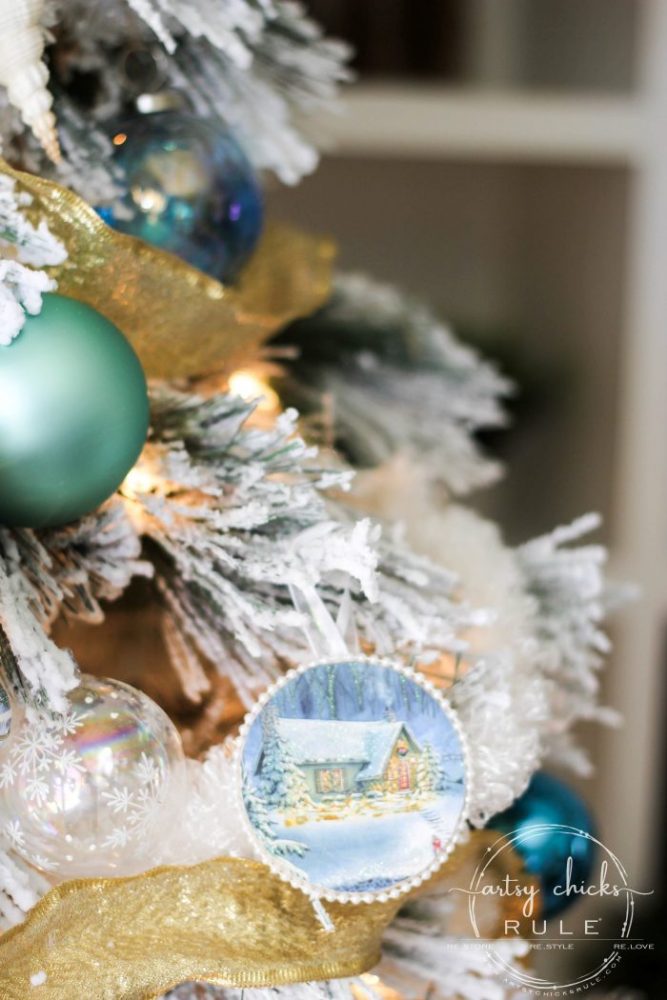 It was blue so I put it on the tree! ;)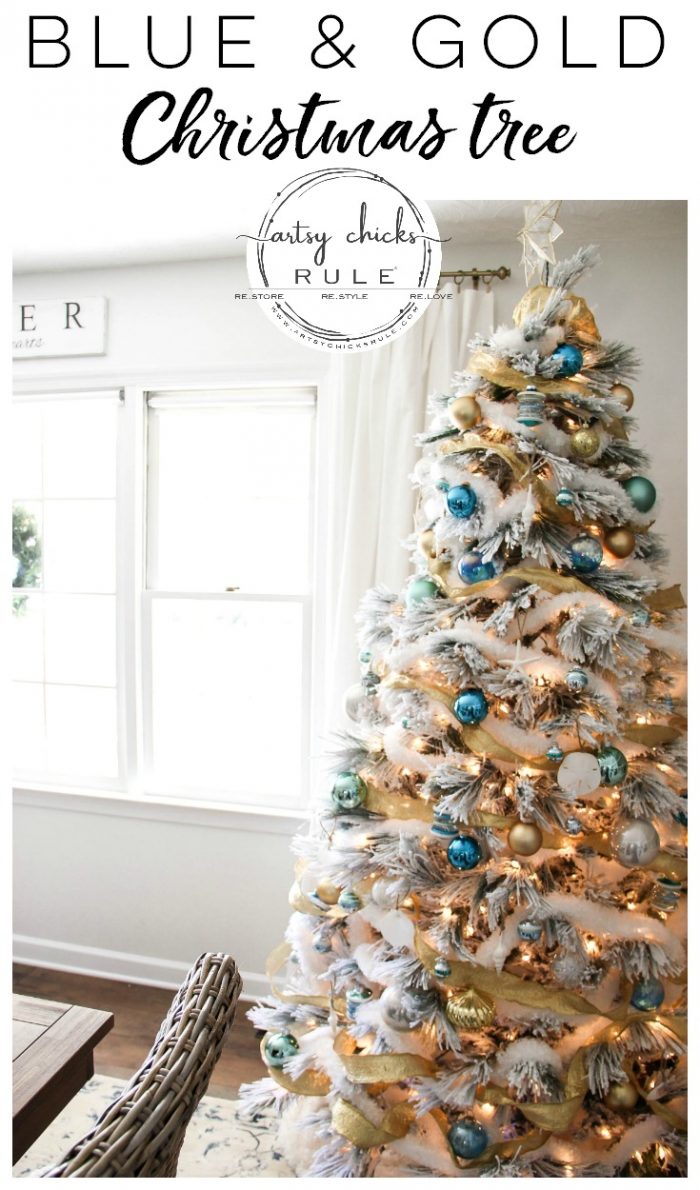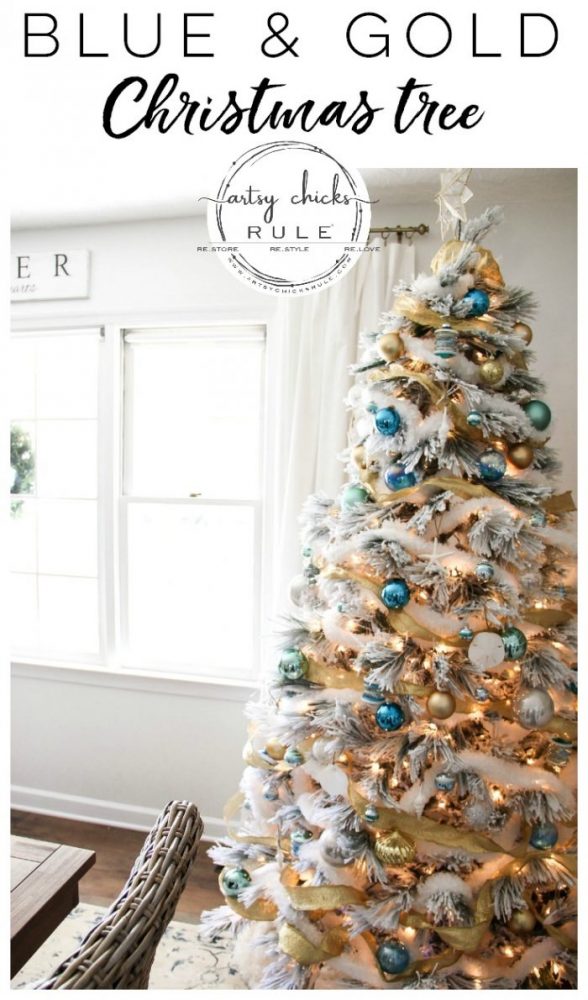 When I've had a tree here in the past, I've put it in front of the window.
But now with the table, I thought it looked (and fit!) best in the corner there.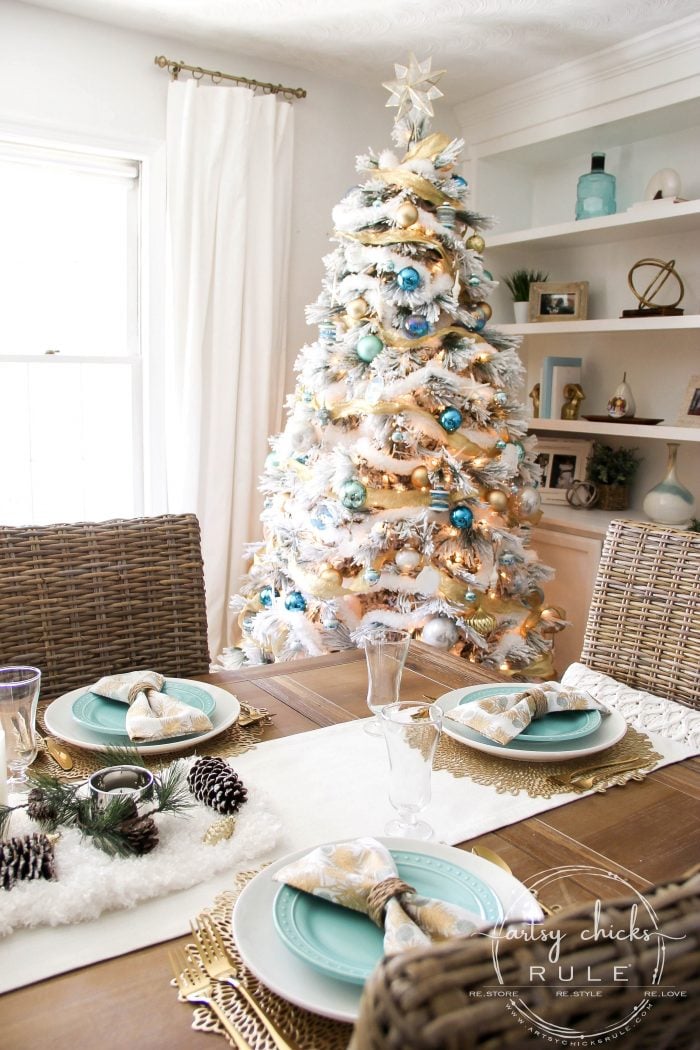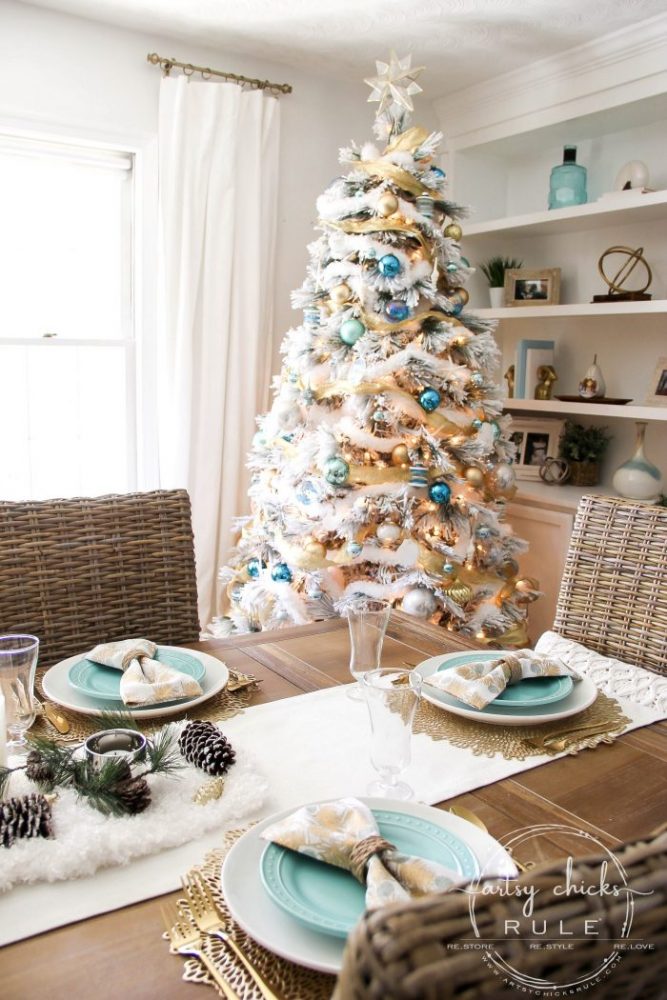 Those sweater pillows came from Wal-Mart. (you can find them, here)
I think they are perfect for the holidays and for wintertime decor.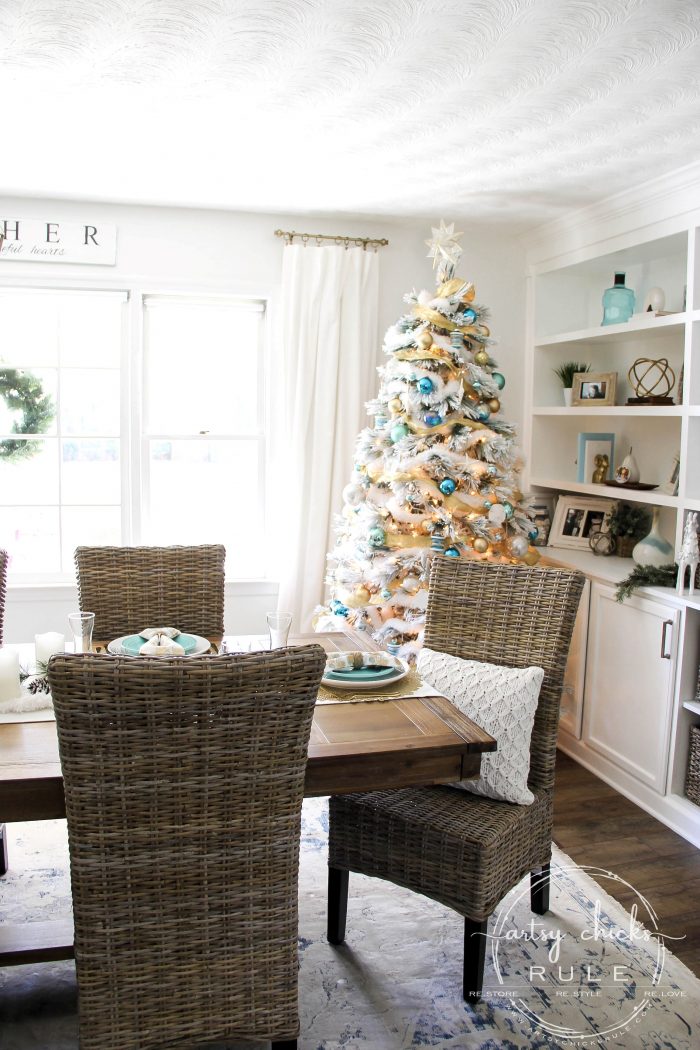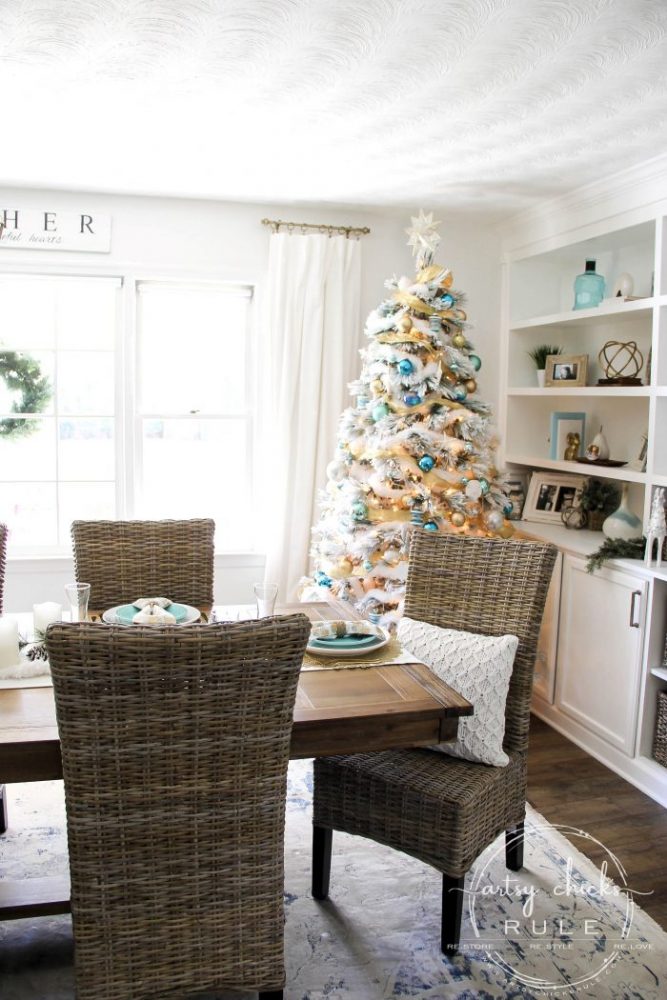 And a long shot of the table and tree…..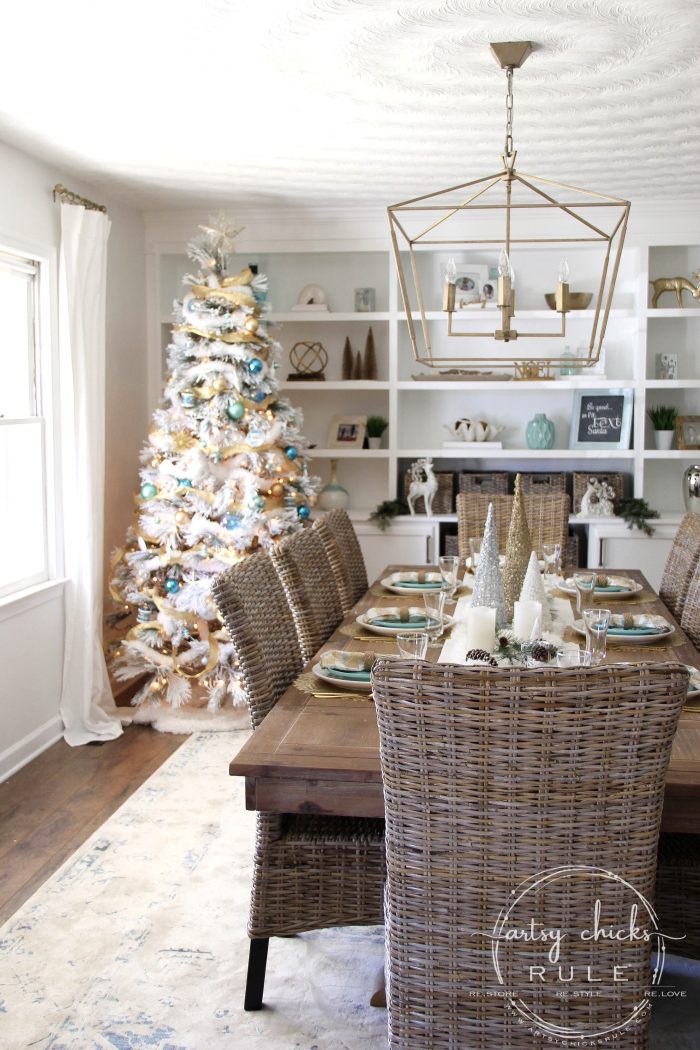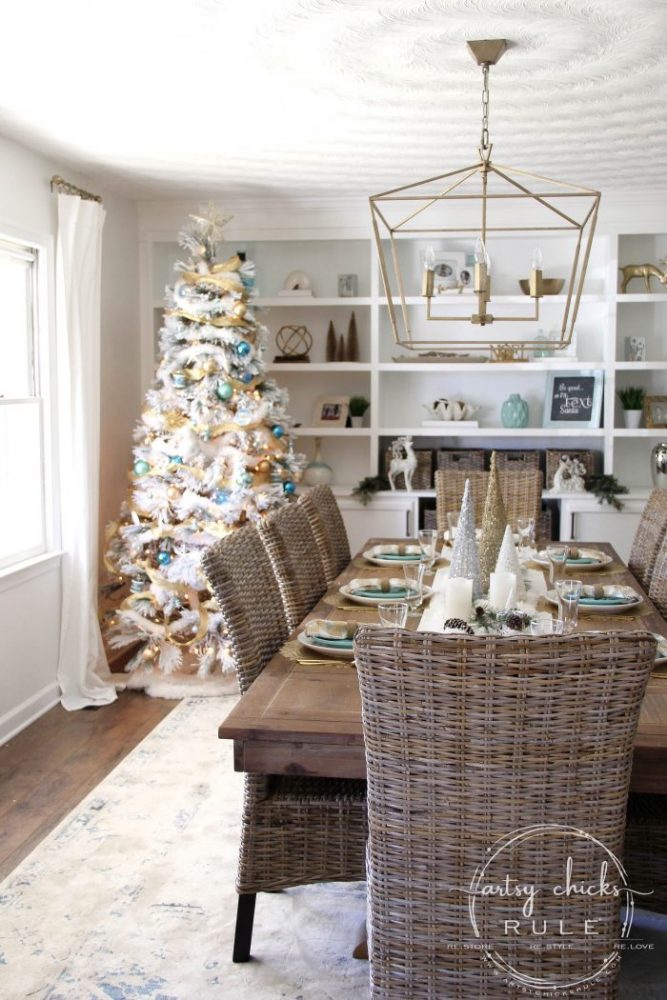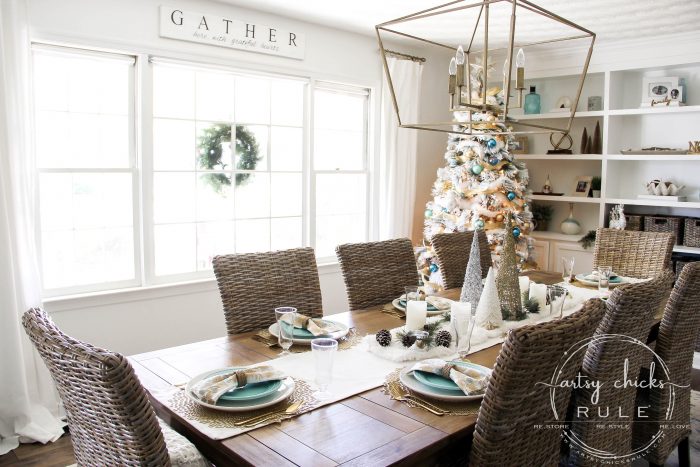 And the other way, looking towards the foyer and front door….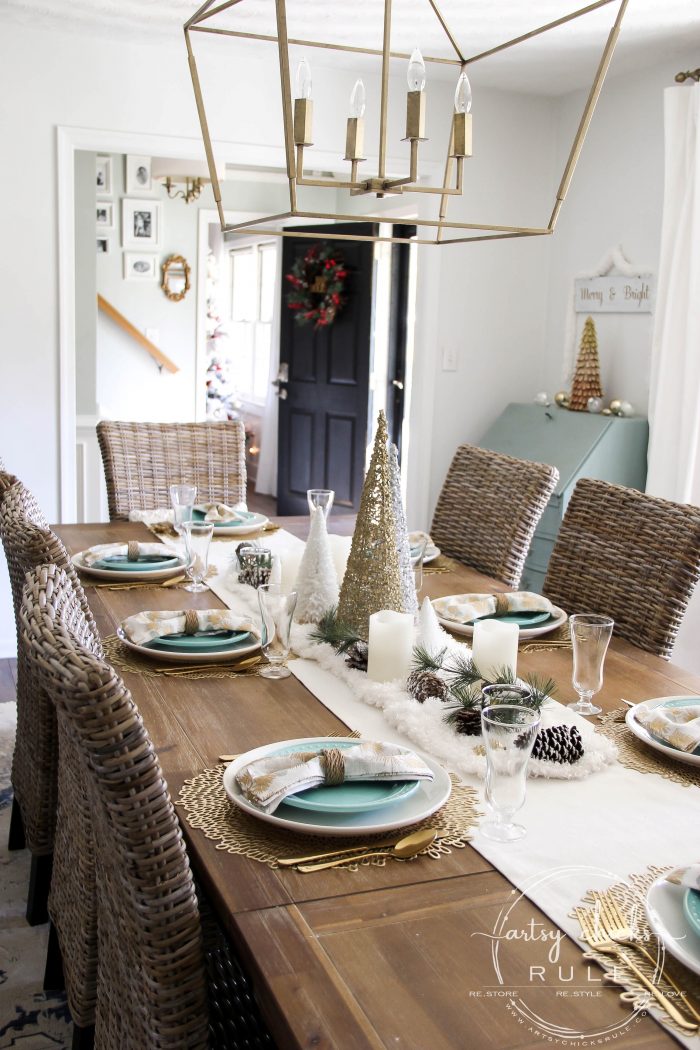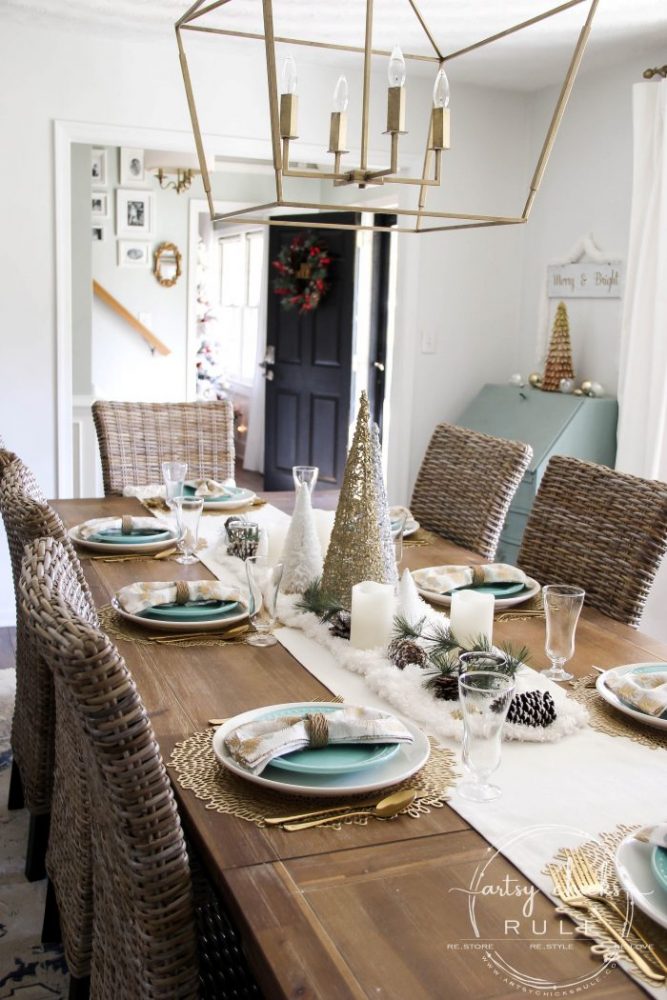 It was SO much fun to deck the table out with all the holiday decor and place settings. :)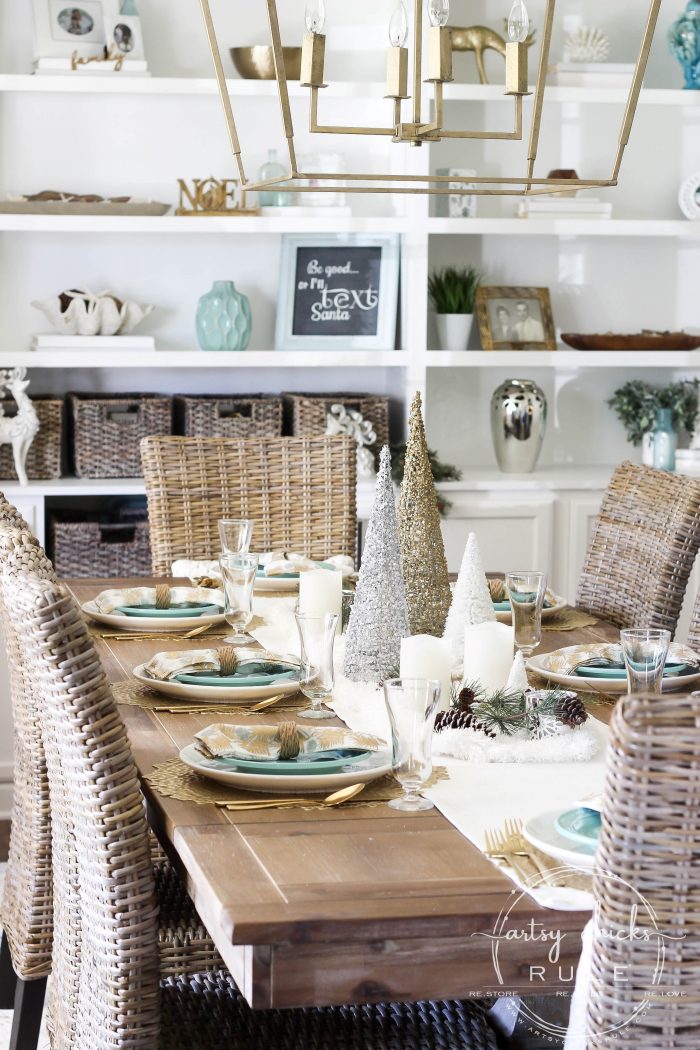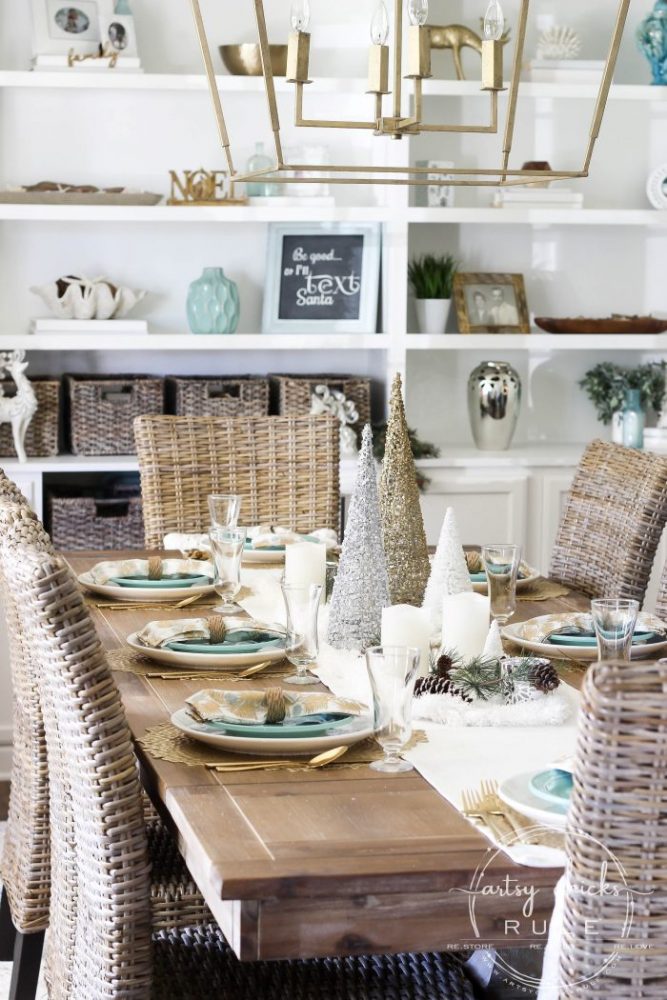 The gold flatware can be found, here.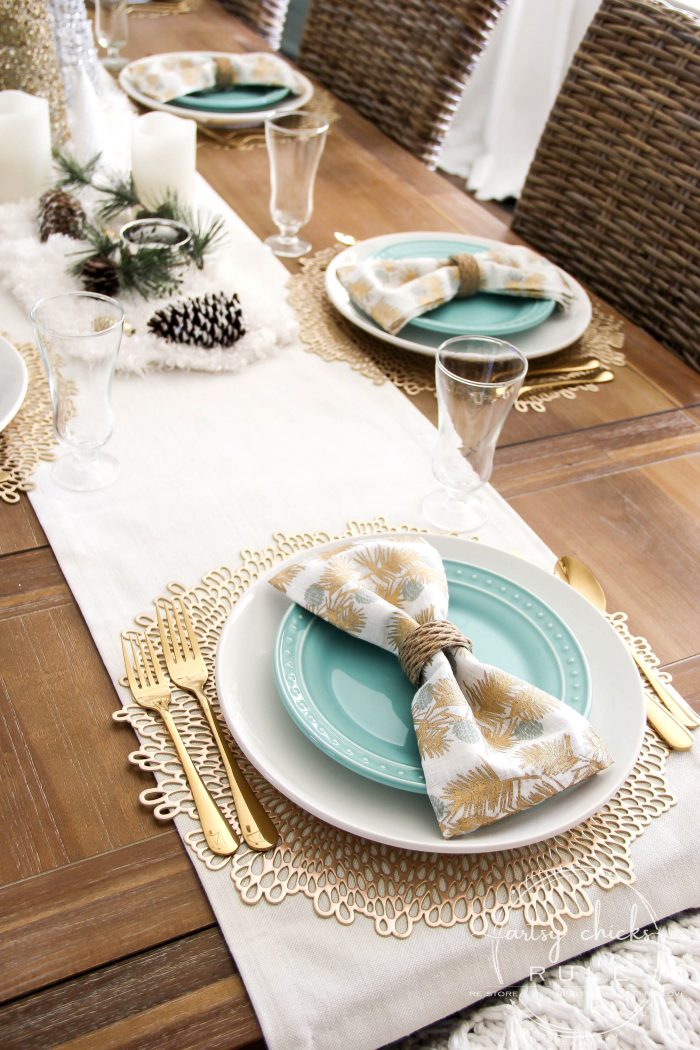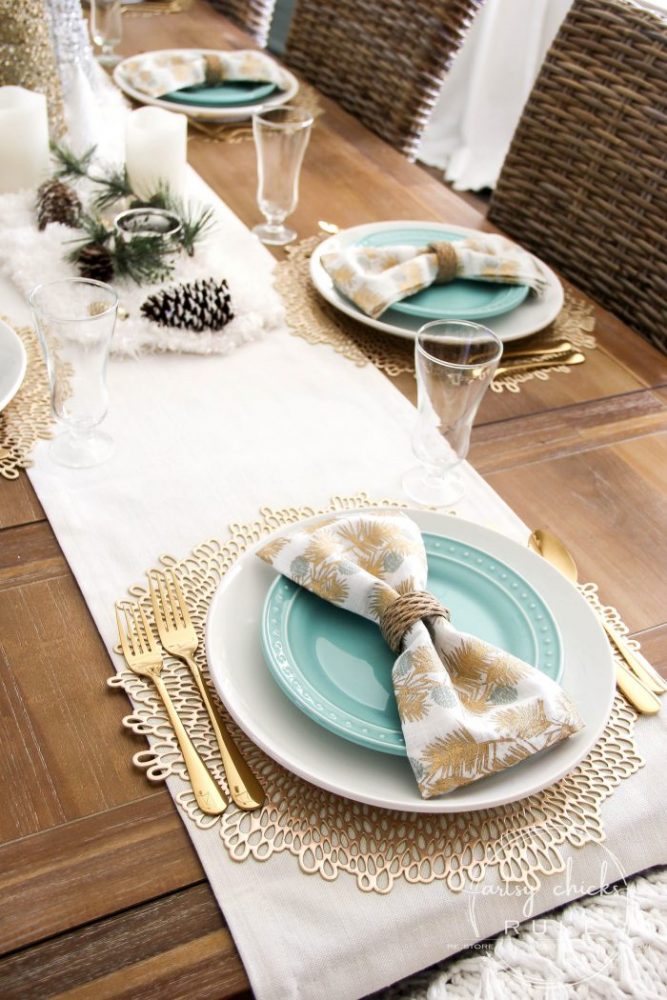 The white plates and gold lace place mat came from At Home.
The aqua plates can be found, here.
I was thrilled to find the pretty gold and aqua pine cone napkins. You can find them, here.
And the ivory runner, here.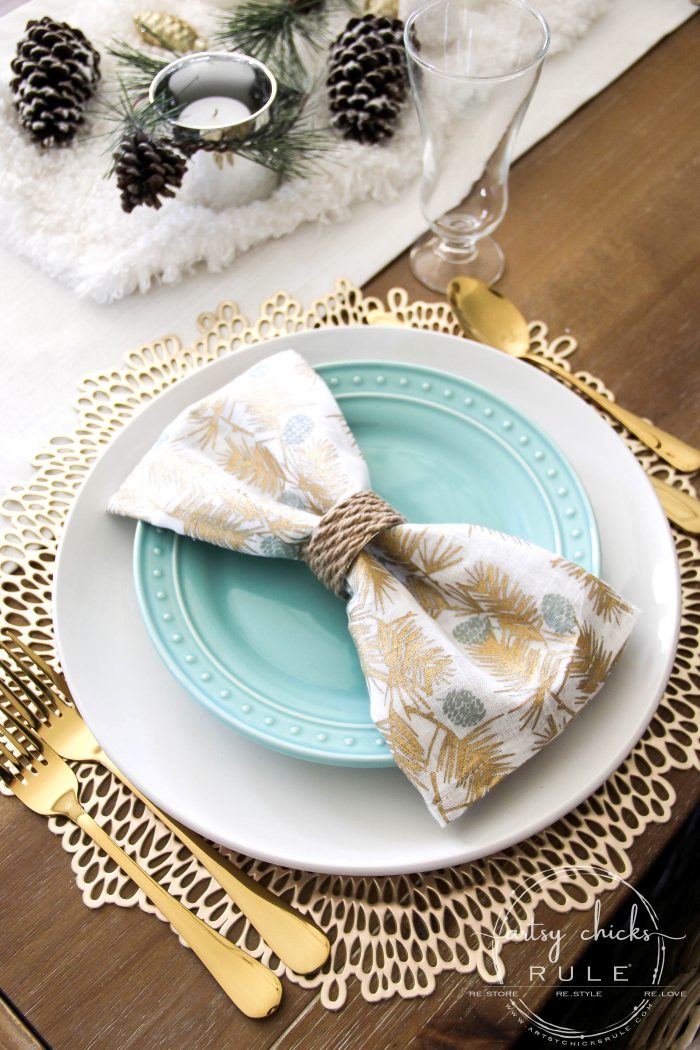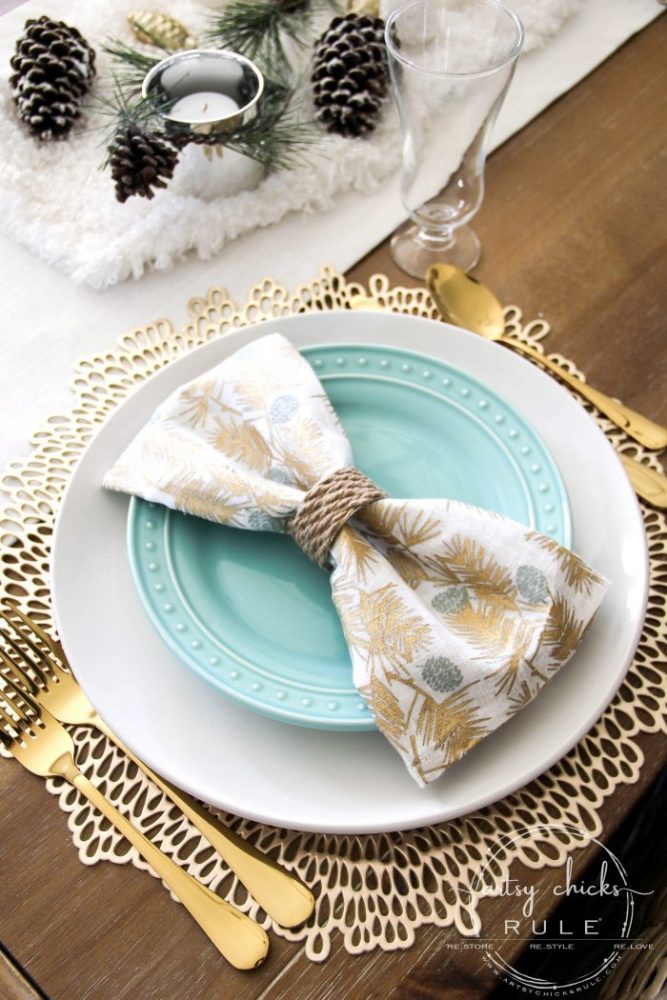 I've had the 2 silver Christmas trees for a few years. I sprayed one of them gold this year.
Gold, silver and white. :)
The white tree is from, here.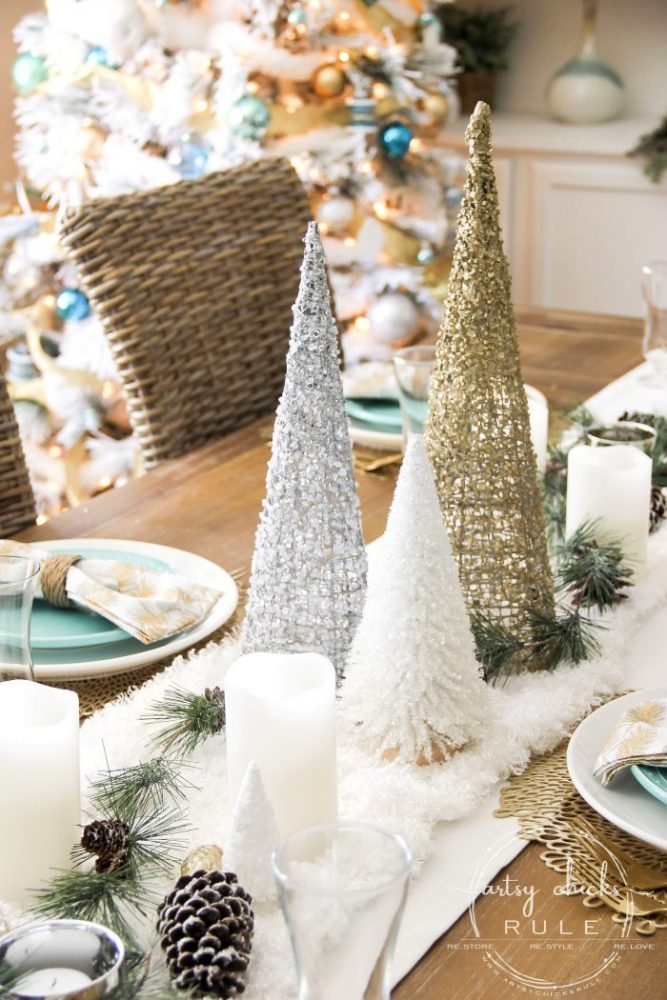 I used a piece of the same material I used to make the snowy garland (I had left over), as the "snowy" base for the centerpiece area.
I then added a few flocked pine cones, pine garland, candles and gold pine cone ornaments.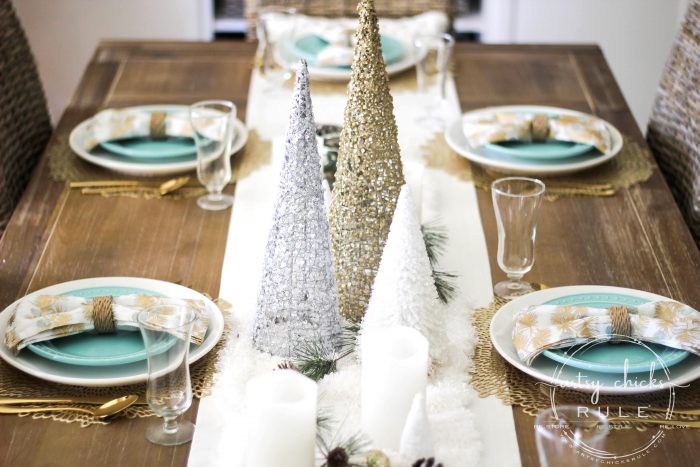 The Aubusson Dresser got a few simple touches….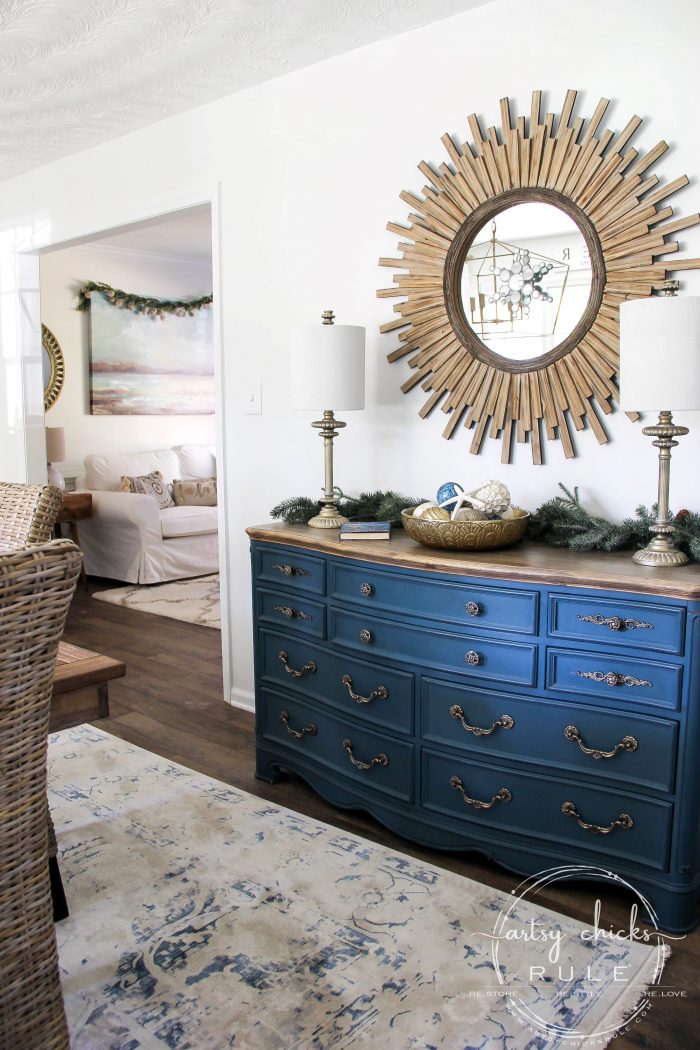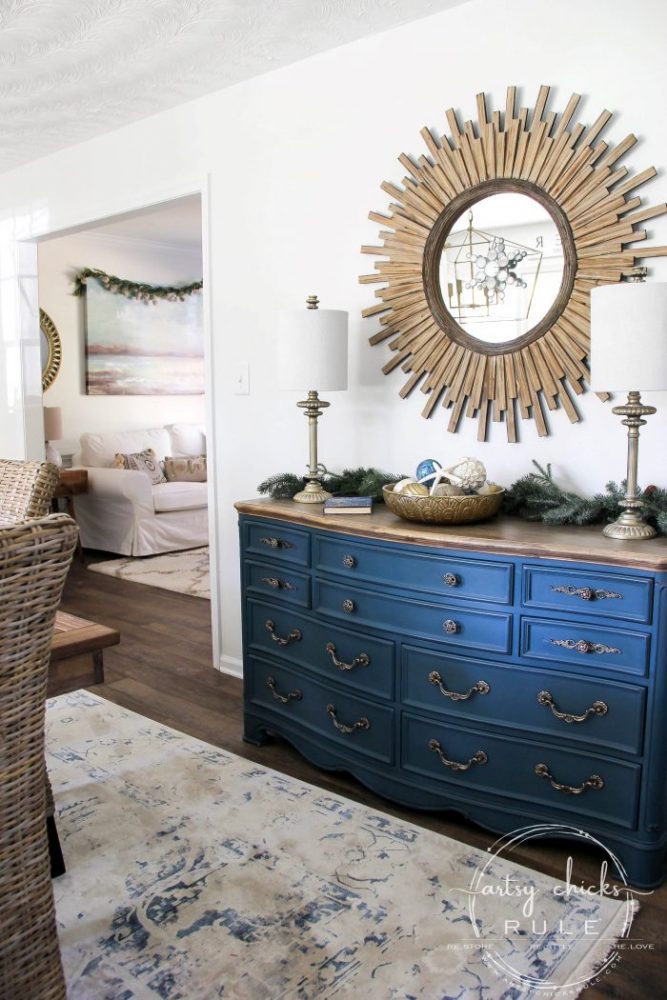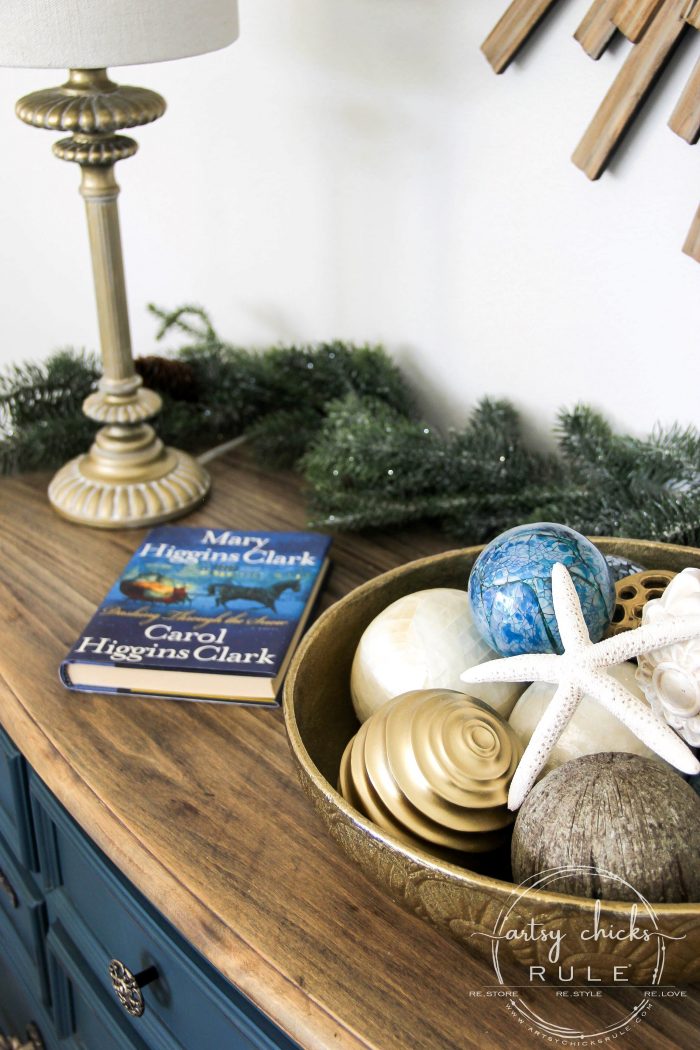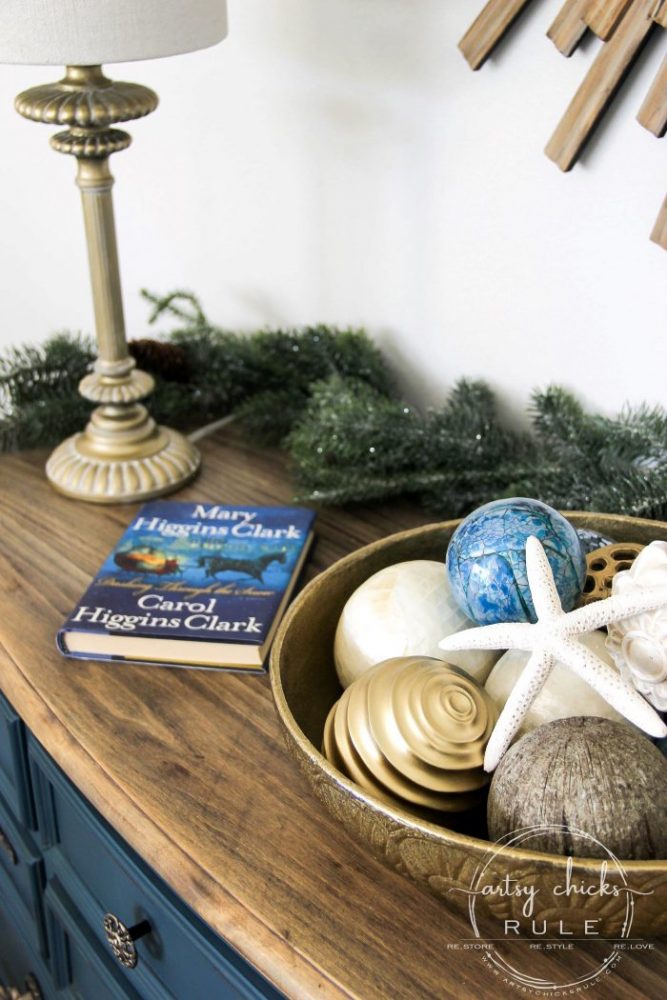 The Chalk Painted secretary got a few simple touches too.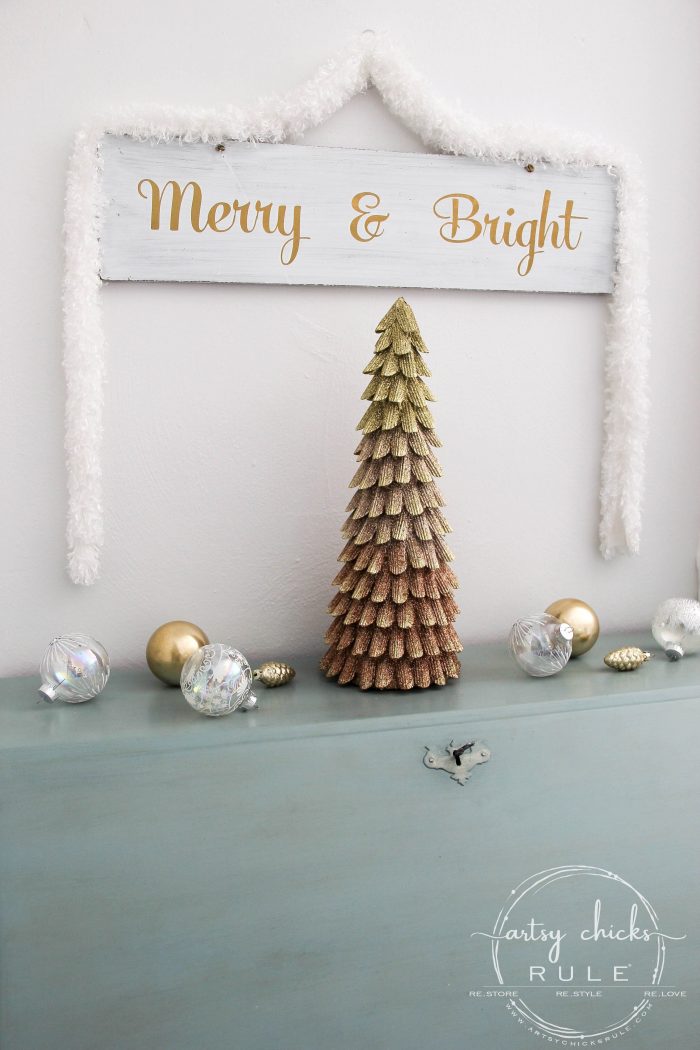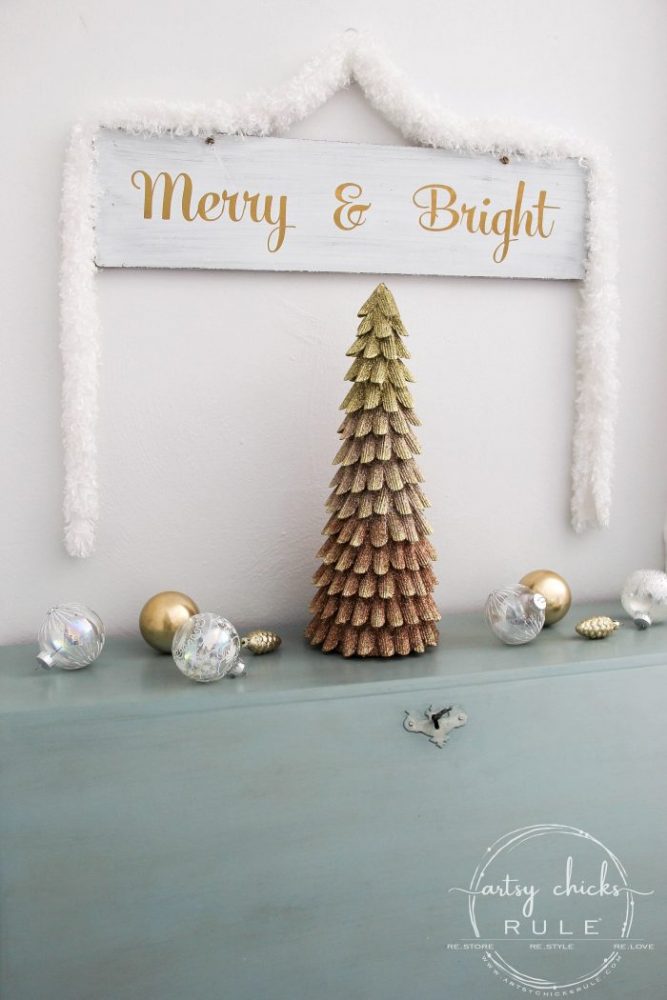 The "merry & bright" sign was one I made some years back. You can see the post, here.
I found a stray piece of snowy garland that I missed (and I was done decorating the tree) so I hung it above the sign.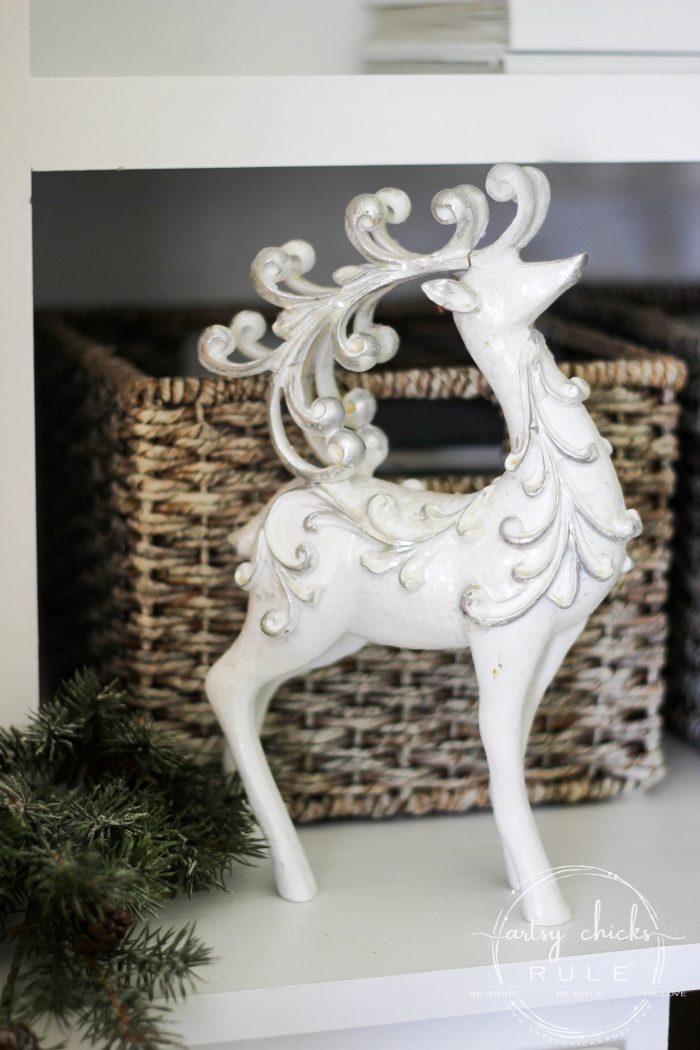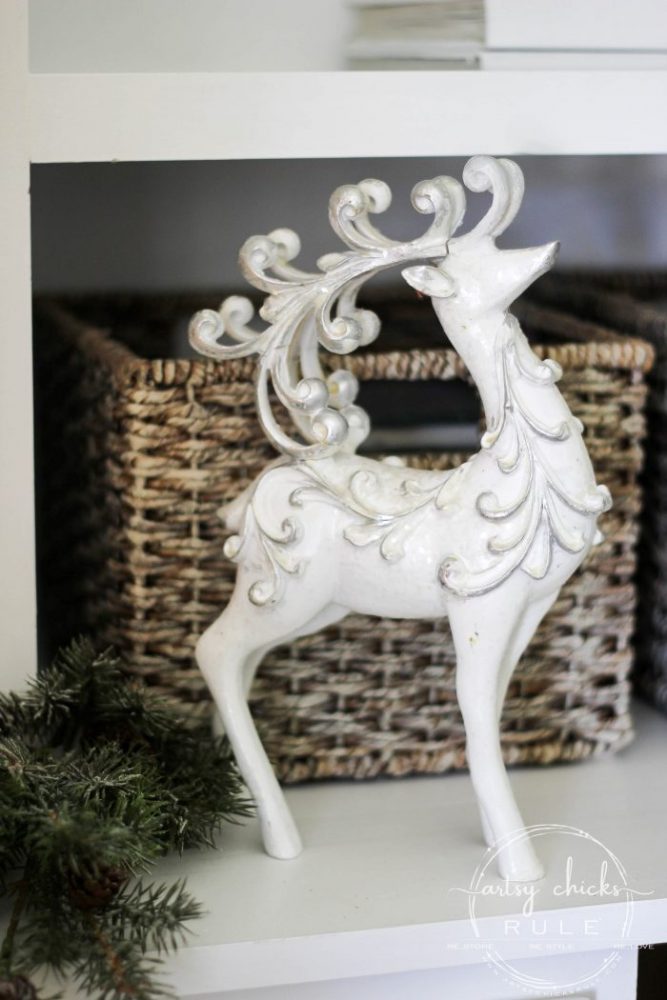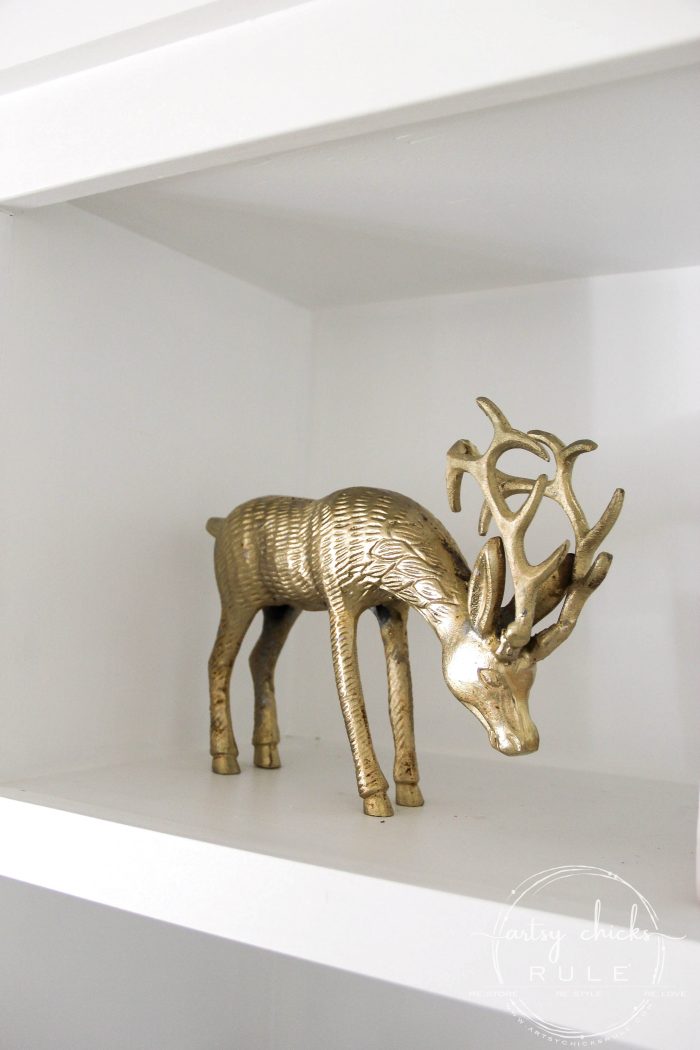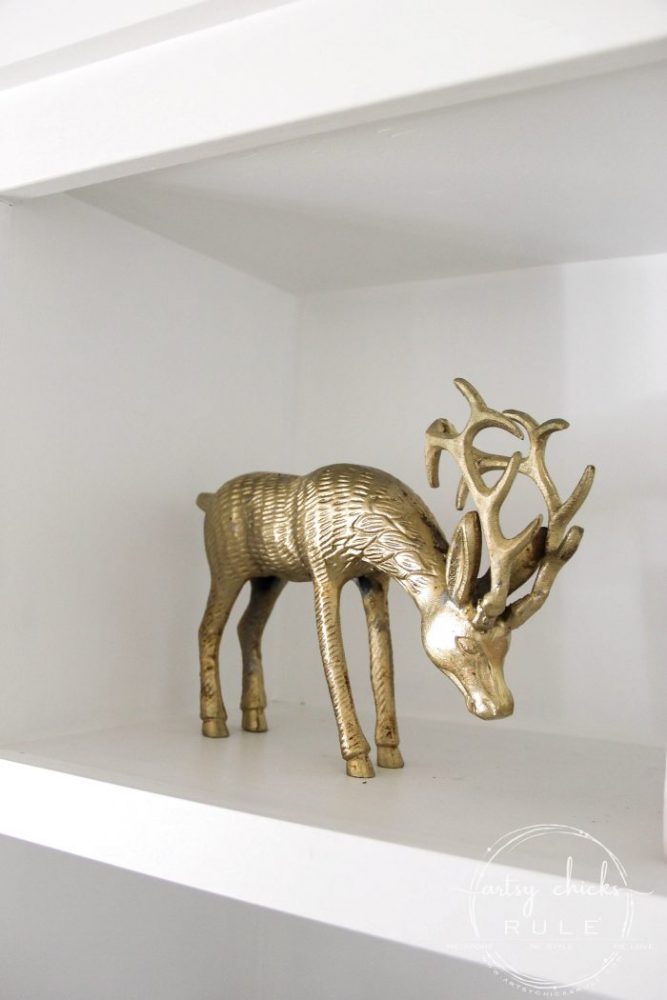 Noel….from the dollar spot at Target.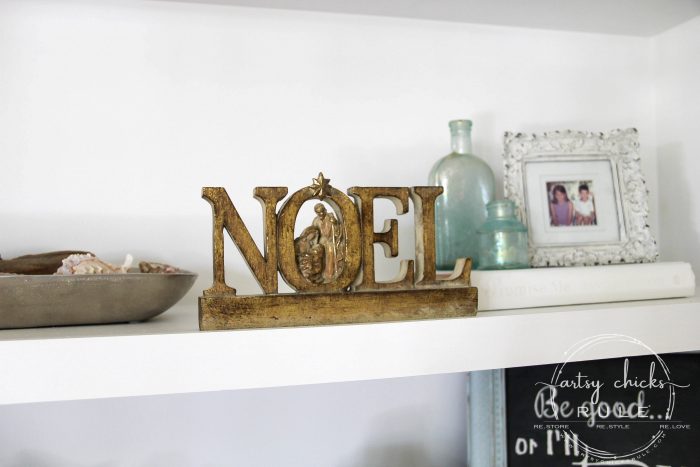 Just a few holiday decor pieces here and there on the built ins.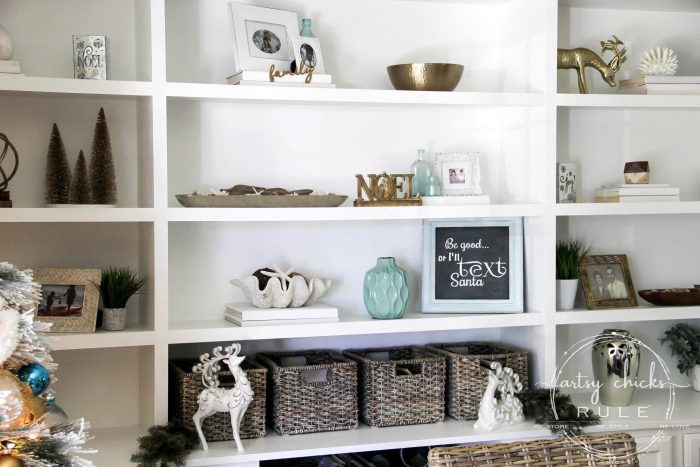 The "be good or I'll text Santa" sign was one I made a few years ago. You can see that post, here.
I included links in the text above, but just in case you liked any of the things in the post, here they are all in one place to shop!
And that's it for our holiday decorated dining room…and blue and gold tree! :)
Can you guess what our last tree is decorated like? So far we've done an all white and blue and gold Christmas tree.
The third one is completely different and is coming on Thursday. Stay tuned! :)
PIN it to save it for later!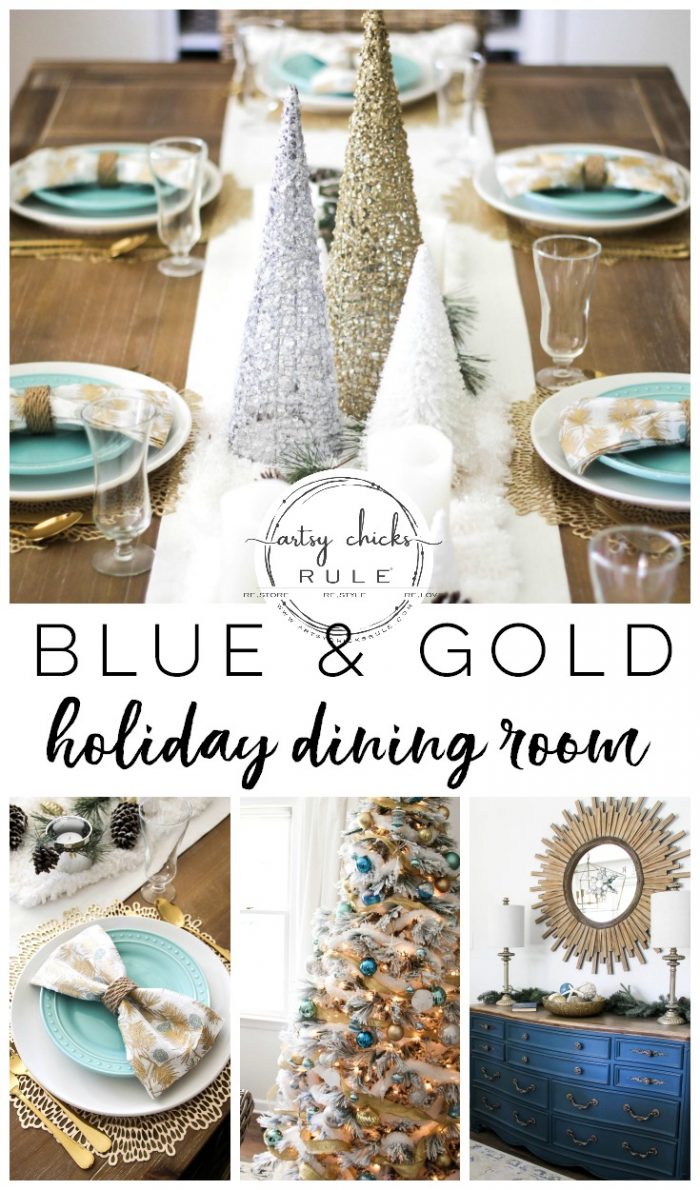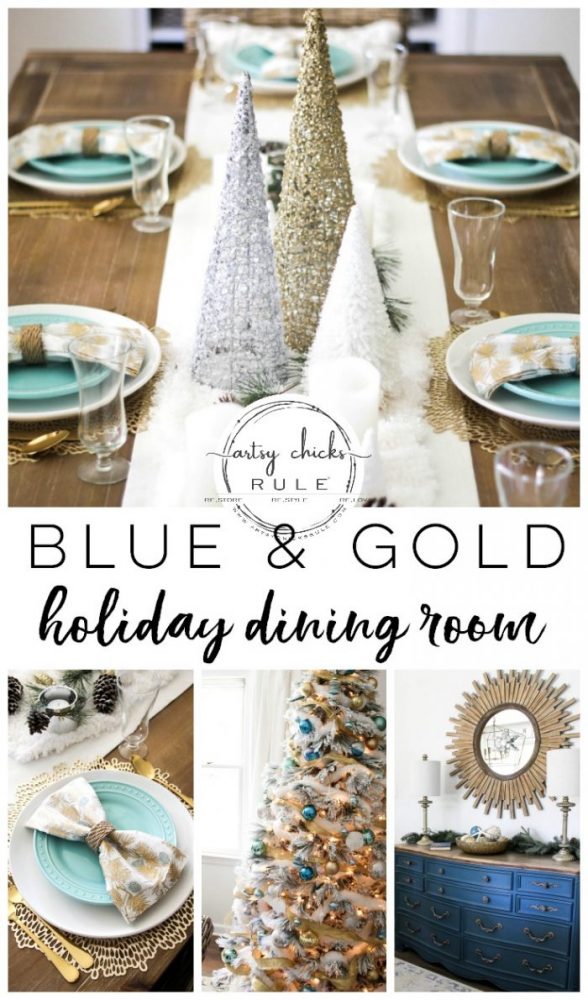 I'll see you on Thursday with the remainder of our holiday home. (family room, foyer, laundry and maybe a peek or two of the kitchen ;) )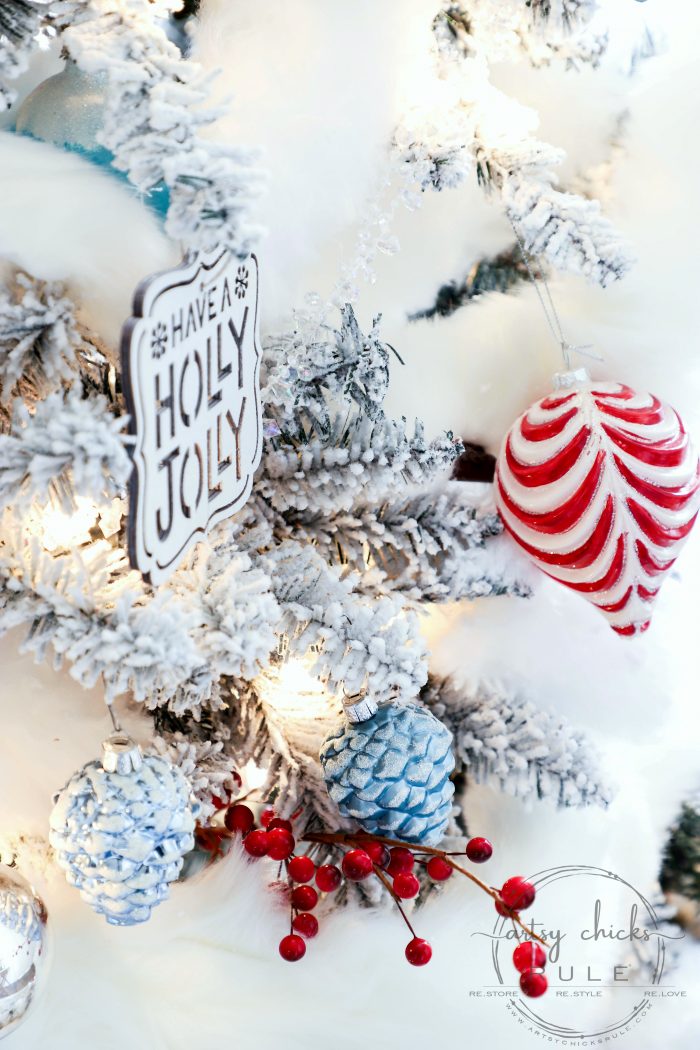 UPDATE!!! See it now, here!!!
Have a great week!
xoxo