Traditional Christmas Tree (family room, foyer and laundry)
This post may contain affiliate links. Please see disclosures here.
As pretty as all the themed and not traditional colors go, there's nothing that gets you in the holiday spirit better than a traditional Christmas tree and decor!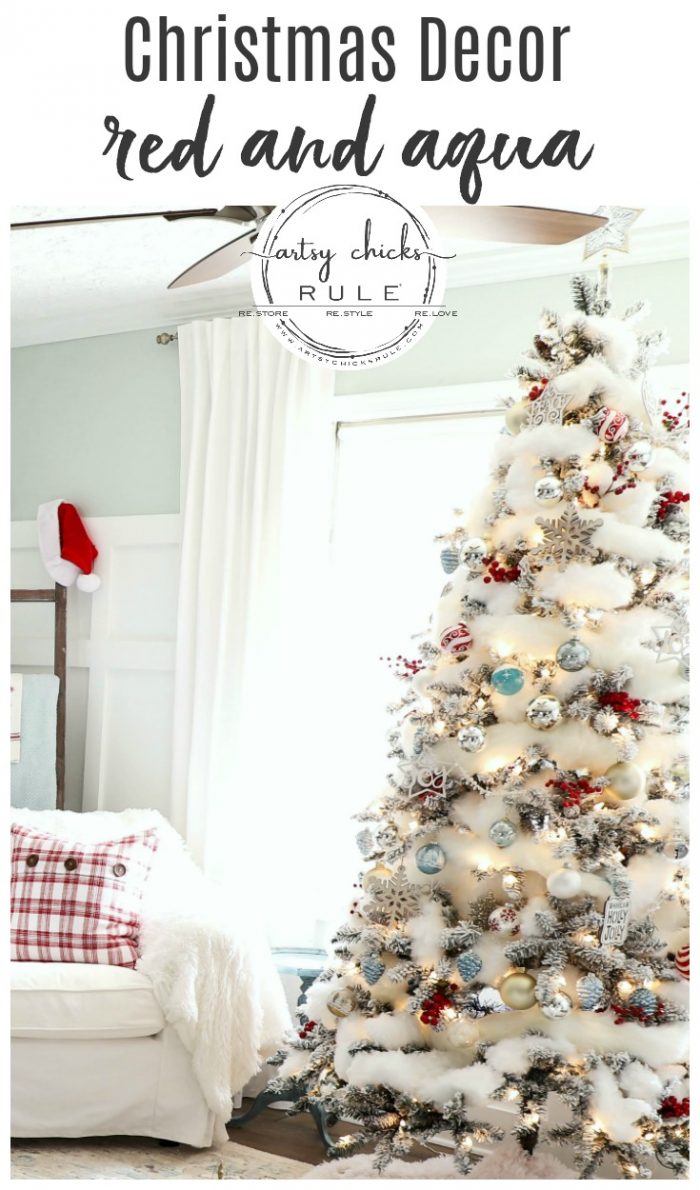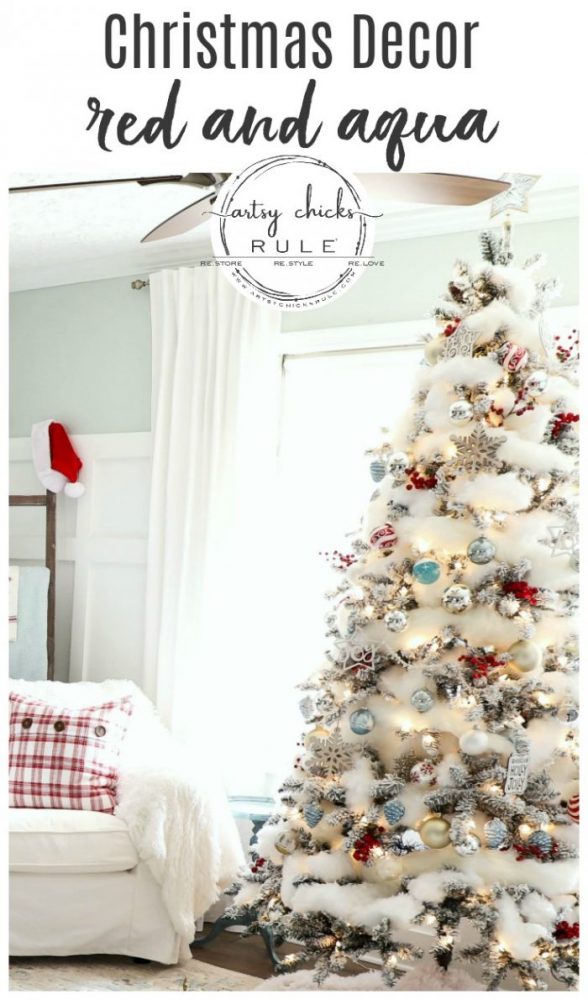 I recently shared that we decided to put up 3 full sized trees this year.
A Blue and Gold one, an All White One and today I'm sharing our Traditional Christmas Tree.
Since the family room is the "homey" room and the one we spend the most time in and open presents in, I thought I'd make this room the more traditional of the three.
There's just something about red plaid, red berries…and well, just RED when it comes to Christmas decor.
It's so festive and adds a pop of lively color that I just love.
It feels like Christmas time as a child and evokes wonderful memories, too.
Traditional Christmas Tree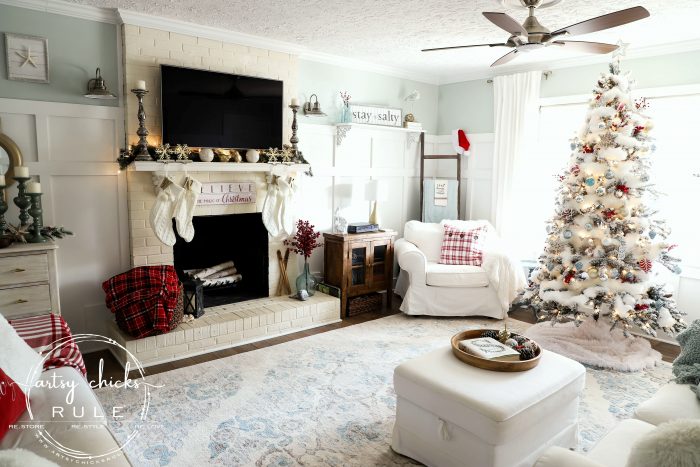 I love a cozy, warm and inviting feeling. :)
And it doesn't hurt that I have a lot of aqua and teal colors in this room and I just adore those two colors together!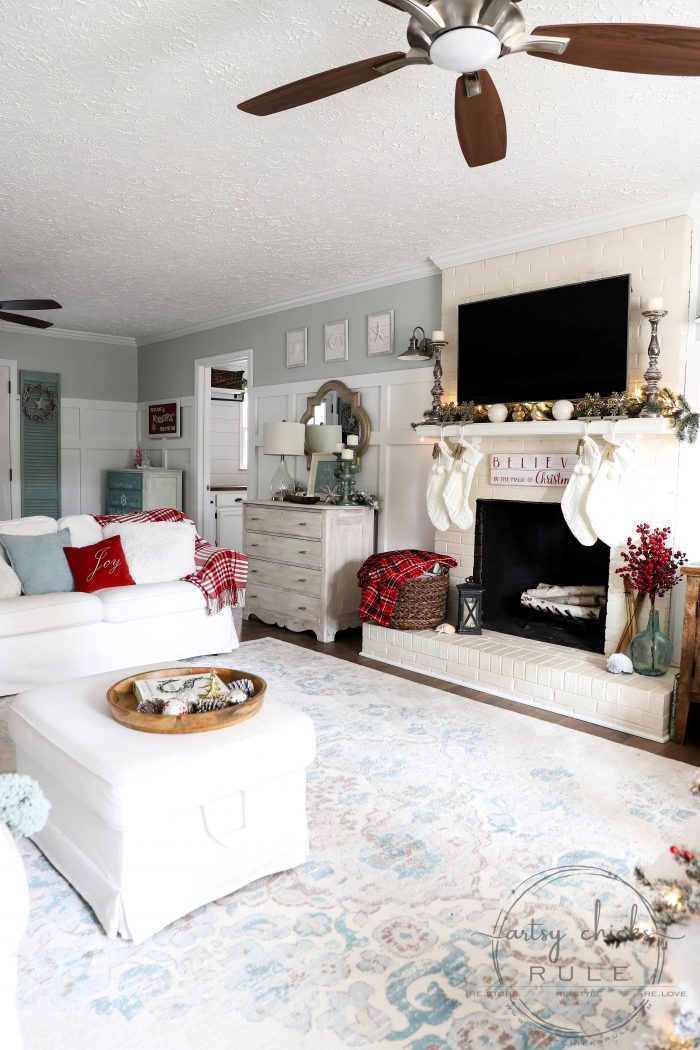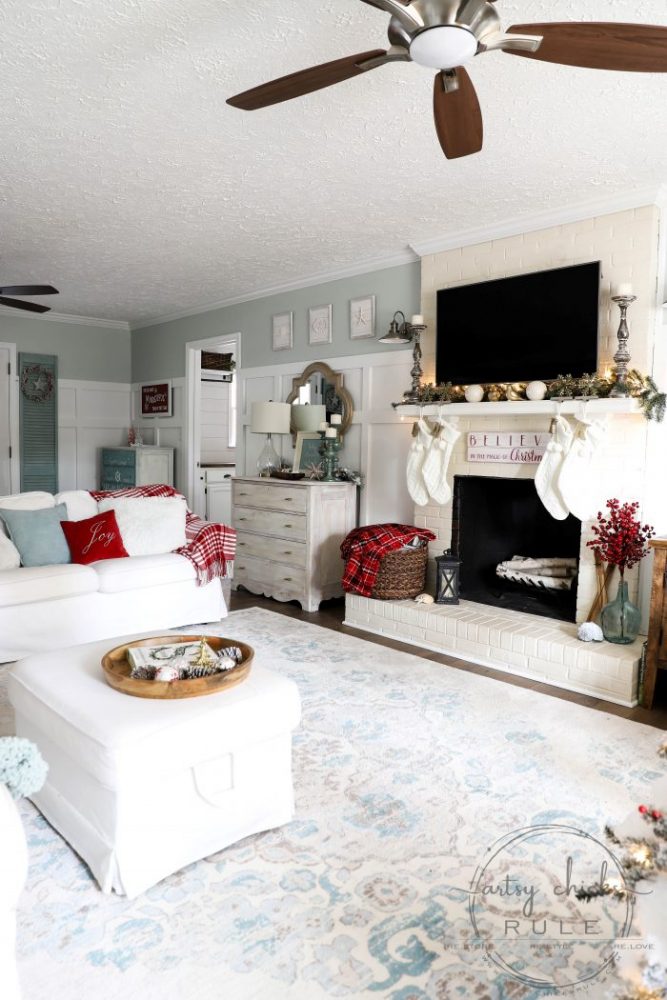 By the way, the new rug in here is a winner! In price, looks and feel, we really love it.
You can find it, here.
I found the red berry wreath at TJ Maxx this year. I'd been looking for one for a few years but they are so pricey!
So I never bought one.
This one was budget friendly so it came home with me. Now I wish I'd bought several.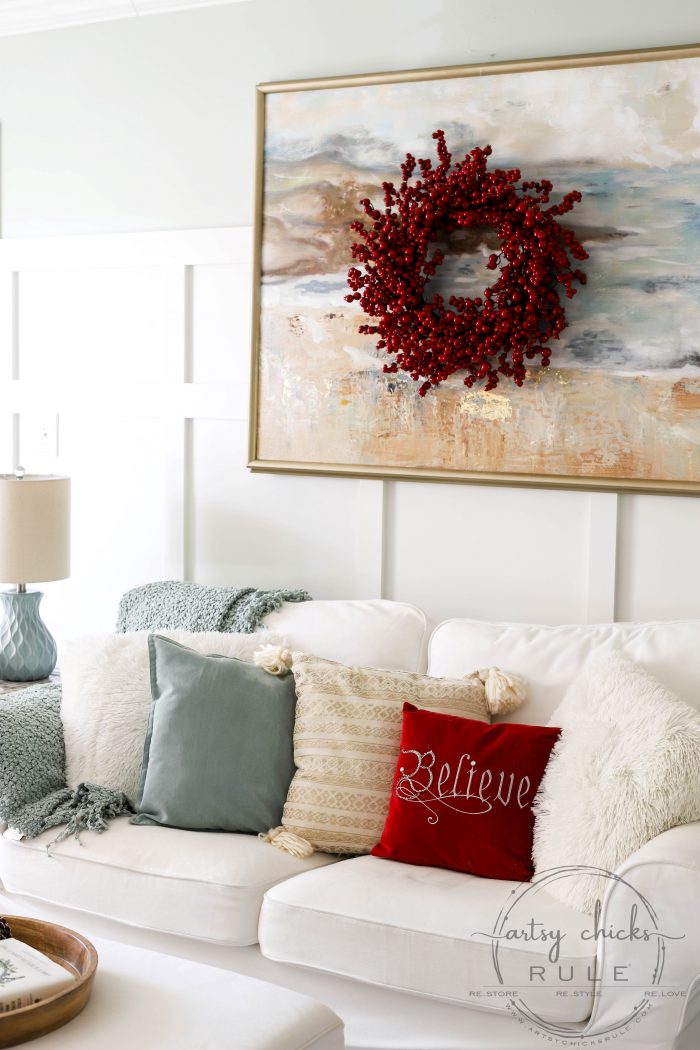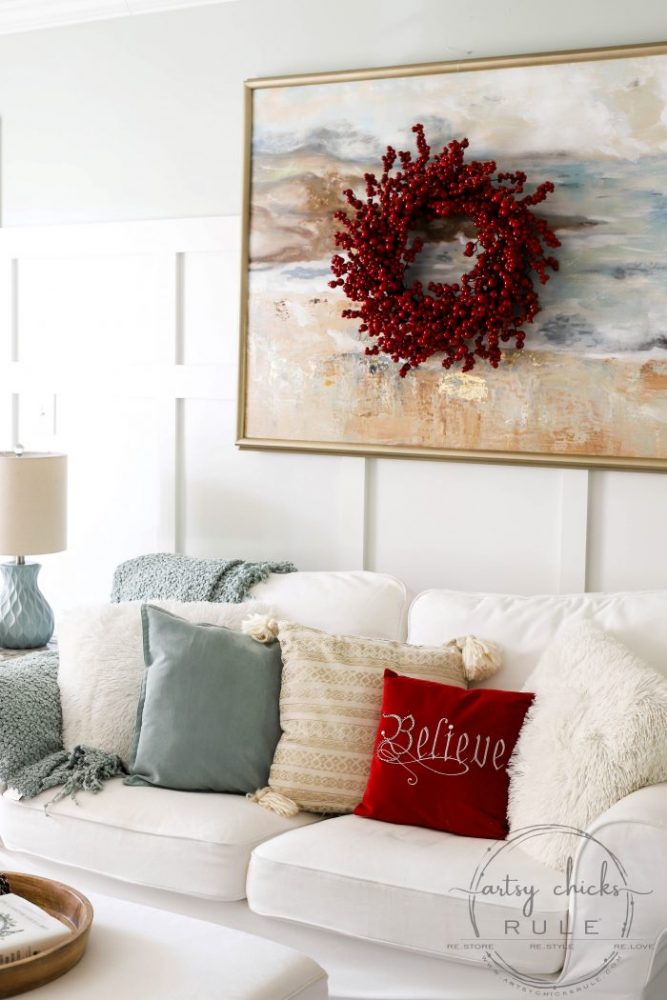 The painting above the couch is new. If you follow along on Instagram you've seen it. And if you don't yet, do! ;) I share lots over there as it's happening. (in the stories and they disappear after 24 hours)
I asked you guys in my "stories" if I should paint the frame white or not. (it was a putty brown color originally and I really wanted to paint it white but was undecided) Most of you answered "yes".
I did…and I hated it!! lol I was so bummed because I thought I'd love it white.
So plan B…. I painted it in my fave soft gold spray paint….and I love it!
It truly looks like it came that way, or should have anyway. ;)
Oh, and the painting itself is from Pier One and was on clearance at my local store for less than half off.
I just happened upon it. Love that! :) (I looked for it on their site but was unable to find it)
The red pillows are from Michael's from a few years ago.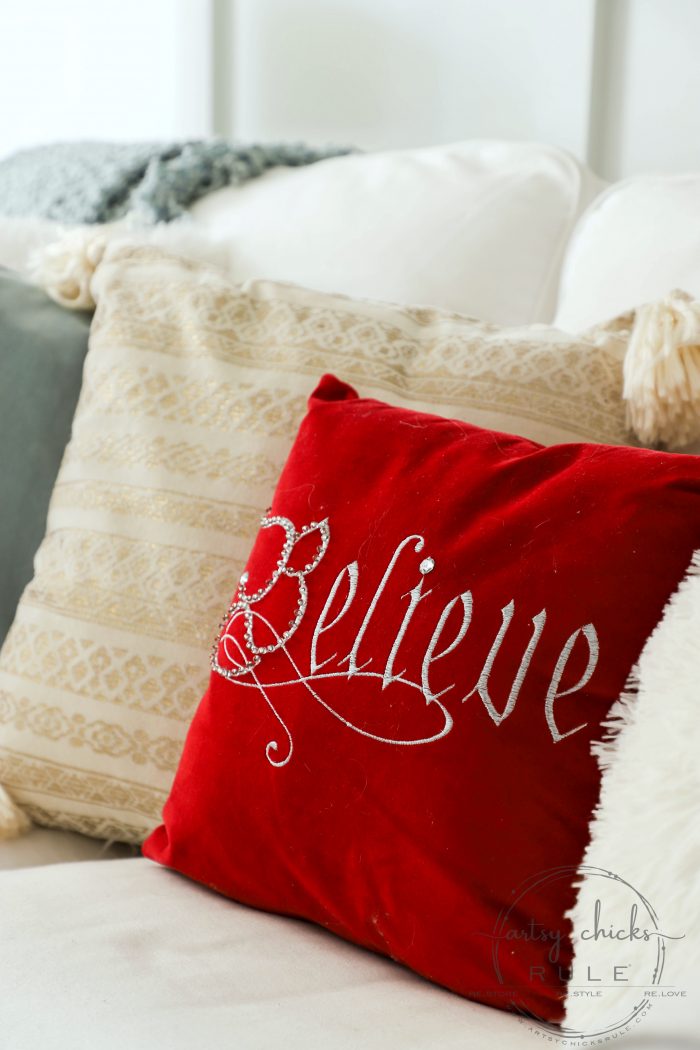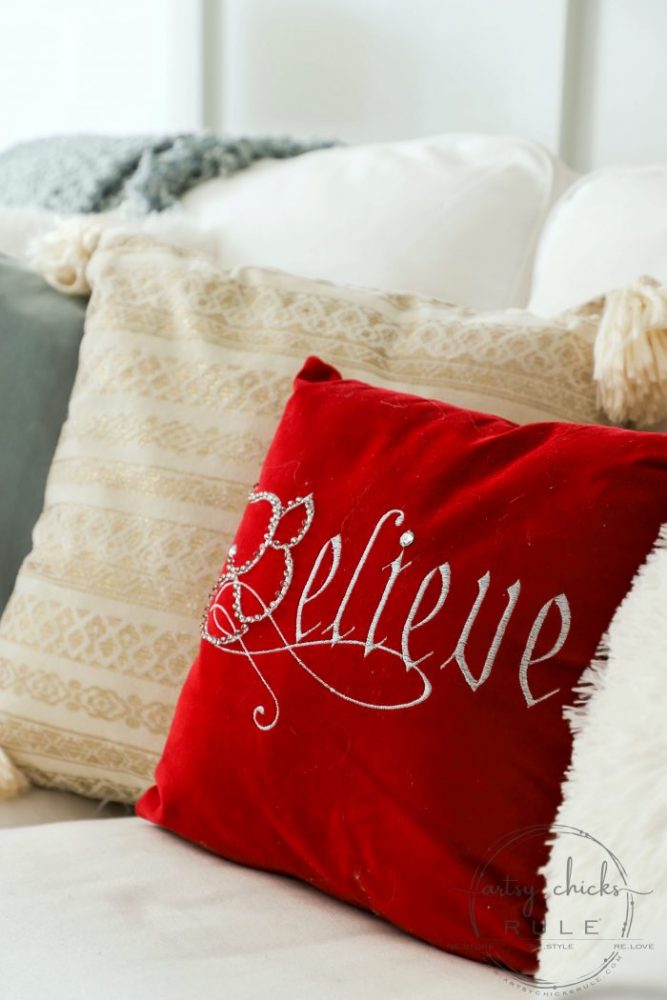 Gold tassle pillow can be found, here.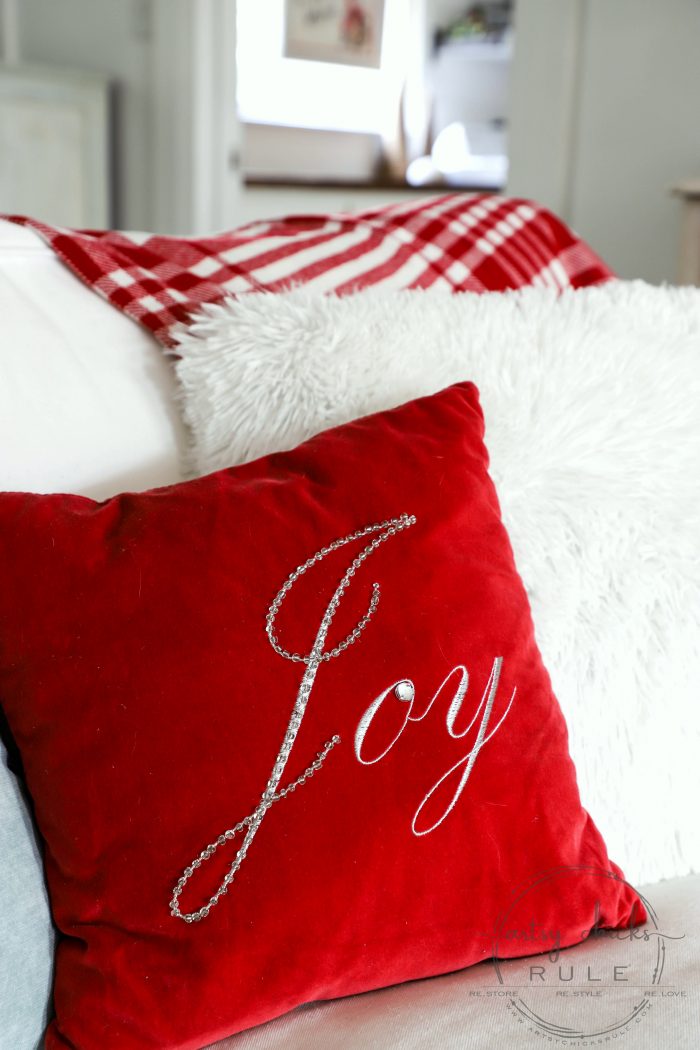 You might notice I found some new lamps for in here too.
My other ones were taller and a darker blue. I loved that these were a little shorter and more aqua.
I found them at Tuesday Morning.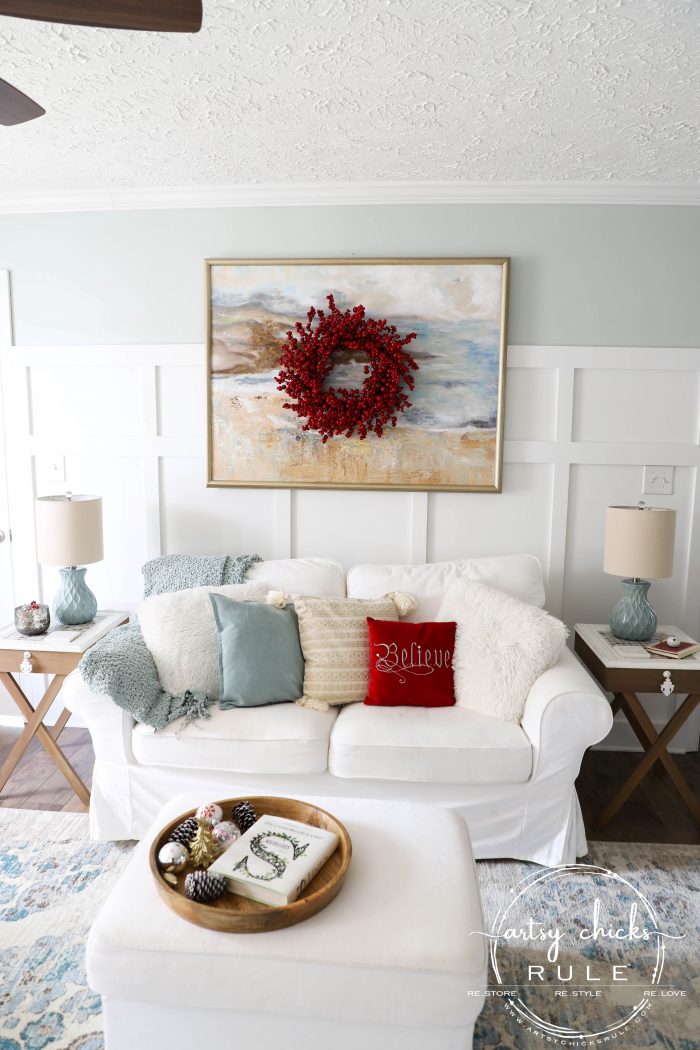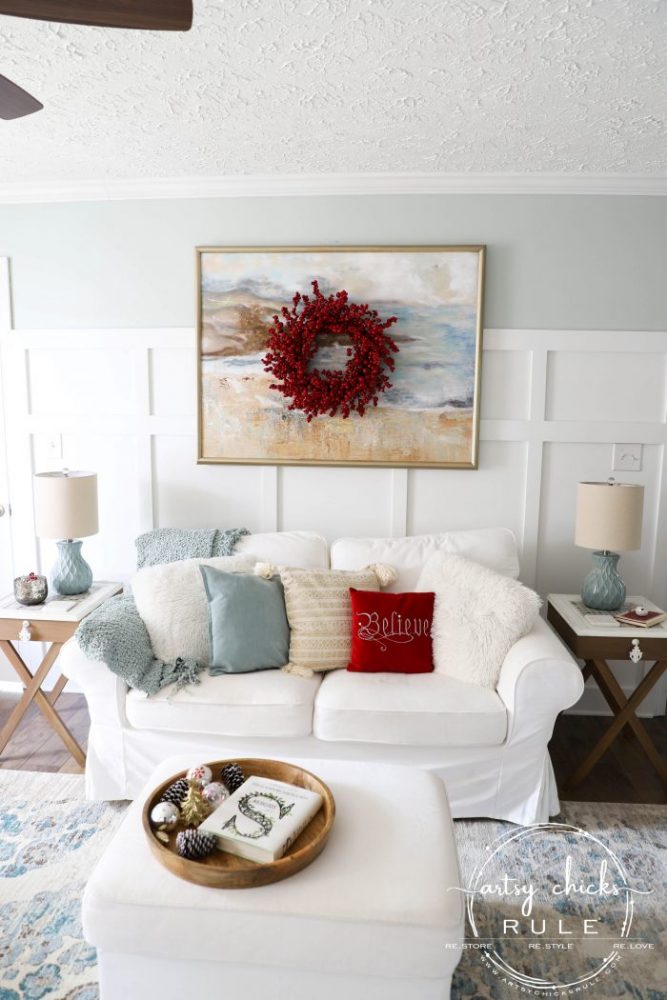 The criss cross end tables were made by my husband and I.
I made the top out of an old thrift store frame that I tiled.
You can read all about them, here.
One of my latest furniture makeovers below, the "white stain dresser" all prettied up with Christmas decor.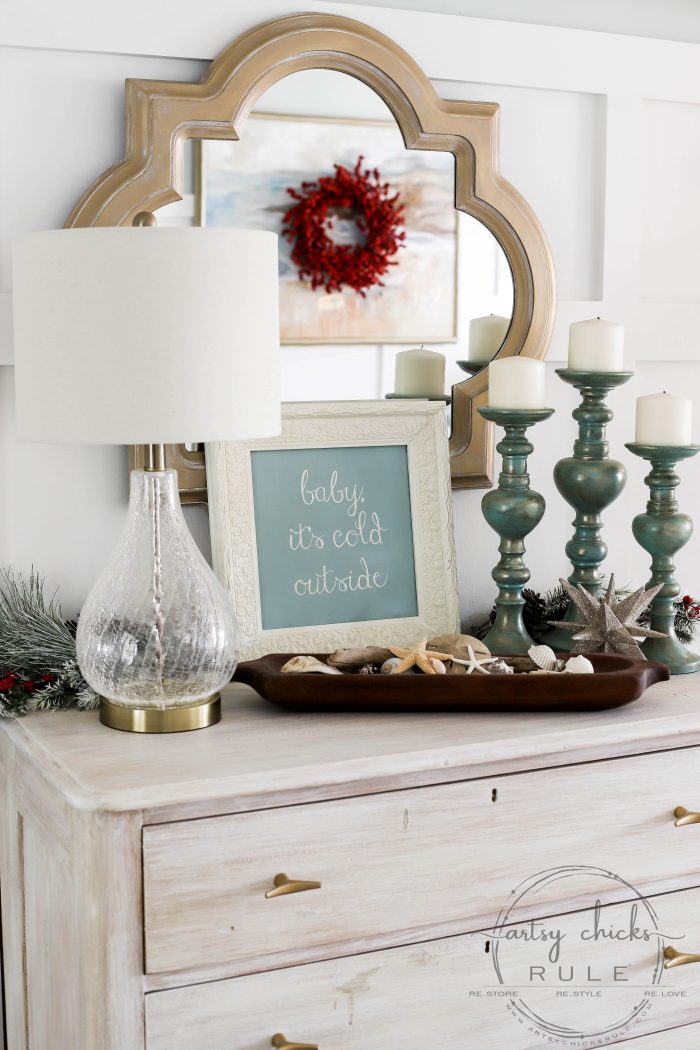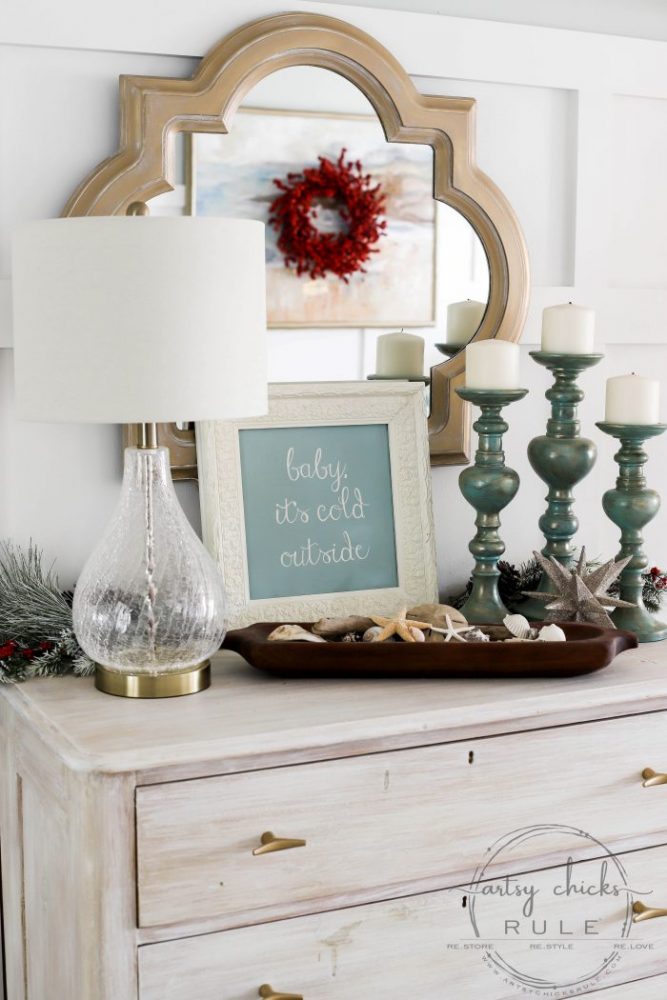 The "baby it's cold outside" sign is one I made quite a few years ago.
It was a thrift store repurpose, you can see it, here.
I added new stocking holders and snowflakes that are gold and silver. (TJ Maxx but I've since seen the same ones at Marshall's too)
And new stockings too! I met with a little resistance to that. lol We've been using the same stockings for YEARS.
Sometimes I think my husband is a little more sentimental than I am..and I'm a big sentimentalist! ;)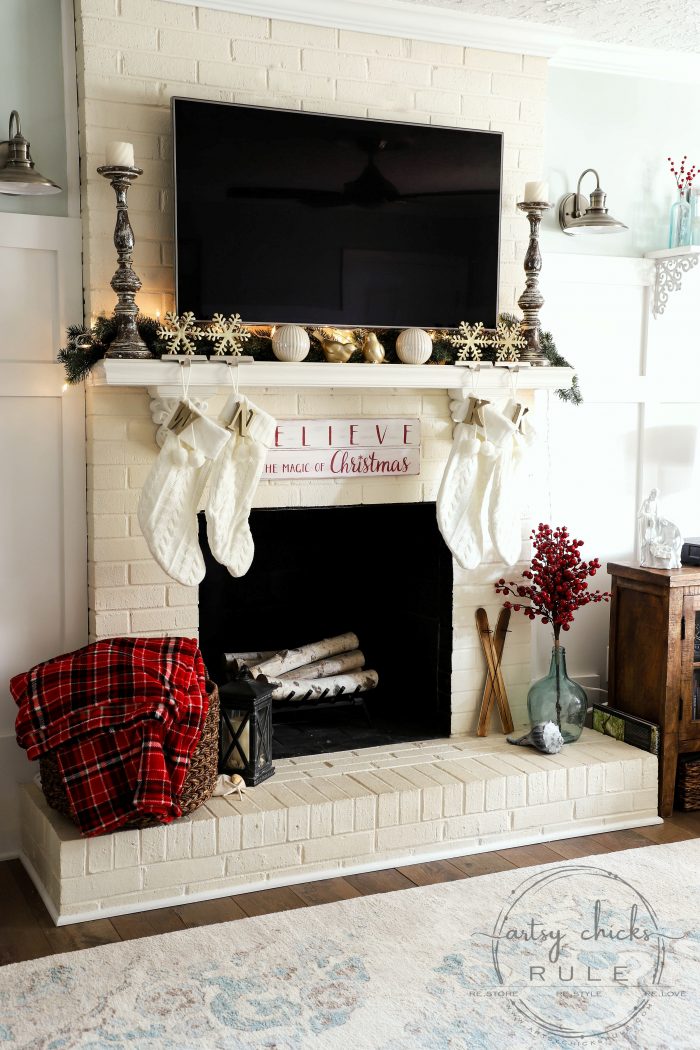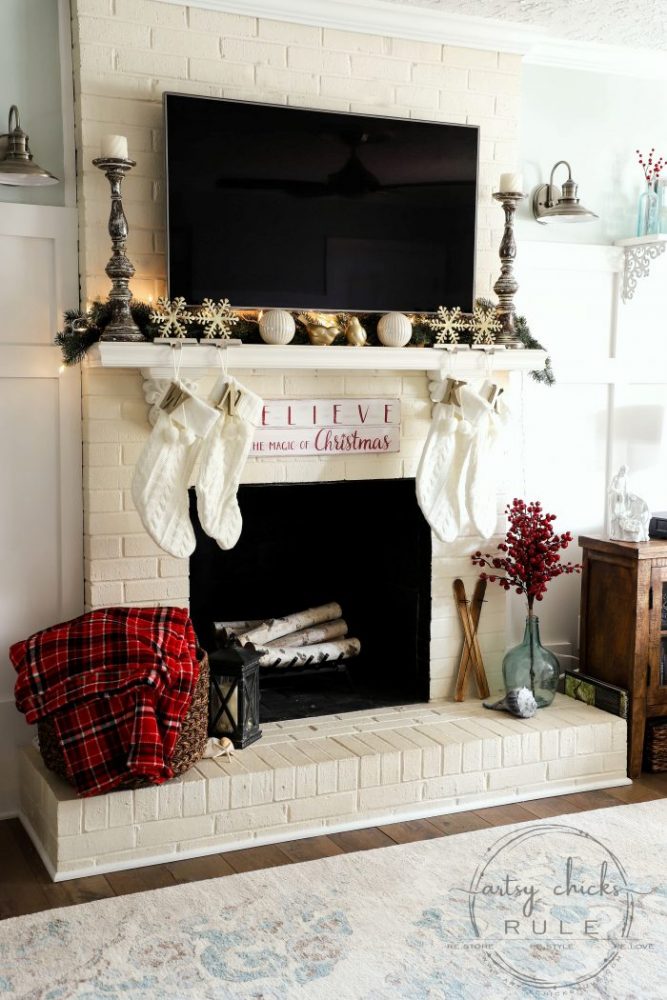 I found those at Target (stockings can be pricey…these weren't ;) ). (Get them, here)
And since I had our names embroidered on our old ones and these had no names, I decided to use wood letter blocks (Michael's) for the initials of our names.
I simple sprayed them gold and attached them to the stockings with fishing line (one of my favorite things to use because it's nearly invisible).
I also used fishing line to hang the red berry wreath over the painting in the pictures above.
I have plans for the fireplace in the new year. I painted it when we first moved in and the color is all wrong.
I'm not fully decided on what I'm going to do yet….but I'm going to do something!
The "believe" sign is one I made a few years ago.
You can read all about it, here.
The birch logs in the fireplace came from here.
And my Ryder boy doing his thing. ;)
He's such a good, sweet (quirky, hilarious, hoppy and happy) dog. And poses so lovely!
But he does move ever so slightly with every snap of the camera so it's hard to get a perfectly sharp photo of his face.
This one will have to do, it was the best of the bunch. (he got a lot of treats that day! ;) )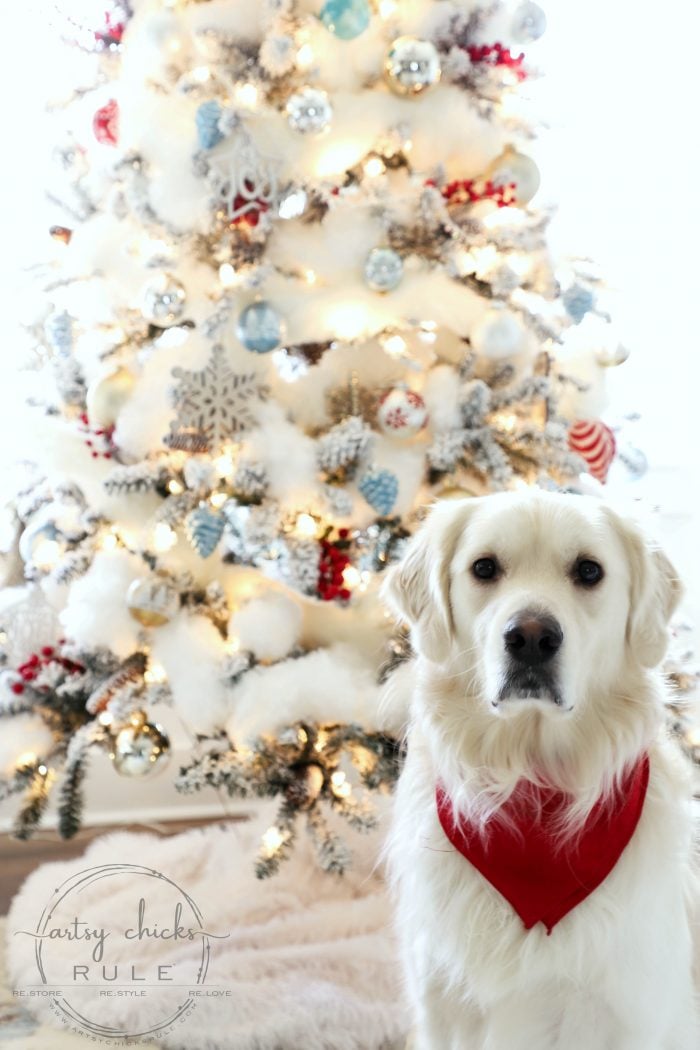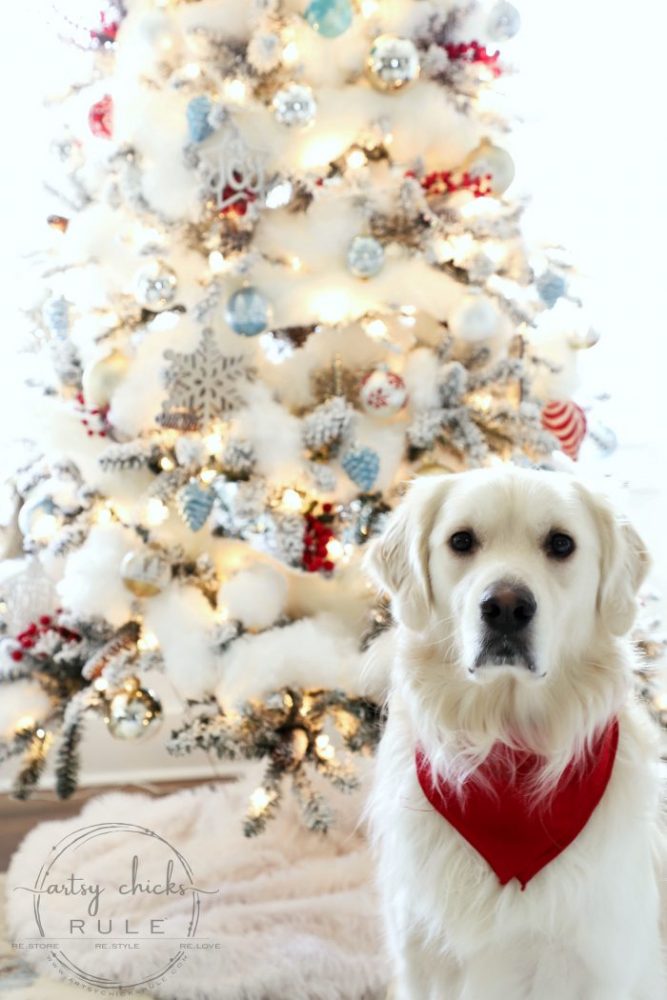 By the way, this tree is not the same as the 2 in the other rooms, this one is a different style.
(I decided not to put up our "DIY flocked tree" (which is beautiful!) this year as I was on a time crunch…and I'm moving away from the old style tree of a million branches to insert and lights to add. So I got 3 new trees this year that are all pre-lit and each have 3 sections to put together.
OH MY GOSH…y'all…where have these been all my life?! Haha SO much quicker and leaves more time for the more enjoyable stuff like decorating the tree and house. :)
This tree is still in stock (I like it, but I think I like the other 2 a little better than this one)
You can find it, here.
Want even more ways to create that "snowy" look? I wrote a post and shared 5 ways I like to do it!
See them all >>> here.
Sleeping on the job…more like hiding from me behind the couch. haha
No, I had to move his bed, which he loves, out of the way for the photos. There it is to the left of the photo below.
He wasn't too happy about that because he kept trying to drag it back into the living area as I was trying to snapshots. lol
It usually goes right in front of the fireplace. (and it's back there now and all is right in the world again!! ;) )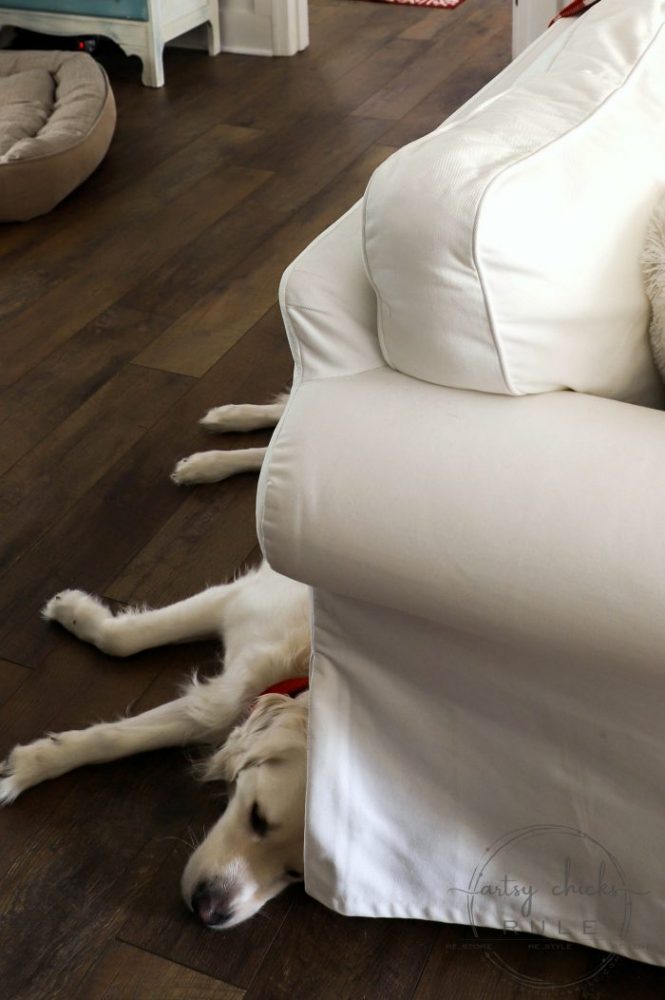 I went to Michael's and got these wood cutouts you see below. I think there were around 6 different ones I got.
I sprayed them white and then sprinkled white glitter on them.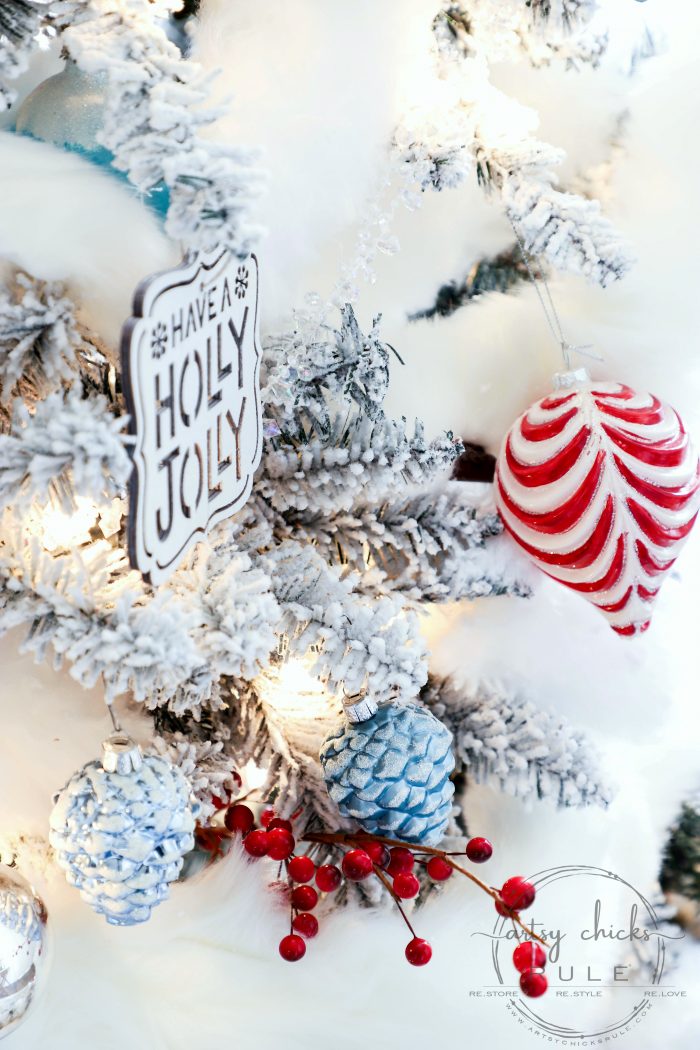 I also decided to stick red berries in and around the tree. Love the look!
I did the same thing with our all white tree, but with pearled white berries.
I used a little of every color on this tree, gold, silver, blue, etc.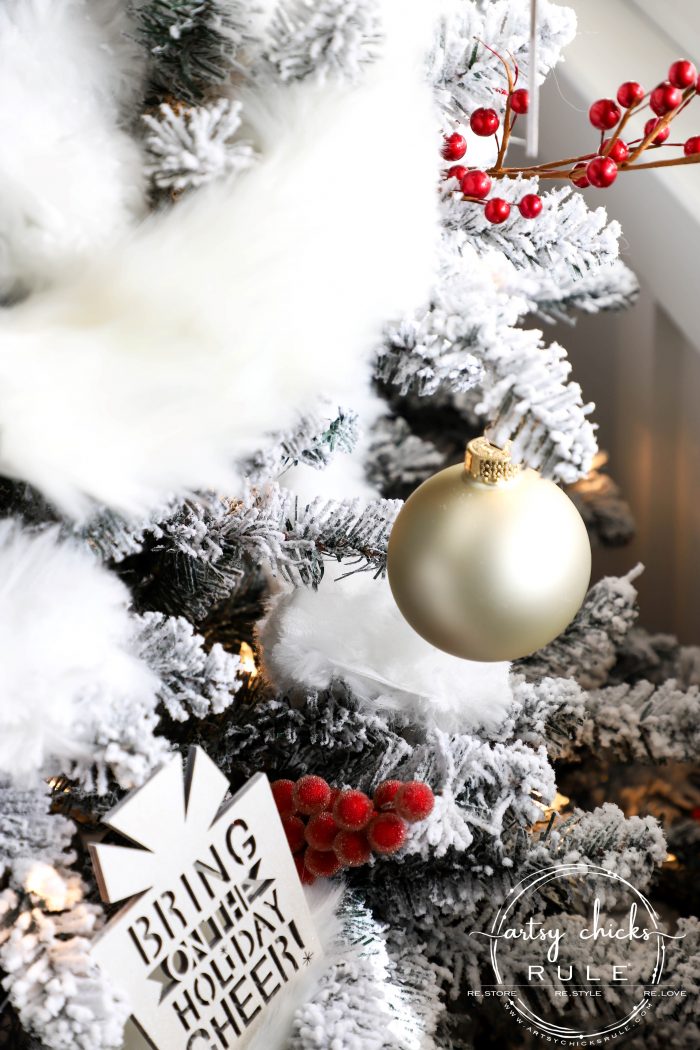 The garland on this tree is from here. I thought I'd give it a try and it's really fluffy and pretty.
I found this at Wal-Mart for $9.99.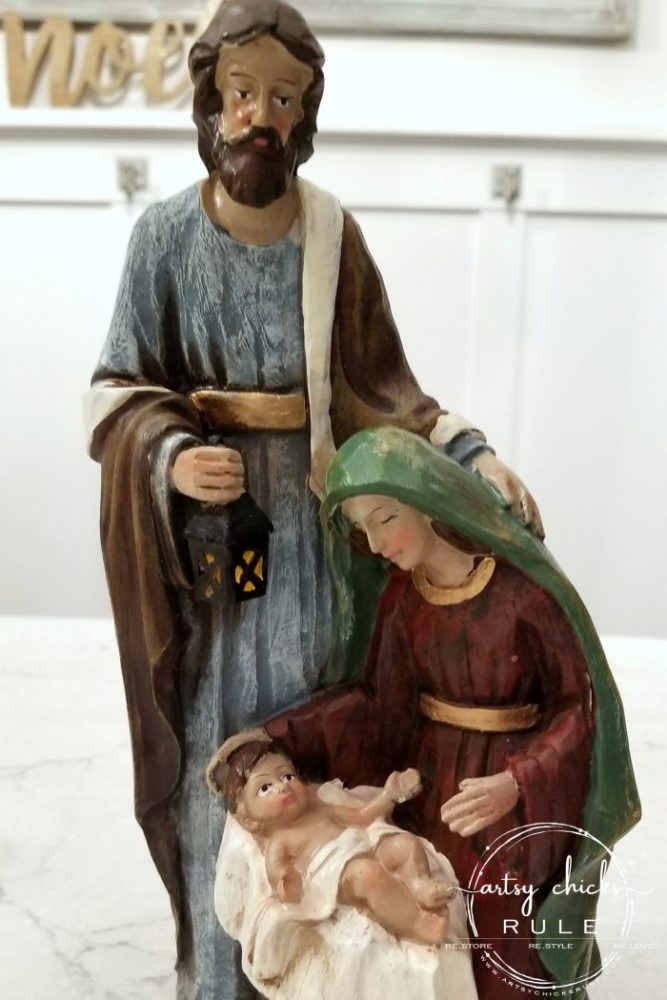 And simply sprayed it white and then gave it a finish coat with a pearl clear paint I have.
So pretty.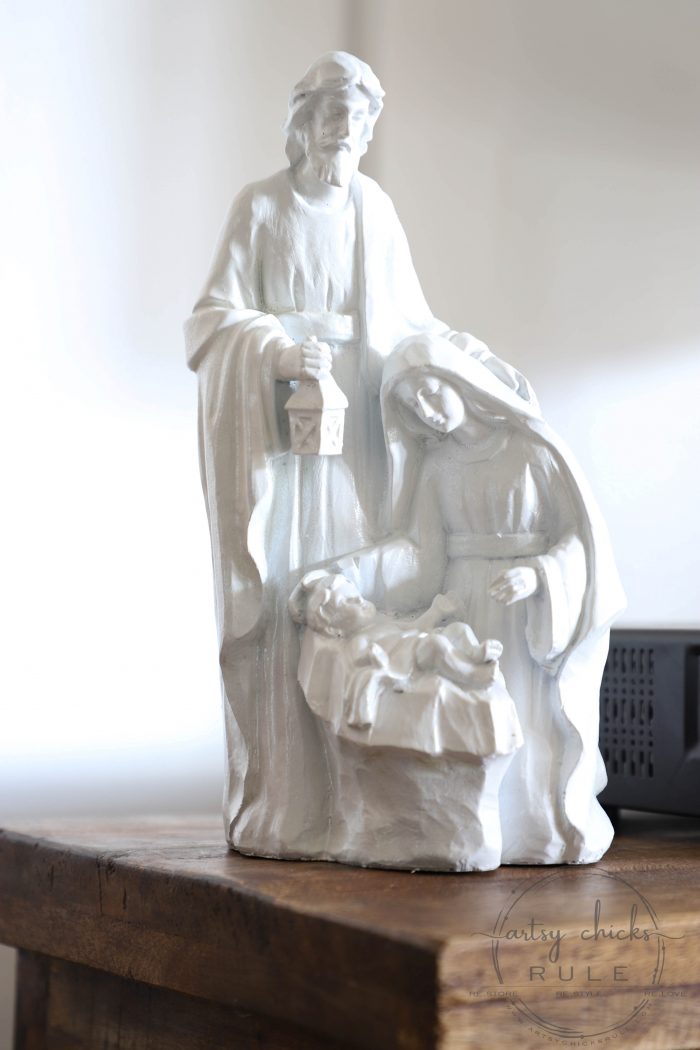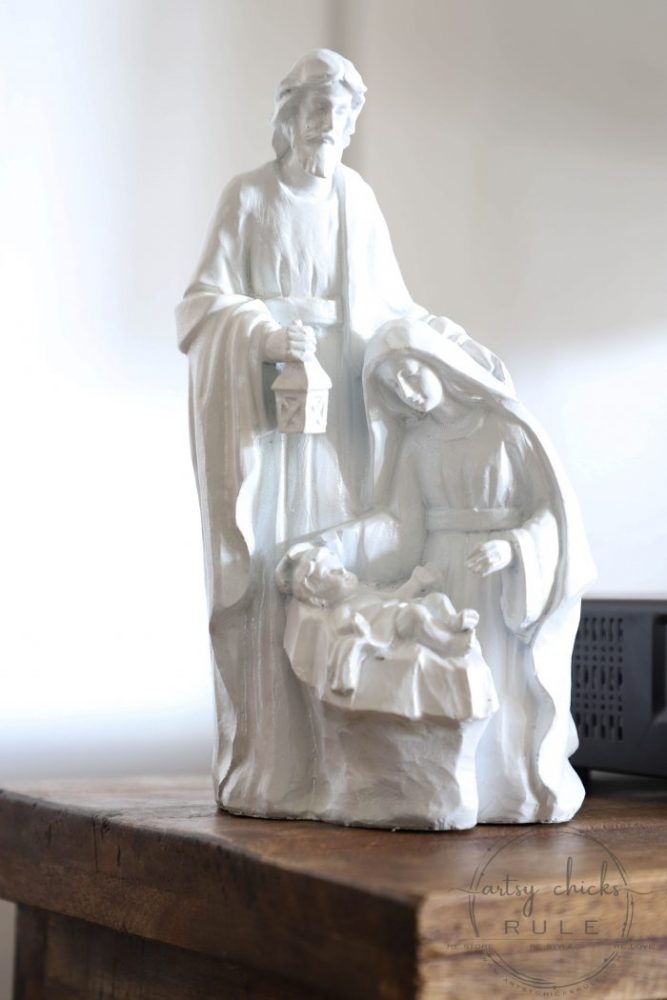 The laundry room got a bit festive too….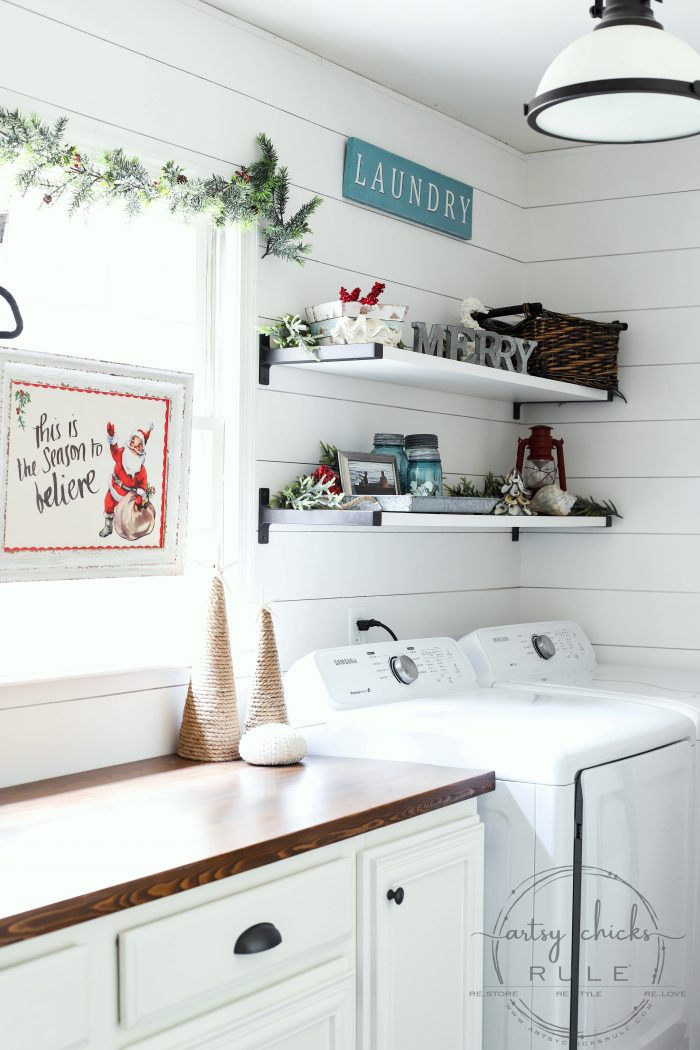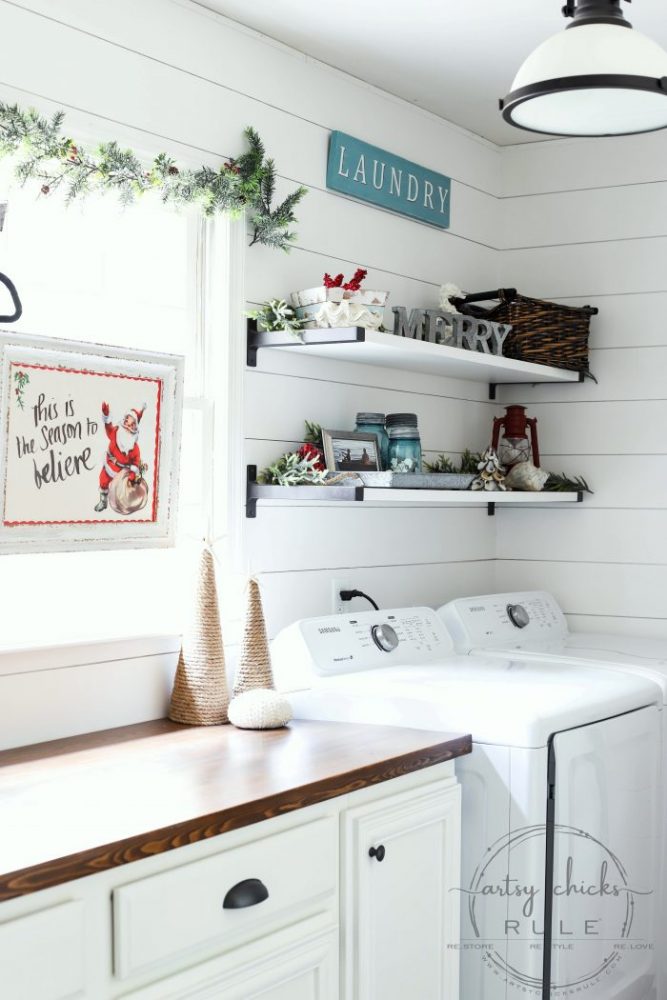 The foyer is simple and sweet. (catch a peek of our new crown molding in here…I still need to paint it! One day! ;) )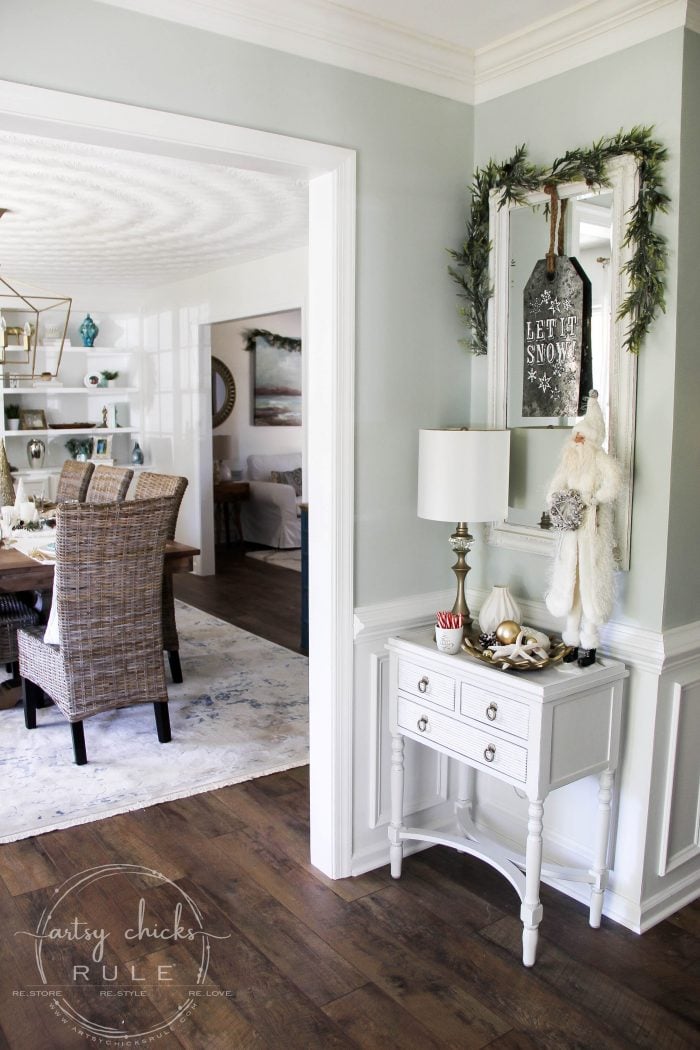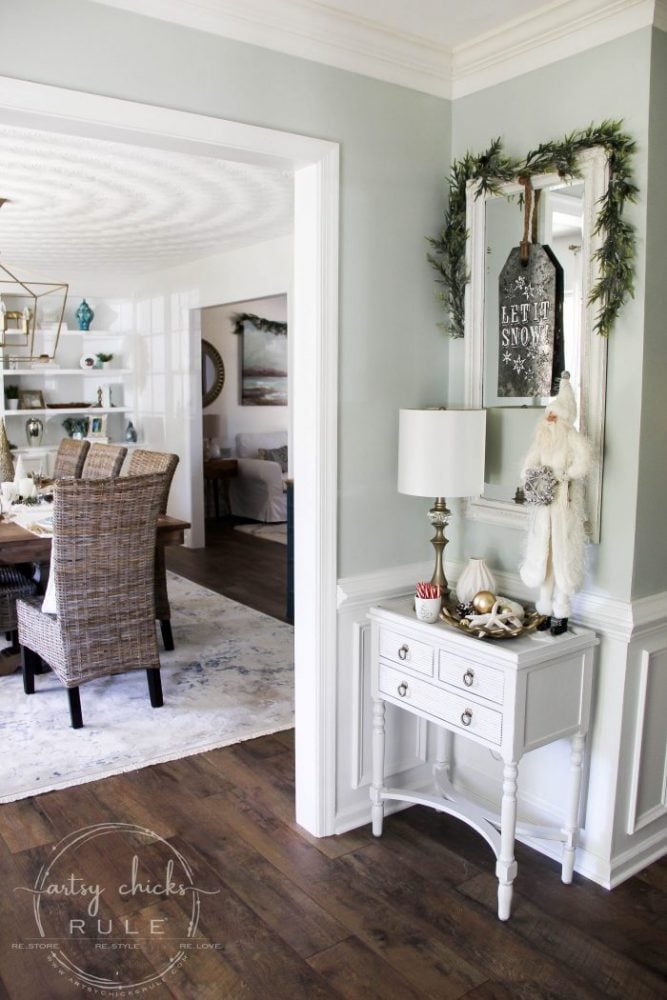 I just adore how our new flooring now flows from room to room! So much nicer than before.
It's beautiful and we have really enjoyed it so far.
I think this came from Michael's a year or two ago.
I didn't like it all silver so I added white paint and sparklies to the raised areas.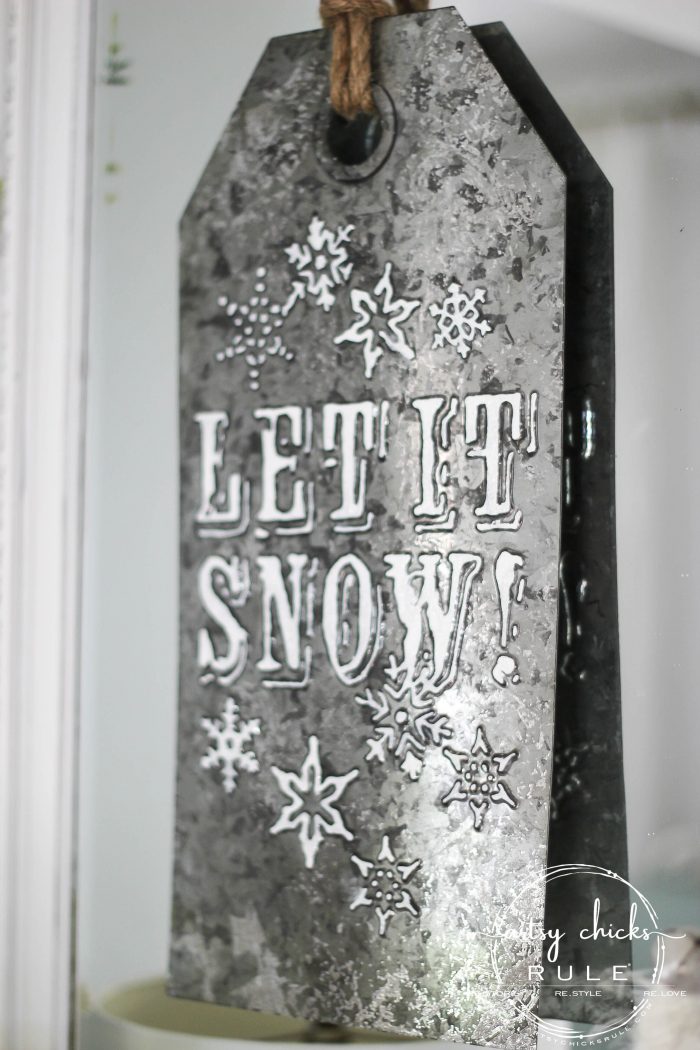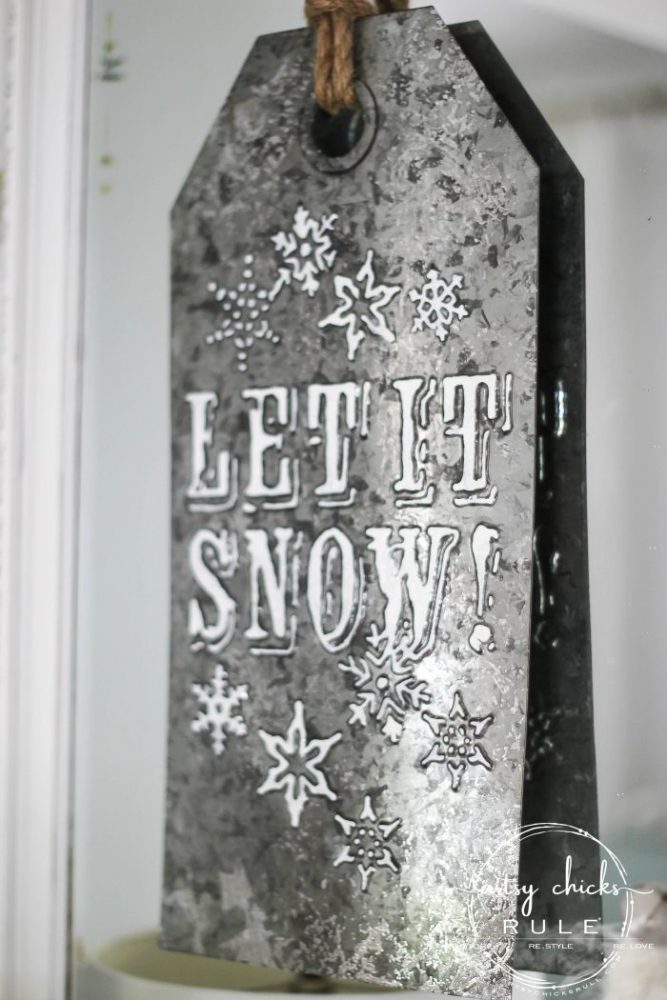 Just a few little additions…pine cones, ornaments, and peppermint sticks. (and one of my diffusers too, which is always there filling the air with yummy holiday scents at the moment)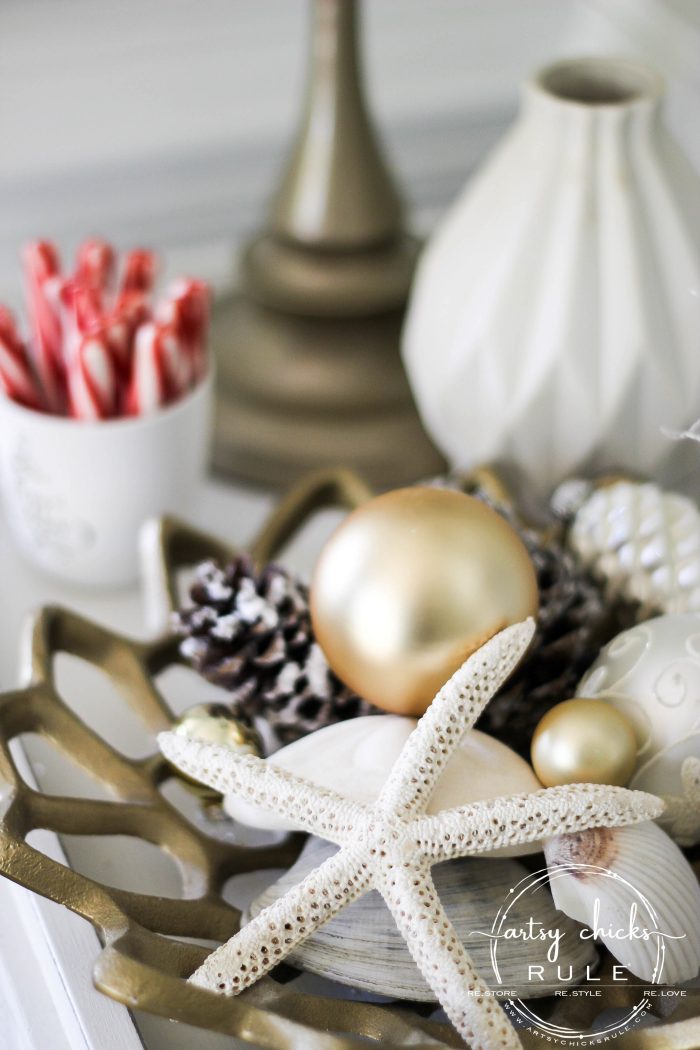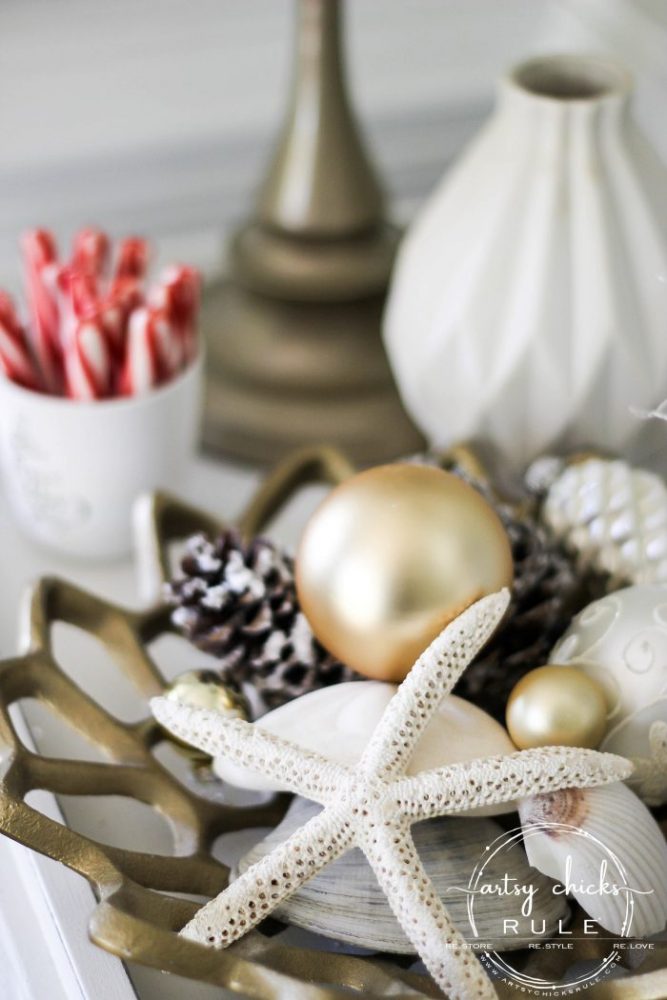 And sassy Santa (with his hand on his hip), of course! Can't do Christmas without him.
He's checking everyone out as they come in the front door…gonna see if they've been naughty or nice. ;) haha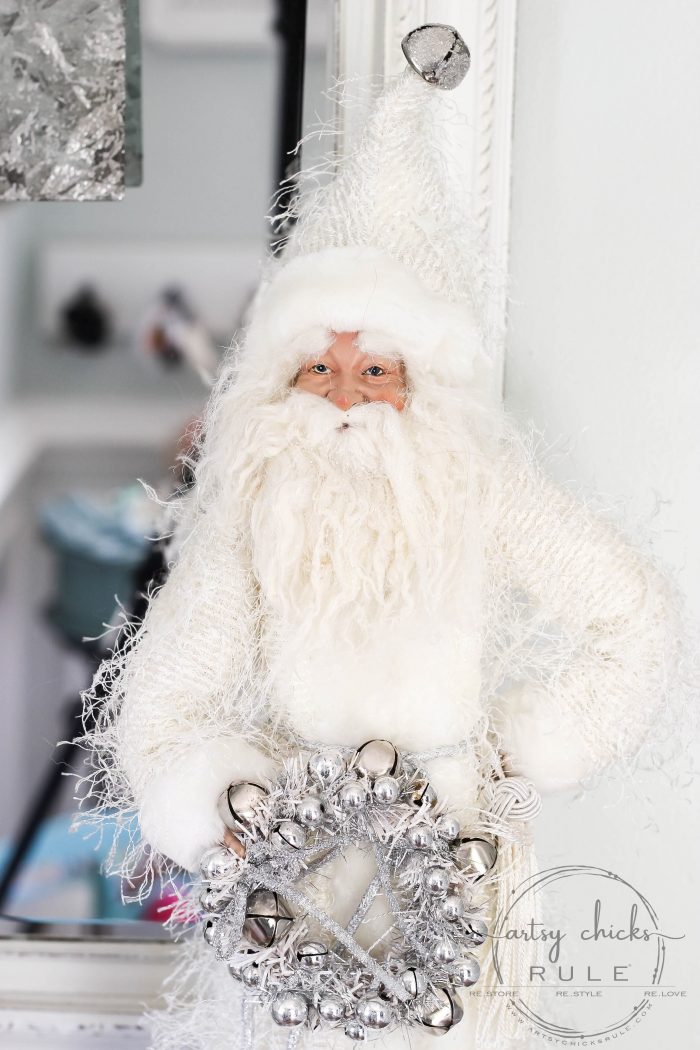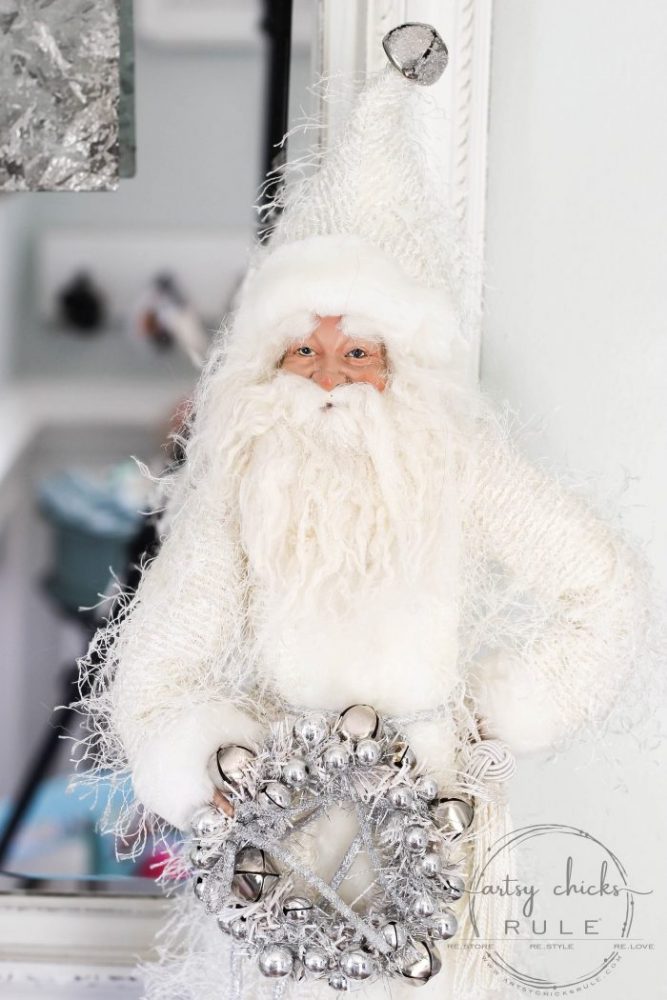 Just love him.
He came from the At Home store a few years ago.
And a sneak peek into the kitchen…sort of. ;)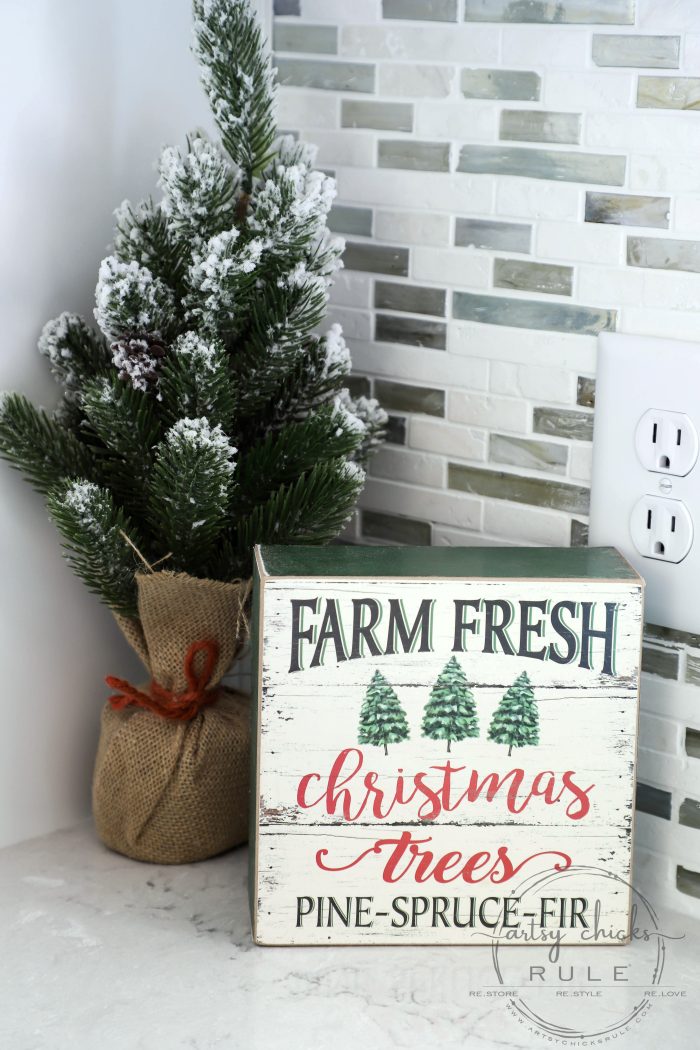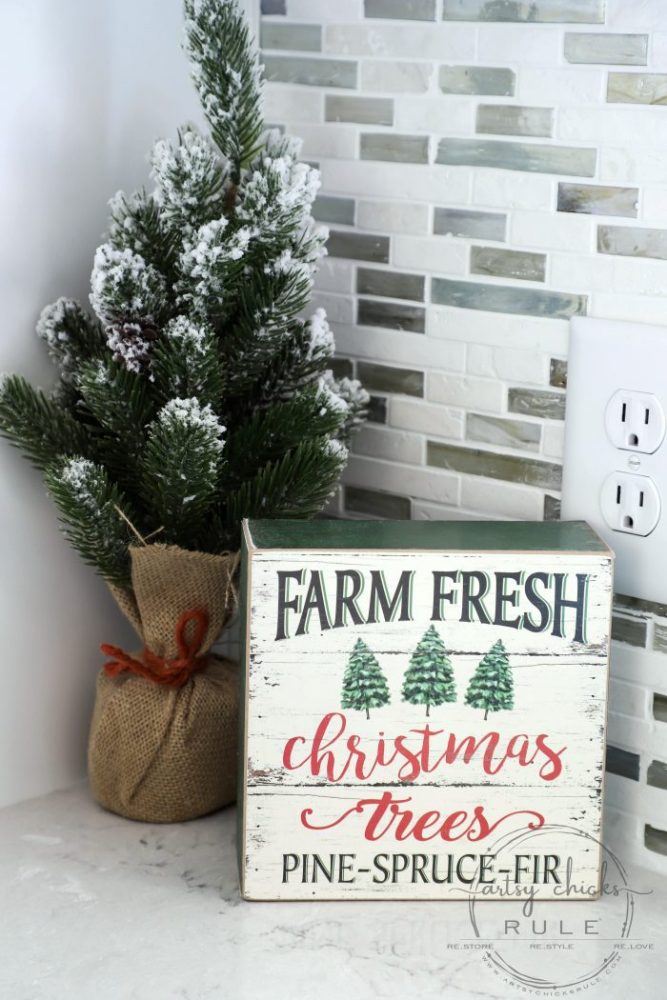 New cabinets and hardware! Eek! ;) And I hung up my DIY mini wreaths on the cabinet doors again.
You can get the tutorial for those, here. They'd be cute used in so many ways, like on the backs of dining room chairs, for example.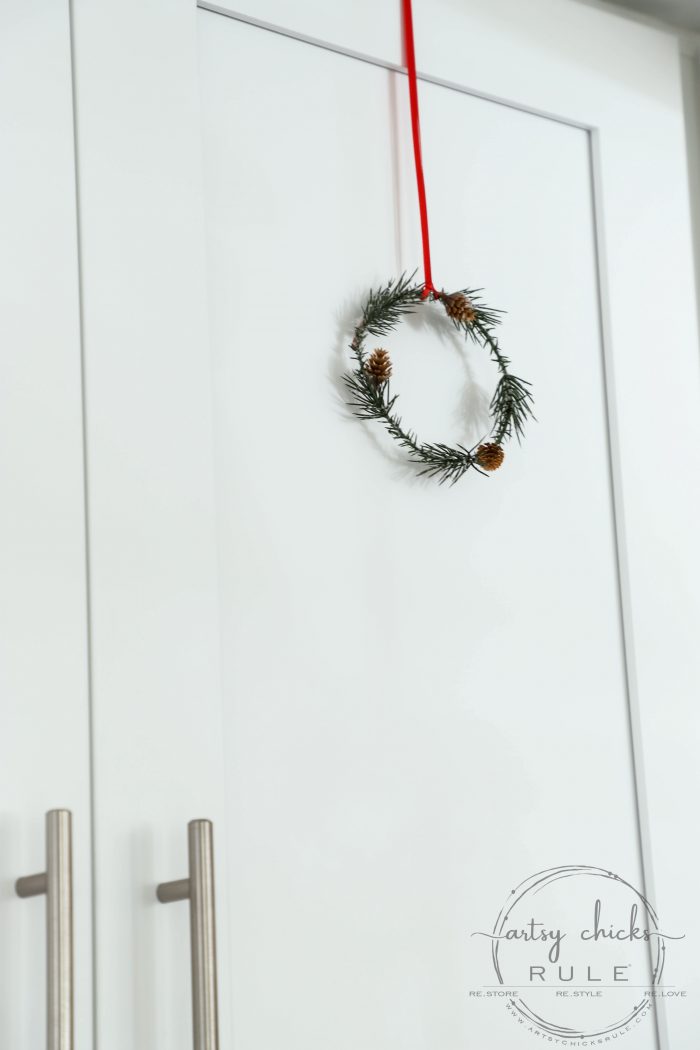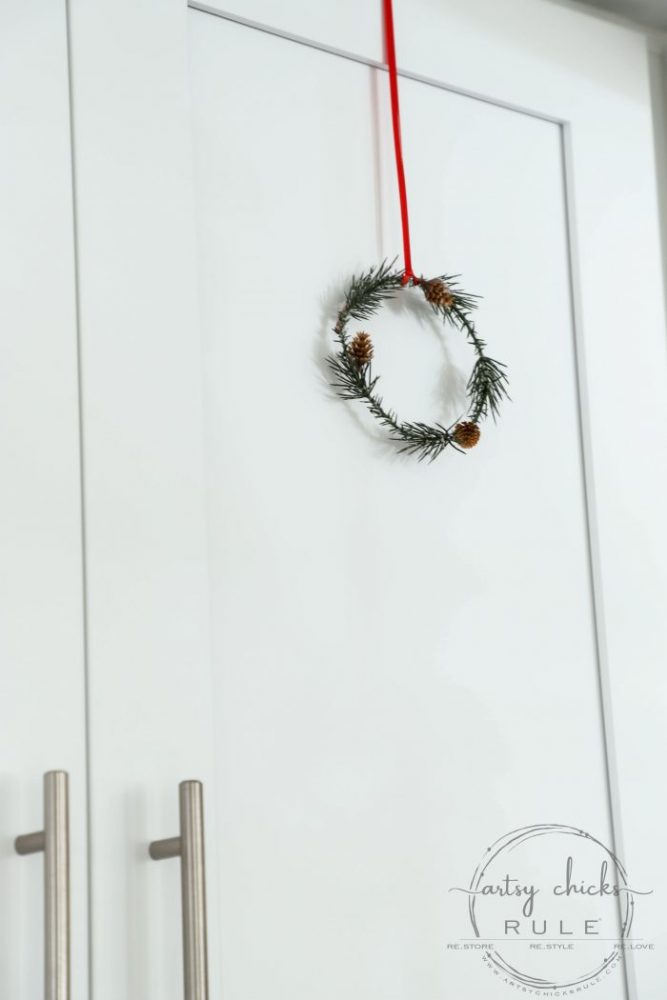 The wall with the big mirror on the opposite side of the kitchen….which is getting a makeover after the holidays.
So excited!
And….look, there's a sneak peek of our new pendant lights in the reflection…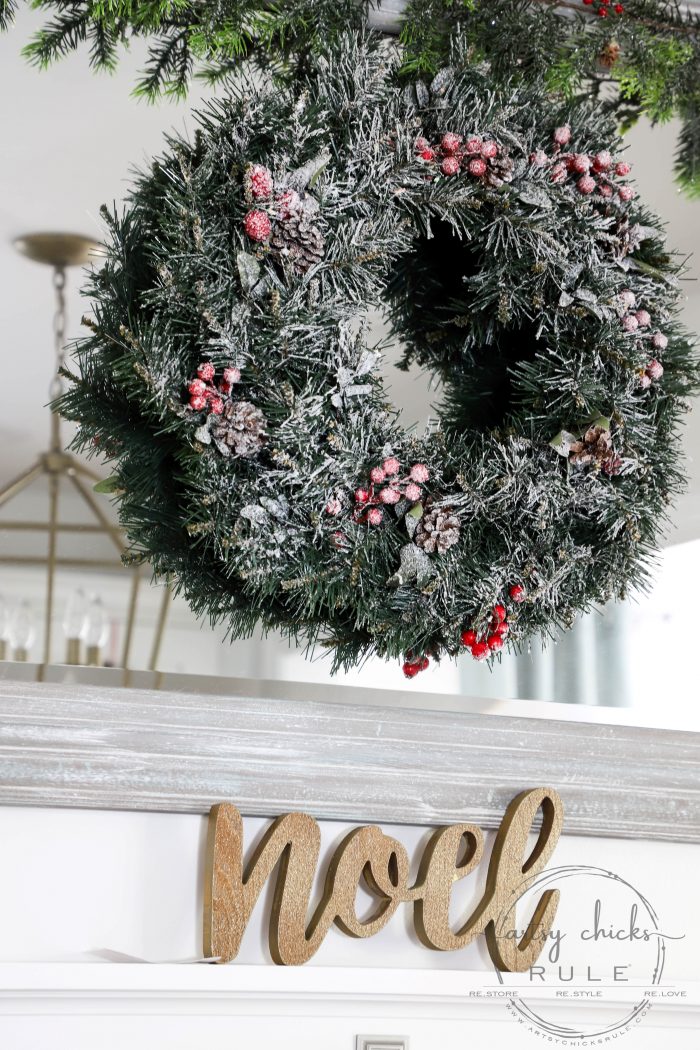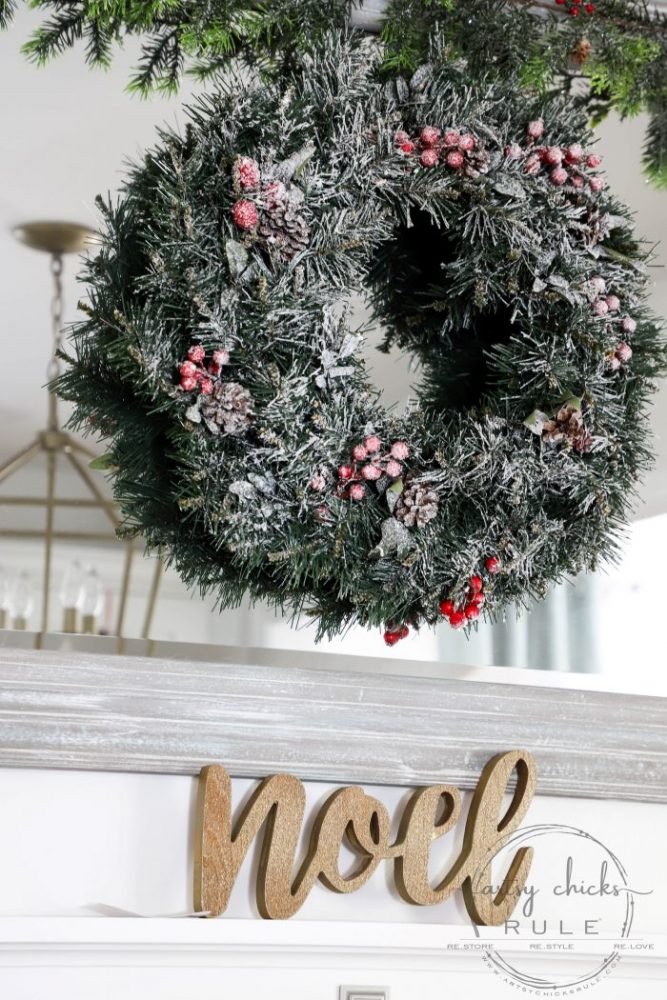 And one of the many wreaths I "flocked" several years ago.
I'm excited to share the new kitchen with you. We just have to redo the island and then I will.
I had originally planned to just repaint but we are putting shaker style doors all the way around the island and replacing the doors on the front, to match the new cabinets instead.
And we are adding columns too. Really excited about how it's all going to look when finished!
I painted the doors earlier this week with my handy paint sprayer (and shared it in my stories over on Instagram) so we will be working on that this week.
Oh my gosh, that made the job SO much easier. That's the way to paint! ;) This is the paint sprayer I use and love.
Ryder says….hope you all have a wonderful holiday and Merry Christmas! :)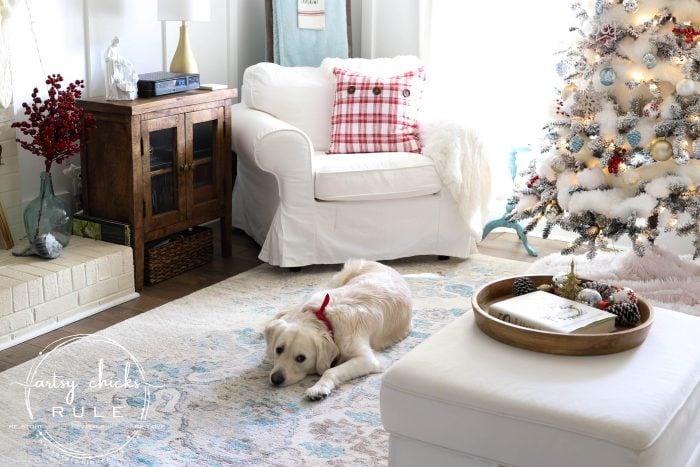 Cutie. :)
I hope you enjoyed seeing the 3 trees I decorated differently this year, the last being the traditional Christmas tree today.
It was actually a lot of fun (although I will admit, I was a tad intimidated as I began! ;) But it fell together quickly…as it usually does.)
If you missed them, here they are again:
PIN it to save it!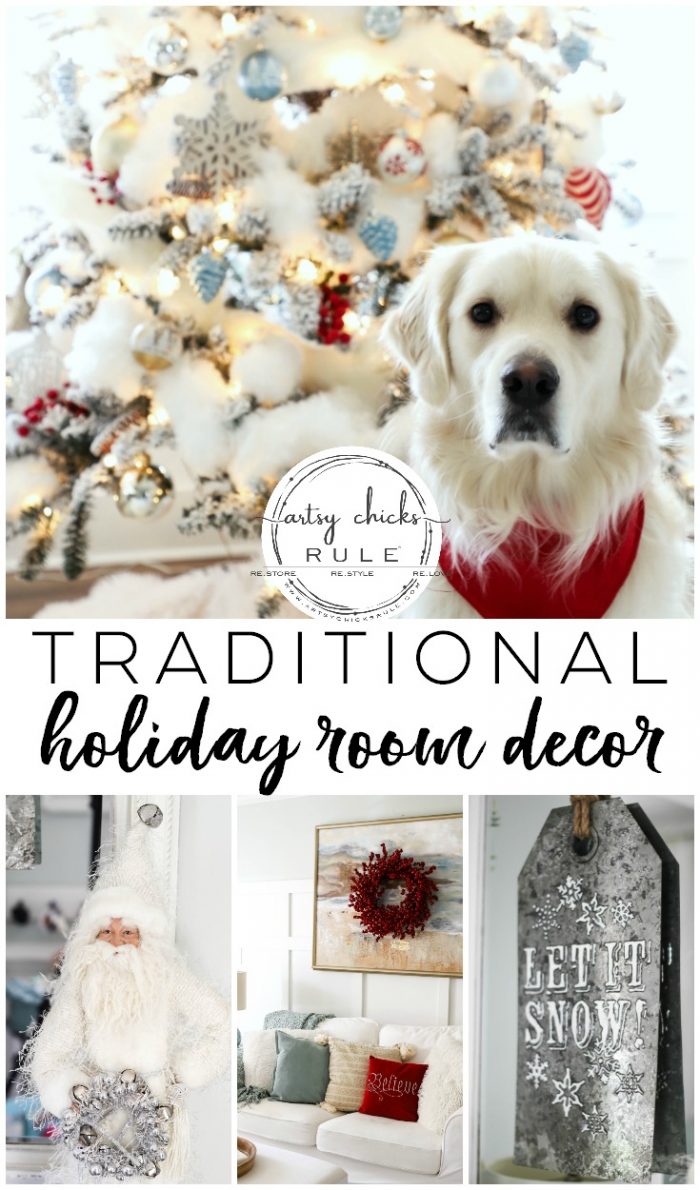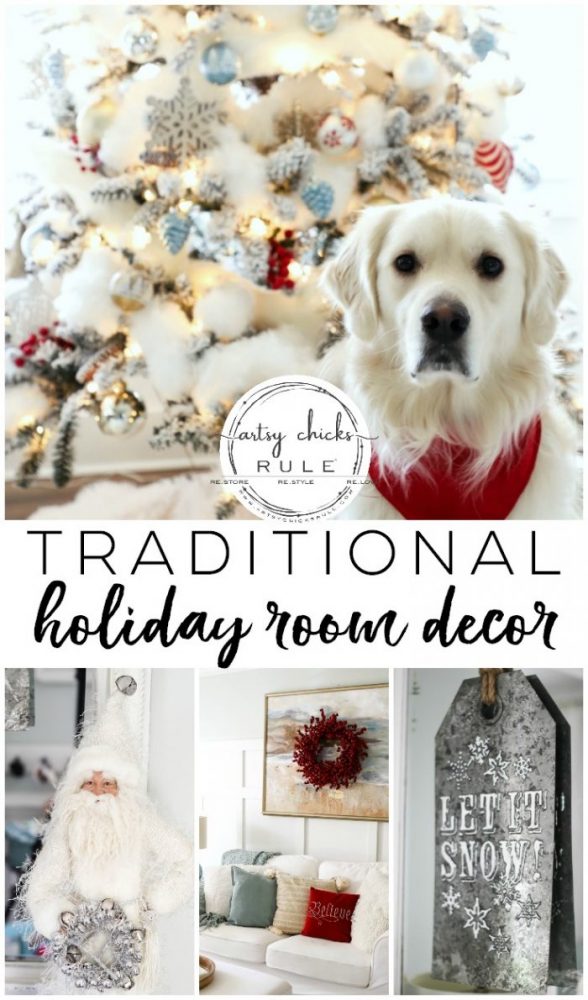 I hope you have a wonderful weekend! I'll be back next week with my Trash to Treasure girls with a brand new makeover!
This….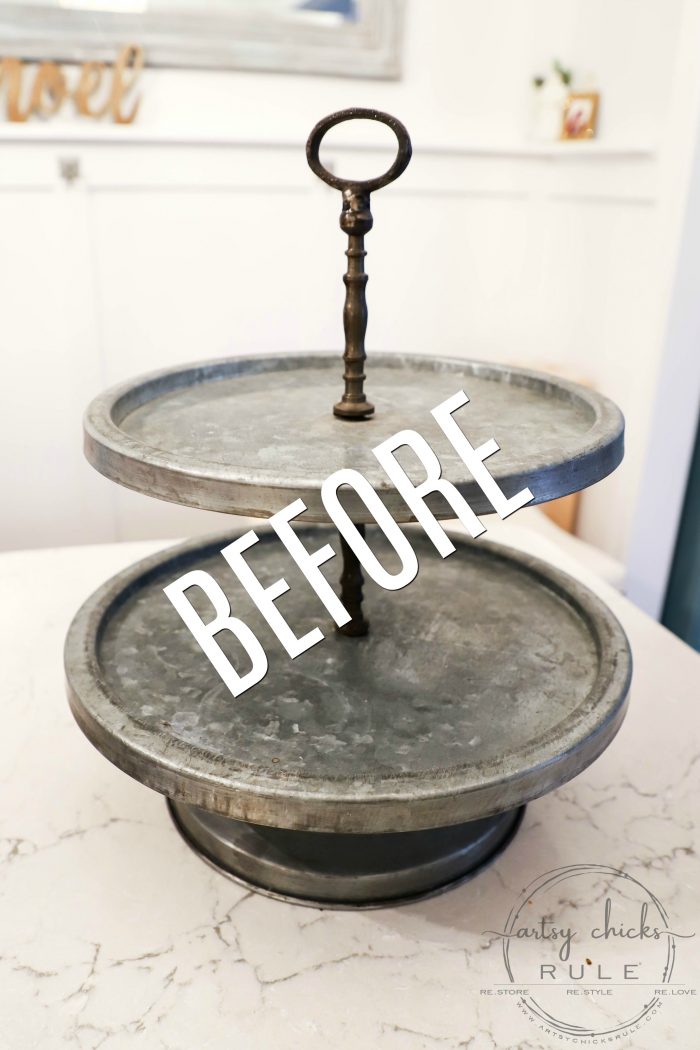 UPDATE!! See it now, here!!
xoxo