Christmas Tiered Tray (easy makeover!!)
This post may contain affiliate links. Please see disclosures here.
Don't love your old decor? Don't throw it out, paint it! That's just what I did and I created a pretty decorated Christmas tiered tray too!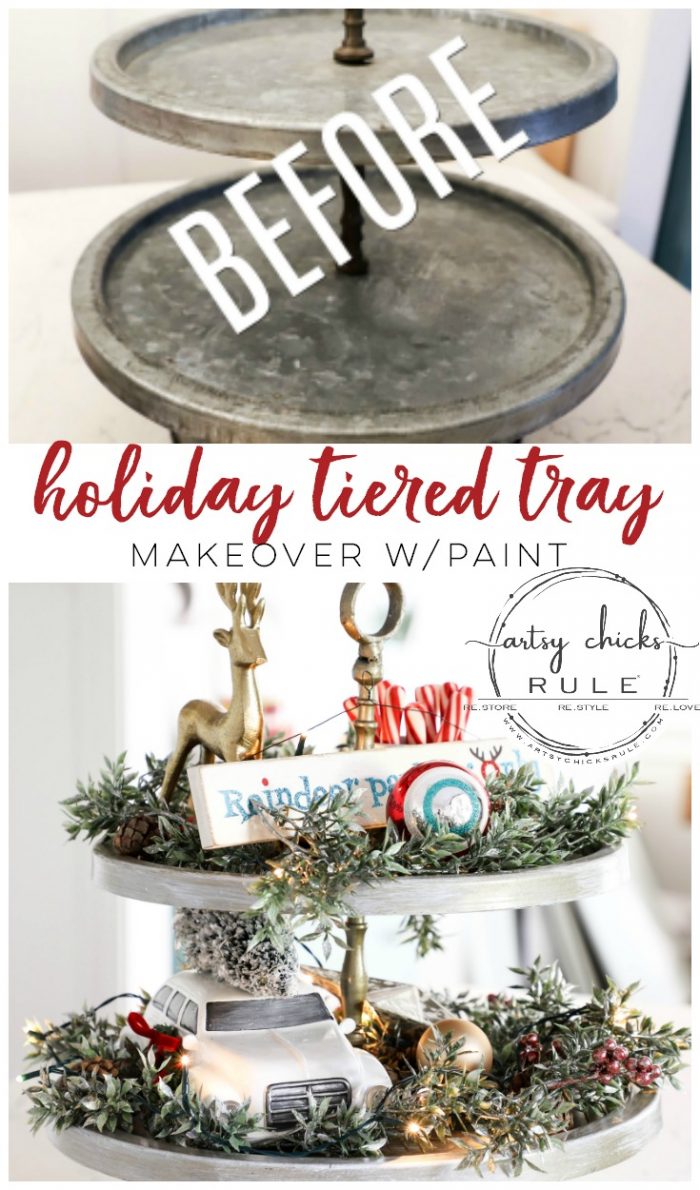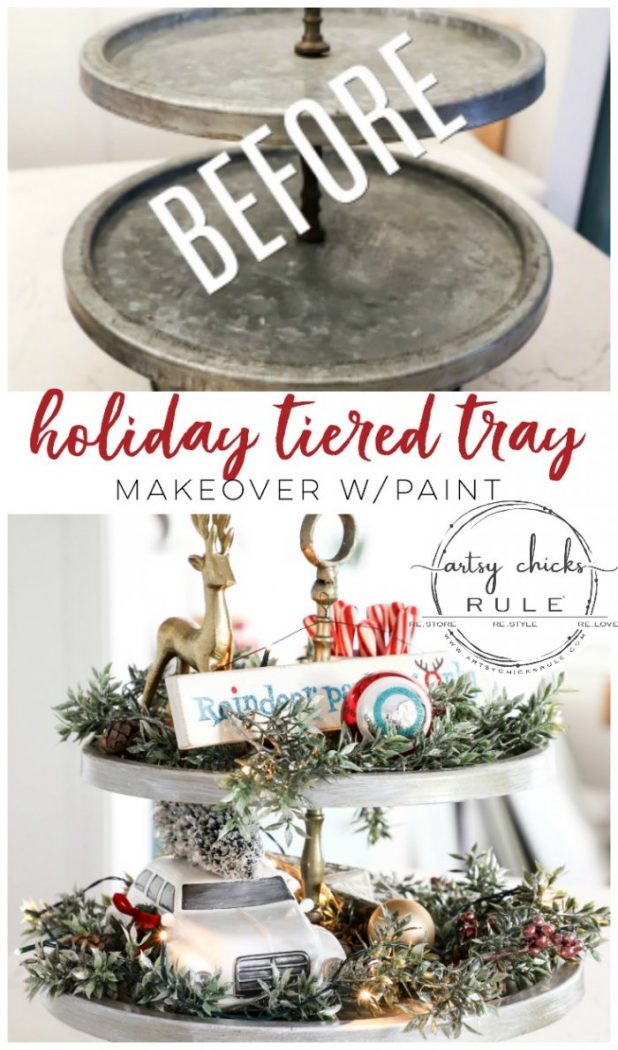 Hello sweet friends!
Today is Trash to Treasure Tuesday and I'm sharing my latest "trash" makeover! ;) No, this certainly was not trash BUT it was at my front door in the "pile".
Not headed for the trash, of course, but headed out of my house! ;) I was planning to take it to a consignment shop along with a few other goodies.
With the rustic galvanized metal trays and old, rusty-ish looking metal center pieces, it no longer matched my new "coastal glam" decor.
So I figured it needed to go.
As I was walking past it the other day, I thought, "why don't I just paint it? duhhhh…" haha
So I did!
I'm SO glad I had the inspiration to paint it and keep it instead.
Because how cute it this Christmas tiered tray I made out of it?????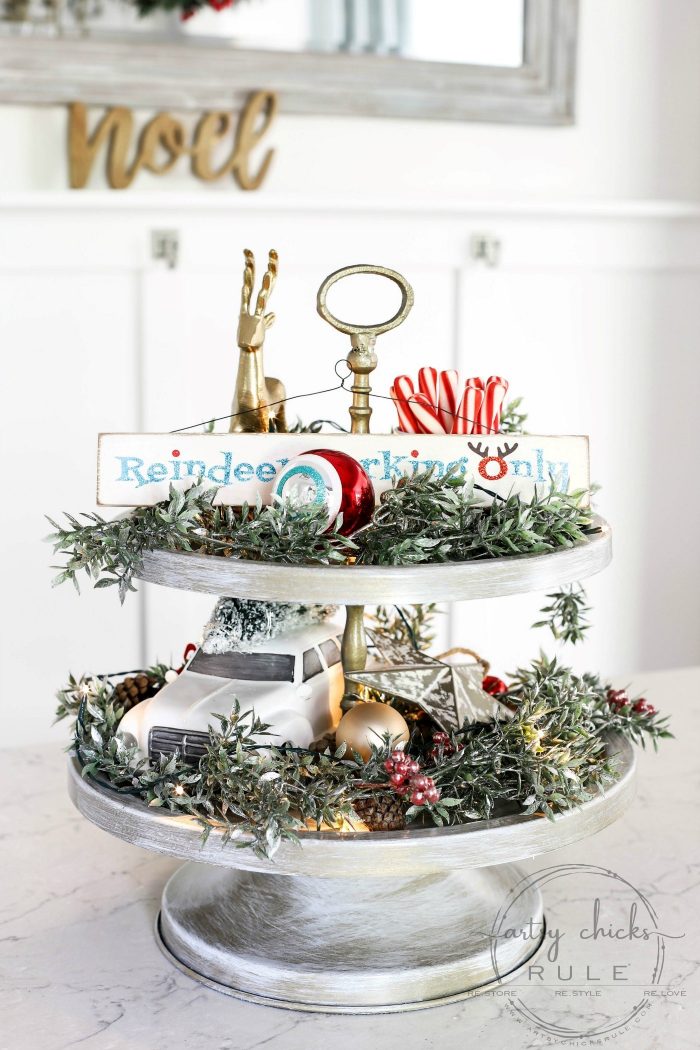 Pretty darn cute, if I do say so myself! ;) And I almost let this sweet tiered tray go.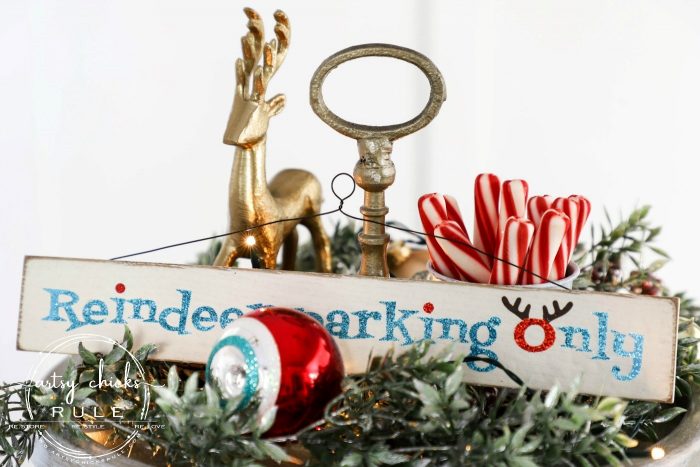 In case you might not remember, here it is at Christmas one year….
And when I started this project….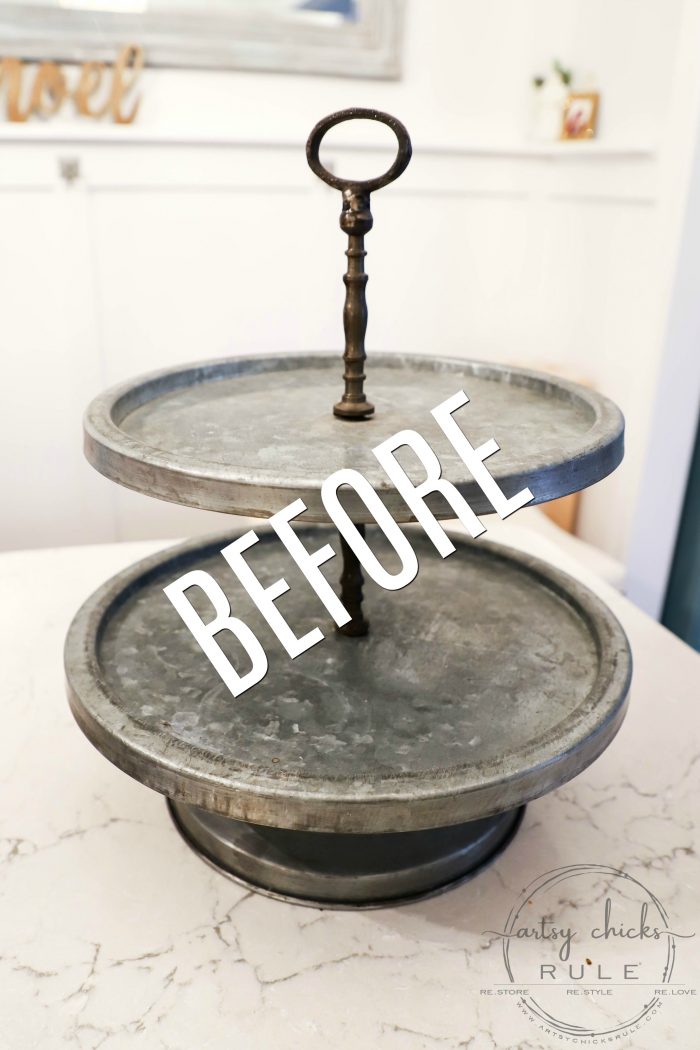 Perfect for the farmhouse look! All rustic and everything.
Not so perfect for what I am going for these days. (although I do still love it…it just does not match as-is)
Here's what I did to it…and let me tell you, it took me all of 10 minutes, if that.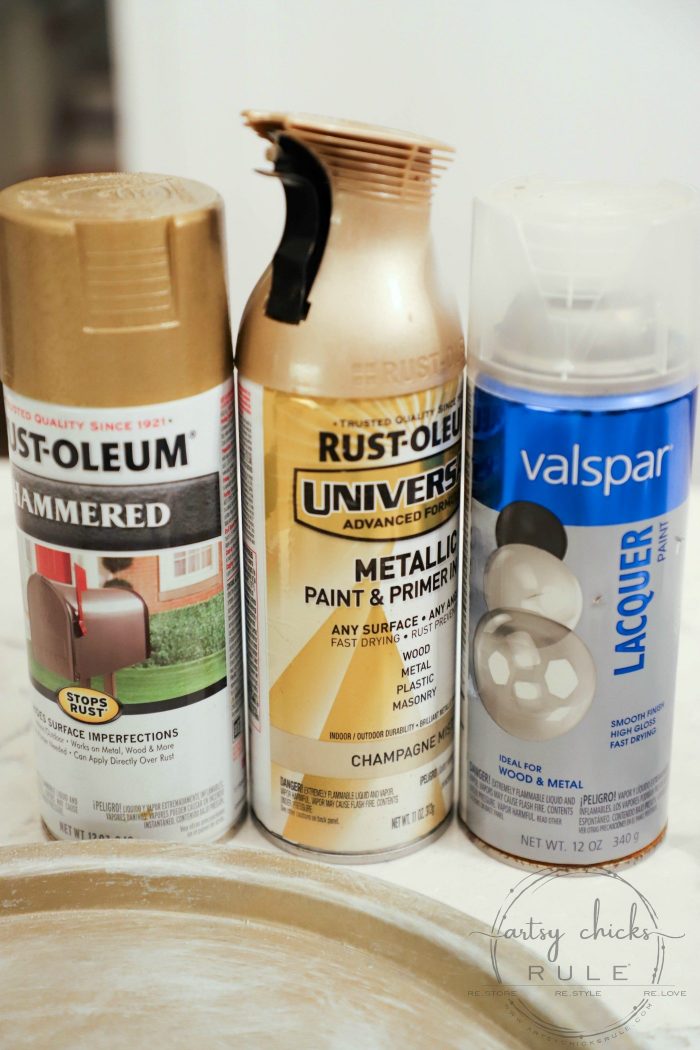 I grabbed these 2 paints (and some white paint) and top coat and got to it.
Champagne Mist (that soft gold I'm always talking about)
Valspar Lacquer (clear gloss)
White paint
I started by taking it apart and washing it well.
Then I spray the trays and base with the Champagne Mist. (Ryder photobombing! ;) )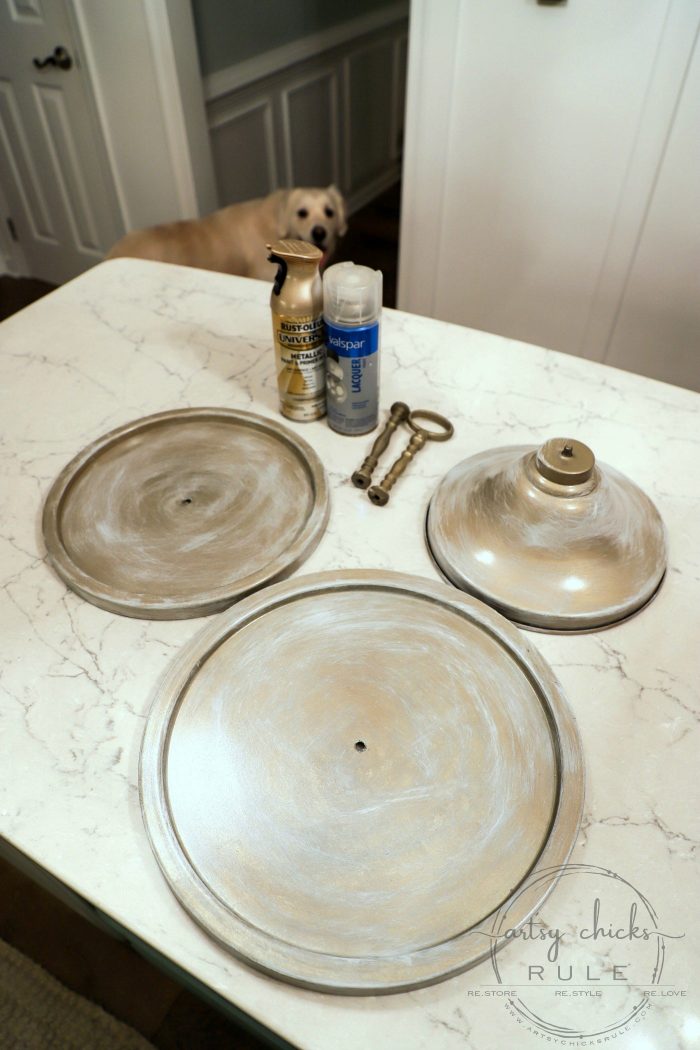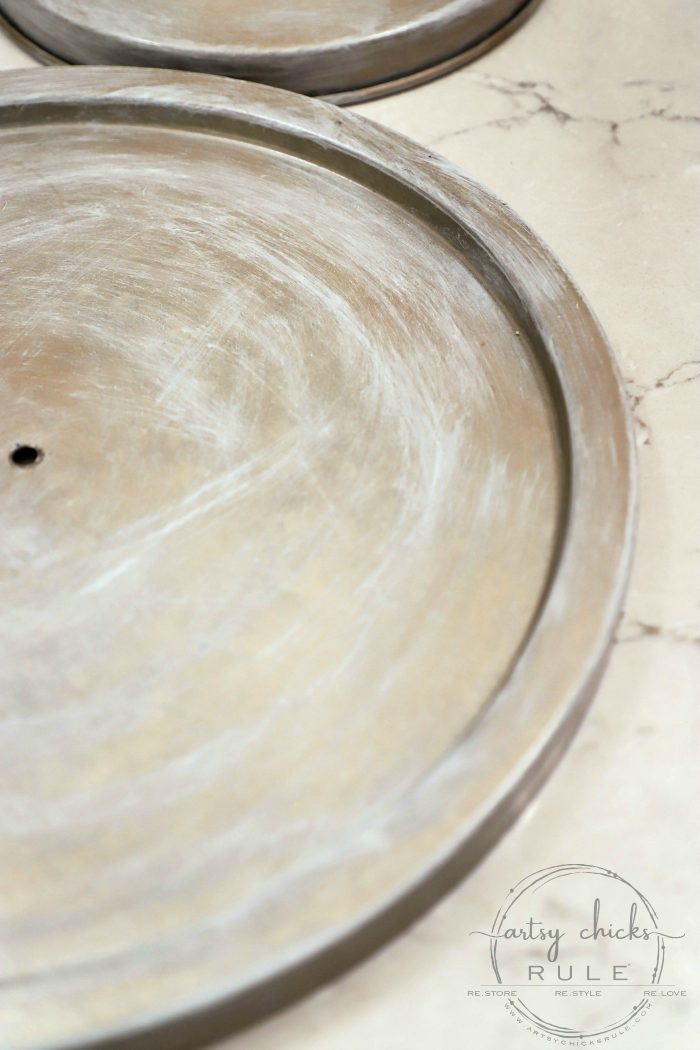 I didn't take a picture in between this and the white paint, sorry! I get going sometimes and forget I need to share. ;)
But it's pretty basic so hopefully you can follow what I did here.
As you can see, there is now white paint over the gold.
I simple dry brushed (with a chip brush – best little brushes! Use them all the time.) some of the white paint all over and around the trays.
I ended up going in a circular motion. No wrong or right there.
You could even do a cross hatch style of painting on it too.
I didn't add a lot, I just wanted to soften it and add a bit of "something" besides the gold to it.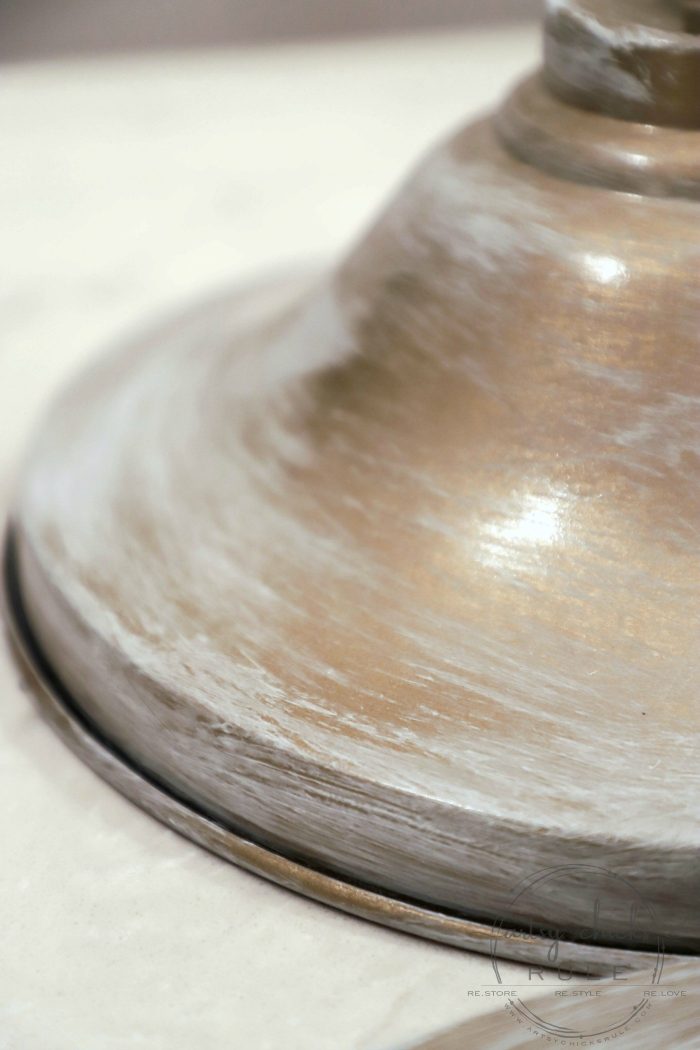 Not sure how to "dry brush"??
I've got an entire post, with video, showing how to do it right here >>> "How To Dry Brush"
Then I used the "hammered" paint to paint the center piece metal portion.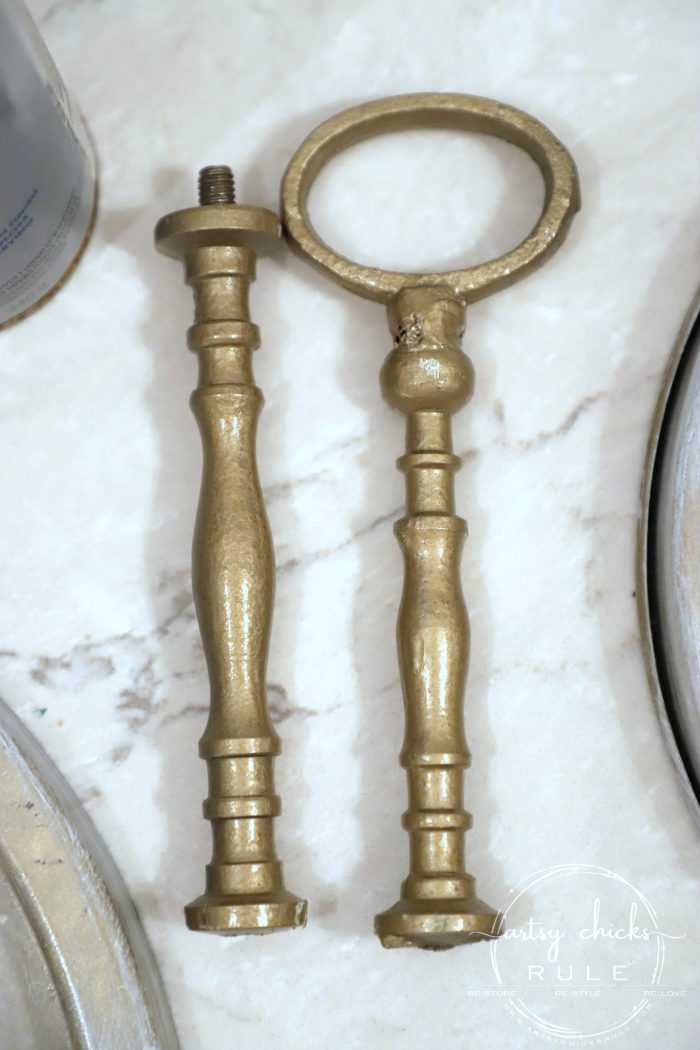 I just love the hammered paint for things like this.
It's the same paint I used on the metal coffee cup holder on my aqua dresser/coffee bar recently.
Once the white paint was dry, I gave the trays a top coat with the lacquer.
Then I put it all back together and decorated it for the holidays as a centerpiece for the kitchen island.
Christmas Tiered Tray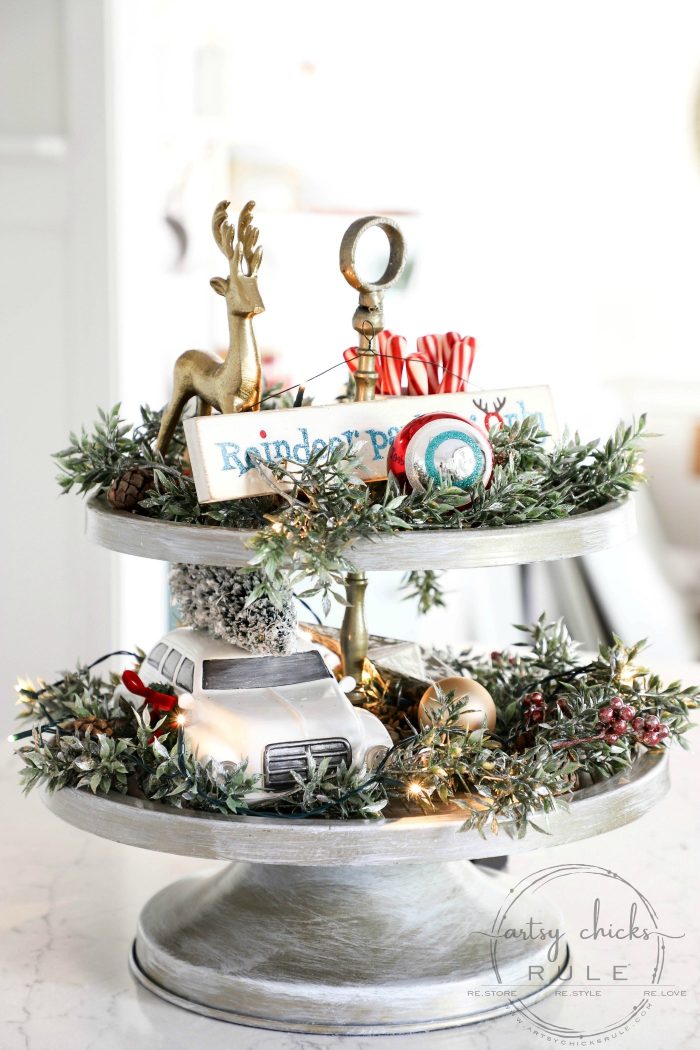 I hopped back over to Michael's to pick up the greenery garland and star ornament.
I added in some small LED lighting for fun, too. :) (all the holiday stuff is 50% off)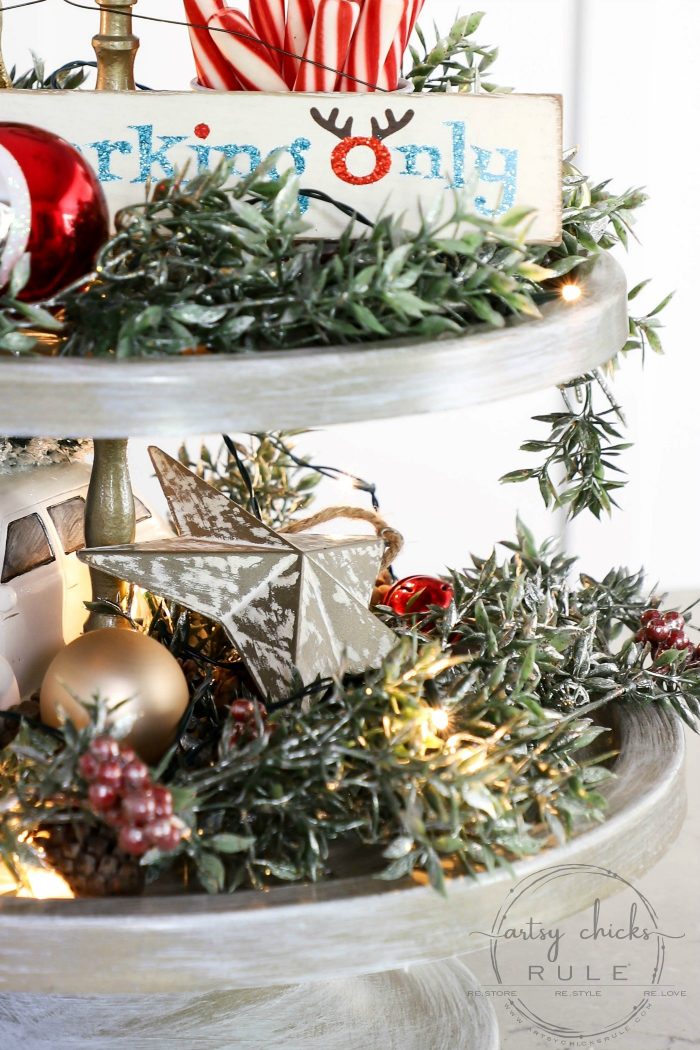 The reindeer parking only sign came from Michael's a few years ago.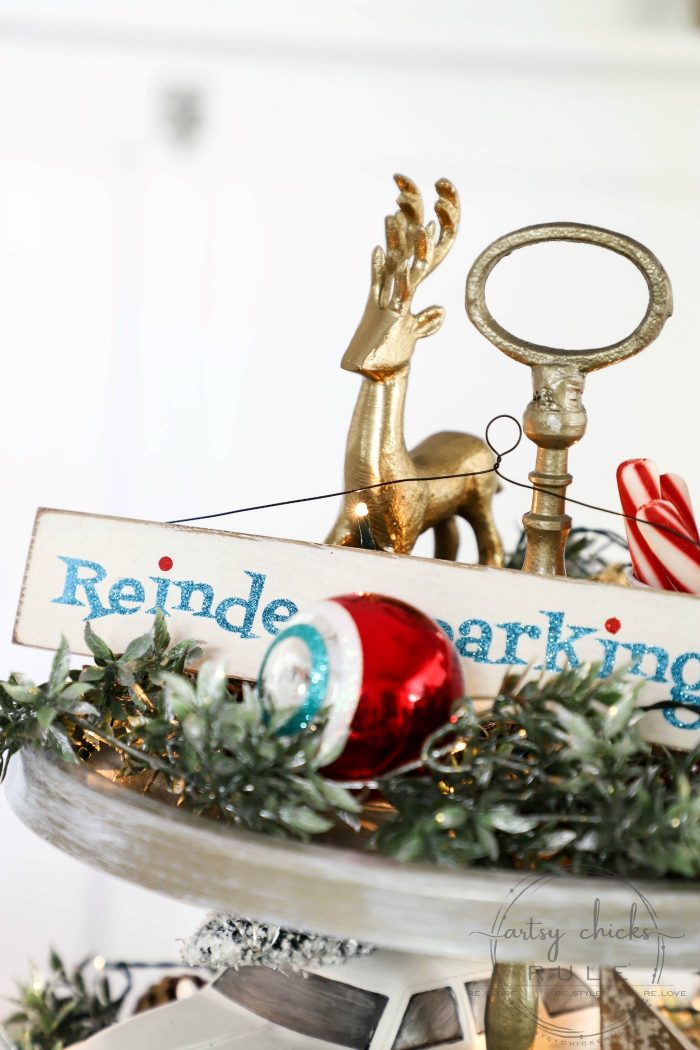 The little gold reindeer came from Target.
I had to have the old white car with the tree on top!
I found that at Lowe's for 25% off.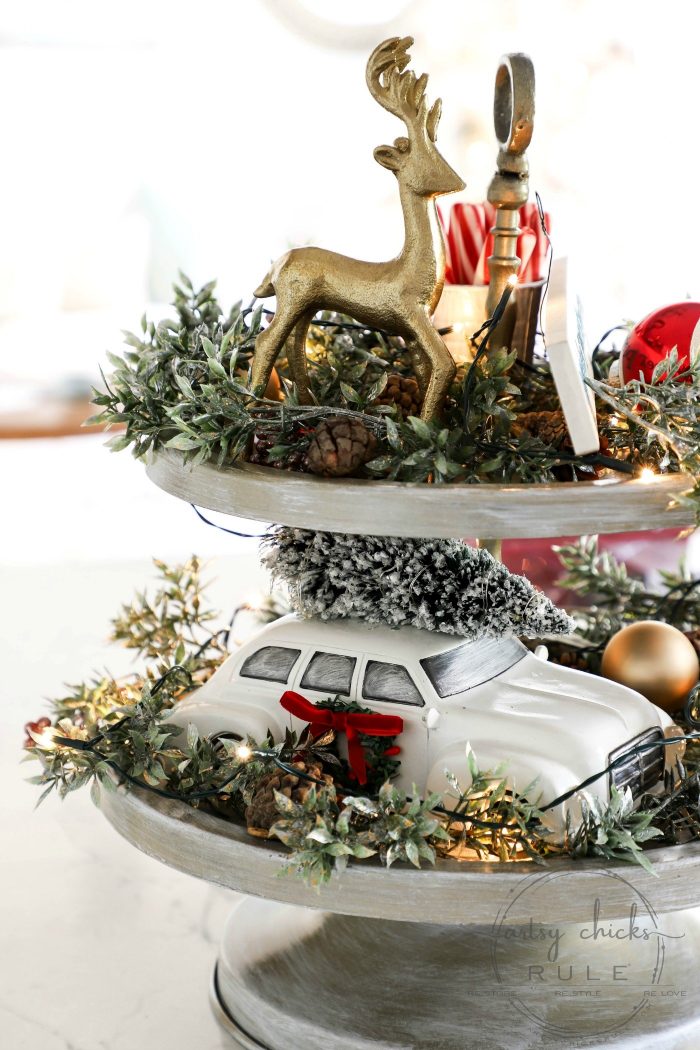 So darn cute. :)
I'm so happy I didn't let this one go. I love it and can't wait to decorate throughout the year with different things.
I think it may stay on my island…for now anyway. :)
PIN it to save it!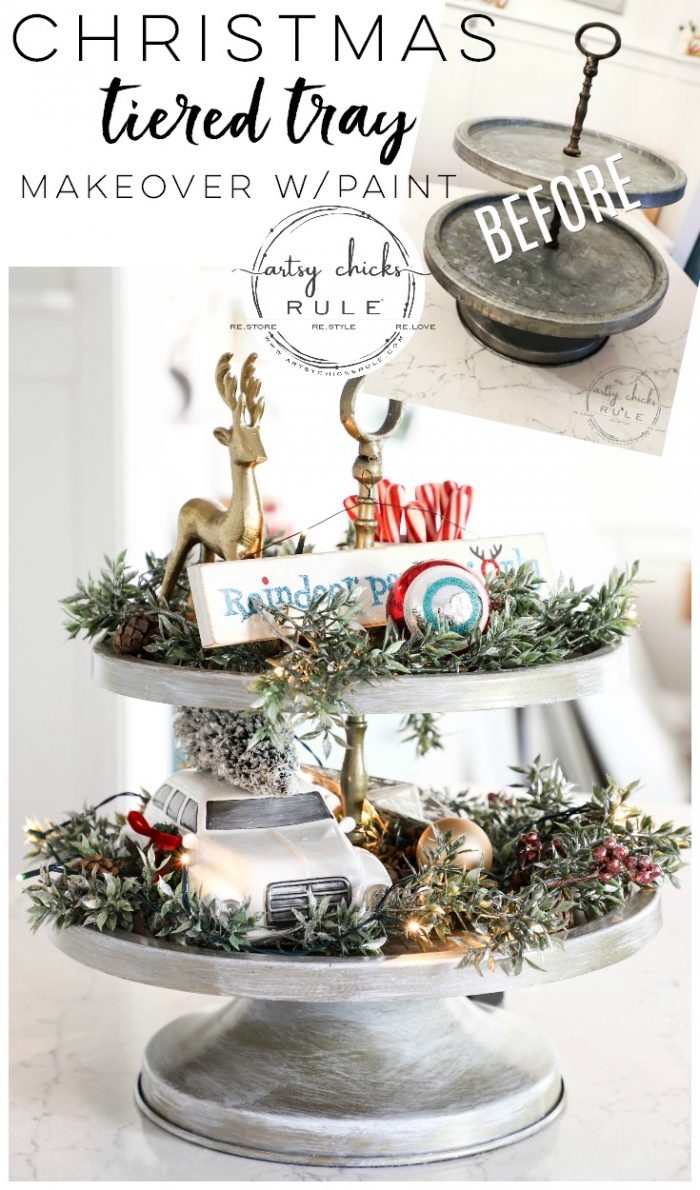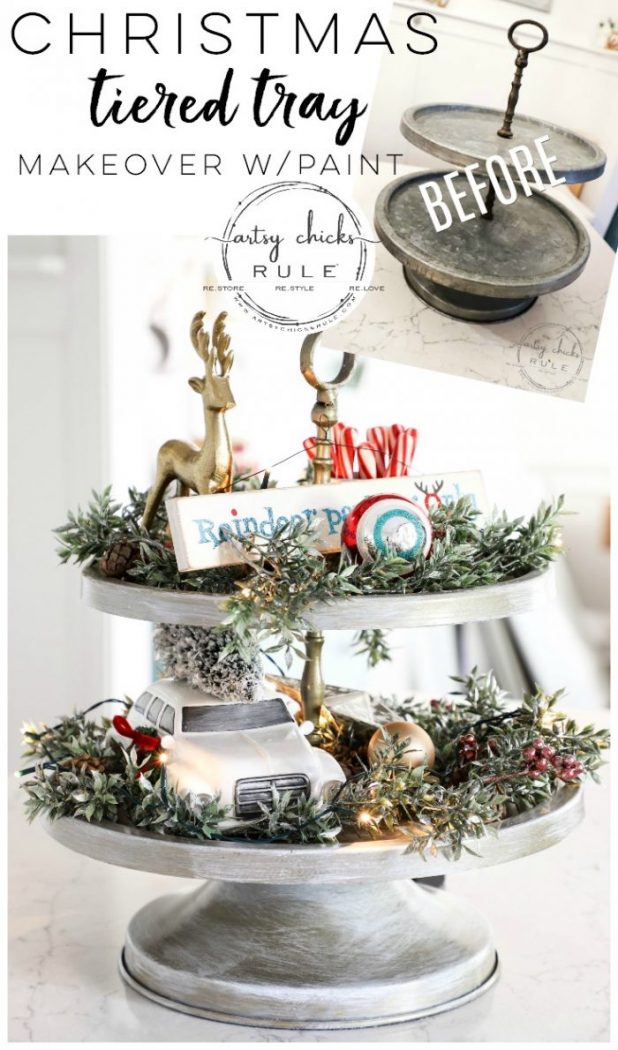 Don't go just yet!!
Hop on over and check out my friends' trash to treasures too!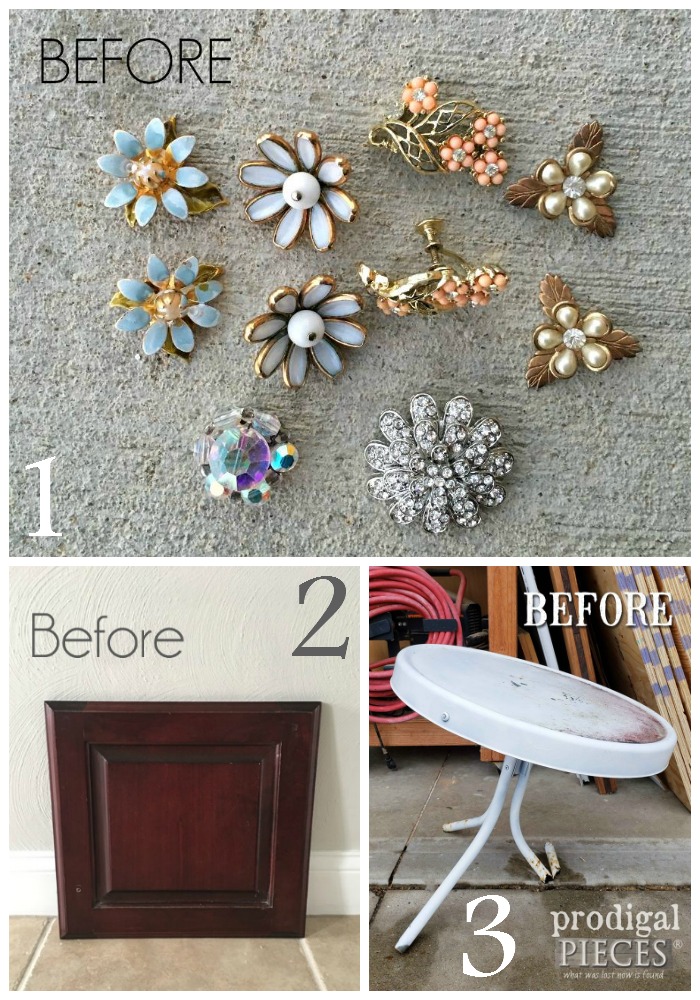 Vintage Earring Christmas Tree – Girl In The Garage
Christmas Countdown – Confessions of a Serial Do It Yourselfer
Upcycled Farmhouse Tray – Prodigal Pieces
I hope you enjoyed all the trash to treasure projects today!
And my old galvanized tray turned Christmas tiered tray, with a brand new look. :)
See even more holiday ideas here >>> Holiday Project Gallery
I'll see you back here on Thursday with my Decorating Enthusiast friends. We're sharing something fun so be sure to stop by!
See you then!
xoxo