White Stain Dresser (so simple with chalk paint!)
This post may contain affiliate links. Please see disclosures here.
Creating a white stain by using chalk paint makes for a simple application and beautiful look…without all the mess!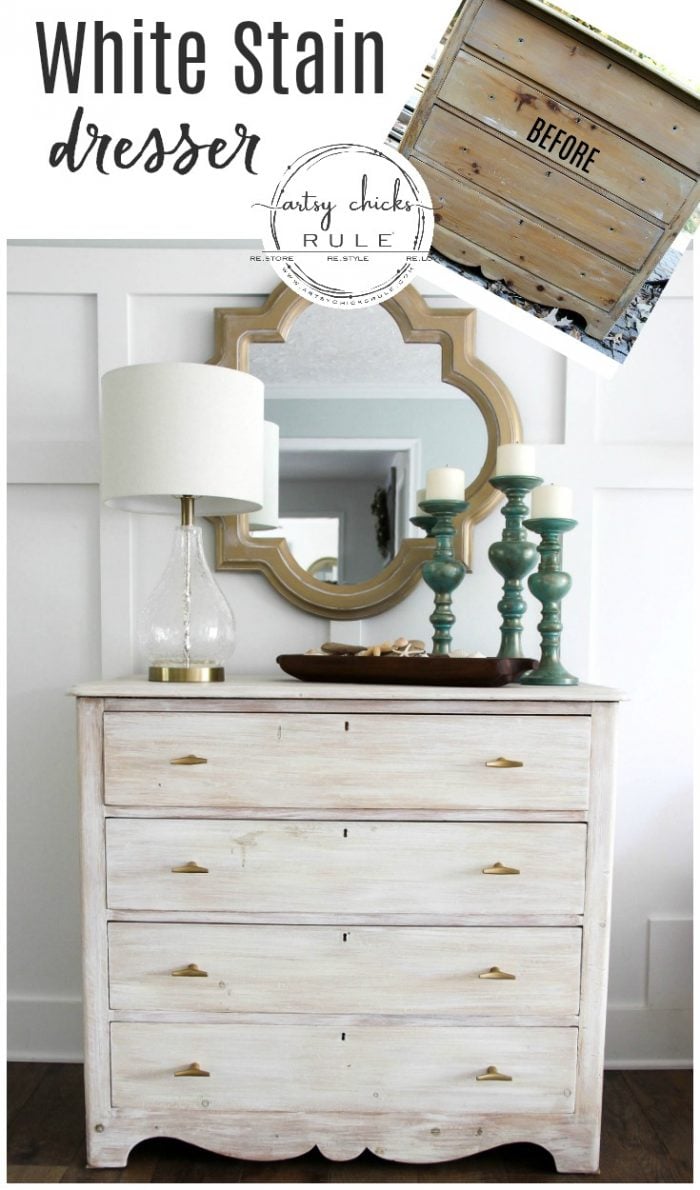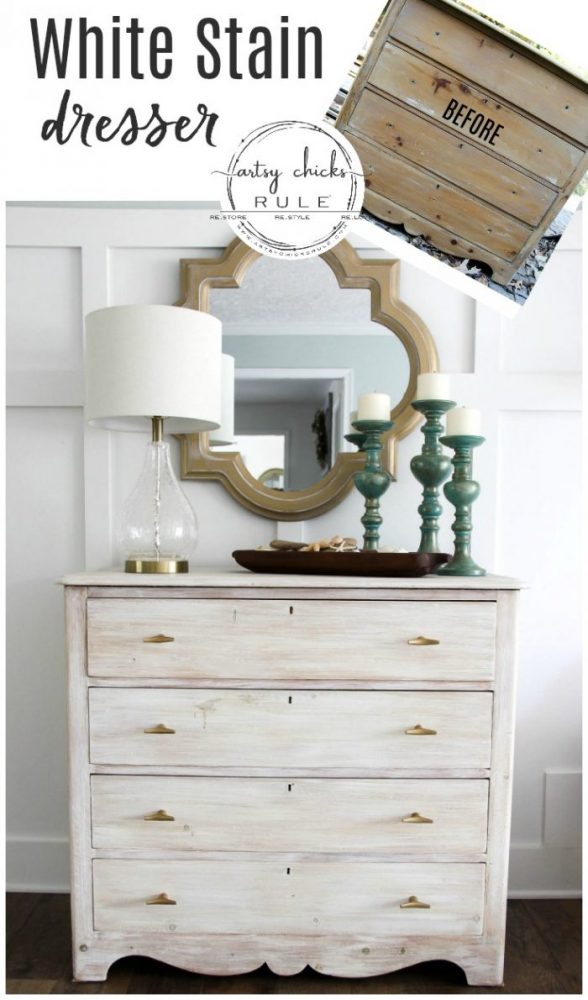 Hey friends!
You might remember that I mentioned in this post how I am giving this once made over piece, another makeover!
Who does that? Oh right, I already told you….me! Lots and lots of times….me.
So I gave it one!
A brand new look, white stain.
And I thought I'd share it today for Trash To Treasure Tuesday with my friends and their treasures.
If you are new around here, the first Tuesday of every month, I get together with a few friends and we share our finds that we've given a makeover to.
Be sure to scroll all the way to the bottom to catch their makeovers, too!
And you guys, this piece of mine truly is a treasure to me.
It's not really trash except…it was left behind in a garage in a vacant home so that qualifies, right? Yep!
The story behind it is simplistic but hey, what can I say, I'm a huge sentimentalist!
My husband and I got this dresser for free when I was pregnant with our first child.
We brought it home and I gave it a mini makeover (a little sanding and a fresh coat of poly). But that was 26 years ago…gasp!
How can it be???
Anyway, we used it in our daughter's nursery and when she was a toddler. Our son came along almost 6 years later and we used it for him as well.
I still have the baby-styled liner (pink and blue) lining a couple of the drawers. lol
So this one has such sweet memories attached to it, I'd never let it go.
Once they grew out of it, we've used it in our living areas ever since, in one way or another.
Here it is at one point…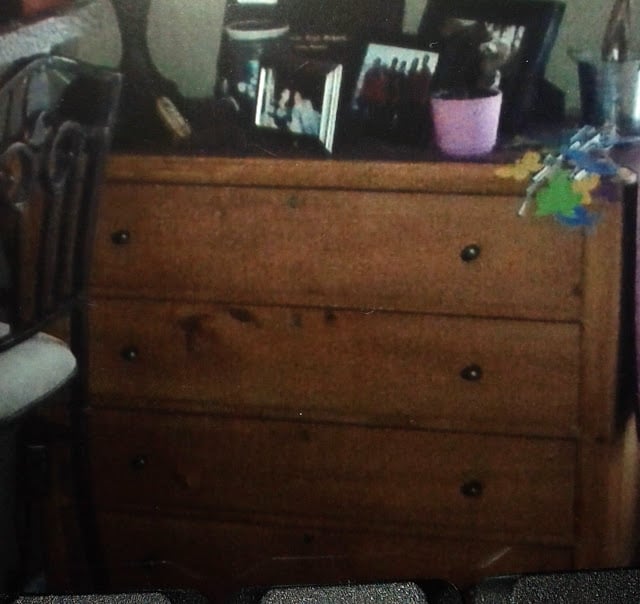 Ignore the mess. And obviously, this is a photo of a photo but it gives you an idea of how it started.
Then I did this to it…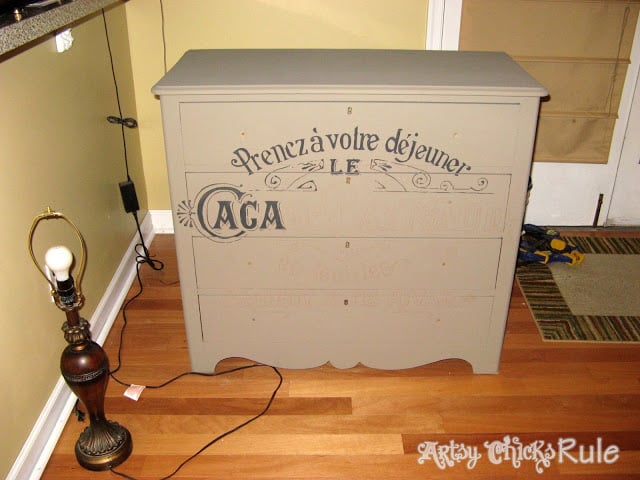 I hand-painted the graphic onto the Coco chalk-painted dresser.
Which then finished up looking like this…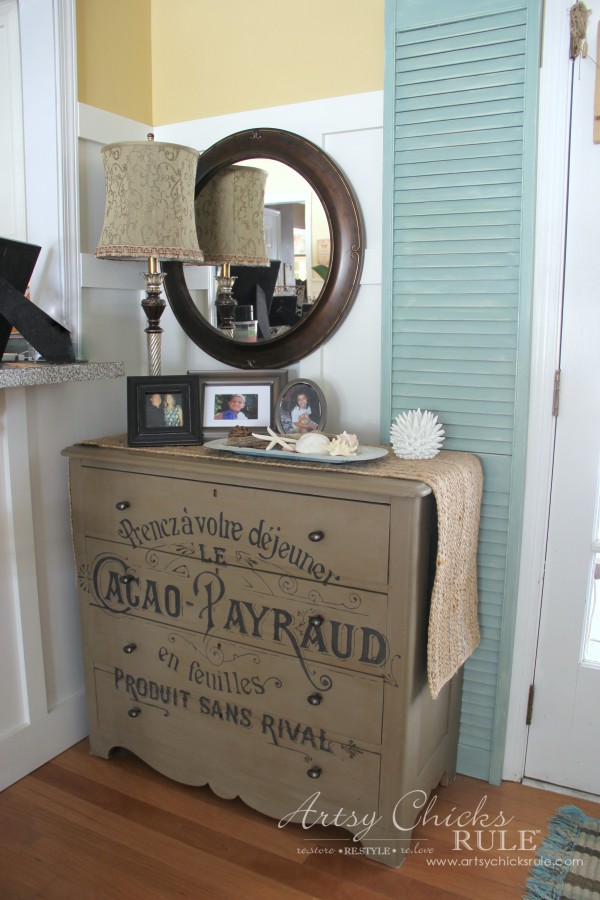 Which I really enjoyed for many years.
That brings me to today.
Today my home decor is completely different and this style just didn't really go anymore.
I previously had a French country, coastal cottage look.
Now I'm a bit more coastal glam, or that's what I'm calling it anyway.
Since the dresser stays, it had to have a makeover.
I used my absolute favorite paint remover, Citristrip, to get all the old paint off.
I love it because I hate using strong chemicals and this works so well.
I did it right inside my house (on a huge tarp, of course) and was done in no time!
Came off like a charm.
If you follow along with me on Instagram, you might have seen my "stories" on Friday night as I was doing this.
I shared a snippet or two.
Want to see some of these projects in "live" time? Hop on over and follow along with me on INSTAGRAM. I'm always sharing in my stories as I'm doing projects, finding new furniture, fun finds….just all the day to day behind the scenes.
Then on Sunday, I took it outside to lightly sand it all over.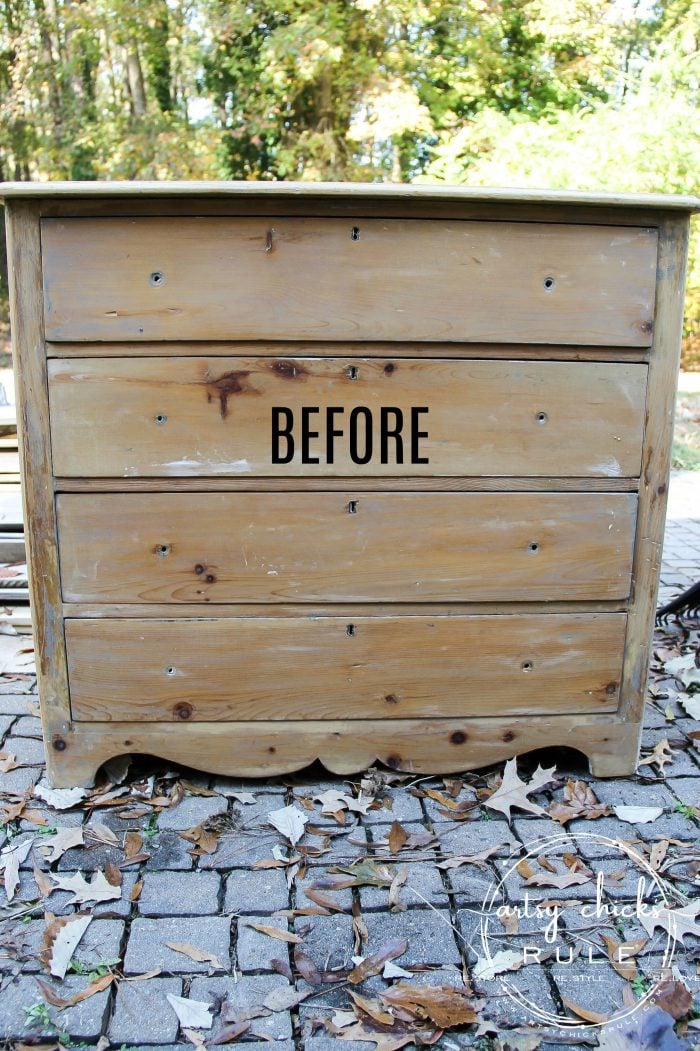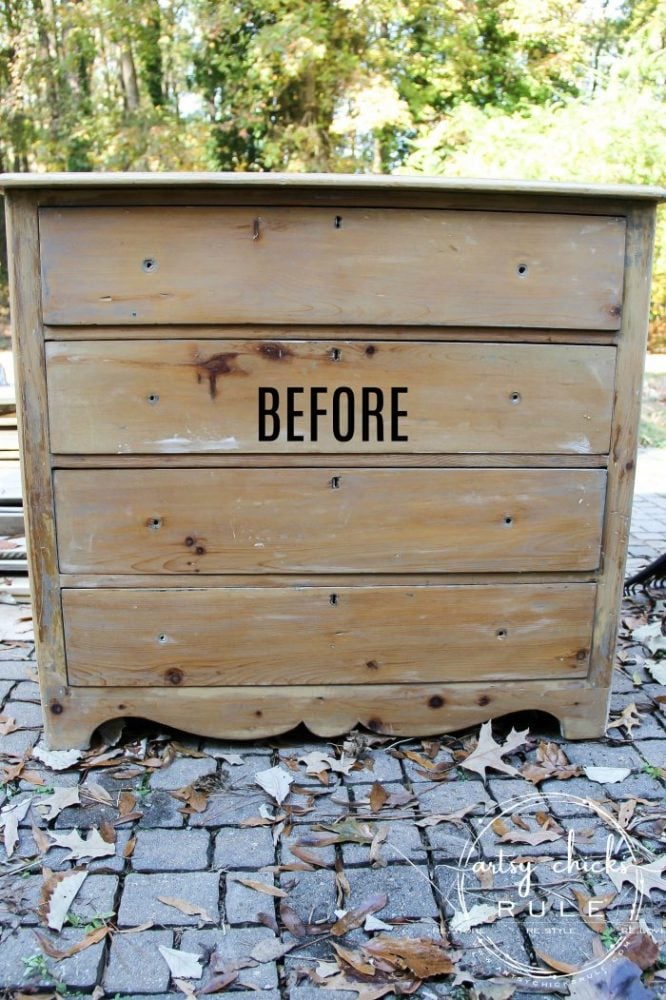 (this was after Citristrip and before sanding)
You can see it is very rustic looking with all the knots, etc.
Once it was sanded (It was freezing, of course! I don't like working outside in the cold. lol) I brought it back in and got busy with the white stain.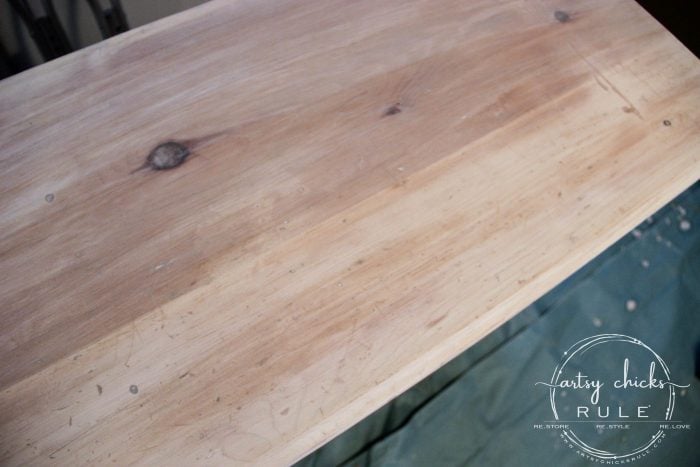 I washed all the wood to remove the sanding dust and then mixed up a somewhat watery mix of paint for the white stain.
I used this white paint and water.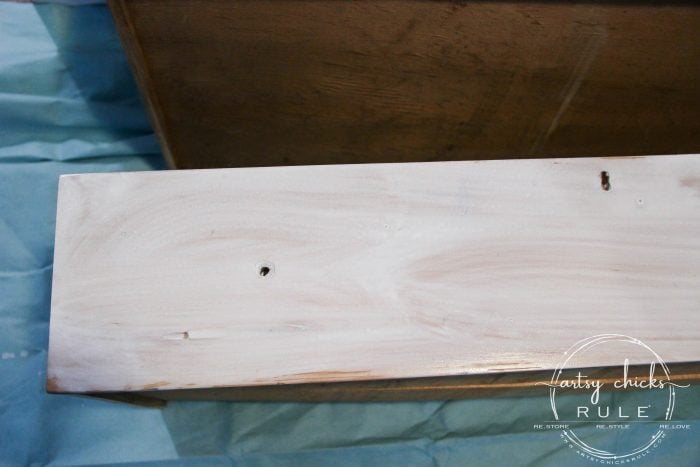 I applied it with a chip brush all over and then gently wiped it away with a soft rag (like an old t-shirt).
You don't have to be too perfect here, you just want the white stain to sink into the wood some before you wipe.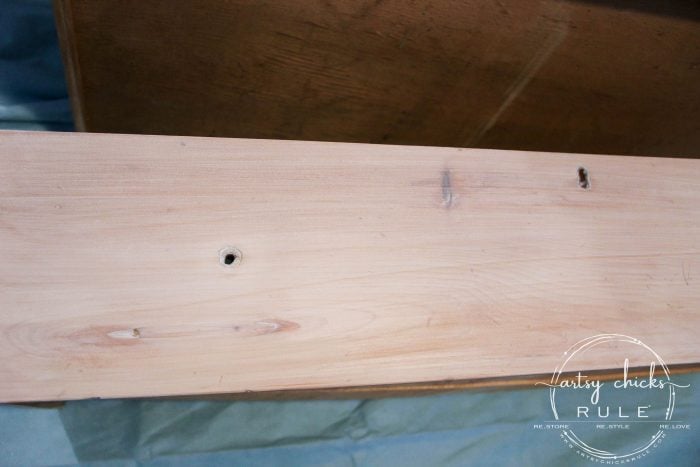 This wood had so much of its own color, I was getting more of a "pickled" look which is fine, but not what I was after.
So I let that dry and then I applied another coat.
It still wasn't white enough for me so I added some "dry" brushing over the whole thing.
Dry is in quotations because it wasn't really dry this time but I did it in the same manner as I usually dry brush.
Only, I used the watered-down paint. I did it this way so I wouldn't apply too much paint.
After that, I decided I wanted it a little whiter still.
So I used the same "wet" brush and full paint this time, not watered down, in the typical way of dry brushing. (except with a wet brush)
You can see my how-to video for dry brushing in this post here >>> How To Dry Brush
I'm sorry if that all sounds confusing! That's how it goes sometimes when things don't immediately turn out as you plan.
You just have to keep going, keep adding, etc. If I completely lost you and you have any questions, just ask me below.
Mirror makeover details, are here.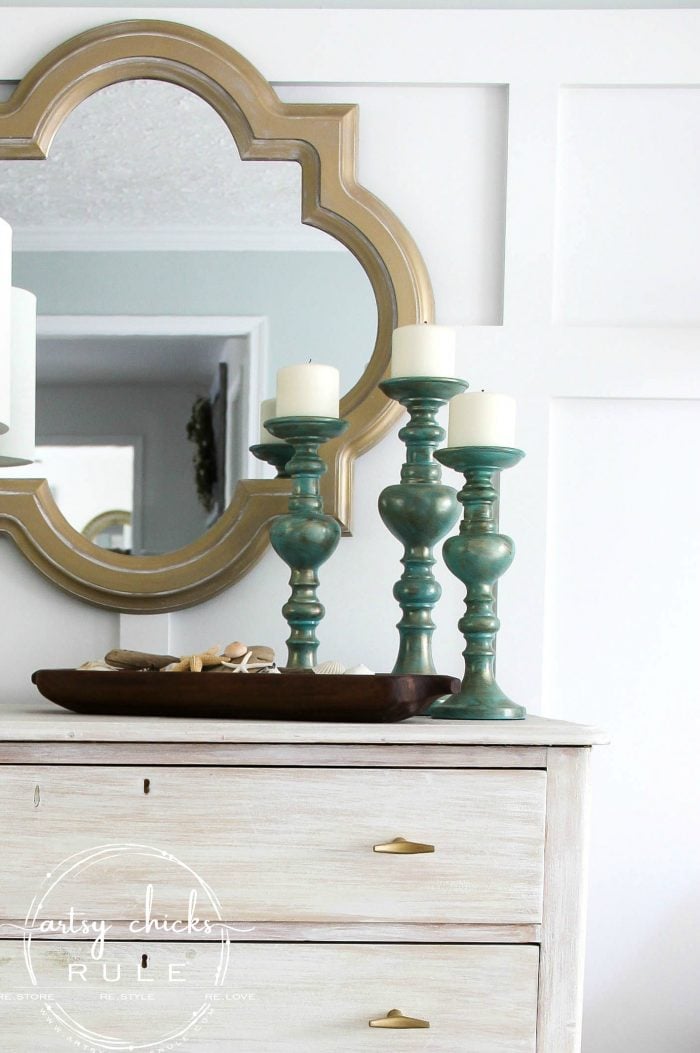 That sweet wood bowl was hand carved by an elderly gentleman that I found at a market. He had such beautiful pieces and he loved to tell you how he made his wares. And I loved to listen.
So of course, I had to bring something home with me. Yes, I could have gotten something similar (and have) from TJ Maxx or the like, for probably less than half what I paid. But this is SO special to me. Every time I see it, I smile at the thought of the pride this man had in his work and the love he put into his pieces.
A treasured piece, for sure.
Okay, back to the dresser.
Once that was all done and dry, I tried out this top coat. I'll let you know how it holds up and if I like it.
I happened to have 2 more packs of these knobs, 8, in the garage left over from when I did our buffet makeover.
They came as gold but very brassy gold. For the buffet I linked above, I painted them white and turned them the other way.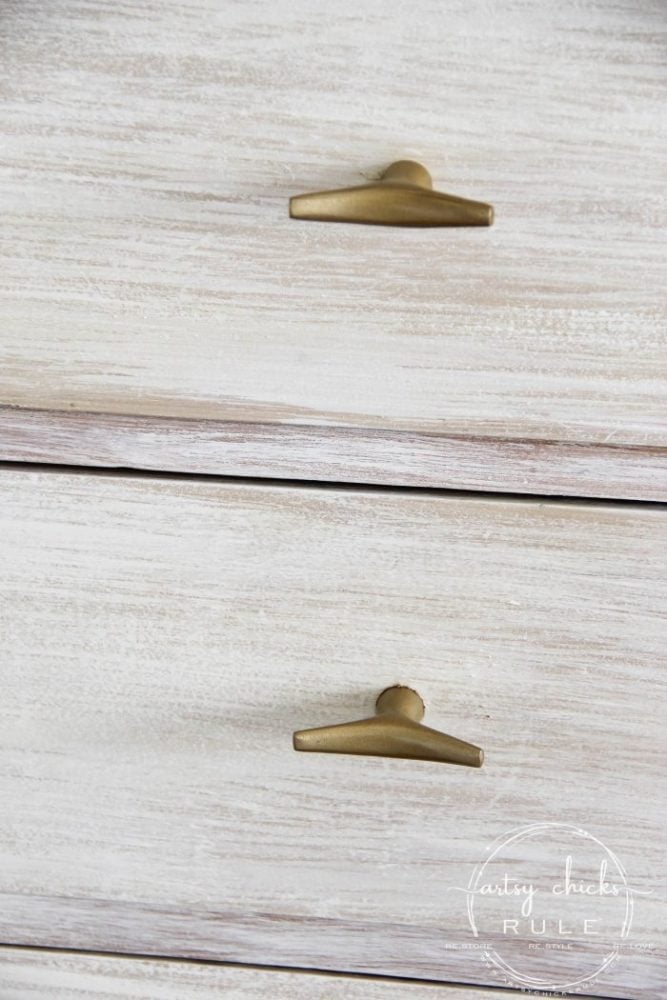 I wanted them long ways, sideways this time.
And used this gold paint to tone them down a bit.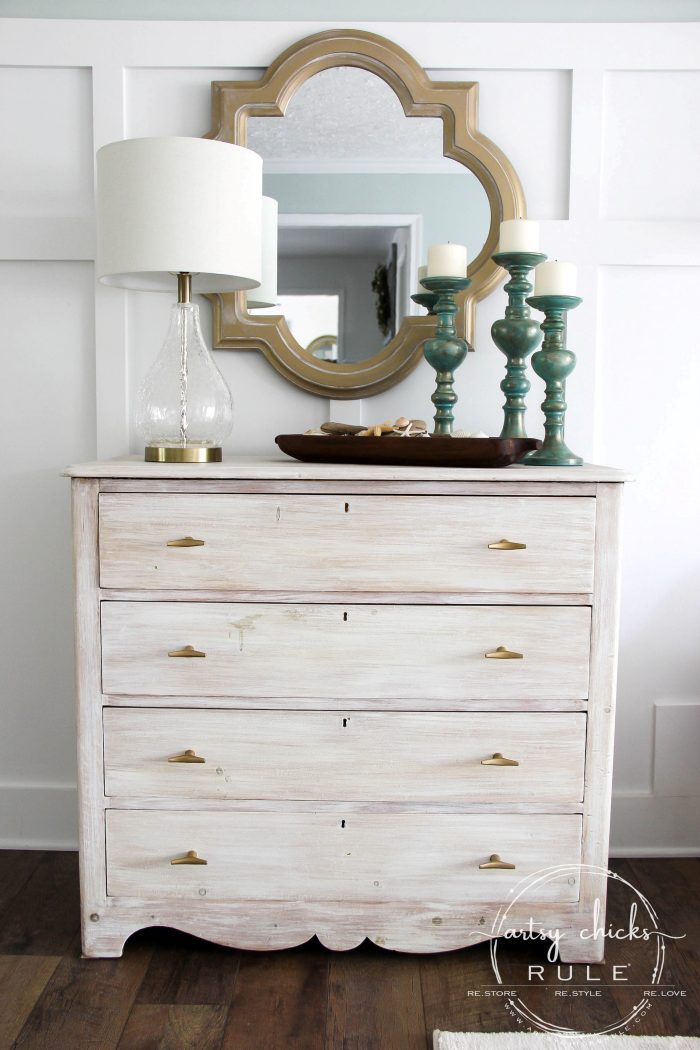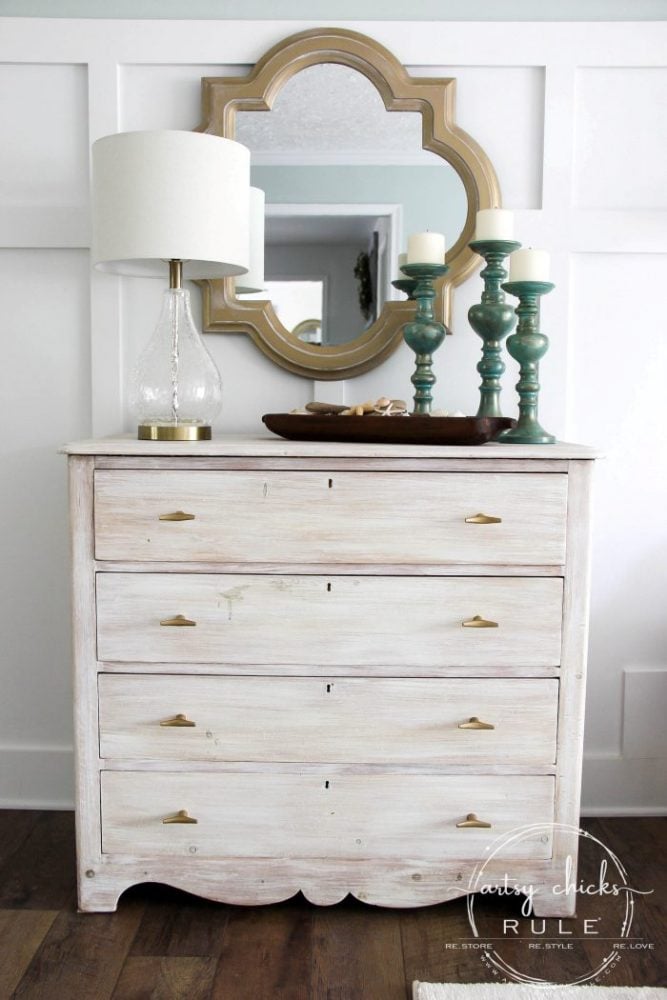 I like that they have a nautical look.
(by the way, that second drawer doesn't have a dark run in it…that's a knot. Take a look at the "before" photo above and you'll see it)
But dang, it looks just like a run! lol
Oh well, we call that charm….or character, right.
I'm pretty happy with how it turned out. I think it looks SO much better in this room, with my decor, with the updated look.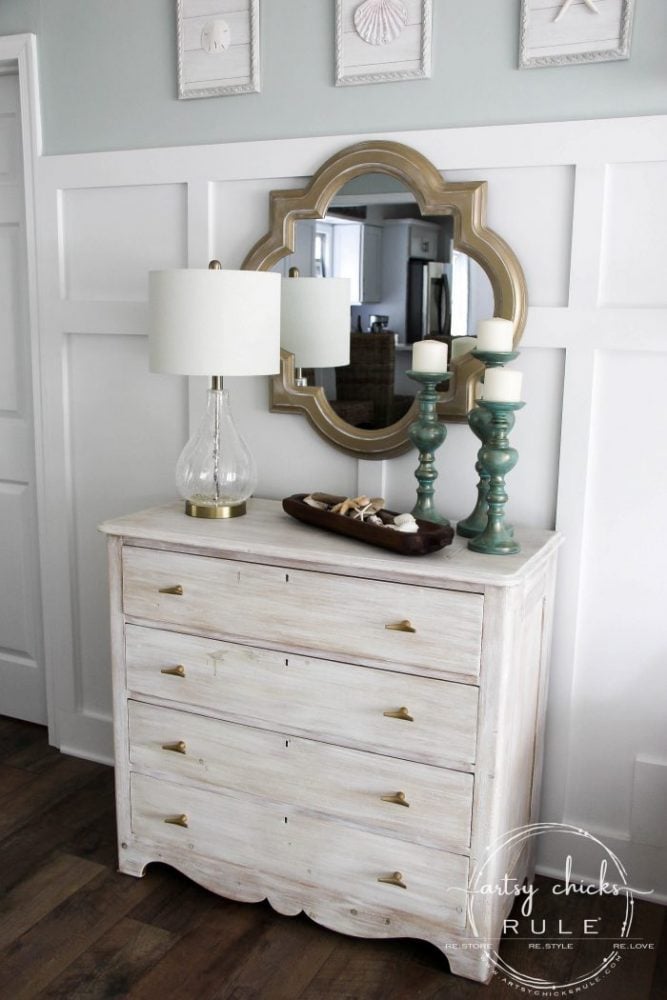 Curious about those pretty, new wood floors? You can find out all about them in this post.
The white stain gave it sort of a washed look and even though I had to add more white, you can still see some of the wood, knots, and grain underneath.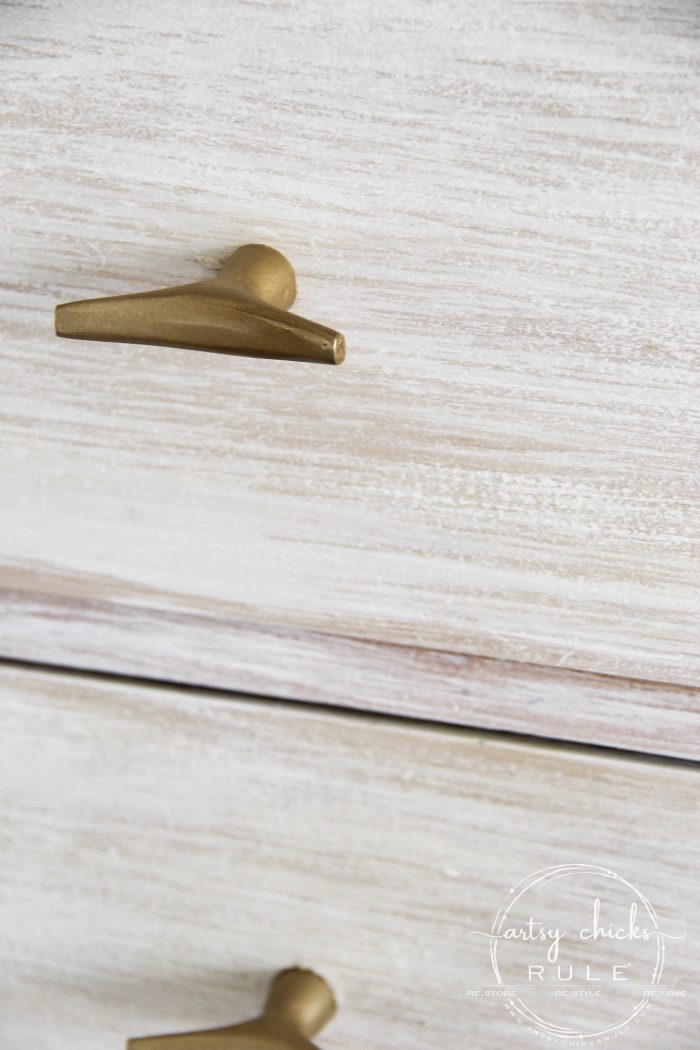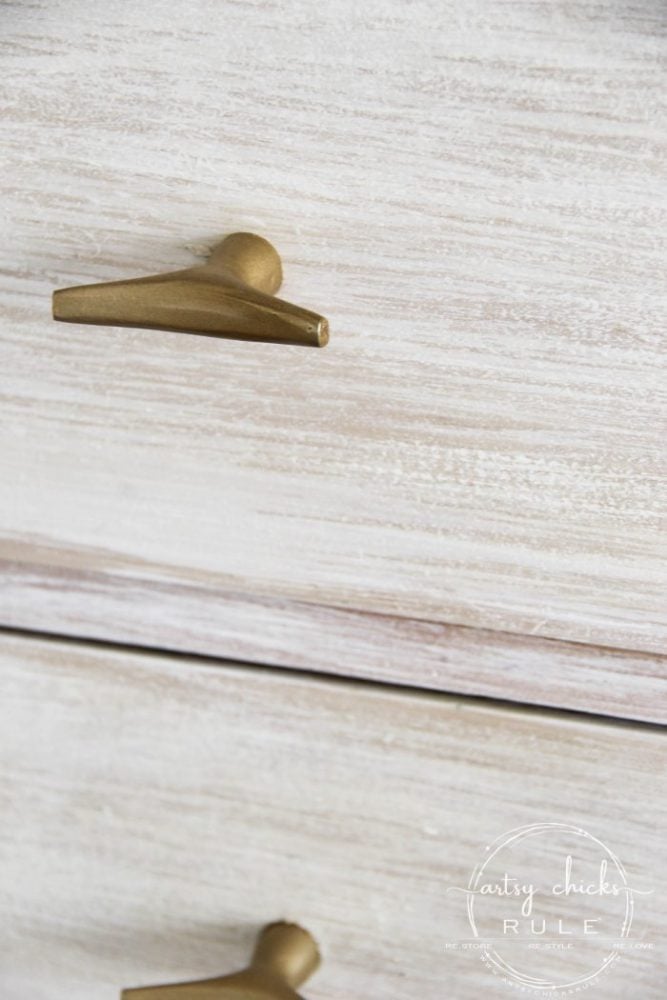 Want to know about 26 other chalk style paints?
I've got the low down for you right here! >>> 26 Types of Chalk Style Paint For Furniture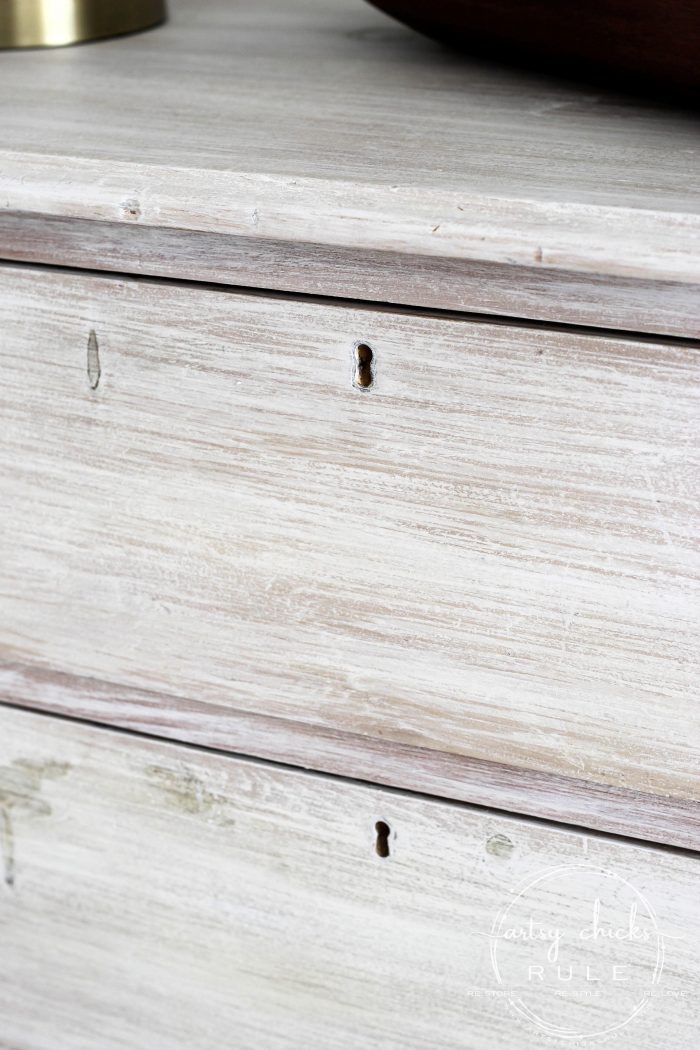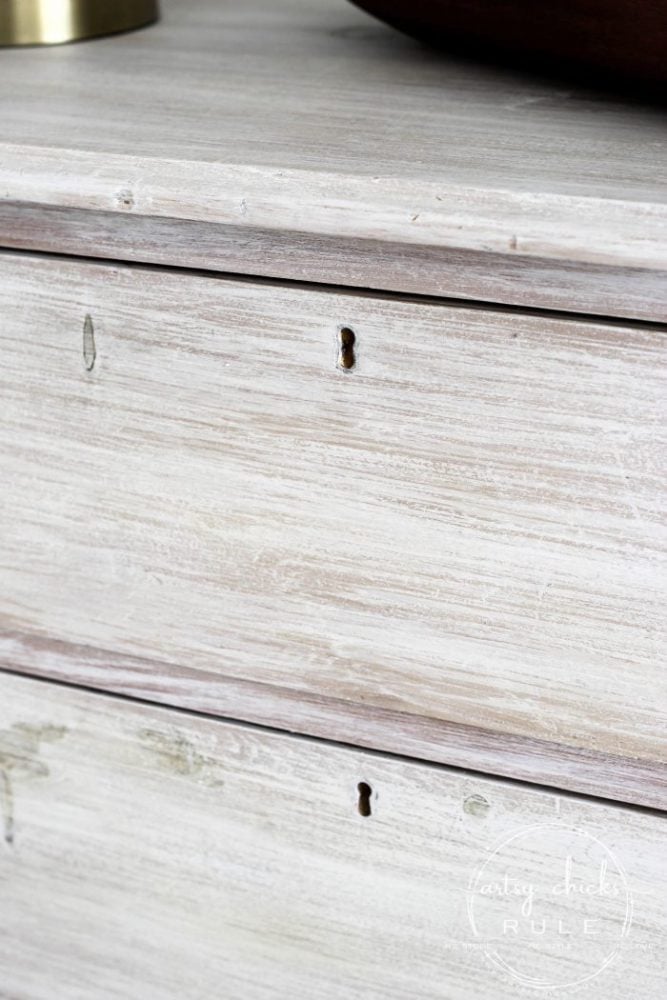 I am hoping the wood doesn't bleed on me and turn this project yellow.
Time will tell!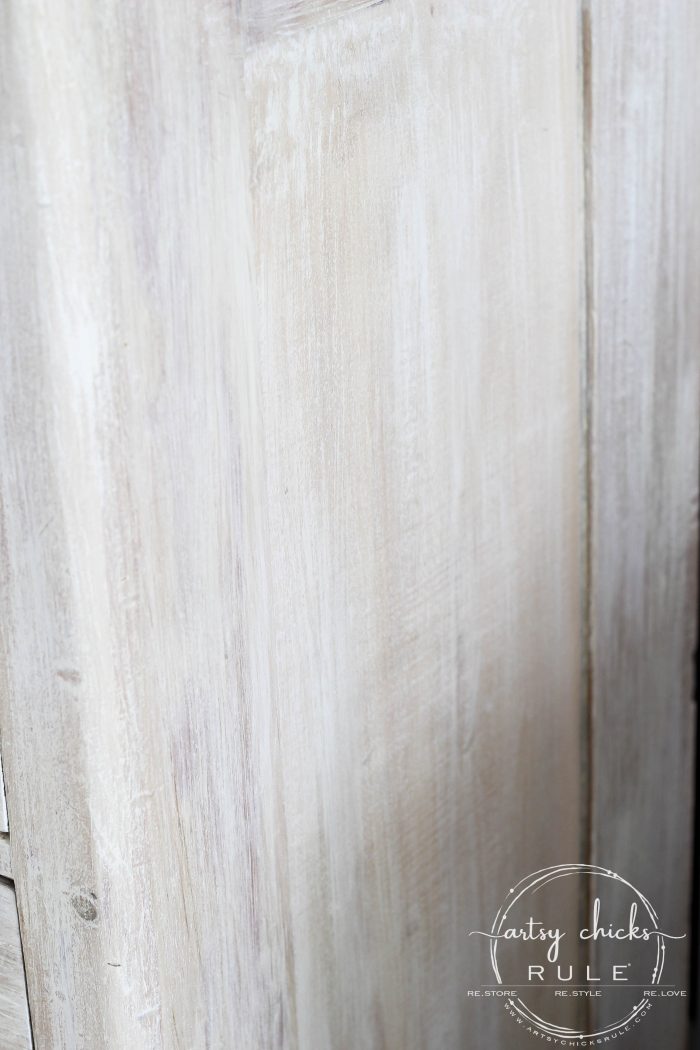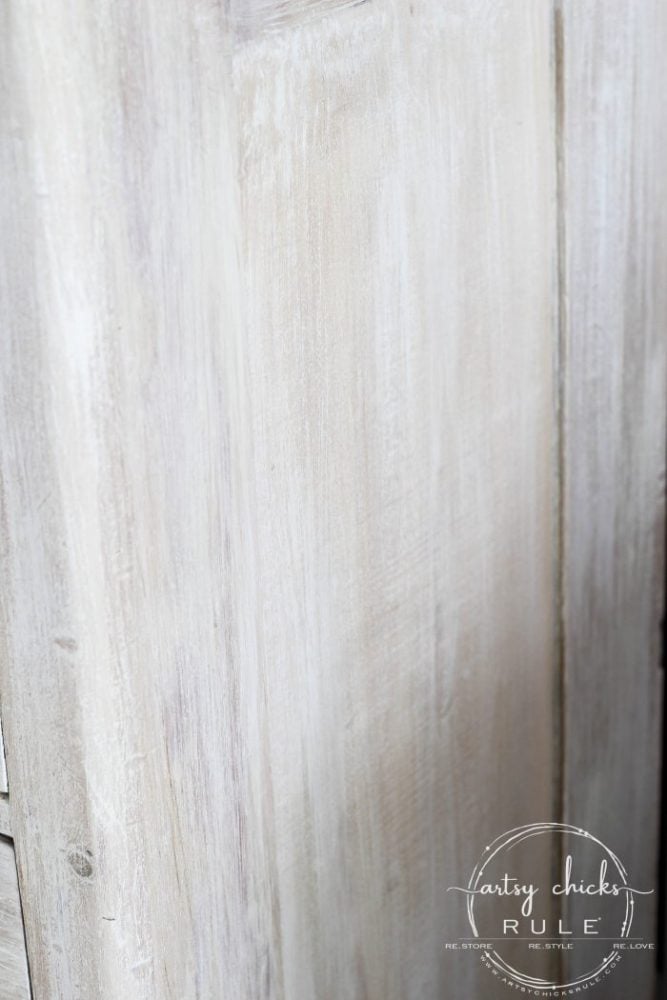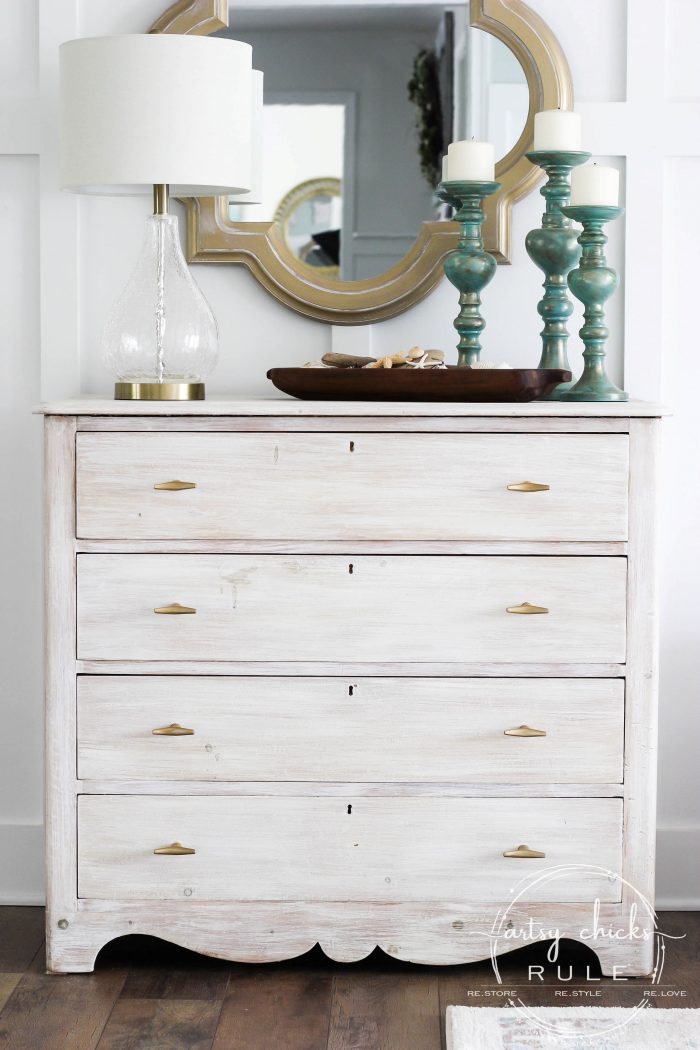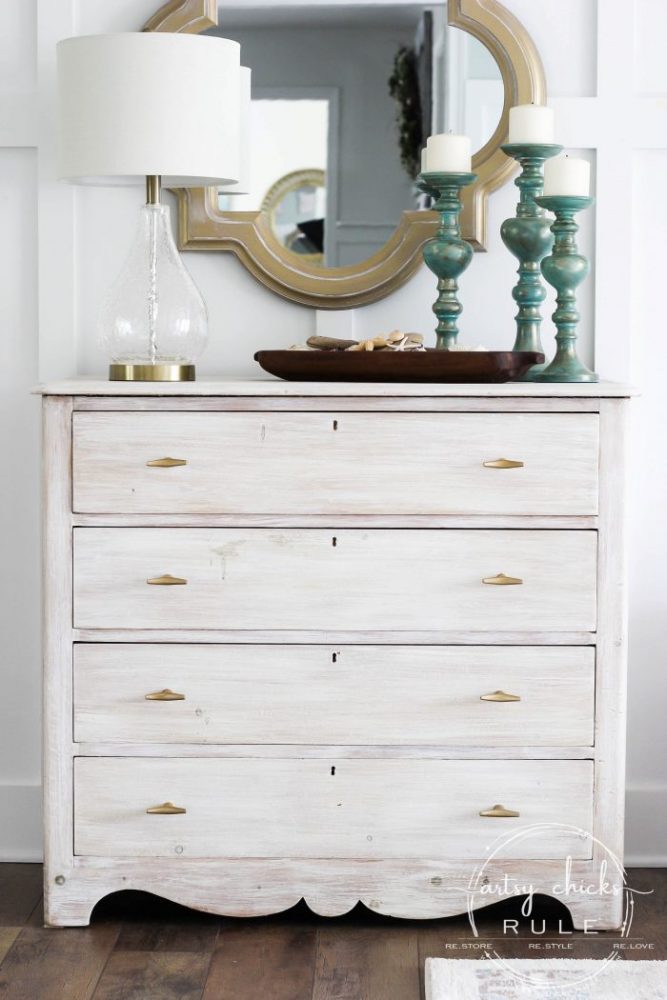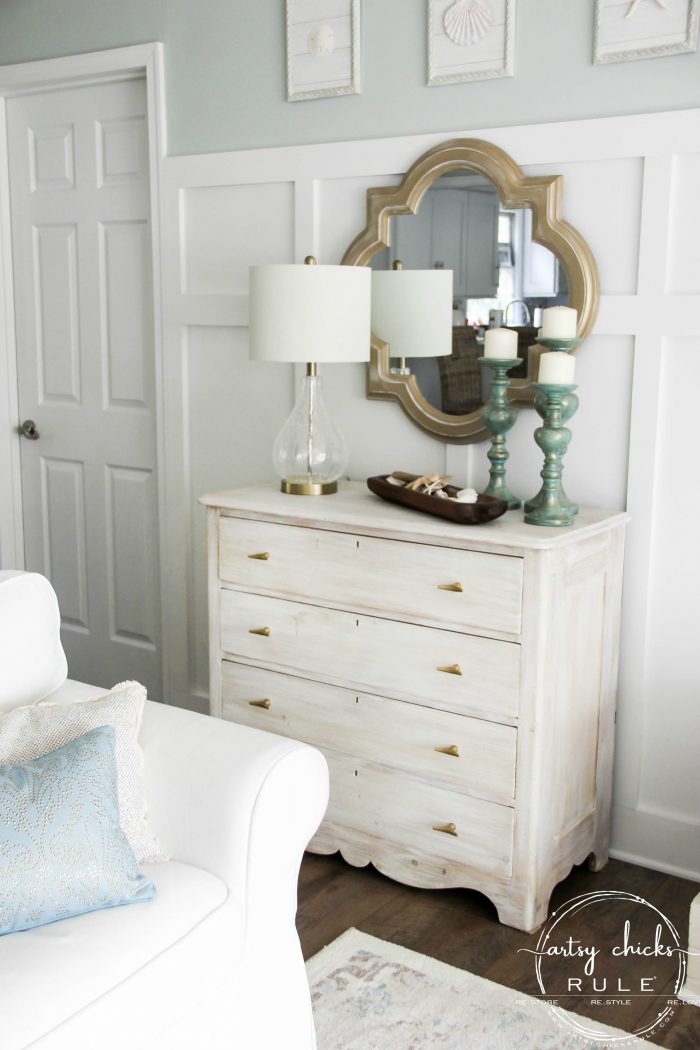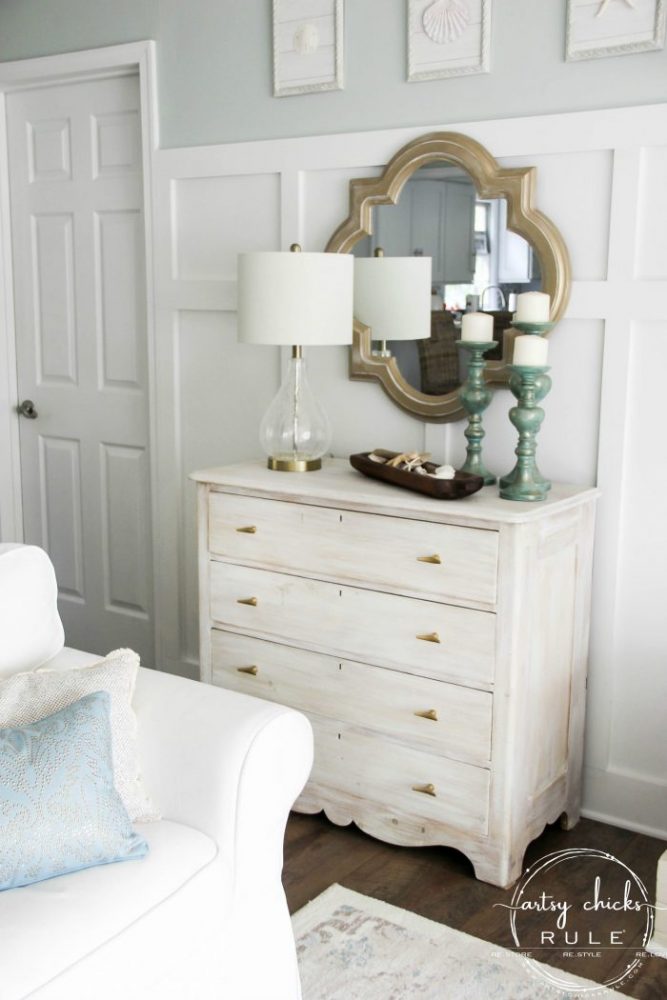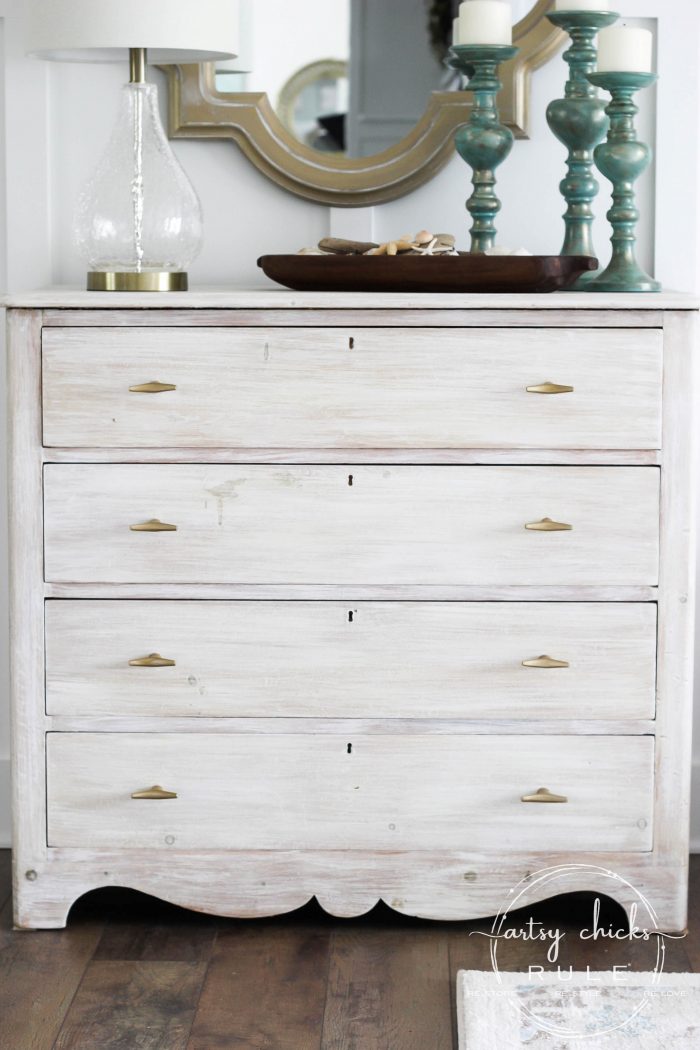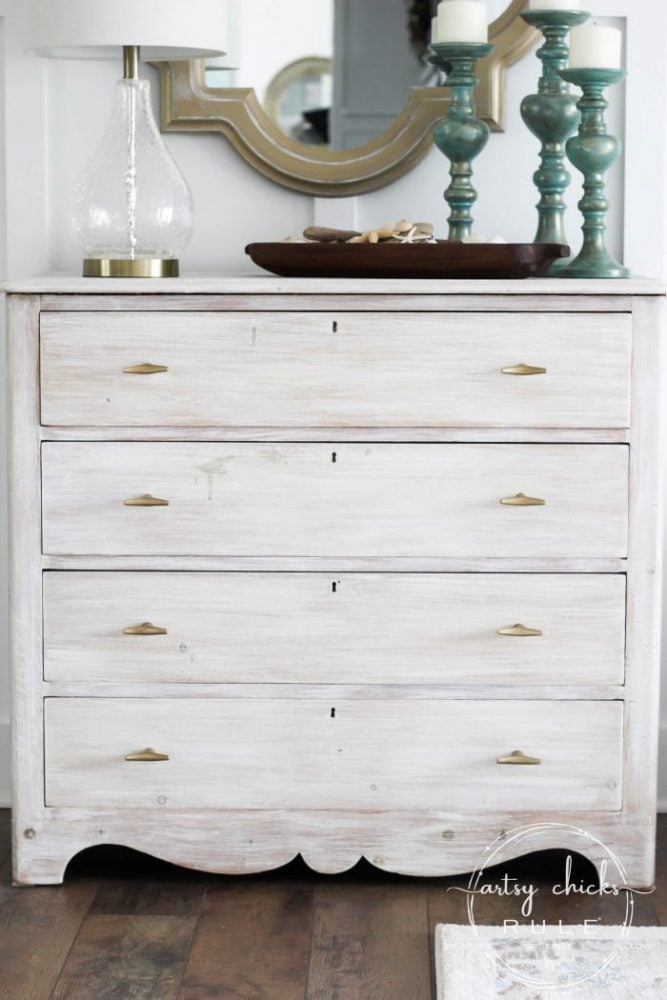 Even though I only completed this yesterday, I'm really enjoying the new white stain looks so much better in here.
Plus, this little dresser is smaller than what I had in this spot previously, so it feels a little roomier too. (and even more so now that it's a light color)
PIN this for later to save it! :) (don't forget to scroll on down and see my friends' makeovers)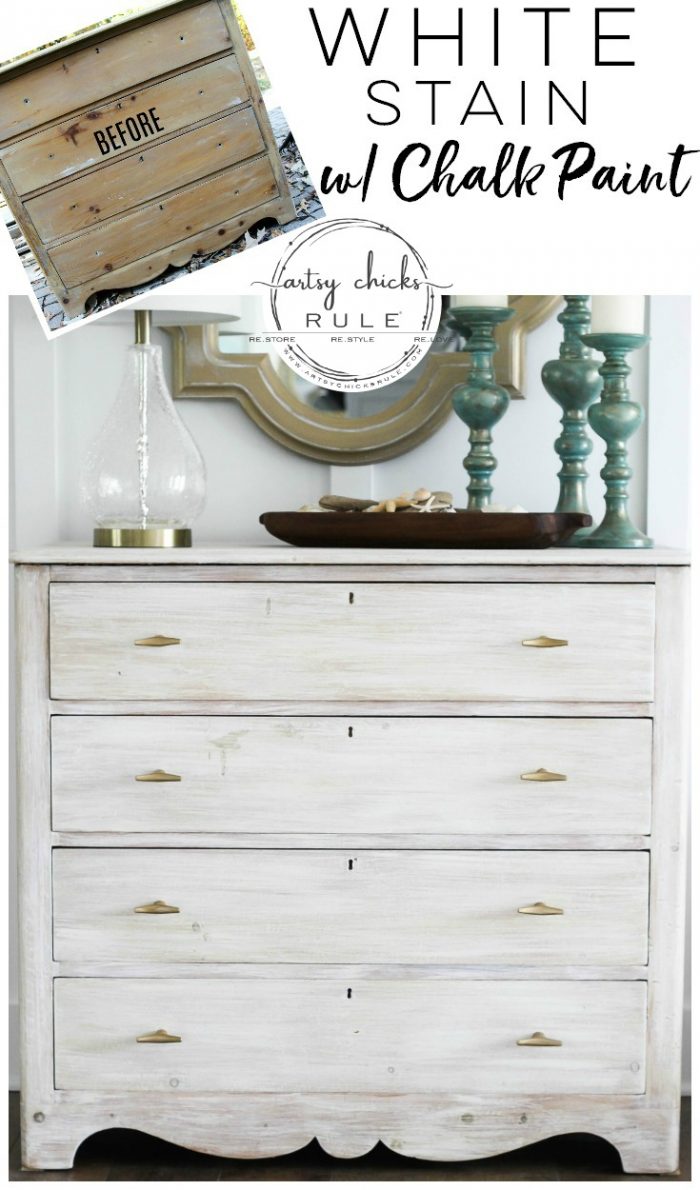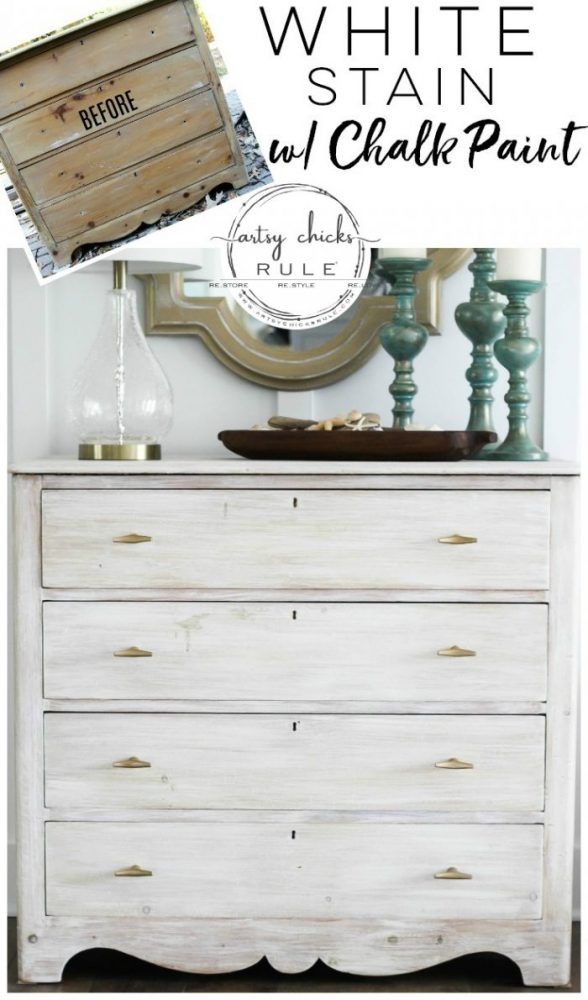 But wait!!
Don't go just yet! Hop on over and see what kind of treasures my friends made of these finds today. (links are below)
I can't wait to see what they did with all this!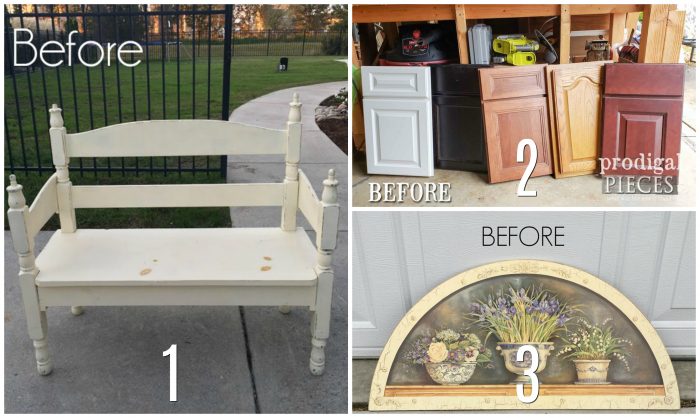 Confessions of a Serial Do It Yourselfer – Headboard Bench Makeover
Prodigal Pieces –Repurposed Cupboard Door Jewelry Cabinet
Girl in the Garage – DIY Family Birthday Calender
…………………………………………………………………………………………………………………………………
Have you entered the big GIVEAWAY yet?? Hop on over to this post to see what I'm giving away, and you still have a little time to enter to win!
See you Thursday with a reveal!! Yippee!! We are wrapping things up around here.
Next…the full dining room AND the full kitchen reveals!
And don't miss my newest furniture makeover (it's my new "coffee bar")!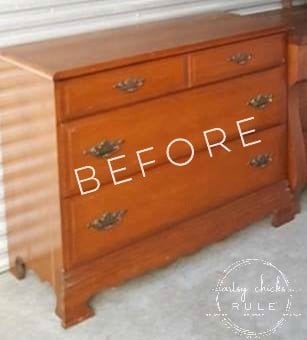 UPDATE!! See it now, here!
Have a great week!
xoxo