Aqua Console Table (with driftwood stain)
This post may contain affiliate links. Please see disclosures here.
This previously yellow furniture find got a new look… a coastal aqua console table with a gorgeous hint of driftwood to finish the look!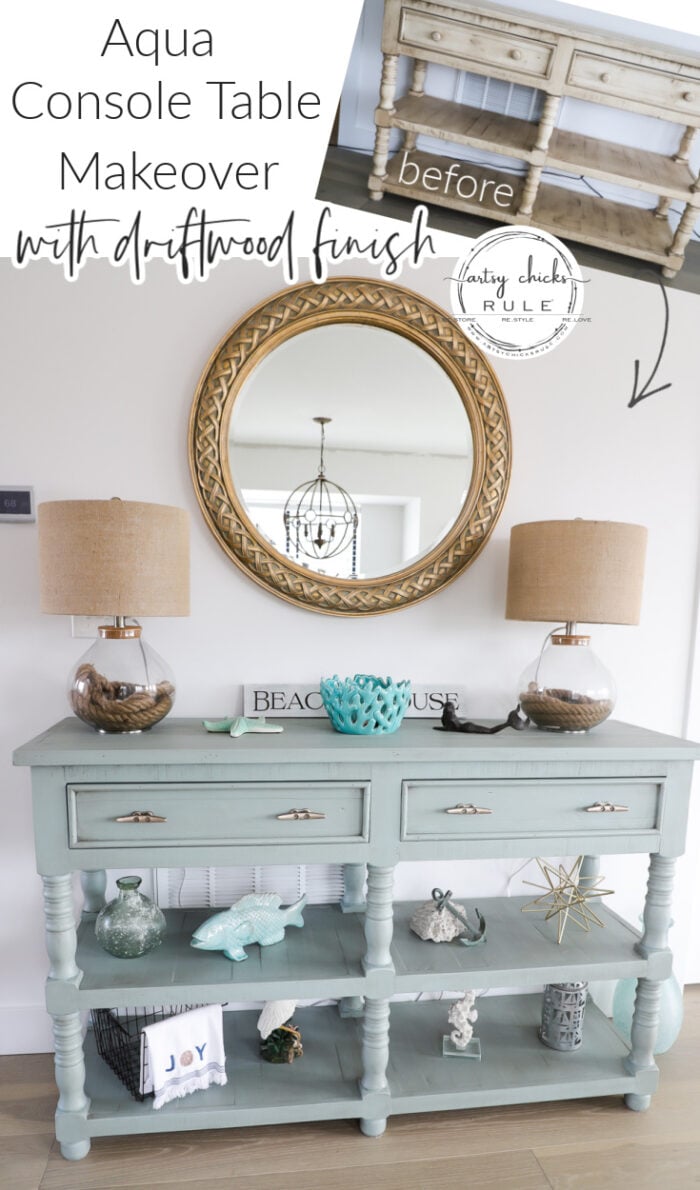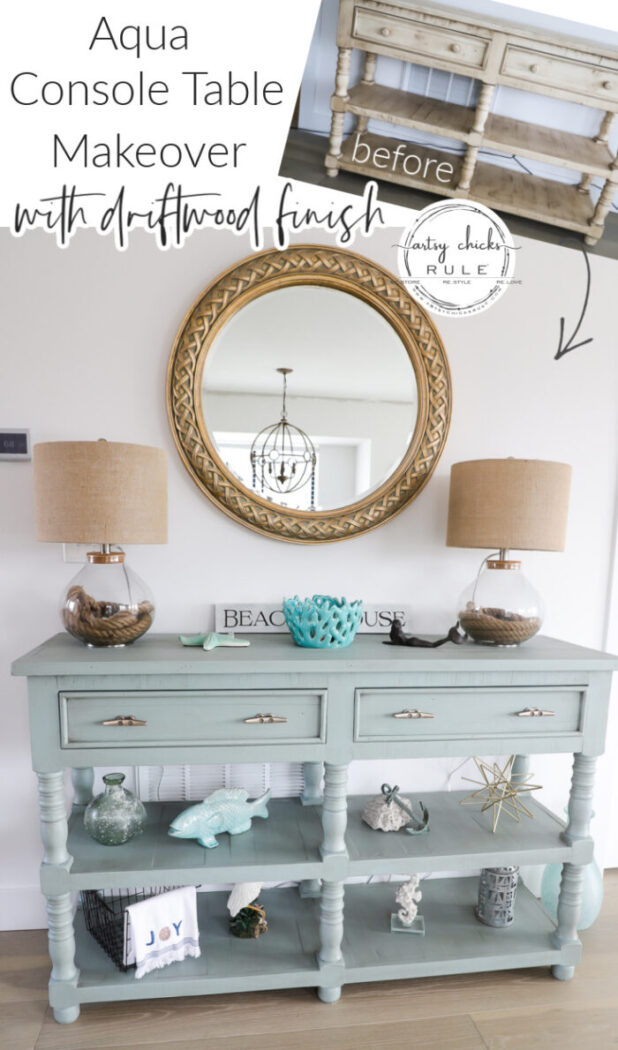 Hello, hello my sweet friends!
I hope you have had a wonderful week. It's been ahhhmazing here! Yippee! In the 70s but such a tease because it's going to drop back to normal 50s (mostly)…boo.
But that's better than the 30s, right! One hundred times yes. I'm so ready for warm weather and sunshine.
And why we are busting it at the beach condo to try to get it ALL done (even the kitchen) by summer.
We'll see how it goes! Might be wishful thinking. lol
Which brings me to today's project…
Aqua Console Table (with driftwood stain)
Remember this one?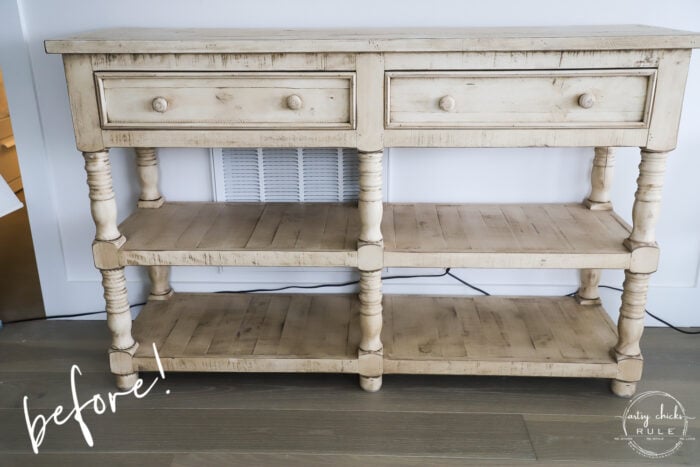 We found it at the Home Goods in the OBX right after we bought our place.
I loved it but not the color. I knew I'd paint it or do something with it all along, just not sure what.
Until now!
This is what I did…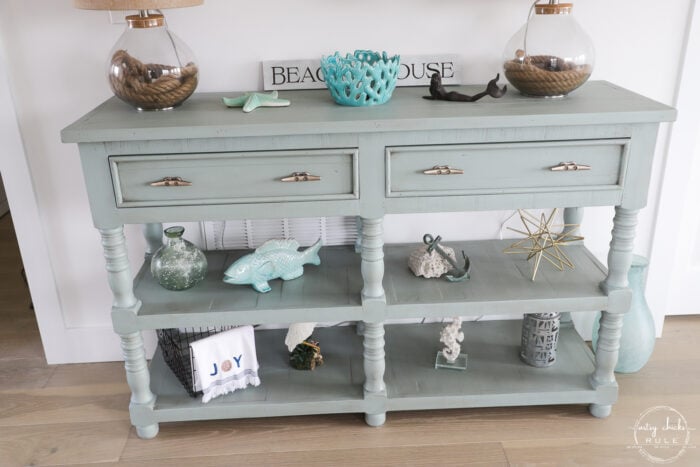 I wanted to keep some of that uh…shaded, worn, aged look so decided to top my paint with the same Driftwood Stain (and Finishing Oil) that I used on our dresser.
You can see that project here >>> Driftwood Stain Dresser
Here are the products I used for this project…
So I used my big fat paintbrush (linked above) that works best with Fusion paints (in my experience anyway) to apply 1 coat of the French Eggshell paint.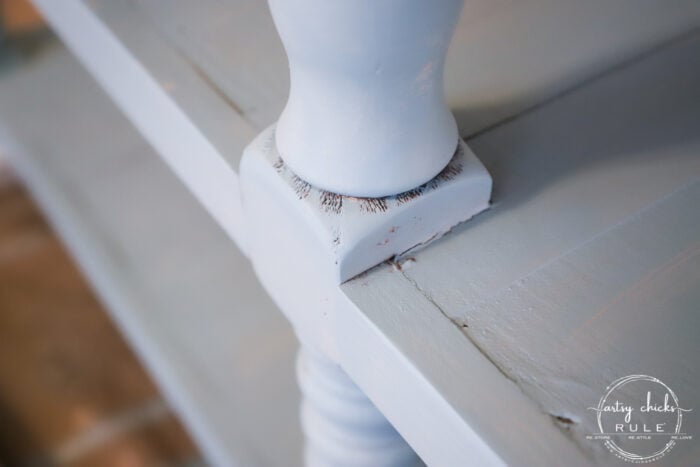 You can see above where I left some of the dark showing through. I didn't want to fully coat the piece so one coat was plenty.
I did go back over a few areas that I thought were too thin but not the whole thing.
When I share the finished pictures, you can see the other areas like this above that I left unpainted. (on purpose)
Once the paint was dry, I started rubbing on the Driftwood stain.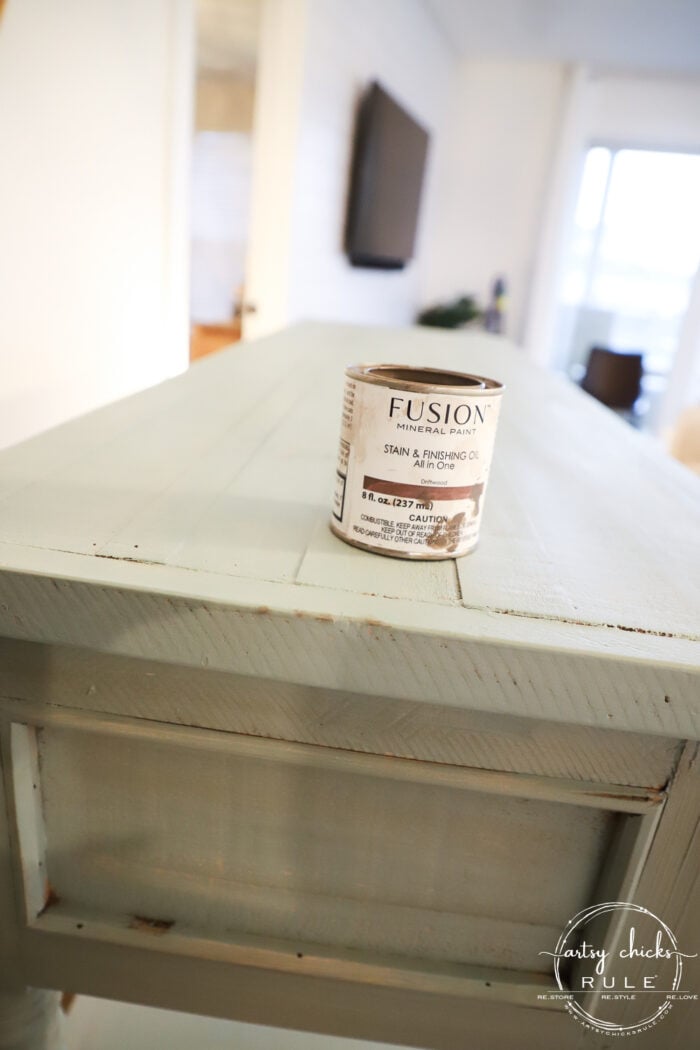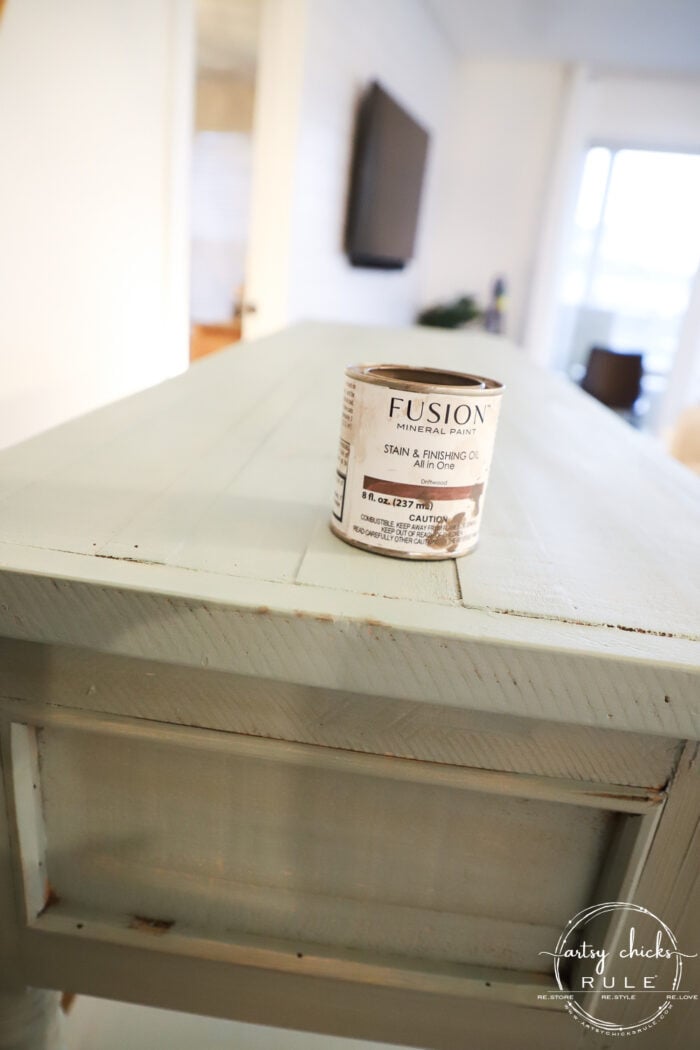 This was actually my first time using it and so I was learning to get a feel for it as I went.
I rubbed it on with my washcloth (I don't recommend a washcloth, an old T-shirt-type material will work better) and wipe it back off with the other half of the washcloth. (I split it in half)
You can see the left where I've applied it and wiped it back. The right side is undone yet.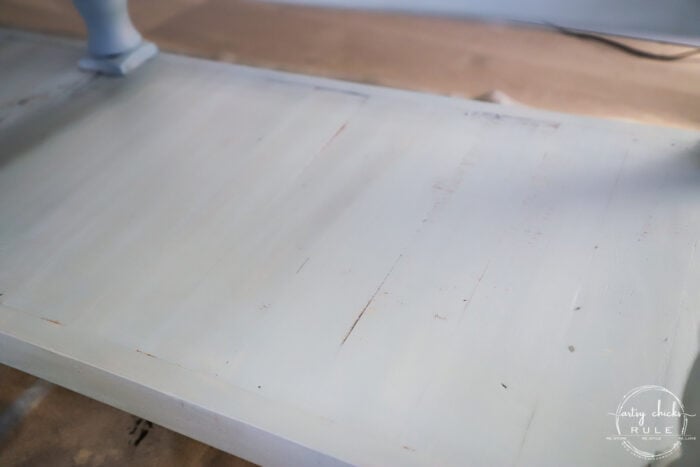 Want to see some of these projects in "live" time? Hop on over and follow along with me on INSTAGRAM. I'm always sharing in my stories as I'm doing projects, finding new furniture, fun finds….just all the day to day behind the scenes.
The right side after applying but before wiping back the excess.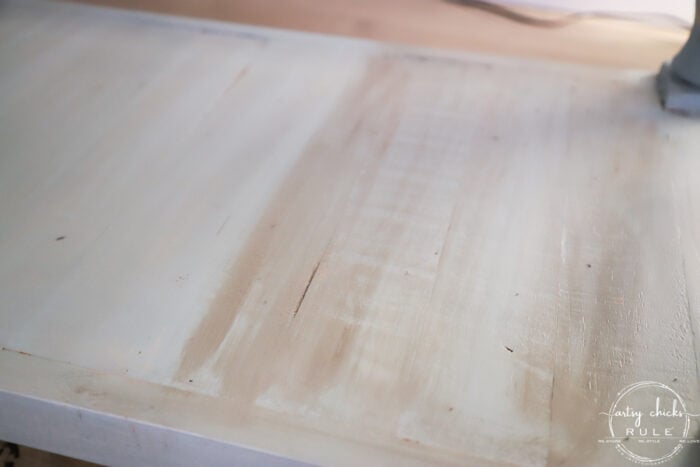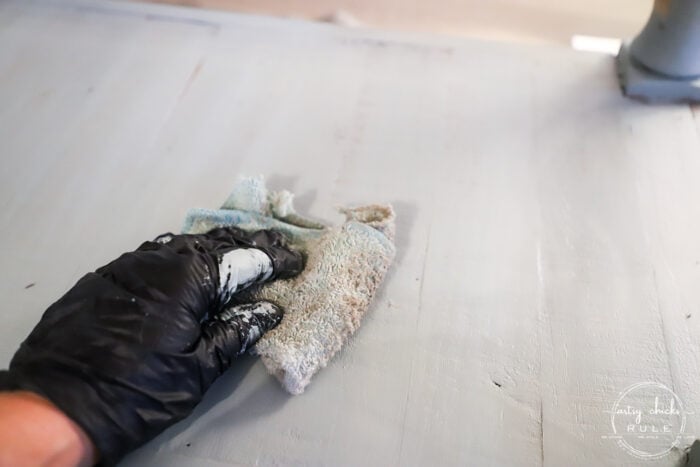 The perfect amount seems to grab and hold. I love the subtle effect it gives.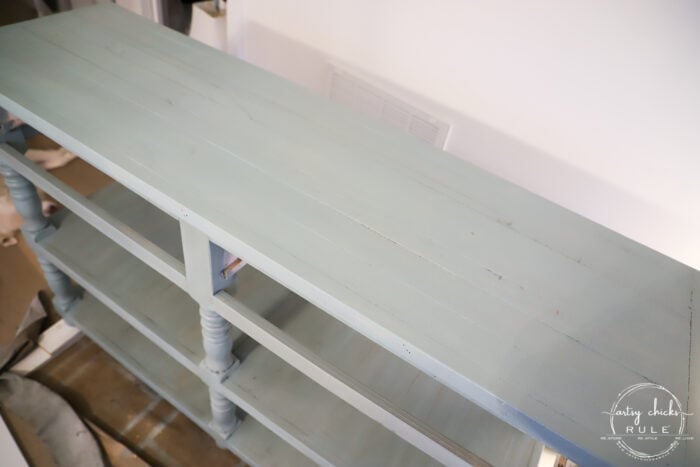 In the photo above you can see the two bottom shelves I've applied the Driftwood stain to.
The top is just painted. See the difference??
I wanted to be very detailed in this post so you could really see how different it looks, etc.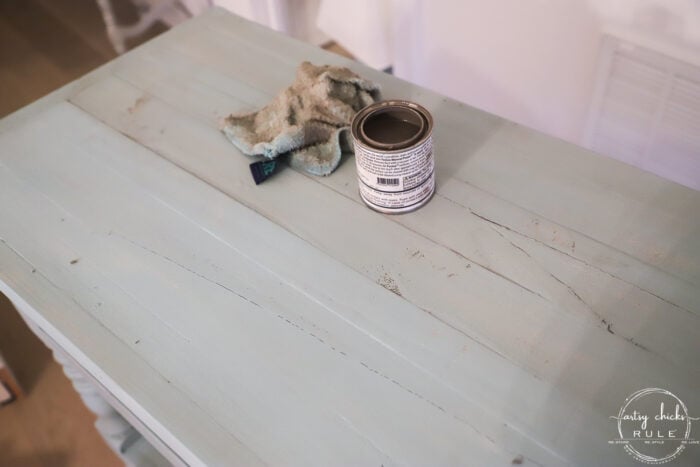 By the way, this was super easy to do too.
So, me leaving some of the dark shadowing behind kept it looking like this…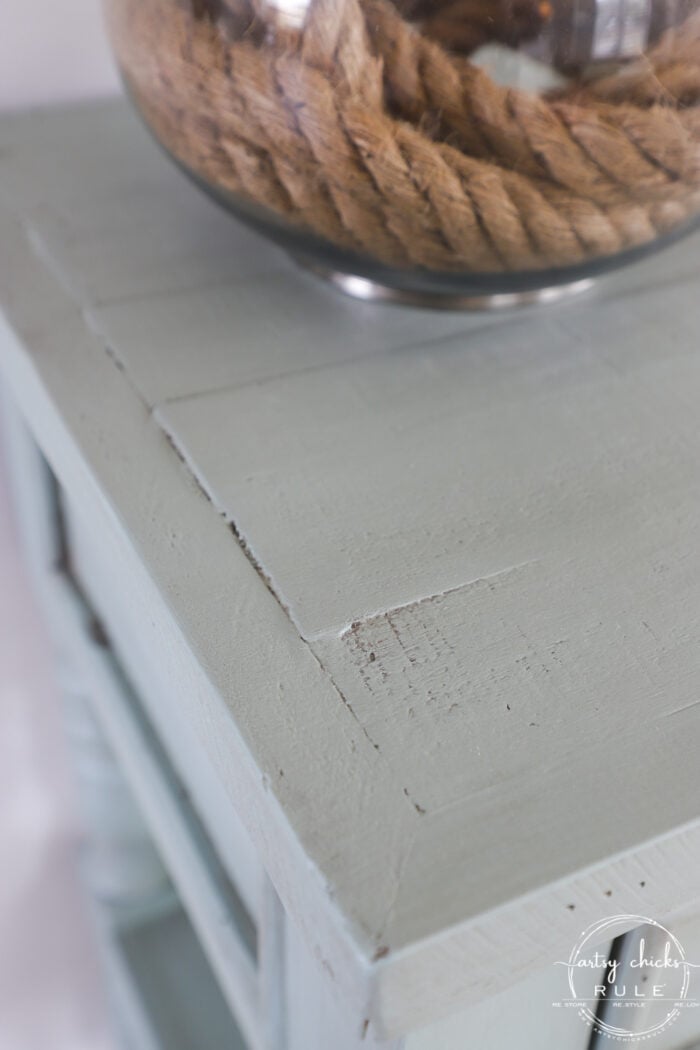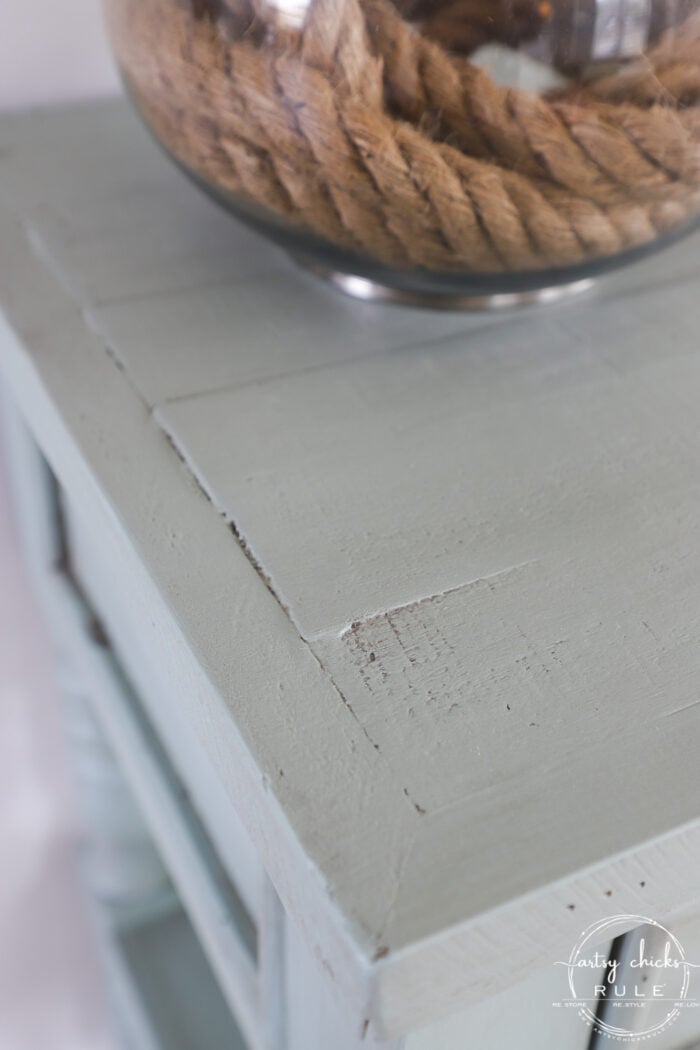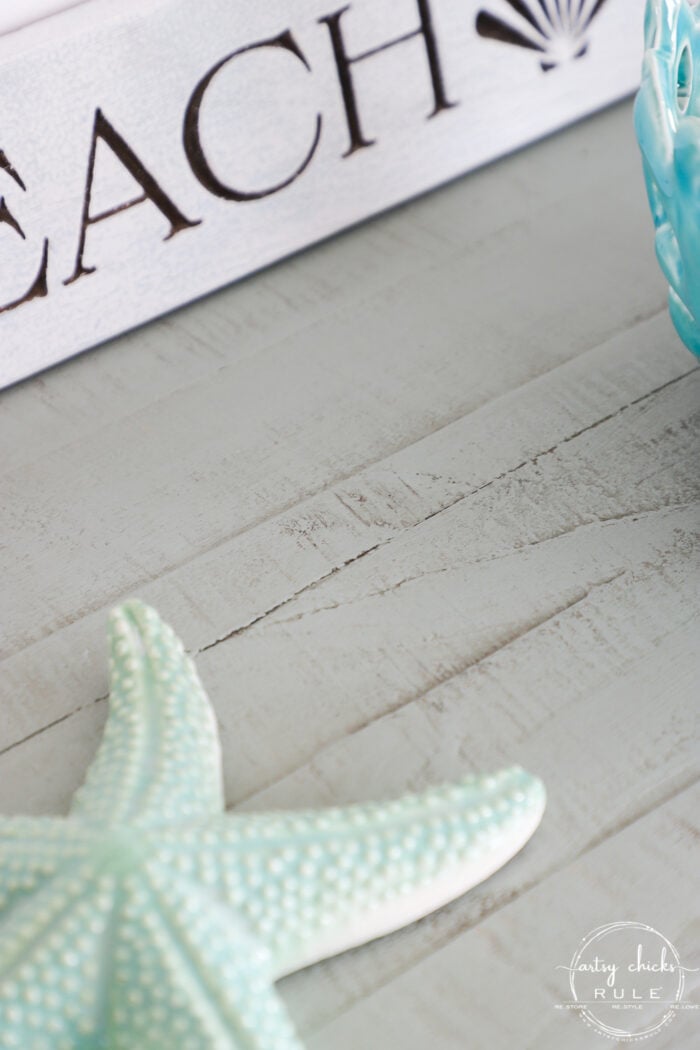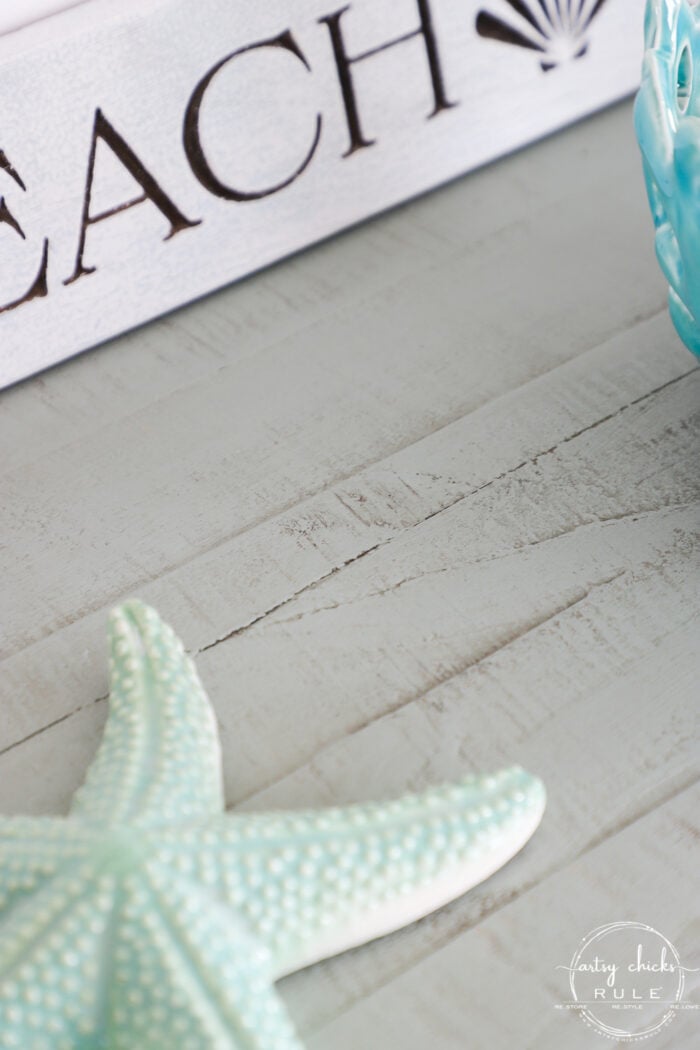 Plus the Driftwood stain added to that look too.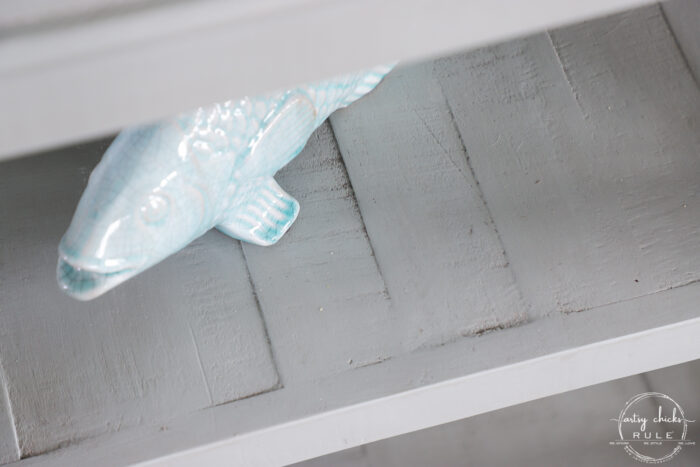 I love that it looks like this is how the aqua console table came to me. Looks like it was meant to look like this!
Don't you think so too? :)
Love the little imperfections.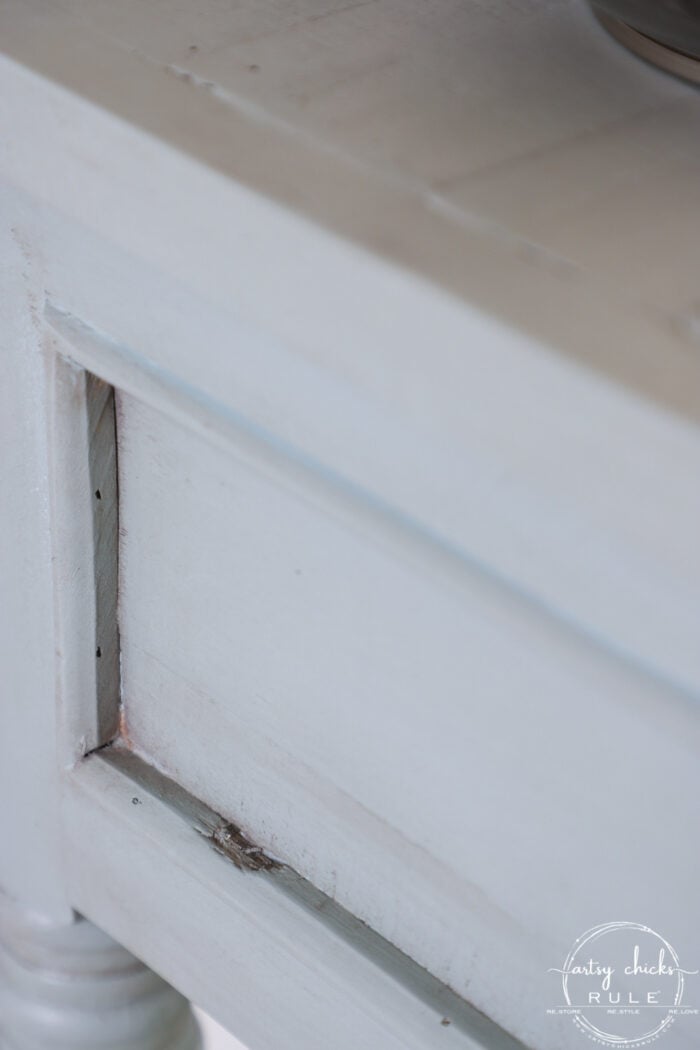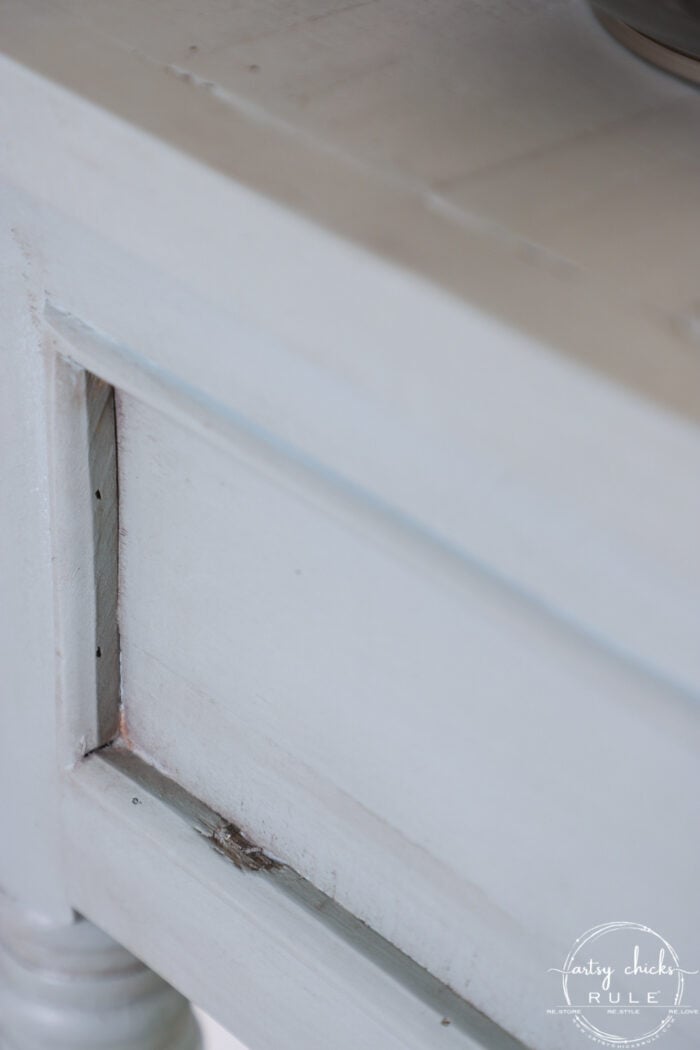 And new lamps!
I just found those at the OBX Home Goods the same weekend I painted the console. They are super cool…you can open the top (it's a cork) and put whatever you want inside. They came with the ropes which I love but I'm also going to add a large shell and maybe a starfish on top of the rope.
Won't that be pretty??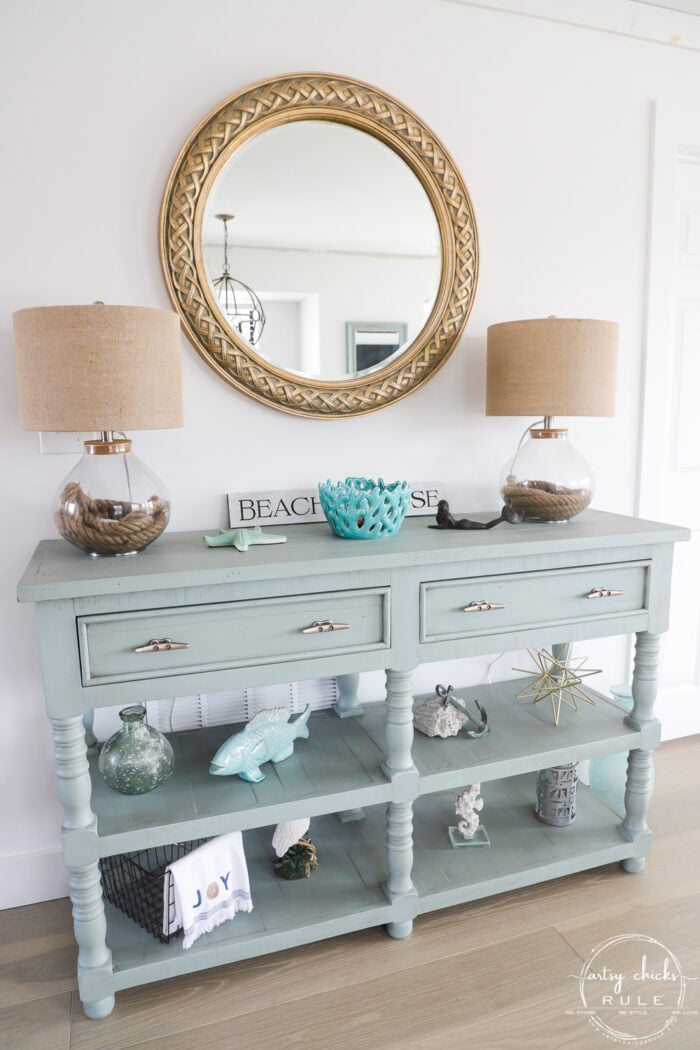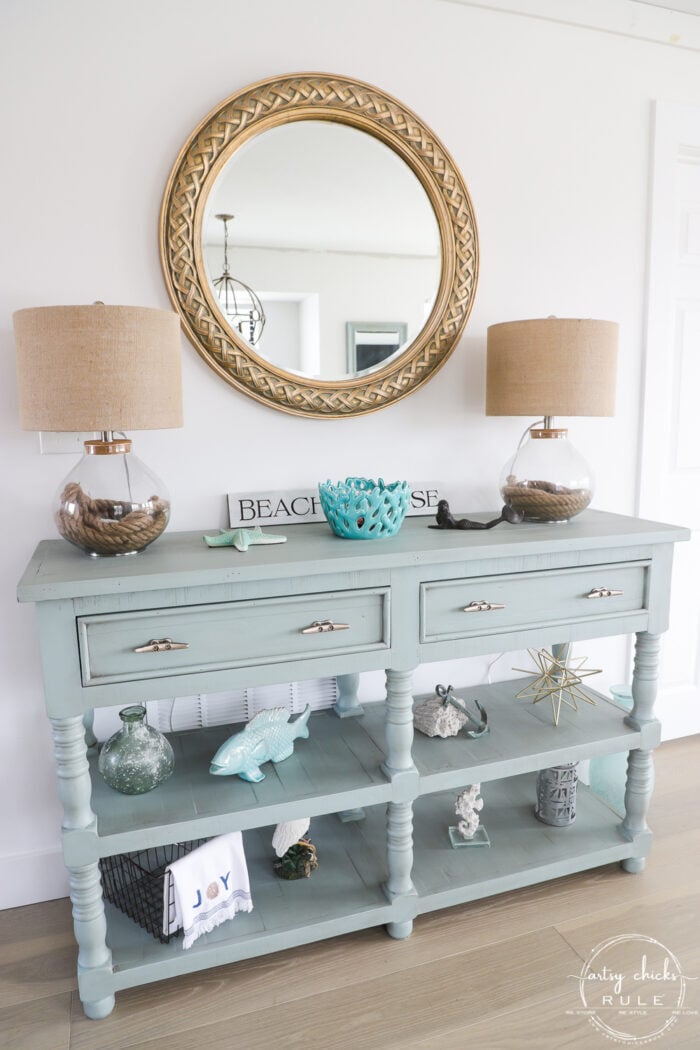 Don't mind all of the other decor on it because that is not how it will be when I finish decorating.
I really have nowhere to put "all the things" right now and I will also be changing things out here and there, etc.
OH! And the hardware…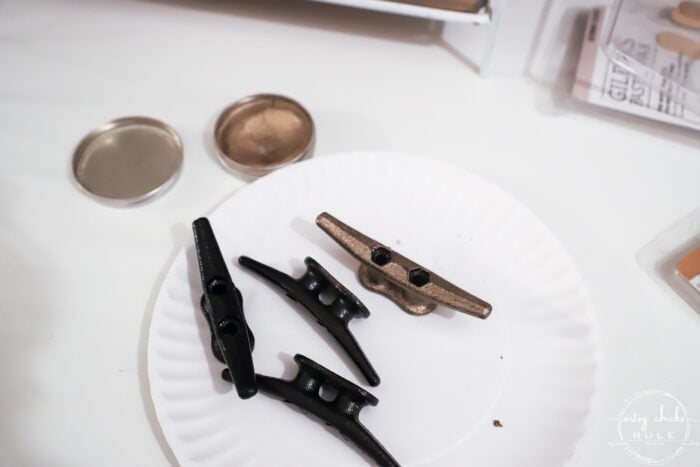 I used these cleats that I bought for our entry wall but they were too small.
I ended up keeping them figuring I'd use them somewhere…and I did. Yippee!
They are perfect for this pretty new coastal aqua console table.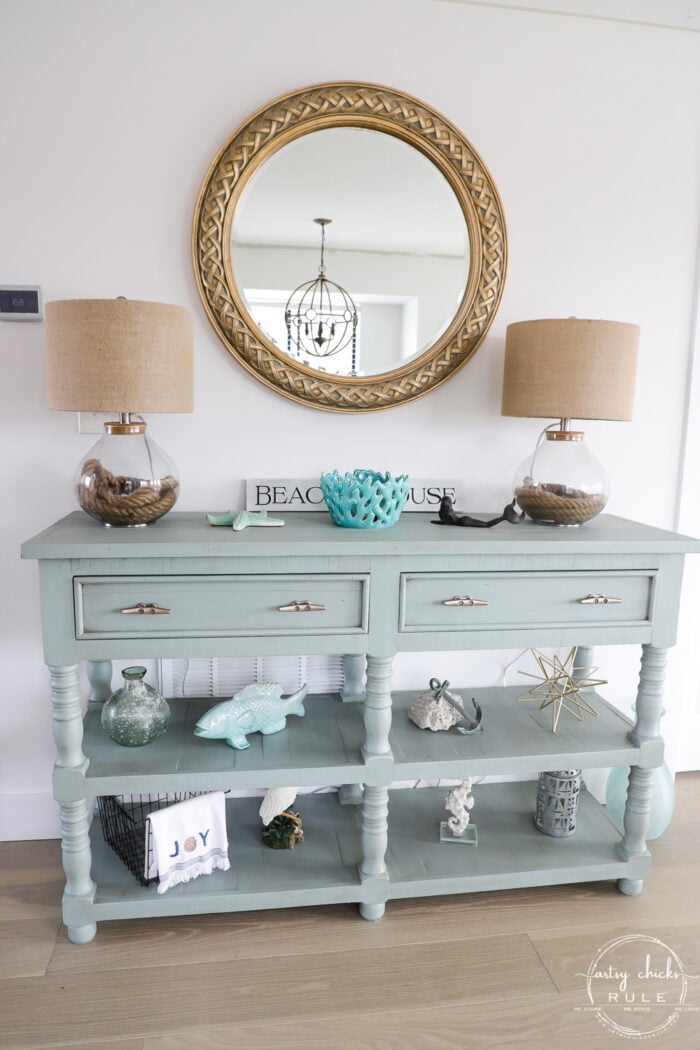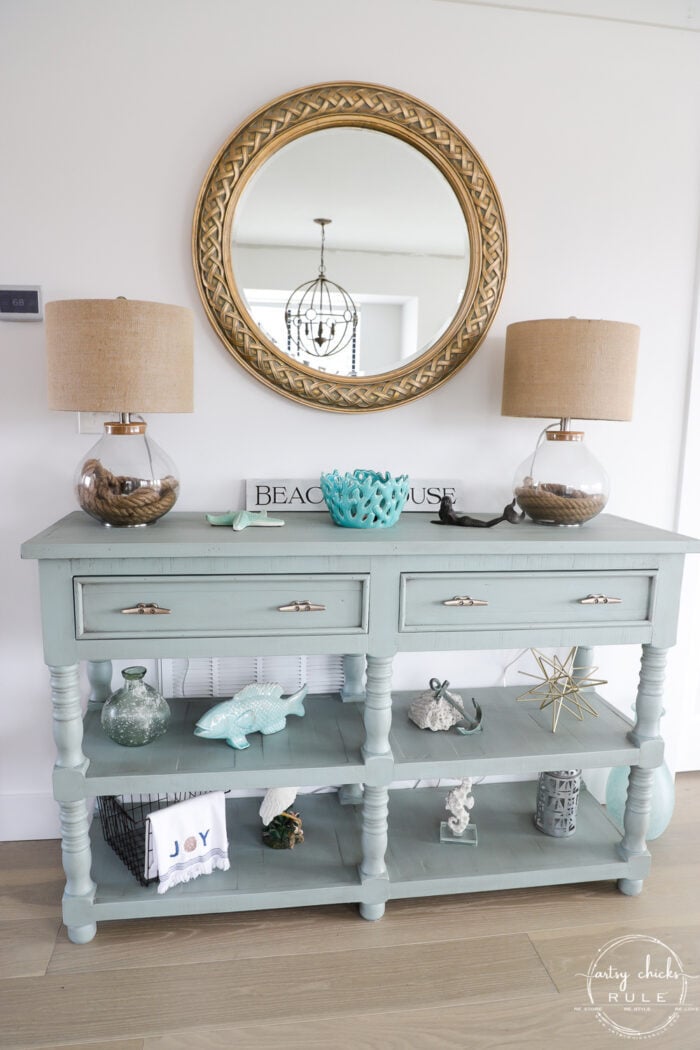 To change them from black, I simply rubbed some of my Gilder's Paste over them. (everything is linked in the box above)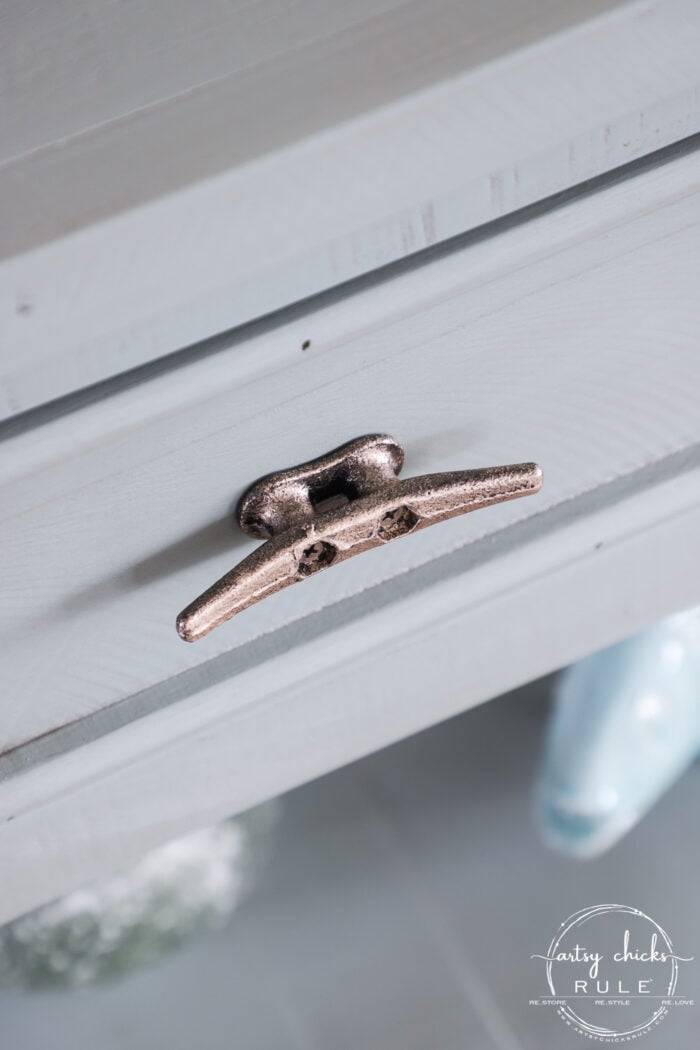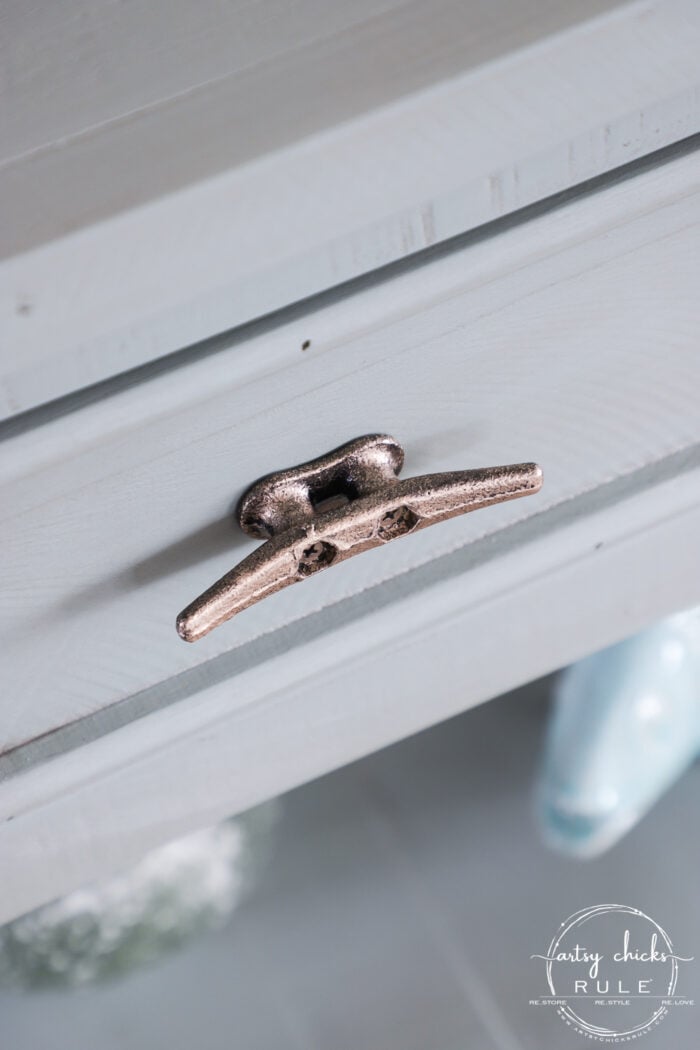 I wanted some of the black showing through, sort of like the wood on the console.
And I should mention that sheen. Just look at that finish. I LOVE that both the Fusion paint AND the Driftwood stain and finishing oil don't require top coats.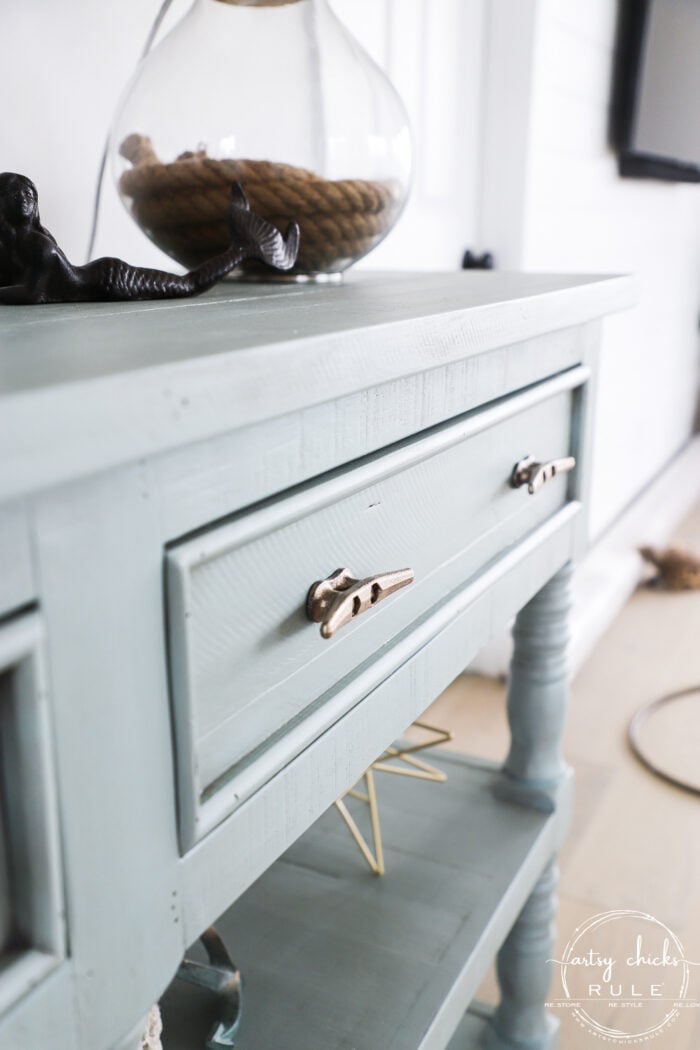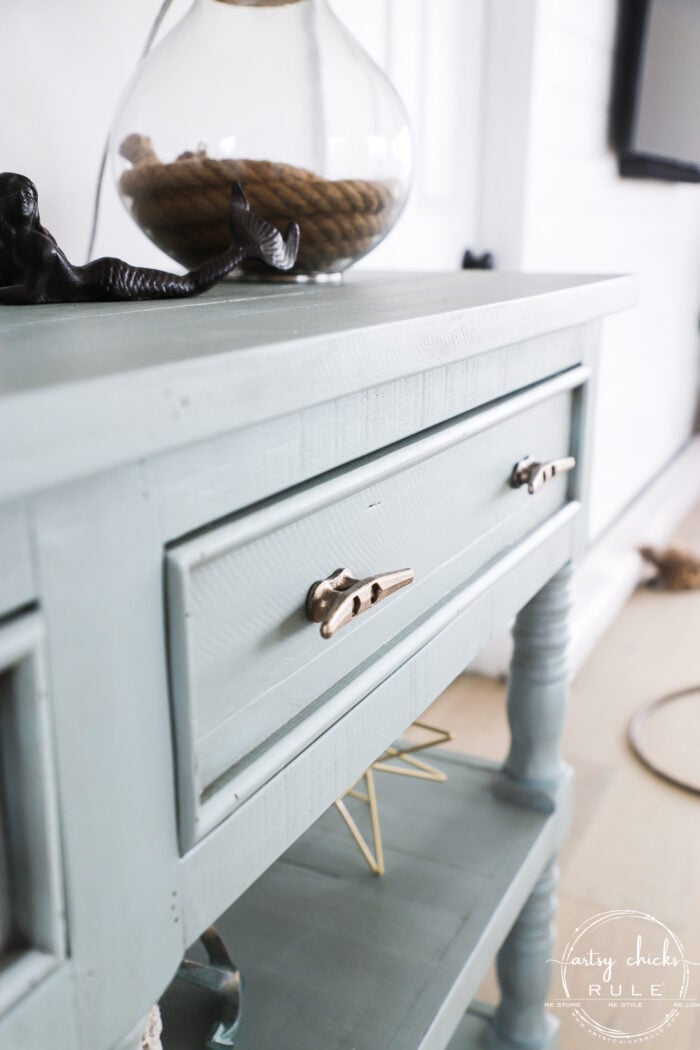 They both leave just a hint of sheen which is perfect.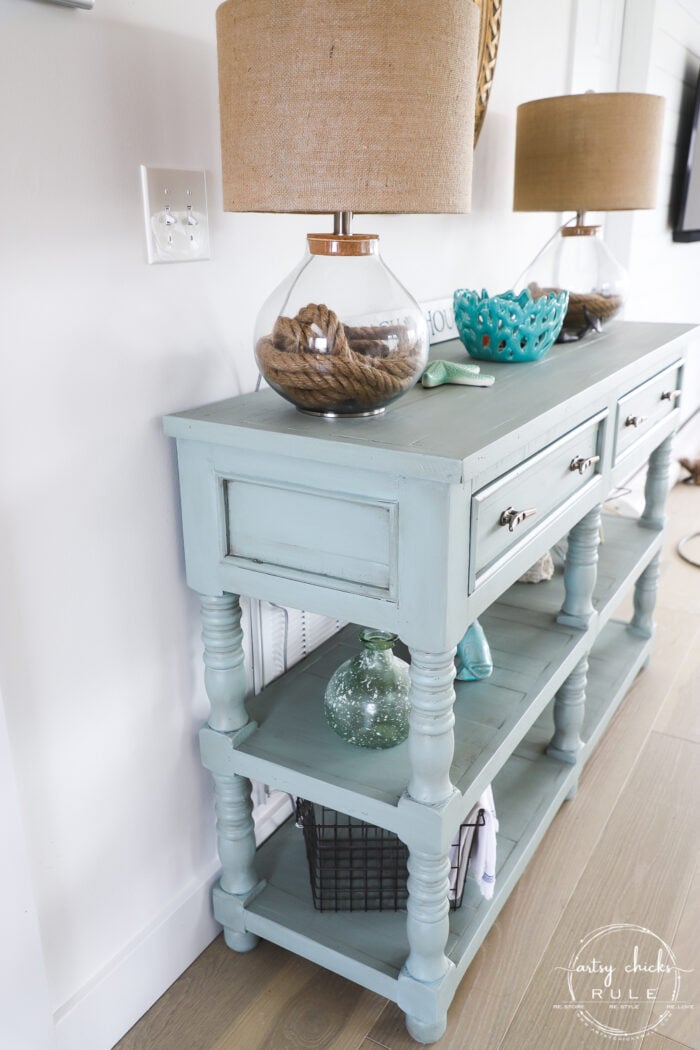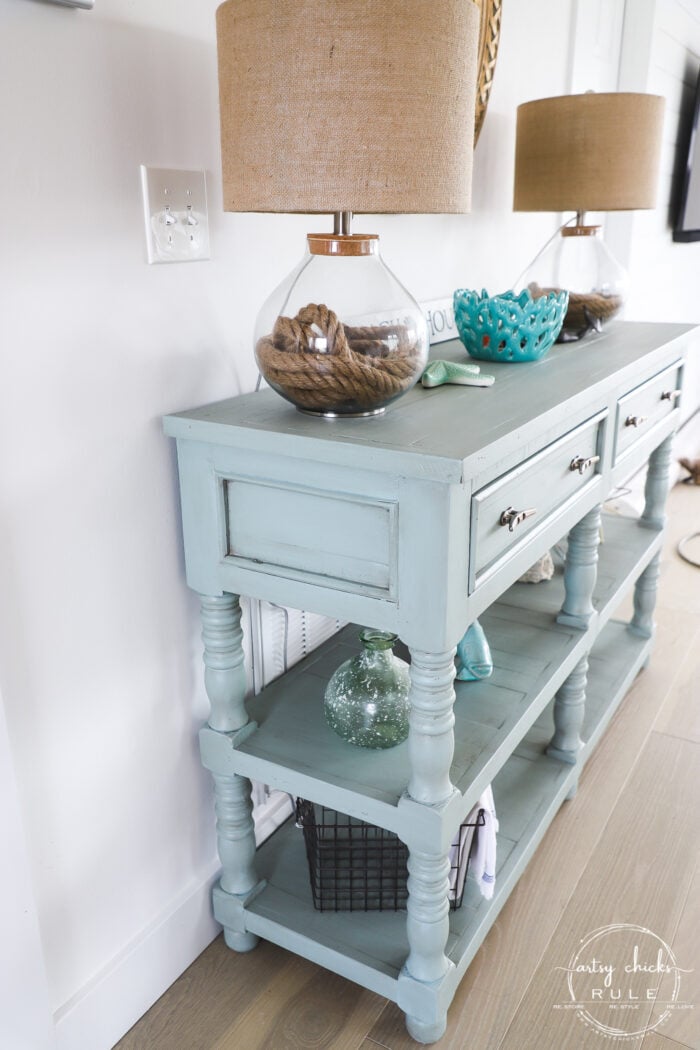 And I couldn't leave you without a little Ryder, could I?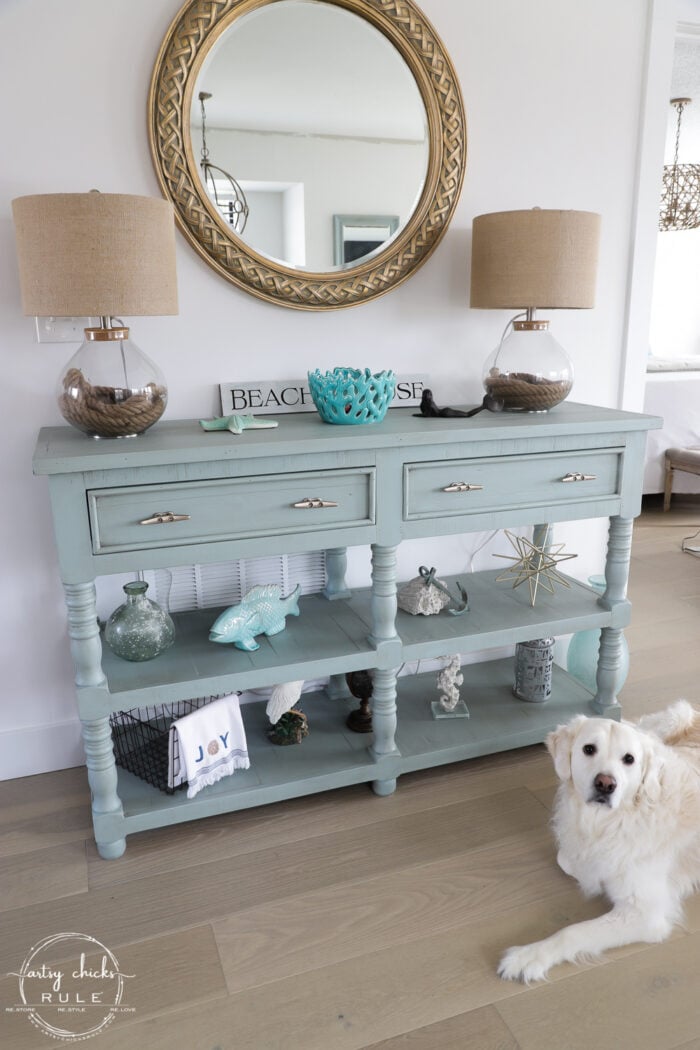 We call this the legless pose. Haha!! He's so funny.
He bends that leg back so far under him it looks like he's lost his leg. (it's usually so far under that you don't see any of his paw like you can a bit above)
PIN it to save it!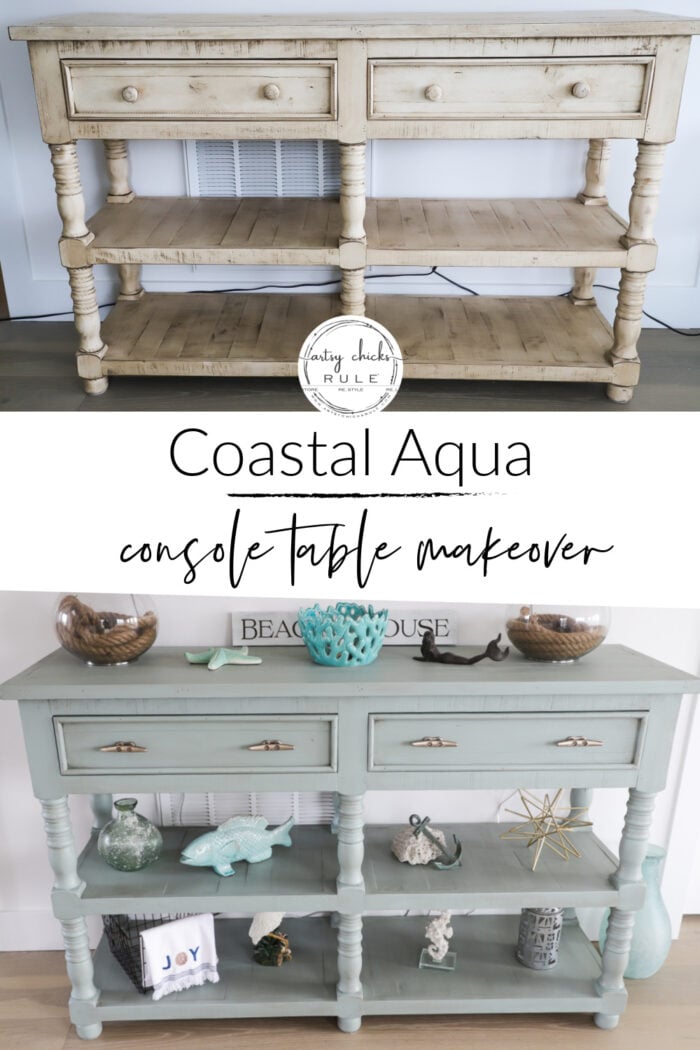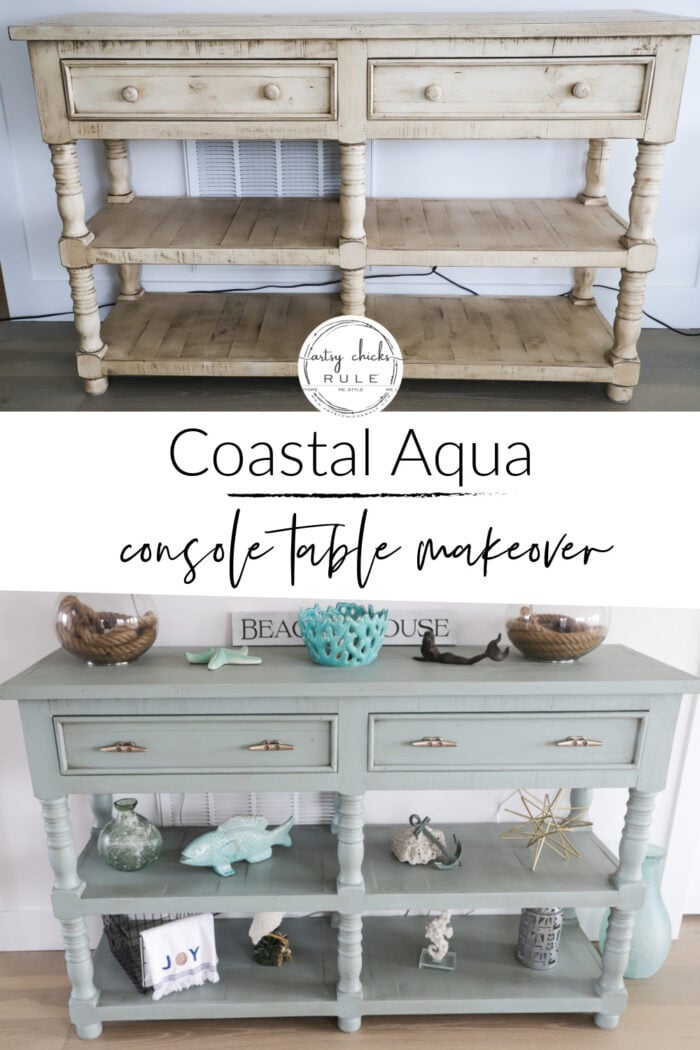 So, what do you think? Are you loving this Driftwood Stain as much as I am??
I'm hooked!! haha Really, I love it lots.
I am looking forward to trying it on yet something else soon.
Tried it?? Let me know what you think!
This $10 ReStore headboard is next…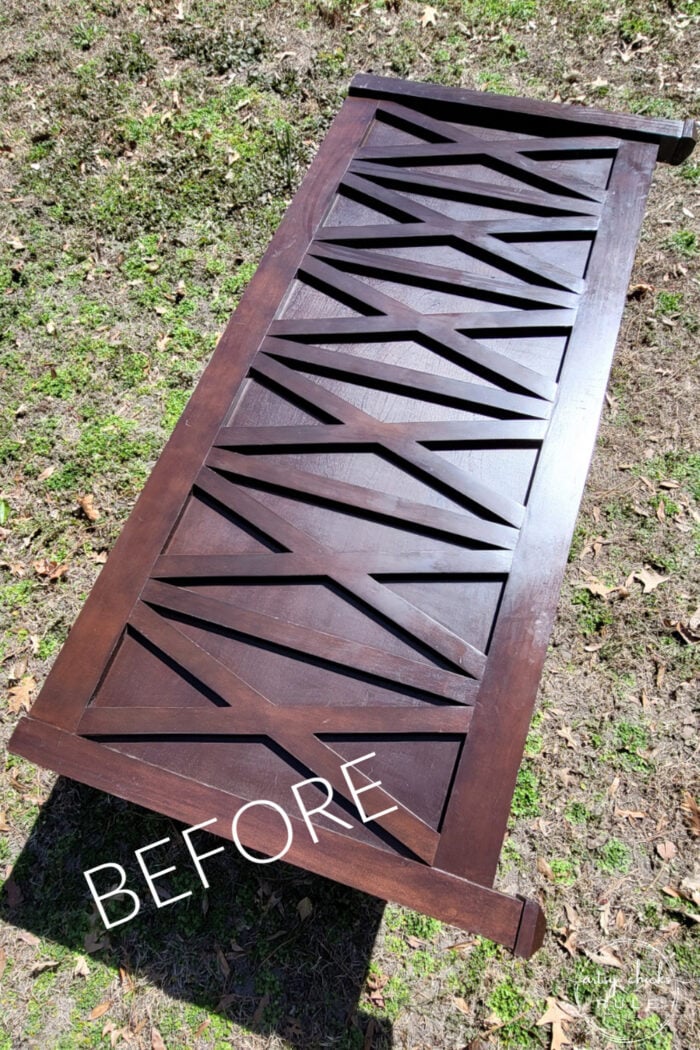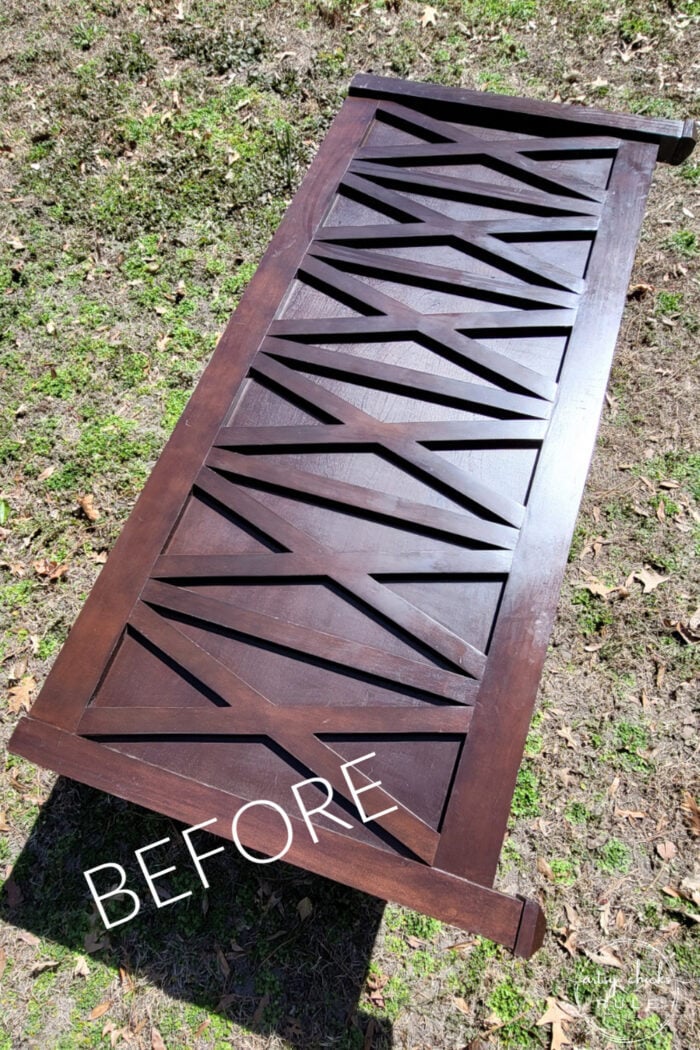 UPDATE!! See it now, here!
Have a beautiful and blessed weekend, my friends!
xoxo