March Giveaway (featuring The Cottage Shop – OBX!)
This post may contain affiliate links. Please see disclosures here.
It's time for another giveaway! One every month of 2021 – this month's is a little different!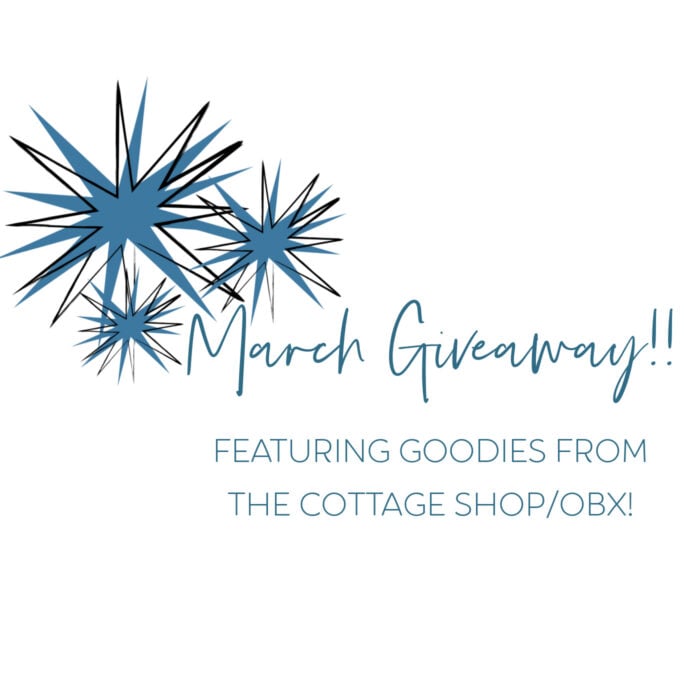 Hello sweet friends, guess what today is?
Today is March giveaway day! If you are new here, I have decided to do a giveaway every single month for the year. It's my way of saying "thank you" for hanging out here with me. Plus, I just love putting things together for you each month!
This month I'm doing something a little different. I usually do giveaways that are craft/paint, etc, related and sometimes decor/home.
BUT I thought it might be fun to receive some things just for you. You know, self-care and all that.
It's been a year…whew…going on two now, and some self-care would not be a bad thing at all. And neither would some happy mail on your front porch, am I right? Yep!
Truth be told, as much as I love putting together crafting boxes (which I totally do) I think I love putting together "pretty" boxes even more. You know, things like candles, jewelry, small decor items, personal items like lotions and such.
So much fun.
I had a ball picking these things out for you! 
Which brings me to where I shopped. The Cottage Shop in The Outer Banks, NC.
I just love that store.
They have such unique items and many are handcrafted too.
One or two of the items I got elsewhere (picked up earlier) for a future giveaway and decided to add them in with this one so I can do THREE giveaways this month instead of just ONE!
Yippee!
I am thrilled to be able to get 3 of y'all in on this one instead of sending it all to just one person. :)
(This giveaway is not sponsored by The Cottage Shop…it is a gift from me to you. I just love The Cottage Shop and I thought it would be a fun way to bring some of the OBX to you.)
Again, if you are new around here, we own a beach condo in the OBX that we have been renovating and why I thought it would be fun to bring a little of the OBX to you!
Ready to see what's coming?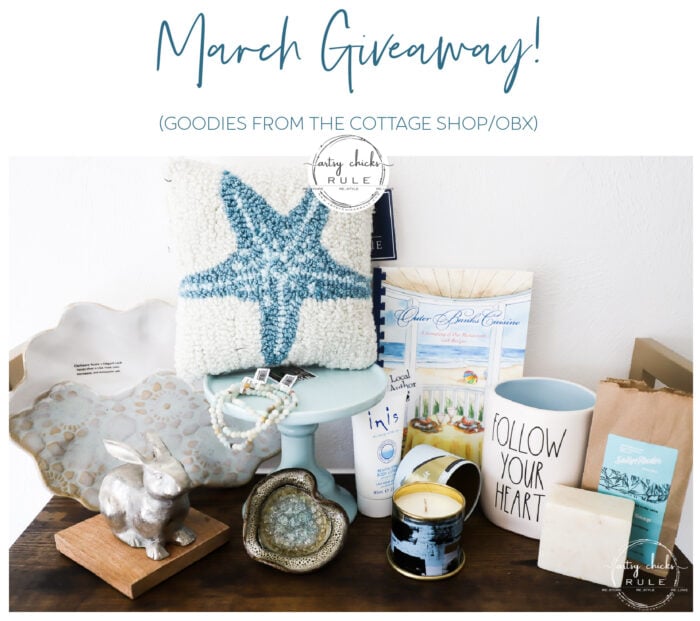 This is everything I am giving away. 
Two ceramic handmade pieces. (one small and one large)
Mini aqua "cake stand"
Starfish pillow
Outer Banks Locals Cookbook
3 beaded bracelets
Metal/wooden bunny
"Follow Your Heart" mug
Handmade oatmeal soap
"Fresh Sea Salt" candle
Inis -the energy of the sea lotion
And here is how I am grouping the 3 giveaways:
Giveaway #1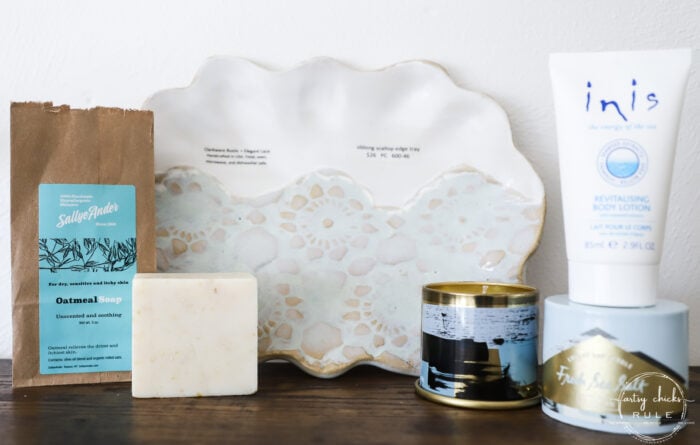 The handmade platter with "lace" pattern
Handcrafted oatmeal soap block
Fresh Sea Salt candle
Inis lotion
Giveaway #2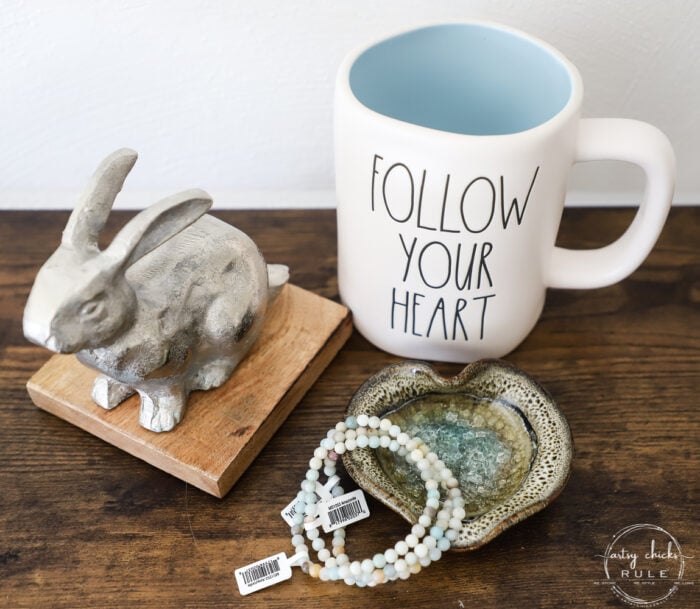 Metal/wood bunny
3 beaded bracelets
Ceramic "crushed glass" look heart-shaped dish
"Follow Your Heart" mug
Giveaway #3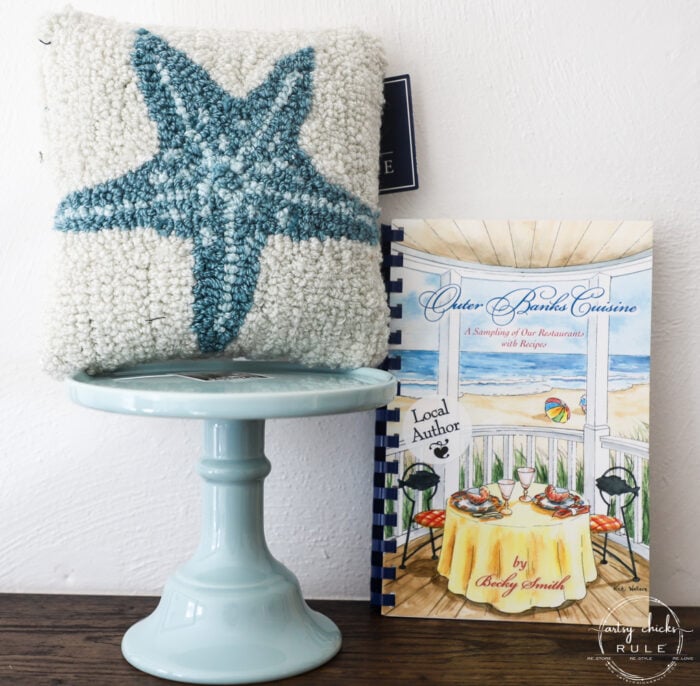 Small aqua and white starfish pillow
Aqua petite cake platter
Outer Banks Locals Cookbook
Here's how you enter:
To enter, just fill out the Rafflecopter below.  Enter all or as many as you like for more chances to win.
Once the contest is over, the Rafflecopter will choose a winner at random.
That's it!
(if you have trouble with the Rafflecopter box below, you can visit this link to enter instead, "March Giveaway")
Congrats to Karen C., Claire W. & Jenell H.!!
The giveaway ends Tuesday, March 23rd at 12:00am EST.
After which, one winner will be chosen at random and notified via email.
You will have 48 hours to respond. If not, another winner will have to be chosen.
You must be 18 years or older (and a US resident) to participate. Void where prohibited.
…………………………………………………………………………………………………..
So tell me, for future giveaways, which do you like best? Paint/craft supplies or unique/boutique-style "self-care"/decor/misc. for giveaways? 
OR do you like both? You know, mix it up a little?
Good luck, friends!
xoxo