Spring Bouquet Printable & Art
This post may contain affiliate links. Please see disclosures here.
Spring bouquet printable… perfect printable for totes, pillows, or just pop it in a frame and go!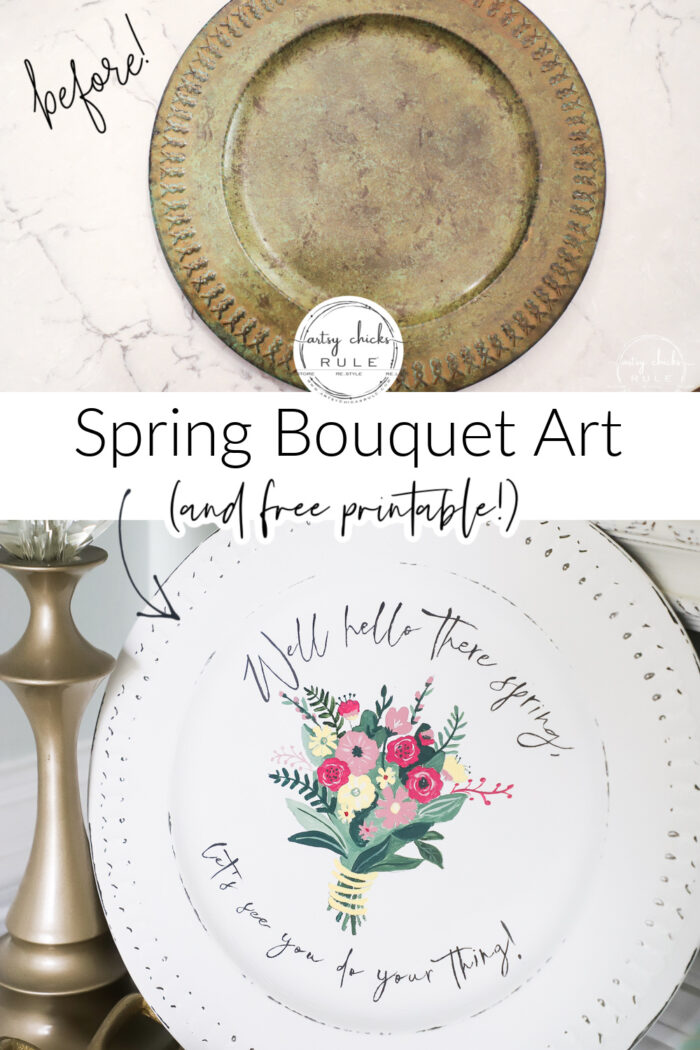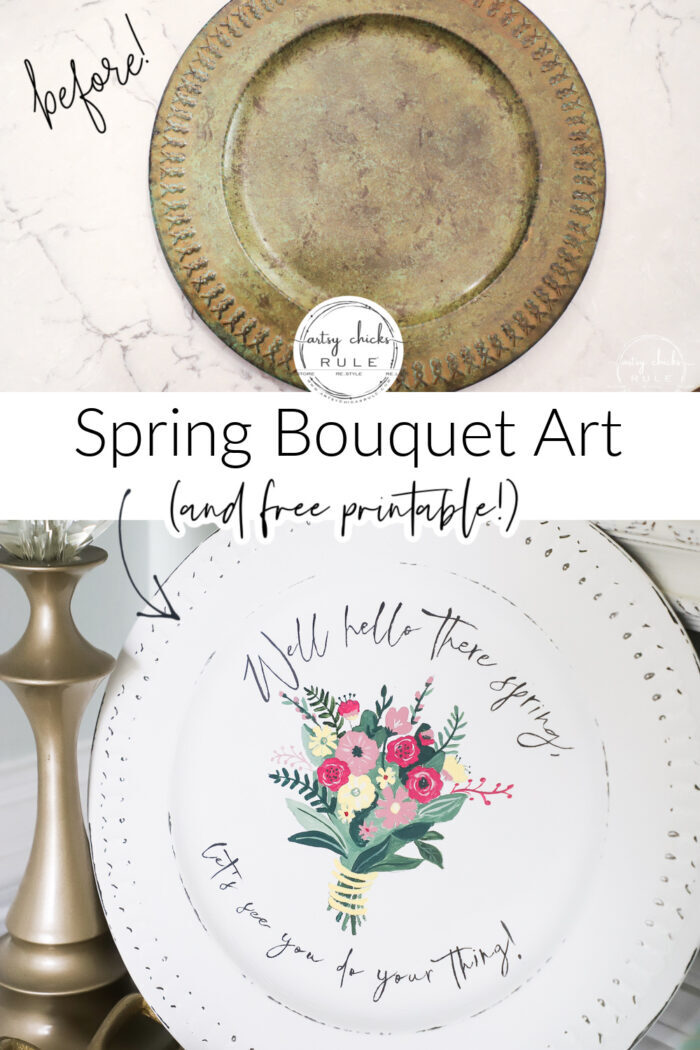 Hello beautiful friends!
Have you entered my latest giveaway? March's giveaway that is.
If you missed it, hop on over there right now and do it! (it's a fun one this month and with THREE winners this time…yippee!)
>>> March Giveaway
I had planned to share our headboard for our master bedroom…but…it didn't get finished. Ha! What's new? lol
But it's getting there. I got stuck on exactly what I was going to do with it. In case you don't remember, I found two nice wood headboards at the ReStore a while back for $10 each. What?! Yep. So I knew they had to come home with me because hey, ten dollars. And I need one for the beach house and here.
They aren't exactly the style I'm after so that is why I'm changing them both up. (and both completely different)
So stay tuned for that. I'm working on it and the dining table for the beach.
………………………………………………………………………………………………………
Spring Bouquet Printable & Art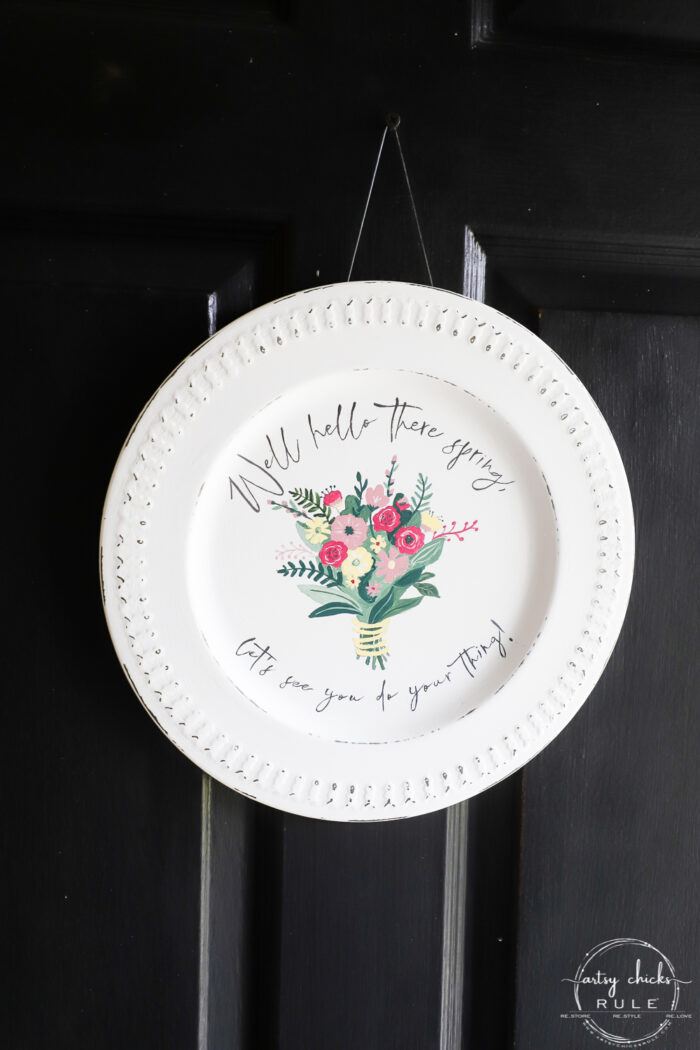 Since we are all ready for spring (I know I'm right ;) ) I thought I'd share a fun little craft and free printable with y'all.
Now, let me preface this by saying that the printable is SUPER easy because all you have to do is print it out and throw it in a frame.
Or you can do like I did and transfer it to something else and paint it.
Because I don't like easy apparently. haha!
But I do like getting my crafty on and this was actually fun.
So…if you want to have a little crafty fun, pull your craft paints out and get painting.
BEFORE…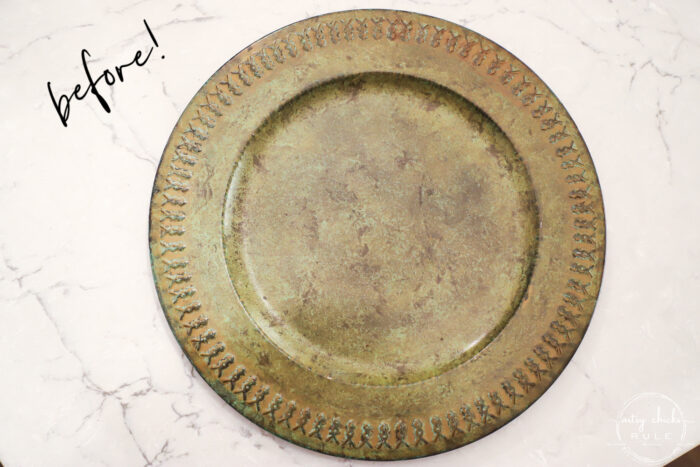 Obviously, as you can see, I decided to paint it onto an old thrifted metal platter/charger.
First, let me show you the printable I created for you.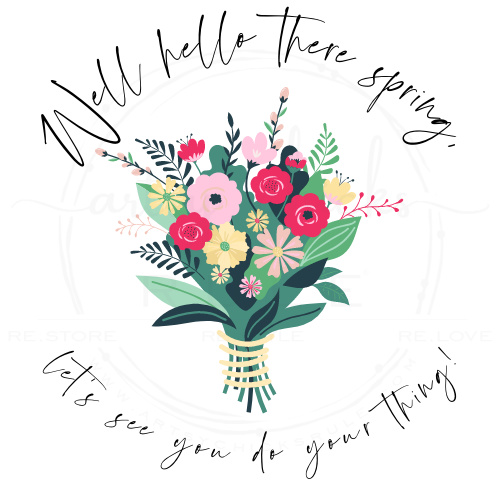 If you are already a subscriber, you can click here, enter your password (it can be found near the top of all my emails to you), and download this or any other graphic I've created over the years. (over 100!)
If you aren't yet a subscriber, you can click here or the pink box below to become one to gain access.
I also have a straight version (not curved) you can download too. You can see it at the bottom of this page.
So, I began by pulling out my favorite white chalk-style paint and gave it two coats.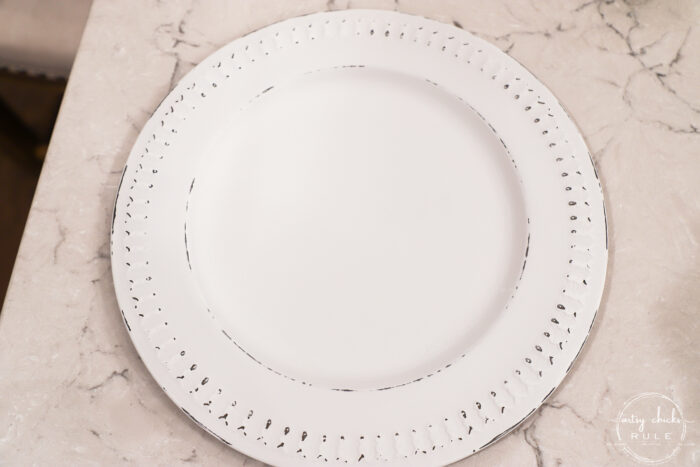 I sanded it to lightly distress it.
Then I printed out the spring bouquet printable to the right size.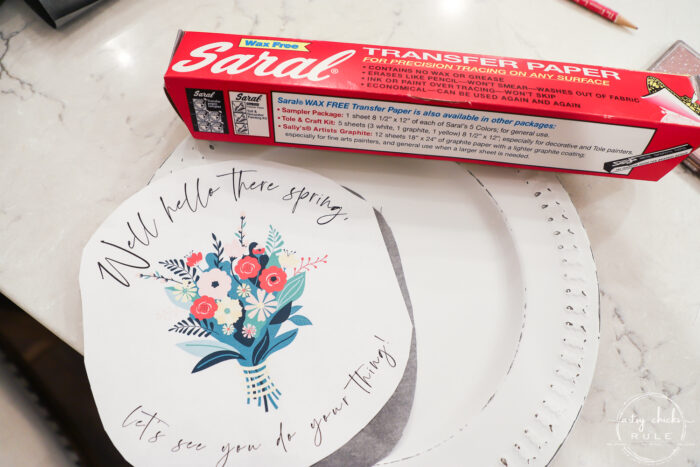 I used the Saral transfer paper that I've had for forever to transfer it.
It's one of the transfer methods that I share in this post all about transferring graphics >>> How To Transfer Graphics
You can find the items I used here…
MATERIALS SOURCE LIST
Craft Paint (whichever colors you like)
Sealer (any you like)
All you do then is take a pen (I find a pen works better than a pencil when using this transfer paper) and trace all the things.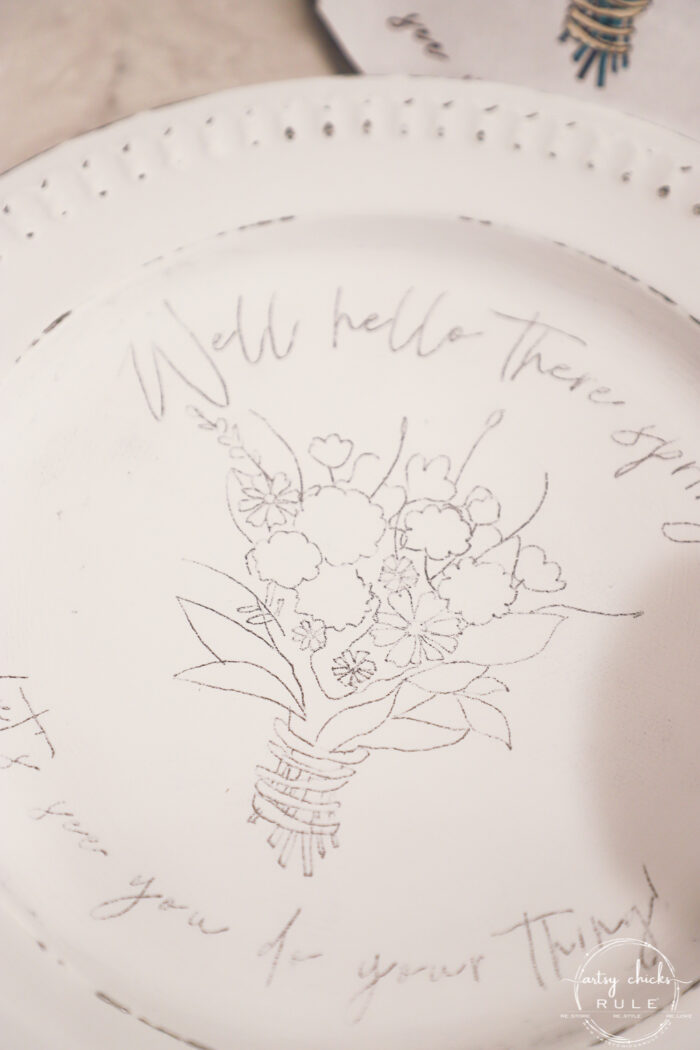 You might notice I did not draw all the flower and leaf parts in. I just figured I'd paint in and over anyway.
I just basically needed the shape, outline, etc., so I'd know where to paint.
Then I set the printed page out to go by as a guide and got to the fun part…painting!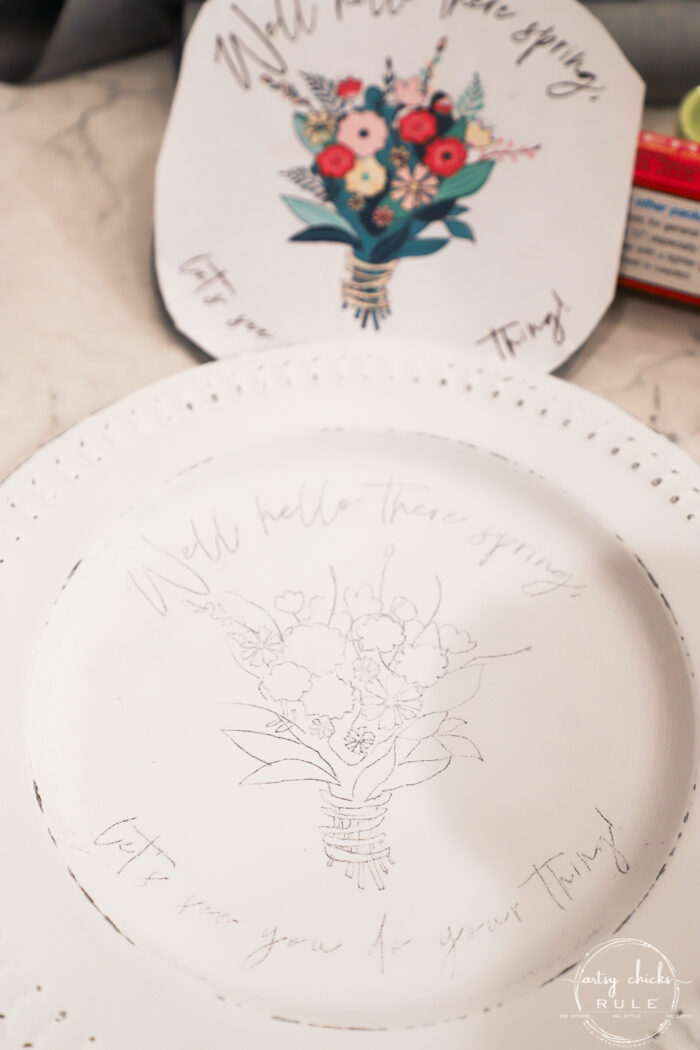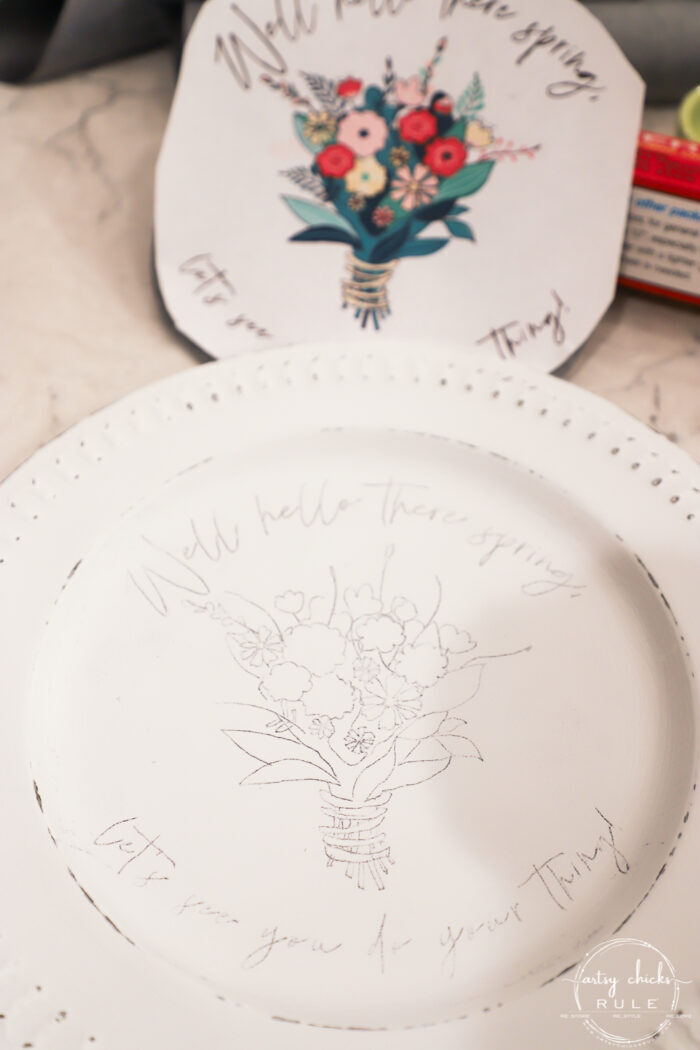 I decided to start with the flowers since I figured if I messed those up I wouldn't even bother with the lettering.
Boy was I wrong! ha! The lettering was a bit of a bear…mainly because I chose a very thin script. Oops.
That's a little tougher to do but it is doable. (don't be discouraged…give it a try anyway!)
So back to the colorful spring bouquet…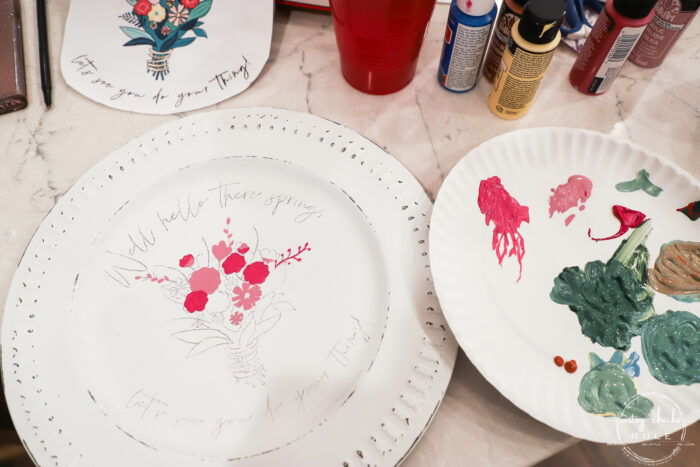 I put the colors on a paper plate that I planned to use and started with the darker flowers. (and mixed up a few shades of green for the leaves)
Then I decided I needed to do the greenery that was mostly background.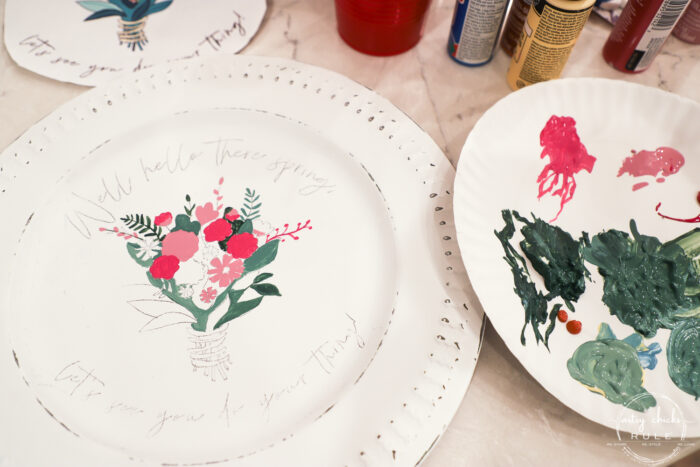 It's sort of like paint by numbers, right?
Adding in the yellow now…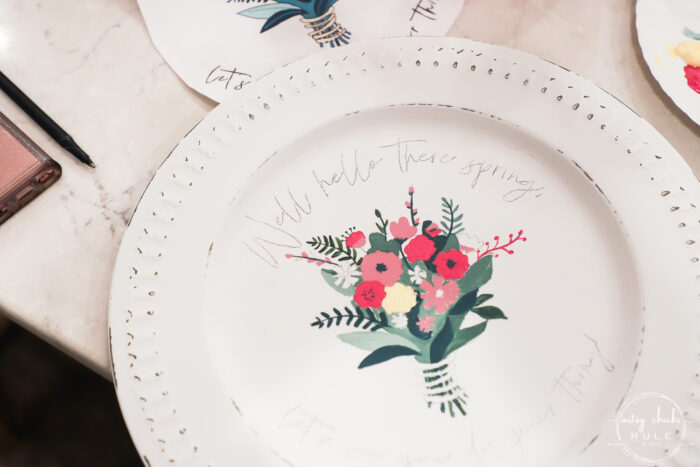 Lettering is next. You need really thin brush tips for this. (I linked some above)
And done!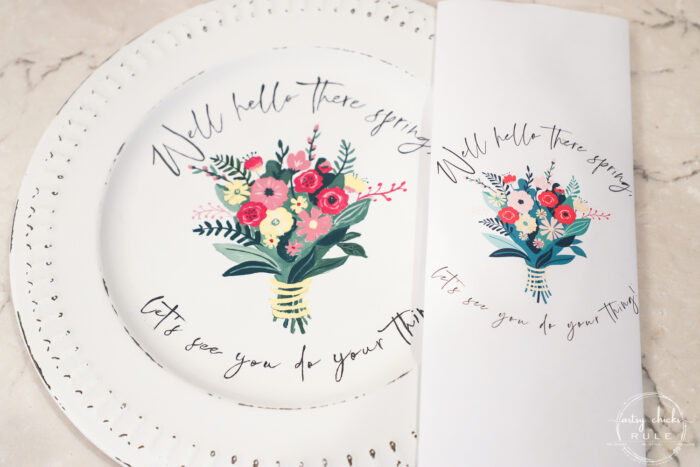 The painted version next to the printed one.
I haven't painted any crafty thing like this in a long while. (except the Blue Heron I painted recently which was a little different type of painting than this)
And it was really fun! I just want to sit and paint all day. lol
I didn't paint the back (I usually paint it all) this time. But this is how I attached something to hang it by.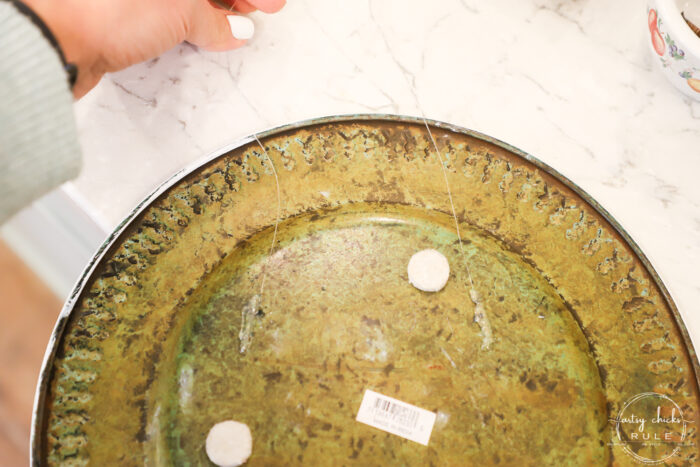 I used fishing line (my favorite to hang and be "invisible") with hot glue.
And then hung it in the middle of this wreath I have on my front door.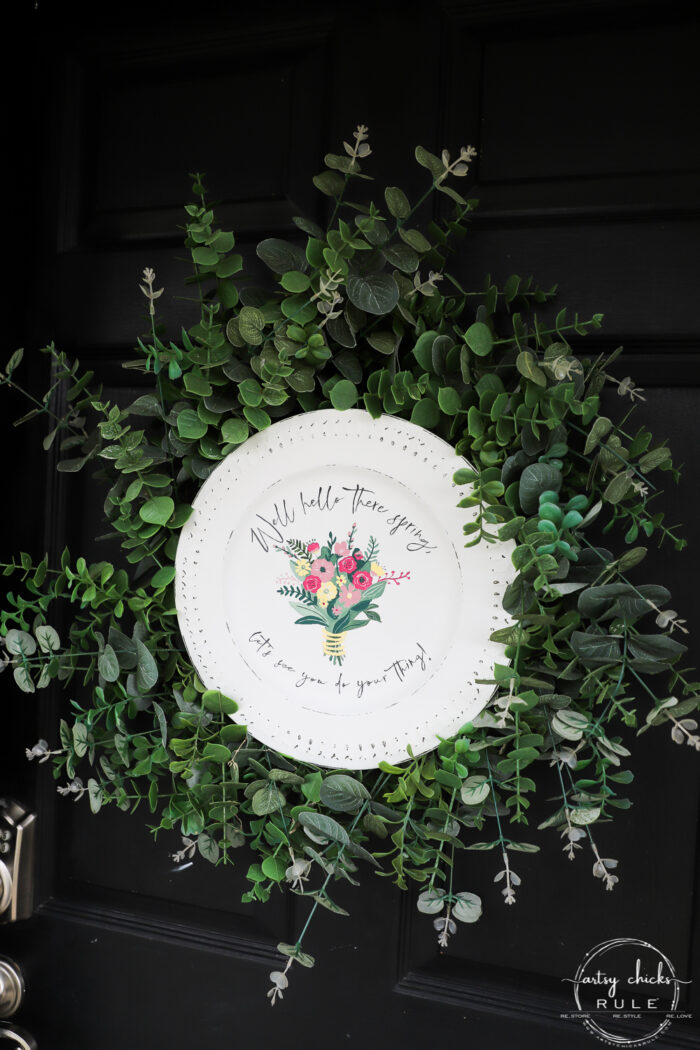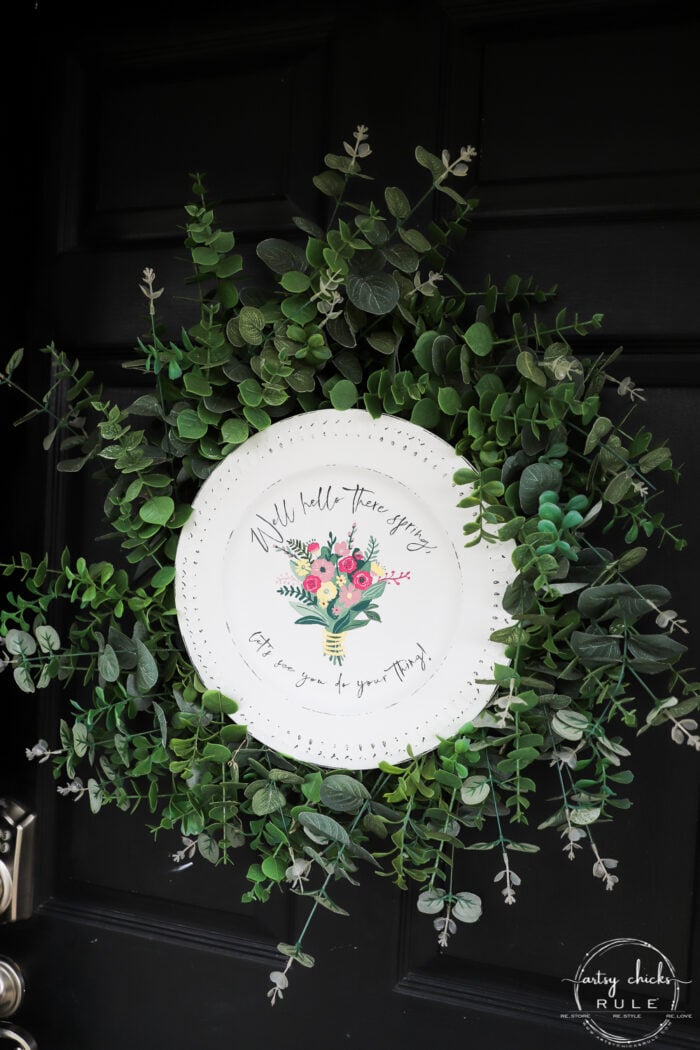 I love the colorful spring bouquet with all the green around it. So fun!
Then I placed it here on the little table in our foyer.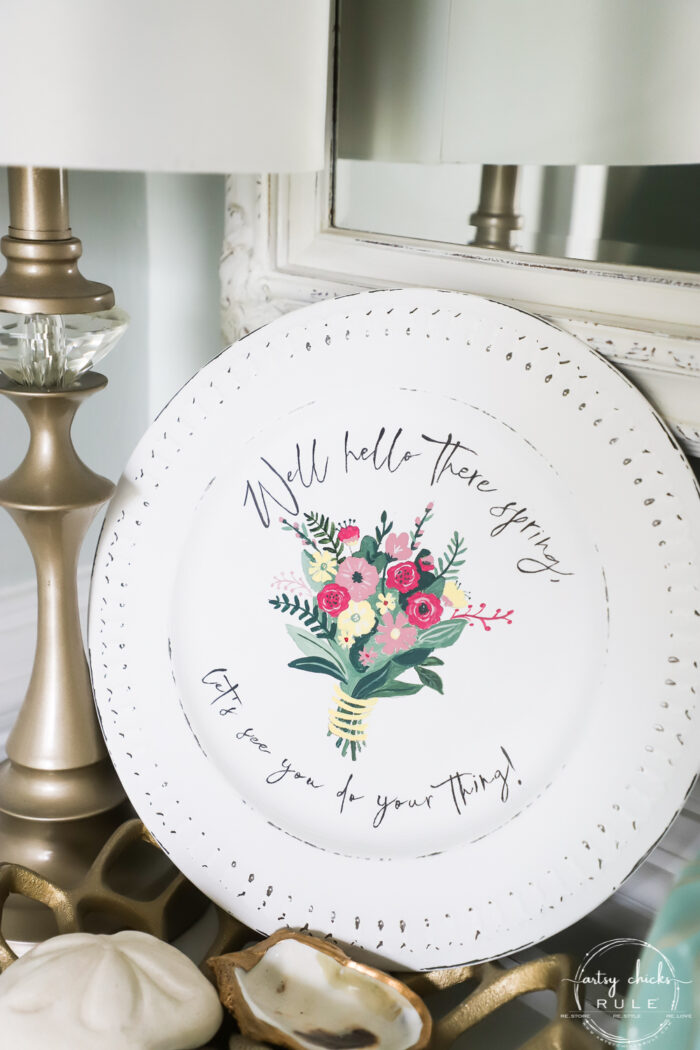 And even tried it in the boxwood wreath hanging on the mirror in the kitchen.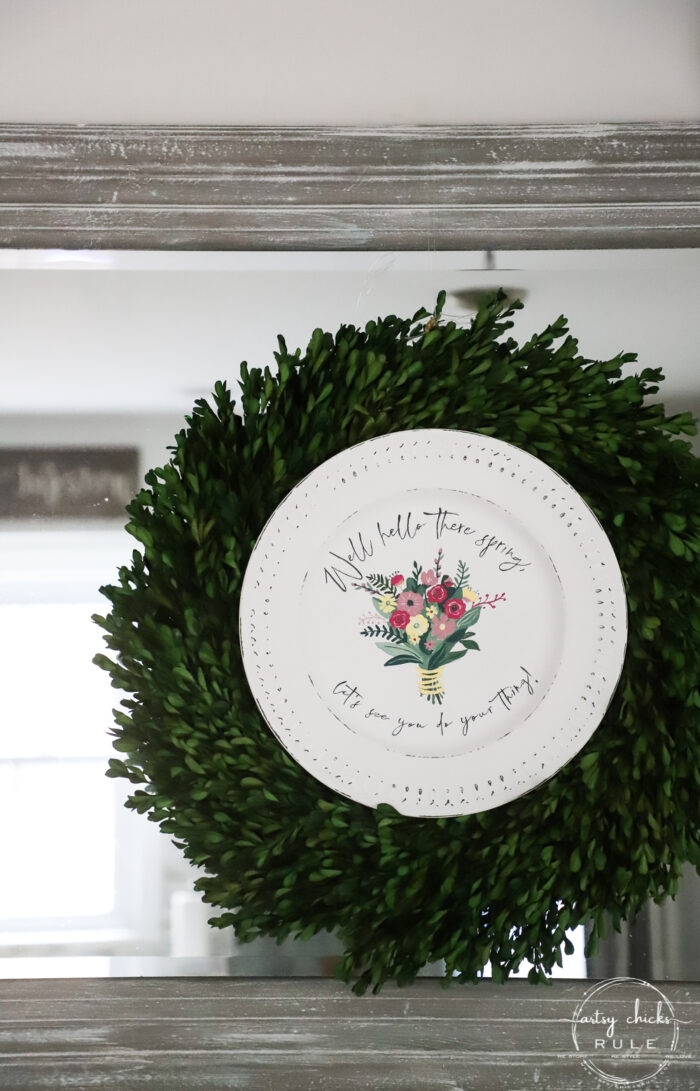 Which was a huge no because on this wreath it just looks like a plate hanging on the wreath. haha
Maybe that's how it looked on the other wreath too but I liked it there with all the crazy stems poking out around it.
Anyway, just a few ideas of how you can use something like this.
You can also transfer it to anything like a little box, wood sign, or even a cloth tote. (that'd be cute!)
Here are a few more spring printables for you:
Need even more ideas on how to use these printables??
Check out this post that I created for just that. Bunches of fun ways you can use free printables!
>>> Creative Ways To Use Free Printables
PIN it to save it!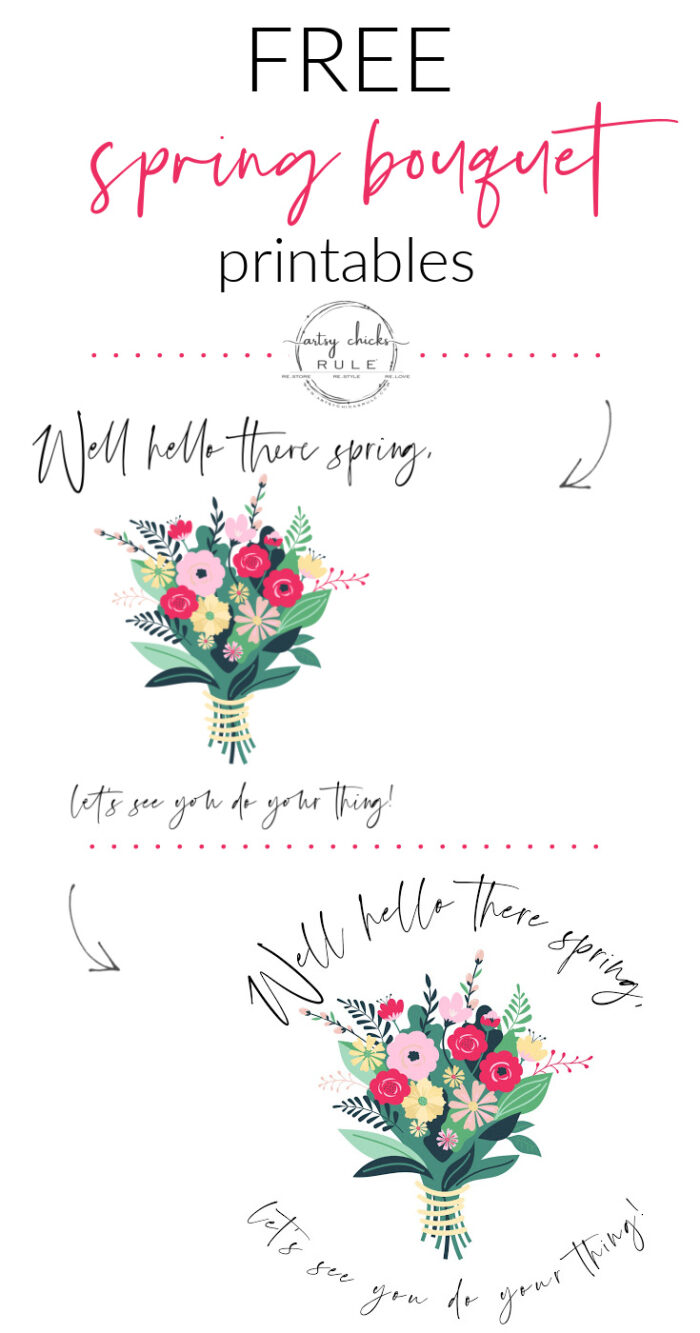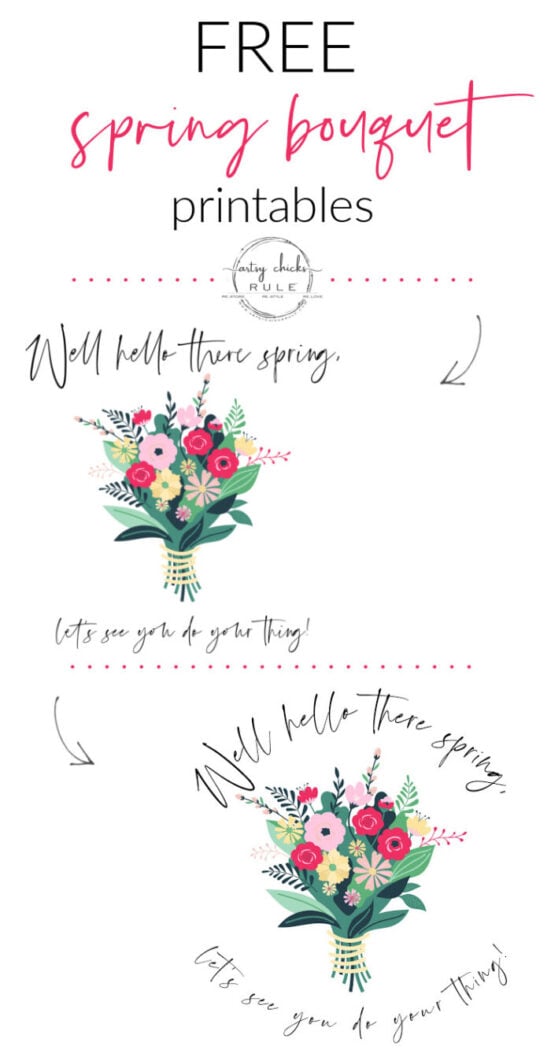 I hope you enjoy them! Happy almost spring!
xoxo