This post may contain affiliate links. Please see disclosures here.
I'm sharing my step by step tutorial on how I painted this DIY Blue Heron painting! (and with an $8 thrifty find too!)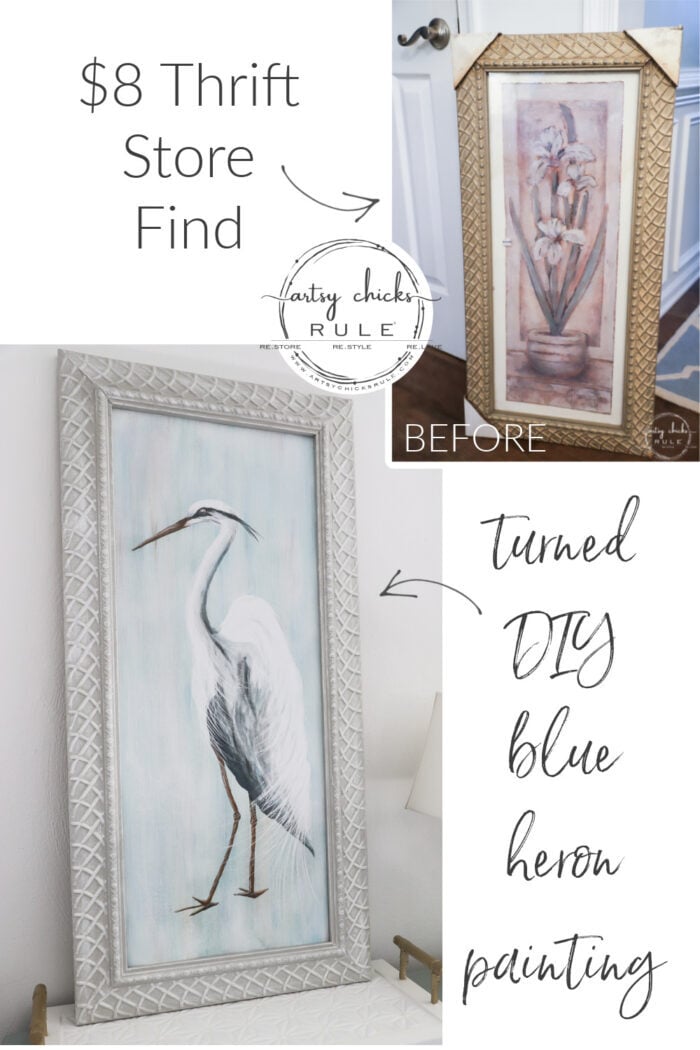 Hello friends!
It's Trash to Treasure Tuesday, yippee! And February! Which just means it's that much closer to spring, hallelujah!
It also means that it's my birthday month and…today is my birthday. :)
AND since it's my birthday, I'm planning another giveaway! (I'm planning one every month for 2021 anyway but thought I'd call this one my birthday giveaway)
Since today is trash to treasure day I'll be sharing the giveaway on Thursday. So, if you are not a subscriber yet, be sure to click here to become one so you won't miss it! (or any of the others I plan on doing this year)
But first, let's talk about today's fun new project.
DIY Blue Heron Painting
Y'all… I have been SITTING on this project for years.
I am not kidding at all.
I bought this framed print from the thrift store (for $8) several years ago. (I don't remember exactly but I've had it a good long while)
AND I even knew exactly what I wanted to do with it when I found it.
Paint a blue heron on it.
But I never did it.
Why? Because I was hugely intimidated and just kept pushing the idea to the side and doing other makeovers instead.
Yep!
Even though I tell y'all all the time to just do it. I didn't. lol
But sometimes you get a push to do things…in the form of inspiration or uh oh, I don't have anything to share for our trash to treasure Tuesday post and I'm outta time! haha
That's what happened to me.
I am working on a new project with a new product and it's taking more time than planned.
And I didn't really have anything handy to makeover quickly on Sunday to share today.
Until I spied this old framed print sitting in the corner of our garage.
I thought, okay, I'm doing this.
But I better let the girls know it might not work out for me this month. lol
Which I did.
Anyway, as you can see, it worked out, so here we are.
Here's how it looked before…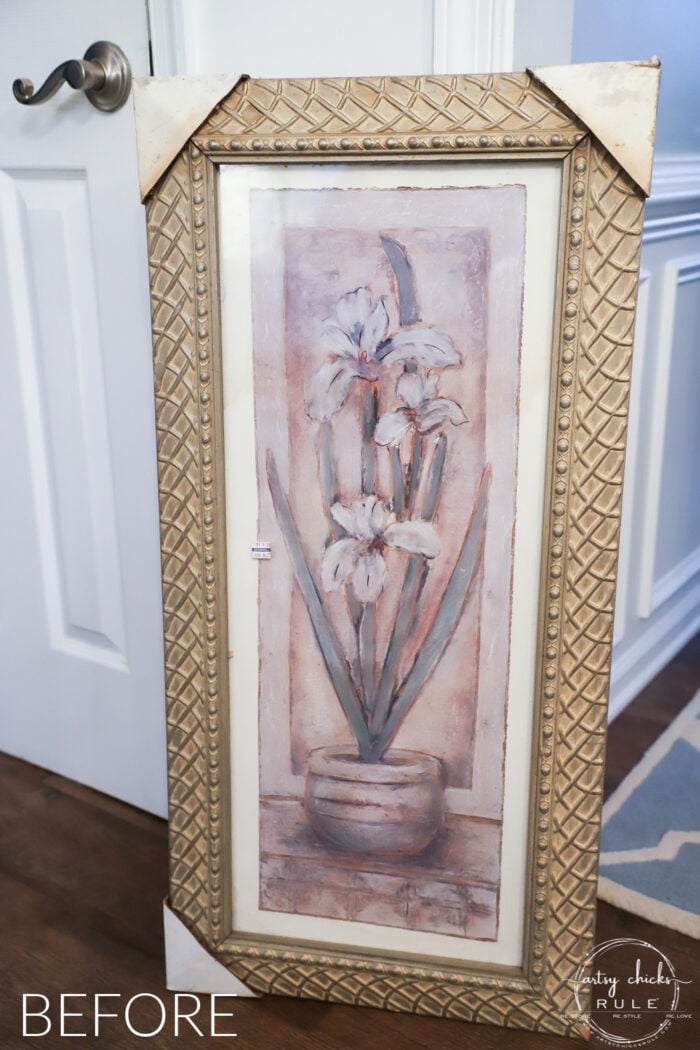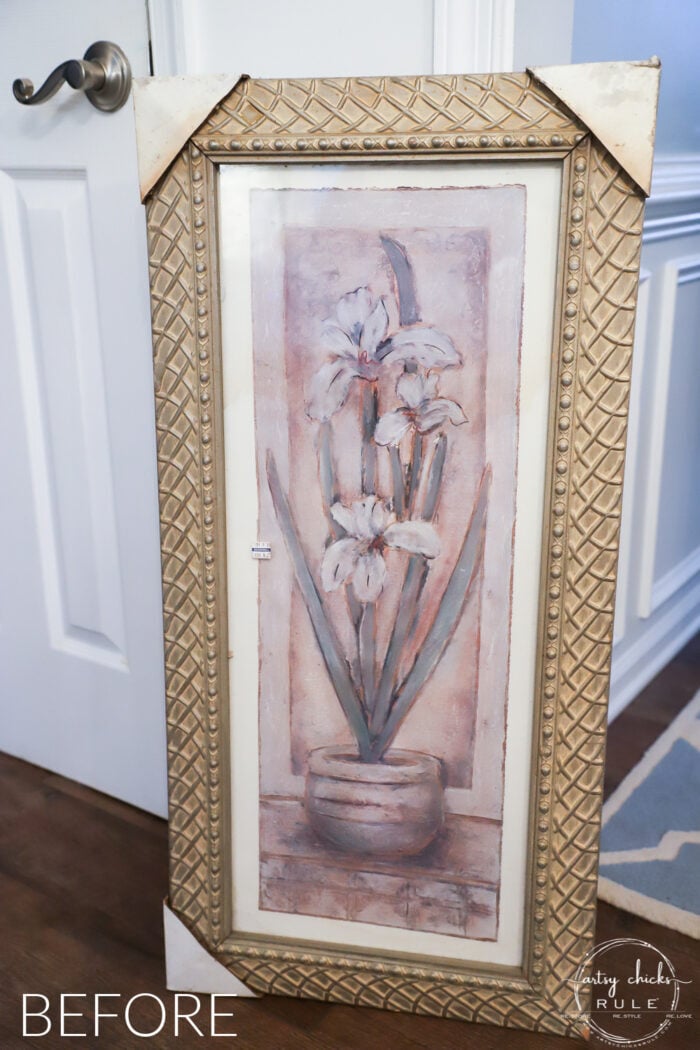 No one had ever even hung this, so almost like new.
But look at that frame. It's perfect for the coastal vibe I was going for too, right?
Now, before we get started, let me preface this to say…
I am not a painter. Well, of art, that is.
I do love to pencil sketch and have done that many times over the years. But even that has been a while since.
Painting, like this, is very intimidating to me. I struggle with it. Drawing….I love drawing.
But all the paint shading, colors, and making things look "alive/dimensional" or whatever, I struggle.
I can pretty much draw what I see, to an extent.
Drawing (or painting) what's in my brain, not so easy for me though.
I really, highly, admire those that can do that.
So I figured, I will take a look around the web and "paint what I see".
I found a few photos and paintings of blue herons and gathered different elements of each to paint on mine.
I think it turned out pretty good! I am shocked. haha
But the body and feather area need some work… struggled hard with those.
I'm saying all of this because…
I want you to know that I am NOT a painter and tried anyway.
And I want YOU to try if there is something that intimidates you. I want you to try anyway.
Because you will never know until you DO try.
That is why I am here and what I hope to do is…to inspire you.
So go be inspired and make all the pretty things. Do it scared and intimidated and you might just be surprised at what you can do!
And…here is the painting…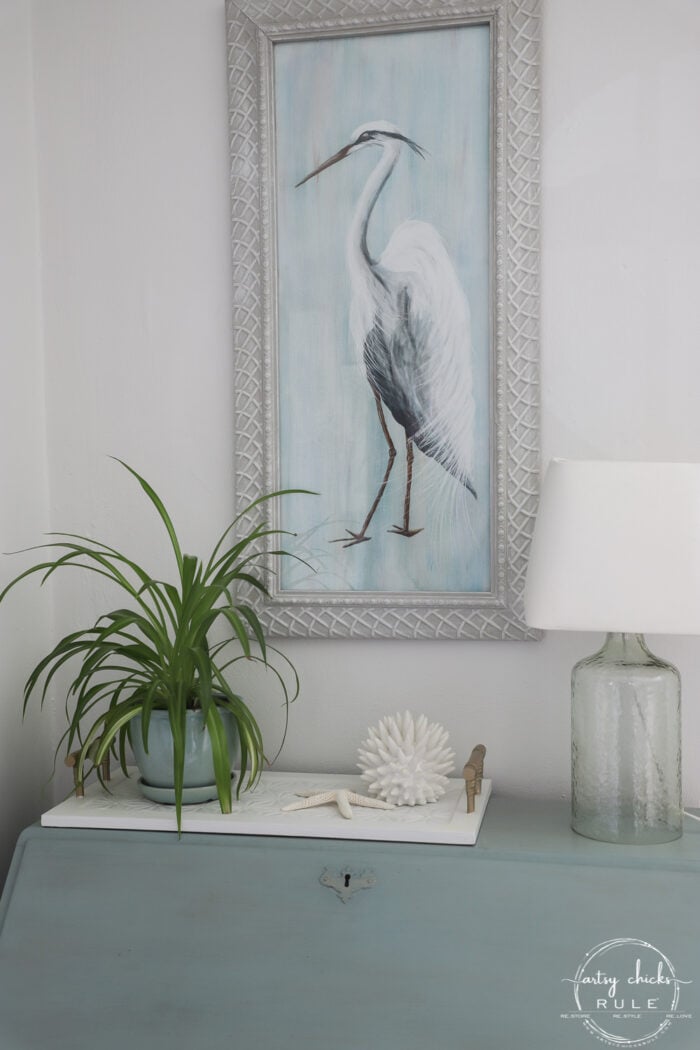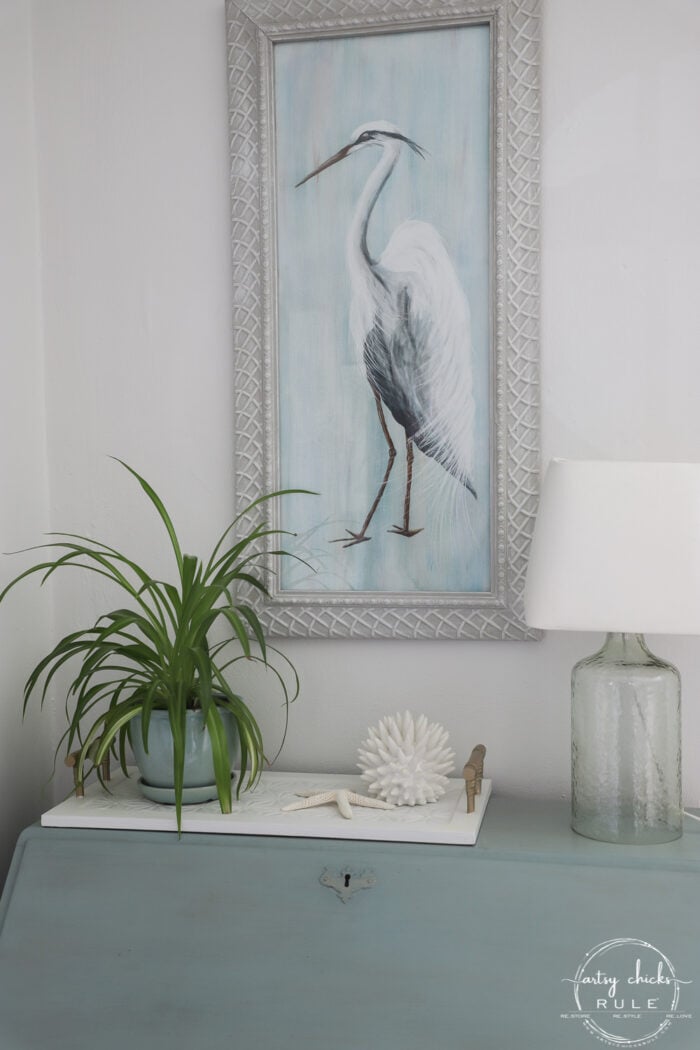 Not perfect, not artist quality, but I'm happy with it.
And I'm pretty proud of myself for finally doing this.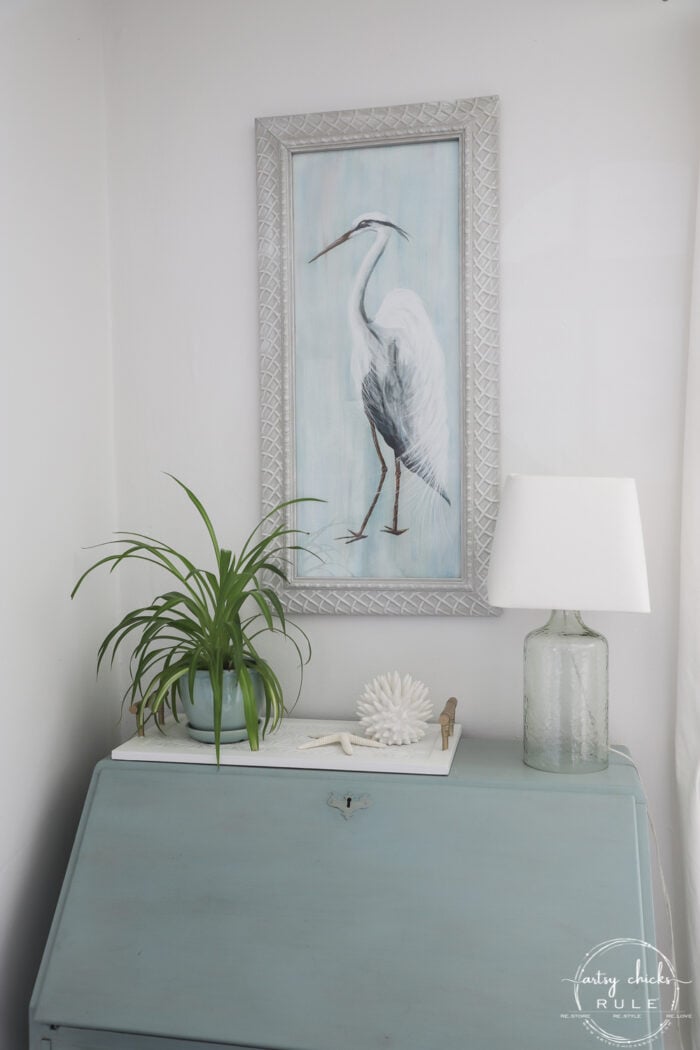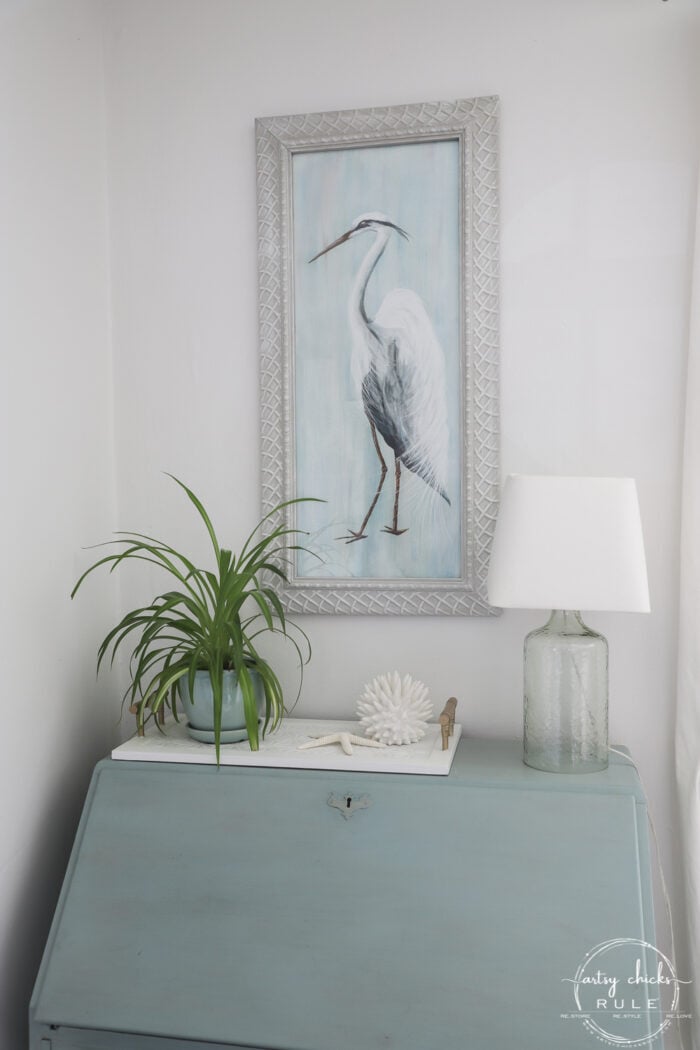 Even if it was only because I was under pressure to get a project done for our T2T. lol
Here is how I did it…
I began by pulling the back off and taking out the print.
I decided to just paint over the original print. (it was cardboard with a laminated piece overtop)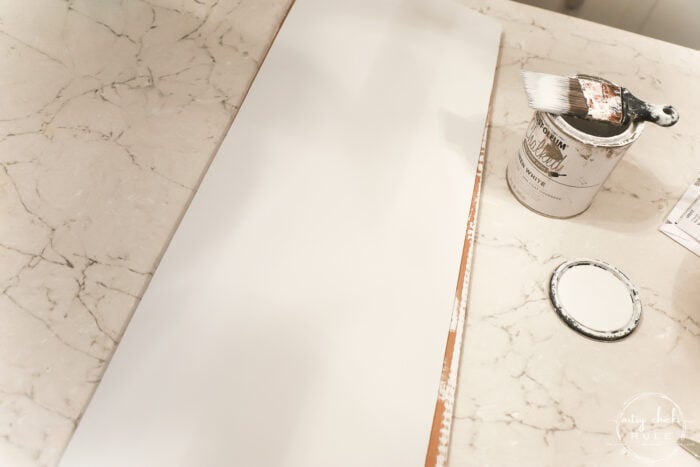 I painted it white, with 2 coats to cover the design underneath.
MATERIALS LIST
Craft/Acrylic Paint in varying colors
Next, I started adding in the background for my Blue Heron.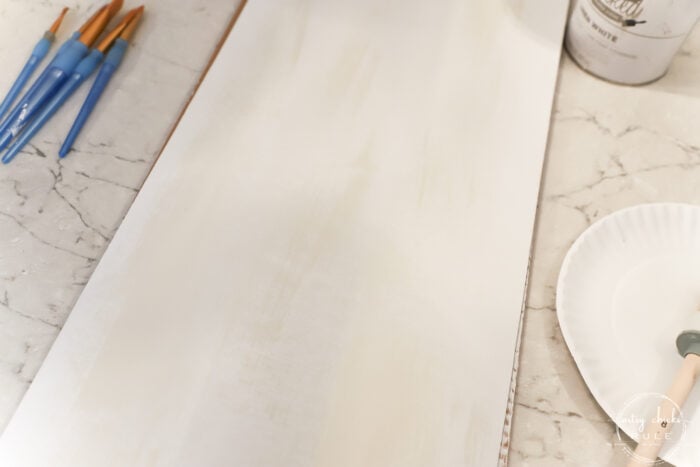 I used that same bristle brush that I used on my bedroom abstract beach artwork.
Up and down strokes but not all over, just randomly spaced.
Then I put small dabs of all the colors I thought I might need onto paper plates. (just acrylic craft paints)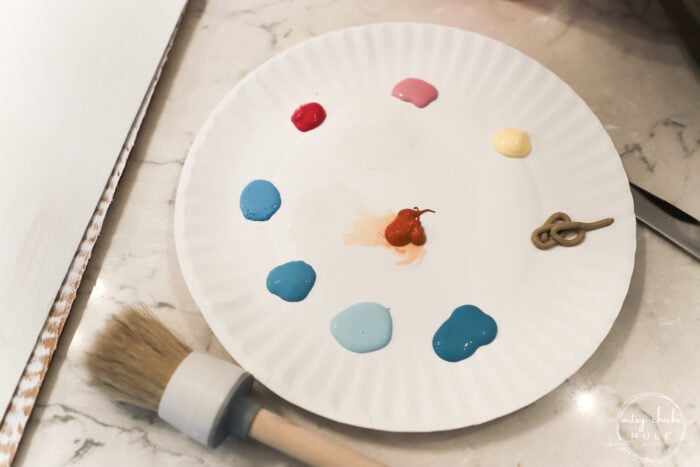 And used some of these colors in the background too.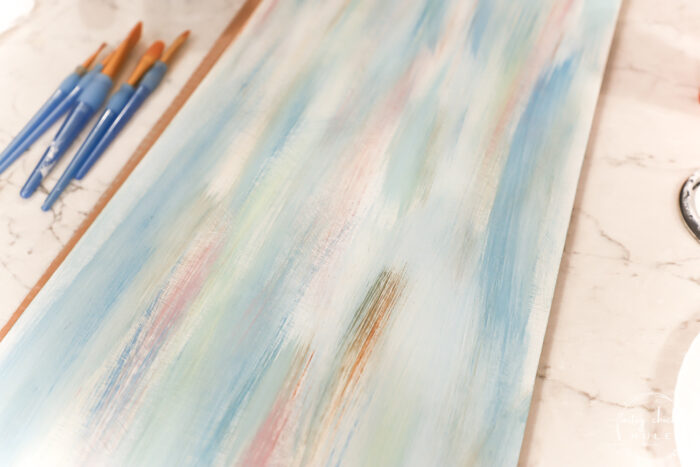 Doesn't look so good yet. But I wanted these colors "in there", but subtly.
Next, I washed out the bristle brush and left it just damp to go back over all of these colors to sort of blend them together a bit.
I wanted it a bit more opaque so I added a little white to the damp brush edges and went over the whole thing.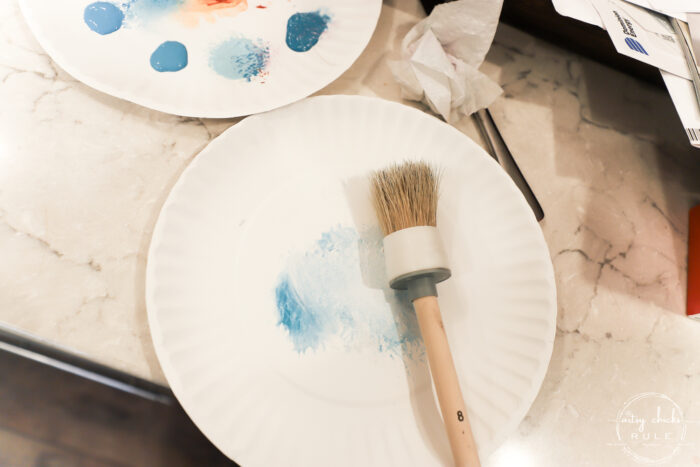 A little better blended now but still able to see the different colors somewhat. (which is what I wanted)
The next step was to not mess up that background I had just painted.
Haha..kidding, well not really, so instead of trying to draw on my painting, I drew on white printer paper instead.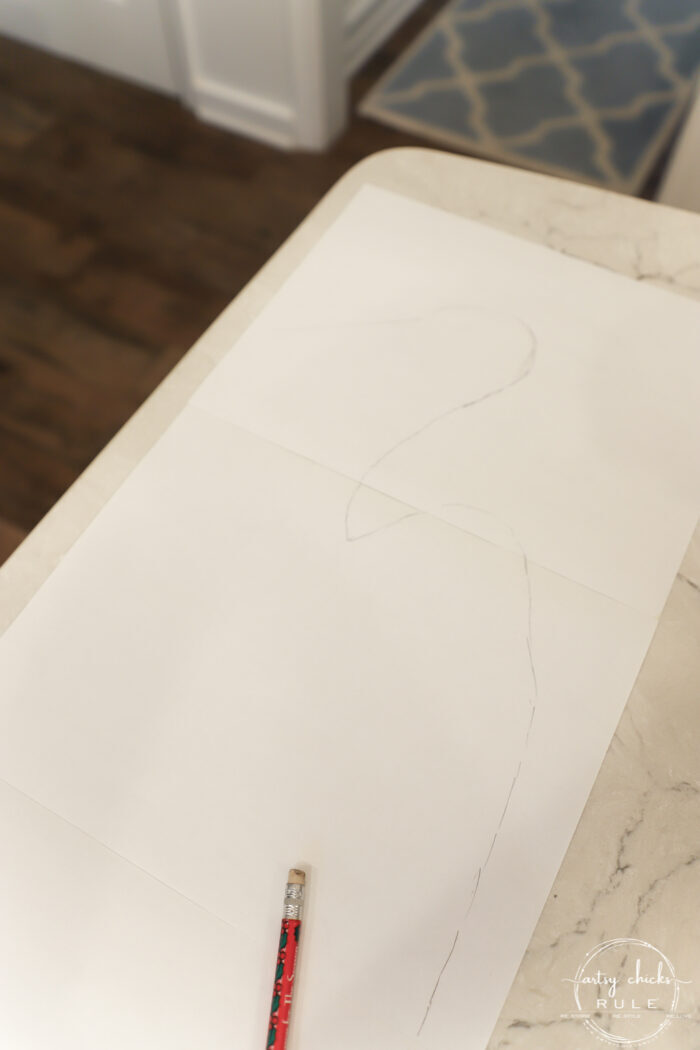 This way I won't mess up all the work I've already done and I can simply transfer this drawing to my painted background.
(I thought of after, I could've sketched with a piece of chalk that was sharpened to a point also)
After I lightly sketched it out, I went back and penciled it in harder/darker so it would show up from the other side.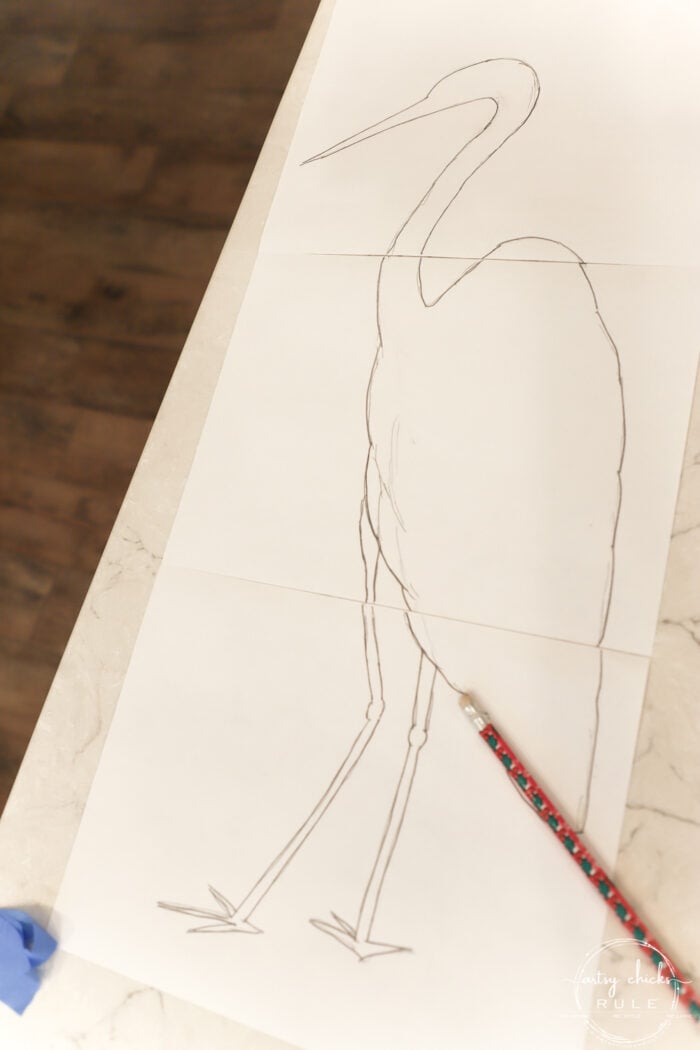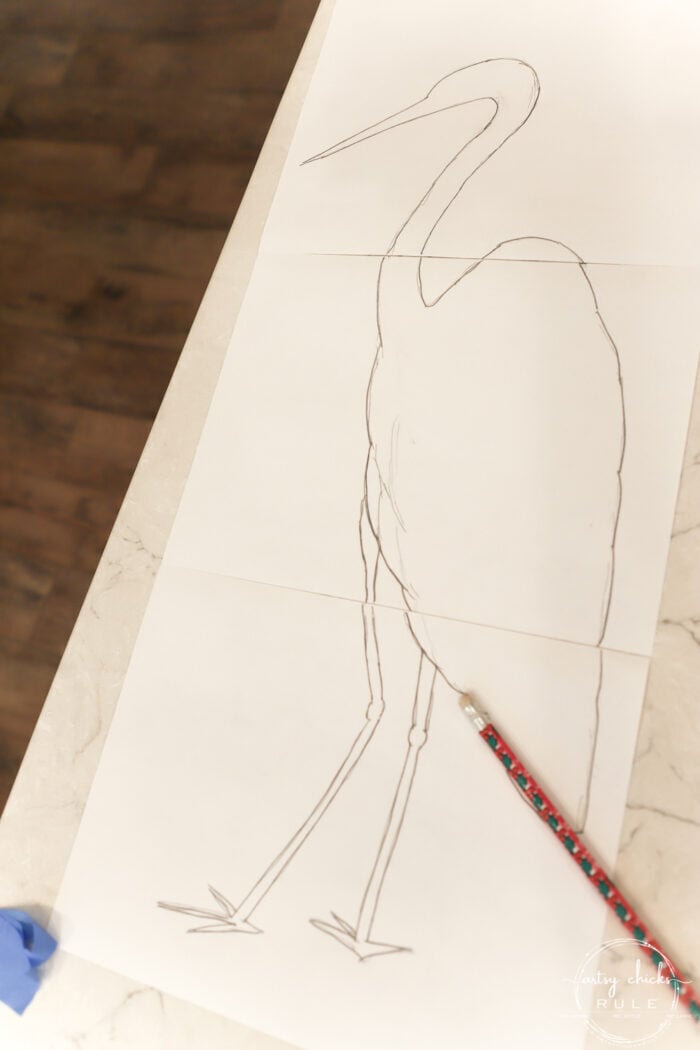 Then I turned the paper over and shaded it so I could transfer the image.
(this is the way I've done a lot of graphics transferring here on the blog, to see this and other techniques, check out this post >>> How To Transfer Graphics – Many Methods.)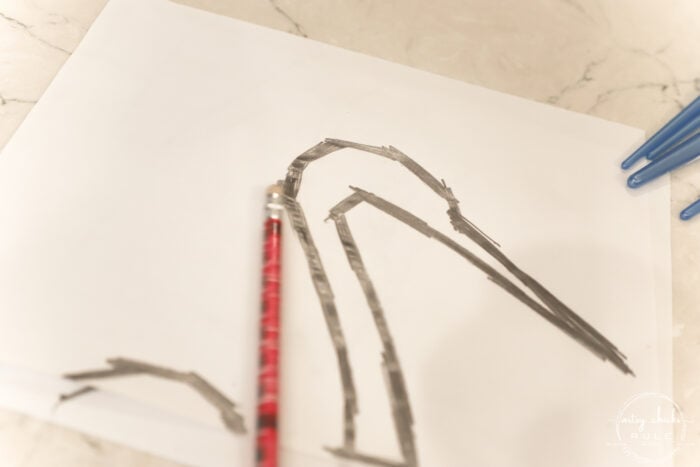 After the entire back area was shaded, I turned them over and laid them out on my painted background.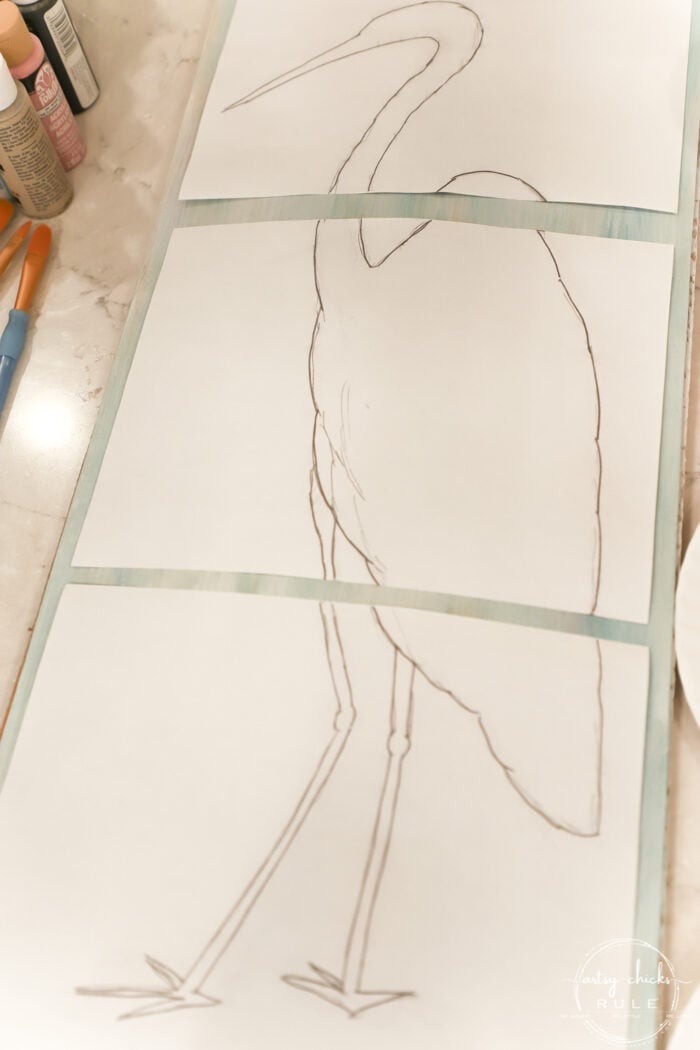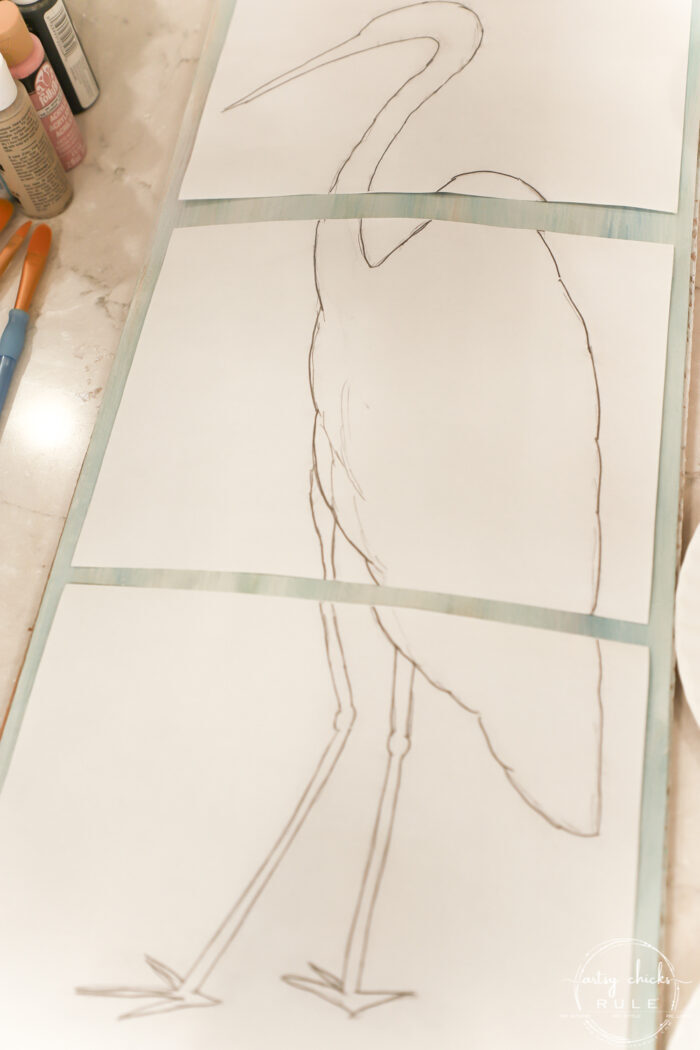 As you can see, I decided to make the Blue Heron a bit larger. I did this by simply spreading the sheets out a little and I would just sketch in the missing sections to connect them.
Isn't that cool?
This is from me tracing the sketch I drew on the white paper and the pencil lead on the back transferring to the painting.
(see the little area up there where I pulled the paper apart to make it larger?)
I started by painting the body area in white.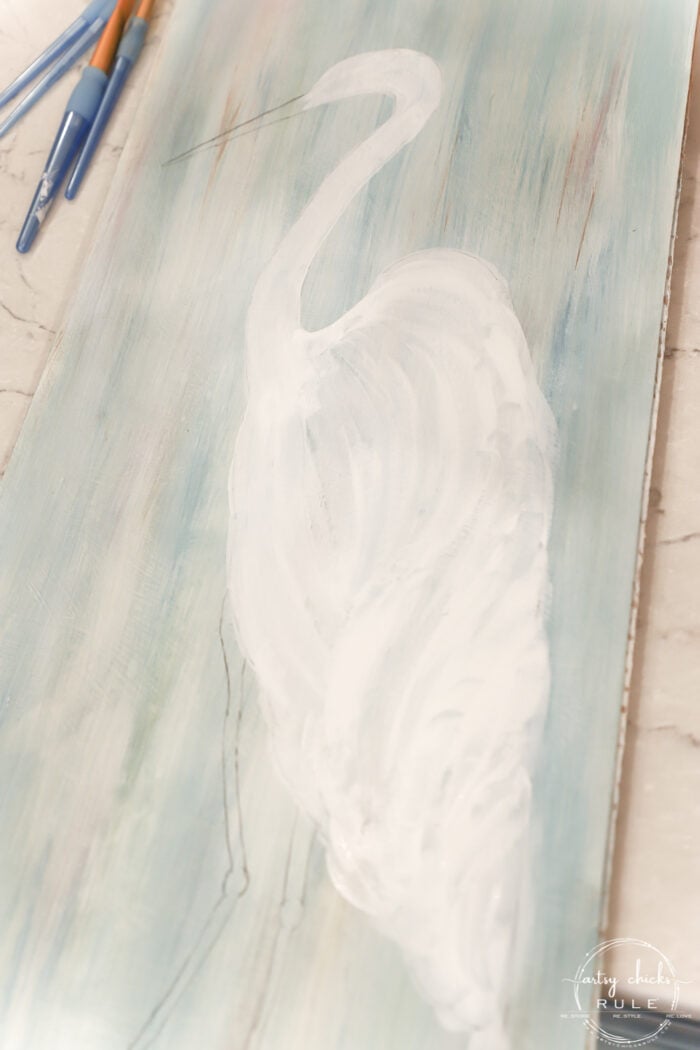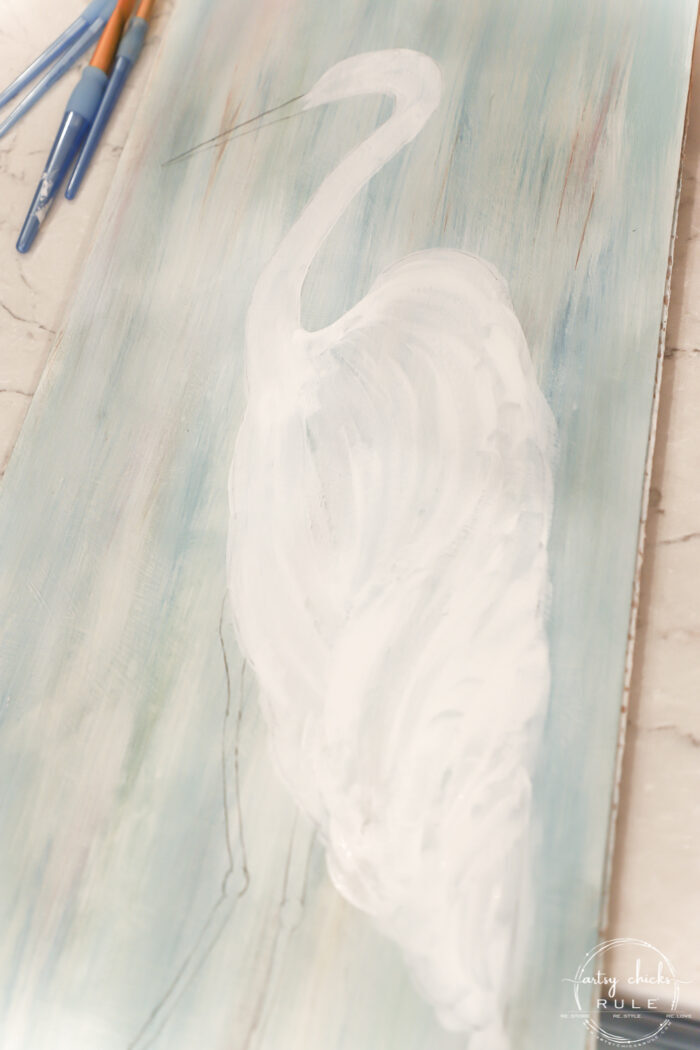 And kind of using my brush strokes in the way I thought the feathers would go.
Then I started the shading.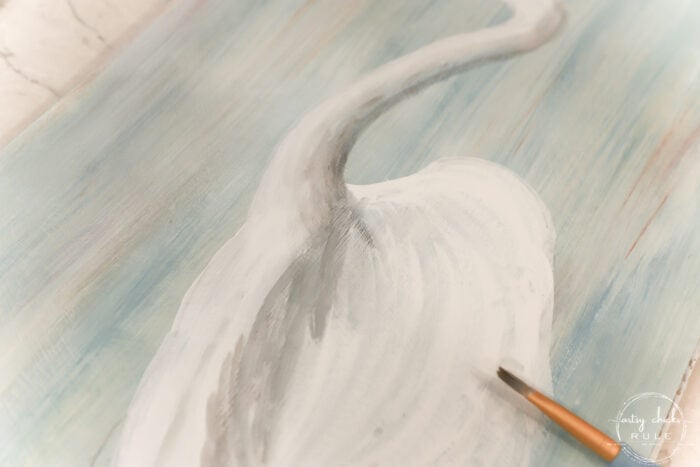 None of this is "one and done".
With paint, you go back over and over again, adding paint, adding shading, etc., as you move along.
Then I started adding the darker area of feathers on the bottom.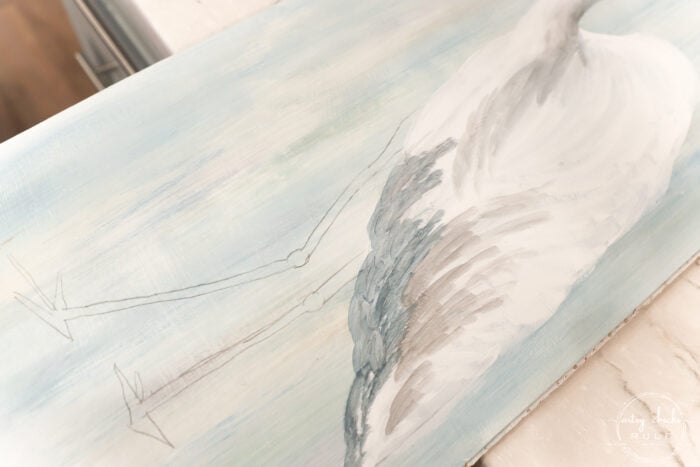 I was going for a darker blue for that area.
By the way, I used a variety of brushes, I've linked similar ones in the "materials" box above.
Next, I started working on the head and eye area.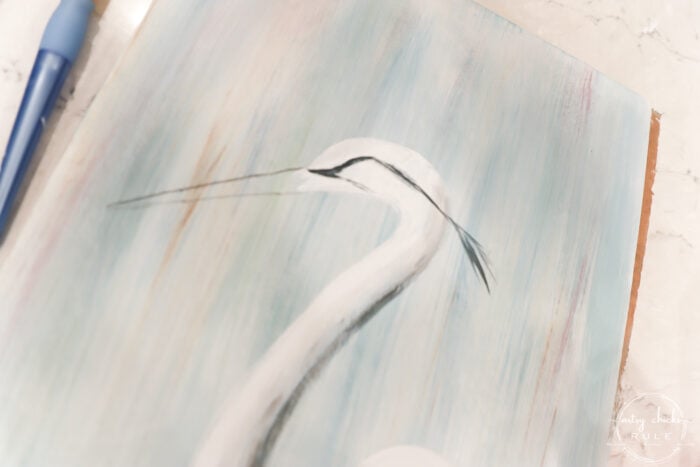 Little by little…adding as I go.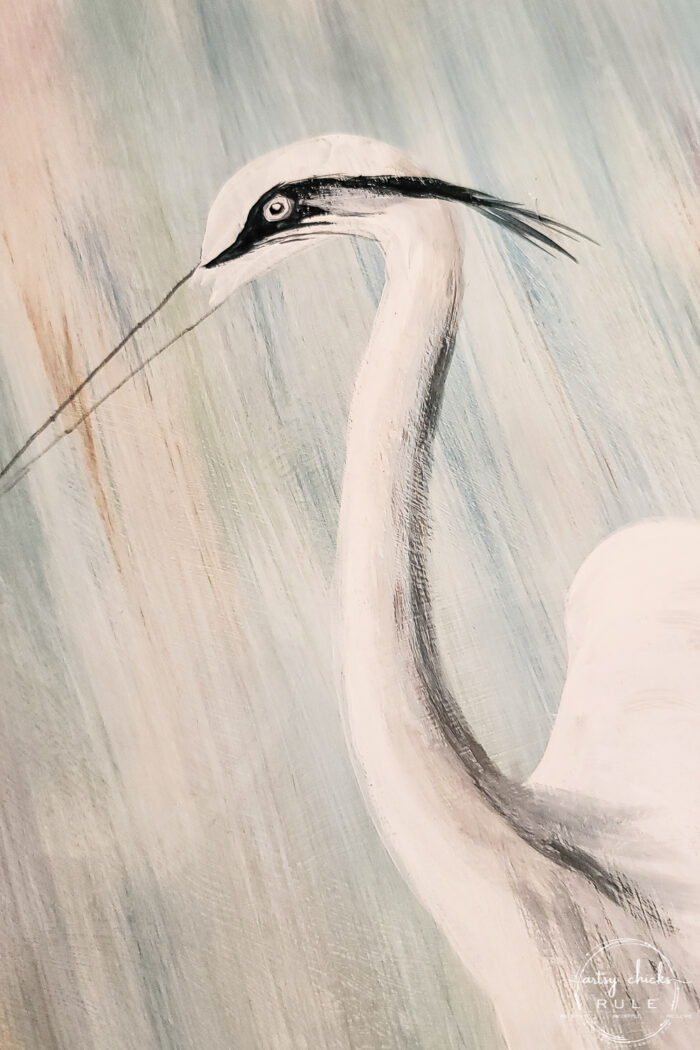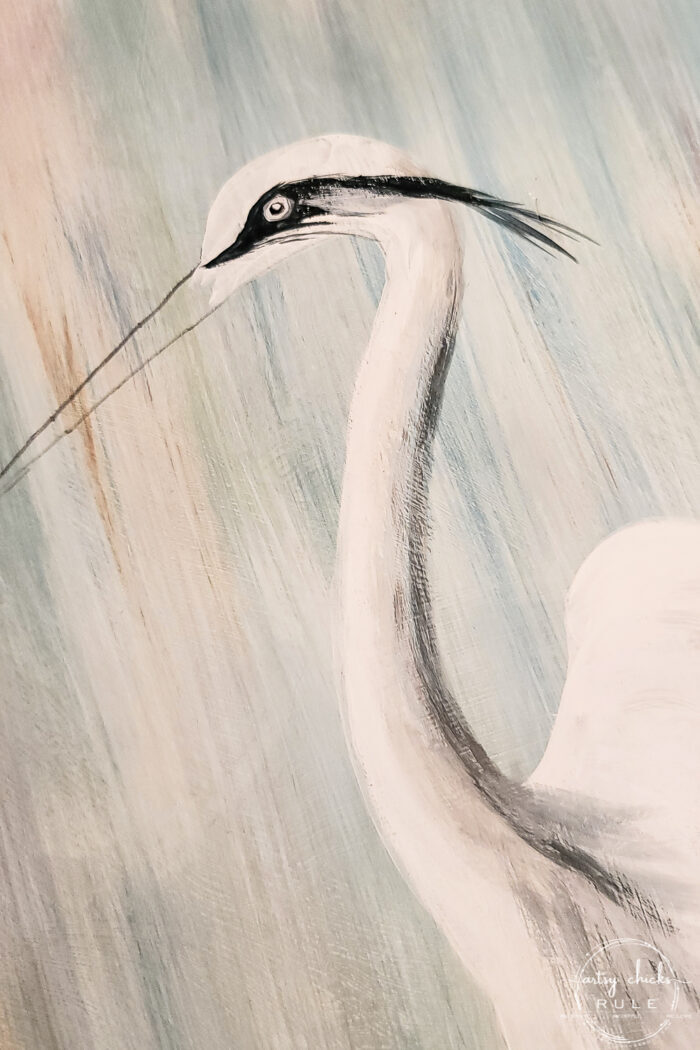 I worked on the feather shading some more. (a lot more)
And decided to add these wispy feathers like so…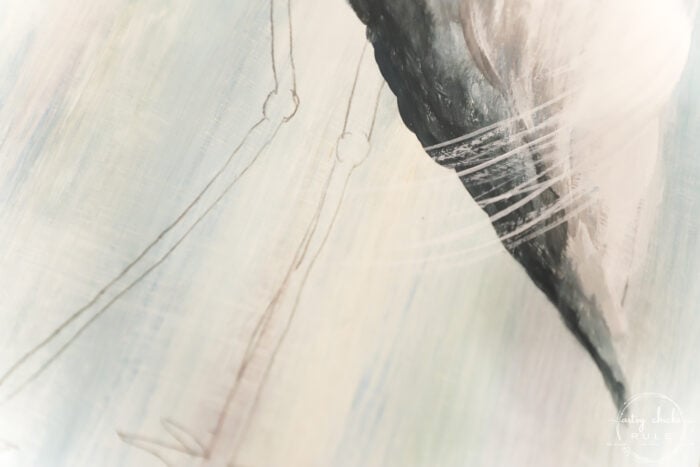 And quickly realized I needed to get those legs painted in first.
Close up of them to show how I painted them.
I started by mixing orange and black. When I painted with that, I didn't try to get full overage as I was painting them in.
I mixed up a bit darker variation of that and adding shading to the bottoms and backs of the legs.
Then I mixed up some orangey/yellow to add highlights to the fronts.
I did something similar with the beak.
You can see I added more color to the eye and highlights.
I also added some shading in the white where the beak meets the head.
And some wisps on the head…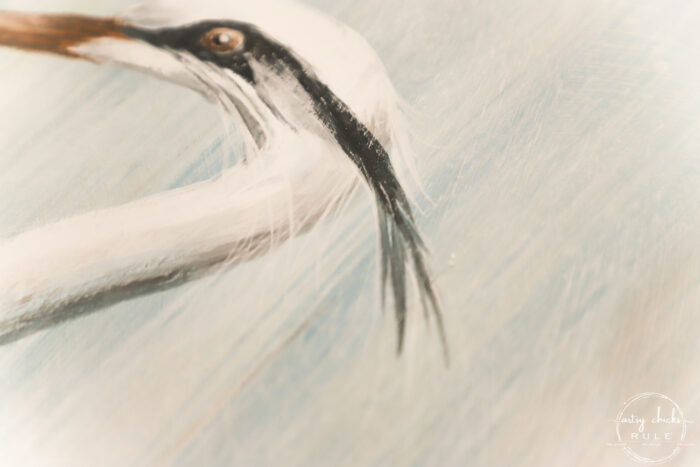 Done!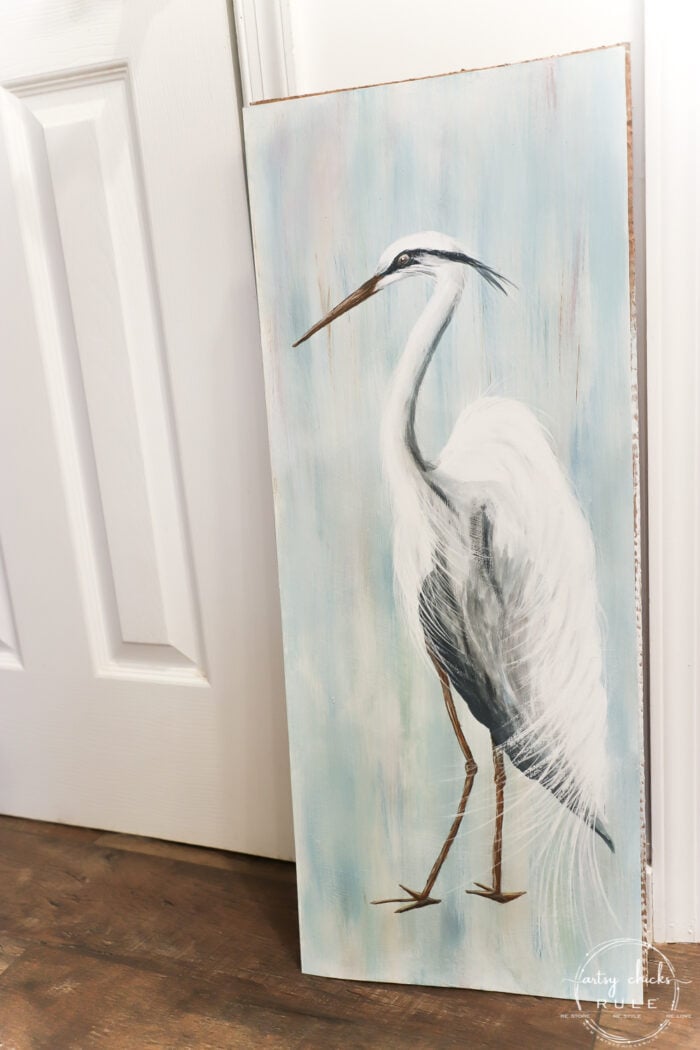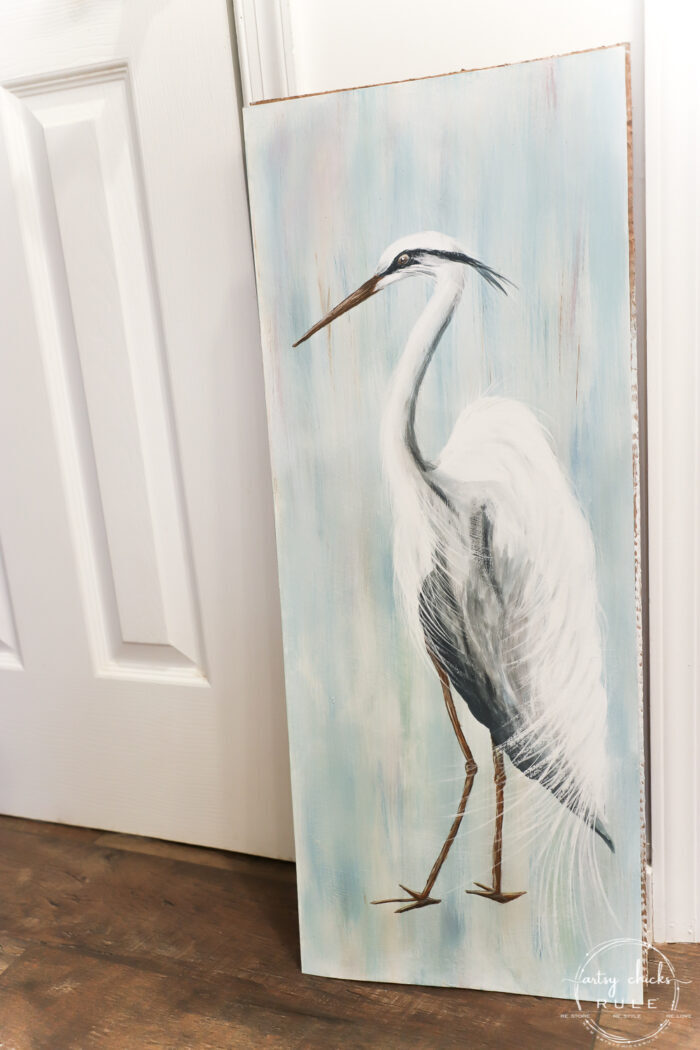 Except as I stood back to look at it, I kind of wished I'd blended over and opaqued the background just a bit more.
So I did.
Want to see some of these projects in "live" time? Hop on over and follow along with me on INSTAGRAM. I'm always sharing in my stories as I'm doing projects, finding new furniture, fun finds….just all the day to day behind the scenes.
You can see the top around the head and neck I haven't gone back over yet, but I have on all the rest.
See the difference?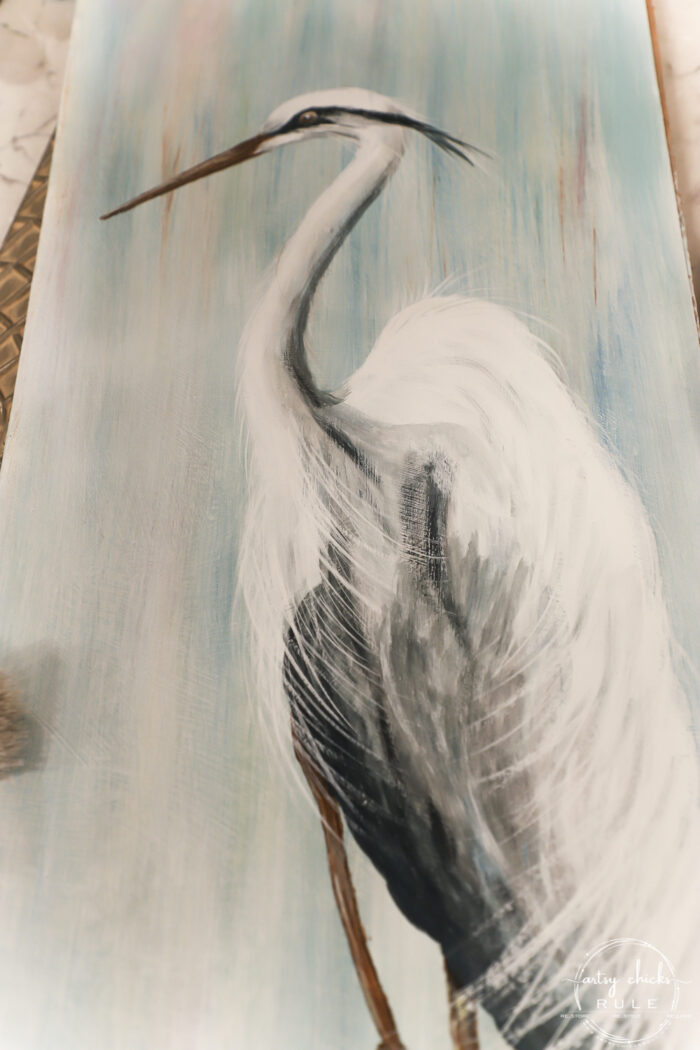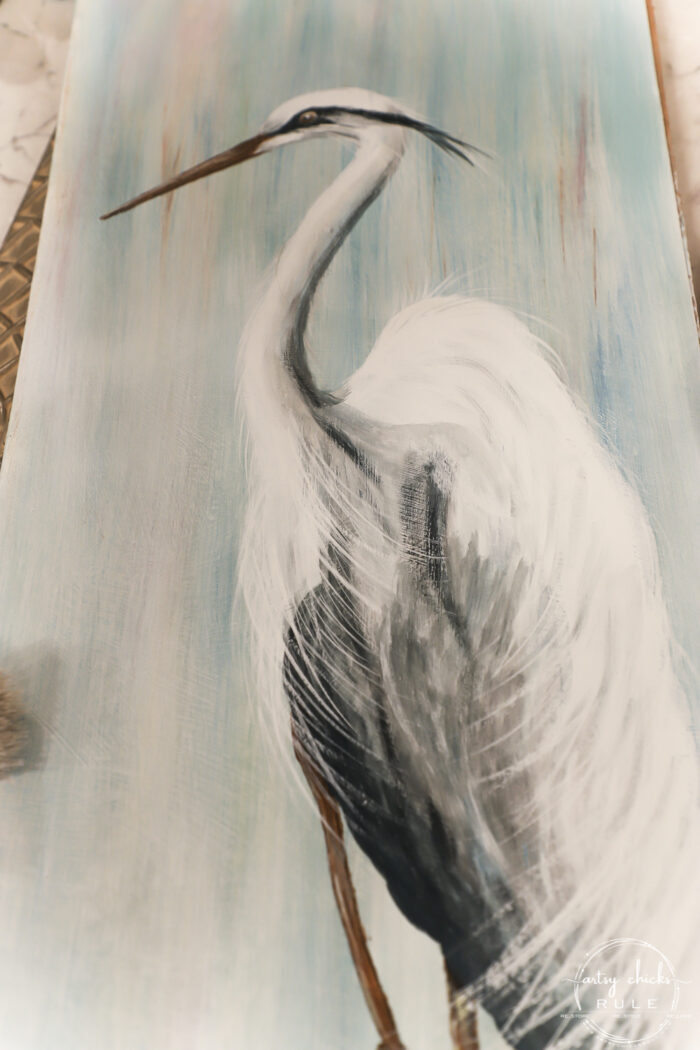 By the way, when I say gone back over, I mean with the tiniest bit of white paint and a damp brush. (first tapped on a paper towel to remove excess)
Now it's done!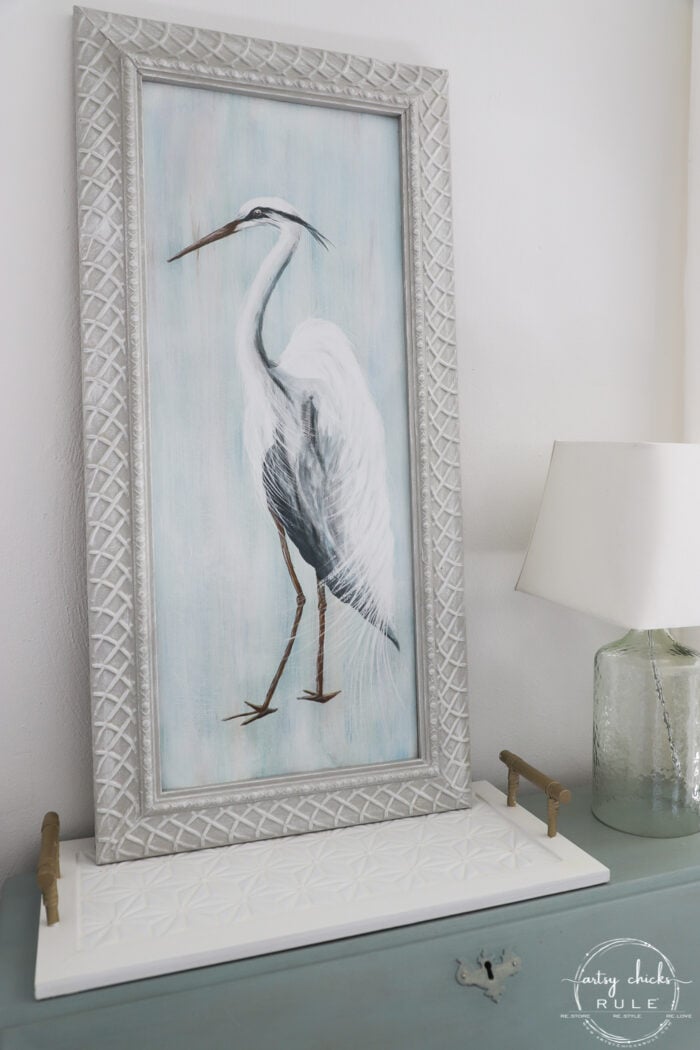 Let me tell you what I did to the frame first though.
I sealed the cracks with caulk and let that dry.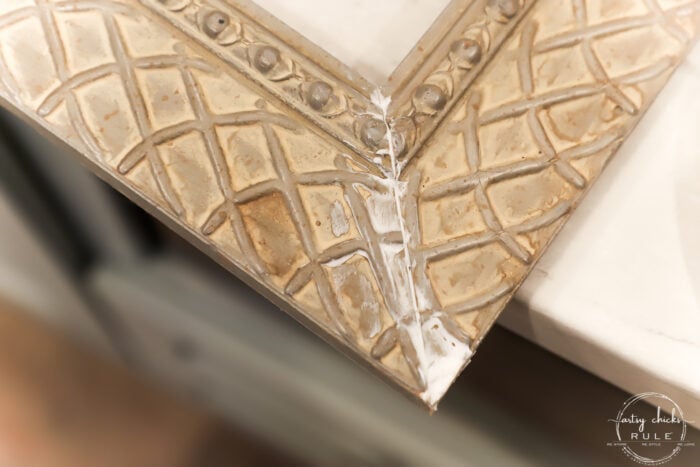 I painted it in with a taupe colored paint and let it dry. I thought it was the perfect "beachy" color.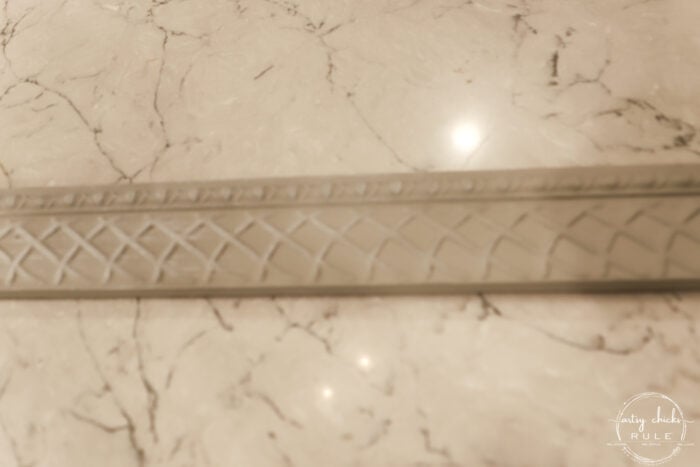 Once it was dry I simply dry brushed it to add some white dimension. (here is info on dry brushing >>> How To Dry Brush)
Then I sealed it with Fusion's top matte topcoat.
Here it is sitting on my duck egg blue secretary.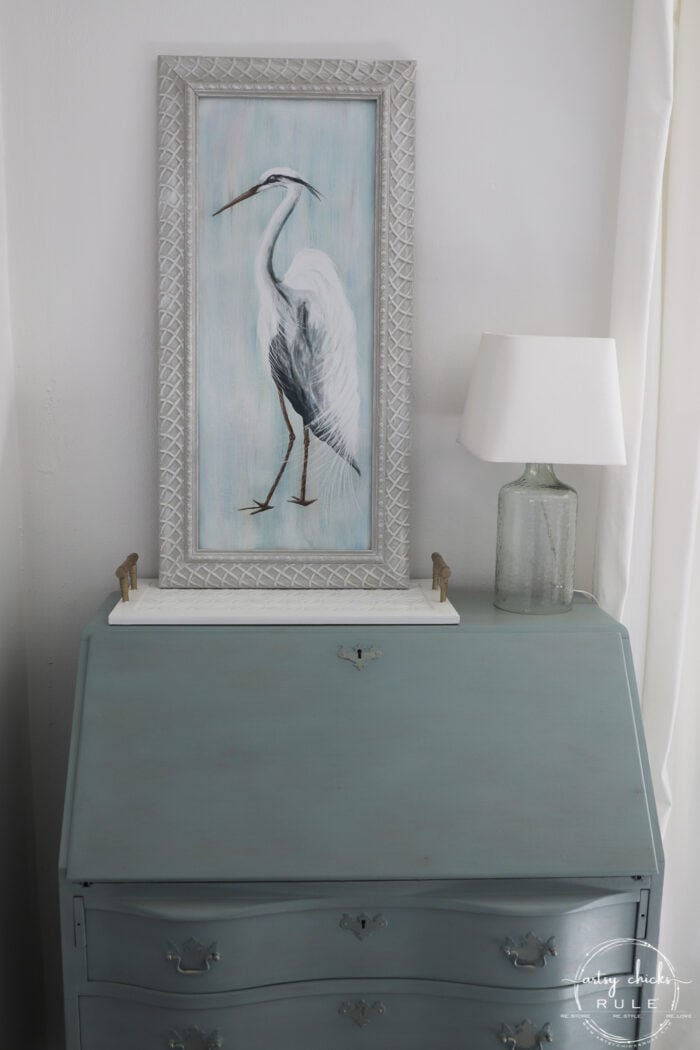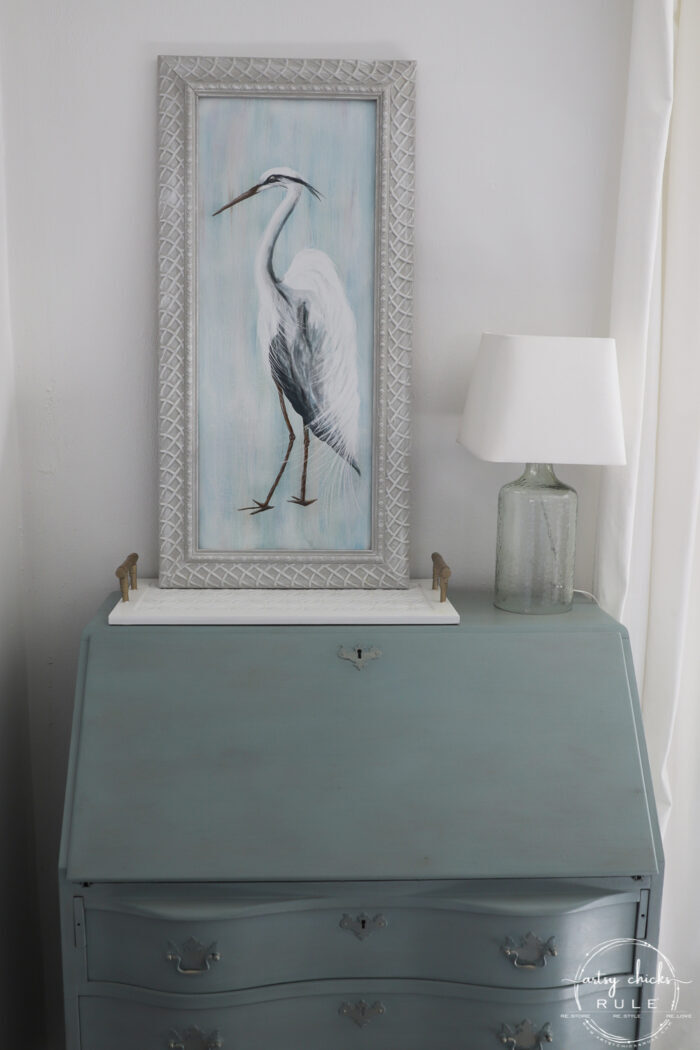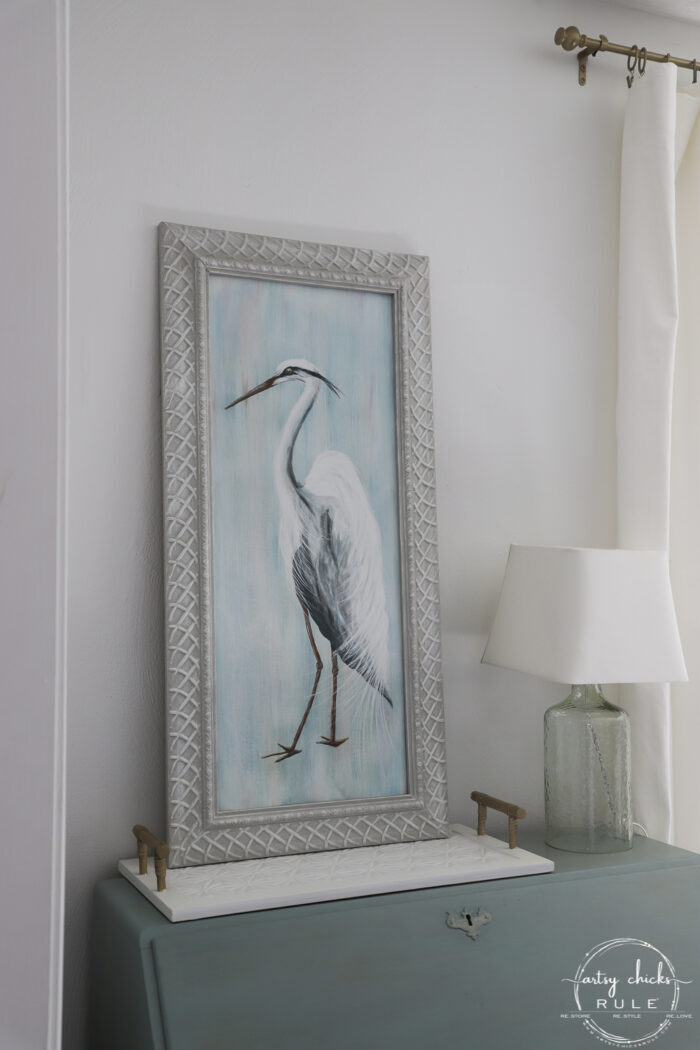 This is without the glass. The glass was giving too much reflection for the camera.
Plus I was undecided if I wanted to use the glass or not.
I decided to use the glass to protect the painting.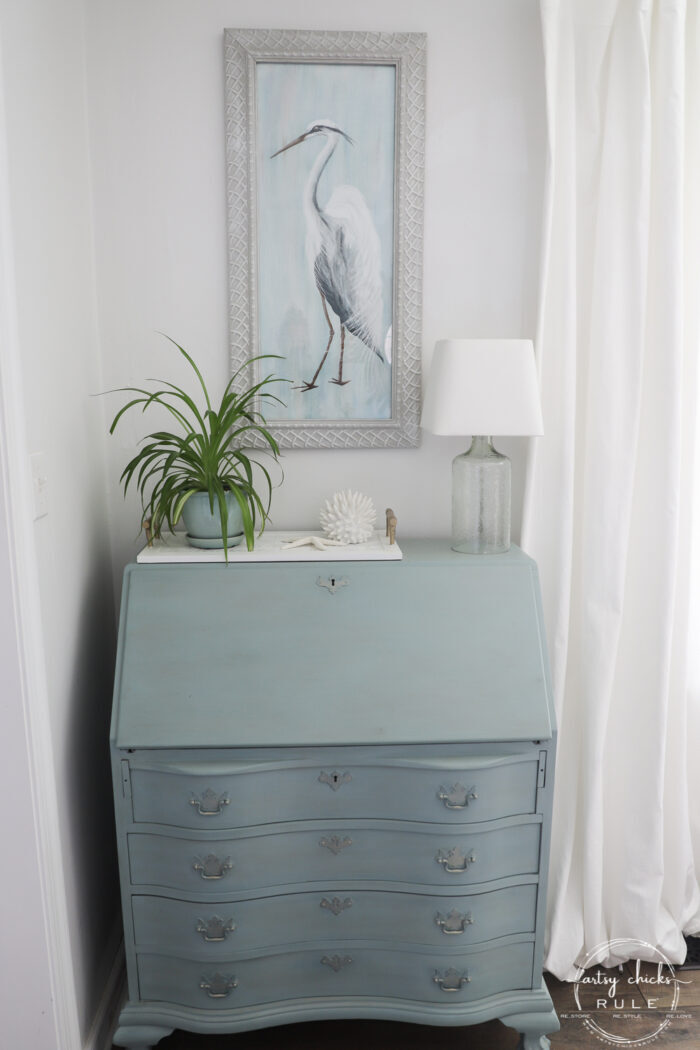 By the way, I did consider giving him a little shading around his feet to ground him.
But decided no, I'm okay with him just hanging out.
AND…I didn't want to mess up a good thing! lol Leave well enough alone. (I have a hard time with that as I am a messer…meaning, I just keep messing and messing and sometimes it works…and sometimes it doesn't haha)
Up close…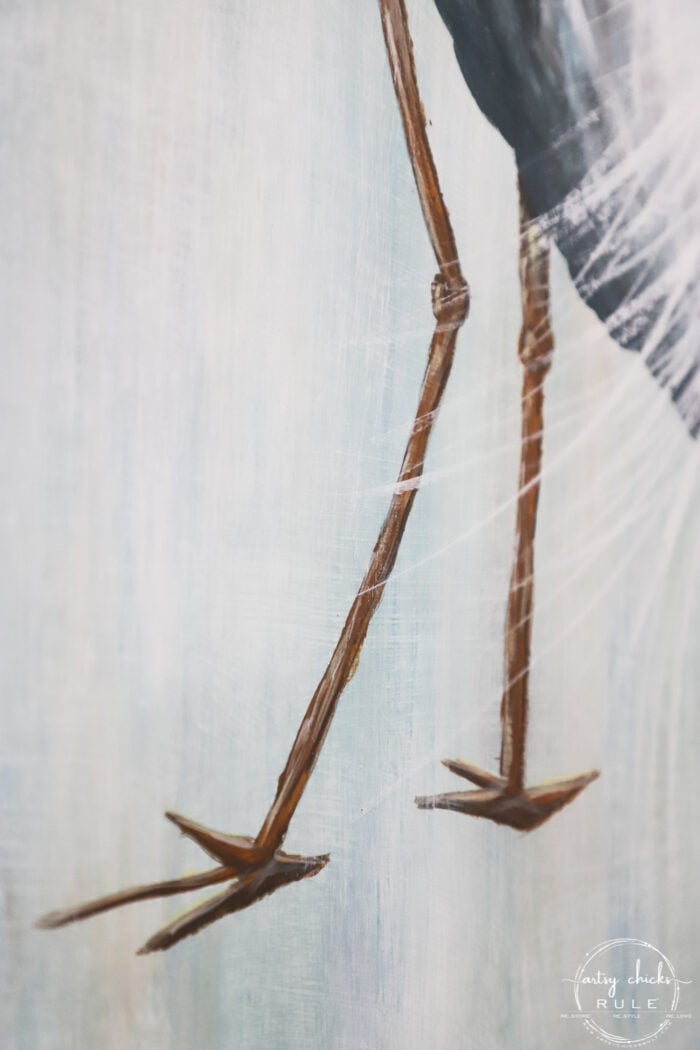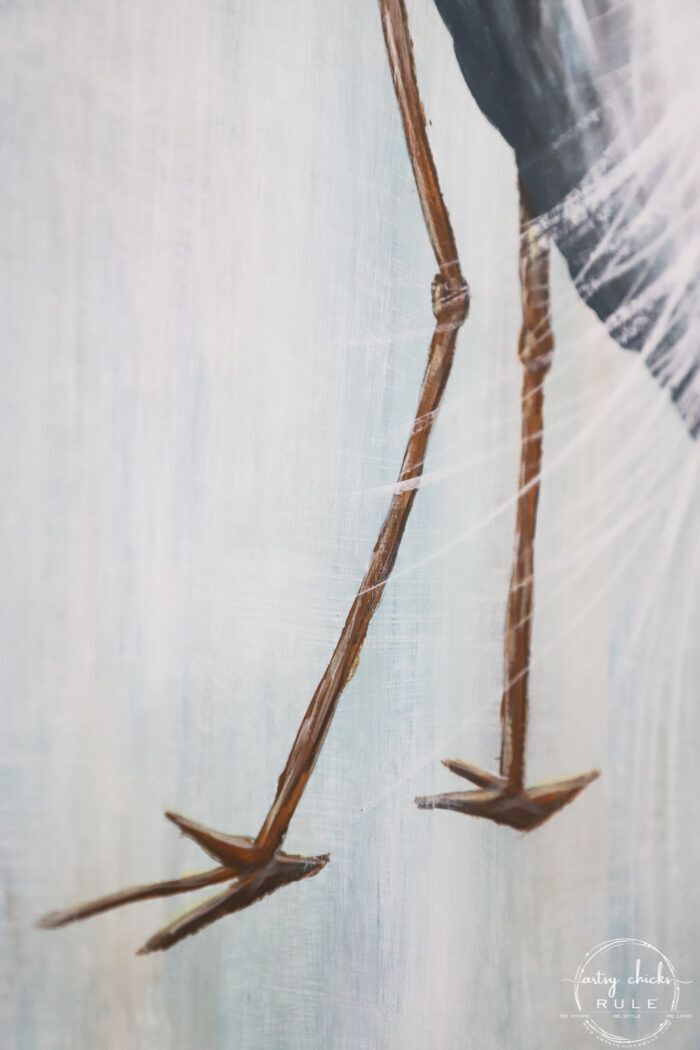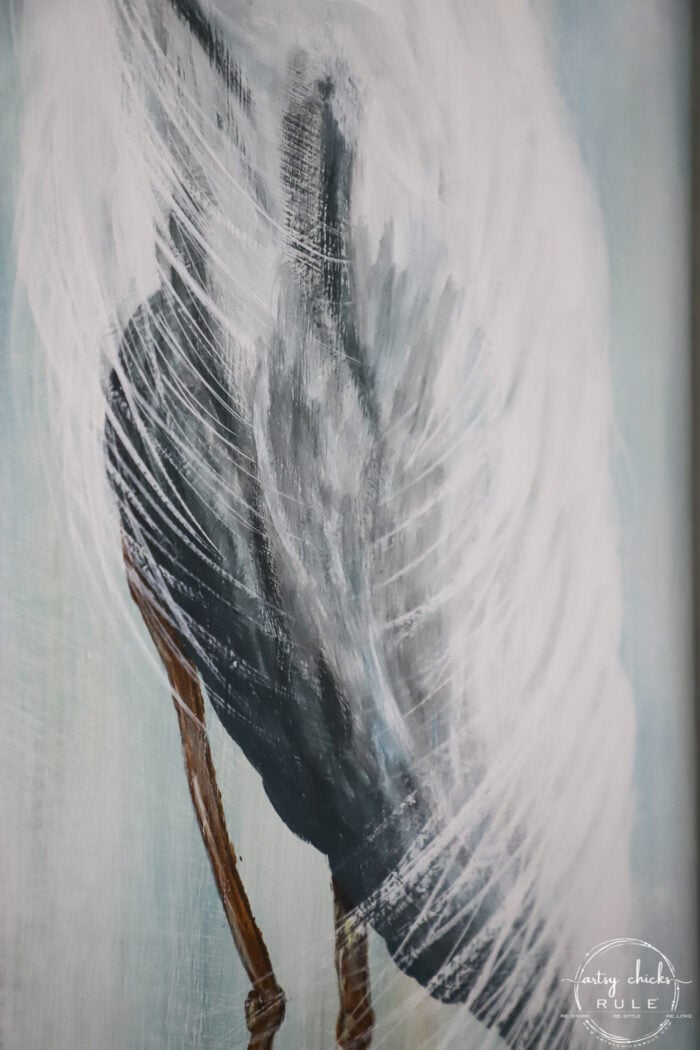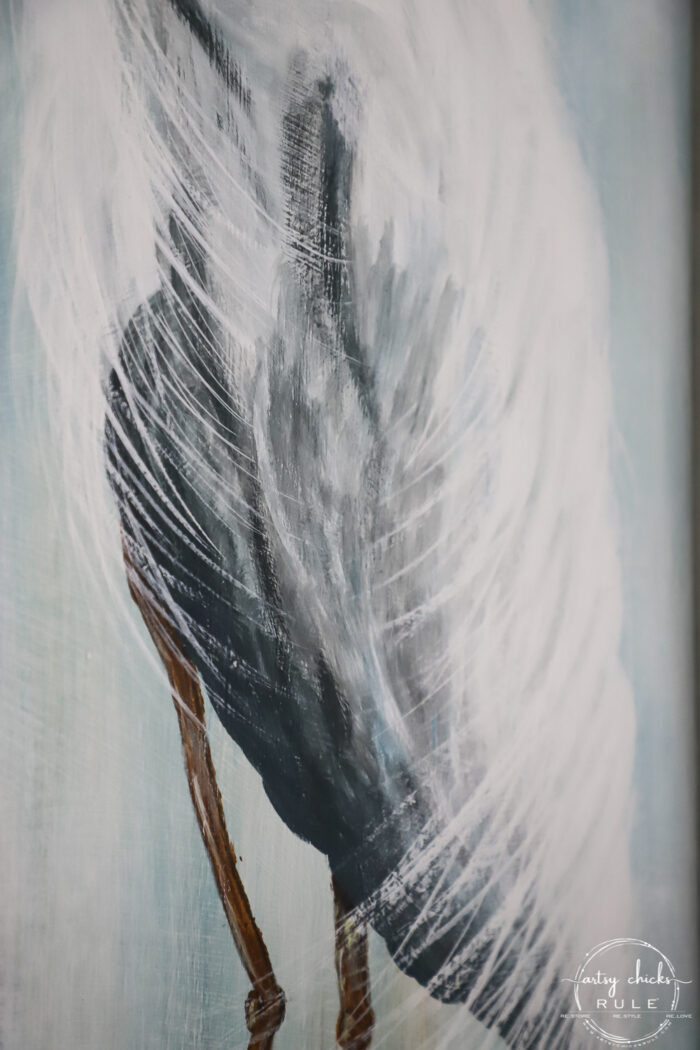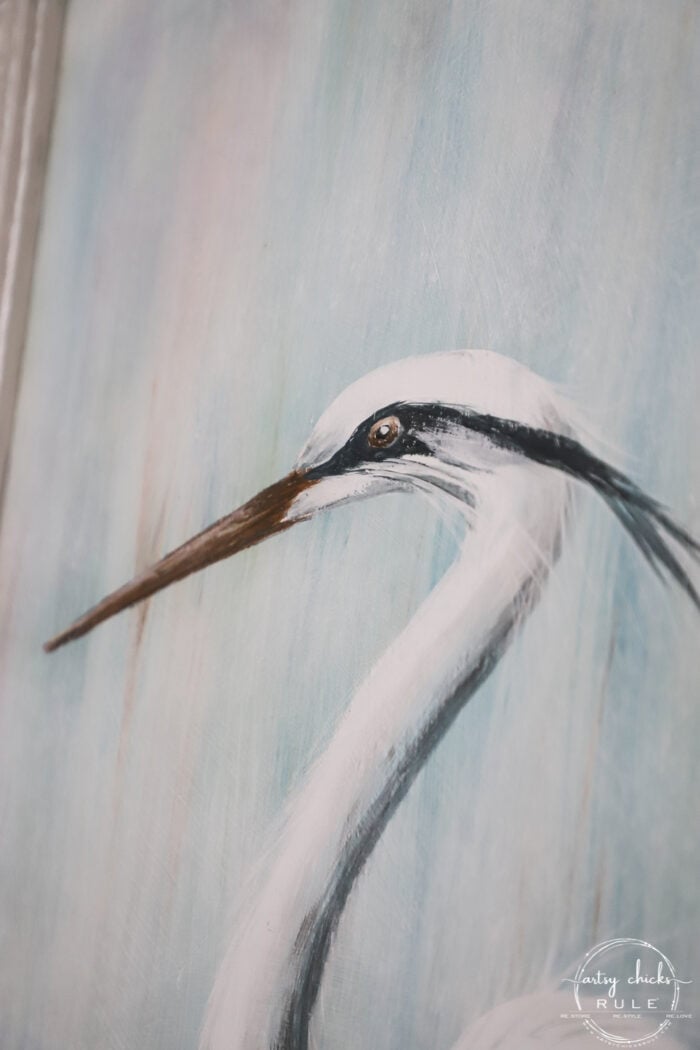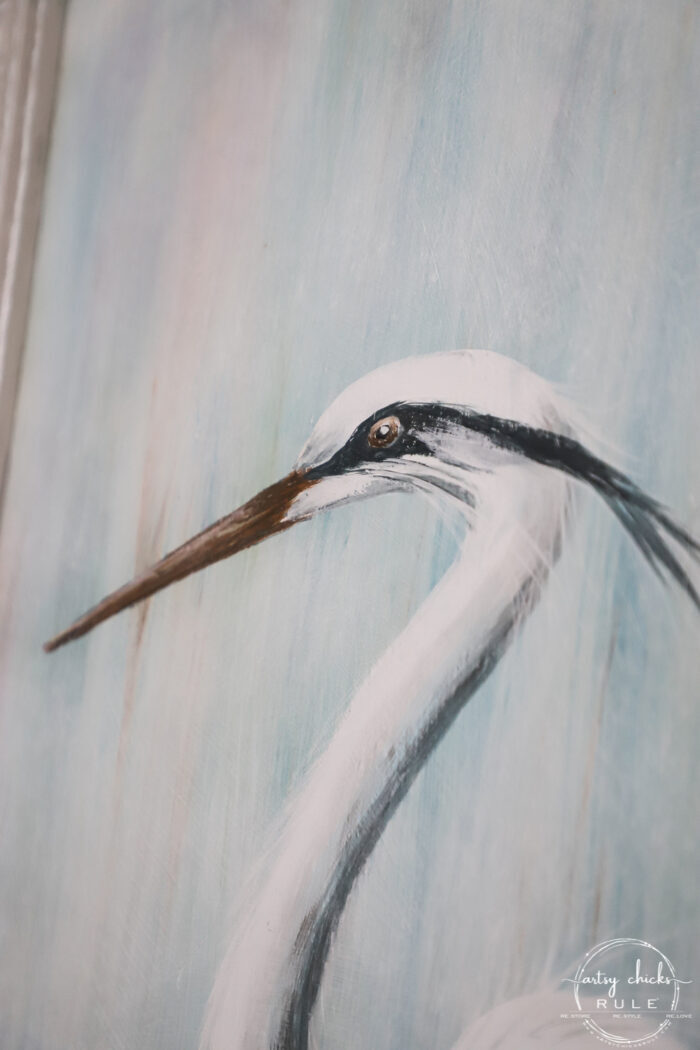 I think it was made for this spot!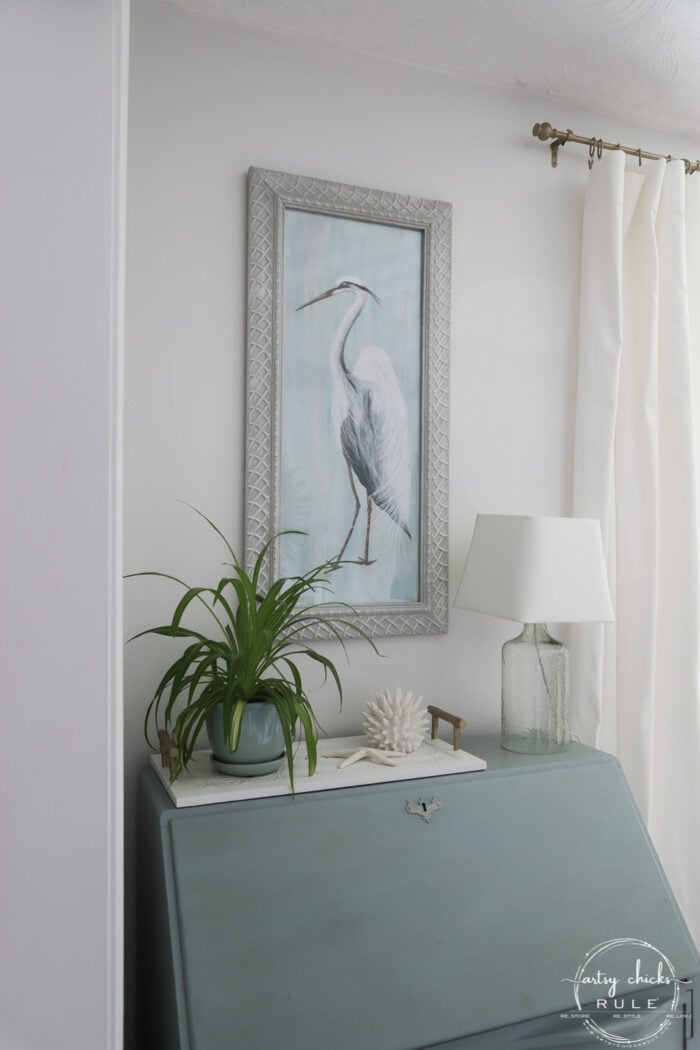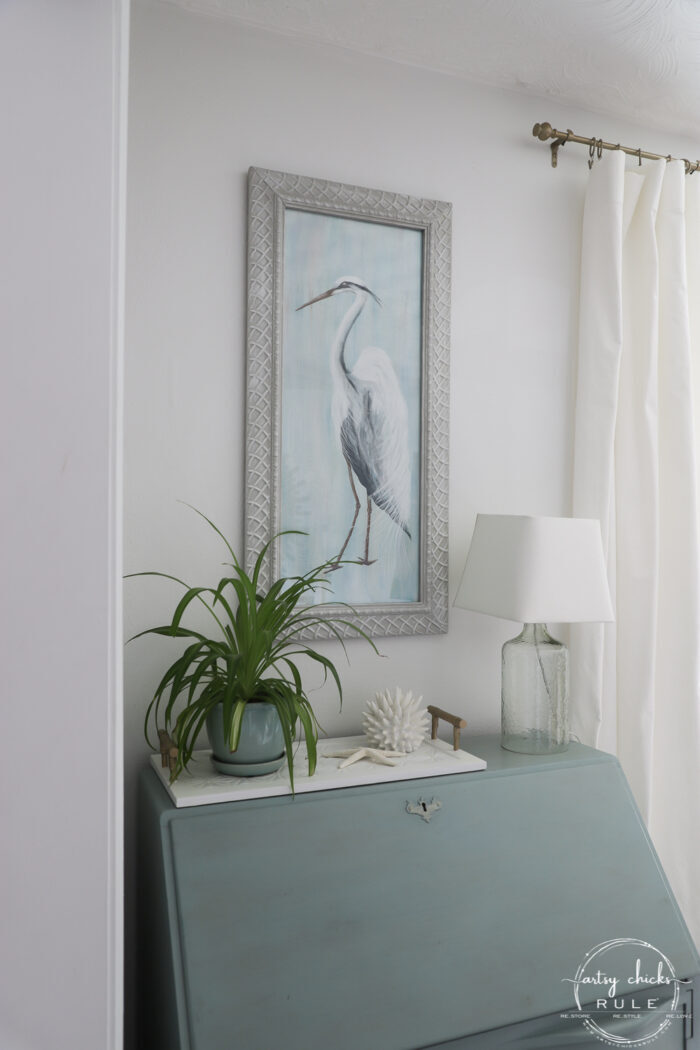 I have never hung anything here because nothing was ever just right.
It was meant to be. :)
PIN it to save it!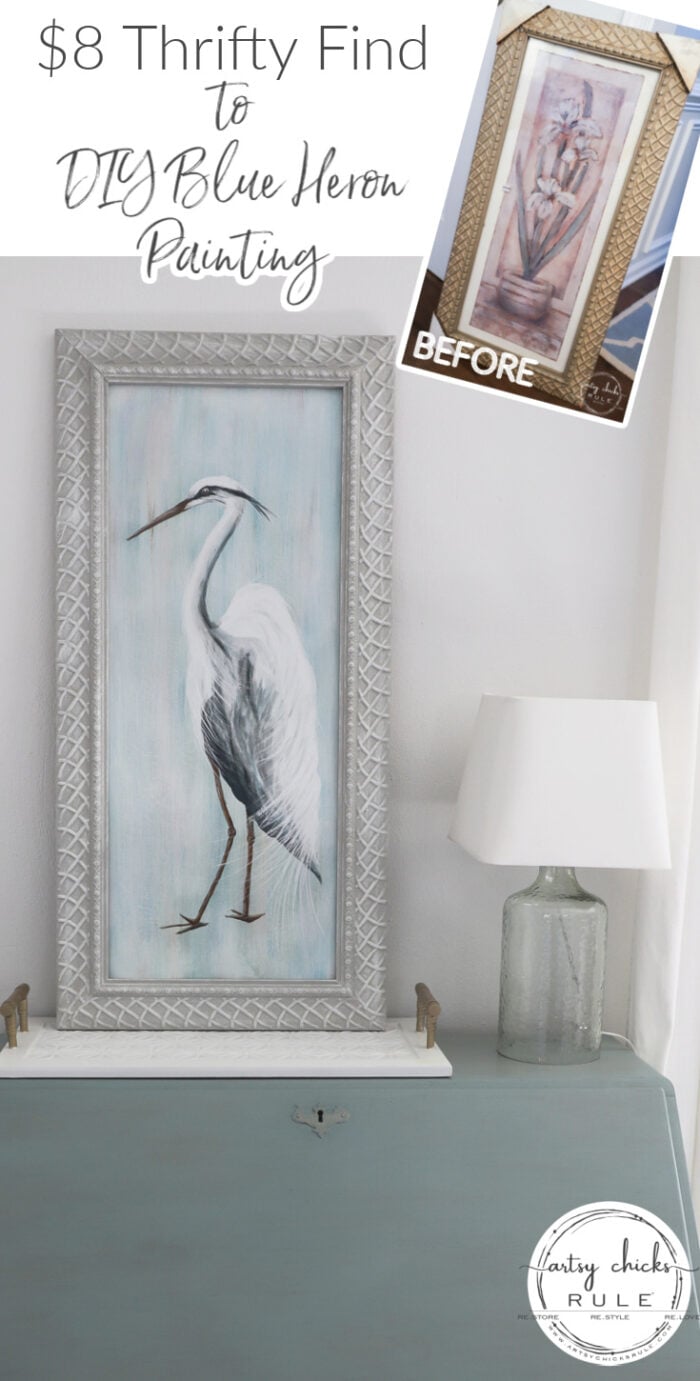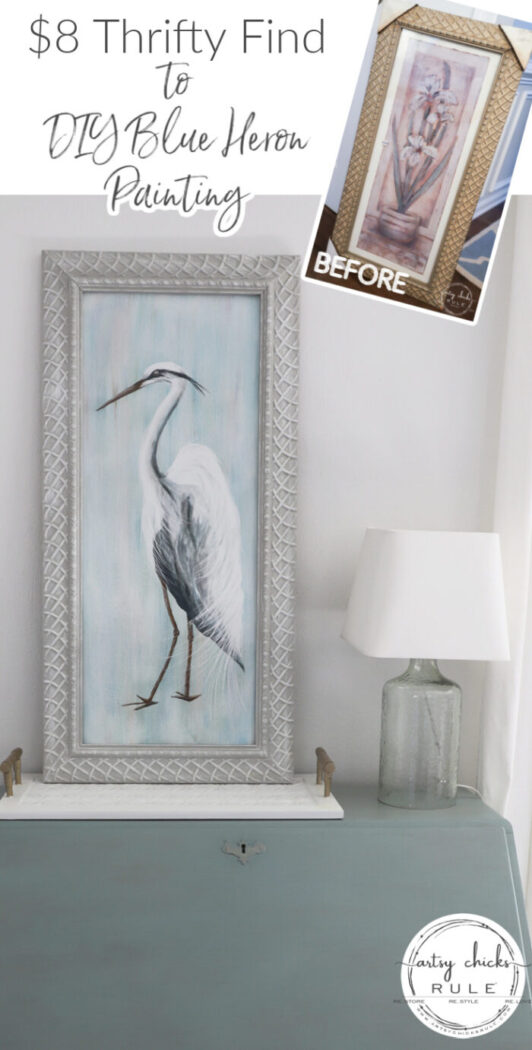 Don't head out just yet! Hop on over and take a look at my friends' makeovers today too…
1. Prodigal Pieces
2. Confessions of a Serial DIYer
3. Girl in the Garage
4. Salvaged Inspirations
Want to see more Trash to Treasure inspiration?? Check out our past ones, here.
Have a wonderful week, friends! Be sure to check back to see this cutie.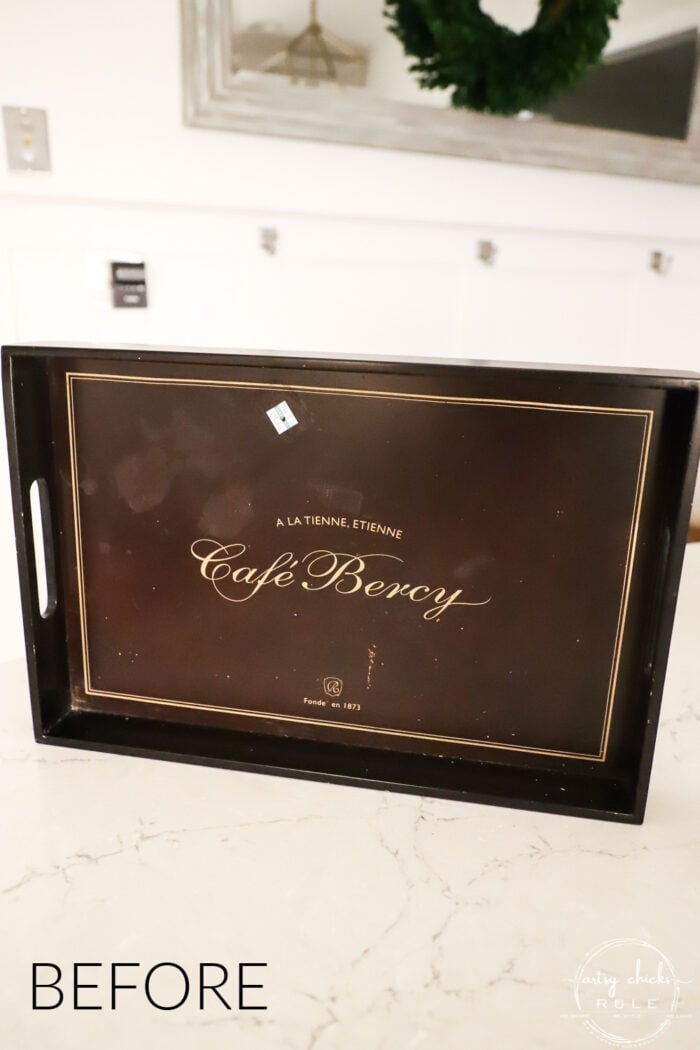 UPDATE!! See it here now!
………………………………………………………………………………………………..
Don't forget to check back next week for this!
xoxo