Drawing… A Little About My "Artsy" Past
This post may contain affiliate links. Please see disclosures here.
Happy Friday Everyone!
A little deviation today from the home/furniture projects.
I'm going to tell you a bit about my "artsy" past.
The name of this blog is "Artsy Chicks Rule" after all!
So, for example, drawing.
I love to draw.
I used to do all kinds of drawings.
Mostly charcoal and pencil, black & white.
But it has been awhile since I've done any, something like 20 years or so.
Except when I revisited it recently at my local Fine Arts Center.
I took a drawing class that was much fun but sadly I still don't have the patience (attention span)…or the time to devote to it.
I took the class because of this little guy I drew (4 years ago) while my family and I waited for our dinner on vacation in the OBX. (Outer Banks of NC)
We were at Mama Kwan's. Great little restaurant if you ever visit there.
Best fish tacos ever, btw!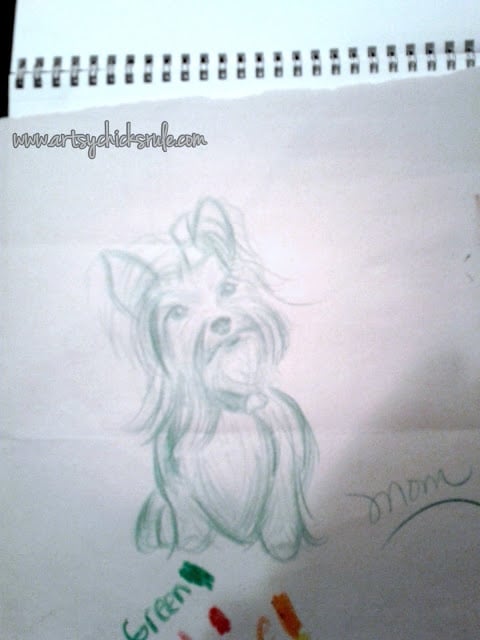 I drew it with my son's colored pencils…green because he liked green….and even signed my 'artwork' for him. ;)
That was the first thing I had drawn in almost 20 years. I was amazed at myself that I could still do it.
I realized I missed that creative outlet. No matter how long it was short lived. ;)
Here is my "project" piece I started working on for the class.
I totally envisioned hanging this in my home once complete. Silly me.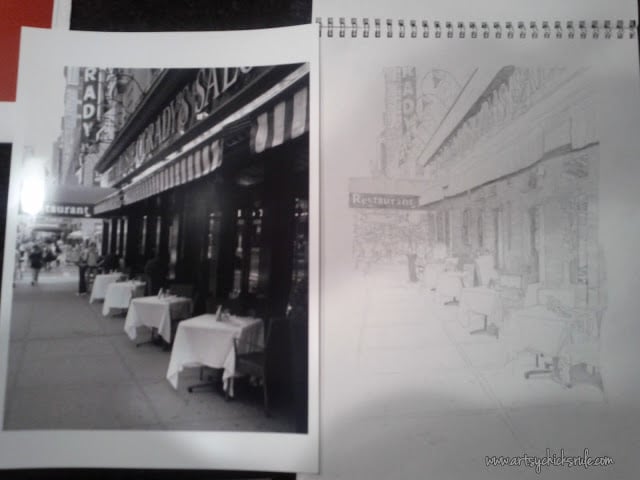 The picture on the left is a street scene I took while in NYC a few years back.
But as you can see from the drawing on the right, it has not been completed.
So. Much. Detail.
Why did I choose this for my first project for the class???
Overconfident and set up for a FAIL.
So yeah, that's my problem with drawing. Although I LOVE to do it, it is time consuming.
And I lose interest.
I am just a little too type A most of the time (all the time, who am I kidding? )
Key words for the first picture in this post…."I drew it while we waited for our dinner".
Quickly…with no time to lose interest.
Anyway, I vow to finish it one day! Maybe. Probably never.
This picture is actually a "shadowing" lesson we had during class.
It's just a sheet draped over a chair with a light shining on it.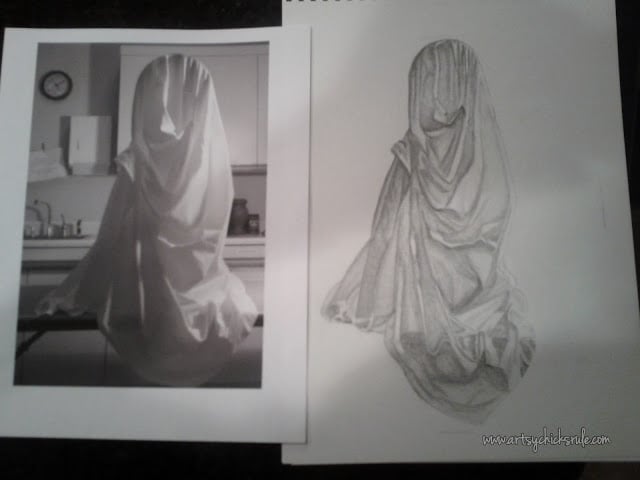 I took a picture of the sheet and setup so I could finish it at home.
I actually enjoyed doing this one. Go figure.
It was sort of like seeing the sheet come to life on my paper and that was kind of exciting to me!
It's also not quite finished…it's floating in mid-air instead of sitting on a table.
Oh well.
That table held no interest for me once I was done with all the folds and shadows in the sheet.
Type A at it's finest. Or ADD.
These are a few I drew 'back in the day' in my old sketchbook.
20-something years ago.
I vividly remember doing this one. Those kernels were tedious to say the least!!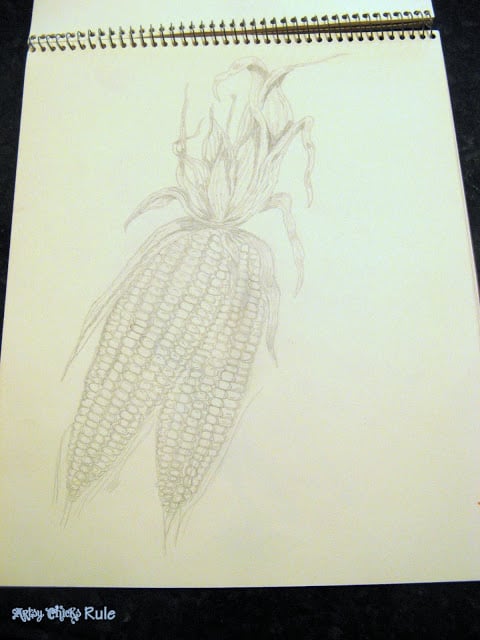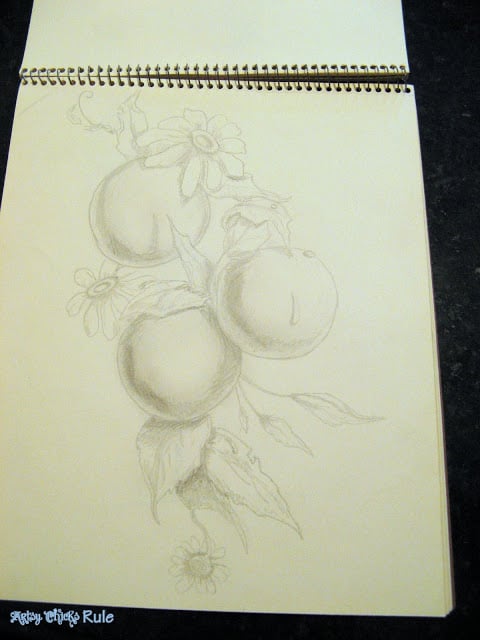 And these are from around the same time…they were actually newspaper advertisements.
I wish I had saved the ads! (SO 80's!!)
I cut out the small ads and then drew them larger onto my sketch paper for practice.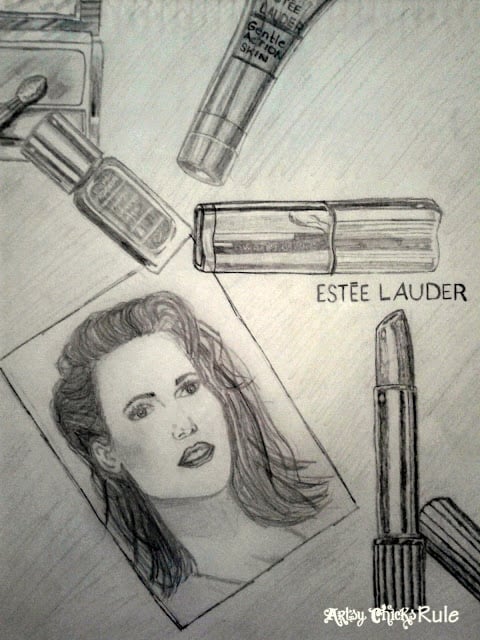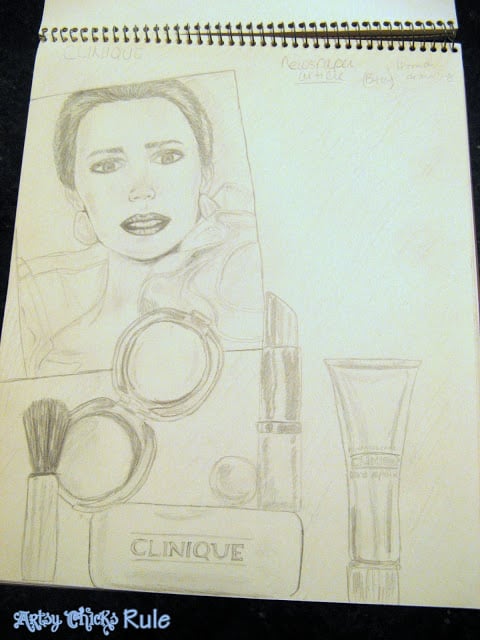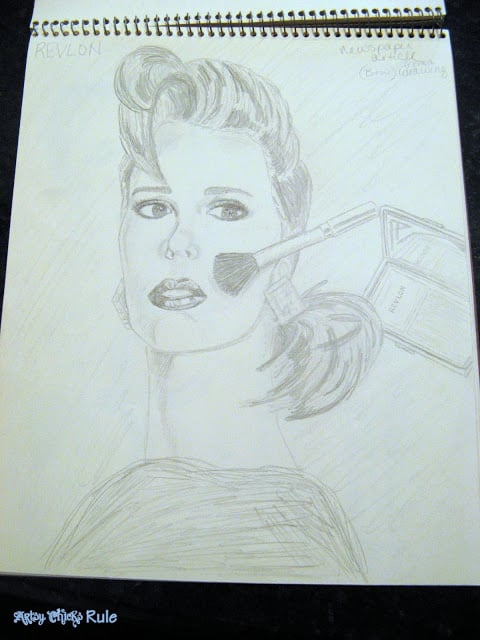 Not great! But I wanted to practice doing faces which were hard for me.
The eyes especially so!
And this one I never finished…..who me? Not finish? Say it isn't so.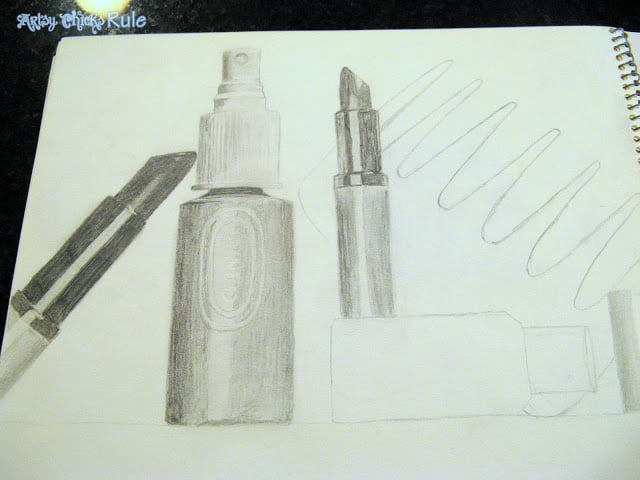 I have more….but I will spare you.
I think I have just always been fascinated by the transformation. Like the picture above….you can see the little bottle that I had yet to shade and "bring to life" next to the one that almost looks as if you could grab it off the page. I loved doing it because I loved seeing that transformation appear before my eyes… out of nothing.
And I think that's why I love to paint so much! I love to watch the transformation.
It is just so thrilling and satisfying to me.
Today my "artistic" side is filled with painting furniture, painting and changing up home decor and decorating.
(over and over…my poor husband…so glad he doesn't mind change!)
What are some of your creative outlets? Or artsy, creative things you love to do or make? And don't say you don't have any or can't!! I truly believe that every single one of us have some type of artistic, creative ability.
You just need to tap into it.
I'd love to hear what yours are!