Abstract Beach Art (with hints of gold)
This post may contain affiliate links. Please see disclosures here.
Create your very own abstract beach art with a little touch of gold! Let me show you how…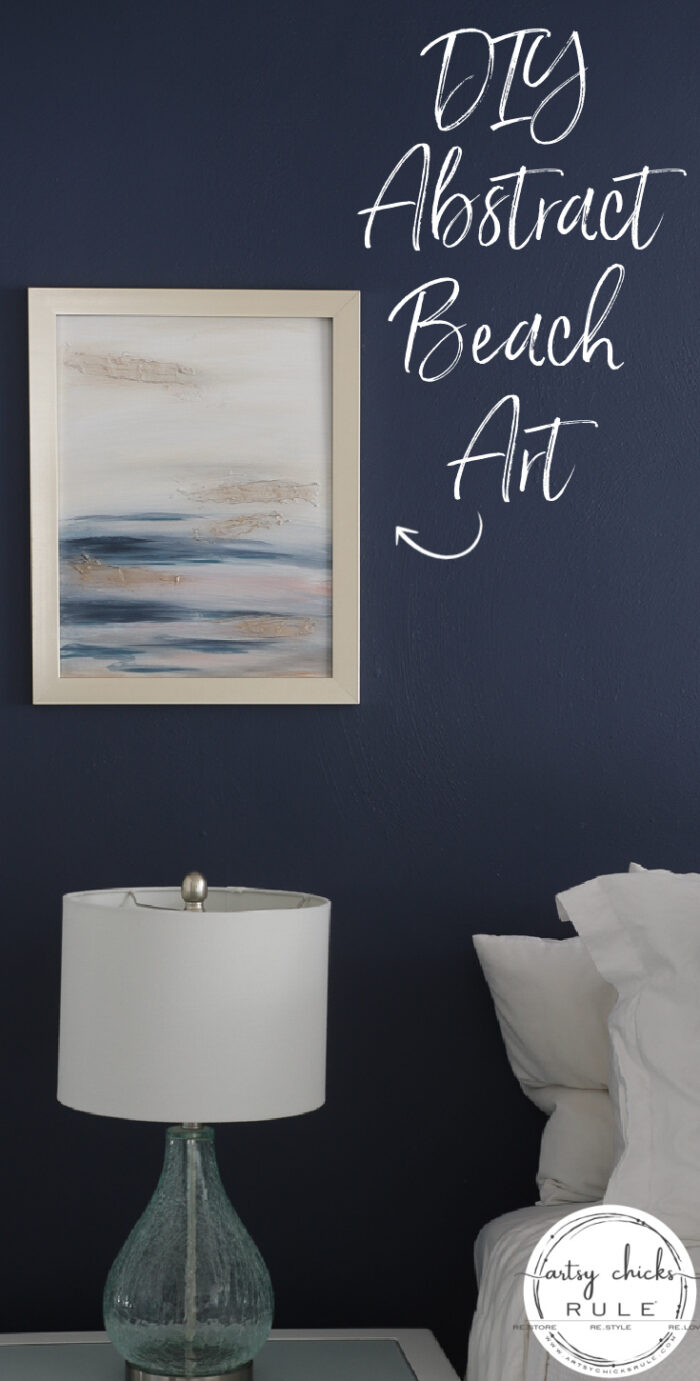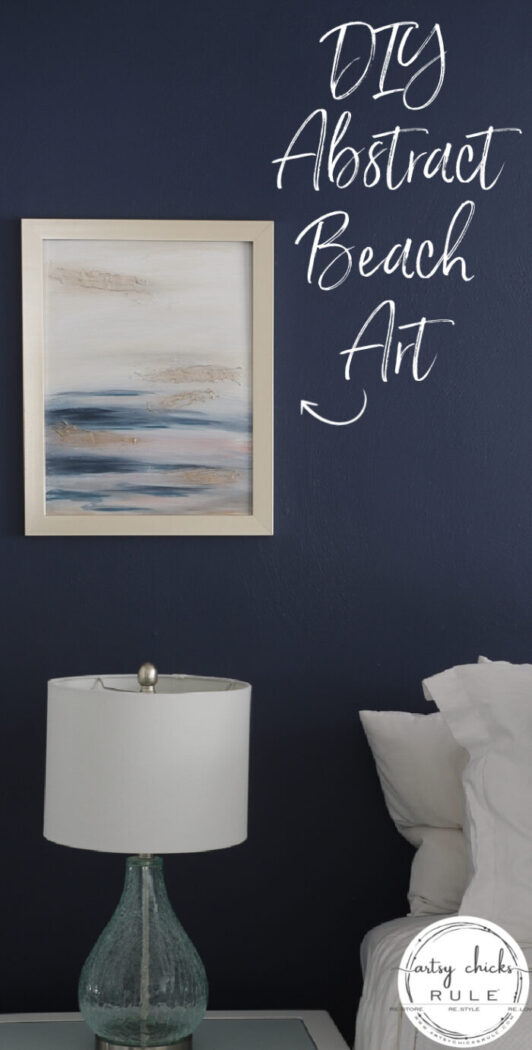 Hello and happy Tuesday, friends!
Did you catch my sneak peek of this project over on Instagram this past weekend?
I finally found something for our bedroom wall over the lamps. Yippee! And by found, I mean made. ;)
I knew what I wanted in my mind there but couldn't find it anywhere. So I painted some myself.
Now, I am a crafty, creative girl but I'm no artist. Not this kind of an artist anyway.
But that doesn't stop me from trying! And it shouldn't stop you either.
Because you just never know what you can do unless you try, right? Yep!
I did a few other abstract type paintings in the past (you can see them at the links below) so I thought, why not?
I bought this pack of canvases, oh, I don't know, at least 3 or so years ago. So long ago that I don't even remember what I was originally going to do with them.
I came across them as I was giving my office a makeover and decided to just make something so I can get this darn bedroom makeover done! lol
Abstract Beach Art (with a hint of gold)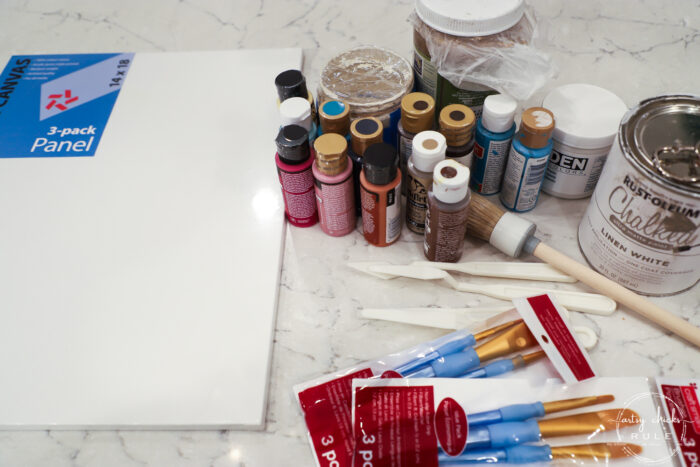 I pulled out some paint colors I thought I'd use and bought a few more from Michael's.
I wanted to pull colors from our rug.
(you can find the rug, here)
Pink, aqua, navy, orange, cream, etc.
I also knew I wanted to add some gold highlights like the painting in our living room.
So I pulled out my molding paste from my previous paintings to create some dimension first to later hit with some gold paint.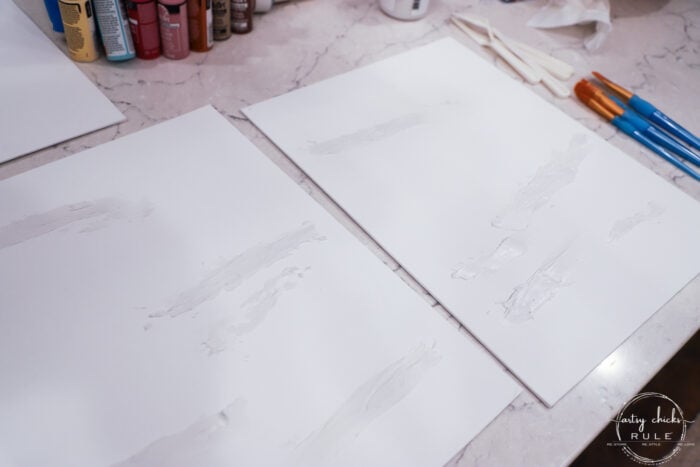 I just kind of randomly swiped some on. (more on the bottom though)
Basically, I just used one of the artist's knives over there to spread it on, sort of like butter but leaving it rough. (don't spread smooth)
MATERIALS SOURCE LIST
Craft Paint of Various Colors
Gold Paint
Once that was dry, I began painting. Starting with painting the whole thing white.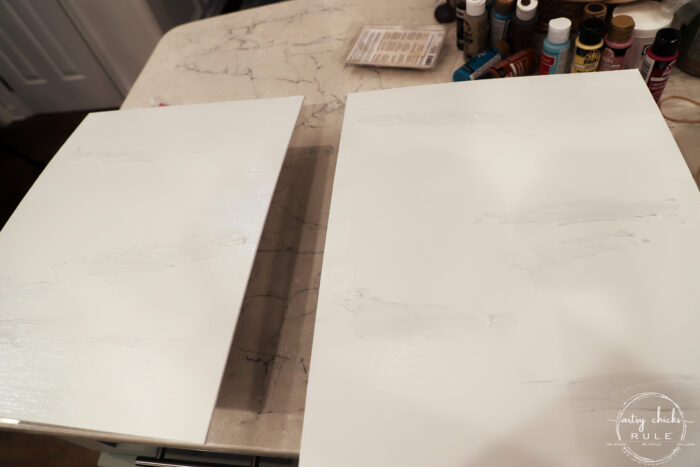 Then I went over that on the bottom to create the ocean area. (bottom)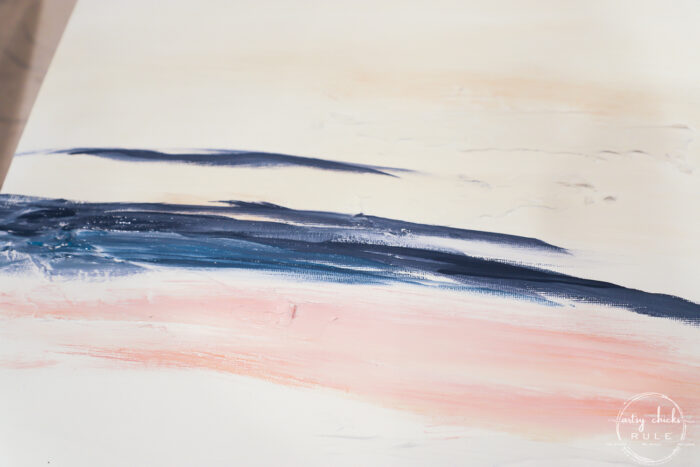 I incorporated some navy, turquoise/aqua, and pink/orange in this area.
I used a flathead artist's brush for this part. (below in the blue paint)
My crazy mess, haha… and how I paint.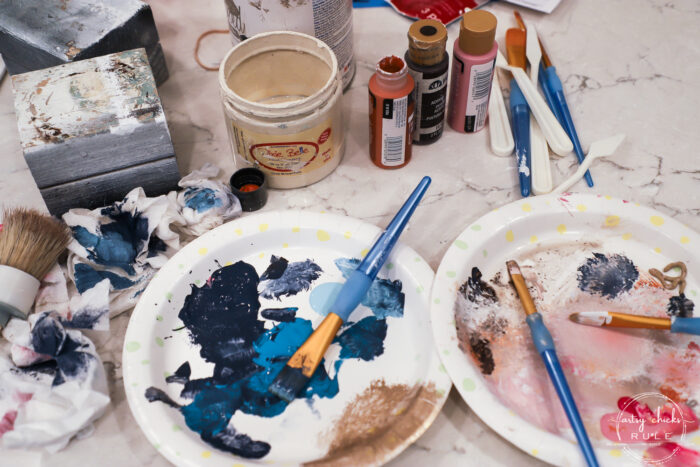 For the sky area, I used Dixie Belle in the color "Drop Cloth". Not all over, I wanted to leave some white.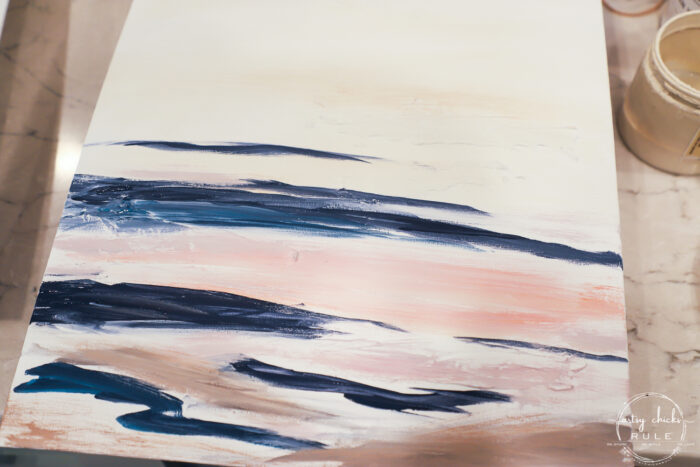 And a little brown on the bottom.
Looks like a Kindergartener painted it right now. (might still! haha)
But just keep going, it will get better.
Then I moved onto the other painting. I wanted them similar but not exact.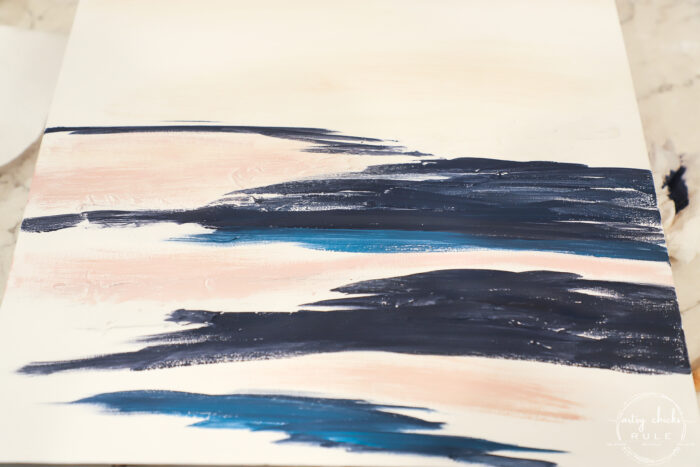 You can see the turquoise blue a little better here and where I put it.
Once this was dry, I went back over with this larger bristle brush.
I wet the brush, dried it so it was damp (but not DRY), and went over all the paint. (side to side)
You don't want to completely blend the colors, just soften and smooth.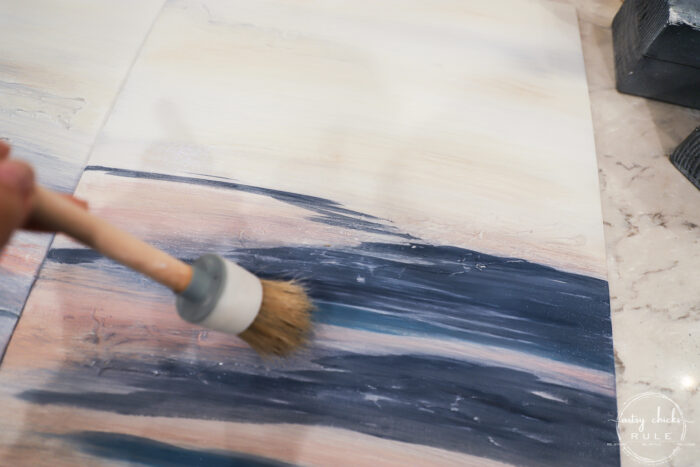 Re-wet the brush several times. (or you could probably also use a spray bottle and lightly mist with water)
Where it may blend too much with the underneath white paint, go back over with more color like below…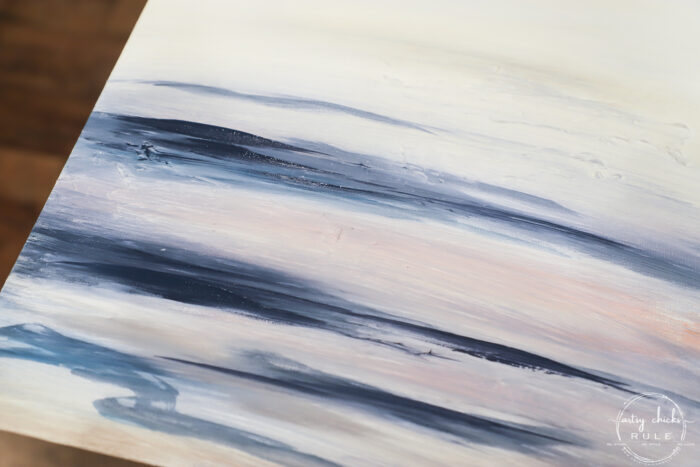 …let it dry a bit and then blend again the same way as before.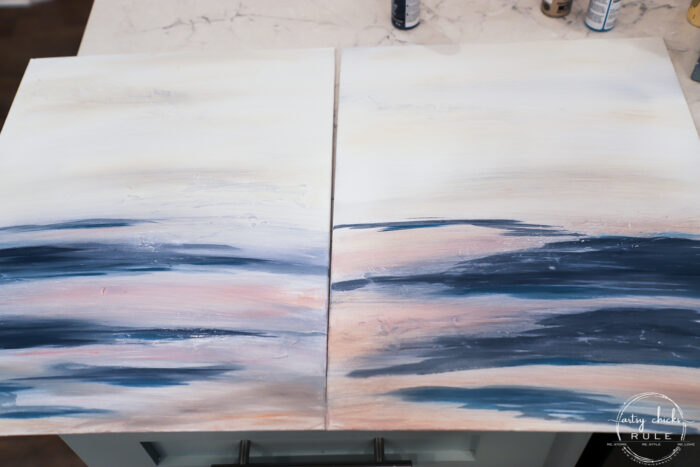 You can go back and add color wherever needed.
I actually did a few swipes in the top area while some of the blue/pink was on the brush. (not a lot!)
That gave it a little more dimension up there and also some reflection from the "water".
Once that was dry, I grabbed my gold paint and used the same bristle brush to apply gold in a "dry brush" fashion to the raised areas I created earlier.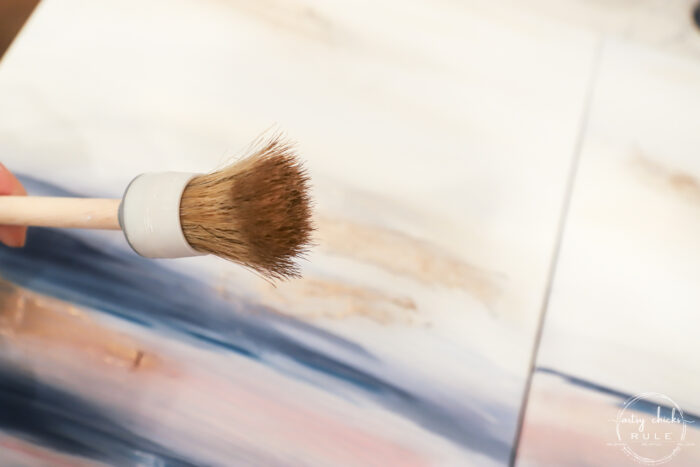 The right side below has the gold, the left does not.
See how it adds some pizazz? I just love that!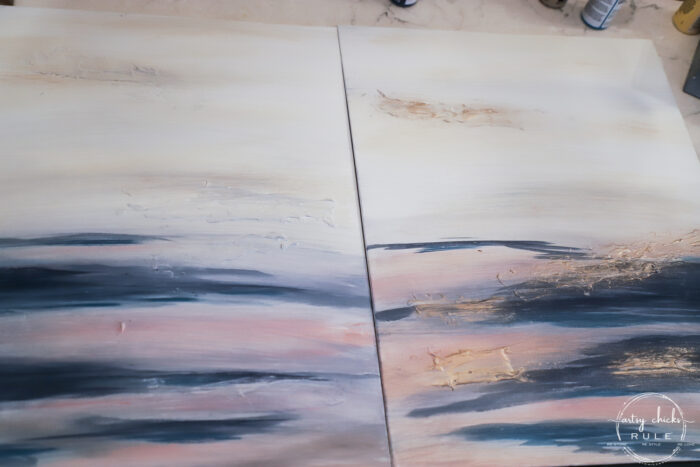 I went to Michael's and grabbed two gold frames to put them in. (without the glass)
They were buy-one-get-one-free, thankfully! This is the frame I used.
I'm pretty happy with how they turned out. And even more so once I saw them up on the wall.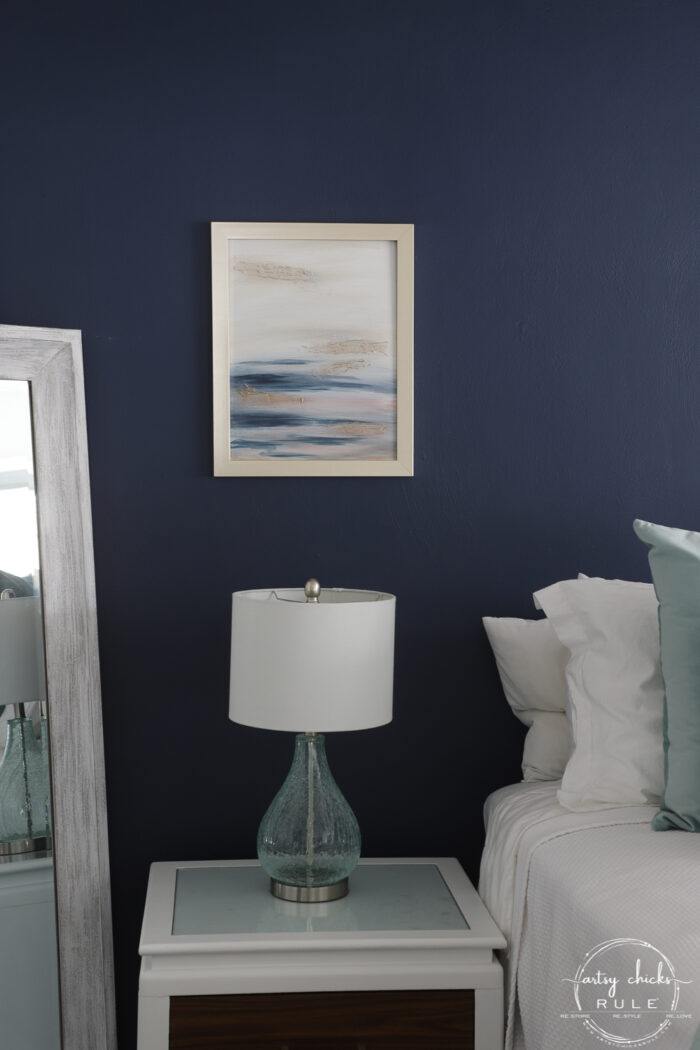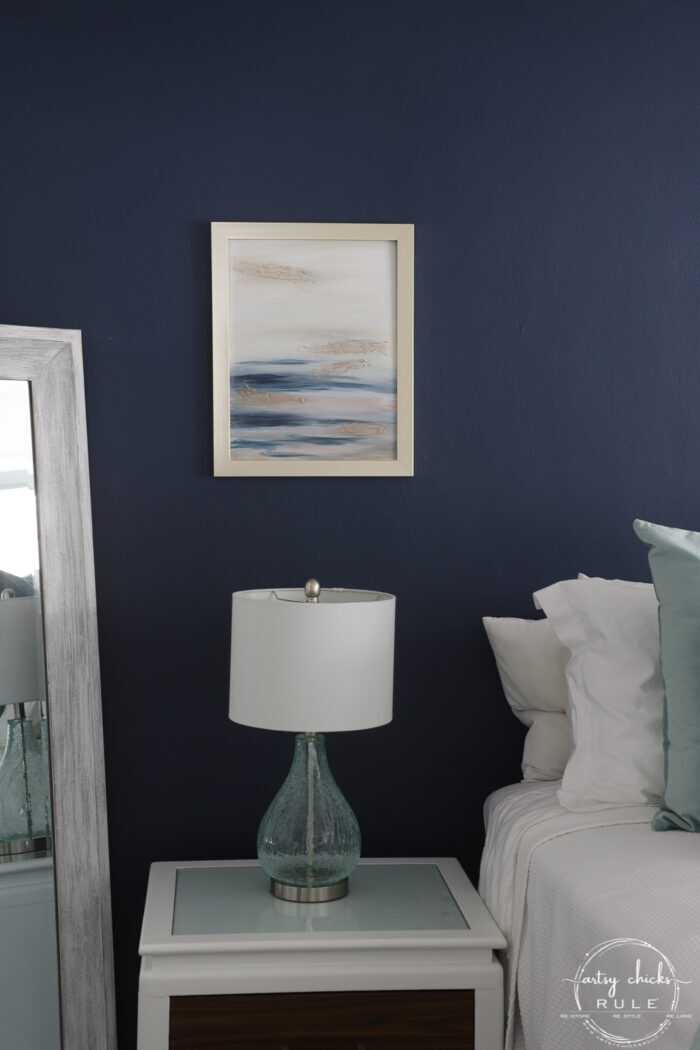 I do think next time I would do the molding paste after I finished with the painting. That way I could apply it more purposefully in the areas I wanted, which might have made more sense. Then go back over it with the corresponding paint and the gold highlight.
Anyway, it's always a learning experience so next time I'll give it a shot that way.
I know these may not be everyone's cup of tea (the whole abstract art and such) but I love how it tied in the colors of the rug in the room.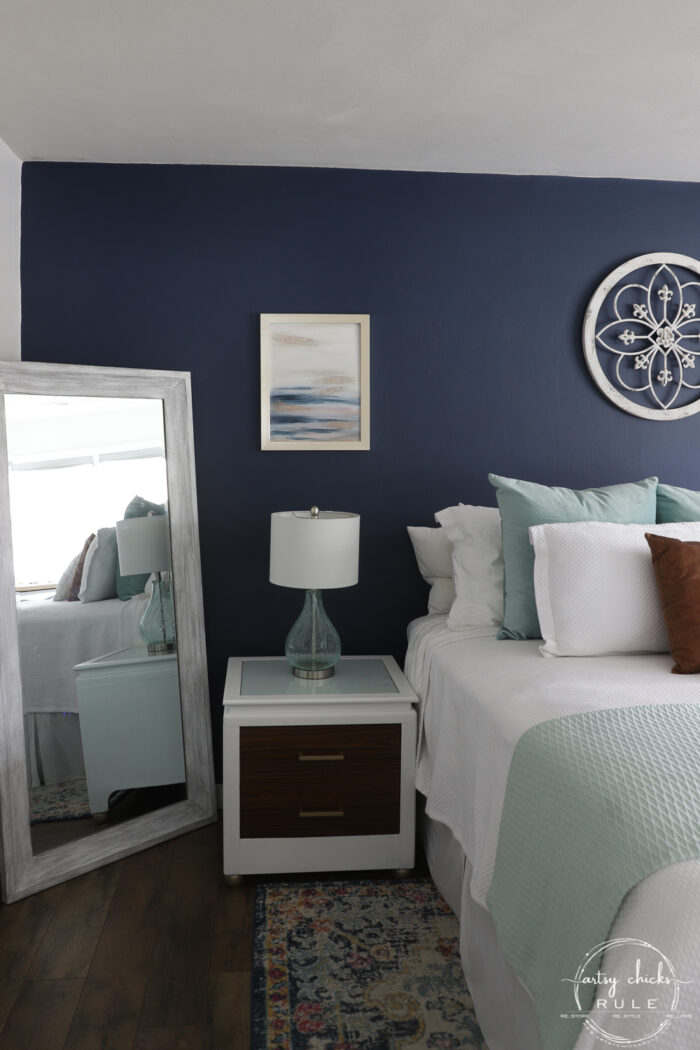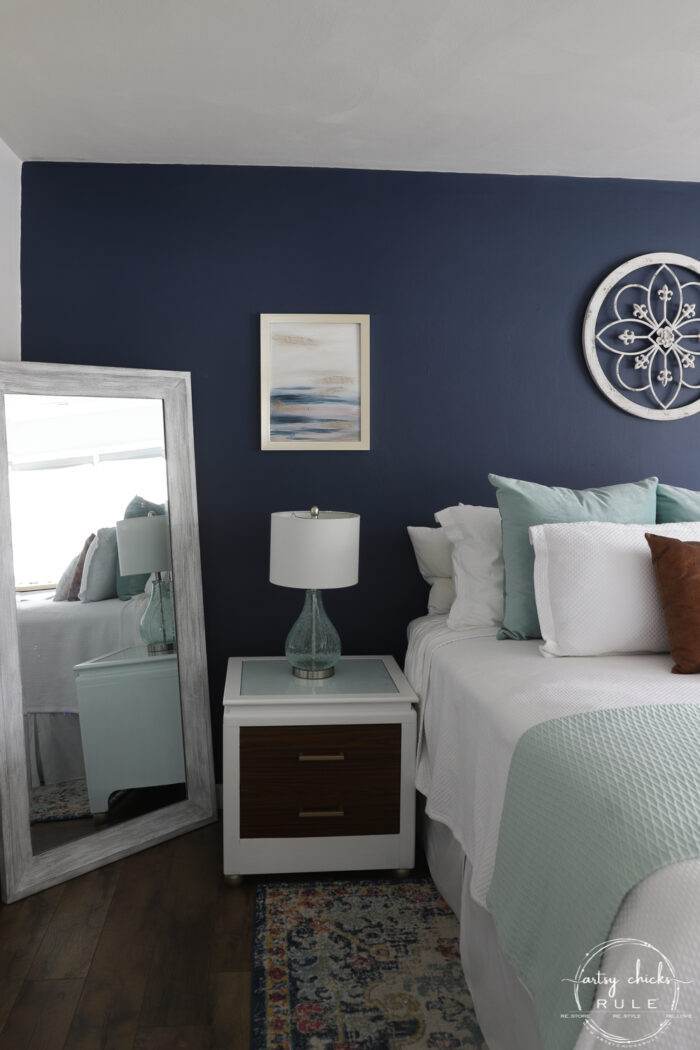 Pinks, golds, navy, and aqua.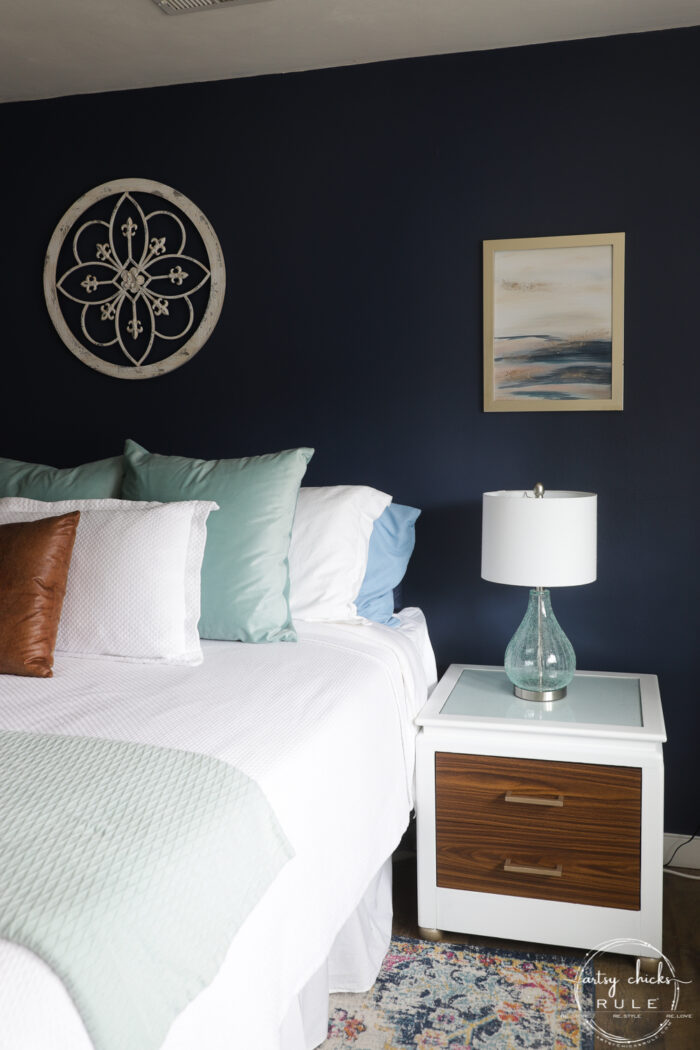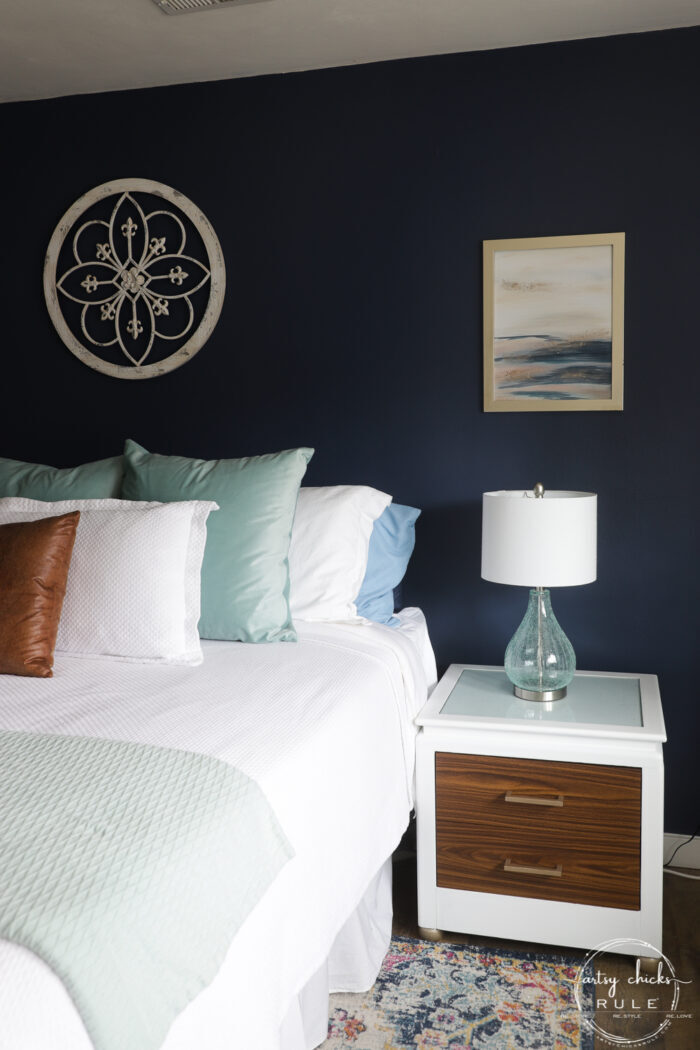 So…similar but not exactly the same.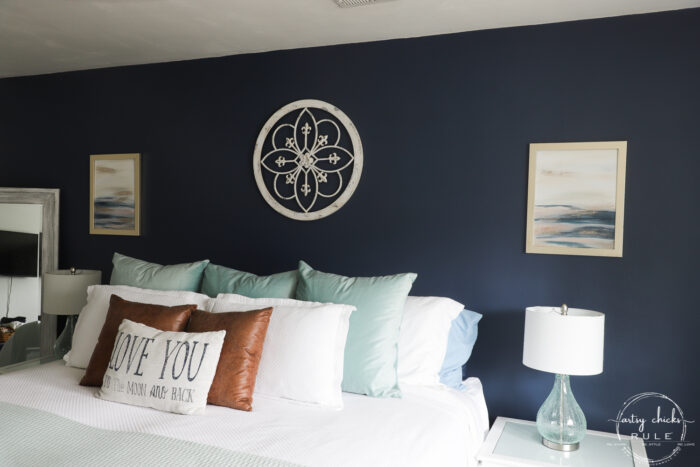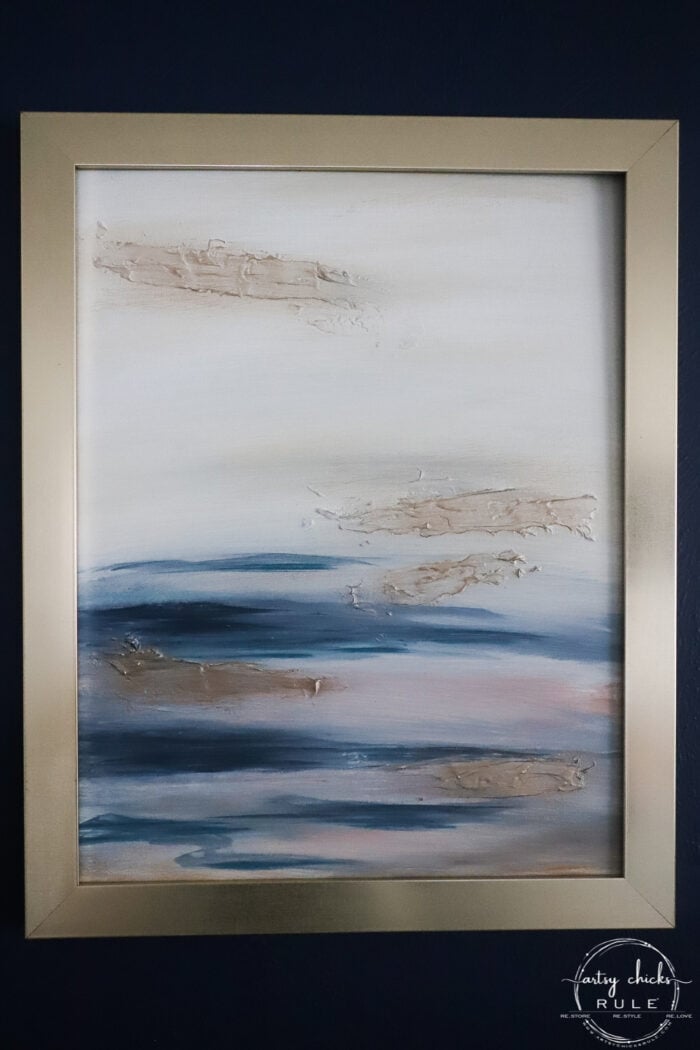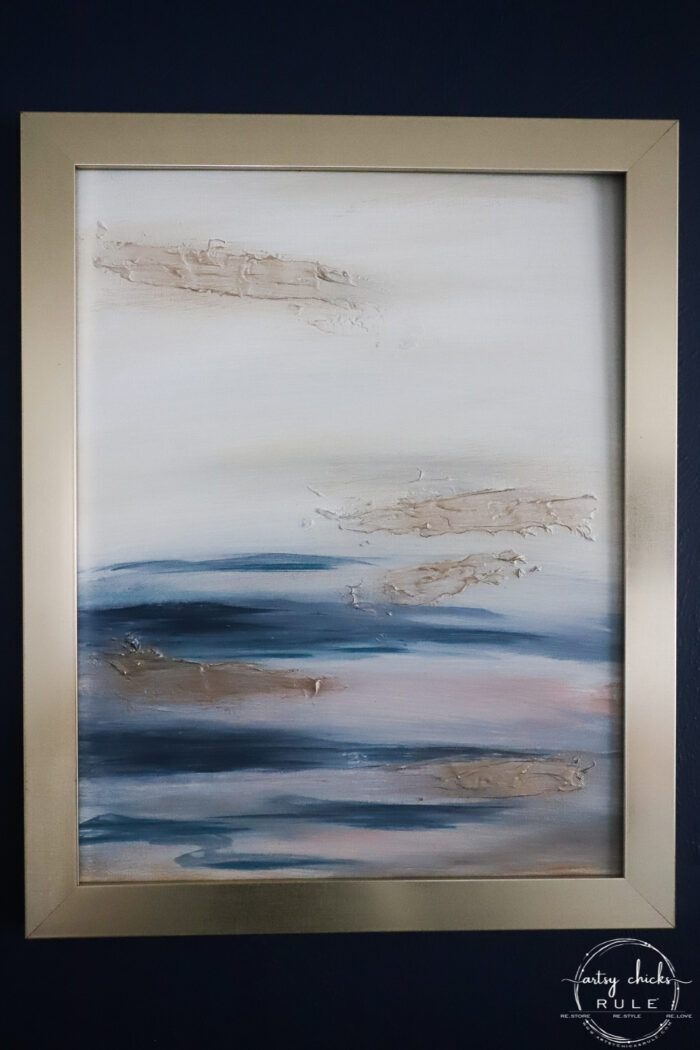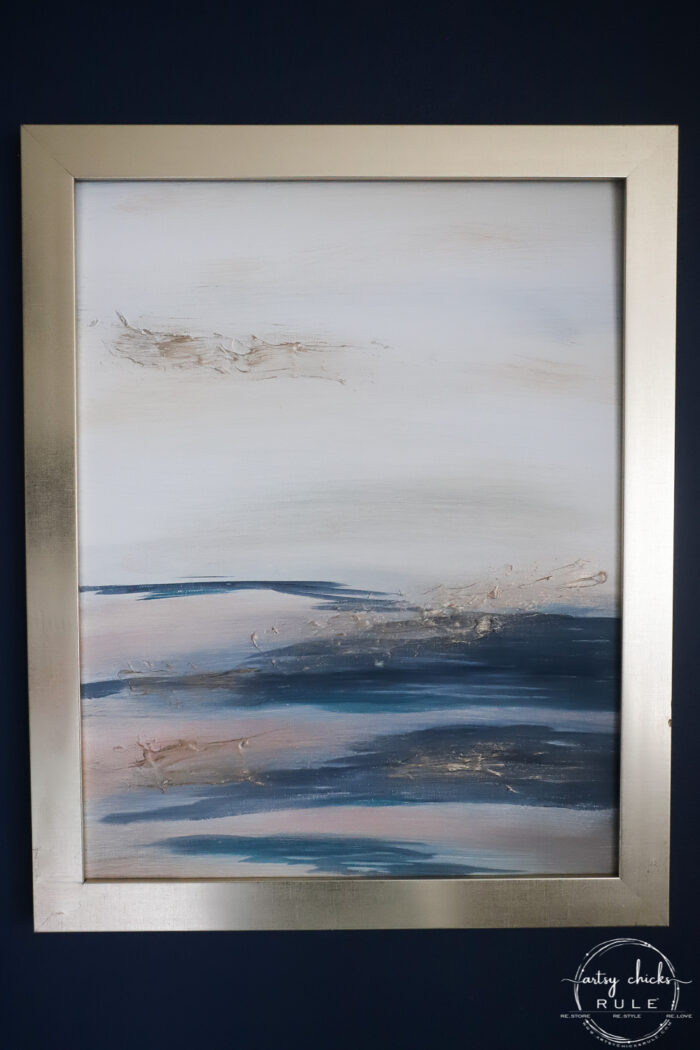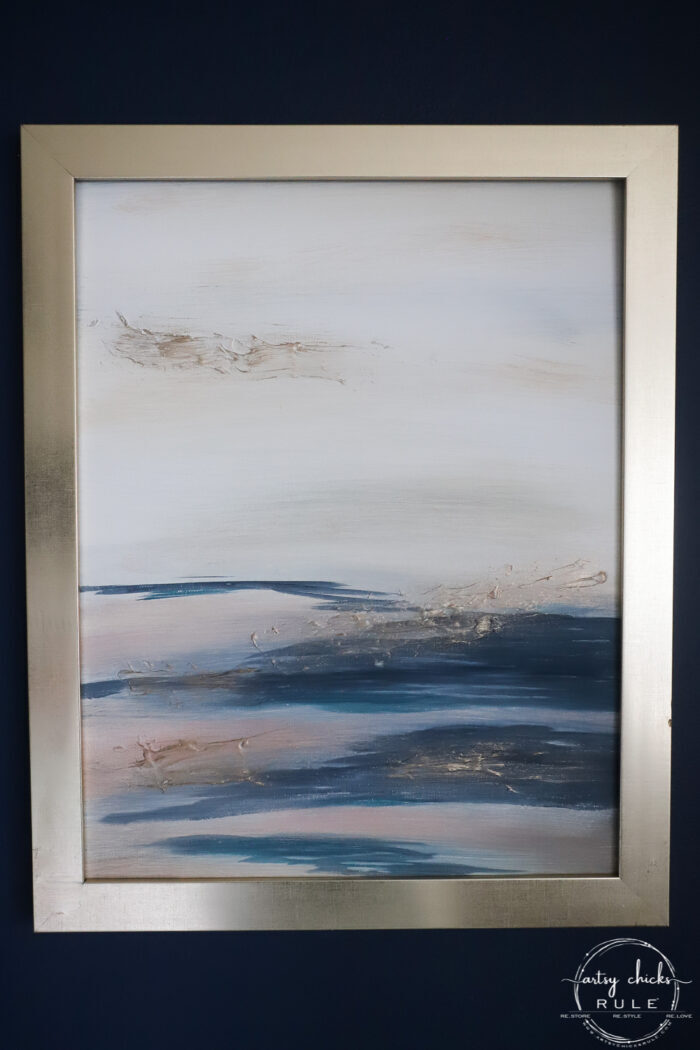 Up close…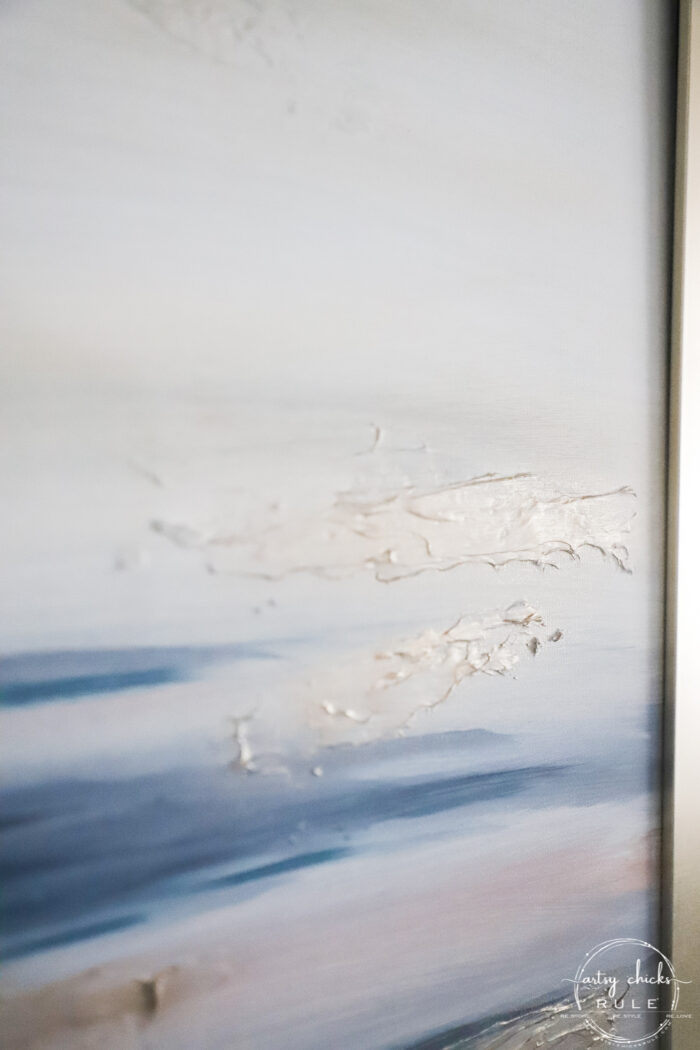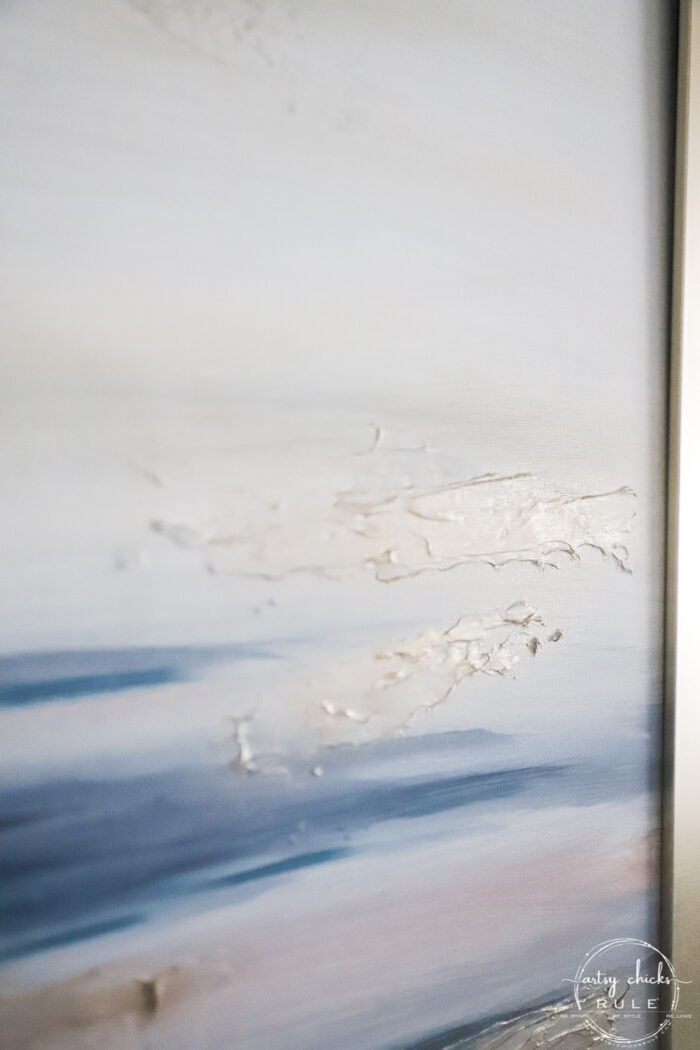 You can better see how I applied the molding paste here…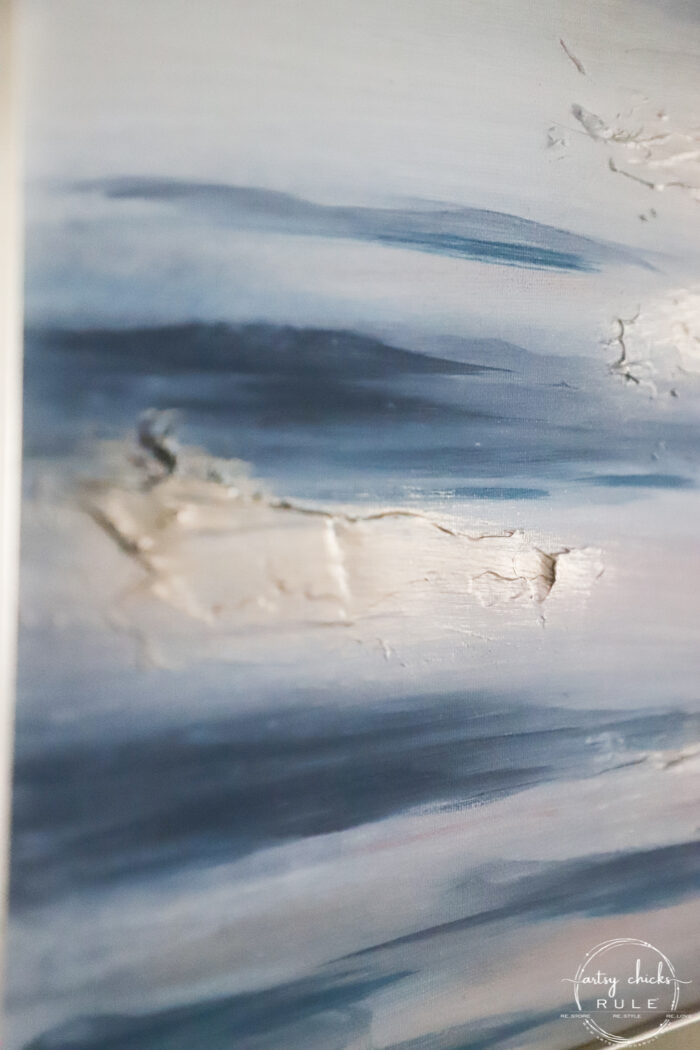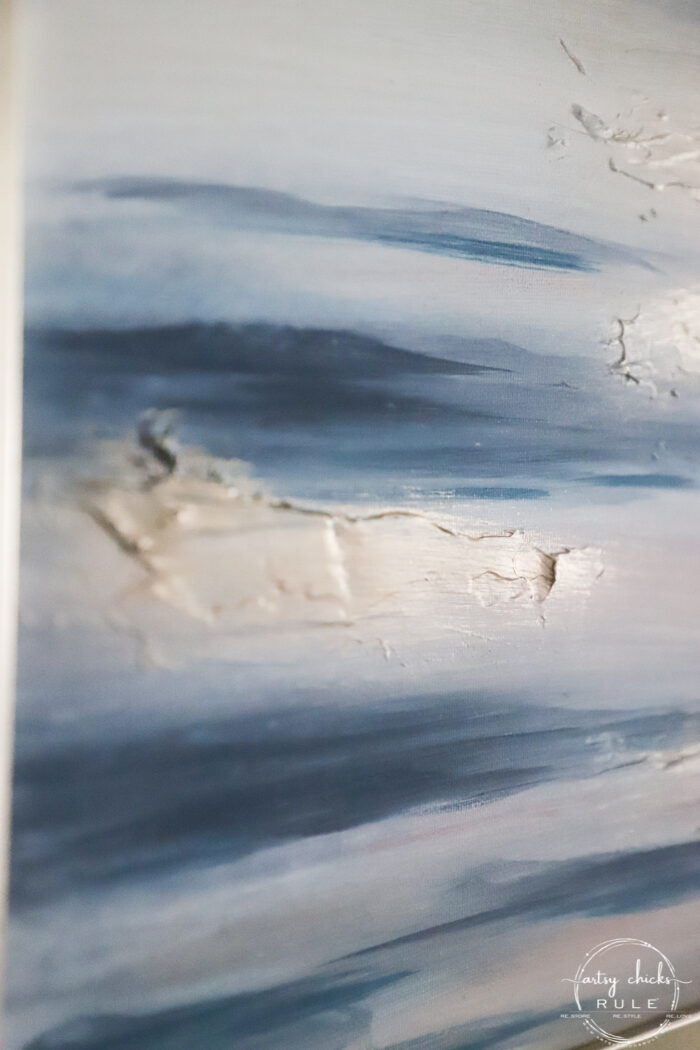 I'll be sharing the whole room (and my husband's IKEA closet build) once I finish up the other side of the room.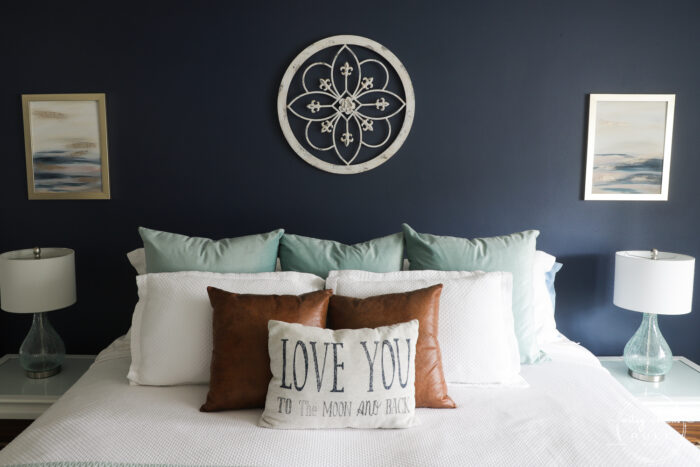 Have you ever painted like this? Think you'd try it?
I think you should! It's fun to pull out the paints and just let it flow.
You never know what you'll end up with! Maybe your very own masterpiece.
PIN it to save it!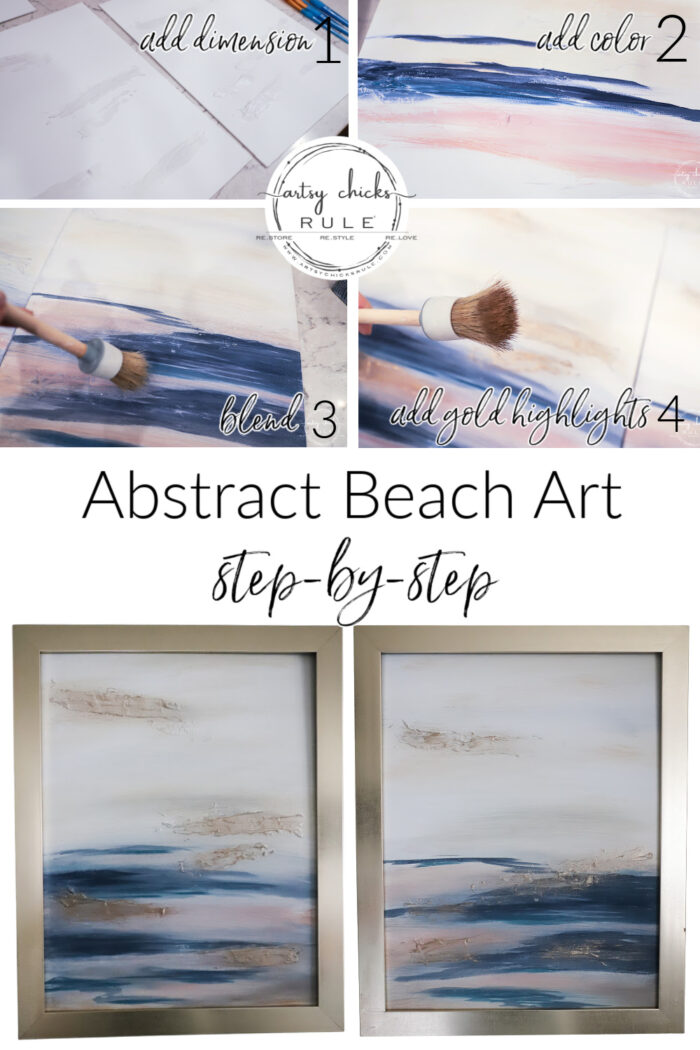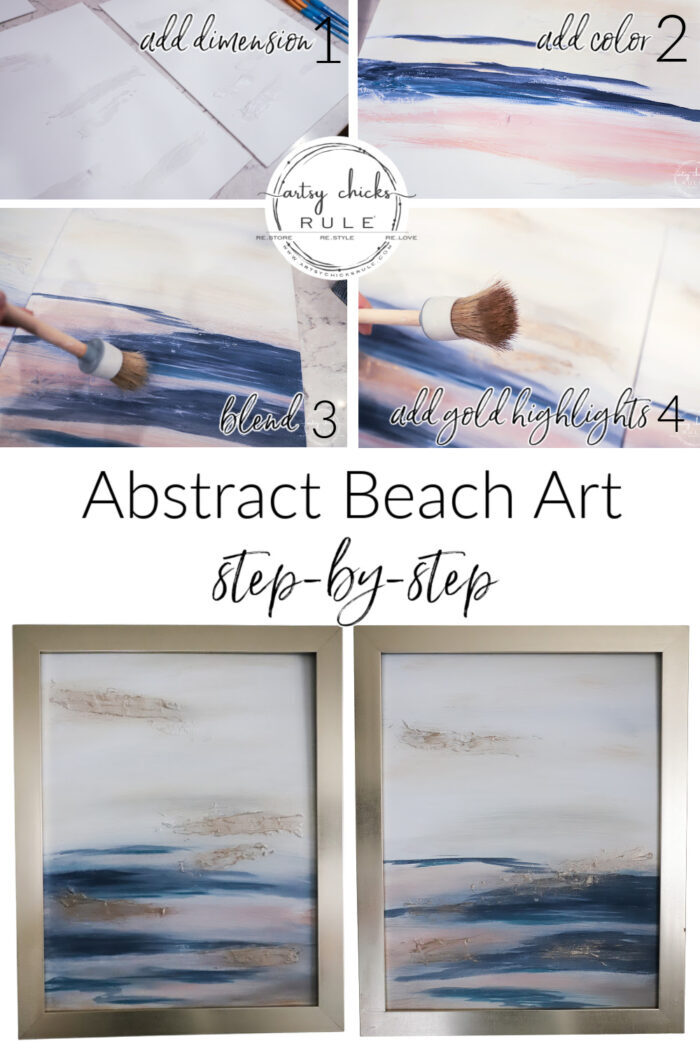 I'll see you back here on Thursday with a little artsy kind of post!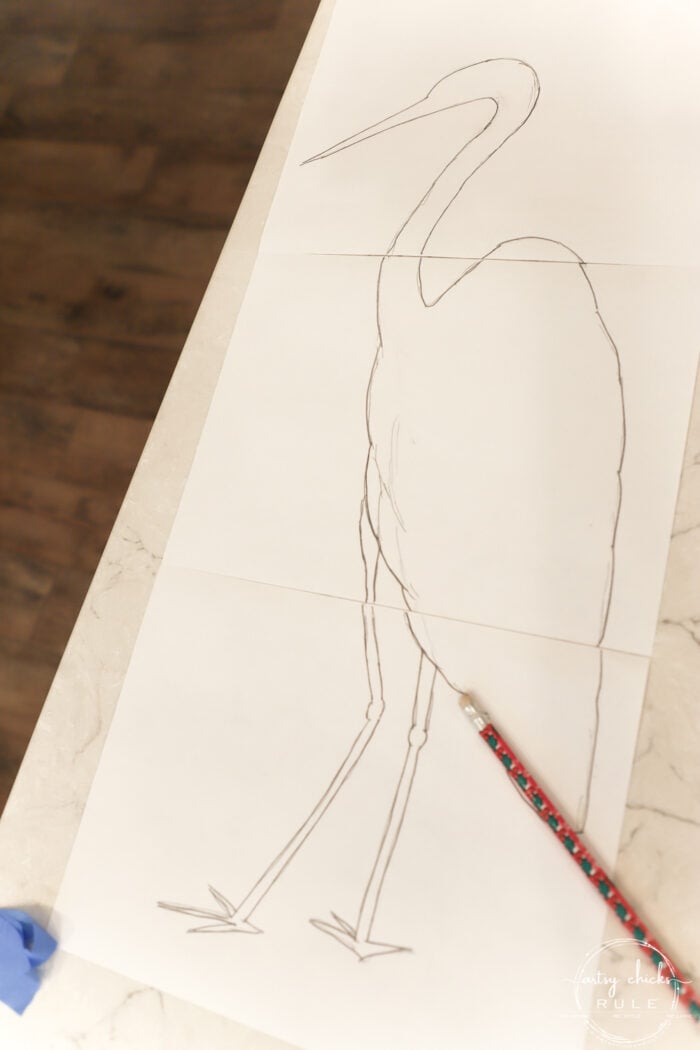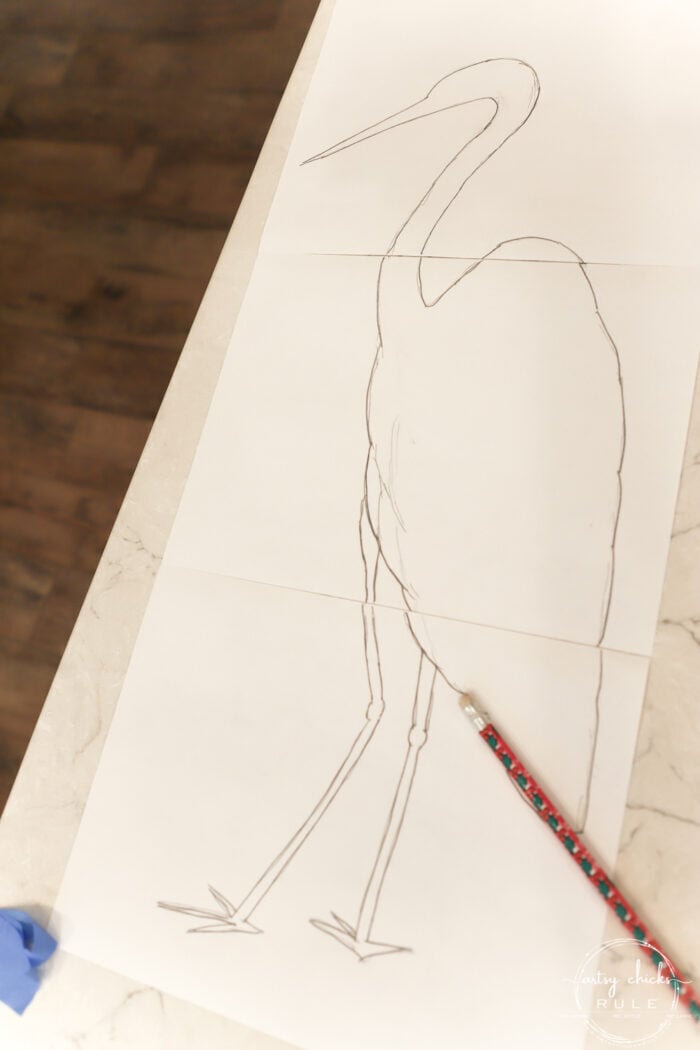 UPDATE!! See it finished here!!
xoxo