DIY Beach Painting (create faux texture for real looks!)
This post may contain affiliate links. Please see disclosures here.
Did you know you can create your very own DIY beach painting? It's not as hard as it seems!
Hello, my friends!! I hope you have had a wonderful past weekend and a lovely week so far!
I did and oh my gosh, am I so happy that it's March. Sooo happy.
And so happy Mr. Weatherman is really cooperating too.
Today I'm sharing a project I'm kind of really excited about….a DIY Beach Painting.
Although…….I wasn't too sure to start with!
But like I always say, it's only paint y'all and if at first you don't succeed, just repaint!!
And so I did.
My "Get Your DIY On" friends are back this month too with a new theme…. "textures and patterns".
So get ready to share yours too!
………………………………………………………………………………….
Here's my inspiration to create something "textured"…..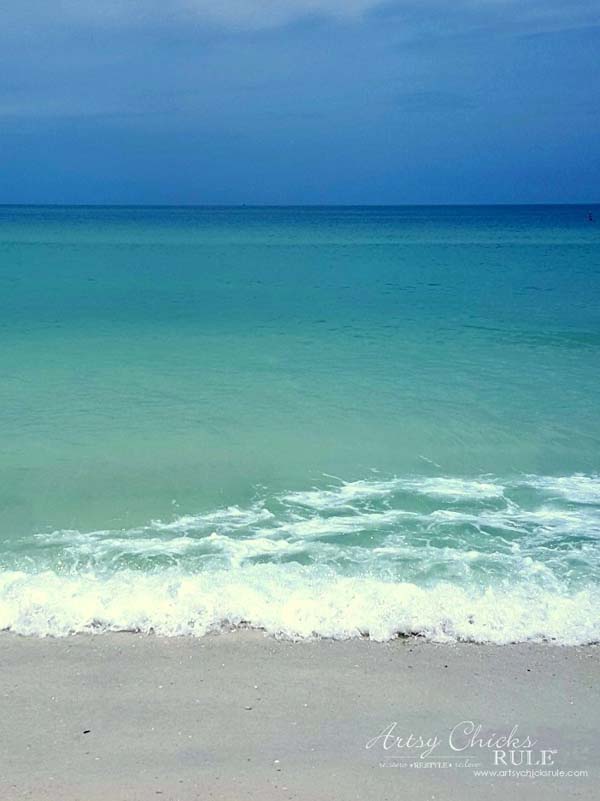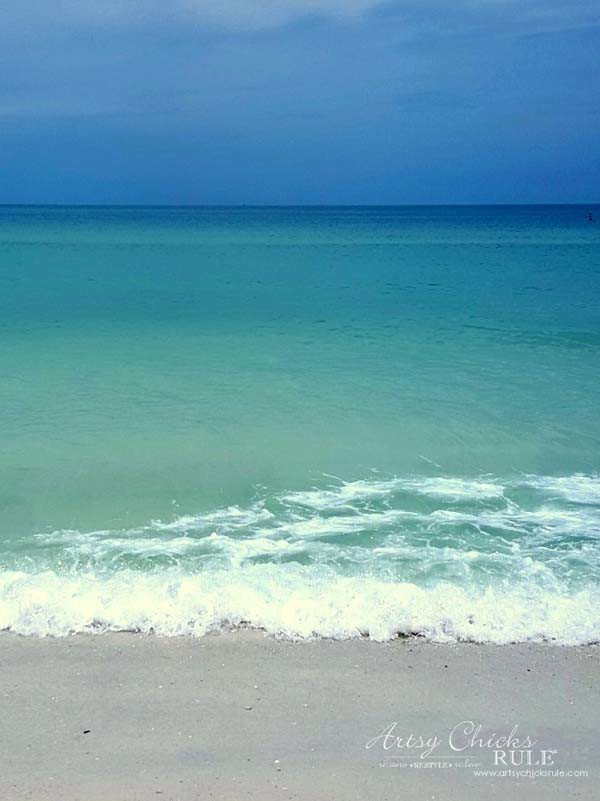 This photo was a picture I took of the gorgeous water/beach in Florida last year.
Isn't it just amazing?? (Yes, it really looked like this! I live right by the ocean in VA and our water is not this color..boo. ;))
I actually had a canvas printed with this photo but then decided to change our headboard.
The new headboard will be taller and the photo/canvas won't fit longways.
And so…..the reason for the new DIY artwork, is sideways instead!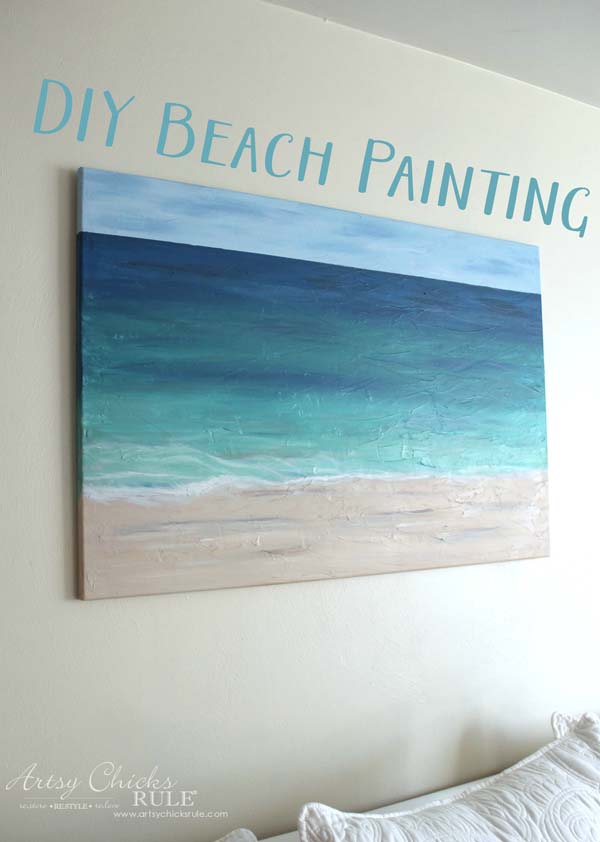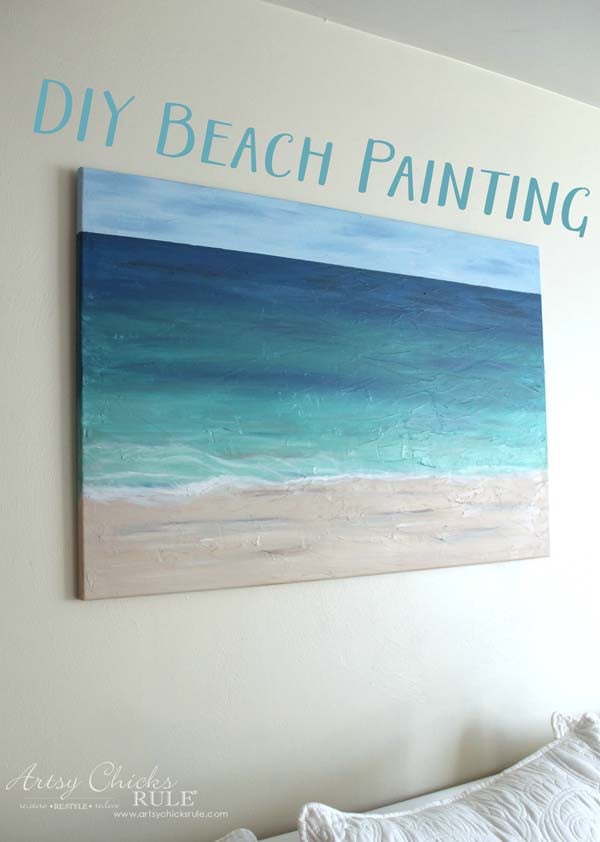 It wasn't all rosy, to be honest, but it wasn't hard either.
That's what I love about paint!!
But let me tell you, this is probably not the best tutorial because once I got going, I got going.
I didn't stop to take photos because I may have panicked a little at my first attempt.
I tried to create a more "abstract" painting and well, no.
So I literally painted right back over the top of everything. (while it was still wet which actually worked out pretty well)
In any case, here are the materials needed.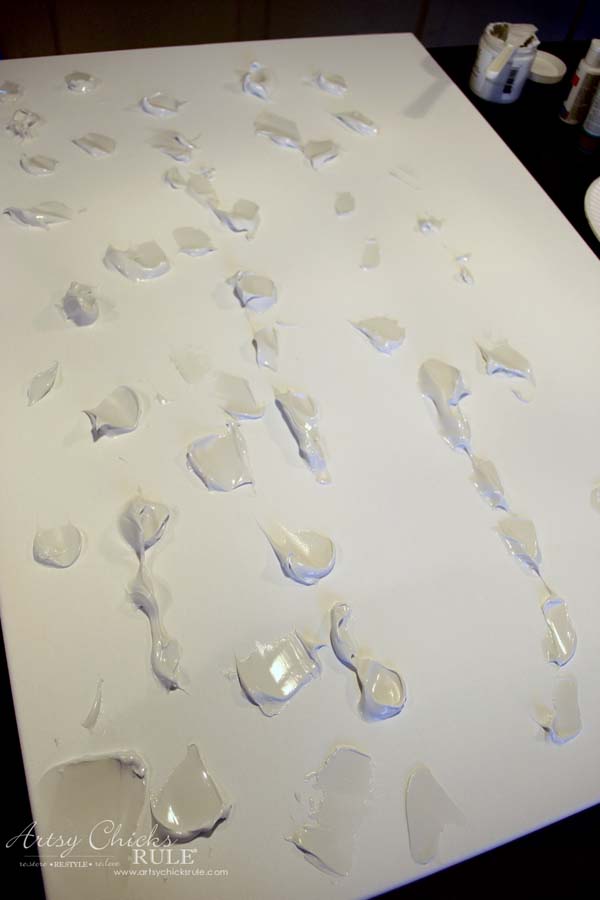 I plopped the molding paste down all over the canvas so I'd be able to spread it easier.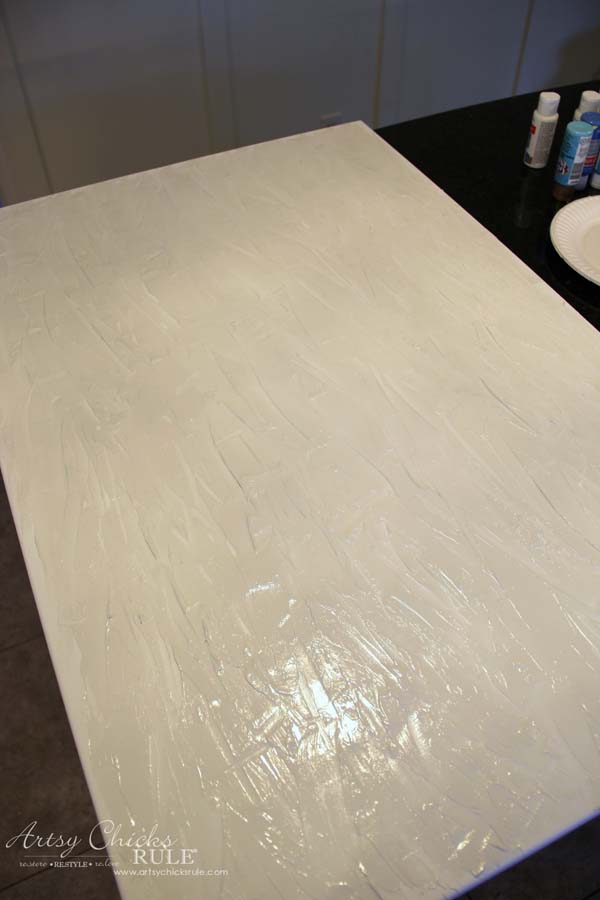 Then I used my handy little tools and spread it all over the board….sort of just like cake icing.
This was kind of fun actually!
Just like Kindergarten craft time.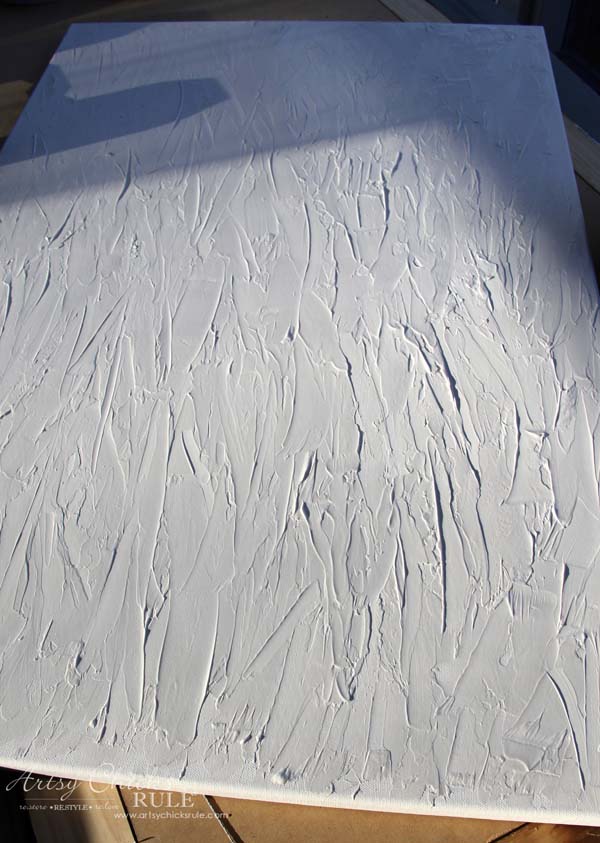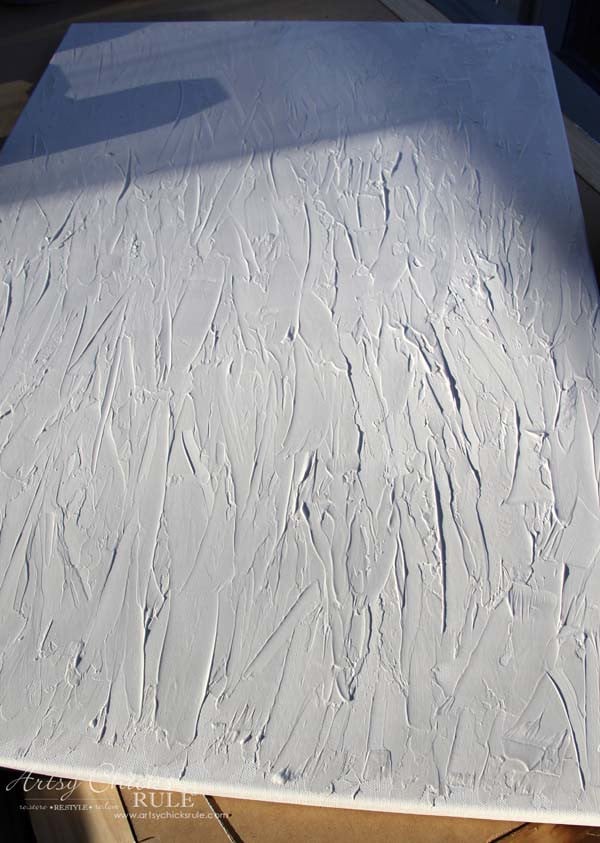 A little better shot of it in the sunlight drying outside.
See how I did it? No way to mess this part up!! Easy!!!
Once it was dry, I started painting the "sand"……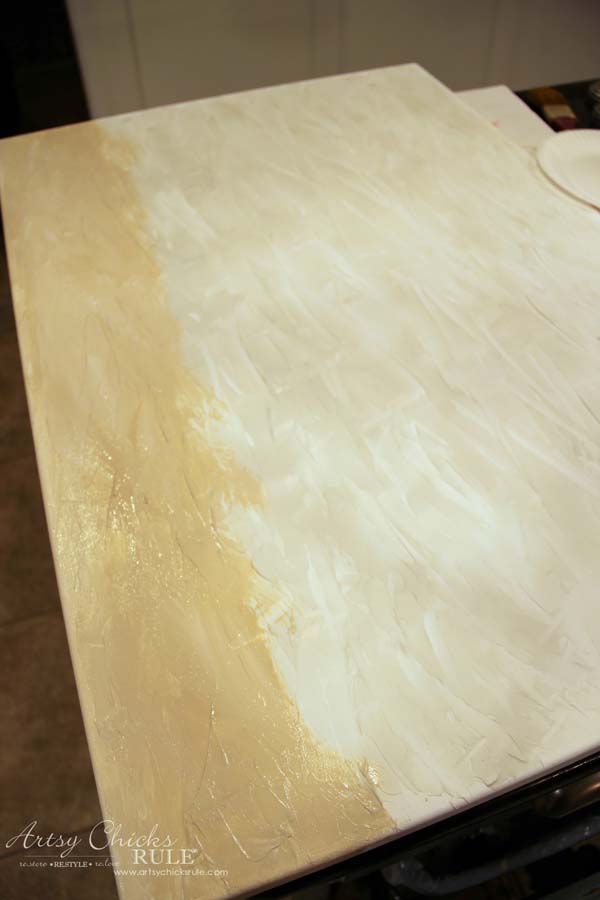 …and adding depth with more color as I went up the canvas…..
(mixing on my fancy paper plates, like so….)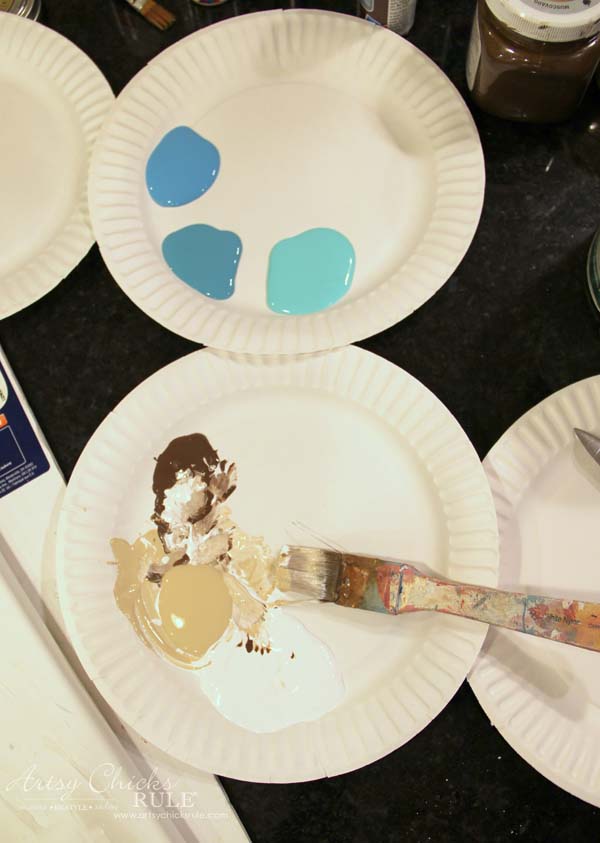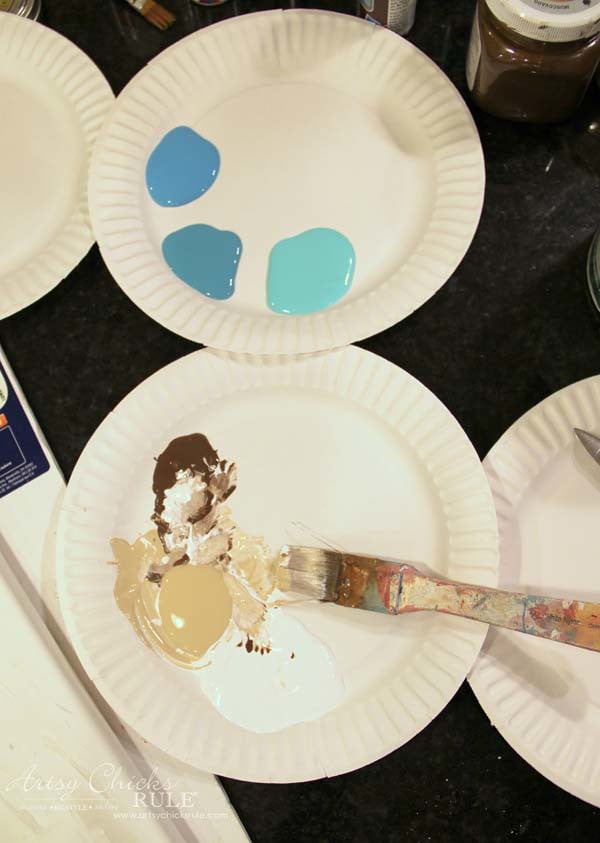 Want to see some of these projects in "live" time? Hop on over and follow along with me on INSTAGRAM. I'm always sharing in my stories as I'm doing projects, finding new furniture, fun finds….just all the day to day behind the scenes.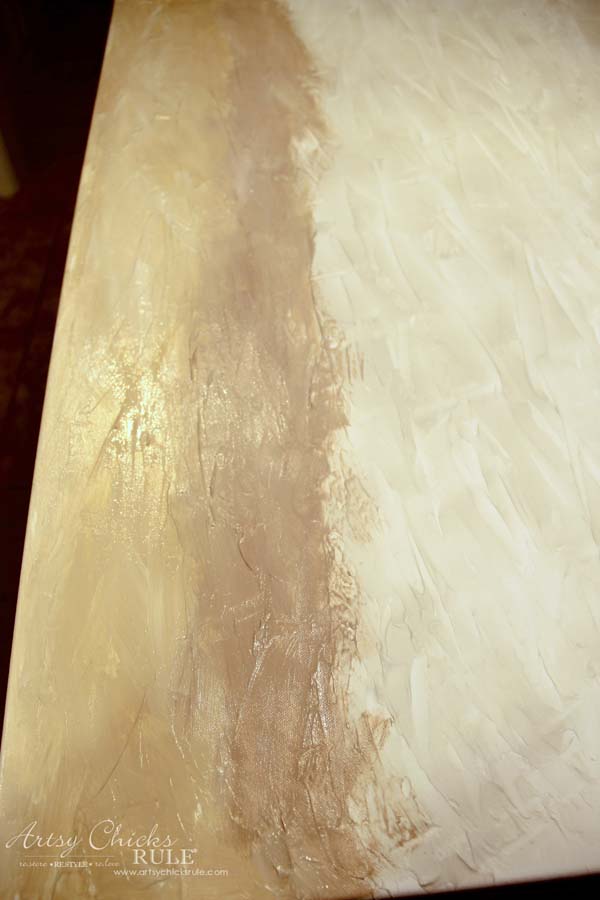 This is where it gets a little murky.
I just kept going up and I totally created an "abstract" piece … but I hated it! UGH! lol
It looked like a Kindergarten craft to me and that was not the look I was after.
(Sorry I didn't take a photo! I really wish I had so I could show you guys! I didn't even realize it until I was done because I was so entrenched in the whole process.)
So this time I started at the horizon line and attached a piece of painter's tape across where I wanted it to be.
Bye, bye abstract painting….hello straight horizon line.
During this time, I also realized trying to paint this flat on the island was not working.
I do not have an easel so I created a makeshift one…..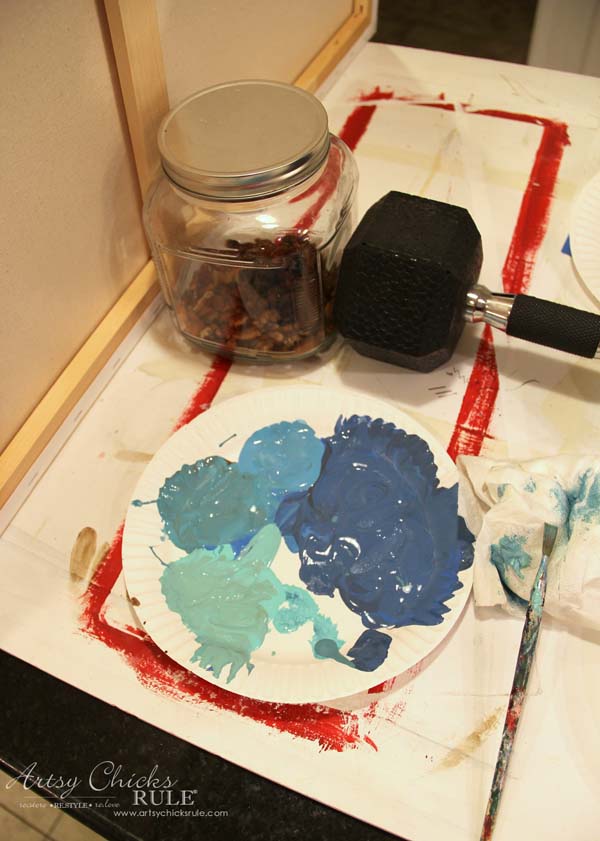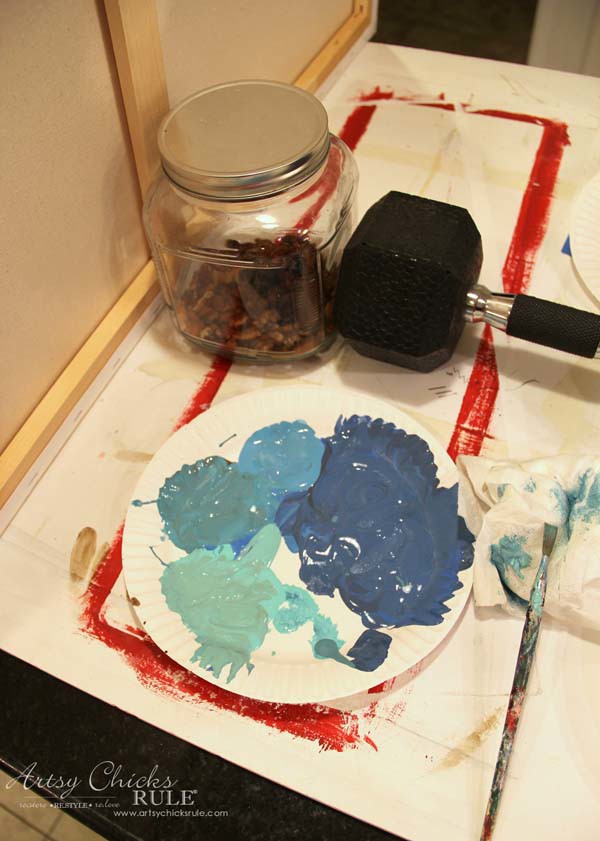 A jar of half-empty nuts and a hand weight!! Haha…I'm so resourceful.
It made it so much easier to see what I was painting though.
Anyway, since I didn't show you a step-by-step, here is how I will share how I painted it all.
H O W T O: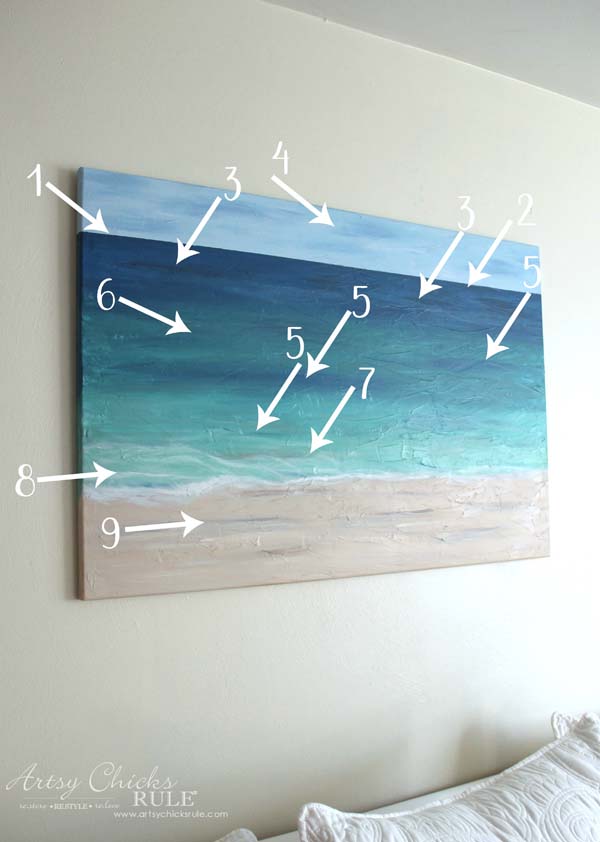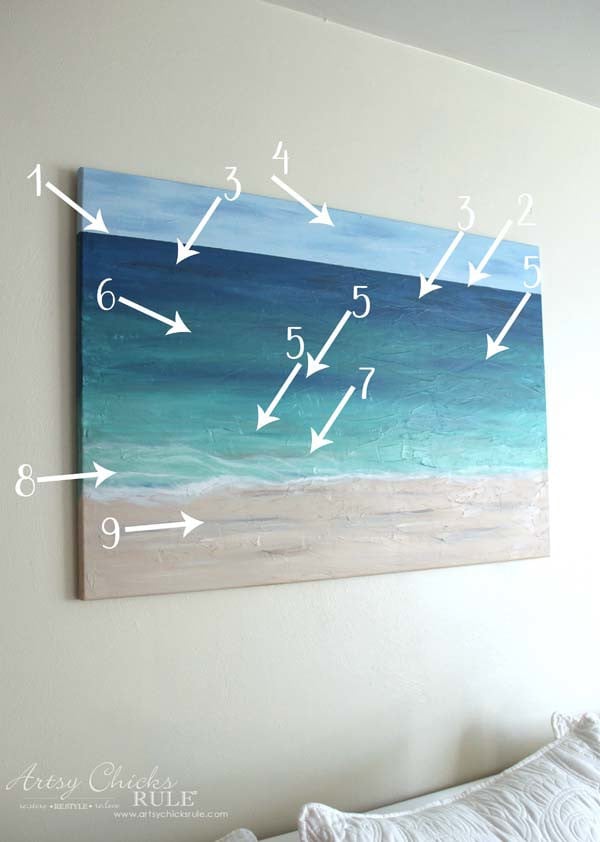 The very first thing I did was create a straight horizon line.
I used the darkest blue there and slowly mixed in white to create a lighter blue as I went down.
Then I actually went back and mixed some darker blue (blue mixed with brown) a little lower for some variation in the watercolor. (as it would be in nature)
For the sky, which was originally a cartoonish blue, I mixed the same blue I used for the water and white (probably 95% white to 5% blue)The neat thing here is that the original blue color was underneath AND still a bit wet. So when I added the new very pale blue over top, it created a nice "clouded sky" appearance with little effort on my part! Love that!
As I went down the canvas, I started adding in more of the turquoise color (the darker of the two I had). As you can see, I also went back in with that darker blue in places. (all the 5's) I even went back in with that darker blue at the water break link on the beach in a couple of places. Can you see it?
Adding the turquoise (mixed with white and brown to lighten and darken, as needed)
Adding a bit of the darker brown "beach sand" color in the water.
Adding white waves. Not hard at all, just squiggle a few white waves here and there.
I lightened up the entire sand area from what was there and then added in some white and darker brown for depth.
The great thing about painting like this is that the paint is really a dream to work with.
It blends and mixes and ends up just lovely.
AND if you mess up, it's soooo easy to go back over it and change it up!
I will tell you, I started the canvas using the "cartoonish" colors I bought and only added white to lighten and darken.
I think that was my main mistake. (unless that is the look you are after, of course)
When I redid the painting, I added dark brown AND white to lighten and soften the colors (making them a bit more realistic).
I have to share the "aftermath"…. hee hee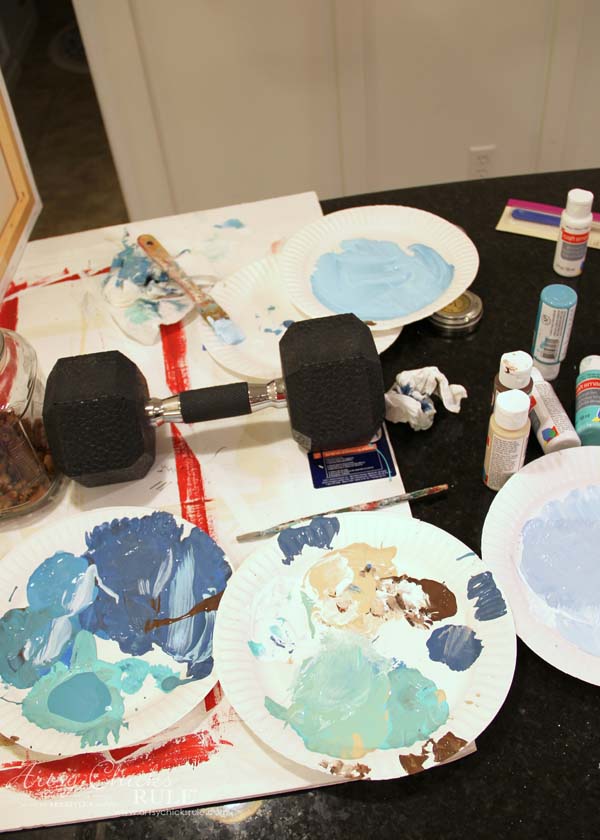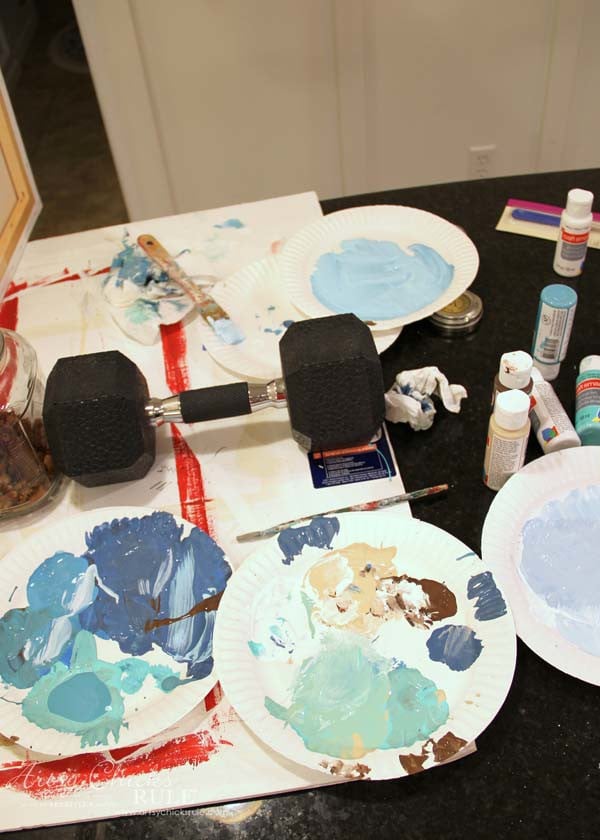 Artists are messy, right?
Here you can see that gorgeous texture that totally adds to the look of this painting.
I highly recommend doing this!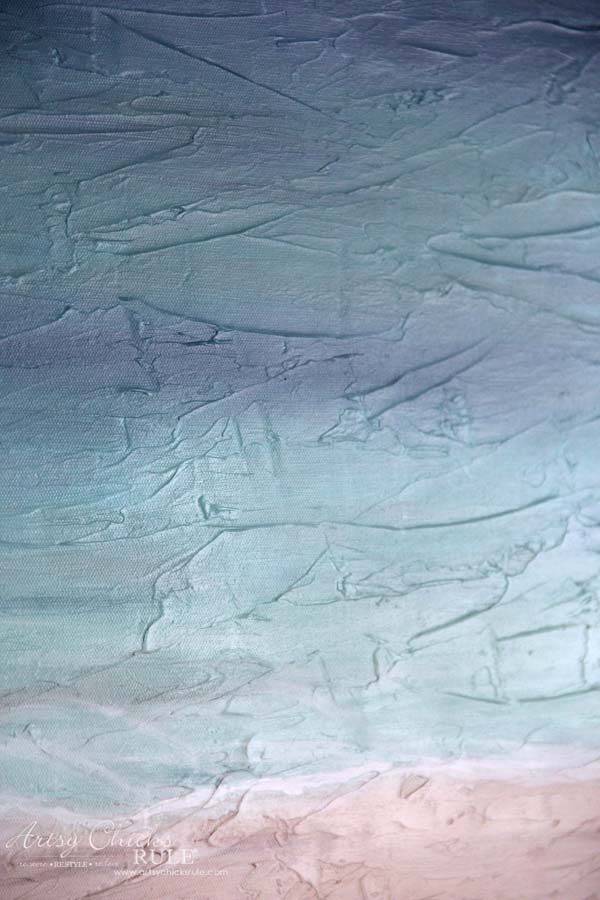 Isn't that neat-o?
And don't forget the sides of the canvas…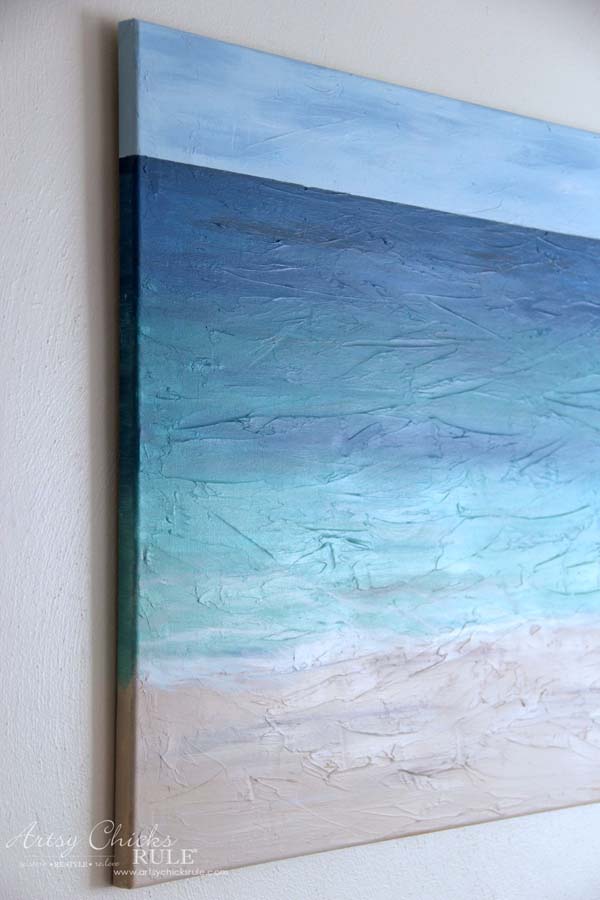 They need a little painting too.
Straight on shot…..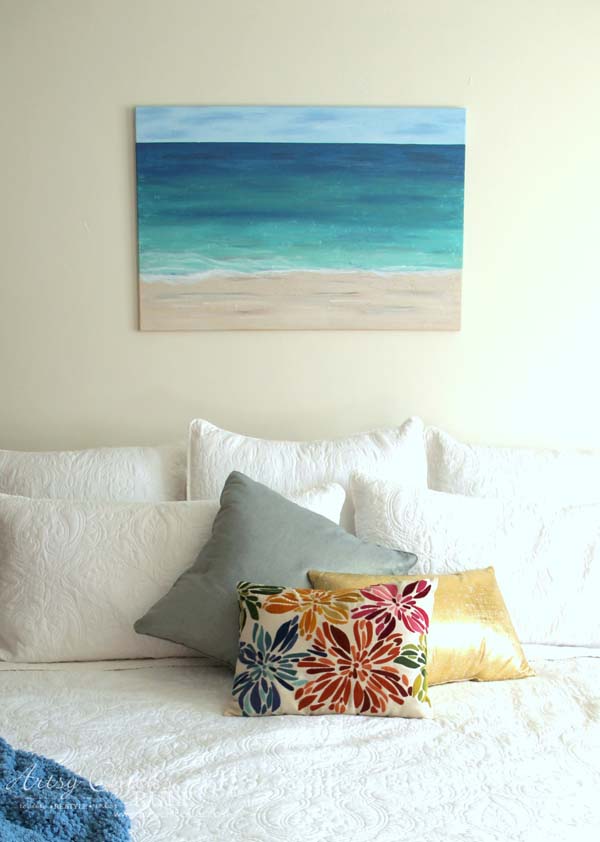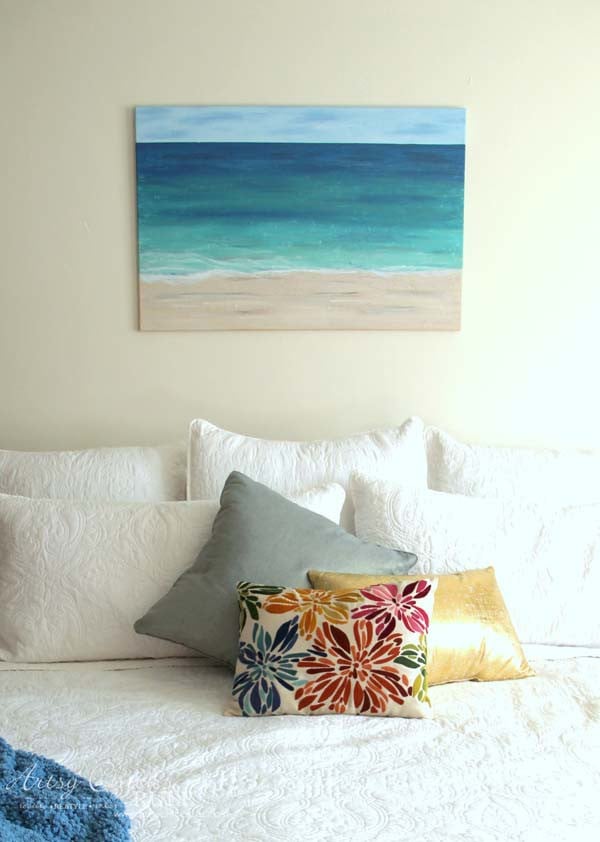 Sneaky peeky of my >>> master bedroom progress.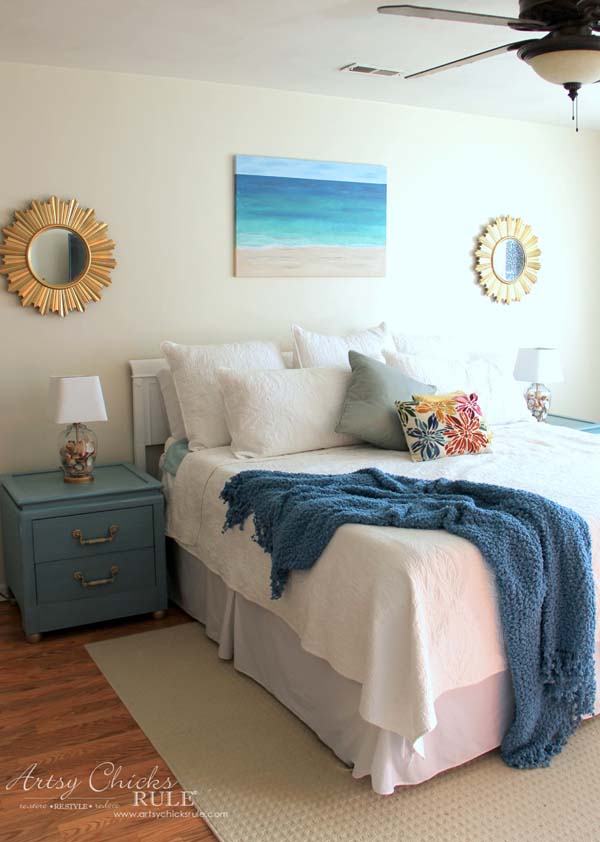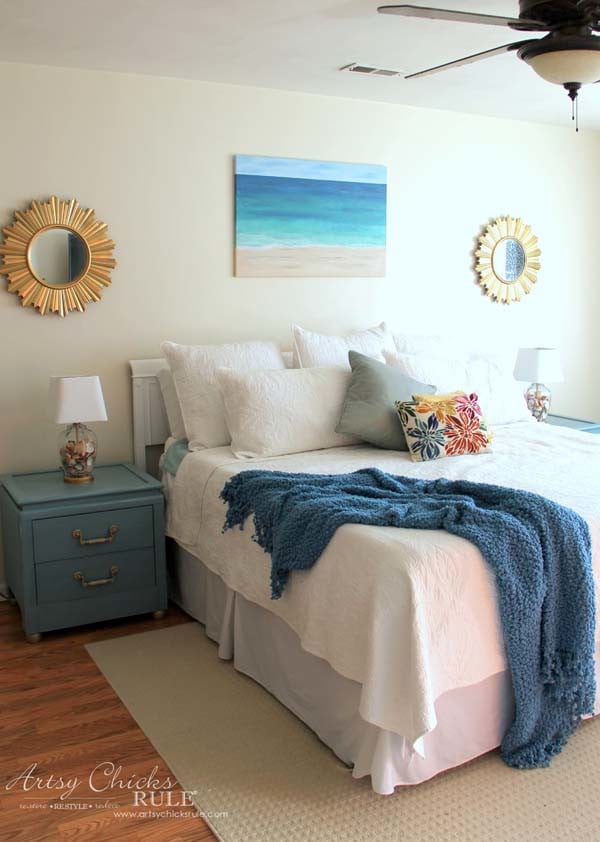 I'll be sharing those nightstands soon. Yay!
And I've still got >>> two "love" signs to paint and hang on each side of the new DIY beach painting.
(Hey, y'all remember that rug? It used to live in my family room but we switched and moved it up here.)
I hate that ole orangey wood laminate floor. We put it in about 8-9 years ago and there weren't many good options then.
I'd love to redo it but…the list is long so probably won't!
I had considered painting it but that probably won't happen either.
And y'all, tell me the truth, wouldn't a gorgeous chandelier look just lovely in here?????
Separating my husband from that fan will be near impossible though.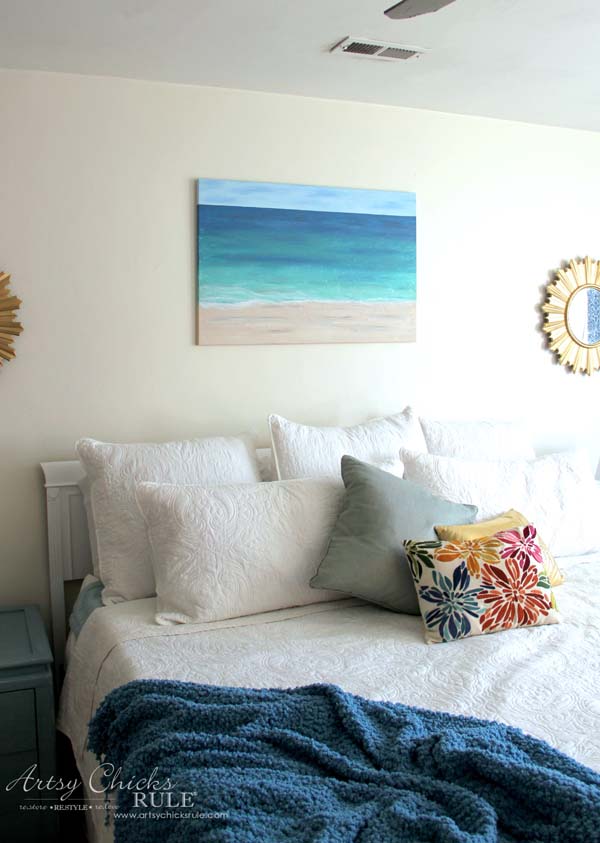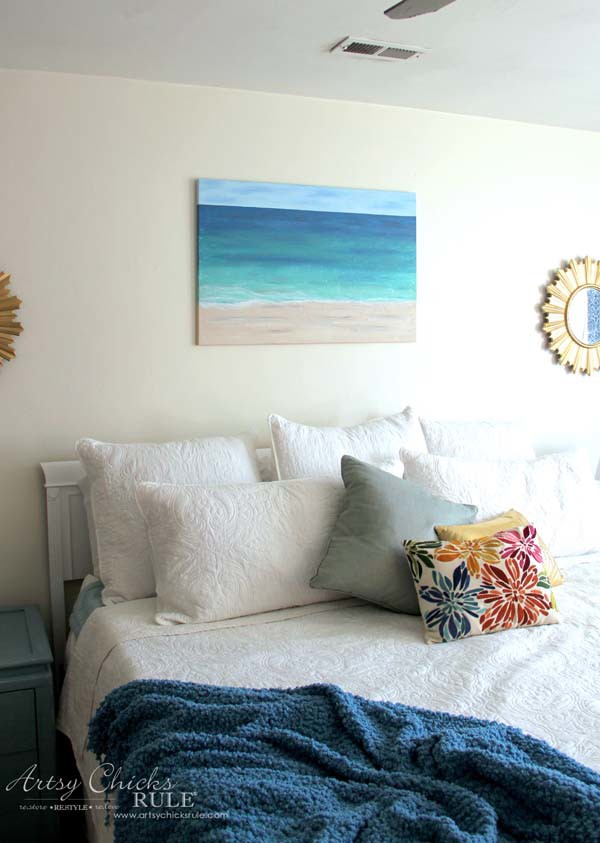 And a new headboard. Sadly, this one is all but hidden.
I had considered modifying and raising it but decided against it.
Here is the bedding and rug info:
Edited to add that the links I had previously were no longer valid.
This set has obviously been discontinued so I found another set that is similar.
You can find it >>> here.
The rug is also no longer available.
Here is one that is very similar and also made in the USA (and I like it better actually! ;) ) >>> here.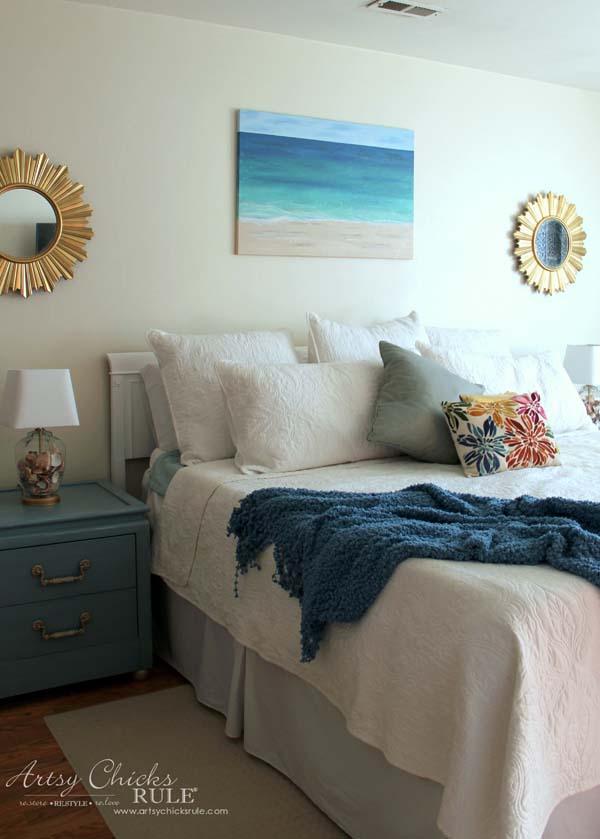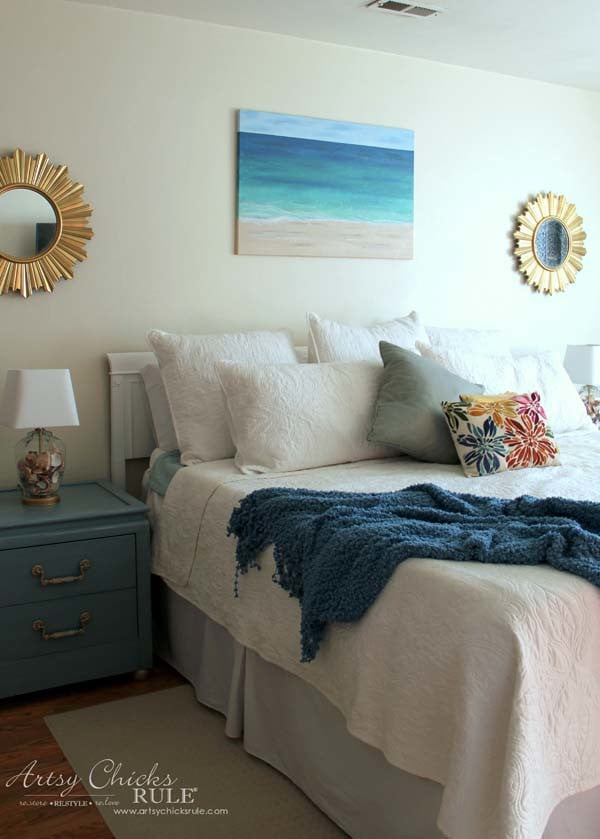 The bed skirt is, well, what I have for now. The white is not a good white for the top.
It ended up looking more grayish. I'm not sure what I will do there yet.
Sometimes you just gotta let it go!!
So I let it go for now.
EDITED TO ADD: See what I added on each side of this DIY beach painting, here.
………………………………………………………………………………………………..
Okay, so to wrap up, add white to the paint to lighten as you go.
Add brown (or even black) to soften and create colors that are a bit more realistic.
Blending is your friend here. There really is no way to "mess up" totally.
It's all easily fixed as I can surely attest!!
I love to draw (like these >>> pencil drawings of mine, etc) but other than painting furniture, I don't paint!
So, this was a fun little trial for me.
I am pretty happy with how it turned out.
And YOU can do it too. I hope you will give it a go and create your very own DIY Beach Painting too.
You may just surprise yourself.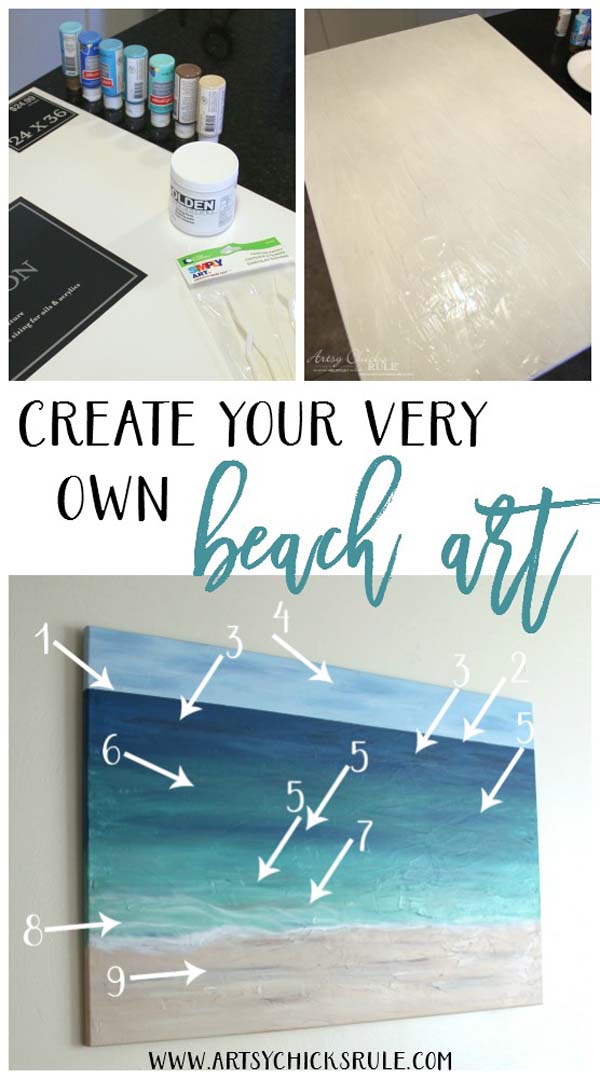 Alrighty, let's see what my "Get Your DIY On" friends created with "texture and pattern" this month…..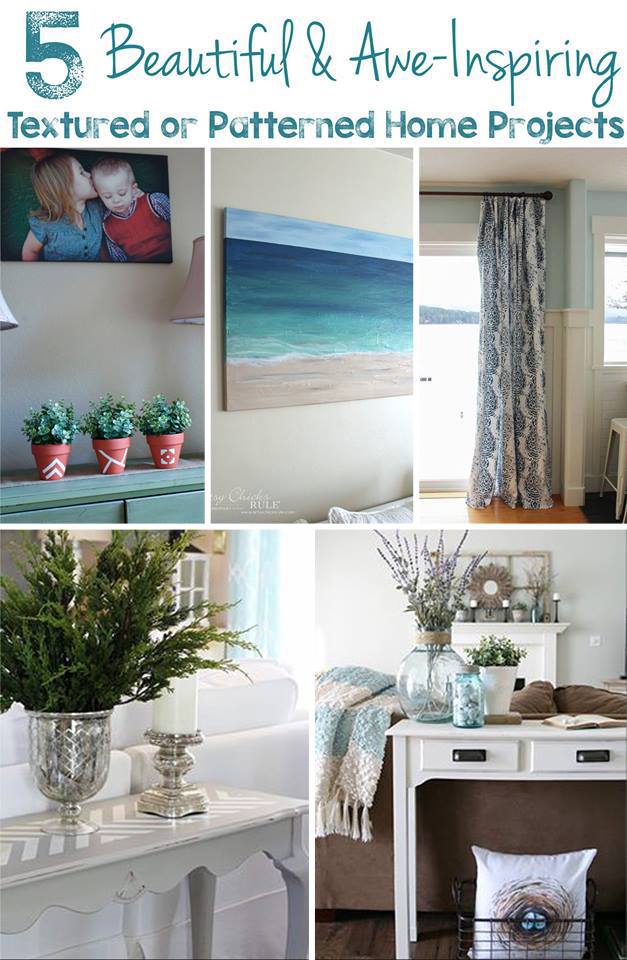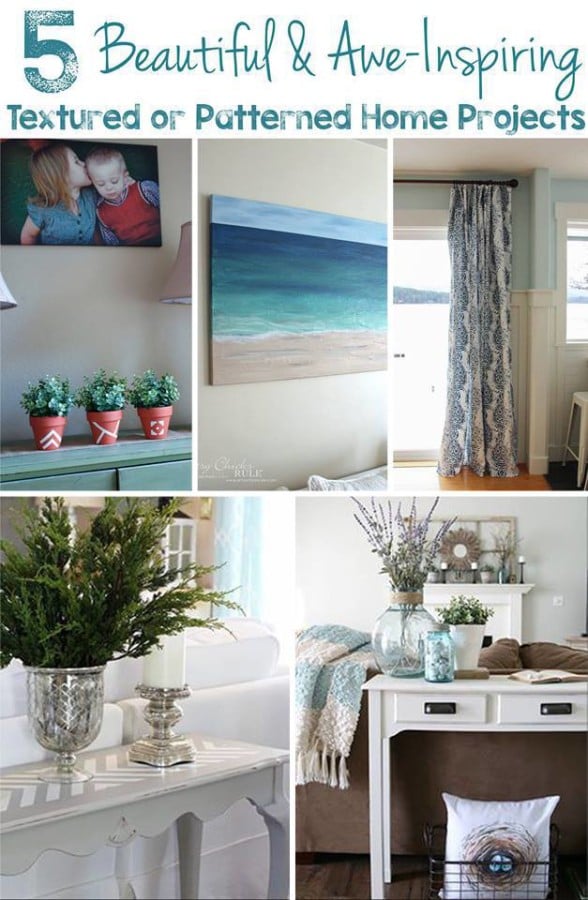 Artsy Chicks Rule – "DIY Beach Painting" (my project)
The Hankful House – "Carrot-Inspired Easter Pattern Pots"
The Happy Housie "DIY No-Sew or Barely Sew Designer Look Drapery Panels"
Confessions of a Serial DIYer – "Patterned Sofa Table"
House of Hoff – "Bringing in Textures of Spring"
Or, just stop by for ideas and inspiration from all who link up their fabulous projects!
See you then!
xo